Lithium X-Mas | Interview | Psych-Noise-Punk from Dallas
Lithium X-Mas are psychedelic noise and art-rock pioneers from Dallas, Texas. The bend has re-emerged from a period of relative sedation to a fresh outburst of activity. 
---
Lithium X-Mas are back with the release of new full-length long awaited vinyl LP, deviously entitled, 'Lithium X-Mas'. During the years the band went through various line-up changes and released several experimental albums, debuting with 'Aneurysm' tape in 1986.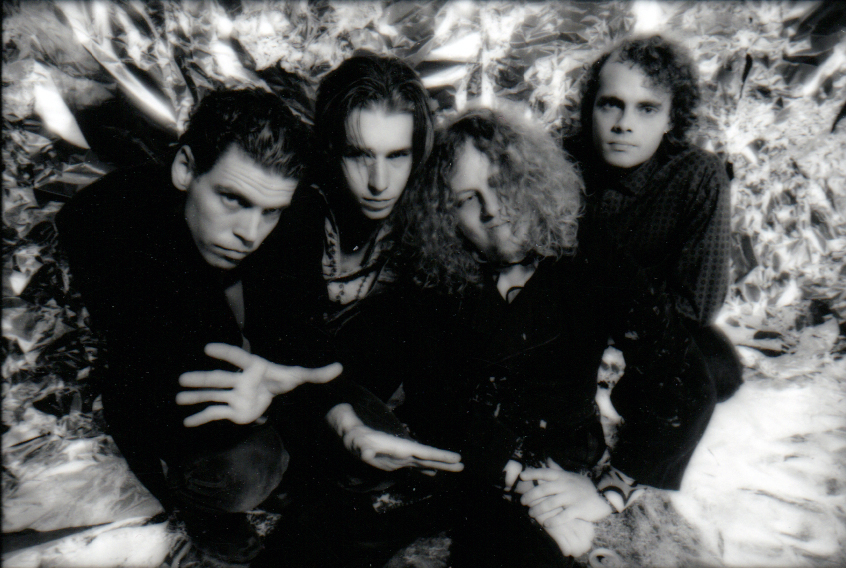 "Peace and love were out. Manson and acid casualties were in"
Would you like to talk a bit about your background?
Mark Ridlen: My parents, grandparents, immediate aunts, uncles and older cousins were all music nuts who had eclectic tastes. As a tiny lad I gravitated to their stereo systems while they entrusted me more with handling and playing their vinyl at family get-togethers. While stationed in Korea my dad was a radio DJ at his army base. He was a hi-fi buff as well and had a pretty pro stylin' stereo system I played with. When my parents went out and left me with babysitters I could really cut loose when they sometimes invited their friends over to dance out on our patio while I played their singles on my little mono Mighty Mouse player.
Greg Synodis: Ok. I'll offer a brief WAY back story too. I was always very receptive to music as a kid. The first record that obsessed me (as a 7 year old) was 'Telstar' by The Tornados, produced by Joe Meek. That otherworldly clavioline and that melody compelled me to listen to that record over and over. Then the first pop 45s I ever owned was '19th Nervous Breakdown' by The Rolling Stones and 'Walkin' My Cat Named Dog' by Norma Tanega. So that was pretty eclectic. I then progressed through Elvis Presley movie soundtracks, The Monkees, Herman's Hermits and then committed to The Beatles, whom I knew well because they had their own cartoon show. At the age of 13 I started playing guitar. This was concurrent with my obsession with the movie "Woodstock" and all those bands…Jefferson Airplane, Ten Years After, Sly and the Family Stone et cetera. I lived in San Jose then, and somehow my mom made a connection to a guitarist who played briefly in Hot Tuna with Jorma Kaukonen, and who gave me guitar lessons in nearby Los Gatos. His shop was called Fat City Guitars, a place that impressed me as a real freak mecca. I loved it.
Mark: You never told me about that.
Greg: You never asked.
How would you describe the scene in your town in the late 70s/early 80s?
Greg: Where Mark and I first crossed paths was the Dallas punk/new wave scene in the late 70s. It was a small but intense subculture. It was based around two clubs: DJ's, who got there first, and then The Hot Klub. DJ's was a real "hole in the wall" place, and possessed the most disgusting restrooms in the history of mankind. Definite competition with the bathroom in "Trainspotting," but in its favor, DJ's stood out as a fortress of non-conformity and attitude up against the boring and predictable backdrop of Dallas. I'm sure most of the larger US cities around that time had their facsimile of this. Going out to DJ's was like attending a high school for dysfunctional students. Because it was such a small scene, everyone pretty much knew of everyone else.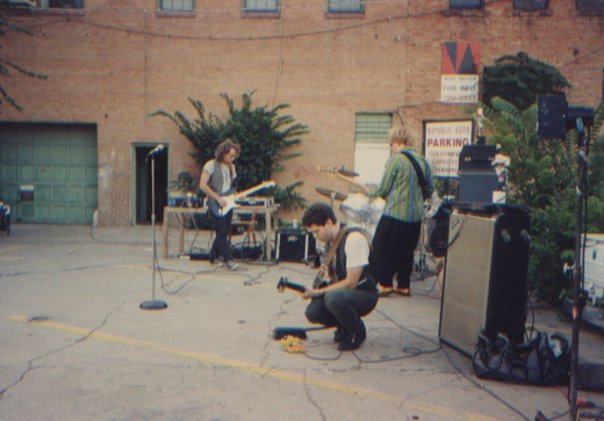 How did you guys meet and what led to the formation of Lithium X-Mas?
Mark: The first place our paths crossed was DJ's, which was the first punk club in Dallas. It opened in June 1979. A few months later the owner had the bright idea to stage an outdoor punk music festival. Bands played all night long, and my first band Quad Pi played at 8am in the morning and Greg was in the audience. We were a shambling mess but Greg was captivated enough to approach me a few months later at an Iggy Pop / Joan Jett show and profess his admiration. We began to socialize throughout the years and then in early '85 formed LX initially as a one off party band for a psychedelic themed party at The Starck Club.
Greg: We began as a one-off psychedelic band for a Psychedelic theme party at The Starck Club. The Starck was Dallas Texas' attempt at a world class club – like New York's Studio 54 or the more conceptual Area. For this party, we played a mix of psych covers ranging from Jefferson Airplane's 'White Rabbit' to Spirit's 'Fresh Garbage' to 'Oh Yeah' by Can. We also employed pre-recorded tapes, films, et cetera. It was our real "happening" and it freaked us out. But at the time it was just a one-off party-band situation. It later changed into something else when we started practicing with Mark Griffin (aka MC 900 Ft. Jesus).
Mark: A few months after the psychedelic party, I was shopping in VVV Records [probably the coolest record store in Dallas at the time] when an employee and musical cohort Mark Griffin played me the just released 12″ of The Jesus and Mary Chain 'Never Understand'. We were both floored by it and he said "Man, I just want to be in a feedback band that rocks!" I agreed and decided to retool LX with him onboard for our second lineup.
Greg: Yes. Bringing in the feedback and the desire to stretch the idea of "psychedelia" to a kind of breaking point. Peace and love were out. Manson and acid casualties were in.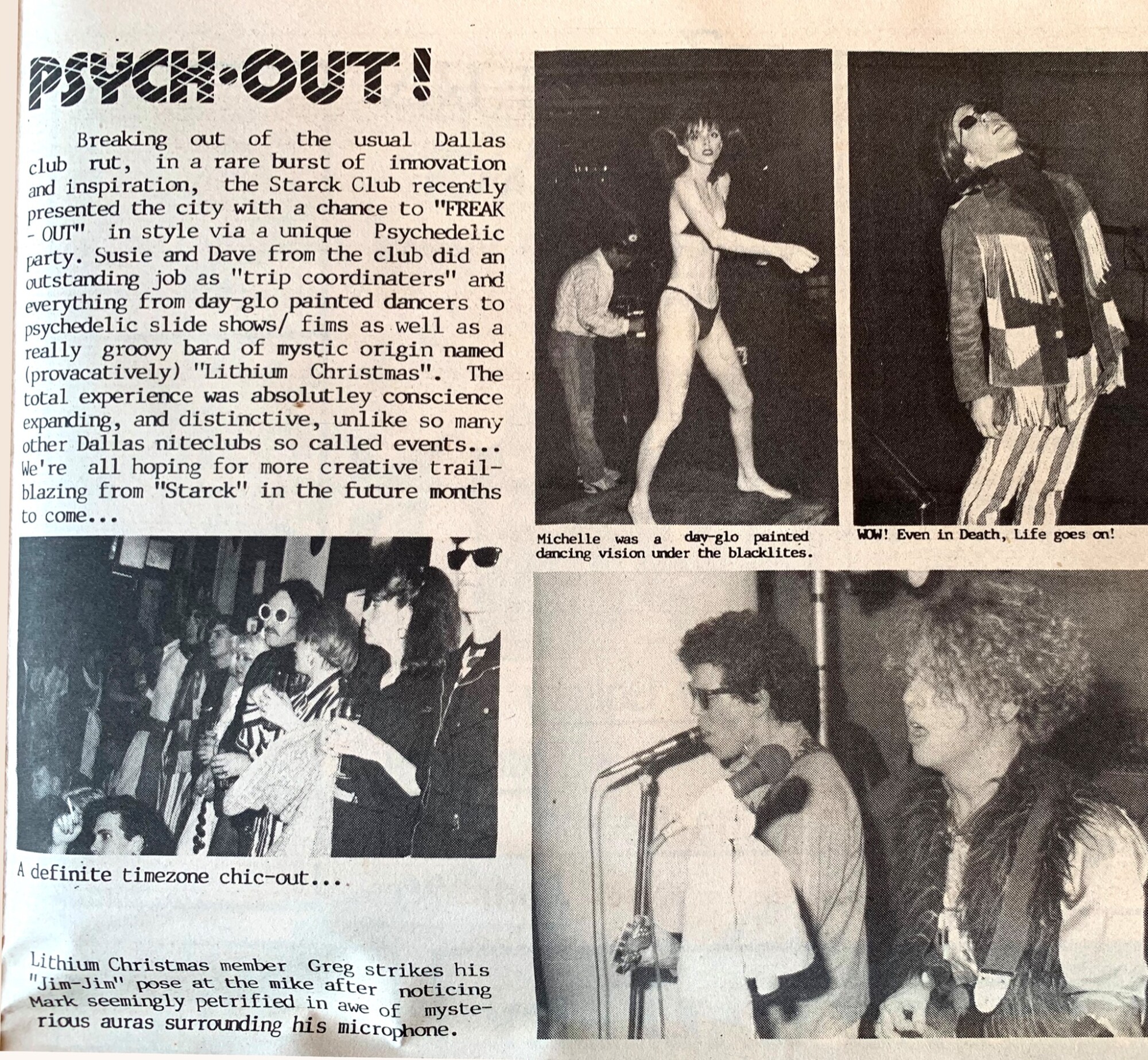 Tell us about the band's name? It's fantastic, that's for sure.
Mark: We were friends with this guy Nick Hamblen who owned a vintage fashion store called Flaunt. From '83 to '86 He would have parties there and I often curated bands to perform. One was a short lived outfit called Lithiummm. The drummer Reagan Eskridge came up with the name because he was bipolar and was actually taking it! A few years later I re-purposed it, removed some 'm's and Greg added Christmas to it.
Greg: Mark and I were inebriated and idiotic one evening, driving home from yet another event, and started discussing what word should go with Lithium — as any good drunken conversation might. Lithium and Christmas seemed to rhyme in our heads like phonetic poetry. And when I blurted it out we both started laughing so insanely hard that we almost drove off the road, so that was the name that passed the test.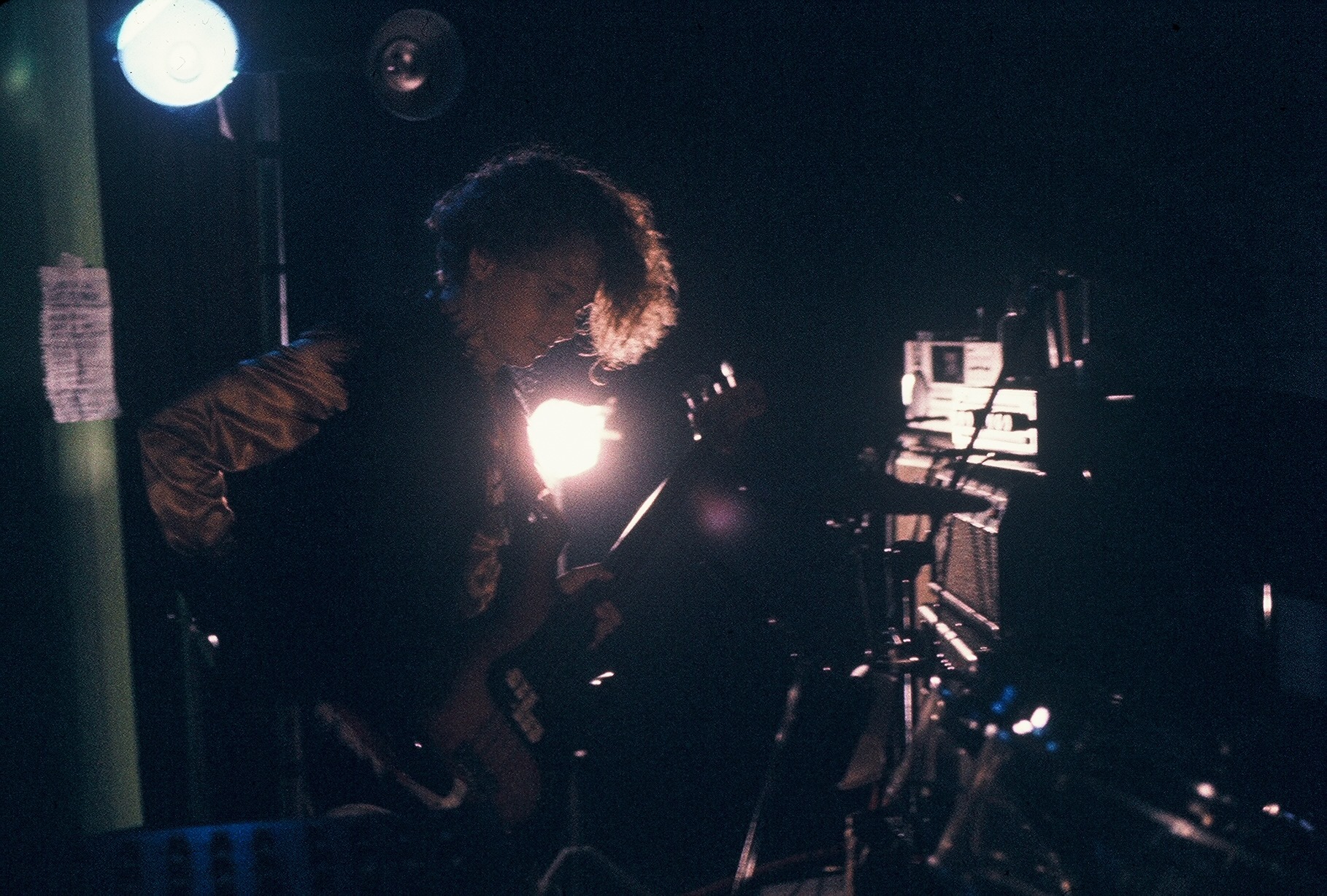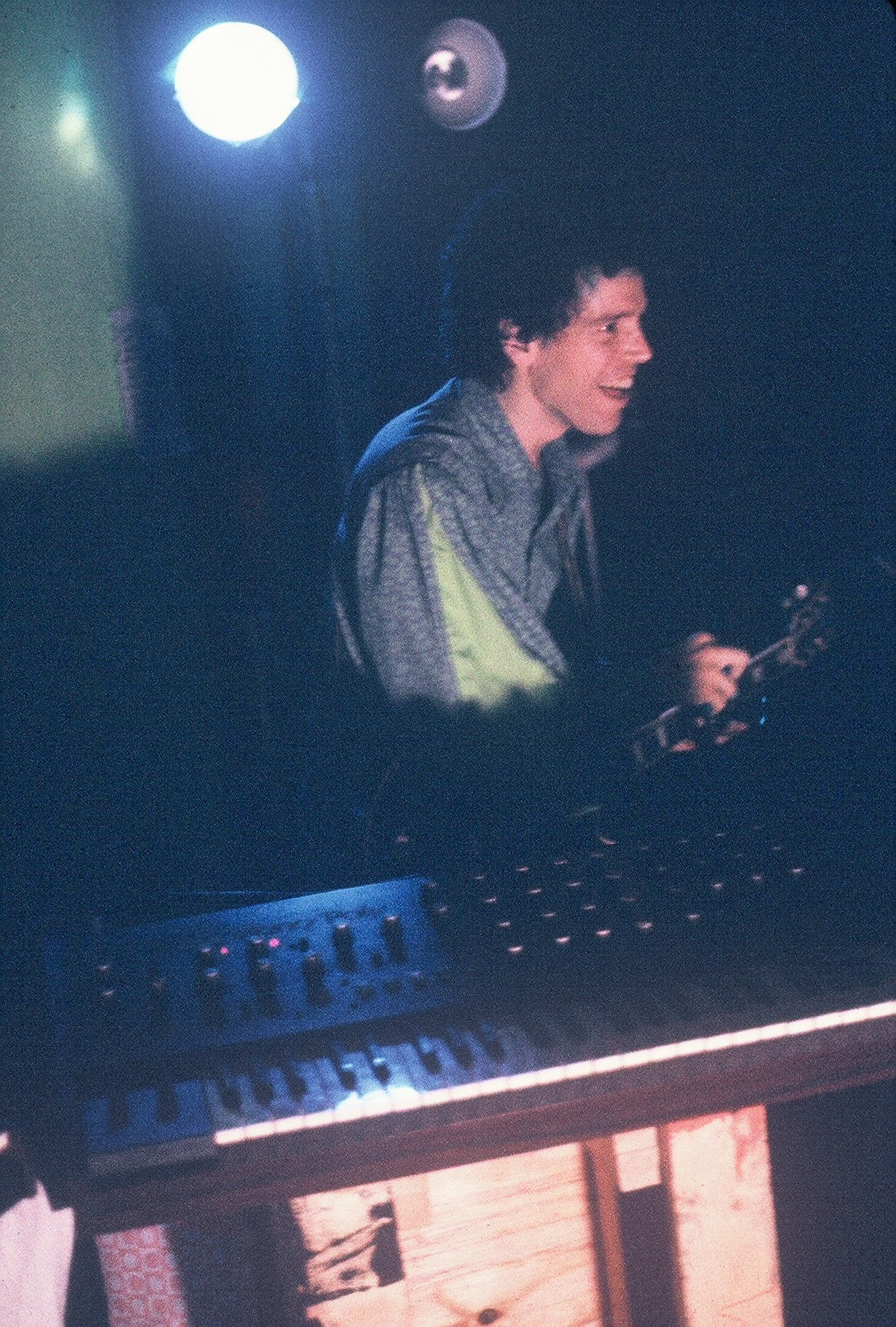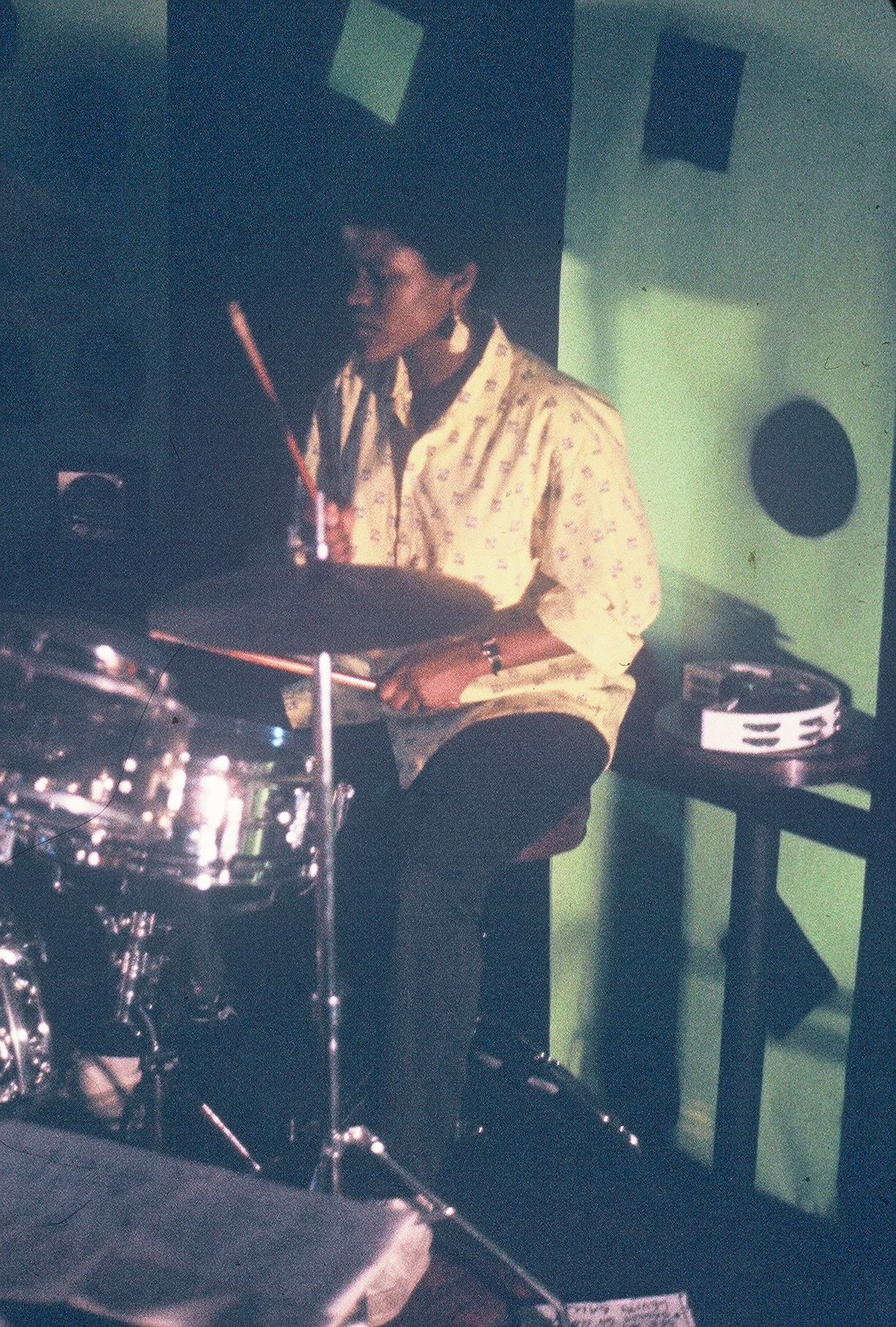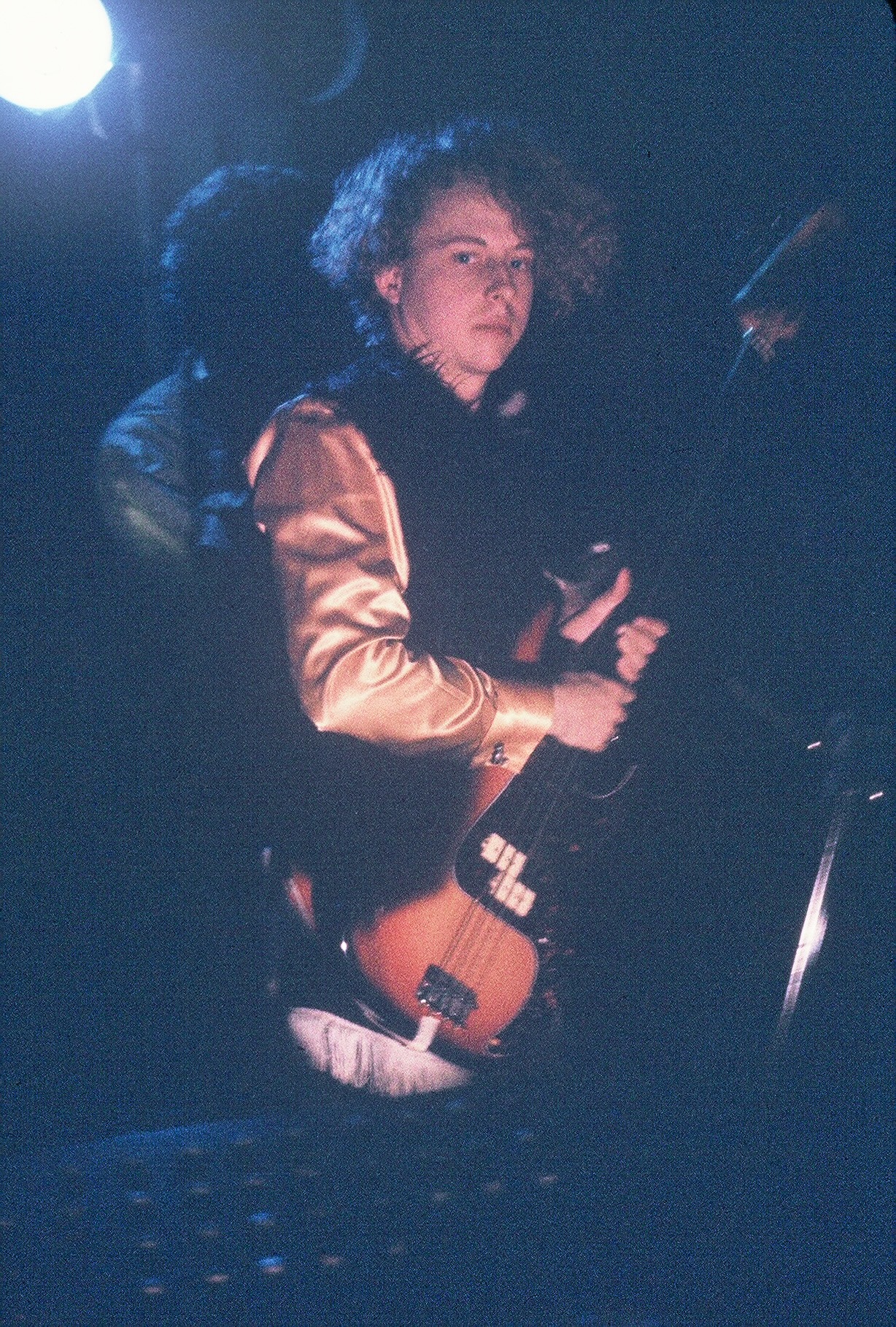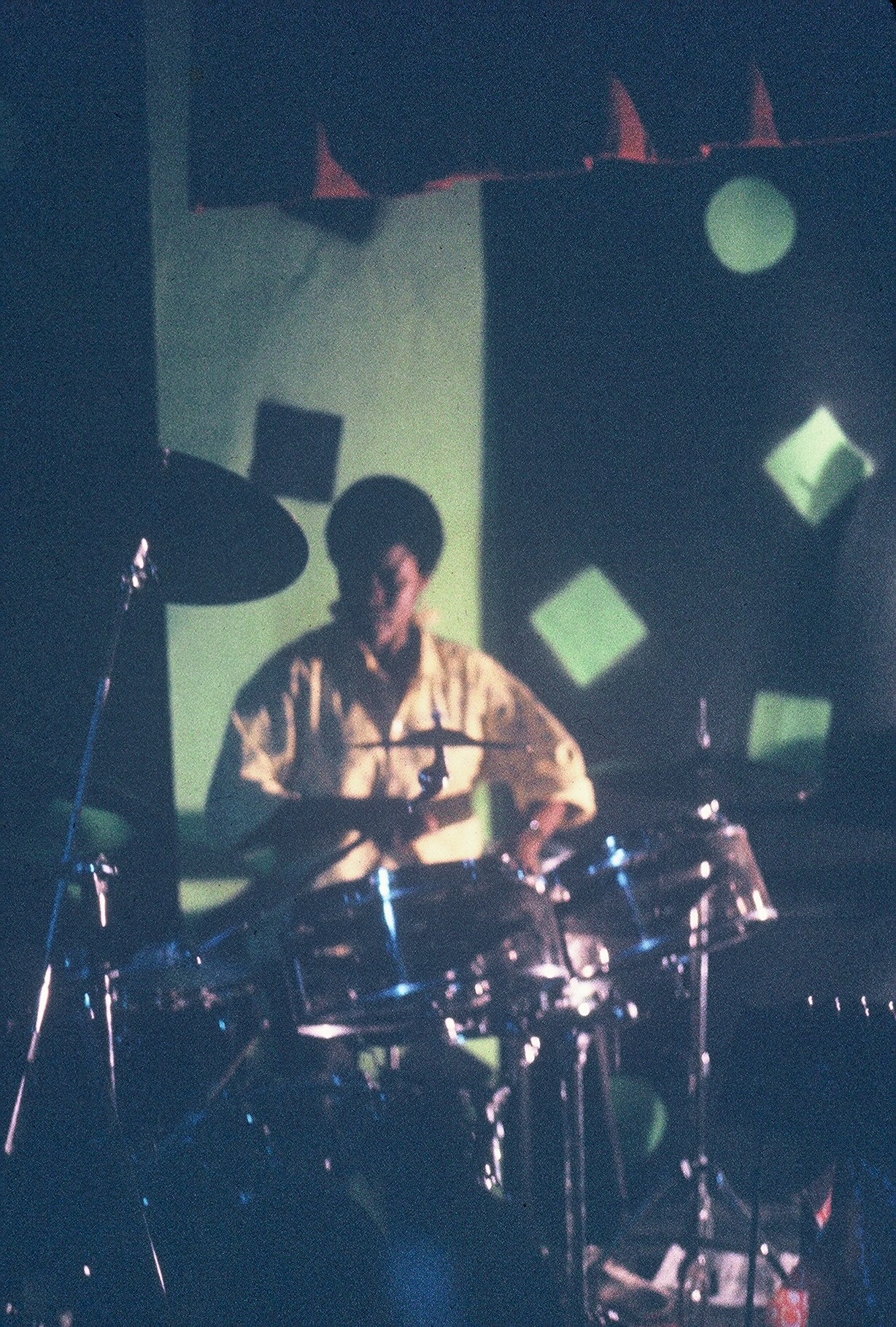 Take us back to your teenage room, what kind of records and fanzines would we find there?
Mark: Um, the usual 70's mags – Creem, Circus, Rolling Stone, Rock Scene, Hit Parader, Crawdaddy then eventually Bomp, Trouser Press, NY Rocker and Slash. My very first exposure to a counterculture rag was a local free paper my dad brought home called Hookah. I was lucky I could ride my bike to a few stores in Irving, Texas that stocked some of the more exotic bands I would read about like The Sadistic Mika Band. I also loved random movie soundtracks and comedy records put out by The National Lampoon and The Credibility Gap. Around that time my dad got me interested in photography so I started shooting touring bands and writing concert reviews for my high school newspaper.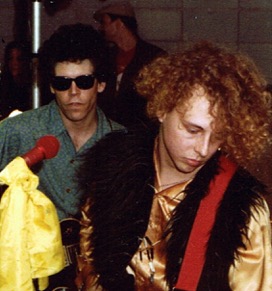 Greg: Interesting. I also wrote record reviews for my high school newspaper. I think Mark and I went to different schools together. Ok, my teen magazines, about the same as Mark's. Hit Parader. Creem (early 70s). Rolling Stone (also early 70s). National Lampoon. Phonograph Magazine (a great tabloid, long forgotten). I also loved paperbacks like The Rolling Stone Record Review and Lillian Roxon's Rock Encyclopedia. Linda Eastman's "Rock And Other Four Letter Words" and MAD paperbacks of course. As far as records, too many to mention, but New York Dolls, David Bowie, Roxy Music, Brian Eno, Blue Öyster Cult, The Kinks, ThE Pretty Things, The Firesign Theatre, Van Dyke Parks, Lothar And The Hand People. The list goes on and on.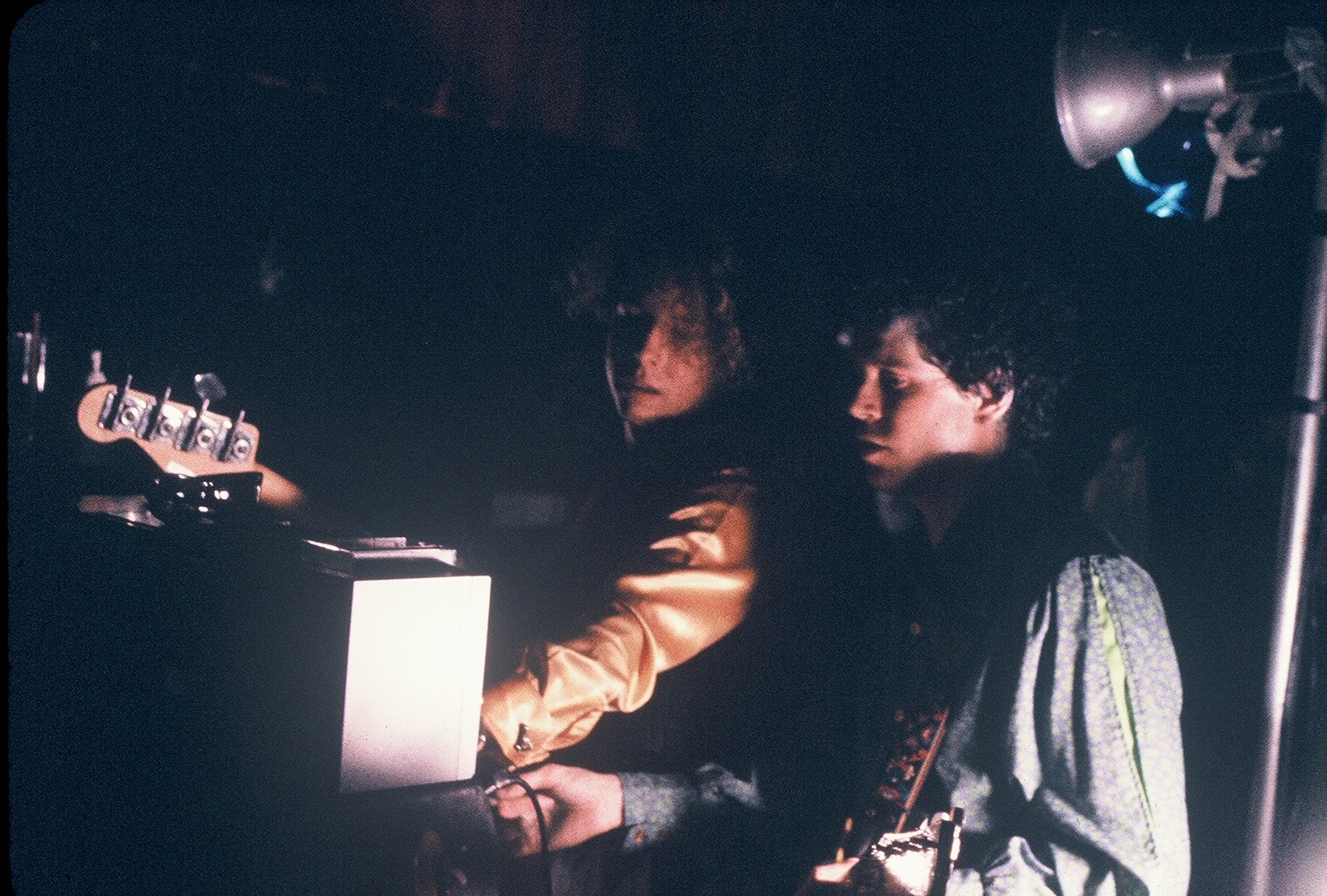 How did you first get interested in music? Was there a certain moment when you knew that you wanted to become a musician?
Mark: As a kid I was always moved more by rhythmic percussion, sound textures and off beat noises than melodies. When I was about 6, after a family dinner party at my favorite aunt and uncle's house, he and two of my cousins started playing their banjo, guitar and piano together. He had a large conga drum that I started banging on that turned into the pulse of the family jam. When I watched I Love Lucy I was always impressed with the real time drum dexterity of the kid actor who played Little Ricky. There were about 20 people there and all eyes were on me trying to keep the beat. I thought of him and felt transformed and cool. I assumed I could later play drums in my junior high band but those positions were already filled so they stuck me with a trombone. I made peace with that especially when our band played a West Side Story suite the same year that Alice Cooper released 'School's Out' which covered some of the same tunes.
Greg: When I was 10 someone showed me three chords on the ukulele, and began picking out songs by ear. I think the first songs I taught myself were Herman's Hermits songs, as those were the records I owned. And I thought I had unlocked the Rosetta Stone. When I figured out that I could actually figure chords out and play the music I listened to (even stupid teeny bop and bubblegum songs) that was obviously a big step. And nobody showed me how to do these things, so I erroneously assumed I was the chosen one, and had a rich destiny ahead of me.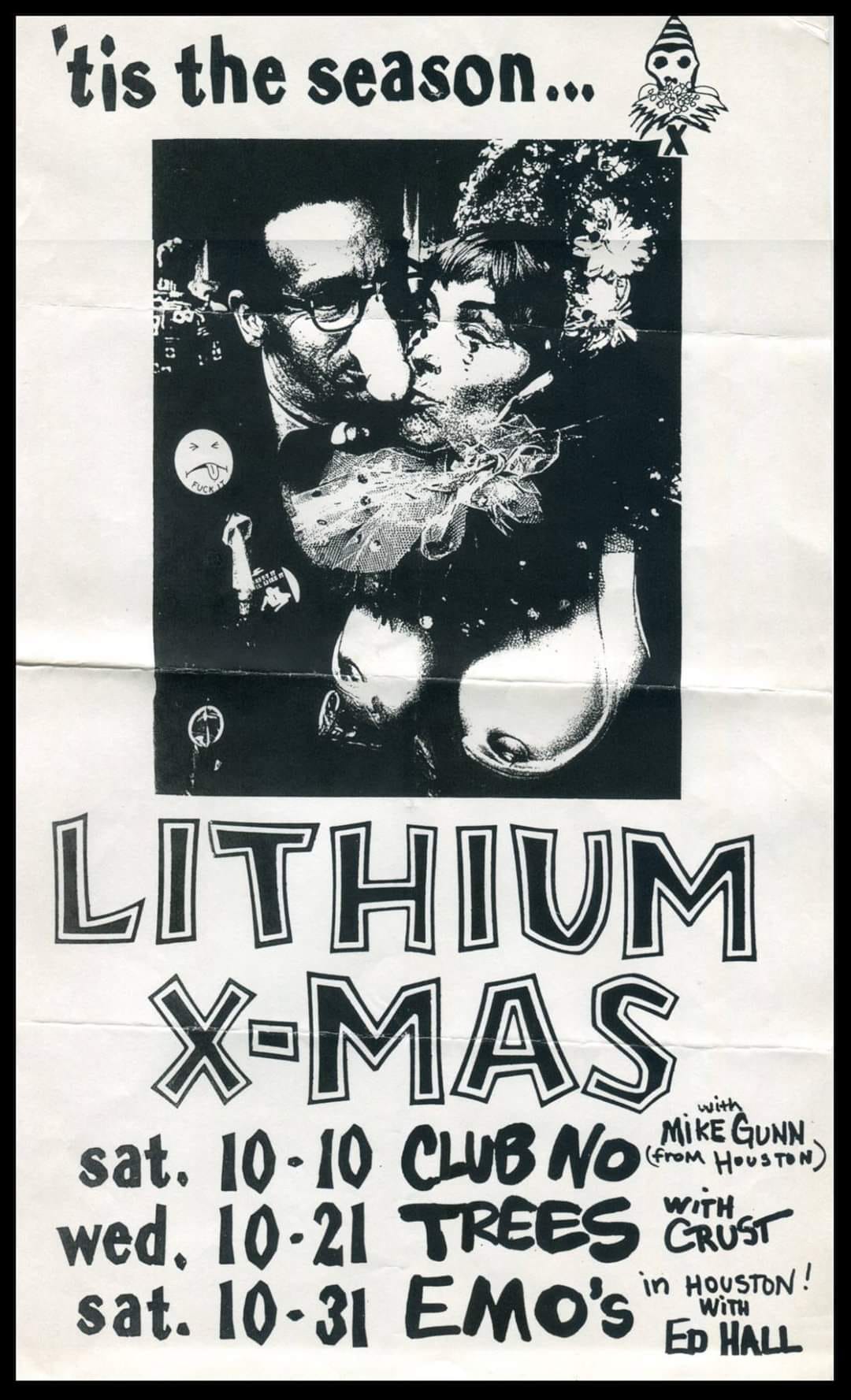 I'm guessing Lithium X-Mas wasn't your first band, tell us about the early bands and if any released anything?
Mark: Fast forward to late high school when I became lead singer for a friend's garage band Severed Universe. We did covers and some originals for church parties and other underage dances. In 1978 we all auditioned for Ron Howard and won roles as members of an unscrupulous high school band called Rapid Fire in his first film Cotton Candy. It was mostly shot in Dallas and we had scenes throughout it. We really bonded and got high with his brother Clint who starred in it as well. About that same time me and two of the other members were changing course and really getting into Pere Ubu, Devo, Wire and all the other post punkness that was breaking out. I learned to play bass and we reformed as Quad Pi which remained active until '82.
Greg: I played in a band in high school called Beggar's Choice, a name based on the slogan of "Beggars can't be choosers".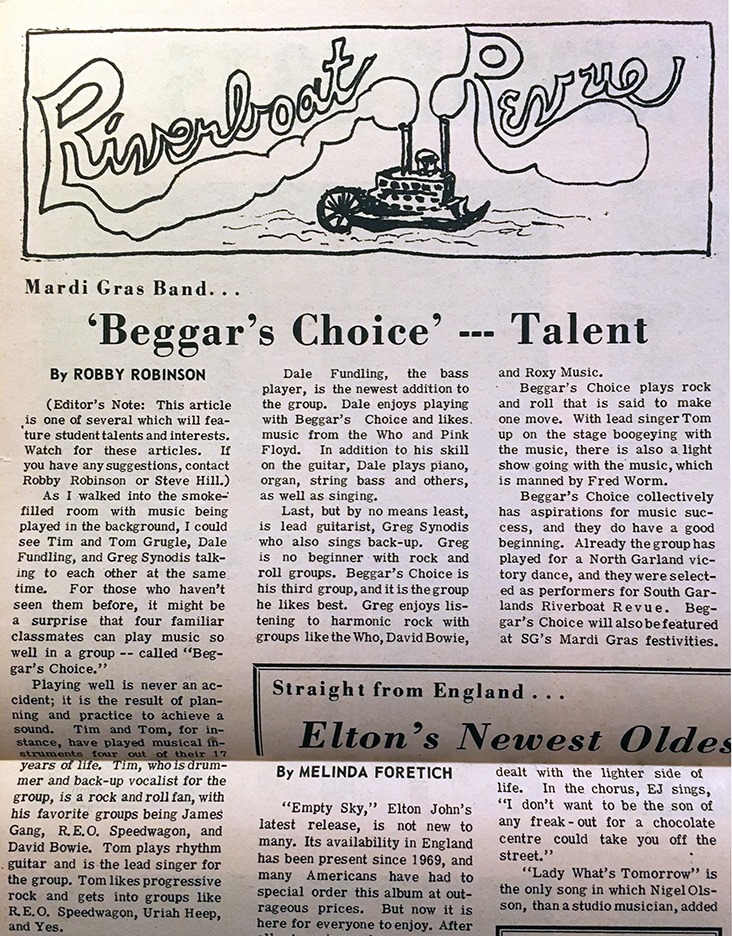 We played high school dances, but did some kinda cool songs like Roxy Music's 'Out Of The Blue' where I pathetically tried to play the electric viola solo on guitar. I was attracted to playing with Mark because I saw his band Quad Pi at DJ's. They were great. We all loved punk, but many of the bands sounded like they had all been listening to the same records. Quad Pi sounded like no one else which instantly attracted me. But since he was in a working band and I wasn't, I began my own group called the Fallen Idles, mostly influenced by The Clash, Elvis Costello, The Modern Lovers, et cetera. We were fun, sexy and cute, but not as paradigm challenging as Quad Pi.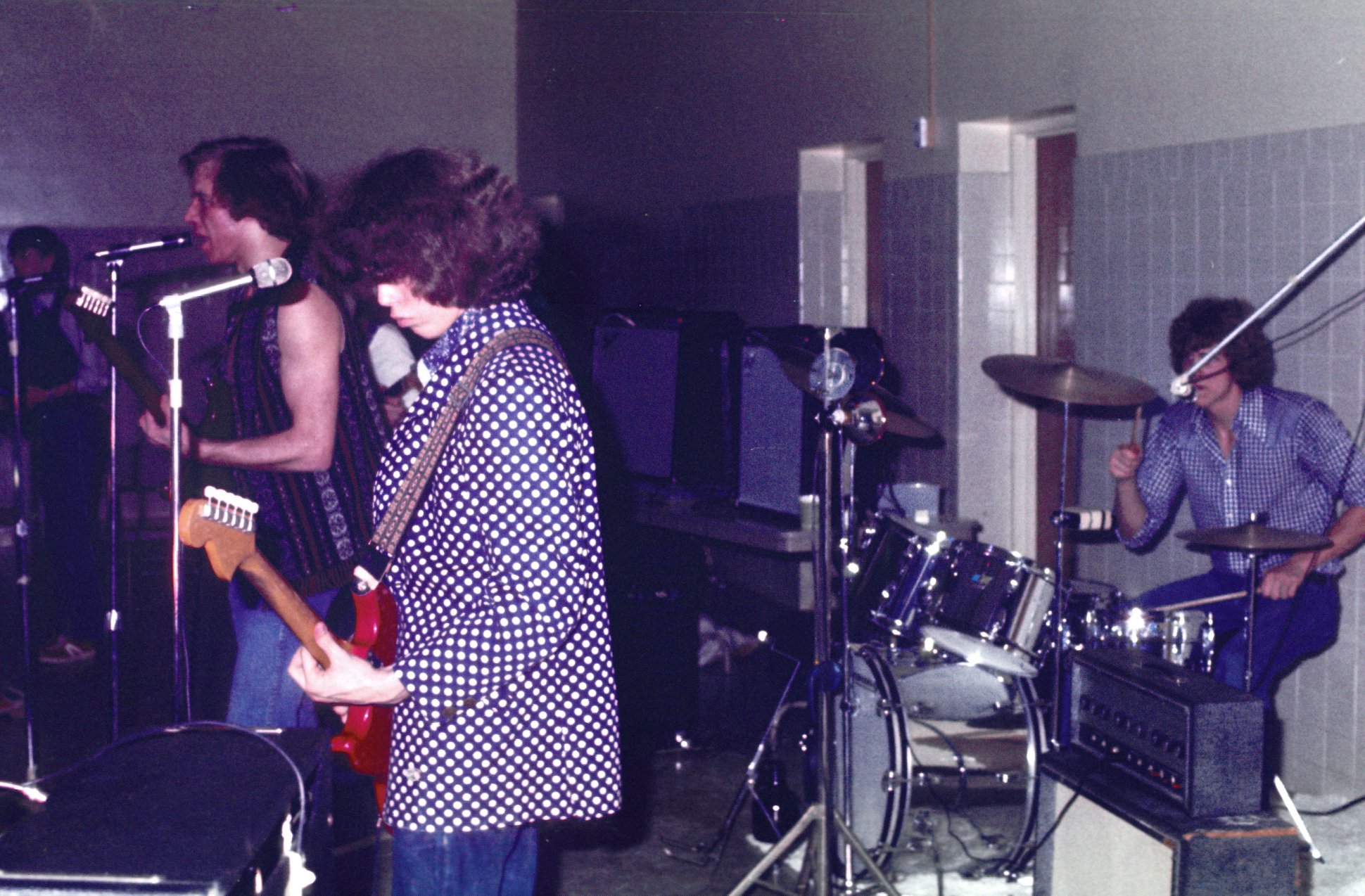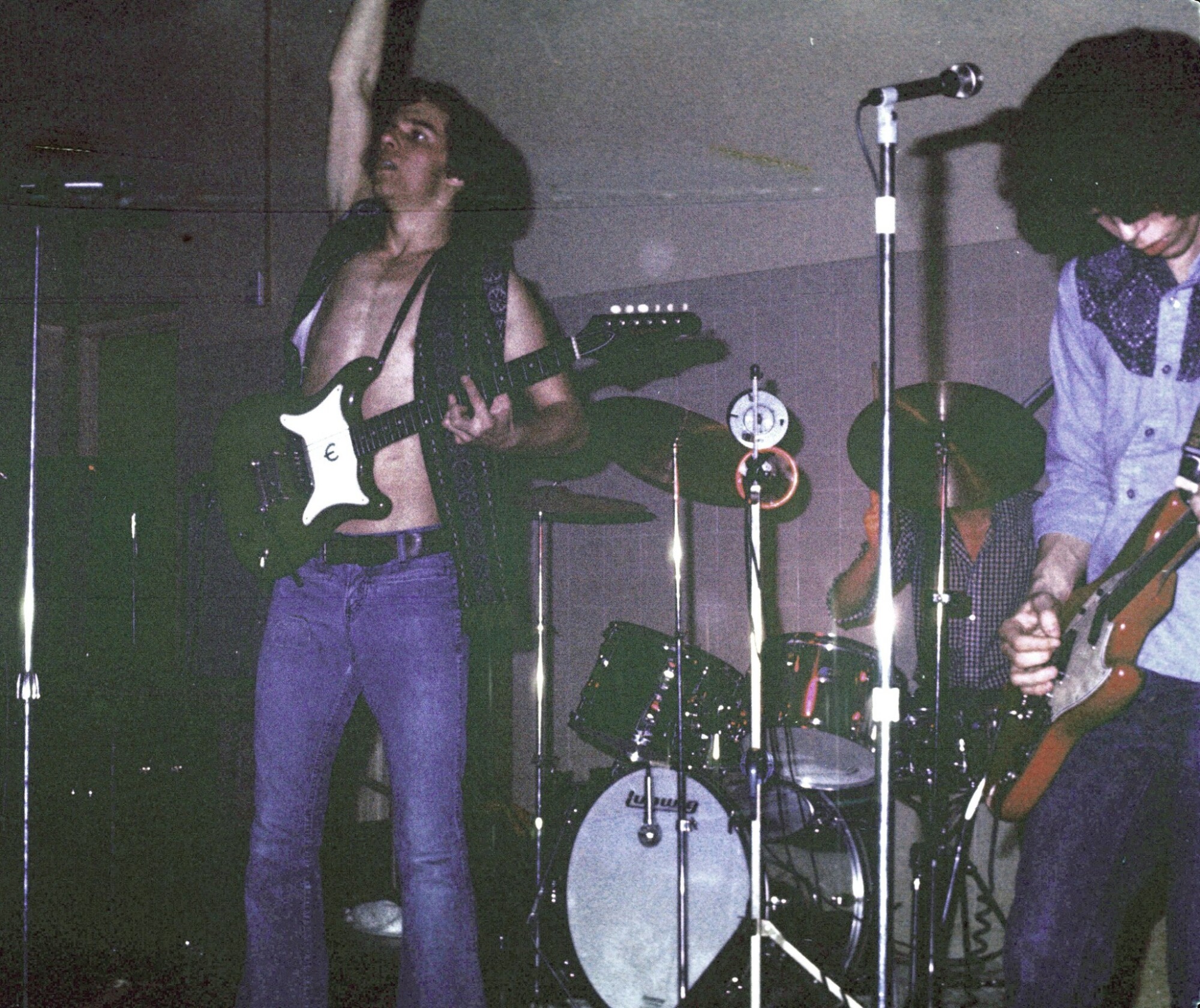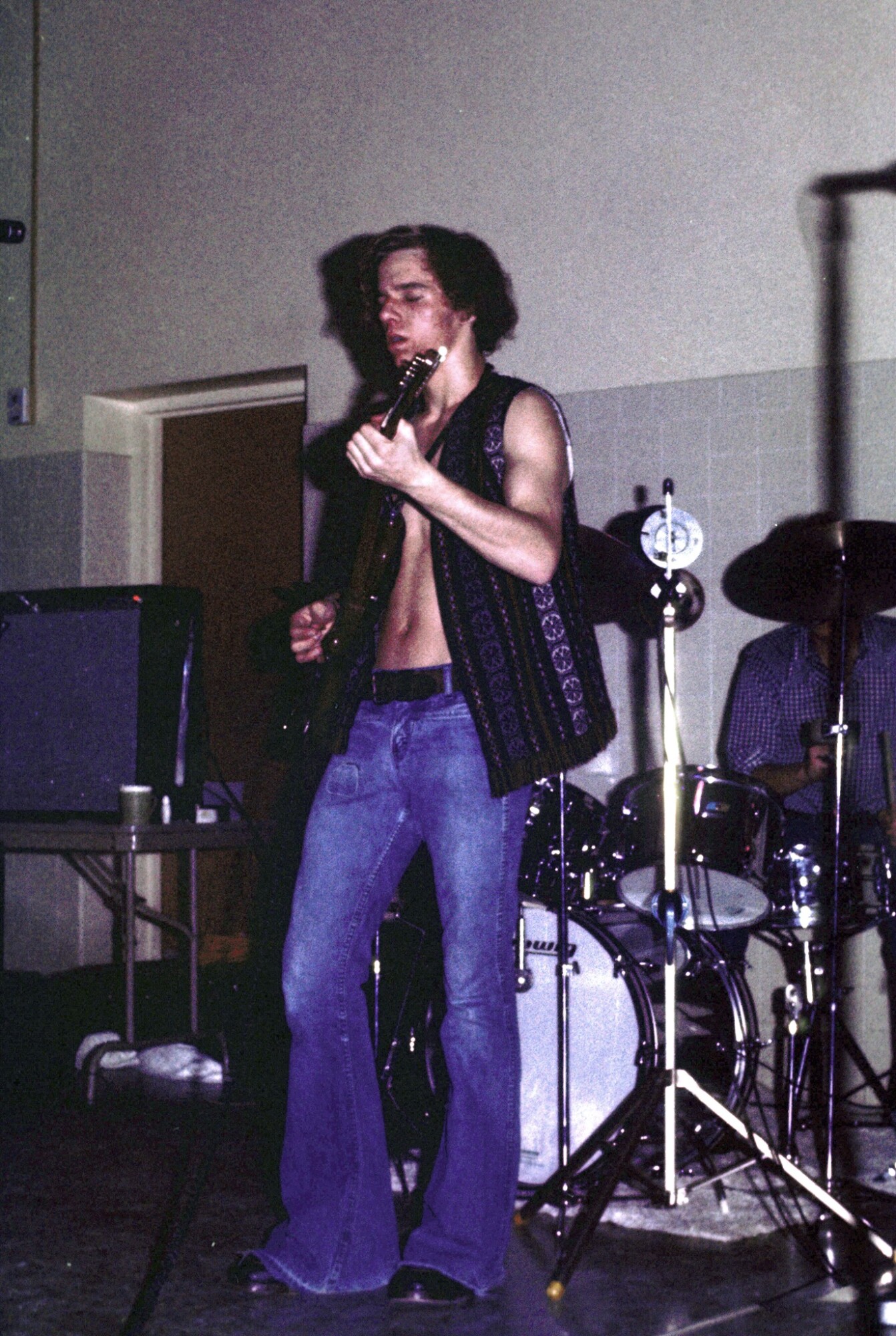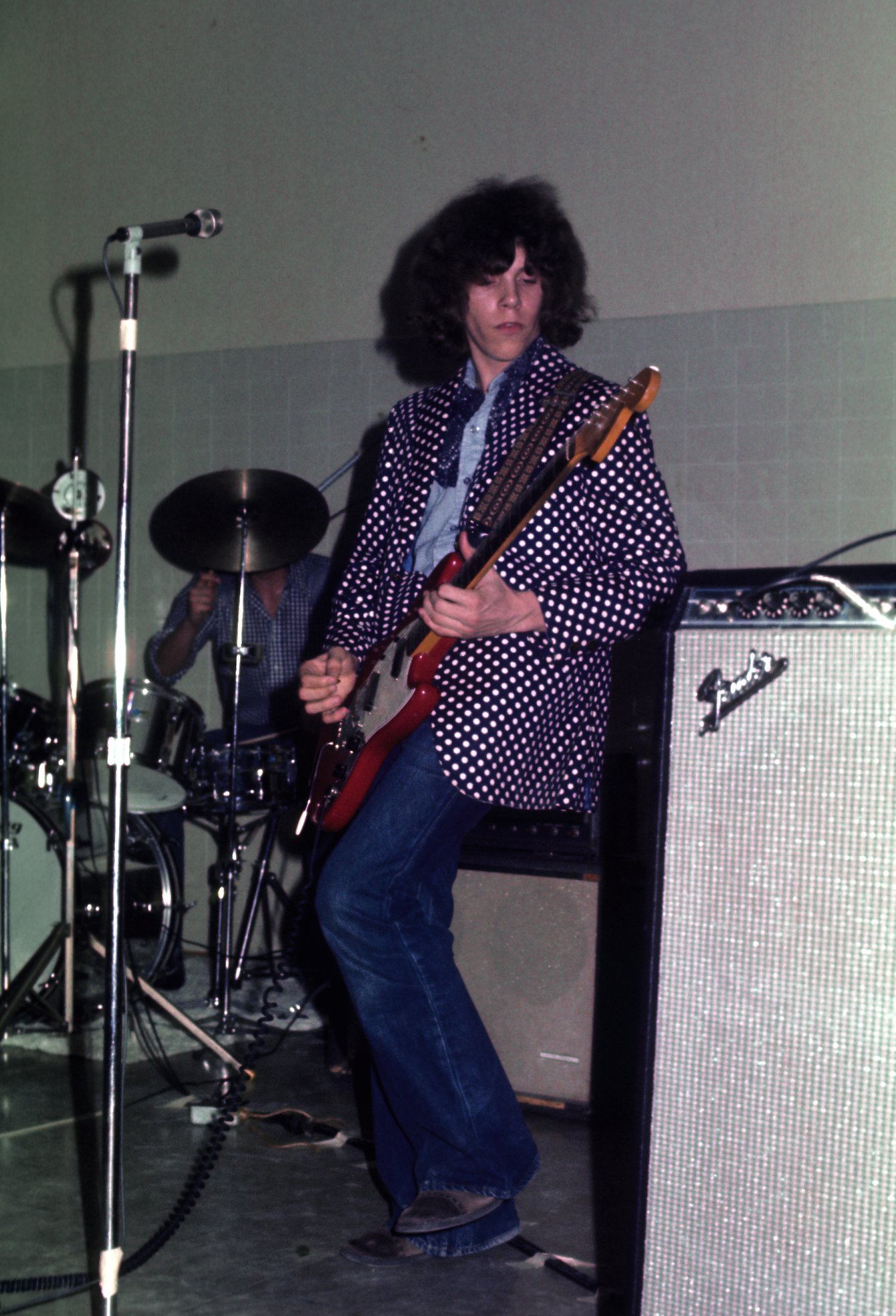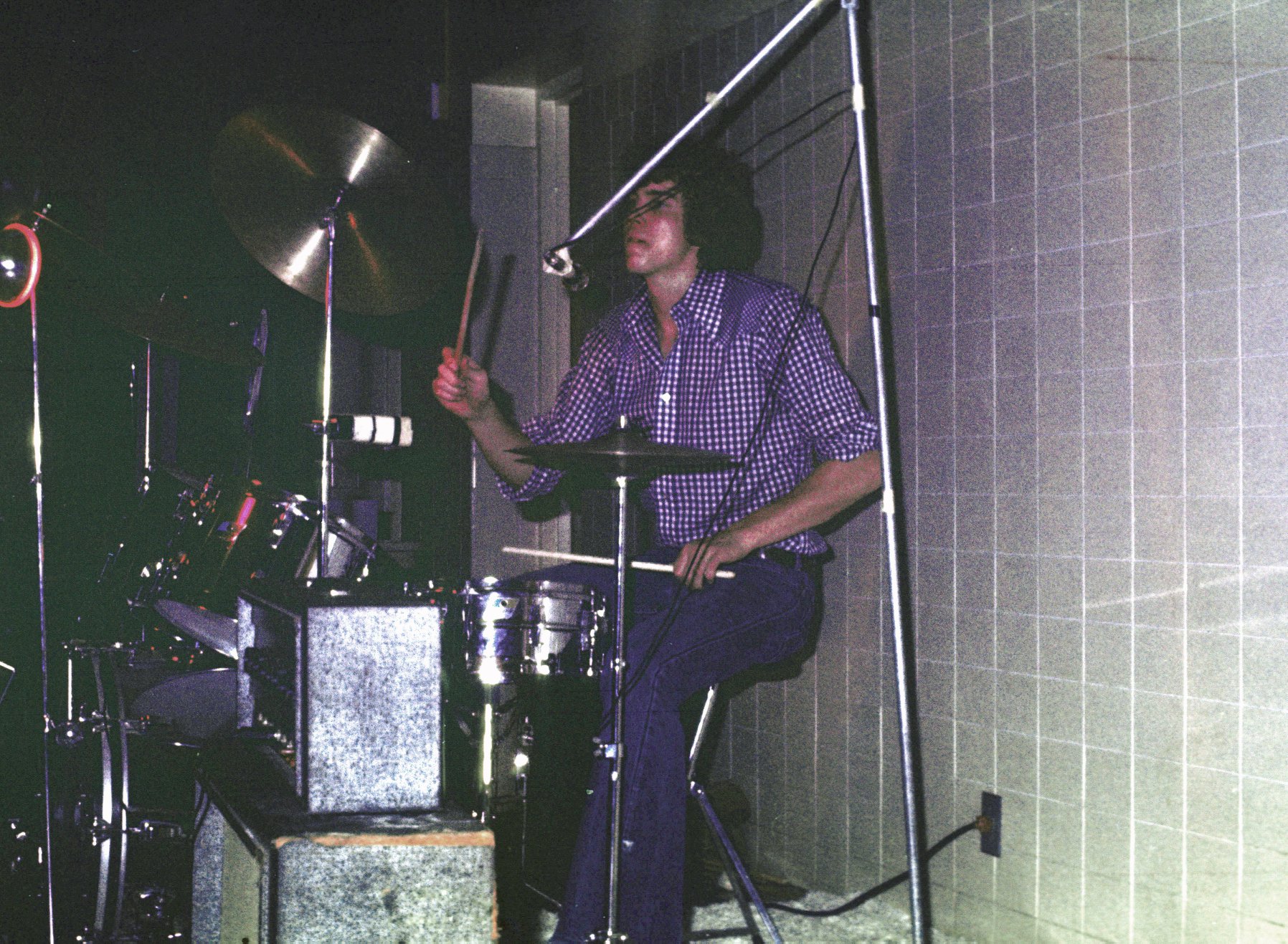 What influenced the band the most in your opinion?
Mark: Regression strained through the now.
Greg: Distortion. The old warped through the new. We do covers, but not with the intention of doing them faithfully. But often to tear them apart and then rebuild them into something else. The totally deranged and sacrilegious (and possibly funny) version of 'My Sweet Lord' on 'Aneurysm,' for example. Our new album still employs this approach. We do our weird take on the original tension in the Wire song 'Two People In A Room' but turn it into more of a 911 domestic disturbance call (laughs). We are something like a psychological fuzzbox.
Mark: (laughs) Yes.
Greg: But our palette has expanded with the new record. We've probably softened up on some of the de-construction. Rather than totally destroying, we're closer to massaging songs into a new shape. Sonic chiropractors. Our version of Blue Öyster Cult 'She's As Beautiful As A Foot' is somewhat reverent actually. The original was already kind of twisted. But we always thought it possessed a strange shimmering beauty, so this time we went in that direction. To be honest, we really wanted to phase-shift the entire song before we mixed it. We would have but the original 16-track tape was lost in misadventure.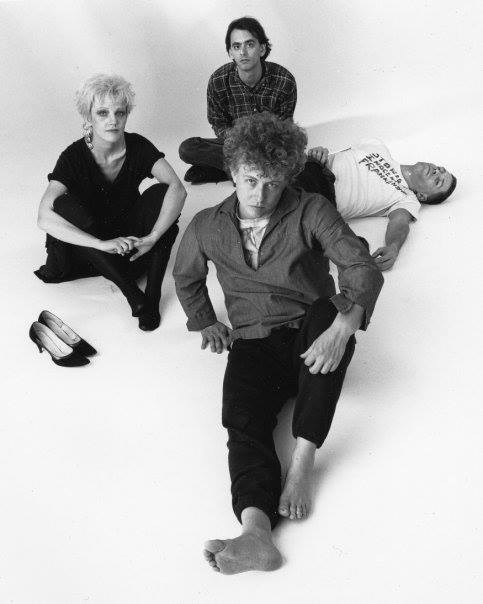 "Lithium Christmas is a state of mind that exists within and throughout the people who have played in it"
There were a lot of lineup changes and it's pretty impossible to get the right chronological order on the web. Can you elaborate on the different lineups?
Mark: Various members drifted in and out and then in again. '85-86 Me, Greg, Mark Griffin, Steve Giovanzzi, Gitiim Chakamoi, Josh Weinberg, Kimberly Boyce. 86-88 Me, Greg, Kimberly Boyce, Gitiim Chakamoi, Sonja Lowrey, Jeff Zilm. 88-89 Me, Greg, Darby Smotherman, Annette Savage. 89-90 Me, Greg, Tom Battles, Chris Merlick. 91-92 Me, Greg, Chris, Tom Battles, Mark Griffin, Kim Pendleton, Gitiim Chakamoi. '93 Me, Greg, Chris, Kim Pendleton, Tad Painter. 94-96 Me, Greg, Chris, Tracy Miller, Lance Swaim, Mark Southerland. 97 Me, Greg, Chris, Tom Battles. 2013- present Me, Greg and Chris.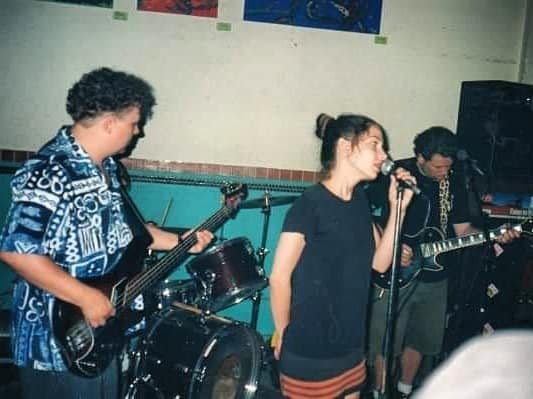 Greg: Lithium Christmas is a state of mind that exists within and throughout the people who have played in it. It's something like a blended and extended dysfunctional family. But in the end, it's always "Lithium." A big shout out to our current drummer and percussionist Chris Merlick who can't be with us today. He has been drumming with us the longest and fills in so many of the gaps that Mark and I just can't. He's a drummer but he's creative too.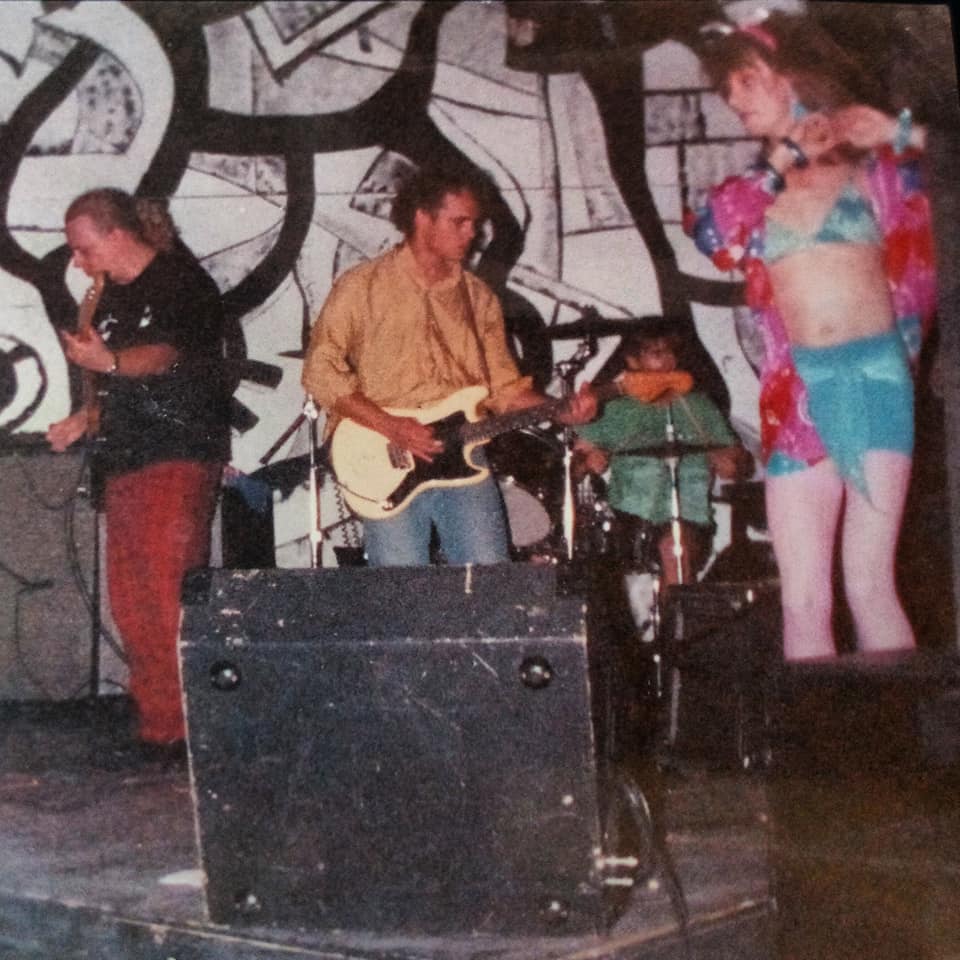 Your debut album, 'Aneurysm', was self-released on a tape. What's the story behind it and how many tapes did you make?
Mark: Cassettes were cheap and easy to reproduce. My father owned a silkscreen printing shop that I exploited for years. Thus the elaborate, oversized packaging for the tape to make it stand out in a display rack.
Greg: Mark Griffin played a big hand in producing that and did a great job with the limited trackage we had to work with. It was low-fi and dirty, but it had an aesthetic and a personality. Mark Ridlen came up with the inspired and great packaging of pills circling and attacking a woodcut print of the human brain. I think only a couple hundred were made and then Mark didn't work at the print shop anymore. So what we pressed up is all there is and there ain't no more.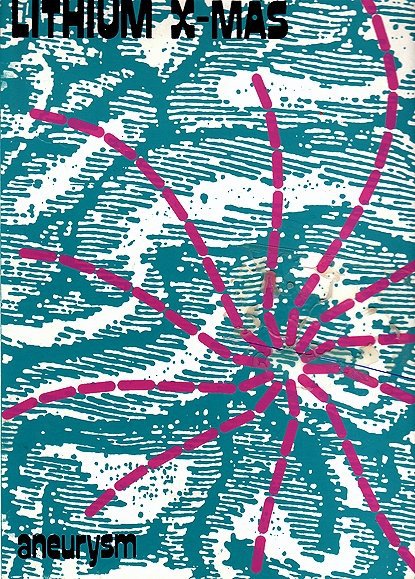 Where was the album recorded?
Greg: Here there and everywhere. Wherever we could. In an abandoned and dilapidated nightclub space that had been sold. In the VVV Record store after hours. In the front room of a one bedroom apartment.
Mark: We recorded it all live in Kimberly's living room with a few Radio Shack PZM mics for ambience.
What can you say about 'Message To Charlie/Ballad of the Hip Death Goddess'?
Mark: 'Message To Charlie' was written by Mark Griffin aka later in life as MC 900 Ft. Jesus. 'Hip Death Goddess' was a cover suggestion from Kimberly Boyce aka KY Boys. Rockadelic Records label owner Mark Migliore culled those and released it as our first single.
Greg: Those were the two tracks from 'Aneurysm' that Rockadelic decided to put out as a very limited 45 single release. But the single trimmed off the incredible spoken word intro of 'Hip Death Goddess' by Mark Griffin that must be heard. The full version finally became accessible on a CD release called 'Bad Karma,' which compiled parts of 'Aneurysm' with parts of some other singles.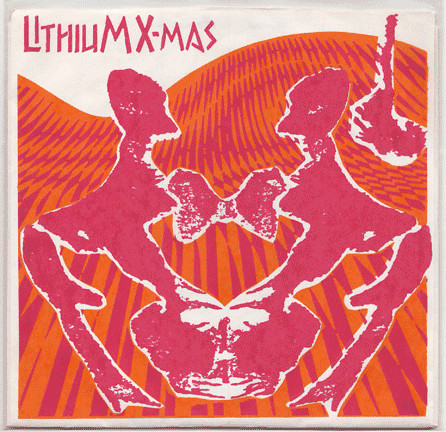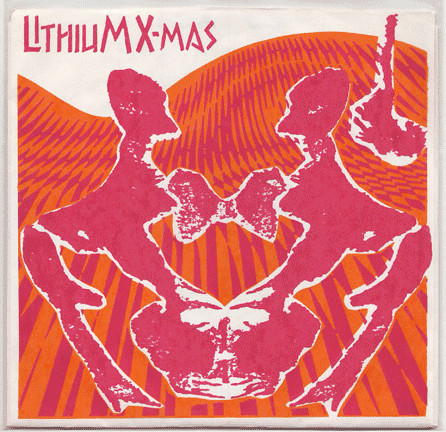 It took awhile until you released 'Helldorado', what are some of the strongest memories recording and producing it?
Mark: Our studio engineer was an old friend from the punk days named Paul Quigg.
Greg: Paul was another DJ's alumnus and was a member of local punk heroes The Nervebreakers and Superman's Girlfriend. We felt right at home with him.
Mark: But he had, shall we say, a very relaxed way of working. So relaxed that it took three years to record 10 songs. But we enjoyed the luxury of finally having 16 tracks to have our way with.
Greg: Did it really take that long? Well, I know there was a lot of herb involved. We'd set up a recording date, make one change, and then have to get sufficiently "primed" to appreciate it. And yes, Paul Quigg did the majority of tracks on 'Helldorado,' but not all. Three or four of the songs had already been recorded with a guy named David Castell. We could have continued to use David but Paul was a bonafide member of our punk rock subculture in Dallas. He understood us much better than Castell did, which was attractive. That said, no matter who we record with, I think it always tends to sound like us.
Mark: But Paul had some great ideas that we really liked.
Greg: Yes. For example, it was his idea to use the tremolo on the re-recording of '(Ballad of) The Hip Death Goddess' (from an old Gibson amp he had on hand). We all loved that.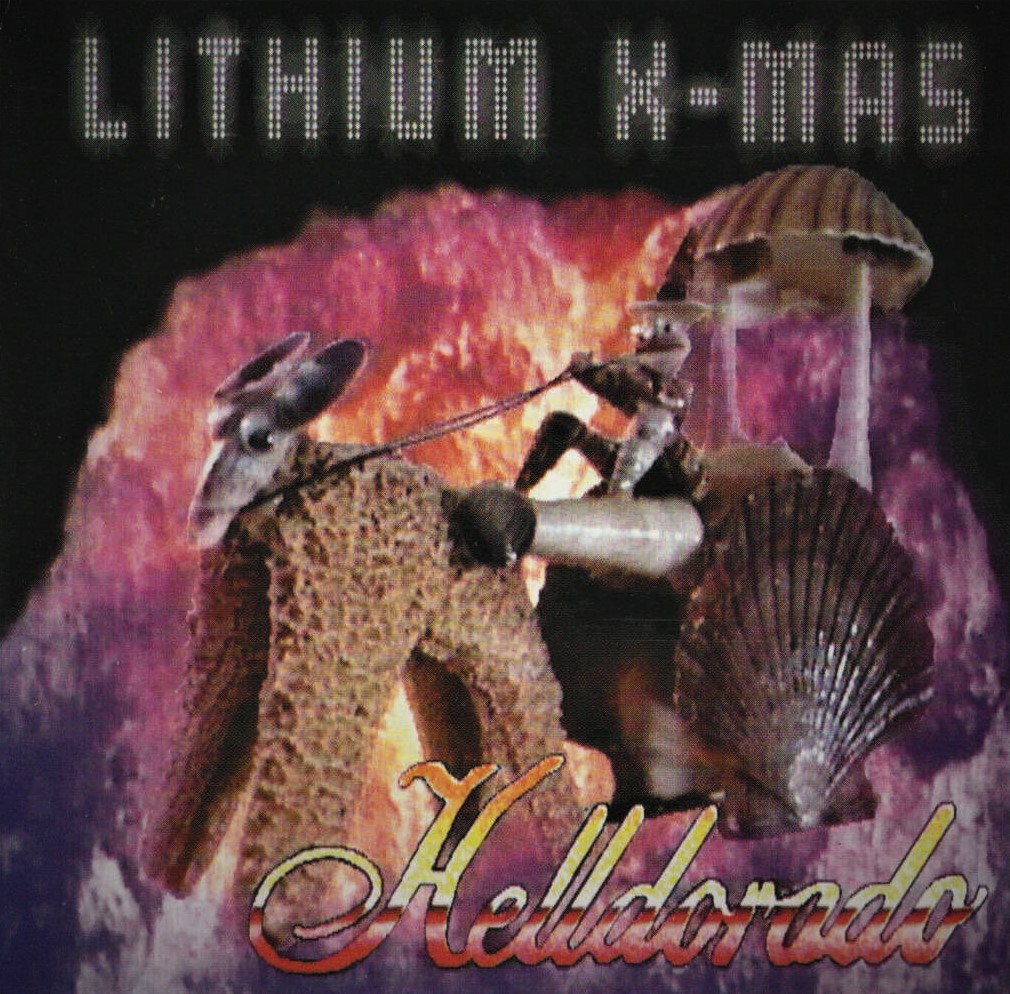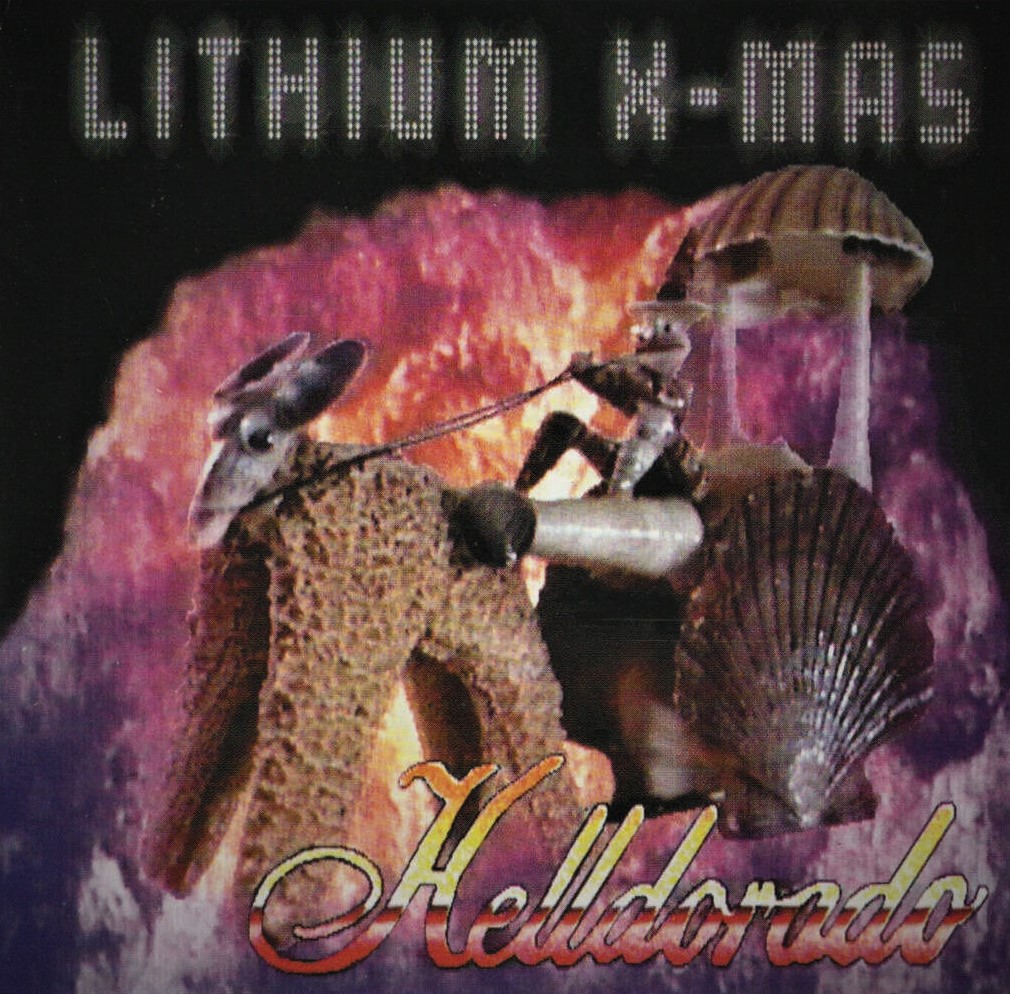 "We were often 5 years ahead of our time"
Was there a certain concept behind 'Helldorado'?
Greg: Not really. The way it came together was organic. But I think there was a stylistic continuum to its madness, a certain dystopic sense of things. Thus the title. which some heavy metal bands later appropriated. That kind of appropriation seemed to happen to us a lot. We were often 5 years ahead of our time. 'Aneurysm' came out in 1986. Five years later Nirvana came up with a song called 'Aneurysm'. Lithium Christmas was formed and named in 1985. And five years later, Kurt Cobain wrote a song called 'Lithium' about a guy on antidepressants who "lights his candles in a daze because I found God". Haha, we thought that sounded familiar. And Kurt knew who we were because we had played at the same venue with Nirvana a few days apart in 1989. And don't even get me started about 'Love Buzz' which we'd been playing live since '86 and recorded in '88. We took a different approach than Nirvana's first single, and never heard of it until years later.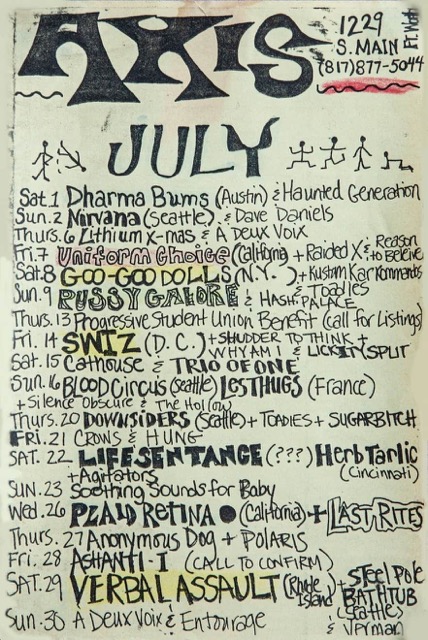 Were you inspired by psychoactive drugs when it comes to music making?
Greg: I think Lithium's stance towards psychedelia has always been twofold, both loving the altered experience and some of its twisted sonic artifacts; but not afraid to humorously mock some too-earnest and starry-eyed attitudes about it. We've looked at psychedelia from both sides now.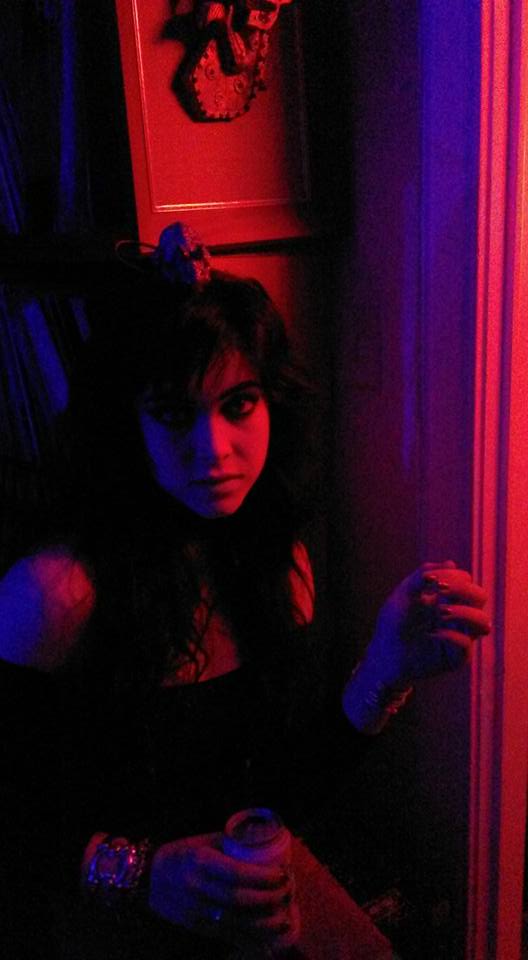 Mark: Alcohol has always been my preferred psychoactive ingredient when playing and more or less putting it all together.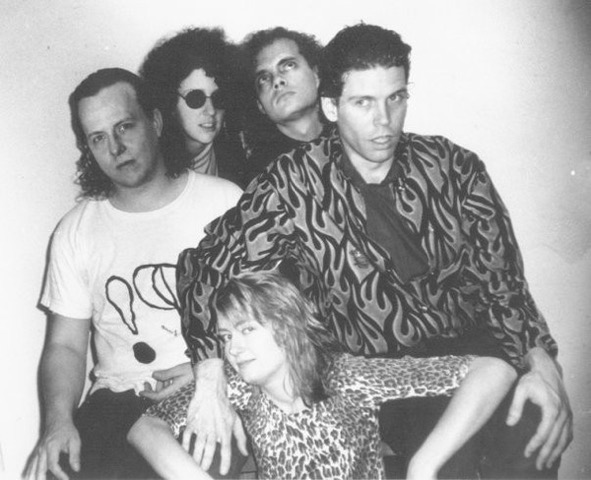 There's also 'Love & Napalm, Vol. 1' and 'Trigger Mortis'… 
Mark: Butthole Surfers' Paul Leary and King Coffey were fans of 'Aneurysm'. King used our version of 'Jump Into The Fire'.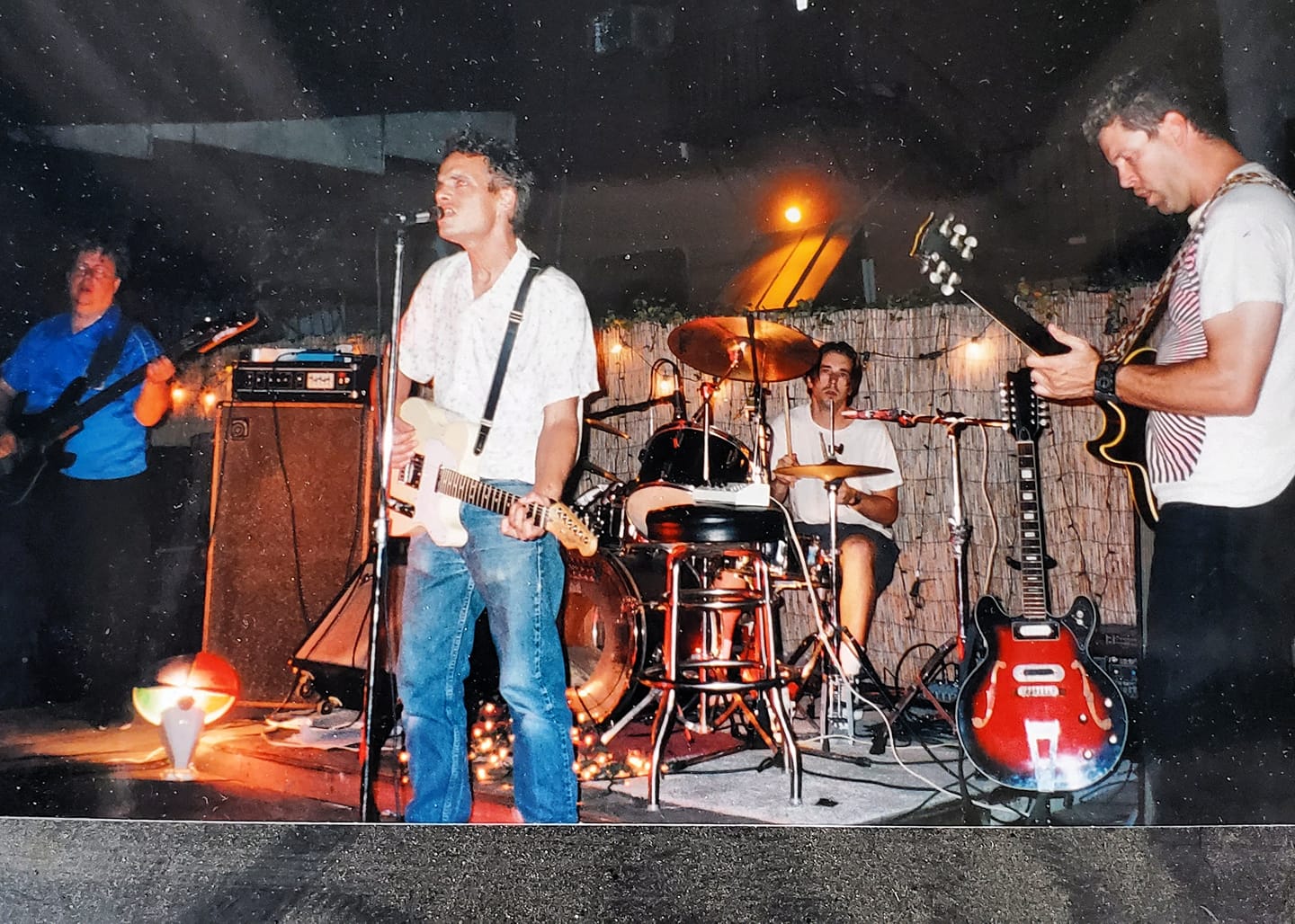 Greg: 'Love and Napalm' got us accoladed as Single of the Week in Sounds mag out of the UK. The reviewer really singled us out too, which was very pleasing. We played a great showcase in Austin when the record was released and the response was incredible. But I think there was a strain with all the other bands being from Austin which is a very music-centric city, and we were these upstarts out of Dallas, a city that doesn't have a particularly great cred for innovation.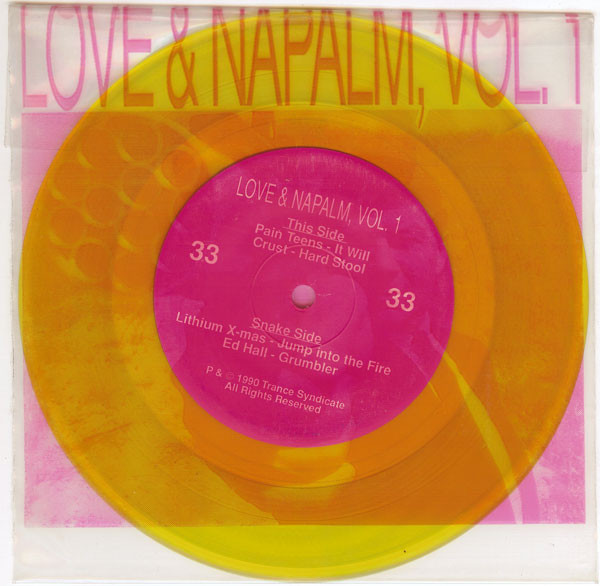 Mark: The 'Trigger Mortis' EP was our first release on our friend Kelly Keys' label Direct Hit Records.
Greg: I quite like the 'Trigger Mortis' EP, named because we were once again re-using tracks on the 'Aneurysm' release, so we jokingly referred to it as "beating a dead horse" (Trigger was the name of the famous steed of tv cowboy Roy Rogers). I really liked the mixture of tracks on that one though, and the inclusion of a dub version of the already twisted 'My Sweet Lord'.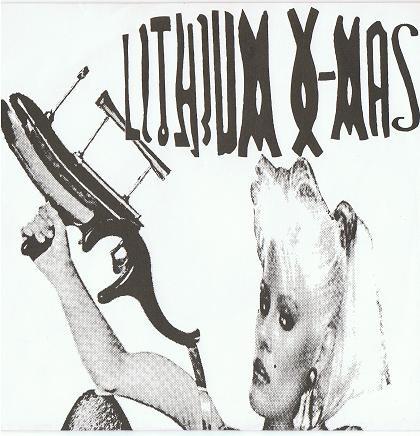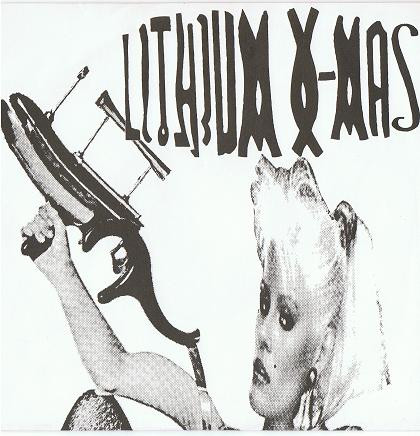 Tell us about 'Bad Karma'?
Greg: 'Bad Karma' was just a compilation of tracks on CD for listeners who missed the hard to obtain "cassette only" release of 'Aneurysm'. Our friend Drew wanted us to put something out on his label Lost Records, and since Mark and Chris were in Dallas, and I was then living in Seattle, we weren't able to do something totally new at the time. Our new record, the 2022 eponymous release 'Lithium X-Mas' is our most recent album, and we are exceptionally proud of it.
Mark: 'Bad Karma' was released on a reconstituted version of most of 'Aneurysm' with some other random cuts we recorded during that early period.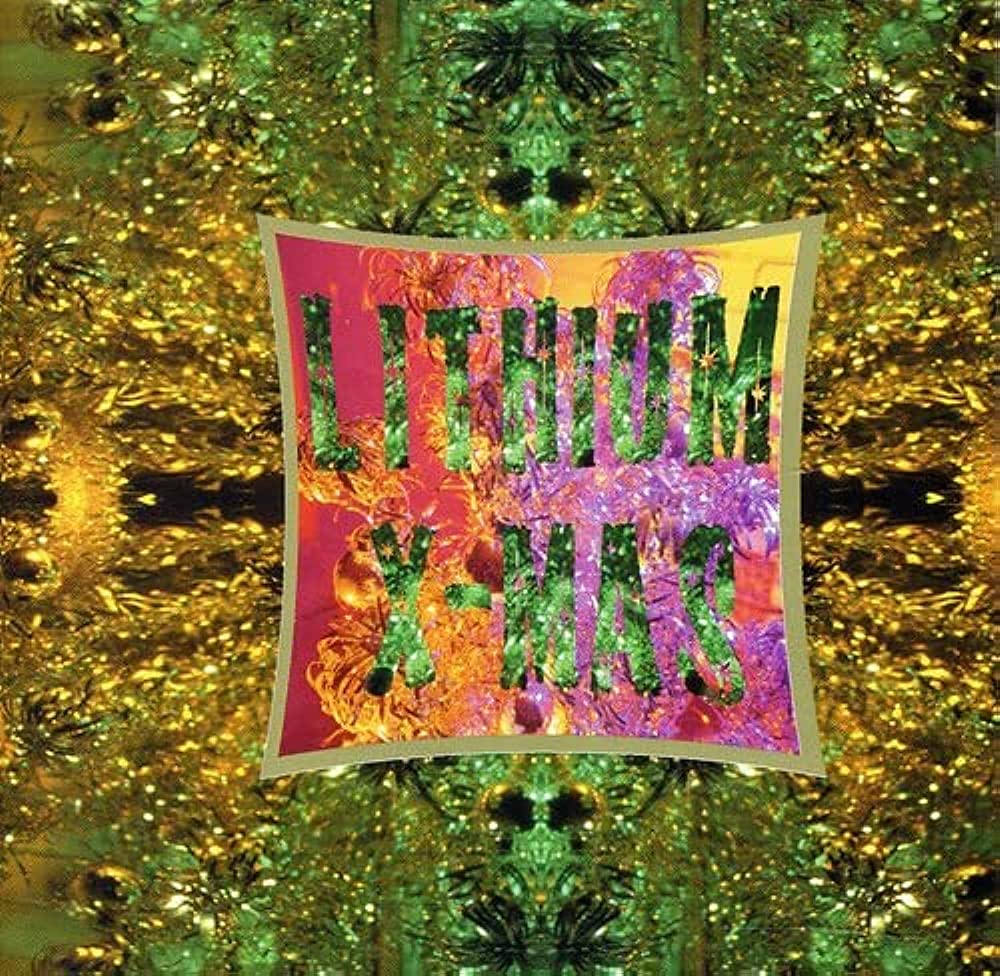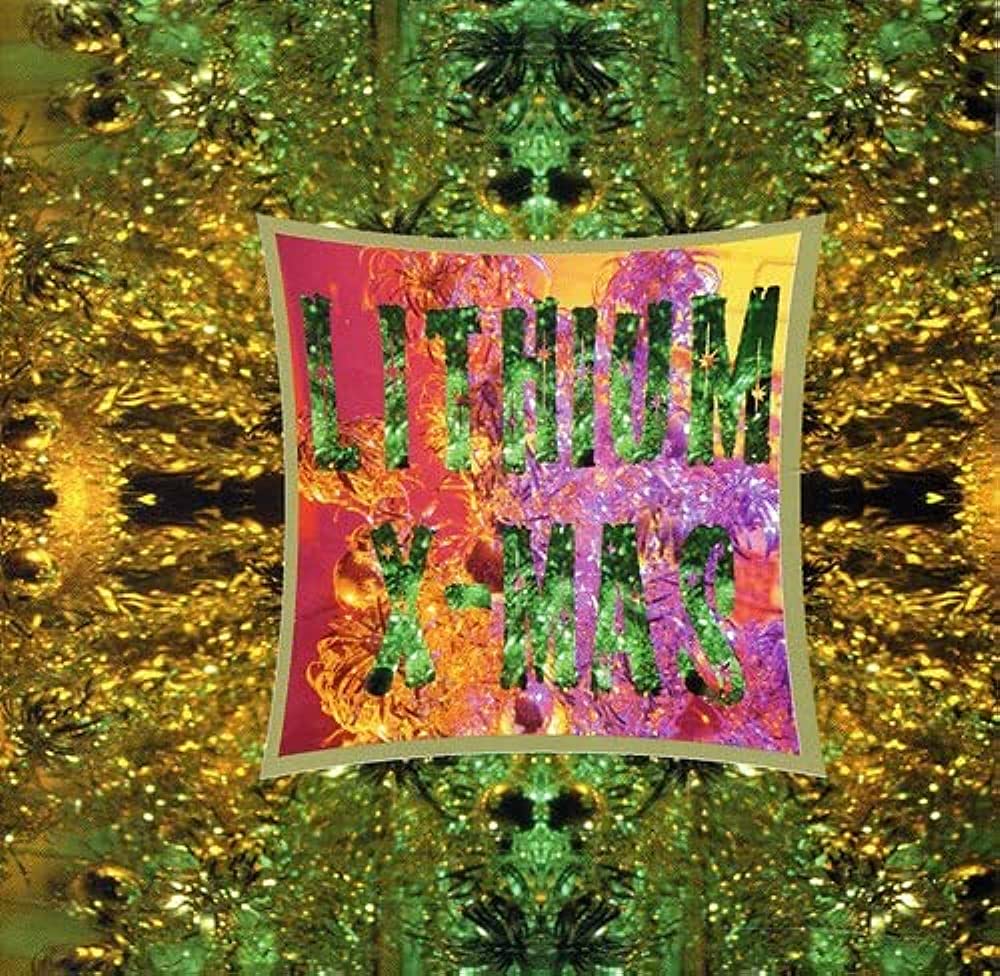 So then, was the new record 'Lithium X-Mas' (2022) your first release since 2011? What took you so long to make your new record and why now?
Greg: Well, the members of the band have remained good friends and always wanted to create things together. But we have been geographically challenged for some years now. I lived in Seattle from 1997 until 2021 and Mark and Chris have been in Dallas for years. It really has been the improvements in being able to work online that allowed us to properly work on and finish tracks, a few that we'd had sitting around unfinished since I moved from Dallas in 1997.
Mark: We started recording again in 2013 and that re-started the ball rolling. We recorded a cover of the theme song from the AIP exploitation film called "Cult Of The Damned" aka "Angel, Angel Down We Go" that we had been playing live since the 90s. But once we recorded the basic tracks, everything after that seemed to take forever.
Greg: Yes. Like, how to mix remotely? Who would mix it? How do we resolve differences in elements we liked or didn't like? Yeah, it took a shit-long time for us to figure all that out. But the more we kept liking how that song turned out, the more we wanted to finish out the rest of the album. Sometimes we had some recorded tracks but no vocals. Sometimes we had a bunch of tracks but no idea of what the final shape would turn out to be. The encouraging thing was, the more we worked on the record, the more we liked how it was coming out, and the more we felt invigorated to come up with the final mixes and the final touches. And we had no one really breathing down our necks to get things finished except ourselves. It's a little different from our initial releases, but who wants to stay the same forever anyway.
Mark: And it's very definitely still us.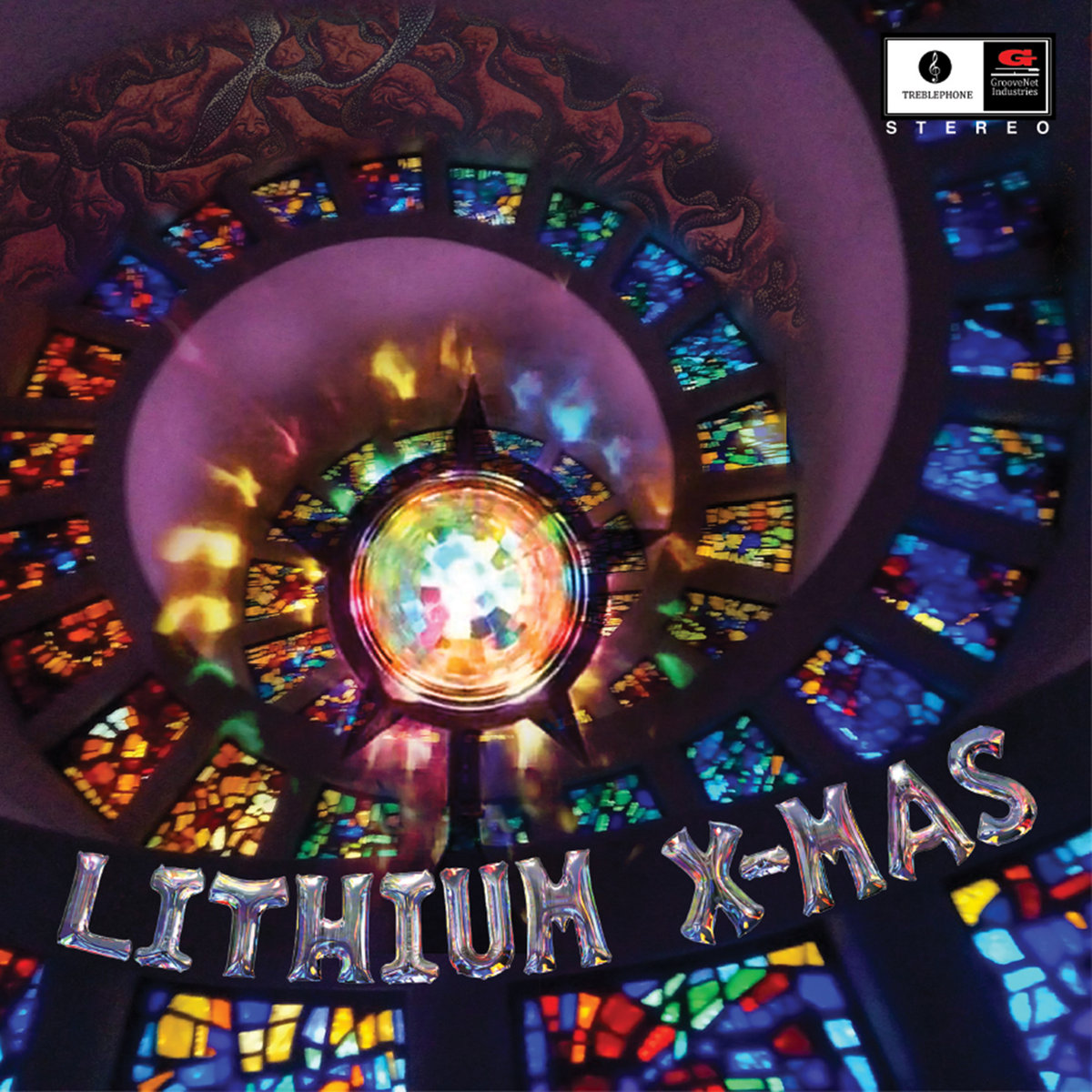 What else occupied your life after activity stopped in 1997?
Mark: LX ceased to exist as a live act. In '97 when Greg fathered a child and moved to Seattle. Chris and I still reside in Dallas. He plays drums, guitar and his own invention The Duchamp-a-phone. He also owns his own label packaging company. I have formed many short lived bands, continue to record solo stuff including a soundtrack for an upcoming Glen Coburn movie and venturing into spoken word shows. I mainly support myself as a special event mobile DJ.
Greg: I just worked in the media as I had been for years, and was also very committed to being involved in my young daughter's life. As she entered high school and then college, I had more available time to start thinking in a Lithium direction again. I never really stopped, but I am able to be more dedicated now.
Are any of you involved in any other bands or do you have any active side-projects going on at this point?
Greg: I suspect Mark will continue to do project based pick-up bands like the imitation Swedish garage style band he had in the early aughts called The Klogz. And he probably will until they have to wheel him in from the old age home. I still play occasionally with The Fallen Idles and we put out our own record in 2014 called 'The Fallen Idols'. We may as yet do something again. I also played with some local combos in Seattle including The Mystery Girls, The Whateverly Brothers, and Troublegum, which was my obsession with bubblegum music. But I didn't release anything during this time. I was otherwise occupied by my experience with parenthood. But she grew up to be an awesome kid with great taste in music, so doing my part for the future, y'know?
Thank you. And that brings us to now. What can you tell us about your new album?
Greg: We're really proud of it, and though it took us longer than we expected, we're also really proud we finished it. There were so many obstacles along the way that lesser souls might have given up. But I'm glad we didn't and think it came out great. I also think there's a lot of stuff in the grooves that will reward repeated listens. 'Lithium X-Mas,' the album, is a bit different from 'Helldorado' or 'Aneurysm' but it's still us doing what we've always done. It's a continuation and another evolution. The Big Muff is turned way down this time, but other subtle warp-ages are turned way up. It's still Lithium at its core. 
Klemen Breznikar
---
Lithium X-Mas Facebook / Bandcamp