Nick Mason's Saucerful of Secrets | October 26, 2022 at the Arlington Theatre Santa Barbara, CA | By Sean Mageean
Nick Mason's Saucerful of Secrets is comprised of legendary Pink Floyd drummer Nick Mason, Spandau Ballet guitarist Gary Kemp, Pink Floyd touring bassist Guy Pratt, guitarist Lee Harris, and keyboardist Dom Beken.
---
Since 2018, the band have been celebrating and performing the early Pink Floyd songs spanning from the Syd Barrett-era singles and Pink Floyd's psychedelic debut album The Piper at the Gates Of Dawn up to Obscured by Clouds — meaning pre-Dark Side of the Moon material–to "capture the spirit" of that era, with Kemp and Pratt sharing vocal duties.
As a fan of the early Pink Floyd material, and particularly Syd Barrett's songs, I was looking forward to this performance. The band opened with a high-energy performance of 'One of These Days'– the opening track from the 1971 album Meddle, which was also Nick Mason's vocal debut. Afterward, Mason said it was the first time he'd performed in Santa Barbara, having only made it as far as Los Angeles when Pink Floyd first came to the United States and performed on the Pat Boone show in 1967.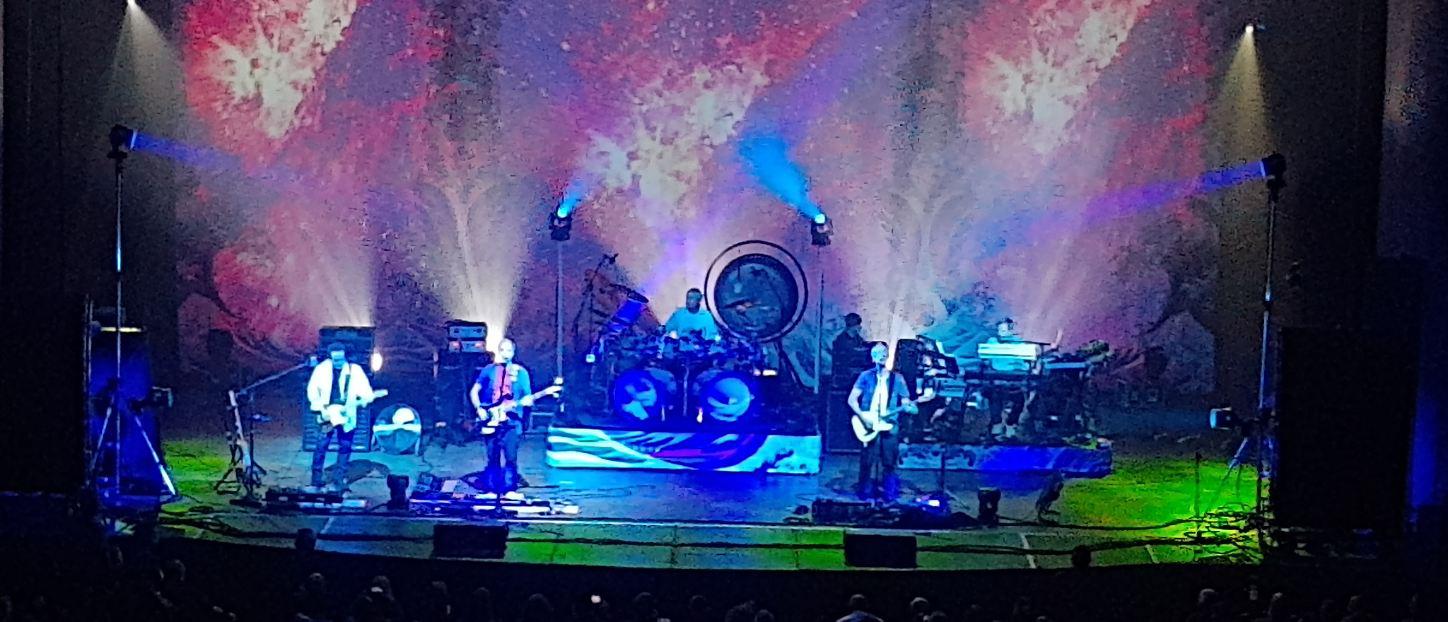 Next up was Pink Floyd's first single from 1967, the Syd Barrett freakbeat psychedelic classic tune 'Arnold Layne' — about a transvestite who steals women's knickers from washing lines. Following that was a great rendition of Roger Waters and David Gilmour's 'Fearless' (from Meddle), a song which surprisingly was never performed live in concert by Pink Floyd. 'Obscured by Clouds' and 'When You're In,' the first two tracks from the 1972 album Obscured by Clouds, were next, as Nick Mason's Saucerful of Secrets settled into a heavy instrumental groove.
Then it was back to the Barrett essence with the trippy 'Candy and a Currant Bun'–which was the B-side to 'Arnold Layne,' and the trippier 'Vegetable Man.' Nick spoke effusively of Barrett's early contribution to Pink Floyd's success and also mentioned that 'Candy and a Currant Bun' was originally going to be titled 'Let's Roll Another One' and contained the lyric "I'm high–Don't try to spoil my fun," but the record company wouldn't allow it. Personally, this lysergic diddy reminds me of an epic fusion of Donovan and The Who. Mason also mentioned that the sardonic 'Vegetable Man' had never been performed live in concert by Pink Floyd or any of the major Pink Floyd tribute bands, making Nick Mason's Saucerful of Secrets the only Floyd associated act to do the song justice. Arguably, 'Vegetable Man' might have been written as Barrett's self-aware statement on his own breakdown. 
'If,' the 'Atom Heart Mother (suite),' and a reprise of 'If' –all from the 1970 album 'Atom Heart Mother'–featured next as one extended deep cut. During the performance of Roger Waters' lachrymose song "If," a super enthusiastic woman sitting behind me all but ruptured my left eardrum when she screeched "Fuck Yeah!" at top volume as the band sang: "If I go insane, will you still let me join in with the game."
In honor of the late, great Richard Wright, the band performed one of my favorite early Pink Floyd songs, Wright's ode to childhood nostalgia, 'Remember a Day' (from the album A Saucerful of Secrets, 1968)–which Guy Pratt mentioned was very meaningful to him personally as his son is also Wright's grandson. Before performing a splendid version of Waters' 'Set the Controls for the Heart of the Sun,' (also from'A Saucerful of Secret'), Nick joked how happy he was now to have his own gong–as he was always too afraid to play Roger Water's gong back in the day. Afterwards, the band took a twenty minute intermission.
The second set commenced with a killer cover of the space rock opus 'Astronomy Domine'–the opening track from Pink Floyd's 1967 debut album The Piper at the Gates Of Dawn, and one of Barrett's best compositions. Then, Pratt said: "Are you ready to rock 'n 'roll?" and the band ripped into 'The Nile Song,' Roger Waters' hard rocking proto-metal song for the soundtrack to the Barbet Schroeder film More–and included on the More studio album from 1969. Interestingly, 'The Nile Song' was never performed live in concert by Pink Floyd. After that, beautiful iterations of the Wright and Waters hypnotic composition 'Burning Bridges' and David Gilmour's enthralling composition 'Childhood's End' (both from the album Obscured by Clouds) were performed. On a side note, I recommend to any who have not seen Schoeder's films More, and La Vallée (Obscured by Clouds) to watch them–beyond Pink Floyd's fantastic early music being part of their soundtracks, these films remain interesting artifacts from the counterculture era and a testament to a generation who strove to be free.
After 'Burning Bridges,' it was back to early days Floyd with another Barrett masterpiece: 'Lucifer Sam' (from Piper at the Gates of Dawn), complete with its sinister descending riff sounding like something out of an early James Bond film. After which, a mind blowing rendition of 'Echoes' (the group composition with Waters' lyrics from 'Meddle') earned Nick Mason and the boys a standing ovation. 'See Emily Play,' yet another Barrett classic (and Pink Floyd's second single from 1967), got played next; followed by Gilmour's transcendent 'A Saucerful of Secrets'–the opening track of side two of the album of the same name–to huge cheers. Finally, the band closed with Barrett's 'Bike' –the last trippy track from 'The Piper at the Gates Of Dawn,' with its musique concrète aspect and tape loop of Pink Floyd laughing at the end of the song.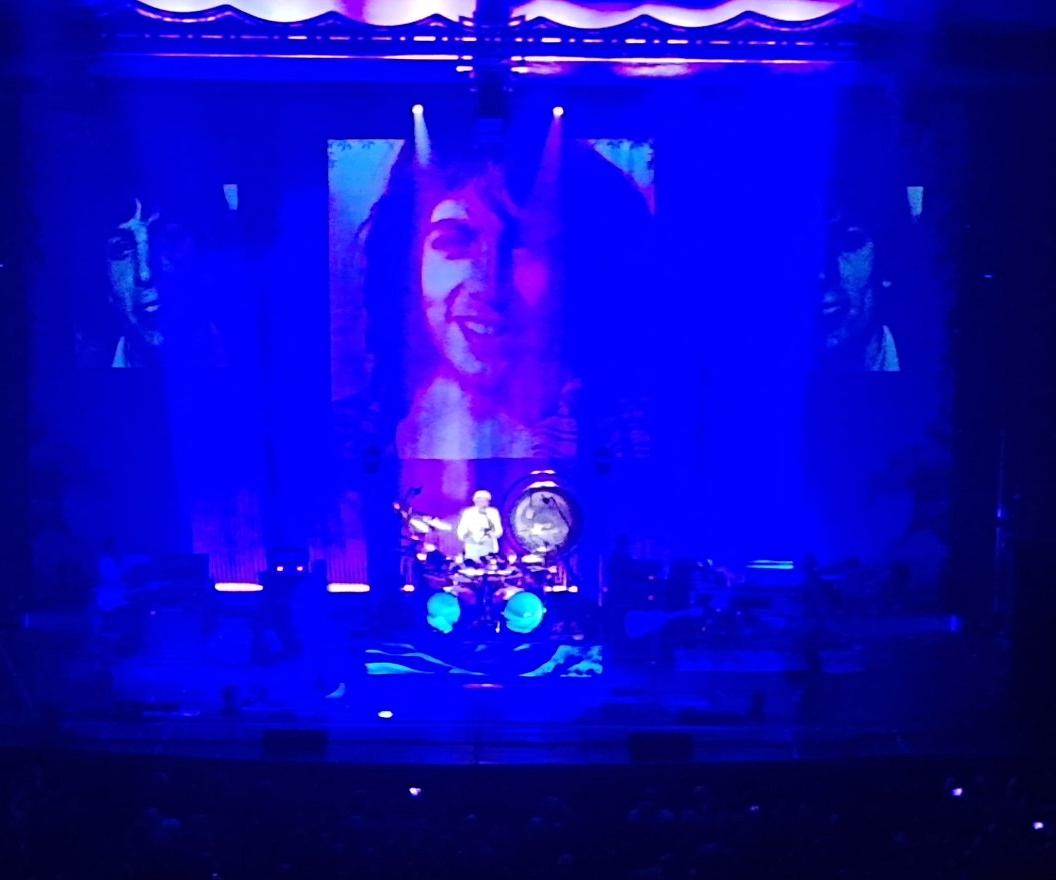 Although I would have liked to have heard 'Green is the Colour,' and 'Cymbaline' from 'More'; 'Grantchester Meadows' from 'Ummagumma'; and 'Summer '68' from 'Atom Heart Mother,' I really can't fault the set list, and all of the background projections–including Syd's face–and the oils lighting show harkened back to Pink Floyd's early UFO Club days in swingin' London. All in all, it was a great concert with Nick Mason and the group bringing the early, vital Pink Floyd music–and Syd Barrett's lasting legacy– to the ears of eager fans–many of whom weren't even born when this music was first recorded.
Sean Mageean
---
Crazy Diamonds Shine on at the Roundhouse in London