'Compañeros' by Low Red Moon | Album Premiere
Exclusive album premiere of 'Compañeros' by experimental Birmingham collective Low Red Moon.
---
The weird and wonderful psy-fi Americana collective Low Red Moon celebrated the release of their debut album 'Compañeros' on Friday 15th April with a headline show at the esteemed soul & retro club The Night Owl. The album is available to buy now on Bandcamp ahead of its larger release to streaming platforms on the 15th May. The new record features hit singles 'Fluid', 'Here On The Moon' and 'St. Vitus'.
Low Red Moon are a multi-disciplined collective, making mostly music with a bit of poetry, visual and performance art thrown in for good measure. Their music is self-described as "Psy-Fi Americana", a blend of psych and sci-fi and is the culmination of many hard-working artists; Kaytee Thompson-DeWolfe, Gary Charles, Sean Thompson-DeWolfe, Andrew Wilson AKA Dr Magnets, Beth Walsh, Angela Cross, Olly Pilsworth, Faisal Rashid and Carla Busuttil.
The album was released on their own label and collaborative community project, Under Coven. It is through this project that Low Red Moon were awarded Arts Council funding.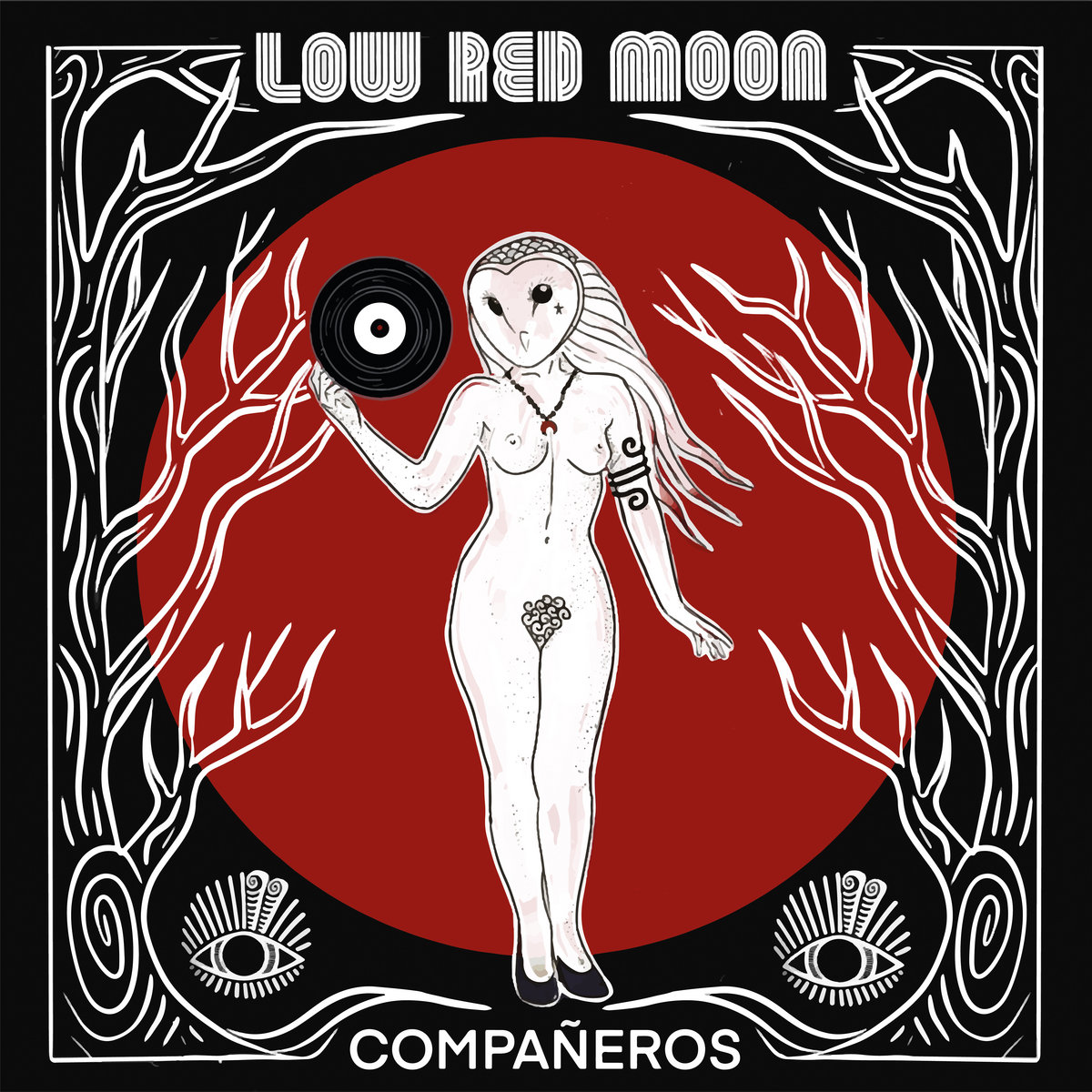 Speaking of the album, frontwoman Kaytee states "'Compañeros' was chosen as it means companions or friends in Spanish, which we all are, and it's also a nod to our guitarist's love for spaghetti westerns. When we were recording the album in Wales, we woke one morning to find Dr. Magnets blasting Ennio Morricone at full volume whilst cleaning our shared kitchen, which was too cute for words. I wrote most of the songs but a couple, like singles 'Fluid', 'Smoke & Mirrors' and 'Full Wolf Moon' came about through jamming collectively, something we are doing more of and will continue to explore".
The experimental collective boasted a fantastic lineup of bands, DJs and spoken-word artists for a fantastic launch party on Good Friday, featuring post-rock group Arapaima, performance poet Sean Thompson-DeWolfe, performance artist Miz E. Laneous with live visuals from VJ Vajazzle.
Low Red Moon release their mini-album 'Compañeros' on Sunday 15th May.
---
Low Red Moon Facebook / Instagram / Twitter / Bandcamp