Held By Trees | Interview | David Joseph | New Album, 'Solace'
Held By Trees is a new instrumental project featuring some of the most respected musicians in the British rock fraternity. Sitting between post-rock and prog, the outfit led by David Joseph announces their debut album, 'Solace', which will be released in April 2022.
---
Boasting seven veterans of the seminal latter Talk Talk and Mark Hollis solo albums, other contributors include Tim Renwick (guitar – Pink Floyd, David Bowie, Eric Clapton), Mike Smith (sax – Blur, Damon Albarn, Gorillaz), David Knopfler (guitar – Dire Straits founding member), Gary Alesbrook (trumpet – Noel Gallagher, Kasabian, Super Furry Animals) as well as parts from blues/roots legend, Eric Bibb, Dutch rising-star, Just, and ambient composer, Unknown Replica.
After establishing themselves with pop hits such as 'It's My Life' and 'Life's What You Make It', Talk Talk, led by Mark Hollis and producer, Tim Friese-Greene, broke new musical ground, defining what would later be termed as "post-rock" with their seminal album, 'Spirit of Eden' (1988). Three years later they returned with 'Laughing Stock'. Part of that creative process was to invite musicians they respected in to improvise on their arrangements. Guitarist Robbie McIntosh (Paul McCartney, The Pretenders, John Mayer), drummer/percussionist Martin Ditcham (Chris Rea, The Waterboys, Nik Kershaw), bassist Simon Edwards (Michael Jackson, Billy Bragg, Fairground Attraction) all took part in those sessions, and have now contributed to 'Solace'. A solo record from Mark Hollis followed in 1998 which featured pianist Lawrence Pendrous, and flautist/clarinetist Andy Panayi, both of whom have also now played for Held By Trees. Engineering all of these albums, as well as classics like John Martyn's 'One World', is Phill Brown, with Denis Blackham mastering them. Phill and Denis have kindly come out of retirement to mix and master this debut album from Held By Trees.
'Solace' was made using a similar approach to 'Spirit of Eden' and 'Laughing Stock', with David Joseph inviting musicians to improvise over his rhythm patterns and chord progressions. Blending in his own spontaneous compositions and field recordings made in Dorset, Wiltshire and Somerset, the result is a unique album that carries the DNA of the seminal Talk Talk records, and yet stands in its own identity.
'Solace' is a work that revels in the natural world. At once both melancholic and hopeful, the album is purposefully full of space, tension and release, and music that demands patient listening. The project celebrates nature, not just through the music and artwork (including a motif from Talk Talk's artistic partner, James Marsh), but by partnering with Play It Green, a real tree is planted for each album sold. Held By Trees thereby removes more carbon from the atmosphere than it produces.
All told, Held By Trees begins its career with an impressive first album project with unique claims and a tantalizing cast of contributors.
'Solace' will be released on 22nd April 2022 on Tweed Jacket Music through Nova/Plastic Head Distribution.
Pre-order here!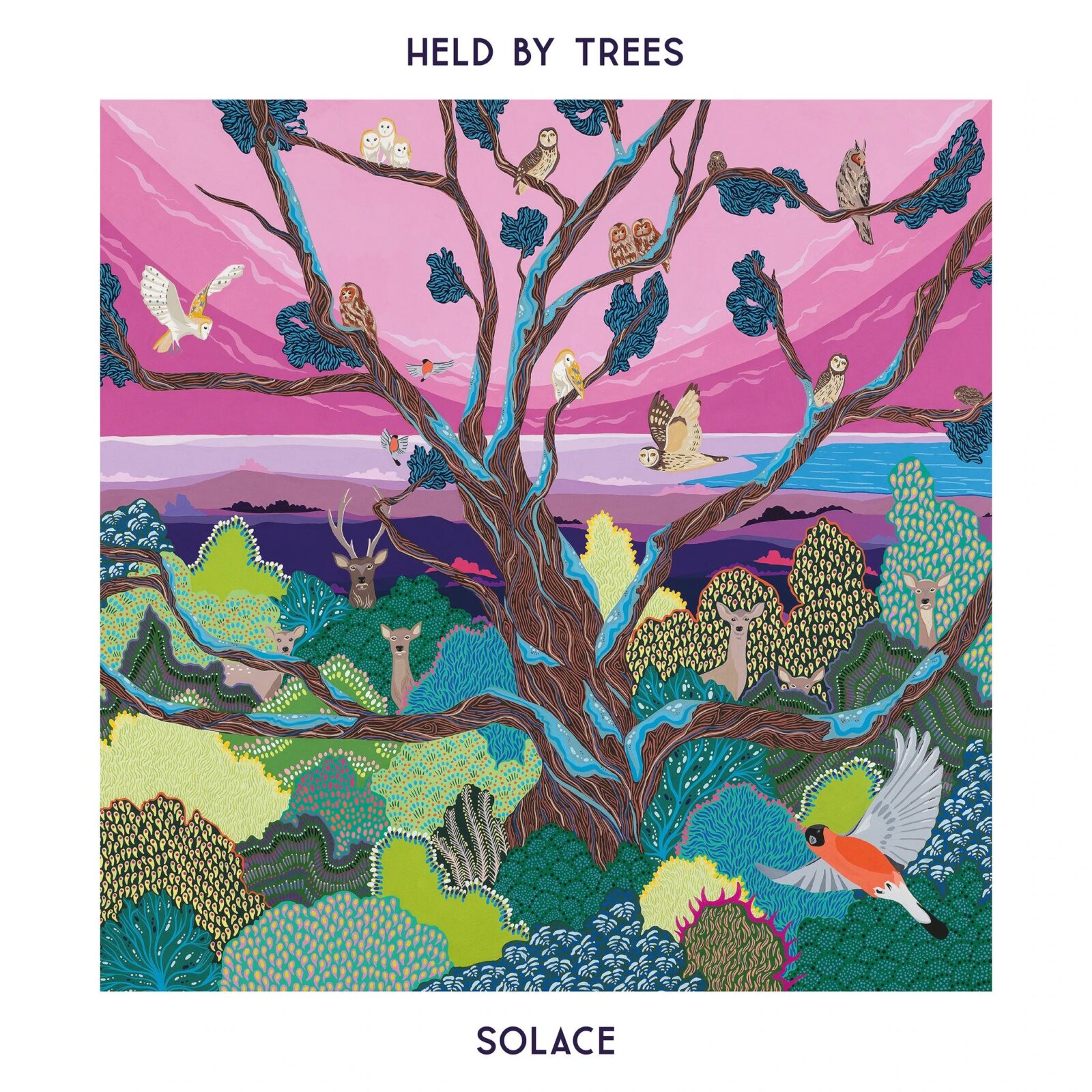 You're all veterans of the scene. How did this project come to realization?
David Joseph: Well, I'm a veteran of a scene, but not the same one as these guys. I have made a lot of ambient music over the years under various names and did a track a few years ago with Tim Renwick. When I wrote the initial demos for what has become 'Solace' I sent them to Tim. He introduced me to Phill Brown and then the doors started to open with the musicians. Once a few trusted folk were onboard, it was easier to ask others. The end result is an album full of some of my favourite musicians that I mainly got introduced to via my favourite bands, like Talk Talk, Blur and Pink Floyd.
"I very much want to play this music in a live context"
Your debut album is scheduled for April 2022. Are you excited about it? Do you think you will be able to do some touring after it?
Yeah, I am very excited to see what people feel when they hear it. It will have been two years almost to the day since the initial demos were created. We have begun to assemble a live iteration, yes. There is a core of musicians that are all in the south of England, so it's possible to get together to rehearse. I very much want to play this music in a live context. I think it will really open up and we can let it grow new "branches", if you'll forgive the obvious tree symbolism!
The list of musicians is truly outstanding! How did you get such an impressive list of musicians?
I think once it had a few well respected names attached to it, it was easier for others to say yes. It's hopefully also got something to do with the vibe of the music, and the vision of the project. There has never been a more important time to celebrate our natural world around us. Several of the musicians are really into bird watching and love being out in nature.
Can you share some further details on how it was recorded?
I wrote the initial three pieces on my home set-up, just noodling around during the first lockdown in Spring 2020. Some of those first takes remain on the record, the slithery tremolo guitar on 'In the Trees' for example. The first thing we did in the studio properly was Laurence Pendrous coming in and playing real piano and harmonium. We then replaced the demo double bass with Ben Taylor's exquisite playing. Martin Ditcham did all the drums and percussion in a studio in Belem, Brazil, where he now lives. Then I started to send the rough mixes out and Robbie, Tim, Eric, Andy, Mike, Gary and several others did their parts on their home set-ups. We put down the string section live in the studio (Room With A View, Dorset), and then there were some finishing touches added. In the end we have sessions from across England, and then Sweden, Canada, the Netherlands and the USA. I edited it all into shape and then we mixed it with Phill Brown at Echo Zoo in Eastbourne, England, over three days.
The album itself is quite complex. Was it difficult to get all the material together?
No, it really wasn't. I can only speak for myself in that the most fiddly bit was the editing of the parts being sent in to me. It was kind of heartbreaking to leave so many beautiful moments on the cutting room floor, as it were. To get the feeling of space and unhurried peace, I had to be pretty ruthless in leaving things out!
Would you agree that this is a certain continuation of what was started with the 'Spirit of Eden'?
Absolutely, but also in as much as what Talk Talk and Tim Friese-Greene were doing with 'Spirit of Eden' is a continuation of what Can were doing with 'Tago Mago', Miles Davis with 'Bitches Brew' and what the New York Avant Garde were doing in the 50's and 60's with minimalism (Feldman, Cage, et cetera). We are all part of the unfolding evolution of contemporary music, and Hollis understood that very clearly. He was the first to cite those influences. Pink Floyd looms large in the sound of the album; there's a lot more lead guitar and sax than Talk Talk ever had going on, and we are an instrumental project which is a vital difference between Held By Trees and Talk Talk. However, the musical ethics are rooted firmly in the approach to making 'Spirit of Eden' and 'Laughing Stock'. Most of what you hear is improvised and edited from many takes, which is directly a continuation of the method. There's a commitment to using as many first takes as possible in adherence to Hollis' wisdom where "the first time something is played, it's at its finest". That was so central a thing for me that I put that quote in the sleeve notes. Without a doubt, Held By Trees is part of the Talk Talk/Hollis legacy, but it's also part of the Pink Floyd, Sky, Dire Straits, Ryuichi Sakamoto legacy, too (among still others!). It's a sincerely loving homage that carries real DNA from those albums in these musicians and technicians, but not a pastiche or a direct tribute. We aren't Talk Talk and I am not Mark Hollis, and I know that I tread on sacred ground in even mentioning them or those albums in the same breath as Held By Trees.
You had legendary Phill Brown engineering it and Denis Blackham mastering it. Phill and Denis have kindly come out of retirement to mix and master this debut album from Held By Trees. That's pretty incredible if you ask me!
So much of this project is down to real relationships people have forged with one-another over decades. Phill, Denis, Martin, Robbie; these guys have been working with one another in various scenarios for the best part of 50 years. When someone like Phill puts his rightfully revered name to something, it opens doors. He is one of the most kind, generous, understanding people I've ever had the pleasure to meet. I felt like he understood my vision straight away, and you can't put a price on that. I certainly don't take it for granted. He trusts Denis implicitly with his mixes, and it was quite lovely watching their exchanges over email as we worked on the master. The result is just right for the music, and it's getting a lot of compliments, so I am very happy indeed.
What was the creative process for the album… Did other musicians have complete freedom or did you give them certain guidelines?
I gave everyone a lot of freedom, well, maybe apart from dear Martin Ditcham who had to re-create my drum patterns. I did let him loose on percussion though. I wasn't in the room or even the same country for many of the sessions, so musicians had an extraordinary amount of freedom. I picked the musicians as I knew I would like what they would do, having been admirers of many of them for a long time. There were a few guidelines in play, for instance I did ask for shorter and longer notes and phrases amongst the improvisation.
How has the pandemic influenced your creative process? Did it feel freeing, overwhelming, anxious?
Honestly, for me it kept me sane. It gave me something exciting to focus on. I was trying to homeschool my kids at various points which I found incredibly stress inducing. The music was a hugely welcome way to engross myself in something else entirely; another world opening up right there on my laptop! I would also say that the headspace I was in when writing this music probably wouldn't have been reached in "normal" times. The first lockdown was during a glorious spring and the world felt so acutely different – I am sure it informed the feel of the music.
"There has never been a more important time to celebrate our natural world around us"
I absolutely adore the concept "Play It Green", a real tree is planted for each album sold. Held By Trees thereby removes more carbon from the atmosphere than it produces.
Yeah, that's been a really rewarding and exciting partnership to establish. It's thanks to our manager, Bill Brightley, who knows a lot of people in the music retail side of the business. He knew one of the founders, Matt Burton. It just fitted so perfectly, it was a "no-brainer".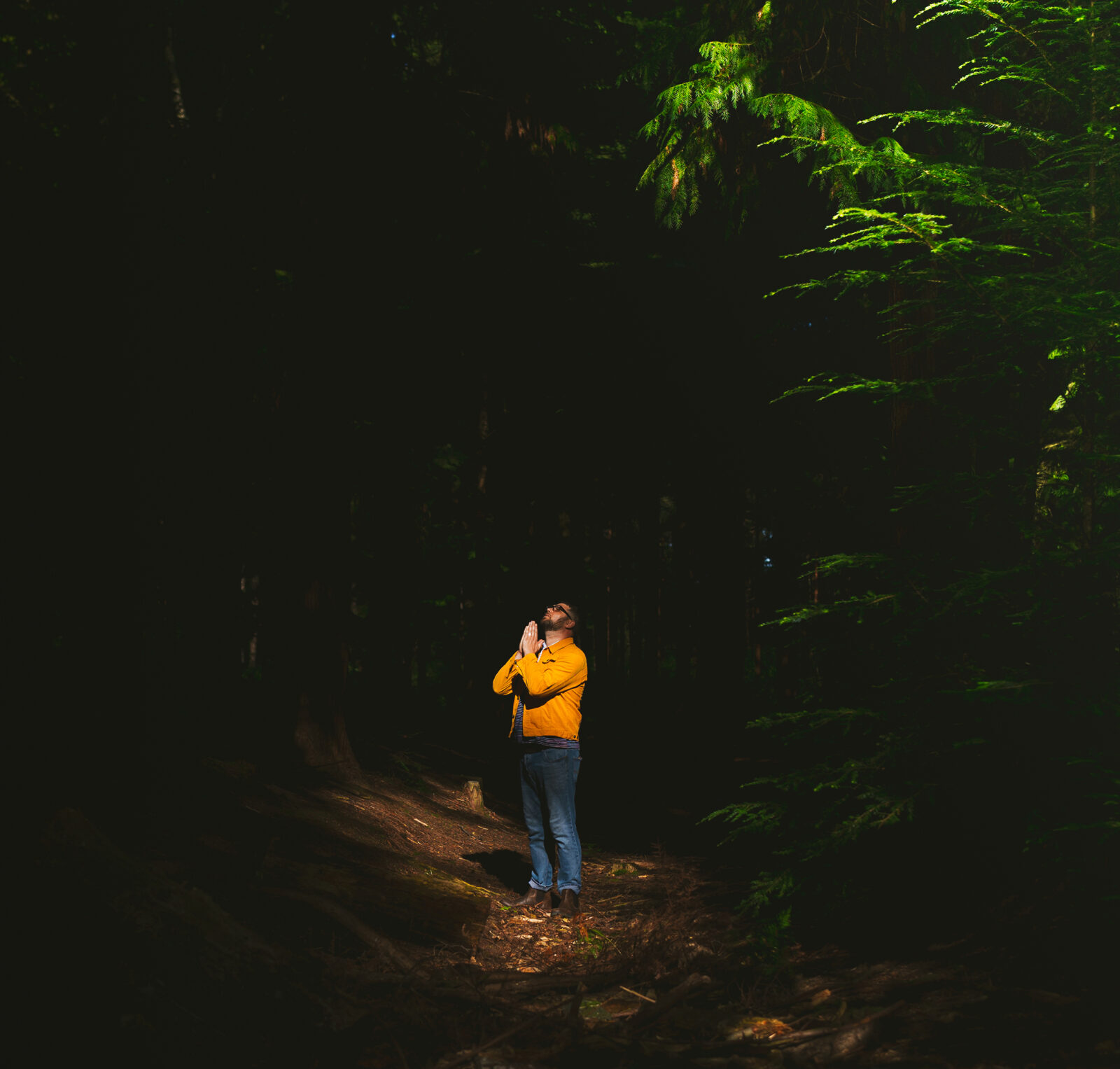 Thank you for taking your time. Last word is yours.
Thank you so much for talking to us. I hope this album brings solace, that comforting sense of empathy, to its listeners.
Klemen Breznikar
---
Held By Trees Facebook / Instagram / Twitter / Bandcamp / YouTube