Andy Aquarius | Interview | "Transcendental journey through the outer realms of ambient"
Andy Aquarius is a sonic alchemist. An experimental multi-instrumentalist and fringe musician.
---
Andy has been roaming the underground and releasing music under various aliases that adventurously explore a wide-ranging sound covering everything from experimental folk to synth-pop, psychedelic rock, textural ambient, and film scoring.
Hush Hush Records recently released the debut full-length album 'Chapel' by this Berlin-based harpist, multi-instrumentalist, and vocalist. It's a timeless record that captures a primordial beauty, 'Chapel' places Andy's exquisite homespun harp arrangements alongside honest vocal melodies for a transcendental journey through the outer realms of ambient, classical, new age, and folk music.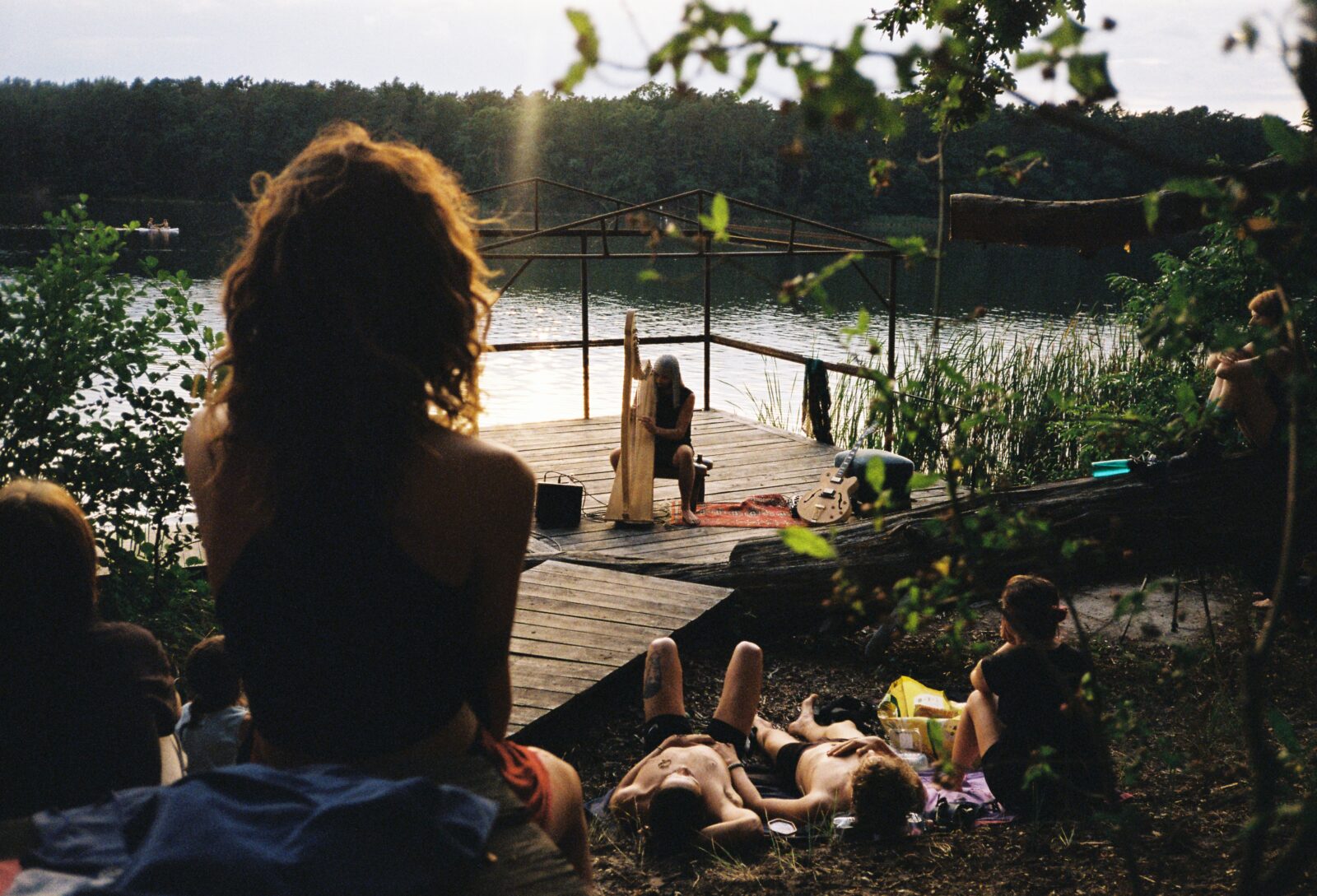 It's great to have you. How did you first get involved with music?
Andy Aquarius: It must have been the year 1459 when I decided to drop the saw and become a full-time musician. I was a pretty lousy and very mediocre lutenist back then but still doing alright compared to my awful carpentry skills, the latter of which would have cost me a hand or an arm at some point. In my current form, I started out on the piano quite early, but it was a traumatic event at age 14 that triggered my soul memory and got the ball rolling again.
How did you first get involved with harp and what's so special about it?
The harp first got involved with me by presenting itself in a very favourable light and position when I walked past it at a medieval instrument fair. Next thing I know I'm standing next to a harp builder, constructing the instrument that I now call my own. And for me personally, it's hard to find anything that's not special about it. I love it unconditionally and am riding that honeymoon wave into the sunset.
Who is Andy Aquarius and what's his story?
He's a rogue fragment of myself, like some gnome took one of my ribs and turned it into a second being that is merging with me sometimes and occasionally wanders off into the woods to do its own thing. For me it's about amplifying certain character traits and emotions of mine, growing them into a gestalt I can comprehend and then look at what that gestalt will do that maybe I wouldn't. Me being a non-politician, that's the best non-answer I can give.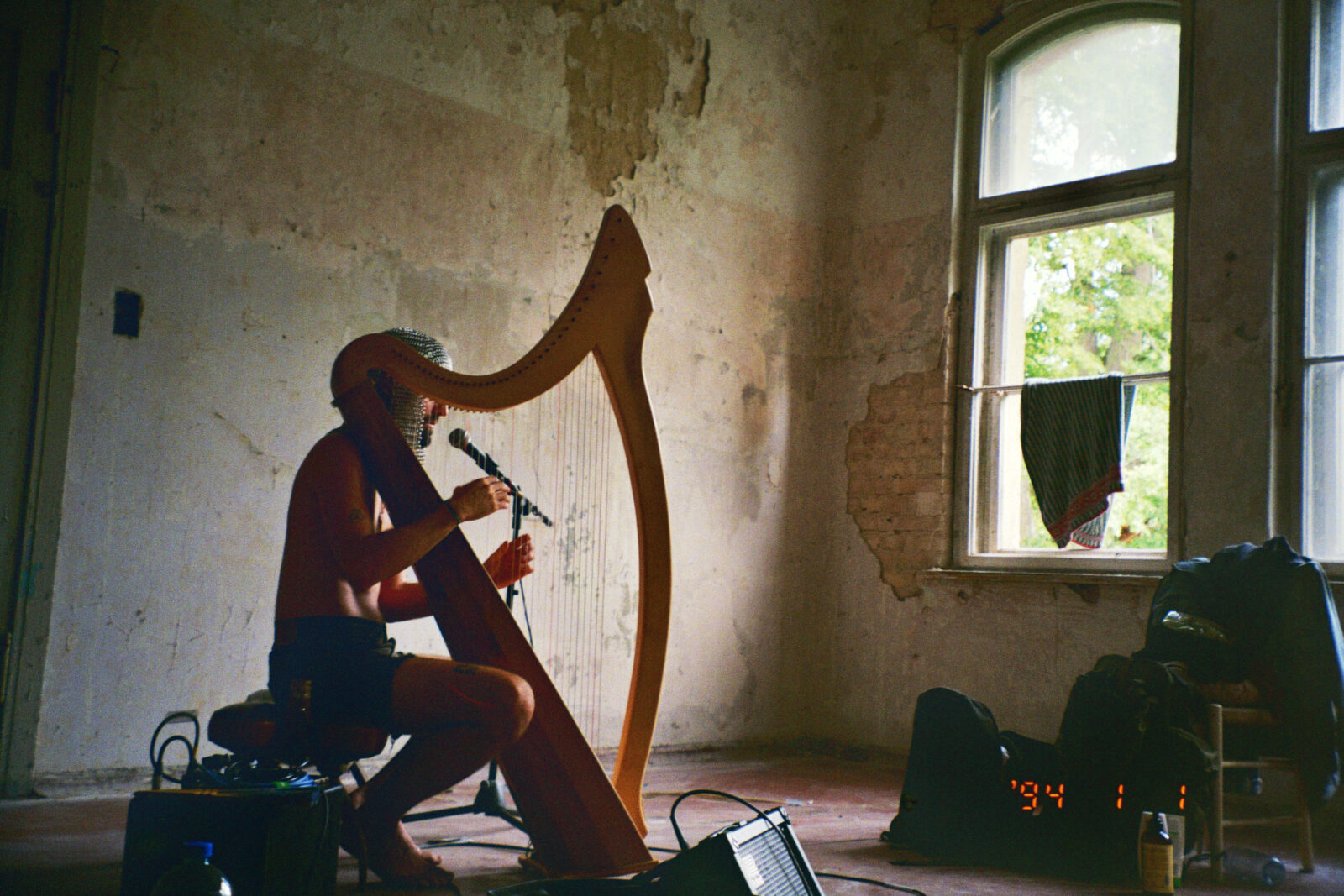 "I wanted to do the album as stripped down as possible"
Your music is full of experimentation. What can you tell us about the making of your debut album?
'Chapel' was recorded live and within three days by Martin J. Fiedler at Klangbild Studios Berlin. He's been on the faders for some other great records as well, like Raoul Vignal and Josh T. Pearson's debut albums. I also credit Martin for pushing me into actually laying down these songs. I wanted to do the album as stripped down as possible, performing the songs without headphones on, harp and vocals done together. Struggling with perfectionism, this thought gave me some mild anxiety, so I kept postponing the session for a while until Martin pinned me down like a German lepidopterist deep in the Amazon would do with a rare butterfly. Gentle yet firm.
The whole album is such a fantastic flow of ambient music mixed with a variety of styles. It's very intimate in its nature. Where does your inspiration come from?
Thank you. I could say something like "there's rips in the fabric, and they release previously fenced off fibers that flicker in a mountainous distance when you're neither looking nor looking away", which would be rather cheesy and sound like a bunch of random words thrown together, but it's potentially close to the truth. And regarding the intimate nature, I definitely did shed some layers in order for this record to come together. It's been the result of a long inner process and I'm glad that my resistance gave way. That's me avoiding the word "shadow work" because it gives me a hippiesque 9 to 5 feeling.
Harp and voice makes a very unique record…
One would think so, and that's the reason why you should consider owning it on vinyl. But yeah, it's not up to me to judge, so I'd rather share the words of Alex Ruder from Hush Hush Records, who is responsible for getting the album out into the world. "A timeless record that captures a primordial beauty, 'Chapel' places Andy's exquisite homespun harp arrangements alongside honest vocal melodies for a transcendental journey through the outer realms of ambient, classical, new age, and folk music." Thanks Alex.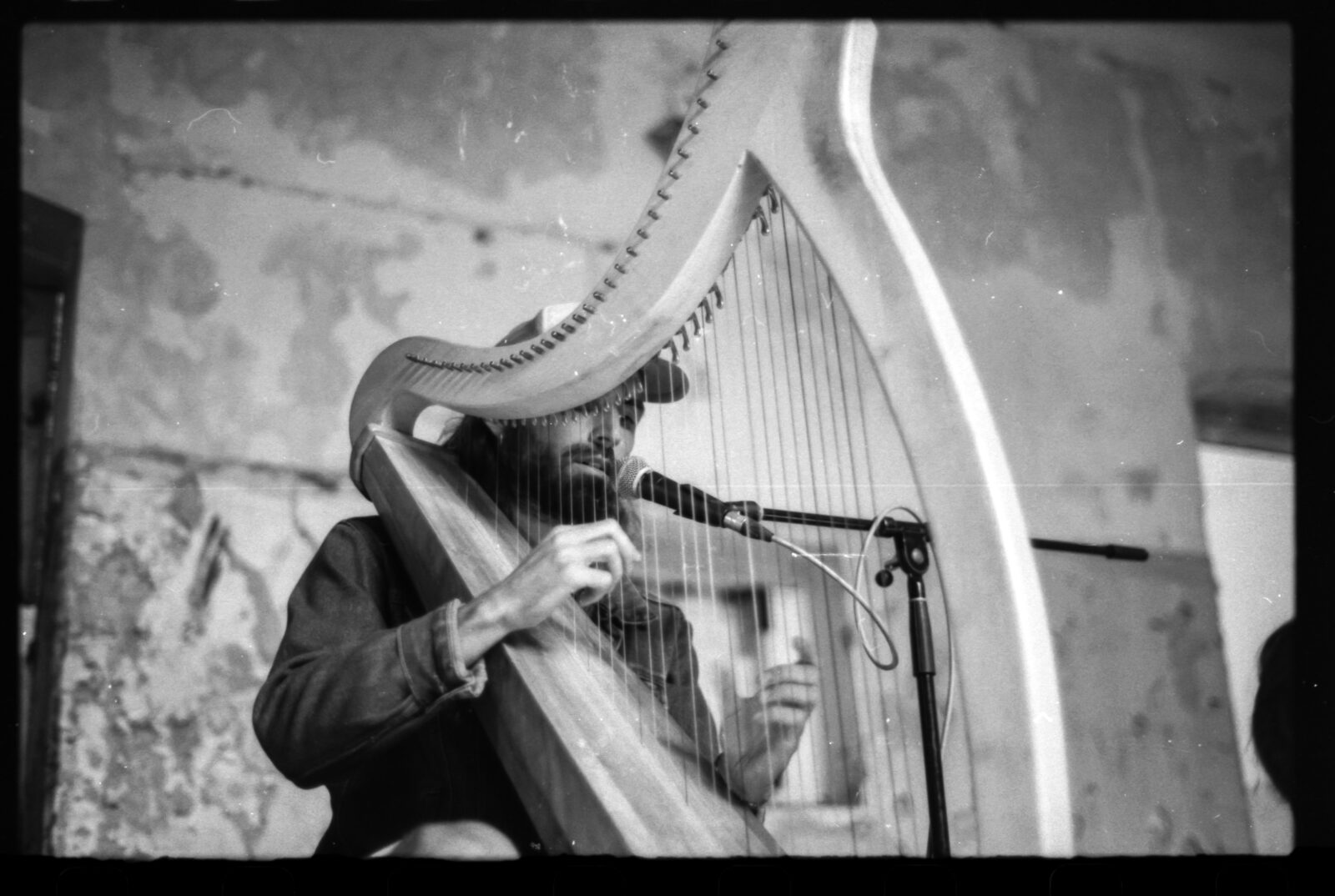 Elvira Akzigitova took care of the album artwork. Is there a certain concept behind it?
Elvira took the cover photo on her medium format camera and created the subtle shimmers and effects in front of the lense. We wanted it to be simple but suggestive. I dreamt of having some sort of Aquarian headpiece and Art Nouveau depictions of warrioresses seemed like a good energy match to work with. The coif, which my friend Joanna Andrioli designed for me, goes well with the harp of course but also has a slightly futuristic vibe, like the advanced version of a tinfoil hat. Which at this point in history isn't such a dumb thing to wear perhaps, considering all the starlinks and other gadgets they're pumping into the orbit.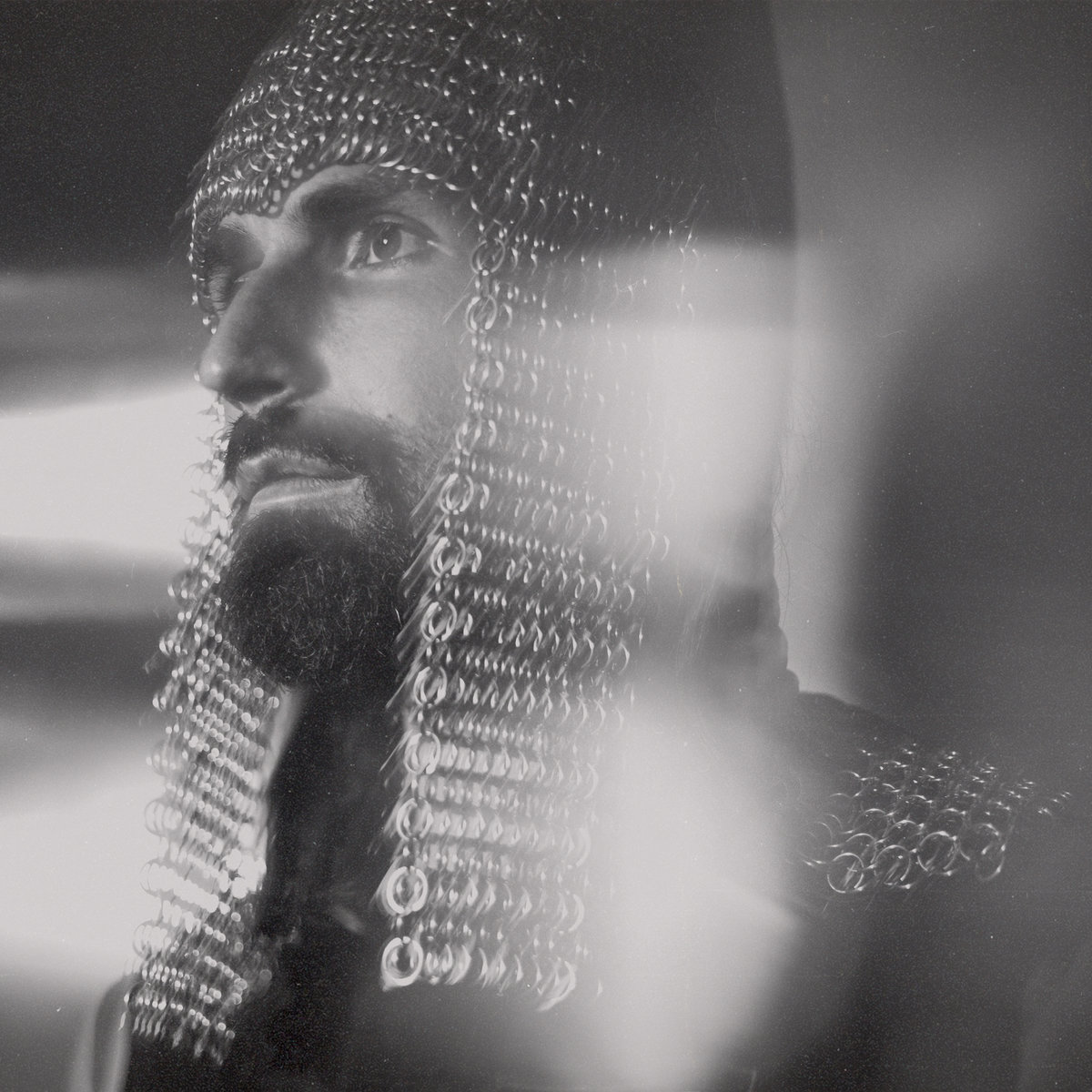 Does living in Berlin have any advantages for a musician?
If I could reframe this question, I'd put it like this; do the advantages of living in Berlin outweigh the disadvantages? And I'd answer with, "I certainly felt so, now I merely think so"! As a physical location, it can be quite energy depleting, maybe there's too many dead bodies in the ground. But I made the most inspiring connections and my circle of friends is comparable to the council of Elrond. You win some, you lose some. Plus it's still relatively affordable for a capital city, but the life discounts can't hide the fact that you're landlocked by a flat and glyphosate ridden landscape.
What about your other projects such as Ozbolt?
I got stuck on the island of Sardinia for the European Winter lockdown, first accidentally and then deliberately, and this project just happened on the sideline while I was enjoying my unbearably beautiful surroundings and the magic of this place. Meetings with remarkable dogs took place and their spirits somehow made it onto 'The Family Dog Never Felt At Home'. There's a second Ozbolt album coming this spring (and it's long!).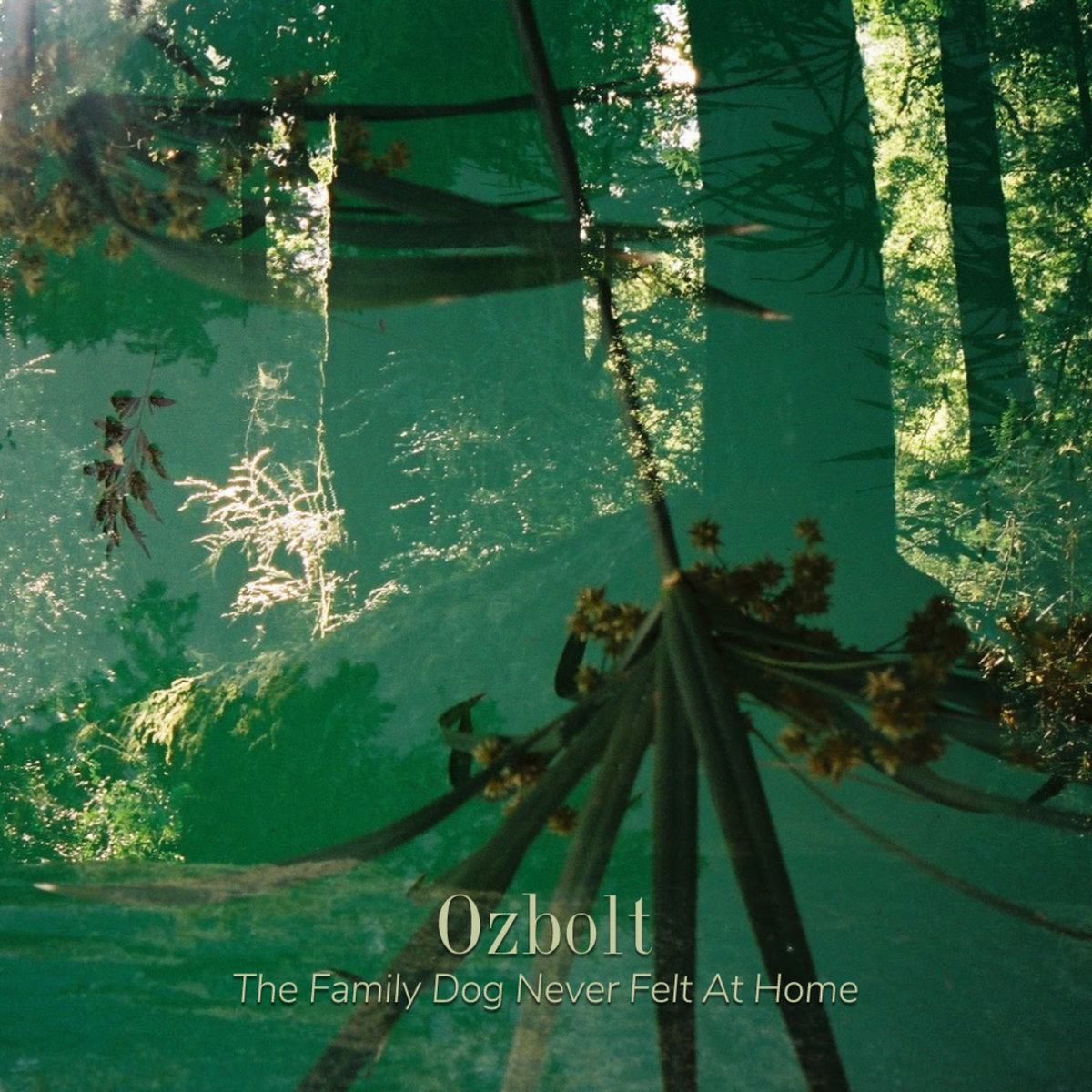 Then there's 'Pluto Take The Wheel' under the guise of Aquarian Renegade?
Yeah, it's getting complex.. Pluto is my favourite (non-)planet, resembling destruction and rebirth, so I appropriated this Christian saying and now Jesus can ride shotgun next to this most savage rock in space…being special is a birthright but the driver's seat isn't. A New Age reminder to let go of resistance to change. And Aquarian Renegade…I didn't want to print a shirt saying my name, would have felt odd to sell that. So I went with a more general avatar for this piece of merch and then it became my Instagram handle too and I dig it, because it ain't really me. It's my collective term for the trolls and ogresses (?) who pursue their solo missions but share a common goal. It's much more connected. Write to me and get yours! Hand Printed on organic fairtrade cotton.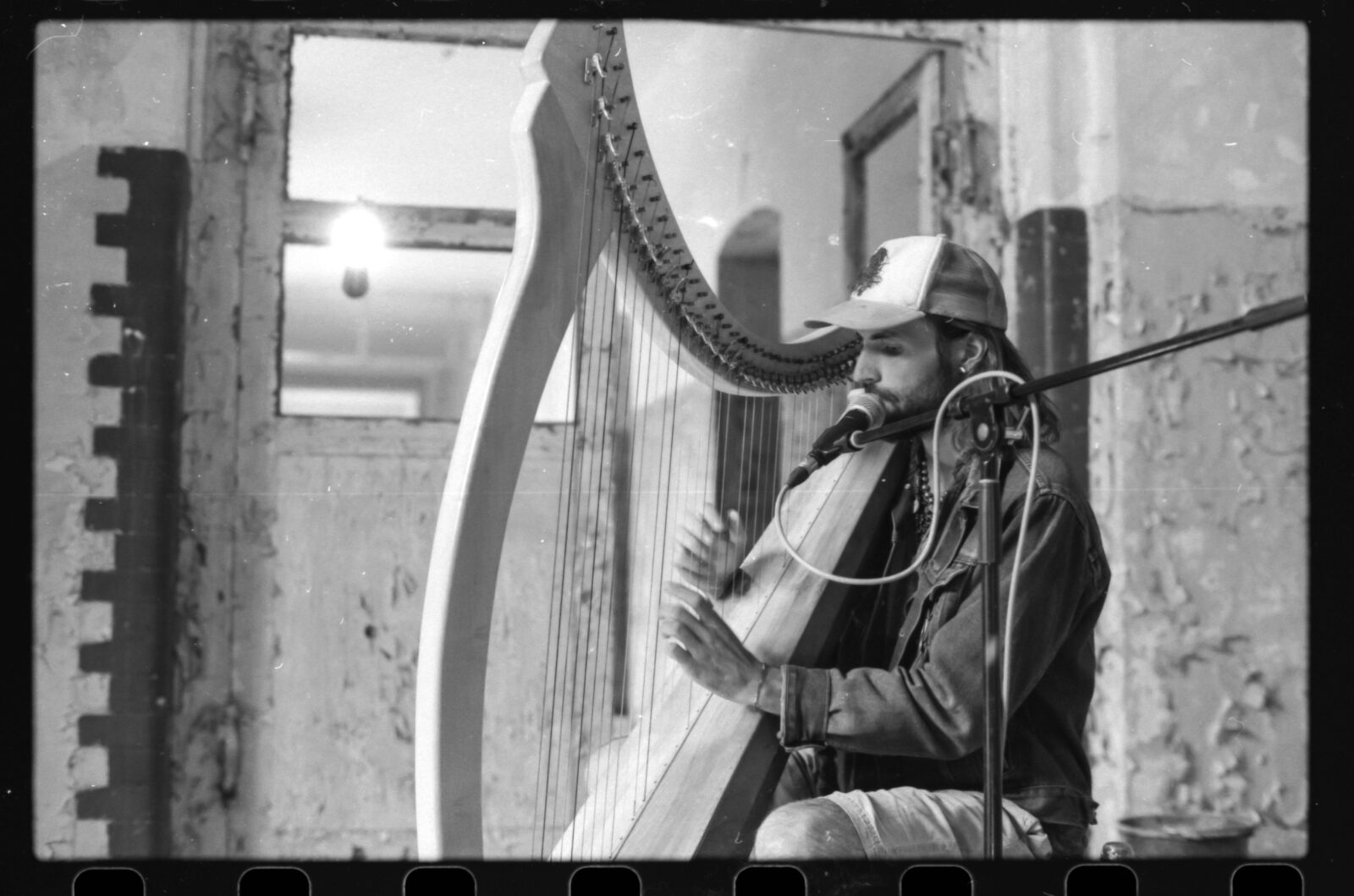 I also noticed Pirated by Hand, but I don't know exactly what that's about.
At a Sardinian flea market I bought heaps of ancient Italian tapes and refurbished them by dubbing my own songs on top of the original music. So you could say that I erased a piece of music history and Mediterranean culture but then again, I breathed some new life into tapes that were hopelessly rotting away in the merciless Italian sun.
Let's end this interview with some of your favorite albums. Have you found something new lately you would like to recommend to our readers?
Yeah, some things came my way. 'Stochastic' by Carbon Based Lifeforms has had some good effects on me recently, I enjoy airing out my mind and filling the room with these frequencies while sleeping or reading. I also got introduced to Derek Gripper's music just a month ago and watched him play live last week in Cape Town. 'A Year of Swimming' is such a unique record and it'll become a steady companion of mine I'm sure. And then there's this event that took place, where five heavily intoxicated folks found themselves on a little row boat on the Swartvlei lake at 3am during the Solstice. It was a full moon of course, the fog was rolling over the hills and it all was magical beyond belief. Upon approaching the shore we blasted 'O Magnum Mysterium' by Morten Lauridsen from a little Bluetooth speaker and that moment burned itself into my heart.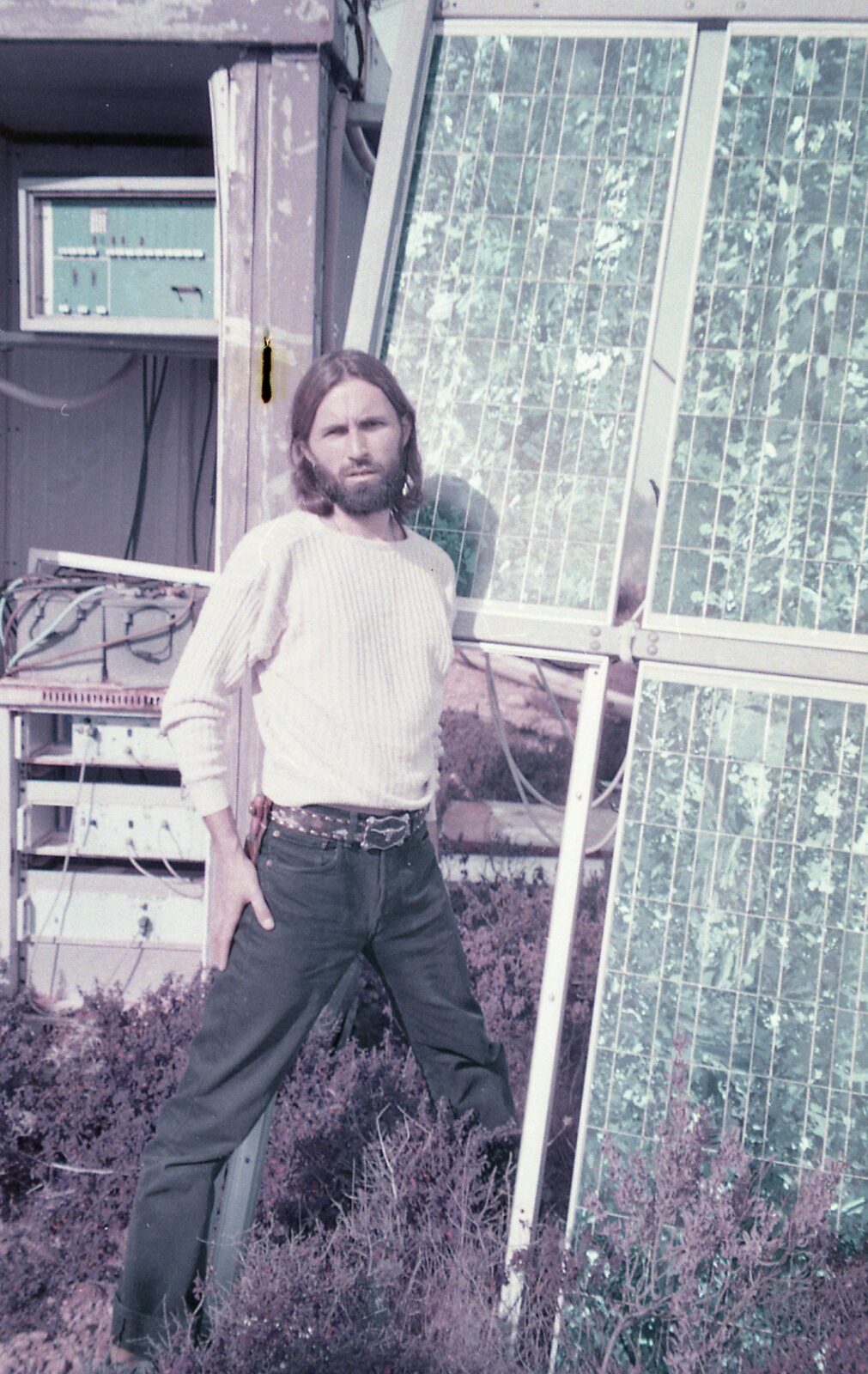 Thank you for taking your time. Last word is yours.
Always. Thank you for having me.
Klemen Breznikar
---
Andy Aquarius Official Website / Facebook / Instagram / Bandcamp / YouTube
Hush Hush Records Facebook / Instagram / Twitter / Bandcamp / SoundCloud