Chris Stassinopoulos | Interview | Axis, Utopic Sporadic Orchestra, Clearlight…
​Chris Stassinopoulos is a very prolific Greek drummer that was mostly active in France. After joining Axis for their third album, he also played with the legendary side project of Magma called Utopic Sporadic Orchestra.
---
Stassinopoulos also played with many other legendary musicians including Vangelis, Francis Moze and the likes. These days he keeps busy with his own Explorers band featuring many famous musicians.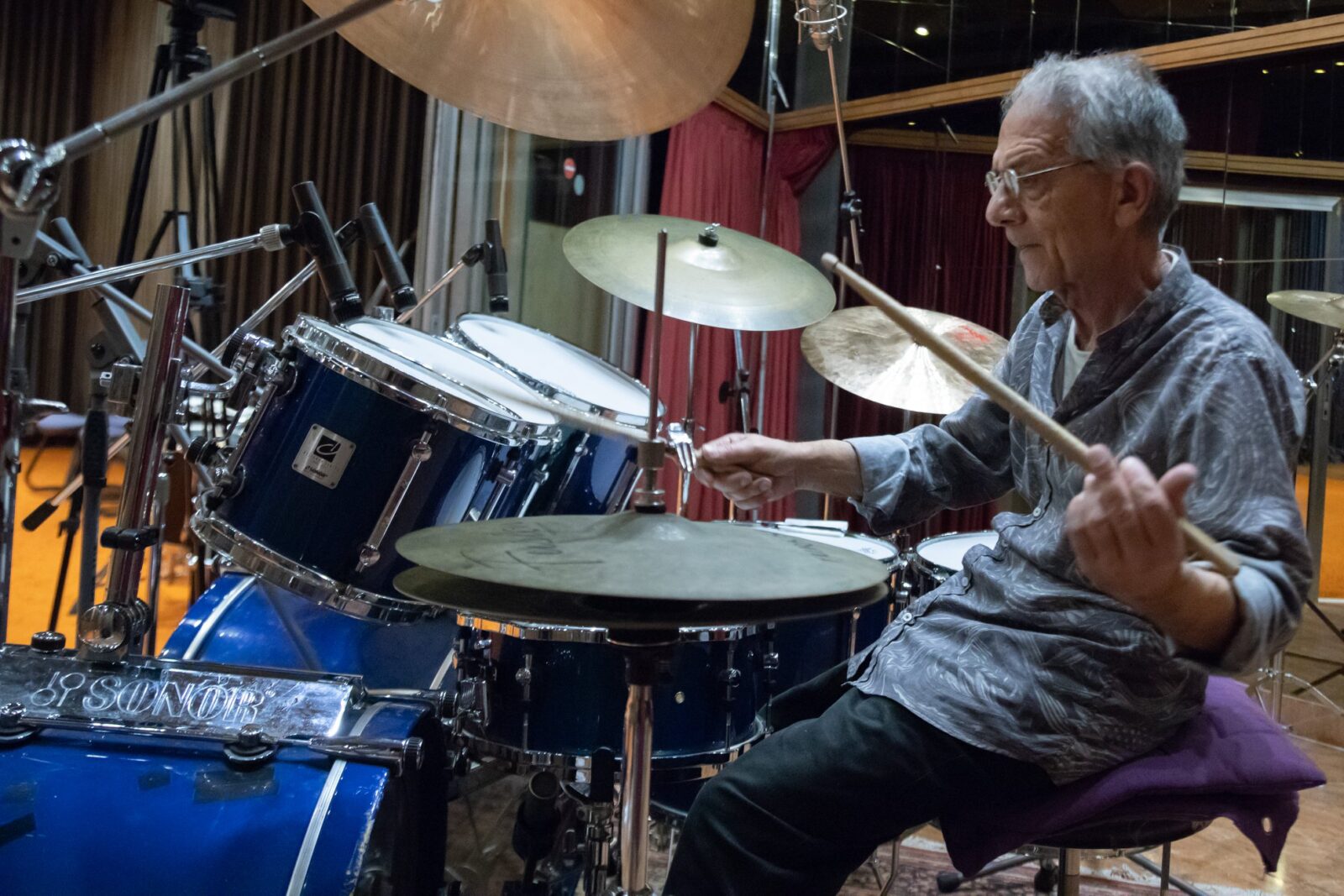 Where did you grow up and what was the first instrument you started with?
​Chris Stassinopoulos: I grew up in the Glyfada area 20 km outside of ​Athens​, ​Greece​. It was very ​near the ​sea. There ​has ​been ​many modern clubs ​and also an American military base​.​ ​I actually played drums there in 1966 when I was 15 years old​.​
Was music a big part of your family life?
My father John Stassinopoulos listened to jazz music and easy pop music. He brought in our house many jazz records. Duke Ellington, Oscar Peterson, Jimmy Smith, Elvin Jones, Frank Sinatra, also Blood, Sweat & Tears, Chicago and soul music such as Sam & Dave, James Brown, Aretha Franklin and rock music such as The Rolling Stones, The Beatles, The Moody Blues et cetera.
Who were some of the key influences when starting to play on your instruments?
I was influenced by Greek jazz drummers such as Makis Mavros (jazz orchestra – Lucas Visvikis), Nikos Lavranos and rock drummer Jimmy Dais (Junior band). I was also influenced by hearing drummers from records. Mostly by Bobby Colomby, John Bonham and Ginger Baker. Later on in France (1973-1980), I was very influenced by Christian Vander (drummer/composer and leader of Magma).
​What bands were you a member of prior to the formation of Axis?
My first was Lakis Zois ​Quartet​ ​(1970-72) (Lakis ​is the ​best ​jazz rock ​guitarist in​ ​​Greece)​. I was also in Nostradamus​ ​(​released a self-titled album in 1972​)​.​ Then I was part of 'Apéranta Choráfia' (1972) by composer ​and guitarist Kostas Tourna​s.​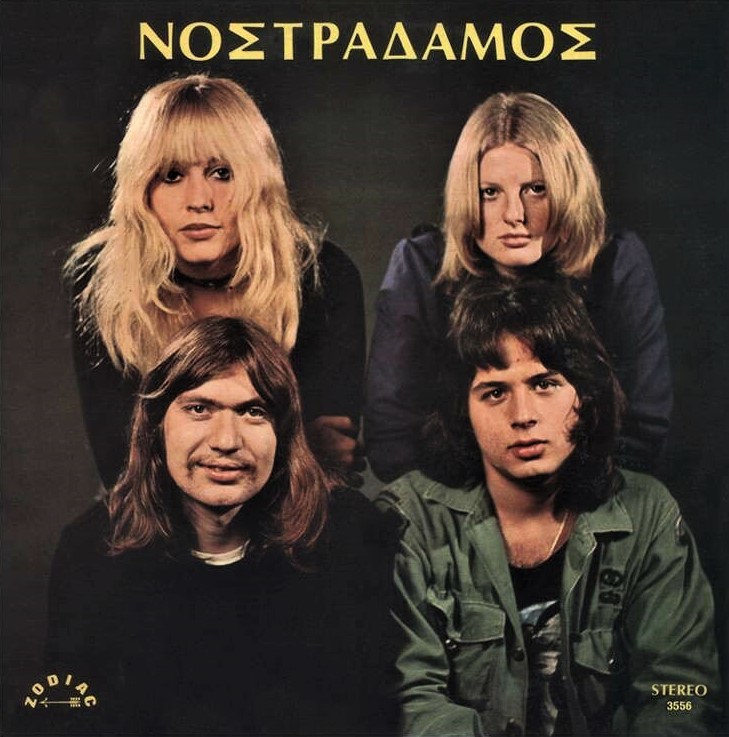 I was playing drums on Nostradamus​ and also on the 'Apéranta Choráfia' album, by Costas Tournas. George Filippidis ​was ​on bass​ and ​George Stefanakis​ was playing​ Hammond​ organ.​
"We were able to create our very own style of music"
Tell us about the formation of Axis? How did you guys get together and when was it?
Axis members were my close friends from high school in the Glyfada area in​ Athens. They moved to Paris in 1969 with drummer ​and another friend of m​ine,​ George Chatziathanassiou. ​The first formation of Axis was mostly playing "classic rock" music. This was from 1969 to 1973. It was Demis Visvikis ​on ​electric​ piano,​ ​Mellotron,​ vocals; Alekos Karakandas​ on​ guitar​; ​Dimitris Katakouzinos​ on​ bass ​vocals​; and George Chatziathanassiou ​on ​drums​.​ They had a big success in 1972 with a traditional Greek song sung in English, ​'Ela Ela'. Million copies of the 7″ was sold, followed by a tour. Two more albums followed. The complete sales reached 2 million sales, plus concerts around Europe. I moved to Paris at the end of 1972 with famous folk composer Mikis Theodorakakis. I toured in Europe for four months at the beginning of 1973. I was living in a huge house with friends from Axis about twenty km outside of Paris on the south Banlieu Brunoy. ​The second formation of Axis was from 1973 to 1976. I decided to join the band and now we had two drummers. We were able to create our very own style of music. We were mostly interested in progressive rock. ​We all enjoyed bands like King Crimson, Soft Machine, as well as Herbie Hancock and even some elements from free jazz. ​We were ​Demis Visvikis (electric piano, mellotron, vocals), Alekos Fantis (bass), Chris Stassinopoulos (drums and percussions), George Chatziathanassiou (drums) and we recorded the fabulous third album, 'Axis' at the Studio Her Herouville. The sound engineer was Dominique Blanc Francard. We even ate near the table where Uriah Heep were.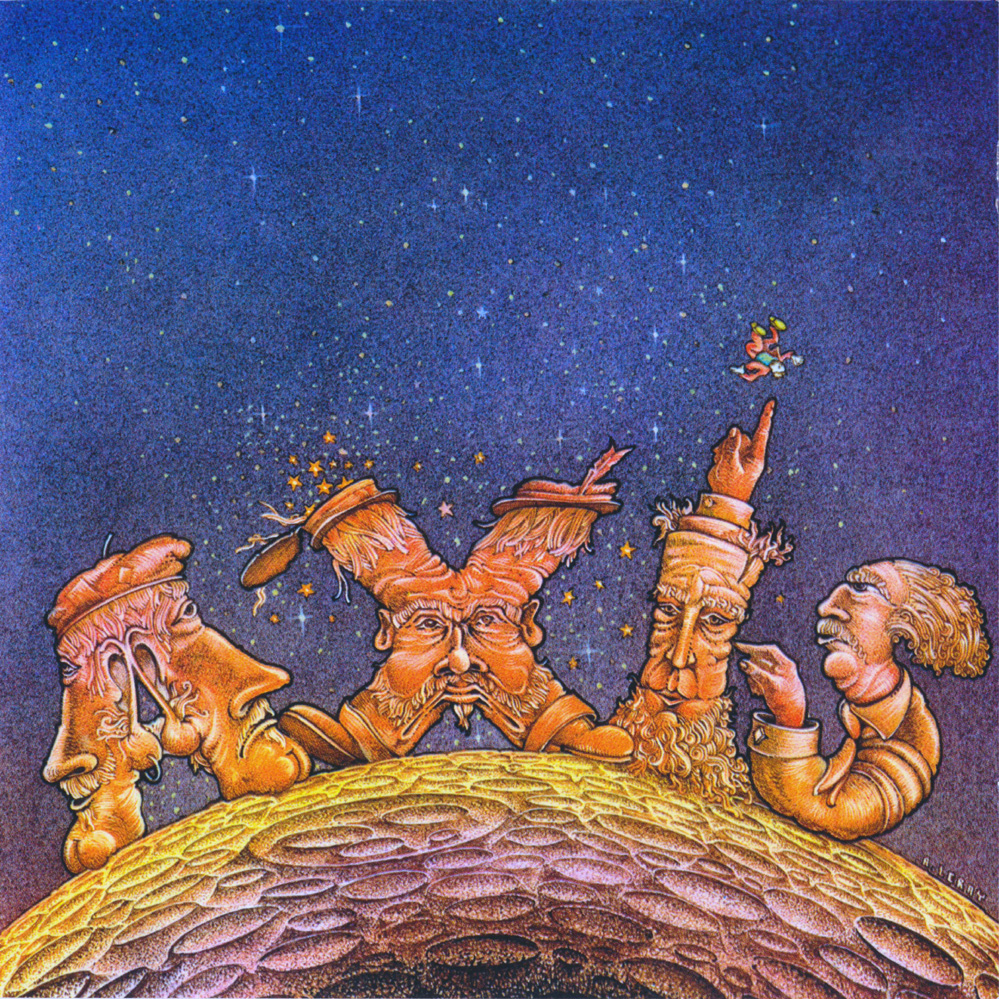 The artwork was a painting by Alain Leray. On this record we are all composers of all songs. Four musicians. Only on the side A the old member Dimitris Katakouzinos was playing bass (company wanted to finish his contract with the band).
Was the band formed in Greece or in France?
Axis formed in Paris, France.
Is there a certain concept behind your album?
Axis equals God. It's the inside of humans and must break the limits. To find him is the power. The porky humans are materialist and stay at home and watch TV. They are brainwashed, haha.
Where did you all play and what are some of the bands you shared stages with?
​I played with many bands including Axis, Zao, Clearlight​, Utopic Sporadic Orchestra ('Nancy 75'). It was incredible to be playing 'De Futura' with members of Magma. There was Christian Vander (composer/drums), Didier Lockwood (violin), ​Jannick Top (bass) and me on percussion.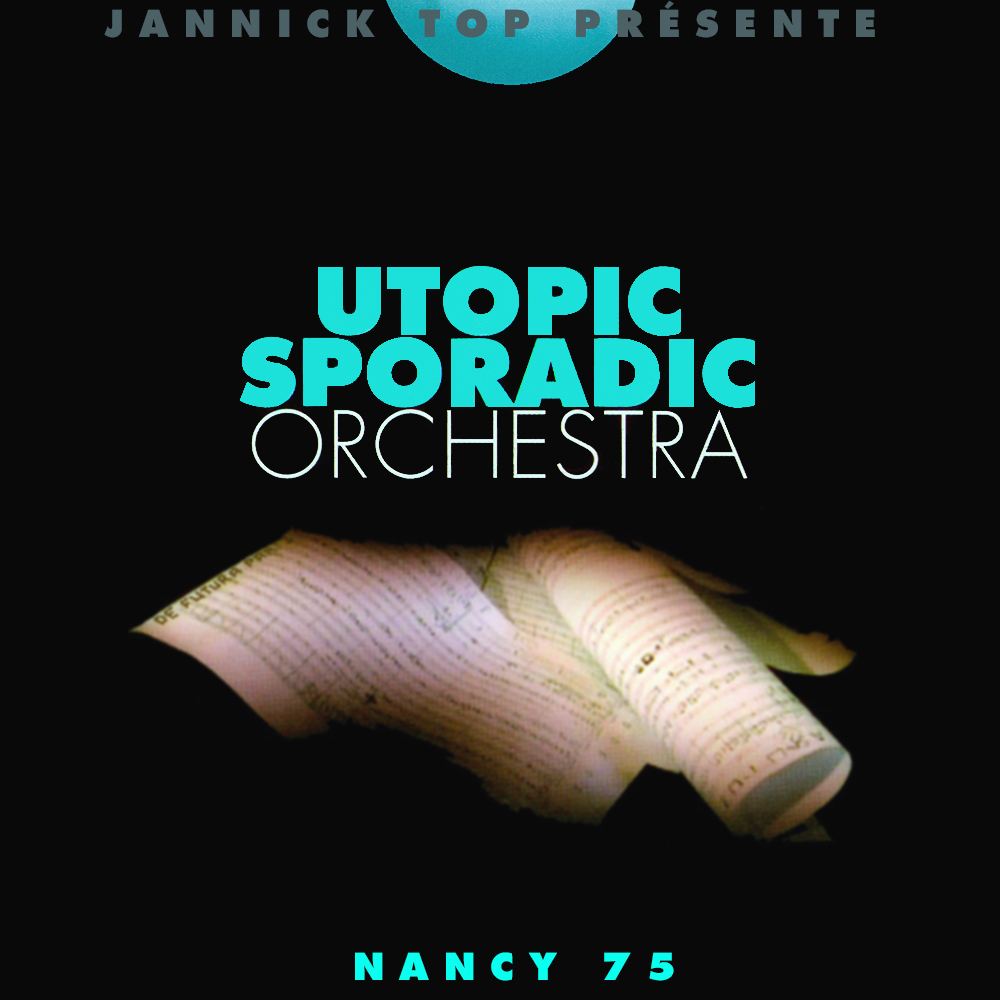 I would also like to mention Live in UK / London in 1997 at Royal Festival Hall with Vangelis Papathanassíou. Such a fantastic experience. Then there was the Staccato band. We only played gigs in 1993-1994 in Paris.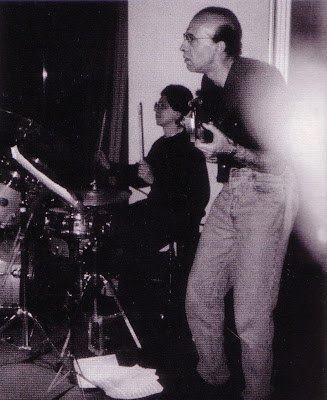 ​I also played with ​Michel Paquie (electric piano), Jean Claude Gaupin (electric guitar), Joel Dugrenot (bass; ex Zao, Clearlight). ​I was a guest at concerts of Francis Moze (bass; ex first formation of Magma and later played with Gong). I also​ played with Patrick Castille (student of John Scofield). Double Duo band​, l​ight jazz rock band (in ​Greece 1986-1990 ​and again 1994-2002)​. ​Dimitris Zafirelis ​(​electric​ guitar​)​​, ​George Gavalas ​(​bass​)​, Petros ​Maloukatos​ (​el​electric​​ guitar​) and me on drums. ​The most important to me is my work as a composer of "space jazz fusion" music. I played under the name of Chris Stassinopoulos & Explorers Band (in ​Greece​ ​2004–2018​) and ​I continue​ as​​ Chris Stassinopoulos & Friends​ ​(2019-​)​.​ We have many guests including​ David Cross​ (​King ​Crimson​),​ ​Hugh Hopper​ (​Soft M​ac​hine)​,​ ​David Jackson​ (Van der Graaf Generator)​,​ ​Alex Foster​ (playing with ​Jaco ​Pastorius​)​,​ ​Barry Finnerty​ (playing with ​​Miles ​Davi​​s​)​​,​ ​Clint Bahr​ (TriPod)​​, Joe Berger,​ ​Michel Delville and we also have many Greek musicians such as Alekos Karakandas,​ ​Kostas Karamitros,​ ​Maria Kotsiri,​ ​George Gavalas,​ ​Kostas Perrakis,​ ​Kostas Aktypis,​ ​Nickos Vardis, George Stefanakis,​ ​Tasos Fotiou,​ ​Nikos Sakellis,​ ​Vassilis ​Stamatiadis​.
What was the music scene in Greece?
From 1960 to 1984 it was a decent period. From 1984 until today we have only a few very talented musicians and our government isn't helping at all.
​Do you think that solo releases give you more creative freedom?​
​I prefer to work with other musicians. These days very few musicians are interested in this kind of music, mostly because material way of life and so the spirit is lost.​
What other musical activities have you undertaken lately?
I will try for the Summer of 2022, in open big theater, to invite three famous UK musicians to play together with my new band (four Greek musicians).
Is there any unreleased material by Axis or other projects?
No.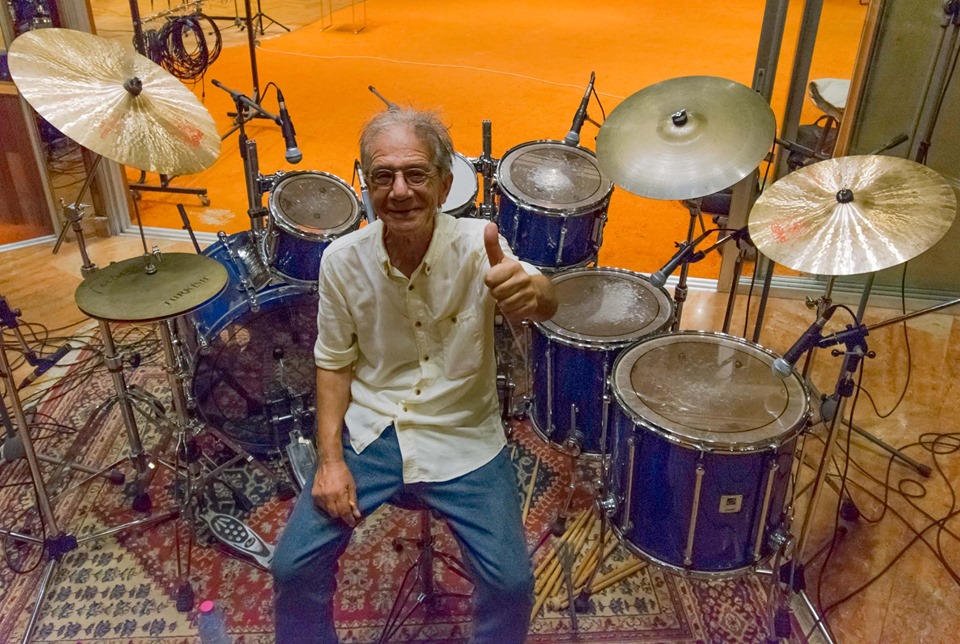 Looking back, what was the highlight of your time in the band?
That would be Axis playing with Michel Portal Unit at Maison Des Jeunes in Paris. Then playing with Catherine Lara (violin/vocals), Jeslan (guitar) and I on drums in 1974 at Palais des Sports, Paris. One of the highlights was also with the Utopic Sporadic Orchestra, Vangelis, and many other concerts I had with the Explorers Band.
Thank you!
You can hear my album below via YouTube and Spotify.
Klemen Breznikar
---
Headline photo: Axis; Chris Stassinopoulos, Demis Visvikis, George Chatziathanassiou, Alekos Fandis | France, 1973
Chris Stassinopoulos Facebook / YouTube / Spotify
Clearlight & Delired Cameleon Family interview with Cyrille Verdeaux