Out Of Focus | Interview | "Wake Up!"
Out Of Focus was a German "Krautrock" band, formed in 1968 in Munich. By 1972 they released three fantastic albums with a distinctive style of blending heavy rock with jazzy overtones.
---
The band's lyrics reflected socio-political events. After the band split, Remigius Drechsler went to Embryo for a while before forming his own project, Kontrast. Today we can find six albums with the core lineup of Remigius Drechsler (guitar), Hennes Hering (organ, piano), Moran (sax, flute, lead vocals), Stephan Wisheu (bass) and Klaus Spöri (drums), later Ingo Schmid-Neuhaus (alto,- baritone sax), Peter Dechant (classical guitar), Wolfgang Göhringer (guitar). There were other line-ups during the last period of the band.
"The diversity of our preferences and influences was one reason for our success, a component of creating our own sound"
Where and when did you grow up? Was music a big part of your family life?
Remigius Drechsler: Born on July 23, 1950, I grew up in a part of Munich called Lehel, not far from the city center, between the river Isar and the huge park "Englischer Garten". My grandparents, both tailors, got a larger apartment there after being bombed out at the end of World War II. My mother also lived there, but she left me to my grandmother after she separated from my father. The wedding had been canceled just before I was born and she wanted to be free again and also be able to work. My mother and father fell in love while studying classical music at the "Richard Strauss Konservatorium" in Munich, where I later also studied for two years. She studied violin and he oboe and drums on the side. Sadly, all the student parties with lots of music took place in the apartment before I was born, and what was left was a piano in the living room on which I struck a few keys every now and then. It wasn't until a few years before she died that she told me that when she was pregnant, my father would put headphones on her, tune to AFN (U.S. radio station for the GIs at the time) and make her tap the beat of a jazz tune on her stomach while I was in it. That told me a lot about my attitude towards music, or at least I thought it did. My father was an educated and talented man with strong self-confidence, unlike my mother's family, who were rather simple craftsmen, but thank God not NAZI, but rather communist and social party. What I remember of him is only a shadow bending over me once in the kitchen and a faint impression of him coming down the stairs when my grandmother took me to visit him at his work once when I was four. Then he moved to Cologne and only the monthly payments were telling that he still existed. Years later, when I was touring the area with Out of Focus, I tried to visit him, but learned from a neighbour that he had moved to Andernach a year ago. And again quite some years later, passing Andernach on the way home, I thought of looking for him, but was already too tired for a stop and drove on. Not long after that he died, and his two sisters and his second son contacted me, and then we met for the first time, and they told me many stories about my father. What was very sad and at the same time completely crazy was that after my brother here, Johann, who had worked with Out of Focus as a roadie for a while, had tragically died just two weeks before in an accident while on vacation in Croatia, that I have been given a new brother, so to speak.
Back to my childhood, my mother's violin was on top of a cabinet collecting dust, and I don't remember hearing her play a single note on it. But in my grandma's kitchen the radio was on all the time. At that time, a lot of classical music was broadcast, and the weekly hit parade, which I always waited for. But neither Mozart, Beethoven or Bach, nor all that mostly rather boring pop music could really grab me and it took a few more years until the Beatles entered the world. When I heard their music, I finally got that wonderful excitement that music can create, and I started drumming on pots and anything that would make some kind of sound.
Looking back, I must say that because of the intellectual and emotional limitations of the different personalities, life in my family was quite difficult. Arguments and stubbornness, shouting, rarely calm talking, no real problem solving, no real togetherness, no reflection and so only little harmony has brightened everyday life from time to time. I think we all sort of know these kinds of dramas. Love went away, never enough money and too much alcohol, except with my grandmother, who was the money lender of the family and only drank little occasionally. She mended clothes for neighbours on the side, and she gave me some harmony when I could watch her cook, or bake cookies before Christmas, and she would sit with me and sing and encourage me to do some crafting. She bought me books, kits, let me take apart old radios, and in a way through that gave me a good foundation for my technical devotion, which led to working at Uher, Rohde & Schwarz, and Tektronix later in my adult life, and whenever I got fed up with the sex, drug and rock 'n roll life, or when a band broke up. And it helped a lot to have a good grip on the whole electronic side of making music these days, whether on stage or in the studio, and not having to rely on expensive and often questionable support.
When I was about six years old, my mother had finally found a man, Helmut Irrgang, to marry, and it wasn't long before my stepbrother Johann was born. Then another six years later, when I was twelve, they moved to a new apartment on the outskirts of Munich and left me with my grandparents.
In elementary school I attended a choir and was soon sent to a professional one with its own private school, travels and big performances called "Die Münchner Chorknaben". There was one experience during that time with the first choir that stuck in my mind, and I think it was kind of important: The rehearsal was over, everyone had already gotten up from their seats and for whatever reason, a few were still standing around the piano and I was also standing very close to the side of the piano keyboard. And suddenly the choirmaster just spontaneously played a piece that had nothing to do with our program and that completely grabbed me. I don't remember a single piece of that boring sing-song that we usually practised, but that was hot music, as I would say today, and that was actually the first moment in my life, long before the Beatles, when I got that unique, wonderful feeling that music can create. And what also impressed me very much was the story he then told us: It was when Béla Bartók came to Paris and his compositions were performed and then the critics completely trashed him and even called his music barbaric. Then he sat down and said, now I'm going to compose something really barbaric for you fools, and made Allegro Barbaro. That was just great, and I finally knew that there were people who somehow felt and suffered the same way I did. Later I read that it might have been a little different, but what the heck, as a schoolboy it was the story I needed.
Then with the "Die Münchner Chorknaben" I got my first solid musical education, theory lessons, reading, voice training and rehearsals every third day. Again, the repertoire was not very inspiring, and after not even two years I was kicked out because another student told the teacher that I had stolen small Matchbox car models from department stores, which I collected and for which my pocket money was not enough. So back in regular school, I prepared for the entrance exam for middle school, made it, but was kicked out again after two years for shooting church windows, growing long hair, and the final point was that I had parked my bike in front of the school building where it was not allowed, just at the moment when the principal came by and I, not knowing him, replied some however inappropriate words to his speech.
Back in regular school again, it was in some ways too late. I had no real perspective and just knew I had to do it differently somehow, not the way my family lived. So I decided to become a gangster to have some decent adventures and also had certain friends and then of course got into trouble with the law. Small things, but eventually I had to serve time, first just for a weekend, then for two weeks, and after that I was transferred to a home for young people with behavioural problems in a small village near Ansbach. There I was confronted with kids and teenagers who were not so funny, with some really bad examples, and that taught me something. This kind of scum was not what I longed for, and after less than a year, the Youth Welfare Office let me out again on the condition that I agree to live with my mother, stepfather and stepbrother because, as they said, my grandparents were no longer able to keep me. Back in Munich, I started an apprenticeship as a radio and television technician and I had heard the Beatles. And one of my friends, Peter, who had also discovered his love for music, asked me if I wanted to start a band with him and I said yes, that's a good idea. Finally I had some content in my life, and something I could burn for.
"I'm not the song type, I think more symphonic"
When did you begin playing music? What was your first instrument? Who were your major influences?
We started around 1966/67 and rehearsed for the first time in the basement of the new house where I had to live with my mother's family then. After today's knowledge rather ridiculous I had nailed a few egg cartons to the wall to soundproof the room, but complaints from disturbed neighbours ended this attempt then nevertheless quite soon. To amplify Peter's bass guitar we had used an old radio and I drummed on boxes and pots from the kitchen and also sang a bit. I think we had a microphone from a tape recorder, and there was also a guitar that I tried to play, but I can't remember the exact instrument anymore, just my attempt to play 'Mama Keep Your Big Mouth Shut' by the Pretty Things, and I still have a picture in my memory of me in my room trying to get my brother to play a few notes on it. And there was actually a performance that I had done before at this home for juvenile offenders, at an official party where I played with other inmates and did the percussion on some pots and boxes. But I have no memory of what it was like anymore, just a few faint images as we set up the stage. My first instrument besides singing was the drum set and much later I bought one again and practised on it and also did a lot of percussion. The first record I bought in my life was the first Beatles album, and once triggered by them, it wasn't long before we discovered The Pretty Things, Them, The Yardbirds and whatever else came out in those days. Peter had The Kinks, Love, even an album by Ramsey Lewis, a first jazz influence for me, and our drummer Wolfgang Pemsel was into soul music then. Moran loved the Rolling Stones, Bob Dylan and also Antonín Dvorák's 'New Worlds Symphony'. We listened to everything we could get our hands on, even some Herman's Hermits and Liverbirds LPs made it into my collection. There were a lot of songs and ideas on those records, but not too much that really made a lasting impression on me. I'm not the song type, I think more symphonic, but of course there are wonderful songs, no doubt. The long tracks on the Yardbirds live LP and later The Doors' e.g. 'When the Music's Over', the original Soft Machine albums, Frank Zappa's work, Hendrix, whatever – enough name-dropping – that's what I really loved. That was the kind of music I was aiming for more and more in a way. Long pieces of music that contain everything, song elements, melodies, themes, solos that you haven't thought of before, and, most importantly, improvisation and musical communication. Let a piece come down and bring it up again with a different rhythm, experiment, let it crash, and then come to a really sweet part, then steady grooves, and also let wild parts happen with no rhythm at all. Talk to each other with your instrument instead of using words. The more genuine, crazy and down to earth the better, the more out of thoughts of financial success and fame the worse. But, of course, it's not that simple. Different tastes and personal and personnel limitations are just reality.
What bands were you a member of prior to the formation of Out of Focus?
There were only the Movers, direct predecessors of Out of Focus. We changed our name because we came last in a local band contest. An absolute disaster, and there was no doubt that we needed a new name, and Moran had the idea to take Out Of Focus after a Blue Cheer song.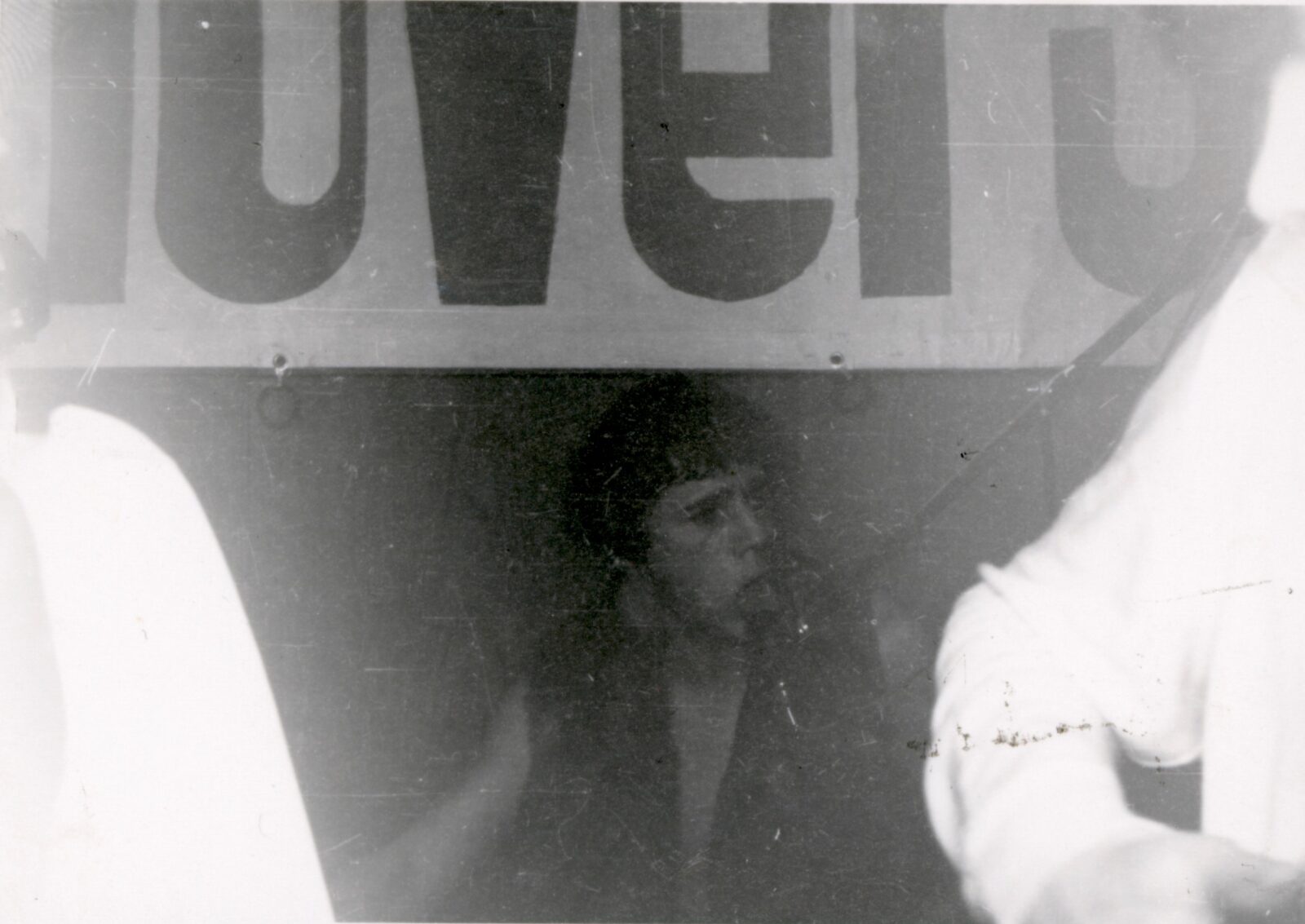 Can you elaborate the formation of Out of Focus?
The formation of Out Of Focus, first under the name Movers, began, as I have already explained, when Peter and I started rehearsing and then we had found two guitarists who were interested in playing with us. Since it was not possible to rehearse at my mother's place, we moved our activities to my grandparents' apartment, where I still had my old room and also friends in the area. Rehearsing there was not without complaints either, but somehow we managed, at least for a while, until we found a few youth centres where we could occasionally rehearse at as well. Still living with my mother's family and working in that radio and TV store a few streets away, I would ride my bike more and more often after work to my grandma's place across town, but always had to return home late at night to keep the agreement with the Youth Welfare Office. With the support of my grandma I was able to buy a drum set and Peter got a solid Dynacord Bassking amplifier with a Hohner cabinet from his well-heeled parents. One guitarist's name was Hubert, the other I don't know anymore, and he didn't stay long either, and then Heiner came in his place, with whom I even had contact again a few years ago. His wife still from that time called and they then came to a concert of Sharp Senses. Yes, what can you say? He has become a civil servant with kids and all and when I told her on the phone during another call that I was totally in love with her at that time then again radio silence. Hubert and the other guy had also started their own band and so there was some competition as well. And I fell in love with my first real girlfriend Brigitte, who then gave birth to my son Markus when I was 19. We called our band "Movers" and the idea was from Peter. (By the way, his full name was Peter Gabriel, and he moved to England then. But he is not the famous P.G.).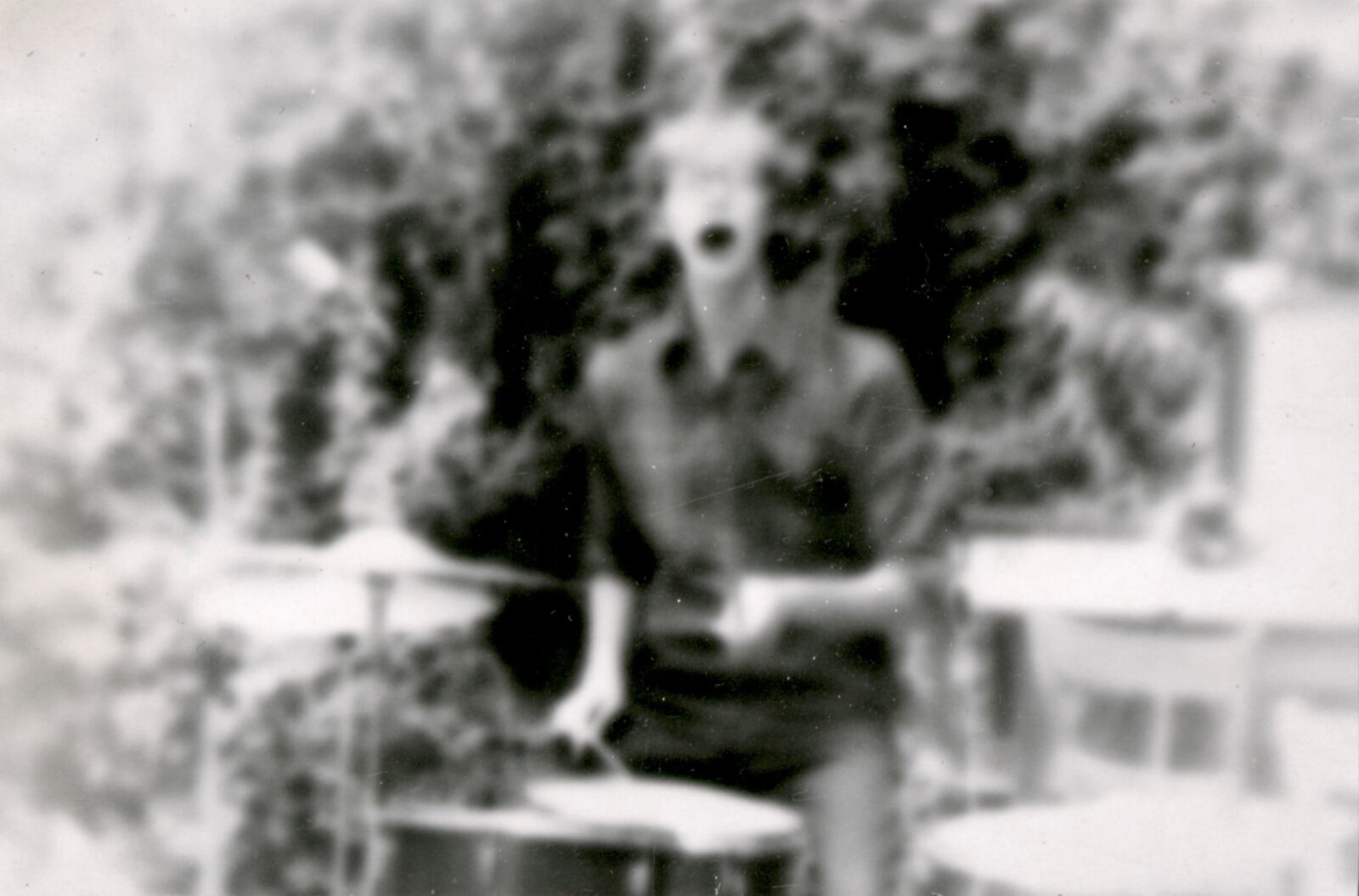 I can't remember the exact chronology of our progress, but there were first gigs in a Catholic youth centre, where we also rehearsed a few times, and in a pub with a second room and a small beer garden in the back, where we hung out anyway and also organized parties, at which we then played. In the beginning our repertoire consisted mainly of songs by The Beatles, Them and The Pretty Things. Then The Doors became popular and we loved to play their long pieces and there were other songs too, but I don't remember them anymore, oh yeah!, 'Whisky Bar' ('Alabama Song' – Bertolt Brecht/Kurt Weill) was one we liked very much to do in The Doors' arrangement. And step by step we also started composing original material. An old schoolmate offered to take over the management, and since he also had money from his wealthy parents and could thus help us improve our still modest equipment, we said yes. His parents were grocers (their family name was Pfeffer, which means pepper I just remembered) and it soon became apparent that selling a band wasn't the same as selling vegetables, so he wasn't with us very long. Then came gigs outside our area and the first bigger concert at a weekly event of a dance school in town in a big hall that was full of young people, and it was mostly ourselves or our friends who arranged these gigs at that time. Next up was Wolfgang Pemsel being available, who was the drummer in Hubert's band and with whom I had already drum battled in the park before. He was good and their band was breaking up, so I asked him to join us. I loved playing the drums, but now I could focus more on the vocals and it strengthened the band since it was now a quintet. I can't remember any reason why Hubert then left, leaving Heiner as the only guitarist just before a concert at another youth centre. Maybe it was his parents, who had planned a different, more respectable career, or maybe they didn't like the fact that he was away more and more on weekends. But luckily, since we had started, I had been repeatedly asking the guitarists to show me a few chords and melodies, and although I didn't have much practice, from that gig on, I took over playing guitar as well. I still remember the pain in my hand the first time I had to stand through an entire concert. And, not long after, I met Moran (his birth name was Hans-Georg Neumüller) on a public bus. He lived on the same street but further up, so we seldom saw each other in daily life, but our paths had already crossed in the past. When we were boys, his gang had once captured me and tied me to a fence in their backyard, and I had to be their prisoner for a while – but luckily they didn't torture me. We talked about music and he told me that he likes to sing and so I told him that I have a band and then I asked him if he would like to try it with us and he said OK. Since I really had to concentrate on the guitar now, I was glad that someone else would take over the lead vocals and we were five again.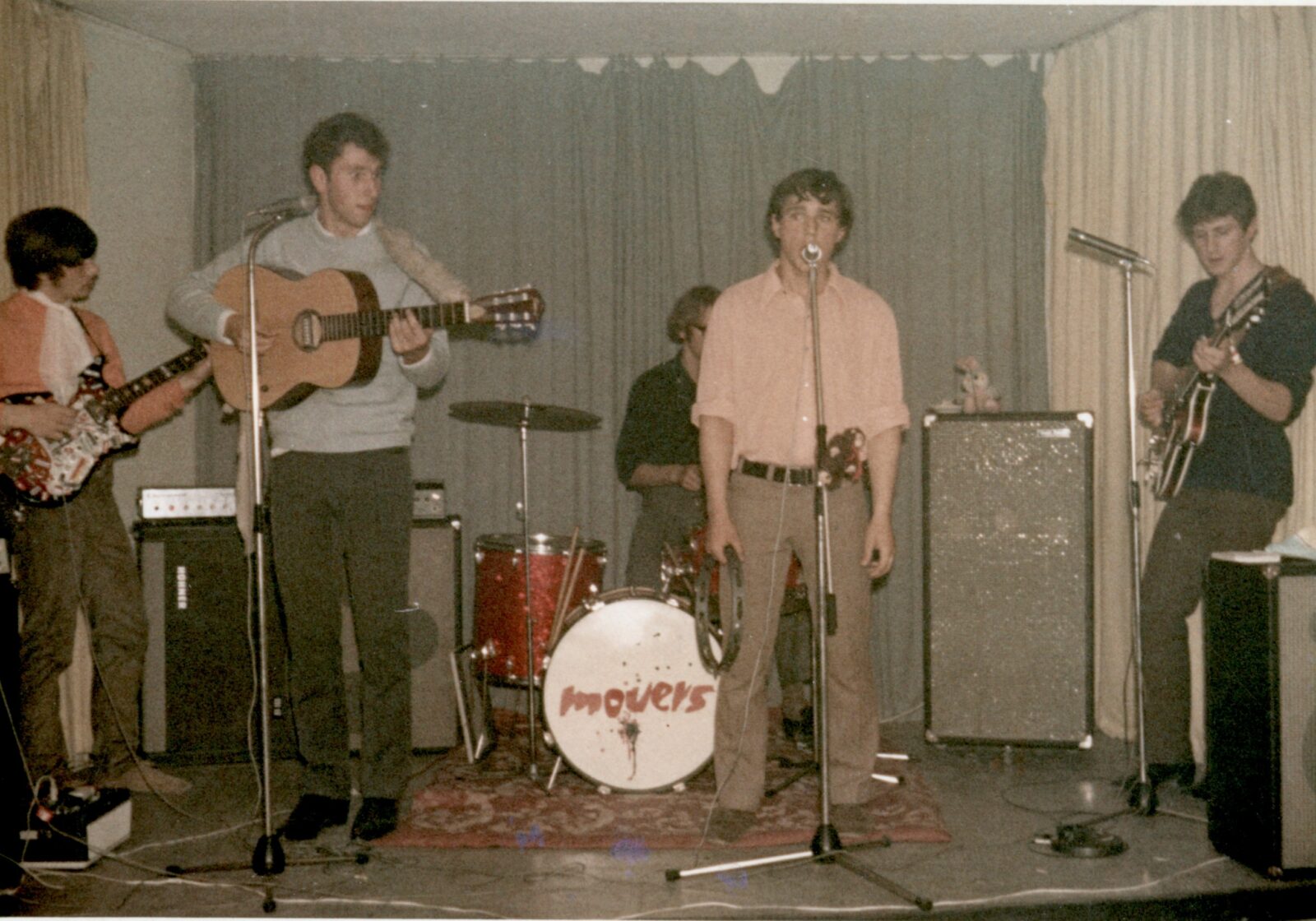 Another problem that needed to be solved was Peter. He developed serious problems with women, which led to bizarre scenes, such as his current girlfriend having to stand in front of him with her back to the audience for the entire concert, and worse. We couldn't have that and so he had to go and Moran brought in a new bass player that he had played with before. Later Peter worked as a roadie for us, around the time of our first LP 'Wake Up!'. I just remembered a little story with him when we played at the Zocker in Solingen. This was a really cool live stage in what used to be a big movie theatre and everything was painted black with old sofas and rugs everywhere and a high mixer and control booth set up in the middle of the main room with wooden planks, absolutely underground back then you might say. A long bar on the side, and a low and open stage right in front of the people and we stayed there all night after the concert and jammed some more and then slept on the couches. Peter's nickname, of course, after everyone knew his stories, was Sado – from Marquis de Sade – and before the concert, after the stage was ready, Peter went to the bar and the girl behind it asked him, why do they all call you Sado? His former nickname was Gabi, short for Peter Gabriel, and he said to the girl quite seriously, Sado is not my real name, but Gabi, which in German is just a normal girl's name, nothing else. Anyway, we could hardly hold ourselves for laughing and the girl looked a bit strange… But, I really hope he has found a harmonious way for his life in England. I mean, there were other stories that weren't as funny as this one at all. At the very end of the album, when the ambience fades away, you can hear the words "It's a shame, such a shame…", and that is him. Not long after that, in London, when Moran, Hennes, Peter and I drove all the way up in Hennes' Citroen 2CV, and right after we had arrived, he went his own way and stayed in England, and we never saw him again. England was the land of his dreams, and only a friend of Moran's who went to London a little later had met him just briefly, thus at least we knew that he was probably up and living his life. This trip, which I had almost forgotten, was really remarkable. We slept in tents in a field in front of a Heathrow runway, went to concerts at the Round House, bought crazy clothes in Portobello Road and just experienced the atmosphere in this big city. Everything impressed us very much and increased our ambition and strength to go on with our own project.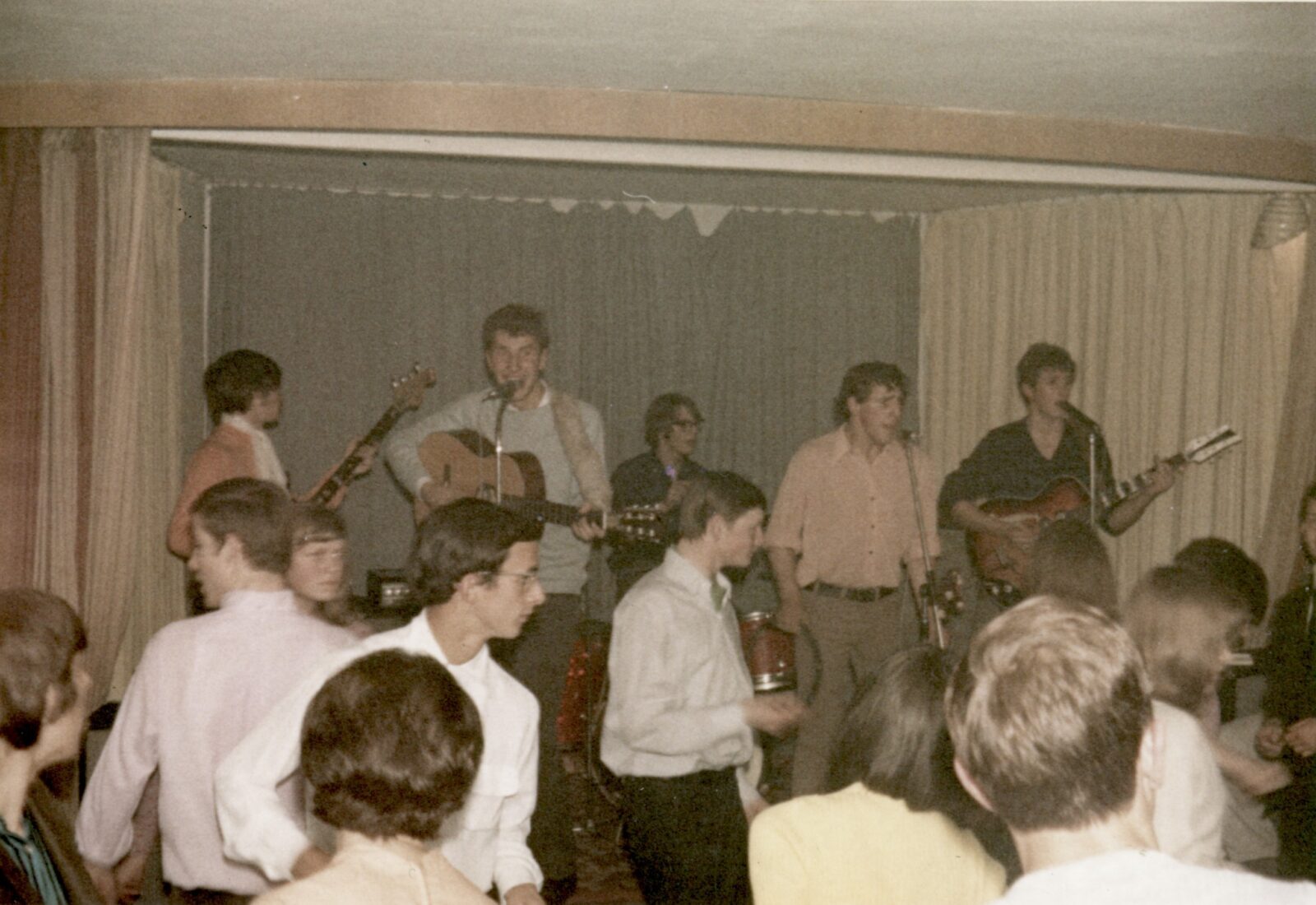 And what we also needed after Moran had joined the band was a good manager. The first one was gone pretty soon and another attempt even ended with me being questioned by the police. This second manager had organized a concert in a small town near Munich, Ebersberg. There was a hall with a big stage, and I had built coloured spotlights controlled by a motor-driven mechanical sequencer that I had ripped off from a street intersection where it was switching the traffic lights – it was even reported in the Abendzeitung that some crazy lunatic had stolen a traffic light controller from a ring way – and the whole family, friends and girlfriends, made themselves comfortable on the side of the stage on mattresses we had brought with us, you know, it was hippie time. We had a good performance, and after everything was packed and the audience had left, I went to this manager who had done the box office with his son to see how much we had taken in. And, incredibly, he refused to pay us with some stupid excuses like it didn't look decent with our friends and the mattresses on the side of the stage, and that they also needed time to count and calculate. He will get back to us in the next few days, he said, and that was it. After days of waiting, I got fed up and during a get-together in my room at my grandma's place, I jumped up and said to one of our friends who had a car, come on, we have to do something quickly, and also took a knife with me. I knew the address where this manager lived, and I knew his car. We found it, I flattened all the tires, and we were back home in no time. There was no way for the police to prove anything and we never saw those assholes again. So we still needed a manager, one we could trust, at best one who was just another member of the band and not some external money-grabbing rat. I don't know exactly how it came about, but there was another friend of mine, Gottfried – Friedel – Veit, also an early elementary school classmate, and I must have asked him somehow. He took over the management and it turned out to have been exactly the right step.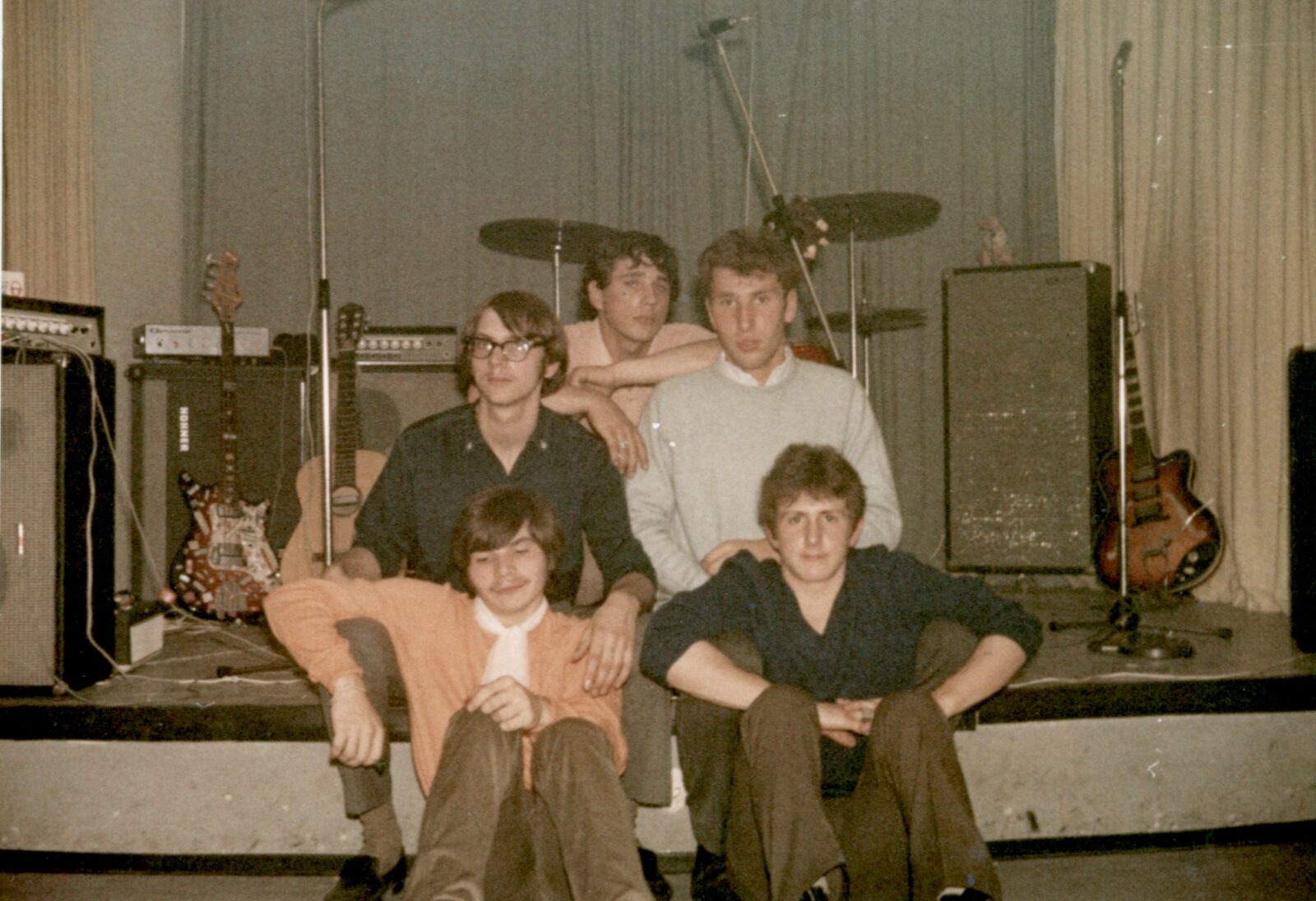 And it was he then who, when the idea grew that we should have a keyboard player as well, suggested we try with Hennes. Heiner, the other guitarist, couldn't decide to become a professional musician, so we had to let him go. Hennes Hering had already heard us at that first band contest disaster, even liked what we did, as he told me the other day, and somehow he knew Friedel and said to him that we should kick this guitarist out and that he would like to play with us. So after Heiner left, Friedel remembered and told us about him and he came and it worked. Then we played a few gigs, performed at Blow Up for the first time, but I can hardly remember the music itself, how it felt or something. It was all still very uncertain I guess. I'm pretty sure we weren't too happy with the bass player Moran had brought in – I don't even remember his name anymore – and I guess he was still with us at that contest disaster. Also, Hennes had organized a concert at an event at his high school, where he was also one of the student representatives. There was another band in front of us, and after we started, the room gradually emptied, so that in the end there were only a few listeners left. So we had to do something, and what was at the top of the list was another bass player. This performance in Hennes' school could have even let the whole thing die because Moran was absolutely pissed, couldn't hardly hold himself and almost nudged one of us off the stage. Hennes came to me afterwards and said that he didn't want to continue with Moran and I had a lot of trouble convincing him that this won't happen again and that he should please not give up now. Well, at a youth centre in München-Schwabing on the other side of the "Englischer Garten", where we had performed once and also rehearsed a few times in the basement, I heard a band on stage before or after some event in the big room, who jammed a bit, and their bass player was just great. So I asked for his phone number, called him, and he came to the next rehearsal, and that was Stephan Wisheu. And, the disaster at this local band contest still in mind, we finally started rehearsing a lot, every third day or so, which I learned with the "Münchner Chorknaben" is the best periodicity for fastest possible progress. And since we still didn't have our own rehearsal room – the youth centres would only have let us rehearse there regularly if we participated in their other activities as well – we worked quietly in Moran's room. Just the snare and with a cloth over it and a cymbal, acoustic guitar, and the bass guitar and Hennes' old portable Bauer organ, amplified a bit over the hi-fi. This Bauer organ was a bad buy, but soon Hennes had replaced it with a Farfisa. This time gave us a real boost, because playing at low volume shows all, even the smallest insecurities, and then we had to consistently focus on the weaknesses with intuition and work until the ears were satisfied. And it was also the time when we changed our name to Out Of Focus.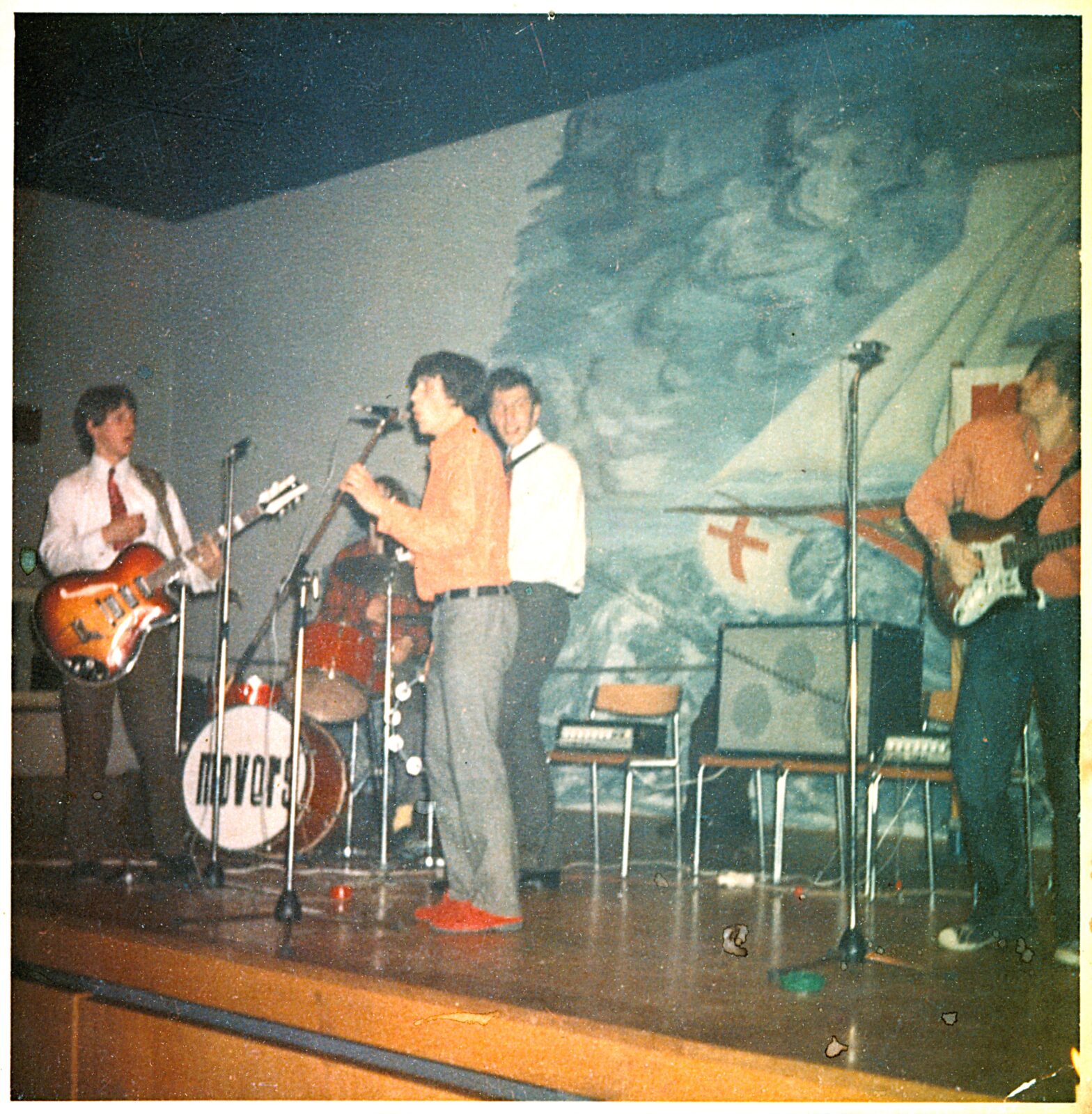 Then another band competition was announced and we applied again. This was an international one with bands also from other countries, even from England, lasted for three days and took place in that big multi-storey disco "Blow Up". The winner was promised demo recordings in a professional studio and a possible record deal with Liberty. (Did some research just now and read that shortly thereafter Liberty USA and their German branch were closed down). This time we were much better prepared due to our many rehearsals, and Moran had acquired a real flute, whereas before he only used to play a recorder-like flute here and there. And I managed to persuade Wolfgang to play with us again in this competition. Wolfgang Pemsel was a very good drummer and we would never have let him go, but for some time now the spirit of his new girlfriend had been hovering menacingly over us. She was the jealous type and couldn't stand him being gone so often. He let her get him around, from her whatever pleas and blackmails, and had already announced several times that he was going to leave the band. (He gave up playing completely after that, and then later she dumped him…). We had already rehearsed a few times with Stan Ryan, an American drummer, but it didn't really work out and I knew we could never have done it with him, he was just too stiff in the head. With Wolfgang then we made it to the final tournament on the third day, and as it was then, with many bands and only one stage, the schedule lagged far behind. This meant hours of waiting for us and pure adrenaline and high tension built up. Then, when it was our turn to go on stage, we were charged with a hell of power. We played them all into the ground and got only maximum scores, some of the judges even turned their plate with the 6 (score was from 1 to 6, 6 being the highest) to a 9. We got a golden microphone from AKG, which I sold right after, and a kind of trophy, an engraved plate on a stand, and our picture was in the newspapers. That was a good time and because of the publicity we could get more and better gigs. But we didn't have a drummer anymore. Wolfgang only agreed to play in this competition if I promised that it would definitely be the last time for him to play with us. But I had listened to most of the bands in this competition, and there was one, also from Munich, whose drummer really impressed me. It was Klaus Spöri, and after the usual procedure, he finally joined us and we were able to continue. Hennes got himself a real Hammond M100 organ and Klaus' father had put down the money for a new Ludwig drum kit. Then Liberty let us record a demo at the big Bavaria Studios here in Munich (Bavaria Film recording studio, where many famous directors, from Hitchcock to Oliver Stone, have shot films), where we would later also record our second and third album. We had only one recording session before in a studio of the Bayerischer Rundfunk (The official radio and TV station here) and that was film music for a film project by Klaus Emmerich. To my knowledge, the film never made it to the screen and I have no memory of what it was called. Klaus was known here in Germany as a theatre director, unlike his brother Roland, who went to Hollywood. Unfortunately these tapes went lost somehow, but at least we had gained some studio experience through that. Then, after Liberty had listened to the recordings, they refused to sign us, but at least now we had a professional demo tape with our original compositions. So Friedel rattled off the record companies here and it was Kuckuck Schallplatten who finally signed us. And we had also managed to get our own rehearsal room, even in the same street where Moran still lived and I had returned to. I had moved back from my mother to my room at my grandparents and my grandfather then moved out after I had thrown the fridge with all his beer inside at him across the kitchen because he made a hell of a terror when I wanted to take a bath with my girlfriend Brigitte, who had given birth to our son Markus shortly before. It was an old boiler and needed to be fired up, so why twice? He just drank too much and had been quite a pain in the ass for some time, also towards my grandmother. Nevertheless, after he died a few years later, my mother found our newspaper articles cut out and folded in his wallet.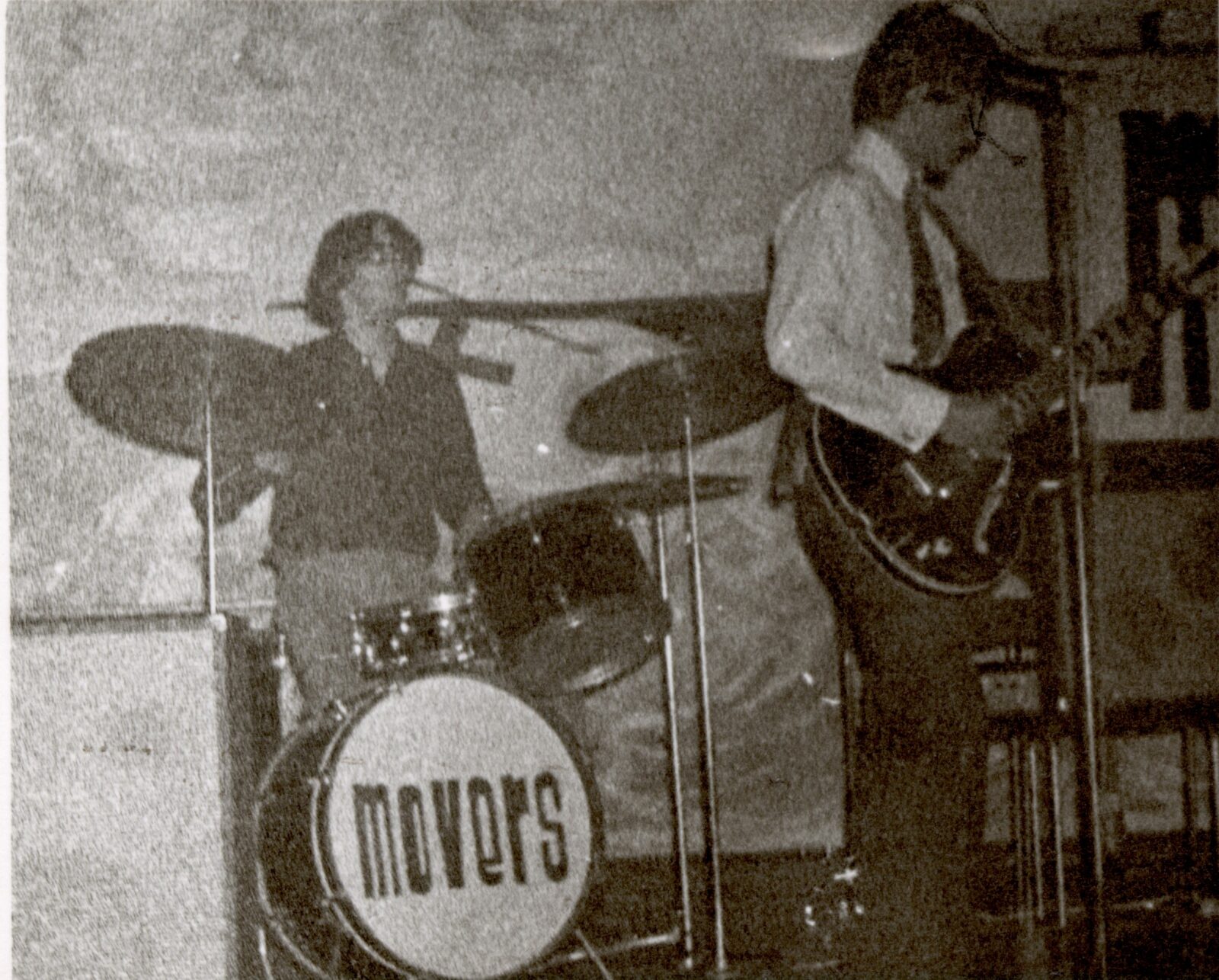 Our first real rehearsal room was in the basement of a house whose property manager Moran knew quite well, and we dampened the former laundry room with rock wool mats, which we collected from building sites at night and in large numbers with Hennes' 2CV, in order to achieve good sound proofing. At that time I had also successfully completed my apprenticeship and on the last day I left the company and became a professional musician. And not long after the release of our first album 'Wake Up!', which we had recorded at the Union Studios in München-Solln, Moran, Klaus, Uschi (a friend of our new saxophonist Ingo Schmid-Neuhaus) and I moved to the outskirts of the city into a small house in München-Trudering, which we got through a trumpeter and bandleader, Charly Tabor, who was well known here at the time. Hennes and Stefan also moved together into another, even smaller house, but with a large garden and even a small pond on the opposite side of town in München-Obermenzing. Originally we were looking for a house big enough for all of us, but since at that time it was not so easy for long-haired people with girlfriends and without marriage papers to rent an apartment or a house, we were already happy to have found these. And we bought an old Opel 7-ton bus, with enough space for our equipment and also to sleep on mattresses in the back during longer trips.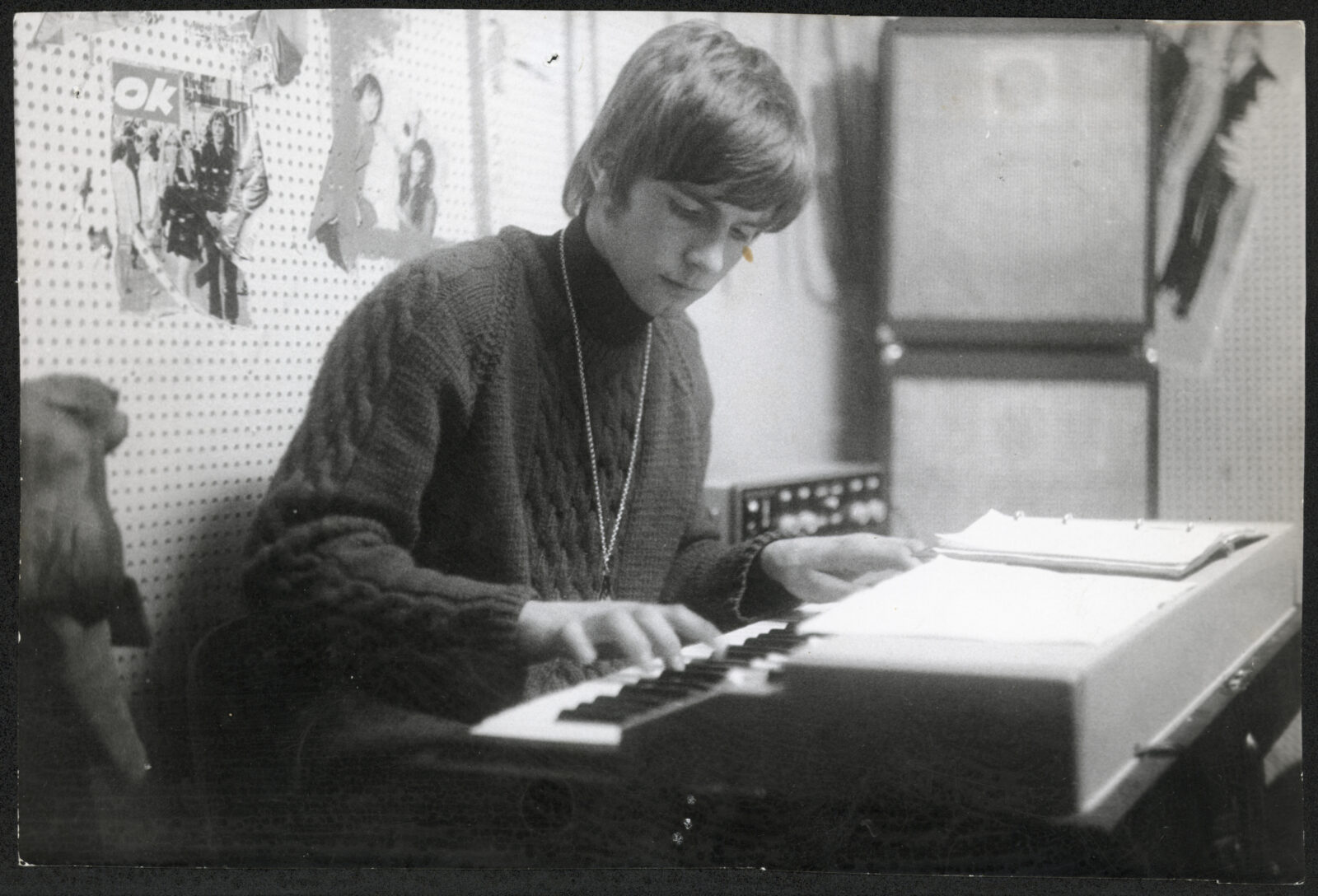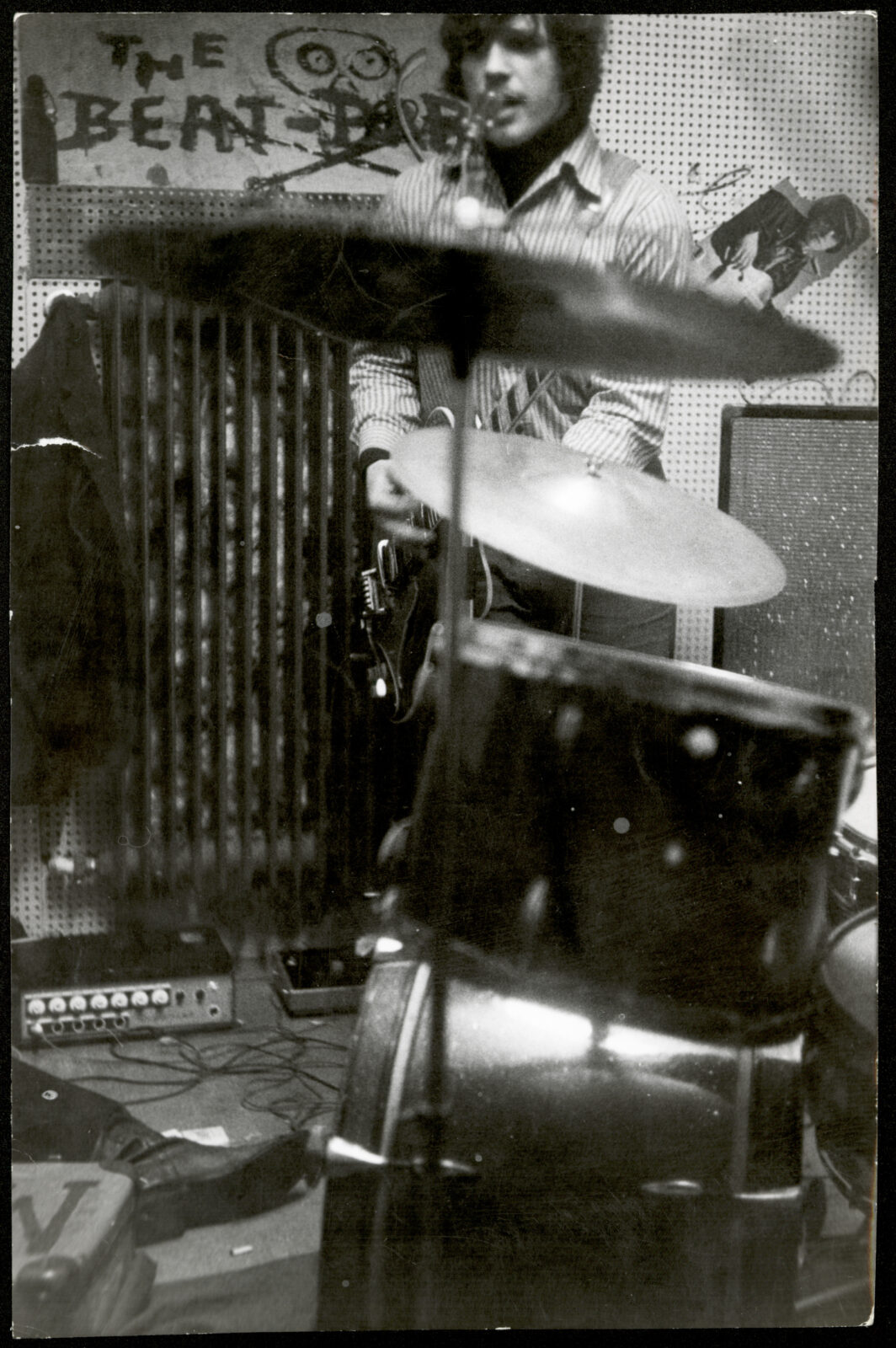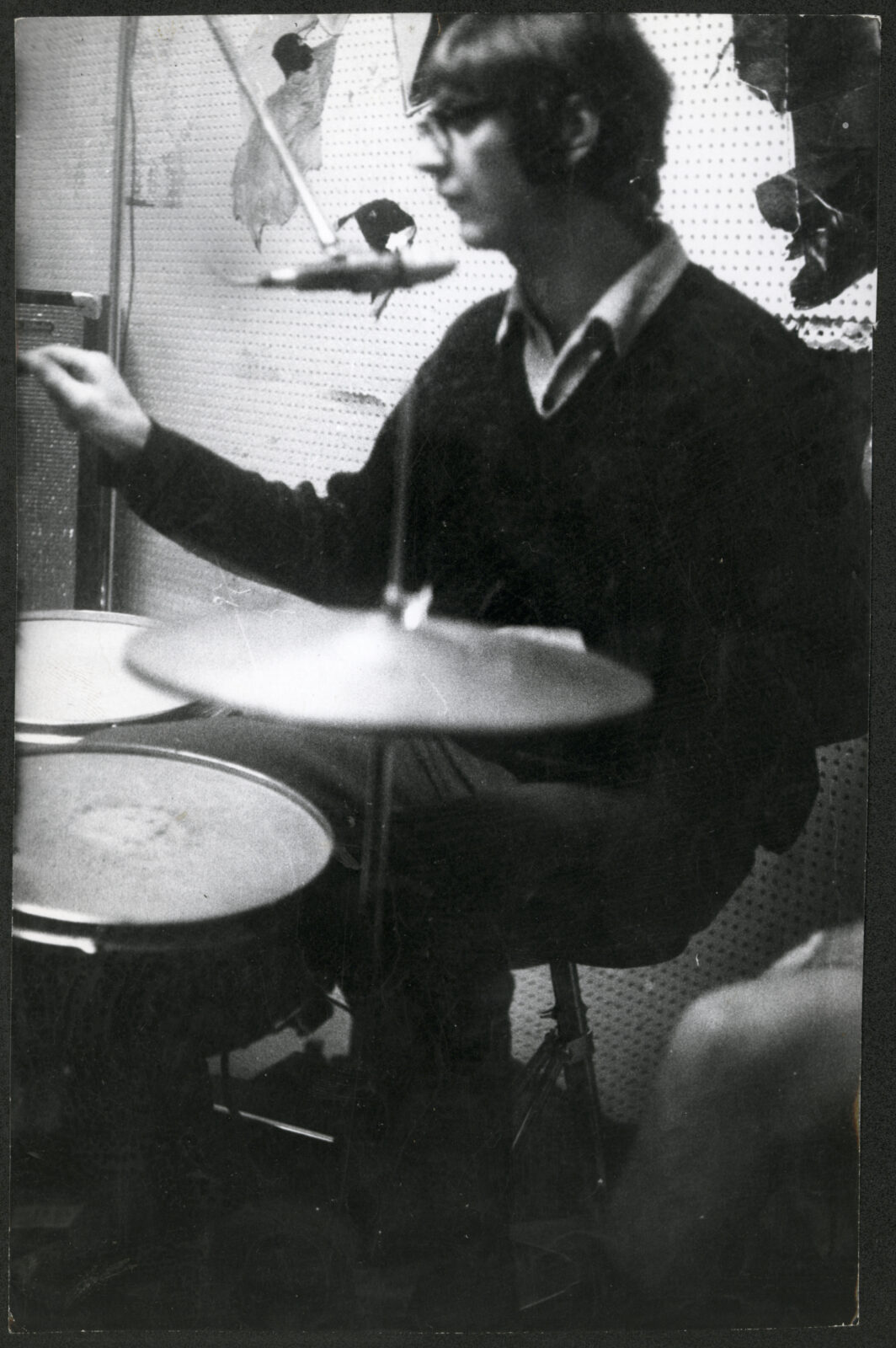 What sort of venues did Out of Focus play early on? Where were they located?
As I said, in the beginning we played mainly in youth centres and at private parties, and then also concerts in festival halls of inns came in.
I remember one evening, with another Munich band as the opening act, and we had all swallowed some pills (Captagon – amphetamine and theophylline) that Hennes' girlfriend, who worked in a pharmacy, occasionally would pinch for us. We played like hell and I think it was the first time we were able to draw a bigger place with a lot of people into our spell. Some even climbed up the side walls and hung on to whatever to see us, and they really soaked up what we were doing. They got high from it and there were no screaming girls with wet panties – thank God. (but who really knew about the panties?). Experiencing such a phenomenon just felt great. This concert was probably an important step towards our success at that second band contest, where we performed with the same energy in a way.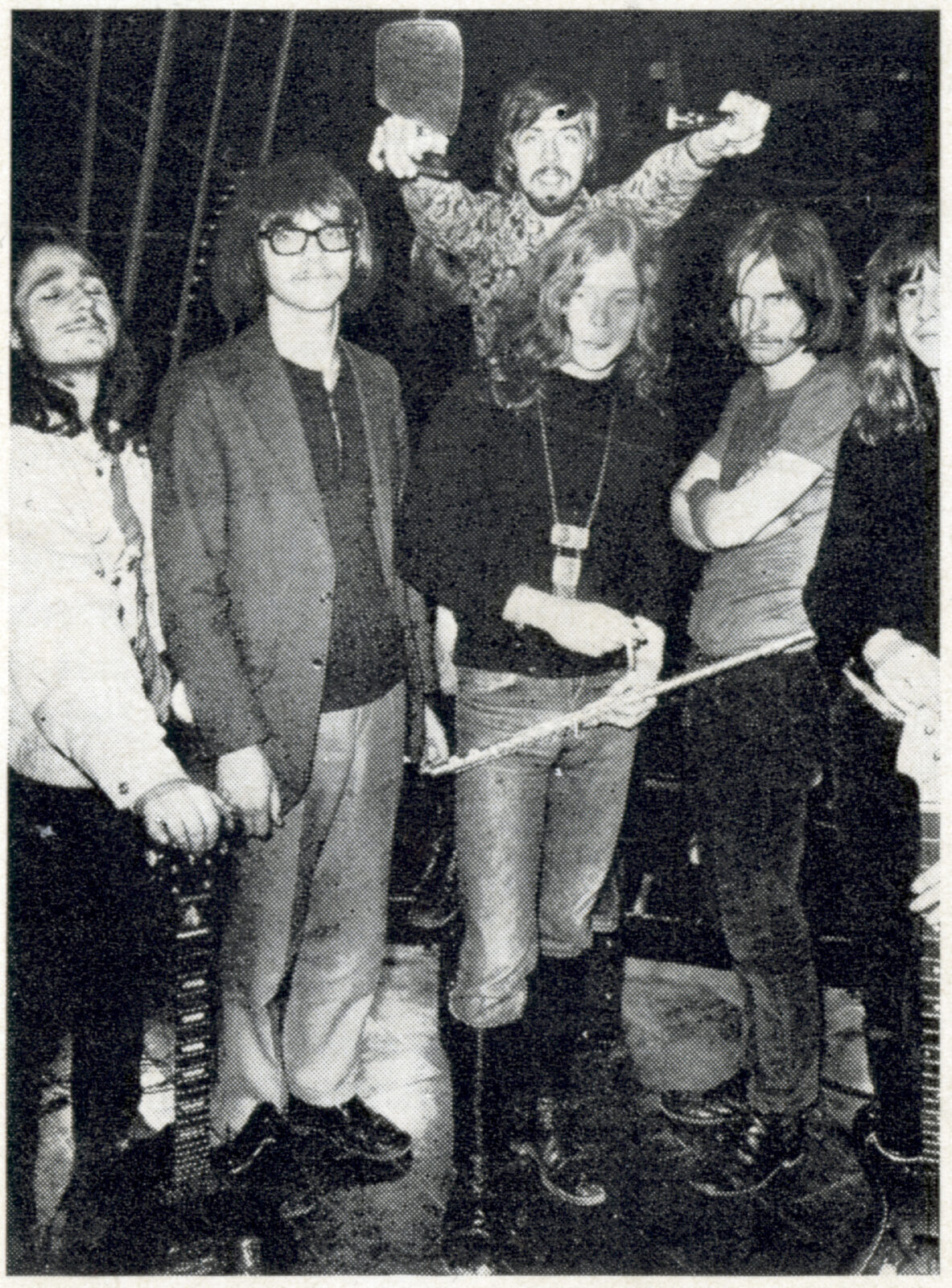 But there were also evenings when we failed or at least could not reach the audience, if they stayed at all. Hennes reminded me of an evening in another youth centre, where Moran had put on a green, military-looking jacket on which he had hung NAZI medals. And I had stolen a big German flag from somewhere in Munich that we used as a drum set rug. Before the concert then, one of the social pedagogues, I think without talking to us beforehand, called the police who then took Moran away. He explained that it is meant as a protest against our terrible past, but he had to take off the jacket or at least the medals and the flag had to be removed as well. This is simply the German law, which I can of course understand, but from the point of view of protest in the context of art, it was wrong to restrict us. But neither the police nor we had much idea of such implications at that time.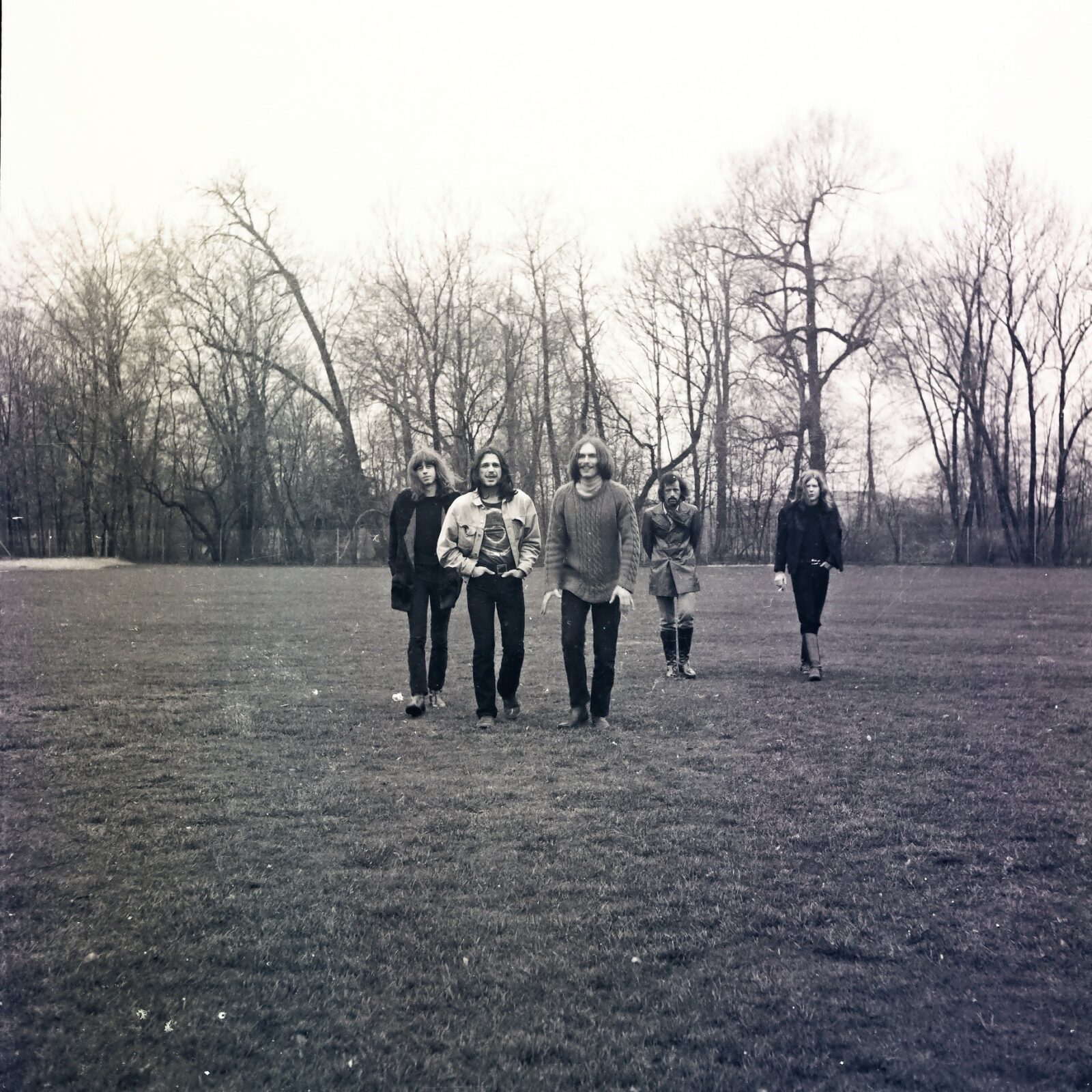 After we came back from England, we organized an open-air concert in the Englischer Garten, this big park here. Something like this has never been done there before and it was a bit difficult to make it happen. Friedel turned to the Abendzeitung (one of the big, rather left-wing newspapers here) for support. They proposed to combine the event with a charity action, i.e. money should also be collected for the "Pfennigparade", an organization that supports disabled people and was also supported by the Abendzeitung.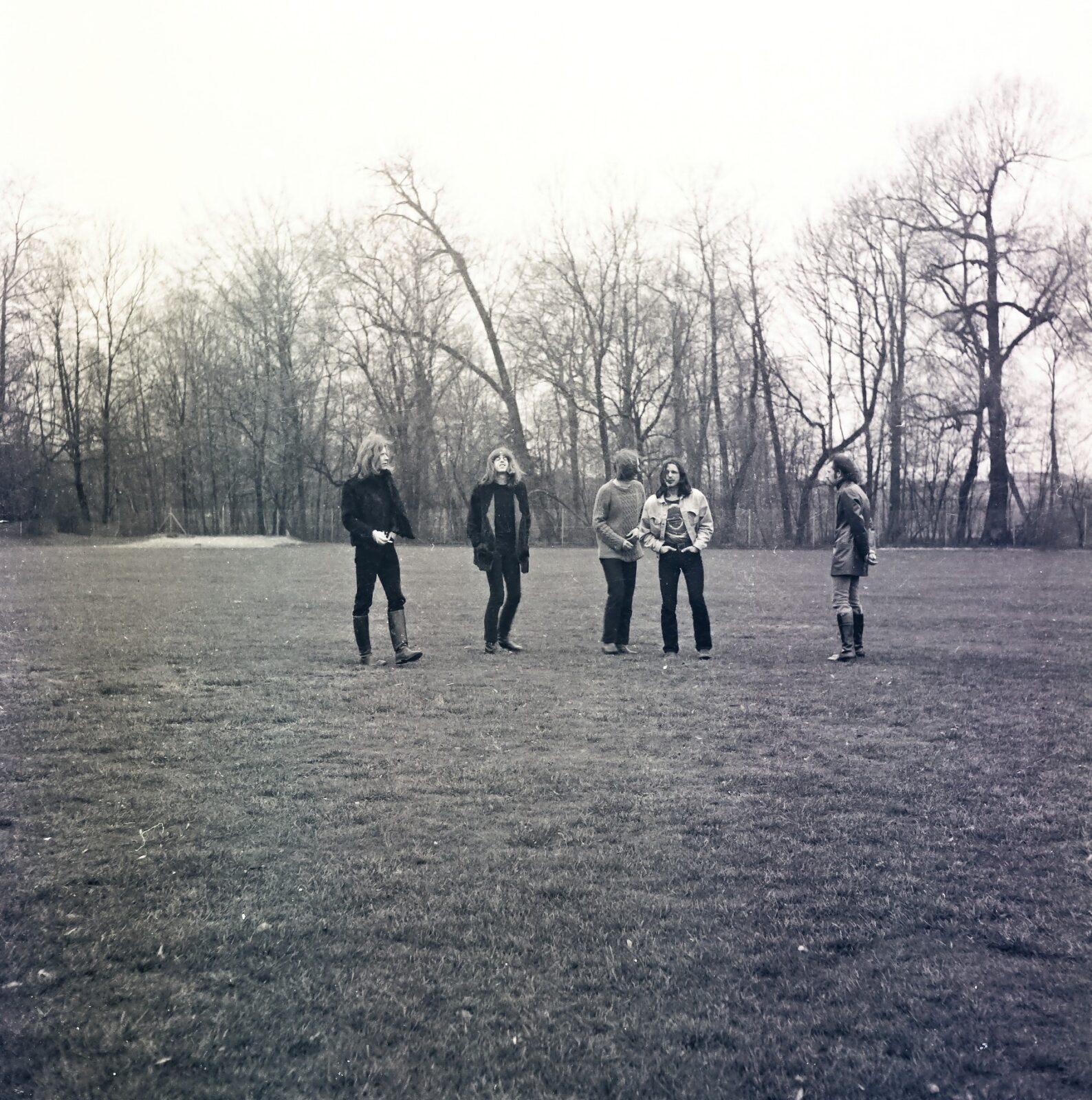 The concert itself was free and so there was a good chance that some money could be raised. They did a good job with articles and interviews and also put us in touch with the right people. The park as a whole is property of the Bavarian state, whose government was and still is conservative, and there was no way to convince these hard liners to let some long-haired hippies organize a big event there with this kind of "disturbing" music – or even "noise", as some called it. The solution to this problem was that there is also a large sports ground in this park and, fortunately, this is administered by the city and the city was governed by the SPD (Labour Party) at that time and, hurrah, they approved the event. We asked another Munich band, "The Subs", to open and the concert was a great success. And a few days later, when we went out for a beer in the evening, one of the surrounding pub owners asked us why we hadn't told them beforehand, since they were all sold out.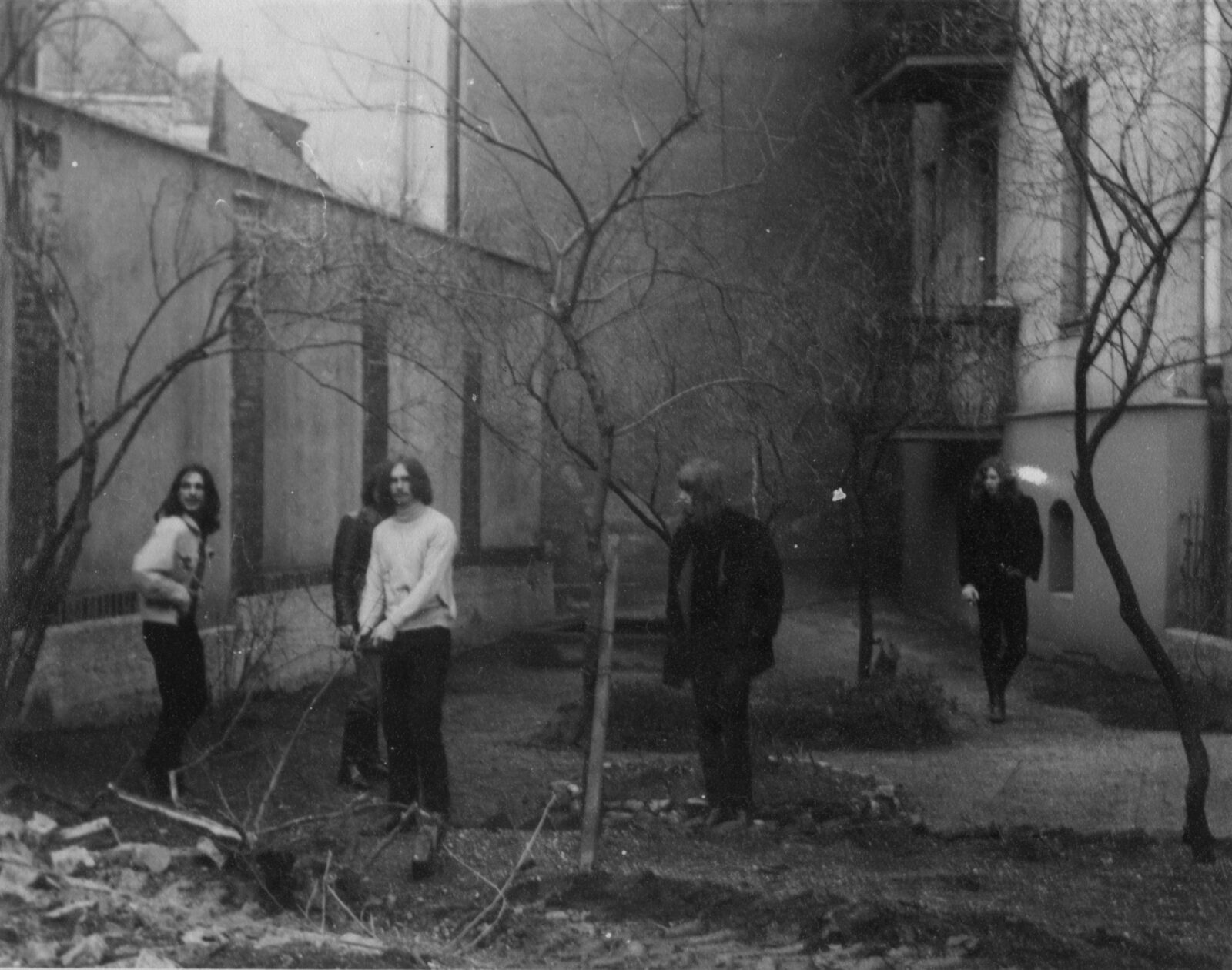 We had not expected that so many people would come, nor had we thought that they would need to drink and eat, and had not taken care of any of that. Through the contact with the 'Abendzeitung' we then also learned about this international band contest, which the newspaper had also co-organized. And since we came first, we also could play at a big rock festival that was coming up in Munich, and that was another step. It went on for three days and many famous bands were announced on the poster. Taste, Deep Purple, Steamhammer, Uriah Heap and so on, a long list, and we had to open in front of 10000 people in a huge hall that had already been built for the 1972 Olympic Games that were to take place later. My knees were like rubber and I really wondered why I didn't fall over. The stage was so big that Hennes seemed to be miles away on the other side with his organ. But somehow we did it, but don't ask me how, and we got good applause and nobody booed us.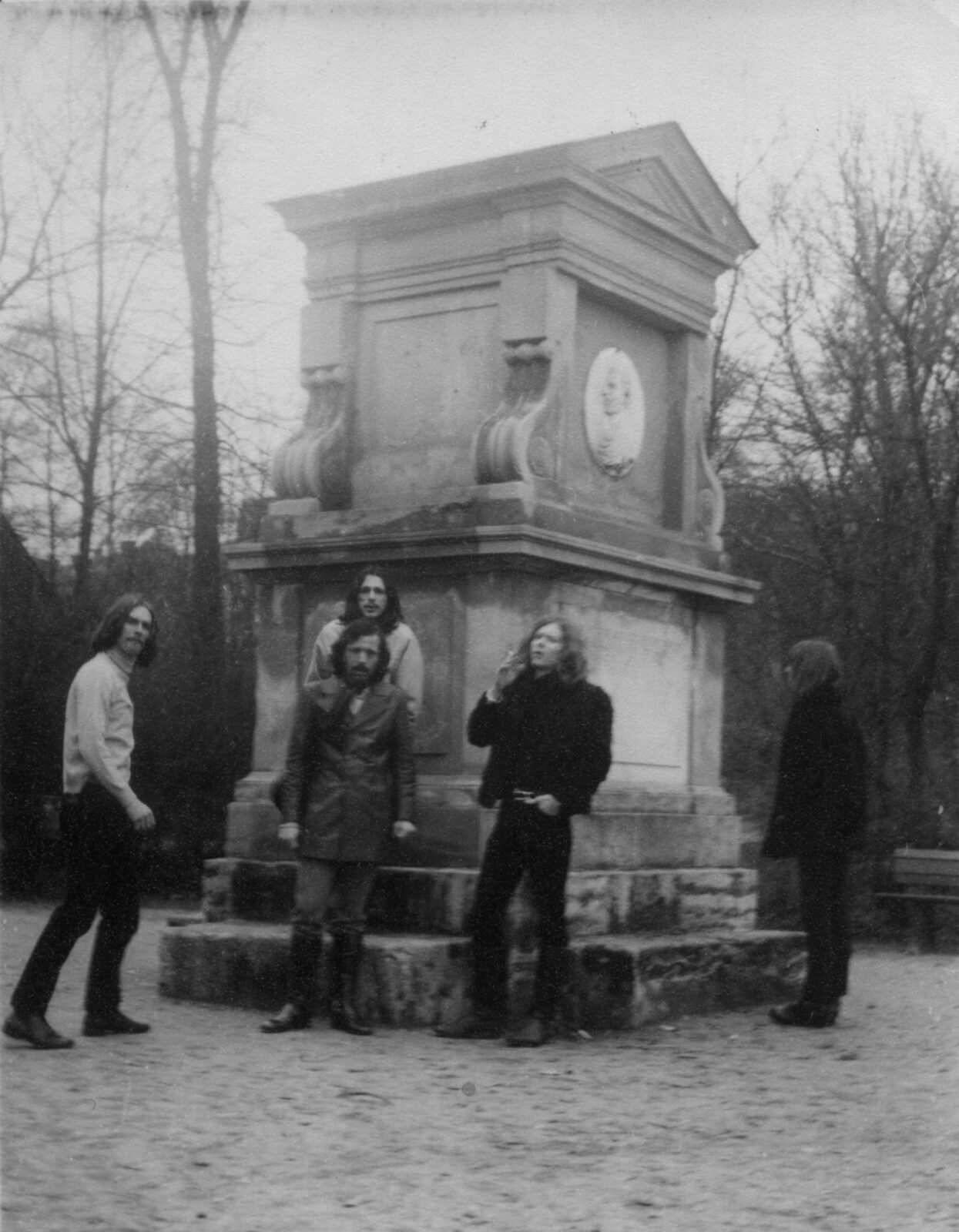 Then there was an independent film festival in Dingolfing, where we played 2 nights and stayed overnight for the first time, and a concert in Ruhpolding (where my mother sadly died in hospital in 2017), both smaller towns and our first gigs a bit further from Munich. A local musician couldn't understand the way we played and asked me how we did it… And there was a club in Munich called Jazzkeller where we played once a week. This was a very special place, with two separate rooms, the smaller one with live blues music, and a funny host and owner. Today you would say it's a cult.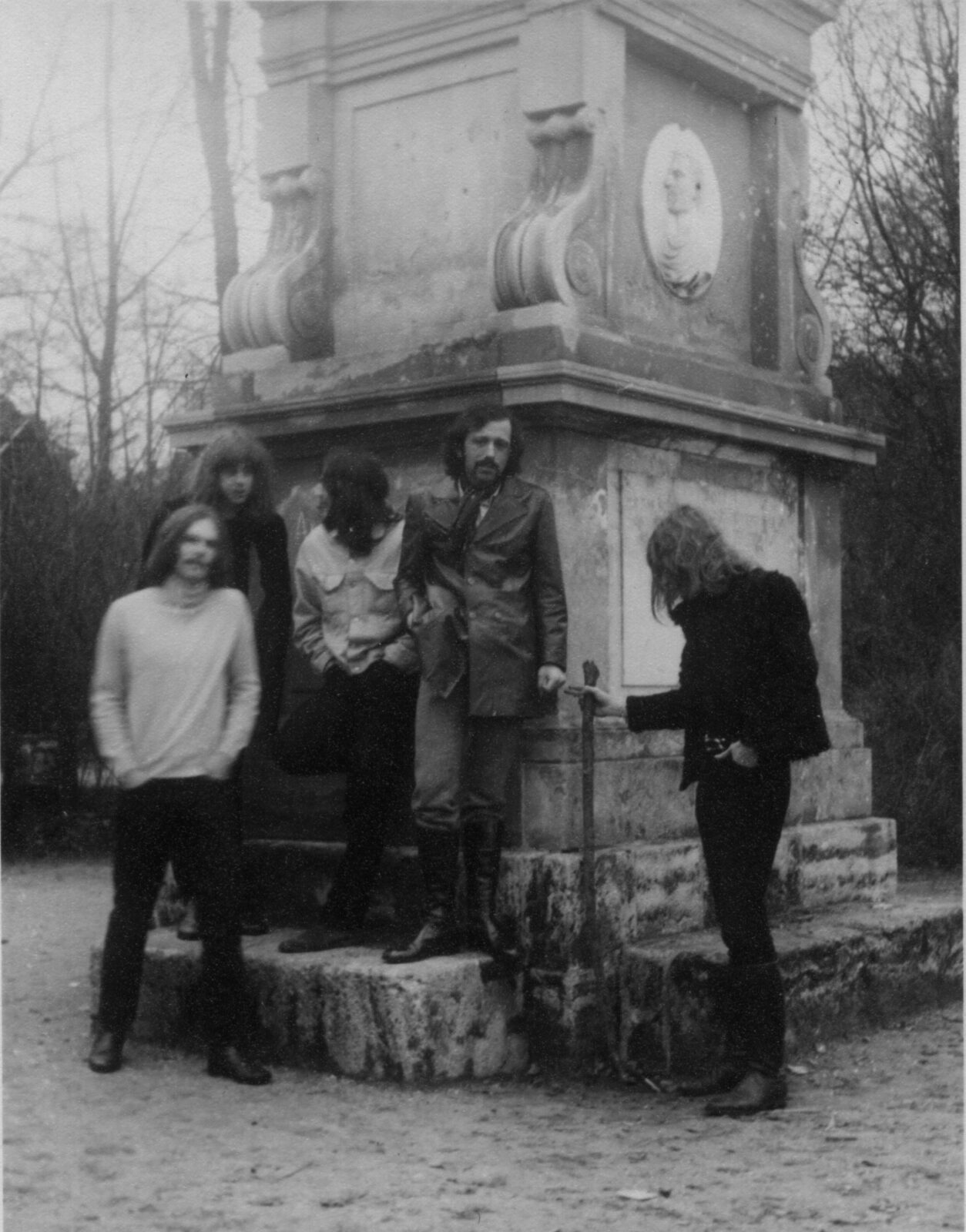 Over time, underground and beat clubs sprouted up everywhere, and open-air festivals began to establish themselves in the summer. It wasn't long before we were on the road almost every weekend for gigs and cultural centres also started to do concerts with this new kind of music in all known variations, beat, rock, psychedelic, folk, whatever. And also the Goethe Institut, the German institution for the promotion of German culture and language abroad, with its headquarters here in Munich, launched a campaign to bring to other countries the German response to what in a sense the Beatles, Rolling Stones and others had started. They came to the Jazzkeller one night, listened to what we were doing, and then sent us on a two-week tour to Italy, our first international experience at the time. On the CD 'Palermo 1972' there is a concert from that tour, which took place in an old and beautiful theatre, where I thought that Caruso might have already performed there in the distant past. And Friedel even organized a concert in the afternoon here in Neudeck Prison, where I had to serve my two-week sentence when I was 14. And I remember one evening when we opened for the Düüls in Stuttgart-Feuerbach in a large hall. It was packed and we got in really well, and afterwards the guys came up to us and even gave us more money than was agreed in the contract because we made that evening. But we also had weaker days. Have played more often in this hall and also once opened for Nektar and Wallenstein (formerly Blitzkrieg) have once opened for us.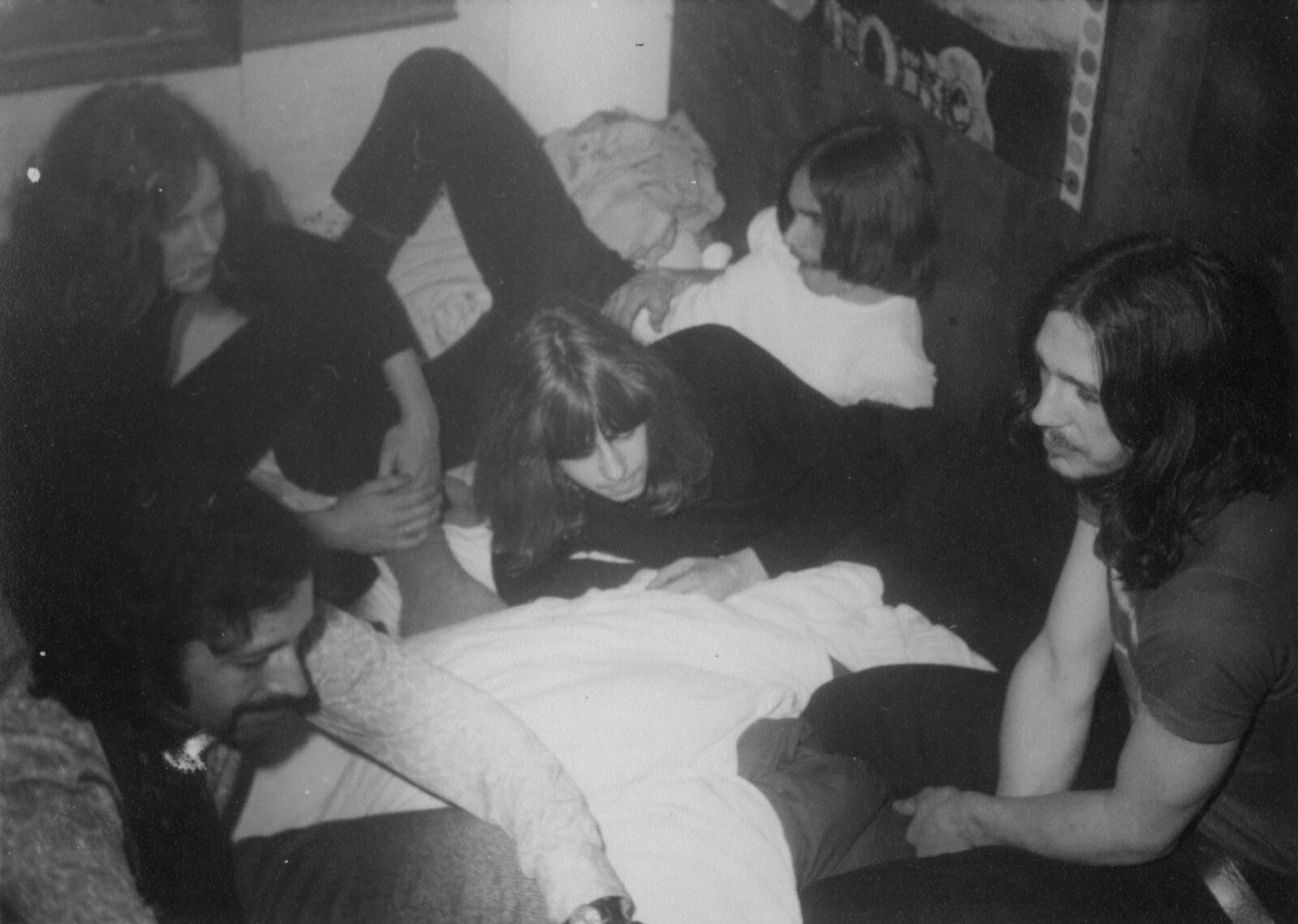 What was the scene in Munich?
Talking about the music scene here in Munich when we started is a bit difficult for me, because it was just building up, at least in terms of our style and we ourselves were also just at the beginning. Certainly many things happened, but often in their own circles, so I can only give you my view, simply because it took time for the scene to more or less connect. Would actually be interesting to ask everyone who is still around and then put it all together in a big chart or something as to what happened everywhere. It was a time of new beginnings, not only in musical terms, and with a strong influence from England and the USA. And this NAZI thing was still in the heads of older people, some of whom seriously regretted that the Third Reich was history, a terribly bad one, no doubt. Our new kind of music and what went along with it, long hair, fancy outfits, drugs, unencumbered sex, whatever, was not much appreciated by many, no matter what their political views were, and the music was considered more of a kind of unpleasant noise. Whatever one was planning to do, opening a new music bar, rehearsing, organizing a concert, he was lucky if he didn't have to deal with that kind of attitude. But more than 20 years after World War II, a new way of dealing with things had also begun to grow and many people were looking rather forward, and there was no way to stop things from continuing to improve. We were young and strong and they were on their way to extinction. But there were also tough confrontations, like the demonstrations initiated by left-wing students and street battles with the police here in Munich as in Paris and Berlin at the time. And the 68er movement should also at least be mentioned in this context.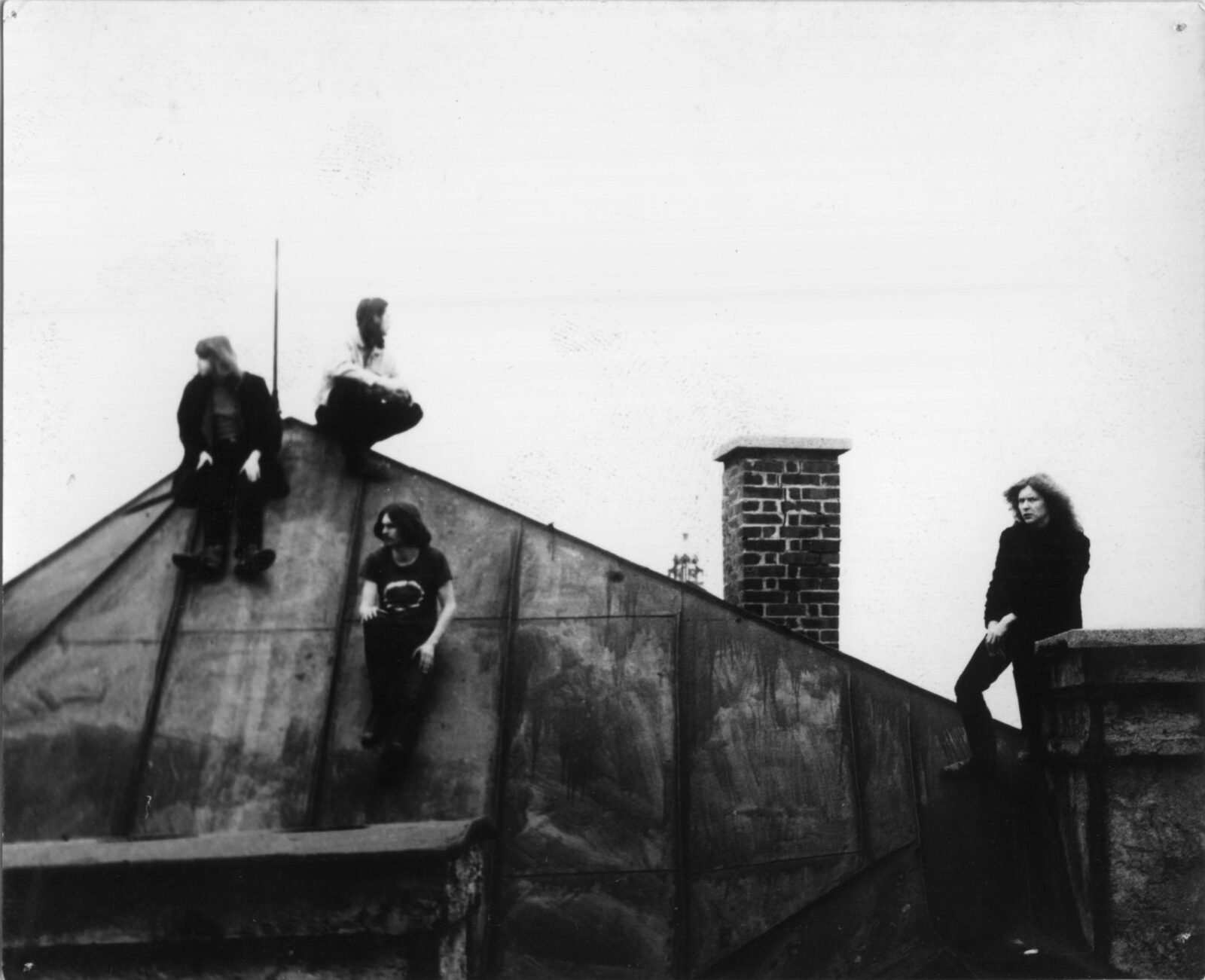 During the advance of the beat, prog or rock scene, new bands came and went, some we heard of, others I only found out about later. For new bands it was not so easy to get gigs and it took some time until corresponding stages were established. It was mostly on the weekends where we could perform here and there, and there were only a couple of places with live music every day, but not so much for our thing, more rhythm and blues or Pop, dance, Schlager and jazz music. An exception was the P.N. Club with a broader spectrum, and there was a big club in the red light district near the train station, I don't remember the name, where you could hear solid English club bands. Then there were some black music clubs, such as the Tabarin and the Birdland, frequented mainly by African-American members of the U.S. Army, but also by locals interested in jazz, soul and even American avant-garde. And there were also clubs in the U.S. Army barracks where some jazz musicians could earn a good bread, and discos with occasional live music, such as the Crash and the Blow Up, where we also had performed.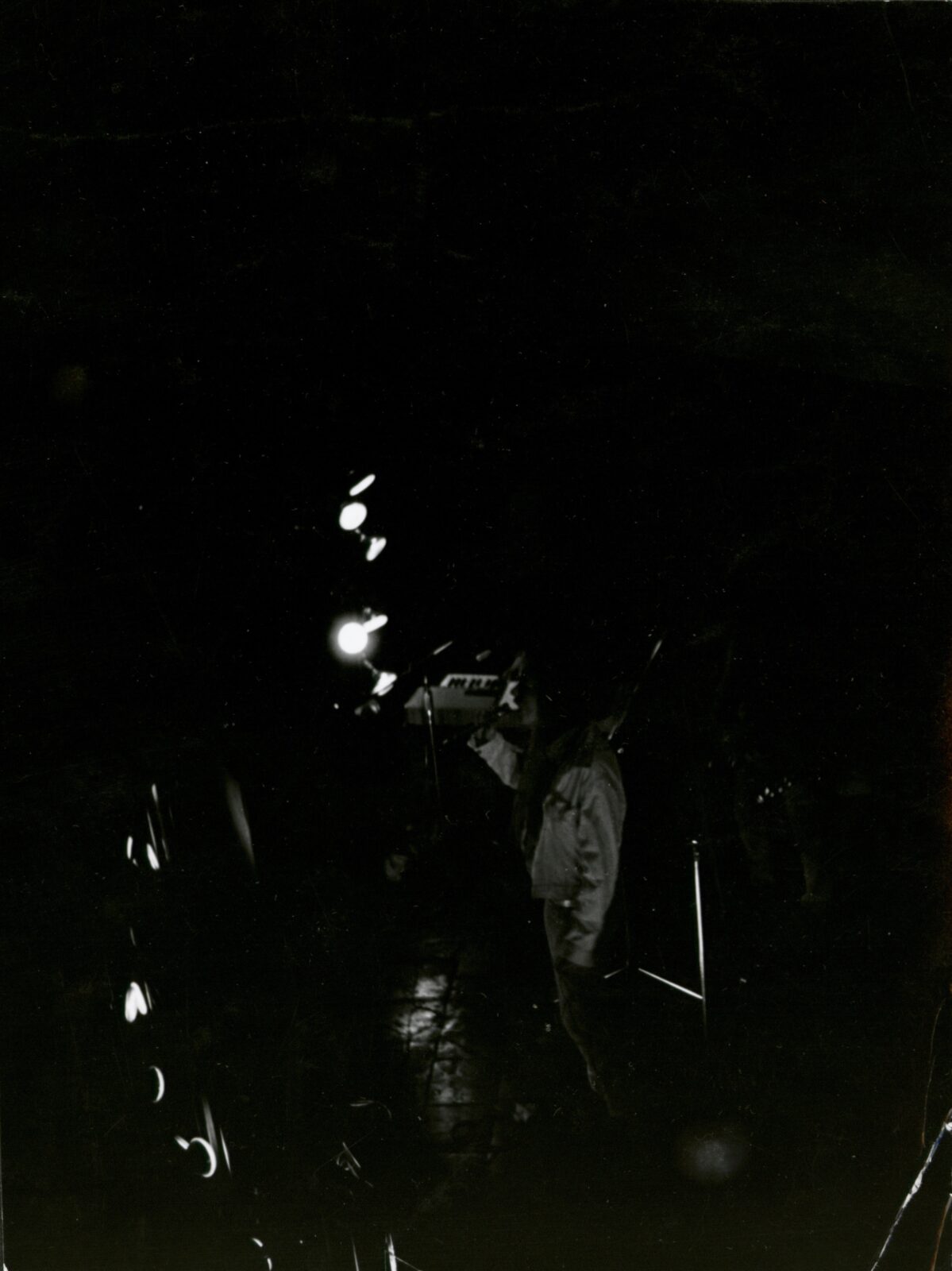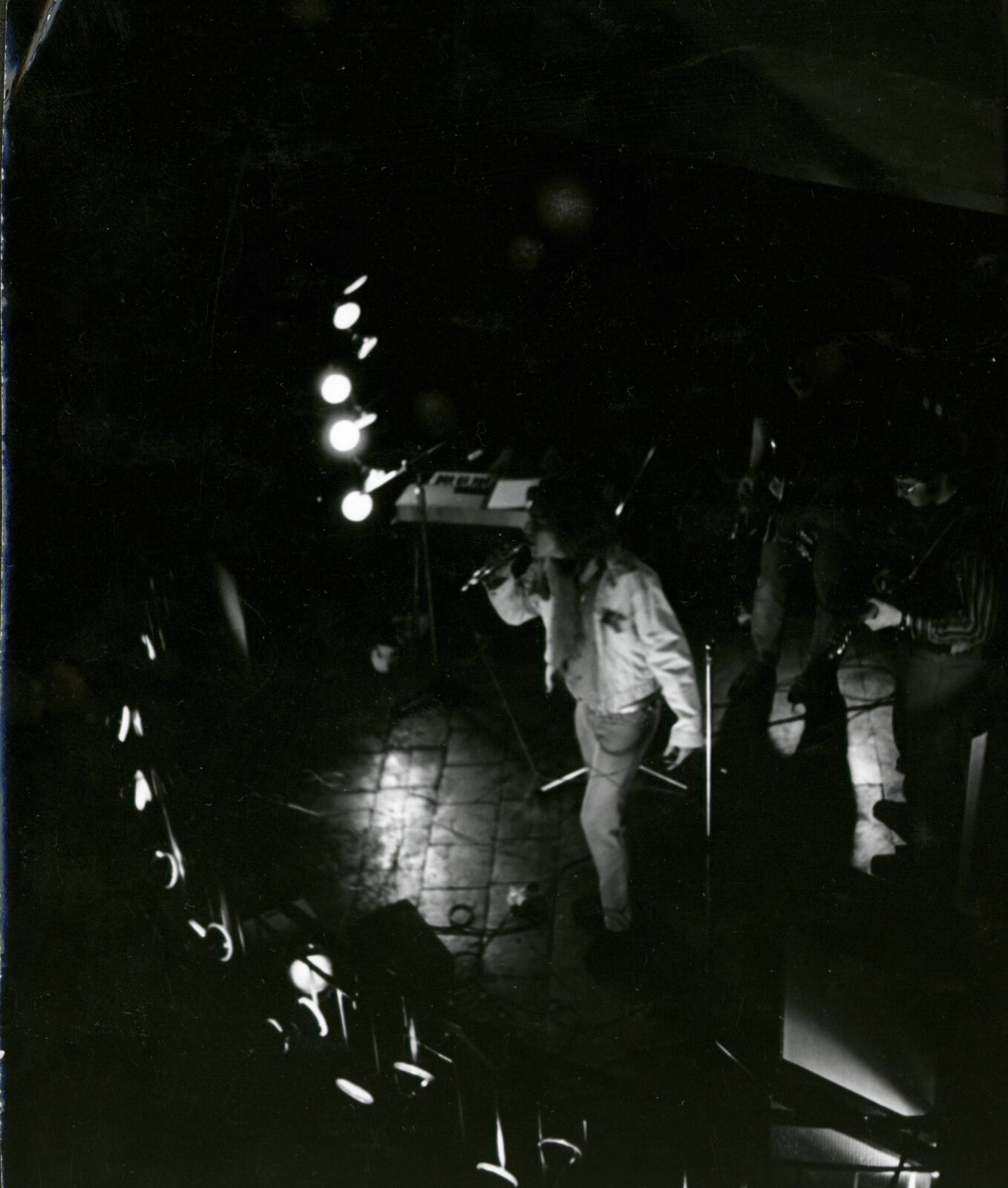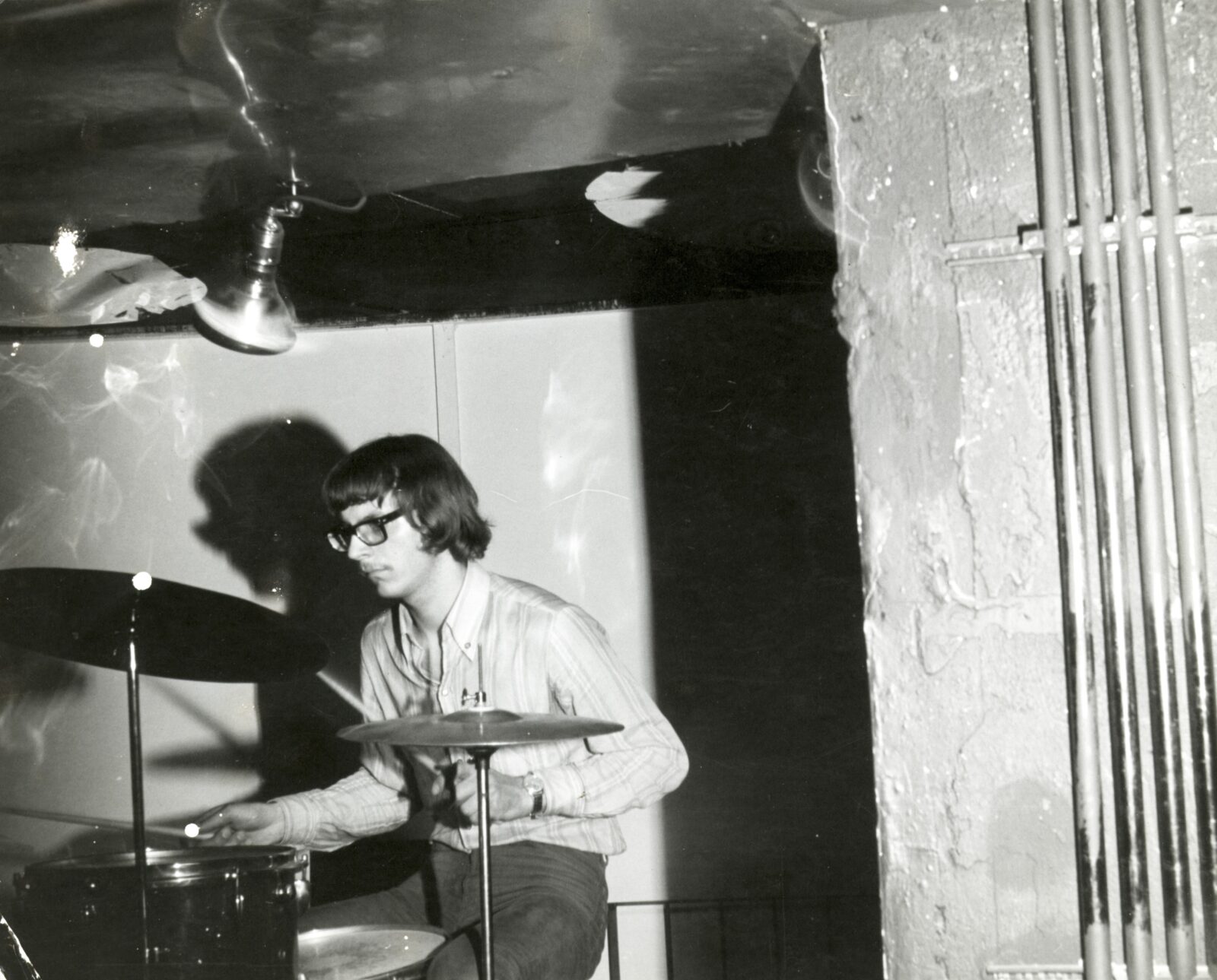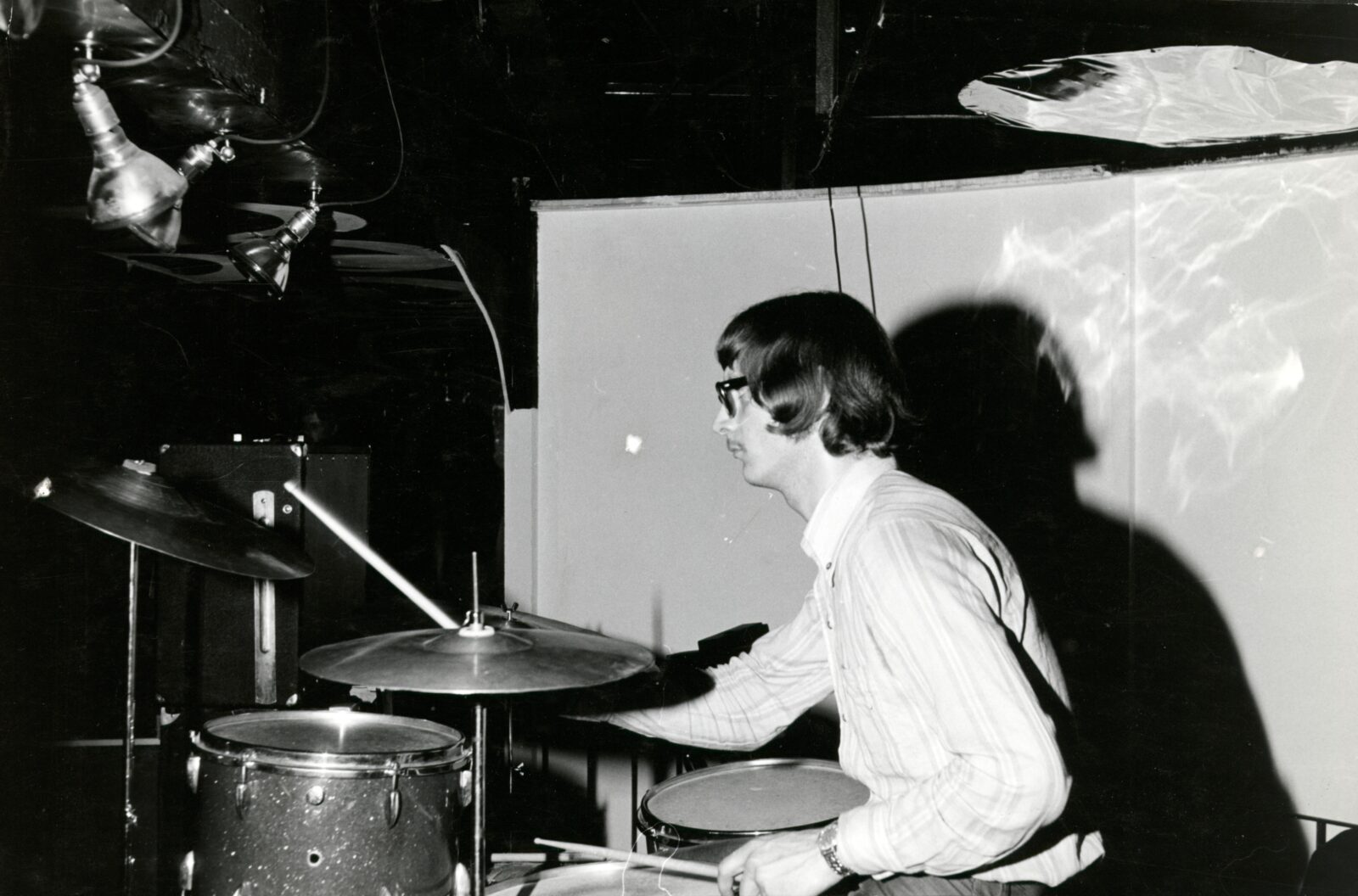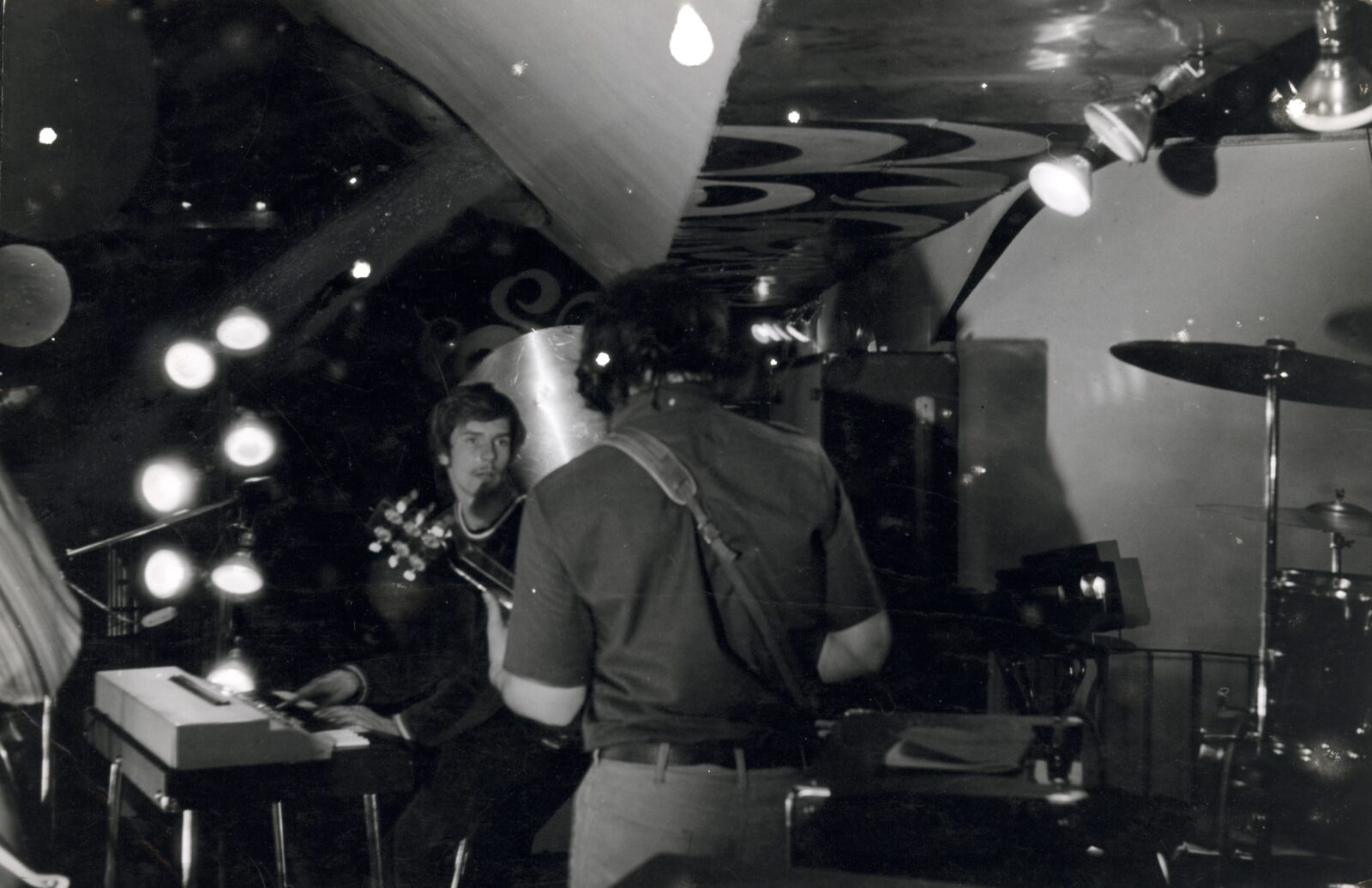 At the Crash we played at a promotional event for a book by Jenny Fabian, an English groupie who dated Pink Floyd and Jimi Hendrix, amongst others – have read the book later. It was that right after our performance, one of her staff members came up to me and asked if I would be available to dance with Miss Fabian for the TV news, and I said OK, why not. I'm not much of a dancer, but we did it, and the next day it was on the local evening news. She then asked me if I wanted to accompany her to dive into Munich's nightlife, and so we ended up in Schwabing and later in her hotel room.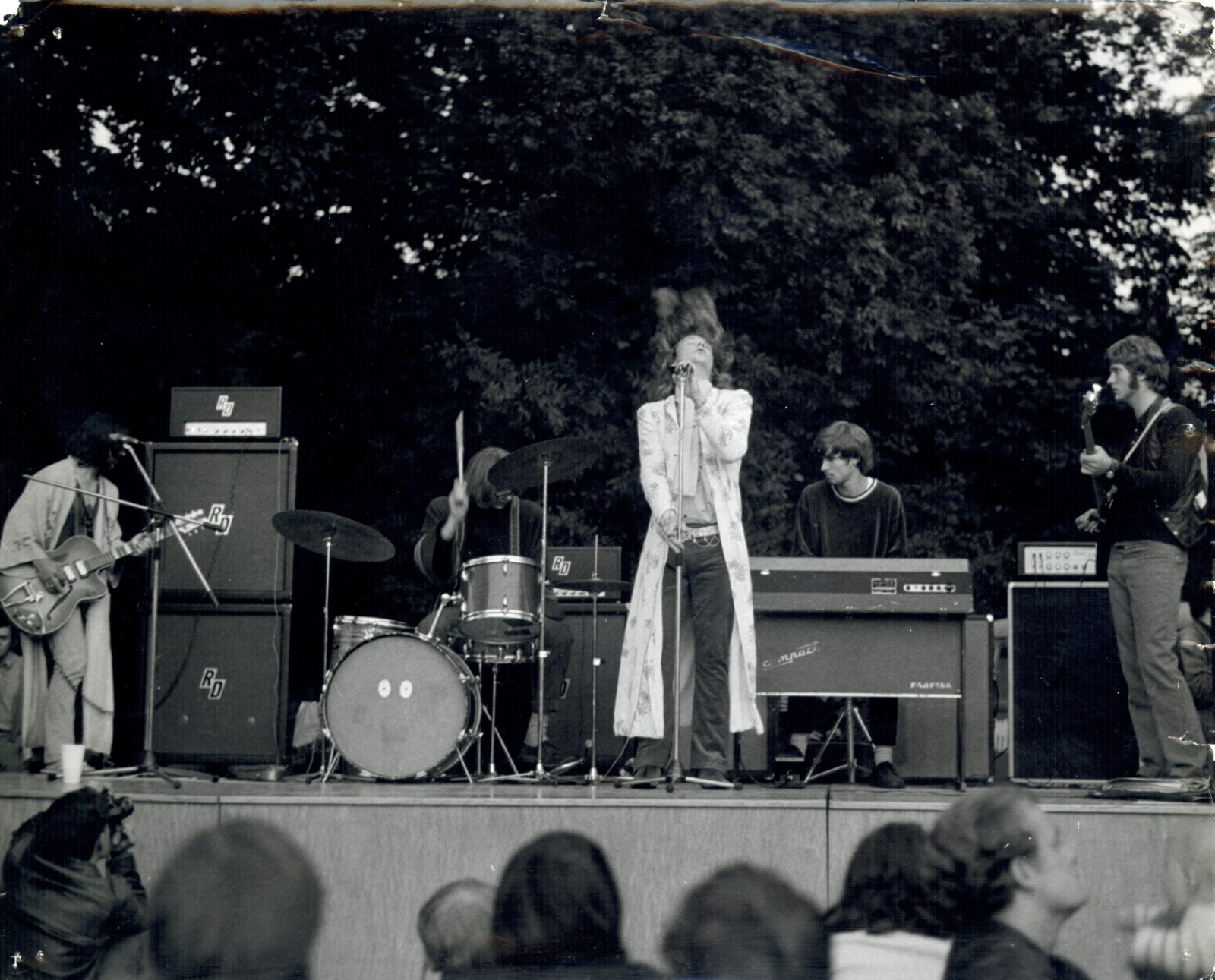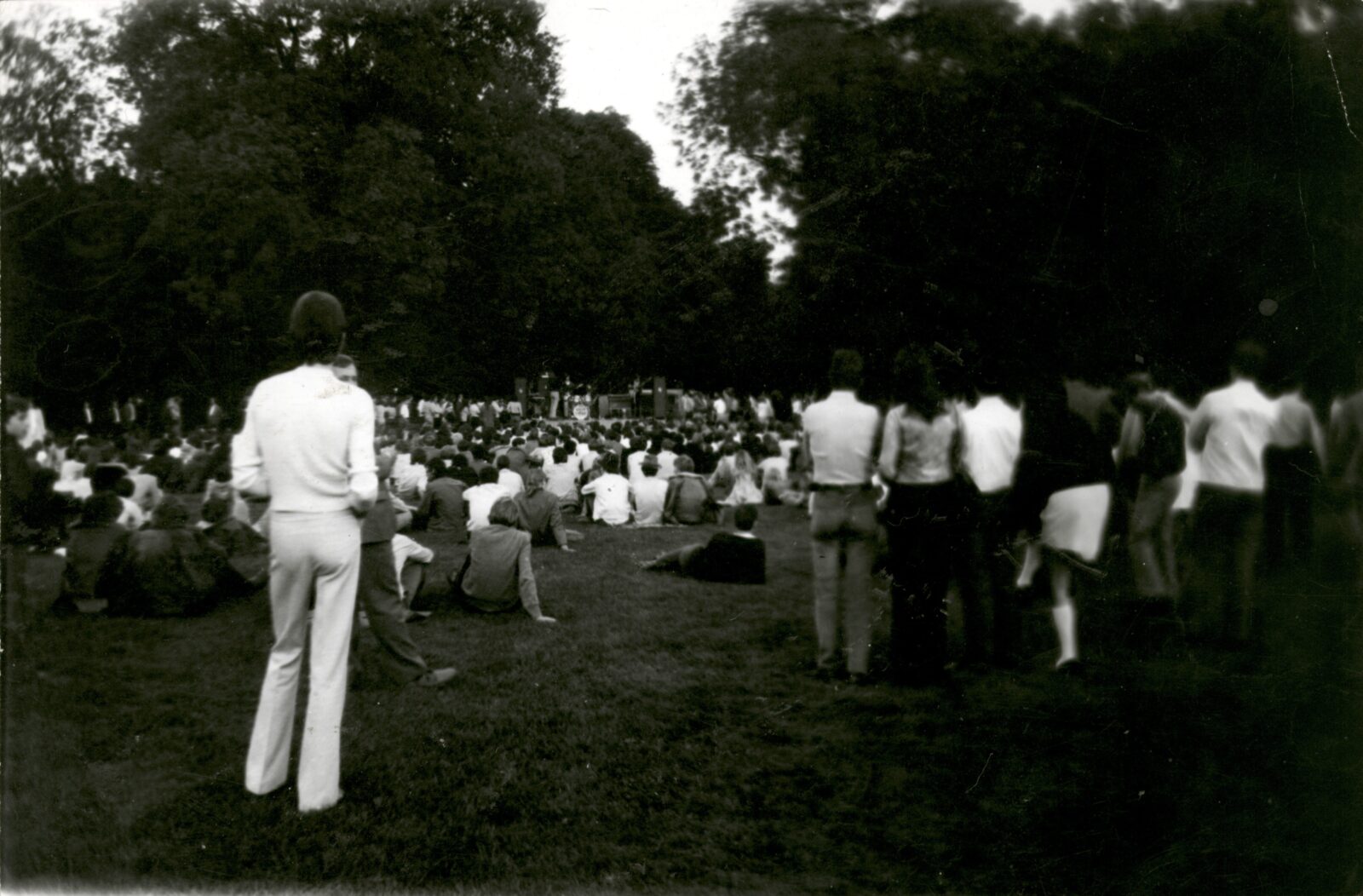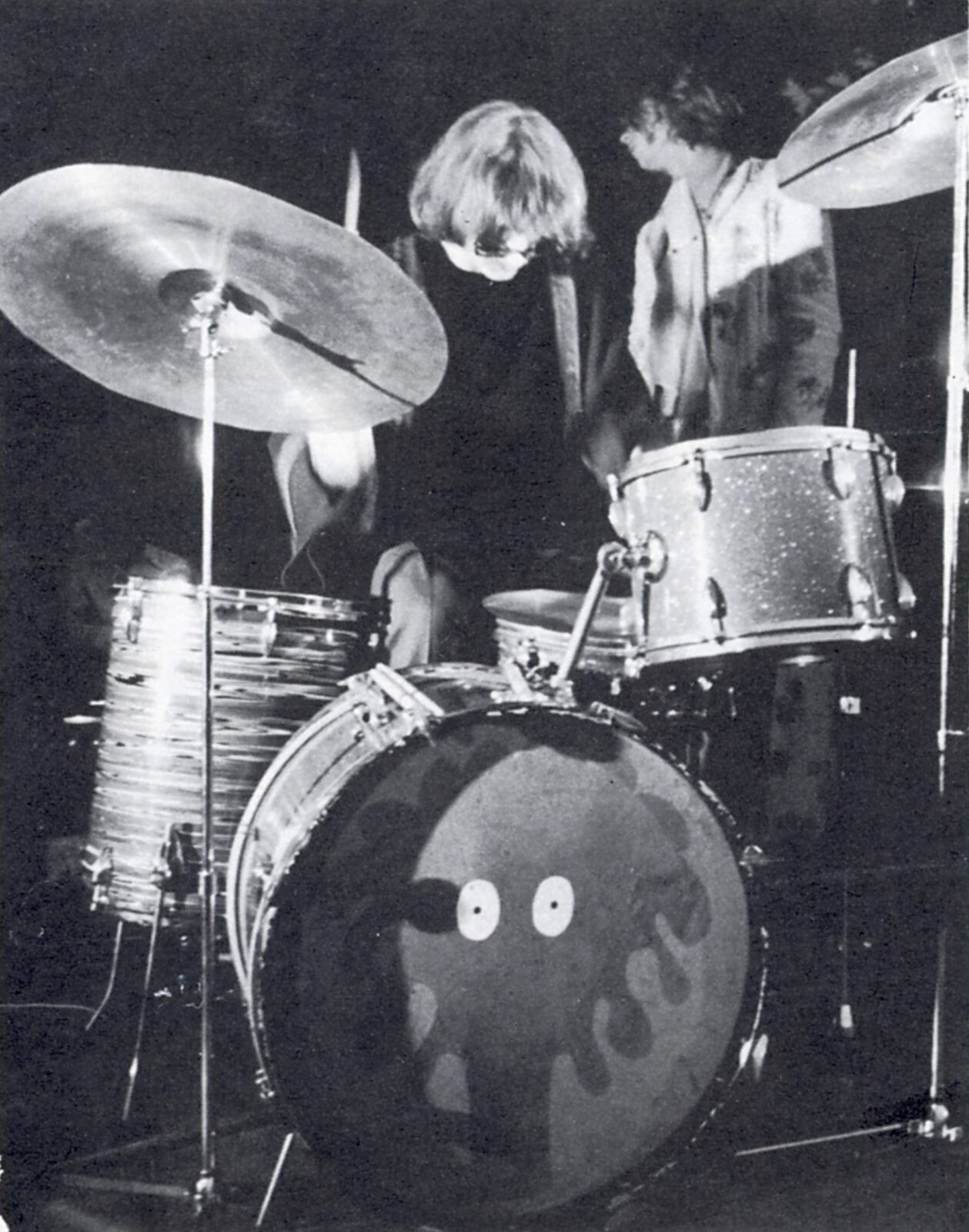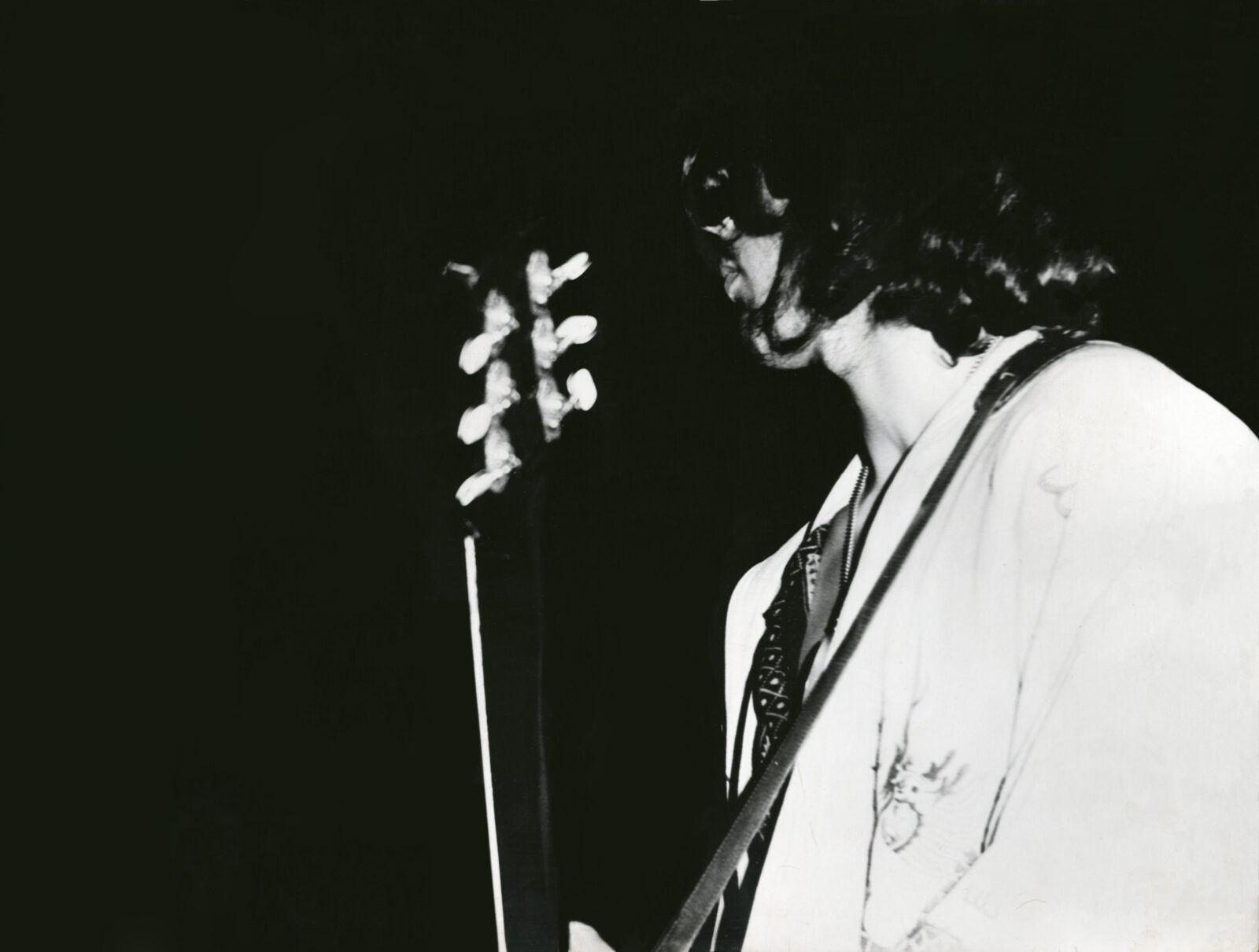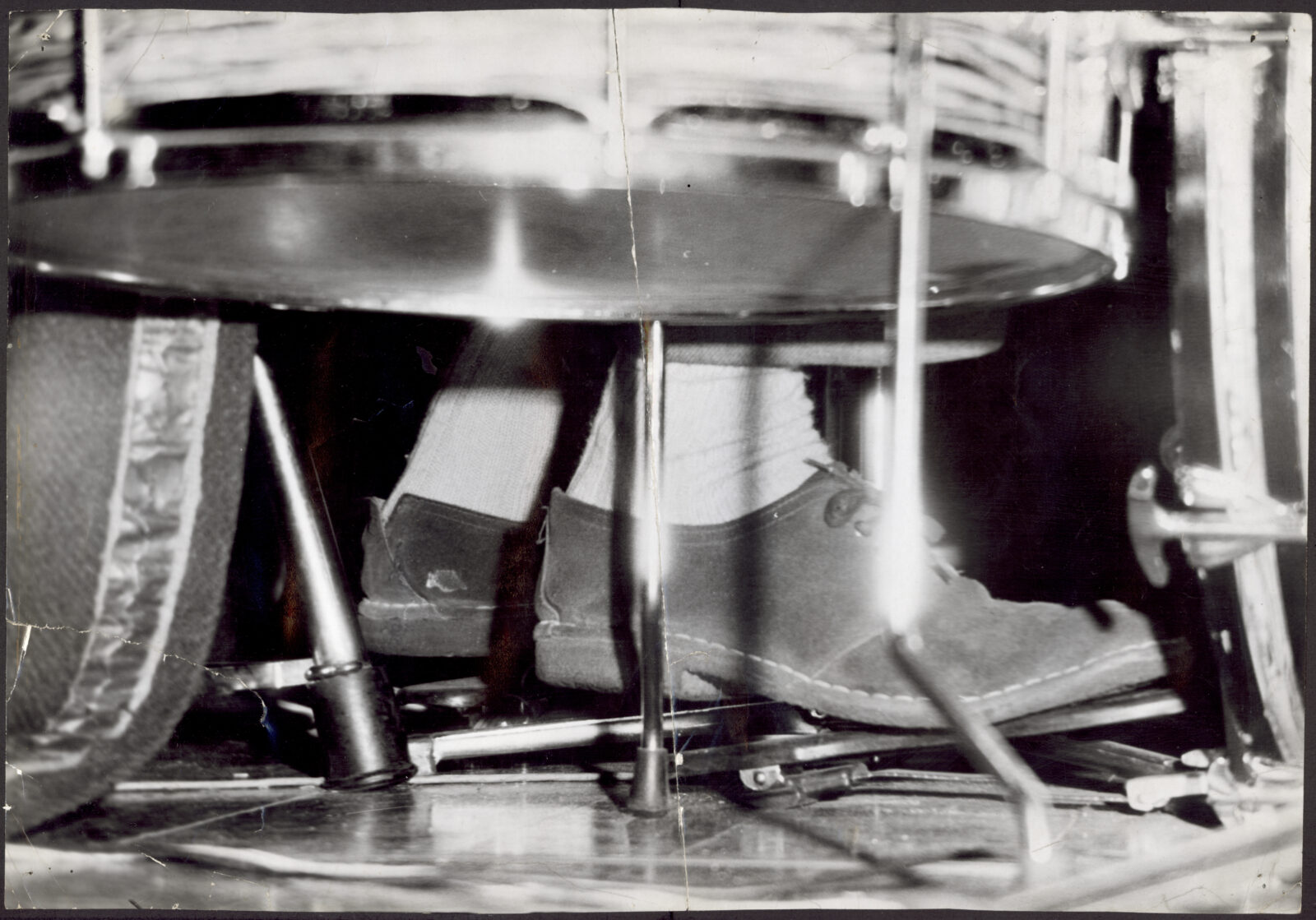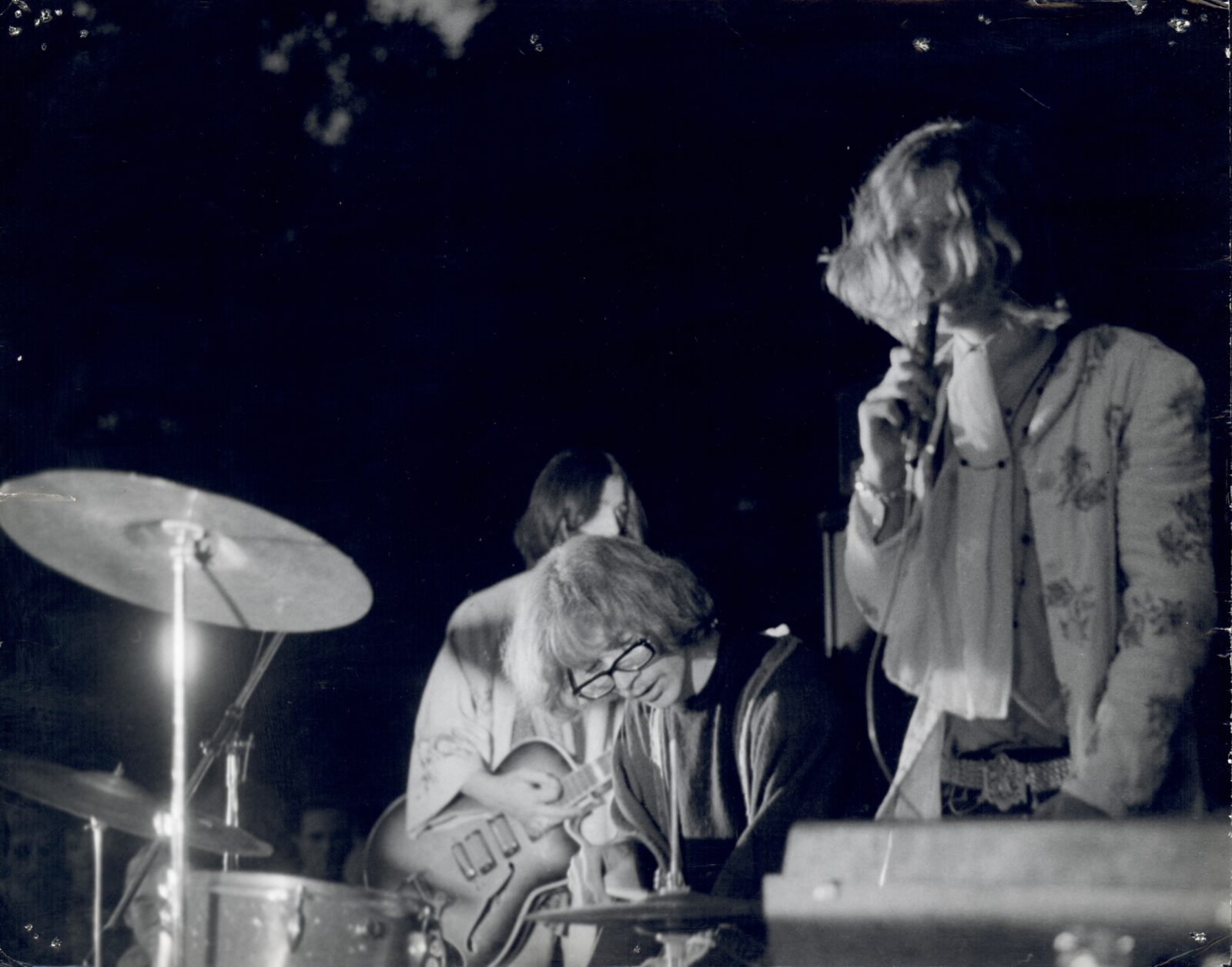 The next day we took a walk in the English Garden nearby and then went to our rehearsal room, and she said, so here I am again between the equipment of a band, and we made love on Hennes' organ bench, which then collapsed… Next rehearsal, he was not so amused about it. In the evening then she was invited to Christine Kaufmann, who also lived not far from the hotel. She was with that DJ Theo from the Crash at the time, who then rolled a monster joint that almost knocked me out, and I turned down Christine's offer to dive into the Munich nightlife with them again that night, and that DJ was just an asshole that I didn't want to spend time with anyway, so we went back to the hotel. Jenny wanted to take me to London, but I didn't feel like that would have been the right thing to do at that time, but who knows?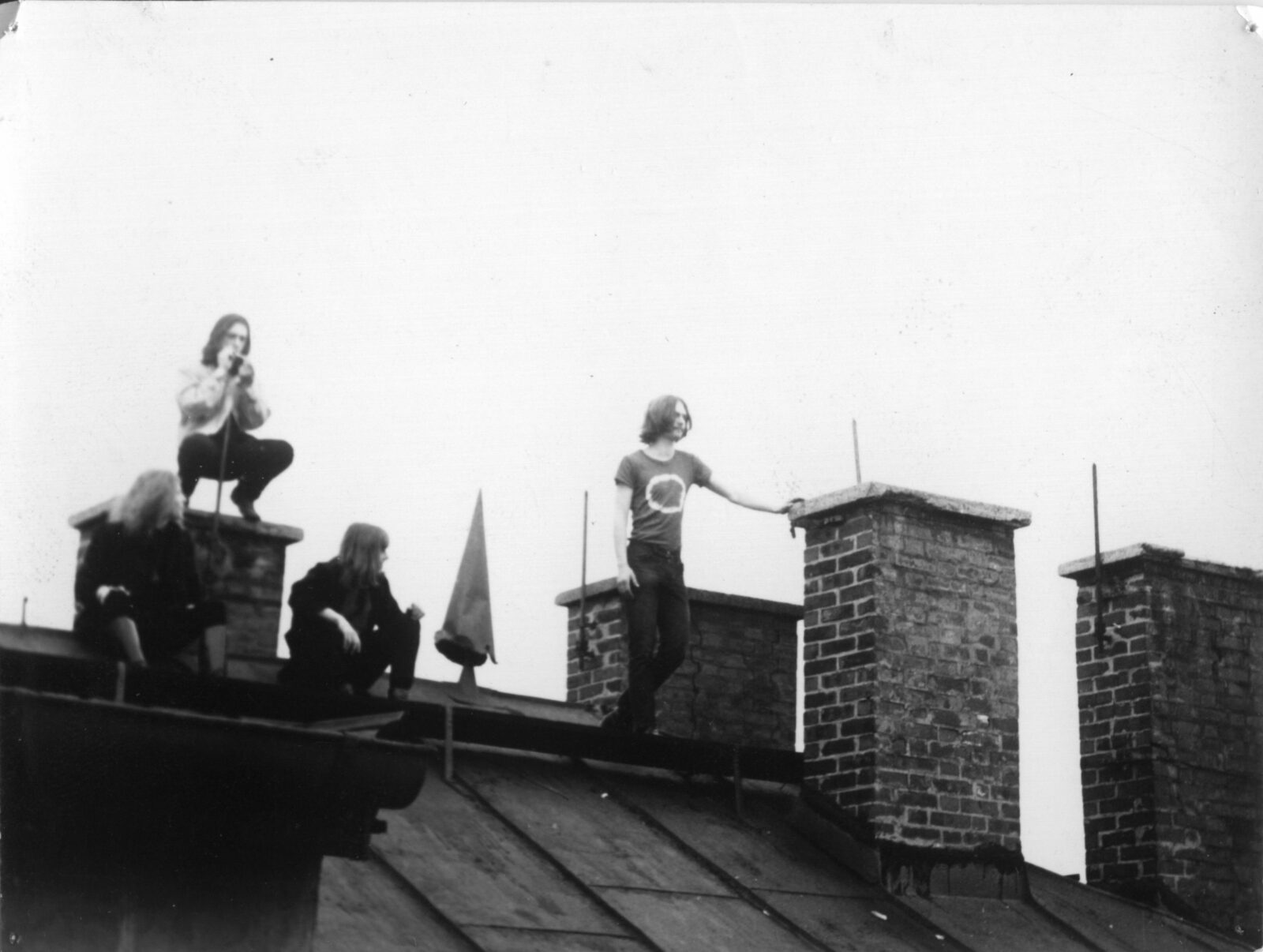 Many international jazz musicians stopped at the Domicile, one of the most important jazz clubs in Europe, and there were also the Allotria Jazz Club and the already mentioned Jazzkeller. White G. I. s rather attended a place with American country music, the name of which I do not remember anymore, and there was the MUH (short for Musikalisches Unterholz – Musical Underwood), founded in 1972, a place where folk and blues musicians met and performed and also started their own scene. For an appointment or meeting or simply a snack or coffee break when we were in the area, we chose one of the in-cafés, pubs and inns in Schwabing, the Nest, Cafe Europa (later Adria), and the Weinbauer, all near the P.N. Club and the Big Apple, and our record company was just around the corner. A few meters further down Leopoldstrasse, on the next corner, there was a larger imbiss where the beatniks and drop-outs used to hang out, who also took possession of a large tree in the Englischer Garten park under which they used to dwell in the summer. And there was a stoner place, I think it was called "Die Sau", with psychedelic disco that existed for quite a while until the police shut it down, and a store called "Foto Schwabing" where a woman ran the record department who brought Amon Düül II to Liberty's attention and persuaded them to sign them as I remember it.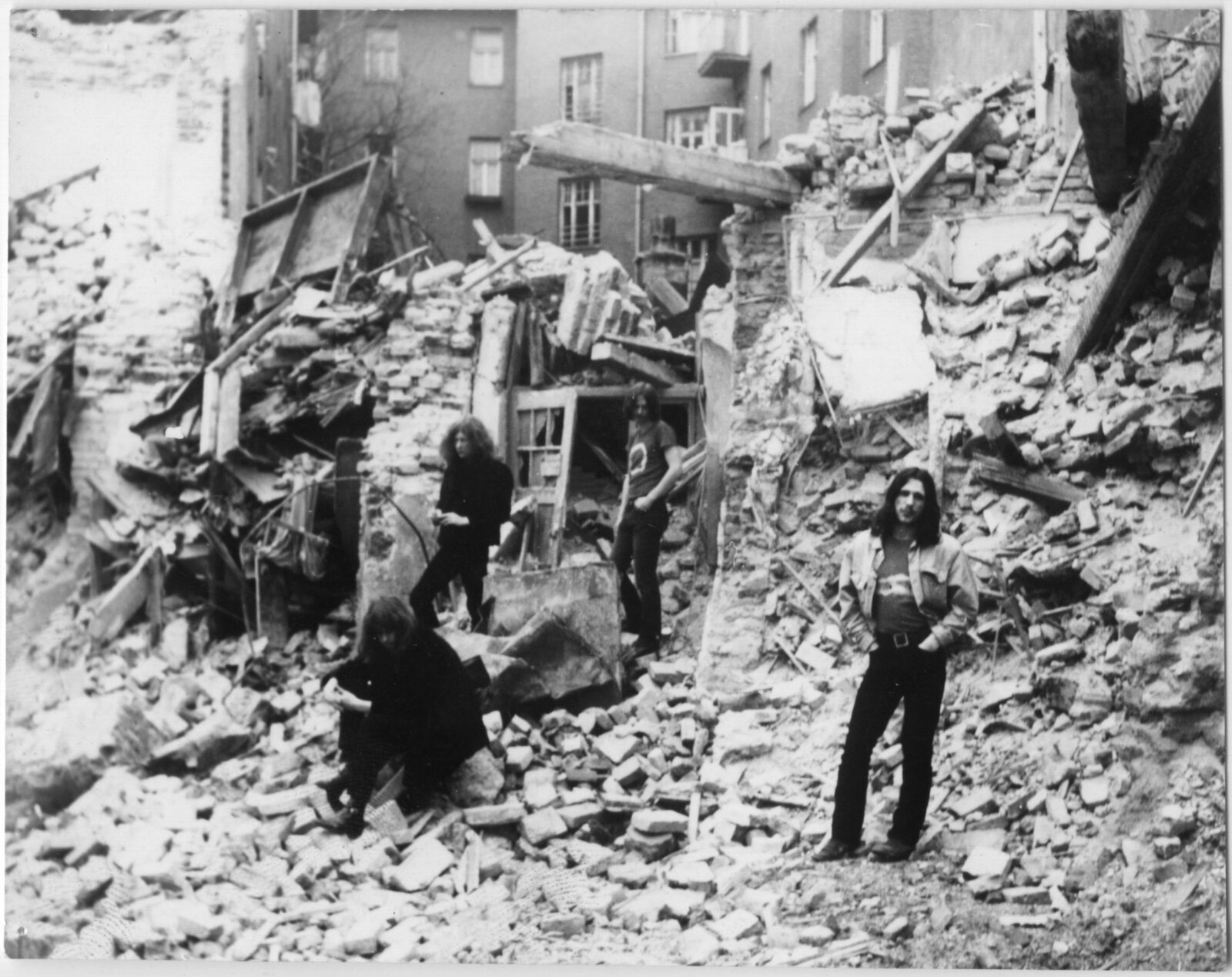 Then there were the various factions, the jazz musicians who looked down on us a bit, the dance and pop musicians, who we in turn looked rather down on, and the classically trained ones in a kind of ivory tower, another world, and not to forget the Bavarian folk musicians, who were rather unacceptable to us with their umtata brass and marching music thing or traditional Bavarian folklore with zither, but even with them we occasionally had nice contacts. And each band had its own circle and parties and also its local inns, where they would go for a beer more or less after a rehearsal to discuss what was on. We Krautrock bands performed rather unconventionally, and there was no common place or stage in Munich where we met and performed regularly. It also took time to get to know each other, which happened often on tour when sharing a stage somewhere else. Munich was not so much a place for prog or psychedelic back then, even most of Bavaria you could say. This style was appreciated more in northern parts of Germany. After I had joined Embryo later, it was just like that, only a few gigs here, many up north. When we played together with other bands at an event, communication was still a bit lean, or uptight, in the early years. We were young and shy and full of inferiority complexes and rather sneaked around each other and spoke only what was necessary. Of course, we also listened critically to the others to find out what they were doing and sometimes even attended their concerts, but our kicks we got from English and American bands. Through newspapers and magazines, TV shows like the Beat Club, and album releases, we found out what was going on, and of course there were rumors and competition. Many musicians also had a job in the beginning, and besides rehearsals and practising, there wasn't that much time to hang out or even party together. Also, unlike writers, painters, and sculptors, musicians perform in open places with lots of people, and when they get home, often after a long drive, they need to retreat a bit and recharge batteries. And many are lone wolves sitting at home working toward the big showdown. At least at that time, when we were mostly self-taught, not like today, when music education in all directions has become standard and all kinds of information, instruments and equipment are easy to acquire.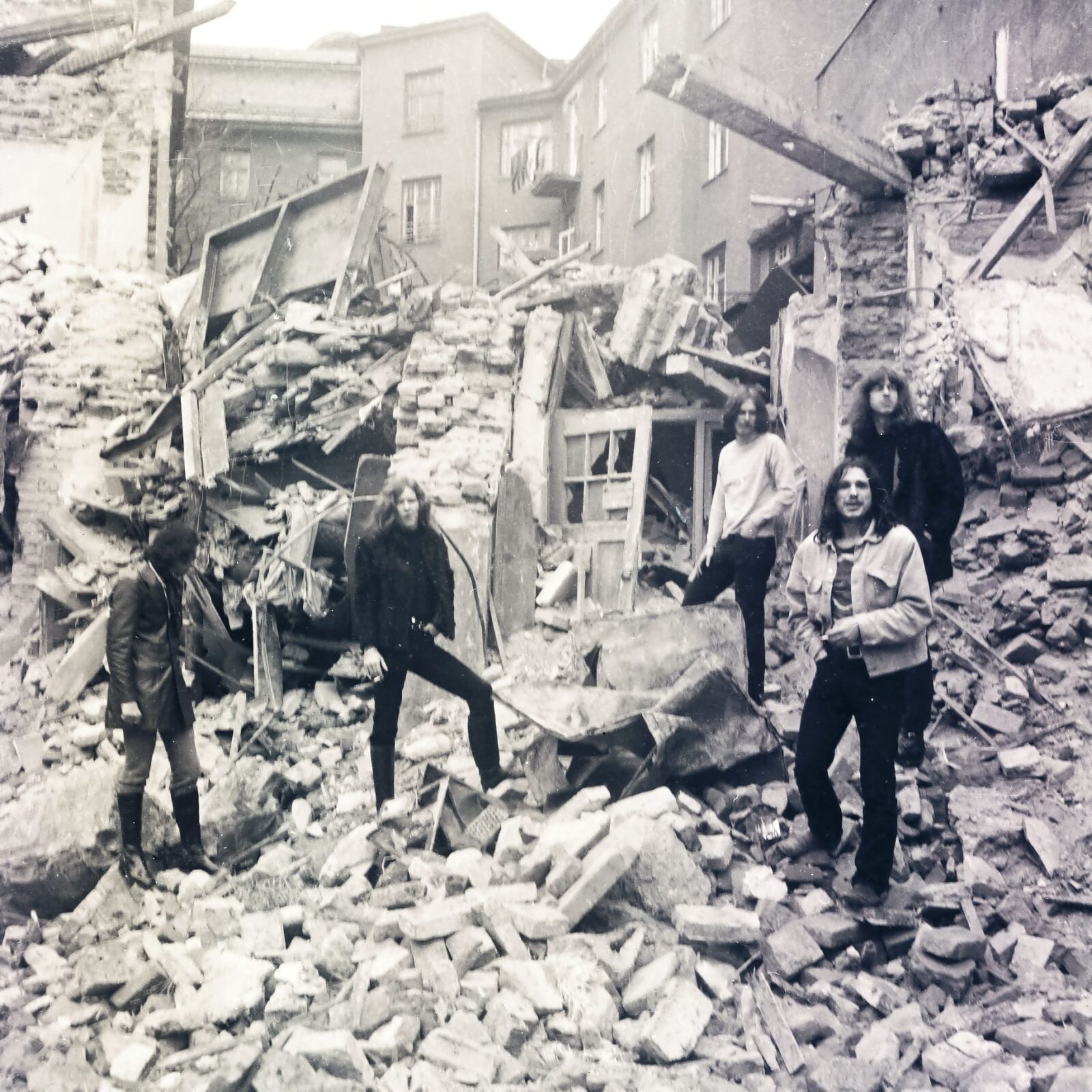 A step forward in that direction was when Joe Haider founded his Munich Jazz School in 1974, which had a noticeable influence on the scene. Theory lessons, lessons on the instrument and, also very important, playing together in different formations were offered. But one had to raise the money for the semester fees, not so easy without support from parents, or through whatever. The other side was that learned skills and theory and memorized solos will produce a different kind of music, as opposed to musical expression taught by real life. And, by the way, you can also learn a lot by really listening to music and attending live concerts. And then let it settle, and don't give in to the temptation to copy and say to yourself, I want to play as great as they do. If you do that, you will hardly find your own thing. But the truth always lies somewhere in between, it is never just white or black.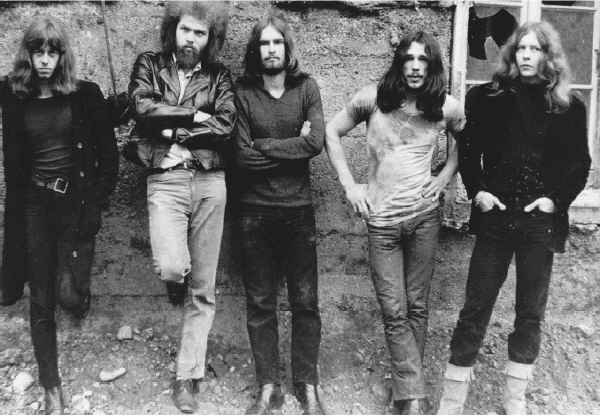 Three years after the first split of Out of Focus I had studied classical music, and Hennes and later the guitarists Peter Dechant and Wolfgang Göhringer also went this way. The main reason why I chose the classical faculty was that I got money from the state there (BAföG, Federal Training Assistance Act). Otherwise I would probably have enrolled in Haider's school. But whatever one might think of all the approaches that are out there, it's always good to get insights into other worlds, but also to keep your own thing if you want to say something to the world.
You know, before the second band contest, we had tried for a while with Stan Ryan, this drummer from the States, unfortunately without success, but it was he who arranged with the English band Daddy, who performed with great success at the P.N. Club in 1970, twice for a month or so, to visit us in our rehearsal room. That was Roger Hodgson, Rick Davies, Richard Palmer and Keith Baker, who would change their band name to Supertramp not long after. We jammed a bit and what I remember is that they showed us some tricks on how to produce a good sound, like precise and matched tuning of the strings of bass and guitar together, not a big enlightenment, just some craft, but which is of course also important. And a memory just came up that we once had coffee at the Nest with Juicy Lucy, who we met at Kuckuck. We had a good time with them once before at a concert together, I think it was in Karlsruhe, when they opened the evening and we had some funny talks with them before. Unfortunately, they were under time pressure and had to drive on again soon, which is why they had asked us if they could start the evening. I loved their music and already had all their albums in my collection.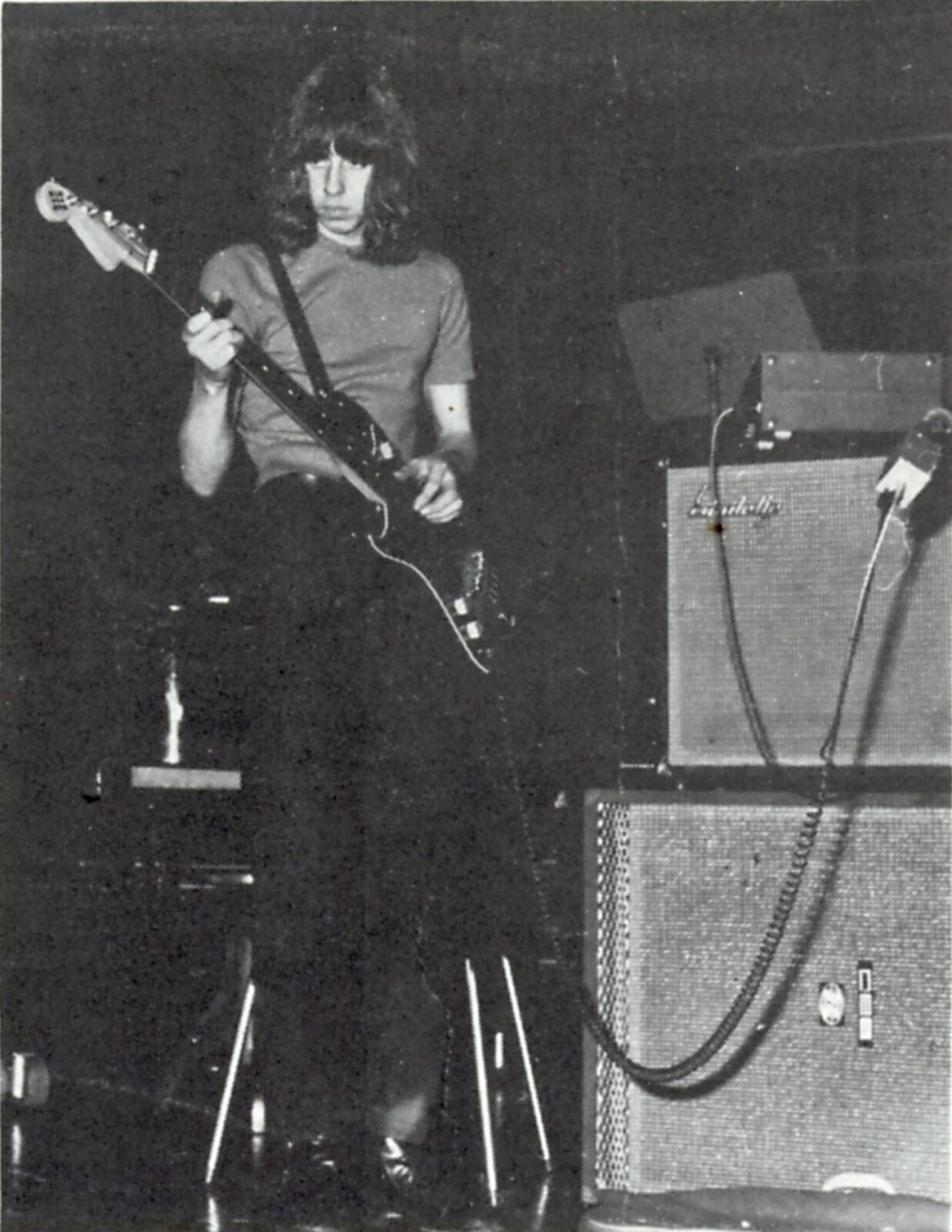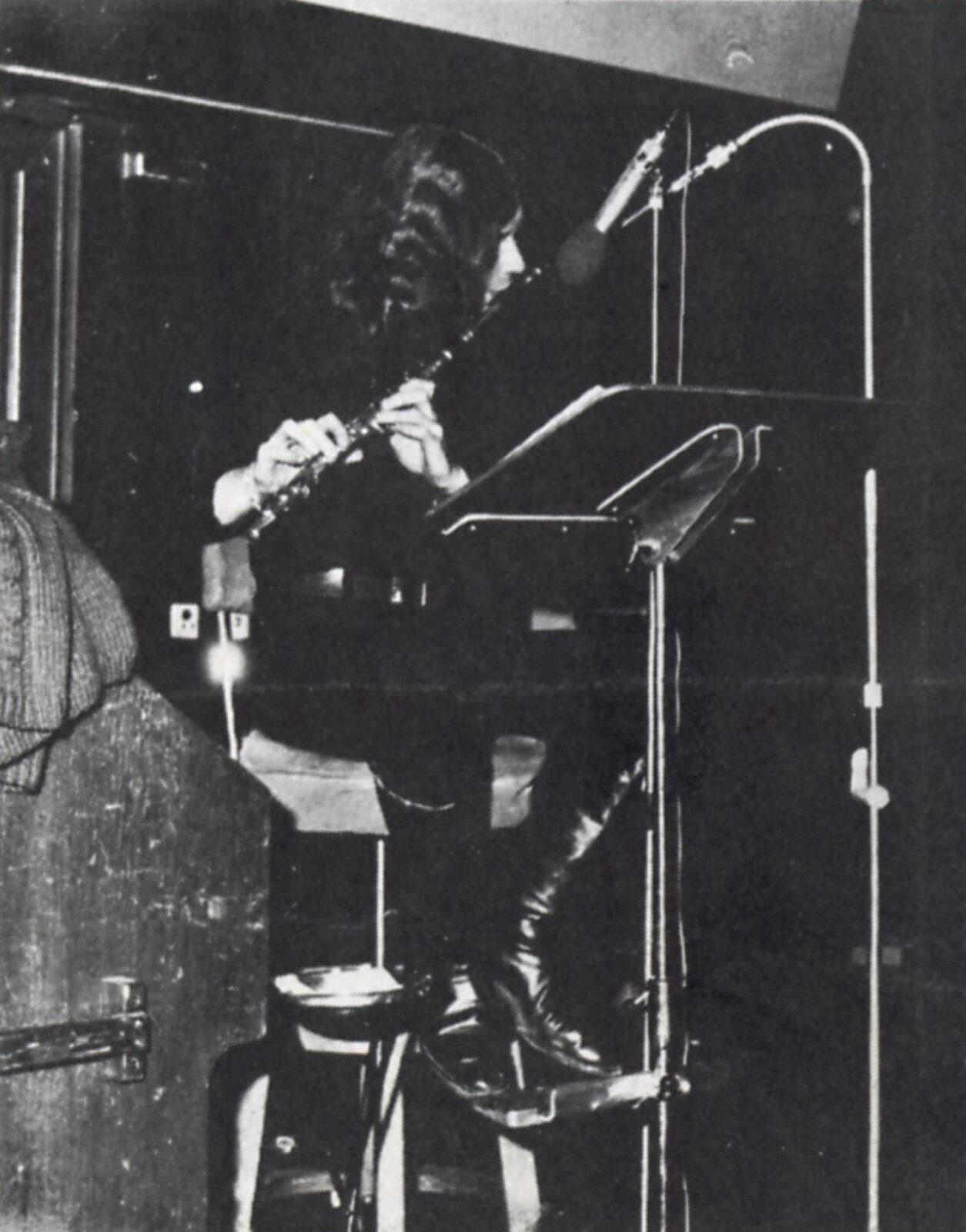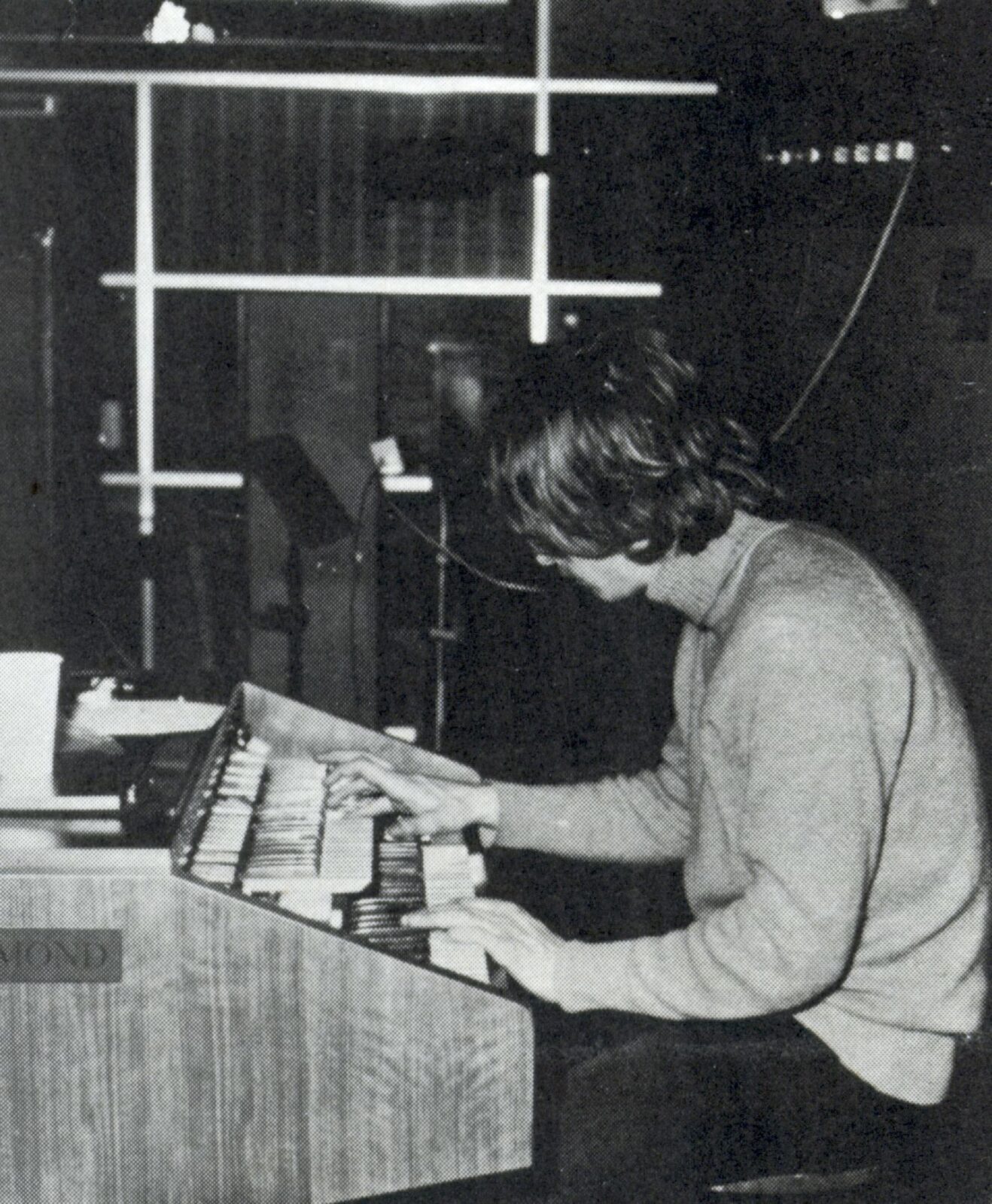 The P.N. Club in Schwabing was a reference place in a way, because mostly English bands played there every day. Amon Düül II was one of the exceptions, because they attracted enough audience even during the week, also with their commune thing, and those girls sitting around the stage with a bongo drum. Our attempt to get us in there as well failed because we couldn't guarantee for a full club every evening. Right next door was the "Big Apple" where I had seen Eric Burden and the Animals, actually my first ever live experience of an English band. It was absolutely overwhelming and stunning to stand on the side near the stage with the music resonating in my body. Then came Taste, also to the Big Apple, and then Steamhammer and then Free, both to the P.N.. The Mothers of Invention, who paid their first visit to Munich, and then Jimi Hendrix, who was already at the Big Apple for three days in November 1966, performed at the Kongresshalle, which, along with the Circus Krone building, was one of the two big concert venues in Munich for this music in the early years, and where we also had performed. At the Kongresshalle it was at a promotional concert organized by our record company Kuckuck Schallplatten together with "Ihre Kinder" and other Kuckuck bands, and at the Circus Krone we had opened for Ginger Baker's Air Force. By the way, he acted like an asshole, because when we arrived, the stage was already set up by his roadies, and when we asked for some space, he just replied, fuck you. OK, we said to ourselves, then we played down in front of the stage on the mulch in the Circus round and then gave the full house one hell of a show. Klaus played an extra long drum solo and we made the headline of the following review in the "Bild" newspaper. There was a second time at Circus Krone when we shared the stage with Xhol, but I don't remember what kind of event that was, just a concert I guess. After the Mothers concert we waited outside the hall, Moran and I, and we talked with Frank Zappa and Moran even invited him. But he declined, explaining that he already had an appointment at a restaurant with some managers. What impressed me was this big pack of sheet music peeking out of his shoulder bag, and I asked him if everything they play is written down, and he said yes. Now I know he also must have been preparing for the upcoming London performances, and I assume you know their work there as well, including that with the London Philharmonic. History now. This gave me a bit to think about, as I refused to write down music in the beginning. Everything should be in the head for best results, not fixed forever on paper, but also under constant growth, I thought, but also changed, wrote more later, especially after I had studied at the conservatory.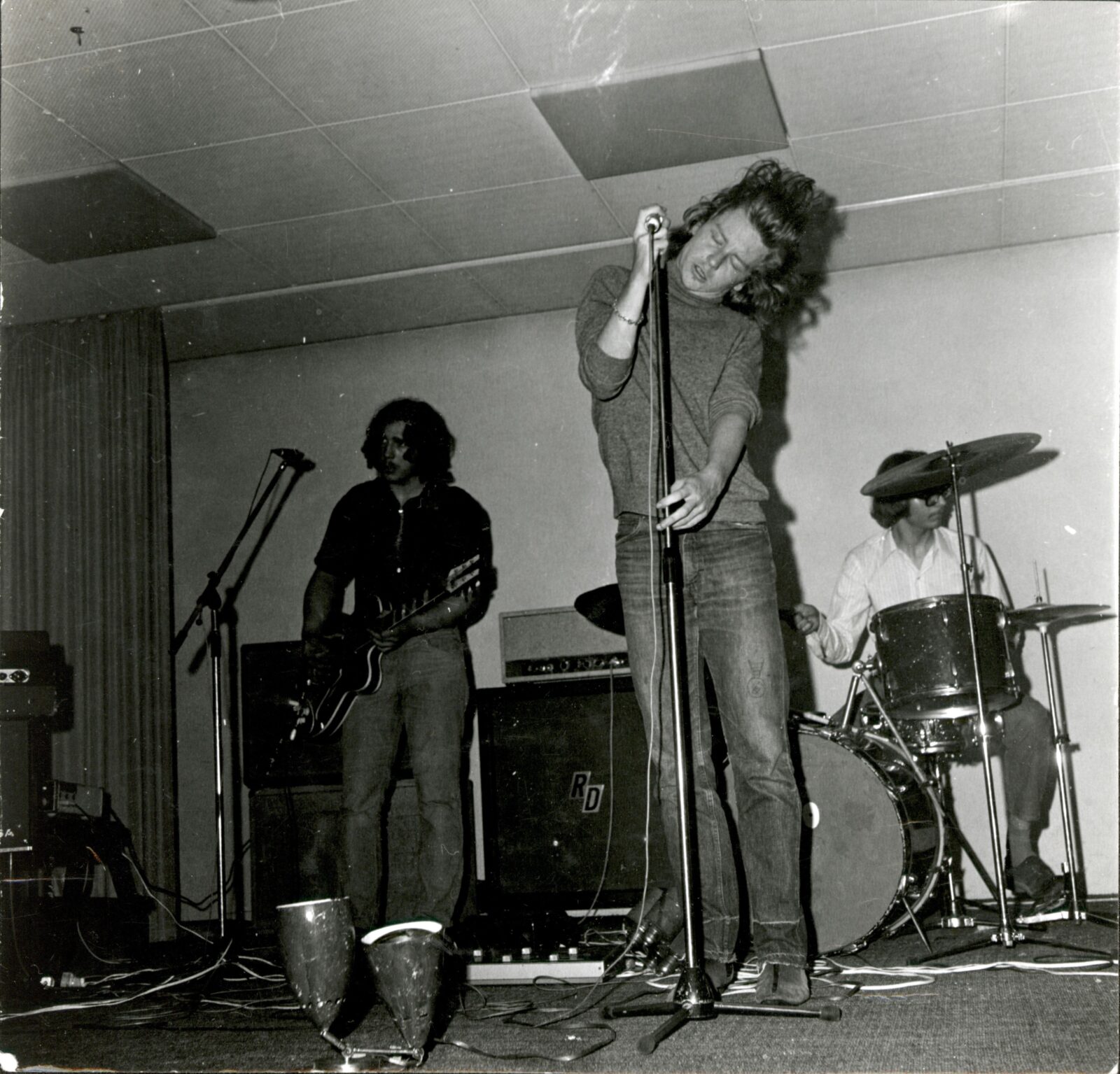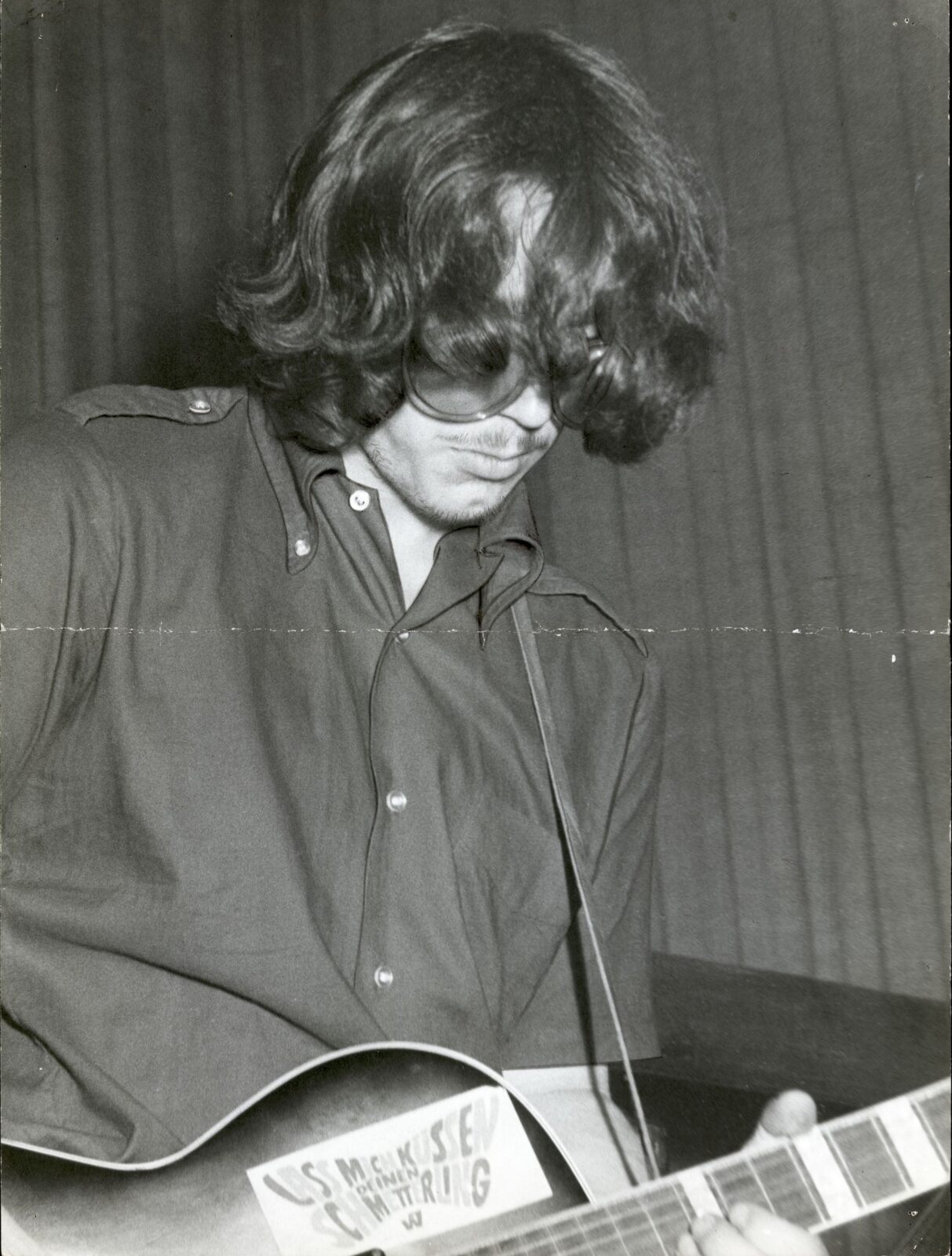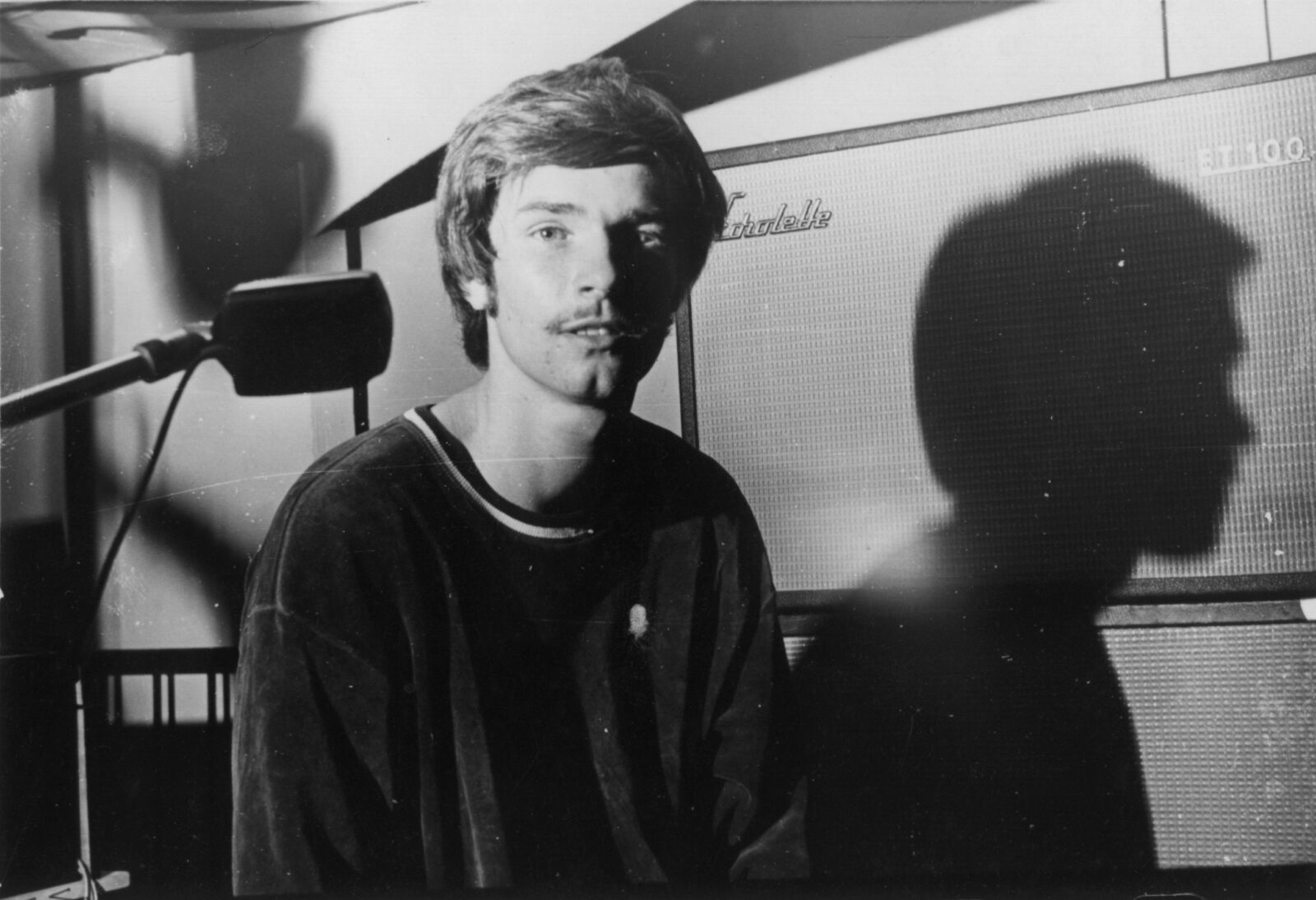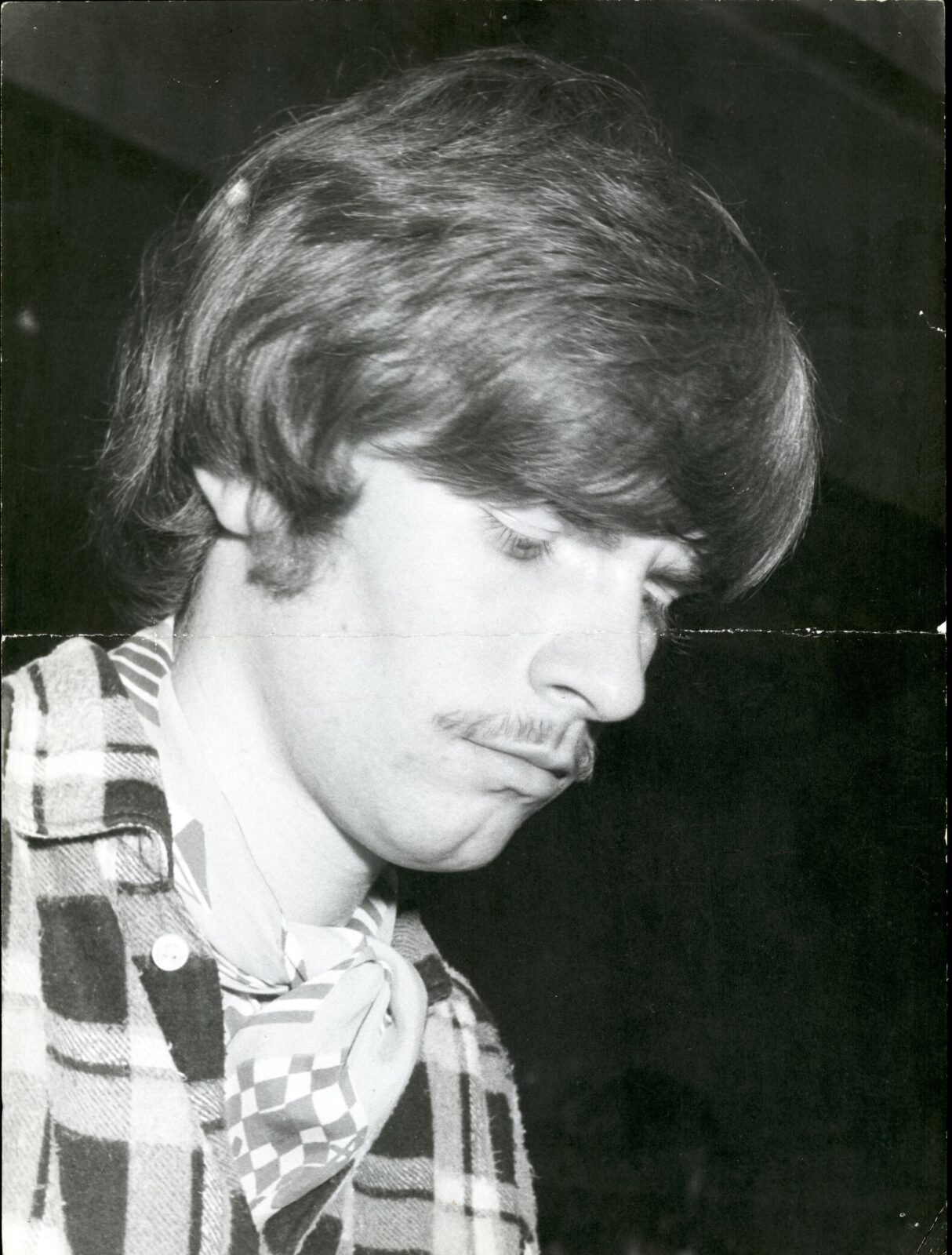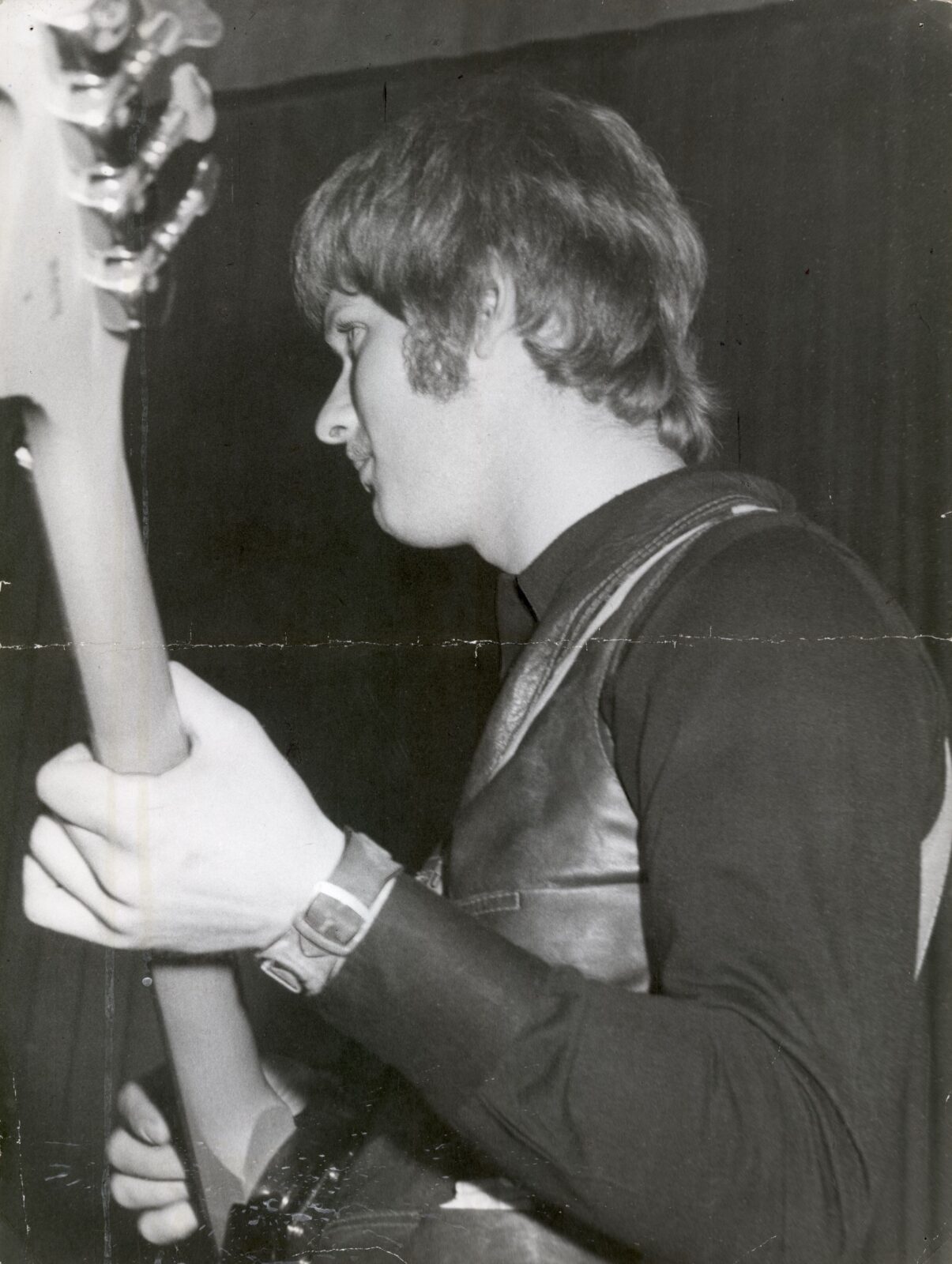 At the beginning of the 70s, the Musicland Studio founded by Giorgio Moroder established itself in the basement of the massive "Arabella Haus" building that had just been completed. Well-known bands and solo artists, many from England, but also from Germany, including Sahara, recorded there. The house sound engineer, Reinhold "Mackie" Mack, who was our editor and technical assistant at Union Studios where we had recorded 'Wake Up!', knew about my technical skills and asked me, after I had already moved to Herrsching with Out of Focus, if I could do some electronics for them. Despite the long rides, I agreed, as it was always good to earn some money on the side and also to work on up-to-date studio equipment. Being fit in electronics always gave me a certain freedom compared to other musicians who had to play everything and everywhere to survive. Then when the Rolling Stones were booked to record there for the first time, Mackie asked me if I could do the technical stand-by on site. The only breakdown that happened was Mick's cassette recorder, which I was happy to fix for him. Keith Richards also had a cassette recorder, but actually used it as a camouflage safe for his paraphernalia and stuff. It disappeared one night when the press was invited into the studio and then some guys had to run into town immediately to get new stuff. Sitting around with their head roadie, who was also in charge of rolling the joints for the band, and experiencing their way of working and also their different personalities was very interesting. They would meet in different studios around the world when they were working on a new album and gradually fill up a big trunk they always carried with them with all the tapes. I suppose when it was full then, they would pick the best takes and then mix them down for the album. A good concept, but of course not possible without sufficient funds. My solution in this direction was simply to build my own studio. It's not quite the same, but it still takes away a lot of the stress when studio time is running that needs to be paid for.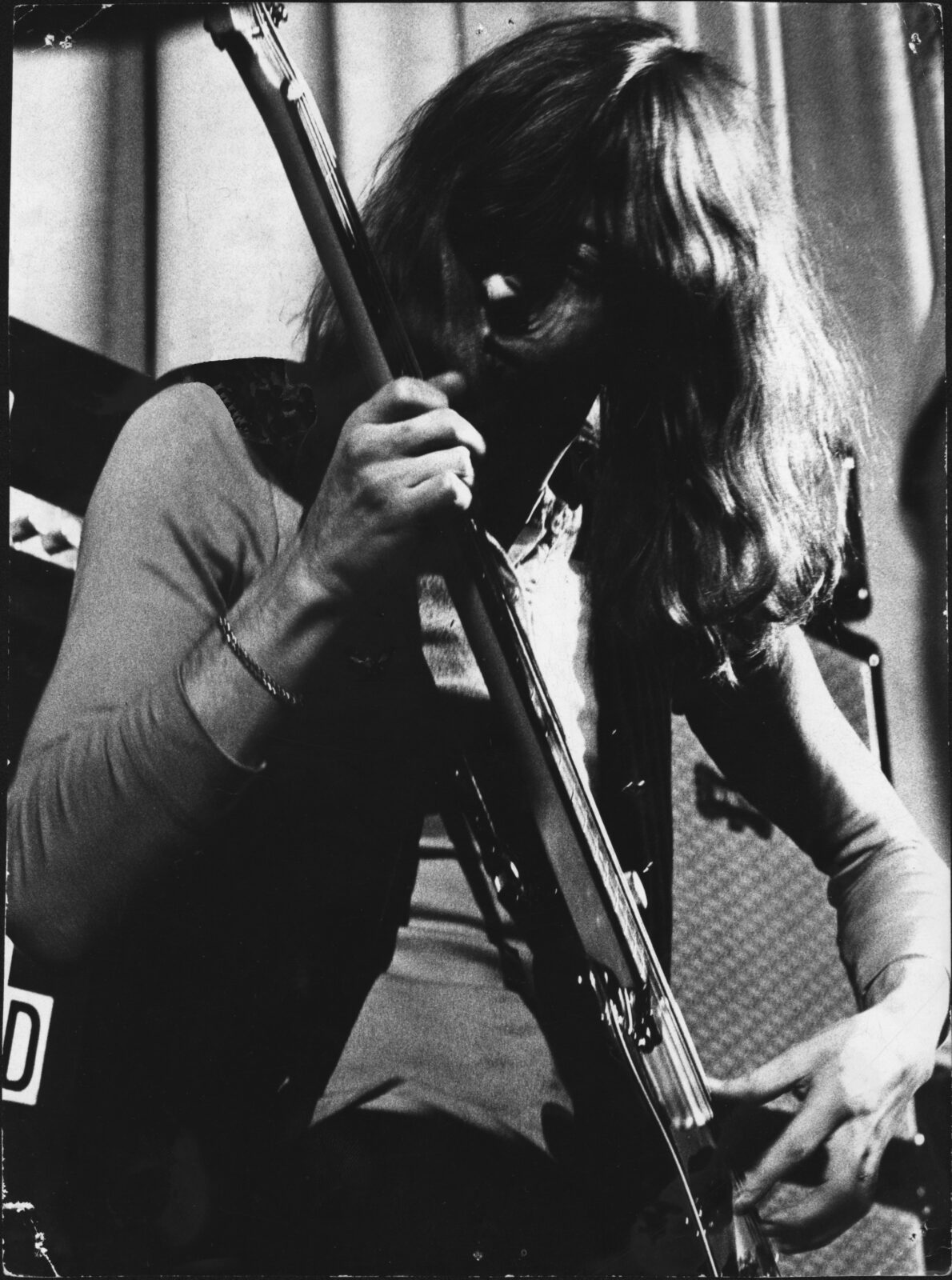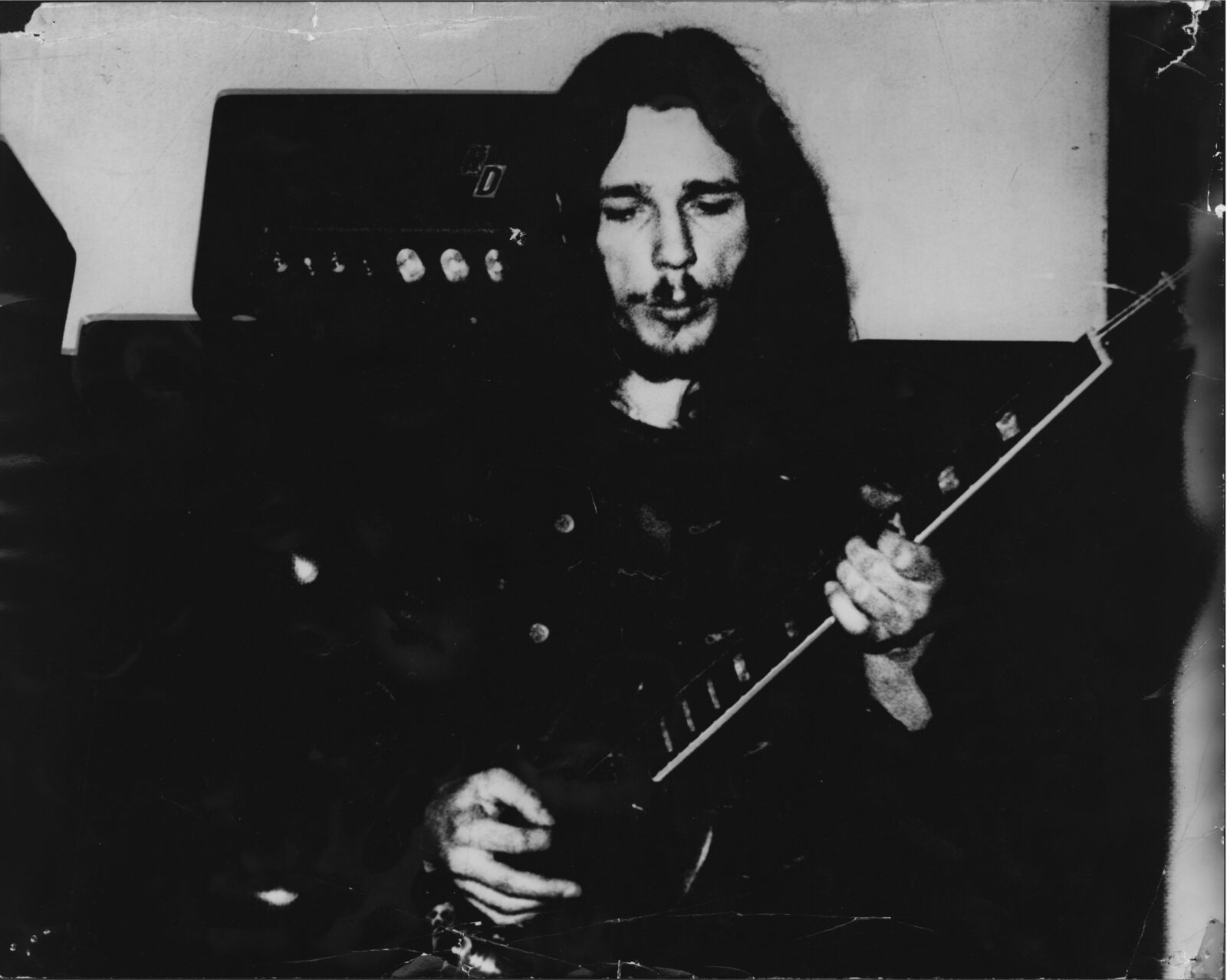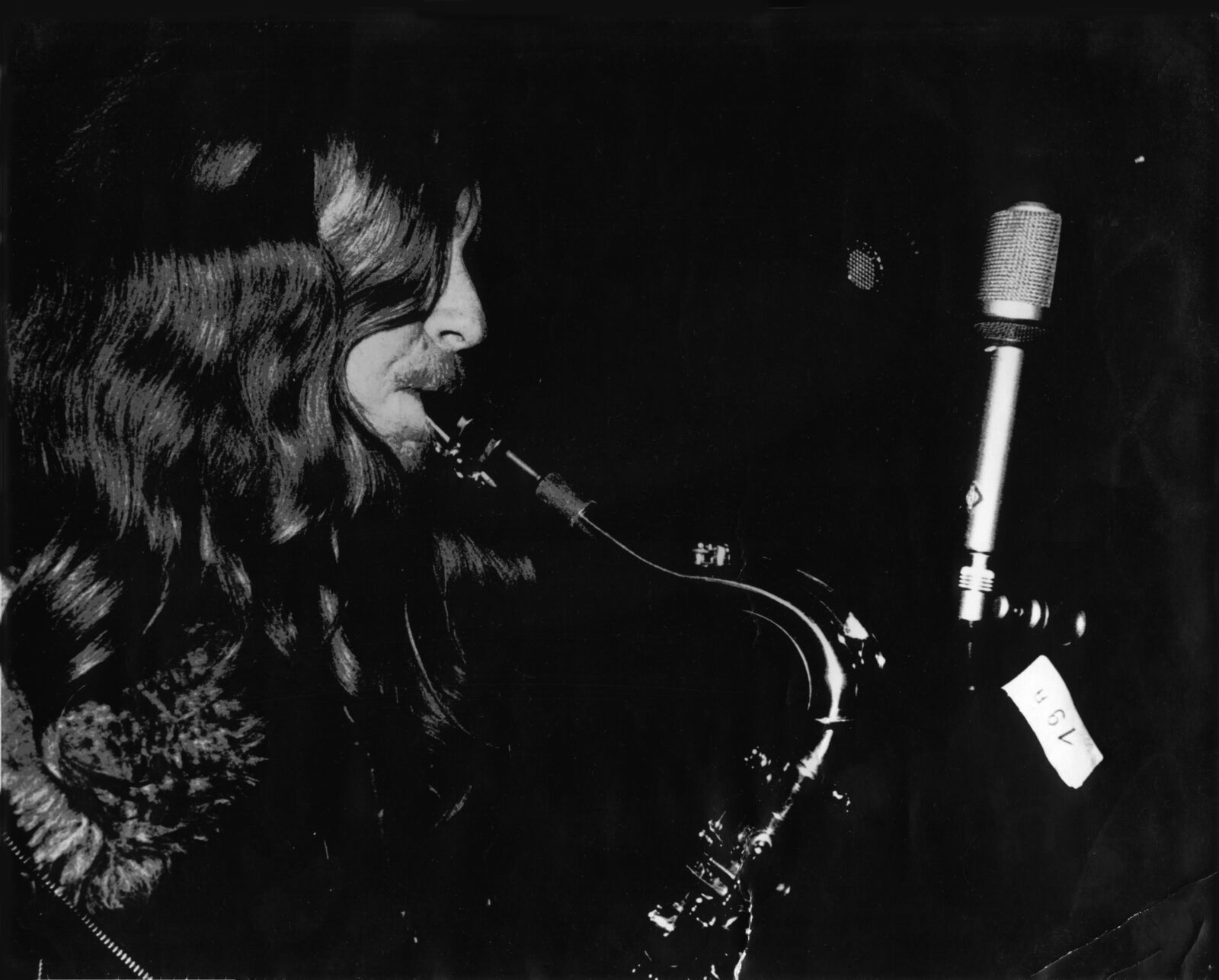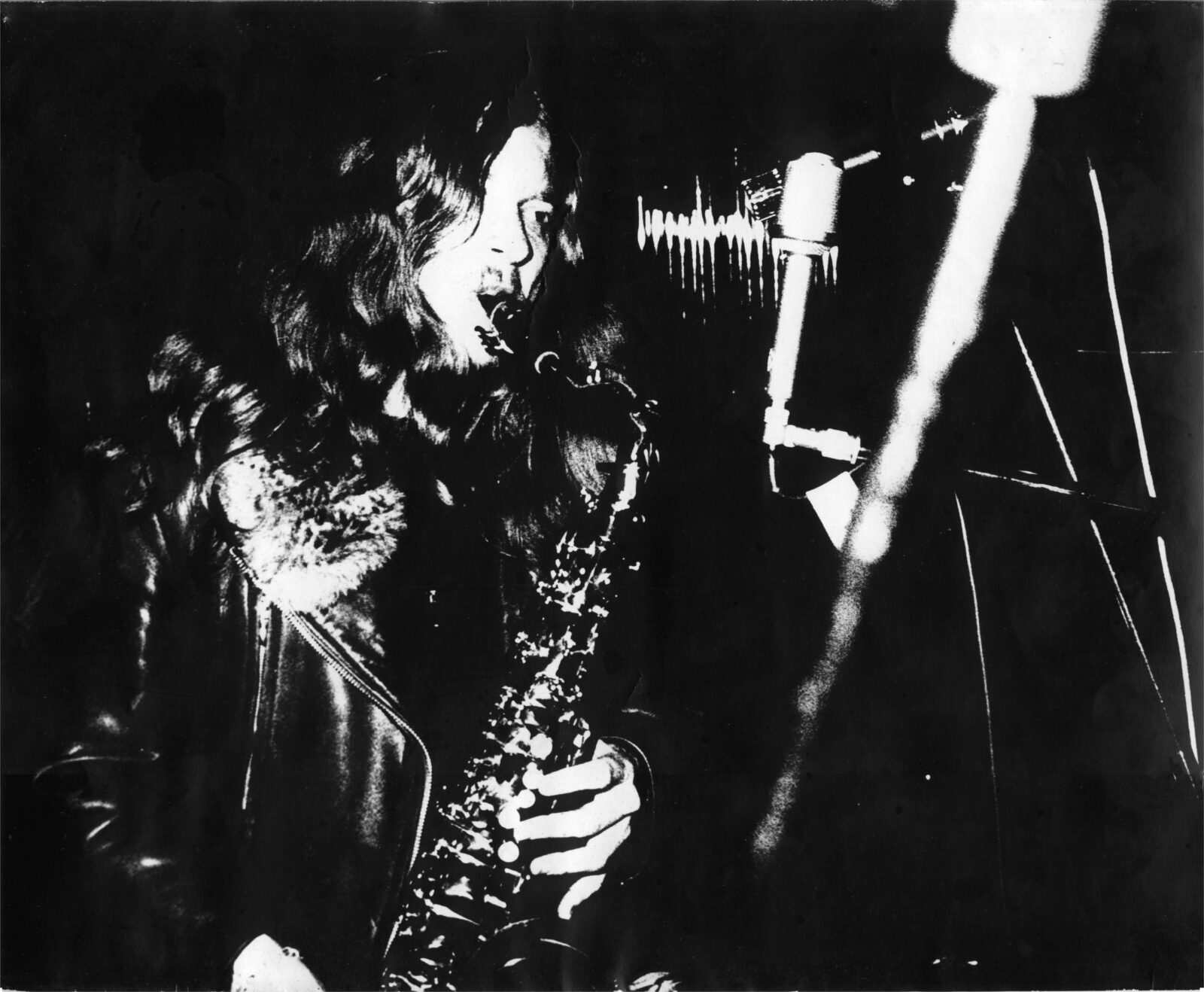 After we were kicked out of our house in Trudering in the fall of 1972, we moved to Herrsching, 40 kilometres away, Moran, Stephan and Friedel too, and me with our ladies and Uschi, Ingo's girlfriend. Hennes, who would soon begin his piano studies at the Richard-Strauss-Konservatorium, went on tour with Peter Maffay, and later joined Sahara. So he and Klaus, who also has left the band, stayed in Munich. The classical guitarist Peter Dechant with his girlfriend Mariele, who, since F.L.M.A. also joined us at concerts for a while and who had moved into the bright basement of the house in Trudering, came with us to Herrsching. And there was also a roadie, Stefan Sattelmeier, one of the two we had hired for the Italy tour, who had also lived in the basement for a while. And I just remembered that the other roadie, Manfred, was actually the one who had connected us with the owner of the houses in Herrsching, since he already lived there. Anyway, one day the real owner of the house in Trudering behind Charly Tabor came by, and when he looked into the rooms, he said this is a concubinage and then cancelled the lease. Actually, Evelyn and I had indeed married in the meantime, Klaus and Uschi were single and only Moran and Petra were not married, but there was nothing you could do if someone doesn't like your way of living. An example of what I had said before about people with whom it is better not to have anything to do. Then in Herrsching, it was four two-story houses arranged in a square, with a courtyard and even a few vegetable patches behind the back house, but the weed Stefan grew he preferred to plant somewhere in the forest. Our rehearsal room we set up in the basement of the front house, and between that and the street going by there was a large terrace – there used to be an excursion café in the front house once – where we would occasionally light an open fire, not only when we had a big party. Actually a nice place, and we also really enjoyed swimming in the nearby lake or walking in the forest, but on the other hand it was also a bit quiet which made us miss the full life of Munich a bit in some ways. And my stepbrother Johann, who was working as a roadie for us at the time, and guitarist Wolfgang Göhringer also moved into the front house after a while.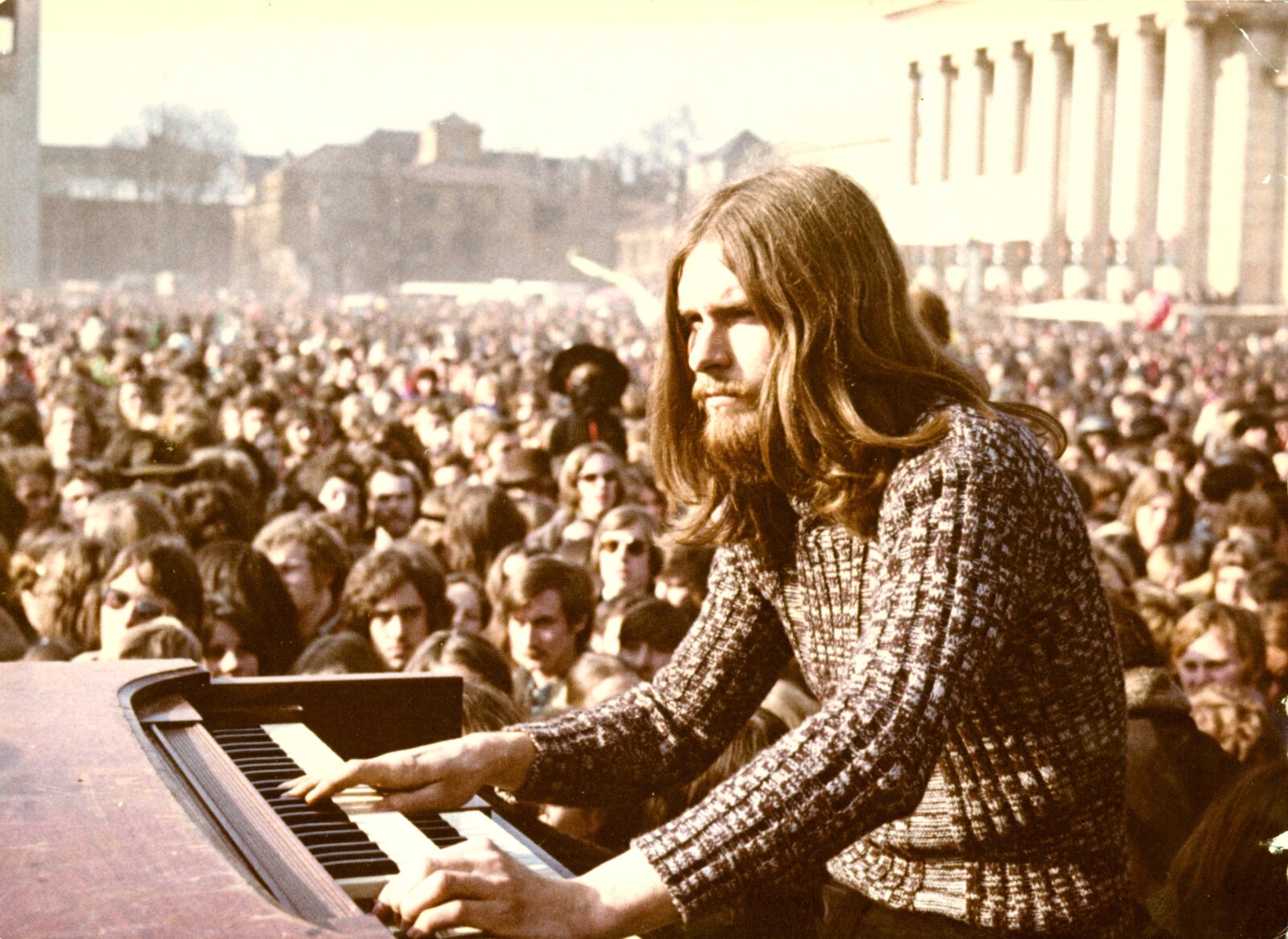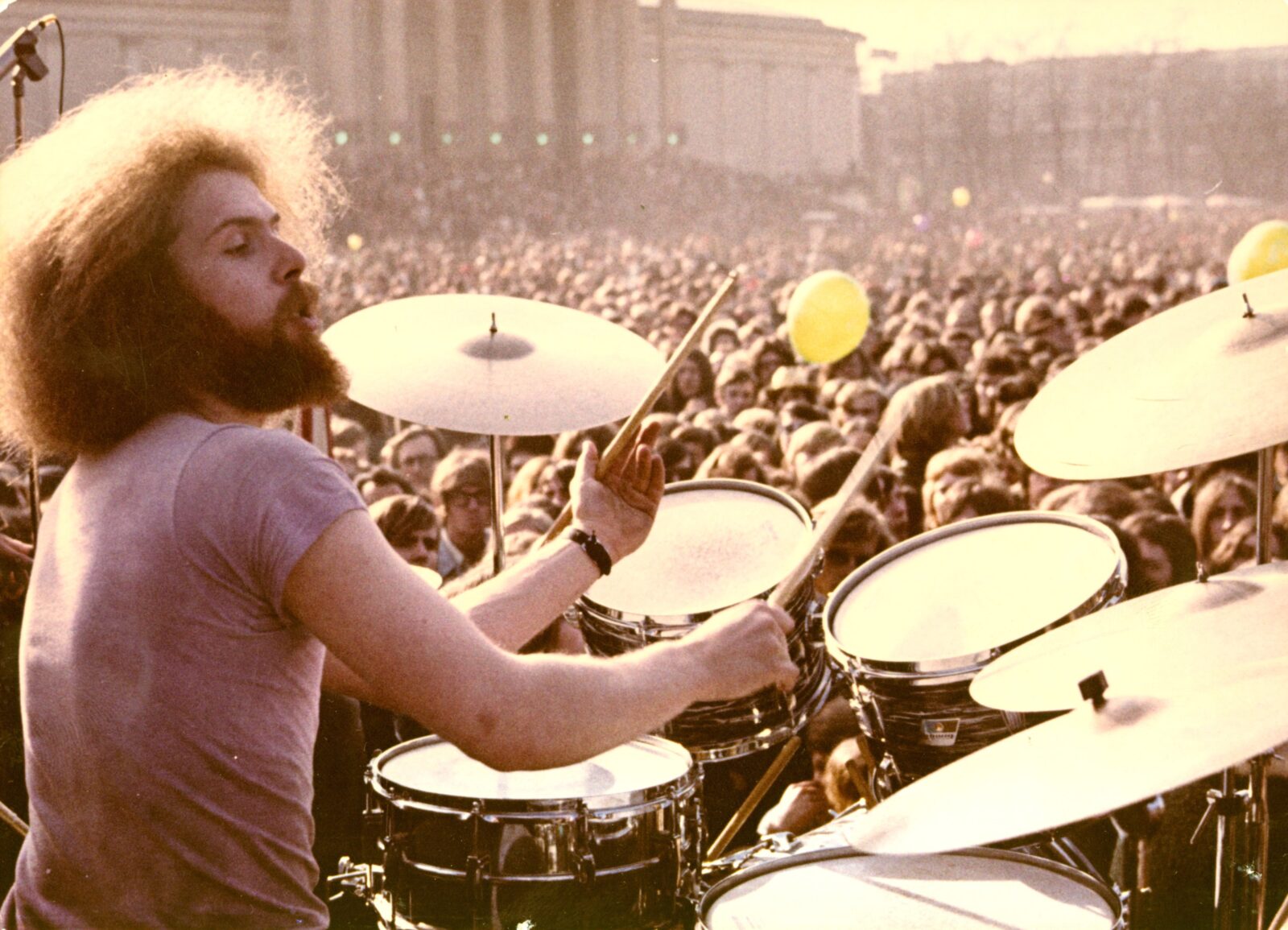 Some time before we had a concert together with Embryo in a cattle auction hall, and I had asked them if they wouldn't like to jam together as the last part of the evening. We didn't arrive in jamming heaven, but it was at least a first step towards getting closer. In Herrsching then they came out once a week to use our rehearsal room, and they also visited us in our private rooms when they had a break and presented their new album to us once, and I also have repaired some of their equipment. They all lived in a small apartment in Munich-Haidhausen, and no way to rehearse there with drums and amplifiers. Also the original Amon Düül commune, already from 1967 on, as I have read, lived in Herrsching, actually not far from us, but we had no contact, which seems a bit strange to me today. But they had split up and Amon Düül II had already returned to Munich before we moved there, so maybe there wasn't that much going on anymore, at least music-wise. And there was another musician's house over in Germering, and we visited each other a few times and with them also visited other musicians who lived in the area. Later, Moran and I even had a band together with some of them.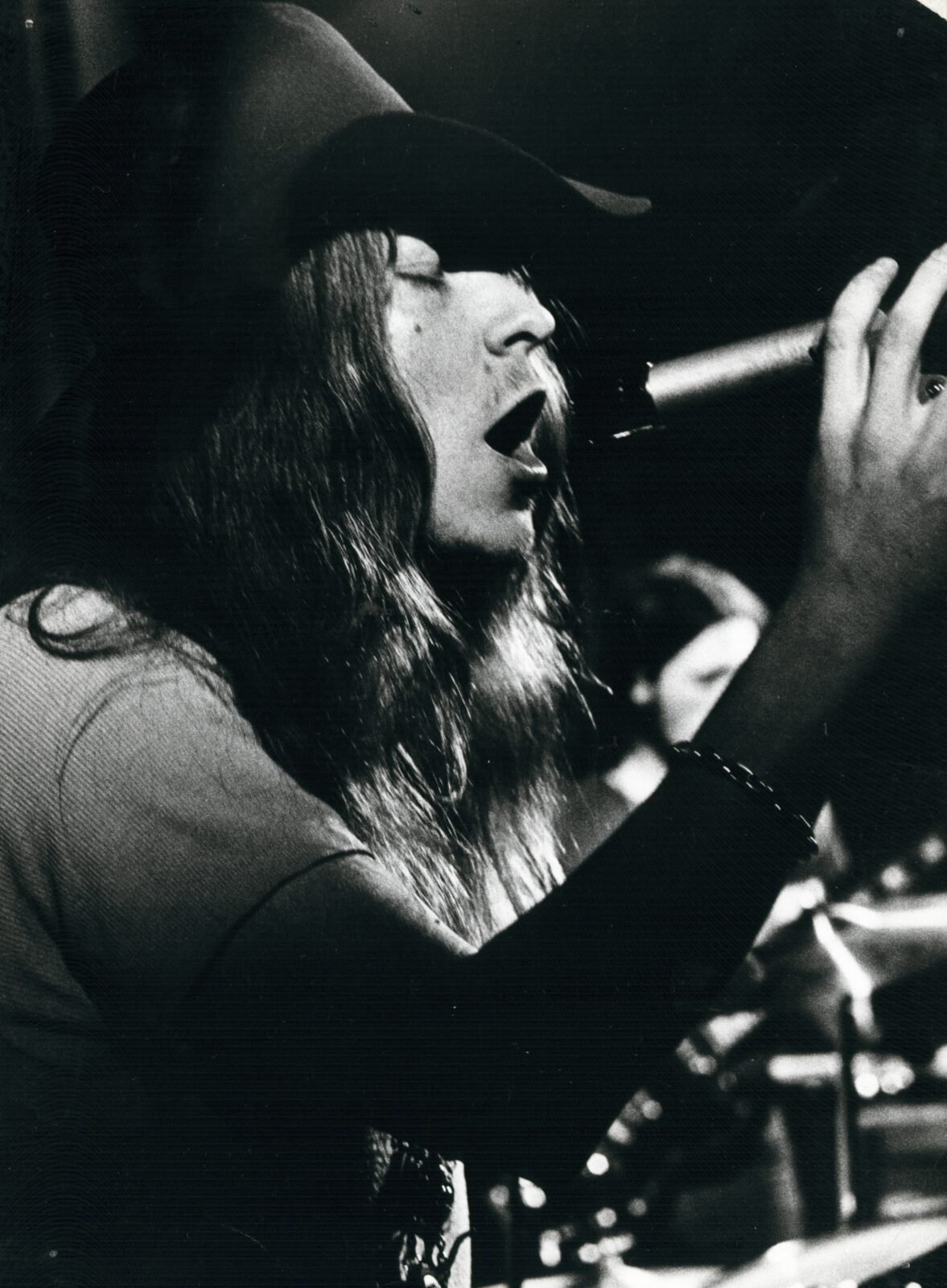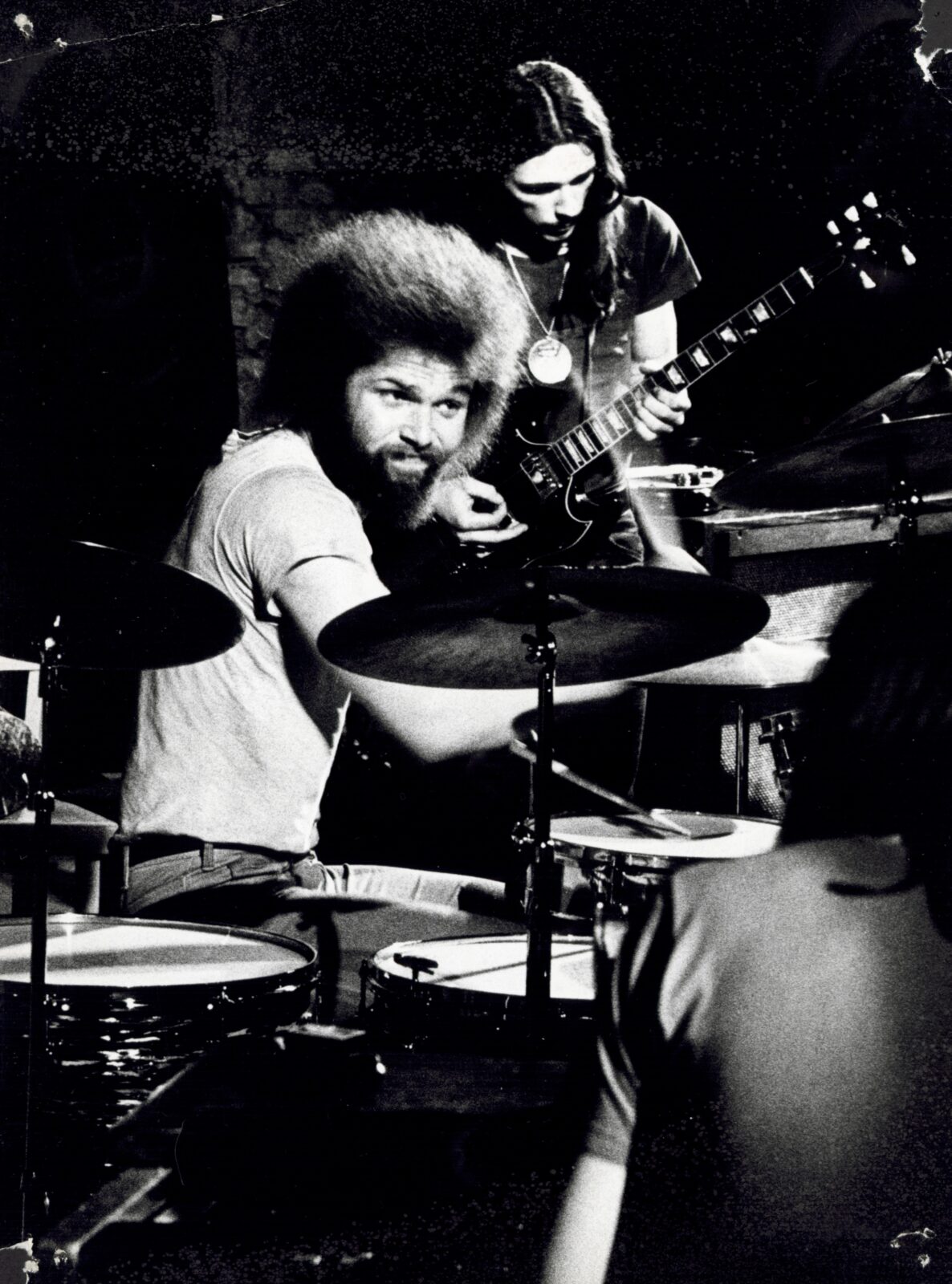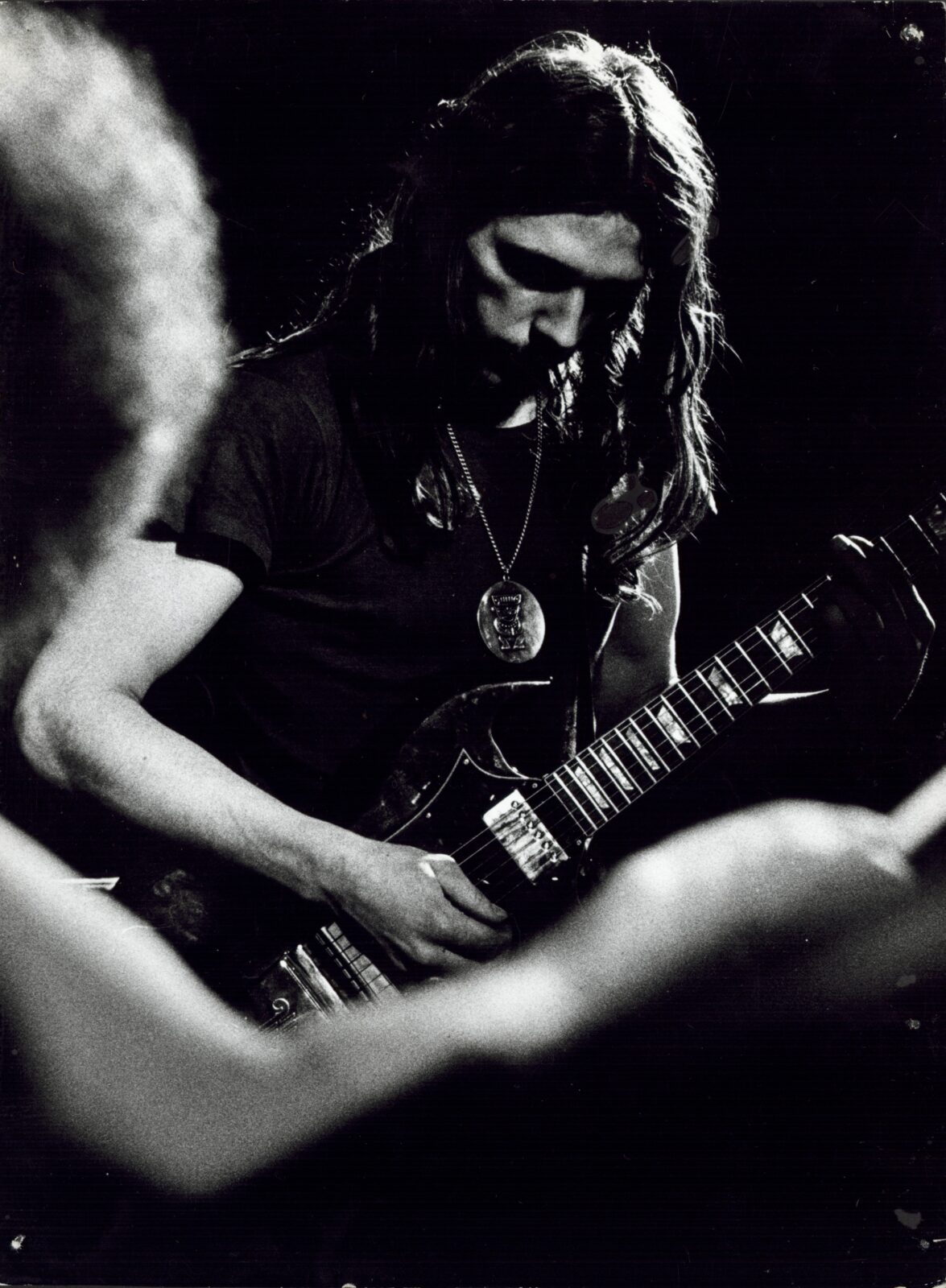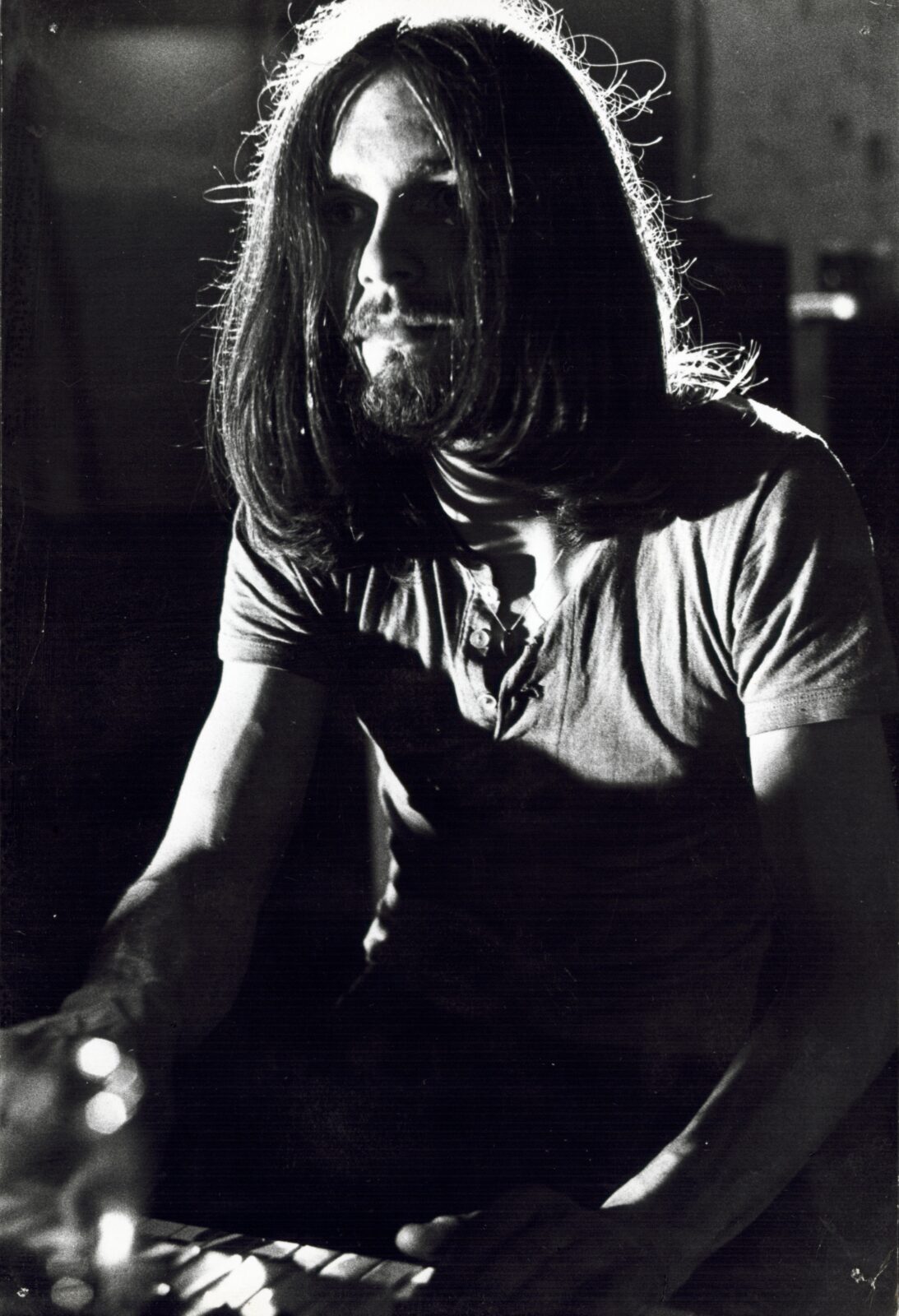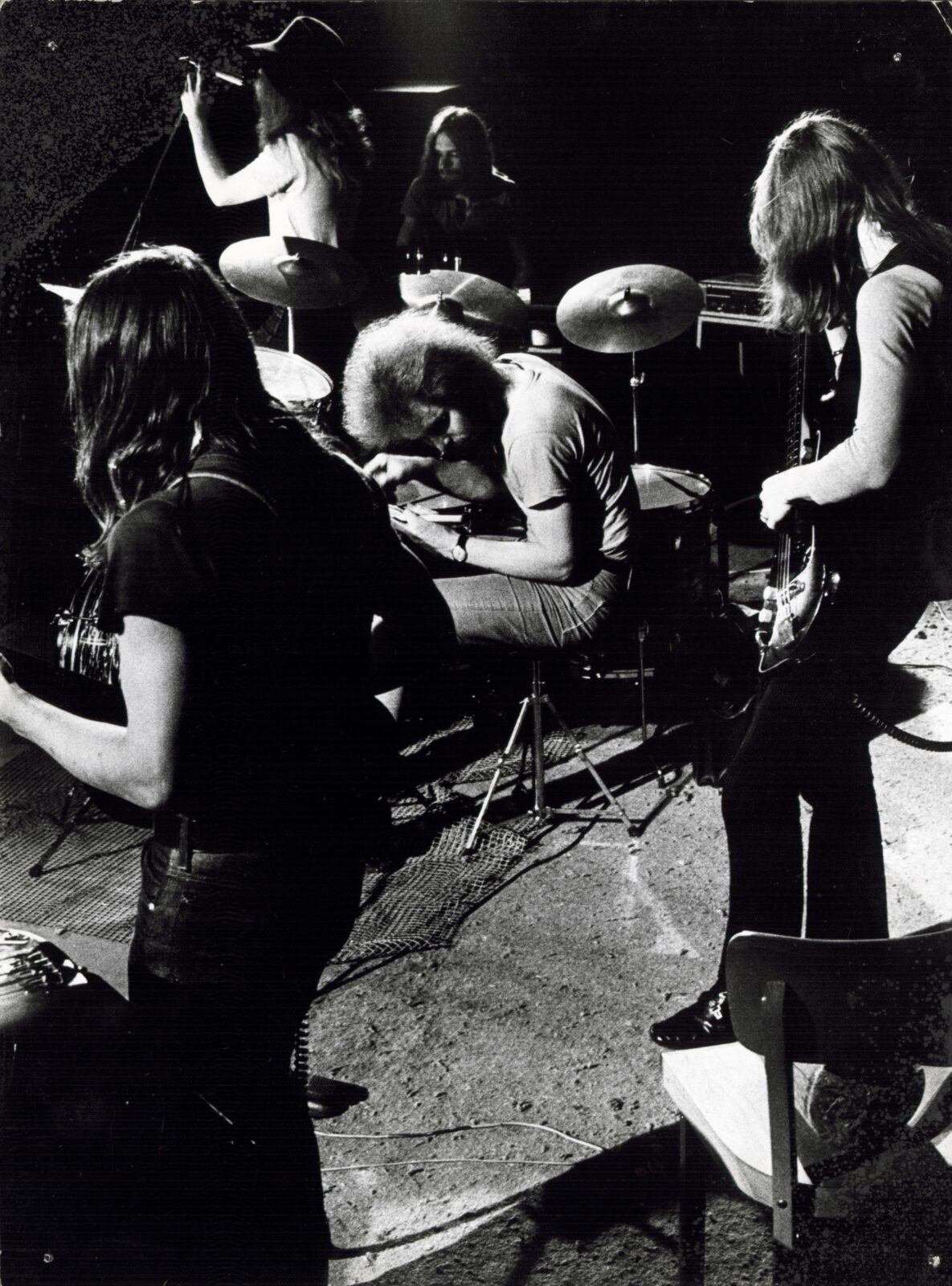 To our wild and dope-loaded festivities then we also have invited musicians from other bands. I just remember Thomas Molin of Amos Key who recorded their first album at Musicland Studio. He was one of our regular guests and we had a lot of fun together. And Markus Krug, the drummer we played with for a while after Klaus has left, back in Trudering, and his girlfriend, who I kissed once in front of the big fire when I was high on LSD, and he looked at us with big eyes, but was in love with Moran's Petra himself, and it was one of the best kisses of my life. A few years later Markus then opened a live stage, I think it was called "Philharmonie", actually quite close to where the big "Gasteig Kulturzentrum" was then opened in 1985 with the big Philharmonie, home of the Munich Philharmonic Orchestra. Markus' stage soon became a well-known place and many international bands, Billy Cobham just came to my mind, performed there. There we also saw Nucleus again, with whom we had shared the stage once before in Schorndorf near Stuttgart, and we had a nice chat with Ian Carr. And in Herrsching, I had stopped smoking for seven years just like that, when I was high on LSD again and realized that I was just smoking too much.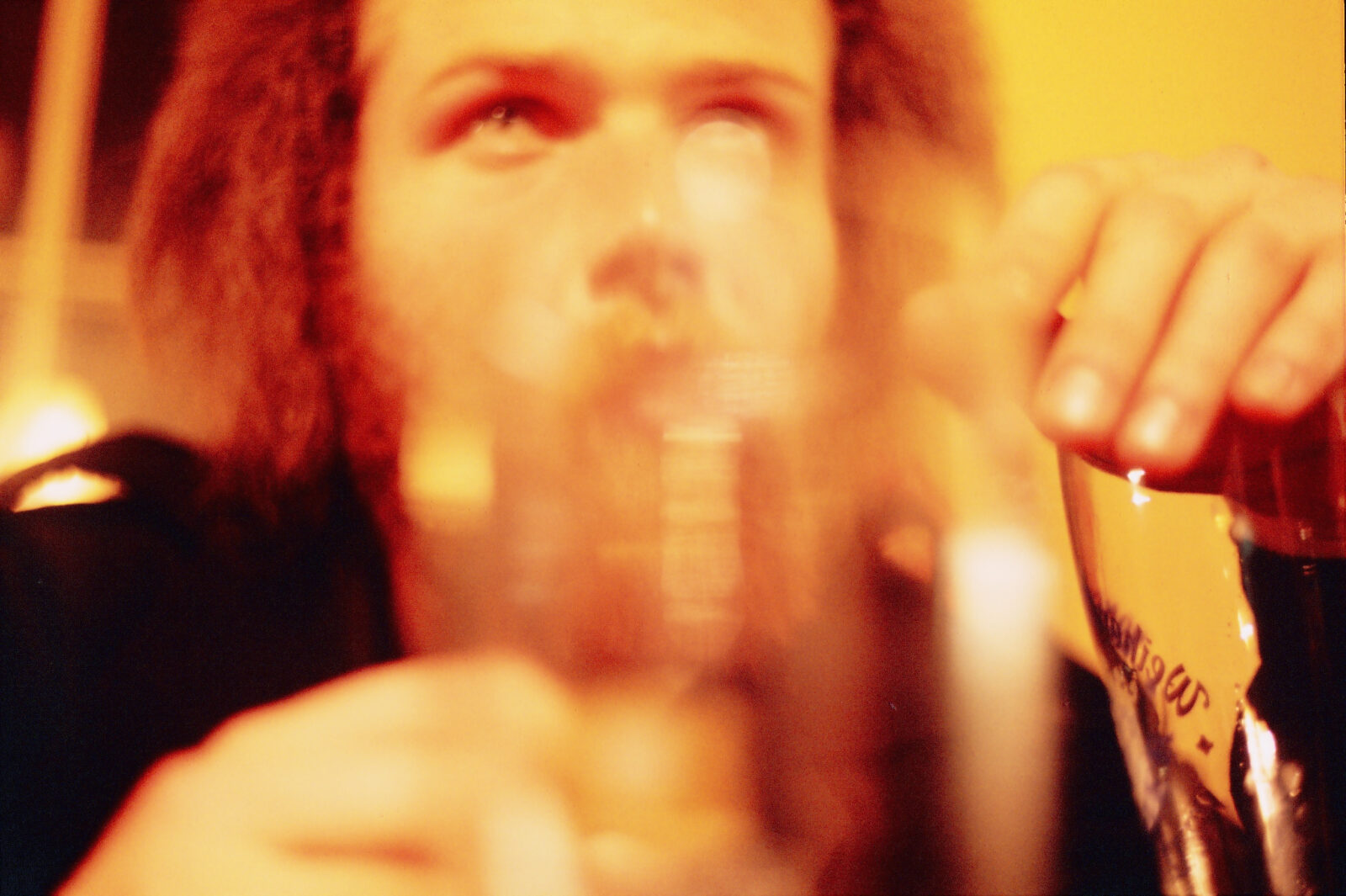 But then we reached the end of the first and certainly most important period of Out of Focus. The intense years were taking their toll and our batteries were just empty and we couldn't find a way to keep going. Klaus, who had rejoined the band before we started working on 'Not Too Late', was searching the house for a beer in the morning with shaking hands from his alcohol addiction, and Petra had left Moran probably also because he was high too often and it was not easy for him. And Friedel burned all the documents, probably because Evelyn and I had an affair with his girlfriend Paule, who also had a night with Stefan and wanted to break up with Friedel anyway, and he couldn't give in. Everything was going haywire and I also felt the alcohol gripping me and I knew that now was the time I had to put an end to it. This time became chaos on one side, but on the other side many things happened that you can probably only experience once in a lifetime. I then moved back to Munich with Evelyn and found a decent job in the electronics industry with Rohde & Schwarz in the division that represented Tektronix in Germany, a large American high-tech manufacturer of laboratory equipment and now quite iconic. With my income, I was able to continue investing in my home studio, and I composed and practised, even with Evelyn, who had fallen in love with playing the bass guitar. Soon I was also preparing for the entrance exam to the Richard-Strauss Konservatorium with the help of Peter Dechant and Hennes, and it was also during this time that Moran and I had an acoustic band with some musicians we had previously met in Herrsching. Evelyn and I also had a close ménage à trois with one of the musicians and it was a happy and prosperous time with not too many drugs and we just enjoyed a relaxed life. After I successfully passed the entrance examination, we moved to München-Untergiesing into a smaller and cheaper apartment, because my state scholarship was lower than my salary as a technician. We soon found out that the Embryos lived on the street parallel to ours, now in an old three-story building in the backyard, a former small factory. We visited each other, and this time we could use their rehearsal room in return, after Out of Focus had reunited in 1976 and Hennes had left again. Before that we used to work in his rehearsal room – he was still living in München-Obermenzing – where Sahara also rehearsed. During this time we also earned some money on the side by producing music for porn movies. I don't know how we got into that, but just jammin until a tape was full was easy money. We never saw the films and the guy just came by, picked up the tapes and paid us. Only Klaus told us later that once, when he was watching an erotic movie in the cinema, he had recognized our music.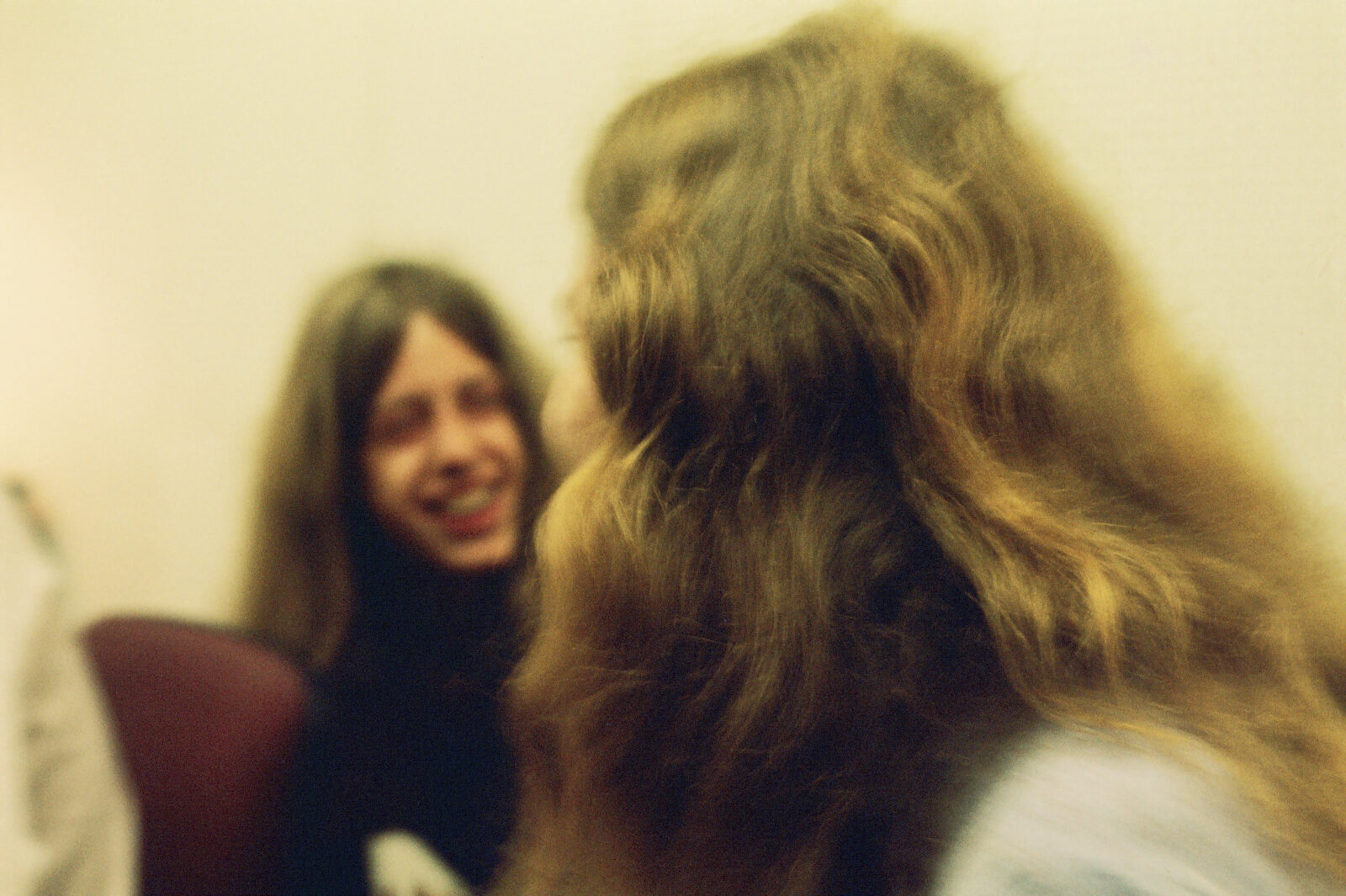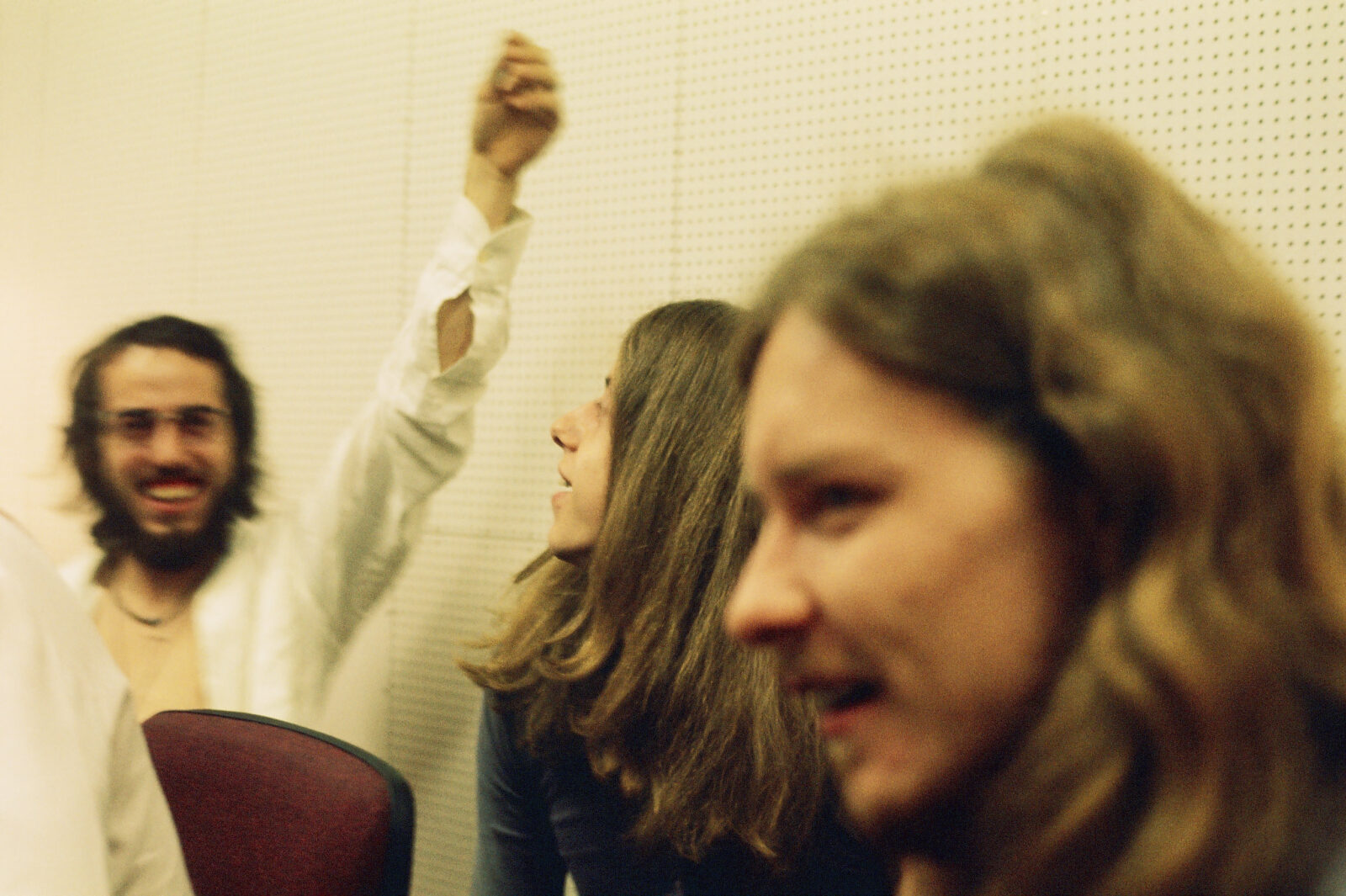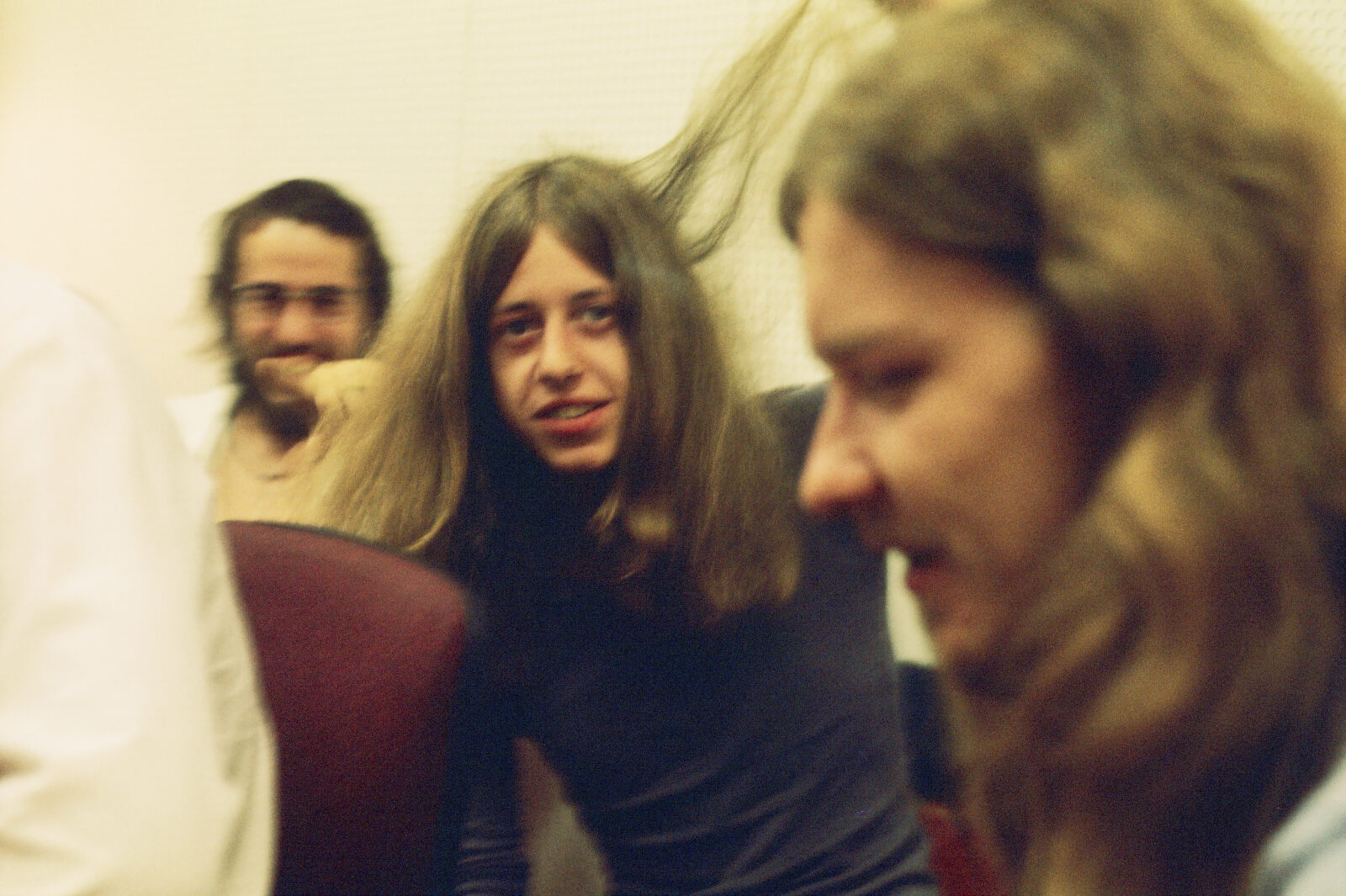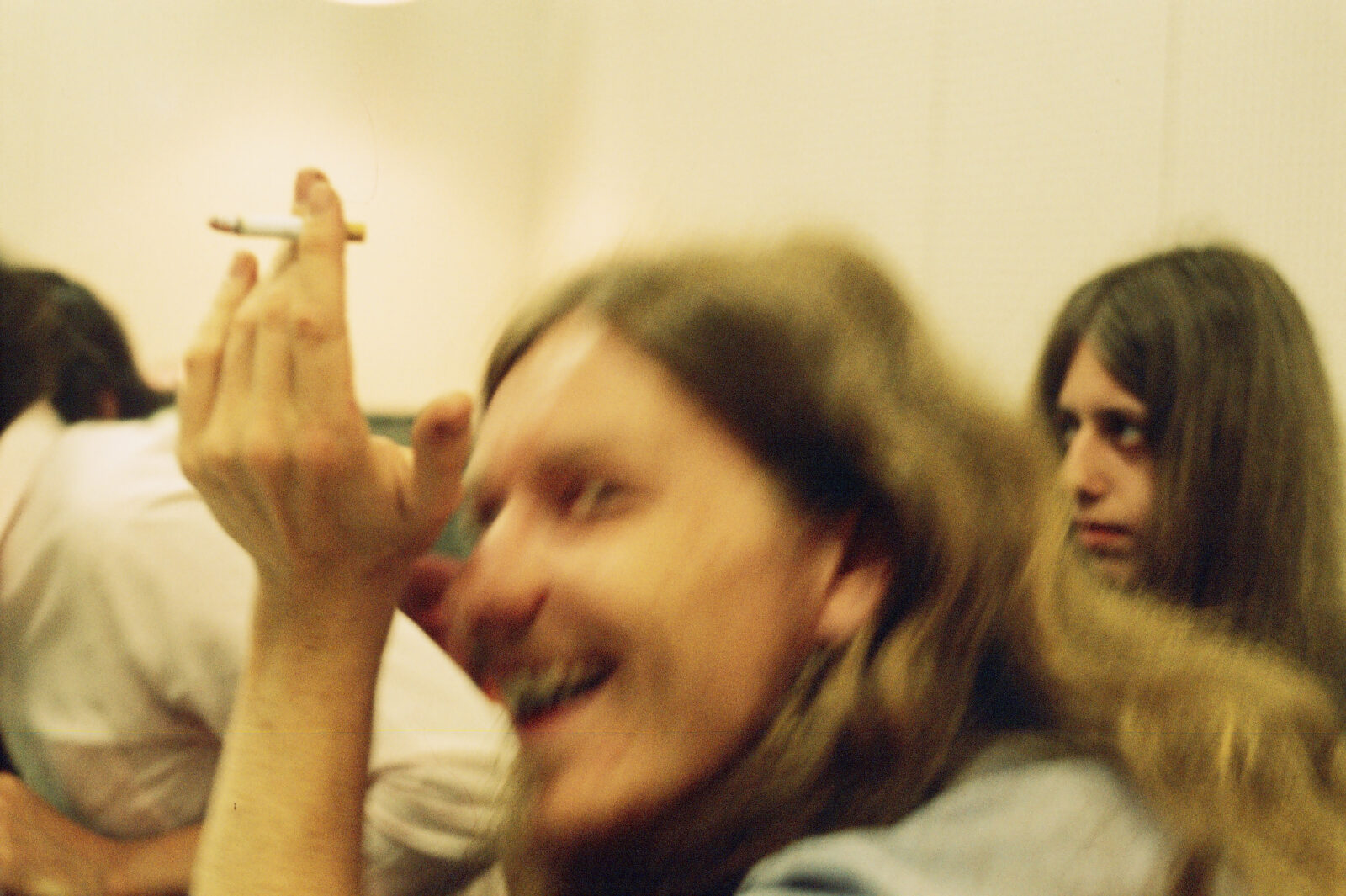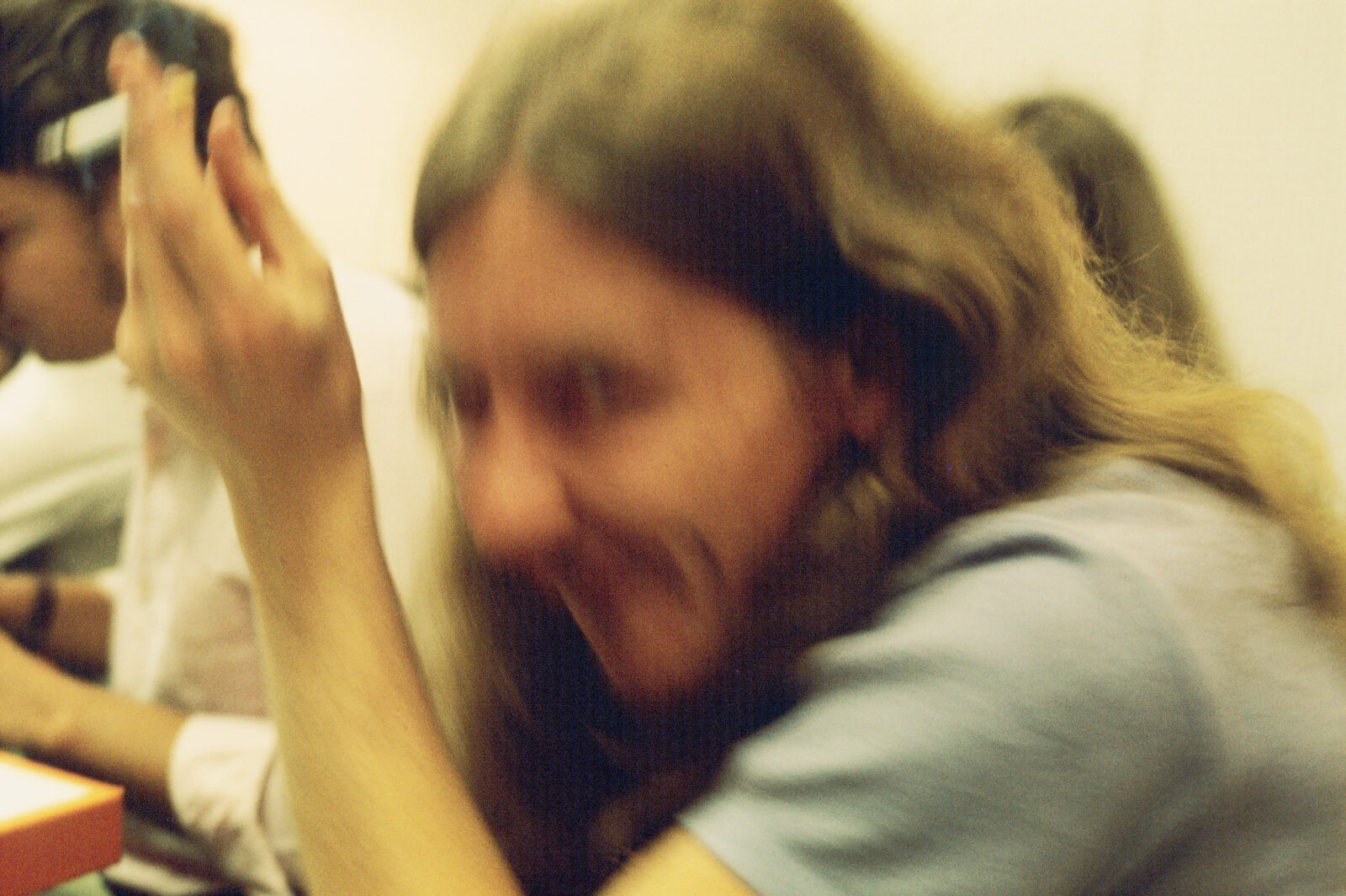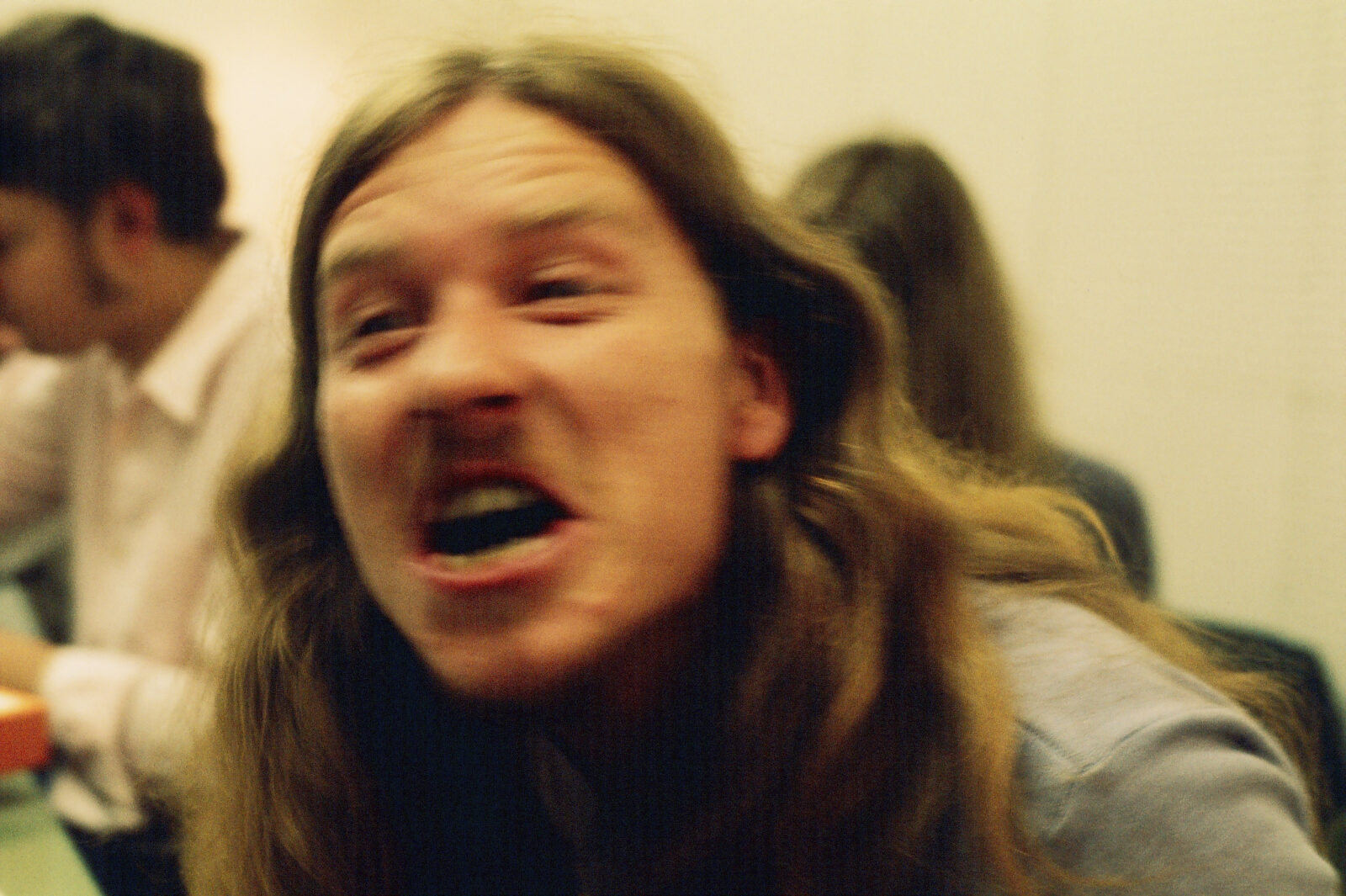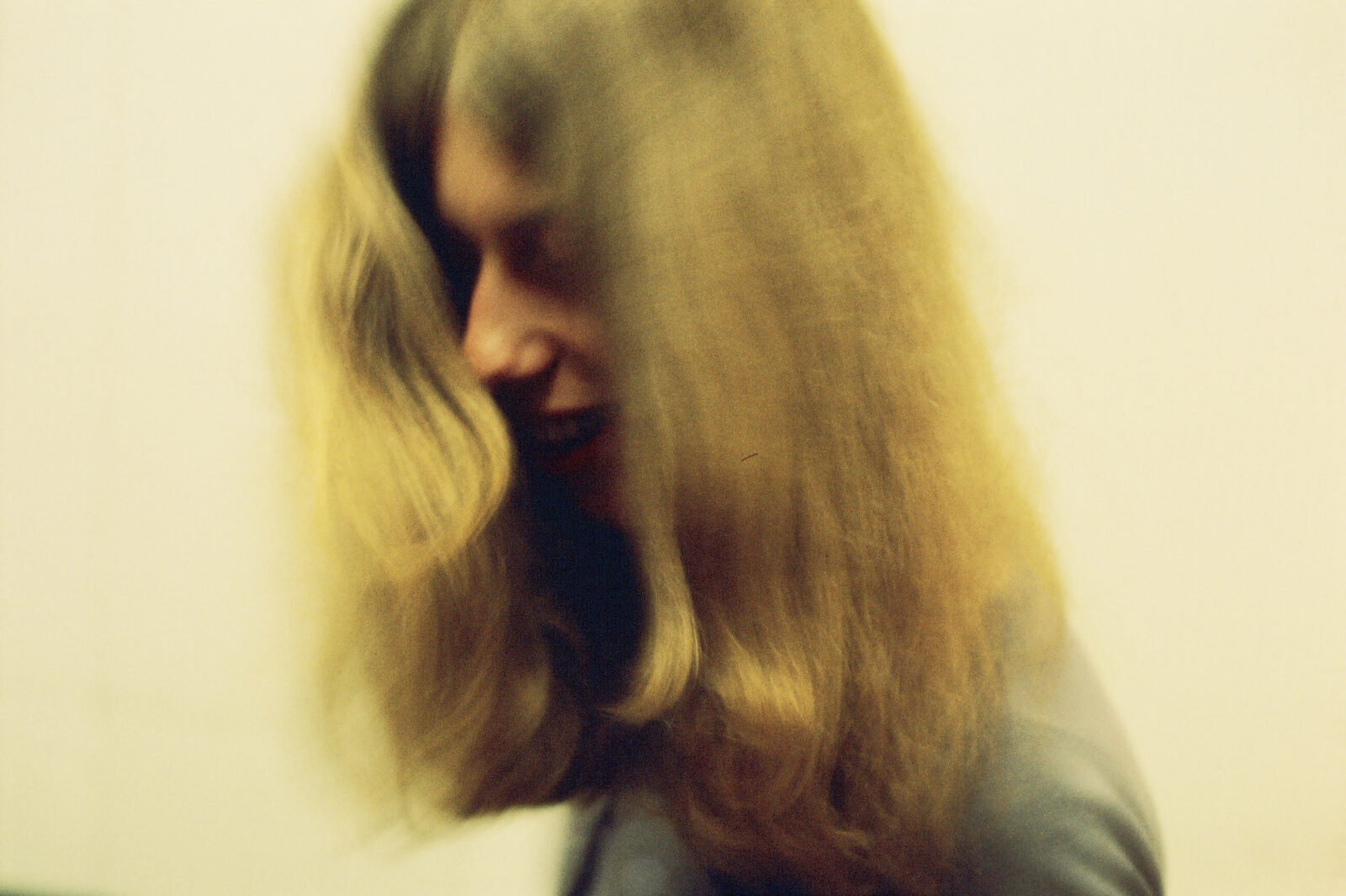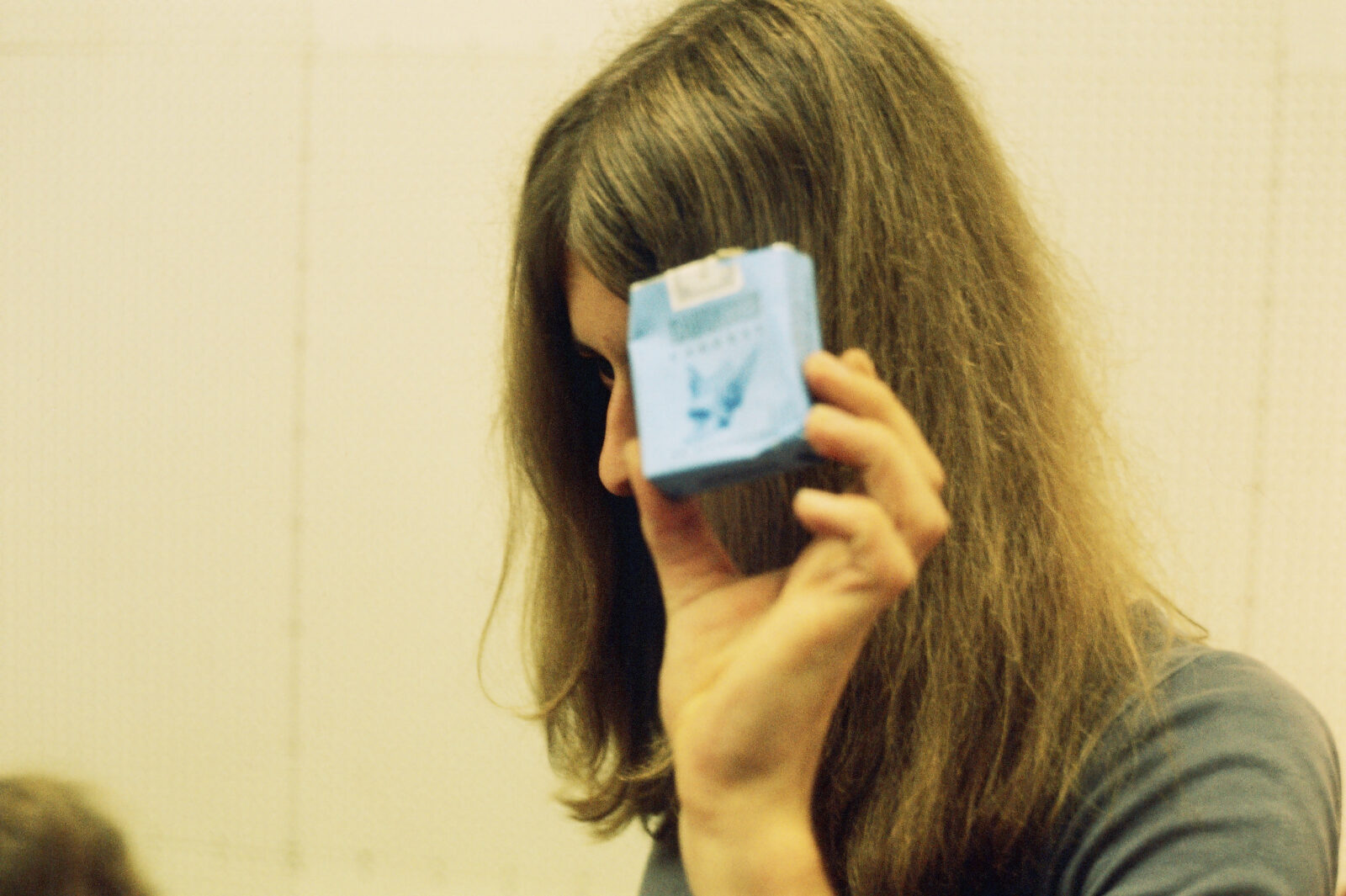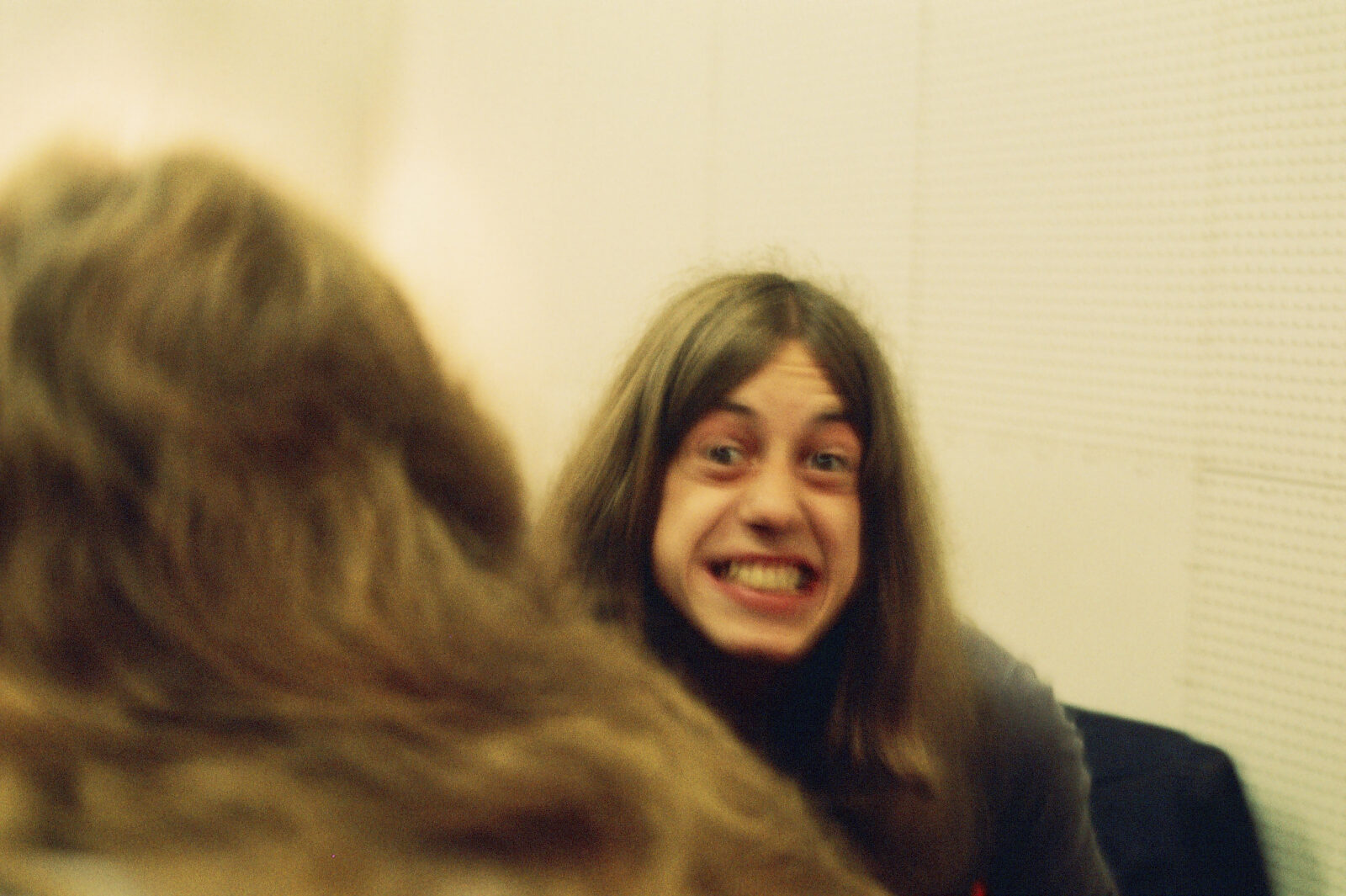 With Sahara and other local groups I occasionally drove to gigs, sitting on the mixer and making them happy with a good sound. Sahara also lent us their PA system once after Out of Focus had reunited, and I also built some studio equipment for Michael Hofmann. He went on to also work with Ralph Siegel, one of the German gods of pop music, and Stephan Wissnet and Günther Moll even composed a few songs for Elton John. Sahara had also built a strong scene of its own and, with others, represented the more commercial or conventional side of the spectrum here in Munich, in contrast to Embryo and Amon Düül II. Christian Burchard, the leader of Embryo, and a close friend of Mal Waldron – he had played with Billie Holiday and John Coltrane before and finally moved to Munich in 1967 – became over time a central figure in the rather alternative scene not only in Munich, but more and more even throughout whole Germany. He knew everyone and everyone knew him and many have been to their house on whatever occasion. He was a driving force, organizing and working day and night, and also bringing many people together. When he had passed away in the spring of 2018, the cemetery was full with artists and people from all walks of life at his funeral. African musicians, along with current and former members of Embryo, and also young musicians from his daughter Marja's band, who now leads Embryo, played and paid their last respects to him. And the rest of the day we had a wonderful get-together, eating, drinking and jamming, and chatting with old colleagues I hadn't seen in years. It was also Embryo at that time who took the initiative after "unpleasant" experiences with established record companies and founded their own record label together with other German bands, initially under the name April, but then renamed to Schneeball after CBS lawyers had objected that a music publishing company of CBS was already registered as April Musikverlag. The bands of Schneeball did all the work including distribution themselves and it was quite chaotic in the first years as you can imagine and that's why Nikel Pallat of "Ton Steine Scherben" and others then founded the company EFA which then took over the distribution of Schneeball and other Indie labels. I also thought it would be best if we joined them and published 'Not Too Late' on Schneeball, but I've already told how it went with Out of Focus, and so it never happened.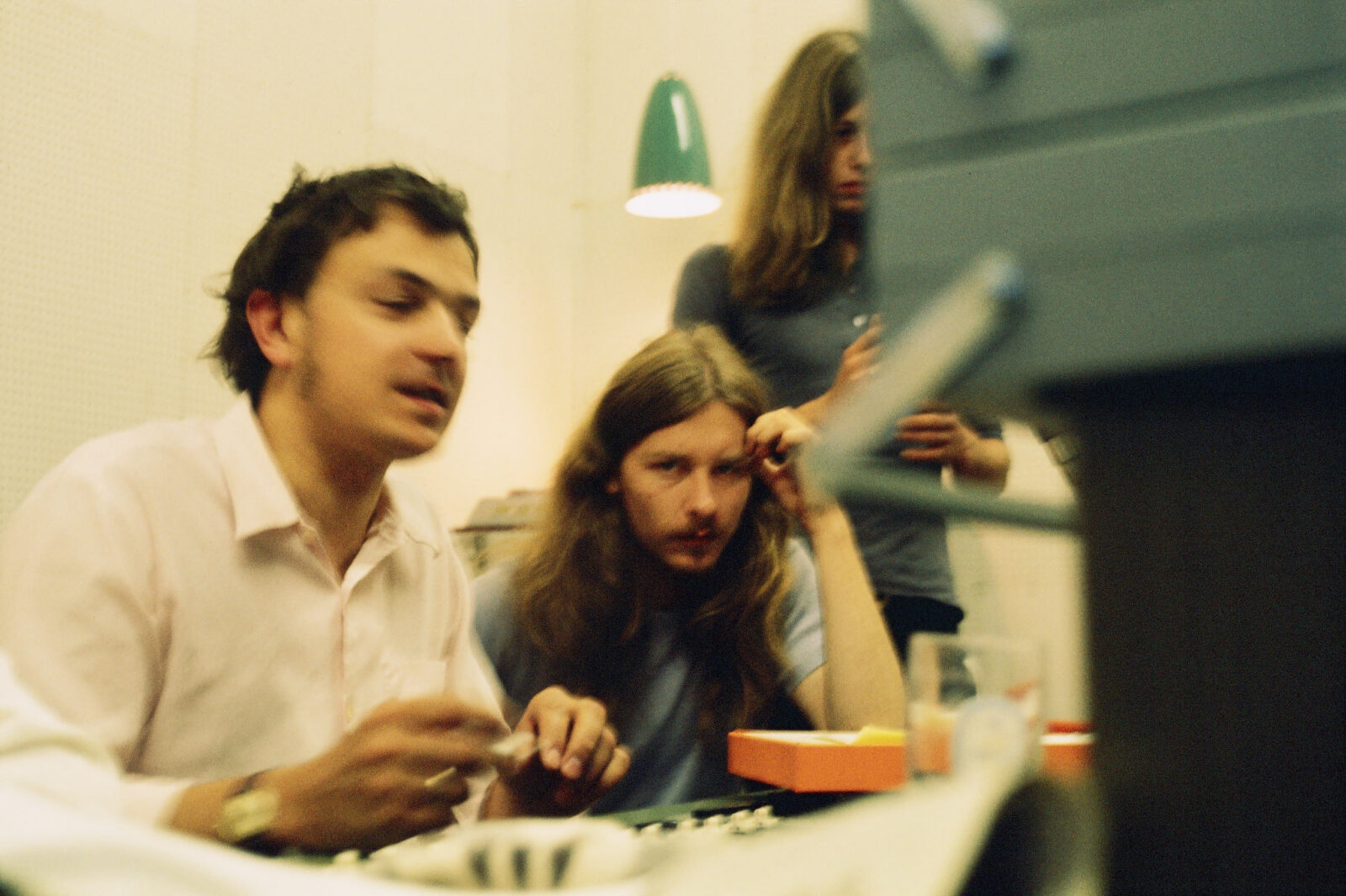 Then in 1976 Out of Focus got back together and we toured again for 2 to 3 years, and this time I did the management as well. Then in 1979 my wife Evelyn, who by then had seriously studied bass and was also a member of a late Out of Focus line-up, fell in love with keyboardist Burkhard Schmiedl of Missus Beastly. We separated and she then played with the Beastlies until she gave birth to a boy. I was exhausted at that time, the touring, the management and the breakup with Evelyn had taken a lot of my energy and I ended Out of Focus, this time forever. Connected the last bass player Karl-Heinz Wende with Klaus Kreuzeder from Aera, who had asked me if I knew a bass player for them. Our drummer Jürgen Renner moved to New York, changed his name to Yuergen and joined The Cucumbers. Moran, who wasn't at every gig the last time anyway, because he had moved to Lake Constance where he worked as a lumberjack and didn't always have time, joined Semiramis with keyboardist Michael Wehmeyer, who later played with Embryo, also during the time I was on tour with them.
When talking about the Munich scene, one should not fail to mention the ever-growing influence, here as well as in other major Western European cities, of musicians who had moved to wealthy Europe from so-called emerging economies. Here in Munich, again, it was Embryo who opened up to exotic musical cultures quite early on. This culminated, in a sense, in a nine-month overland tour to India in 1978/79, also playing in Turkey, Afghanistan, and Pakistan along the way. Upon their return, they needed a guitarist, as Roman Bunka was determined to leave the band, so I joined them when Christian had asked me. In the tour bus, world music was playing around the clock, and although I had already copied some Umm Kulthum and Farid al Atrash cassettes in my Herrsching days, it was now a bit hard for me to have to listen to mostly oriental music practically day and night on often very long trips through Central Europe, but this was undoubtedly also a good crash course for me, leading to a better and more universal understanding of music. When we eventually toured Morocco then, I ended up buying myself a Darbouka (Arabic hand drum) and then, back in Munich, attended sessions in the Englischer Garten, where a place has established itself where musicians from all over the world, especially from Africa, Arabia, Central and South America, Turkey and even India, regularly meet and drum together. It was an open group, and I joined it as often as time allowed, and it was another learning class where I could soak up different styles and techniques. Musicians I met there for the first time later also played with Embryo and in bands of mine and I in turn also played gigs with bands of theirs. Just before Corona, I finished a seven-year stretch with an African band led by Laye Mansa from Senegal, with whom I first played there many years ago. Moran performed for some time with a Greek musician and I also played a lot with a Turkish master singer and saz player who had a pub a few houses away and later even with a Cuban group, with which I also had a very good time, playing only flute and some percussion. Connected American saxophonist Chuck Henderson, whom I had also first heard in the Englischer Garten, with Christian, and he then became a long time core member of Embryo. And I just remembered a saxophonist, Eugene, who was a member of the Moscow Circus Orchestra during the Cold War, and who gave me an old Russian book on music theory just before he died. Leni Stern, who has been awarded 'Best Female Jazz Guitarist' several times in the USA, came by once when I was performing there with Didi Beck, a blues guitarist who is very well known here, together with a drummer and magician from Cameroon, Daniel Burley. After I had just played a bass solo, she gave me her card to participate in a session with her. I was working a lot at the time and unfortunately couldn't make it. But it was funny, because she had started her career here in Munich with a left-wing, independent theatre group called "Kollektiv Rote Rübe", which was very successful in Germany at the time. (As Magdalena Thora, her birth name. Then she went to Berklee College of Music in Boston and married Miles Davis guitarist Mike Stern). My wife Evelyn had an affair with one of the actors, Hans-Peter Cloos, so she got to know them a little bit. Moran, by the way, was flautist on one of their albums produced by Konstantin Wecker, a rather song-oriented singer and piano player well known in this country, who later went to jail because of his enormous cocaine consumption – many from the scene knew about it – but was paroled quite soon. With 2 kilos on his shoulders, declared for personal use, a rather unique verdict actually. Evelyn and Magdalena arranged to celebrate New Year's Eve with me, and we went to a music pub where the Polish saxophonist Leszek Zadlo, now professor for jazz in Würzburg, was playing. I remember her telling us that she now plays guitar and wants to go to the US to study, but she didn't recognize me anymore when she gave me her card in the Englischer Garten.
This largest public park, not only in Munich but of the whole world, has developed over time into a huge playground for everyone and you can run into practically anyone there, listen to music from all over the world and also just get high on Bavarian beer or whatever you prefer in one of the large beer gardens.
Well, this is what I could recall from the things I experienced here in Munich, from my point of view, and, hopefully, I didn't weave in too many of my own incidents, but they may also help to see things more comprehensively. As I said, there was a lot going on, and if you asked someone else, he may have seen things a little differently and probably remembers even more. But, never speak the obvious, I have learned from an Irish poet and storyteller, Paul Smith, who over the years became very well known in the university area, performing in art galleries, pubs, private events, wherever, and with whom Moran and I and Christian Bäck (the other saxophonist on Kontrast) then had a live words and music project called "Call That Work?".
"Soft Machine and King Crimson opened my ears"
What influenced the band's sound?
I've already mentioned that we listened to most of the bands that made their entrance at the time, and of course everything you hear will influence your own work more or less. I like bands that don't conform so much to the mainstream and also manage to convey a real feeling and a deep and serious message, and manage to make the music flow and groove. But that all is served at the same time is not so often to be heard and there will always be compromises, especially within a band. Perhaps Miles Davis was one of the masters in almost all aspects, but even he would have to give in when you look at the compositions of, for example, Frank Zappa, who again, from my point of view, could not really achieve the natural greatness of Davis' music. But that's just one of the insights I've been able to gain over all these years that may help to better understand things in general. I always tried to be democratic and my ideal was to let each musician find his way of playing that he felt best with when we were working on a new idea. And that he brings in his background, which he had built up through his listening preferences and playing experiences. But it had to be right, and since I often took the last word, I didn't go for one-to-one copies of existing works or anything that would kill the main idea, although in some situations that might be applicable from the point of view of countering a rather ridiculous idea. I've always tried at least in one aspect to create something new, as far as that can be said for sure, because you can never know everything already made. But the attempt alone I think already brings something. What I think one should realize is that if you copy something that already exists, no matter how great it is, you will always come in second. I prefer to do my own thing, even if it's not that great, but it's unique and you're the first. I think that it has great benefits to bring together musicians from different backgrounds. But in the beginning it was rather like that, that we were already happy to find a good musician for each position, and who is also able to join us full time and with whom one can live all the countless hours that a working band has to spend together. There weren't that many to choose from back then, as I implied above when I told how the band came together. Klaus was simply the best drummer in the competition and we urgently needed a new one, because Wolfgang was determined to leave. And at first I didn't care at all what music he preferred. The only important thing was that he was great in the way he played, everything else then had to be tried out in the rehearsal room. We had arguments and fights when we were working on our music, but not so much. For me, to say it again, it was rather inspiring to have different ideas, but it was also actually the case that Moran and I brought in the basic ideas – except for one piece by Hennes. We kept asking the others to compose something too, and only Hennes then contributed this piece, 'No Name' on 'Wake Up!'.
To see the individual backgrounds, I can drop some names as far as I remember which of us liked which music: Klaus was very into solid jazz rock with horn section like Colosseum, Chicago, Nucleus, but also listened to crazier or even avant-garde stuff like Moondog and made us aware of a lot of not so well known but also great bands like Madura. He was constantly on the watch for new music and certainly contributed a lot to our musical listening spectrum. Stephan also had a good collection, including Yes, The Band, Jefferson Airplane with all its offshoots, and many more that I don't remember anymore. Ingo had an excellent and detached jazz collection and turned me on to Gil Evans and John Klemmer, but also played us Ernst Jandl, an Austrian experimental poet, and I remember well listening to Cannonball Adderley's album '74 Miles Away' with him and Uschi in her room in Trudering. That long piece with the prepared grand piano was just great. Moran wasn't much of a collector, but still kept a constant lookout for good music. His range was from Bob Dylan to Jimi Hendrix, from the Rolling Stones to Soft Machine (the earlier albums from both, rather) and all the time we were working together, we were also listening to music together, with the others joining us occasionally. I still have a huge collection ranging from The Incredible String Band to The Mothers Of Invention and much in between. Soft Machine and King Crimson opened my ears and also the first Pink Floyd, Jethro Tull, Led Zeppelin and Taste albums, not to mention The Residents, were revelations, to name a few. And two new discoveries of mine are Aziza Mustafa Zadeh, singer and pianist from Azerbaijan and Ravana, a band from Norway, both wonderful and, of course, just by the way here! And in the beginning there were The Animals, Them, The Yardbirds and of course The Beatles, but whose albums I gave away after a while because, even if there is no doubt that they were brilliant, I couldn't listen to them anymore. On the way to Sun Ra, Miles Davis, Fela Kuti and Mongo Santamaria and whatever, I lost my enthusiasm for them. However, I have them all back today simply because they are history and on some days I like to hear them again, but with a smile. Only Hennes, I think, was not collectible at all, but on the other hand, when he joined the band, he had already had decent lessons on the accordion as a boy and later studied piano at the Konservatorium and then again at the Münchner Musikhochschule. He then worked as a high school music teacher.
I guess that the diversity of our preferences and influences was one reason for our success, a component of creating our own sound, so to speak.
What's the story behind your debut album 'Wake Up!'? Where did you record it? What kind of equipment did you use and who was the producer? How many hours did you spend in the studio?
There is not so much a story behind 'Wake Up!'. We were happy to finally have been signed by a record company and eager to have our music released so we could have something to show and be proud of. Mandatory if you want to be accepted as part of the scene. As I mentioned, we recorded and mixed down at Union Studio, and I think they had a 16-track machine. I had built our amps, speaker cabinets and a few effects myself when we started playing on bigger stages. Stacked standard four-speaker cabinets with 100 Watt tube heads for bass and guitar, head and one cabinet for the keyboards. (Four EL34 power amps with a volume controlled low-mid-high EQ stage and 2 standard ECC83 pre amps. For the transformers I had used high-end MD type laminated cores and wound them by hand) Hennes had gotten himself a second-hand M100 Hammond organ with a mechanical tone generator and tubes. I don't think he already had his (rotating) Leslie speaker hooked up to it. Used rather than the one from the studio connected to the console.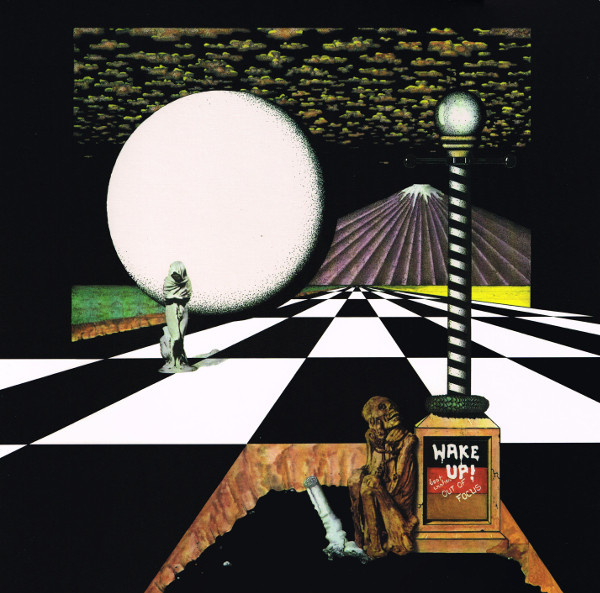 He also had a Hohner Clavinet, but he didn't use it much, if at all. I'm pretty sure that in the studio the organ was recorded directly, while the bass and guitar were picked up by microphones from the speakers, which I insisted on to get the original sound. Stephan's bass guitar was a Framus and I had, vaguely remember, an old Hoyer Telecaster replica, but with hum-bucker pick ups probably made by Schaller and a Hoyer jumbo acoustic western guitar. It was just before our second album when Kuckuck helped us to buy new instruments, Stephan a Fender Jazz Bass and I went for a Gibson SG. And Moran also got his silver Muramatsu flute only later. Jonas Porst was appointed by Kuckuck as our producer. He was the son of a big photo shop chain in Germany "Foto Porst" and the manager of "Ihre Kinder", also a band of Kuckuck and one of the first Krautrock bands with only German lyrics. At first we were not at all happy to have someone telling us how to do it, but it turned out that he basically went with us, I don't remember any serious arguments. Of course, we had a few discussions and he may have even contributed a few ideas here and there. I think he understood that what we had and could do was all a bit complex and also fragile, and that trying to change things would have rather destroyed it. We all managed quite well with the situation, but it was then also the only time that Kuckuck assigned a full-time producer to us. For the next album, Out of Focus, Eckart Rahn designated our engineer from Bavaria Studios to be producer as well, but he kept to his work on the console, which he did quite well, and I don't remember him interfering against our imaginations even once. Then with FLMA, Eckart gave up on assigning us a producer. We recorded 'Wake Up!' in five days and then mixed it down for three days as it says on the back cover, thought it was two weeks or so at first. Any further processing, other than making a good mix, didn't really exist back then, at least not for us, meaning what is called mastering today. And what we just wanted anyway was the real thing with original dynamics and no manipulation to make the mix sound louder or whatever is standard now to get more listeners or impress more on the first listen. With vinyl there are strict limits in what you can do anyway, on a CD you can clip to the max and it still plays and many producers – not in classical and traditional jazz for not to say something wrong – today take advantage of that to make it as loud as possible. Pretty stupid, I think, because the louder above the ceiling, the more distortion will be and the sound gets worse. (Just read yesterday that vinyl sales are steadily going up again and that the LP might even outlast the CD, no wonder really!) In our case, of course, the engineer probably patched a compressor or limiter into the recording chain of bass and vocals to prevent the tape from clipping. And that a track might still need some EQing, then the right volume of course and positioning it in the stereo field. Some fade-ins and fade-outs, and we used reverb, as everyone can hear. One thing I remember was a discussion about the volume of the bass. The sound engineer set it at a moderate level, as with most music at the time. I wanted it louder so it would be on the same level as the other instruments and also for having a full sound. Today I know that cutting the LP master with the technology of the time could cause problems with a voluminous bass. But he turned it up and I think it was just OK.
Would you share your insight on the albums' tracks?
Hmm, what can I say? A collection of what we had at the time. 'No Name' by Hennes, as I have already said, and he also did the organ introduction to 'See How a White Negro Flies' and more. The melody that the flute and organ play in unison was Moran's idea, I think. Moran also brought 'Dark, Darker' and the main ostinato of 'Hey John'. I did the rest and probably also the last part of 'Dark, Darker'. But all the arrangements were worked out with the band in the rehearsal room and nothing was written down, so it's pretty much impossible to determine the origin of every note. The lyrics are all by Moran. I didn't even understand everything he sang, since my English was quite modest back then. There was an incident that obviously inspired the lyrics of 'Hey John', namely that a guy named John had stolen Wolfgang's drum set from the rehearsal room of one of these youth centres in the early days. Moran liked to use metaphors like this: "Hey John, don't you remember you shut down the birds last year…". But this phrase is not common in English, only in German, so I'll try to explain: In German, people often say when someone has again done something stupid to the max (or, if using a phrase, that he has once again taken the cake): "Der hat wieder mal den Vogel abgeschossen" (literally, he shot down the bird again). So that's just what John did. There might be more like this in Moran's lyrics, especially from the early days. So if you can' t get what he is singing here and there, just try a literal translation into German and then back into English. And 'Hey John' is probably one of the few Out of Focus songs, if not the only one, that a neo-prog band has released a cover version I listened to the other day, just can't recall the name of the band now. Anyway, we got Wolfgang's drums back, but I'm not sure how anymore, I think John tried to sell it after two weeks and somebody alerted us. And the very last addition is that many years later when I desperately needed a guitarist for a project, no idea how it came about, it was John who arrived and we even did a photo session then because the photographer was already ordered, but I didn't call him again.
Was there a certain concept behind the album?
No, making a good album out of the material we had was already a challenging task for the time. And honestly, I don't like concept albums that much. 'S.F. Sorrow' by The Pretty Things I really like and 'Thing Fish' by Frank Zappa is a great album, but that's about it for me. I think music can tell its own story and, please don't hit me, sometimes I hate all this bla, bla singing from the beginning to the end of a piece and this attitude of many singers who act as if they are the centre of the world. Often they say nothing and only prevent the musicians from really playing, and you from hearing the instruments well. But again, there are great singers and songs – check out 'John Coltrane and Johnny Hartman'!
What's the story behind the cover artwork?
It was a friend of Stephan's girlfriend, Juliane Kern, who made the cover picture. Not specifically for us, he had it ready before, and I don't know whose idea it was to use it for our first album. His name was Charly Ruthenberg and I think he was also the drummer of a band called Bluestrain, which performed occasionally in the Jazzkeller in the small room during the time we played there once a week. I liked it, but have no further knowledge of how this was negotiated with Kuckuck at the time, meaning what he got for it. I hope a reasonable amount, but I've already gone on a bit about Eckart. The overall design was done by Concept Data, as you can read on the cover, and they have done other designs for Kuckuck as well. And we had also used the painting for our poster at the time. I also think it was a good decision to use black as background colour for the covers and then kept that for the post releases.
'Out of Focus' album followed and your sound changed quite a bit. Combination of jazz-rock and social-commentary worked very well together. Please share your recollections of the sessions. What were the influences and inspirations for the songs recorded?
Remember how 'Blue Sunday Morning' got together: Moran had the main idea, this guitar ostinato and then the change to the sub and dominant, actually very simple, but the timing made it. Maybe he'd come over to my room or played it at rehearsal and we'd jam on it for a while, as usual. But it needed more to become a full piece, and then I made the second part or 'Finale'. When I played it to the others then, Moran looked a bit uncomfortable the first time, but then with Hennes' organ layers it became a good and complete piece. If you asked which of our songs was closest to a hit, the answer would be this one. The social message in our lyrics came out of our daily lives and experiences in some ways. The system seemed like a bad joke to us at the time and we discussed it time and again. But it was Moran who had put it into words very well I think. I think Uschi helped him a bit with the English language.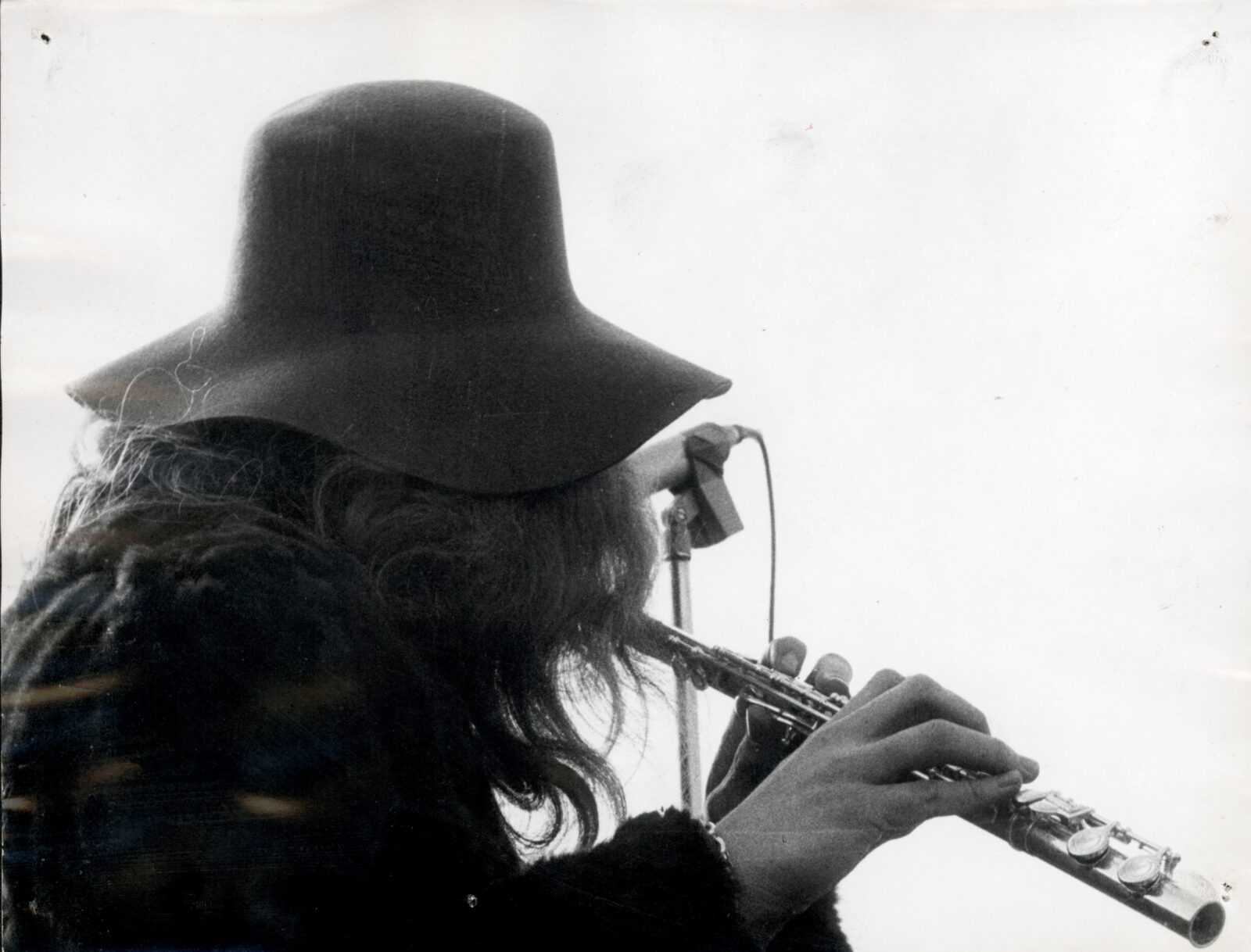 Cannot tell you much more song-wise as before when you asked about 'Wake Up!'. You live, love, do things, routines, errands, practice and suddenly you have something in your ear that sounds good. If it stays and you can keep it, look for something that might go with it, apply some theory, and then make a note or engrave it into your memory. Then play it to the band, let them develop something to it, discuss some ideas, suggest whatever, and leave it again for a while. Then play it again until something comes together that feels good and right. Then try it on stage. And Moran's way of composing was not much different, I think. And it's the way many artists cultivate their creativity, as opposed to a more academic way of working based on intellectual architecture I think. It is difficult to retrace ideas or arrangements in detail after a while, as long as they are not explicitly copied or constructed. You listen to music and what you heard settles into your subconscious, and then your brain mixes it all together. Then when you play, you have a huge pool at your disposal of what you want to hear, what might work and what might not, and what would fit the sound of the very moment. Recording and listening to it again later gives a certain amount of security and helps in the decision-making process. I remember talking with Christian Burchard when I was with Embryo and had asked him once how he would find themes or melodies, and he replied that he would just play the rhythmic base of a piece on tape and play along with it on his vibraphone until he found something he feels comfortable with. (Check out the 9/8 piece on 'Embryo's Reise')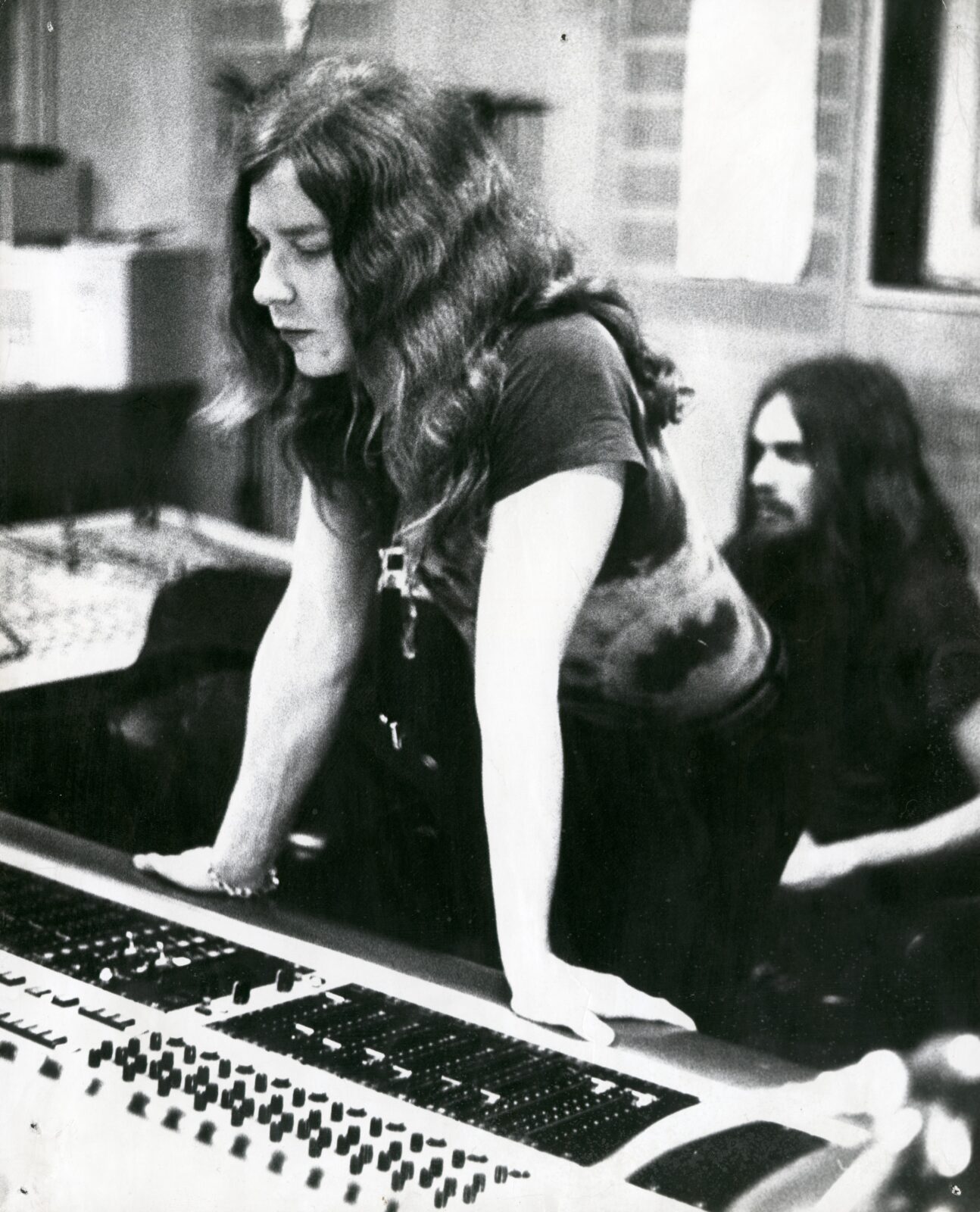 And I had a remarkable experience once when I turned on the TV to come down after working through the night at home. There was a silly early evening series rerun on, where then a band – you name it, it was actually filmed in the "Englischer Garten" – began to play live. And since I was on the other side of the room, preparing whatever, I didn't immediately zap away and started listening to the music. I thought, hey, that sounds good, and then after a while I thought, but where do I know this piece from? And then I realized, damn, that's a piece of me, and that' s what it was. Then I slowly remembered that actually musicians of a band of mine, years before, had mentioned that they had a TV job. What they didn't tell me was that when they were deciding what piece to play, they had no better idea than to play one from our live program. I called the TV station and they sent me a copy and then blah, blah, blah…. In fact, I never got any money for it, because my wonderful musicians forgot to put it on the original music list of that production.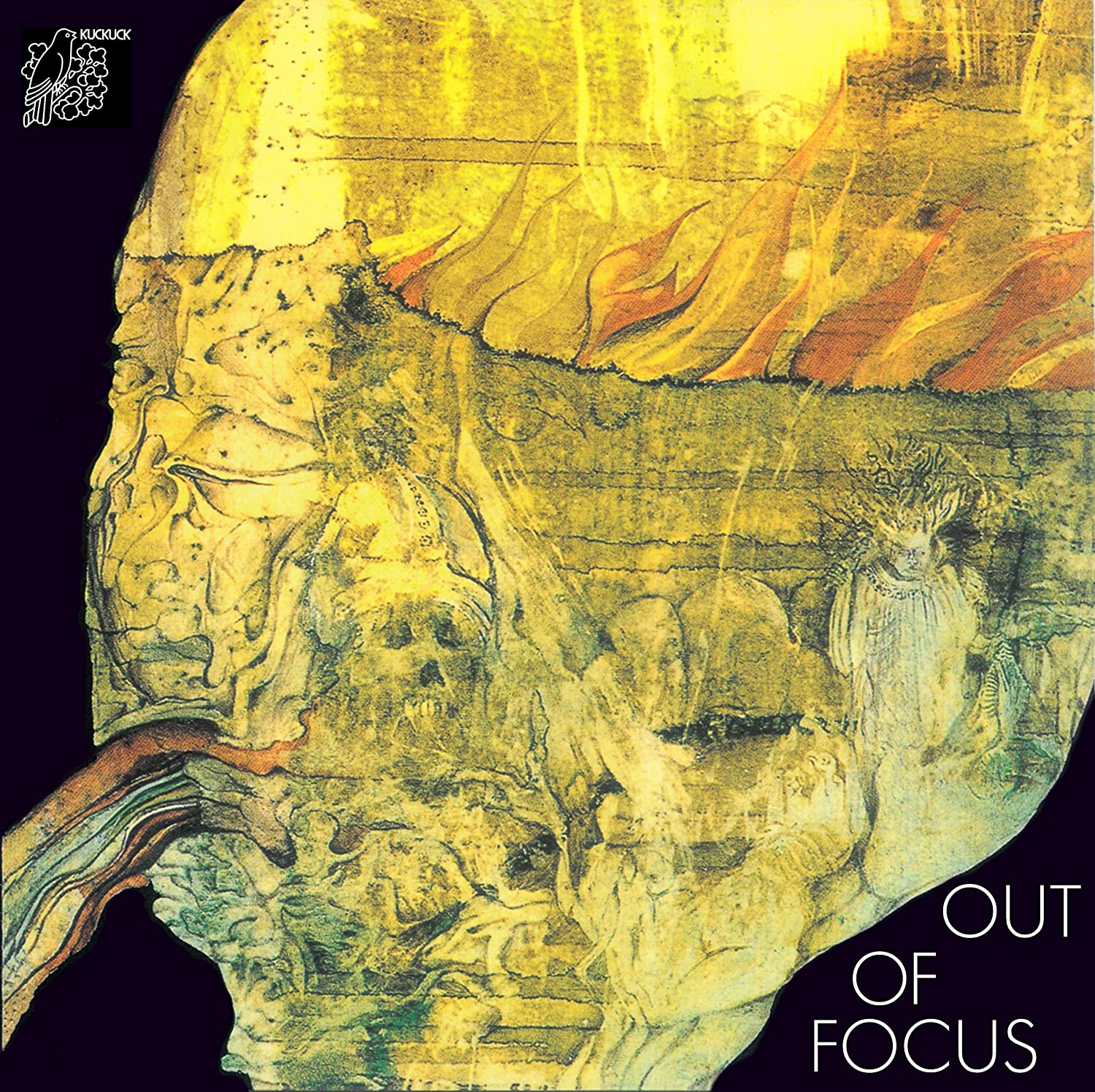 I would have had to talk to a lawyer and the GEMA (Society for musical performing and mechanical reproduction rights) and all that, just for a few hundred bucks, so I thought, fuck it! But the thing is that this has given me the wonderful experience of listening to my own music for a short time without being aware that it is my own music. That's really extraordinary, because it's practically impossible to hear your own stuff without a bias. And, take a live recording with yourself and you'll be surprised that some parts where you felt great and were sure this was good music, don't give you the same feeling when you listen to it afterwards. And other parts, where you rather suffered and said to yourself, what a crap, then sometimes sound great or even fantastic on the recording…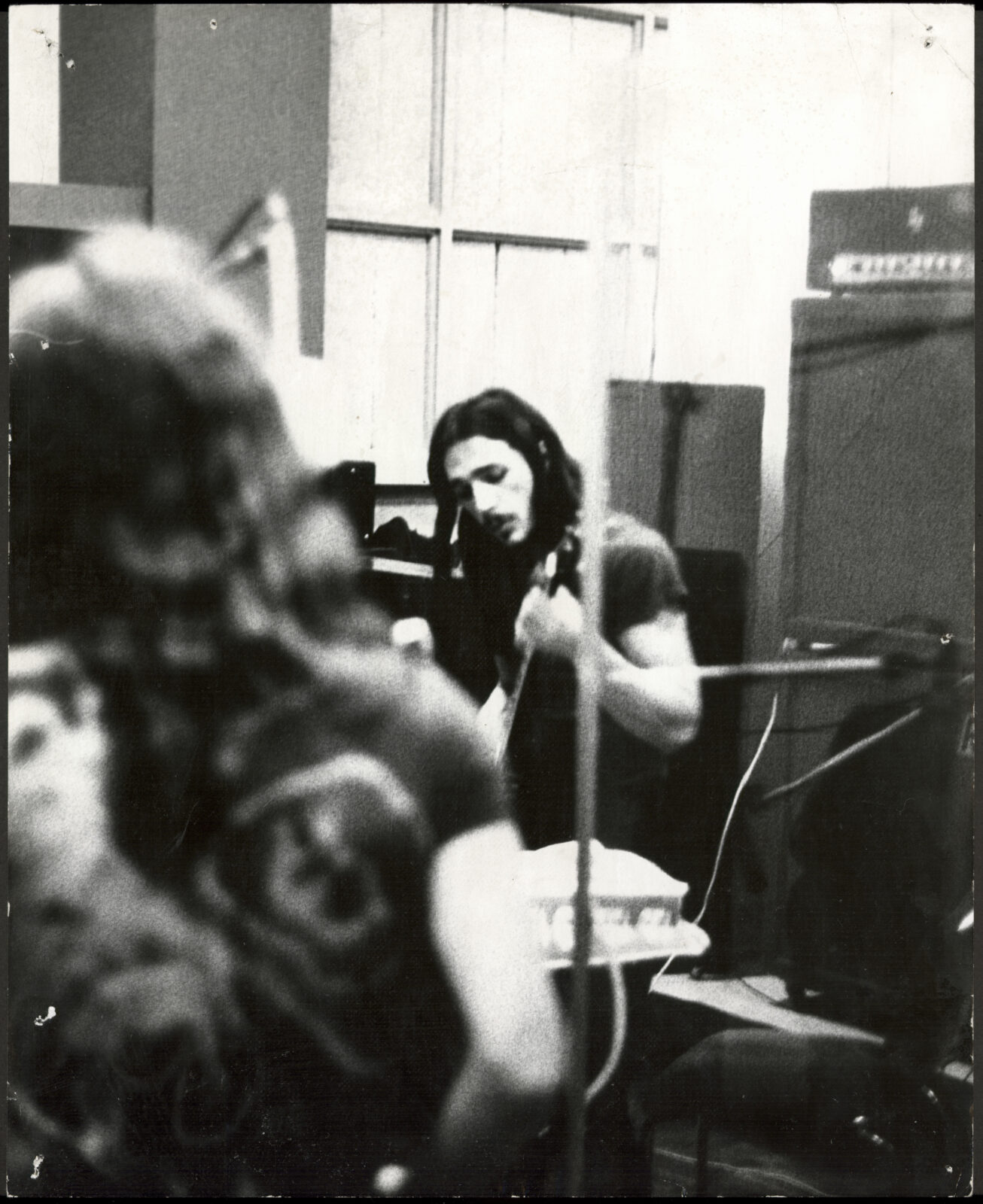 Well, back to Out of Focus, everyone in the band contributed to the pieces. Hennes was doing wonderful things with his Hammond and once when I transcribed an Out of Focus piece to play it with another band, I fell in love with Stephan's bass playing again. And the other day a guy bought the post-releases from me, and then emailed me back saying that he just loves Klaus' drumming and really misses it on Kontrast. There are different approaches to arrange and combine notes and harmonies. There is architecture, which means you sit down and draw a plan, often according to given rules, of how everything should go, with all the limitations that come with a single head, and there is creation in the interplay where you react to each other more intuitively. And then, either from memory or by listening to a recording, you pick out what works. We used both ways, which is what many do. And there can even be absolute randomness, or momentary creation that also leads to something – look at John Cage or Sun Ra. And the funniest thing are mistakes that actually turn out to sound good after a while. My experience is that using only one method often gets boring sooner or later. Free jazz is such an example, I mean, I love free playing, but it can get tiring quickly if traditional interplay and arrangement are not also shown in contrast. And what I just remember is that during the recording sessions for Out of Focus, for the first time in the studio we had this rush of freedom and just kept playing and improvised after we had recorded a composed piece, and I thought that it was really good. But when we headed to the control room then, we had to accept that the tape had run out before, as the sound engineer said. But a new tape could have been put on, I thought, but held back from saying anything.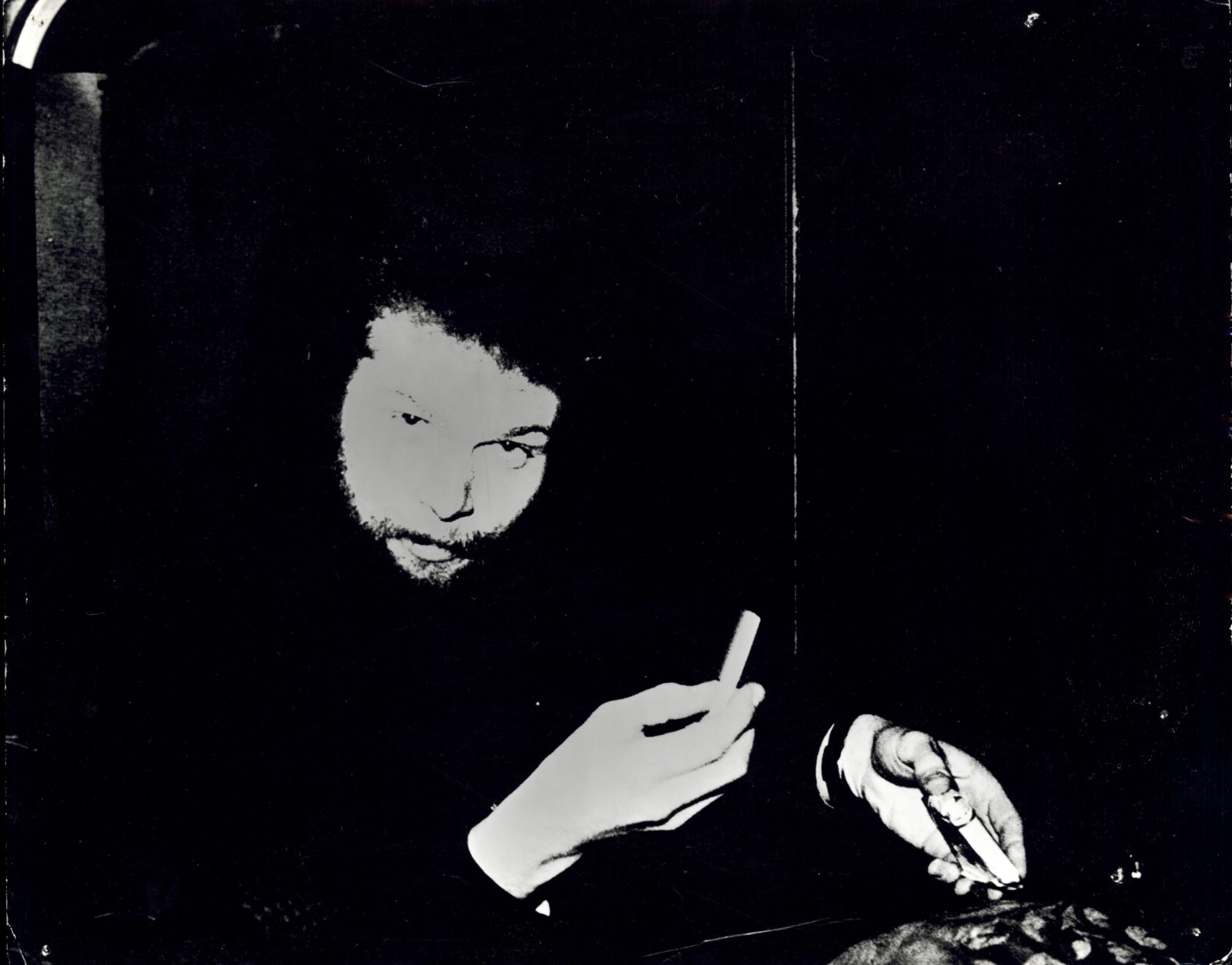 Maybe he didn't do it because he was assigned as producer and didn't want to generate a conflict with Kuckuck to support us in supposedly less commercial recordings. A bit sad looking back, because those free stretches in our music were an important part of our performances and not always, but time and again they were magical and we could really mesmerise the audience. But if you look at what was in the minds of ordinary people at the time, that's just it. This incident was also a reason, I remember, that I definitely decided to also do a previously explicitly announced free session when recording 'Four Letter Monday Afternoon'. If you announce something like this upfront and even invite other musicians to it, no one can stop the tape anymore or let it run out, that's just the way it is. We all love these old and grown Mediterranean villages or small towns, often nestled against the cliffs on the coast or sitting on top and around the slopes of a hill, that have come into being because different people had need of spaces to live, spaces to meet and work and ways to walk and so built and added to and changed and rearranged again. That is the life itself recorded in stone and plaster and to trace down who did what exactly is difficult and actually not that necessary I would say.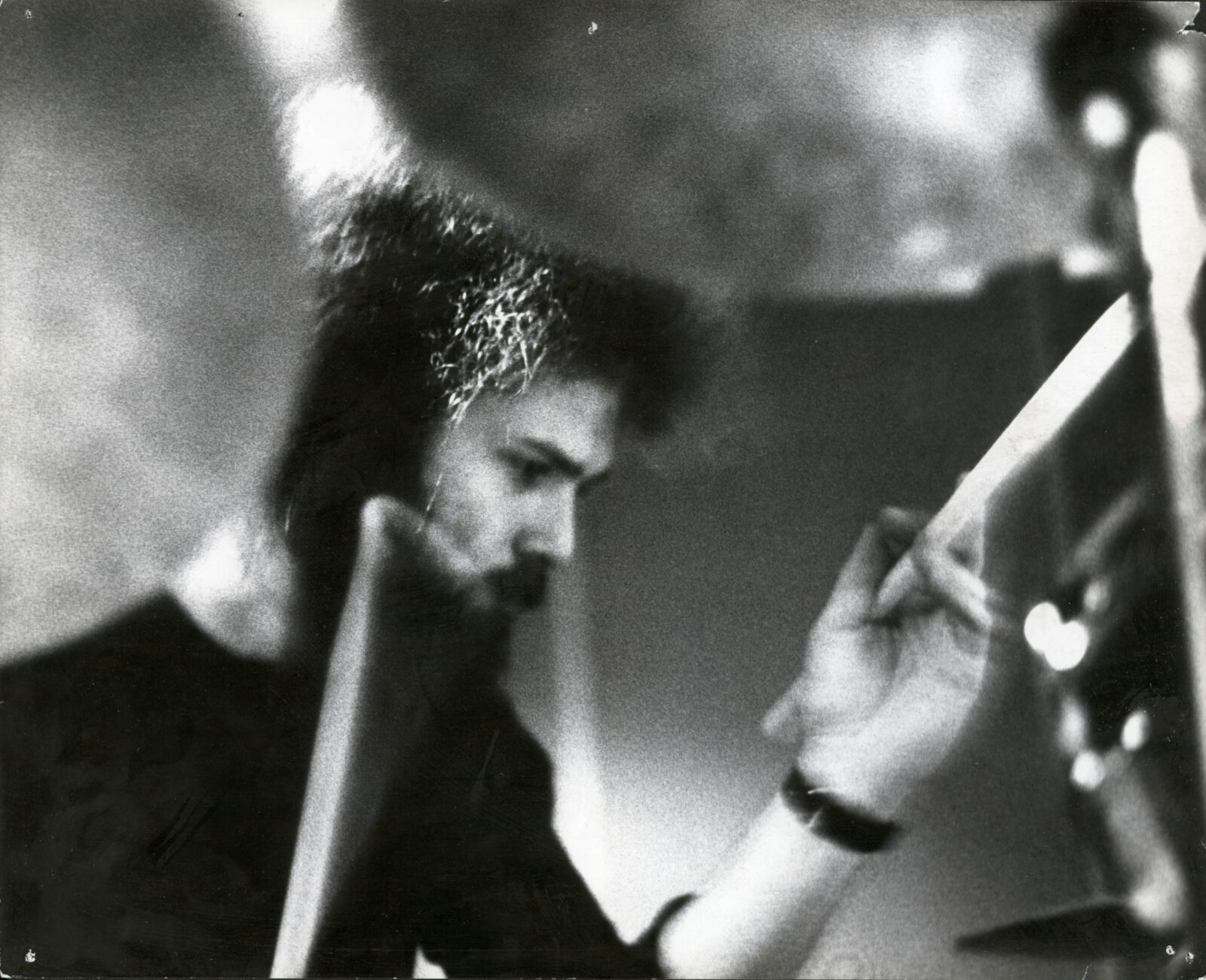 On the day when we had finished "Television Program", Hans Endrulat, our older and experienced engineer, was pretty high on alcohol – suspecting that he most likely had a drinking problem. But anyway, when we listened to the final mix, he really liked the track and expressed his respect for the lyrics.
Would you share your insight on the albums' tracks?
Well, 'What Can A Poor Boy Do (But To Be A Street Fighting Man)', the music by me and Moran in his lyrics related to the Stones song 'Street Fighting Man'. For the instrumental dialogues in the second part of the piece, I, or we, really had to push Stefan to do those little bass solos, but eventually he did it, as we can hear. I don't know why he was so reluctant, it was a bit strange for me. At the end of my solo guitar part, against my ideals, I had used some octave licks that I had heard from Mike Abrahams (Jethro Tull, then Blodwyn Pig).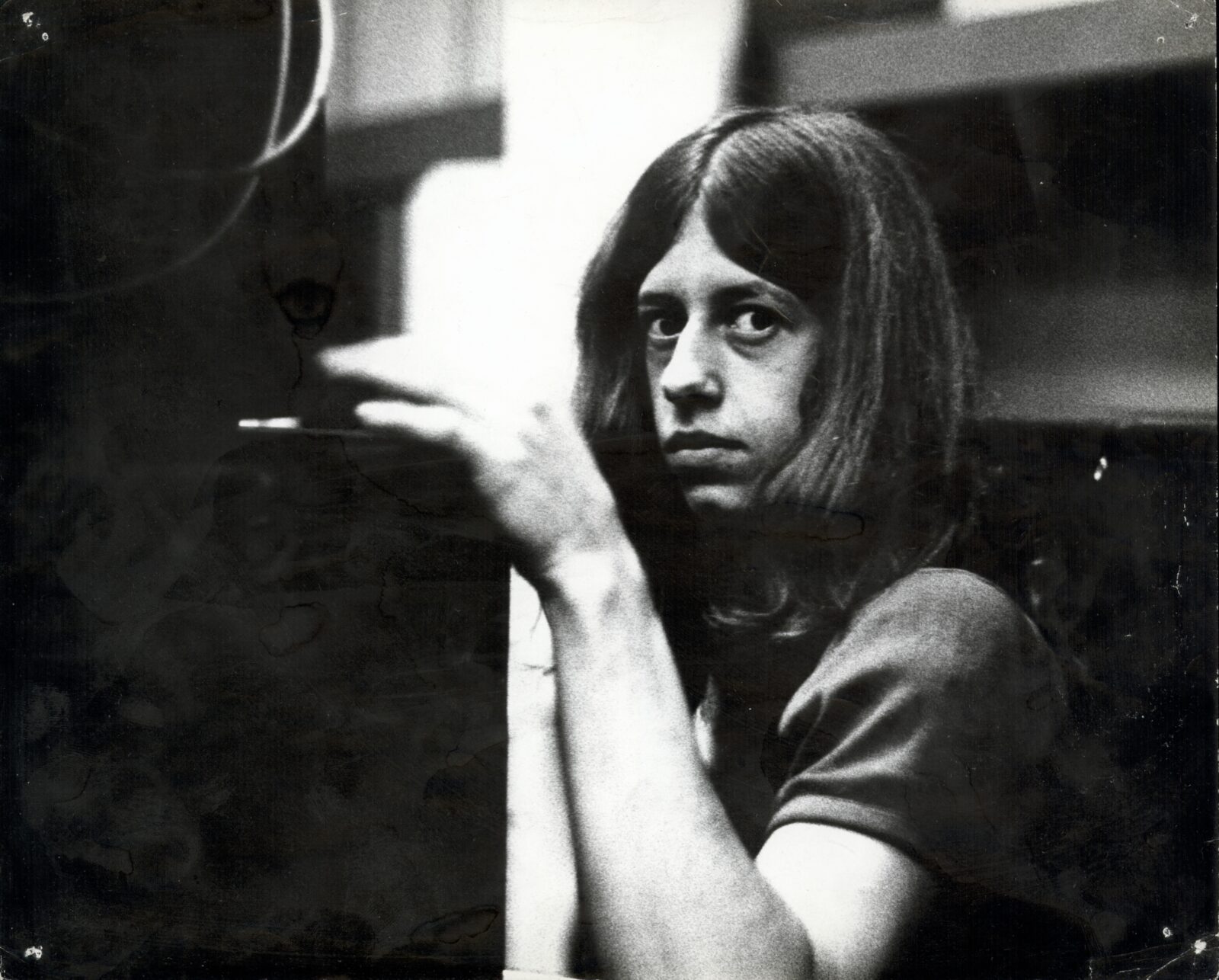 I just thought that's the best thing to do there, but I did it from memory without looking up exactly what he did, and a lot of guitarists actually have that in their repertoire. Moran somehow got an old Selmer tenor saxophone and his progress in a relatively short time was quite astonishing. It's Your Life and Whispering was by Moran, and Fly Bird Fly also and then TV Program by me again. Just got that the photos on the back of the cover were taken when we played at something like a former theatre or big movie cinema on Kurfürstendamm when we were in Berlin for the first time.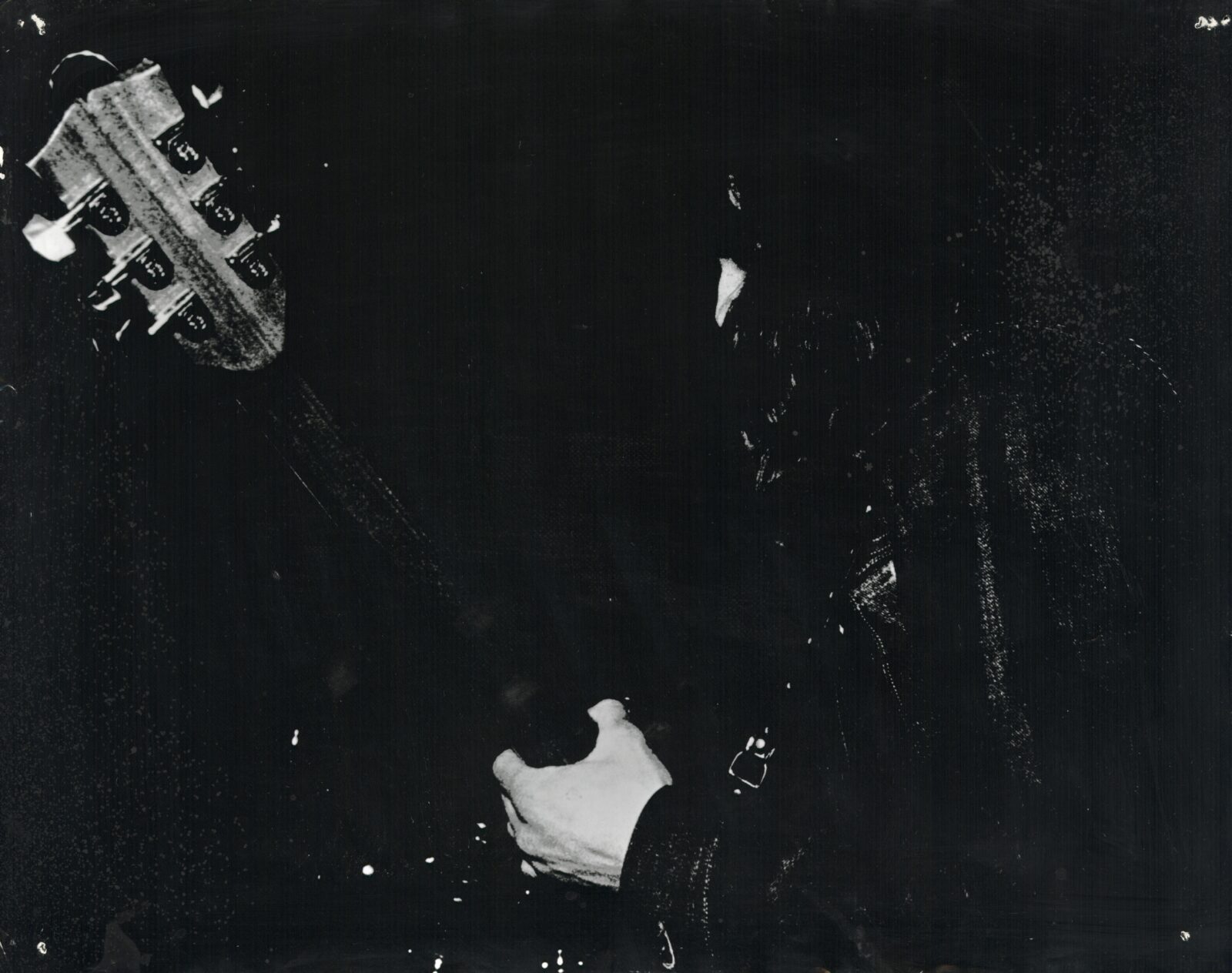 How did you usually approach music making?
It's a good thing to pass time, and to stop thinking too much about yourself, even helps to overcome suffering. Better for me than to go to church and pray. And you need to improve to not get bored. When the intuition comes you might repeat a Godly groove the whole night and then will find yourself in some tantric-like state. But that takes a while and can hardly be repeated the same way, it's always different. But intuition is what we are all longing for as it gives truthfulness and a clean feeling. You can not force it but you can prepare for it to come easier, in a few seconds or once a lifetime. Then you work on technical things and problems, theory, train your memory, perception and so on and after a while often useful things might come up you can play to others without feeling ashamed. You prepare yourself to stand a session or rehearsal with other musicians and always hope for the intuition to make it's entrance. Just saw a video yesterday of a piece performed by Cindy Lauper with band and it was a good piece and a very good band and they struggled like hell and she was even climbing up the grand piano and stretching up there but no intuition showed up, not a bit, so no real thing actually took place and stayed from that effort. Like as a music critic wrote the other day about some classical performances with famous stars, they all showed what they had learned and they were indeed exceptionally skilled but it was no art. You have to go through this problem time and again and I was challenging it whenever I could. Loved to jam at parties and always had an instrument with me, Moran as well. And what's the best thing to do when you are stoned? To make music or to fuck and after make music anyway. Perhaps a bit idealizing, as not every day is the same. But also Frank Zappa said once, music is the best! To keep the performances fresh is a big problem. To go on stage and play a concert you know in and out exactly the same way every day will get boring pretty soon. But to go on stage and just wait for what is coming up like when you jam also would not lead to full satisfaction, often rather the opposite. Especially when you play every day often your creativity will go down to zero, and just in the moment when you are supposed to be creative. So I tried to have tight arrangements but also to open them up for unexpected things to happen. This contradiction also created conflicts in the band and was the main reason for our last split.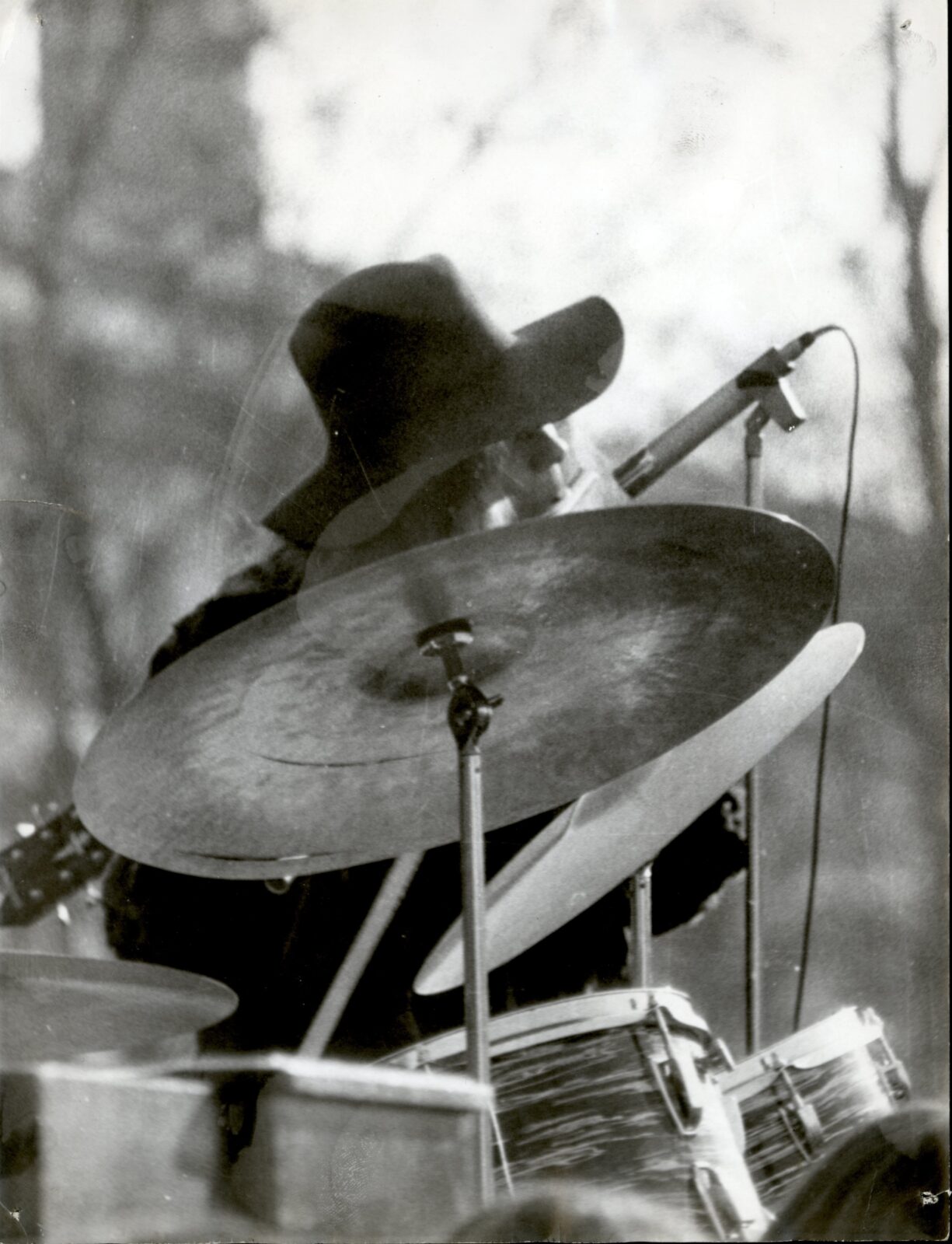 About our work in the rehearsal room I have already said this and that. When rehearsing we mainly would work through our repertoire, focusing on weak parts, and trying to improve them. Often we jammed a bit to warm up in the beginning what occasionally also brought up new ideas, although quite volatile. Trying to repeat hot parts of a session often leads to variations being not as good as before. Needed everybody to be always aware of what he is doing, what is a bit contradictory especially in intuitive moments and when you are high. To record everything helps but then it needs time to work through after, and tapes would pile up pretty fast. I also thought that the band was a bit reluctant to experiment. They even called me dictator a few times. I took that to my heart one time and stopped pushing things forward and then not much was happening anymore for some time. Then I said to myself, accept it the way it is or leave it, and started pushing again, but it was not exactly what I wanted. That was in Trudering around our second album and was a bit of a drawback for me. Moran was definitely also a motivator in a way and I've learned a lot from him but once he had enough dope we would sit all day in his room, getting high and being lazy. And drinking too much was also a problem with Moran, Klaus and Ingo. I have certainly learned to drink with them although I'm not the drinking type and later in Herrsching I had to stop that as already said.
'Four Letter Monday Afternoon' was based more on free-form creativity.
Half, because disc one, like our two albums before, is simply a collection of new pieces we had composed. Only disc two features parts of the free sessions, linked by X-fades with progressing excerpts of Moran's flute canon as bridges. As for the free sessions, I've already said a few things about how the idea was born in me to do an "official" jam session. Ultimately, for me, it was about truthfulness and real music, forgetting that the tape is running and playing the note of the moment, which we accomplished time and again live, and which was also a strength of ours. Just not possible to nail it down as it is in the nature of intuition. And it was not so easy to realize that, because especially Hennes did not like it at all and the others were somewhere in between. So I didn't have the support of the band that I was looking for, and I needed a solution, not how to push it through, but how to get them to stand by it, because otherwise there wouldn't be any music that anyone wanted to hear, I was pretty sure. It's a matter of sovereignty to a certain extent to take part in something like this, you can lose or win and a band is a difficult entity, that is, if one feels bad, he can tear down the whole inspiration. In other words, it has to do with how much confidence you have in yourself, with all the consequences that entails.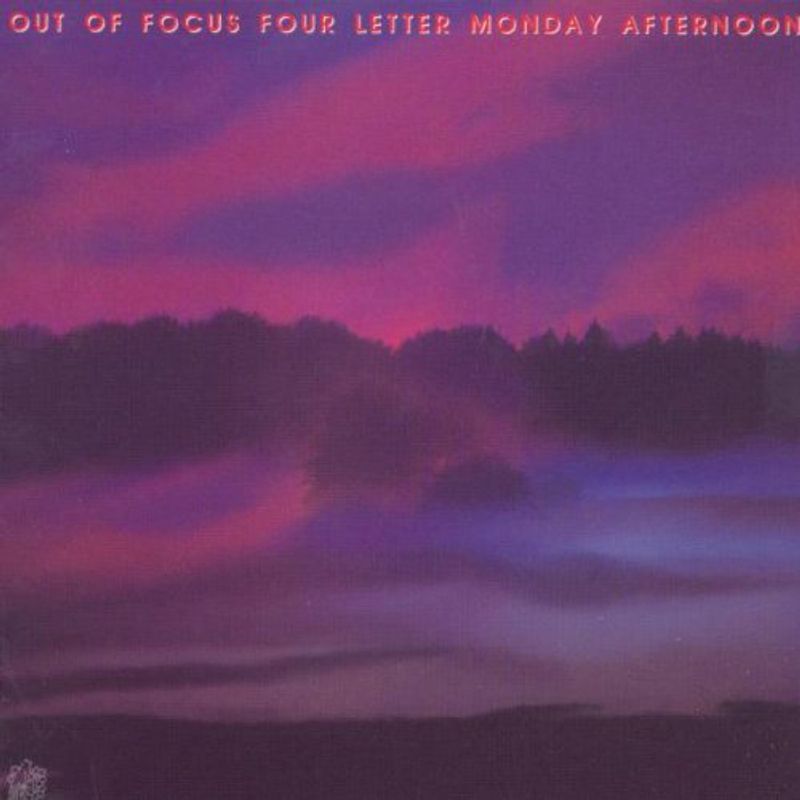 The solution came when Moran wanted a complete horn section for L.S.B. and we then had asked Ingo, who was part of the Munich jazz scene in a way, to invite a trumpeter and a trombonist. So I thought I'd ask them if they could come back and also bring another keyboard player to replace Hennes, and they even brought another drummer, just like that. This changed the situation completely, as there was now tension and competition. Klaus was glued to his drum kit and didn't move an inch because the other drummer had sat down next to him and would have been ready at any time. And of course the 'fresh section' wanted to show what they could do, and there was even another keyboard player, because trombonist Hermann Breuer was also quite fit at the keys, as it turned out when Michael had to leave because of another job. I mean, these were well-trained American – with the exception of Herman – musicians who didn't give a damn about what could go wrong. They just played like hell, as you can hear. Without them, we would never have had this energy. You can't do something like that thinking, uh, what should I do, I don't like this, what if it gets boring, and so on. This thing is something I've encountered time and again, with German but also other musicians. To put it a bit mean, it often seemed to me as if many musicians wanted to play the way their mother arranged all the souvenirs from all that all-inclusive vacations on top of the old TV with a crocheted white tablecloth underneath, lovingly admitted. Or to put it another way, they haven't gotten much further than the nursery rhymes they sang when they were little. Well, enough bashing of poor souls.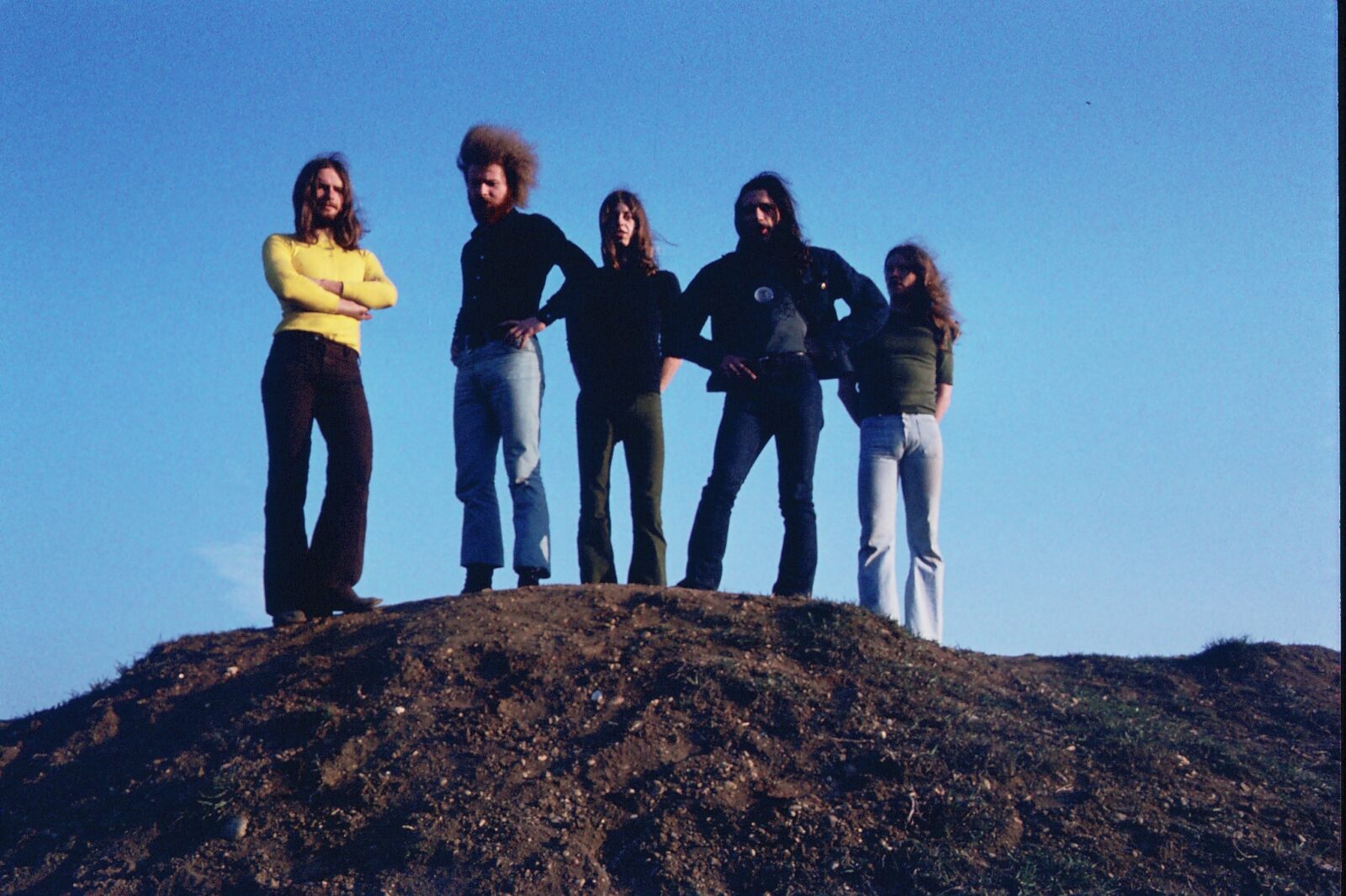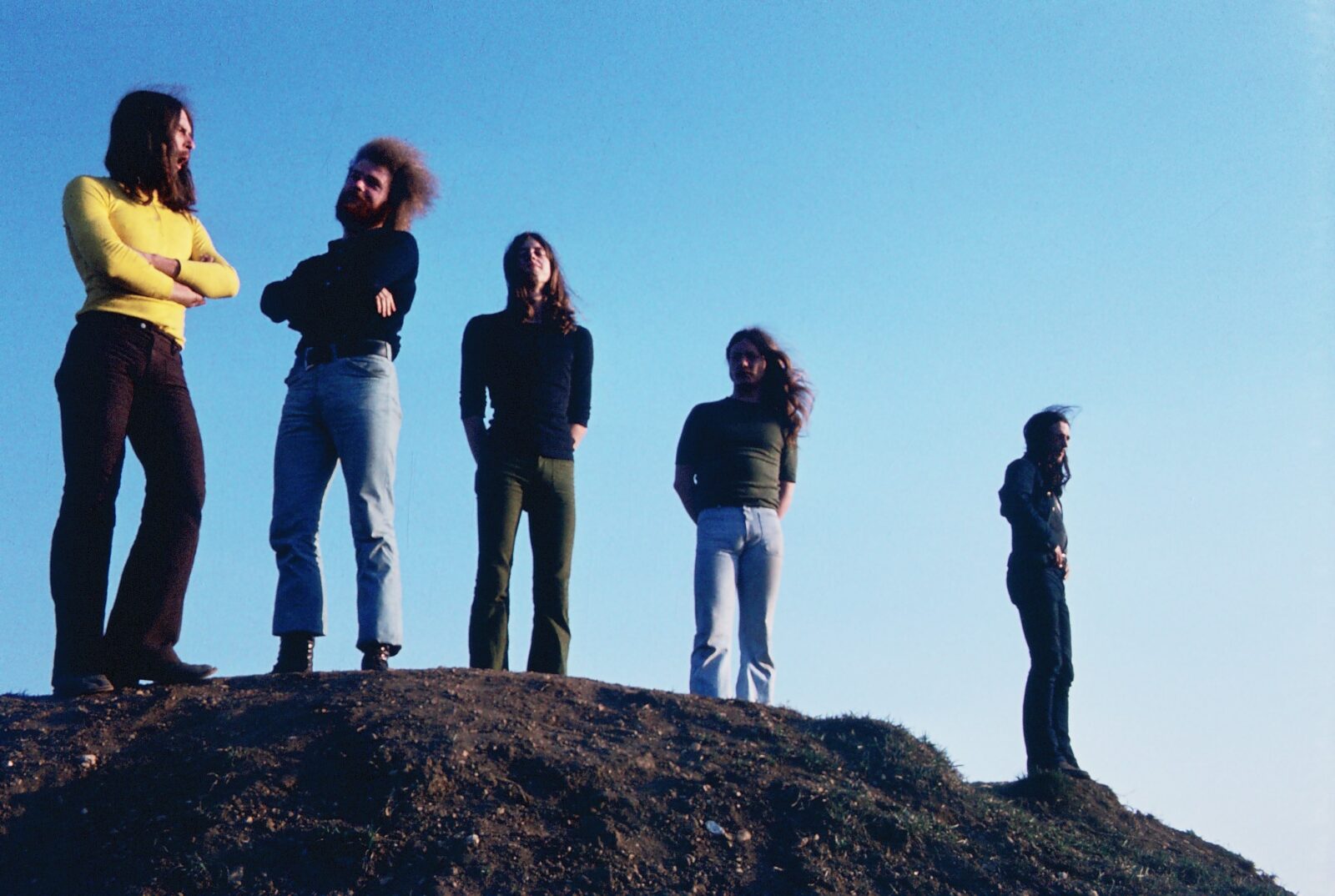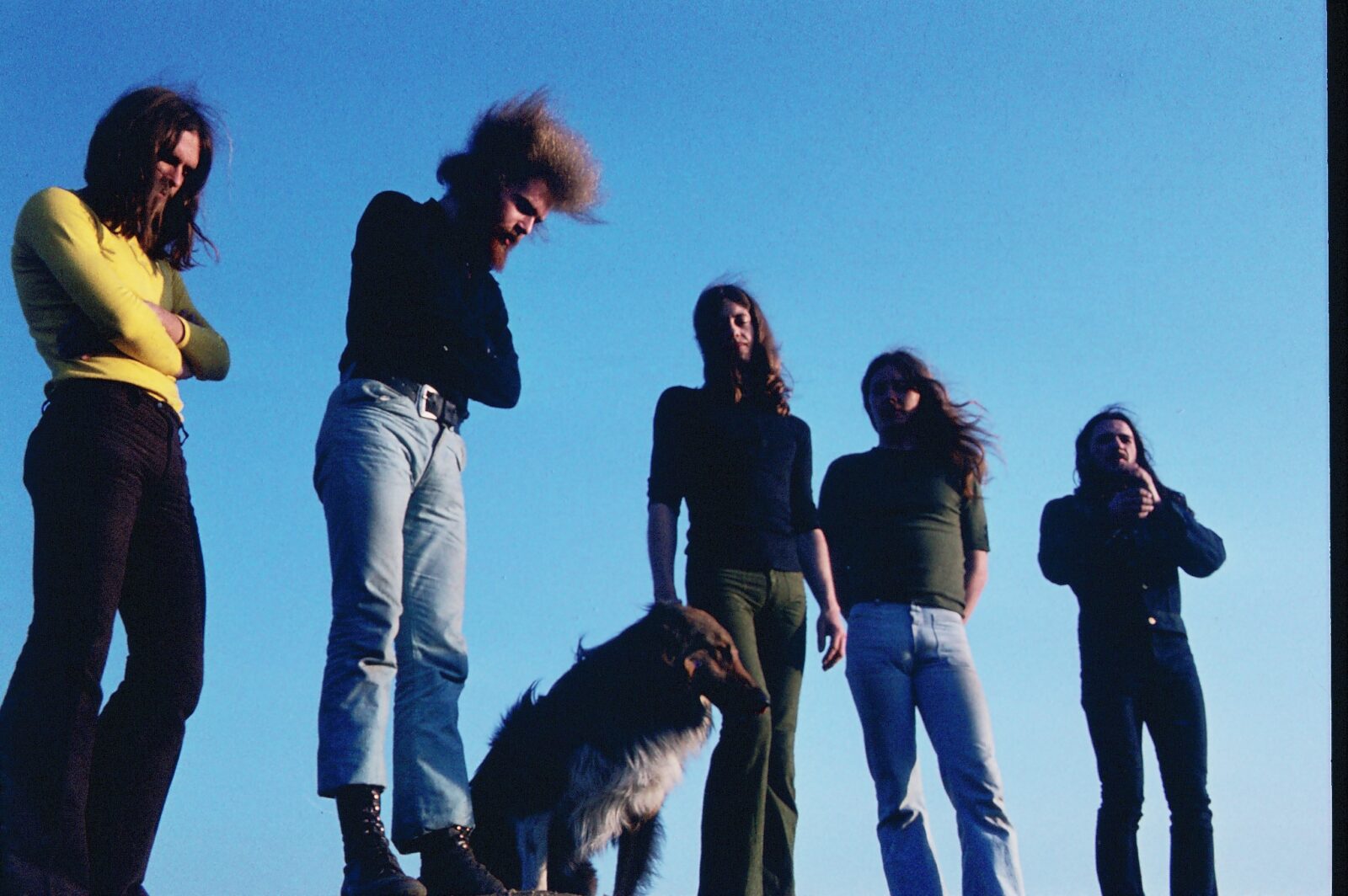 We had a good and intense Monday afternoon with these guys – hence the name of the album – and later I had also invited some of them – I remember Polivka and Thatcher – to performances as well. A few words about Peter Dechant, a classical guitarist, and also an elementary school classmate of mine, who was also joining us for these sessions. He had a custom made instrument, with a wide fretboard like that of a nylon guitar, but body and strings from a western guitar with a magnetic pick-up, and he added a few nice things here and there. On the other hand, our way of playing was still new for him and he also had feedback problems because he sat a bit too close to his amplifier – you can hear that in some moments.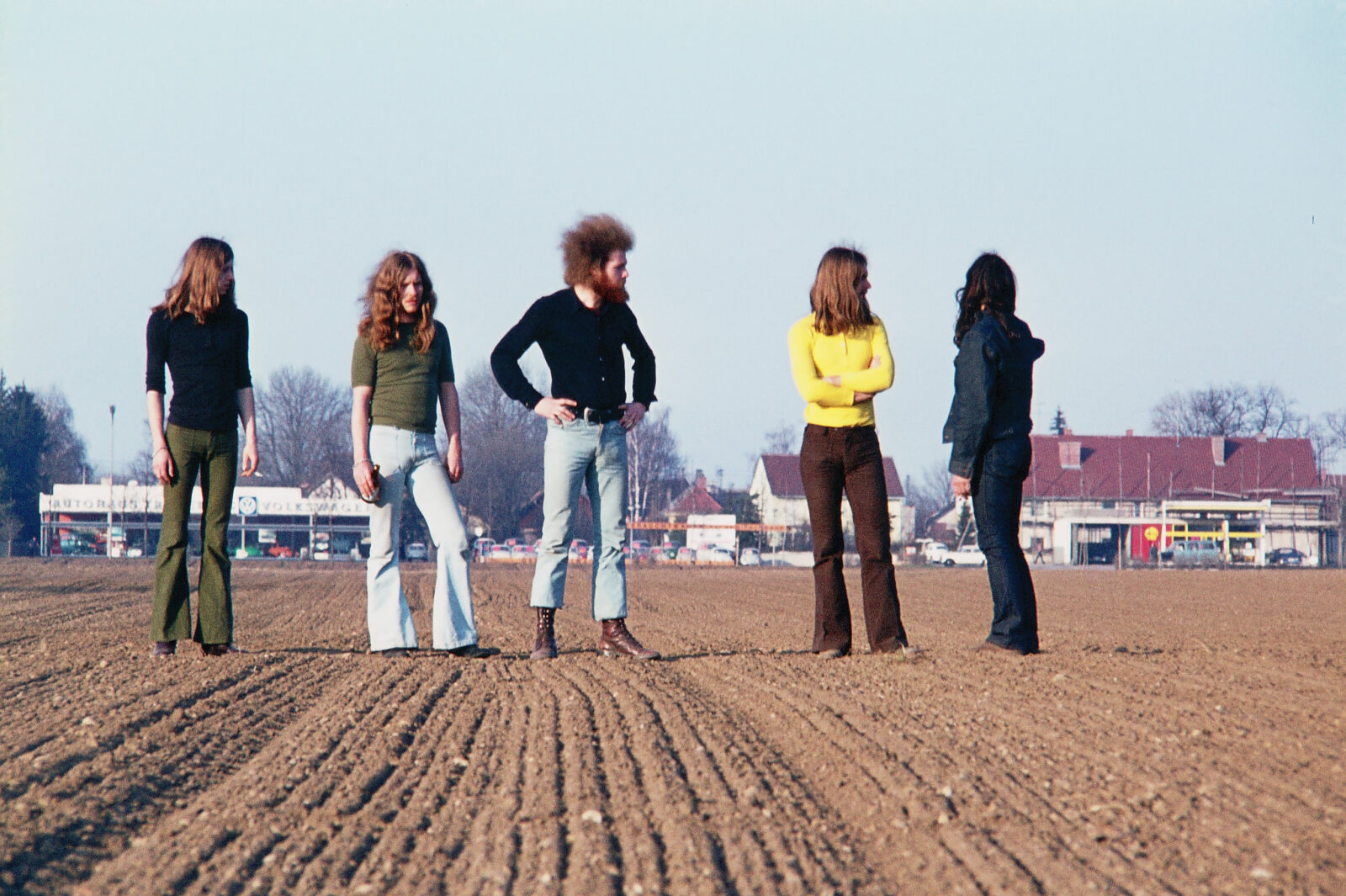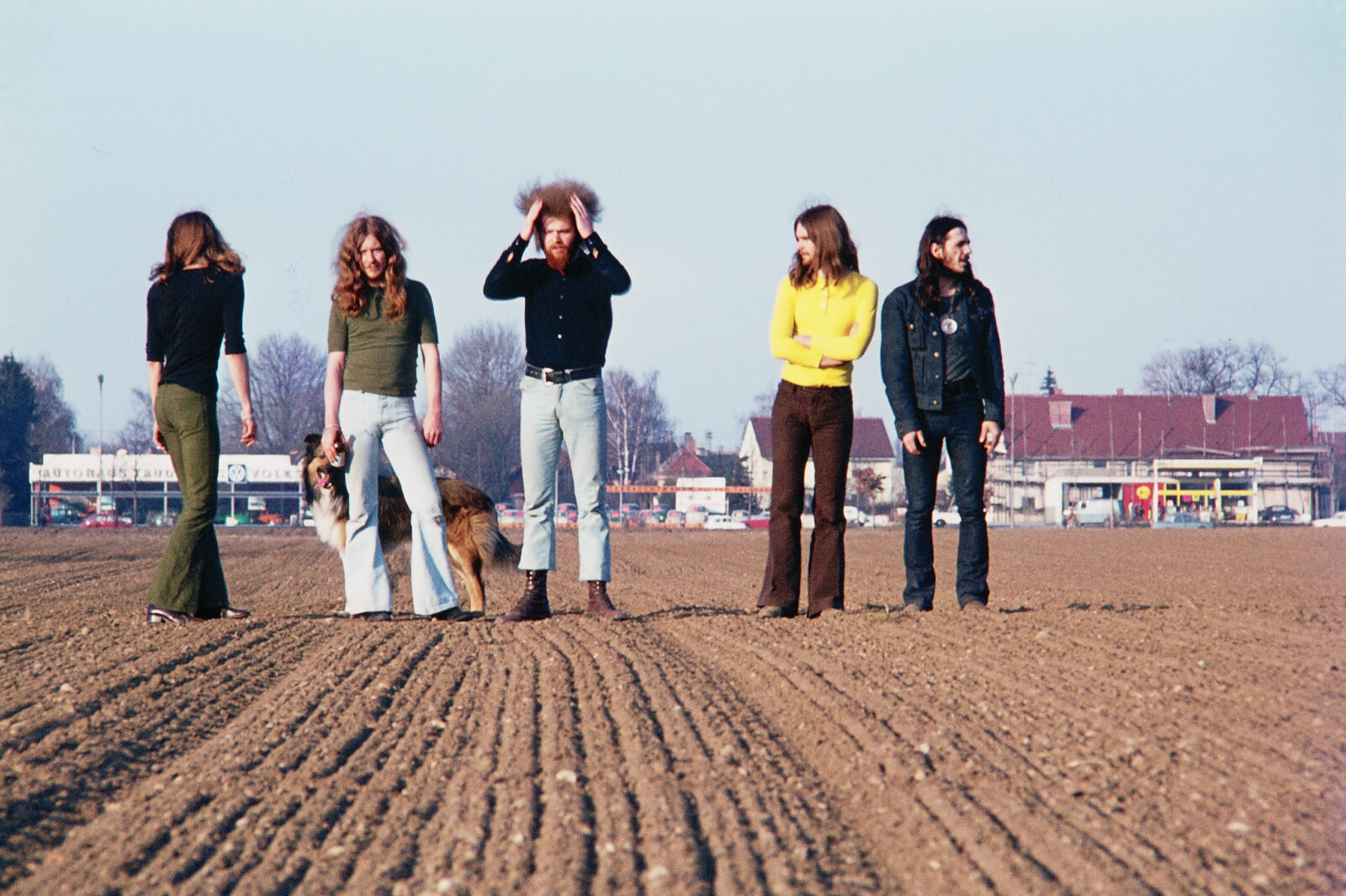 Jimmy Polivka on trumpet was a great player as were the others. A small and thin man, but with the air of a hovercraft. I saw him again years later when he had just come back from a tour with a jazz orchestra in Scandinavia, and he had really put on some weight, and we had a nice conversation. Keyboardist Michael Thatcher settled here and later played everything possible, an endless list opens on Discogs if you google him, and I met him again after years when I played the Darbouka with a Jordanian guitarist and singer in an Arab restaurant here. He did jazz piano in the bar upstairs and unfortunately passed away not long after, and Peter Dechant also made his exit years ago is sad to mention as with Friedel. Hermann Breuer even made it into the Gil Evans Orchestra for a European tour – after Evans had to live on welfare in the States for a while because he couldn't make a living from his extraordinary work anymore.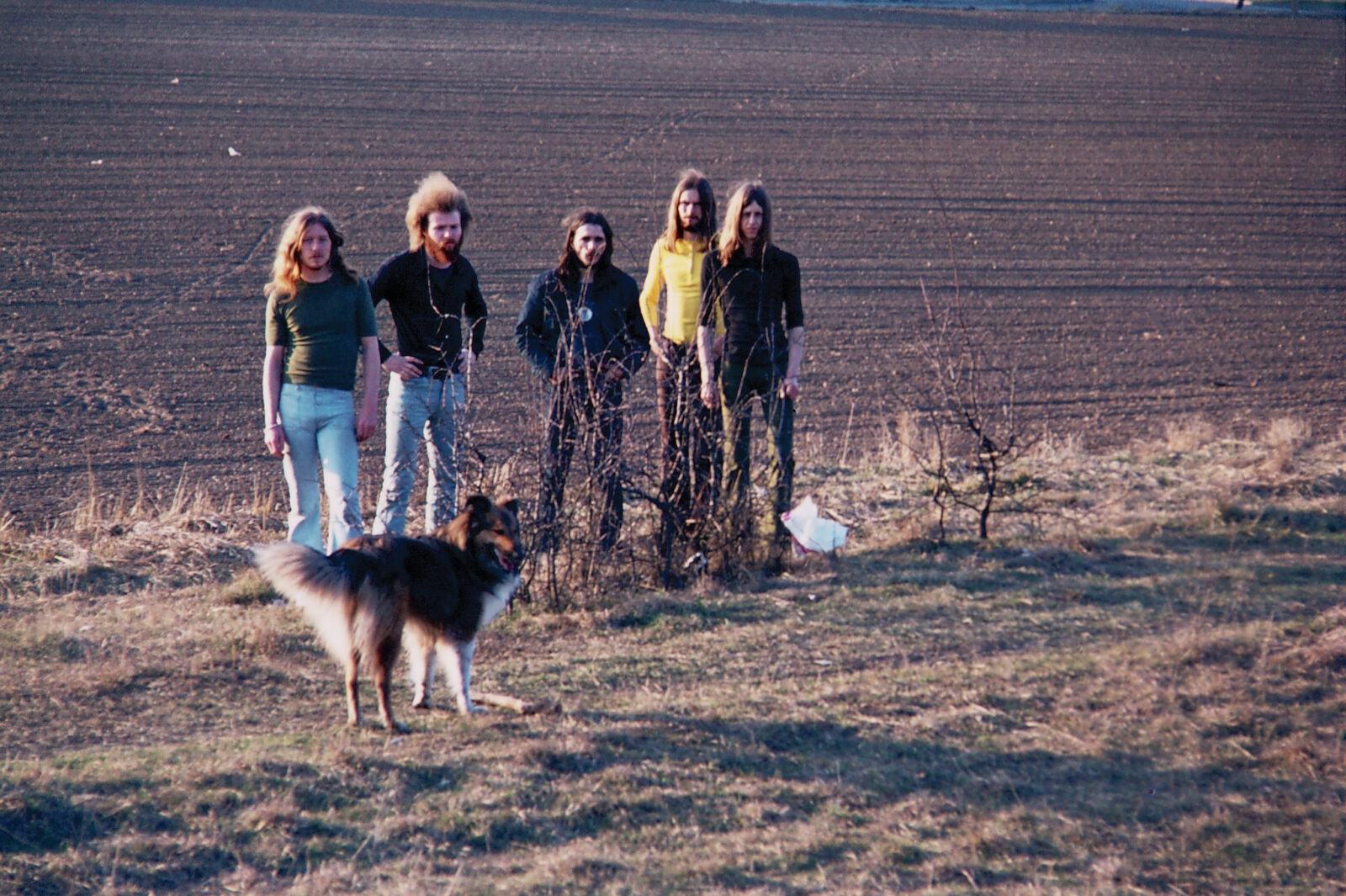 Well, and by the way, at the time we were recording FLMA, Amon Düül II, I don't know for which album, was downstairs in the big studio of Bavaria, where we had recorded our second LP and first demo. We had opted for the smaller and newly built studio on the second floor above, which was more intimate and just right for bands, and also priced a little less, I guess. The large studio was more like a hall built for full orchestra sessions, and even large enough to hold shows with audience participation. We met occasionally in the cafeteria and visited each other briefly, but since studio work means high concentration with the money meter running, there is nothing else to report. Was just an intense working time for both of us.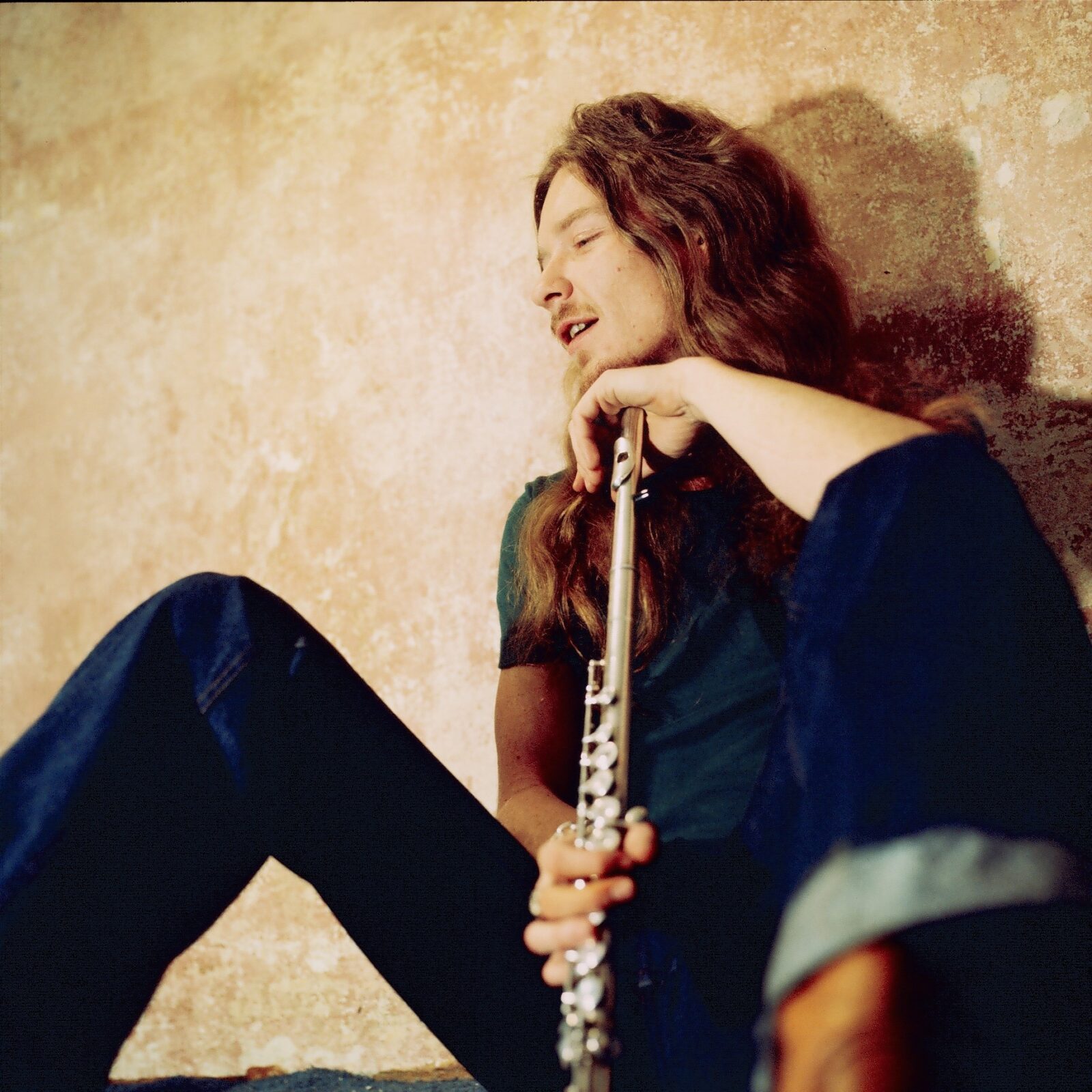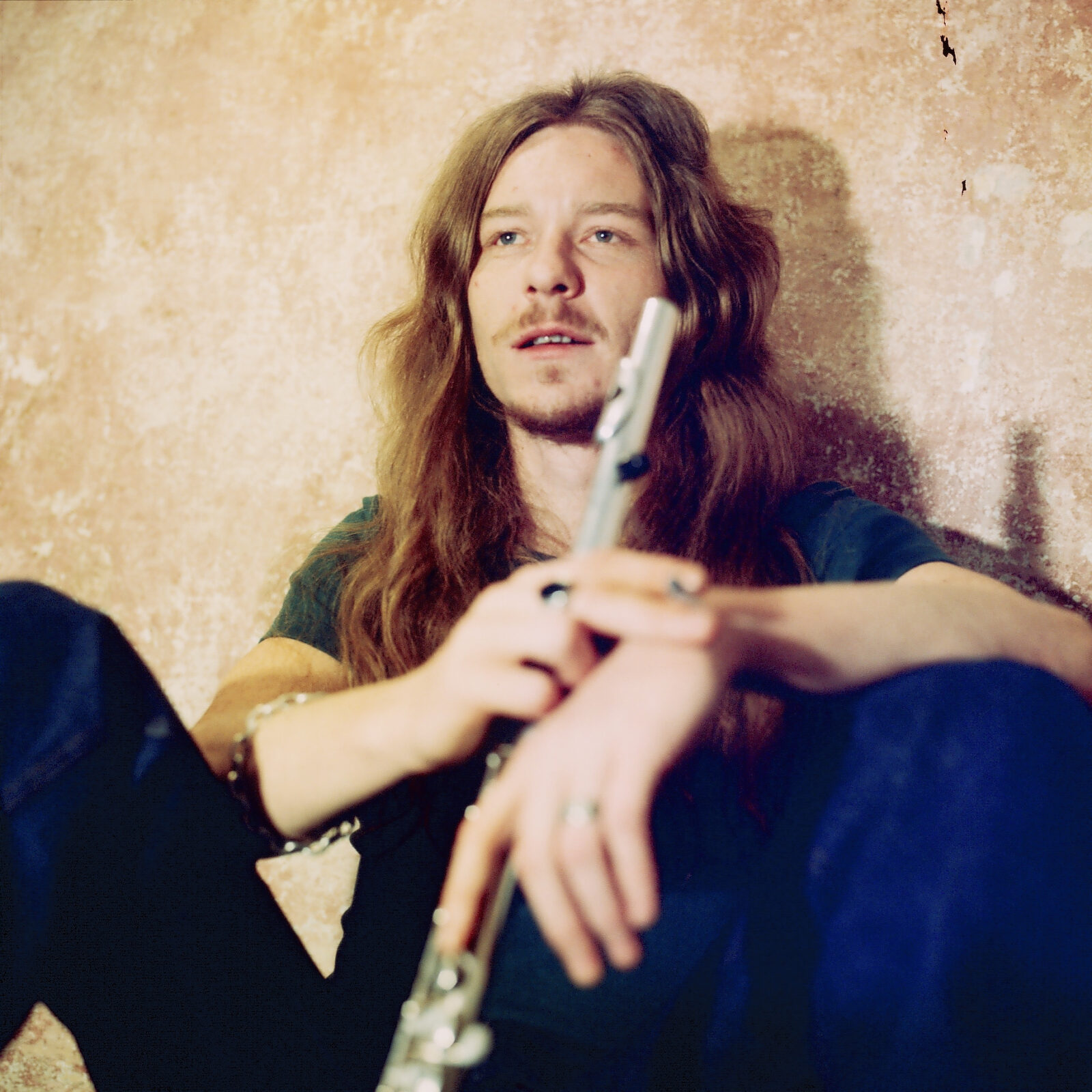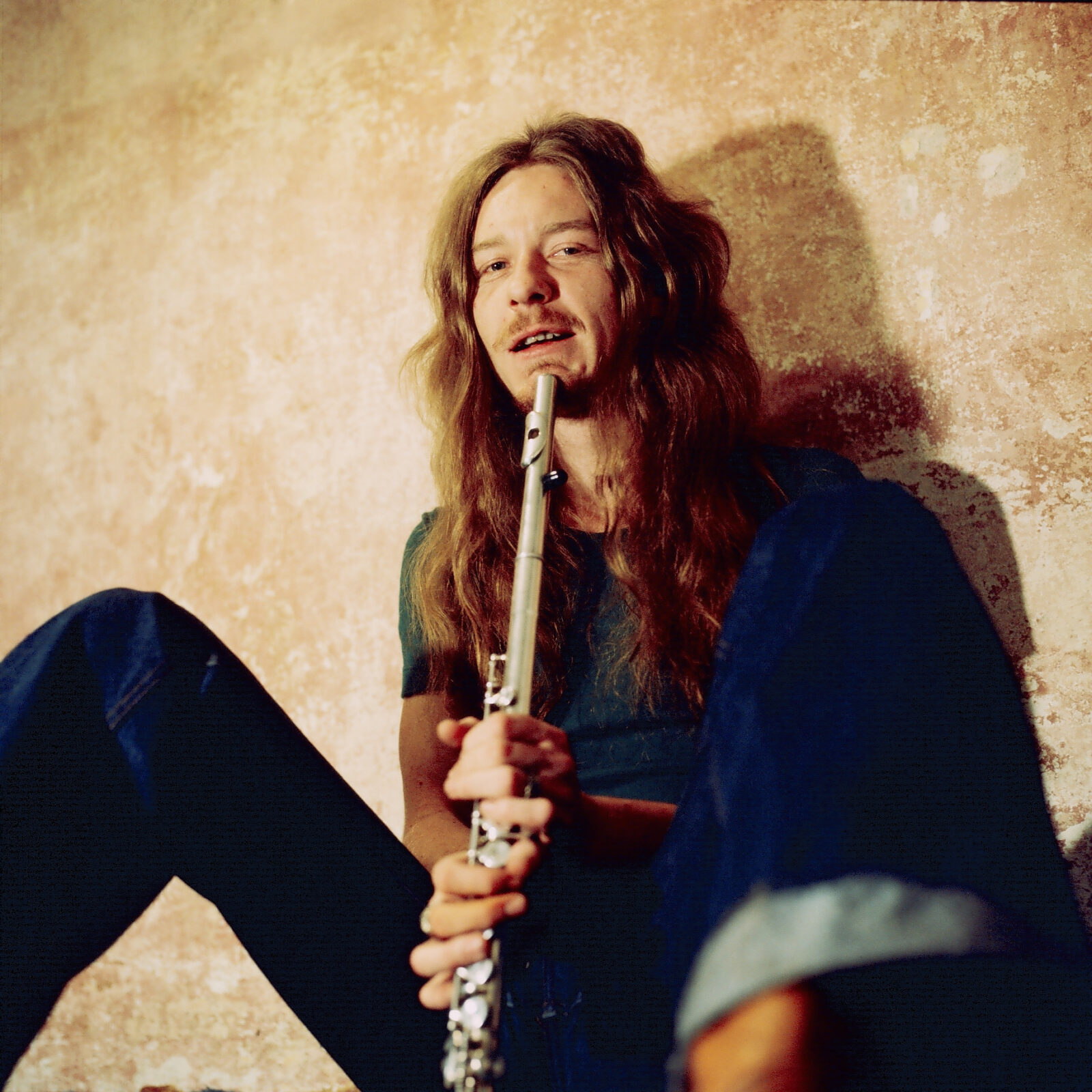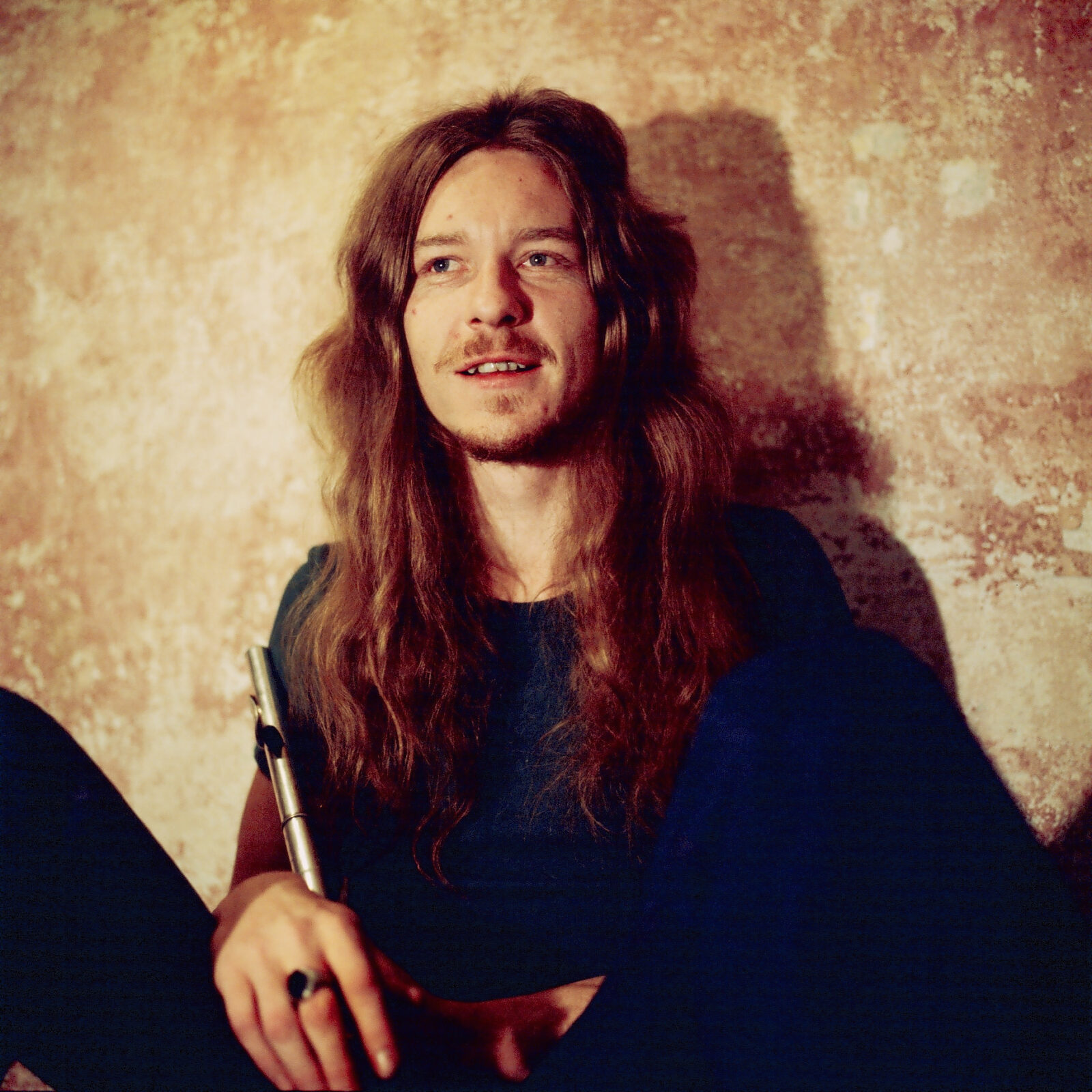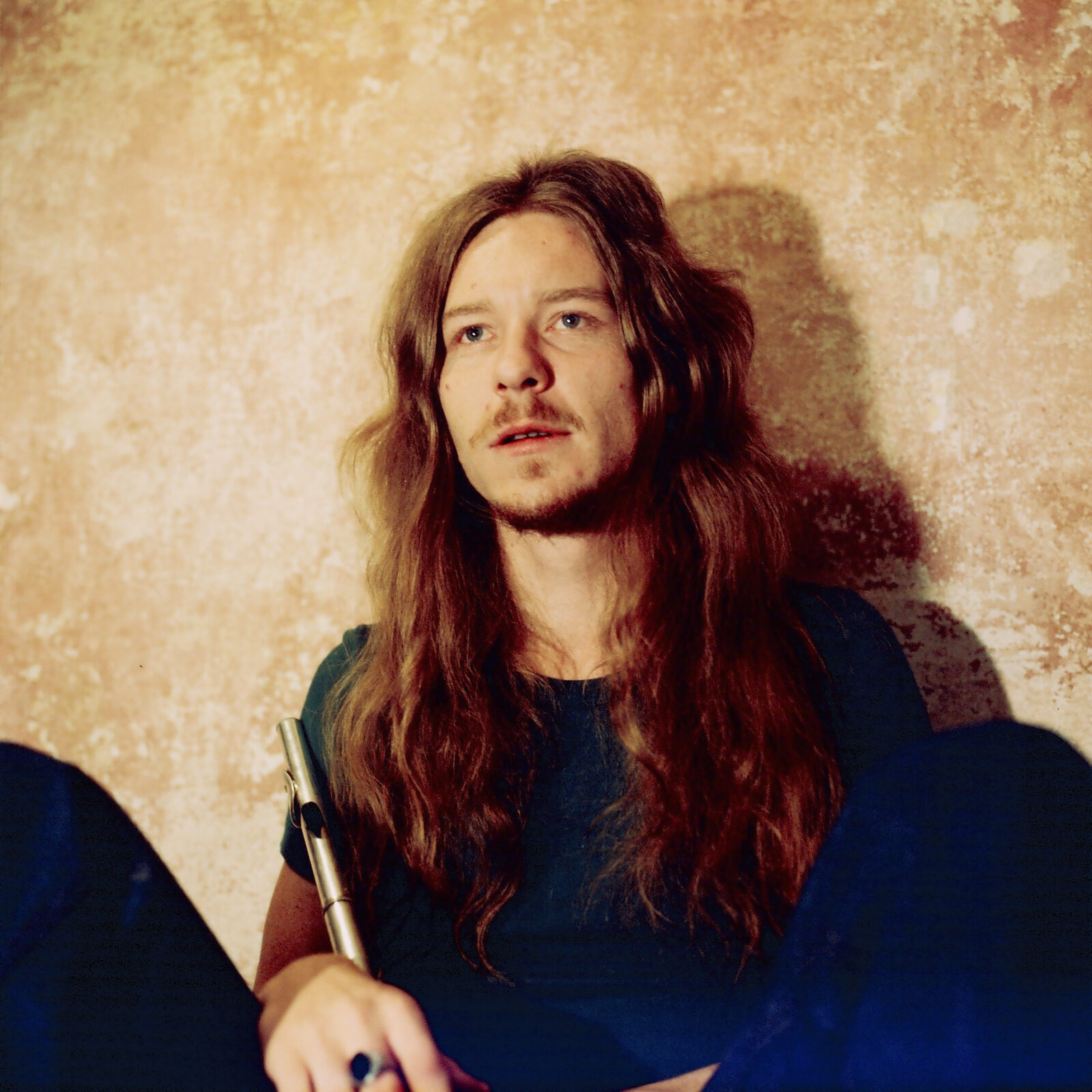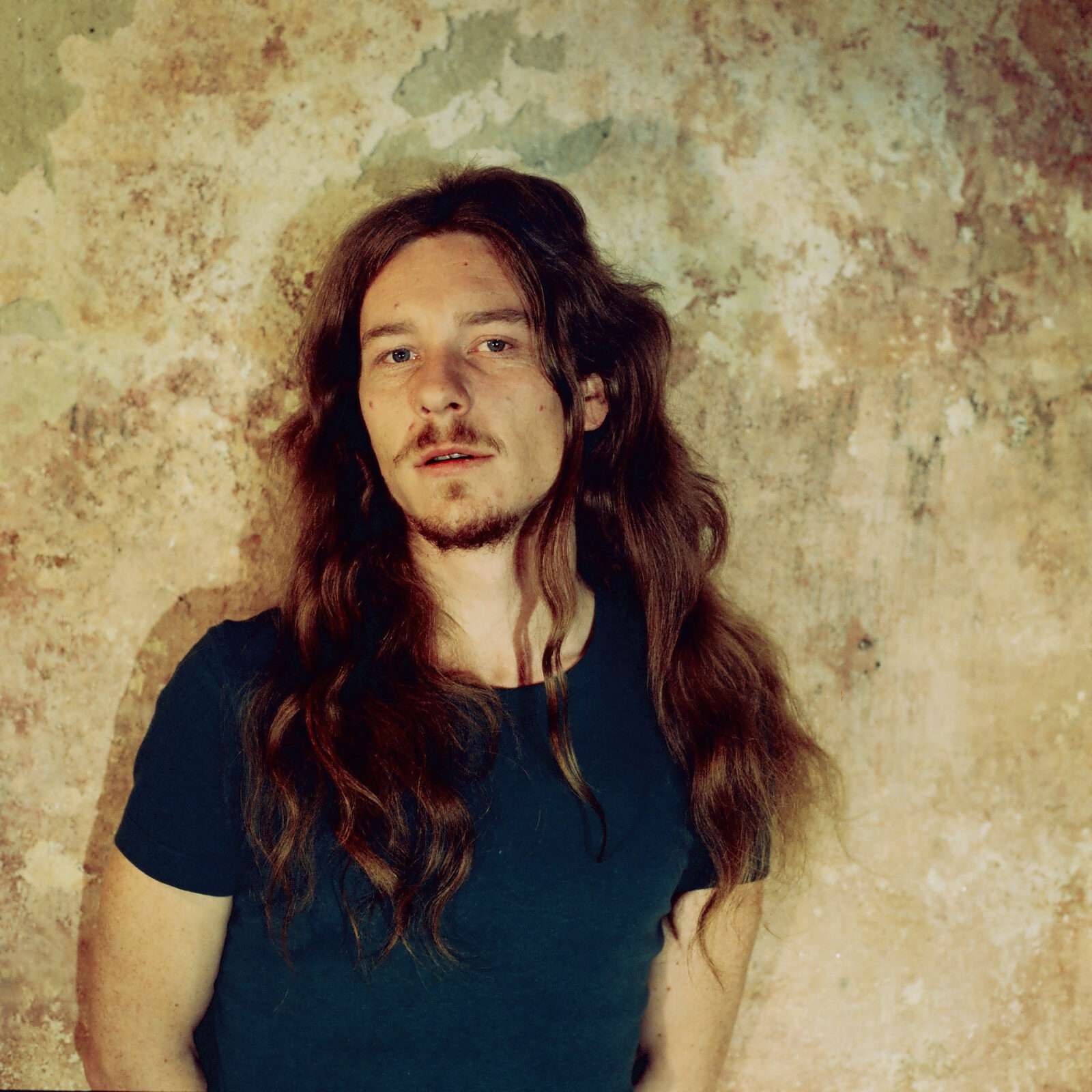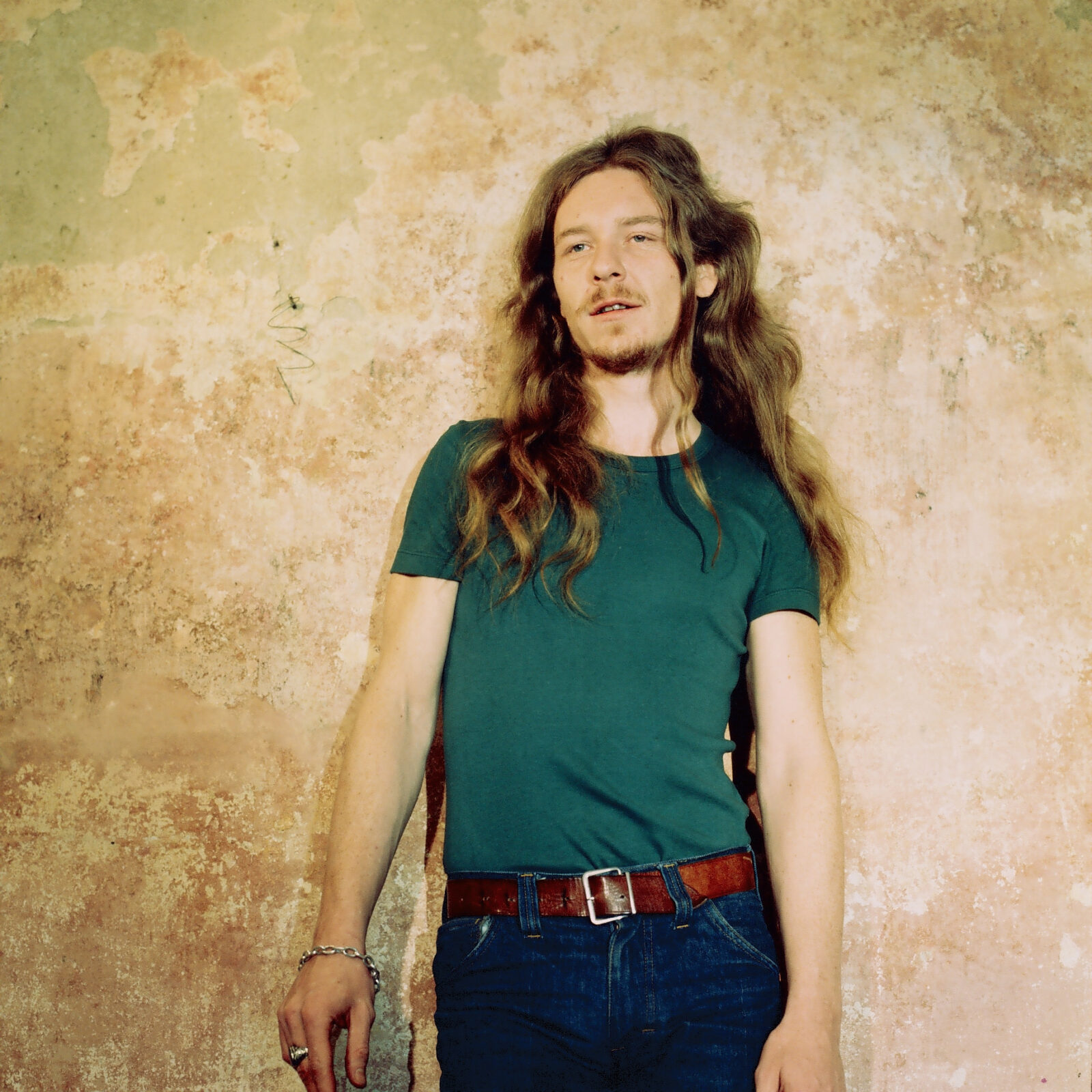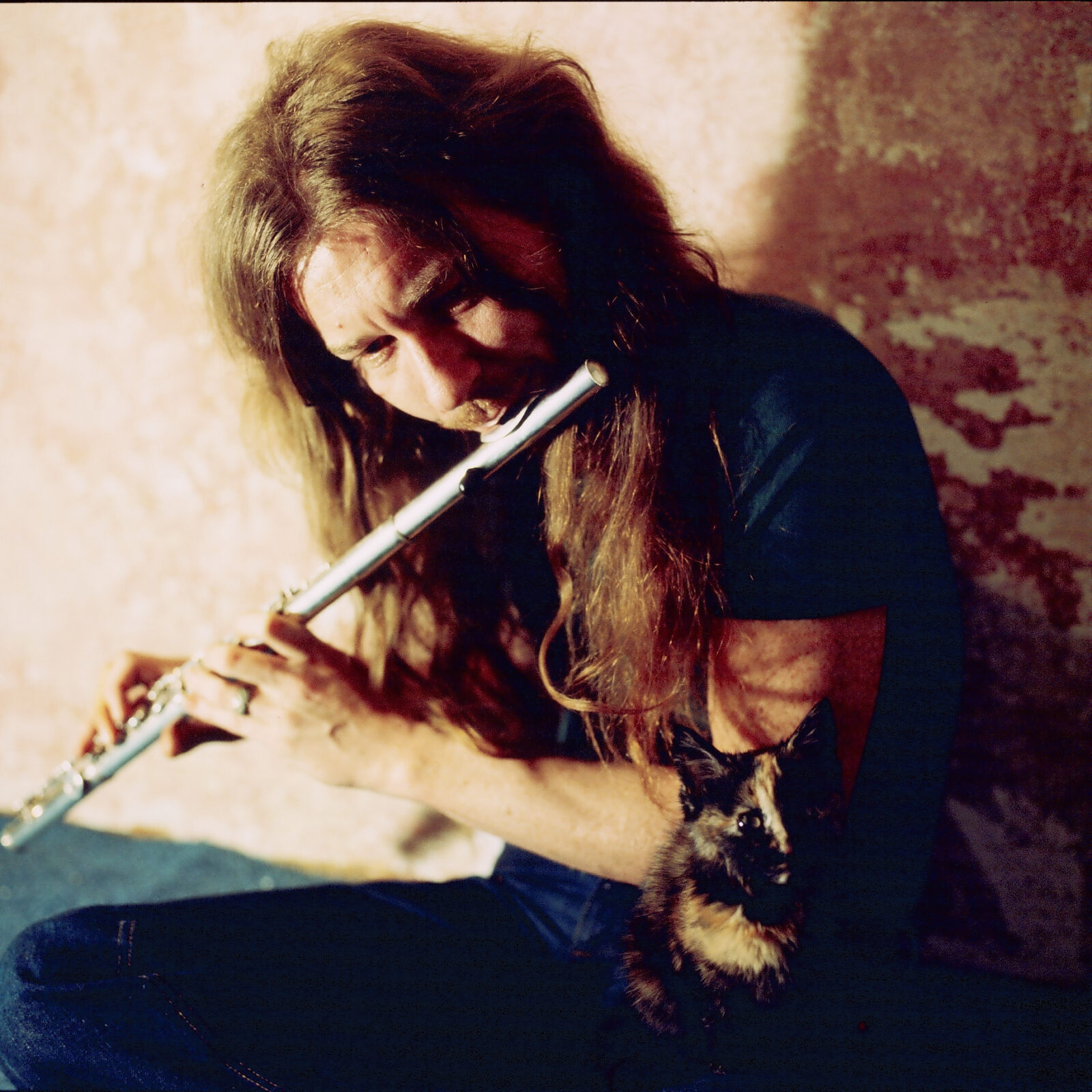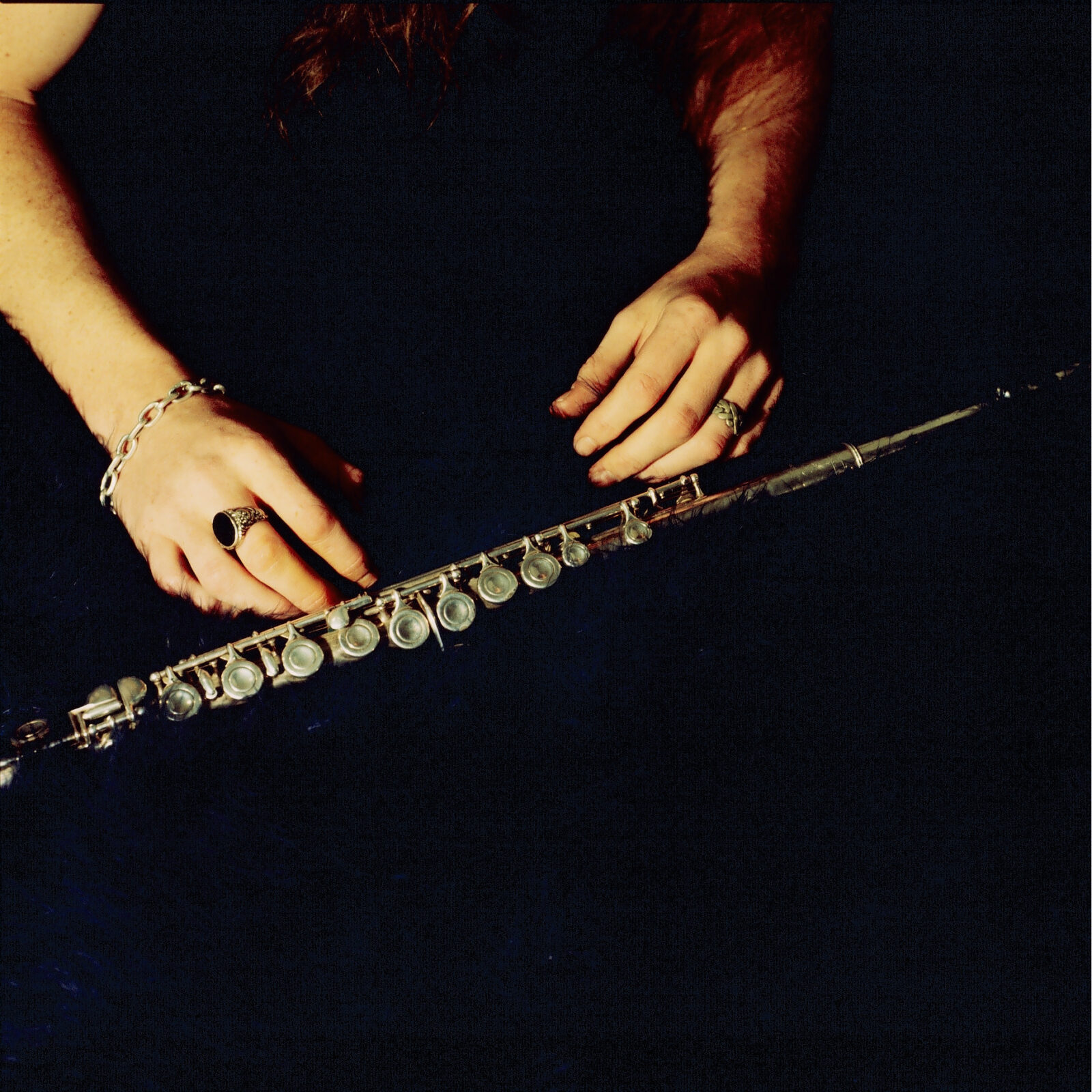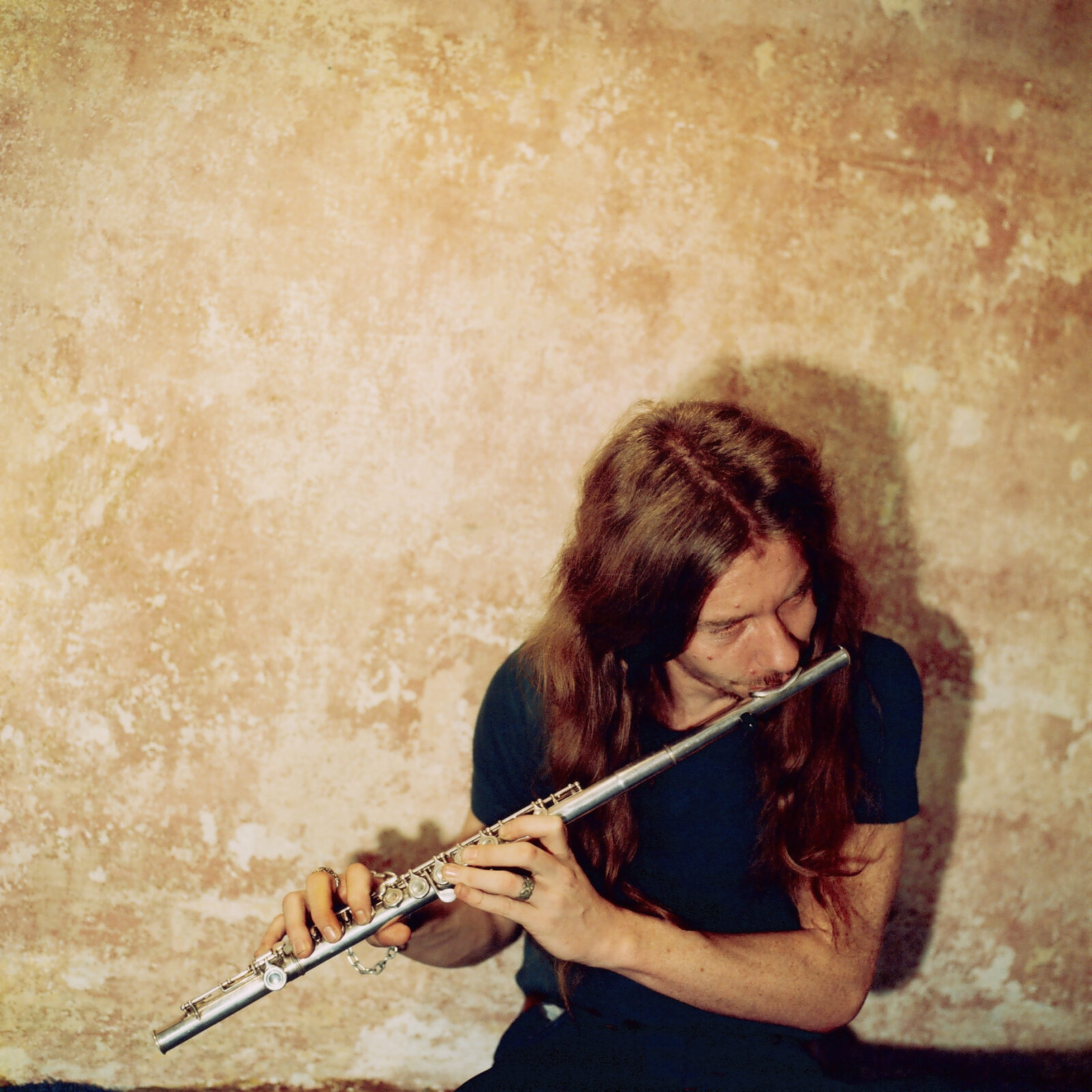 Eckart had no idea what we were doing, and when he then listened to the finished album, he wasn't very happy. His first problem, as I recall, was Stephan's new bass sound. He himself tried it once as a bass player and his double bass was still standing in his office and he probably had a completely different idea of how the bass should sound like. Stephan was just not completely satisfied with his sound and had asked me to first change the EQ in his amp from my design to the Marshall type bass EQ and then to build a combination of compressor and soft overdrive effect for him. And he had switched to a Rickenbacker bass after torturing his Fender Jazz Bass for quite a while – new neck, sanding, new finish, whatever – with results that didn't really make him happy. He wanted more sustain and also a rougher sound and I think the measures taken finally brought him a step closer to his ideal. I remember that the first time I was also a bit skeptical, but then and from today's perspective, although not quite perfect, I think that it was good to try new ways. I just listened to L.S.B. because of the bass sound, and then heard my stylophone solo right after the trumpet solo. Wasn't happy with it at first and did several takes, without much success, and then the solution was to take two of my attempts at the same time, pan them left and right, and that was it, with that incalculable factor of what-is-that, and still being musical. The chromatic steps then, however, I should have done better, but was then just not fit enough with the scales on a keyboard lay-out. Was certainly another thing for Eckart to digest and then the authentic atmospheres from World War II… And not to mention the session disc. After some time, I don't know, a year or two, when the first edition was still not sold out and we were gone from Kuckuck, he had the rest melted down, about 2000 copies I think.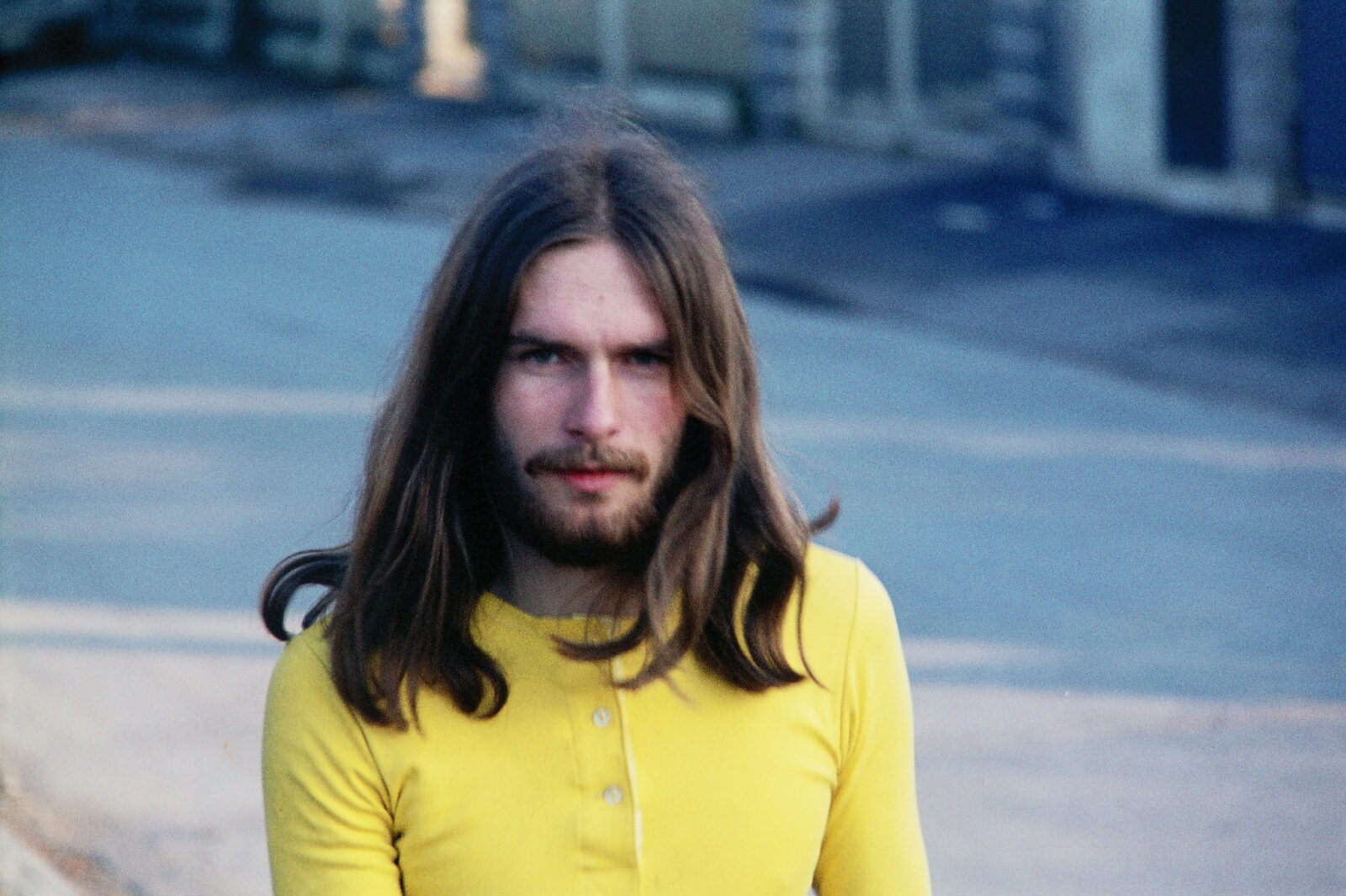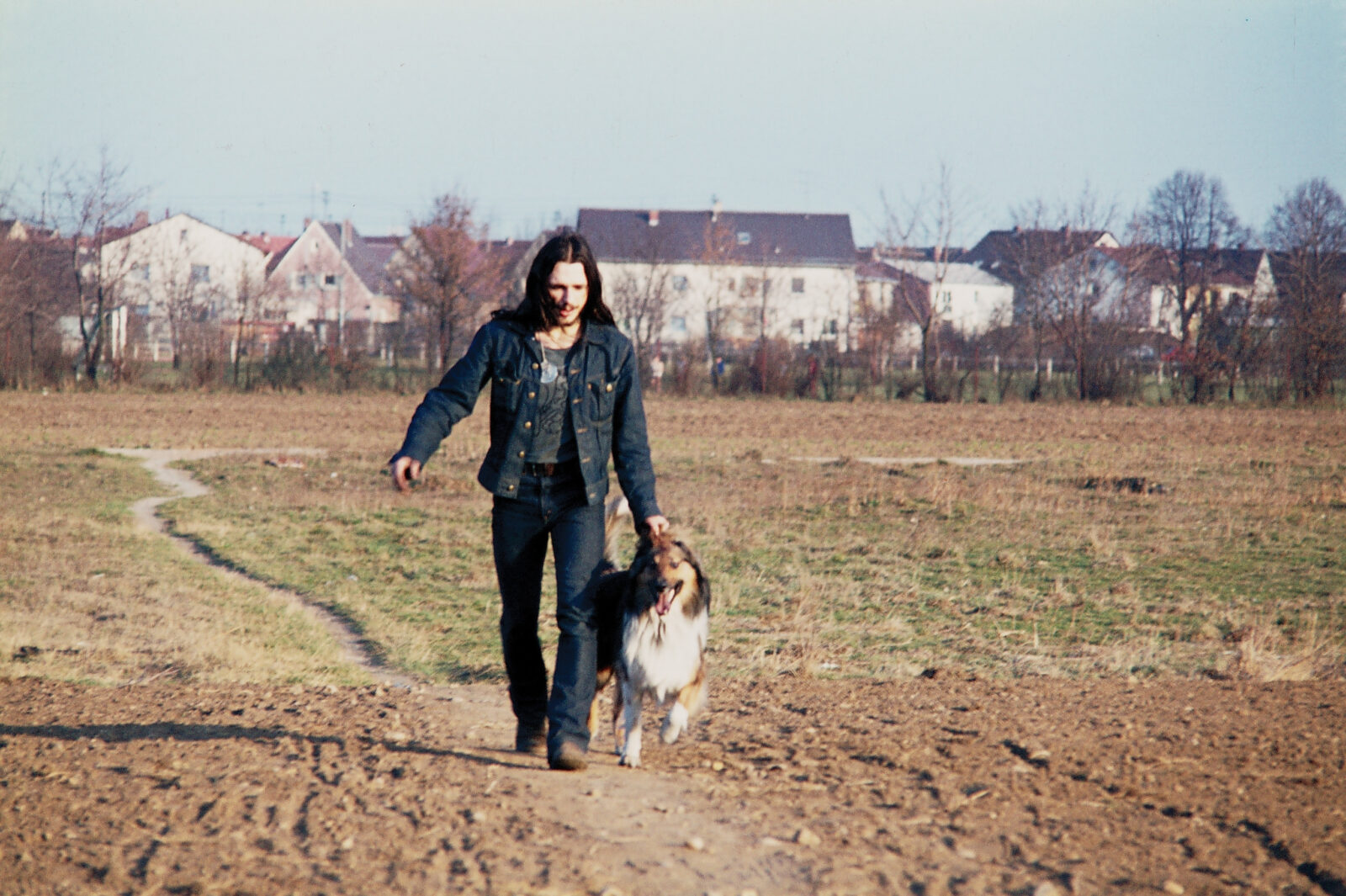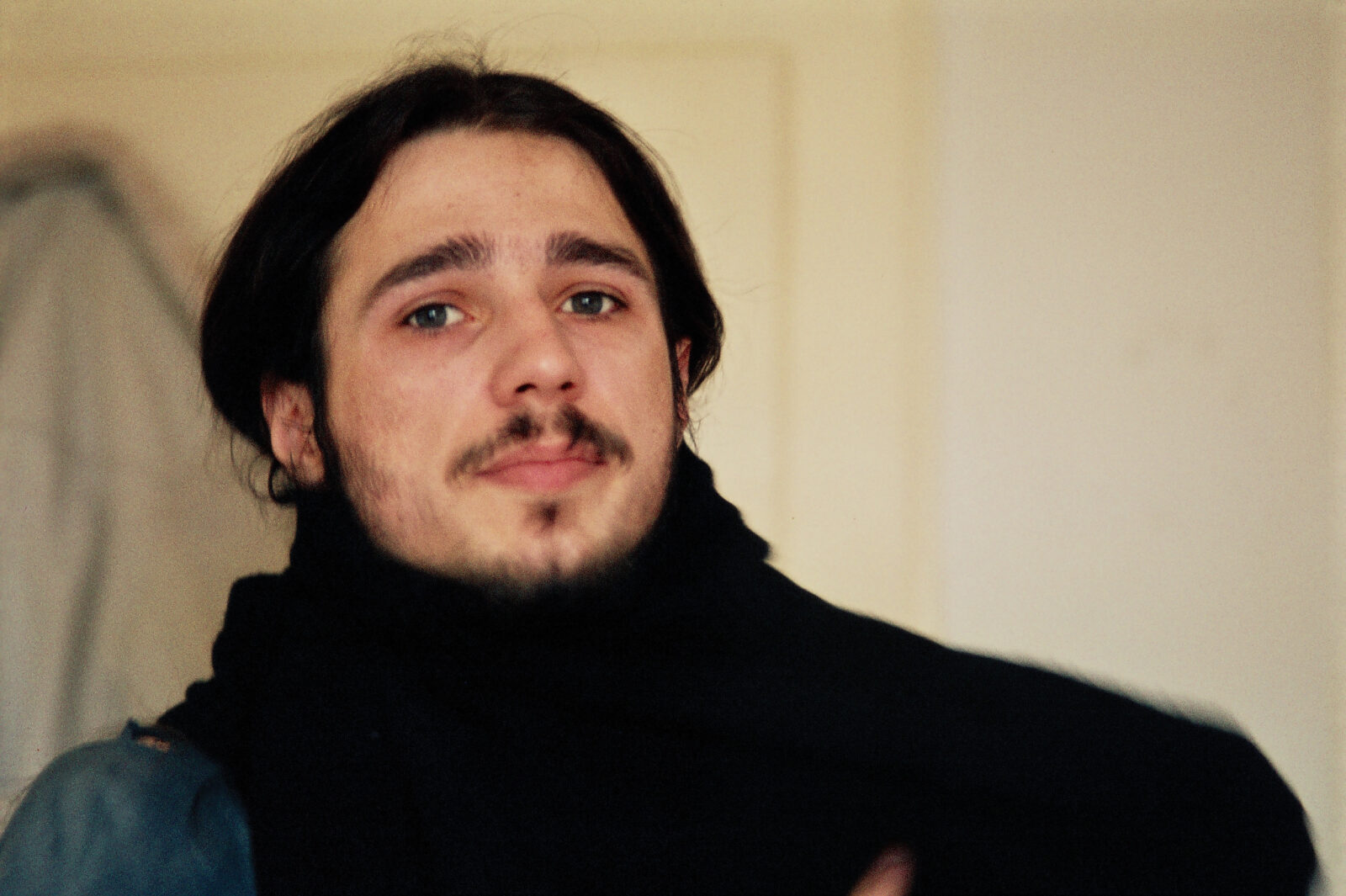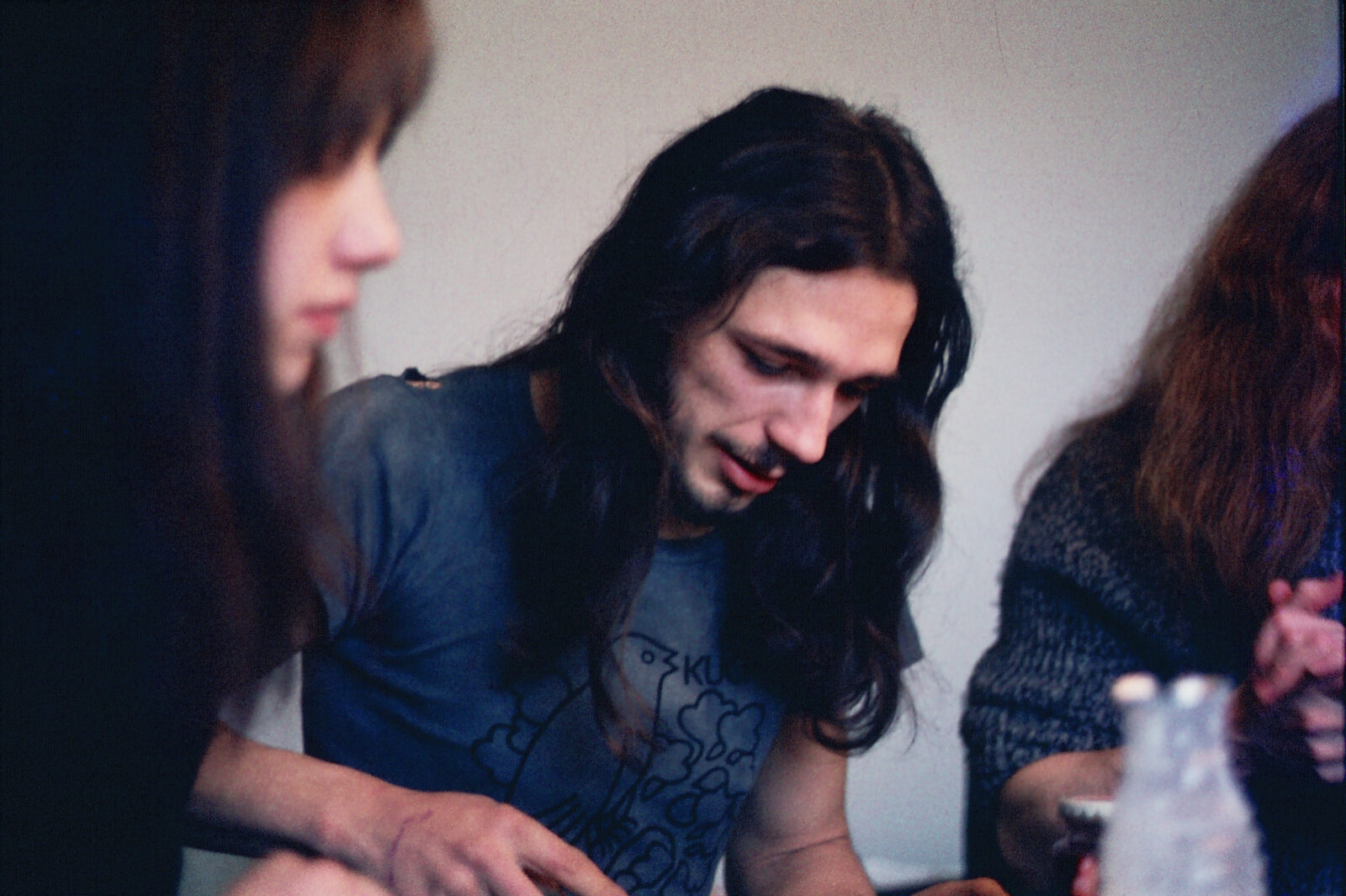 And, perhaps, it should be added that Hennes was already on his way out of the band, at least the first signs were there. But he still worked hard with us to make a good album.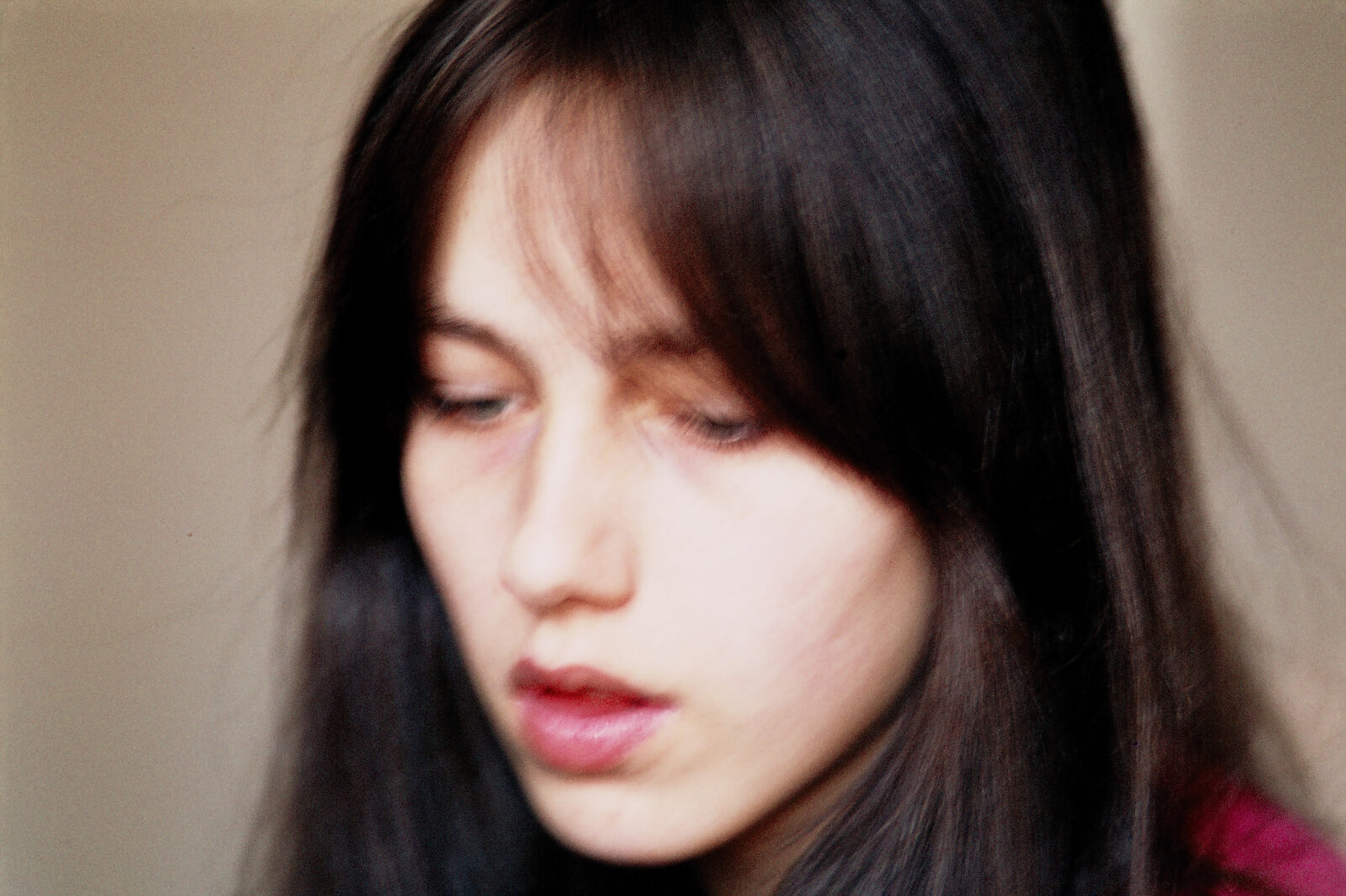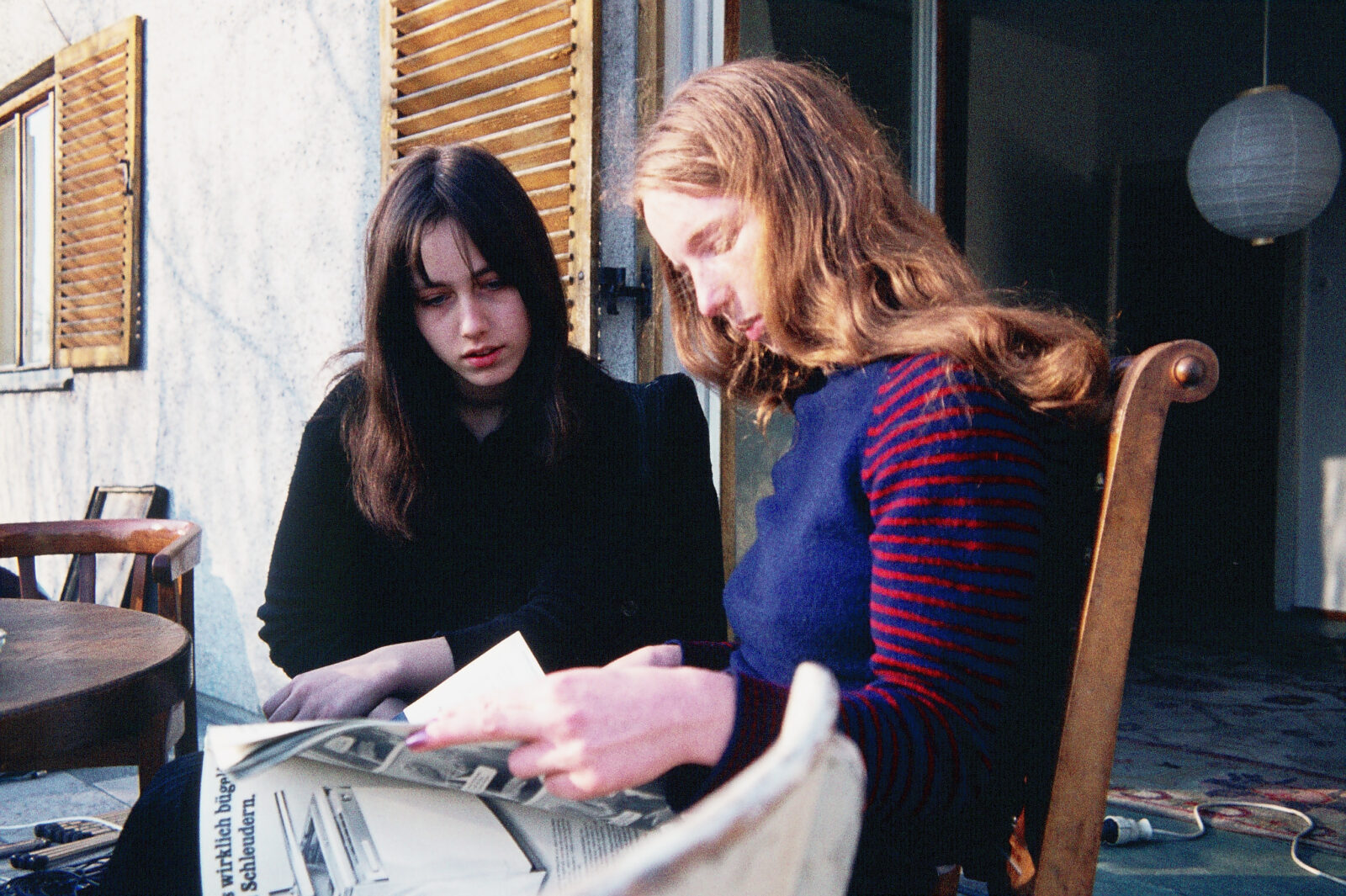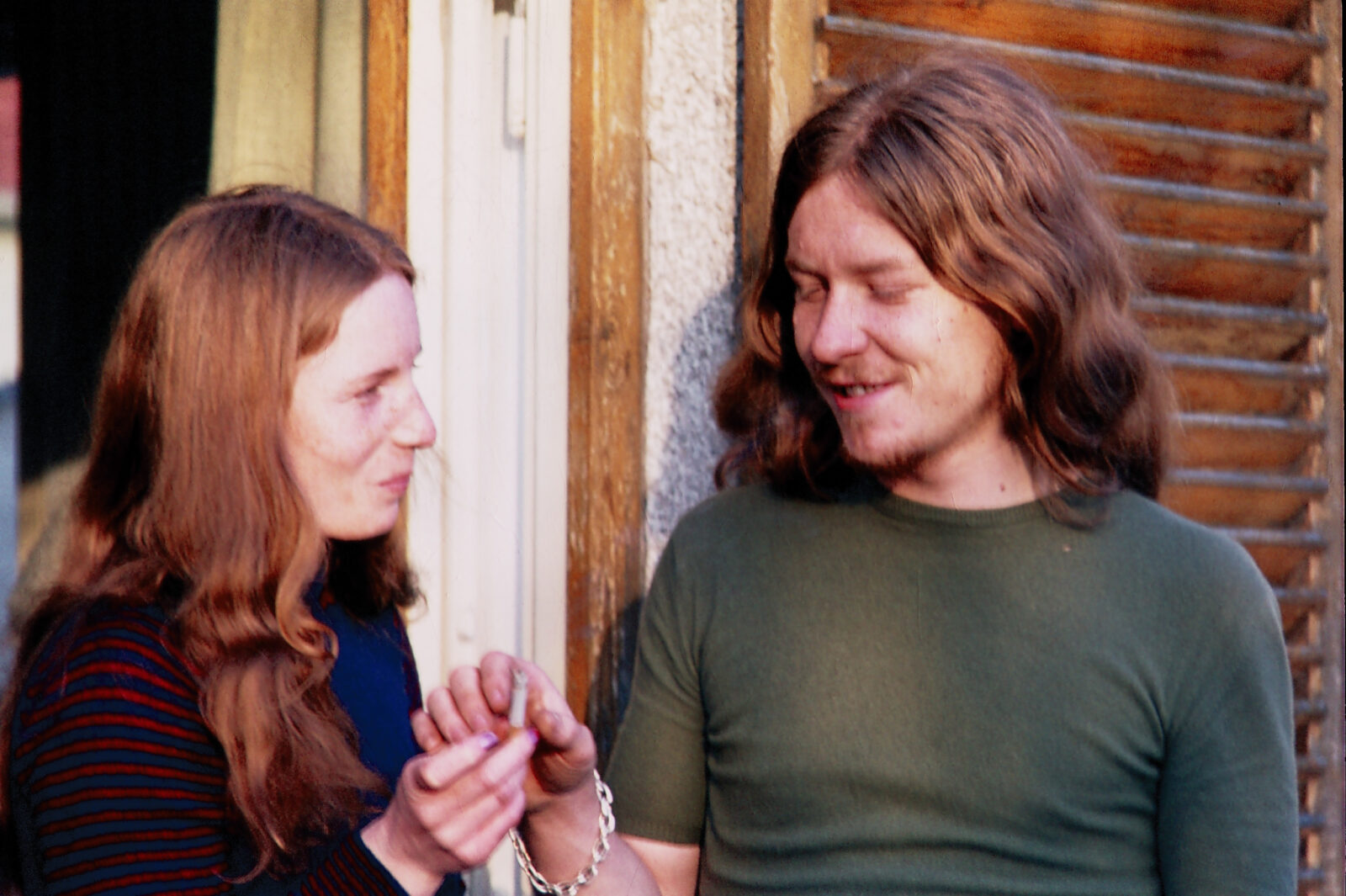 'Palermo 1972' is a great release that documents the live version of the band. How was it to play in Palermo?
The whole Italy tour was a trip, another world, the light, the air, the smells, the food, and of course the Italians! Charming and chaotic you might say, because when we were at the big station RAI – Radiotelevisione Italiana – in Rome for an interview and they wanted to play our records, there was no needle in the player's pick-up system and a guy had to run around the house to find one. And Palermo was perhaps the most exotic place on this tour. Sicily, far south, and influenced by north Africa, just across the Mediterranean sea was after Naples the last step in gaining more and more distance from home. The theatre, the town markets, the black markets with cheap cigarettes on the side of the streets, being in Cosa Nostra kingdom, all that summed up in our heads and we felt great on one side but were also a bit anxious, at least knew that we have to be very careful. The people of the Goethe Institute had warned us, telling us a story of luggage that was ripped out of the trunk of a car, just seconds after the arrival of new colleagues, and that they even had watched it from the third floor when looking down for their car. Next day the suitcases were found in a church nearby with every thing worth-full gone but clothes and underwear placed back inside nicely and perfectly folded. In Naples, when we got hungry we stopped somewhere in the city in a big place to get us some Pizza. When leaving Rome heading south there was no doubt that we had to be more and more alert and never leave our two buses alone in the open. This time it was my turn to stay in the front of the bigger bus and watch and daylight was already gone. A smaller car was parked just in front of us and it was like in a movie when two guys turned up, kicked in the small front side triangle window some cars had in those days, searched the car and were gone in seconds with whatever they might have found worth-full. In Palermo the theatre was packed and amongst the audience were also many Americans, part of the US Army still stationed there after WWII. What I remember of the concert is just what you can hear on the album. Then the dispute with the house manager mentioned in the booklet who wanted to stop us because scheduled concert time was over and we were still high on playing. And there was an argument between Moran and Hennes in the wardrobe before that had created a certain tension and I thought that Moran was just too emotional and that it was not right how he attacked Hennes, seriously insulted him and only because of Moran's personal shit.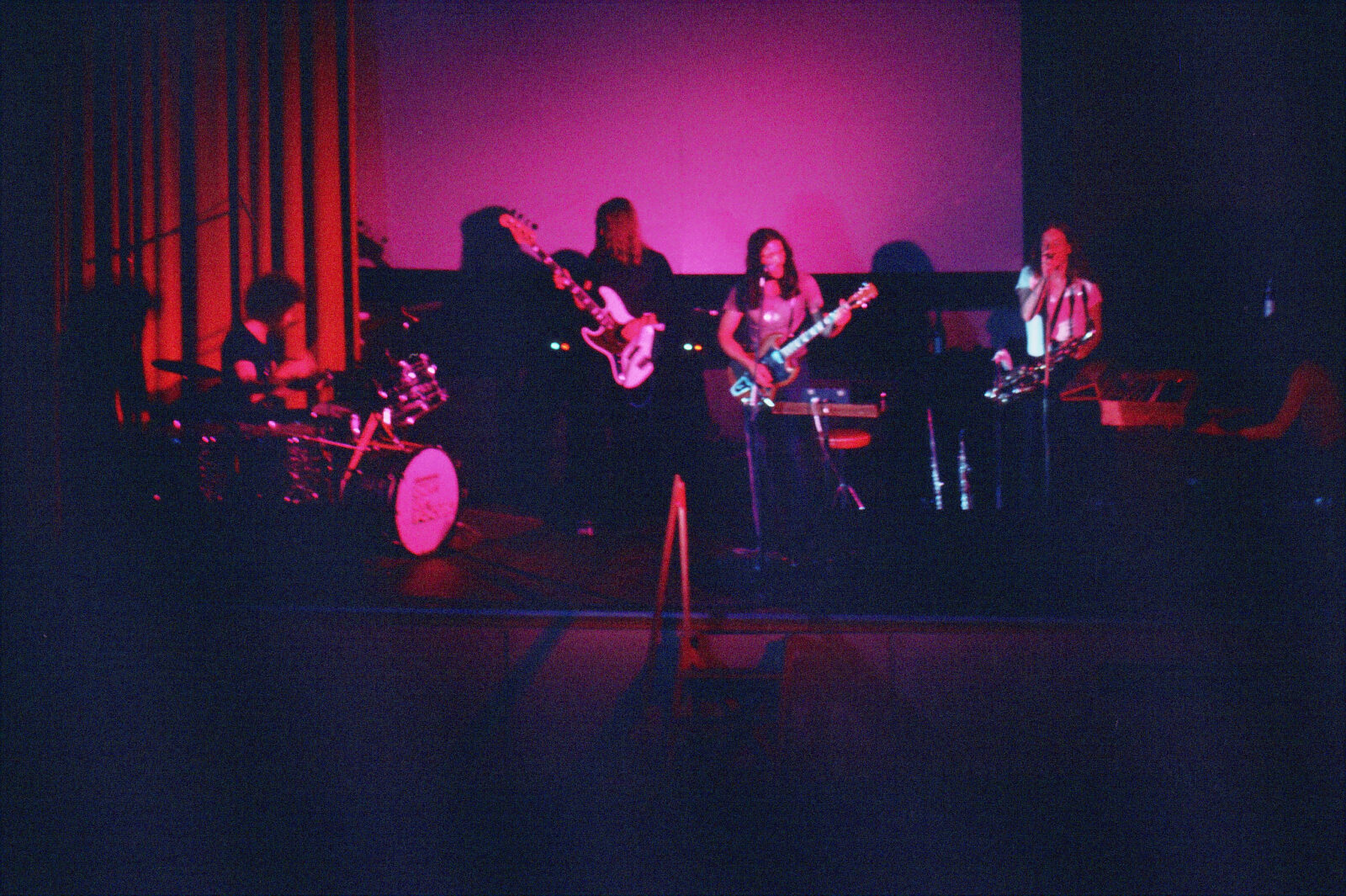 Where did you tour and what bands did you share stages with?
Mostly in Germany, a bit Austria, the tour in Italy and one in Austria later. We had shared stages with many successful German bands back then and a few from England. And just remember Universe Zero from Belgium before us once with their dark and strange music at an open air festival down in Austria with many other bands announced, think Nucleus also were there but on another day. We had the Scorpions and Kraftwerk opening and opened for Amon Düül II, Tangerine Dream, Kraan and Nektar. Juicy Lucy already mentioned above and Embryo of course. With Xhol at Circus Krone Bau here, already mentioned, then Wallenstein, Schroeder Roadshow, Anyone's Daughter, Missus Beastly, and many more who have slipped out of my memory. We played at the Vlohto/Sternwede "Umsonst und Draussen Festival" with Aera, Checkpoint Charlie, Julius Schittenhelm, Brühwarm, actually all the Schneeball bands were there and some others as well. As this festival was free some fundraising needed to be done for to cover the expenses. Equipped with a plastic bucket, we dove into the arriving crowd, and when it was full with money and also a few other mild gifts like hashish, carrying it back was a bit exhausting. It was a huge old gravel and sand pit, about half a Kilometre long and 300 Meters wide, and two stages were built up. The whole thing was a real madness and more than 100,000 people came. And no police, no security, just an ambulance and the local Fire-brigade with a small truck. Unimaginable today. Within a radius of 40 Km almost all roads were jammed and cars everywhere, on the fields and in the forests surrounding the pit. Numerous tents amongst the trees and even small campfires for cooking. Three days and nothing serious happened. One got on a bad trip, taking too much LSD, and another one slipped down, about 30 meters the rather steep side slope of the pit, which was not secured at all, in the dark, but with only a few scratches and bruises to treat. Saturday afternoon a few policemen in civilian clothing came by and asked if everything was OK, and then disappeared again. No doubt, the whole thing was certainly a big risk, but also a demonstration of how peaceful and responsible people can be if you let them just live and enjoy good music. Some years before, at Wasserburg, not far from Munich, another open air festival took place with Amon Düül II, Embryo, us and many others. We had arrived some time in the morning, and were sleeping in the bus. Then in the afternoon when it was on us to play I crawled out of my sleeping bag and stumbled on stage, only subconsciously noticing that there were some video cameras around. It was a rainy day, and not exactly what you would wish for an open air but we performed quite well I think and I remember the water collecting on top of Klaus' floor tom as the roof of the stage had a hole just above him, and always when he hit it the water splashed up. The only TV show with Progressive Rock music back then was "The Beatclub" on Saturday afternoons, once a month, and whenever it was possible we would watch it. We were looking forward to it as mostly English and American bands were invited, all performing live and there was always something new to pick up and absorb. And imagine, one time it was us coming on the screen. It was one song shot at that open air at Wasserburg, and we had not the faintest idea that they would take us into the show. You can watch this video on YouTube and also the clips of Embryo and Amon Düül II, and it is the only one from us that exists. The shots were taken by the WDR who was co-producing the Beatclub with Radio Bremen, both official German stations.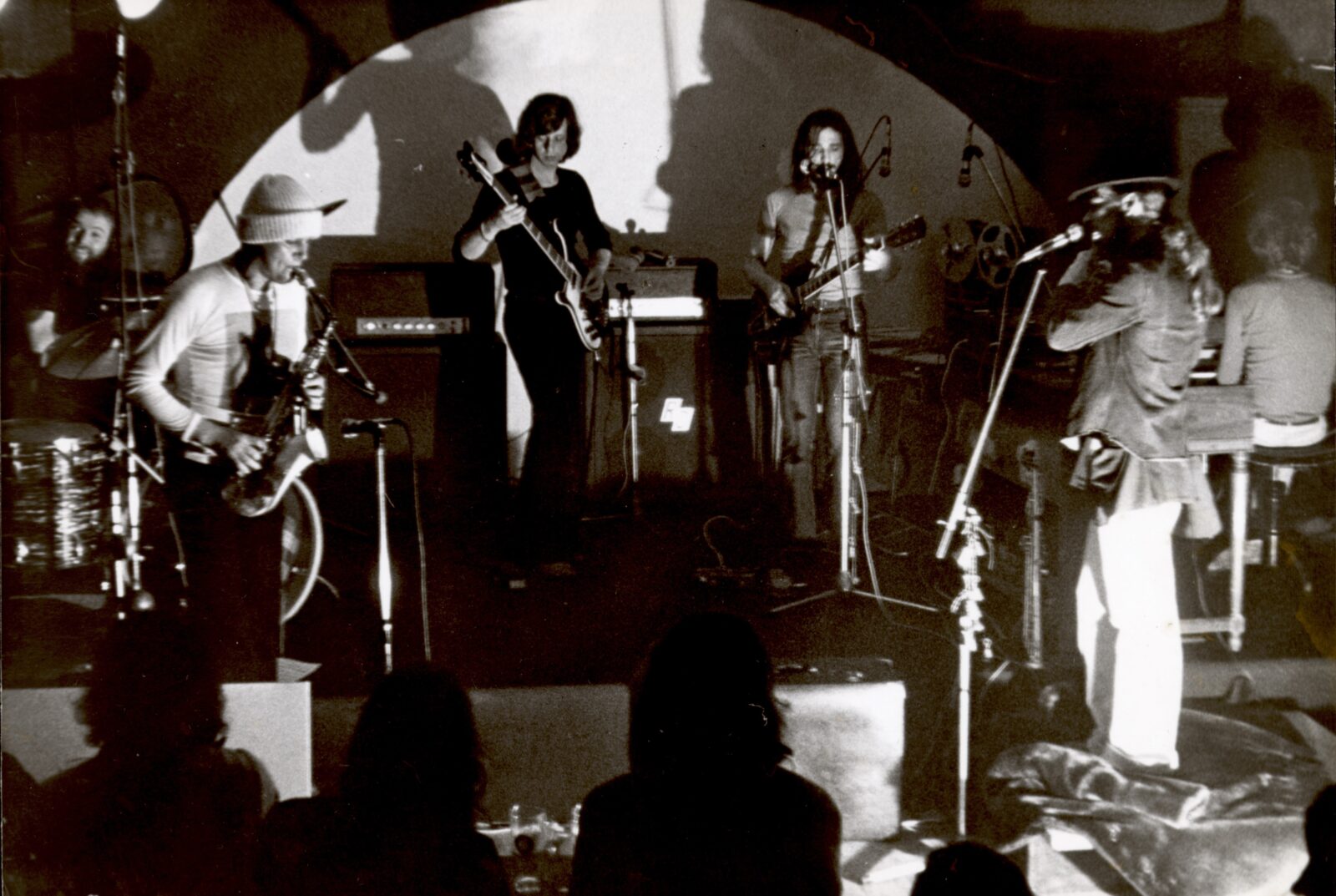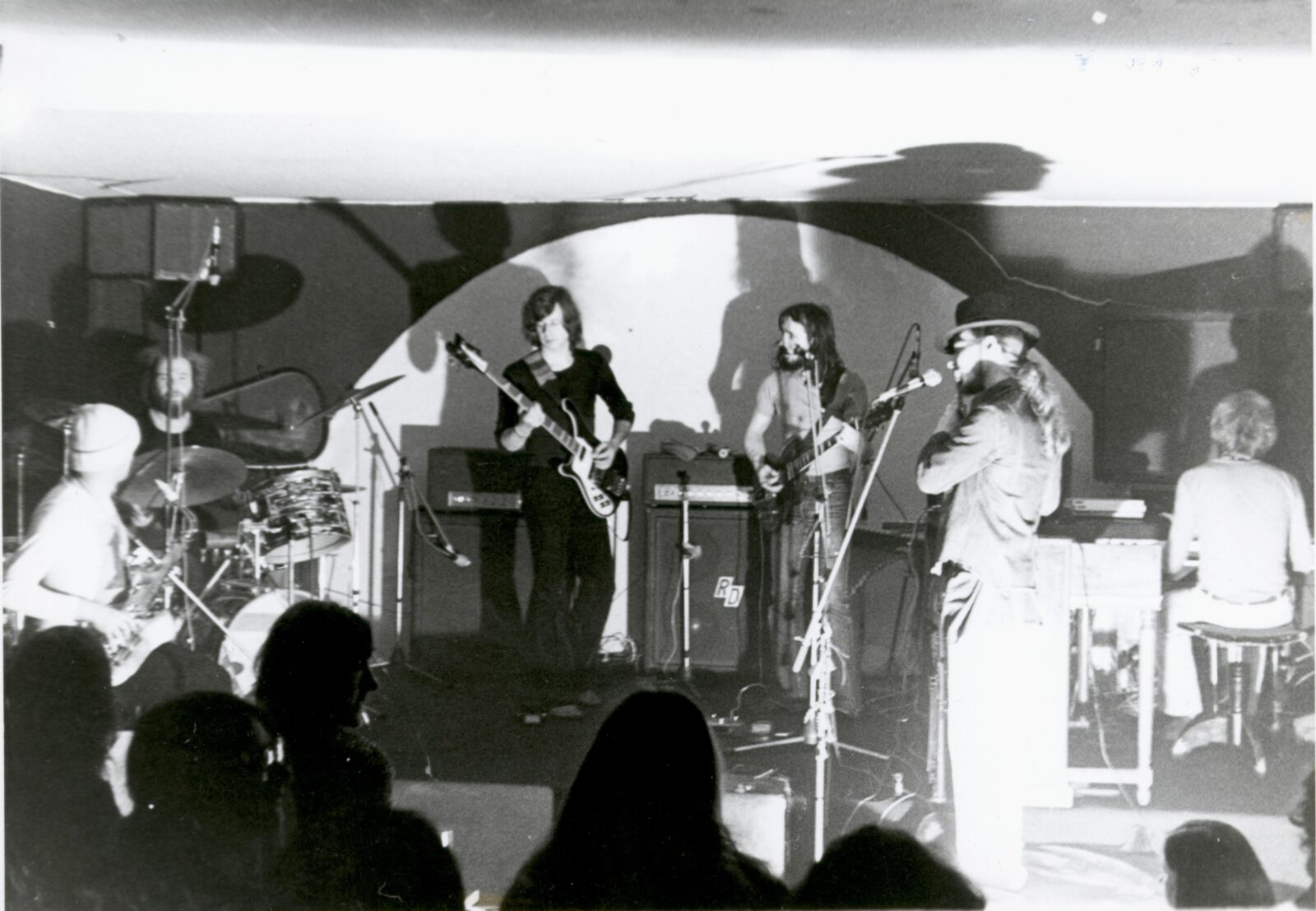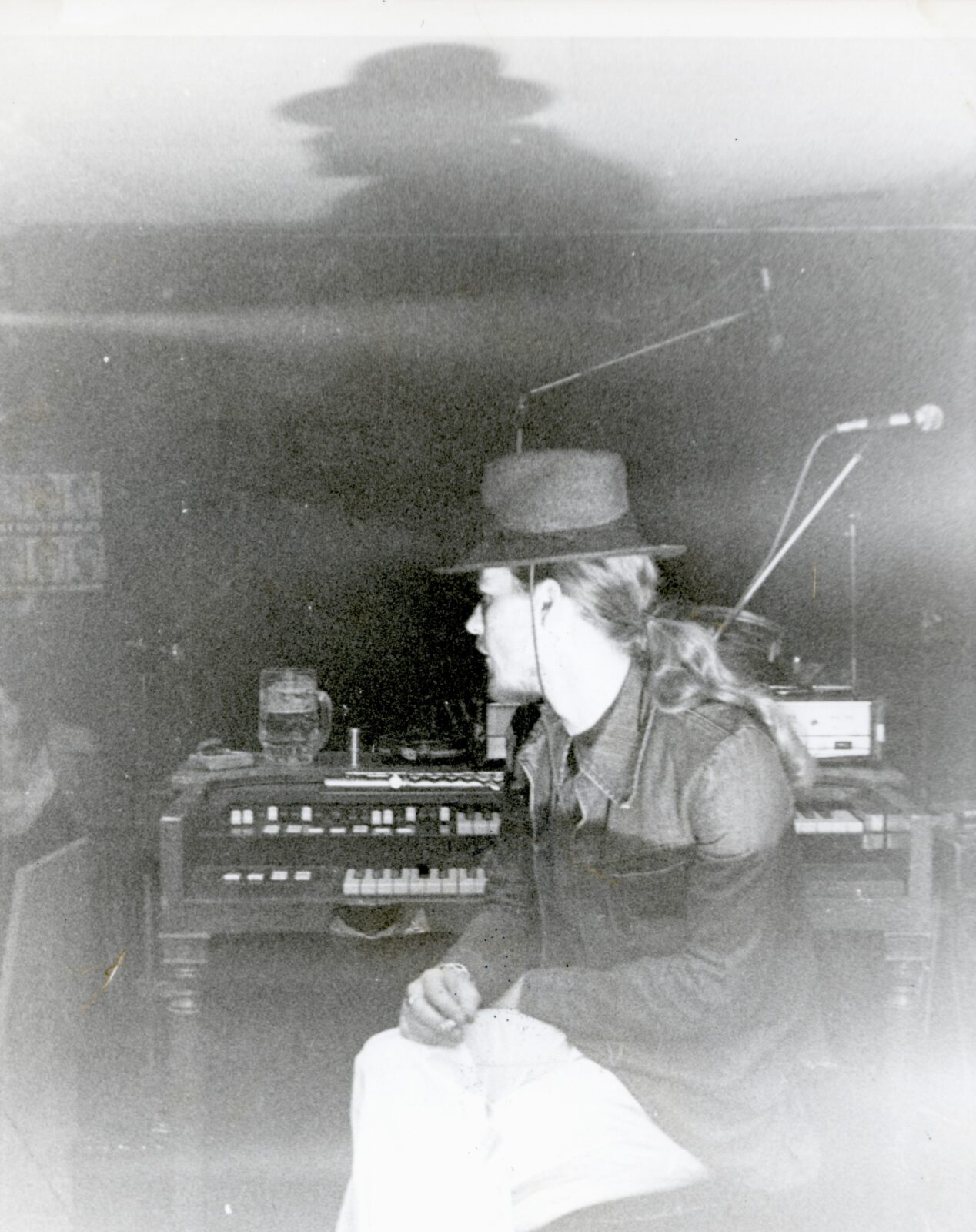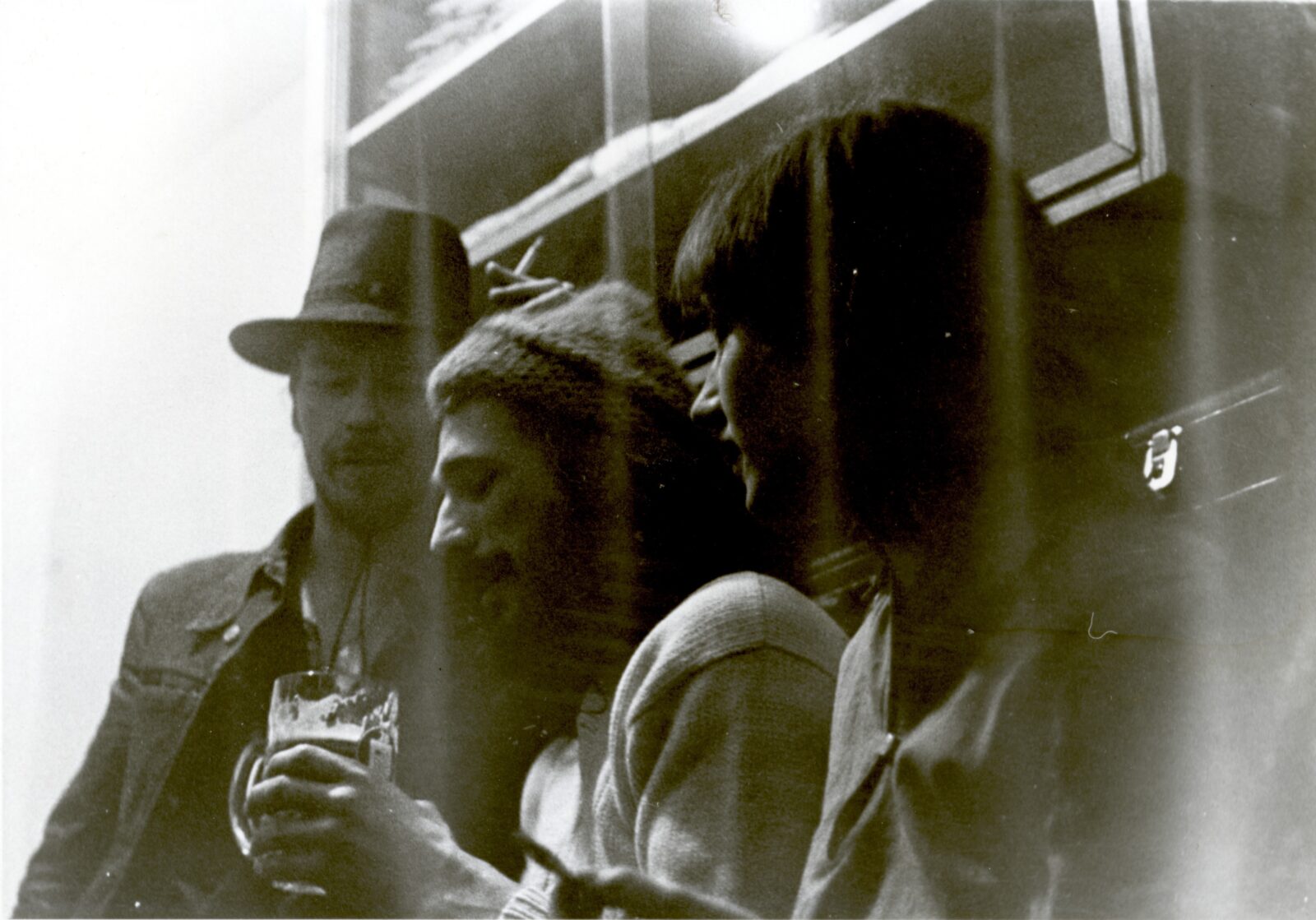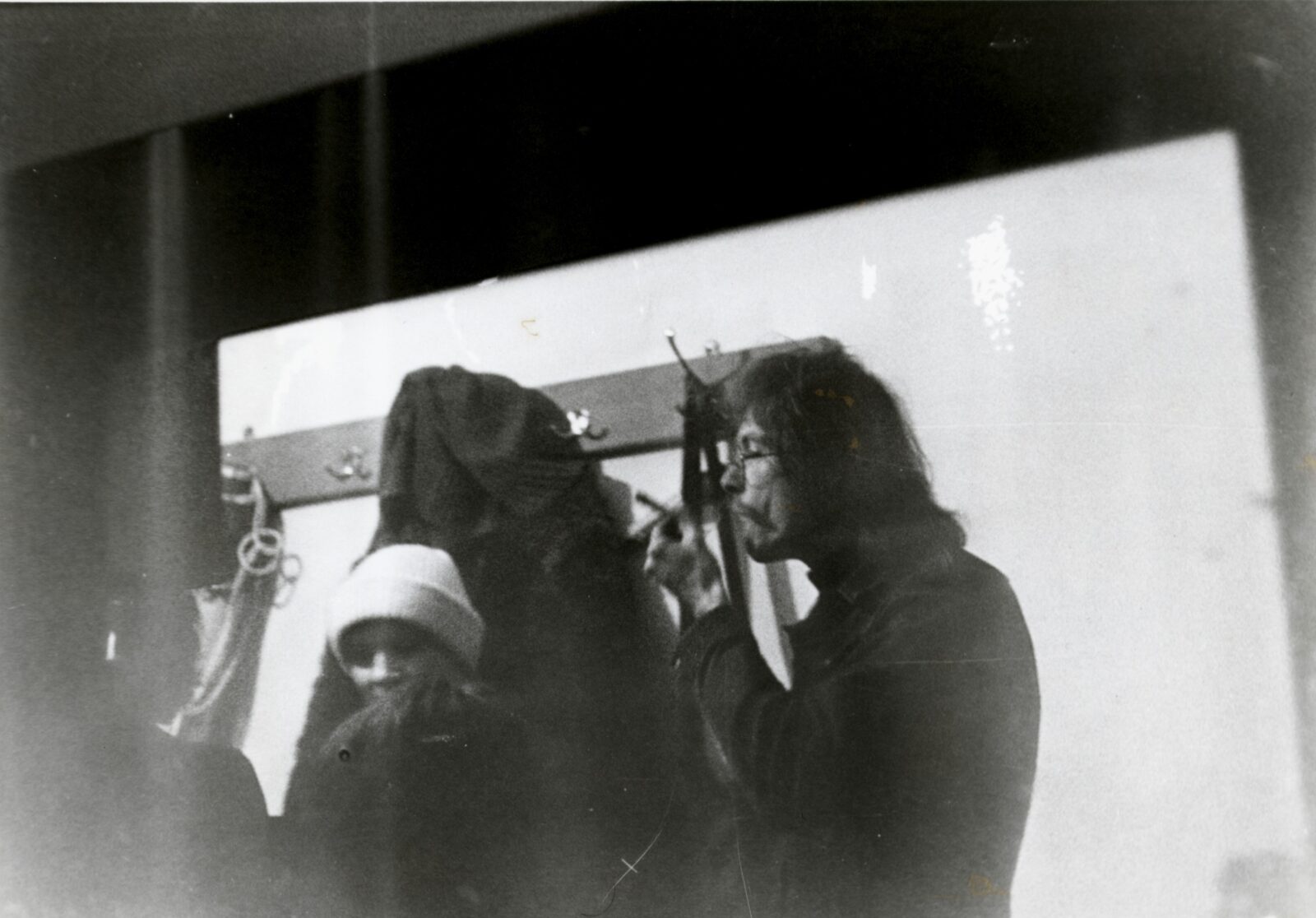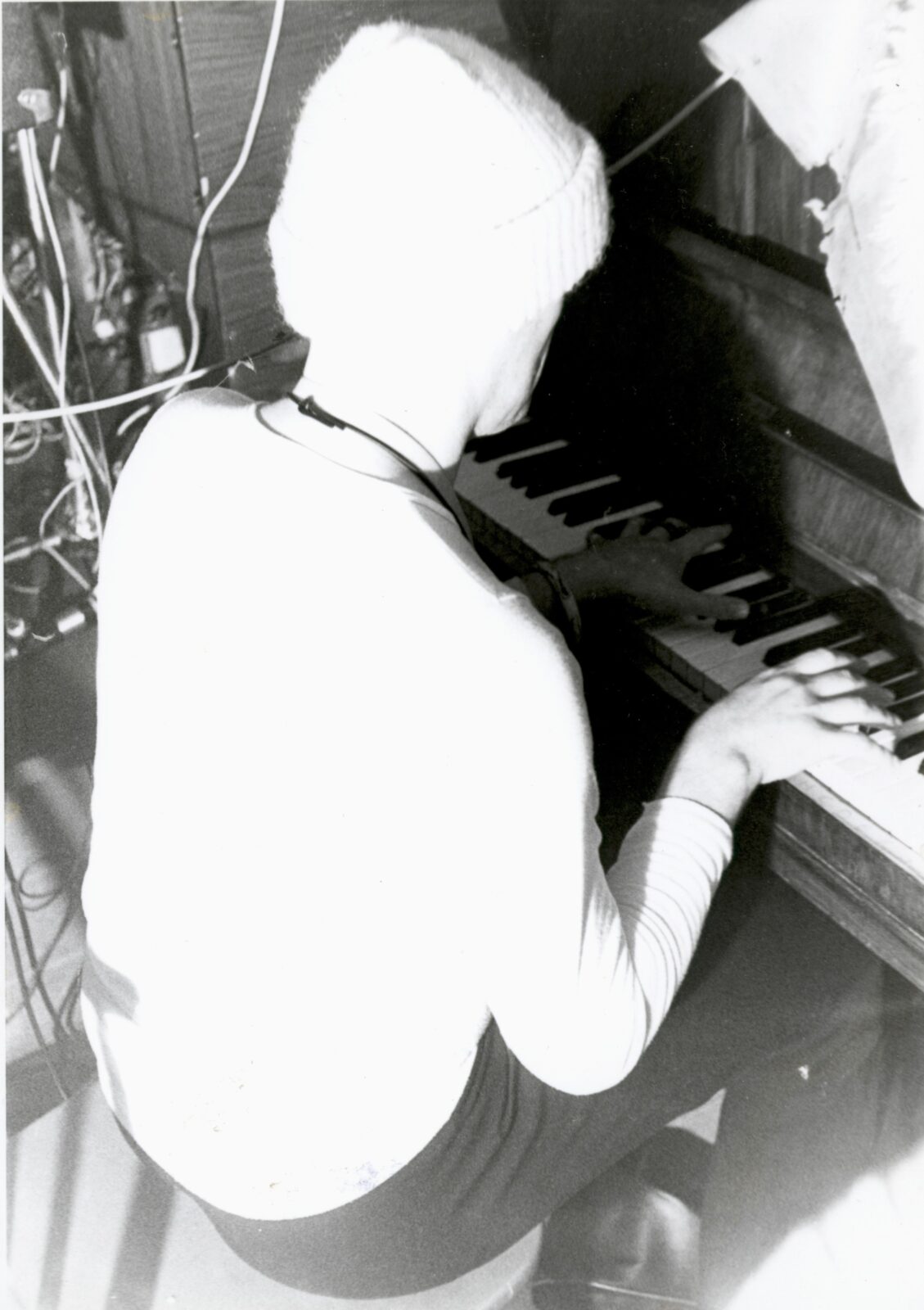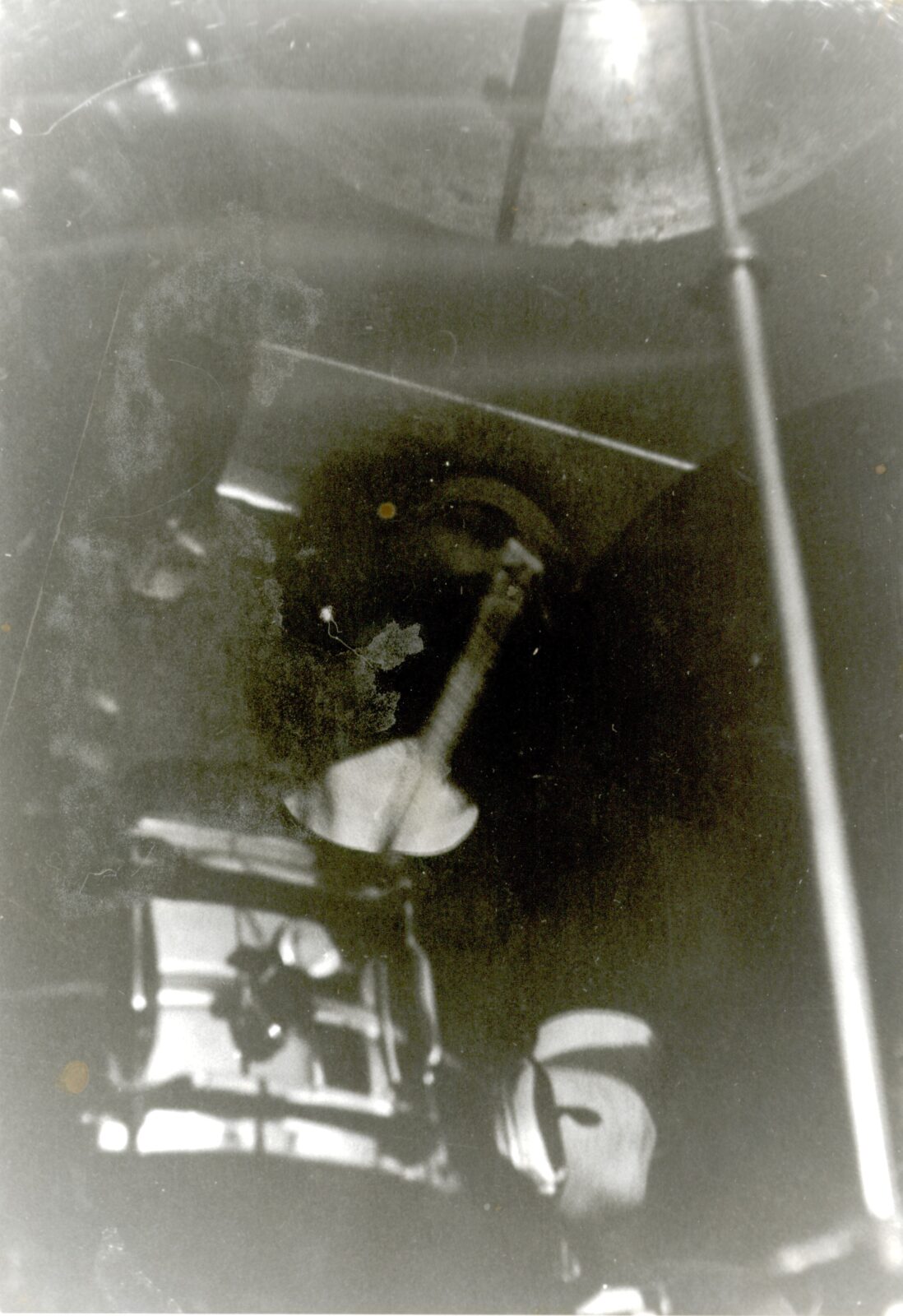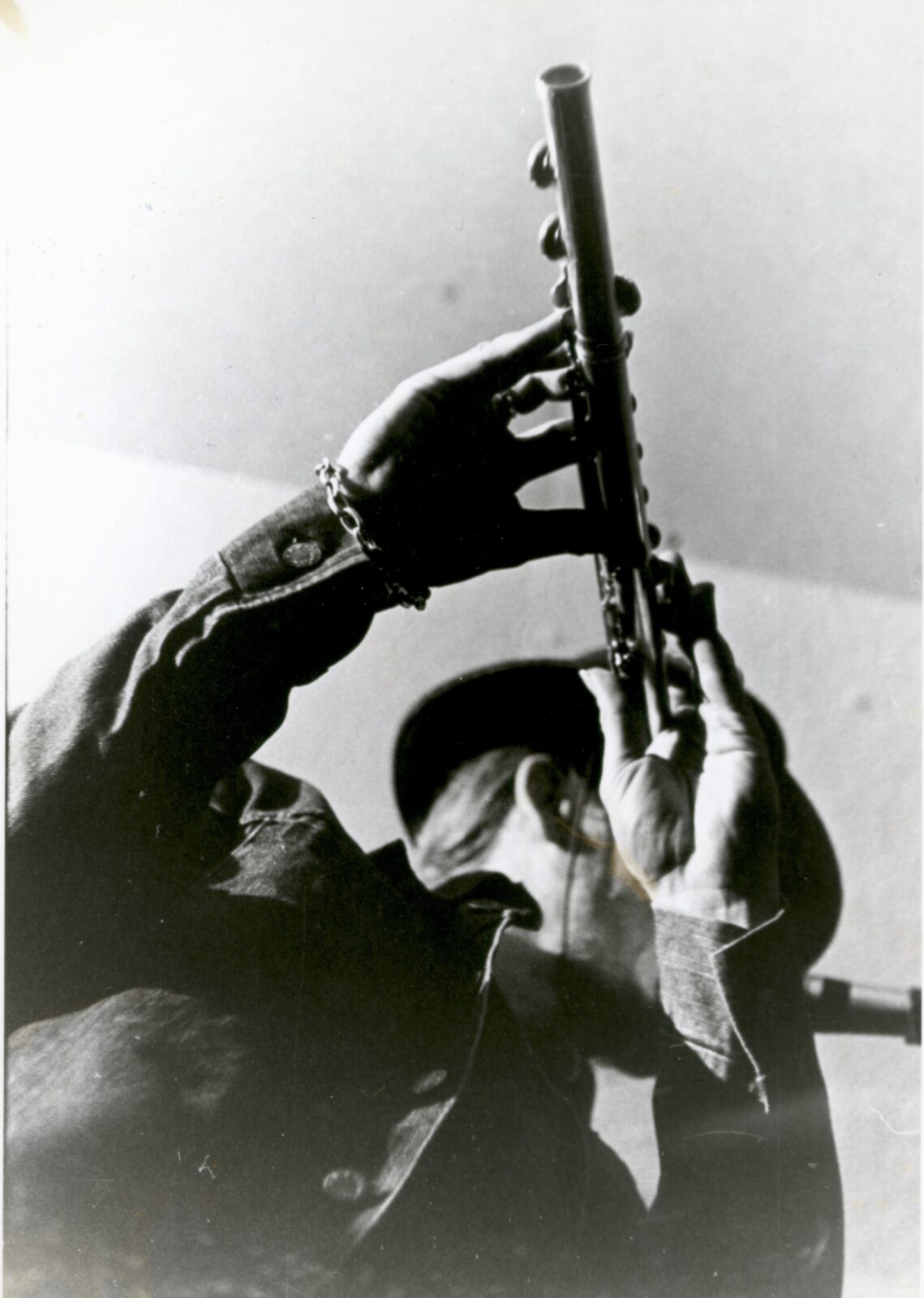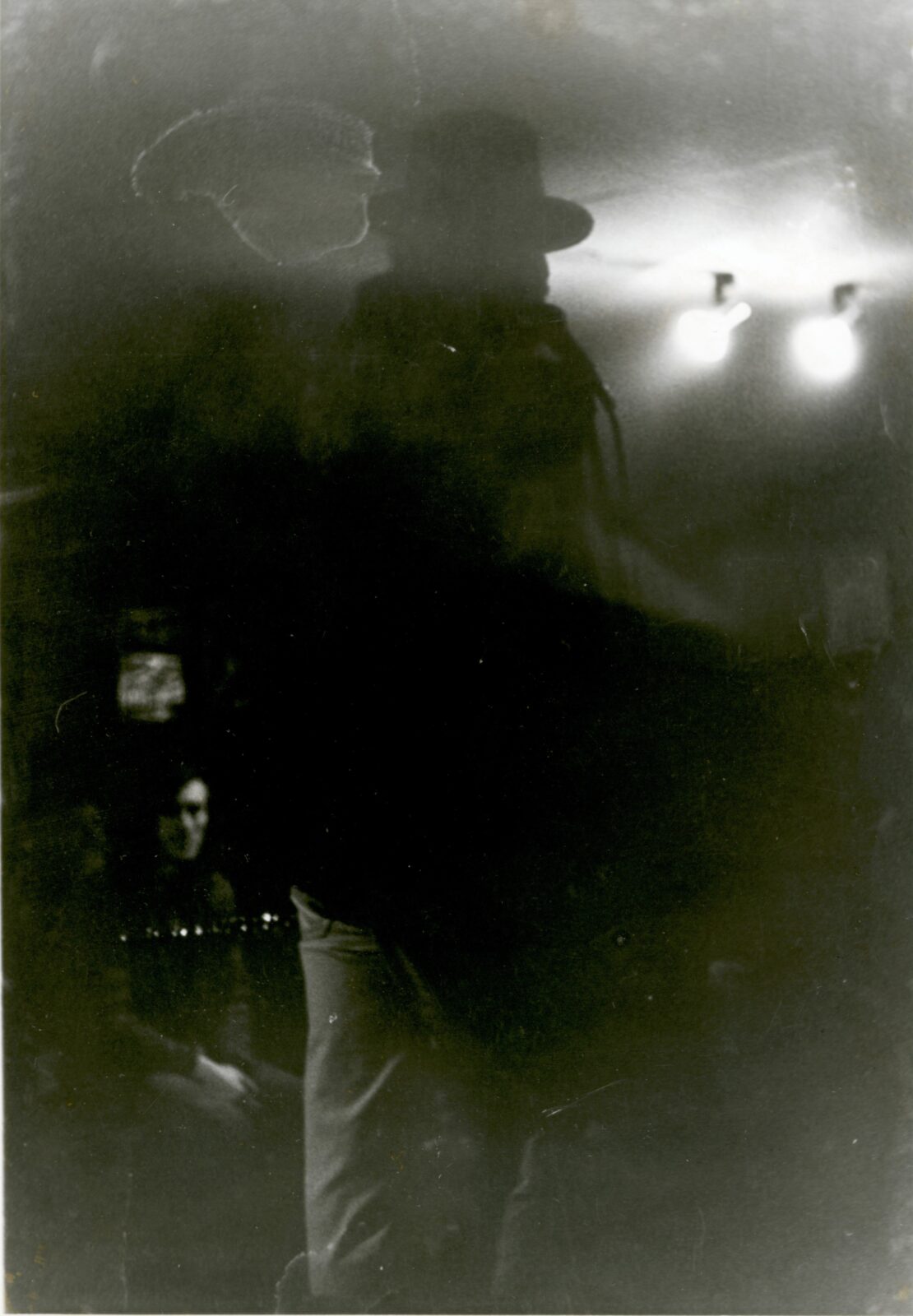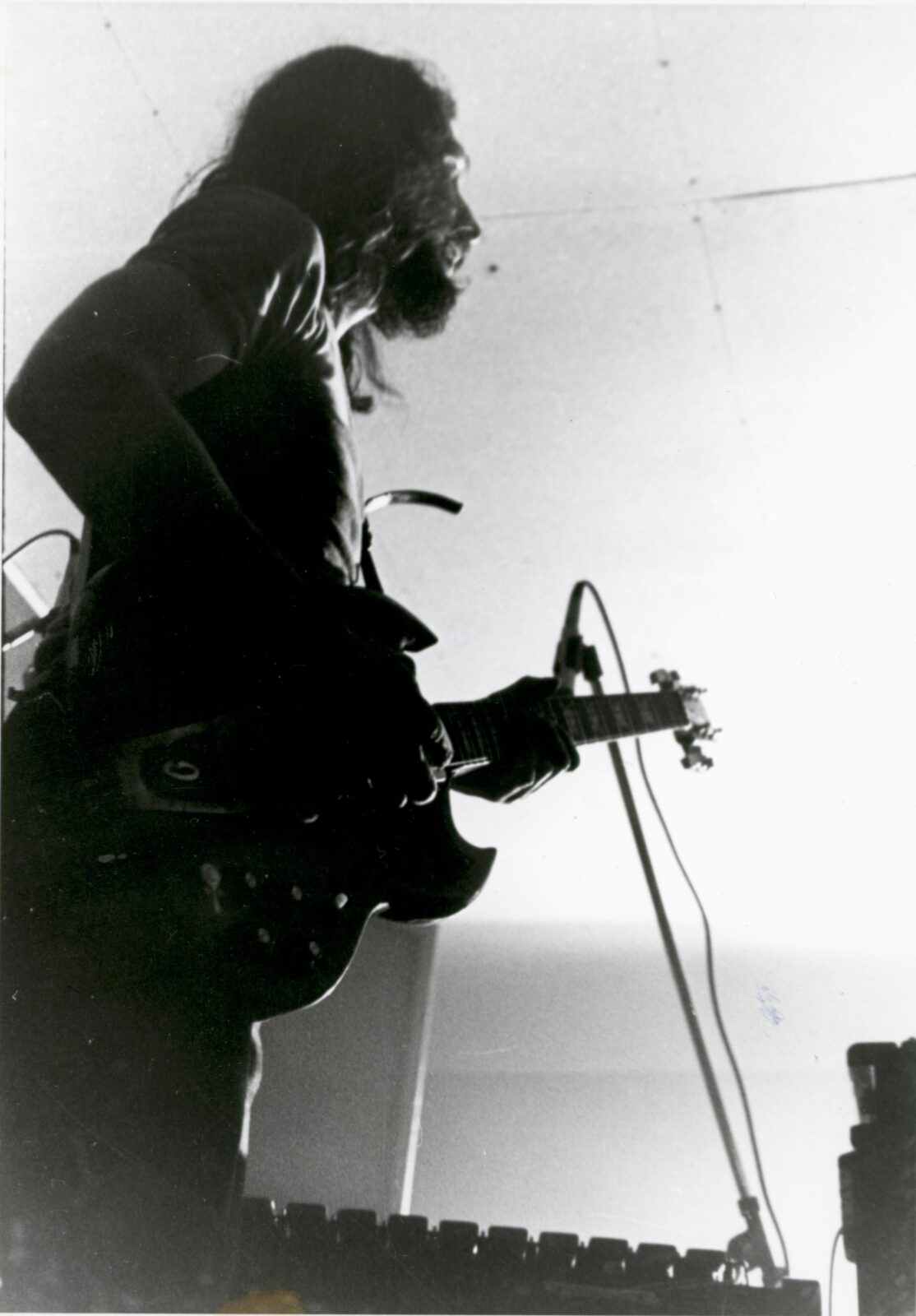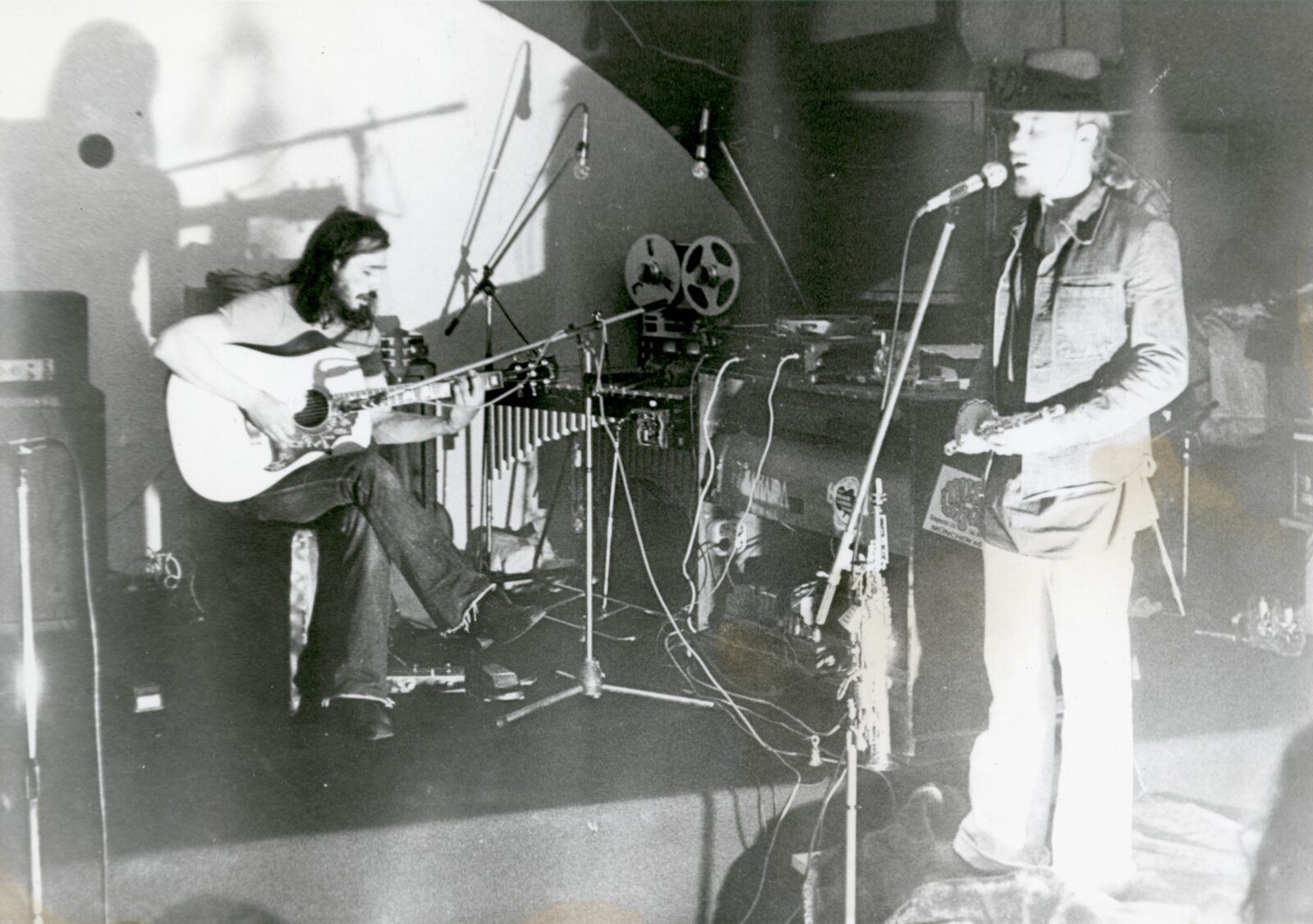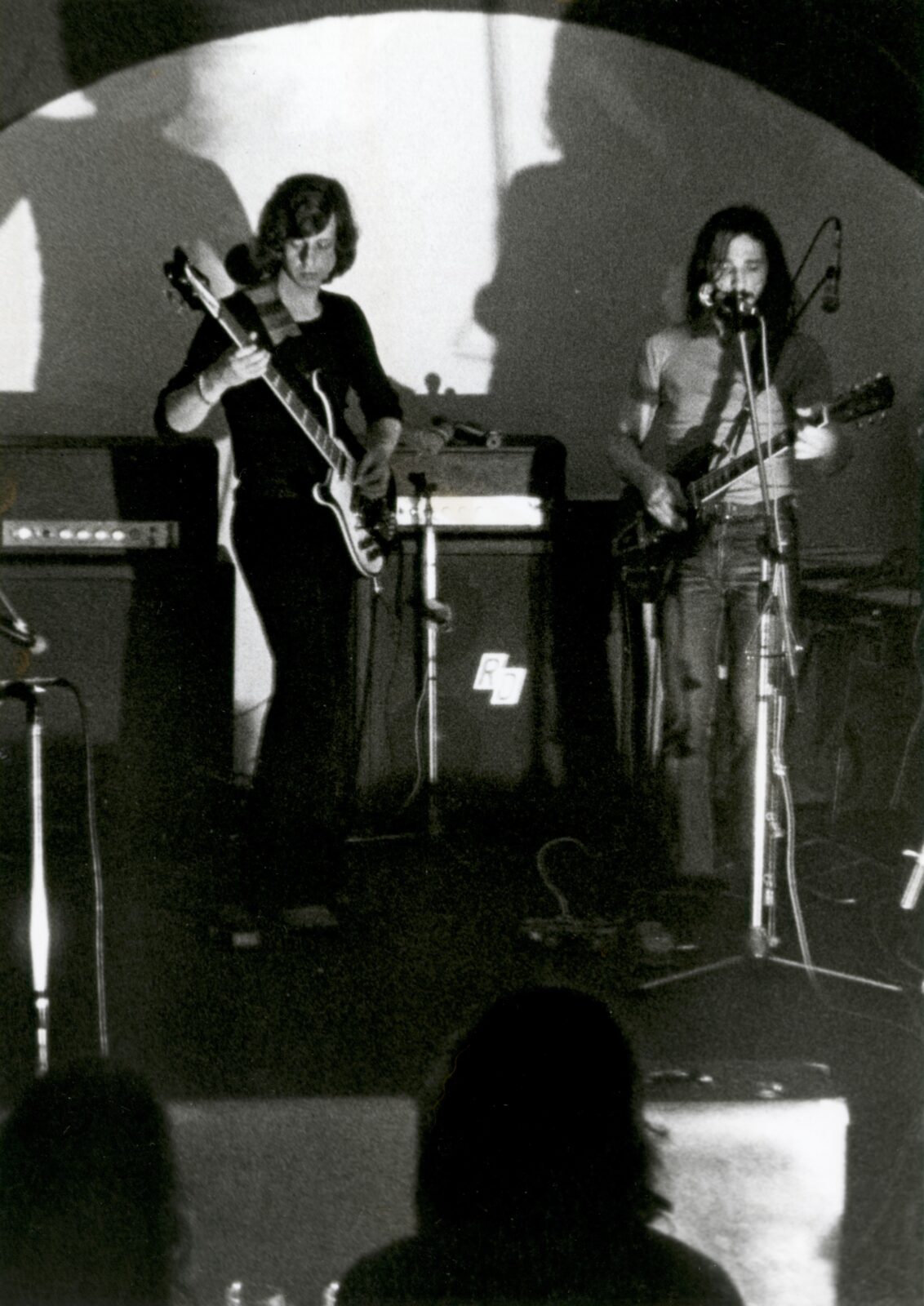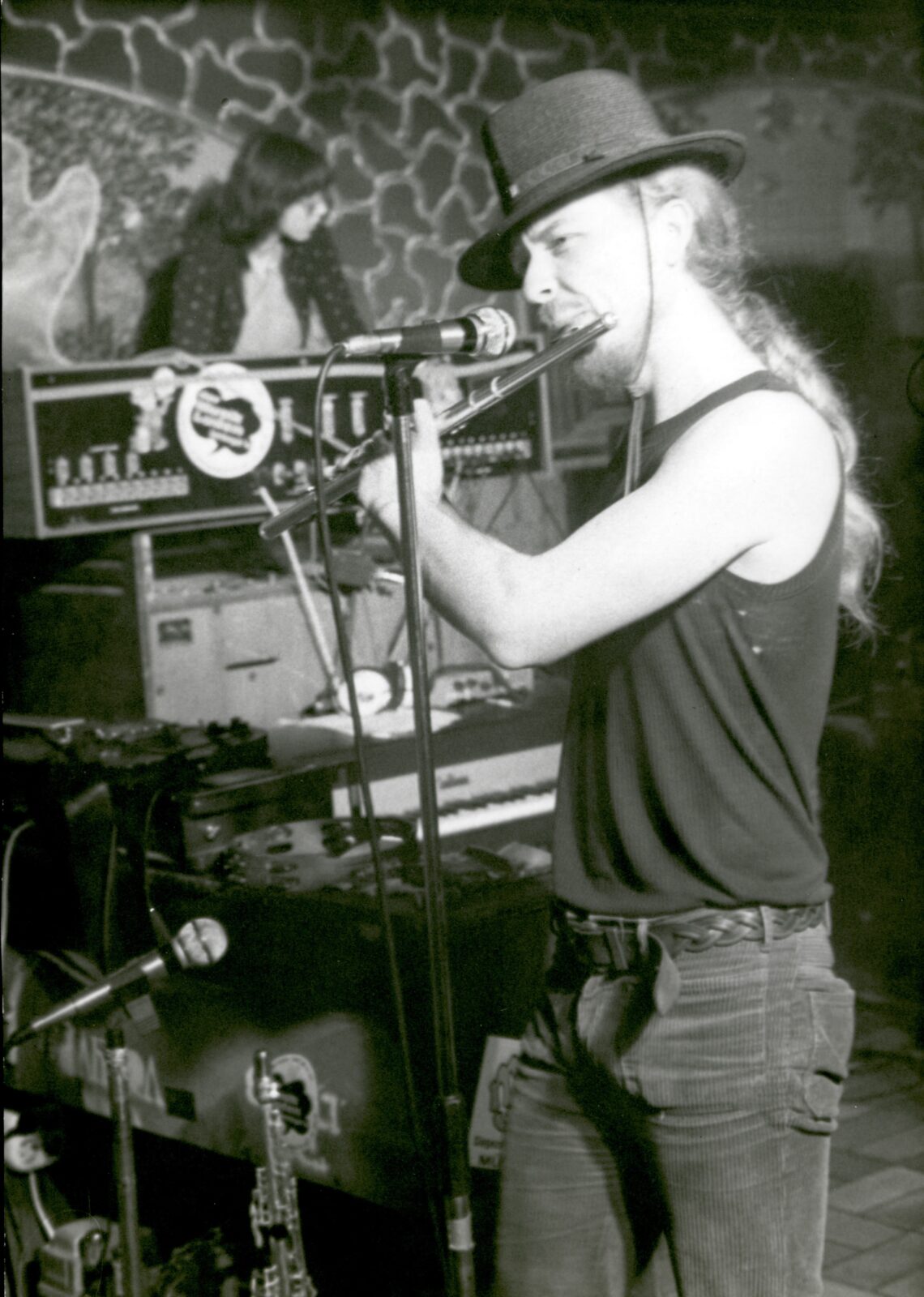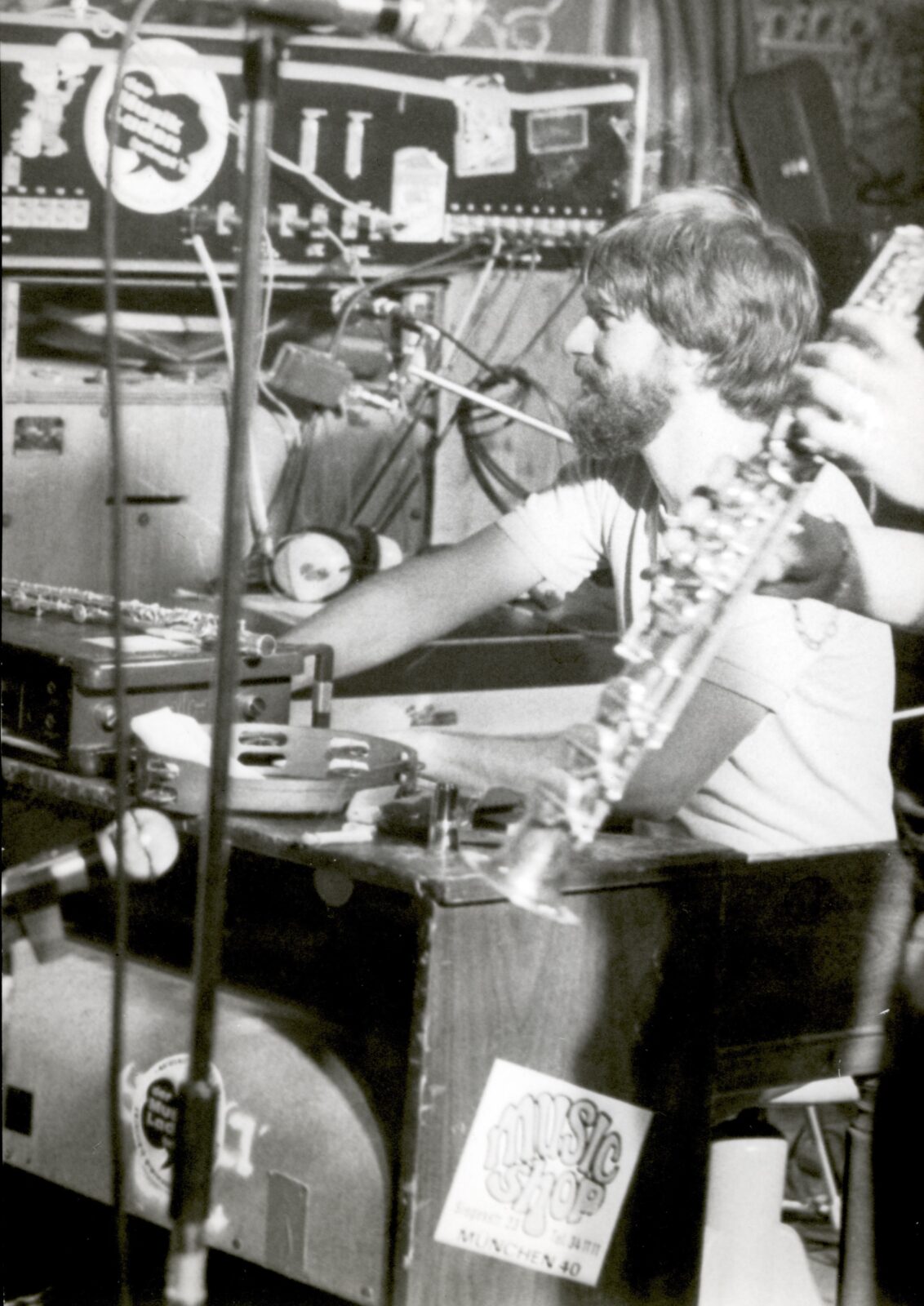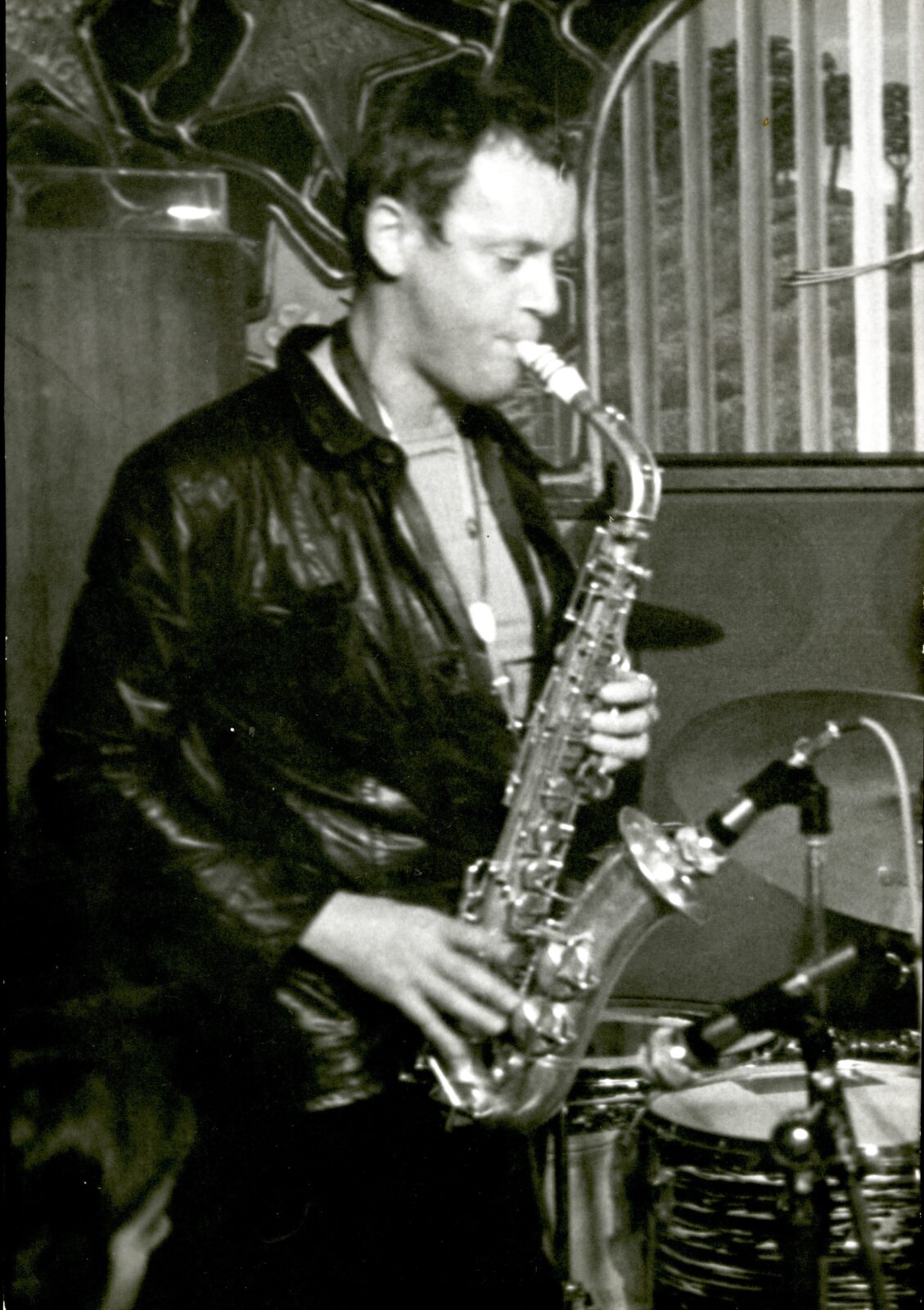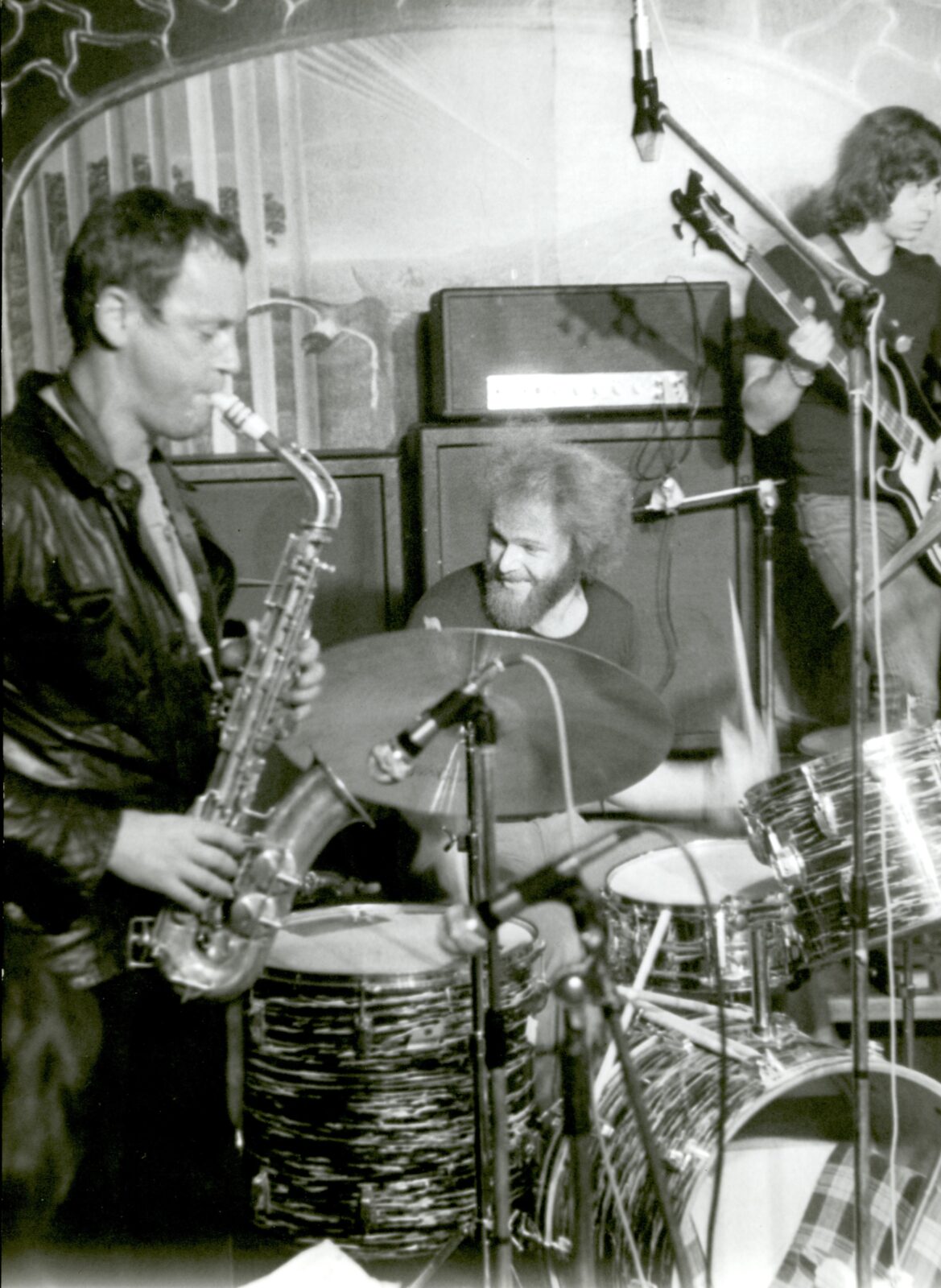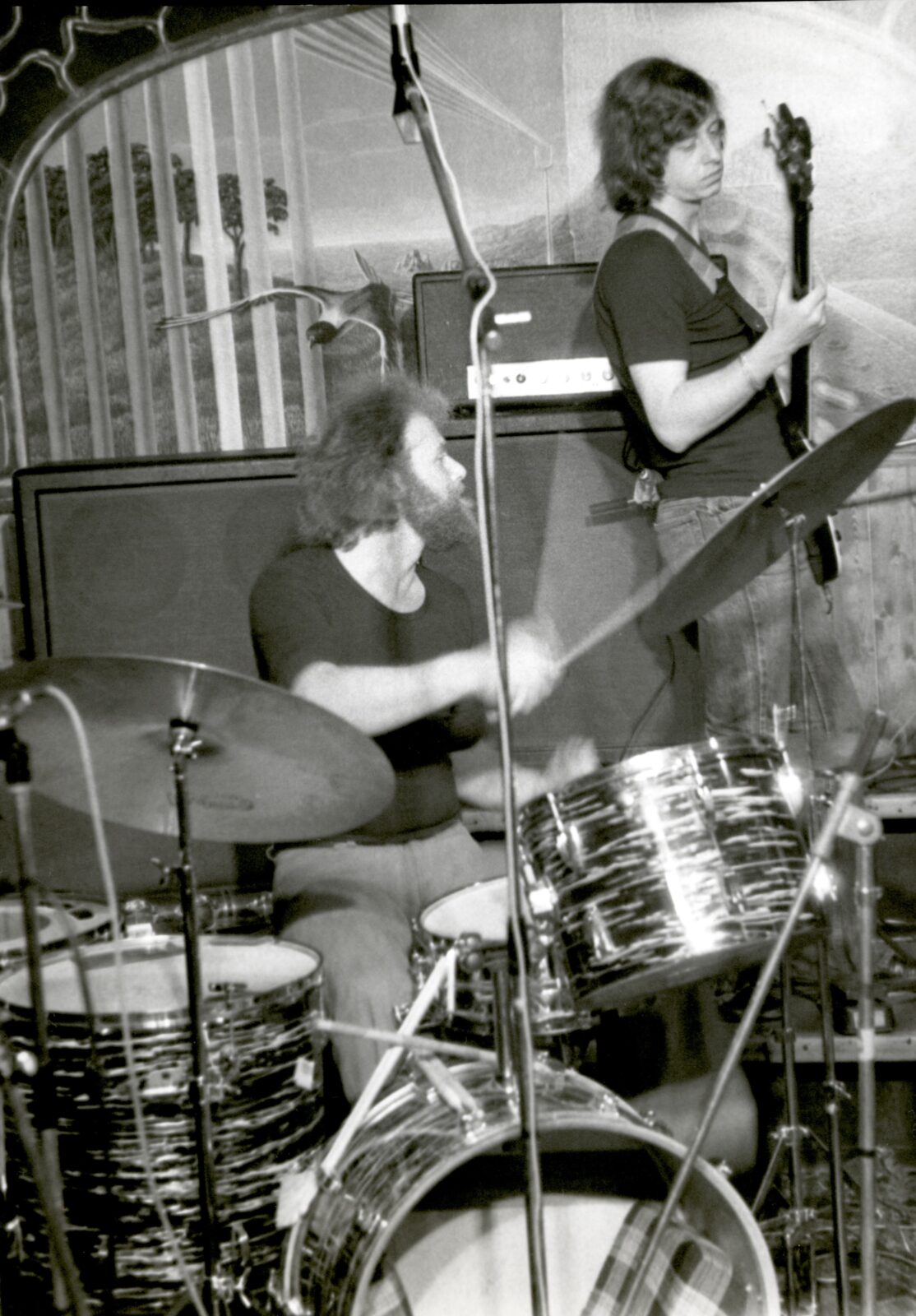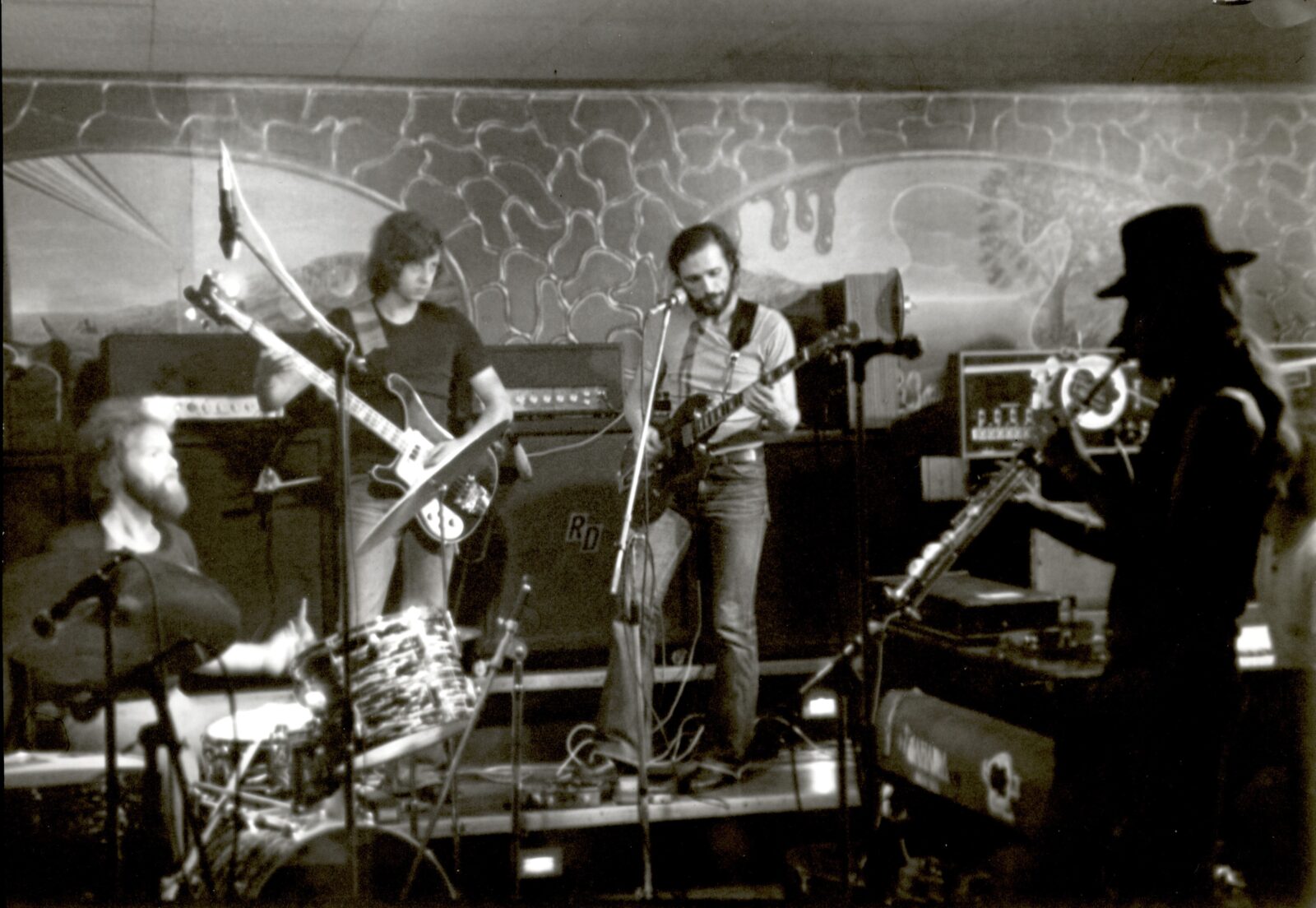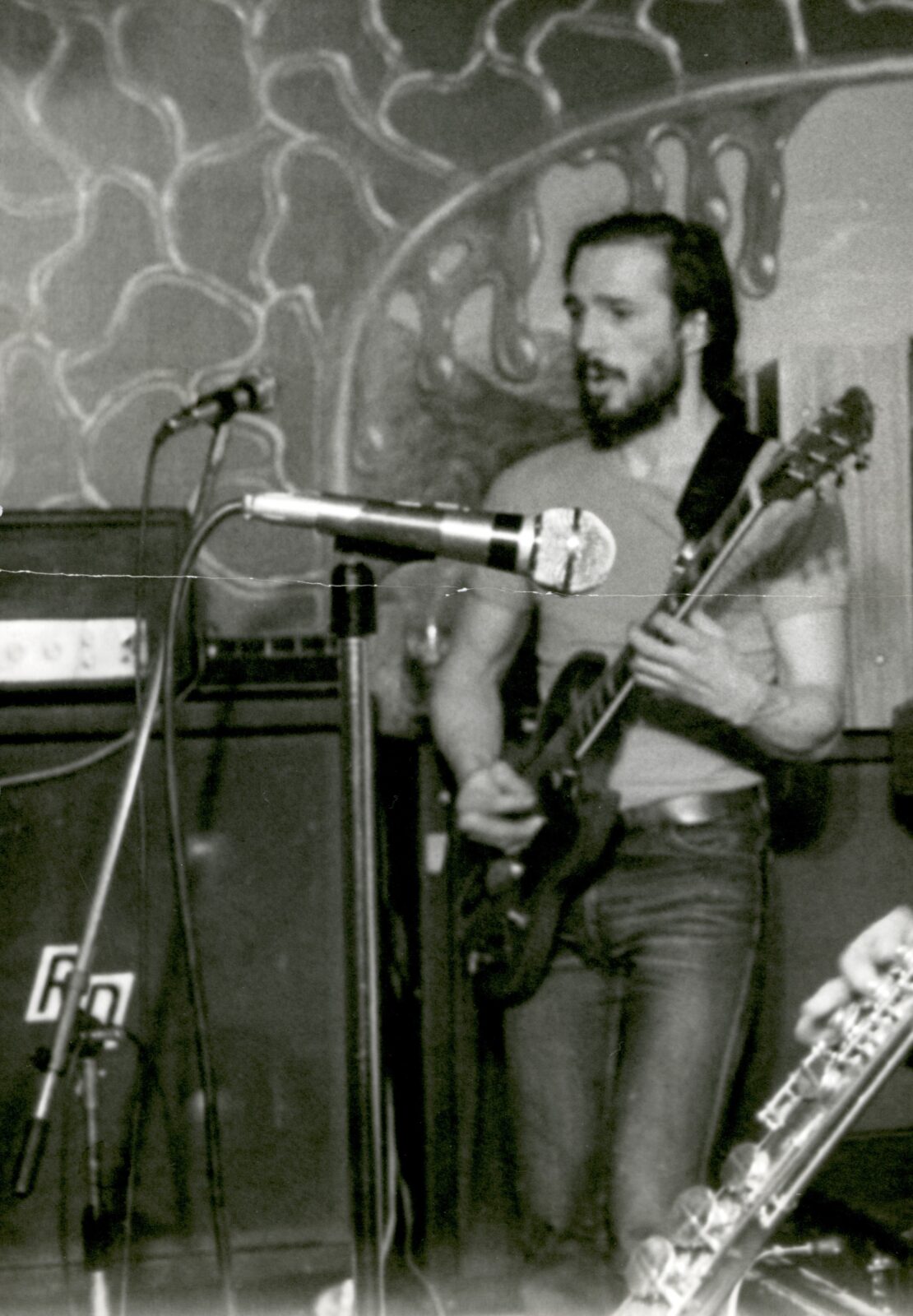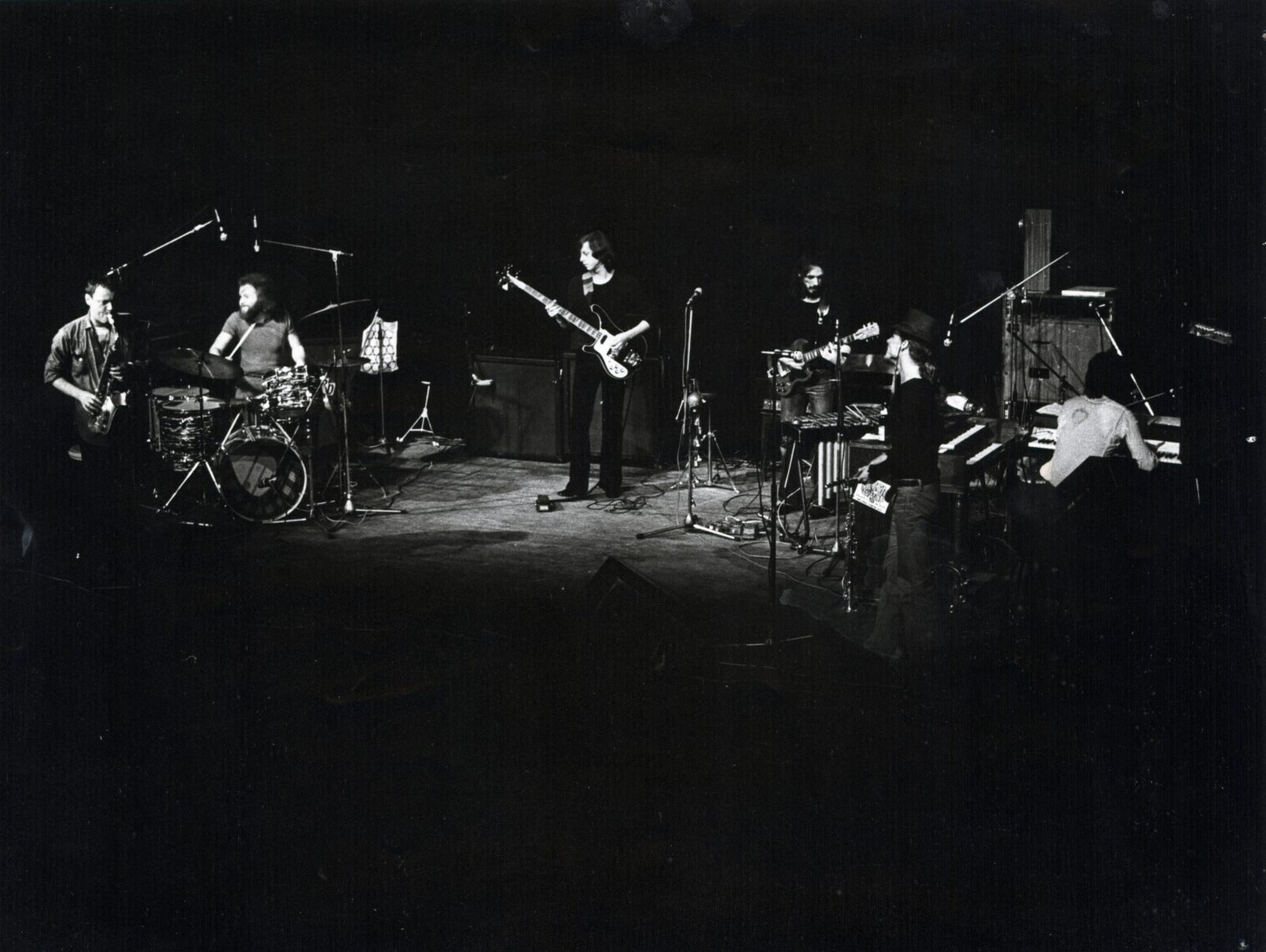 How about 'Not Too Late'? Those are demos for a planned album, right? What was happening at the time? You went through a line-up change…
It was during the time in Herrsching, about which I have already said a lot, and this project actually began without me. Moran led the band after I left because I couldn't see a future with the new drummer, Wolfgang Windisch, who the band eventually decided on. Before that, we played with Markus Krug for a while, already in Trudering, when we thought Klaus wasn't trying hard enough to solve his memory problems. He had serious difficulty realizing the time between breaks or transitions and it kept happening that he didn't know where we were in a song or what was coming next. It's just hard when you've arranged to play a certain riff, say eight times, and then he'd play the break after seven. I loved his playing, no doubt, but you can't always jam, you also have to throw in some solid arrangements to please yourself and the listeners. This problem had been simmering for quite a while and then the point was reached where you just say enough is enough, I can't take it anymore. And we had put some pressure on him and then it often got worse. Today I knew that small stimuli are beneficial, medium ones are inhibiting and strong ones will even aggravate things. On the other hand, Klaus was not the disciplined type who would sit on his butt and work until things got better, and find a way to solve the problems. Intuitively, I have been careful with him a long time, also to maintain respect and not to offend, but as I said, there is a point where you can't take it anymore.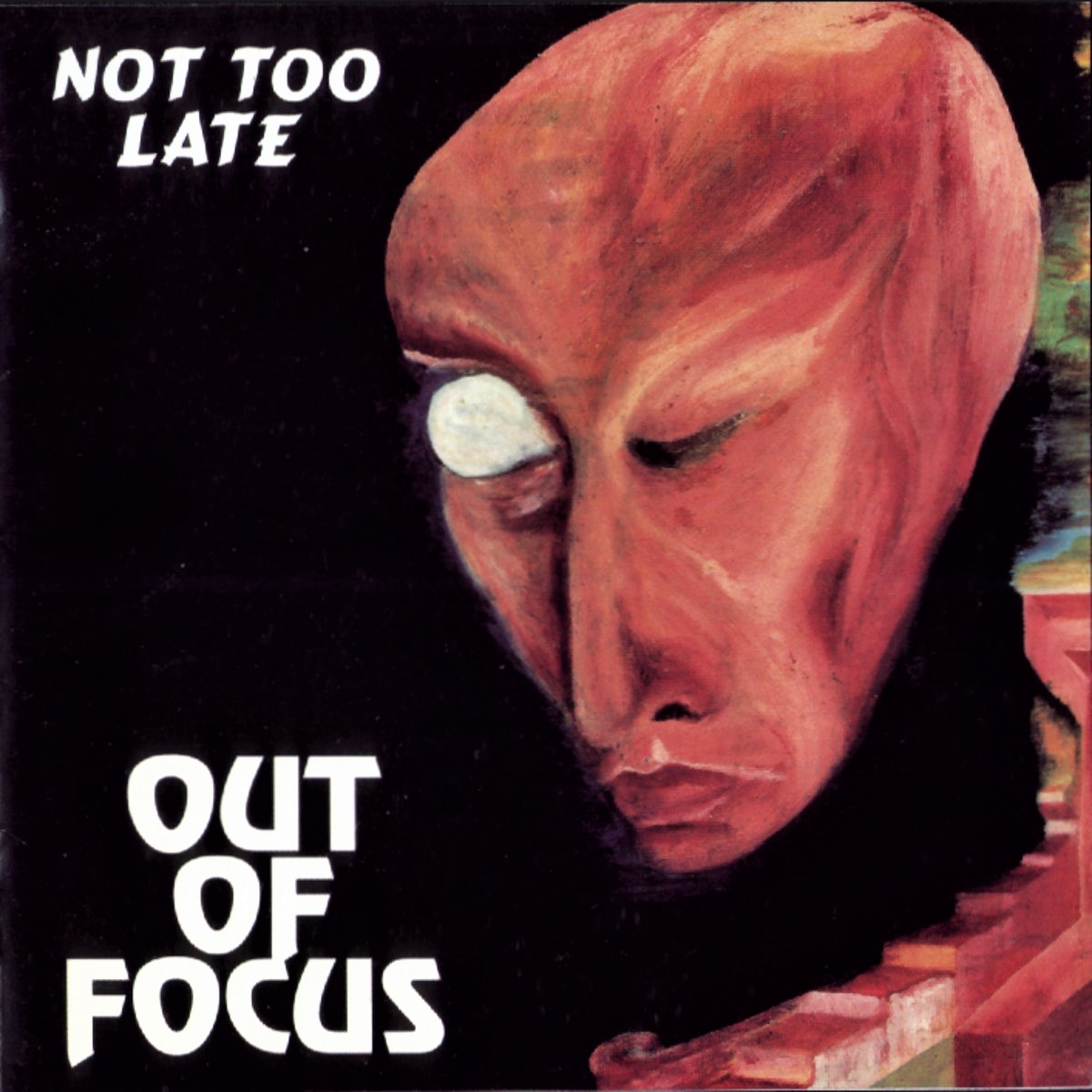 So we found Markus, but after a while it turned out that he wasn't the drummer we were looking for either. Then, in Herrsching, we looked at others and the band decided on Wolfgang Windisch. It was clear to me that we would not be successful with him and so I left the band. He just didn't have the intensity we needed, and playing with him I also suffered too much. And then they called guitarist Wolfgang Göhringer – I think Stephan knew him – and started working on a new project. Still living together, I saw some progress, but also understood why they got stuck pretty soon and also Wolfgang said that there is no way to move the project forward with this drummer. I mean, there was also Friedel and they had to earn a living and there were no live concerts. Ingo had a job at the university, but of course he also hoped for a working band. I was making money with electronics, but being aware of the situation, I suggested a meeting and offered to join again and that we would have to ask Klaus to come back. That was the only realistic solution I could see, also considering the fact that we were 40 kilometres away from Munich in the sticks, with the necessary travels and everything for a new musician. We agreed and started working, now with two guitarists and Wolfgang, who also had moved into the front house, was a big challenge for me and I felt I had to practice a lot to keep up with him.
With the money I earned from working for Uher – a renowned tape recorder manufacturer at the time – I was able to buy my first Revox tape machine and then also started home recording, actually the first step on the way to "Kontrast" later. We then recorded 'Not Too Late' with this Revox A-77. Working with Klaus again made me really happy and I promised myself never to say another word if he missed a bridge or whatever. And it was kind of an evolution for me, because I could really let go of criticism and just enjoyed playing with him, and the problem faded, I think he really improved.
I suggested publishing on Schneeball and since it was the time when the Embryos came to us once a week anyway, I had already talked to Christian Burchard about it. The others were not so enthusiastic about joining Snowball, and that was a new disillusionment for me again. I looked at joining Schneeball as a way to make things better, and they wanted to get signed again by one of those record companies that would pocket the most money and only give a pittance to their artists. And along with all the other problems I've already mentioned, that was also the reason why this project wasn't released at the time.
Many years later Christian Burchard came by and asked me to help him with some Embryo live recordings from his archive. He wanted to burn CDs to sell at their concerts and also needed some editing. I showed him how to do it, and after a while he had a big box full of CDs, which he packaged in photocopies as covers and sold at their concerts . But that's just in passing. The thing was, he gave me this wonderful book by Steven and Alan Freeman, "The Crack In The Cosmic Egg". I flipped through it, read the chapters on Out of Focus and Kontrast, and then just called the guys. They were pleasantly surprised and, not long after when ordering some Kontrast LPs, the question came up if I had any unreleased material from Out of Focus. Yes, there are two boxes full of tapes, I said, and so it happened that 'Not Too Late' got finally released. Winfried Schlögel from Frankfurt, who also ordered Kontrast LPs from time to time, then wanted to do the vinyl release on his label "Nexus", and later he introduced me to Walter Nowicki from "Garden Of Delights".
At the same time, maybe even before, when I was canvassing the local record stores to sell Kontrast LPs, I ran into Fuzzy Weissbrodt of Ohrwaschl Records and he showed me the CD releases of Out of Focus that he had done in collaboration with Kuckuck. Together with Stafan Brenner from Kuckuck he had found the master tapes of Out of Focus and other bands that were gathering dust in the basement of Kuckuck and then suggested to Eckart to release them on CD. They made a deal and so he ended up distributing the old Kuckuck stuff and soon other forgotten releases by bands like Sahara, Amon Düül II and even King Crimson.
On 'Not Too Late' and Herrsching I have already reflected in the booklet and don't want to repeat all of it now – buy the thing and let me get rich in my old days. Perhaps to add that Klaus and I first had to familiarize ourselves with Moran's two new and great pieces, 'That's Very Easy' and 'Spanish Lines'. At first they seemed a bit strange to me, a bit different in style and quite complex. Moran had gone through severe love problems, probably still had, because Petra had left him. She had moved to Spain and he had visited her on the island of Ibiza. Upon his return, he told me that he climbed a high and straight cliff on the seashore and fought for his life, but eventually had to learn that Petra was determined to stay there. She also suffered from heart problems, as she had once told me, and years later, on the phone when she invited me to Ibiza, she mentioned that the Mediterranean climate had really improved things. She had become a mother and actually stayed there for the rest of her life. I think Moran's piece 'Spanish Lines' tells a bit about the journey there and the changes he had to go through. The suffering of emotional processing brought him further as a composer and I love this piece, even consider it one of his best. 'X' we had already recorded when we worked on FLMA but it was not satisfactory and then in Herrsching it worked even though Moran still had severe intonation problems on the flute with the 5 sharps – G sharp minor – the first step of the short solo parts. I think Ingo and Wolfgang just added what it needed to work.
Then I worked out 'Y' and we recorded 'The Way I Know Her' and 'Where Have You Been', the latter from FLMA in our – Evelyn's and my – living room. In the rehearsal room we recorded 'Hey John' again, because we wanted to play it on stage as well. For the CD release I had left out the two older tracks, but later when Sireena Records wanted to take over the vinyl release after Nexus Records went out of business, they had asked for bonus tracks and I remembered those two tracks and added them to the album, even had to rearrange it because of the two sides of the LP, but I also like the new layout. With that and a few older pieces we then went on tour until the first breakup of Out of Focus.
By the way, there is still a low quality bootleg of 'Not Too Late' offered on eBay and other platforms, which was made by an asshole from Berlin, who is well known in the scene.
Music is more important than money and I don't mind if someone who likes the music and is broke burns a CD, but making a business out of it is just out of line. Rip off the big corporations, not the artists!
How about 'Rat Roads'?
So after 'Not Too Late' I kept going through the tapes to see what else could be done and listened then to the pre-mixes of the FLMA sessions. I got them because in order not to lose precious studio time listening through and deciding what to take, I had asked the sound engineer, Wolfgang Löper, to do rough mixes for us we could listen to at home. About half of the session material was unreleased, and there were also two composed pieces that didn't make it onto the album because there wasn't enough space. Later, for the CD release, Eckart and/or Fuzzy used one of them as a bonus track. We weren't involved in the decision, however, but since we were no longer a working band, we probably wouldn't have objected anyway. There were other things going on for us at the time and no one would have thought that the interest in Out of Focus' music would last through the decades. The premixes weren't perfect, but the overall quality was pretty good, simply studio recordings. So I transferred them and started working on them. Removed some interference and balanced the instruments a bit here and there where possible. There was too much cymbal on one part and some wrong bass notes on another part, when Stephan was not aware that the tape was running, which had to be filtered out. One hit went too far into the red and also to decide where to fade in and out, of course. I overlapped a few seconds with the takes on FLMA so that the continuity is there. So if one wants to hear a complete session he can easily glue the corresponding parts from FLMA and 'Rat Roads' back together using a PC or even do it with tapes for the purists. And we simply renamed the track that was already released as a bonus track so as not to collide with the GEMA registration of Kuckuck/E.R.P.. And so at least we got some money for it. It was OK to use that piece as a bonus track, but it was absolutely not OK to register this piece without the signatures of the composers, that is Moran and me. We never have signed anything and Eckart must have committed document forgery here, as the GEMA would never do a registration without the consent of the authors. Eckart paid only the bare minimum – a few cents for each release – and once said to me that he would stop releasing our albums if we demanded money from him. One more thing comes to mind now and I think it should be mentioned in this context: After Alan and Steven Freeman had released 'Not Too Late' on "Cosmic Egg", Fuzzy of course ordered some CDs to have them in his catalogue, and I even had preliminary talks with him to also release on the Ohrwaschl label. That was before I was recommended to Walter Nowicki of Garden Of Delights by Winfried, who then published 'Rat Roads'.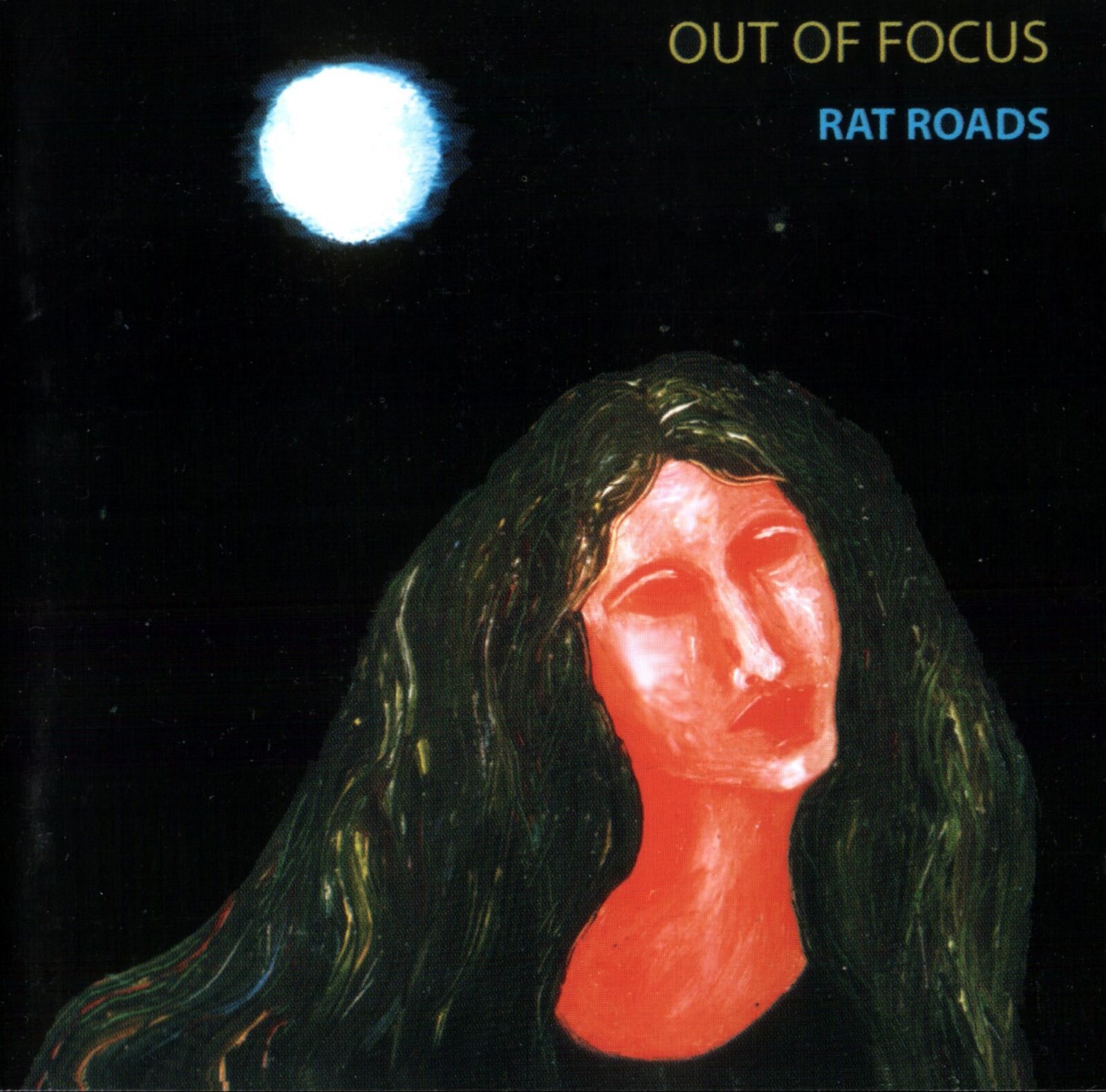 Then I called Eckart to see what he thinks and if he still had any unreleased tapes and we had a long talk and I even sent him 'Not Too Late' and 'Rat Roads' CDs. But then he threatened Fuzzy in a way that if he doesn't stop distributing Out of Focus releases other than Kuckuck's, he will stop the cooperation with him immediately. Fuzzy had told me that and it just shows a bit of Eckart's character. I mean, he was certainly a genius at promoting and selling records, but had also used his talent in rather dubious ways, such as selling licenses to print our albums to a supplier of cheap department store rummage sales and, on the same day, also to a high priced label in Berlin. Again, this is just what Fuzzy had told me. And we haven't seen a dime of it. A few years ago, when the GEMA had to change their guidelines so that the composer gets the royalties first, before the publisher (Eckart's E.R.P. Musikverlag), he licensed our albums to an English label, "Cherry Red Records – Esoteric Reactive", who remastered and re-released them, and the English system is different in that they don't have to automatically pay the composers as they do here. But anyway, I don't want to waste my time with any litigation. As Sun Tzu said, wait long by the river and the corpses of your enemies will float by. And releases on Ohrwaschl Records did not materialize for obvious reasons.
What happened next to you?
I think I started working on 'Kontrast Volume II' and had stopped playing with "Double Action". This was the already mentioned Dieter (Didi) Beck, who had previously worked with Peter Jacobi and Willi Michl. They were from the Bavarian blues and Prog Folk scene, not so much my world but with Didi I learned all kinds of Blues playing. Also to mention Sparifankal, who were also with Schneeball and there is a renowned label here, "Trikont" with a large catalogue in alternative Folk or whatever called, just to add to the scene question above. There was also a Cuban group "Almas" with whom I played Cuban Buena Vista music for a while, and a duo, "Sun Ray", with a Slovak guitarist, Roman Krenn, doing Bossas and jazz standards and a few pieces of mine. With Didi I played bass and a bit of flute, with the other two it was just flute (actually my special soprano recorder made out of metal). Sun Ray occasionally expanded into a quintet with singer, second guitar and my girlfriend Beatrix on percussion. We had rehearsed for a winter and then started playing in Englischer Garten to become fluent, and after the fourth day the first well-paid gig came in and on that an even better-paid second one. With Didi in certain times we almost played day and night, afternoon in the park and gigs in the evening. You know, just playing in a public space is also a casual way to develop a new band and a new repertoire while already making money when you're actually still rehearsing. Then when people start liking it, they'll ask you to play at their party or even bigger events. And everything is relaxed, not so many phone calls as with conventional management, as I did e.g. for Out of Focus the second time, and mostly no contracts to sign, or posters and press material to send away. Playing only with small equipment and usually in very nice surroundings with excellent food. When we performed in the park, we often had hundreds of people standing in front of us also picnicking on the grass around and having a good time listening to the music. We also sold CDs and in the evening we went to an Italian restaurant, ate, drank and counted the money, which was sometimes so much that it became hard to carry. That was a great time and it started in the early nineties: While jamming with the aforementioned drummers, I figured why not bring a full line-up to here and then equipped conventional solid state amplifiers with powerful lead acid batteries. The first band I started in the park was Sharp Senses, and it wasn't long before we were playing there every weekend, setting up a sort of guerrilla open-air thing. People were already there, laying on the grass with blankets, sleeping bags and sun shade umbrellas, waiting for us to arrive and set up under a big tree with branches hanging way over. Met Didi there for the first time and also other guest musicians came by and so we could always present surprises to the audience. The band became quite good and so I sat down and started regular management again, with all the exhausting work, but it was necessary in order to get out of the city as well. And so I bought a small bus and was back on the road again.
Sharp Senses, that was Gerhard Wagner I had heard first when I played with Gerald (Hartwig) Luciano's – previously with Karthago and then Embryo – and his wife Susie's project "Fudji Caos" and Gerhard was just a great sax and flute player. Then guitarist Harald Näger, formerly with the German band "Tour De Force" – there is also a US band with this name – and on percussion first Achim Zeug, who was also drummer of the late Out of Focus and with Embryo, and later Peter Worgall, from Winny Matthias' band "Gadzho", a great violin player, who is also on 'Kontrast – The Rules Of The Band' (not yet released).
You know, in the time before Sharp Senses and then parallel to that, after I had finished the "Kontrast" LP, and during the second Kontrast sessions, a Hashish and Weed business flew to me. I never thought I would go for that, Paul Smith had once brought an Englishman with him to a session, and this guy sat in my kitchen from then on, selling Hashish to the musicians every time. This went on for a while and one day he said to me that he had to go to England for a month or so and asked me if he could leave some in my fridge and that it would be nice if I could fill in for him while he was away. Eventually it turned out that from then on he only came to replenish the stock, and then I decided to take over the business, since it was bringing in good money and I also thought, after buying mostly from other musicians all these years, that now it would just be my turn. And that's pretty time consuming if you want to do it right and at a high level. What I knew was that there is green, black and red stuff and Weed, the countries where it is grown and that there are good and bad qualities. So I bought books to learn more about cannabis, to study it in a way and also read about other drugs as well. Actually very interesting things and also a lot of nonsense and so I became a bit of an expert so to say. When I played with Embryo in Amsterdam, I had seen how they do it there, offering a variety of different kinds and I had also bought a good selection. Later, when I was there again, over two weeks, when attending a training course on new Tektronix models, I again provided me with some and then hid it in my training documents, which were sent back to Munich by the Tek Training Centre, thus avoiding trouble at the airport on the way home. Also asked around to meet other importers and distributors and over time I was able to offer a wide range and very fine products. I told every wholesaler to cut out the junk and bring me only the finest merchandise, just a little regular type for those who really wanted that. I sold mostly to artists and after a few years, I had become one of the best addresses here and had customers from all areas and ranks. Film directors would come by after having finished a movie, park their Ferrari outside and say, now I need something good to relax, or another one would tell me he was doing a play in Regensburg and needed some ideas. I remember well a film musician who worked day and night and had to compose the music for four TV series every month and who, I would say, was in desperate need of inspiration. Models, dancers, singers, many musicians, of course, also sculptors and painters and even my dentist and some doctors appreciated what I had to offer. Towards the end of that time, when I had already started with "Sharp Senses", we also played at some shoot-is-done parties at Bavaria Film Studios. Also provided for a well-known piano player and his husband who were infected with HIV, and they really needed it. Unbelievable, this stupid cannabis policy of many governments. Now Germany has legalized it at least for medical indications. I supplied Ernst Fuchs, who, when he was in Munich working on a music project with Chris Karrer, stayed at the "Vier Jahreszeiten Kempinski" and always sent Chris to me for shopping – Chris is also a painter, which some may not know. And even Archie Shepp came by once when he was performing here and sat on my old kitchen table. An African-American trombonist, whom I had just seen on TV the day before performing in Italy and who was then at the Unterfahrt jazz club, which was also becoming an institution here, came by when I had a young and somewhat unbalanced guitarist sitting in my kitchen, and he told him a few important rules of life that hopefully helped the young man get along a bit. All along, I was open to sitting together and sharing, also because it was important for me to know a bit about the situation of my customers and to take care of them, to know if one can handle getting high. It's important for safety and if you don't care, you get chaos in return. And I had no intention of making as much money as possible. I didn't usually allow people to roll a joint right away, and if someone wanted to, I told them to go to the nearby park and sit by the river and smoke. This job needs a strong heart, because in the eyes of the law it is criminal and only if you do it really well can you survive. And I can say that this worked out well over several years. I and also my girlfriend Barbara, who had connections to the Turkish scene, which we also supplied at times, met wonderful people and spent countless hours of inspiring time with them. There were only a few that I felt didn't fit, and then I had to be very careful how and when I said no without offending and hurting to let one by gently. My Tai Chi Chuan and meditation practice has helped me a lot with this and I just recommend this to everyone, whatever they are up to, but also Yoga, which I practice now as well, and many other disciplines strengthen human existence. But everything has its beginning and also its end and so I started "Sharp Senses" because I thought that it was enough now and I wanted to make more music again.
There were always times when I didn't do live projects at all, or at least I tried. Doing live and home work at the same time is always a bit of a problem. It's tempting, of course, to have a live thing going or to be asked to join a band because you're not sitting at home alone at the machines all the time like when you're producing. To have the full energy for both is almost impossible. One thing then always comes up short. The rehearsals, the driving to the gigs and then playing your ass off. When you get older, sometimes you even need days to recover and then you have to prepare for the next gig, the next rehearsal, the next meeting. Sometimes I played with three bands at the same time, running from one gig to the next, and there were long weekends when I even had bloody fingers from playing. The point is that there is not much time and energy left to still produce on the side during the week. Also, people call me who need technical help, musicians with broken amplifiers, but also audiophiles for whom I repaired and restored a lot of high-end gear. But also did such crazy things as a special machine for a TV game show and once even developed a special calculator based on a formula from a book about Blackjack for a gambler, which he would wear invisibly, hiding the input keys under his bandaged left hand and a tiny display put into a wristwatch case. When I was on the road with Embryo, I had data books with me to find the right chips and roughly sketched out an initial schematic of the thing. Over the decades, I've developed a bit of a reputation here as, as they say, one of the top specialists in solving technical problems, and have been able to obtain almost all of the equipment, documentation, and parts needed to do the job off the shelf without having to order parts often. And that also needs to be maintained, repaired and kept up to date.
The completion of 'Kontrast Vol. I + II' took another two years and the next Kontrast album, 'The Rules Of The Band' still is waiting for years to be continued and eventually finished. And the Kontrast session tapes of the third phase with Christian Burchard, Chris Karrer and many others I have not even digitally transferred yet. So I've been trying to limit or even avoid live work since about the time after 'Rat Roads'. But then came the call from Laye Mansa to join his new African band 'Sunugal'. I couldn't say no, as I had never done anything like this before, and so another 7 years passed with many, many performances and rehearsals. And once you said "yes" to a band, you can't just say "no" again, because it's a commitment and all the musicians depend on each other. It depends on whether you can make a living with music or not. If a member simply calls in sick or even runs away because of an inappropriate word after the last concert or even drinks too much, the next gig can once again go to shit. Some musicians sometimes behave like children and I wouldn't say that those from Africa are immune to that, rather the other way around and so I even brought Wolfgang Göhringer into this band to have a reliable core. And we had a good time again, having last played together with Out of Focus decades ago when we still lived in Herrsching. And it was also good that I told Laye that I also play Kalimba, an African Lamellophone, and then we developed a second program opposed to the full band, mainly with this instrument, also some bass or flute for some pieces, but basically a program, call it unplugged, that we could play on smaller stages and also at private events in rather volume-sensitive environments. And that was also great for me, because I was able to advance my Kalimba playing – there are many other names for this instrument in Africa – and now I'm working on a solo program on this thing.
Kontrast was your own project and I would like to know the story about it. You also collaborated with beat poet Paul Smyth and played improvisational ethnic influenced music.
It started with the Revox A-77, that I had bought in Herrsching. Then, because 2 tracks are simply not enough for decent recording work, I got myself an affordable Teac 4-track when I was working at Rohde & Schwarz / Tektronix in Munich after the separation of Out of Focus. These machines were just coming on the market and before only the very expensive studio multitrack machines existed. I also bought some instruments, especially percussion, to be able to lay down rhythm tracks. I wanted to be able to produce music independently of bands, you know, those fragile gatherings of often quite difficult people called bands. Of course that was a compromise because with an already recorded instrument you can't really communicate anymore but I think it's also good to go through that. I was composing and recording, but also still jamming with everyone who came by and also joined this acoustic band for the live feel. It didn't last too long, but we had some great gigs, only when I offered everyone LSD once, they went crazy then. I left right off stage and played pool with the girls in the pub next door until they were through, and that was it. I also prepared for the entrance exam to the Richard Strauss Konservatorium, with the help of Hennes and Peter Dechant in ear training, theory and on the classical guitar. Evelyn bought a Gibson EB-3 bass and started practising, and I helped her as much as I could. In a way, I also taught myself how to play bass through that and that led to switching to the bass later and playing it professionally to this day. And with Embryo when I suddenly had to stand in for Uve Müllrich and take over the bass for a show, first time on stage actually. Saw him again by the way years after when I was playing with Didi in the park, and he just came up to me saying, for some time I've been walking now and kept hearing some nice bass and thought who's that? Then when we moved to Munich-Untergiesing, I built a recording studio into the sleeping room of our ground floor apartment with a lot of help from Moran. We did a room-in-room construction, which means to build an acoustically isolated room within a larger room, and we used particleboard and again rock wool to make it soundproof – but this time purchased. Before that I had a small improvised cabin made of wood and lots of blankets, but it was too small for more people and once it's infested with moths you can forget about it. And then I upgraded to a Tascam 8-track recorder and bought a mixer, effects, reverb, microphones, whatever was needed.
When the studio was ready, I thought about what to do now and how to start. Then I heard a guy, Richard Netušil, in Englischer Garten and started jamming with him. He was a self-taught hippie, a nice guy and a bit shy, but who played a kind of an unconventional stringed western guitar by strumming the strings with soft sticks, brushes, whatever, creating a wonderful cloud of rhythm and sound. It was pure freedom to play with him on my acoustic bass, which I had bought in the store in search of some cymbals and which I often took with me from then on. And after a while, I knew that was something I would like to start with. On many weekends – during the week I still worked at Tek – we sat in the studio and after a nice joint – Richard rolled them quite conscientiously – grooved away, and the tape was running. After some tapes were finished, I called Moran, Ingo and Christian Bäck to play over what we had recorded. No pre-listening, a fine smoke, and into the studio, headphones on and the record button hit. That was fun to do. And Moran had met Paul Smyth, an Irish poet and storyteller, with whom he wanted to start a words-and-music project – that became "Call that Work?" then. And so I had also asked Paul if he would like to join us in the studio. Then Marika Schmid-Falk – now just Falk – came back from Brazil. I think I kind of met her through Embryo, and she had also asked me for lessons on the Darbouka and then we did some recordings with her as well. She was previously engaged to a professional Iranian Dombak player who died in a car accident, they said, at night on a country road in Iran while visiting home, and then Marika left for Brazil, presumably to get over the loss. Just by the way, because I re-read the interview with Eckart Rahn to the remaster release of Out of Focus: Moran has never been to India, as Eckart says. It was Friedel who bought a bus and went to India after Herrsching with Paule (French woman's name btw.) to mend their relationship. And when they came back, they visited us, and right away Paule and I had sex on the deep carpet in front of them. I couldn't help myself, the emotions were just too strong and Evelyn and I had opened our marriage anyway. But back to contrast, I was also working on a long composition, which I then called 'Trip', and thought that this would be a good contrast – hence the name – to the free sessions, and after they finished, I focused on this piece and also on choosing what I could use from the sessions and started mixing down. On 'Trip' I worked for about two years and it took another couple of years to finish the whole album, also because I was still working mostly full time at Tek and had rehearsals and many gigs with Call That Work?. In the summer I sat almost every evening with a group of sophisticated drop-outs in one of the beer gardens and played acoustic guitar, full program with only my own instrumentals. Stoned and drunk then still in the café to sober up again for Tek the next day. During this time Ingo also had made his exit and I thought I should take this long piece, 'Suite For A Young Girl', with him on alto. I know this piece is not so easy to understand for everyone, but I had no choice in a way and Paul started with his story at just the right time to then climax with the music together. That was not arranged, it just happened and in a way it was magical. A process of disruption and ego on the way to coherence, that piece is I thought. And I also think that as the first piece, it will turn people away who can't really listen, and so it also acts as a kind of gateway for the whole work. On 'Trip' I played all the instruments myself and every note was written down. And I had to practice each instrument for a while before I could record it. The early trigger for this piece Trip was that I had fallen in love with a flautist while I was studying at the conservatory, and we played together and also went to Florence once, where, by the way, we met Phil Lawrence, an American guitar and mandolin player, with whom we played on the street to make some money, and also performed in a club. Today Phil works with Jerry Garcia and other famous artists in California, he had mentioned the other day, and that his band was opening for Van Morrison. Well, Petra once said to me, you improvise all the time, why don't you do a written composition. OK, I thought, let's do a piece where everything is written down, but I had no idea where that would take me. I just took a simple idea, recorded it, took another instrument and added what seemed appropriate, then the next, and so on until I had recorded a first layout from top to bottom. Then the whole process again, but now working from the bottom up, that is, first Darbouka, then Bass and so on. The idea was that in this way each instrument would also be able to respond to the others, so as not to get one of the usual linear multitrack works. It was a very long and intense process and sometimes I am maybe a bit too easy going with projects I set for myself, but it was definitely a very valuable experience. Had been withdrawing for the last half year towards the finishing of the album or so to not get distracted and when the album was out I was through with music for a while and other things entered my life, as I said. The 95% finished syndrome is something I'm sure many who do have comparable work experience. When you start a project, there's usually room to try different ways, revise decisions, whatever. But the closer you get to the end, the more you have to say, that's it now, knowing that there's no way back, because otherwise you'll never finish anything. And that can be quite hard, also because you have to let go of things that you may have fallen in love with, but for whatever reason can't be realized. Now the LP sold for up to 500 Euros, as I found out once on eBay when I got a request from Canada and wanted to know what the current prices are for LPs (but I still sell them at the normal price). I still have a few – about 50 – in stock, and the first and only edition was 1100 copies and I did all the covers myself by hand.
Kontrast album was released on Remi Records. In 2008 Cosmic Egg and Ultimate Transmissions released a compilation consisting of Volume II' as well.
I think it's not a compilation in the usual sense, a continuation or completion I would rather say. It is the Kontrast LP as it is, plus part II to finally reach the end. Alan wrote somewhere, an opus, I remember, and I can agree with that. If you lie down and let it run through, the whole thing, then you've seen a complete film, somehow made a journey. Without Part II, you couldn't see it that way.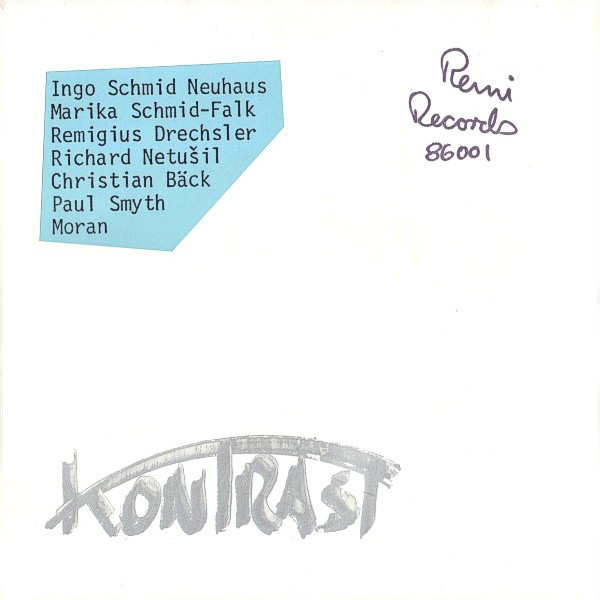 The LP was the first release I had all the responsibility in the end, and I was just done after the album was out, just needed a break. So the rest of the tapes from that time went back to the shelf. Then I moved forward and started with "Kontrast – The Rules Of The Band", worked with Moran almost every day on the desk for quite a while and we got it to a certain level where it also needed a break and then I started with the Out of Focus post releases. Staying with the remaining tapes of the first period would have been just too hard for me, impossible actually. All together and the two years of work on 'Trip'.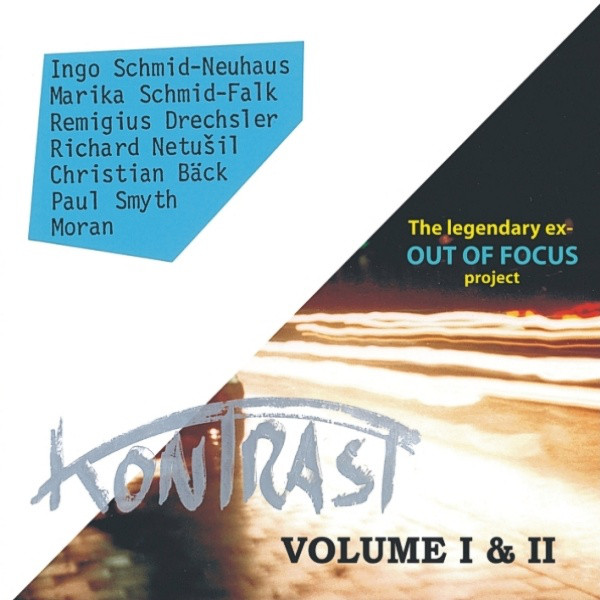 It wasn't until many years later that I had the strength, and the drive to continue again. And that was when Alan Freeman of Cosmic Egg asked me if they could do the CD release of Kontrast and if I had any bonus tracks, that I put that at the top of my list. And then the idea grew to take all the remaining recordings of the first sessions and to make a full second part, and not just a few bonus tracks. But that took at least another year to start with because I was busy with something else, the Sarasir CD I think, and also played a lot live during that time. So then I listened through the tapes and it was just right for another LP or, both together, for one CD, almost hitting the limit of 80 minutes maximum play time.
How about your collaboration with Embryo?
After Embryo came back from India, there was a big hello and much joy that they had made it, and there was a concert in Munich-Obergiesing, and since I had one of my flutes with me, I joined them on stage. Then, shortly after, Nucleus had a concert at the "Theaterfabrik" across town, and on the way to the subway, passing Embryo's house, I bumped into Christian. He said that they have a gig tonight and needed a guitar player because Roman had left, and if I wanted to play with them. You know, I had just quit Out of Focus and was looking forward to living a quieter life, but what could I do? No doubt, it's better to play by yourself than to go to a concert, I thought, and such an offer would not be repeated often, especially not by Embryo, where many musicians would queue up to play with them. So from that day on I was a core member and toured with them more often than ever before in my life. I could do it because I wasn't leading the band, so there were no additional responsibilities like management or anything else sitting on my shoulders. Doing management all the time would kill me I think, at least it's very hard for me. Endless phone calls and you have to be wide awake and with good vibes all the time, even if you feel like shit. And a lot of adrenaline with coffee and cigarettes, and then getting the letters and mailings ready, running to the post office in the evening, and sometimes more phone calls afterwards. A rehearsal in the evening was a relief then, and cell phones didn't exist back then. After the first time when I was doing it for Out of Focus over two years, I got stomach cramps just touching the receiver of a phone. With Embryo I really enjoyed just playing, mostly guitar, also some flute and percussion, and since it was my first instrument ever, I was able to fill in for Christian on the drum set when he switched to the vibraphone. Also supported Rolf Sylvester, the roadie and mixer a bit with my technical knowledge, which was easy. The difficult thing for me sometimes was that they were like a travelling bunch of gypsies, and it could be that we were hanging out at a friends' house in Frankfurt for days.
Christian was running around somewhere in the city, meeting people, negotiating, whatever, and nobody had any idea what was going to happen until the next concert. I mean, I loved that on one hand, but I also had my own projects that I wanted to continue at home. In fact, I always had books with me, and of course my instruments, but it's not the same.
During the first months they were also working on this fantastic double album 'Embryo's Reise' and that documentary film "Vagabunden Karawane". To this documentation it might be added that a whole film crew set out from here with Embryo, with all the necessary equipment and its own bus, to the three of the band. But after they had crossed the Indian border, the film people deserted in a way. The thing was that they had concealed, or in other words lied, that they were actually going to make a documentary about this guru Backwan and his Ashram in Goa and were just using Embryo as a vehicle to get into the country with all the equipment. There were many people here and everywhere who had joined Backwan's organization and who then went to India to achieve enlightenment, but also because of the sexual freedom practised in his Ashrams, to put it in a nutshell. Nothing wrong with that, but the Indian authorities did not want this kind of hype and would never have allowed this crew to enter with their intentions. They left Embryo with only a minimum of equipment, and only a few people stayed, including the director Embryo had brought in, Werner Penzel. Nevertheless, they managed to make a great film, also with the help of Michael, who already had some experience with filming, and also this Backwan documentary actually ran in a few scene movie theatres here later.
The basic tracks of the album were already recorded, some live on the big tour, others in the studio, only a few overdubs and some mixing still needed to be done, and the artwork wasn't finished either. I then went with them to the Sunrise Studios in Switzerland where they produced the album, and added two solos on electric and acoustic guitar because Roman and Christian were no longer able to work together at that point. At the Swiss border we had some serious trouble, we could have even ended up in jail: It was already after midnight when we arrived, and they would not let us pass, and according to their moral values, they were not so wrong actually. Before the border, Uve had divided his hashish, which he had smuggled from Afghanistan in the iron tubes of the seats of the last bus – the other two they had sold on the way back – and gave each of us a piece to hide in his mouth. Maybe the police had a feeling, or they just didn't like the way we looked, so they checked us for hours, and we even had to undress, but they couldn't find anything, and that challenged their ambition all the more. Around four in the morning they had woken up another policeman with a dog, and when he and the dog came into the room where they were holding us, each of us reflexively lit a cigarette, obviously to cover the smell of the hashish in our mouths, which was slowly getting softer and softer due to the body temperature and almost felt like it was melting. But even with the dog they couldn't find anything on us, so they searched the bus again and found the VW bus spare parts, including a rear axle that Christian had bought for Fred Frith of Henry Cow, who was in the studio for his solo album 'Gravity'. So they issued a customs invoice, which Christian had to pay, although we assured them that the parts were for an English musician who would definitively re-export them from Switzerland again. At least they had a sense of achievement, but it didn't last long, because in the meantime Christian had called the studio owner and producer Etienne Conod at the crack of dawn, and he woke Fred, who then rushed to the border, took the parts and brought them back to Germany, and the police had to refund the money. What a disappointment for them, and they had to let us in too. And what a relief for us then in the bus when we could finally take the hashish out of our mouths…
Between Roman and Christian there must have been quite an injury, and what I remember and what Michi had told me is that Roman didn't like Christian's way of exploring every mountain path to find possibly hidden musical diamonds somewhere in the countryside in India, and forcing the whole band to follow him. Roman wanted it to be more on a, let's say, professional level, and one day it burst out of him and they had a heated argument, something like that. The filming still had to be edited, and although Werner Penzel was considered the director of "Vagabunden Karawane", Uve, Michi and Christian were of course also closely involved. Bassist Uve Müllrich, also on Oud and Saz, was quite busy with that and there was even a concert in Dortmund where I had to take over the bass because he had an important appointment in France that day. I think he told me three days before and I had a bit of a struggle getting the program together on the bass. Was the first time actually on stage as a bass player, but I think I have mentioned that already.
Negotiations were held with "Das Zweite Deutsche Fernsehen" (second German official TV station) to broadcast the film, and finally the contract was signed, and of course there were press conferences and interviews. After that they worked on the next tour and it took us on a dense schedule through Italy, Spain and finally all of Morocco for over two months. To Morocco we took the ferry from Algeciras to Tangier and then the Moroccan border police decided not to let us in, probably because we didn't look like the usual tourists at all, but rather like a bunch of stoned hippies and the bus accordingly, of course. Not a mess from our perspective, but certainly not as nicely ordered as normal people would have it either. So Christian asked if he could use the phone and then called the head of the local Goethe Institute, who was already waiting for us. She, an elderly and resolute lady who had been in charge there for many years – after her retirement this branch was closed – immediately came down to the port and told the police that we were expected to perform at a big party in a park on the outskirts of Tangier later this afternoon, which even the governor of the province was to attend. There was no way to hold us back from entering anymore, and so we made our way to my first concert on African soil. Embryo has toured there before, and Christian has been even arrested and thrown into jail for three days. His wife, Eva Pluwatch, a doctor then managed to get him out again. For me it was a bit of a culture shock at first, never had that before in my life. Another world, clothes, smells, the whole atmosphere, absolutely something different, and much more relaxed than in Europe and it didn't take me very long to feel quite good there. Only the hustlers were a real nuisance. Everywhere in the city at least one of these guys would try to pull you into some store to get his commission for this time and all following purchases, if you bought something, or if they could make you decide on a certain hotel after arrival.
The first concert was nothing special, we played on a small and square podium about two meters high in the blazing sun, and electricity we got through two wires sticking out of the ground. In the evening then, we settled down at a public terrace camping site on the Atlantic side of town.
For the next day Christian had arranged a session with local musicians, who were a bit young and not the real thing, but we recorded a bit in the afternoon at a cultural centre without an audience. The first concert then in the upper town took place at the "Place De National", where a real stage was set up for us and there the music really took off. The place was packed and after we had started with the intro to the first piece, a hot groove, the mood went up immediately. The police stood in front of the stage, in a semicircle while the audience pretty quickly went into ecstasy, moving to the music and pushing more and more towards the stage. Then the policemen panicked in a way, and started beating up the people with their truncheons. Christian stopped the band right away to cool things down, and then we moved on to something not so upbeat. This was a new and ambivalent experience for me, because inwardly I was tempted to rather not finish the music with the, from today's point of view, rather naive confidence that everything would somehow go right. Actually a shame, I must admit, because I didn't give a shit about people getting beaten either, only the awesome music mattered to me. Now I know that things and also the police are very different in totalitarian systems and I think that the whole thing might have exploded if we had continued. And the audience in such countries is not like here. Many are poor, desperately longing for moments of excitement to forget their miserable existence and the constant struggle for survival. And there weren't many concerts there like ours during that time, if any, and when I remember the effect the music had on me when I first saw The Animals in Munich, I can imagine the ecstatic and trance-like mood they may have gotten into.
We played some big concerts, like in Casablanca and Rabat, but also smaller ones, and there was quite a contradictory gig, and I think it was in Khouribga for the workers of one of the big Phosphate mining companies:
Nikel Pallat from Ton Steine Scherben had arrived the day before with his bus and some friends and the company offered us a guided tour into the mines in the afternoon. It was quite impressive, if not to say shocking, under which conditions the miners had to work there without any significant safety precautions. Every day at least one limb went lost, and an average worker could only do this job for a few years assuming he could get by at all, although wages were quite high by Moroccan standards. So it was a kind of lottery for them to either increase the financial status of their families or even to die. The concert took place on a soccer field where a stage had been erected above the centre circle, tightly surrounded by a chain-link fence several meters high. The audience was to remain on the main grandstand on the side of the field and the floodlights were on. It was strange at the sound check and it was the time, also in connection with the impressions of the afternoon, when questions arose whether we really wanted to do something like this and Nikel was a leading voice and I also joined his opinion. Imagine, in Germany "Ton Steine Scherben" and also Embryo were known for a progressive attitude, stood up for a social society and human rights, and here we would support an exploitative corporation with a cultural event for its near-slaves, where no closer contact between artists and audience was allowed. The discussions continued and it turned out that Christian just wanted to play and didn't care too much about the situation. His point of view was that it would be better to show a different way of life through our performance instead of running away. But to assume that they can take something for life from our performance, well, quite optimistic, I would say at least. Do people here at all have a realistic choice, one might then ask. Anyway, I think in the end we told the organizers that we would only play if they let the people onto the field, so there would at least be a touch of a normal concert, while we tried to ignore the fence. Another aspect was that the Moroccan concerts were arranged by the local Goethe Institutes and a refusal to play this concert would not have made them happy either, I suppose. We did it, but for me it was the first time that I also perceived another face of Christian. In Germany, whenever possible, he played for squatters, the environmental movement, at demonstrations against rearmament and nuclear power and supported their voice, and here? Now I remember another situation and that was when I was in Morocco with them the second time. We played and recorded for several days in the big function room of a large hotel in Tangier and Christian had invited the local Gnawa group to work with us and we had a very good time playing together and had also visited them in their clubhouse, which was more like a small basement room in the Kasbah. When it was time to move on and Christian still running around somewhere, they came up to me and explained that they had been neglecting their work all these days, which was to unload ships in the harbour, and that they urgently needed at least some money to survive. Christian had simply given them nothing. So I started a collection within the band to be able to give them at least a small amount for their work. For Christian, music and the survival of the band seemed to be the only really important things in his life. And I have learned a lot from him and always appreciated him for his dedication, no doubt, and when he left this world, it was a great loss for true music. I enjoyed chatting with him when I sat in the front of the bus and he was often driving by himself, and he said there's no way back, you have to keep going no matter what, when we were once talking about decisions and so on. You know, before my second Morocco tour with them, before they left here – me and Barbara flew down later – he had bought a VW bus for the tour and then came over and said, Remi, you gotta help me, the exhaust fumes are kind of going into the cabin. So we filled the holes in the back above the engine to seal the thing up, but you could still smell it a little bit in Morocco. Then there, when we had to drive over the foothills of the Atlas Mountains for the next concert, he stalled the engine and the three leaders – Kris Karrer was with us this time – of Munich's most famous bands had to push this old VW bus together up the hill to the next slope because the battery was low. Funny, I thought, and a couple of Moroccan boys who were thankfully on the same way by foot helped pushing and we were able to drive on.
Back to the first tour: In Rabat we played in the biggest hall of the city and about 7000 people came, and there was also a VIP box exclusively for members of the royal family and I think some sons of the king with friends were present. Backstage I asked Christian if we really have to do this, to play for the main oppressors of this country now. His point again was that we play for the people and that this is much better than not playing at all. Today, of course, I would agree, but back then, when I was young and idealistic, grown up in a democracy, I hated this kind of compromise. That was the end of the first time with Embryo and when I was back in Germany I left the band and also Christian had decided to kick me out. Still, it was a little sad, but I was finally free to do what I wanted to do already prior to Embryo. I didn't think I would play with them again later, first in Germany and then the second Morocco tour when their main bass player Locko Richter (previously with Aera) couldn't do it, I think because of visa problems. By the way, to Locko I sold my half of the old Helios console from the Musicland studio, with which the Stones and many others had recorded. I had bought it together with Günther Moll (for a while with Sahara) and then Locko had built a small studio in Poland with it, just to add a few details. The second time with Embryo in Germany, Chris Karrer from Amon Düül II was also there and Chuck Henderson, whom I had heard first time in the Englischer Garten and then introduced to Christian. But Chuck was not with us in Morocco, with an American passport, I think also for visa reasons. Barbara and I flew down to Agadir, and then we took a regular bus to Casablanca, where the first concert was. The first Gulf War loomed over our heads and it actually started then, during the tour, with the consequence that all further concerts were cancelled. Ten years later, surprisingly, there were even some people who recognized me from the first tour.
Back home from the first tour, free but also not much money in my pocket, I met with former colleagues from Rhode & Schwarz / Tektronix for dinner – I think they even had called me – and of course told them that I had left the band and the next day my former branch manager was on the phone and asked me if I would like to work for them again and I said yes. With Embryo, the money was just enough to survive and when you are on tour, you also spend much more than at home. So now I was able to continue working on my recording studio and Moran was great in helping me with the physical work. And not long after, the Kontrast sessions began.
At the Embryo's there was trouble in the house because Friedemann – Friedo – Josch and the others tried to kick Christian out because he didn't run the band the way they thought he should. I don't remember the exact charges, but Christian was never after big money or flashy outfits and fancy hotels, just true and open music, as I said before. So if you look at what became of the Dissidents – they had also asked me to join them, but I declined mainly because I didn't want to move away from Munich – you might get an idea of how they wanted to transform Embryo. Friedo, the leader of the palace coup, was a cold guy but had previously made Missus Beastly a rich band. After they broke up, mainly because Evelyn and Burkhard had their baby I think, he needed a new area of activity and joined Embryo. They got to know each other through the Schneeball meetings and so Christian took him in. Officially the flautist of the band, he also kind of took over the management and I've never seen a guy doing it like he did. During rides we had to stop, in the middle of concerts he left the stage, at dinner he got up and ran to the nearest phone – cell phones didn't exist yet – to arrange appointments and gigs. And he was a tough negotiator. There was no musical or human contact with him, at least for me, no touching side whatsoever, a world apart, just talking fact. But in this matter he failed! Christian knew how to keep his band together, and no power in the world could have forced him to give up. And the next move of the insurgents then was to leave the band together and then they formed the Dissidenten. Christian of course had no problems keeping the band going because he knew almost all the musicians around anyway and many were ready to join immediately. One even waited two days at some train station once until the band came by to pick him up, that's dedication! And his beloved Eva, a physician, came back after trying out a different life with a colleague for a year, and immediately kicked out Christian's new girlfriend, whom he was together with during her absence, and made it clear who the lady of the house is. Eva always complained that he didn't care enough about her, and I still remember when we were sitting with Barbara at the Atlantic Ocean – second Morocco tour – and again she was sad because he never wanted to take her out to a nice restaurant or something. He was always busy looking around for the band, making new contacts, arranging projects, anything you can imagine, and she just had to accept it.
Did I miss any project?
One I haven't mentioned yet was a band called "The Pitchmap" with Mike Patzelt and Wolfgang – Lazy – Schmidt on saxes, Peter Lochner on bass and guitar, Steve Lake on Djembe and percussion and me on A-guitar and bass. Mike was also part of the late Out of Focus and had often participated in the second Kontrast sessions as well, and Steve Lake was a freelance music journalist, interviewer, writer and critic and was well known for his work for the Melody Maker and had eventually settled here in Munich. Now he works as a producer for the ECM label. Nothing too spectacular with this band, a few nice gigs here and there and I think I should listen to the recordings again. There are certainly some interesting compositions, I remember, but I'm not so sure about the overall quality. It's always a bit difficult with live recordings as many factors influence the quality and it rarely happens that everything fits. There was no studio work, only tons of rehearsal tapes I still have and a few live recordings and after a while we split up, as it often happens, and I don't really know why anymore.
Maybe a few words about Sarasir: It started with Winny Matthias, at times well known in southern Germany and a very intense and good violinist, Gypsy jazz and fusion one might label his style. I knew him from Englischer Garten, but really heard him for the first time at a big garden party that Marika gave once, and he was just stunning, fascinating, great, a wonderful performer. There are a few albums of his band Gadzho to be found on the Internet still. I recorded their third release in my studio and added a few phrases on flute and Darbouka that are really not worth mentioning, just for the records. I also recorded a solo album by Winny and some time after that, when he had ended Gadzho, we started Sarasir as a trio. On congas, Riq and a bit of Ney was Saad Hamid from Egypt and later we were joined by Famadi Sako, a Djembe master from Guinea, West Africa, so we were a quartet then. We did a first test in Englischer Garten and a guy approached us right away and we had our first official concert near Munich and there an owner of a small local jazz label, who had been invited by the promoter, offered us a contract. Again I managed the thing and we had really great gigs e.g. at a small festival here in Munich where people were still asking for CDs from us at the info counter hours after the concert. But when we started working in the recording studio, Winny couldn't go on anymore, everything was going too fast for him, as he said, and he left the band. Under fragility of geniuses I would classify it. Also Saad had been deported then, even came back, but there were too many problems with immigration that he could not solve. Got divorced and ended up more or less a psychiatric patient. He was a very good musician, but not strong enough for Central Europe. I continued the band with Russian musicians, a classical violinist, Vladimir Gaba and Mikhail Loguntsov on guitar, who was with the band Gunesh, a group from Turkmenistan, which was quite famous in the USSR at that time (check the internet and do an interview with him, he can still tell about it and I'll make contact with him if you want) – and later even Edgar Hofmann from Embryo joined us. On congas and percussion was Silvio Radulovic, who now works in Vienna. There is a CD in my archives that we sold at the concerts and maybe one day I will release it officially, I would just have to do some final touches on it.
I think that's all there is to report so far apart from what I have already told before, a few smaller projects or stillborns still there, but not really worth mentioning.
Is any member still involved with the music?
Hennes still plays with Sahara from time to time. They revived the band a few years ago and do mainly local gigs, no big tours, but on a professional level. Just checked their homepage and learned that they have stopped. Will call Hennes and ask him what happened…Yes, he told me that they had problems with their drummer Harry. But they have already found a new one and rehearsed with him, so they will continue. Hennes has several classical music projects going, choir, chamber music, and he gives piano lessons. Was, as I said, a music teacher at high school, but is now retired – just check his homepage to see everything.
Stephan first drove a cab, then armored car, and maybe played here and there with local bands. The last thing I heard a long time ago was that he became a chauffeur for a bank director, and he was surprised when I called him once and asked me how I got his number. Juliane (his old girlfriend) gave it to me, I said, and he told me he was on high security, all top secret.
Klaus we lost track of, and what I know is that he was working for some government form supplier and we even had a short session in my studio once during Kontrast time and then went for a beer with Moran. Before that, he had worked for quite a while at a top-notch record store in town and provided me with new releases at a fair price, but then when the store closed, contact became less frequent. Other things had come into my life, and his drinking habit didn't leave that much to keep us together. I don't think he played much anymore. But there was a little tour I just remember with the last Out of Focus line-up and the drummer couldn't do it, so I called Klaus and he came. Was really fun to play with him again and our bass player, Karl-Heinz (Karli) was very happy with his drive and power, almost couldn't believe it.
Ingo Schmid-Neuhaus was with us until after the end of the first Kontrast sessions. Then one day, after having tried unsuccessfully several times to kill himself with alcohol, as he or his wife Barbara, who had left him, had once put it, he finally succeeded. That day I was working in the Tektronix lab and it was the time when I was also attending a Tai Chi class that he gave once a week in the evening. He was a very good teacher, also because he needed it himself to straighten up again after a breakdown. But during this time the shit hit the fan again and his friend Uschi Eibl, who was and is also a Tai Chi teacher, had already filled in for him twice because he couldn't do his course. So I called him from the lab and asked if he was okay again and could do the class tonight. He was absolutely clear-headed and in a perfectly controlled voice, he suggested that I should lead the training instead, you're good enough, he said. Nevertheless, I had the distinct feeling that he was not well at all, even really bad. Since I couldn't run away from work that day, I called Moran, explained the situation, and asked him if he could stop by Ingo's place to see if there was anything to do. He went there and after Ingo opened the door and let him in, it was soon clear that Ingo was indeed in critical condition. He was crawling around the apartment and grunting like a pig. Ingo had been hospitalized more than once, but always picked himself up again, also through disciplined Tai Chi training, and then appeared fit and bright to us. Although at times he often had a bag with a bottle of fine spirits with him. You didn't notice at all when he was drinking. He always kept his attitude and speech at a very high level. Nevertheless, I remember talking to him after the last class, before Uschi filled in, and we were strolling down the street and I asked him how he was doing. He said that he seriously would want to go, but that it is not so easy to go with good conduct. He had tried holding his breath, a method Asian masters might use when they want to leave, but something inside of him always started breathing again. And he couldn't accomplish it with alcohol either, he said. I said that I think this is very sad and that we would all miss him very much, but if the pain becomes too hard, I can understand and of course accept his decision. Otherwise, I would stay as long as possible, just to observe and see what happens and how the world develops. But I didn't know what his childhood was like then, at the end of the war, with heavy shelling and the death of his grandmother as she protected him with her body. And that his mother had a breakdown when she was carrying him because she had to learn that her husband had fallen in Russia. His trauma never went away and all his life he had to find ways to live in harmony with the people around him, which actually made him a very fine person, scientist (communication theory) and musician. Inwardly he could not get rid of his diabolical visions and suffered silently all the time. And his wife Barbara had told me all this only after he was gone.
Well, Moran made him some tea that night and tried to keep him upright. And when it was time to sleep, Moran laid down somewhere in the apartment. Later, he remembered that he had heard a muffled sound in the morning that woke him up a little, but was still too tired to get up. And then, after standing up and looking into the hallway, he saw that Ingo had strangled himself with a belt hanging down from the coat rack, sitting on the floor with his neck in the loop and just leaning forward a little. So he had finally found a way to solve his problem with his breathing always starting again. The paramedic of the ambulance that was called said that his impression was that he really wanted to leave and that after all the attempts there was no way to bring him back.
There was a time when we played together like once a week in his apartment, him on the piano and me with my recorder, and just through the Real Book. That was pretty hard for me, I mean, playing Jazz on the Recorder and trying to make it sound good. But we always had a good time and he was the most patient teacher you can imagine. And this was one basis when years later I could just play the flute with different formations and also earn my money.
With this phenomenon of musicians with certain devils inside I was confronted not only once. I remember talking to Moran once about Chris because someone had just told me that he was in hospital again – I had no idea about this side of him before – because of his alcohol and tablets addiction. Moran, whose girlfriend lived in the area where Chris lived for a long time, said, so then it was him after all, who I kept seeing lately sneaking from one pub to another, he looked so different, thought, is that Chris? But then I also saw Chris again, just in the park here on the river, as I was on my way home after practising my daily Tai Chi there, and he was sitting on a bench with a younger woman and we were talking about the time in Morocco and had a funny conversation as always. Then he became a father for the first time and, after decades, moved with his new wife away from Munich to the countryside near Hof. Again some time after when Rolf Sylvester came by with some electronics work for me he told me to call Chris and cheer him up as he was in a difficult state again. At Christian's funeral Amon Düül II was also present, but unfortunately not Chris and we said hello and they said that he and Renate got stuck in Berlin and had no money for the train to Munich. He is simply a phenomenon, Krautrock at its best…
And I don't remember how it came that I sat on a train to Munich with Dieter Miekautsch, no idea. And he told me that he had played with a band the day before or so, to make some money, and that it was frustrating for him because they had a pretty bad timing. One half of the band was always lagging a little behind the others, and he had kept trying to pull them together by playing with one fraction with his left hand and with the other fraction with his right hand, and then slowly reducing the difference. But it didn't really work, he said, they drifted apart again and he couldn't get very happy with that performance. Dieter was an excellent musician and his work with Embryo and then with the Real AX Band is just great. He was constantly on LSD for quite a while and had thrown red paint drops all over the keyboard on his Fender Rhodes piano. At first I was a bit shocked how someone could treat such an instrument like that, and I said nothing to him. Later I realized that this marked each octave uniquely, which was actually a great idea, I then thought. These were good devils as opposed to the alcoholics. 'Nicht Stehen Bleiben / Move Your Ass In Time' is one of the best Schneeball albums, I'd say. I don't know if anyone has any idea how it was with the Real AX band. I mean, I only know little, just what I had learned when I was with Embryo, but they lived in the country and didn't have as many gigs and the LP didn't sell as well and so they didn't have enough money to heat the whole place in the winter.
The only room they could afford to heat was the rehearsal room, I was told, so they all spent the whole day in that room. That is certainly one reason why they became so good. Everyone could play every instrument in a way. Saw them in their late days in a small club here and Dieter and Maria were no longer there and they simply swapped instruments to be able to realize the pieces. Dieter and Maria Archer, the singer, both previously with Embryo, had obviously reached their limits, which we all have, and so one day they just disappeared. For a long time no one knew where they were and that's how Real AX Band came to an end.
But still, it's always different. When I think of Nick Woodland – don't let Sahara get off so easy – I wonder how he survives. Once when I picked up a friend of mine who worked as a waitress in one of the more intellectual pubs in Schwabing, waiting for her to finish, I saw him sitting in the corner talking to the table. Later he noticed me, we hugged and he invited me to the Sahara concert that was announced for the next day. You have to come, he said, I'll put you on the guest list, and we chatted and had some good moments. Another friend of mine who lives in the area, a bit of a pub fan, and who loves his music with his own band, then told me when we were talking about him and his music, uhh, what do you think, he does this every other day, has his favourite pubs and the one you met him is usually the last one because he lives right next door and that helps when the walking gets hard. I would be dead for days and not think at all about playing a big concert the next day, especially at our age. But you know what scientists tell us about a healthy life is not everything. There are also other ways to survive that doctors hardly admit or like, forces that are beyond scientific research, at least until today I would say.
And back to Out of Focus and the evil devils. There was an incident that I rather didn't want to mention, but you said it might be a good read and it happened, so what can I do? It was when Bavaria Studios needed a band for a demonstration of new studio equipment, and they asked Friedel if we could do it. It was in the big studio, and next door there was a smaller room full of all kinds of alcohol, by the case and of course all for free. Not even a bartender or so, just take what you want. Disaster was looming, and so it came. I can't remember my personal condition, and Hennes stayed certainly pretty sober, but the others were just absolutely pissed. Klaus wanted to carry a crate full of bottles to the truck, and because one was already broken, the carton was soaked, and when he lifted it, they all fell through and more broke. Then he started playing on his tom-toms with his stands. A huge mess, and then Stephan took a full bottle and just threw it across the big room, not noticing that Hennes was just wheeling his Hammond to the truck. The bottle hit him in the face and knocked a tooth out. Not so funny, I thought, but at least it brought us back down to earth a bit. The invited technicians and sound engineers were speechless and no one said not even a word to us. This stupid destructive urge was gone and Stephan had to pay the dentist. I mean, that was the time when they were still living together, Hennes and Stephan. And I have no idea how the alcohol makes it so easy for those damn devils to take over. They are probably already there and are just being released. Another step on the way to the first end of Out of Focus.
And Christian, who had stopped smoking and drinking completely – he never was a friend of the drink anyway, just smoking joints and cigarettes – was still running around Munich in his last years, looking like the living dead, checking and playing and even touring until he had a stroke and had to stay at home from then on.
And many have already gone, but no list here… look for yourself!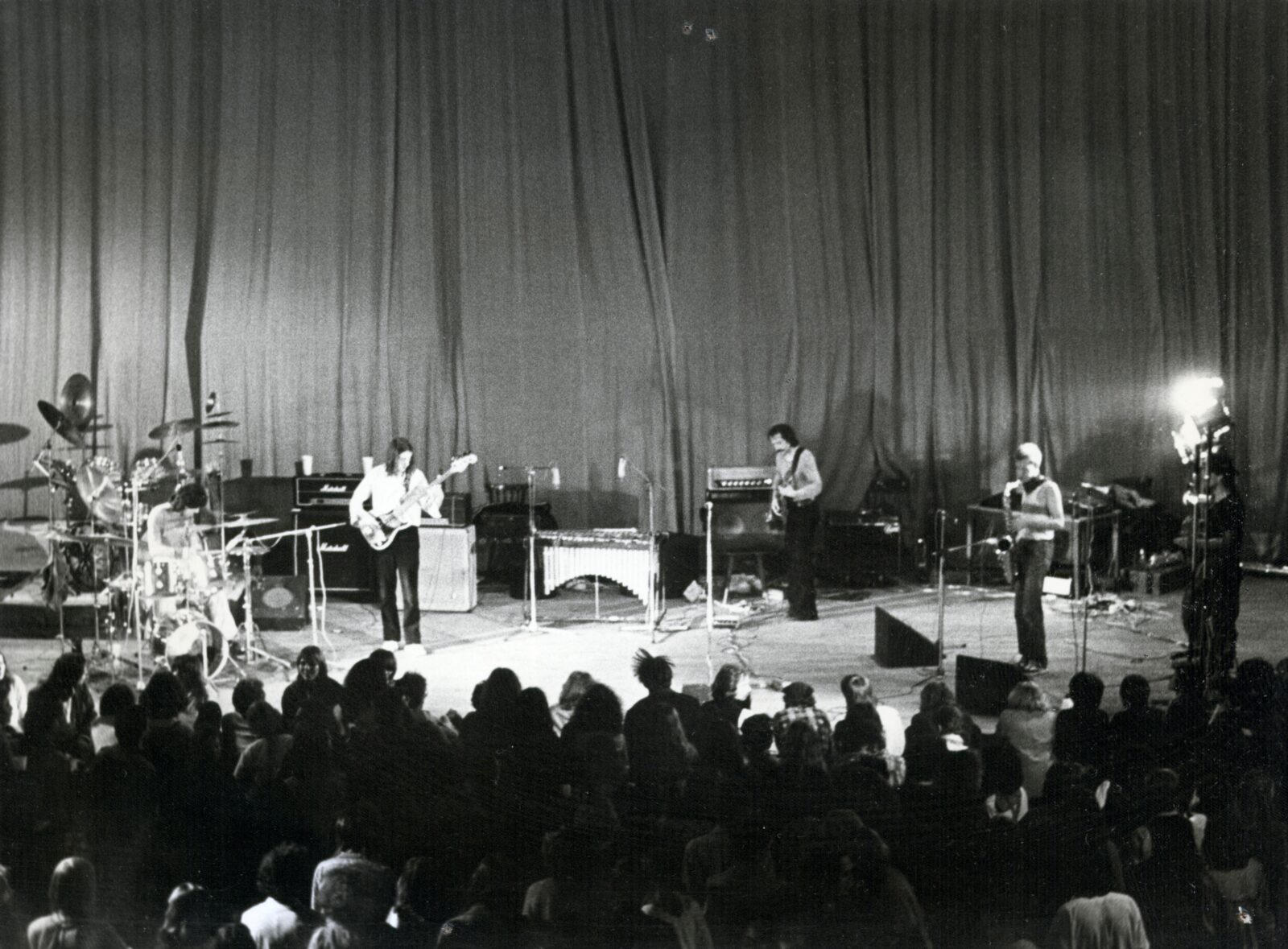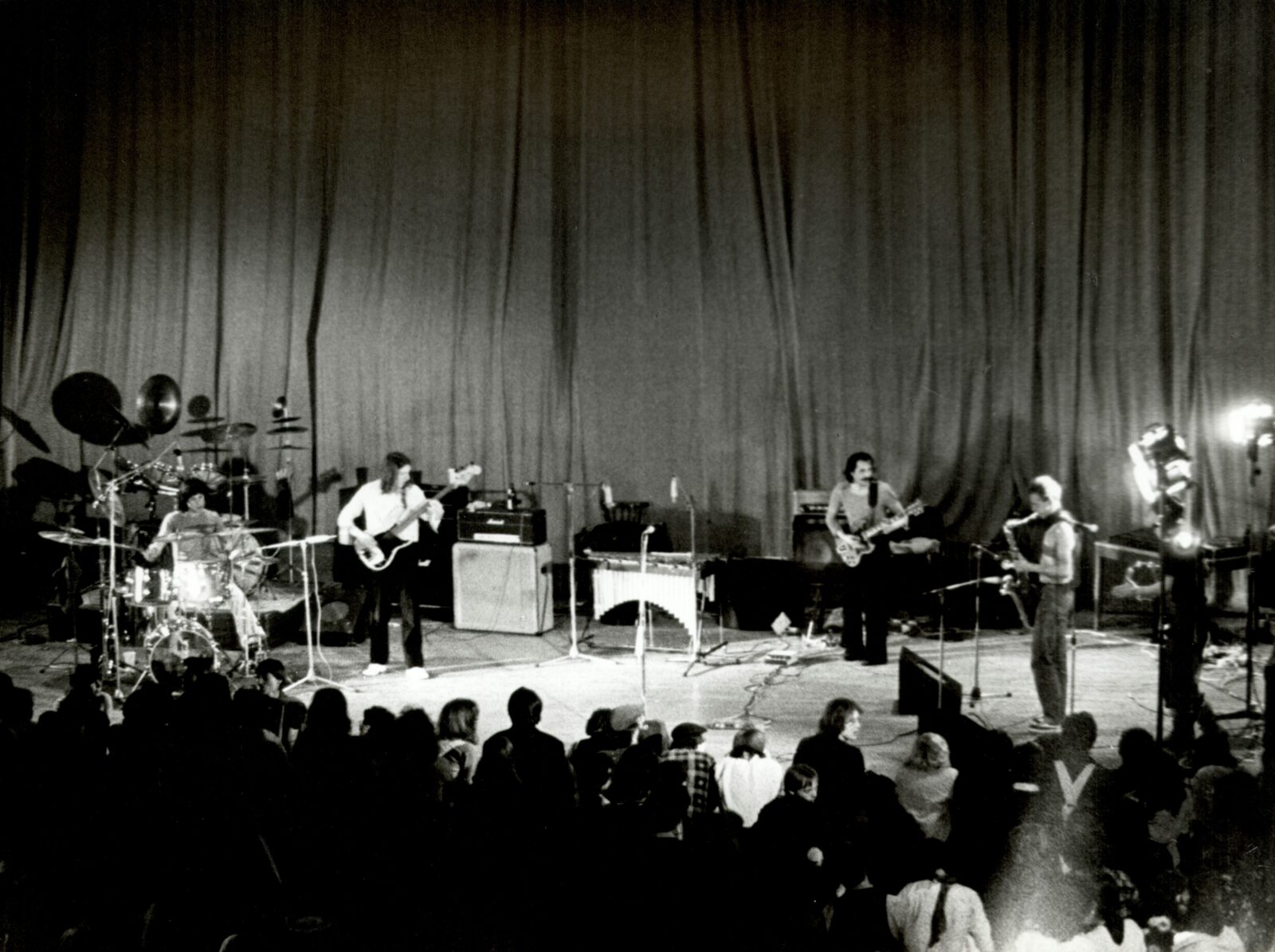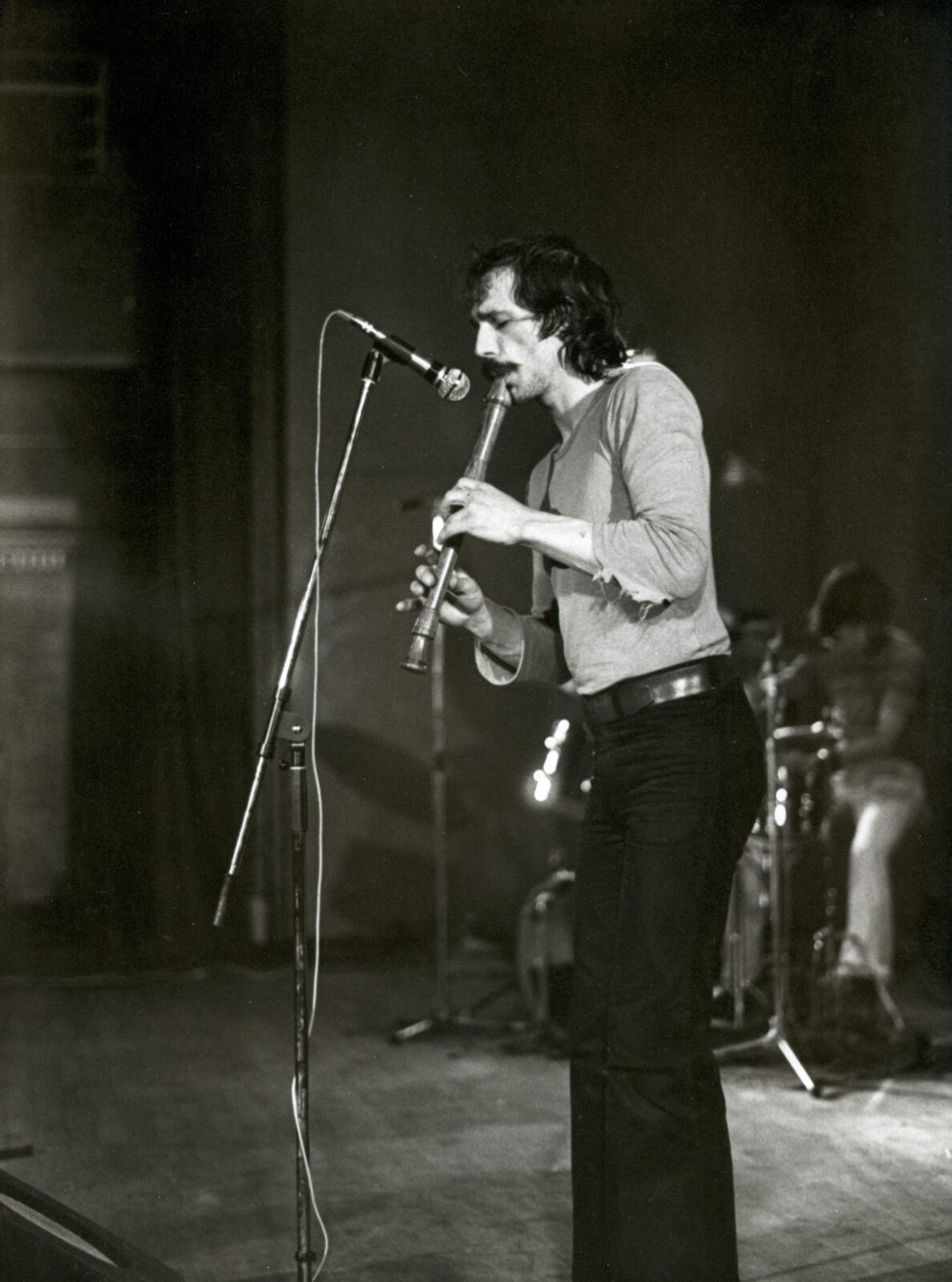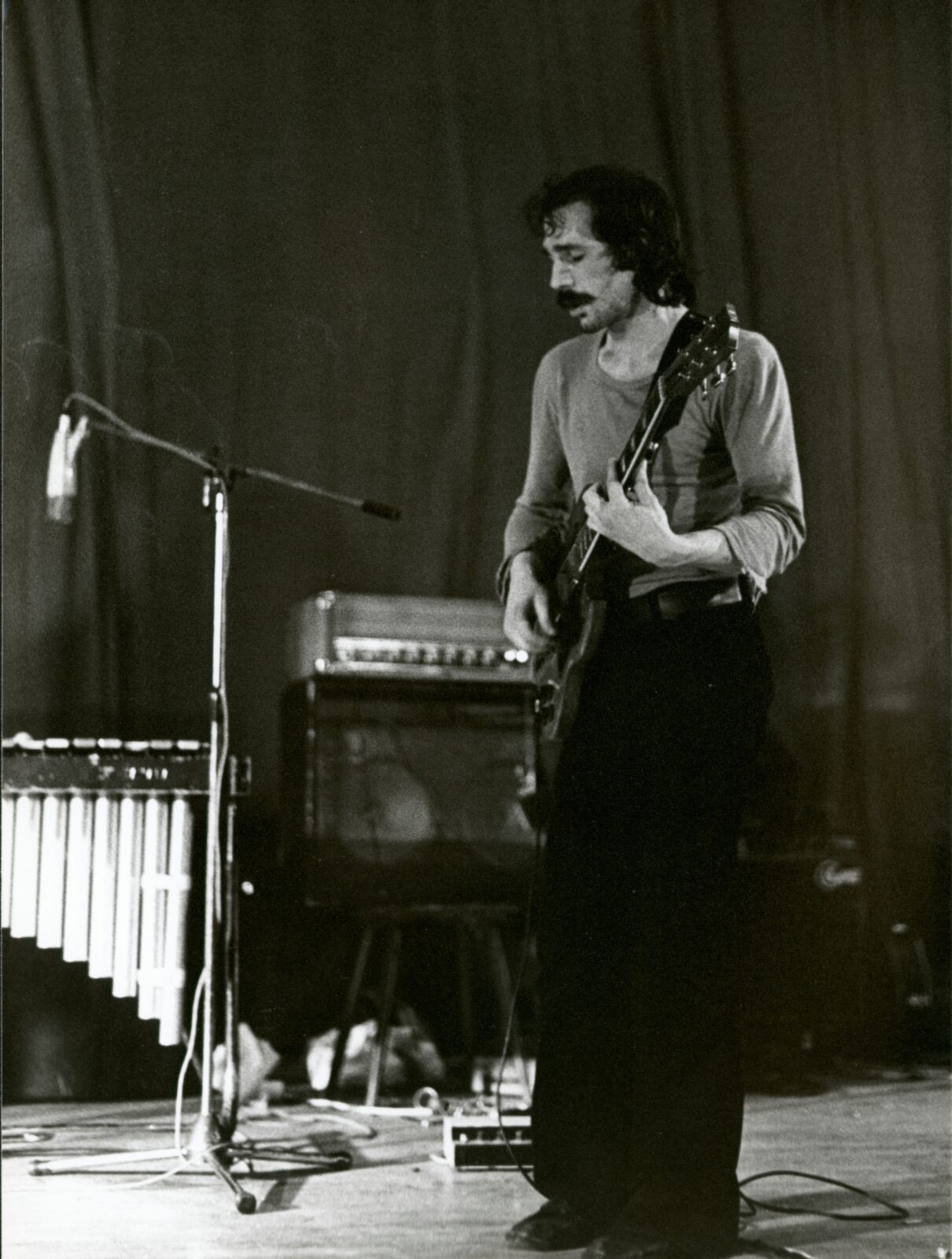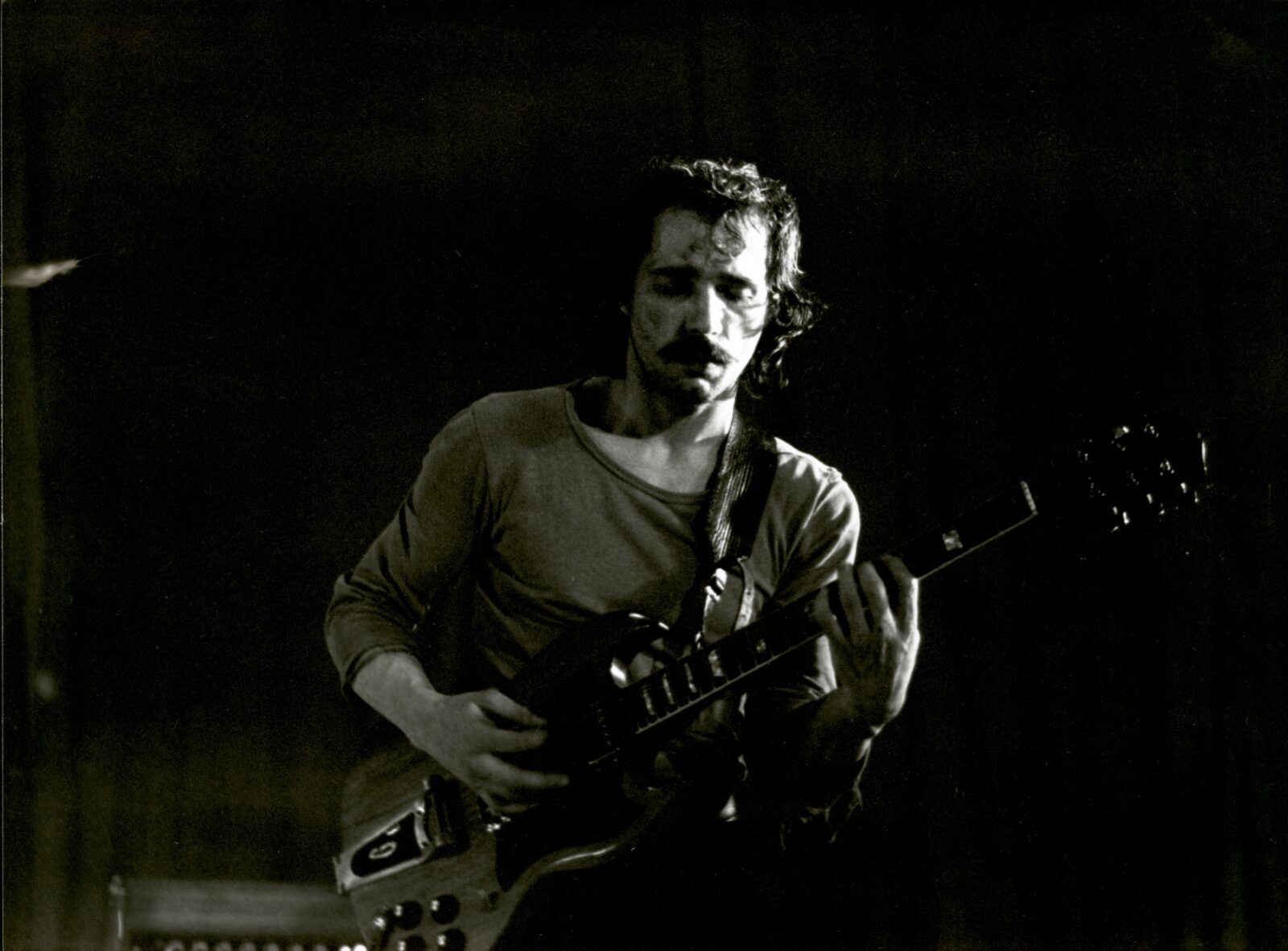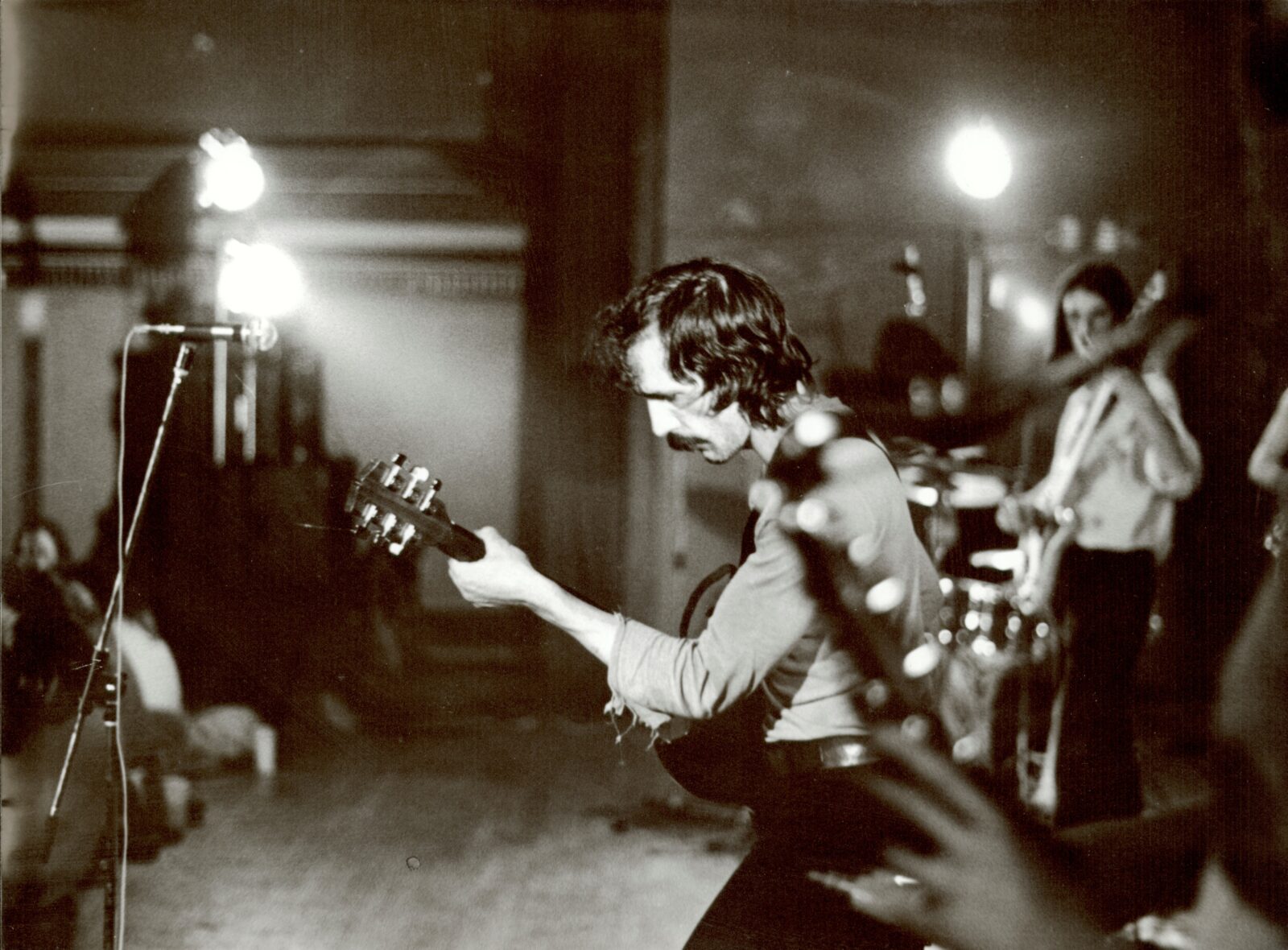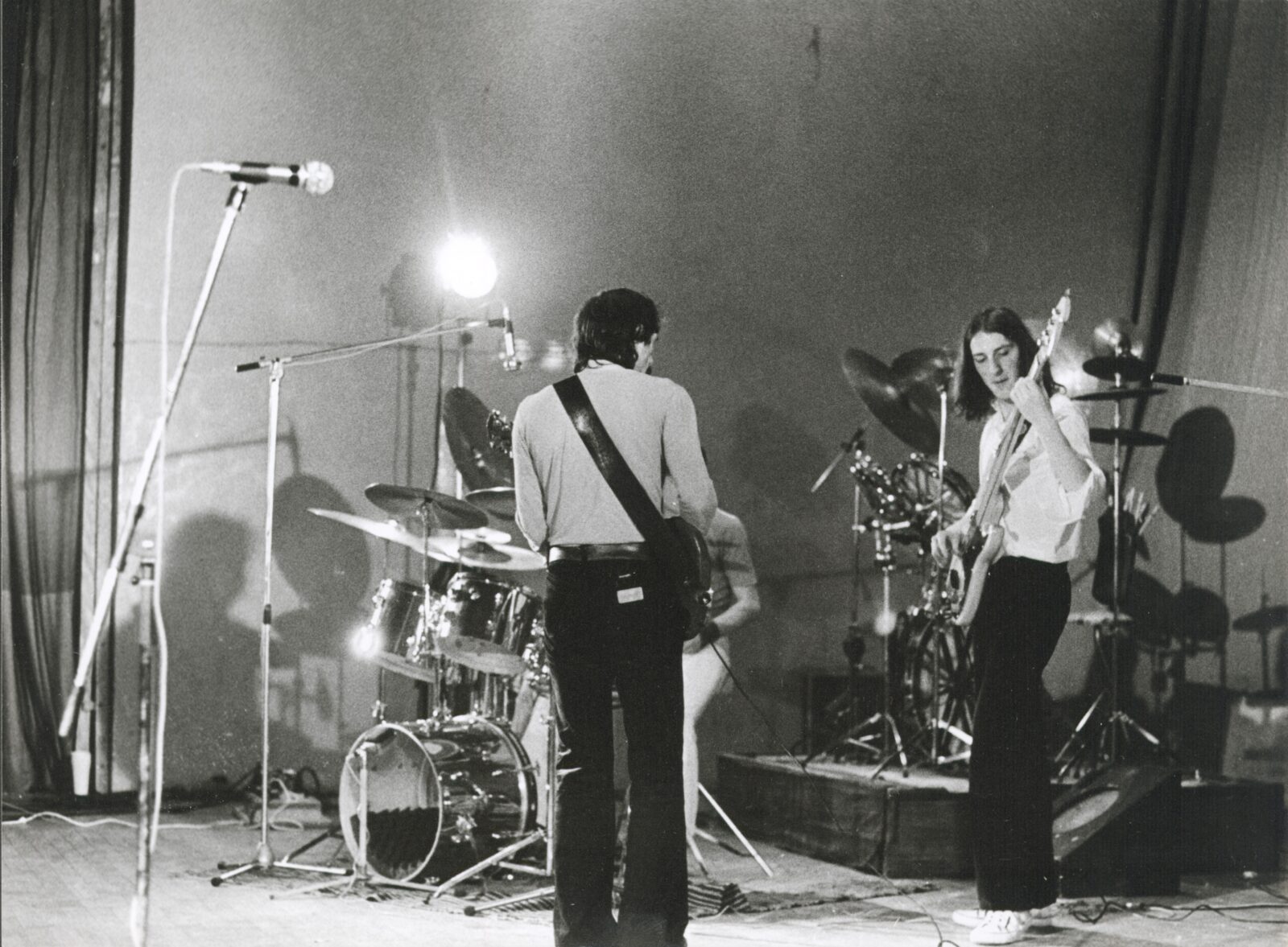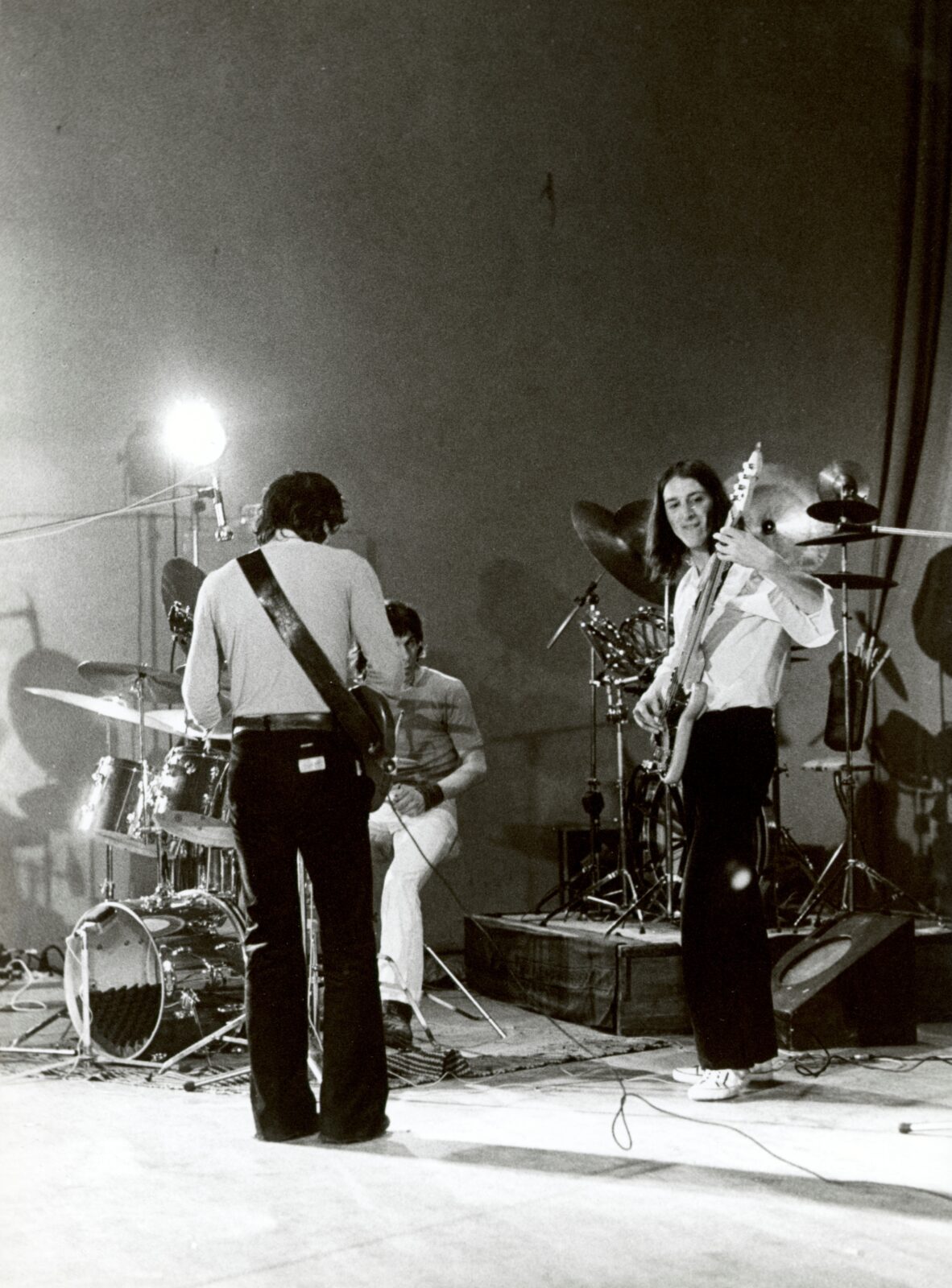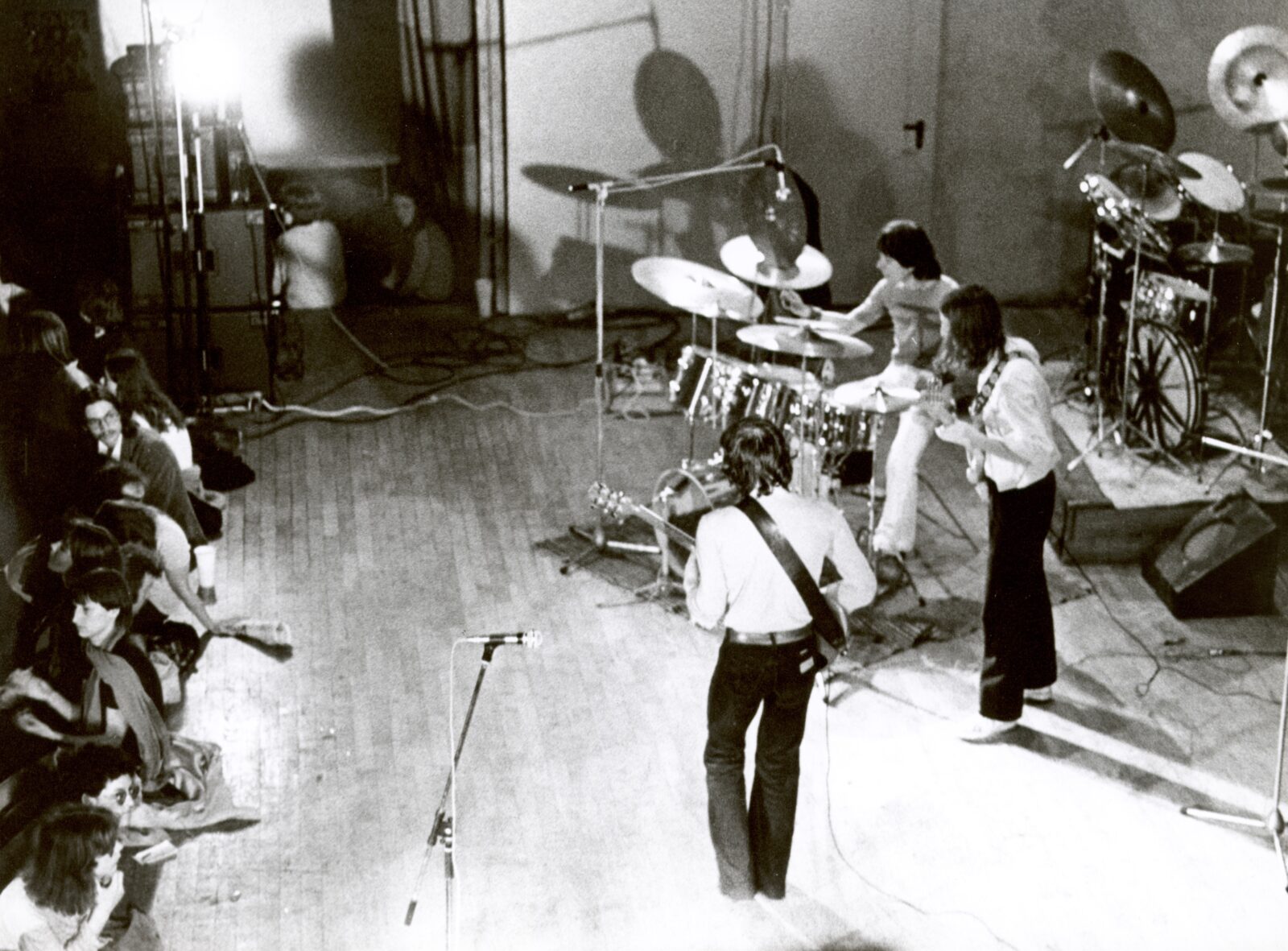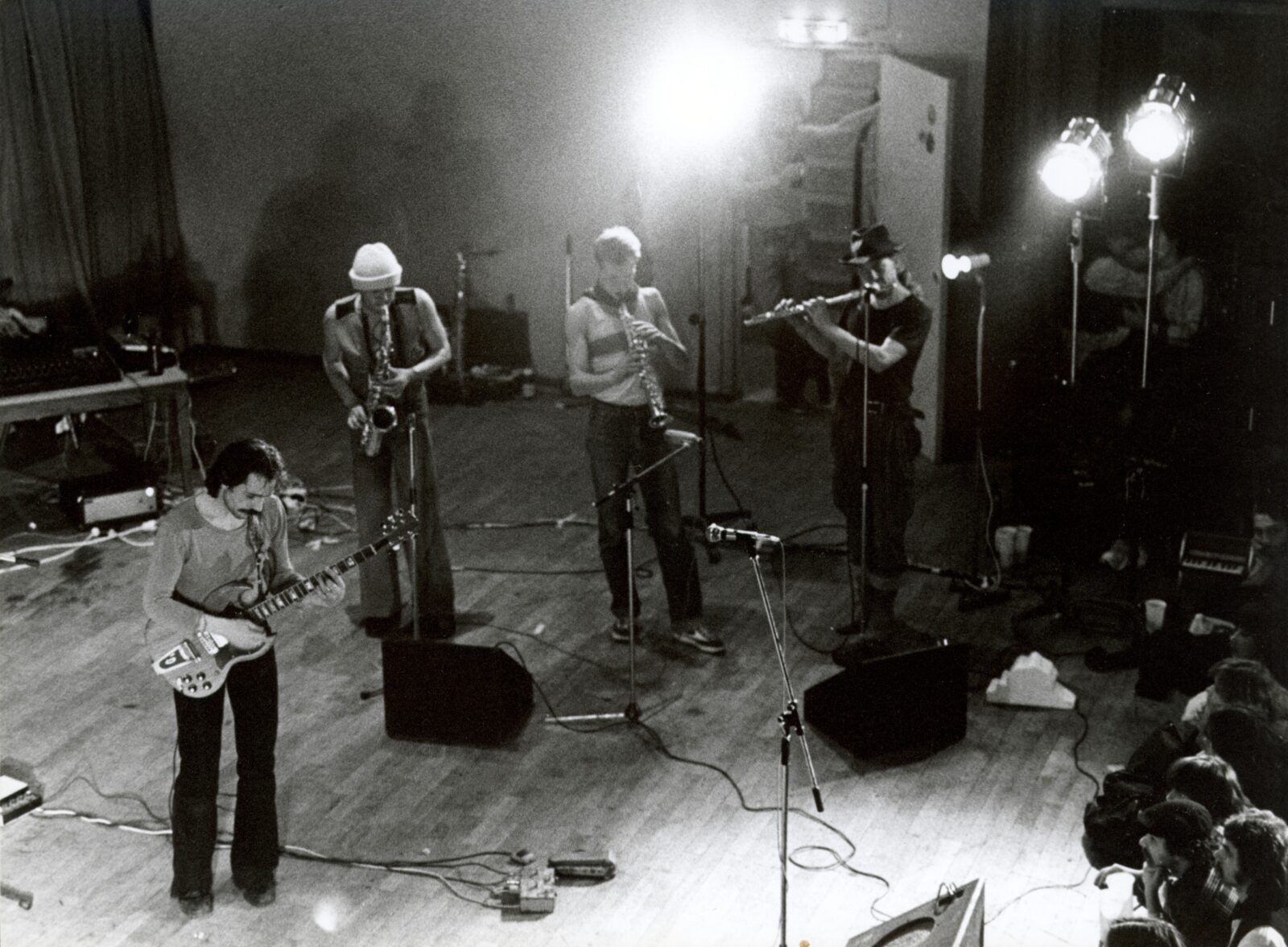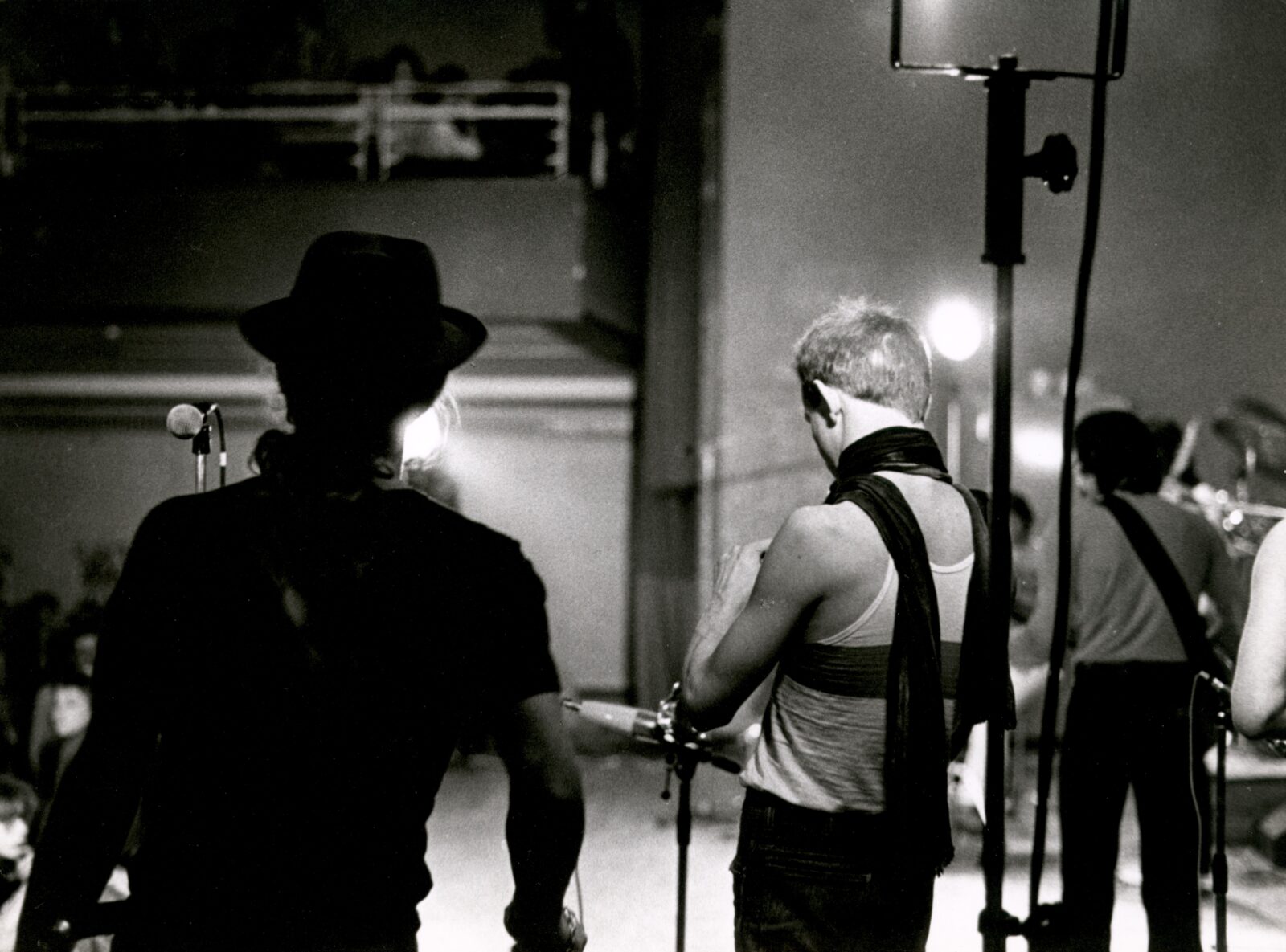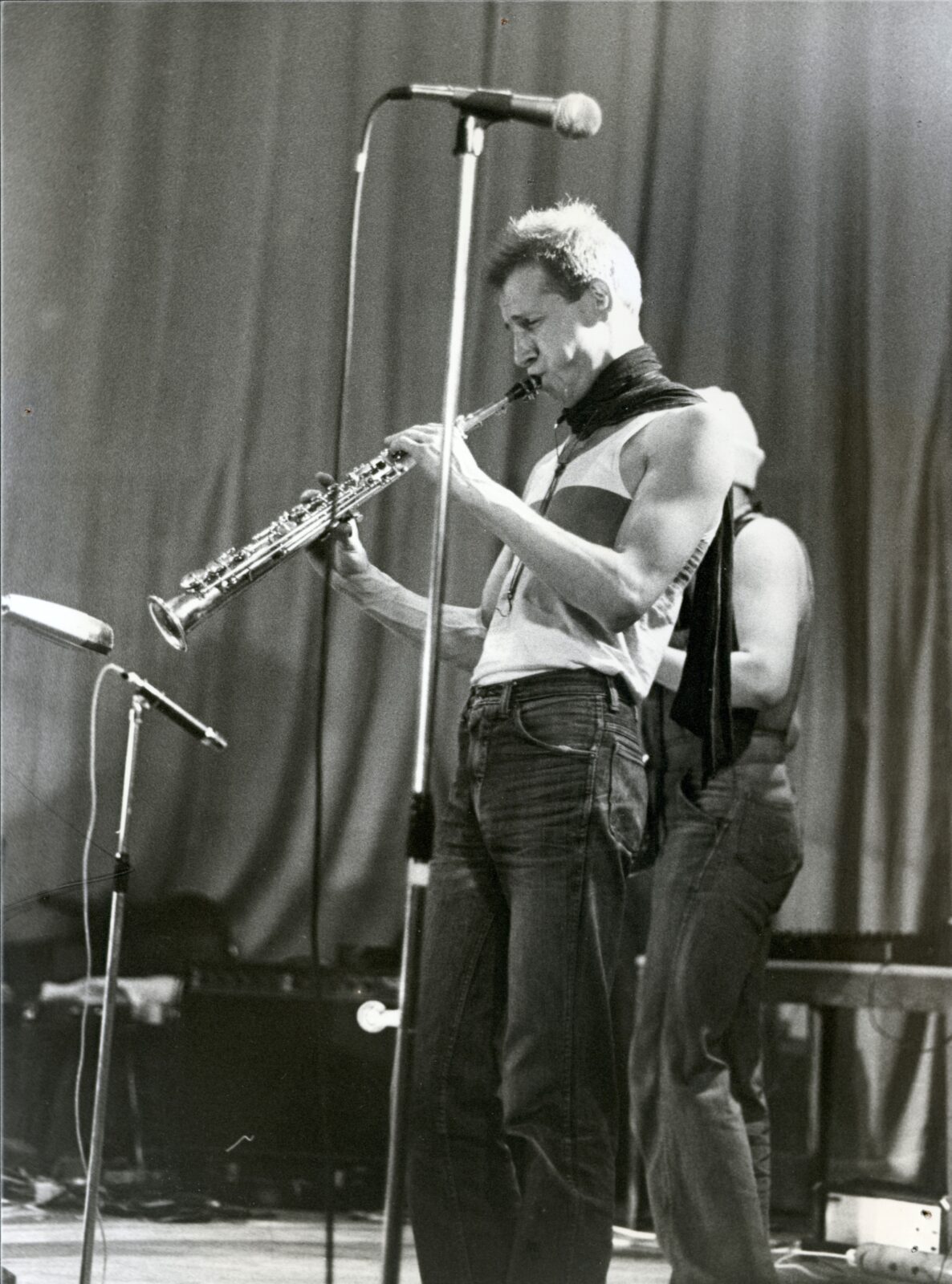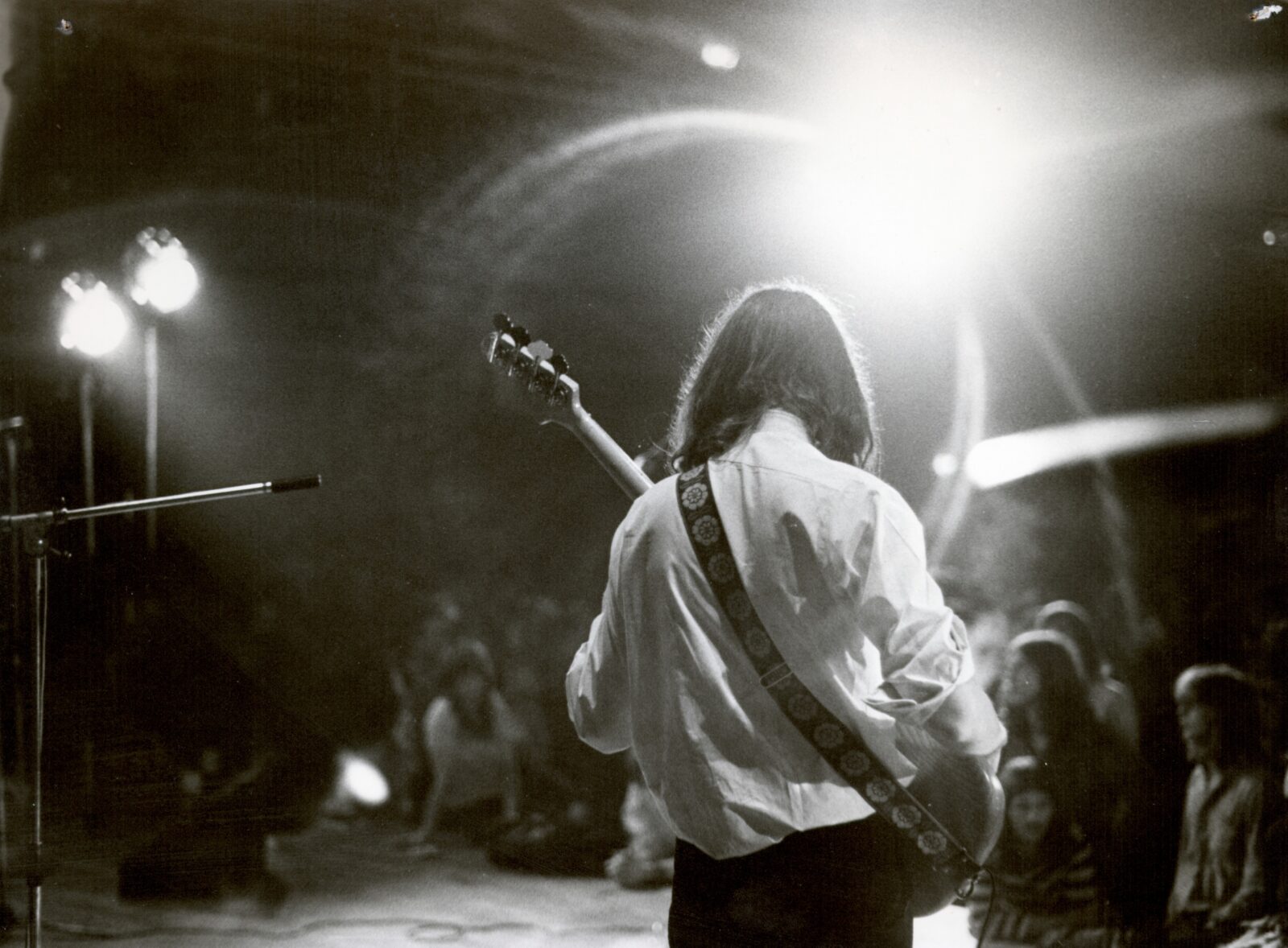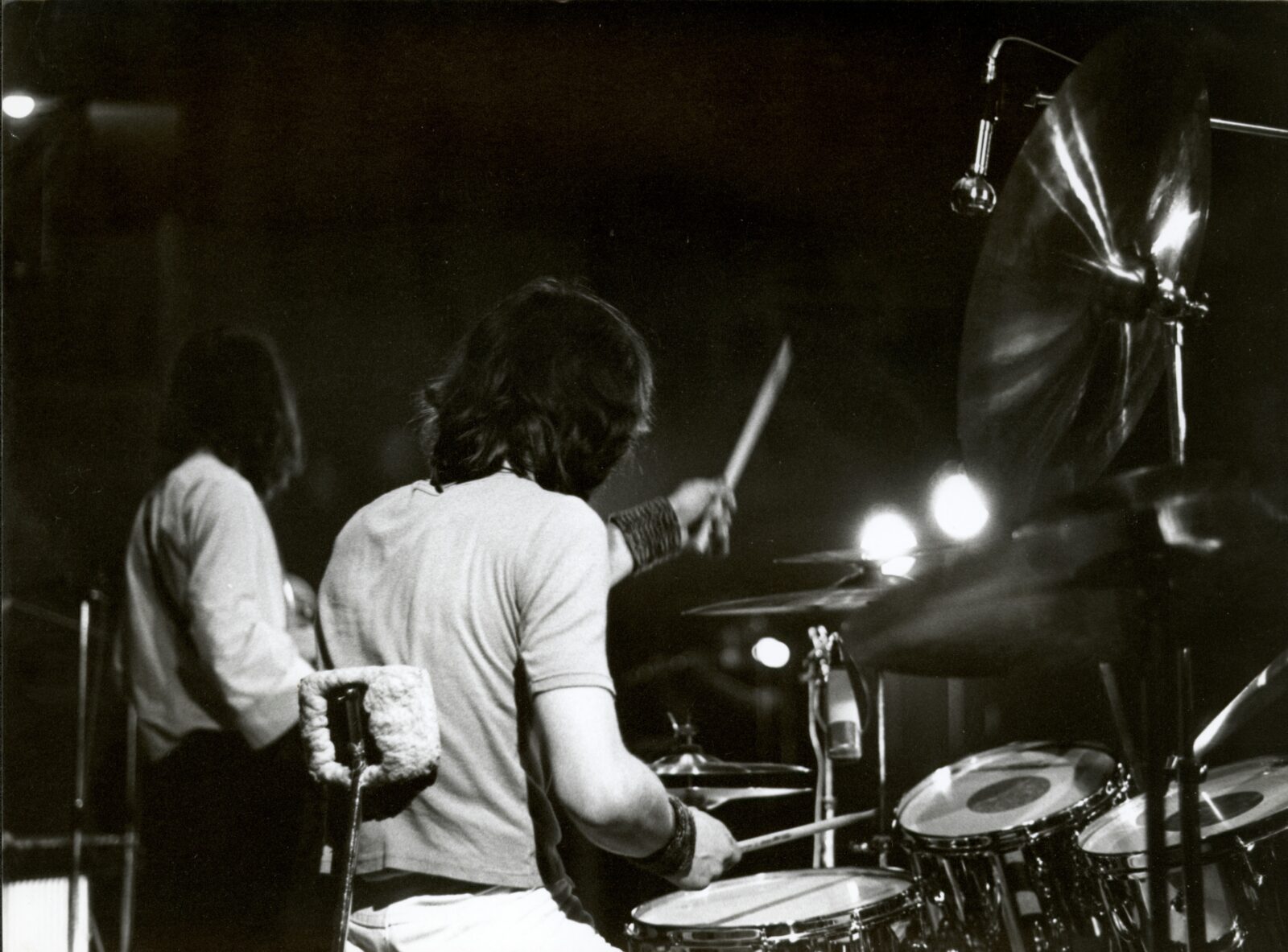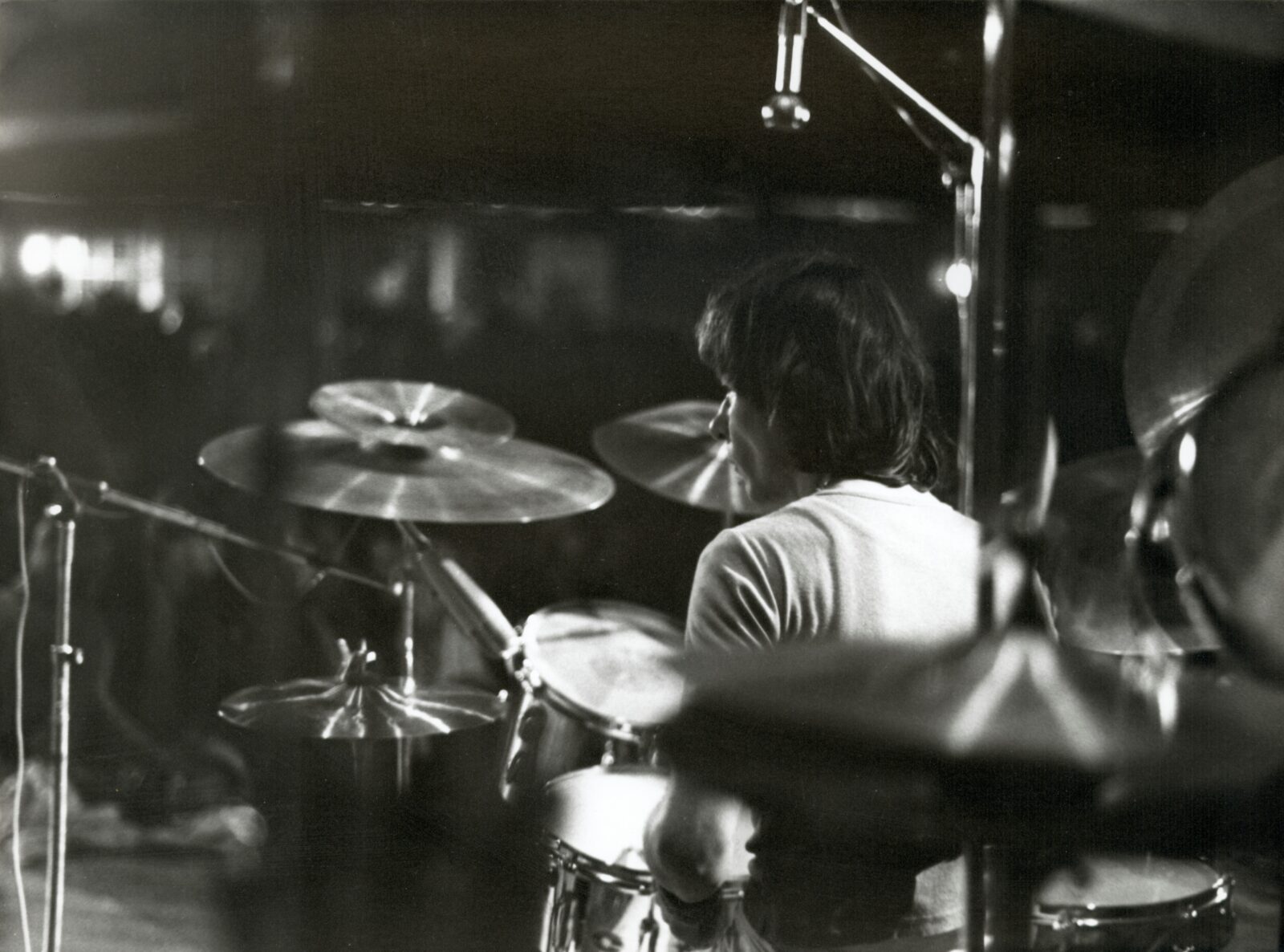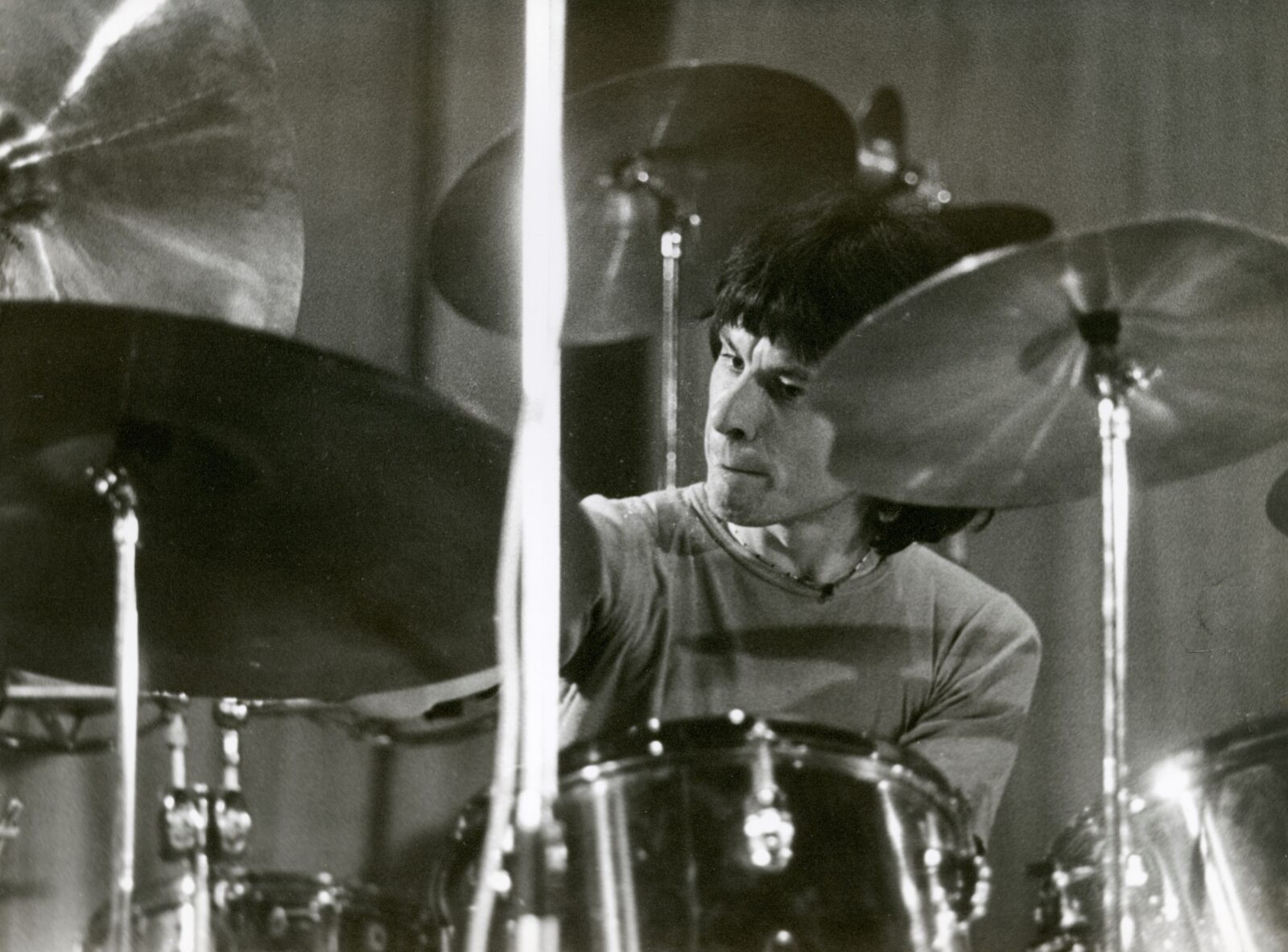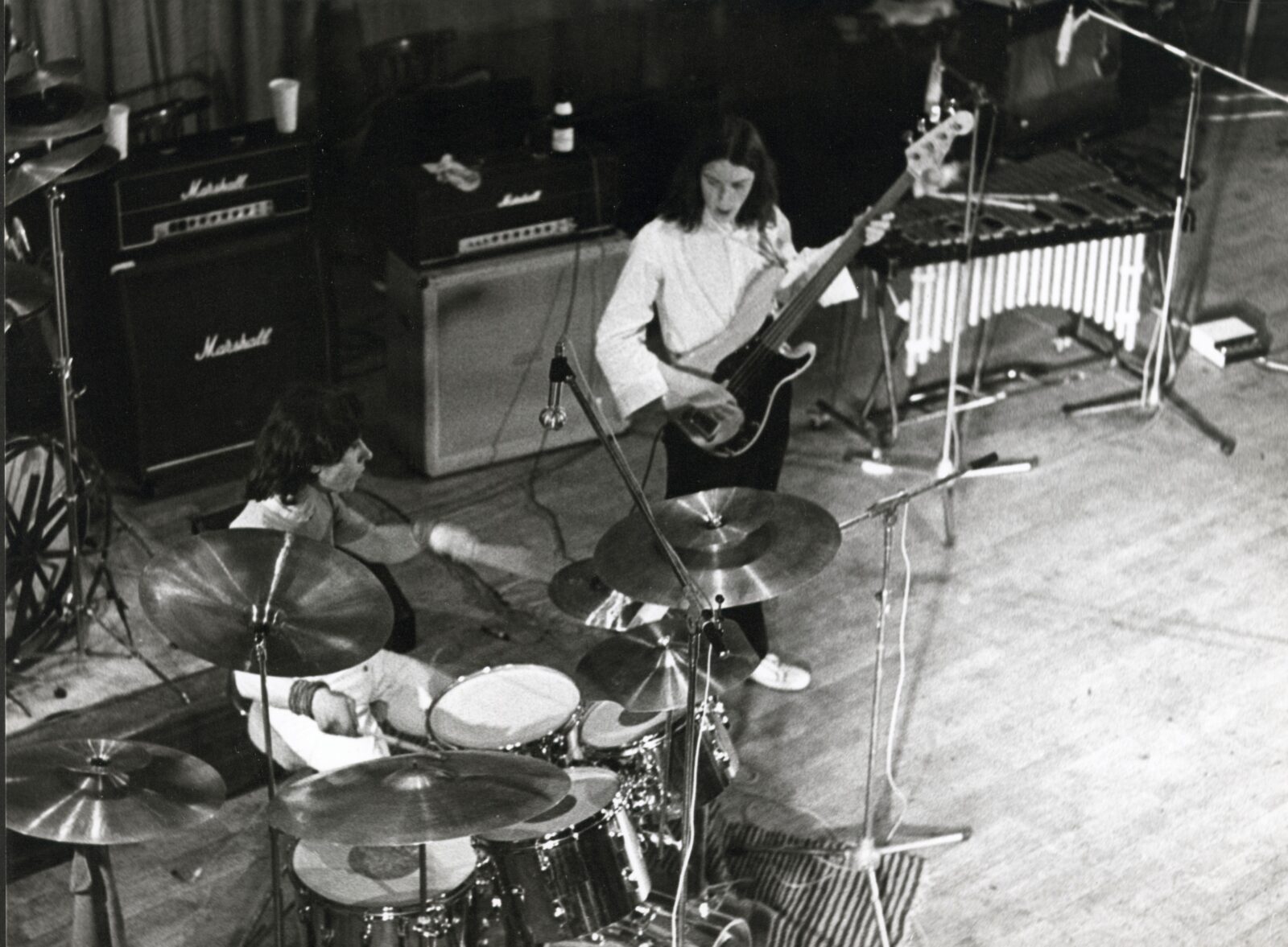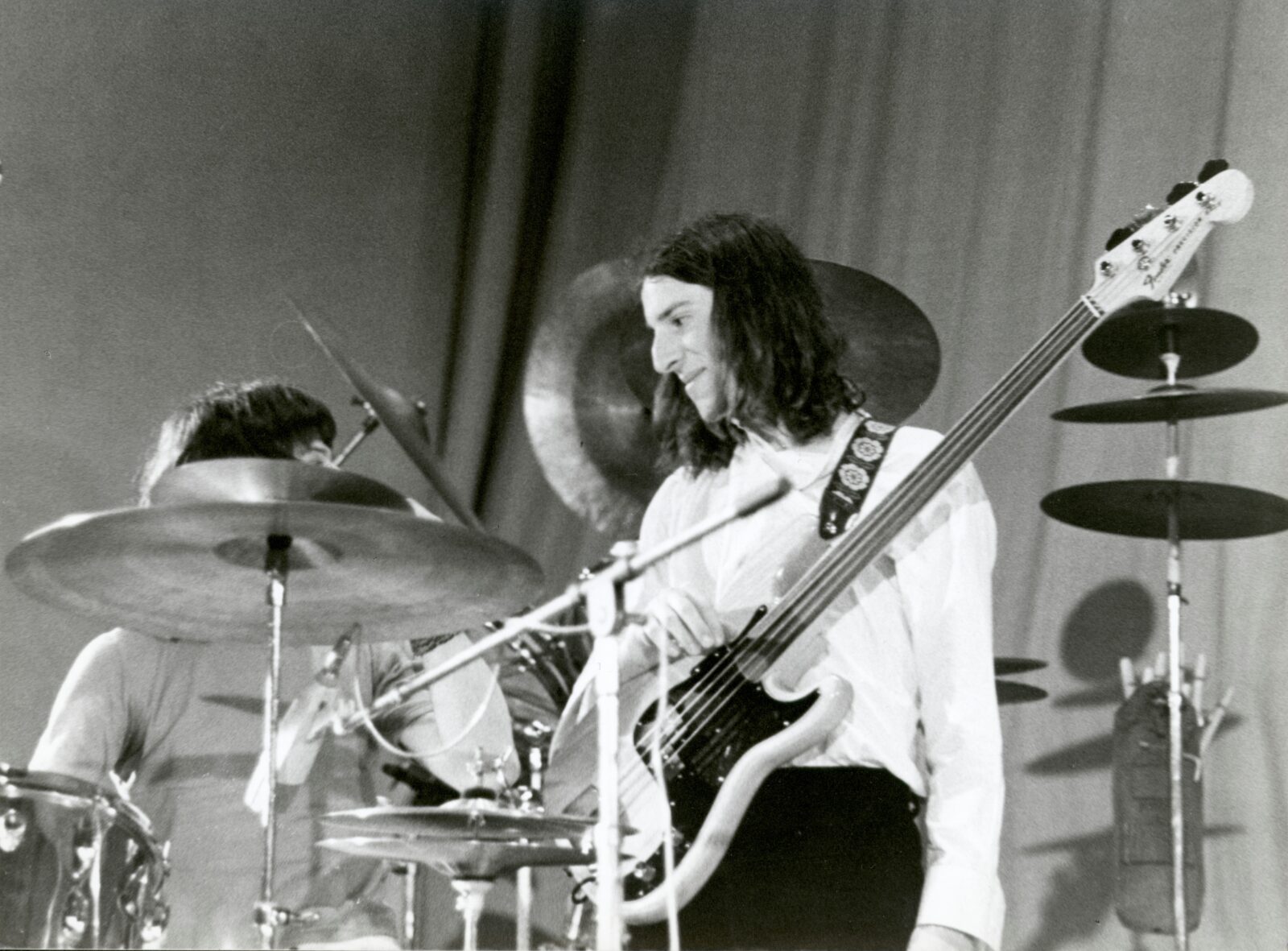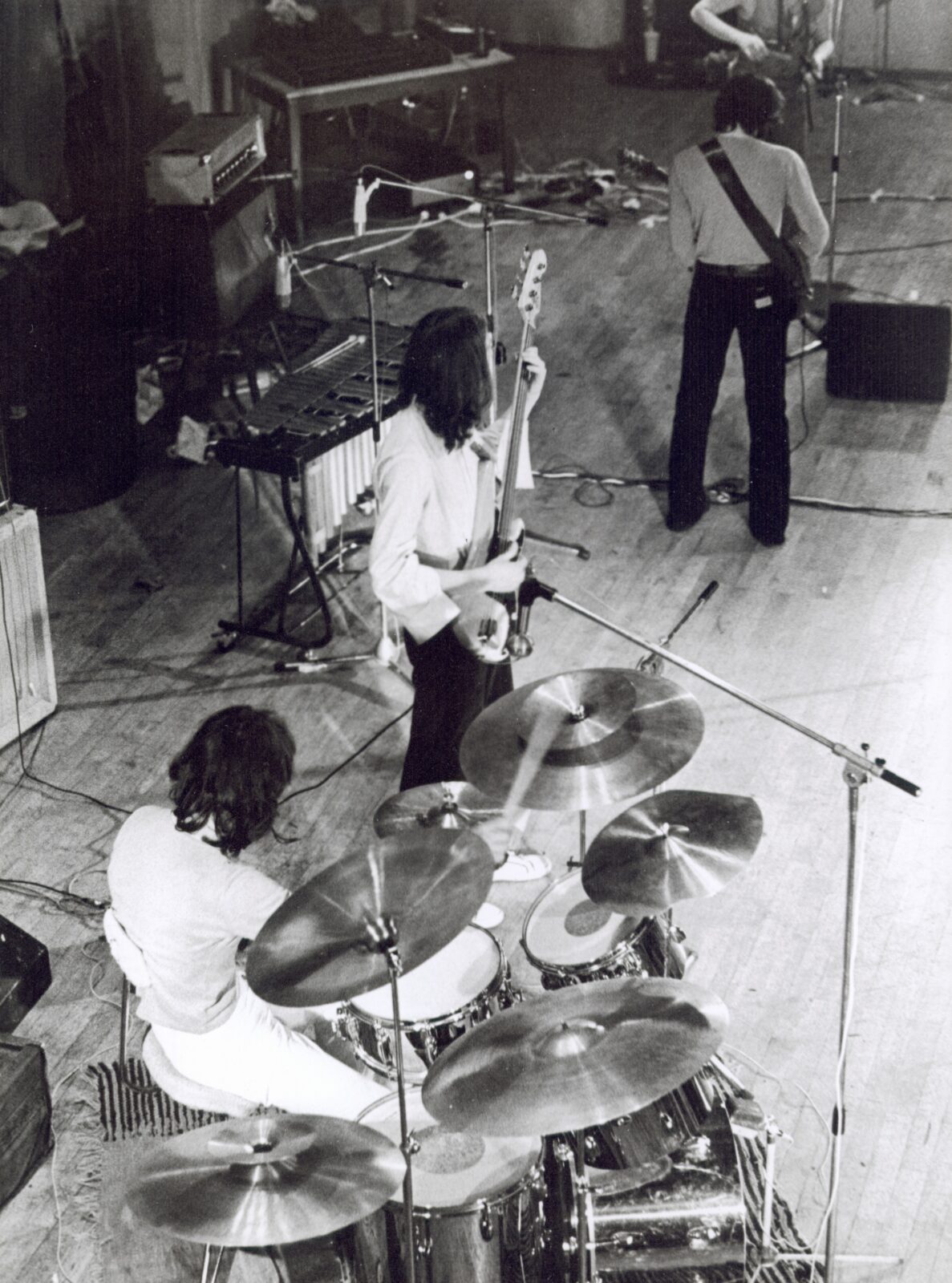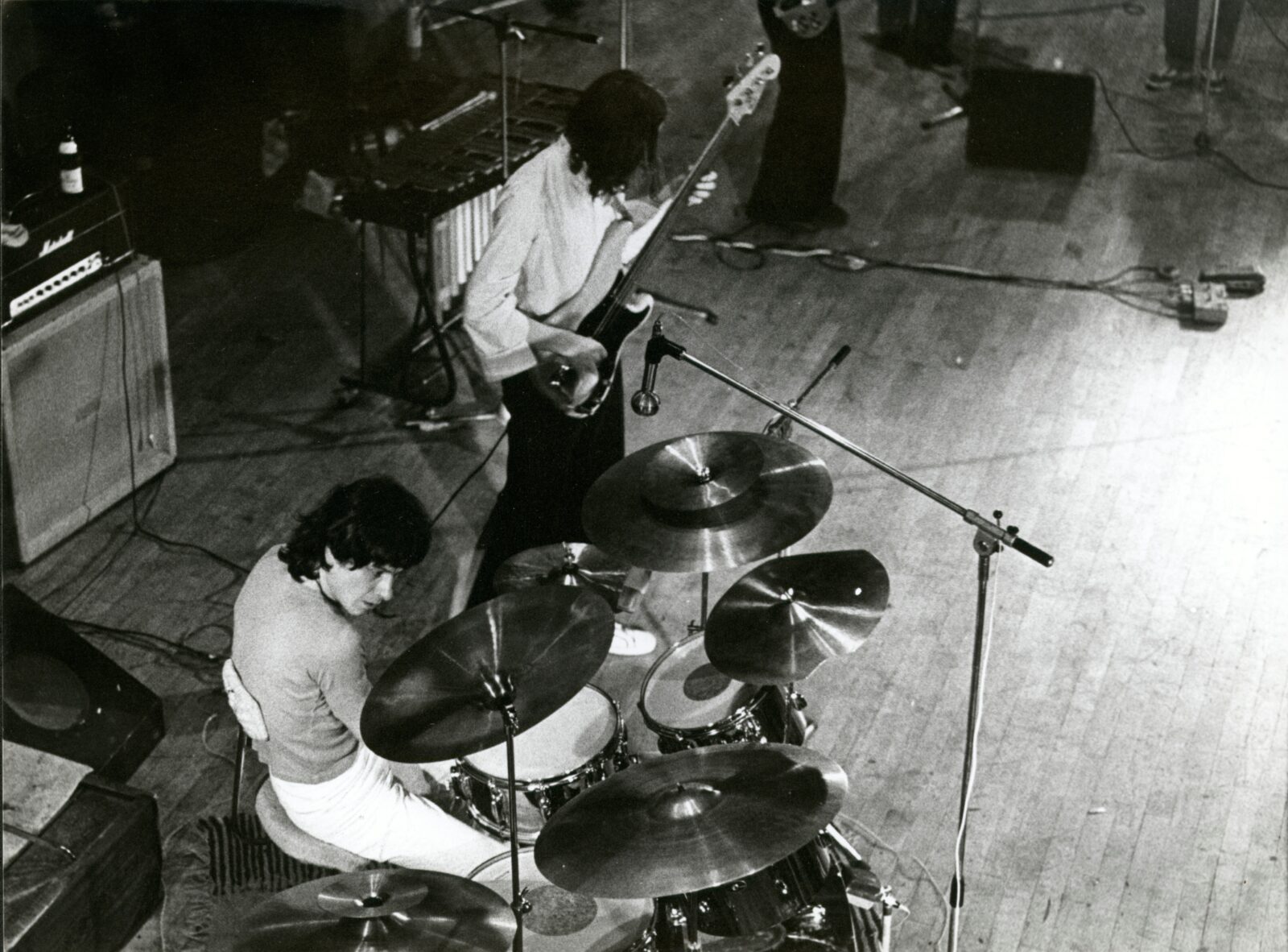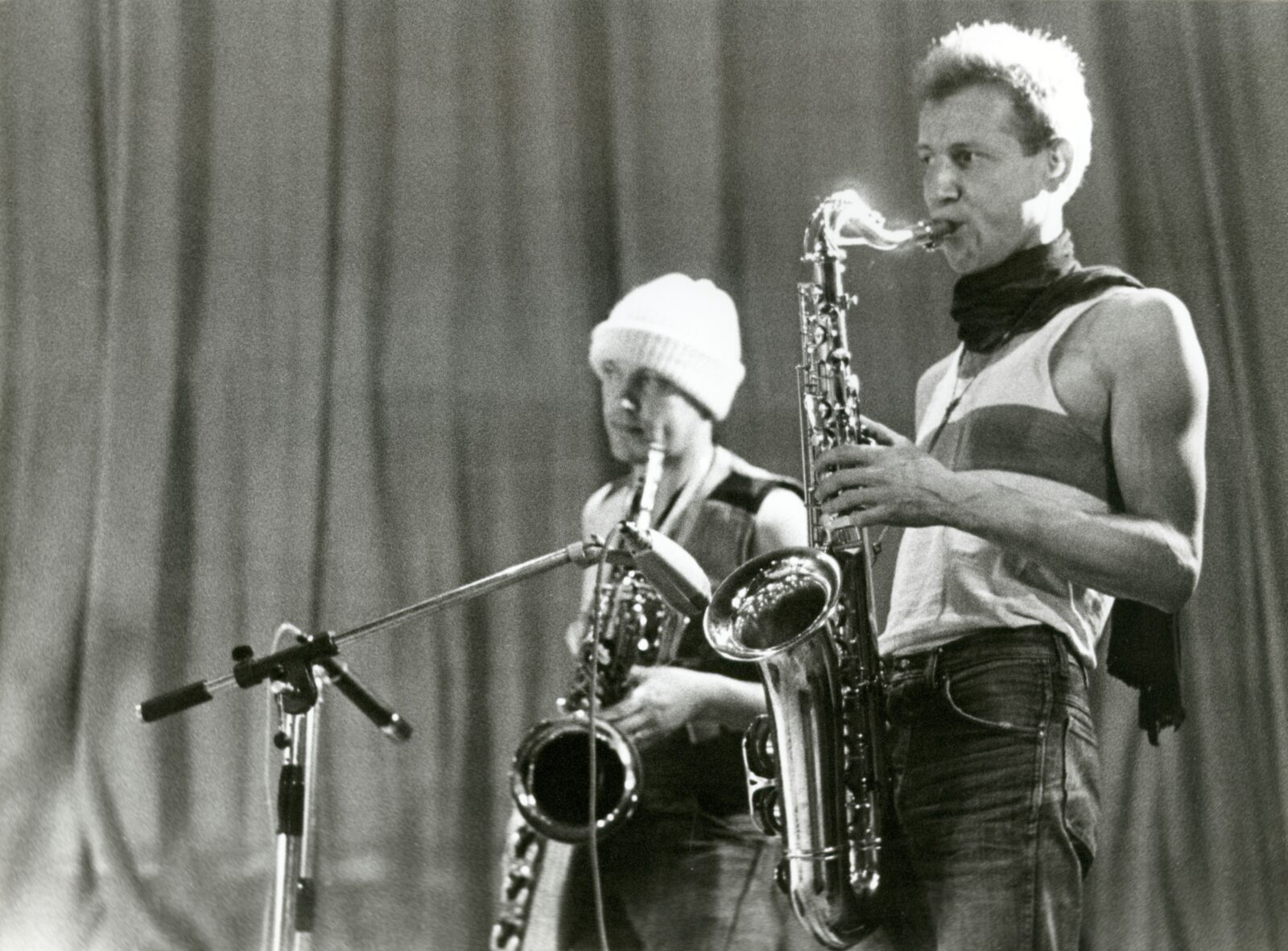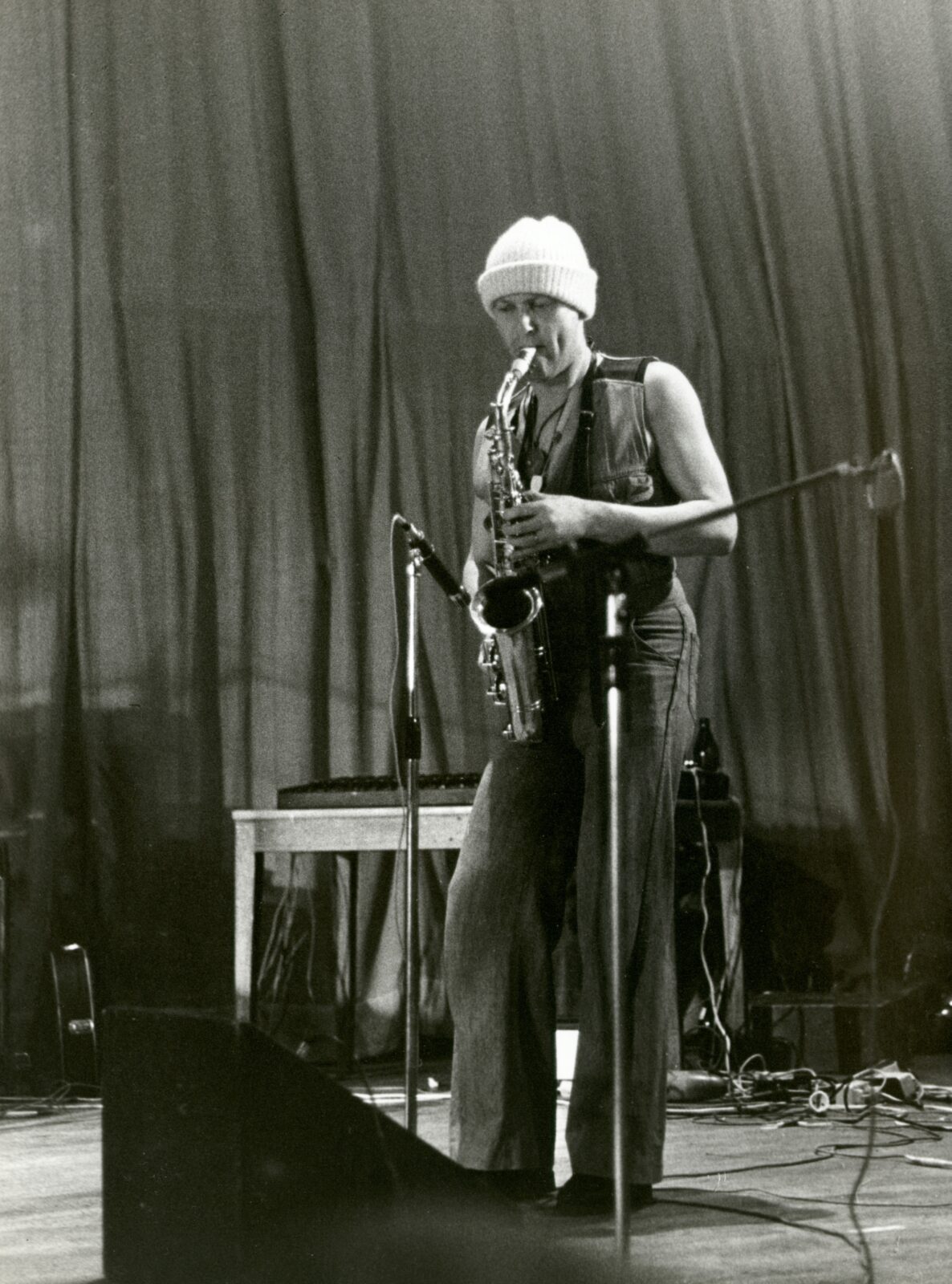 "What matters is what kind of feeling art creates inside of you"
Would you like to comment on your guitar technique? Give us some insights on developing your guitar technique.
To be honest, the guitar has always been a challenging instrument for me, and of course it's all about getting your fingers to the right place on the fretboard as quickly as possible and hitting the right strings with the pick, technically speaking. Deep in my heart I felt I was more of a drummer, but I had to switch to guitar to keep the band going back then. I don't think I'm in a position to contribute significantly to all those incredible technical skills you can see today on YouTube, for example. Besides, I was never really concerned with the acrobatic approach that some musicians take today. That would be better off in a circus performance, I think. Some music can get you high with a few notes, and other music with, say, incredible speed, I feel little apart from a certain astonishment. Of course, there's a certain temptation to show off with hot licks, and I've had moments where I arrived at one or the other but never nailed them down and built up a repertoire of hot licks. They come and go, and what works today may fail tomorrow. It's the moment that creates what's best and developing a feeling for that gets you further I think, but of course it's not easy. But it keeps the music fresh which is extremely important.
Miles once said that he prefers to give the musicians the sheets only shortly before the performance and that it is not good at all if girlfriends of the musicians are in the audience because then they want to show off and play badly.
Over the decades, I realized that what matters is what kind of feeling art creates inside of you, and that doesn't have so much to do with overwhelming technique. There are movies with absolutely stunning effects but very silly stories, and I just can't stand those, no matter how much effort was put into them. You could write horrible nonsense and have it printed in beautiful type and on high quality parchment paper. And another might write a very interesting and exciting story, but print it out on toilet paper. Which would you choose? No doubt, but in the music world you can meet people who have a hi-fi system worth a Ferrari, but what they play is the most awful bullshit one can imagine. But as I said before, the truth is never just black or white, but somewhere in between. For me, the expression and togetherness of a band and the message are most important. A good grasp and secure technique definitely help. And my grandma often said that the sound makes the music, which is of course a bit simplistic, but also certainly true.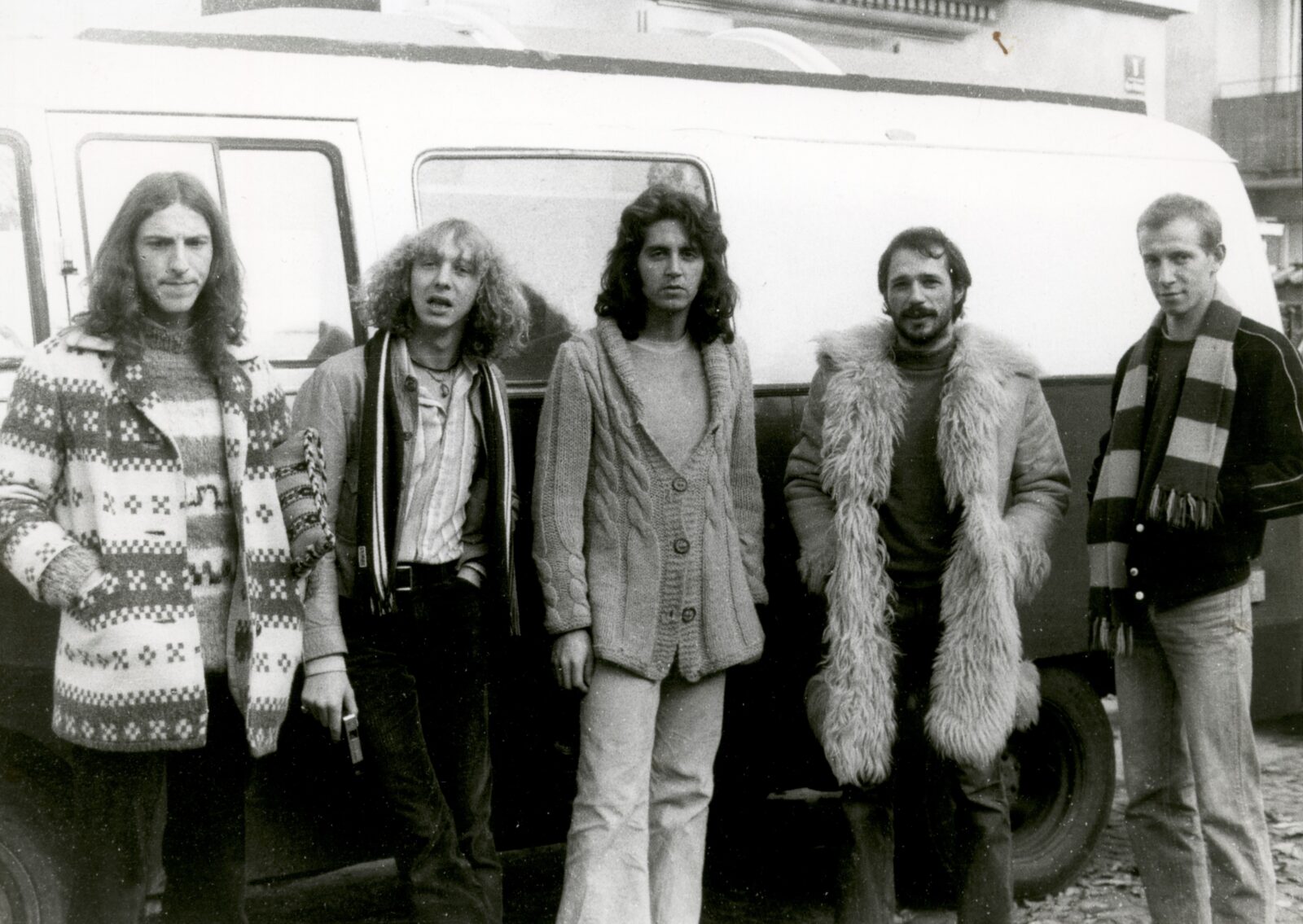 Looking back, what was the highlight of your time in the band? Which songs are you most proud of? Where and when was your most memorable gig?
Jesus, what can I say? I don't know. There were good times and hard times, but in the end it was a good, evolving and intense life. Everything is mixed up in my feelings into one thing and I am not able to really differentiate. Nothing was perfect, but many absolute moments were there and I have no feelings of pride, which would seem ridiculous to me. To have contributed a tiny little bit to music history, if at all, is wonderful enough. I mean, what have we done? We stayed true to ourselves as much as possible and followed the thread that everyone has inside himself, which in my opinion is the best thing anyone can do anyway. So if you look at it from a very high position, we just stuck to the grand plan and did our duty.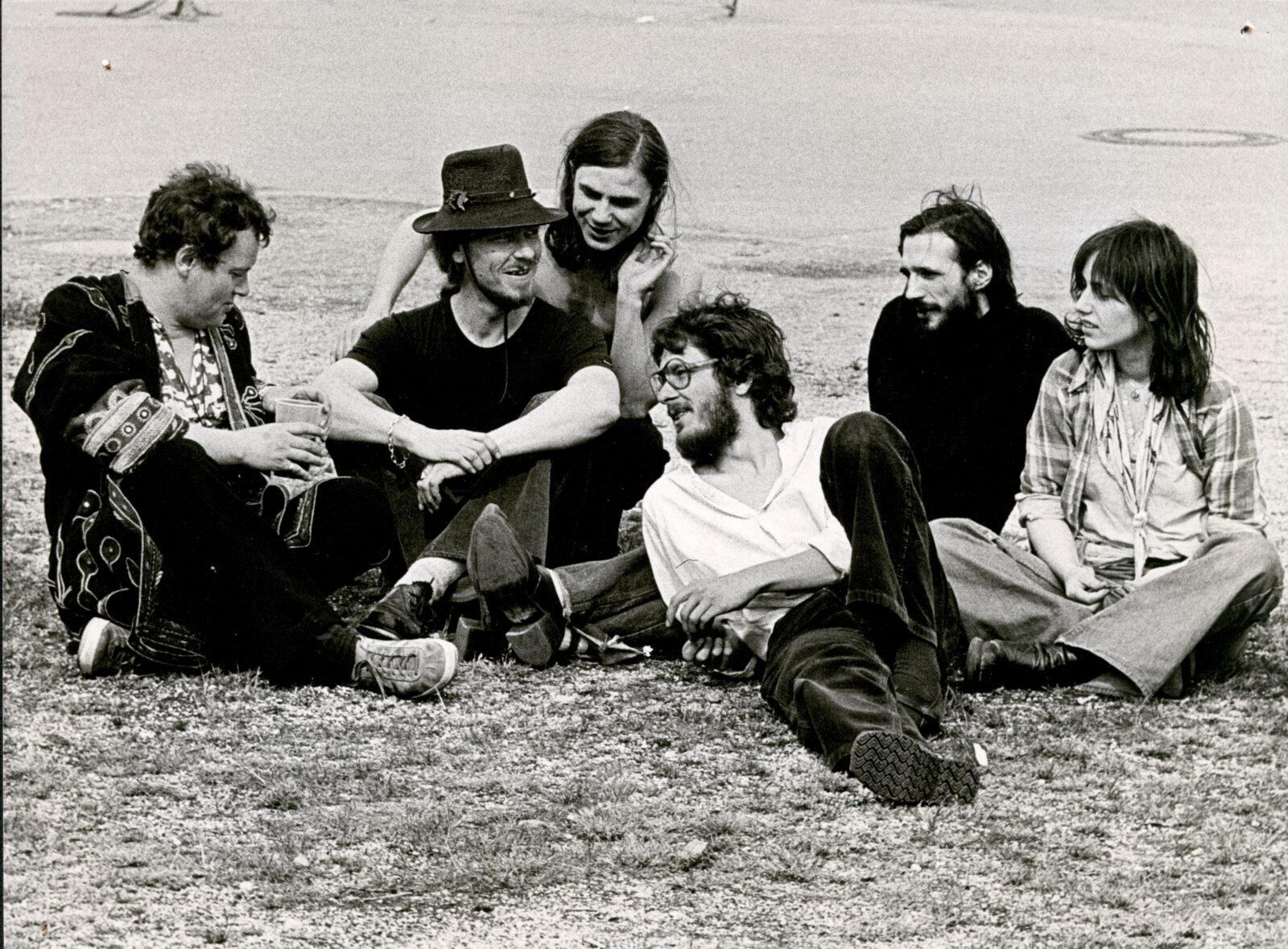 Once I had a performance with Didi Beck, which was technically absolutely perfect. Was it the stars that were in the right position, was the musicians' biorhythm just in a perfect constellation, the air pressure, the temperature, and of course the breakfast before, all perfect? The surprising thing was that no one in the audience really cared. Later I had the thought that maybe it was just too much for them, but was still kind of disappointed and couldn't really understand it. And years later I had a conversation with Edgar Hofmann from Embryo in the time when he was part of my band "Sarasir", and he is a very advanced and experienced musician, and I told him that and he said, yes, I know these situations, it's too much power for the people, almost like aggression. You know, at this time, many people talk about achieving high performance, being the best in the world, having ultimate power, whatever, the most beautiful woman, beach, building… Reaching people's hearts is the thing and for that you have to drop your pants and be the vulnerable being you are and always will be, but that's hard in this world nowadays, I admit. As Sun Ra once said, "We are on the right track, but going in the wrong direction". I can't remember a concert that I could say was the most memorable. Every night was a mixture of joy and suffering, more of this, more of that. Each time different things happened, and if something good happened to you today, how could you say, but yesterday's good was better after all… I can't.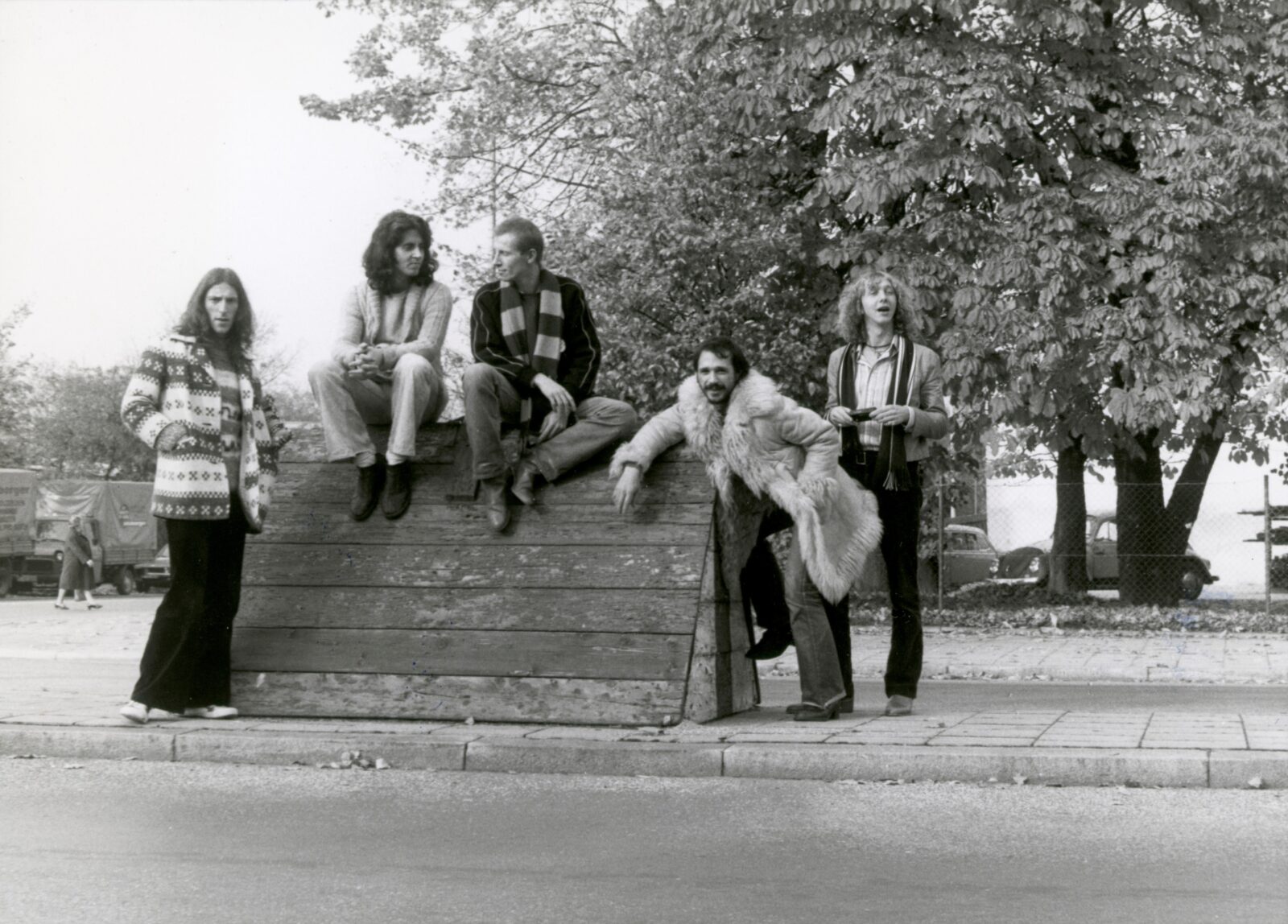 Is there any unreleased material?
Yes, some. The tapes are all transferred to the hard drive, but I would be very happy to be already done with the concert I started a few years ago. This is actually the last big concert of Out of Focus in the original line-up with Ingo and even Wolfgang as guest, which was not arranged, he was just there. It was a big late summer feast in the courtyard of the university here. We'll see, but I think I need to get that out. The quality of the archive footage is of course mixed, and I'd like to work on everything to release what's worth it, but it's time consuming. And there are also other things that I would like to push further, not always work on the distant past. And when my mother died three years ago – in December 2017 – I had to stop working on such projects at all. Dealing with their legacies was too time and energy consuming and it took almost two years to get everything through and settled. Then I suffered from meat poisoning and another year passed. So, here I am, updating and setting up my audio workstation again, and then I'll see what I feel like working on first…
Klemen Breznikar
---
Out Of Focus Website