'Coyote's Fever Dream' by Betty Benedeadly | Brings Symbolism of Desert Psychedelia into New Light
Exclusive video premiere of 'Coyote's Fever Dream' by Betty Benedeadly.
---
The making of Betty Benedeadly's solo debut EP, 'From the Mesa', was nothing short of a spiritual journey. Catalyzed by the painful awakenings that emanated from the murder of George Floyd and the pandemic, Benedeadly found solace in solitude, the lands of northern New Mexico, and her guitar. Mescaline and psilocybin proved to be worthy guides during this chapter, and soon her new collection of trance-inducing, twang-edelic rock & roll instrumentals were recorded in an earthship in Taos and signed to Desert Records.
One year later, Benedeadly made her pilgrimage from Austin, TX to northern New Mexico, where the serendipity continued to unfold. At an informal gathering of musicians and makers known as the Lost Sunshine Cinema Collective, she met Jenn Ruff, a video artist, film editor and professor at NYU's Tisch Graduate School of Film on sabbatical. Ruff's video art was randomly paired with Benedeadly's psychedelic folk set in front of a bonfire that night, and the two became fast friends.
A few days later, Ruff and Benedeadly convened to discuss creative collaboration, and they were mutually fueled by conversations around art's visionary ability to help us reimagine our relationship to the natural world, the imperative to uplift the feminine to restore balance in our society, the sanctity of water, and much more. It was clear that these kindred spirits were bonded by common mythology, and bound for some exciting projects together.
"I know of a pyramid we can film at," Ruff said to Benedeadly, upon seeing her 'From the Mesa' album art, "and tomorrow is a full moon." The next day, they trekked to the pyramid built in the 1970s by earthship inventor, Michael Reynolds, and gathered footage for a music video.
The resulting music video for Betty Benedeadly's tune, 'Coyote's Fever Dream', shot and edited by Jenn Ruff, is released XX November, 2021.
"This song is an ode to that timeless practice of wandering the desert in search of wisdom. It's incredibly fitting that two strangers who met in search of their own truth in the New Mexico desert united to bring this video into being," says Benedeadly. "Jenn did an incredible job using the visual lexicon familiar to lovers of the desert and psychedelia (e.g., pyramids and ponchos, sagebrush under a full moon, etc…) and made it feel fresh, feminine, forward-looking. It's an honor to work with her. Not to mention, it's not everyday you meet someone who casually mentions working with Patti Smith. How do I get so lucky to meet and collaborate with such folks?!"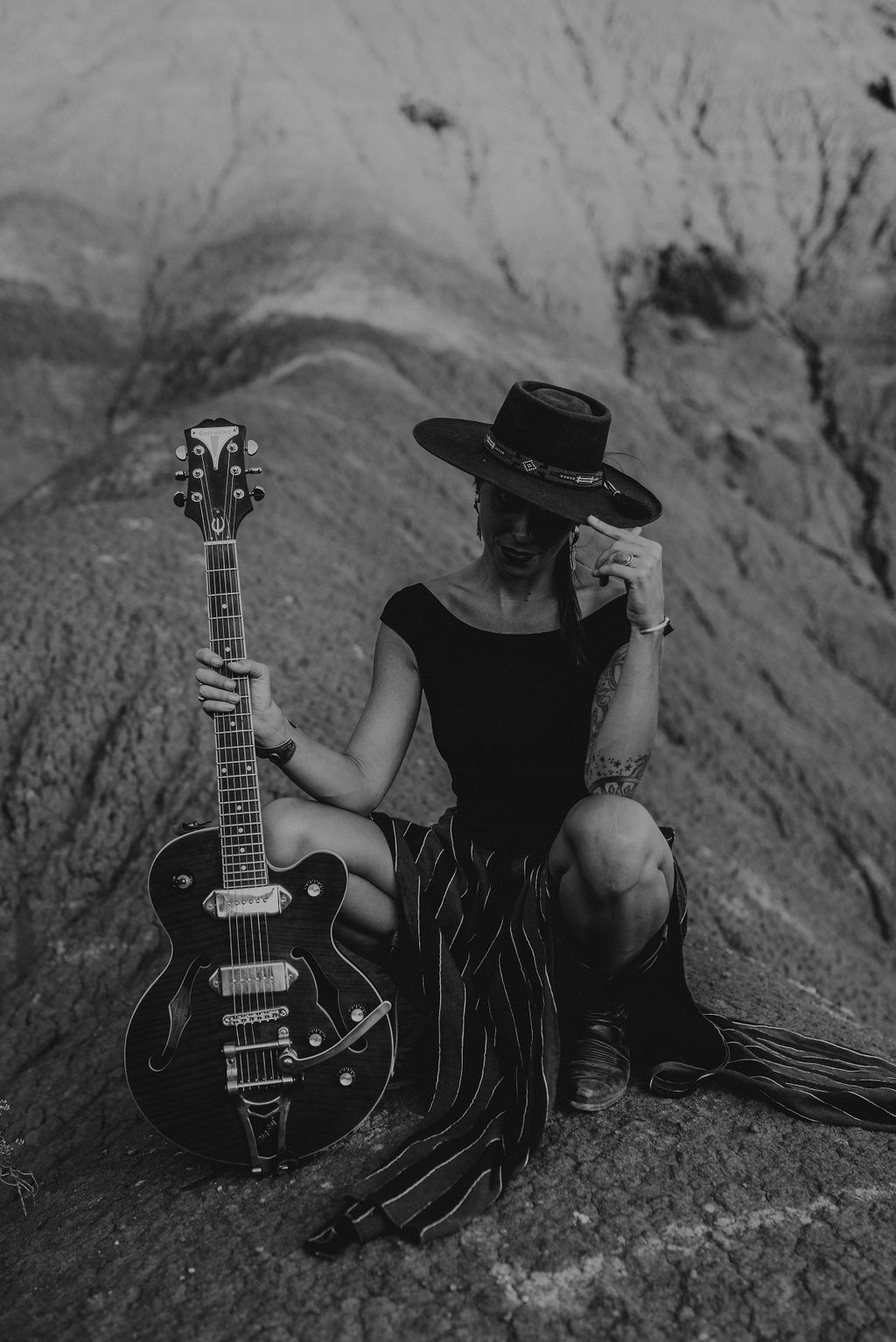 If you dig what these artists are doing, keep your eyes peeled for 'A Sacred Quest for Water: An Evening of Western Noir', the multimedia live performance project they're developing. And mark your calendars for February 18, 2022. On this date, Benedeadly drops her next EP, 'The Adventures of Mabel & Carter', on Desert Records.
---
Betty Benedeadly Facebook / Instagram / Twitter / Bandcamp / Patreon / Apple Music / Spotify / YouTube
Desert Records Official Website / Facebook / Instagram / Twitter / Bandcamp / YouTube