Global Village Trucking Company – 'Dancing In The Street With Smiling Revolutionaries'
An east coast band in a different country nicknamed the British Grateful Dead due to extended jams? A co-founder who was a close cousin in regal line to the Queen? Welcome to rural East Anglia and successive bolt-holes dedicated to communal life, with a noble penchant for free and benefit gigs too despite the isolation. Oh, and the BBC saw fit to make not one but two documentaries on the flibbertigibbets who unfailingly made their audience smile, hence the title. Even their press release decried "We're all part of the smiling revolution".
---
Esoteric/Cherry Red Records issue a fine compilation of Global Village Trucking Company's catalogue ('Smiling Revolution' ECLEC22754): the only LP is in its pre-release track order with an extra disc of goodies of replacement songs, a renowned live set, the BBC, and a rare demo. Just shy of 400 gigs, all in the U.K. despite their moniker, three and a half years (March '72 to a final gig at Nottingham's Boat Club in August '75) were packed with life's rich experience.
Music developed organically with the edge of being a communal collective, "a working team". A Suffolk coast commune, Church Farm owned by the Lascelles family, begat not only children and songs but a band first called Equabar for three, toe-dipping gigs in late '71. Rehearsals were in a garage and beachside garden 'til a neighbour five miles away, the opera singer Peter Pears, complained that it disrupted his trills. More friendly were musicians staying in Manfred Mann's holiday home, when they all met in the Valdor café in local Leiston; after exchanging tips and anecdotes some became life-long friends, as subsequent careers show. Integral to the quintet was an Australian, David 'Kanga' Apthorp, multitasker extraordinaire as roadie, driver, artist, dancer and philosopher-poet who wrote the lyrics of five songs across this compilation.
Early in '72 they moved to Oxford having conquered the Norwich scene. For a CND March to Aldermaston they bought an old school bus to transport band, equipment and families of children and dogs when Simon the drummer thought up Global Village Trucking Company for the front destination panel, and the name stuck though wrongly spelled of course in the 'Guardian' report of the protest convoy. In Oxford, the newly nicknamed Globs organized the Mayfly Festival in April 1972; a happy result was that acclaimed saxophonist Lol Coxhill, from EMI's Harvest Records, sometimes jammed with them on stage.
In June the band played at a free festival of squatters, who'd turned a semi-derelict street (Prince of Wales Crescent, Chalk Farm) into a vibrant area of shops, housing and community centre in the heart of then-hippy Camden opposite the Roundhouse venue. Unable to accept such frivolity, the police storm-trooped in, cut the power and arrested the band sparking a riot. An artistic response was recorded for a John Peel radio session (It Ain't No Apple Pie) that amazingly appears here. They decamped to Beehive Cottage near Diss, just across the Suffolk border in Norfolk, a locale with a history of protesting social writers. While appearing at Ronnie Scott's Club in London, four Globs contracted hepatitis resulting in three months of cancelled gigs; enforced television while recuperating inspired some of their album, as we'll see.
In August '73 they appeared at the second Windsor Free Festival ('Phone in sick and catch a free festival!') alongside the Pink Fairies, Camel, Skin Alley and other heads, the next year achieving a mid-evening triple encore with their "Crunchy, funky truckin' music [by] a nice bunch of lads" as one reviewer penned. That Spring the BBC descended to record them for a series on alternative lifestyles ('By Way Of A Change'), which was broadcast in October. As well as cottage life, they filmed the free Mayfly Festival and a gig at the Greyhound on Fulham Palace Road, both featuring Coxhill (1932-2012) who for some reason sometimes donned a gorilla suit. As on the later LP, GVTC featured Fripp look-alike Jon Owen (lead vocals and main songwriter, rhythm/acoustic/12-string guitars), James Lascelles (all keyboards, percussion, backing vocals), Mike Medora (lead guitar, slide and acoustic, harmonica, backing vocals), John McKenzie (bass, backing vocals, who replaced songwriter Nick Prater), and Simon Stewart (drums). Now managed by Lascelles' brother Jeremy, who later went from Virgin to CEO of Chrysalis Music, with an expanded roadcrew (lorry driver George later worked for the Stones and Bowie) and full touring schedule, the school bus bit the dust in a head-on collision one foggy night, replaced by a much swankier version with bunk beds (by Kanga, naturally), and another farmhouse near Beccles (Suffolk).
Like Edgar Broughton Band and Hawkwind, free concerts were now broadened to include prisons (Holloway had Myra Hindley bopping away) and a student sit-in at Thames Poly when they played for over nine hours. In October '73 they featured in the second Greasy Truckers Party, a benefit for the alternative events promoter based in Portobello Road, at Camden's Dingwalls club. Alas the new Manor Mobile recording equipment was teething, so only Camel's and Globs' recorded there (Henry Cow were re-recorded, Gong used other concerts). Well after midnight and exhausted by the problems, they turned in what they thought was a substandard set for side three, but as this CD now proves, listeners hear it differently. It was released the following January for just £1.50. Dave Robertson approached them for his new label (Stiff Records, however, would be two years later) and they went to Rockfield Studio in Monmouth to record an album in November 1974 produced by 30-year-old Fritz Fryer, who did Motorhead's first.
The ten tracks were mostly written or co-written by Owen except for one by the roadie, remembering this is the reinstated LP before the changes for release. The jangly and exultant On The Judgement Day sets the tone for the whole LP, "Let me explain, I entertain…I'm going to be dancing on the Judgement Day… waiting for the freedom bell." Caromay Dixon also guests on harmonies on Lasga's Farm too, which reminds me (especially its guitar) of a non-religious Quintessence while perfectly evoking farm life's laid-back benefits. Love Your Neigbour is a gospelizing homage to Little Feat written by Lascelles and sound engineer Cedric Beatty, with nice acoustic slide guitar by Medora plus organ.
If You Don't Mind Me Saying features honky tonk ivories and tenor sax by the late Jim Cuomo from Chicago, who worked with Marianne Faithful, Thin Lizzy, Tim Hardin and avant-garde projects. The topic of how could you fall in love with someone like me recalls a Kevin Coyne theme, except the writer's social class is bared by his lyrics. A dreamy view of life and love is given a swinging delivery (Short Change/Tall Story) followed by their credo anthem for the lighter side of counterculture, Smiling Revolution. Inspired by a T.V. documentary about Salvador Allende, Monica Garrelts contributes backing vocals.
Two tracks of eight minutes each sound like organized jams, akin to them live. Skytrain is described by Lascelles as "a cosmic journey" inspired by Freddie Laker and a childhood journey but could also be an epic metaphor for after-death, with some clever effects including a blistering guitar solo with pedal tricks a bit like Spirit or Spooky Tooth. Watch Out There's A Mind About has trippy lyrics with great vocal style either side of a faraway middle section. It differs from the more psychedelic live version, found on CD2. A short slice of funky wisdom about changing love leads to the closer Down In The Lowlands by Medora and Apthorp, a confident rock ballad with strings from the BBC Wales Orchestra. This magical album would finally be released posthumously by Virgin's subsidiary Caroline Records in 1976, Ironically, some gigs were performed as the Virgin Allstar Band with members of Gong, Hatfield & The North, and Henry Cow.
The second CD gathers rare 1974-75 recordings plus the original album tracks. The band recorded a demo in Wimbledon's famous R.G. Jones Studio—where the Rolling Stones, Status Quo, Stray, Bowie, pre-Strawbs Friday Chyld etc. laid their first recordings—straight after an all-nighter with Hawkwind at London's Sundown, one Sunday January morning. Pebbles is a lone survivor from their earliest seaside sojourn, a haunting song harmonizing Hammond and guitar. Also here are the Andy Fairweather-Low sounding It Ain't No Apple Pie (BBC, April '74); Love Will Find A Way (BBC, May '75) a popish tune about communal friction over a pot of soup!; live fun from Oxford Poly (June '75) which differs from the 4 minute shorter LP issue; and the four songs from Dingwalls including popular live swagger You're A Floozy Madame Karma (But I Love Your Lowdown Ways). Of a trio of three-song BBC sessions 1974-5, none are here from October '74.
During 1975 Michael Medora announced he was leaving to go to Brazil, forging a long-term career in colour holography, but arranged for John Etheridge as replacement, recently with ex-Curved Air's Darryl Way's Wolf. One week into a 21-date national tour with Gong, presumably arranged by Virgin, Etheridge was head-hunted by Soft Machine (Daevid Allen also walked off just two gigs in, replaced by Steve Hillage). After a not perfect stand-in left, Pete Kirtley became the third guitarist on the tour and to the very end. Band dissatisfaction with some Rockfield material meant his contributions replaced three LP tracks in '75.
Their last festival was the Meigan Fayre in August 1975. It was said to have been filmed, but whether they caught Arthur Brown nakedly joining the Globs on stage is a point for professors to debate in their tutorials. The festival way-over in Wales was free, so with no signed deal yet for the finished album and the commune also splitting—some had money but some didn't and needed it, recalled Dinah Jeffries—the Globs felt hopes were dashed and called it a day.
Three decades later the BBC came snooping again for a follow-up, though only Kanga was still living communally (running a Scottish esoteric school). 'What Happened Next' was aired on BBC4 in 2008, prompting the band's first gig in 30 years (at Leytonstone's Loaded Dog pub in late 2007, with just six hours rehearsal!) and festivals such as Glastonbury. It thus seems pertinent to mention subsequent careers. The Honourable James Lascelles (b.1953) is the second son of an earl (opera-linked like their neighbour), nephew of the queen and King Edward with royal grandparents. His mother remarried the Liberal party leader Jeremy Thorpe, who visited the commune sometimes. Lascelles became a session musician while composing film and theatre scores as well as a world music pioneer with one of the first labels and bands (Talking Spirit). From the mid-1970s he's played with Cockney Rebel.
Londoner John McKenzie (1955-2020) joined Welsh rockers Man in 1975 then Dexys Midnight Runners while playing on singles by the Eurythmics, Pretenders, Alison Moyet, Lionel Richie and LPs by Steve Hillage, Wham, Gary Moore, Simon Kirke, Seal, David Bowie, Bob Dylan etc. Jon Owen also stayed in music, a couple of decades later as the Jon Owen Band for example which had links to the Canterbury scene (and maybe one called Cuckoo?). In 2006 he contributed to the Witchseason blog with others' memories. According to one of his wives who first met at the initial commune, Dinah Jeffries ('Guardian' 14/6/2014), drummer Simon Stewart-Richardson was also a baronet, a Sir; he seems to have just dabbled in music in subsequent years.
As much a happy as hippy band, without negativity, their "delightfully quirky soft rock with elements of manic joy and wistful reverie" enjoys numerous admirers and friends far and wide still today. Gigs were exuberant fun with unexpected moments and boundary-pushing inspiration as they went where the music and vibe took them; a good time was never lost sight of. The interplay of guitars, keys and vocal harmony, balanced by a driving yet innovative rhythm section, is magical. The band were so in tune with each other that they could be tight or loose as needed, the fruit of daily living experience over the years.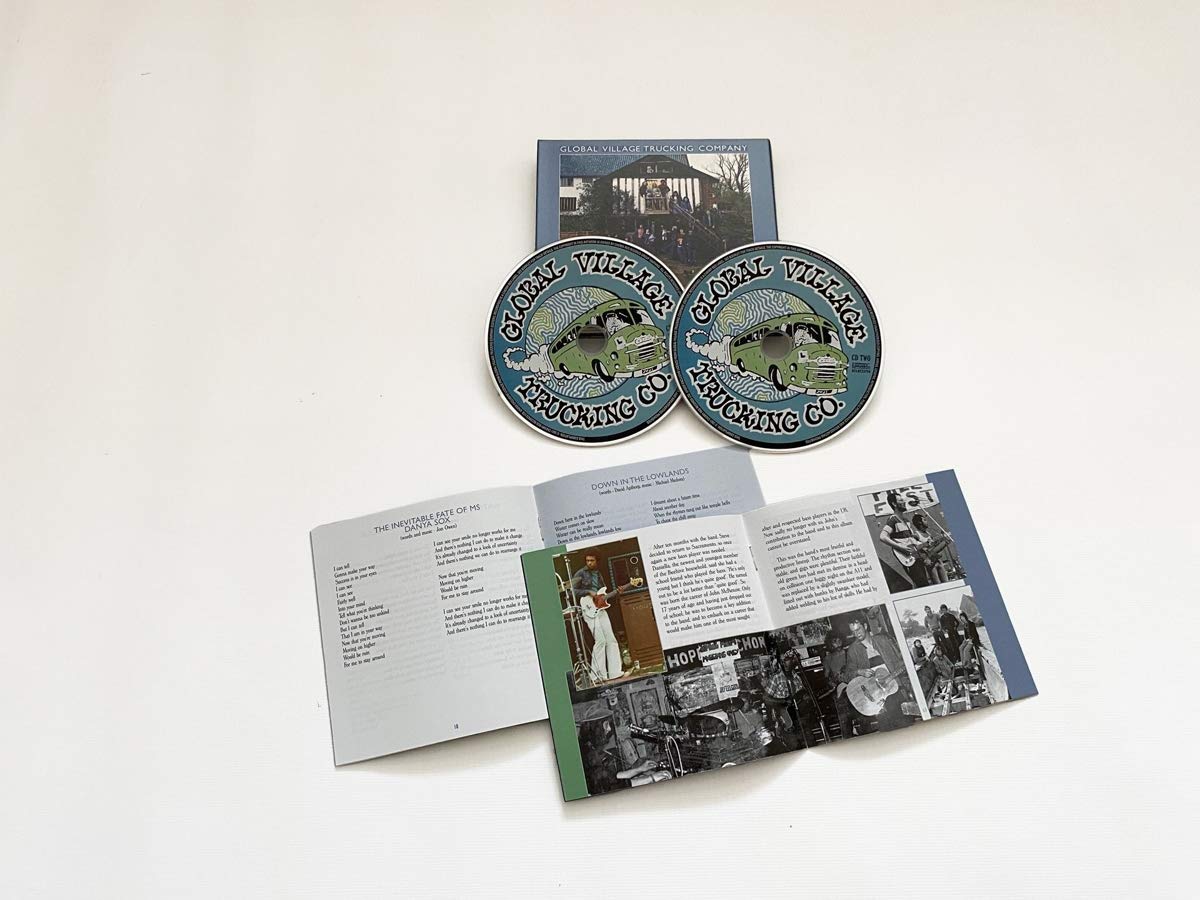 A charismatic front man and strong melodic songs led many to regret their short career. As the bonuses here show they clearly weren't a one-album band: creativity stayed vibrant. Difficult to pigeonhole, the Grateful Dead comparison may be blended with Country Joe & The Fish and Brinsley Schwartz extending as far as Kevin Ayers and 10CC. Comparisons don't quite hit, however, neither the seeding nor flowering. An openly happy vision of music grew out of a free-spirited nature-filled lifestyle. As a four-star 'Record Collector' reviews, their "delightfully rambling, soulful, rootsy blues, laid-back without a care in the world …stands the test of time".
This new, first-time-ever CD is superbly remastered from original master tapes (a punchy foot-tapping best as if we were there) by acclaimed producer Robin Millar (Grateful Dead, Randy Crawford, Sade, Everything But The Girl), who was struck by the "warm glow of a truly great, unsung British '70s band". They were involved too, Lascelles penning the well-illustrated 28-page booklet. The double flap package has a separate booklet of lyrics, full circle as the LP had lyrics too, and with amusing CD graphics this is craft art befitting a global village. No singles and distrust of labels, alongside rather late blossoming, probably stymied their trajectory but, comet-like, the nebula shone briefly yet brightly, lighting up all around. An uplifting experience of pure joy.
Brian R. Banks
---
Global Village Trucking Company – 'Dancing In The Street With Smiling Revolutionaries' (Esoteric Recordings)