Paul McCartney – 'McCartney III Imagined' (2021)
Paul McCartney's recent solo album 'McCartney III', released in 2020, was a critical and commercial success.
---
Continuing the project with a companion release of sorts is 'McCartney III Imagined' (Capitol). On the album, various artists reinterpret songs from 'McCartney III', offer remixes of some of the original tracks and in some cases combine those elements.
One of the best ways to listen to this new release is on one of the many double-album, vinyl, gatefold editions. For this review, the green-vinyl edition was used. With some of the tracks executed almost as club dance mixes, they sound perfect when listened to as one of three or in one case, two tracks on a full side of an album, utilizing the full-twelve-inch space and avoiding groove cramming.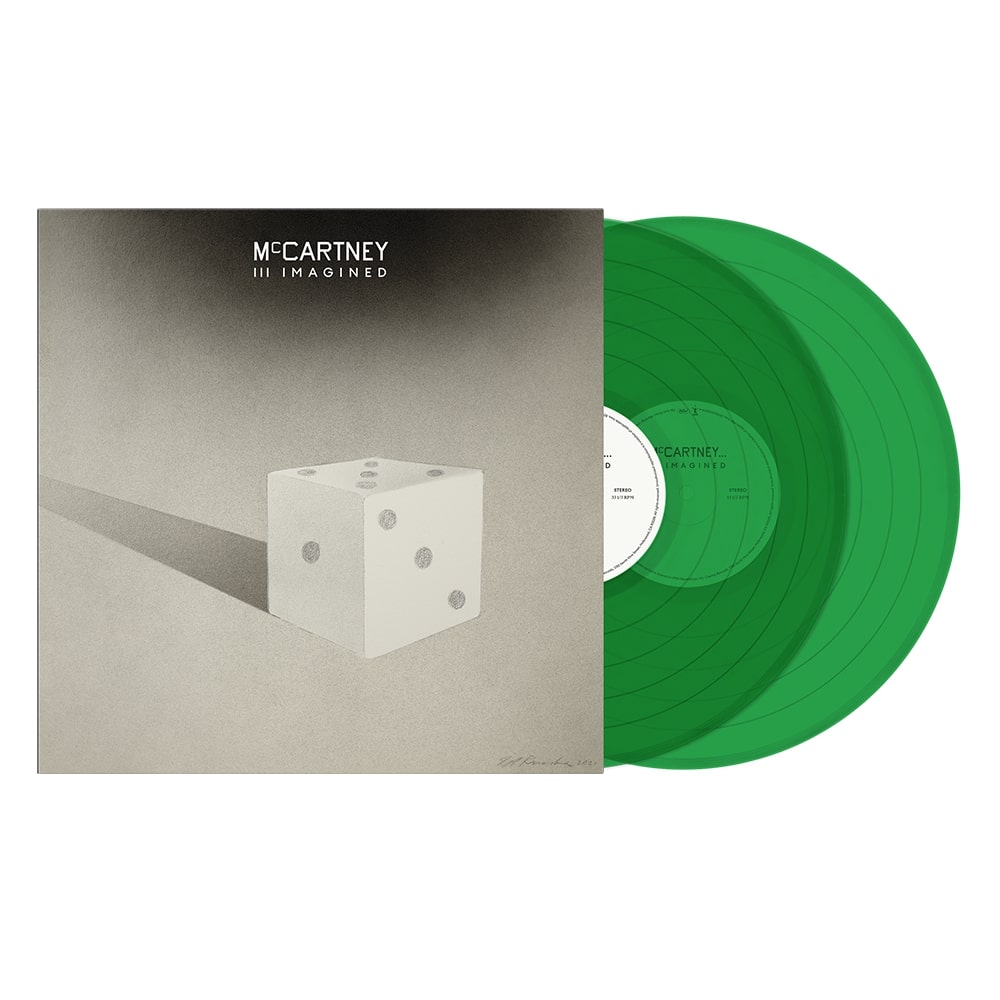 Given the nature of these kind of mixes, the album is surprisingly subtle and spacey in many cases, with a chill-out vibe. This welcome approach lends an almost trippy prog or psyche feel at various times. What these new interpretations show are just how good these songs are and just how elastic, supple and open to interpretation McCartney's songs are, particularly on his latest albums. McCartney's work with the Beatles and during his 70s solo and Wings period are so celebrated, that the excellence of so much of what has come out in the past 40 years often goes either overlooked or is grossly underrated. This album sounds very contemporary and the first track, 'Find My Way', featuring Beck, almost sounds like it could be an outtake from a soundtrack album for the HBO series 'The White Lotus'. 'The Kiss of Venus', featuring Dominic Fike, has some nice Prince moments, while Pretty Boys, featuring Kbruangbin, would segue nicely into or out of 'Girls on Film' from Duran Duran. 'The Blood Orange' remix of 'Deep Down' has a spacey sound, with the rhythms and melody perfectly in synch. 'Seize the Day', featuring Phoebe Bridgers, may be the best track on the album and has a 70s vibe. The EOB Remix may be one of the few misses here, with its too heavy approach that is out of context with the overall feel of the rest of this album.
Damon Albarn was the ideal choice to remix 'Long Tailed Winter Birdand' he makes perfect use of found sounds. 'Deep Deep Feeling' has an almost Kraftwerk feel. The vinyl version features a bonus track: an Idris Alba remix of 'Long Tailed Winter Bird', the second remix of the song included on this album.
Like 'McCartney III', this album not only is released on vinyl, but there are various editions to collect that McCartney fans will want to have in their collection. In addition to the standard black double-vinyl release, I was able to get toe others double-vinyl gatefold editions: the Target exclusive 2 LP silver vinyl edition with alternate artwork and the Indie exclusive gold vinyl edition. Both of these releases feature a different cover design than the black vinyl edition.
There may be some McCartney fans, particularly some of his older fans, who are skeptical or lukewarm about checking out this release, but it is quite good and not only shows the potency and usability of these songs, but spotlights how today's newer musical artists are attentive to superior compositions and can bring worthy interpretations to that music.
Steve Matteo
---
Paul McCartney – 'McCartney III Imagined' (Capitol Records | MPL 2021)