The Eyebrows shares 'Disguises' from their upcoming LP 'Fight/Flight' | Interview
Exclusive video premiere of  'Disguises' from the upcoming LP 'Fight/Flight' by The Eyebrows, a three piece garage/punk band.
---
The Eyebrows' sophomore album 'Fight/Flight' combines 70s punk, underground power pop, and a touch of shoegaze atmosphere in a manic concoction that will give you Icarus-like super wings and other, subversive advanced skills to knock down walls, burn bridges… and eventually fall gracefully into the sea. Stemming from experiences with debilitating panic – the songs took shape as a part of a deeply personal, reflective album, but at the same time, is rooted in manic fantasy…
The Eyebrows are a fiercely independent, three-piece band composed of Jay Garrigan who writes the songs, sings, plays guitar & keys; Darrin Gray who plays the bass and sings; and Shawn Lynch who calls himself a "drummist" and sings. Jay and Shawn have played in bands together since 2000 (at times flirting with and in talks with major labels), and have known Darrin a bit longer than that, but it wasn't until 2018 that the rock-laden three piece came together in its current lineup 'Fight/Flight' was mastered by Bill Skibbe at Third Man Mastering. The vinyl version of the record was also pressed at Third Man Pressing.
Regionally in the South East US, the band is known for their manic live shows and eccentric, off-stage personalities. In 2020, The Eyebrows consciously pivoted their focus 100% online during the COVID lockdown where they remained active, learned how to live stream themselves, and tripled their socials without leaving their practice space. Releasing 'Fight/Flight' in an "evergreen" style since April, 2021, the band is currently releasing singles to streaming and videos to socials monthly, earning fans one at a time as only an independent band can. The Eyebrows have a love affair with the live stage, enjoy hanging out with their fans, and are constantly writing/recording new material. Expect all of that (and more) for the rest of 2021!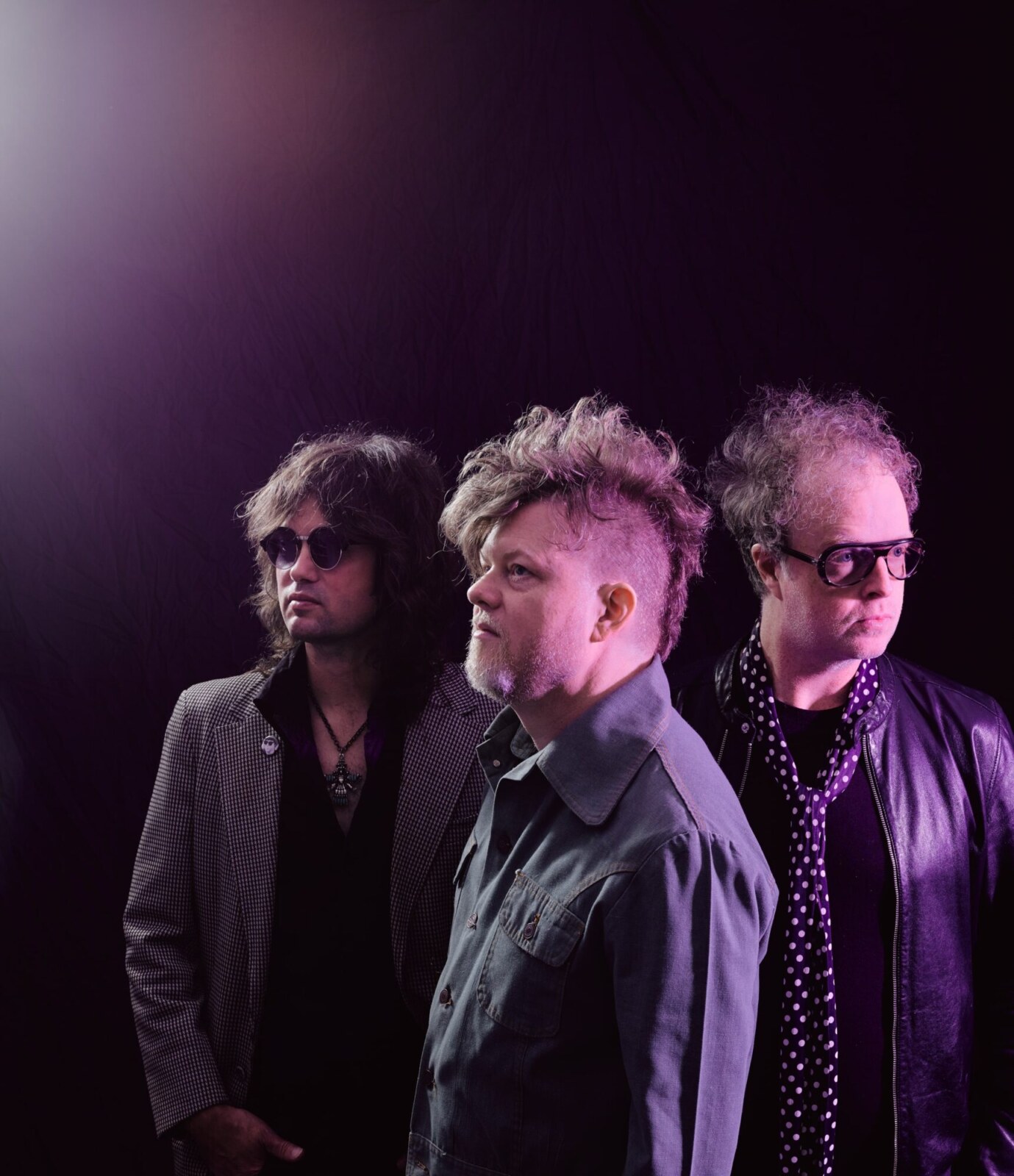 Each member of The Eyebrows are scene veterans, what other projects or successes did you have before you started The Eyebrows?
Jay Garrigan: First – thanks for featuring us and the album 'Fight/Flight'. We really appreciate it! Apologies in advance for the length of this first answer. While we don't dwell on it, you made me realize that "we've been around".
Being a "scene vetran" isn't something we wear on our sleeves… 1) because most people outside the South East US wouldn't know (and shouldn't care), and 2) we stay together because we are always working on new songs, and enjoy playing together as often as possible. It's a… we live in the moment kind of thing and look forward to what's next.
Before Shawn Lynch (drummist), Darrin Gray (bassist) and I (Jay Garrigan – I'm to blame for this – songwriter, singer, guitarist, synths, et cetera) started playing together we had some local and regional successes.
Shawn was a founding member and drummer of Lou Ford, an alt-country band that was ahead of its time. He's also in Mitch Easter's solo band on bass. He's a man of many talents and band projects, and he can also be heard DJing with only 45s.
Darrin also plays bass in a great rock band called It's Snakes with Hope Nichols and Arron Pitken from Fetchin' Bones. Darrin is from the South Carolina area, and played in rock groups like 49 Reasons, New Jack Rubies, and we met him when he played drums in a stoner-rock band named Smithwick Machine. All three of us have played in one-off shows for charity, and my favorite one was where Darrin channeled Joey Ramone.
I used to sing for a shoegaze band named Laburnum (came in as their 2nd singer – hard shoes to fill). There was an indie rock band called Transmission Fields where I played keys and some guitar. Most notably, I played guitar in a band called 2nd Skin which changed its name to Violet Strange. Two of our members were from 90's rock / MTV band Fetchin' Bones. We had a demo deal with RCA with Brian Malouf as our A&R guy, made a record with golden god producer Ed Stasium (Ramones… all the greats), Clint Steele (Swans), and Steve Haigler (engineer on many Pixies records). We opened for the likes of B-52s and Indigo Girls.
I think the story of how The Eyebrows came together is unique. Shawn and I first started playing together in January of 2000 in a band called "Poprocket" – a three piece rock band. I often think The Eyebrows are just the same band as Poprocket… just with a better name and 100s of shows under our belt.
Poprocket put out two E.Ps and played everywhere from Richmond, VA to Atlanta GA – and everywhere in between… mostly at revered dive bars and music clubs. We met Darrin Gray (our bassist) around the same time when he played drums for Smithwick Machine. I distinctly remember Darrin coming to a Poprocket gig around 2000 with an official Cheap Trick belt buckle. That's when we started to become friends.
We went through several bass players in Poprocket, all who were great, but Poprocket kind of fizzled out near 2003, but we kept on until about 2006.
When Shawn moved up to Richmond, VA on a few musical band adventures, I started playing solo, which I didn't always enjoy because I wanted to play in a rock band.
I somehow talked Shawn into moving back to Charlotte, and we started a band called "Garrigan" in 2010 – a name I didn't feel comfortable with… and there's a longer story here about an indie label deal that didn't work out. I waited for the contract to run out before putting out more music.
Fast forward to 2012. I was recovering from botched Lasik surgery, and lived next to a convicted stalker that attempted to ruin the life of myself and my wife… he was eventually charged with attempted murder (that's another story…) – So, I was really distracted from being creative, and was in considerable pain from the botched eye surgery, not sure if I would ever see again, dealing with this never-ending jerk next door, and in total survival mode.
Shawn was playing guitar in a band called Temperance League, and the main songwriter/singer Bruce Hazel and Shawn invited me to play bass in their band in 2013 to get me active again. I ended up playing bass on their first album, 'Rock and Roll Dreams', then switched over to combo organ/keys on the next four albums. Temperance League is a very significant band around here in Charlotte… and we got to open for the likes of Bob Seger and Alabama Shakes. I should probably note that Darrin Gray, The Eyebrows bassist, hung out with Temperance League a lot in our practice room sharing beers, and on occasion, would fill in on drums.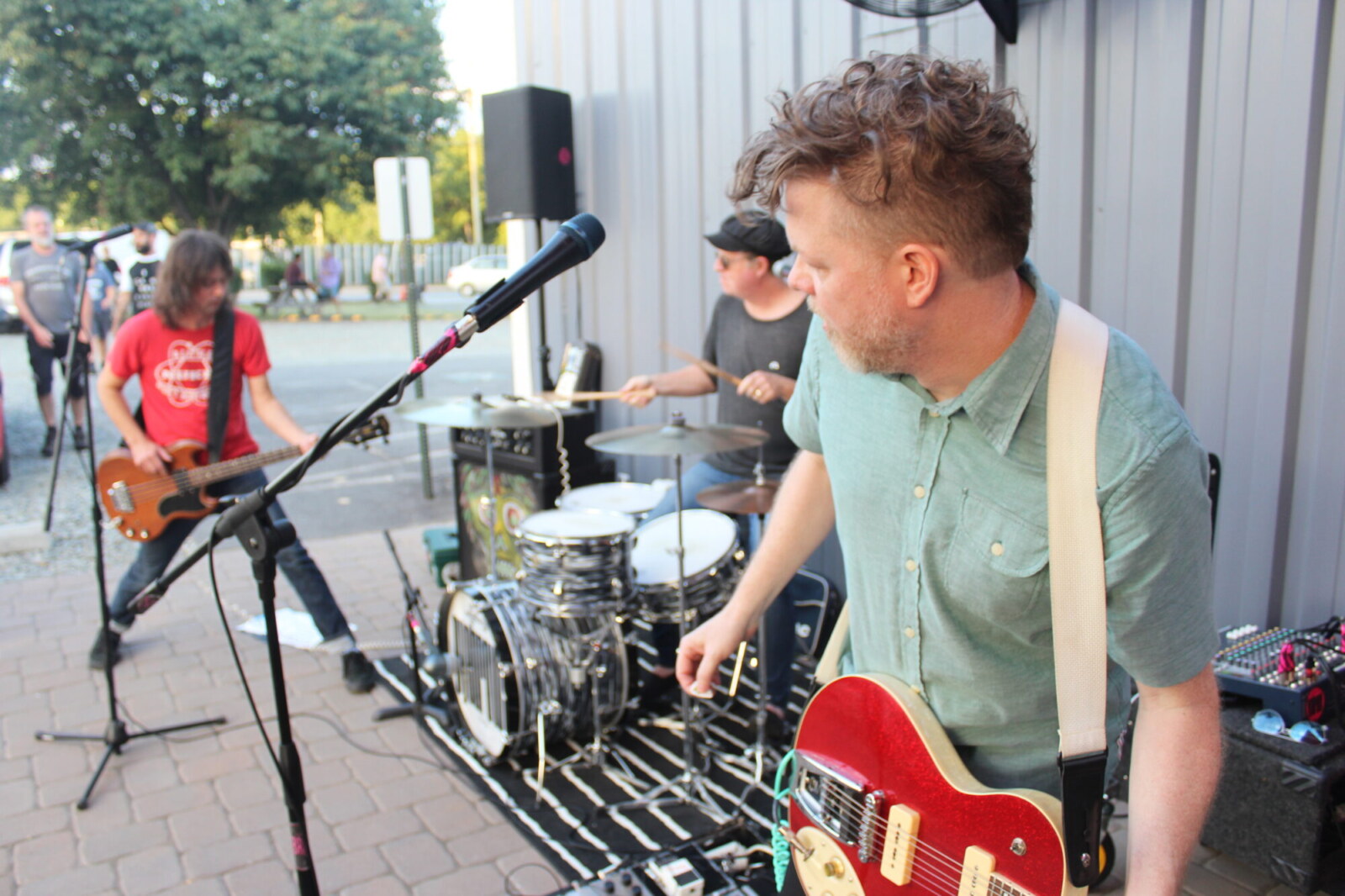 All the while in 2014, Shawn and I restarted with a new project called "The Eyebrows" – based on my songs, but we wanted to try to play with people who were very different from us both musically and in terms of band experience. The result was our first album, 2018's 'Volume' with our friend Jon Lock on bass. Jon's a really interesting bassist – having toured the world with Reggae and Ska bands. We were fascinated by his style and depth of musical knowledge, but he left our group to do his own music. That's the best reason to leave a band, and I produced his first batch of demos. I still run live sound for him & his band when I can.
Enter Darrin Gray back into our lives. He joined The Eyebrows in mid-2018, and his first big show with us was opening for Matthew Sweet. He's been with us ever since. In a way, The Eyebrows ended up back the same way Poprocket started… a straight-ahead, rock three-piece band.
Your new single and record were mastered at Third Man, how did you make that relationship?
I saw an ad for Third Man Pressing & Mastering and thought, "these guys seem legit!"
'Volume', our first album, was mastered by Greg Calbi… he's the gold standard of mastering, and by gold… I mean a bit outside of our current budget. One of my most favorite albums is R.E.M.'s 'Murmur', and I wanted to tap into that Mitch Easter/Greg Calbi magic for our first album.
For our 2nd album 'Fight/Flight', I sent an email to Third Man Mastering and I had a few long conversations with Bill Skibbe. We ended up talking on the phone for hours about vinyl pressing, creative mastering jobs at Third Man, and our crazy rock-n-roll stories, from running live sound for Shellac, to the Albini Cheap Trick sessions. This was during the COVID-19 lockdown, and I think we were both hungry for a good conversation with a like-minded rock musician. We're about the same age and know some of the same people, and it's nice to call him a friend.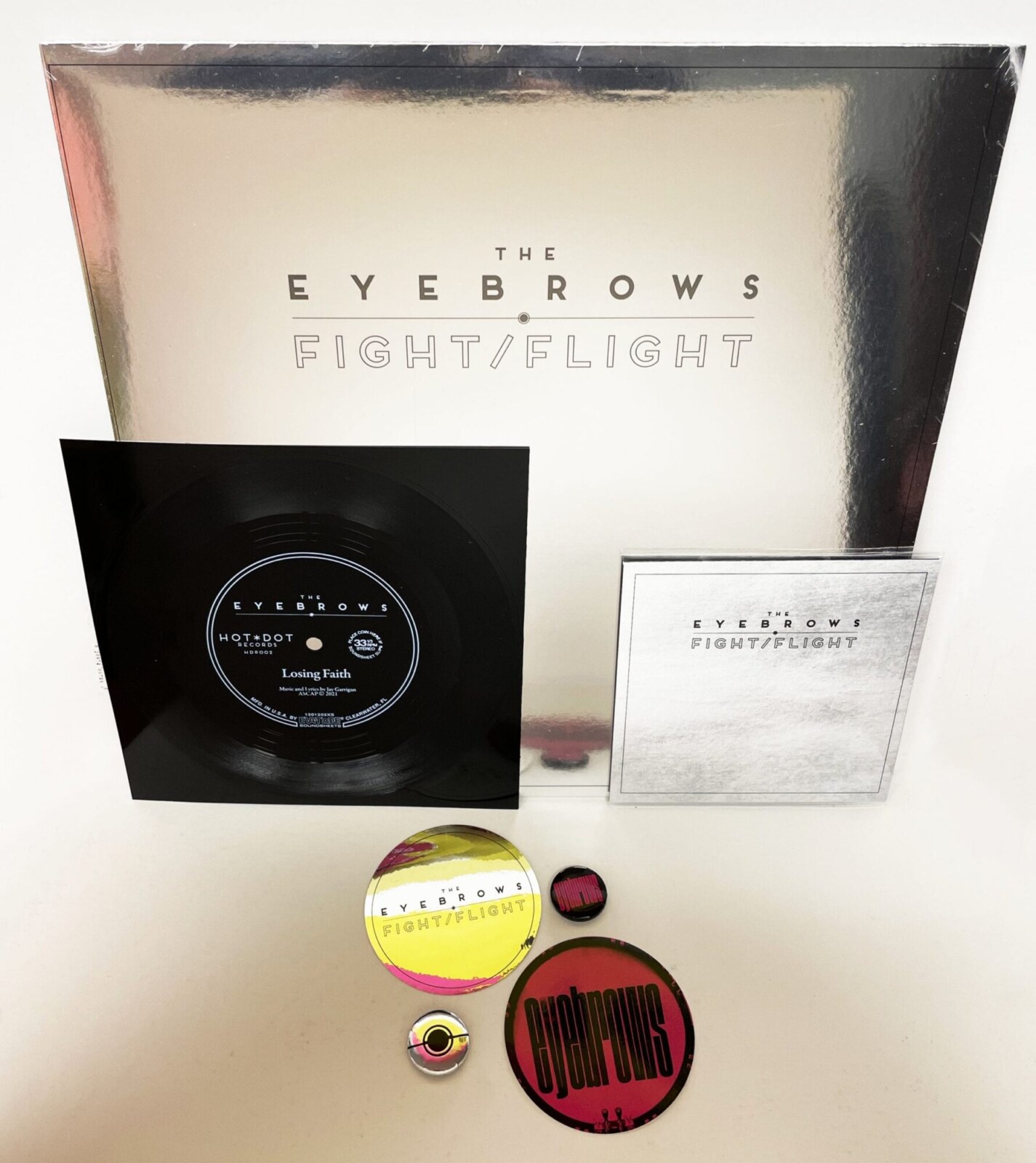 If you go through our virtual album release event (sign up at our website), you can see Bill actually cut the record in real time at Third Man. It's pretty amazing to watch. His mastering work really makes our record really pop in all formats – vinyl, CD, digital… and cassette! We can't wait to do another record with him. He invited us up to hang out at the mastering studio and eat pizza. I can't wait to do this! The guitar solo on 'Disguises' is his favorite part of the album.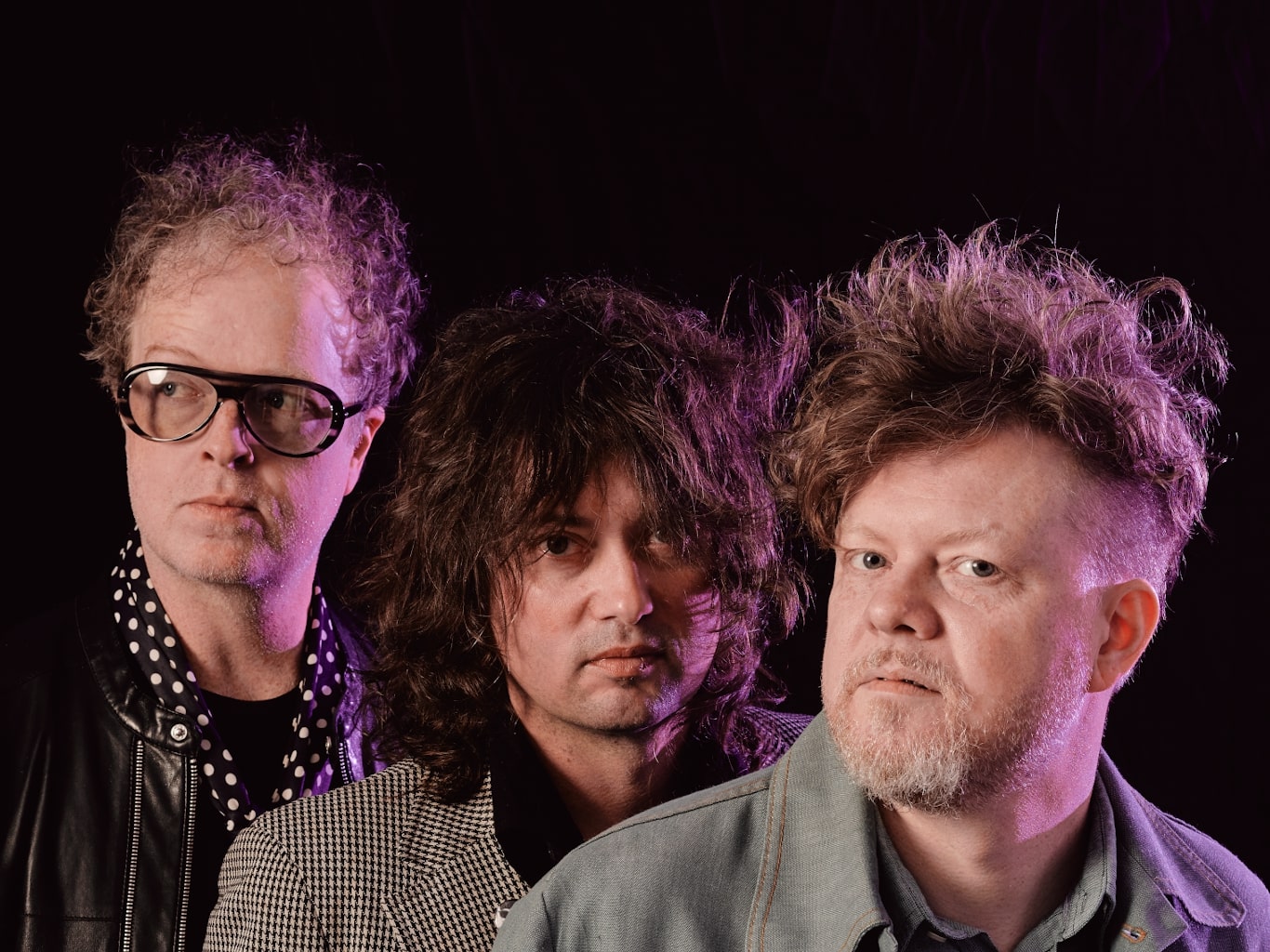 How does 'Disguises' fit into the bigger picture of the new LP?
I'm not one that thinks of genres, or having a consistent sound throughout a record when I write & create, but I do like the songs to all be crafted well. I've wrestled with the "cohesive" subject, but I've been told that it's the songwriting that holds the album together… and that's good enough for me.
There are several songs on this album that fall into what I call a "Big Star" vibe where the verses and choruses are fairly straight ahead, and it's got a hook/riff that it leans on. It's a cool thing to do, but I don't want to be cornered by it either.
We had not planned on recording 'Disguises' at first, but I had a good feeling about the music and wanted to give it a go. I showed the song to Darrin & Shawn one morning over donuts at Mitch Easter's studio, and we recorded the music in one take that same morning.
It just goes to show, you don't need to overthink rock-n-roll.
'Fight/Flight' is due out October 2021
---
The Eyebrows Official Website / Facebook / Instagram / Twitter / Bandcamp / YouTube
Headline photo by Chris Edwards