National Flag – 'Thank You & Goodnight' (1976)
By now, my short relationship with National Flag is the stuff of legend, at least in my own mind, which went sort of like this: I was on a layover flight in Paris, which would stop in the UK before heading onto NYC back in 1976, killing some time in the lounge, with everyone avoiding me, even eye contact, all because of my military uniform, except for one guy with super long hair, who plopped down in the seat next to me.
---
I just looked at him and the way he was dressed and said, "You've gotta be in a rock n' roll outfit." He smiled and said, "Yes," which lead to a forty minute conversation about his band's music and the state of the recording industry at the time. Our hour together continued onto the flight, and before he disembarked at London-Heathrow, he reached into his carryall and handed me a copy of 'Thank You & Goodnight', saying that he and his mates had self-published this bit of vinyl, and that I should enjoy it. And you know, for all these years I have.
You can imagine my surprise when Alex Carretero of Guerssen Records contacted me, with the the folks from Sommor Records sending me a copy of this great and sadly forgotten album, allowing me to delightfully feel about 45 years younger. The record is very much a product of those times, though that said, it still floats as well today as it did then, defined by good-time riveting twin lead guitar licks, along with blazing rhythms, instantly bringing to mind the likes of Grand Funk Railroad along with the sensibilities and swaggering smart lyrics of the Doobie Brothers. This brings us to 2021, with the afore mentioned Sommor and Guerssen Records having re-released this limited edition self-published gem from 1976, and they've done so brilliantly.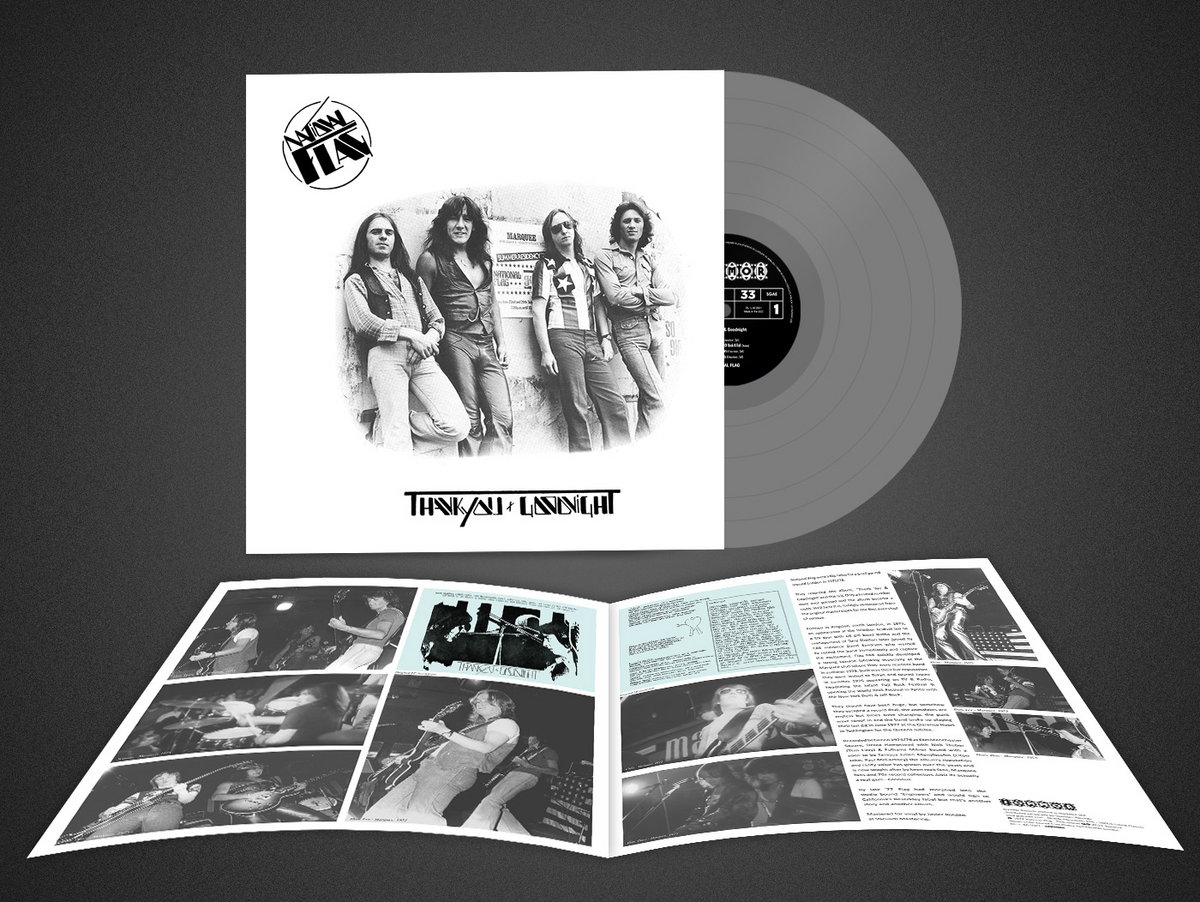 The sonic delivery of this sunny afternoon get up and dance music is first rate, featuring lyrics that are centered and upfront, relentlessly carried forward by bound for glory instrumentation. The album jacket has been faithfully reproduced, along with a two page foldout booklet that hands you the inside story of this fascinating group who should have laid waste to the world.
No, not for one second should you even consider asking me to part with my well worn original copy, 'cause pops and all, it's part of a life very well lived.
Jenell Kesler
---
National Flag – 'Thank You & Goodnight' (Sommor 1976/2021 reissue)