Fleetwood Mac – 'Then Play On' | Half-Speed Master Reissue
Fleetwood Mac's discography may be one of the most confusing of all the groups that debuted in the 1960s.
---
While the group's mid-70s albums with the lineup that included Americans Lindsey Buckingham and Stevie Nicks is their most popular, the lineup that featured Peter Green on their first three albums, 'Fleetwood Mac', 'Mr. Wonderful' and 'Then Play On', is fondly remembered for the inclusion of the group's leader at that time, Peter Green.
Green was an innovative and tasteful blues guitar virtuoso, who honed his craft in John Mayall's Bluesbreakers, as Eric Clapton's replacement in the group. The Fleetwood Mac Green era was also marked by his songwriting, which included such songs as 'Black Magic Woman' (a huge hit for Santana), 'Albatross', 'Oh Well' and 'The Green Manalishi (With the Two Prong Crown)'.
"If music be the food of love, play on" – William Shakespeare ('The Twelfth Night')
'Then Play On', released in 1969, was the group's debut album on Reprise. On it, Danny Kirwan joined Green, Mick Fleetwood, John McVie and Jeremy Spencer, as a full-time member. It became the only complete studio album with that five-piece lineup.
The album has been issued and reissued over the years and has been released with four different track listings. The new reissue from BMG reflects the same 18-track running order of the 2013 Rhino CD/LP reissue, and both include the original U.K. tracks and four bonus cuts. This double-album, half-speed master, originally mastered by Chris Bellman at Bernie Grundman Mastering in 2013 and pressed on 180-gram vinyl, is an audiophile's dream. The sound on these two discs is unsurpassed by nearly any previous half-speed master reissue I have heard recently from vintage 60's recordings. On top of that, the 12-inch album-style set is in a hardback package, with a 16-page book featuring liner notes, photos and a thoughtful essay. This limited-edition packaging is also like nothing I have seen so far this year.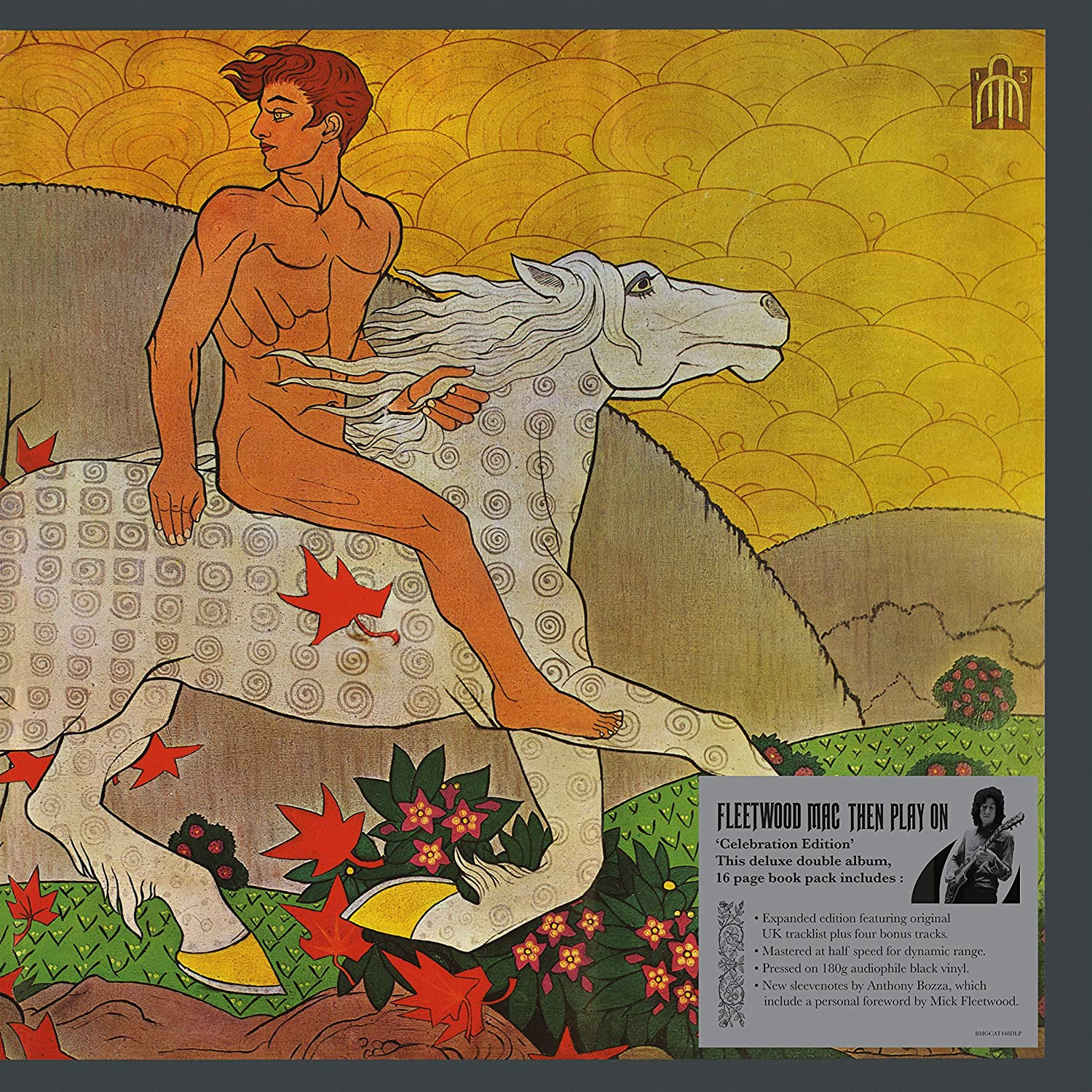 The British blues scene of the 60s launched the careers of countless classic rock British artists, but few albums are as celebrated and highly listenable all these years later, except for maybe John Mayall & The Bluesbreakers with Eric Clapton. While Fleetwood Mac's previous albums were almost exclusively recorded live in the studio, 'Then Play On' was more produced, with layered, multi-track overdubbing and editing that give it a more polished and succinct sound that in no way detracted from the bluesy atmospheric feel of their style during this brief period.
Although this album featured the five-piece lineup, Jeremy Spencer in fact did not contribute a great deal to the album and a five-track EP that featured four of his songs was to be released with the album. The five tracks of the EP, 'The Milton Schlitz Show', were eventually were issued as part of the two-disc 'The Vaudeville Years of Fleetwood Mac 1968 to 1970', which was released in 1998.That release included music from the group's early blues-rock lineup and consisted mostly of outtakes and unreleased material.
Steve Matteo
---
Fleetwood Mac – 'Then Play On' (BMG 2020)