The Outlaw Blues Band | Interview with Leon Rubenhold
The Outlaw Blues Band recorded two influential albums for ABC Bluesway Records which were destined for obscurity initially.
---
Their both albums represent some of the finest moments from sixties blues.
Victor Alemán, drums, percussion
Joe Whiteman, sax, flute, vibraphone
Joe Francis Gonzales, bass
Phillip John, lead guitar, vocals
Leon Rubenhold, harmonica
Rick Gilman guitar, vocals
"We preceded Santana, Malo and War with our sound"
Where and when did you grow up? Was music a big part of your family life? Did the local music scene influence you or inspire you to play music?
Leon Rubenhold: I was born in London England and came to the USA in 1954 at age 4. We settled in the Baldwin Hills/Crenshaw district of Los Angeles California because we had family living there that sponsored us to come over.
Music was not a big part of my family life, but definitely had an influence. My mum liked to sing around the house and she had a good ear for a melody but that was the extent of it. She used to say "I always wanted to be on the stage but there was one thing that kept me off it, the manager's boot.", a fine example of English humor if there ever was.
I was always attracted to music, at age three or so you could hear me singing the theme song from the English kid show on the "tele" called "Bill and Ben Flowerpot Men", I actually found it on YouTube for a laugh. At the age of 5 in Los Angeles, our upstairs neighbor, a teenage girl was always playing records. One afternoon I went upstairs and asked her in my little boy voice with an English accent if she could play that 'Earth Angel' record for me again please? Fast forward twenty some years later, I was playing a gig backing up the vocal group the Penguins who sang 'Earth Angel' with the original members and when that voice came out of the P.A. I broke out into a huge smile and thought about that teenage girl upstairs.
My first inspiration to play music came to me around age six or seven one morning in the back seat of my dad's car. We were on our way to drop my middle older brother David (I am the youngest of three, Sydney being the oldest) to school. We had the radio playing and I heard the sounds of guitars and drums in the music and right then I thought to myself, "I want to learn how to play the guitar and drums". My motivation was rather of a financial reason though, I figured if I could learn those instruments then I could play the songs I liked and not have to buy the records. They were expensive for me it took quite a long time to save up and buy Elvis Presley's first RCA record album back then with Scotty Moore on guitar. As you can see my interest in music started way before I was old enough to get into the local music scene which did eventually happen as I grew up. I would usually fall asleep listening to a transistor radio under my pillow tuned into whatever station was playing the music, usually KHJ-AM, KFWB-AM or KRLA-AM. David at one time brought home a drum kit and a trombone which I would mess about with. The trombone gave me a swollen lip which quickly turned me off to it and the drums went back a week later because they were too loud for apartment living. He also tried guitar. His friend Chris was playing folks songs and taught David a few chords to songs like 'Children Go Where I Send Thee' and the 'Peter Gunn' theme guitar intro lick. Sydney was into Latin Jazz and enjoyed playing bongos and congas.
When did you begin playing music? What was your first instrument? Who were your major influences?
I began playing music at age twelve. I became friends with a fellow I met in summer school named Rick Indenbaum who could play guitar. He had a ukulele with a chord book which I borrowed and started in learning the basics. Later on my sister in law Marsha loaned me her baritone ukulele. It had a wound fourth string that made it more like a four string guitar. Finally I bought my first real guitar for six dollars from my friend Charlie McDaniels. He sold me his older brother Robert's acoustic beater guitar without his permission. Robert also had a hollow body Jazz guitar with flat wound strings on it which I played briefly and was amazed by how it felt and sounded. Charlie and his brothers were quite the rough and tumble outlaw type of family.
My first major influences back then were folk players, Kingston Trio, Joan Baez, Peter, Paul and Mary. Then surf guitar players came into vogue, Dick Dale with his 'Let's Go Trippin" song and every other one off band with their instrumental hits for example the Bel Airs with 'Mr. Moto'… the list is long. Learning to play those tunes really helped me get an understanding of how the guitar was laid out. Then Jimmy Reed entered my life which really opened up a whole other feel and approach that inspired me to learn to play the harmonica as well. Of course when the Beatles and the Stones came along that really opened up the flood gates of inspiration.
What bands were you a member of prior to the formation of The Outlaw Blues Band?
The first band I was in at the age of thirteen and fourteen was called the "Blue Bottles". Though we had the word blue in our name it had nothing to do with the Blues. It was a reference to the color of houseflies. There are red bottles, green bottles and blue bottles. We were a trio consisting of me on guitar, Rick Indenbaum on guitar and John Mills on drum (he only had one) we just played around in John's living room for awhile and that was it. The next band I was in at sixteen was again with Rick Indenbaum and some guys he hooked up with that went to Beverly Hills high school. We played some fraternity house gigs my brother David set us up with. On those gigs I realized the power music had over people. By playing certain songs you can control the mood and feeling of everyone in the room and set the tone for the evening. It's the same element music adds to the emotional influence of movie and tv show soundtracks.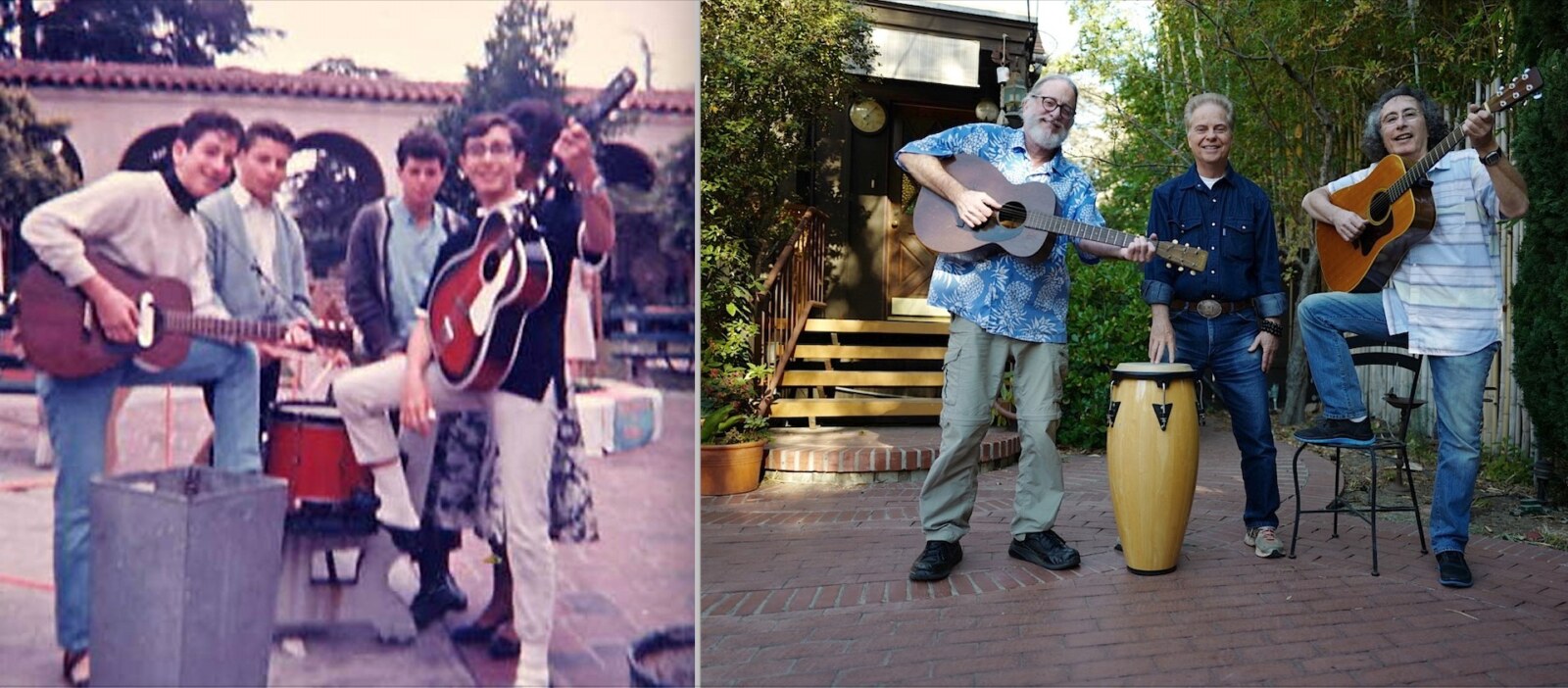 What was the first song you ever composed?
My first song was written on a dare by the guys in the band from Beverly Hills high school. They had written a song and I commented on it and they dared me to write one if I could. So I came up with this tune entitled 'It Happened'. It was a blues shuffle about a guy who was dumped by his girlfriend who later got dumped on too. The chorus went, "It happened, yeah it happened and I'm glad it happened to you"
They never did hear the tune though. After writing that song, it inspired me to continue writing to this very day.
Can you elaborate the formation of The Outlaw Blues Band?
The Outlaw Blues Band was formed quite a few years before I joined them.
They had a number of different members who came and went. They were calling themselves "The Originals" and playing the East Los Angeles dance hall circuit backing up various name singers like Tony Allen, Earl King, Jewel Akens and Rosie of Rosie and the Originals who had the hit record 'Angel Baby' though they did not play on the record itself. The way I got involved with them happened after I started attending Hamilton High School. The band with Rick and the Beverly Hills high school guys decided they did not need me and reformed as "Rhythm and Green". Like most things are back in high school, the parting with the band was traumatic. So not long after that event I met Rick Gilman (yeah, another Rick!) at school who was a guitar player, artist, Blues record collector and all around zany guy with a "keep you in stitches" sense of humor.
We became fast friends and he said, "hey the other guitar player in the band I'm in just got fired and we need a guy, wanna check it out?" So I went to my first meeting with the band at the North Hollywood home of the drummer/leader Victor Alemán. We played for awhile and things went ok. The next rehearsal the guitarist Phillip John Diaz the one that I was supposed to be replacing was there and had rejoined the band. So I thought oh well, that was short and sweet, but to my surprise they kept me on. Now we had three guitarists in the band and it started to get a little busy in the sound so I started to incorporate harmonica into some of the songs to open up the sound with another element. During those rehearsals Rick would sit in on drums and played pretty well. So that inspired me to try drums again after that brief spell many years before and making the epiphany in the back seat of my dad's car a reality.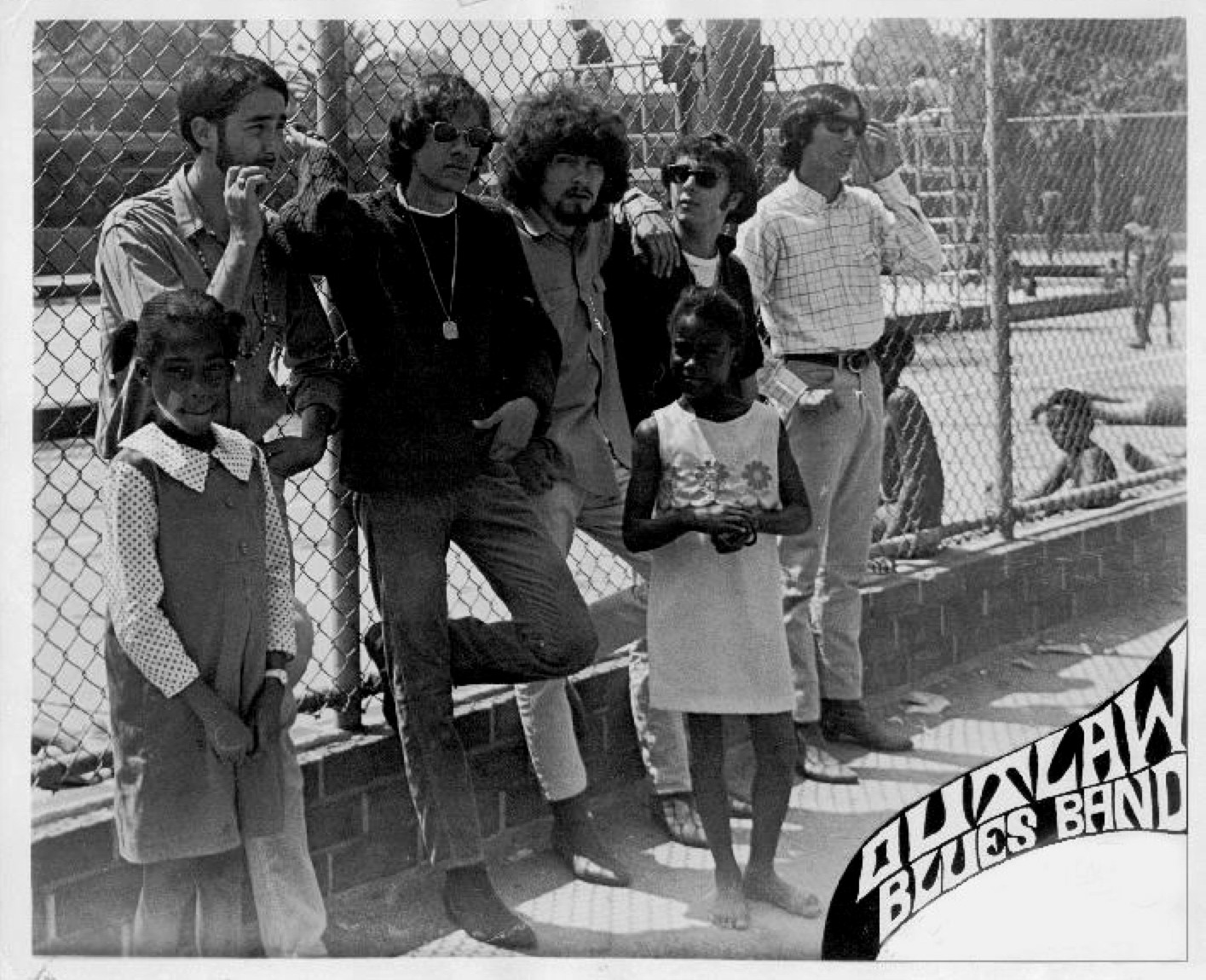 When and where did The Outlaw Blues Band play their first gig? Do you remember the first song the band played? How was the band accepted by the audience?
The first gig they did I have no knowledge of, but the first gig I did with them was quite the experience. We where booked on a show at the Troupers Hall Auditorium on La Brea Ave. in Hollywood. We opened and the band "The Black Sheep" went on second. It was a pretty full house and in attendance was all the guys from the Beverly Hill High school band "Rhythm and Green" and all their cohorts. There was a big buzz going on about how good we were and they all wanted to check us out.. When I got the "boot" as my mum used to say they had recruited a hot guitar player plus an arrogant lead singer, and now they were the hot band. So after we finished our set they found out how good we really were and they all fell over themselves with a new found humility, especially the arrogant lead singer with nothing but praise and accolades for me and the rest of the band. The crowd really like what they heard and the evening was a success. As to your question, unfortunately I don't remember the first song we played that night.
What sort of venues did The Outlaw Blues Band play early on? Where were they located?
We played all over the L.A./Hollywood Sunset Strip scene from dive bars, clubs (The Troubadour, The Ashgrove, The Cheetah, The Shrine Aud. The Hullabaloo, et cetera) to outdoor "Love-In" type festivals in parks and on beach piers. We shared the stage and bill with many bands and artists that rose to prominence and some that remained obscure. Some of the prominent ones were, The Doors, Janis Joplin, Blue Cheer, The Mothers Of Invention, Jeff Beck Group, Moody Blues, Ten Years After, Taj Mahal, Jimmy Reed, John Lee Hooker, Spirit, to name just a few.
How did you decide to use the name "The Outlaw Blues Band"?
It was borrowed from the Bob Dylan song 'Outlaw Blues'. Similar to the how the Rolling Stones borrowed their name from the Muddy Waters song 'Rolling Stone'.
What influenced the band's sound?
When I first joined the band the influences were the Blues styling's of Muddy Waters, Howlin' Wolf, Jimmy Reed B.B. King, et cetera. R&B greats like Ray Charles, Sam Cooke, and British invasion interpretations of the same artists. When Joe Whiteman joined the band he brought a Latin Jazz influence into the mix with his sax, flute and vibraphone playing. Joe was the sax player in the band The Premiers who had the big hit record in 1964 'Farmer John' and wrote and played Sax on the B side 'Duffy's Blues'. Our set list evolved and started to include songs from Herbie Mann, Cal Tjader, Willie Bobo, Joe Cuba, Tito Puente and other Latin Jazz artists. We didn't abandon the Blues we kind of stirred it together with the Latin stuff and came up with a spicier recipe which you can hear on the albums we did.
"We were an underground band and we didn't really think about a following or things related to PR."
Did the size of audiences increase following the release of your debut?
The size of the audiences did increase but it was due to the fact the debut release allowed us to play gigs that had larger audiences. We were an underground band and we didn't really think about a following or things related to PR. We'd just show up and play. Our management was almost non -existent and we pretty much had to fend for ourselves.
How did you get signed to ABC/Bluesway Records?
It's kind of a fairy tale story actually. We were playing a fund raiser gig for KPFK-FM a local L.A. radio station in a back yard setting in the upscale, ritzy Pacific Palisades neighborhood. The sound of the band was wafting throughout the neighborhood because the house was in the hills. So we finished our set and this guy Frank Kofsky who was a photographer and a music critic at Billboard Magazine comes up and introduces himself saying, "I was walking to my car and I heard the music which really sounded good to me and I followed my ears here to find who was playing it." Then he started in telling us how he knew a record producer named Bob Theile who has a record label called Impulse Records. We all knew instantly who he was talking about because we were fans of many of the artists that record for the label. So we played it cool as not to over react since this would not be the first time someone approached us with the "pie in the sky" spiel. Surprisingly he did keep in touch and arranged for a meeting and audition with Theile. We set up a private performance in the afternoon at the Ashgrove club on Melrose Avenue in Hollywood. Theile heard us, liked us and offered a deal, which we signed not long after. Kofsky later maneuvered himself into being our manager and created great havoc in the band, eventually causing it's demise.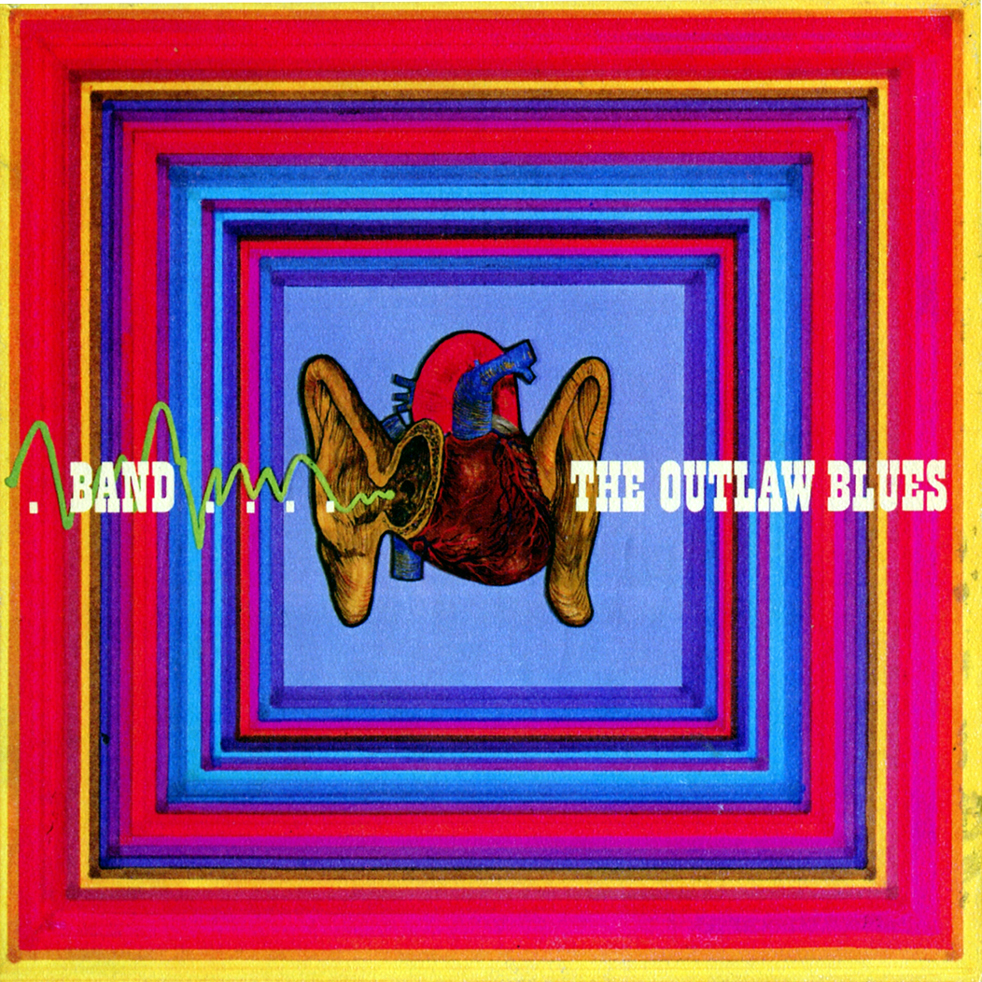 How would you describe your sound? I think you were ahead of your time for a blues oriented band.
As I mentioned previously, we combined Blues, Rock, R&B, Jazz and Latin elements and came up with a unique cross blend of cultures within the music. We preceded Santana, Malo and War with our sound. One night we were playing a gig at a club on the Sunset Blvd. called "Thee Experience" which had become a place where everyone went to play and jam. Hendrix and Johnny Winter jammed together one night and many others would wind up there at some point. So we were doing our set and one of the things we featured in our sound was Joe Whiteman and I doing sax and harmonica harmony lines together, kind of a mini horn section thing. I looked out into the audience and leaning up against the wall watching us intently was Lee Oscar. War had not hit it yet and I would see him from time to time around the scene. When War finally came out with 'Spill the Wine' I heard what they were doing and I could not help but wonder if watching us that night at "Thee Experience" had inspired Lee to do the sax/harmonica thing? Being that our first album came out in 1968 and 'Spill the Wine' was released in mid 1970 those dates document who came first.
What's the story behind your debut album? Where did you record it? What kind of equipment did you use and who was the producer? How many hours did you spend in the studio?
Our first album 'The Outlaw Blues Band and the People' was recorded in two days. We went into the United Western Recorders recording studios located on Sunset Blvd. just east of Gower Street. This was and still is a major recording facility in Hollywood where countless records and hits have been cut. The studio equipment used was state of the art analog gear to tape. My personal gear at the time was a box of harmonicas, a 1965 Fender Deluxe amp and a Shure PE57 microphone. Our producer was Bob Theile and he brought in legendary recording engineer Rudy Van Gelder. I just recently read Bob Theile's autobiography "What a Wonderful World" and was totally amazed by the things he was involved in during his life and career in music. Had I known then what I know about him now I would have chewed his ear off with questions.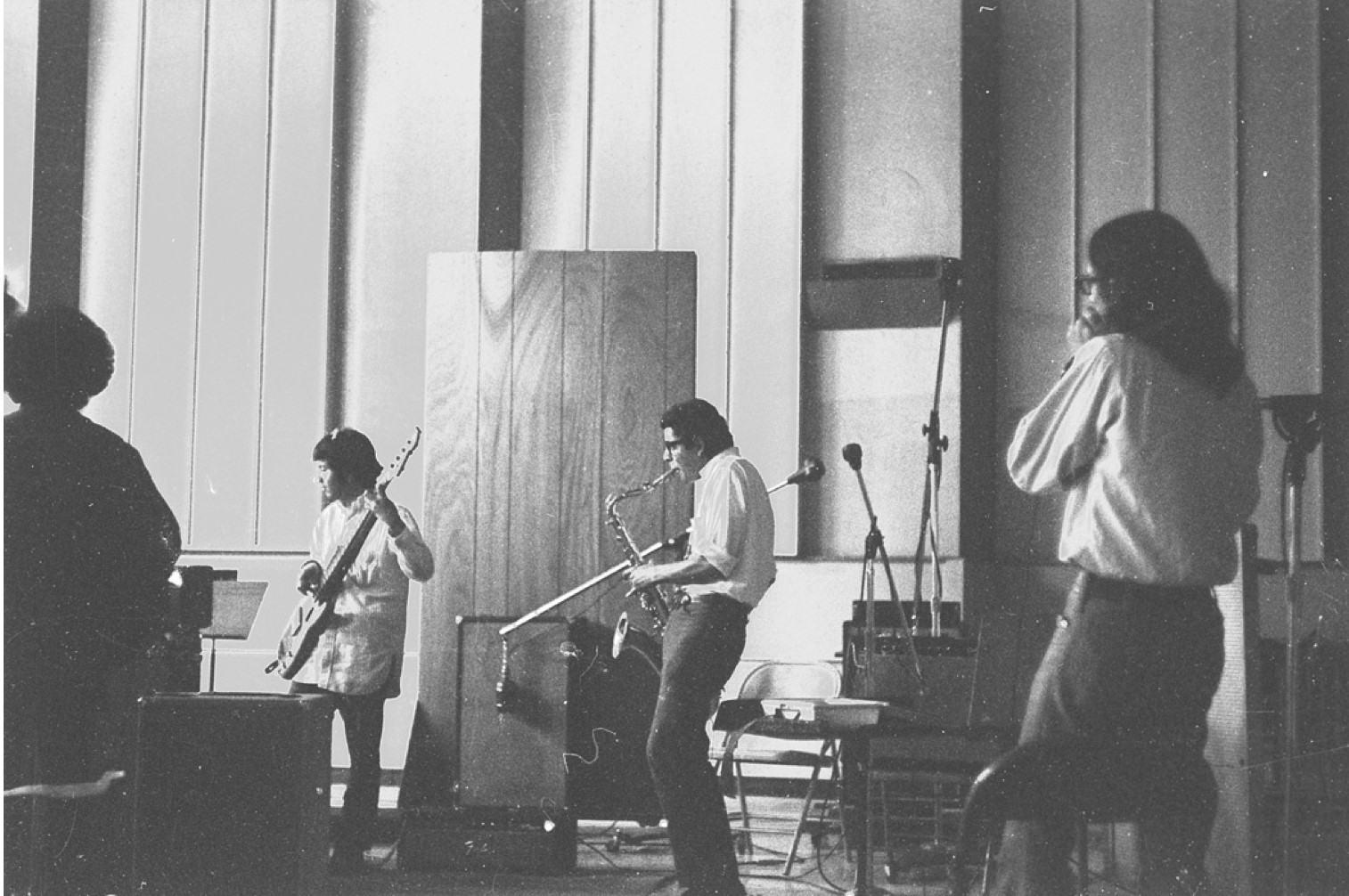 Please share your recollections of the sessions. What were the influences and inspirations for the songs recorded?
As far as the songs we recorded for that album, they were from our current set list at the time. We cut everything live and overdubbed the vocals later. Not sure how many takes we did for each song though. Joe Whiteman got experimental with his sax sound by using a new at the time electronic attachment called a Varitone after being inspired by sax player Eddie Harris using it on his hit record 'Listen Here'. One of the most annoying memories I have of the sessions was during the recording of the song I wrote and sang 'How Bad Love Can Be' which the vocal performance of got a "stand out" mention in the album review of "Down Beat" magazine from May 15th 1969. The annoying incident is immortalized and documented as microphone feedback. Most people won't notice it but if you listen closely it's forever there. It occurs after the guitar solo during the drum fill that precedes the entrance of the last verse of vocals. This happened because our "know it all" manager insisted that I stand closer to Joe Whiteman while we played together. His rationale was since we were a horn section, that's how it's done! This position put me too close to my amplifier for playing loud harmonica which demands a certain distance between the hand held mic and the amp to minimize feedback. I stressed this point to him but he would not back down. This was just one of many conflicts I had to endure with him.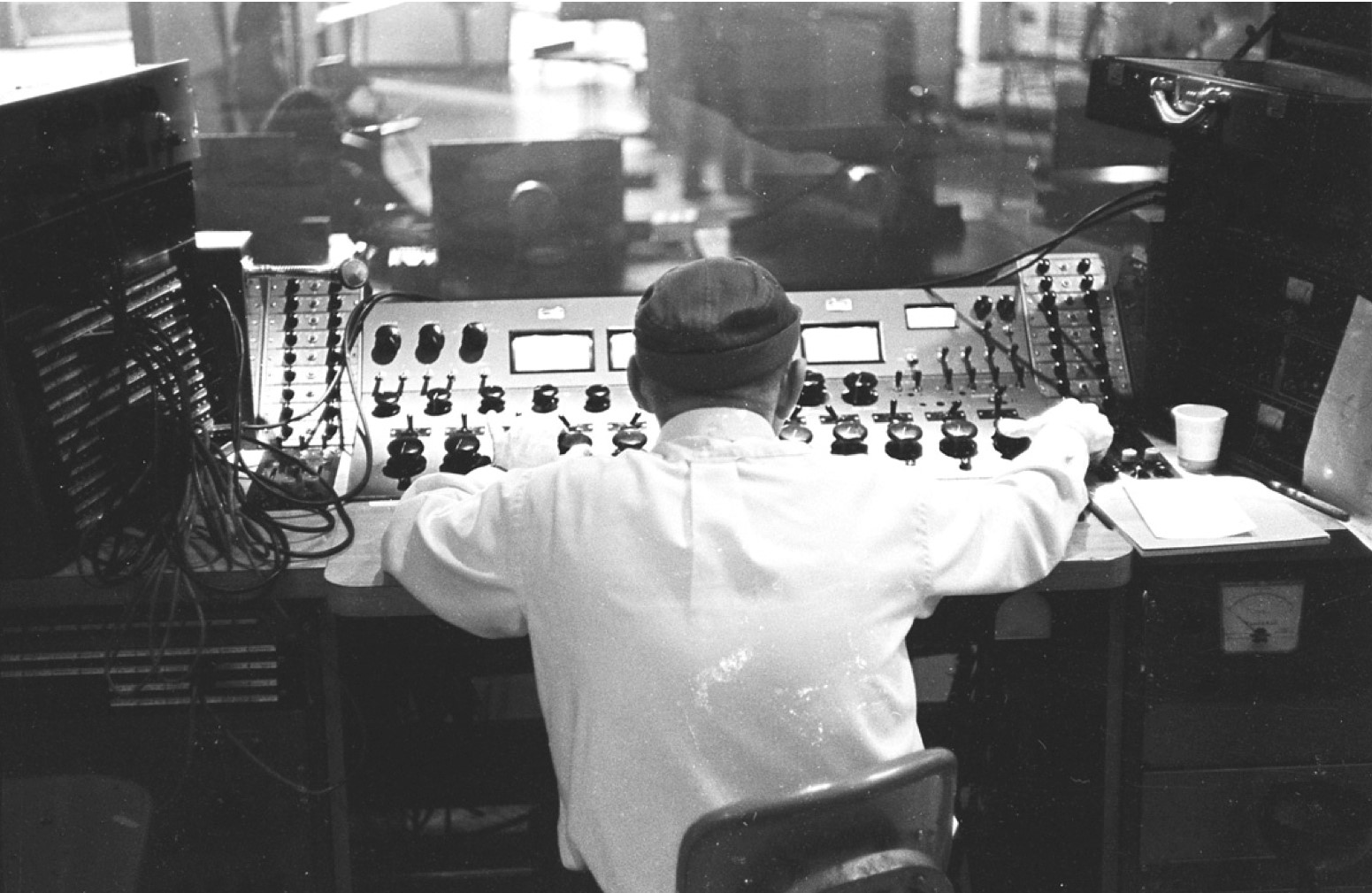 Would you share your insight on the albums' tracks?
The song 'Two Tranes Running' was originally twice as long and went through a number of variations in tempo and feel and was called 'Two Trains Running', the Muddy Waters song. What you hear on the album was just the tale end of the song. The idea of two tranes running was derived from the two John Coltrane-esque sax solos Joe Whiteman played simultaneously at the end. The song title of the slow minor blues 'I Tried To Be A Good Boy (But Now I'm Worse Than A Nazi)' and the 6/8 instrumental jam 'Death Dog Of Doom' were renamed by our demented manager without our knowledge or permission and we did not find out till after the album was released. Needless to say we were outraged by the titles. In addition his derogatory descriptions of the members of the band in the liner notes were as offensive as the song titles renaming.
The arrangement of 'Tobacco Road' was originally conceived by Rick Gilman and first sang by him. His contributions to the band were very progressive and hip. I was heartbroken a number of years ago when I heard of his passing due to complications of Diabetes.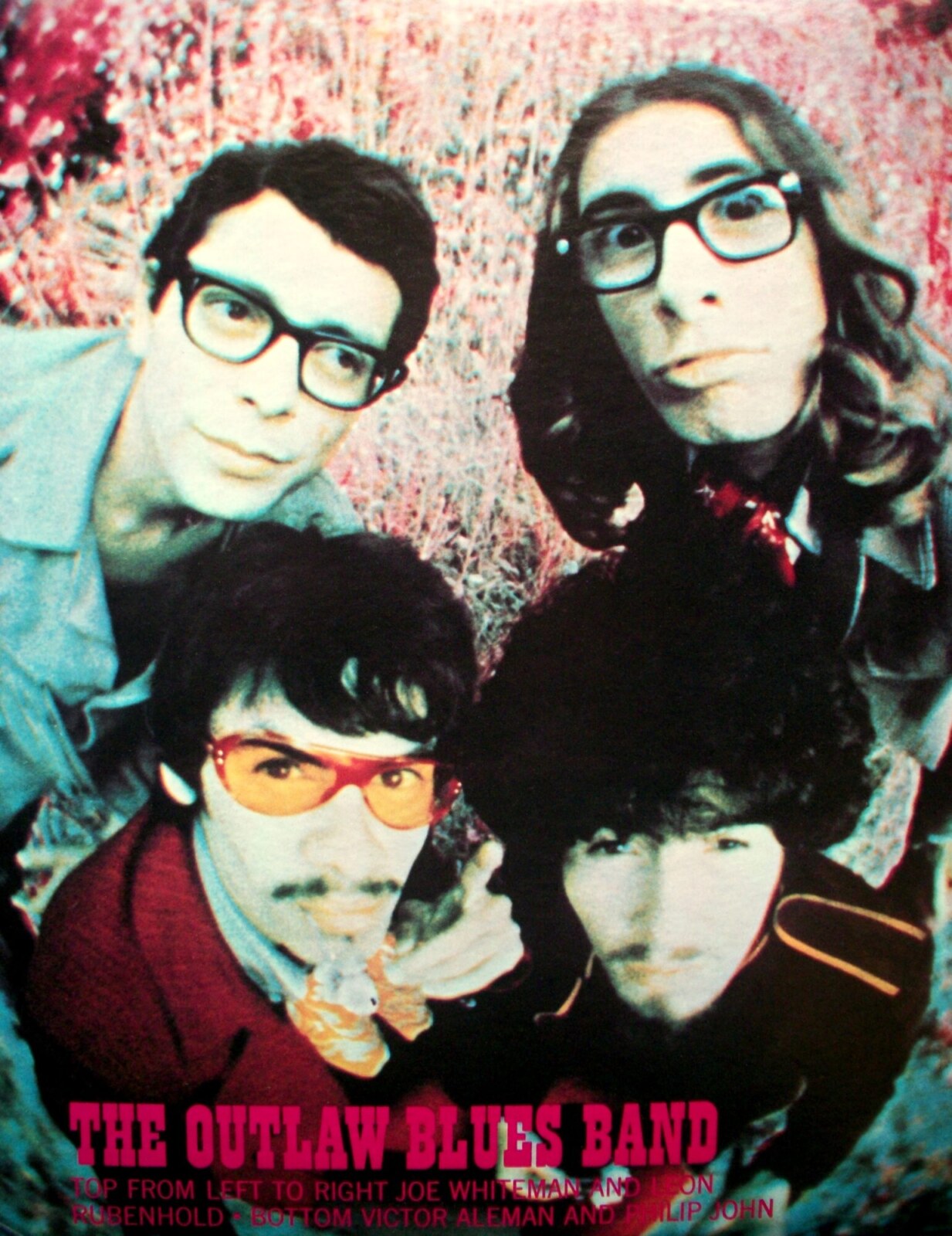 The song 'I've Got To Have Peace On My Mind' was sung by our bassist Joe Francis Gonzales also known as "Foul Francis" the nick name coined by Rick Gilman. The "foul" was for how nasty his bass playing was. Joe had a very thick Nicaraguan accent when he sang and was not happy with how it sounded on the track so we added all that delay on it and as he used to say "I can live with that". Joe also passed a number of years ago due to Liver cancer.
Our version of the B.B. King classic 'Sweet Sixteen' was one of Phillip Diaz' favorite songs to do live. Phillip never used a pick; he had a very long thumb nail that he would use instead. When he occasionally broke it he was a very unhappy guy. He eventually resorted to a false nail applied to his nail that was super strong. Phillip also has left us a while ago due to heart issues. Joining us on Hammond Organ on 'Sweet Sixteen' was Lawrence "Lorenzo" Gentile. Unfortunately he is gone too due to cancer.
The cover artwork for your debut release is really beautiful. Who was the artist behind it?
The original cover design was done by Victor Alemán's cousin Felipe Leon Escobar. Here is a quote from the man himself as it appears on the website. Felipe Leon -Architectural designer, illustrator, artist and writer. "The heart with ears" that lives forever at the beat of the music, is the image on the front album cover of the Outlaws Blues Band. It was inspired by their musical rhythms, at times when man defied nature. Doctor Christian Neethling Barnard a South African cardiac surgeon, performed the first human-to-human heart transplant. That defiance was accepted by humanity, setting the new cultural ways that prevail up to the beginning of the 21st century. It changed our music. Today, our heart, ears, soul, vision, and mind are essential to enjoy and perceive the message of contemporary music. –Felipe Leon
Were you inspired by psychoactive substances like LSD at the time of writing the album?
I personally was not taking LSD at the sessions or any time prior or after. I'm pretty sure no one else was either. A lot of pot was being consumed during those times though.
How pleased was the band with the sound of the album? What, if anything, would you like to have been different from the finished product?
Considering we cut the album in two days we thought the resulting sound was good. It did capture the way we sounded live. At that time we were playing a lot so we were very tight and that was appreciated by Bob Theile and his engineer Rudy Van Gelder because it made there job that much easier. I have heard some remastered versions of the albums which did enhance the overall sound that was already there.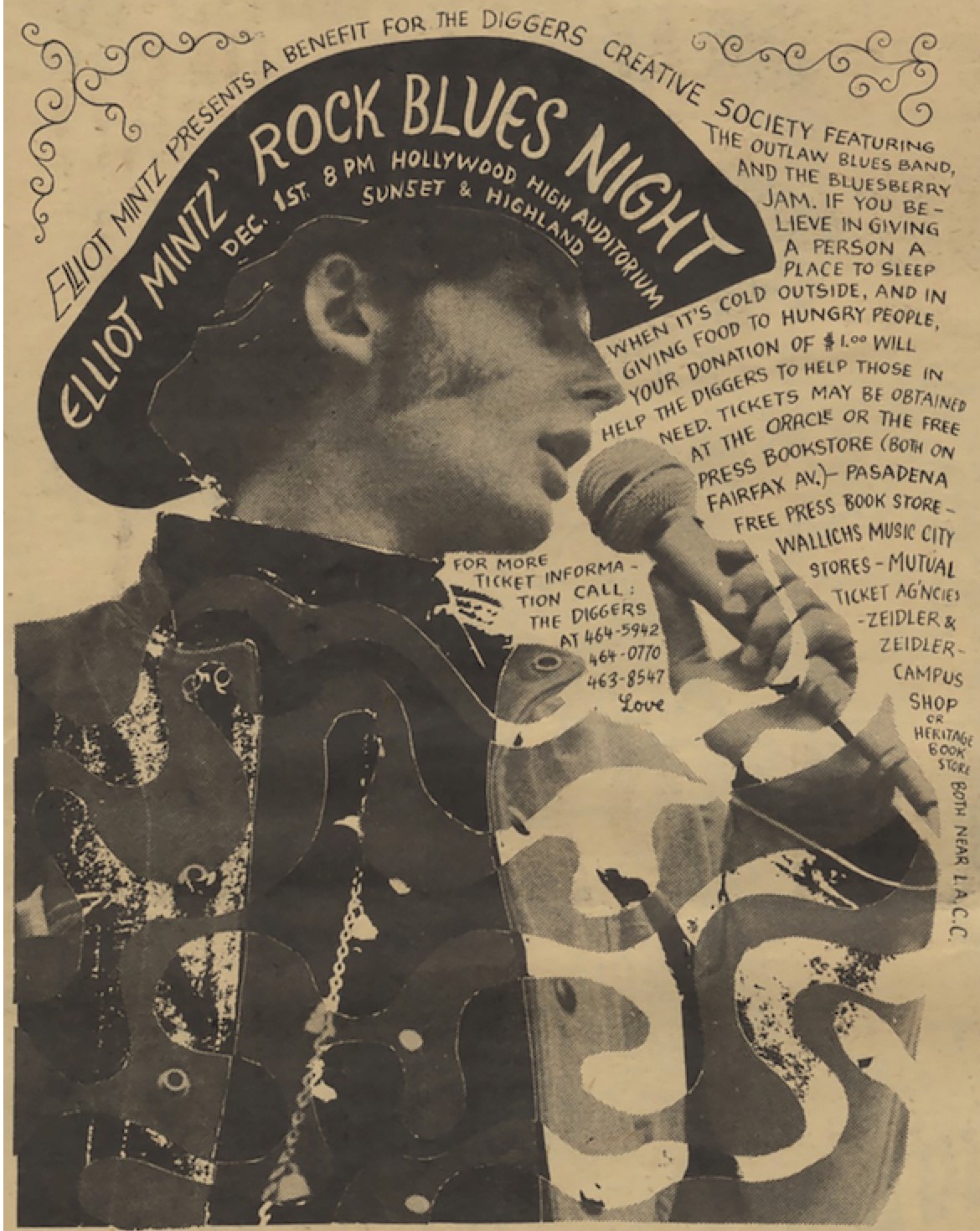 Did the band tour to support the LP?
The band did not tour or leave the country after the release of the LP. Our manager I mentioned previously did not come through with all the promised bookings which we were eager to do. In addition our bass player Joe Francis decided to leave the band in regard to the managerial misguidance we suffered. So we had to scramble around auditioning bass players for some upcoming gigs we had already booked. We did settle on one guy named Atlee Yeager who committed for a while, but he grew weary of the situation of turmoil and decided he'd had enough.
How about your 'Breaking In'?
We got a call from Howard Stark the President of ABC records and he said he wanted us to do the second record as a Blues album. So priority one was to find a bass player. We found Lawrence "Slim" Dickens. A very solid funky player with great vocal and songwriting abilities. We started rehearsing and playing some gigs with him up to the time of the recording sessions. This album too was done in two days at the same recording studio United Western Recorders with producer Bob Theile. The album contained seven songs, two covers and five originals, two by us and three by Dickens. The song 'Deep Gully' was credited too Dickens but was actually a collaboration between all of us. This is the song that has been sampled by a number of artists most notably by Cypress Hill in their song 'When the Shit Goes Down' which has been included in a number of movie sound tracks. I recently watched the new Oscar nominated movie "Judas and the Black Messiah" and the song is being used in that soundtrack also. After the album was finished it took a year before it was released and I am surprised that it did come out at all as it was not really the Blues album Howard Stark envisioned. Things within the band had deteriorated considerably. Dickens had drug issues so that didn't work out for our permanent Bass player quest, we all had moved on to other things.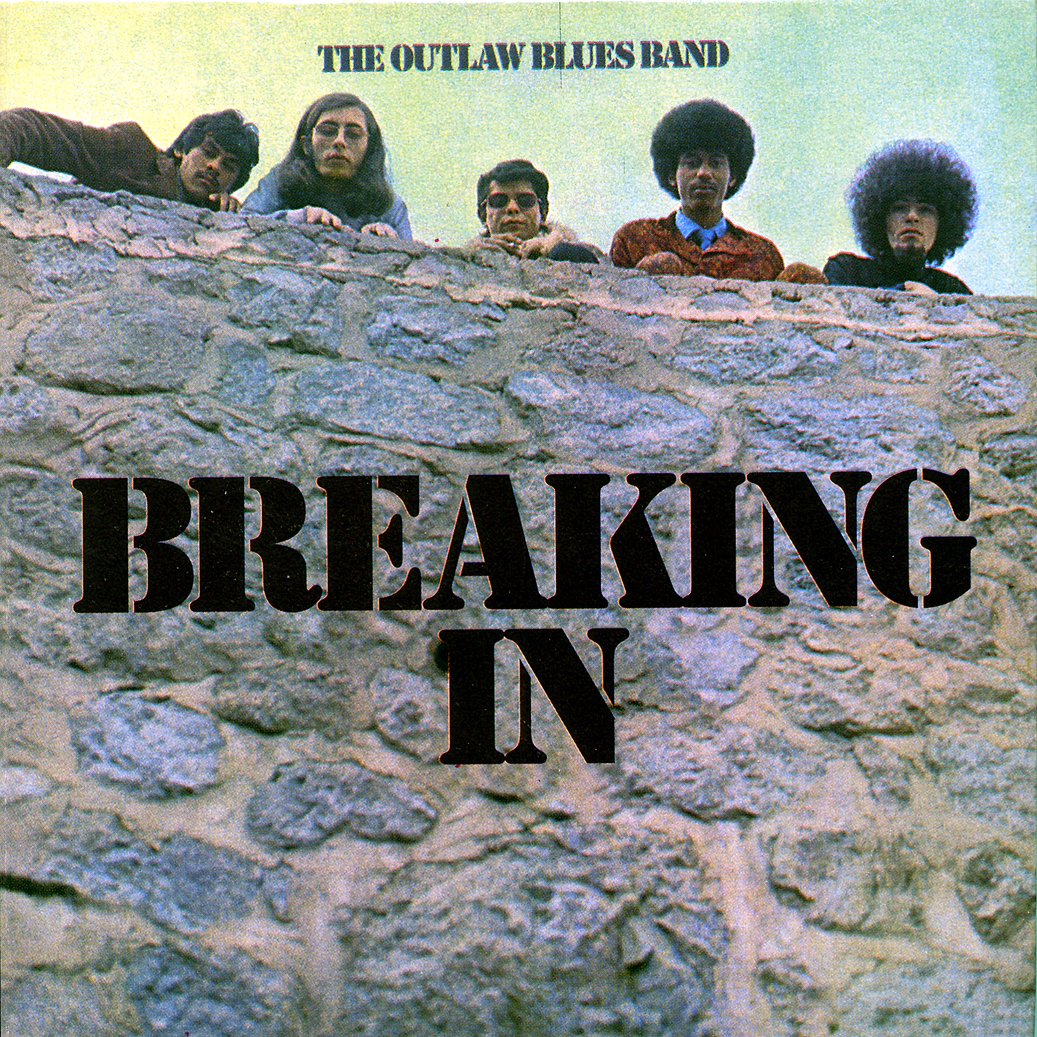 What happened after the band stopped? Were you still in touch with other members? Is any member still involved with the music?
Not long after I went on to play guitar with the George "Harmonica" Smith Blues Band in the Bay area for a while. Followed by many other situations which I mention on my website. I am still in touch with the surviving members Victor Alemán and Joe Whiteman. I'm the only one who is still actively involved in music but we three are still involved with the music but not the performance of it.
"Duane [Allman] befriended our band and would come hang out at our rehearsal room and jam occasionally"
Looking back, what was the highlight of your time in the band? Which songs are you most proud of? Where and when was your most memorable gig?
Looking back to those times there are a number of stand out events that I can recall. First comes to mind is our six night residency gig at the Ashgrove sharing the bill with Bukka White. When Jimmy Reed and John Lee Hooker were touring together back in March 1967, they needed a band to back them up for a one-night event near downtown L.A. and we got the call to do the gig. We showed up for an afternoon get together rehearsal at John Lee's hotel room on Sunset Blvd just west of La Brea. Also in attendance was my good friend guitarist Elliott Ingber. We hung out for a while and ran down some ideas. Jimmy Reed was not there; we just winged it with him at the gig. I remember John Lee bouncing around the stage playing that Blonde Epiphone guitar of his and laying down his serious Boogie Chilin' groove. Jimmy Reed on the other hand was extremely intoxicated and put on a rather poor performance. On a few songs he was using the wrong harmonica for the key of the song and it was sad for me because he was one of my first influences in the Blues and harmonica playing.
That same year the band had a weekend gig at a club called "The Magic Mushroom" on Ventura Blvd in Studio City. Also on the gig was a band out of Georgia called "The Hour Glass" with Duane and Gregg Allman. Duane befriended our band and would come hang out at our rehearsal room and jam occasionally. We had this gig in Old Town Pasadena at a little tiny club called "The Rest Of It" off an alley behind Colorado Blvd near Fair Oaks Avenue. Duane came down and brought a whole bunch of equipment (almost more than the room could hold) and we played all night. Indelibly etched in my minds eye is the vision of looking down the front row of the band and seeing him playing some hair raising licks on his guitar.
Back in 1966 the band would play an after hours gig on the weekend from 1-4am in Hollywood at the Hullabaloo club on Sunset Blvd and Vine. On a number of occasions the Doors would headline as their first release 'Break On Through' was climbing the charts. One night in particular we had to wait for Jim Morrison to sober up enough to perform. Which meant we could not go on till they had played. So back stage there's our boy Jim laying on the ground totally out of it and everybody had to step over him to get to the other side of the stage. He did finally get sober enough to sing but not one of his best performances.
Our most stand out gig was opening for Ten Years After, the Moody Blues and The Jeff Beck Group with Rod Stewart. All four bands for the price of under $6 at the Shrine Auditorium Expo Hall in downtown Los Angeles.
Then there was the "Brucemas" gig (Lenny Bruce birthday celebration) on the pier in Venice Beach again in 1967 playing to thousands on the beach and sharing the stage with "Chicago Transit Authority" later to become known as "Chicago". I could go on with many more but this gives you an idea of how things where back then.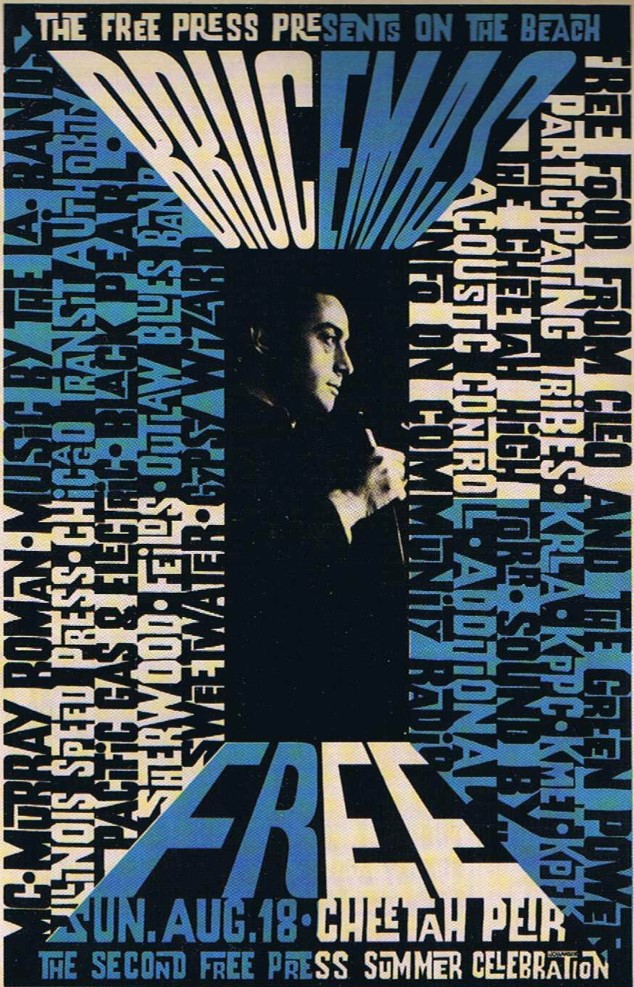 I think the songs that stand out for me are the one I wrote and performed 'How Bad Love Can Be', 'Tobacco Road' and 'Deep Gully' which includes my friend Bob Levey playing drums. He is the son of the West Coast Jazz drumming legend Stan Levey. Bob just happened to be at the session that day when we were cutting 'Deep Gully' and Victor Alemán wasn't feeling comfortable with the groove and decided to switch to playing vibraphone and gave Bob the nod to come sit in on drums and nailed the groove down to finish up the song.
What are some of your favorite memories from the 60s/70s in general?
The memories are far too many to mention here, except the memory of the music and the feeling of a generation of people trying to make a difference in a positive way by putting love and joy first. A great concept on paper but difficult to bring into a reality.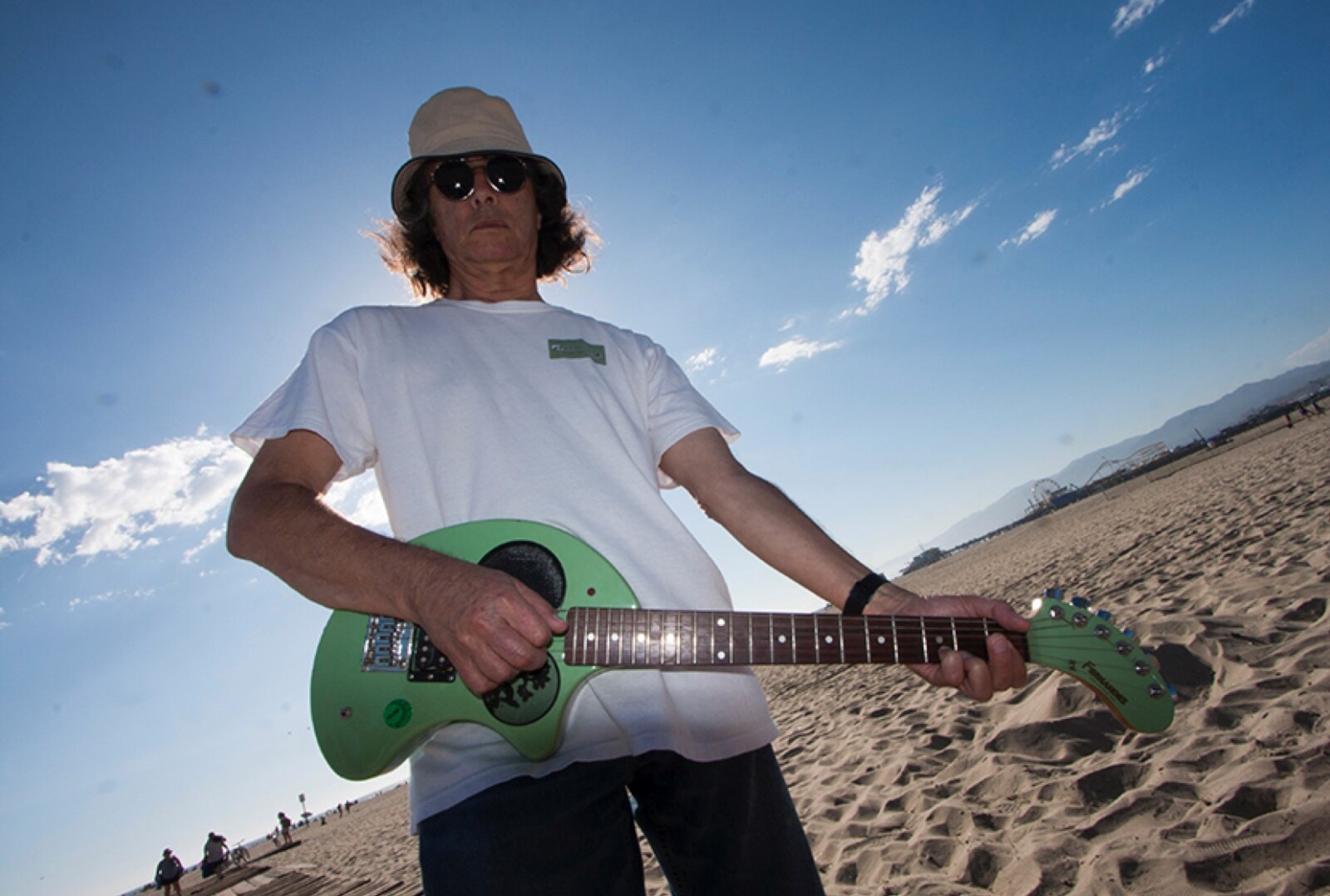 Is there any unreleased material by The Outlaw Blues Band?
Yes there is, I have a cassette copy from a 1/4" tape of a session we did at Ray Charles' studio RPM. He actually came into the playback booth when we were listening to one of the songs. He walked in and went over to the phone and made a call then he walked out and said nothing. We all looked at each other with our mouths wide open and speechless. I listened to the tape recently and the songs on it are 'How Bad Love Can Be', 'Sweet Sixteen', 'Tobacco Road'(Rick Gilman-vocal), 'Fried Neck Bones', 'Drive My Car' (Joe Francis-vocal).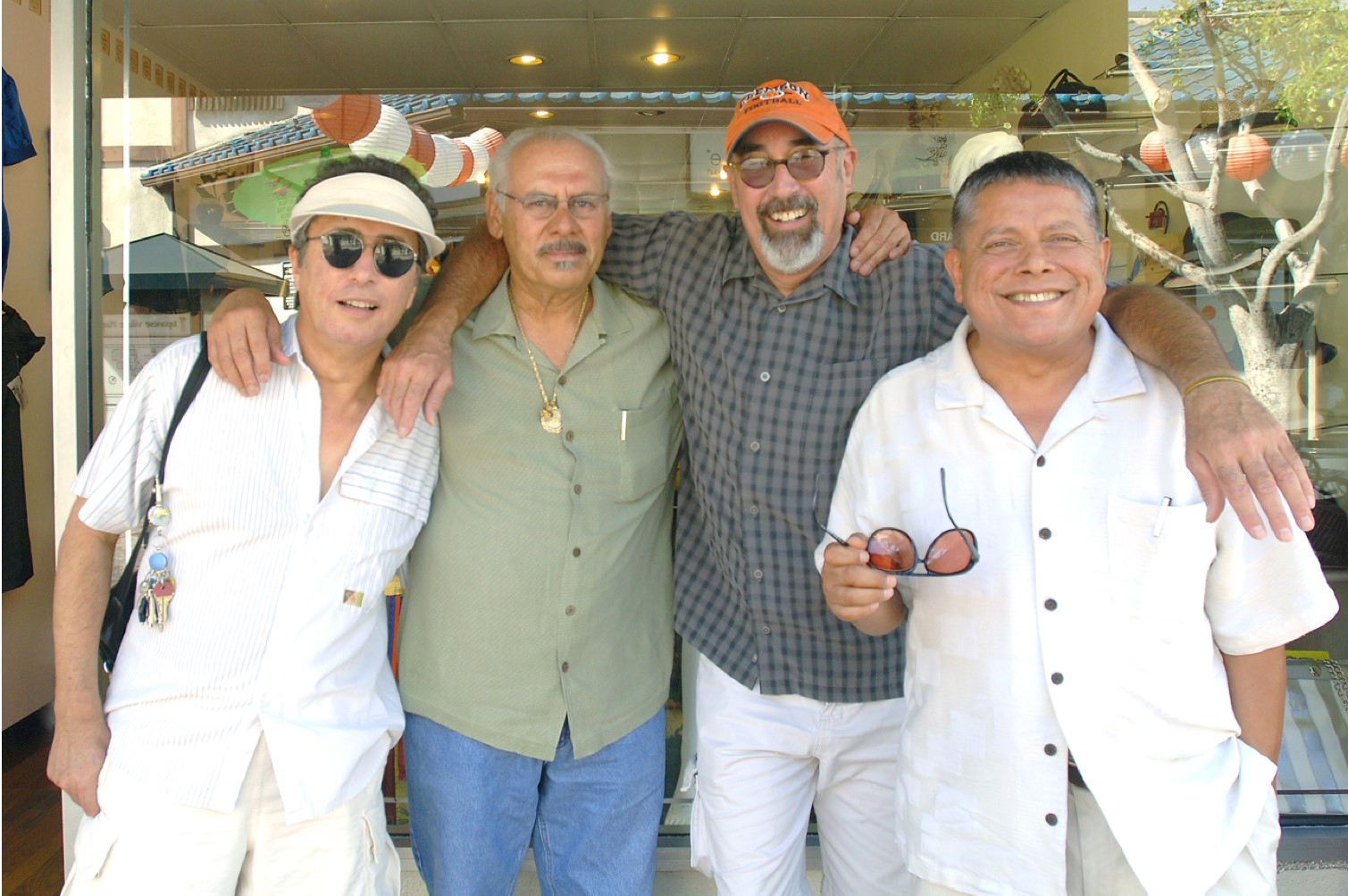 There is also a 45 rpm record on the ERA label with Victor Alemán singing both sides. The A side is called 'Mustafa', the B-side is inspired by the song 'Milk Cow Blues' that we titled 'Non Stop Blues"' The two sides of this record are the only recordings that have Rick Gilman, myself and Phillip Diaz all playing guitar together. There are two songs that were cut before I joined the band called 'Bad Little Girl' and 'I'm A Blind' both sung by Phillip Diaz.
Also there is a tape of a live set of us playing at the Ashgrove pre Joe Whiteman that is available on the website Wolfgang's vault. Ed Pearl the owner of the Ashgrove who just recently passed away recorded nearly every show that played at the club and those tapes went to Wolfgang's vault. The Ashgrove was such an amazing place to play and just hang out. I made many friends there, Taj Mahal being one of them. I recall Taj asking me one night how I set the knobs on my amp to get my tone. In his autobiography he kindly mentioned how he loved to listen to us and thought we were great. One night there I asked Albert King about his tuning and he said to me smiling "oh we can't talk about that".
What currently occupies your life?
During these Covid times as you know all live music has come to a stand still. Aside from teaching a number of students guitar and harmonica, I have been working in my studio recording a new CD with the title track of 'Back To The Blues' which is an instrumental slow blues that I cut live, a one take stream of consciousness with guitar, bass and drums. I am covering some of my favorites Blues songs and giving them a new twist in arrangement. I figure if you're gonna cover a tune you should try and make it your own concept. Check out on line my version of 'Got My Mojo working' and in addition there will be a few new originals included also. Hopefully I will have it done by the end of 2021. If interested I have my CD on my website and many other places on the web with twelve great songs on it. Plus on reverbnation I have about 30+ original tunes posted.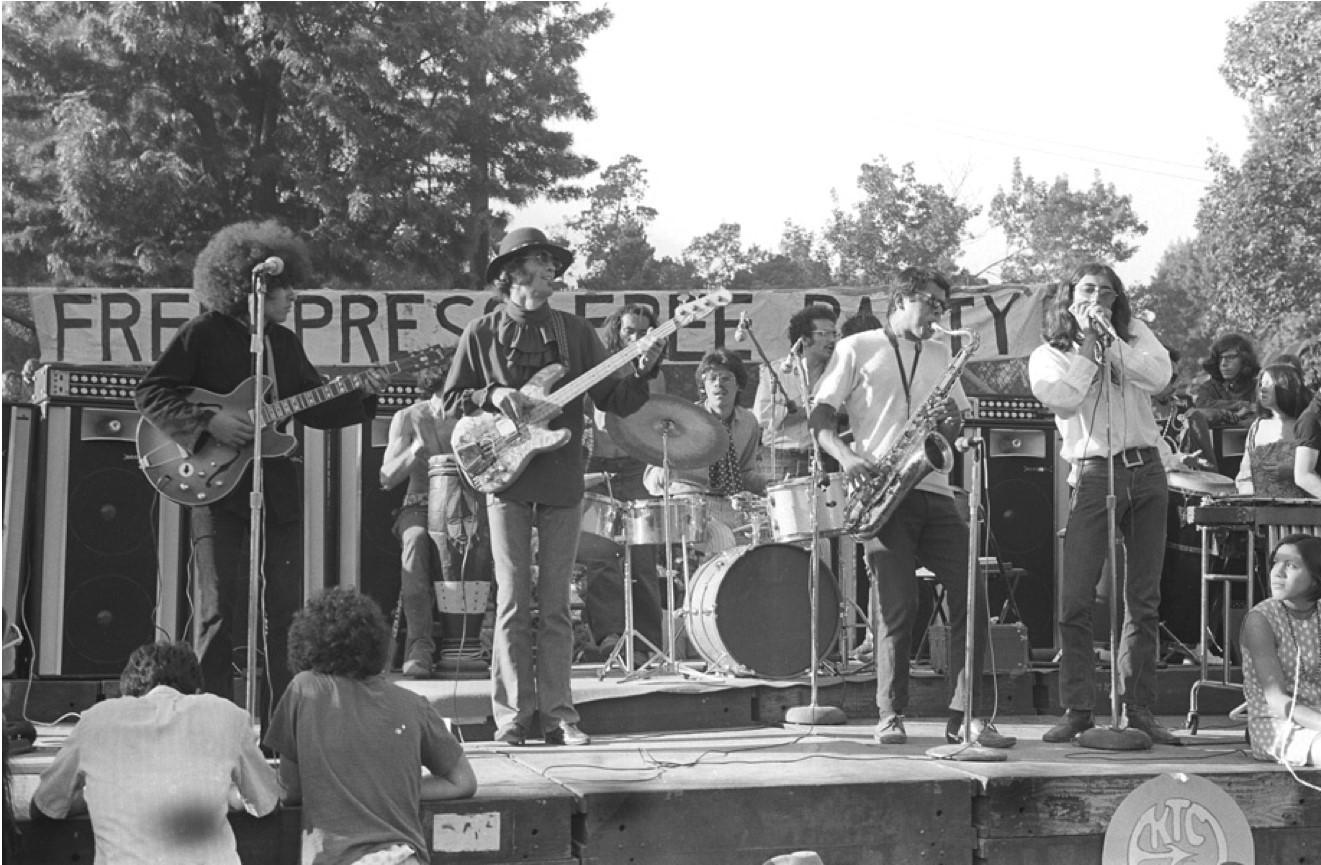 Thank you for taking your time. Last word is yours.
I find it amazing how a recording of a song can take on a life of own after being released into the world. You never know where it will wind up and who is going to hear it. Case in point is this interview and how you and it came to me. Oddly enough just after you contacted me to do this interview, another person who just discovered the Outlaw Blues Band got in touch with me to do a video interview regarding the band and the music. When I was touring Japan back in the early 80's with Wilson Pickett, a journalist was interviewing us back stage and asked me what I have done in addition to playing with Wilson Pickett? I told him "well I used to be in a band called the "Outlaw Blues Band" and his mouth dropped open and he said with his heavy Japanese accent, "oh, Outlaw Blues Band, I have first album!".
Klemen, thanks for giving me this opportunity to tell my side of the story and relate my experiences regarding the places and events of an era in time that will never come again. A time of great creativity and innovation where most all music of today springs from or is derived in one-way or another. I hope your readers can get a glimpse of what it was like back then from my tales of yore. Thanks, Leon Rubenhold
Klemen Breznikar
---
Leon Rubenhold Official Website
The Outlaw Blues Band Official Website