Thinking Plague | Interview
Thinking Plague is an American avant-garde progressive rock group founded in 1982 by guitarist/composer Mike Johnson and bass guitarist/drummer Bob Drake. Based in Denver, Colorado, the band has been active off and on since 1982.
---
Jelodanti Records recently reissued their highly regarded 1986 album 'Moonsongs'. Their music has always been difficult to describe. They are exploring the frontiers of rock, folk, jazz and modern symphonic music. Their influences span a spectrum from the Beatles and the Byrds to Henry Cow and William Schuman.
"All of us in the Plague family were interested in the strange, somehow disembodied sounds"
Are you excited about the latest Jelodanti Records reissue of 'Moonsongs', your album from 1986?
Mike Johnson: Definitely. It's really great that Jelodanti wanted to do this. They approached us – it never would have occurred to me to try to re-release 'Moonsongs' on vinyl. Their interest is strictly artistic…certainly not commercial. They have been very genuine and earnest about it, and they've created a great looking and sounding record. Their cover design is very evocative…a different image, but one that captures the flavor of the album.
Bob Drake: It was funny because when Nicolas [Leto] first contacted me and said they'd like to do an LP pressing of 'Moonsongs', I was surprised, I thought surely he'd made a mistake, and must be thinking about some other artist or album, not something as obscure as 'Moonsongs'! But they really wanted to do it, and were very enthusiastic so that was incredibly nice of them. I haven't had a record player myself since the 70's, but I do understand there are people who have a special passion for vinyl records, so this should be exciting for any fans of early Plague among them!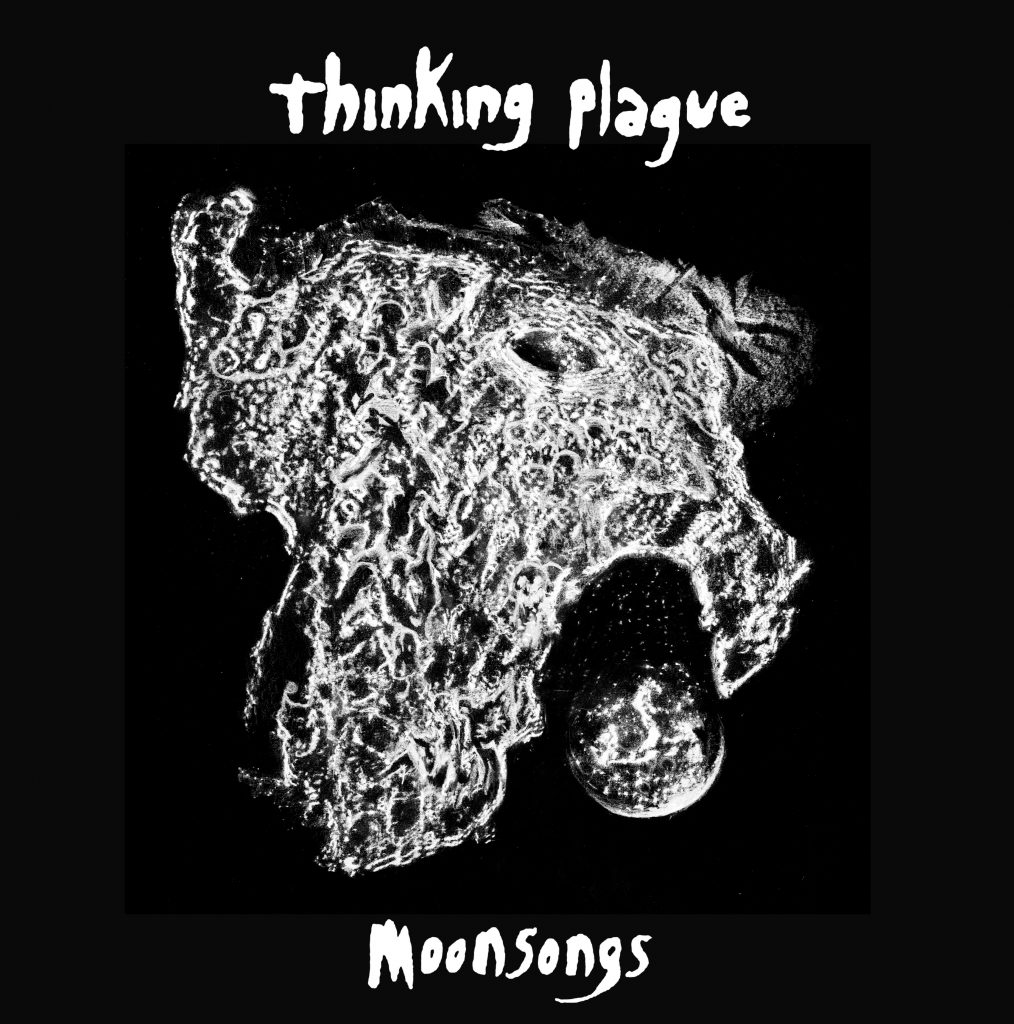 What's the story behind recording it?
Mike Johnson: That was a long, long…long time ago. 1985-86…. And this will necessarily be a long answer.
We released our first album, 'A Thinking Plague', in 1984.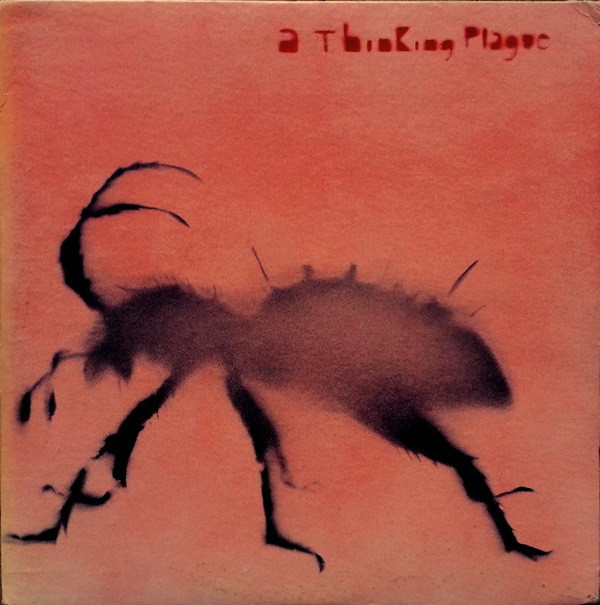 We released our first album, 'A Thinking Plague', in 1984. After that we were kind of at loose ends about how to proceed. We wanted a more…um… professional?… produced?….sound, while still retaining our kind of lo/hi-fi, d.i.y., experimental aesthetic. While we had been heavily influenced by the Art Bears and some of the more arcane experimental rock of the early 80s – like Lemon Kittens! and others – we were also being influenced by the "new wave" phenomenon. Bob had recently played in a couple local new wave–ish bands, which I think had a big impact on him.
And we were mightily impressed by Peter Gabriel's 'Security' album, with its kind of new technology-meets-world-music approach to production and song creation. Also I had been a King Crimson fan in the early 70s and I liked a lot of their early 80s stuff with Adrian Belew, et al. – I should say that Bob was never much of a Crimson fan, but I had been exposed to them as a teenager and held them in awe for some time. So these early 80s artists were influencing us a bot. And after the first album we wanted a more kind of "up to date" sound. But, meanwhile, we didn't have a singer, an actual drummer or proper keyboard player.
As for a singer, Bob had previously engineered a recording for a vinyl single by a couple of 19 or 20 year old young women who called themselves the Spray Pals. One of them, the singer and I suspect "driving force," was Susanne Lewis. She had a unique voice and could nail pitches really well. Bob thought she'd be a good singer for us. She had no background with …"technical" music, but she did have a great ear and a big range. Unfortunately, she had recently moved to the U.K., where she lived in a London "squat," apparently with some members of the Nick Cave / Crime and the City Solution crowd. Oh well…..
So, we continued to cast about for a singer. At one point some time in 1985 we asked a local "folk-pop" singer named Jill Sobule – yes, of 'I Kissed a Girl' fame, in whose band Bob was playing, or had played for a while, along with our friends Mark Fuller and Eric Jacobson (aka Moon). Amazingly, Jill was willing to hive it a try. But just about then Susanne returned from London! And we immediately asked her if she'd do it…and she, yes, she would., which was a major coup for Thinking Plague. Who knows what might have happened if Jill Sobule had become our vocalist, but in all likelihood she wouldn't have stayed with is. She had a pop music career that needed realization.
Meanwhile, during 1983-84 Bob and I had played in an original sort of "progressive pop" band with the two guys I mentioned – Mark Fuller, who had played drums on some of our first album, and a keyboard "prodigy," Eric Jacobson (aka Moon) a friend, who I recall had recently finished a music degree. These two guys were excellent 'technical' players and were creative, adventurous and musically knowledgeable. And they were adv on our next Thinking Plague record.
Back in 1980, before there was a Thinking Plague, I had written the song Warheads, using my lyrics in the first section with words by my poet brother Robbie in the second part, beginning with, "As I sat in a movie…" It probably should have been two songs, the first 'Warheads' and the second something like 'To Better the Self in a Sea of Others'. But it never occurred to me. Anyway, the first part was inspired by my disgust at the anti-Muslim mania that erupted during and the Iran Hostage situation. That's my earliest recollection of overt anti-muslim hostility in America on the oart of "regular" people. And Warheads was my first sort-of-political song. The second part deals more with existential "angst," as it were. Completely unrelated, but we liked it.
Bob and I recorded a 4 track demo version of it where we played everything and did the singing…it had no keyboards and was pretty crude, but has some endearing qualities – it can beard on Bob's Bandcamp website. Later, during the recording process for 'A Thinking Plague', or not too long thereafter, we started to record the song in a more or less "proper" studio with members of our live band that had done a few live shows in 1982-3. We recorded some guitar, bass and keys, as I recall, but it just just wasn't clicking. So we gave up on it for the time being.
Obviously, we did eventually record it again. That was in 1985. We did it at a little 8 track studio in an old house, called Free Reelin'. It was very limited, but they had great mics, a nice tape deck and an actual big plate reverb in the basement! It did not have a live room. All it had was the small former living room, that had been soundproofed. So, it was a bit …clinical. But we liked the place and made it do what we needed, to the extent of our knowledge in those days. Years later I was given a set of keys, access to the schedule AND a very cheap hourly rate…$10?…at Free Reelin' which, among other things, I took advantage of to record tracks one, two five and six on the 'In Extremis' album. Just a point of arcane interest for the two, maybe three, rabid Thinking Plague fanatics out there….heh heh..
Bob played the drums and Linn Drums. Eric was on keys and Mark added the additional "atmospheric" drums to the big droning end section. Susanne sang – her first recording with Thinking Plague. Mark McCoin, a drummer-producer friend, played the airy flute-like melody using a cheap sample player foot pedal by Electro-Harmonix. He'd devised a way to trigger the sample at different pitches using a keyboard. He also used it for the fast "tremolo" piano right after the phrase, "to better the self in a sea of others!" Both the pitch and the SPEED of the sample changes with each note, which gives it a certain manic quality. Perfect example of low-tech/high-tech.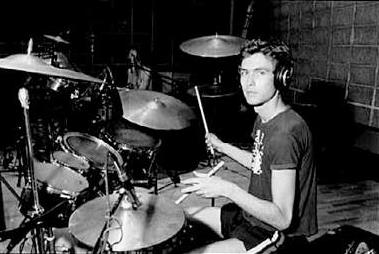 Of course I did the guitars. The guitar "solo," I guess you'd call it, after the "God is great.." spoken section, was my first use of a pitch shifter – I think it must have been something like an Eventide that the studio owned. And a little bit later we used, I think, a Lexicon with an extremely pitch-modulated delay, to add inscrutability to what we called the "bugs" part, that leads into the 'Warheads!' chorus. It was so much fun. We used the same thing again on Eric's "harpsichord from hell," as we called it, that comes in around 3 minutes into the track. We were modulating the pitch of the delay with a square wave, so there are occasional random pitch changes in the chord he's playing. It's one of my all time favorite keyboard sounds.
"A statement about modern humanity's destruction of the natural environment"
So we were finally very happy with this version of 'Warheads'.
Meanwhile, I had written a kind of "pagan-tribal" song, inspired by the book The White Goddess by Robert Graves…and musically, to an extent, by Peter Gabriel. This was 'Moonsongs'. It was intended as a sort of mystical-environmental protest piece. The lead vocal part represents a kind of gods-eye view of a pagan ritual enacted on a moonlit hilltop. The lyrics from the call and response section were taken from the 'Song of Amergin' – or Amhairghin – an ancient Gaelic poem, which I discovered via Robert Graves's book. I wanted to incorporate some kind of "tribal" drumming in a Thinking Plague song, and to evoke a sense of mystery and wonder, while making a statement about modern humanity's destruction of the natural environment….a recurring theme in Thinking Plague music after this.
We recorded it in a couple different small studios in Denver. I'll never forget the drums session. We had two drummers for the big "tribal" drum parts. One, Mark Fuller, played swirling fills around his toms in a five against four pattern, which you can hear the moving across the stereo image as he rolls across different drums in his pattern. Great great drum part he came up with. The other, Mark McCoin, marked out the 12/8 rhythm on kick and snare(?) drum, and triggered another very low tech sample of us blowing a note through his hands on every 4th beat. It that sounds like an owl or something. We thought it was apropos…evocative, I guess. Heheh… Their drum kits were set up next to each other in a warehouse space outside of the actual studio. We had mics all over them. It was thrilling, as they thundered through the parts with Mark triggering owls, and Bob and I occasionally yelling out with animistic enthusiasm! Mark McCoin also recorded several tracks again low-tech samples of Susanne singing "ta," "doh" and "ooh" in the middle section of song. Came put pretty whacky sounding…clunky…but we liked it. Again low-tech/high-tech!
These two tracks, 'Warheads' and 'Moonsongs' became he sort of main bookends of the album – the longest, most "produced" tracks. But not the most demanding. That label would have to go to the second track, 'Etude for Combo'. This piece was born out of some sketches or song fragments that I had written, and decided to take to "the band," so to speak, to work up into a finished instrumental piece. It took some days of work in our big practice room at the old Mountain High Yogurt factory in lower downtown Denver, which had long since devolved into an amazingly cheap set of rehearsal rooms, warehouse spaces, non-functioning refrigeration rooms, etc.
When we felt ready, we set up two mics and a Sony PCM F-1 two track digital recorder, invited a couple friends and bandmates, including Susanne, to serve as the "studio audience", and attempted to record it "live". We did something like eight takes, and then selected what we thought was the best. I wonder if those other takes still exist…? We did no editing and added no processing after the fact. What you hear is what we did.
The work consisted of learning our parts section by section, rehearsing it all connected together as we went, while adding ideas to make it more funny or maniacal. It was lots of laughing, focusing and sweating.
When we felt ready, we set up two mics and a Sony PCM F-1 two track digital recorder, invited a couple friends and bandmates, including Susanne, to serve as the "studio audience," and attempted to record it "live." We did something like eight takes, and then selected what we thought was the best – I wonder if those other takes still exist…? We did no editing and added no processing after the fact. What you hear is what we did.
To these three tracks we added an excerpt from a long improv we recorded during that same session. If I'm not mistaken, the title 'A Collarless Fog that One Day Soon'…was provided by one of Bob's then very young nieces. There are some wonderful atmospheric sounds created by Eric and Bob, in particular, including a huge crescendo of hissing that culminates in what sounds like a gun shot, which I think Eric created on his tiny Casio CZ-101. I've always loved the ending theme that fades out. It just might make a reappearance at some time on some recording of mine.
Susanne and Bob created a pretty haunting and mesmerizing song called 'Inside Out' that became the fourth track on the album…or I should say the first track on side two! Bob's eerie keyboard "environment" was a perfect stage for Susanne's haunting melody and words. The deepening trance created by this song leads perfectly, in my opinion, into 'Moonsongs'.
After the album was done we found ourselves with a master tape and no label, much as we had after our first album. Right about then in 1986 a friend of ours, who owned a small cassette duplicating service, decided to create a small record label, Prolific, which began as a cassette-only label. 'Moonsongs' became one of his first releases – a cassette with an arcanely iconic, circular front cover image created by Susanne, and inner J-card design by Bob. I have no idea how many copies might have sold or where.
Some time after that, to our amazement, we were offered the chance to have the album released on vinyl by a new record label in the UK, Dead Man's Curve. Apparently, from her time in London Susanne knew someone who was involved in the label, I think, and either she had contacted them, or they her. I don't really know. This brand new label was in the process of releasing something like twenty LPs by all kinds of non-mainstream artists. Needless to say, we didn't have to think too long about it. We sent sent them our two-track master tape, and a copy of the J-card from the cassette version, assuming that they were would use it to design a proper album cover. We'd never been on an "actual" record label before, and really had no idea of what to expect. They sent some cursory contract that we accepted without question.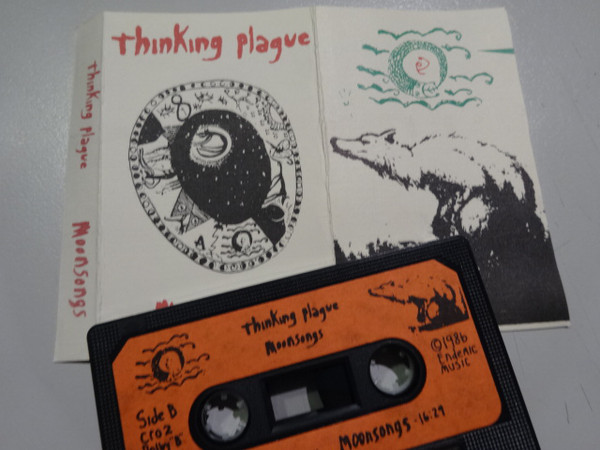 When we eventually got some copies of the new 'Moonsongs' LP we discovered that Dead Man's Curve had simply blown up the images form the J-card and printed them onto the cover, front and back. The actual blank LP cover they used was cheap looking, like gray paperboard…very drab. Even worse, the pressing was very poor…kind if distorted. It became pretty clear that, with their twenty quick and cheap releases at a time, Dead Man's Curve was a rather "fly-by-night" operation. Obviously we were somewhat disappointed – even a little embarrassed, in my case, anyway – and had little hope that much would come of it. We were pleased to learn that it did get distributed by Recommended Records and, I believe, Wayside Music, and it appears that some number of copies made it out into the world. But we had no idea how many were pressed or sold. We never got any royalties and never even got our master back. (FYI, you can see the Dead Man's Curve discography here)
So, this new Jelodanti vinyl release certainly rectifies that situation. It looks AND sounds great.
Bob Drake: By 1983 we'd finished recording the first album and were looking ahead to the next. All of us in the Plague family were interested in the strange, somehow disembodied sounds appearing on albums like Peter Gabriel '4' and Kate Bush's 'The Dreaming', both which came out in 1982, and on other pop songs of the time. They were using the first studio computers and samplers such as the Fairlight. We heard that one could record any sound into it, or even draw a waveform on its computer screen with a "light pen", and use that sound to play notes on the keyboard. That was completely new, and seemed so futuristic! Unfortunately those devices were still rare and impossibly expensive. So we set out to try to incorporate elements of that contemporary digital pop production into our next album, despite having no such equipment, no budget, and only the most basic recording possibilities. Totally Plague-ey!
Our first foray into the world of sampling was an Electro Harmonix "Instant Replay" stompbox pedal! A little box into which one could record a sound of maybe half-second duration, and play it back by striking its external pad which was connected by a 1/4 jack cable. Mark McCoin, one of the drummers on the 'Moonsongs' track, found that if he plugged a keyboard control voltage output into the pedal instead of its pad, it would play the recorded sound using the keyboard. We thought that was just incredible! It only played a single note at a time, and stretched that one sample across the whole keyboard, so it would be sped-up or slowed-down as you went higher or lower, and had a really aliased, grainy, 8-bit kind of sound. You hear it on 'Warheads'. First for the flute-like melody around the 2:10 mark, and later a funny piano arpeggio when that melody reappears at 4:00. On the track 'Moonsongs' it was used for the segment with Susanne's voice "ta ta ta", "eew eew" and all that. We really got a kick out of it. Maybe too much so!
Another big element in pop music sound of those days was the Linn Drum machine, so we were thrilled to learn that the little studio we would be working at had one. On the song 'Warheads', we wanted to make a blend of my real drumming, and the obviously artificial, completely un-responsive Linn drums. I had ideas for that and spent a day with the Linn, but couldn't understand how to make it do anything. It had to be sequenced of course, which is the stuff of nightmares to me! I explained my ideas to Mike, and he understood how to make it comply. So on 'Warheads' you hear that mix of real and artificial drums, mostly during the first minute-and-a-half, after that it's just my kit, often with lots of funny effects, and an occasional distant Linn tom accent. In the drone-ey end section, Mark Fuller adds some nice rattly timbales and explosive sounding Simmons electronic drums, and it's my bass making that almost gong-like drone.
Keyboardist Eric Moon had a Yamaha DX7, also very new and exotic then. It became immensely popular for a bright, 80's electric piano sound, but Eric got the strangest tones and just plain noises I ever heard anyone get from one. We'd say: "Hey Eric, can you get a sound like a rusty metal pipe hit with a hammer?" and he'd go: "Hmm, OK" and start pushing its little buttons and scrolling through parameters in the single tiny LCD window, and sure enough before long he'd get it. Apart from a little bit of piano, Eric's DX7 was the main keyboard on the whole album, which also adds to its odd yet 80's vibe.
'Etude for Combo' was recorded live to two-track in our rehearsal room, as simply as possible, no mixing or production at all. That was a fun track to do! All of us pushing ourselves to the limit of what we could do in a live performance. I remember it well – as we rehearsed, whenever we felt it was getting easy to perform, we'd push the arrangement even further, right to the edge of our abilities again, and work in even more "dance moves" on the effect pedals for example! Note that a lot of the shriek-ey or squawky sounds come from my bass – I had incorporated a Korg MS20 synth, which had an input to (sort of) track whatever was plugged into it, into my pedal board.
This piece was recorded after we'd finished the two "big" tracks 'Warheads' and 'Moonsongs', and we, me as the engineer certainly, had had enough of the laborious production of those two tracks, and trying to get that contemporary digital production sound out of little, low-budget 8-track studios. It had been a good adventure, and was what we'd set out to do, but we were pushing those little studios beyond their limits and always had to face the old gremlins like the mixing desk only had 8 channels and one of them wasn't working, or there were never enough patch cables so I'd make some on-the-spot, using my teeth to strip the wires and just twist them together, no solder. I'm sure Mike will recall seeing me do that!
The next track 'Collarless Fog That One Day Soon' is an extract from one of our group improvisations. As you can tell from the sound, it was recorded during the same session as 'Etude for Combo'. We had always included sections of group improvisation in our live shows, and enjoyed jamming and making noise together, so this track shows a little bit of that side of the Plague.
'Inside Out' was a piece I made using the Mellotron and Orchestron which lived in our rehearsal room, run through a Lexicon PCM 200 digital reverb I'd gotten a hold of for a few hours. That was one of the earliest digital reverbs, a big heavy rectangular box, and I was enthralled with its ability to made an dense, otherworldly 60-second reverb that seemed to hang in some impossible science-fiction space, it turned any sound into a cosmic event! I recorded a few minutes of this mysterious cloudy sound on a cassette, made a copy on a reel-to-reel and mounted that to play in reverse. Then I started the cassette from the beginning, and half-way through, slowly cross-faded on the little mixer to the backwards version. It's not obvious it's turned around and now going backwards until near the end. I gave that to our vocalist Susanne Lewis, she wrote the lyrics and sang on it.
Then comes the title track. I can tell you something about recording the drums for it, if you've got enough ink! The main percussionists were Mark McCoin and Mark Fuller. In the rehearsal room Mike outlined his ideas to them, and they came up with those fabulous rolling drum patterns. Next we had to find someplace to record. A new and inexpensive 8-track studio had just opened in Denver, so Mike and I went to have a look. The owner showed us around the usual tiny, padded and carpeted room, completely "dead" sounding, my least favourite imaginable kind of place to record in. However, out in the hallway, just outside the little control room, a door opened into a large warehouse. I peeked in and said: "Now THAT'S the place to do it!". A big, live-sounding space. The studio's proprietor happened to be a manager of the warehouse too, so we asked if we could record the drums in there. He seemed a bit incredulous, but said OK, palpably crestfallen that we weren't interested in the scientifically designed sound-proofed room he was so proud of!
So on the day, Mark and Mark set up in the warehouse and I wired up all the mics and inputs, filling up all 16 channels on the desk. Besides the two standard kits, which were large in themselves, they also had between them Simmons electronic drums, sheet metal with contact pickups, timbales, various odds and ends, and the Instant Replay sampler pedal I already described. I had an idea for a sound to try on the Replay, in keeping with the nocturnal "wooded hills" scene described in the lyrics, so we gathered round the mic and all made a "hooting" sound by blowing through our cupped hands. McCoin then played that as part of his kit, via the attached drumpad. You hear it during the first verses of the song,
Everything ready to go, I rolled the tape and they played their parts together, all the 16 inputs mixed together across 7 tracks of the 8-track machine, as one track was reserved for the guide track and cues. When they'd finished, I mixed those 7 tracks to one stereo track on 2-track machine, copied that back to the 8-track tape where we added even more drums and percussion, and again mixed that down to one stereo pair. So when you listen to that track, remember you're hearing one, multiple tape generation stereo track of all those drums, it held up really well! Everything else in the piece, all the rest of the instruments and vocals, would be recorded on the remaining 6 tape tracks. So I'm a bit proud of that!
How would you compare it to your debut album, '…A Thinking Plague'? The sound is more "mature", don't you think?
Mike Johnson: I guess you could say more "mature." That might be too generous! 'Moonsongs' was a kind of hodge lodge album, really. A song written in 1980, a kind of experimental-cum-whacky "live-in-the-studio" recording from 1985, an excerpt of improvisation from the same "live" session, a droning wash of sound with a mournful…beautiful, if bleak(?)…vocal. And the two through-composed bookend songs by me, which I guess you could say were produced with the benefit of more experience. The album was a kind of departure from the more playful d.i.y. attitude of the first album. None of this "attitude" or "aesthetic" was very conscious, on our part.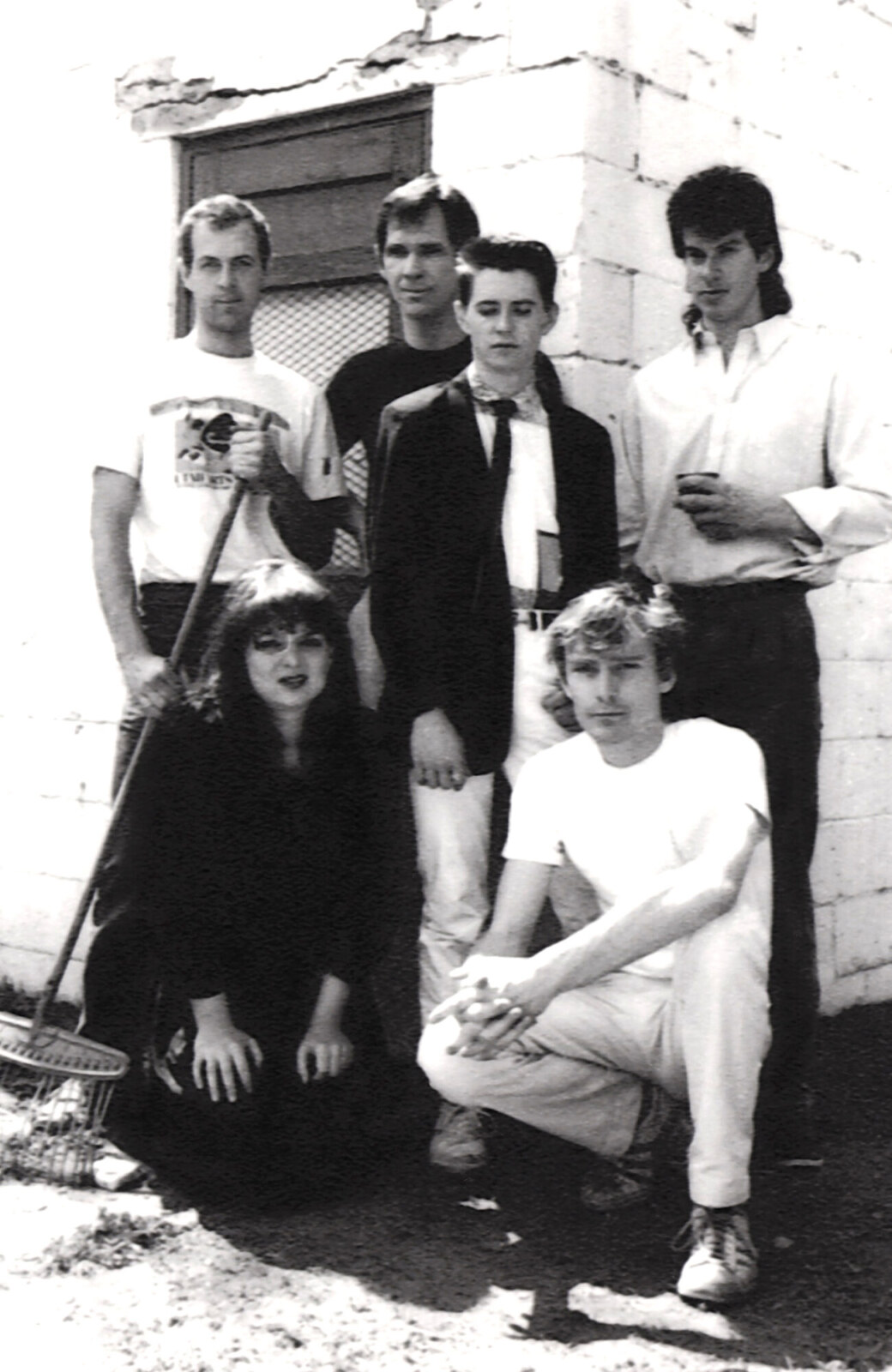 Bob Drake: We started on 'Moonsongs' a year or two after we'd finished recording the first album, and each of us in our own way were, as we still are, continuously learning about our various crafts and skills, evolving in our playing and writing, experiencing life and so on. So yes there would naturally have been some growth and learning in the period between the two albums.
What bands were you a member of prior to the formation of Thinking Plague?
Mike Johnson: Thinking Plague became a "thing" more or less in 1982. Prior to that I had never been in a proper "original" band. However, I had come up with a bit of original music – my first real "compositions" – for some friends' "prog" cover band in Littleton, Colorado in 1972. I wrote a "middle" section for their arrangement of the song 'August by Love'. I played in cover band starting at age 13. Between 1972 and 76 I was in the U.S. Navy. After that I became a full-time college student, and played in a lounge band six nights a week for a year and a half, doing everything from Beatles to Englebert Humperdinck! I met Bob in 1978, as I recall, and for about ten months he and I played in a "prog" rock cover band that never got out of the basement…I would say, with good reason! After that he and I played in an actual working guitar-rock cover band for most of a year – 1979-80, I think – from which I actually made part of a living. Bob fled that band to start playing in local original "new waves" bands in Denver – as I recall, one was The Metrotones (?), another was Crankcall Love Affair, which also featured Mark Fuller. But meanwhile, he and I continued to make weird cassette and 4-track recordings, developing toward what would become Thinking Plague. We also had various momentary and/or improv groups that we did just for fun or the hell of it. There was The Ganglion Orchestar (or just the Ganglions) which was four or five guys doing free improve with guitars, monophonic synths, lots of effects, mixers, drums, bass, etc. We always recorded all those sessions. One can hear a compilation at Bob's Bandcamp site. (We can provide links, if you like). Other band/projects had names like Charred Remains, Rising Snail…and others I can't recall.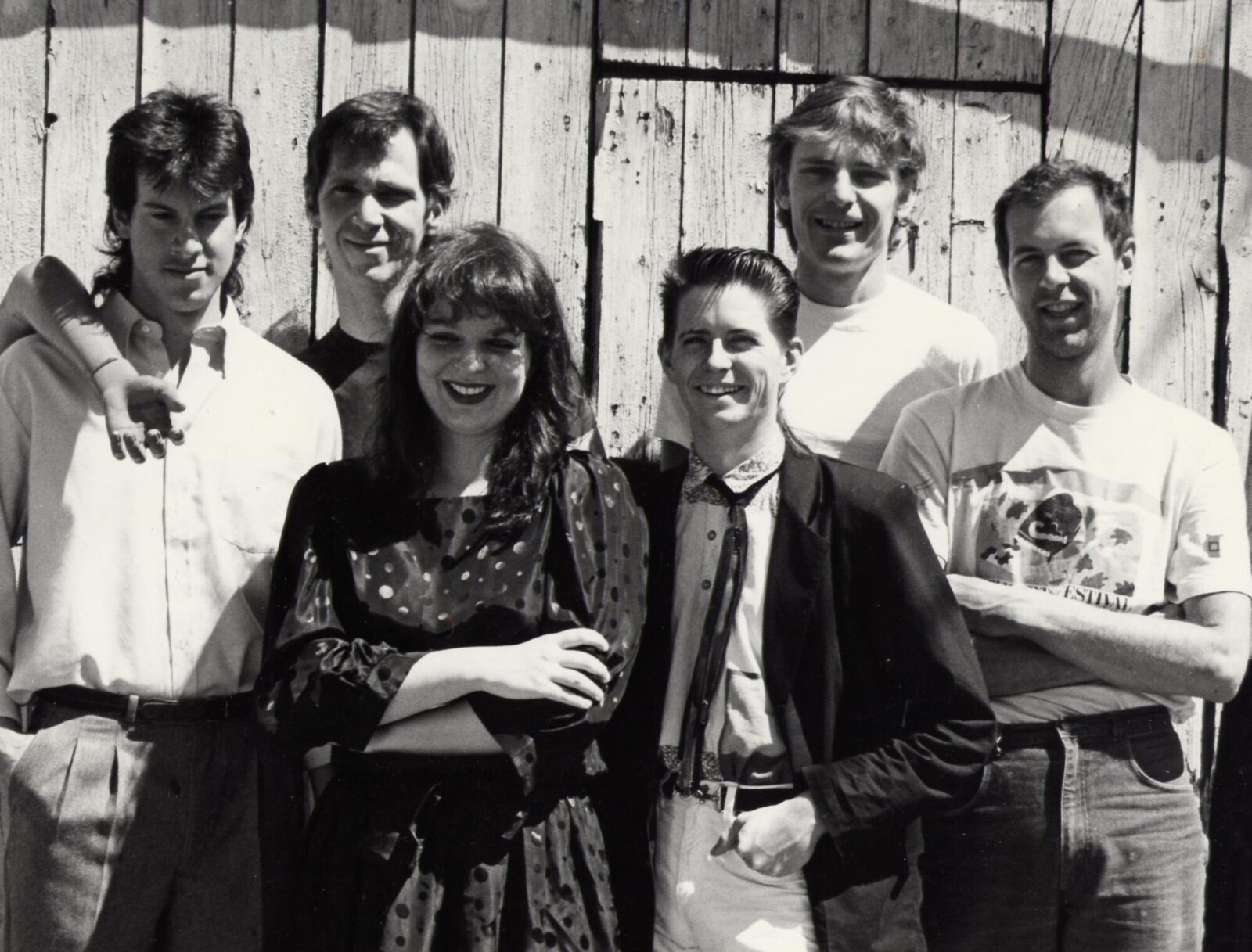 There were other bands simultaneous with Thinking Plague. As I mentioned, Bob, Mark Fuller, Eric Jacobson and I had a kind of pop-prog band in 1983 and 84, called Emergency, which played out only two or three times. It was a kind of naive attempt, I believe, to make a band that might have some commercial potential, while still being engaging for us. It fell apart after about a year or so. Then in about 1985 Susanne and I formed a band with a couple friends called Cage of Reason, which evolved into a sort of underground-prog-new wave and sometimes sludge band. The songs were all band-composed, and all words, titles and vocal parts were written by Susanne. That band lasted into 1987, as I recall, and made one song collection using cassette ping-ponging, and another later collection recorded at Free Reelin' Studio. Neither of these was ever released in any form…sadly. It was a pretty cool band.
Bob Drake: Between 1972-76 I played bass in cover bands at high school dances and other local events around rural northeast Illinois, the rock hits of the day. The first notable thing for the Plague story would be in 1976, when a friend who knew I was looking to join a group playing original music suggested I contact Mark and Sharon Bradford, they had a band in the nearby "big city" of Kankakee Illinois and needed a bassist, so a meeting was set up. It turned out it was a Christian rock band. I'm not Christian or member of any other cult, but at that first meeting the three of us got on really well, and the other band members, all part of the same little evangelical scene, seemed fascinated by me because of my dirty, Chris Squire-influenced bass playing, and I was obviously kind of "different"!
Marks's songs were not mind-bending or remarkable, but they were good, and I could do what I liked on the bass, and Mark was able to get lots of gigs, so it provided plenty of playing and a bit of regional touring experience for me. To their credit they never tried to "convert" me, and actually I think they secretly liked having an "outsider" in their decidedly conservative and very straight scene, and I enjoyed playing the part!
Sharon of course later became Plague's first vocalist, Mark sang 'Thorns of Blue and Red' on the first album, and we made plenty of strange and interesting recordings together, the improvised interlude in the middle of 'Thorns of Blue and Red', for example. Our friend Mark died prematurely in 2018 from cancer.
Can you elaborate the formation of the Thinking Plague?
Mike Johnson: Well…Bob and I "famously" met as the result of a hand-scrawled ad I saw in a music store, that said something like "Seeking musicians into Yes, Henry Cow…" We started that prog cover band I mentioned that never left the basement. After that we shared a small house for a while, during which time we recorded a few short proggy pieces I'd written previously, using cassette recorders bouncing back and forth….a very very low-tech method! We also recorded a couple pieces on a 4-track reel-to-reel, which came out pretty good, although they sounded a bit like Genesis with a touch of Mahavishnu Orchestra. During all this I think it was understood between us that we wanted to have an actual band to play the stuff we were coming up with, but finding a singer, a drummer, a keyboard player or whatever, who would be able and willing to play the stuff was, and always has been, difficult.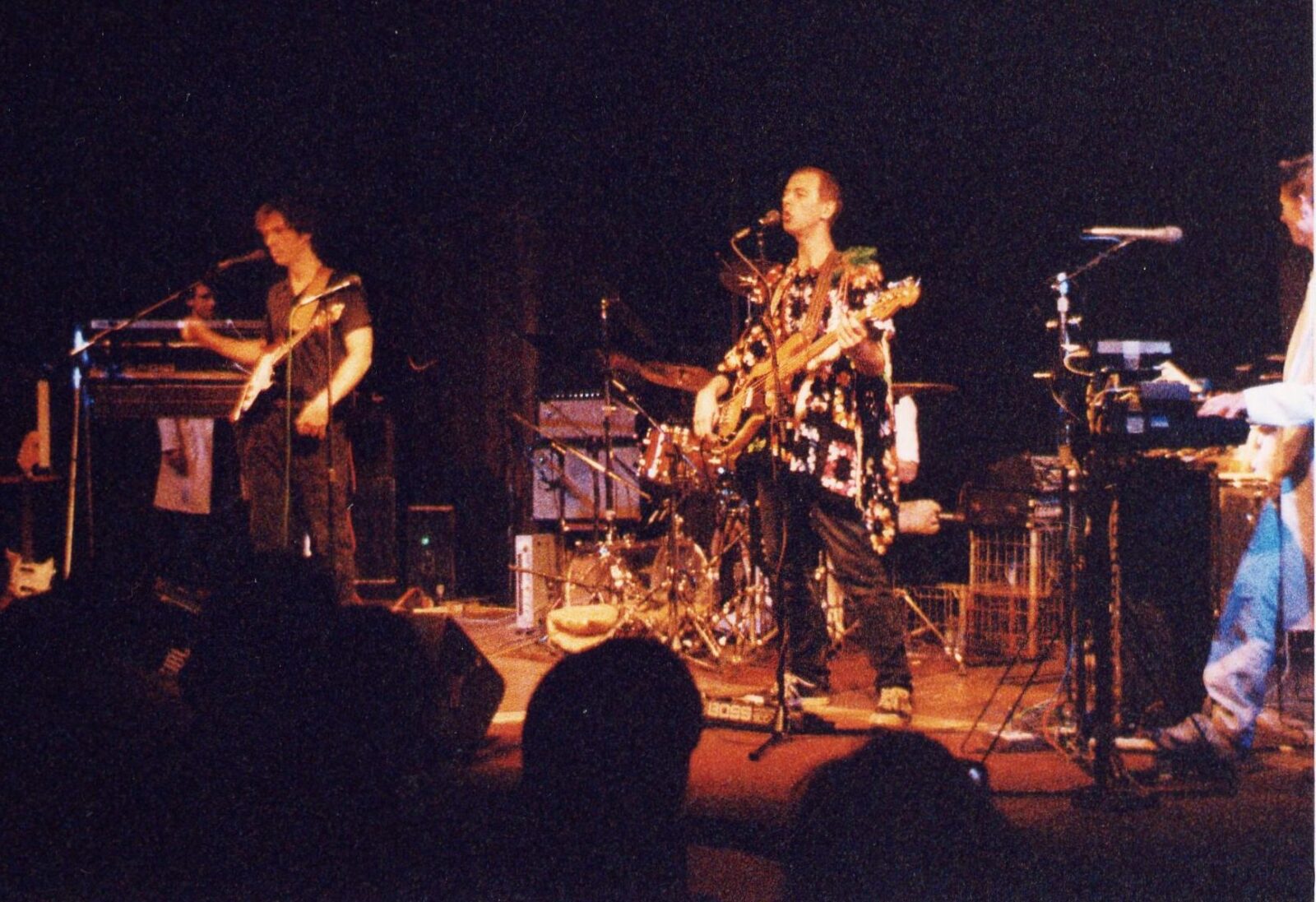 "Allen Ginsberg said, "That was cool. Like Stravinsky with a beat!""
Eventually, by about 1982 we had decided to give an old high school mate of mine, Rick Arsenault, a crack at being our drummer. I had been in a couple minor bands with Rick, and we had recorded a couple of my 70s tunes with him. He also was one of the drummers for our occasional improvisation project, The Ganglion Orchestar, aka Ganglions. We had also met Harry Fleischman, a luthier and bass player, who was very much into what we were doing. But we had a bass player – Bob. We needed keys. As it happens, Harry had some kind of weird organ, home made I think, and some familiarity with the keyboard. We ..um…encouraged? …forced? ..him to become our keyboardist! So, then we needed a vocalist. The only person we knew who had the musical knowledge, and who might be willing, was Sharon Bradford, whom Bob mentions in his responses for this interview. She had a B.A. in music and was an old friend. Her training was pretty formal and she sang with a decidedly classical vibrato. We asked her to try to tone down the vibrato as much as she could. Heheheh… Poor woman! Not sure she knew what she was in for! So, we worked up a small set of songs, did some rehearsals in living rooms and warehouses, and then managed to get a few live gigs. The most memorable show for me was at the Mercury Café, a Denver "institution," which was hosting an event called the Jack Kerouac Festival. We played our strange set to an audience of maybe 20 or 30 people, there to see other bands or poets, with a few "boos" and "get off the stage"s. After our set, as I was walking through the club, I was approached by a fellow who turned out to be the poet Allen Ginsberg, who said to me something like, "That was cool. Like Stravinsky with drums." Wow, I thought.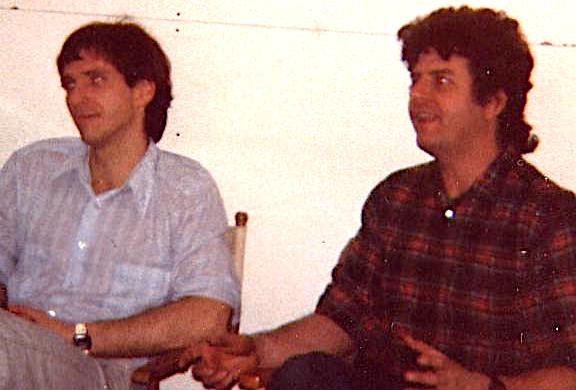 Bob Drake: In 1978 I left home, I was 20 years old and hit the road to search for people to make interesting music with. My first stop was Denver, because my friends I just told you about – Mark and Sharon Bradford, had recently moved there and I'd be welcome to stay with them for a while. First thing upon arriving, I scribbled a notice on a scrap of paper and tacked it to the bulletin board inside the first music shop I saw: "Bassist wants to form original band, influences: Beatles, Yes, Henry Cow". The first person to respond, I think it was even that same day, was Mike! He came over and showed me some of his ideas. NOW we're talkin! I never met anyone who wrote THAT kind of music before. And he was such an accomplished guitarist too. We even made a recording during that first meeting, bouncing between two cassette decks with me turning the knobs on the little mixer and running everything through stompbox pedals. Mike was impressed with my quick learning ability and what I was able to do with such crude and basic equipment, so we had our roles as Thinking Plague going right from day one.
Shortly thereafter, in 1979, we put a covers band together, in the forlorn hope of making a little money from playing music. I'll be kind and say it was "indescribably awful", and of course no income was to be forthcoming from said venture. In the meantime, we started making recordings of Mike's tunes in the basement of the house we shared, just the two of us, you can hear some of those cassette recordings here.
We wanted a name for our project, I suggested Pleasant Pestilence. Mike liked the pestilential part, and came up with Thinking Plague instead, and it stuck.
Once we had a body of songs – I'm not at all certain of the year, maybe 1981 or '82, we put a band together and played two or three shows, but a few of the members couldn't really manage it onstage so we abandoned that idea and concentrated on recording the first album.
What can you tell us about the concept behind Thinking Plague?
Mike Johnson: There really was no "concept," other than our yearning to create and record music that combined and synthesized our various influences and musical passions, including 70s prog, Henry Cow-Art Bears, 20th century symphonic, new wave, underground, industrial, folk and even electronic. And a dash of humor! We didn't really know what it would sound like until we did it.
Bob Drake: In the early years of the group I'd say it was Mike's compositional and lyric direction, our combined arrangement and playing ideas, and my recording and production, or anti-production.
What influenced you the most?
Mike Johnson: By that point in my life, I'd say my biggest influences were certain classic prog bands like King Crimson, Yes, Genesis (with Gabriel), Gentle Giant, Mahavishnu Orchestra and others. But also, since around the age of 17, I had been under the spell of the music of Shostakovich, Stravinsky, Copland, Prokofiev, etc., etc. In the latter half of the 70s when the classic progressive bands were losing some of their innovative momentum I started listening to Henry Cow quite a bit. I was floored by the album 'Western Culture' that came out in 1978. And the following years I, well we – Bob and I – heard the Art Bears first album, 'Hopes and Fears'. I was very intrigued by it, and sometimes awed by it. Bob really liked that first album, but it was their second album that made me a full-on fan. I was fascinated by the sometimes minimal instrumentation and by Fred Frith's extended to al language. They were a big influence for quite a while. But also by the mid-80s I was being influenced by the sort of new, more mainstream prog-ish music of Peter Gabriel, as I said, and Kate Bush, as well as some of the more mainstream new wave pop music. And of course, I had always been influenced by the Beatles, in particular their most innovative material, from 'Revolver' through 'Magical Mystery Tour'. I actually have a Beatles musical tribute band that plays for some pretty big crowds, sometimes with an orchestra. That's a whole other thing…..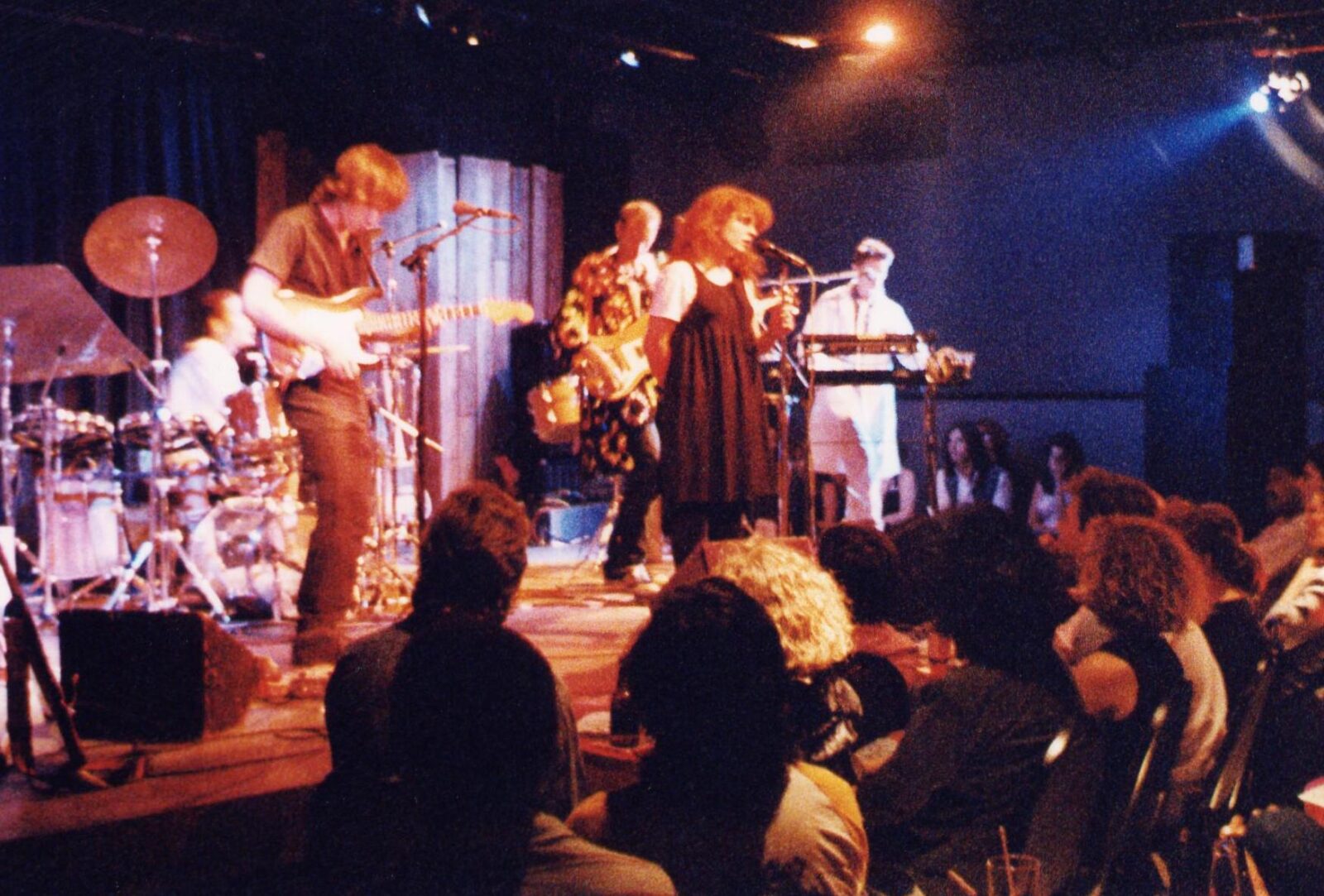 Bob Drake: As a child growing up in the early 60's I absorbed the great rock and pop music on the radio, Motown, Beatles, and the music in 50's and 60's science fiction films. The music in the 1962 television program The Outer Limits taught me a lot about the mystery of music and how it can suggest things there aren't words for.
In the early 70's I preferred the heavier rock bands of the day, mostly the British ones, and there was fantastic music on the rock radio stations in those days – you'd hear 'Frankenstien' by Edgar Winter followed by 'Hocus Pocus' from Focus, 'Roundabout' from Yes, 'Smoke on the Water', The Who, Rolling Stones, Crosby, Stills, Nash & Young, Simon and Garfunkel, all quality stuff! I liked it all and was equally intrigued by differences in the way they all sounded. In 1972 I heard 'Fragile' by Yes, which made the biggest impression yet upon me, and was the reason I bought my first bass guitar. Yes were very good at making arrangements from a few basic ideas, I learned something from that, and the vocals had an electric enthusiasm I love.
"Still a teenager living at home in a tiny Midwest farm town, 'Unrest' was a confirmation to me that there really were people out there doing "that" kind of music"
Another big one: In 1974, I bought Henry Cow's 'Unrest', from the local department store in Watseka Illinois. I hadn't heard of them before but the cover and title intrigued me, and in those days a new LP cost barely 4 dollars, so even I could afford taking a chance! I loved the album. Still a teenager living at home in a tiny Midwest farm town, 'Unrest' was a confirmation to me that there really were people out there doing "that" kind of music, and even making records of it. I was still unaware of all the noise experiments and weird "jazz" records like you'd find on the Nonesuch label, which I didn't hear until many years later when I met Mike in 1978, he had a lot of those records.
I should say that classic weird fiction, which I'd discovered quite young made a lasting impression on my musical directions too, writers like M. R. James, E. F. Benson, H. R. Wakefield,
H. P. Lovecraft (all the two-initial writers!) Vernon Lee, Ray Bradbury, Arthur Machen to name a few.
'In This Life' takes on another approach.
Mike Johnson: At the end of 1987 the iteration of Thinking Plague that had developed out of the 'Moonsongs' project had fallen apart, with the departure of Fuller and Jacobson. And I was then kind of hankering for a more organic sound, with less "proggy" elements and more kind of European folky flavors, at least as I imagined it, and some what might be called modern electric "art songs", versus just so-called "prog rock" songs. We had done a few concerts that year, and had – amazingly – found second keyboard player, which we really needed to be able to pull off live versions of songs from the first two albums.
This was Lawrence Haugseth, a very creative pianist-synth player who also happened to play clarinet, which suggested new possibilities to me. We had already recorded the song 'Organism' with Lawrence on piano, Eric on synth and Mark on drums during 1987. Early in 1988 we put together a new iteration of the band with Shane Hotle, a classically trained pianist on keys, and Maria Moran, a highly talented young guitarist and some time guitar student of mine, on bass because Bob was going to be our drummer, at least for any live shows for the time being.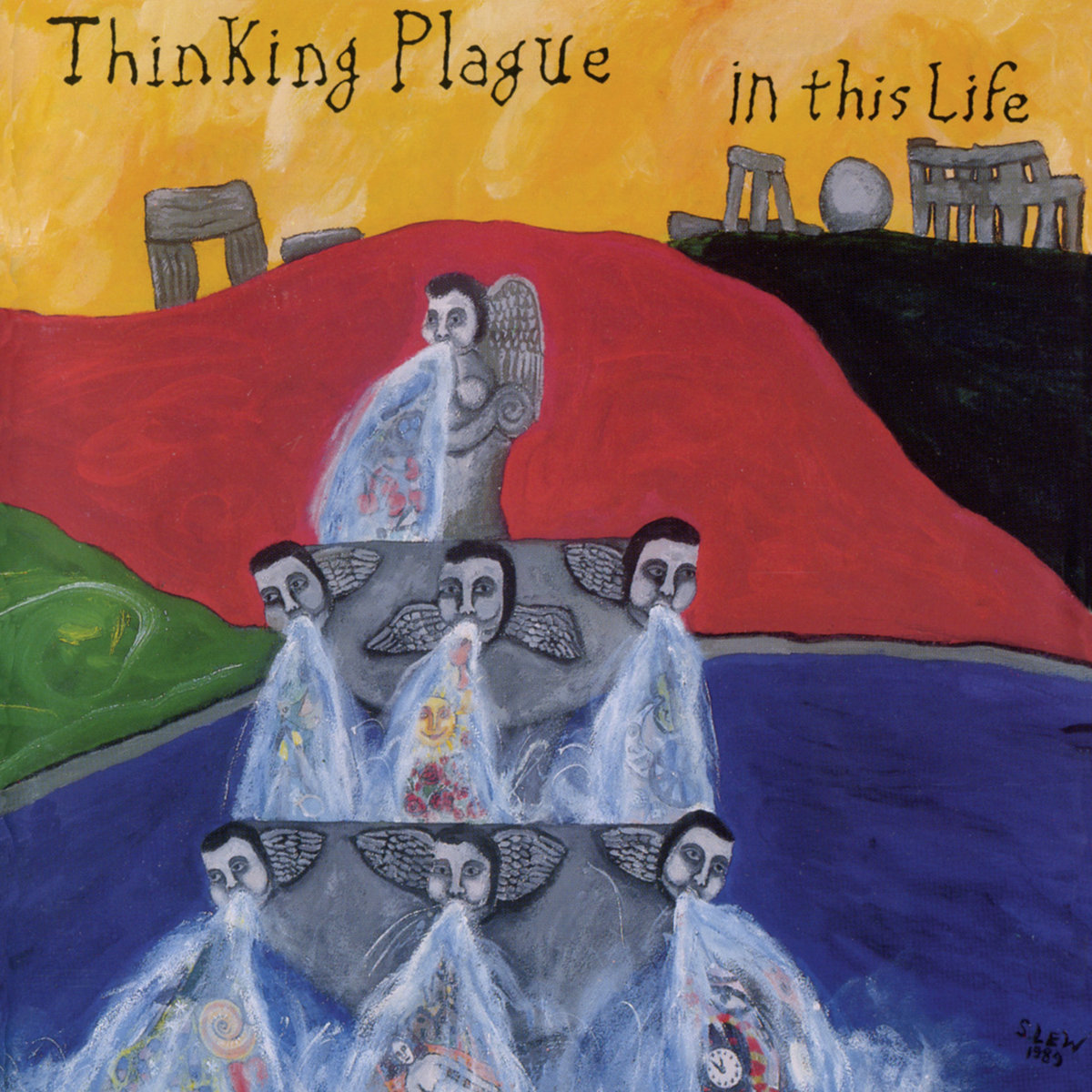 So then we recorded 'Lycanthrope' with Lawrence on clarinet and Bob playing fiddle, as well as drums. This song was the first I wrote for this new more…"ethnic" instrumentation. After that Lawrence left the area, as I recall, and we needed a new reeds player. Bob recommended a friend of his whom he'd previously played with in a kind of big band. That was Mark Harris who did indeed join Thinking Plague, and who has managed over the years to execute pages and pages of difficult, if not impossible, sax and clarinet parts often in registers where those instruments are not supposed to be playable. He did the rest of the reeds parts for 'In This Life'.
Once we had tracked and mixed all the songs, we again didn't know how or by whom it was going to be released. It so happened that the band Pere Ubu was touring the U.S. and came through Denver, playing at some live music bar on a week night. And we knew that Chris Cutler, former drummer for Henry Cow, Art Bears, News from Babel, and so many others, was playing drums with Ubu. Most importantly, Chris was founder and head of Recommended Records [ReR Megacorp], the London-based label that was releasing all kinds of records by former members of Henry Cow, other projects of his as well as an array of cutting edge artists from all over the planet. Recommended Records was legendary with us and had worldwide distribution.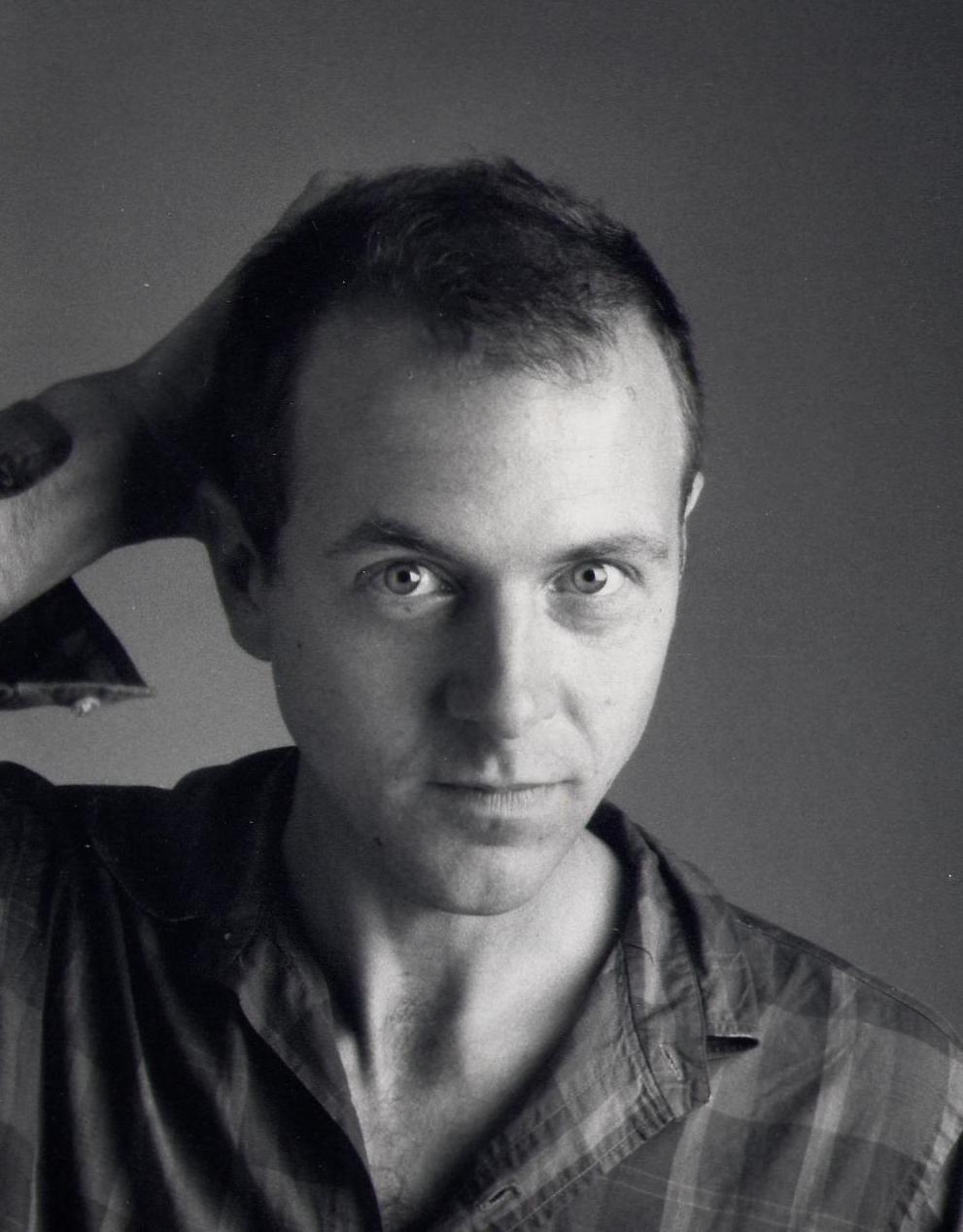 So…I went to that Per Ubu gig, managed to get backstage before they started, and had a brief chat with monsieur Cutler, during which I handed him a cassette of our 'In This Life' songs. I stayed for a while to watch Ubu, but had to leave as I had to work on the morning. A few weeks later we got a letter from Cutler. He asked what were our plans for the recording I'd given him. We wrote back and said, we plan to release it on ReR. And so we did! It was their first CD only release, that was manufactured in the U.S.
We had our first ever "wave" of super positive reviews, although I our ability to see and understand what kind of impact we were making was almost nil, especially compared to how things later became with the internet. We had no idea how to "market" ourselves, set up tours, get gigs in faraway places. Agents didn't work with bands like us that couldn't earn them money, and we had no connection to the networks of supporters who used to be the foundation of tours for bands in our genre(s). If we had been in Europe, I'm sure we could have set things up with help from Chris and others. But we were living in an art-music desert. So not much happened.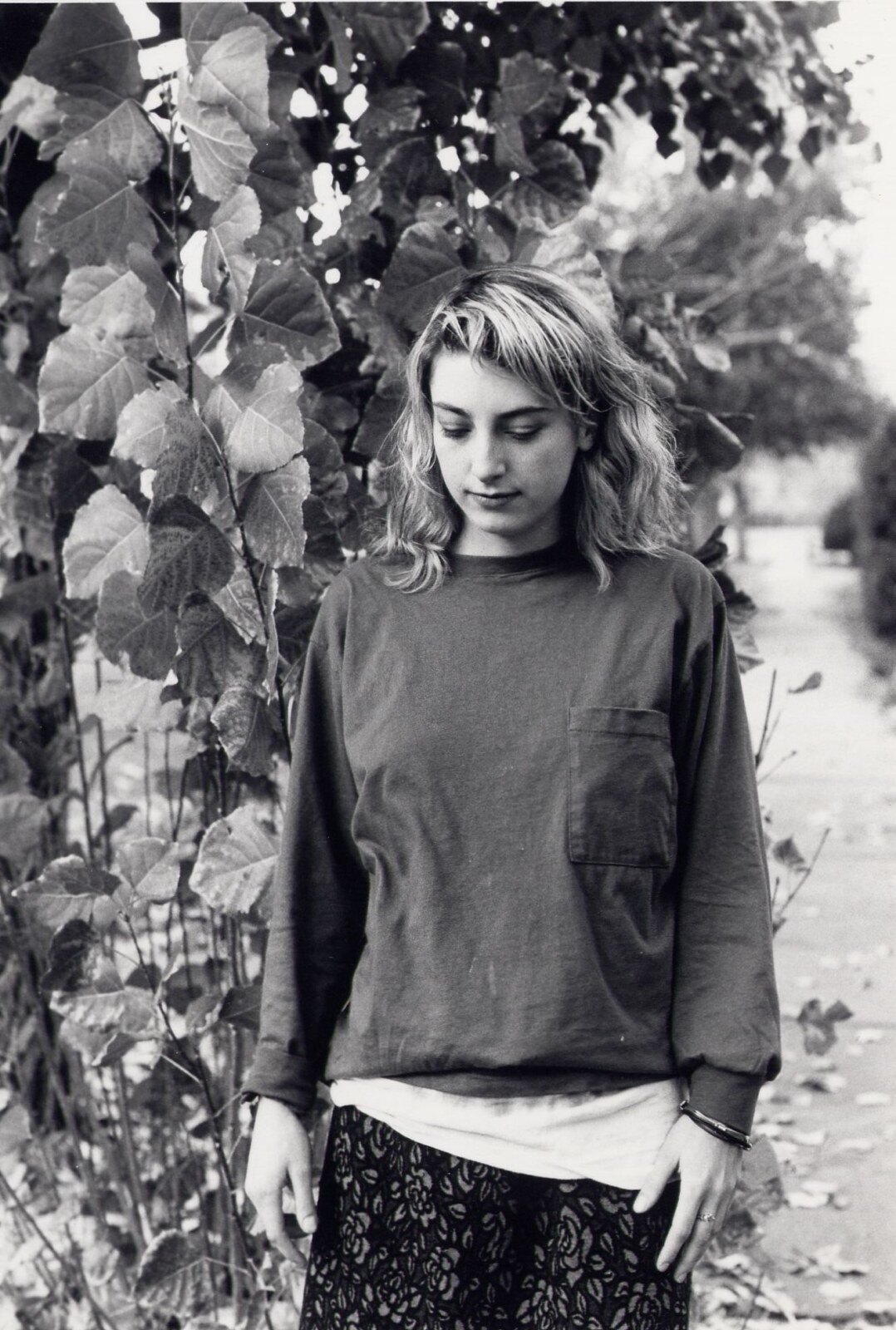 Bob Drake: Mike and I wanted to do something more organic after the drawn-out and technologically complicated 'Moonsongs' experience. When we started 'In This Life' we had a good group: Shane Hotle on keyboards, Mark Harris and Lawrence Haugseth on woodwinds, vocalist/lyricist Susanne Lewis, Maria Moran on bass, me drumming and Mike on the guitars. We had a somehow lighter, natural sound together, and thought: why not just try and capture that as a starting place. Now I'm just talking about the sound here, Mike was always the main composer so he may something to say about what he had in mind song-wise for this album.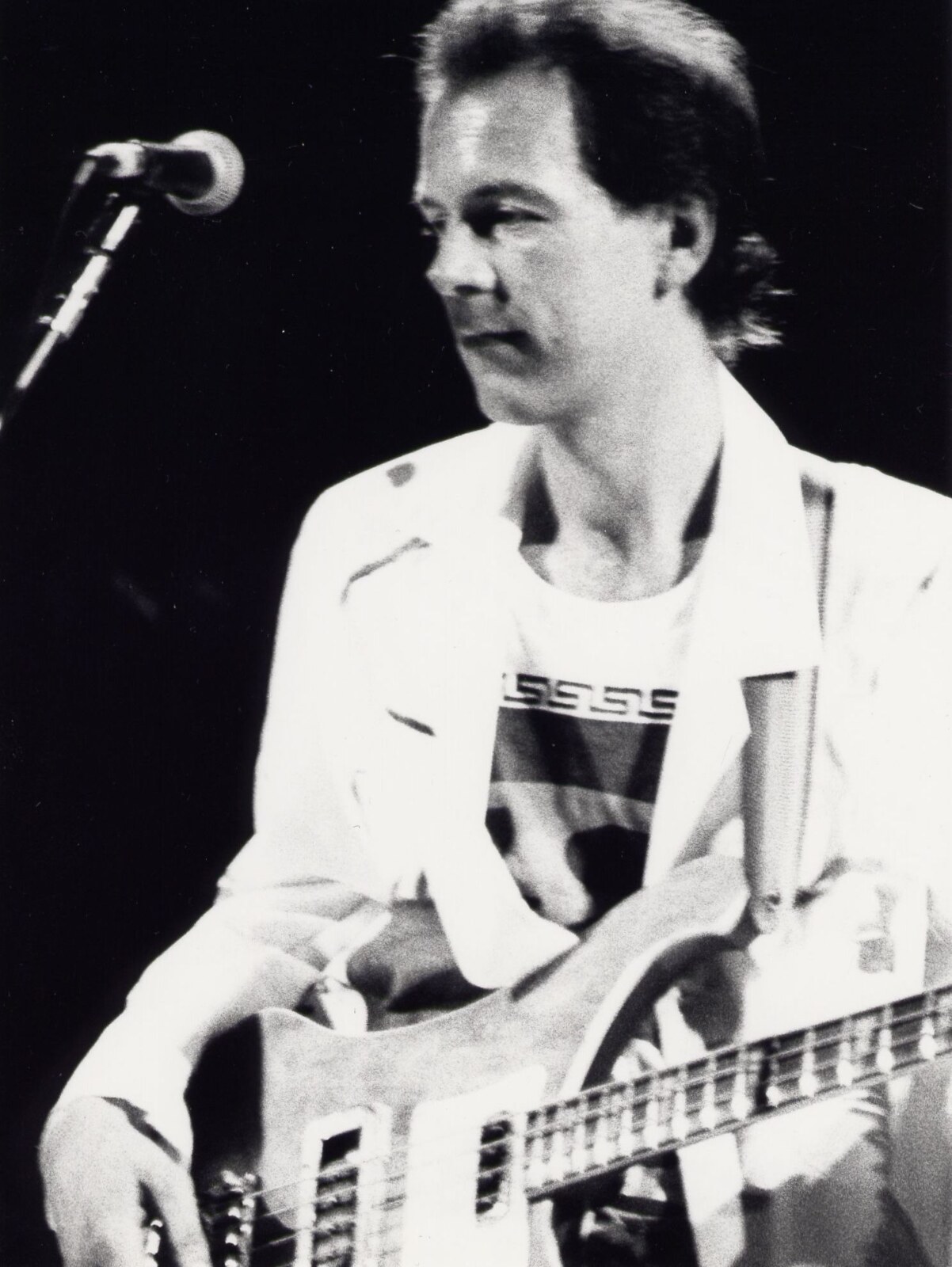 You [Bob Drake] left the group in 1994. What happened next?
Bob Drake: The years between 1990-1994 were terrifically busy and culminated in my move to France, too much to describe here but I tell it in detail in my "quasi-autobiography".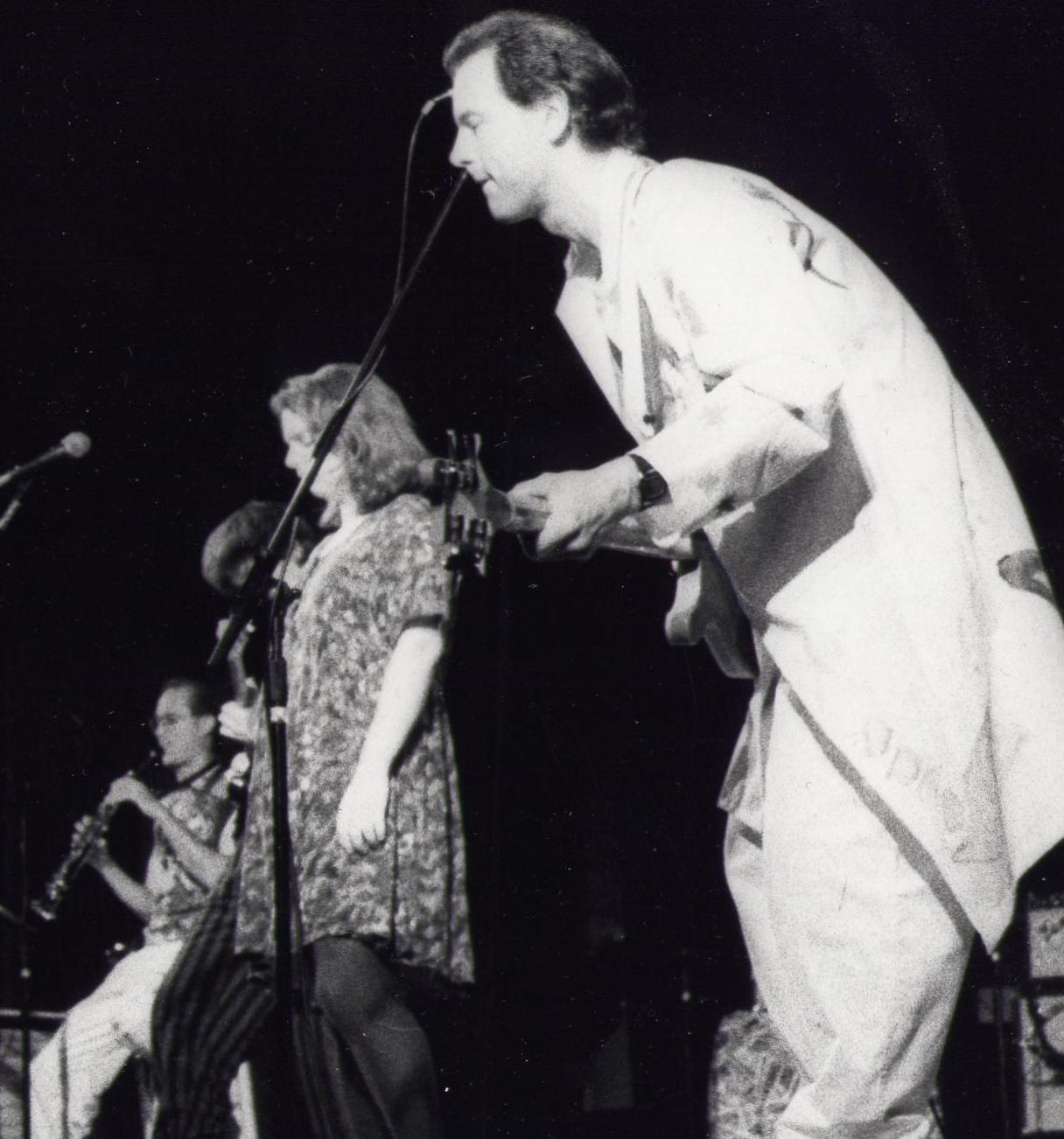 To work our way up to when I dropped out of the Plague, let's back up a bit. In 1989 I'd moved from Denver to LA. Mike was 1,000 miles away in Denver, Susanne Lewis wasn't involved anymore and anyway she'd moved to New York, so we had no vocalist. I felt that geographical distance and no singer were going to make it difficult to keep Thinking Plague as we knew it alive, but there was a personal reason too: I'd started to find my own music.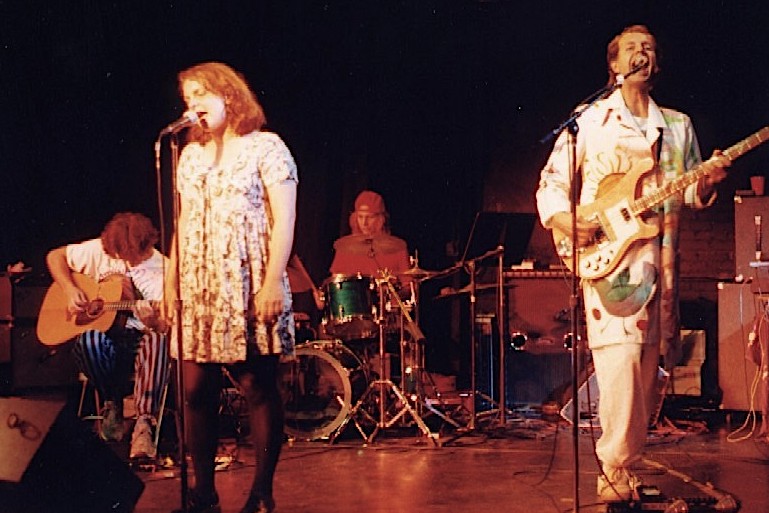 The last two pieces I did with Plague were recorded just after my move to LA: 'Etude for Organism', and 'Weird Wind'. Both required me to take on more than I had really wanted to in order to complete. (I am certainly partly to blame!) At the same time, I'd just finished an album called 'Hunger's Teeth' with my friend Dave Kerman's group 5UU'S, often mentioned along with Thinking Plague. On 'Hunger's Teeth', I played bass, guitar, sang, engineered and produced. Great album, but like Thinking Plague, it was still someone else's music and lyrics. In fact since 1978, I'd devoted most of my musical energies, production and recording skills, passion and ideas, to realising the work of other writers. It wasn't until 1990 I tried to write my own songs, and suddenly found my own bright little musical road, or at least a little dusty path leading to the road, and that's what I wanted to devote myself to.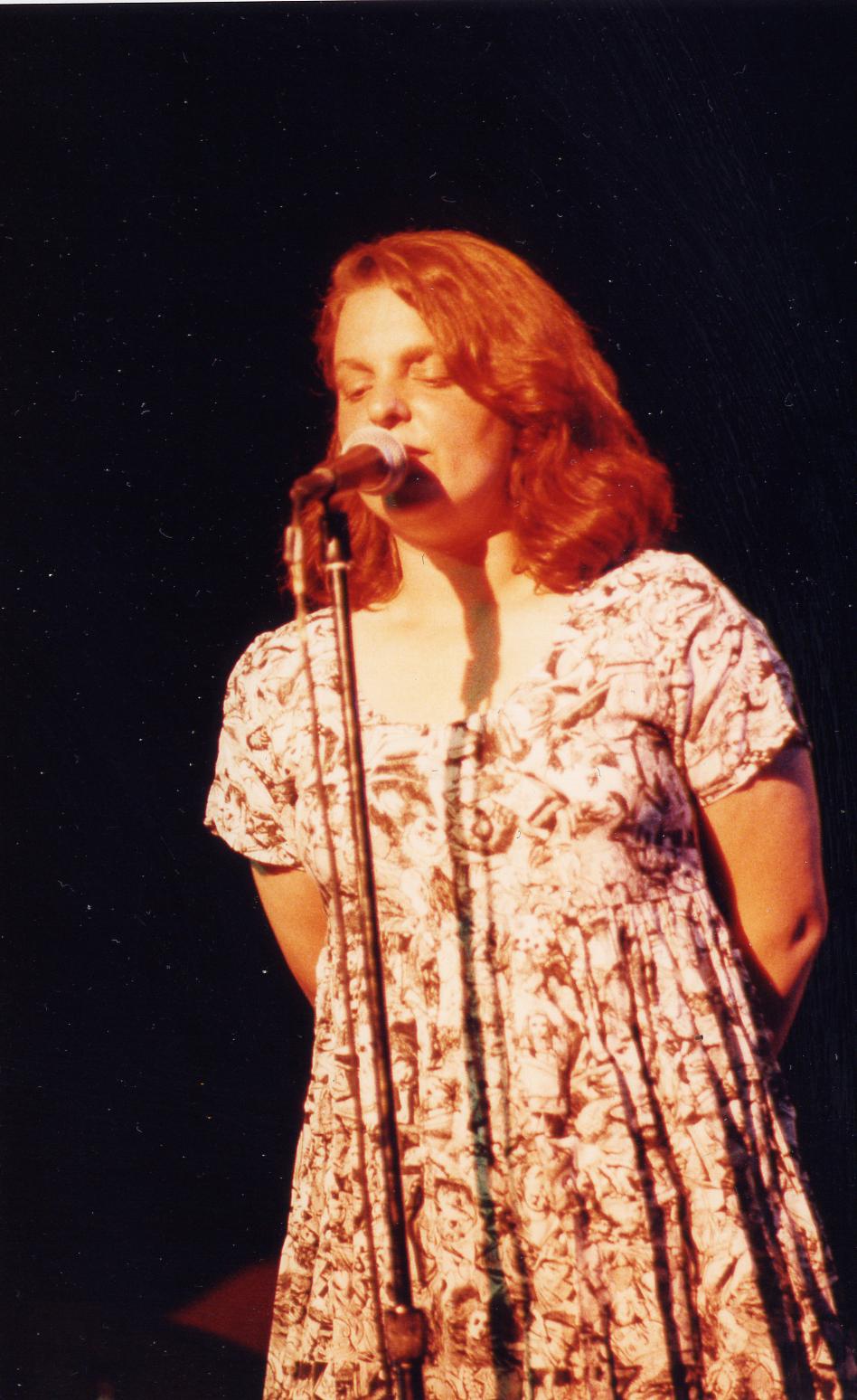 Meanwhile, back in Denver, I knew Mike was preparing new material for us to record, but my heart and soul weren't into it, I simply didn't want to do it anymore. I felt in the long run it would be better for both of us, I really had to get started on my own road, Mike could carry on Plague-ing with musicians nearer his home, and take it even more in his personal direction. And indeed that's what happened! Plague has done some of its best music since then, the last album 'Hoping Against Hope' is like the Ultimate Plague!
It took a few years until the 'In Extremis' album.
Mike Johnson: Not long after we completed 'In this Life' Susanne moved to New York city to follow her more "underground" muse. Then Bob moved to Los Angeles to try to make a living as a recording engineer (and because he really liked it there). In the meantime we had received a letter from Dave Kerman, leader of 5UU'S based in L.A, in which praised 'In This Life' and congratulated us. We had not been aware of 5UU'S before that, or of U Totem for that matter – though we had seen stuff in music magazines about Motor Totemist Guild. But now Dave Kerman was in our little "universe." So, naturally when Bob made it to L.A. he made contact with Dave, and that resulted in his becoming the drummer in Thinking Plague.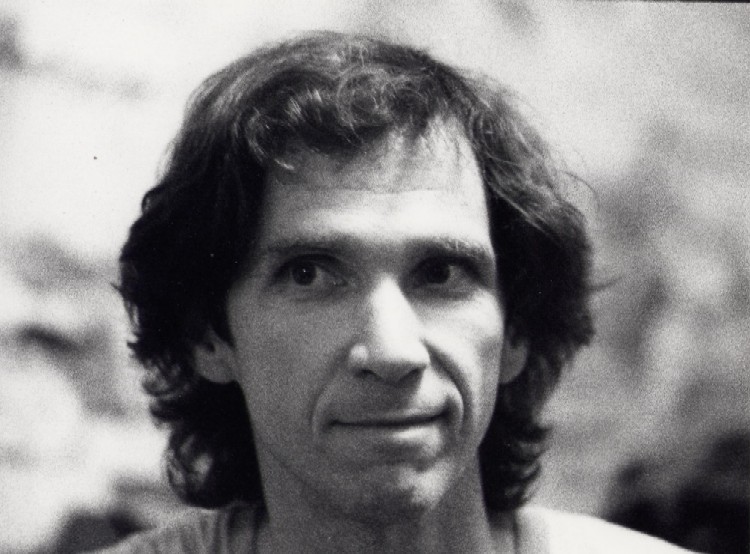 We had hopes to perform, maybe even tour with, material from 'In This Life' with Bob back on bass, Shane on keys, Mark Harris on reeds and, if possible, Susanne sing, assuming we could work around the distance issues. Bob and Dave actually drove from L.A. to Denver several times for stints of rehearsing. All of this resulted in a total of only three concerts, as I recall. In June of a 1990 we played at the Boulder Theater in Boulder, Colorado and then drove and flew to L.A. where we did a show with U Totem at an art space called Los Angeles Contemporary Exhibits or L.A.C.E. Then in January of 'o1 we did a show at the "legendary" Mercury Café in Denver. That was our last time working with Susanne.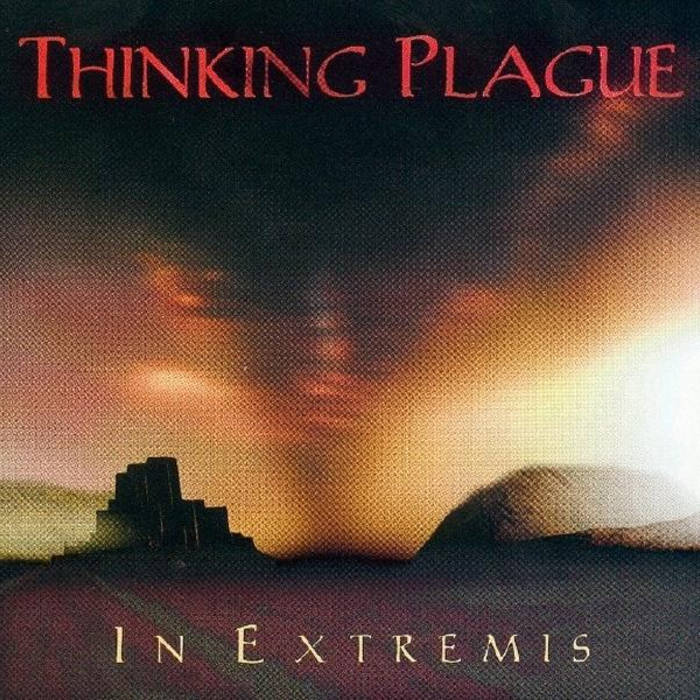 After that we attempted to record 'Les Etudes D'Organism' in L.A. and Denver. We had developed it as a live piece using material from the songs 'Etude for Combo' from 'Moonsongs' and 'Organism' from 'In This Life'. Bob didn't get it finally mixed until 1994. In the meantime, I started recorded parts for 'Kingdom Come', which required Dave Kerman to fly to Denver where we tracked his drum part in a big commercial studio. Bob was not involved because, as I understand it, he just couldn't delve into another complex Thinking Plague song when he was badly hankering to start writing and recording his own music.
Also in about 1991 or so, I flew to L.A. with a notebook of written sketches for what would become the song 'This Weird Wind'. Bob, Dave, Sanjay Kumar (5UU'S keyboardist) and I assembled and rehearsed the song in Bob's living room in Burbank, and recorded the drums (maybe bass, too?) at a studio where Bob was working at the time. All this in the space of about 5 days. We finished our various parts separately later. It was probably mixed in 1992 or 1993. There was some confusion about that song project. The other guys apparently thought it might be the basis for a new band. If I was aware of that, I don't recall it. It doesn't sound like it would have been very practical in those days, with me in Colorado and them 1200 miles away in California. In any case it was sitting "in the can", as it were, for years and I chose to include it on 'In Extremis'. In my mind it was a variant of Thinking Plague. I don't know, but it might has pissed those guys off, a little… Sorry…
After the last shows with Susanne Thinking Plague's cohesiveness seemed to be dissipating. Bob was doing his own albums and had joined 5UU'S as vocalist, bassist, guitarist and producer. Susanne was deeply ensconced in projects in NY. The energy and focus were elsewhere. Despite that, I was gradually writing new songs in the hope that I could pull together some iteration of the Plague to record them.
Then, by some kind if serendipitous circumstance, sometime in late 1994 I think, both Bob and Dave relocated themselves to an old farm in southern France, where they were living and laboring to fix up the place and create a new recording studio. This 18th century farm was owned by Chris Cutler and E.M. Thomas, former Henry Cow sound engineer and album cover artist for the Art Bears.
Dave and Bob had also been working on and recorded new material for the next 5UU'S album, 'Crisis in Clay'. And Dave was organizing a 5UU'S tour of Europe. Some time in late fall of 1994 Dave Kerman contacted me and asked if I would be willing to be the guitarist for that tour, to which I said I would. So, I spent about two months in Europe in the spring of 1995 rehearsing and touring with those guys. By the time I returned to Colorado it was finally abundantly clear to me that there would be no reincarnation of Thinking Plague with Bob and Dave. I guess I had sort of been waiting to see what was going to happen. So, that was a catalyst for me to find new players and record my new material. In the summer of 1995 Dave Willey asked me if I'd play guitar in Hamster Theater, to which I said yes (been with them ever since). Some time after that I recalled that, in addition to accordion, guitar, drums, etc., Dave played bass. And I asked him if *he* would want to play bass in Thinking Plague, and of course, the "rest is history". Hehe. He suggested that I ask his old friend Deborah Perry to be the singer, to which of course she agreed. Amazingly, she had tried out with is in 1989 after Susanne left for New York, as we thought it wouldn't be possible to continue from such a distance. I believe auditioned for us by singing 'Lycanthrope'.
Recording for what was to become the 'In Extremis' album had actually already started. I had gone into Brave New Audio, the home studio of our friend and Thinking Plague contributor Mark McCoin, to start tracking the song 'Maelstrom'. I got Mark Fuller to do the drumming, which he did using dowels instead of drumsticks. That was his idea. I think he was on a "kick", fascinated by their sound and feel. It was cool. But Mark was not up for being THE drummer for Plague. It was just another guest appearance for him, as a favor to me.
Also, my friend and colleague, prepared-guitarist Janet Feder, agreed to take a stab at recording the vocal parts, which she managed to do with some difficulty. She did a decent, shall I say, "workman-like" job, but I just felt like she didn't quite have the strength and precision for it. But I really appreciate the heroic effort she made.
And then, amazingly, Dave Kerman returned from France, and rather the L.A., chose to live in Denver. Wow. That solved my drummer problem! And in the next several months we managed to get all the parts recorded. Shane Hotle was no longer available to be the regular keys player, although he had already recorded keys for 'Les Etudes' and 'Kingdom Come'. He did agree to record parts for 'The Aesthete'. I had to get other keyboardists to do other parts, including good friend Scott Brazieal of the legendary 80s group Cartoon, with whom I had toured Europe with 5UU'S.
Eventually, it was all done, and not being equipped or properly skilled to do it myself, I asked Bob if I could send him all the tracks and let him mix it, on his own, a daunting task! And again, the rest is history. We were very fortunate that Cuneiform Records wanted to release the album as a CD, and that began a long association with them.
Your last album was released in 2017. 'Hoping Against Hope' is an incredible album. Can you share some further details how it was recorded?
Mike Johnson: I made the decision that I wanted all the acoustic instruments, like drums, reeds, percussion, acoustic guitars, etc., as well the vocals for 'Hoping Against Hope' to be recorded at a big studio in Denver called Mighty Fine Productions, which is owned by a longtime friend and Thinking Plague supporter, Colin Bricker. They have an excellent acoustic space and state of the art mics, software and other equipment. Colin offered me a special very good price, but it was still much more than I could afford myself. So I ran a crowd-funding campaign and raised enough money to cover the recording costs as well as paying some professional session players to do certain parts. This was necessary both because of the complexity and technical demands of some parts and the fact that our vocalist Elaine di Falco was deeply ensconced in graduate school in Texas at the time. She didn't have the time to devote to mastering all the piano and other keys parts. She did play some piano and all the accordion parts on the album. Also, I needed an oboist for the title track, for which I hired a professional.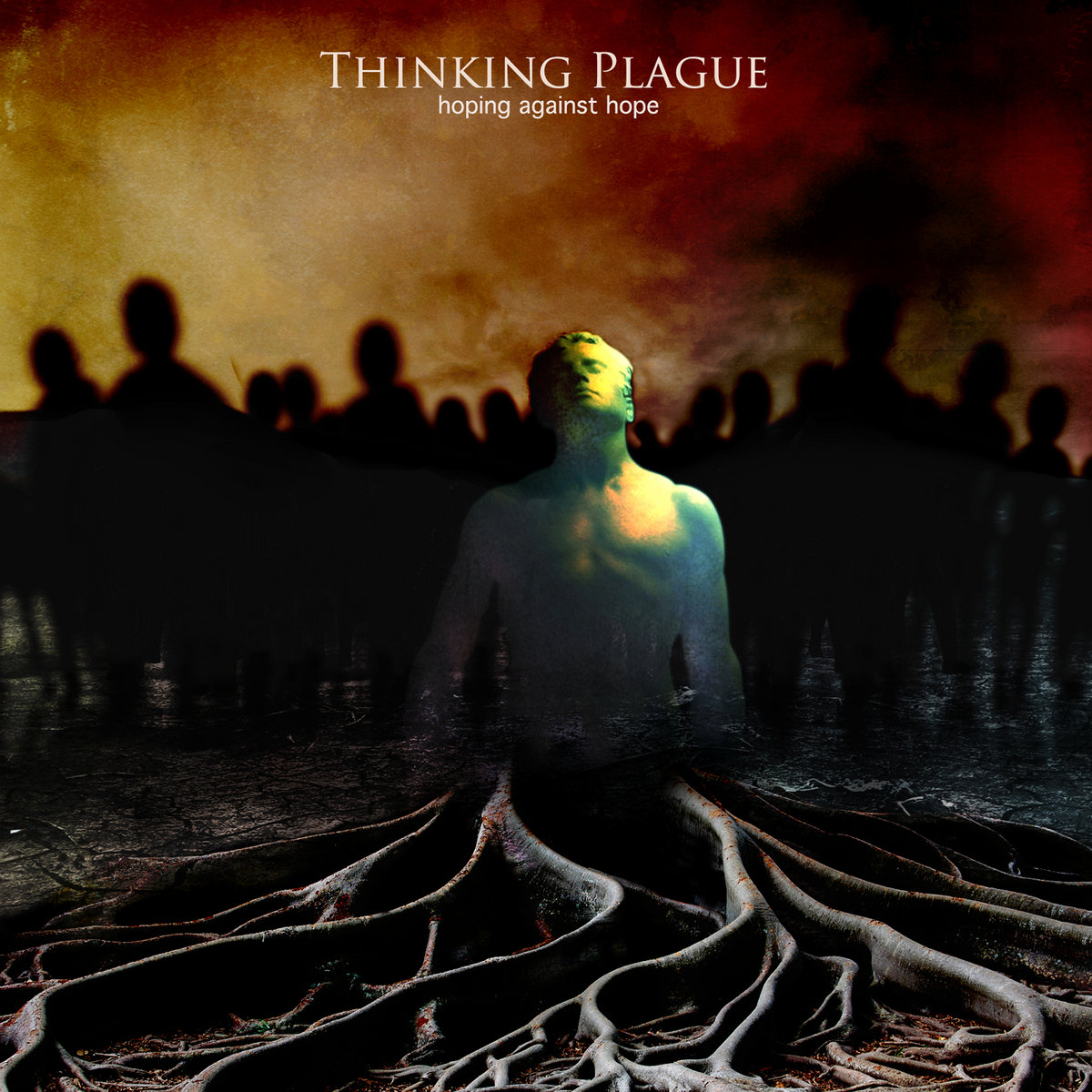 All the guitar and bass tracks were recorded at our home studios. The mixing was done by Bob Drake and myself at his studio in France.
Looking back, what was the highlight of your time in the band? Which songs are you most proud of? Where and when was your most memorable gig?
Mike Johnson: Difficult question. I think our first concert at Stage West Theater in Denver in August of 1987 was very special. It was the first really excellent live line-up we'd ever had, and we hadn't played a live show since 1983, I believe. We had TWO excellent keys players, for whom I had specifically rearranged some of the parts, and who brought their own unique skills at embellishment synthesizer programming. We did a couple others shows in town that year with this line-up, which included Mark Fuller on drums, the only times he ever performed live with us – and he was great!
Another great show was our appearance at the Prog Day Festival in Chapel Hill, North Carolina in September of 1999. The band hadn't played outside of Denver since 1990. 'In Extremis' had come out in 1998 and had made quite a splash via the internet, in a way that had not been possible before. There was a lot of anticipation and people came from all over the U.S. and elsewhere to see us for the very first time. The atmosphere was truly electric, especially as there was a hurricane passing through the region! Hehe. Rain was bucketing from the sky, and the normally outside event was moved indoors to a very nice club. When we started playing a number of audience members fled, but the 150 or 200 who stayed were hardcore fans, and it was really fun and gratifying.
As for the song or songs I'm most proud of, that's really hard. It changes over time, and depends on my mood. I'm very proud of the album 'Hoping Against Hope', and the title song in particular. I'm also very proud of 'A Virtuous Man' from 'Decline and Fall'. It's a very involved and "deep" song for me. But I'm actually really proud of all the songs on that album to varying degrees. I have a special appreciation of 'Love' from 'In This Life'. Also the song 'Malaise'. But really, if I listen to any Thinking Plague record, there will be some things that I'm proud of, as well as things I'm annoyed or disappointed by. There are more of the former than the latter.
Bob Drake: One would be the moment I felt "OK something's starting to happen!". I'm pretty sure that was in 1985. We had the 500 copies of the first album 'A Thinking Plague', now we needed distribution. We sent one to Recommended Records in London because they distributed albums we liked such as Art Bears, hoping they might take a few of ours. Not long afterwards a letter arrived from ReR, from Chris Cutler – one of my favourite musicians since I'd heard 'Unrest' in 1974. Until that moment I had no idea he ran ReR! He liked the album and asked for 200 copies to distribute. We couldn't afford the postage so Chris even paid for that. Wayside Music in Maryland also took some. Those two distributors picking up the album opened the doorway, listeners outside our small circle of friends in Denver were listening to what we were doing for the first time, and liked what they heard. So that was a memorable moment.
Another personal highlight would be recording the first album, Mike and I had such fun in the studio doing silly and nutty things. I'll never forget in the song 'Possessed', Mike suddenly decided he wanted to scrape a cardboard box on the rough concrete wall of a particular dark, dingy little room in the studio, so I set up a mic. I remember him standing there waiting, poised with a little, tattered cardboard box pressed against the wall…his box-scrape is barely audible, on the right channel at 1:11, lasts about ¼ second, but it's in there:
The section of 'Possessed' with the two drumkits was a special blast too, Mark Fuller and I set up our kits directly facing each other, the bassdrums almost touching. I put two mics overhead, and we played the section together, pulling faces and making each other laugh the whole time. It's the part from 3:12- 4:23:
Maybe the recordings on 'In This Life', the ones recorded in our rehearsal room with the most scanty, "non-professional" recording equipment: 'Lycanthrope', 'Malaise', 'The Fountain of All Tears', and much of 'Organism'. 'The Guardian' is a great sounding track too, recorded at the office of the film company I'd done a little audio work for. Many of the songs on 'In This Life' were mixed to the audio track of the film company's VHS hi-fi machine, remember those? Sounded great!
I'm sure Mike will recall the first one in the early 80's! We played in a large, dim room, empty except for two or three persons at a table all the way at the back, as far from the stage as possible. After each song, a duo of slurred, drunken, whining voices would arise out of the obscurity: "FUUUUUUUCK YEEEEEEEEEW! GO HOOOOOOME!"
In 1987 we did two shows at Stage West in Denver, those were certainly the best up until then. The band were in top form, the sound was perfect, but the lighting – which looked great at the show, wasn't enough for the videotape cameras of those days, so you can't see us too well.
In 1990 just after I moved to LA and asked drummer Dave Kerman to join the Plague, we did a show at the Boulder Theatre in Boulder Colorado, that was a fine one too, a very earthy, solid version of the band, and my last gig as an official Plague member. And of course I loved sitting in on some shows between 2007 and 2010 in my fursuit!
And though not officially a band member anymore, I've mixed all of the albums they've done since, except for 'A History of Madness'.
How would you compare your solo albums to Thinking Plague years?
Bob Drake: If you ask Mike this question he could probably say something comparative about the kinds of chords or melodic movements and so on each of us tends towards, he's more knowledgeable about music theory and terminology than myself, and in general he's really good at talking about the compositional and emotional side of music. I get lost for words trying to say much in those areas!
Simply, I can say my musical body of work has a different character than Plague's, naturally. Mine are compact songs with the vocal as the main element, Plague's tend to be longer, and feature a lot of instrumental passages. There are some similarities, our musics both tend to have many changes of rhythm or tempo, "the wrong note" which is exactly the "right" note, and both are somewhere in the rock Universe.
There's a more describable difference in our lyrics. Right from the beginning of Plague, Mike wanted to comment on current events, culture, and society, while those things have no part in my music. Mine will tell weird and/or funny tales, often have anthropomorphic animal characters, and I love to write about scientific or mystical tidbits that grab my interest. It's all on the optimistic side. Even when I did the "horror" albums like 'The Skull Mailbox', or 'The Shunned Country', it's comic horror, like the old Weird Tales magazine. You can chuckle about the horrors in the comfort of your armchair…or CAN you?
Talking about writing lyrics – I recall Mike in the early 80's encouraging me to try it, because we'd take hikes together in the Colorado mountains and I'd often make up weird little stories and legends about the locale. "See that bare patch of stone on the opposite hillside…?" But I never did get around to it until 1990!
Are you still influenced by the same musical concept?
Bob Drake: The early inspirations gave me a starting place, they'll be part of my makeup always, so will the inspiration from fellow musicians I've learned from and played with – Mike, Mark Fuller and Mark McCoin, Bruce Odland – their influence is part of my musical genetic makeup too. And new discoveries and inspirations always come along and make me want to try and write a song! One example: perhaps in 2012 I stumbled upon the so-called Ars Nova vocal music, Machaut specifically. That stirs SO many musical ideas and fires my imagination. There are sections of his 'Messe de Nostre Dame' which transfixed me for weeks, it affected me deeply and I couldn't fathom it. I must have listened to this particular performance by Ensemble Gilles Binchois 100 nights in a row when I first discovered it a few years ago. I know the piece so well now, I could probably do a cover version, haha. In fact I do quote a fragment at the start of 'Me And Apocalypse Fox Go To Venus' on 'Planets and Animals'!
Another recent inspiration I first heard in 2011 is the music of Tim Smith. The album I heard first was 'The Sea Nymphs', and it's still a favourite. By all means listen to whole thing, here's just the opening track. He was directly hitting something in the area I'd been aiming for, he'd already got there long ago, and to a very high level. I hear profound and mystical songwriting knowledge in it. That gave me first-class thrills, so next I looked up Cardiacs and heard this, the more rock-ey side of his writing. It's got that celebratory, uplifting energy I love, no shortage of humour and irreverence, and stunning vocals. It hits me with the best kind of inspiration – makes me want to go and try to write a tune! Tim was an engineer and producer too, we were peers in that regard, and I had the fortune to have met and become friends with him during the last few years of his life. (He died prematurely in July 2020 after years of years complications due to a stroke). That Cardiacs connection quickly led to my meeting a very lively Universe of fantastic musicians, artists and writers, with a large and enthusiastic audience, which me and my music seemed to fit right into.
Another recent cornucopia of new discoveries continues to be my working with Chris Cutler on his 'Probes' podcast series. I couldn't even begin to describe it here, but have a listen! Very educational, inspiring and mind-expanding for me, highly recommended.
Your new album was released early in December. Please share your recollections of the sessions. What were the influences and inspirations for the songs recorded?
Bob Drake: One big influence was my increasing fascination with recent discoveries in astronomy, like the thousands of planets now identified around other stars, the astounding filaments of galaxy clusters throughout space, and my favourite: the accelerating expansion of the Universe. All of that is astoundingly thrilling and makes me so happy to ponder! We are all part of such a strange and fantastic expanding and interconnected Universe, so that's one of the driving forces in my recent music-making. I also enjoy pointing out that most of the drums on this album were a cardboard box bass drum, and metal dustbin lid snare drum!
How are you coping with the current world situation?
Bob Drake: Which one! Start with COVID-19. The worst part of the pandemic for me is concern about friends and loved ones in crowded urban areas, or regions where the populace don't take it seriously. I know most of my friends take sensible precautions, but it's still worrisome…and there is the concern that *I* could be carrying the virus, with no symptoms, and spread it to someone else who may become seriously or fatally ill. That's another reason I have no problem staying at home, and if I must go out it's with a mask and hand sanitizer.
On the personal level, staying at home is the easy part of it. I live in a rural area, thrive on solitude, and love being and working on my own, always have. When not working on my own music, I make my modest living from mixing and mastering albums for others, and have always preferred doing that kind of work by myself anyway. When my ears or internal battery needs a break there's always things to do in the garden, fix something around the house or read…so I believe me I am grateful that "lockdown" isn't an issue for me in that department. Don't think that means I don't take it seriously, I do, and I think always of how my friends and acquaintances are coping with it, physically and mentally, those who don't handle solitude well, people with children or families, anyone who is struggling to keep it together. All I can really do is to hope my little musical contributions can help lift a spirit or two.
Needless to say I certainly miss going out to play for, and with, my friends! Since 2015 I had been doing a couple small solo tours every year in the UK, playing at friends' houses, pubs and small venues, seeing many friends and always making new ones. Those tours combined my wish to learn and grow as a performer and songwriter, provided the excitement of travelling on my own, which I love, and satisfied my socializing desires. Once it was obvious that all touring plans were to be scrapped for the year, I tried doing a couple of livestream shows from my studio. Here are some excerpts from the 24th April stream. Those were fun, and most importantly broke my fear of having no idea how to do that sort of thing from a technical standpoint, and now I can see livestreams having a legitimate place as something to do even in "normal" times. But they sure don't replace being with a small group of enthusiastic, curious people in a room and playing for them, reacting to one another, the laughter and smiles and mystification and all of those lively wonderful things that playing live is all about.
When I asked "which world situation" I was also referring to the US presidential election, the most critical election of my lifetime so far, which was distinctly stressful. Like millions of others, all through November 2020 I found myself mulling over it day after day, hoping enough of us would vote, and then that the subsequent blatant coup attempt would fail – but that's turned out as it should, so far anyway! As I type this there are still some weeks to go before he's technically out, who knows what desperate tricks he and his enablers may pull in the meantime.
It's absolutely impossible to cover your discography. You appeared on so many albums! What includes your latest involvement? Any future projects we should expect?
Mike Johnson: Actually, my discography is not so big, unlike Bob's. He is frightening prolific and has been involved in lots and lots of different projects, as well as being engineer-producer on many more. I have never been in demand the way he has, nor was I willing to do as many kinds of things as he has been.
Lately I played guitar on, and contributed a few ideas to, a friend's short album of sort of pop songs with with a few odd twists. Nothing remotely like Thinking Plague. As I said, I'm also involved in a kind of Beatles music band, called Rubber Souls that does very accurate live recreations of songs especially from their more interesting middle and later albums. We have done a couple large concerts with full orchestra, the scores transcribed by myself and Jon Stubbs of Hamster Theatre, who plays keys and guitar in Rubber Souls. I grew up with Beatles music, and this project is fun for me, and usually pays better than most Thinking Plague gigs!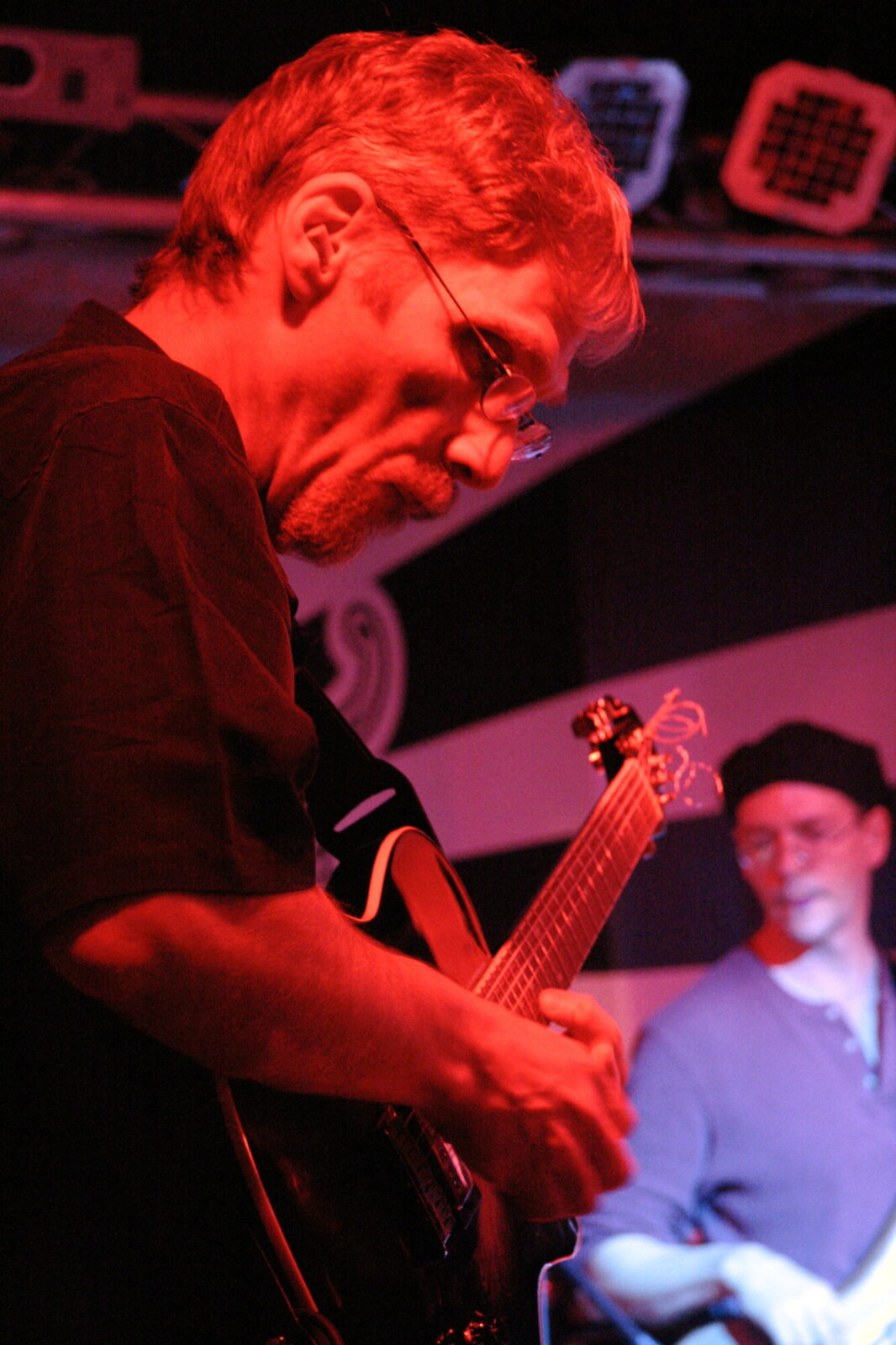 Bob Drake: There is a double CD project 'Miniatures 2020' coming from ReR, which I just finished mastering, 60-second pieces from 124 contributors including myself, in very good company with a lot of familiar names! That may be out by the time this interview is published. I have also been doing a lot of mixing and mastering for the Italian label Angelica:
My favourite recent one is a fantastic Cecil Taylor performance recorded in 2000, which includes a whole disc of him talking about music and magic and so on, very inspiring!
I finished 'Planets and Animals' in October 2020, and the album has just come out. I'm not in a rush to hurry on to a next album, but always have many pieces in various stages of completion which I'll keep toying with. As always you can expect various one-off tracks to occasionally turn up on my Bandcamp page or website. I love "the blank page" if you know what I mean, going into my music room with no idea at all, try out a few notes or chords and something beings to suggest itself…I love that grasping the very edge of some tenuous idea, might end up as a good song or disappear back into nothingness!
I do have an idea to do an album of extremely sparse, atmospheric compositions on a theme of haunted churches and cathedrals, not real ones, rather made-up stories, a bit in the tradition of author M. R. James, and have a few pieces already written, just as notation. That may end up as a complete album one day. And once the pandemic is over, and presuming Brexit doesn't ruin the Eurostar, I really look forward to doing my little solo tours again, seeing and playing for my friends, and enjoying their shows and music too.
I would appreciate it if you could highlight a few of your releases that you're most proud of.
Bob Drake: I'm still tickled by '11 Miniatures for Piano and Bass' from 2019. I couldn't have written music like that even two years earlier, but I'd finally taken the plunge and started learning about notation which has opened a whole new world for me. As for the CDs, I think it's a pretty good run starting with 'Lawn Ornaments', to 'Arx Pilosa', 'L'Isola dei Lupi' and now 'Planets and Animals'. Those are each a good station stop along the main track of my little adventure. The previous album, the all-instrumental 'The Gardens of Beastley Manor' is on a separate road from the more poppy albums, I've only started exploring that region and will be going back…anyway all my solo albums are on Bandcamp.
Let's end this interview with some of your favourite albums. Have you found something new lately you would like to recommend to our readers?
Mike Johnson: I honestly don't listen to much music any more other than what I'm working on or the occasional favorites. I don't follow new releases or anything. But there is one thing I heard in the last few years really blew me away, especially in terms of the quality of the composition. The album 'A Farewell to Brains' by Swedish composer and bass player Simon Steensland on the Altrock label. This is the most accomplished, sophisticated and frankly moving collection of songs I've heard in many years. Simon is a genius in my opinion. There is also a very innovative young band from Portland, Oregon called The Mercury Tree, who are doing what I'd call "advanced progressive" rock that incorporates quarter-tones and microtones, not as improv or a special effect, but as an intentional part of the music – the harmonic framework. They're excellent players and, despite being a just a three piece, they're amazing live, using technology in sophisticated ways to generate the other elements of their recorded material.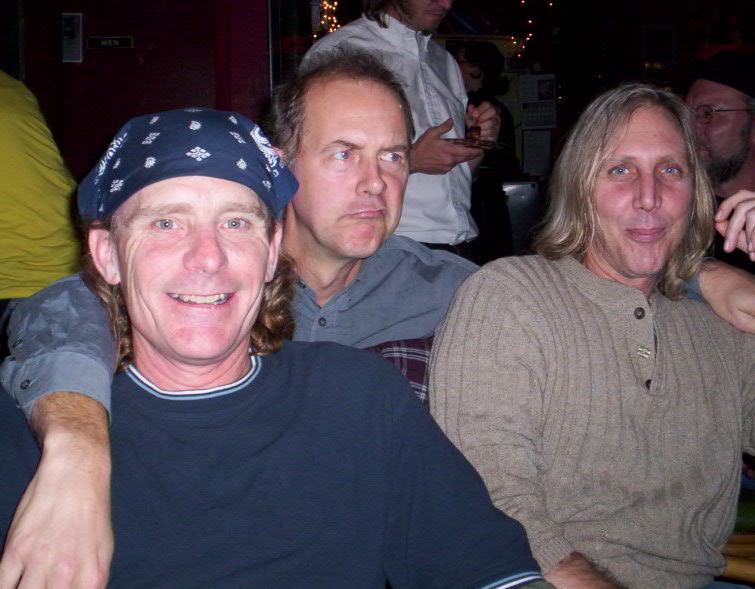 Bob Drake: That's tough without some sort of constraint, where would I stop? So I'll list 13 artists because that's a nice number, in no special order, just as they pop into mind:
The Sea Nymphs: 'The Sea Nymphs'
Elliot Carter: '8 Etudes and a Fantasy for Woodwind Quintet'
Yes: 'Fragile', 'Close to the Edge', 'Relayer'
Henry Cow: 'Unrest'
Cardiacs: 'Sing To God'
Focus: 'Moving Waves'
Beatles: from 'With The Beatles' through 'Rubber Soul'
Charles Ives: 'String Quartets 1' and '2' (Julliard String Quartet, Nonesuch records version)
Art Bears: 'Hopes and Fears'
Sun Ra: 'Atlantis'
Uriah Heep: 'Demons and Wizards'
Rare Earth: 'In Concert'
Van Dyke Parks: 'Discover America', 'Jump'
So many of my musical friends and recent acquaintances make such wonderful music, where would I begin. And I've shared the bill with so many excellent local bands on my solo tours, there is definitely NO shortage of good and inventive music going on these days. How about instead I can recommend some regular podcasts featuring a lot of new music in this odd little Universe me and my friends seem to be part of. In fact all these shows are also curated by friends:
Marina Organ's' 'The Other Rock Show' on Resonance FM
Adrian Bell's 'The Progressive Alternative' at Brookland Radio
Kavus Torabi and Steve Davis' 'The Interesting Alternative Show', they stopped doing this in 2018 but there is plenty to listen to and discover on the several years' worth of replays!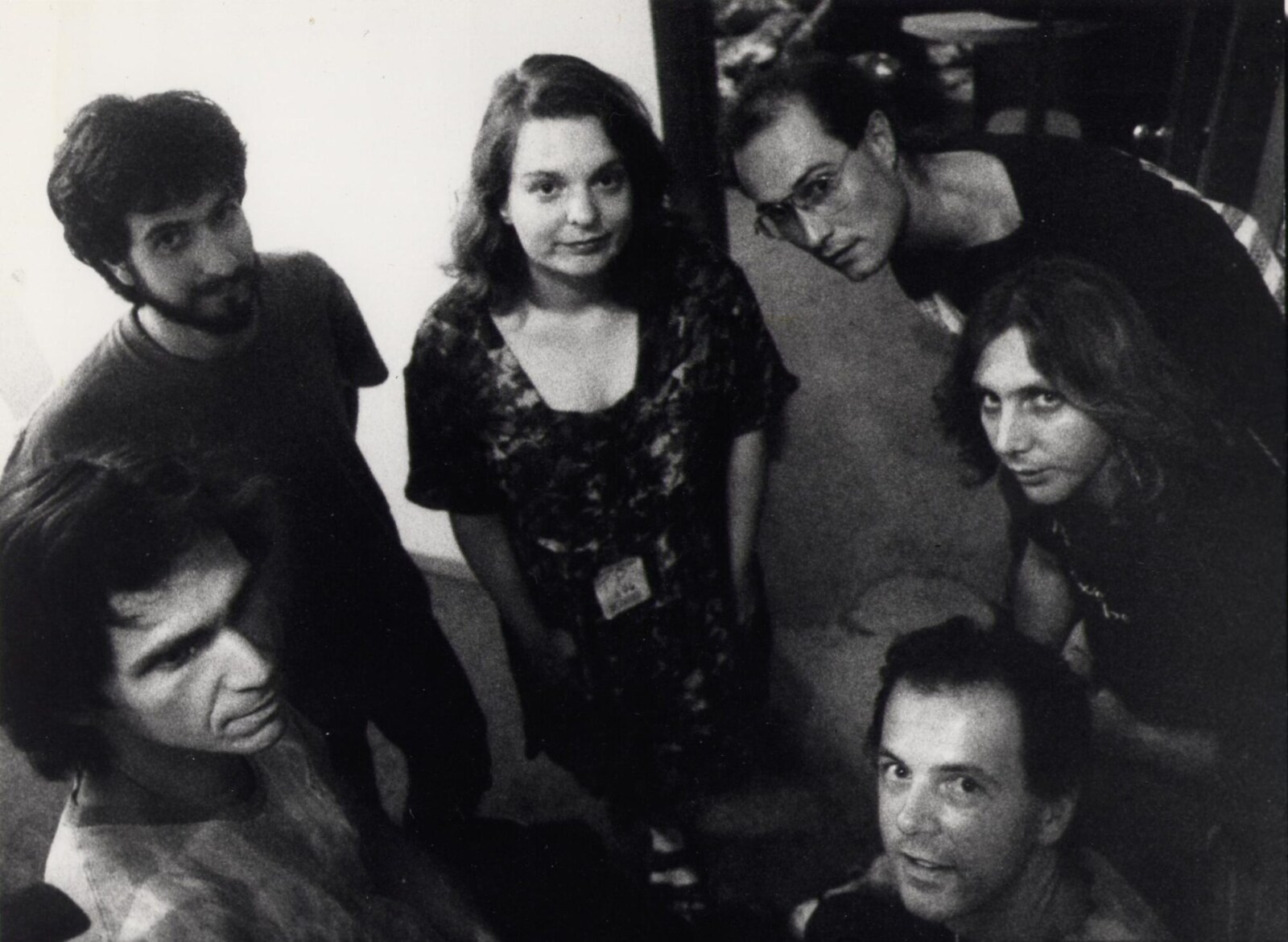 Thank you. Last word is yours.
Mike Johnson: I would just say, if you are a fan of vinyl and Thinking Plague, you really ought to get a copy of this new LP release of 'Moonsongs' on the Jelodanti label. The pressing is far superior (and vastly more available!) to the old 1987 LP on Deadman's Curve. And it has a very cool partially hand printed cover that has a kind of 80s indie label vibe that really fits the album.
It is also available in the U.S. from Wayside Music.
So, thanks a lot, Klemen, for the thoughtful interview questions.
Bob Drake: (NEWS ITEM – DECEMBER 2056: Obscure, 99-year-old musician discovered motionless at ancient, crumbling desk staring at antediluvien, blank computer screen in room of dilapidated house thought to have been long-abandoned, claims he spent the last 36 years "trying to think of last word for interview".)
Klemen Breznikar
---
Thinking Plague Official Website / Facebook / Twitter
Cuneiform Records Official Website / Facebook / Instagram / Twitter / Bandcamp / YouTube / SoundCloud
Jelodanti Records Official Website / Facebook / Bandcamp
Bob Drake Official Website / Facebook / Bandcamp
Mike Johnson Facebook