Haré Rama Haré Krishna: Celebrating the 50-Year Anniversary of a Classic Bollywood Film
2021 marks the 50-year anniversary of 'Haré Rama Haré Krishna', a classic Bollywood film that has a significant place in the history of Hindi cinema.
---
There are three things that make the title important. One is that it was a groundbreaking film that took a close and critical look at the clashing of Eastern and Western cultures at the time, as well as the influence of Westernized hippiedom on young people in parts of Asia. A second consequential aspect of the movie is that it made an instant star out of a woman who would go on to become one of Bollywood's most recognizable and lasting actors. Finally, it's got one of the most outstanding soundtracks of all time. Let's use the timeliness of the movie's anniversary to explore this trifecta of its notable features.
"A groundbreaking film that took a close and critical look at the clashing of Eastern and Western cultures"
The Movie
Written, directed, produced, and acted in by Dev Anand (1923-2011), a leading light of Hindi cinema in his day, 'Haré Rama Haré Krishna' was influenced by Western counterculture movies like 'Psych-Out' (1968). It's a counterculture movie that looks at the dark side of the counterculture. Some of the film's themes and characteristics were typical of Bollywood movies in the era. These stories often brought out the conflicts between well-established adults on in their years and their more progressive-minded sons and daughters. Only, in this case, a disconnect in life values also occurs between a brother and sister. And, to speak of siblings, another thing 'Haré Rama Haré Krishna' has in common with many Hindi films of the day is that it involves siblings who were split apart as children and who come back into each other's lives as adults.
At the beginning of the story, we're introduced to an Indian family living in Montreal. The parents are unhappily wedded and the husband has another woman in his life. Their two young children, a boy named Prashant and his sister, Jasbir, tearfully witness a vicious fight between their parents that brings on the end of their embittered marriage. The family splits apart. The father remarries after divorce and has Jasbir live with him and his new wife, while the mother takes Prashant back to India and enrolls him in boarding school there. Prashant is portrayed by Anand himself, and his sister Jasbir is played by rising young acting star Zeenat Aman.
"Janice and her friends like to partake of recreational drugs, dance in psychedelic clubs…"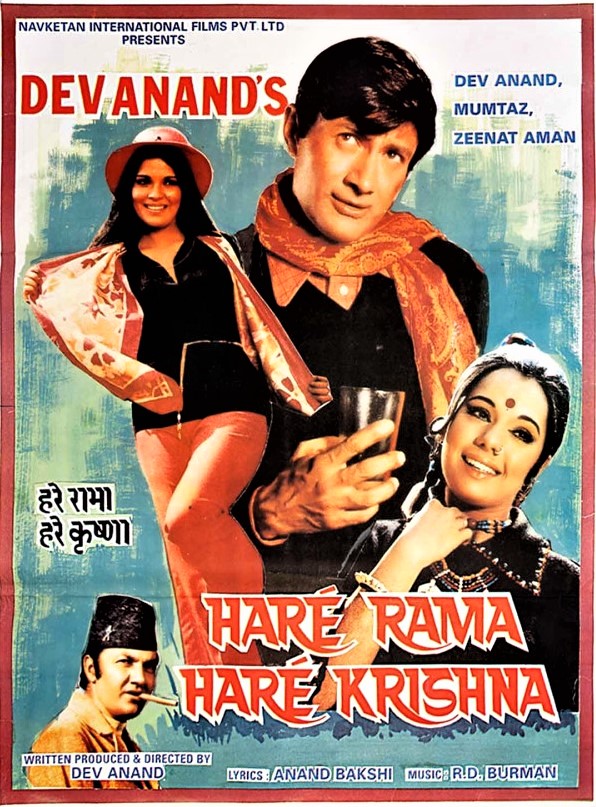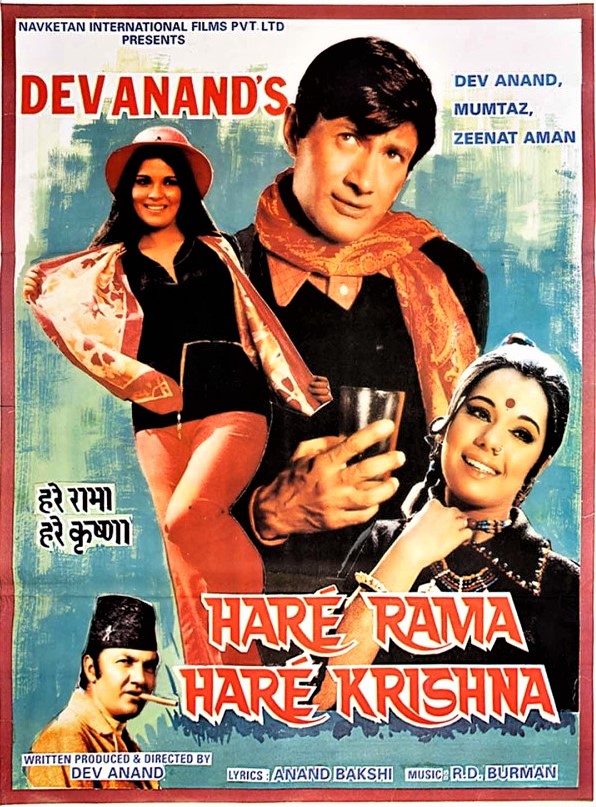 Fast forward 16 years, and Prashant is now an accomplished young man with a promising life ahead of him. He is a commercial pilot who has just completed his training. He learns that his sister, whom he has not seen since the dissolution of their family unit 16 years before, currently lives in Kathmandu. He decides to go and find her there and see how she is living, and hopefully bring about a reunion of their sibling bond. Prashant discovers that Jasbir is now a beautiful yet jaded young woman who has renamed herself Janice and is leading a bohemian lifestyle among a group of hippies, many of them Westerners. "Janice" and her friends like to partake of recreational drugs, dance in psychedelic clubs, and otherwise just hang around in a free and easy way. But there are unsavory characters in their midst, who look to take advantage of the hippies for their own devious gain. Prashant sees all of this and is deeply bothered, even while falling in love with a comparatively wholesome local woman. He wants to rescue his sister from what he sees as her morally bankrupt lifestyle. He wants Janice gone and for Jasbir to come back. But will she want to come back?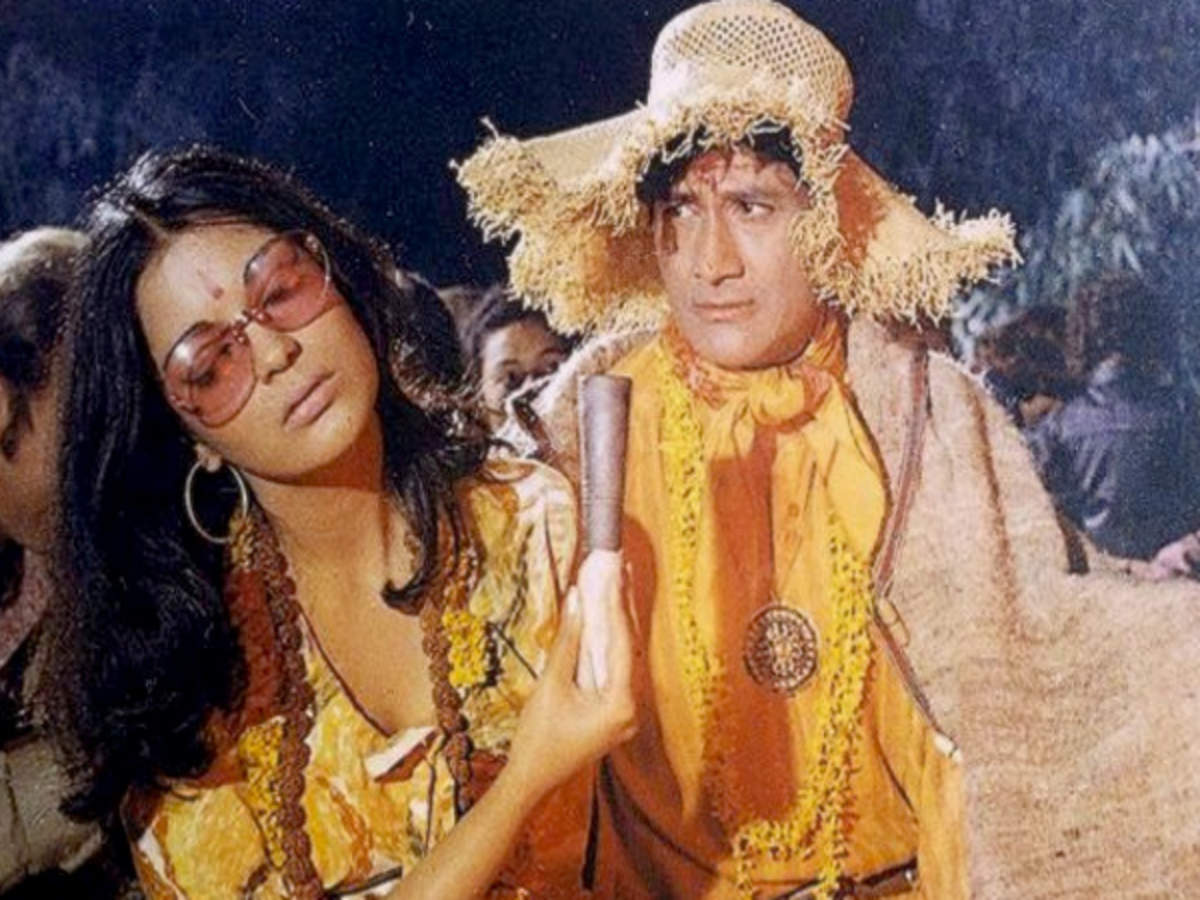 Zeenat Aman
Aman (born 1951) had a few other acting parts prior to 'Haré Rama Haré Krishna', but this was the breakthrough role that brought her Bollywood stardom. Prior to getting into the film business, she had worked as a magazine journalist and a model, was also a beauty pageant winner. She was ideal for the part of Jasbir/Janice, partly just because she was at the right age and because of her considerable photogenic beauty. But something else that made her a good fit was that, a little earlier in her life, she'd spent time studying in California. So she was able to convincingly pull off the part of a young Indian woman who'd come under the influence of Western culture. As Jasbir/Janice, Aman performed in a powerful and convincing way that made her character a complex, relatable person.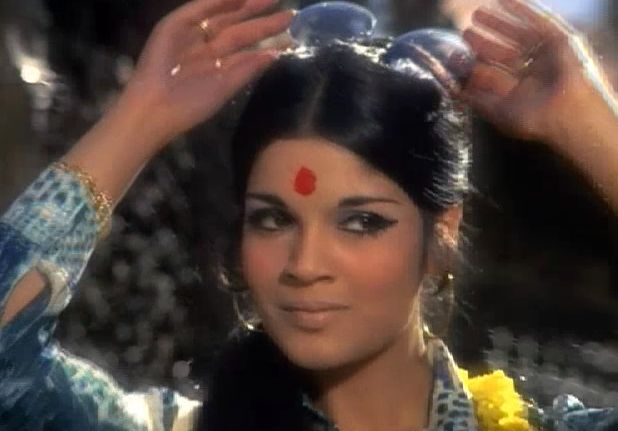 Although she is ultimately shown as a conflicted young woman who has some deep-seated troubles under the surface of her apparent happy-go-lucky spirit, she's so likable and so magnetic that different viewers watching the film are apt to wish her character could be their girlfriend, wife, daughter, sister, bestie, soul mate, etc. And Aman's cool, cosmopolitan hippie chick look in the film turned her into an overnight fashion icon in India. Aman's film career is still active today. She has been featured in something like 90 motion pictures to this point. Her best work happened through the 1970s and '80s, when she often played strong, liberated female characters that could be seen as feminist role models that challenged the established male-dominant way of life. 'Haré Rama Haré Krishna' is the cinematic vehicle that made her an instant star.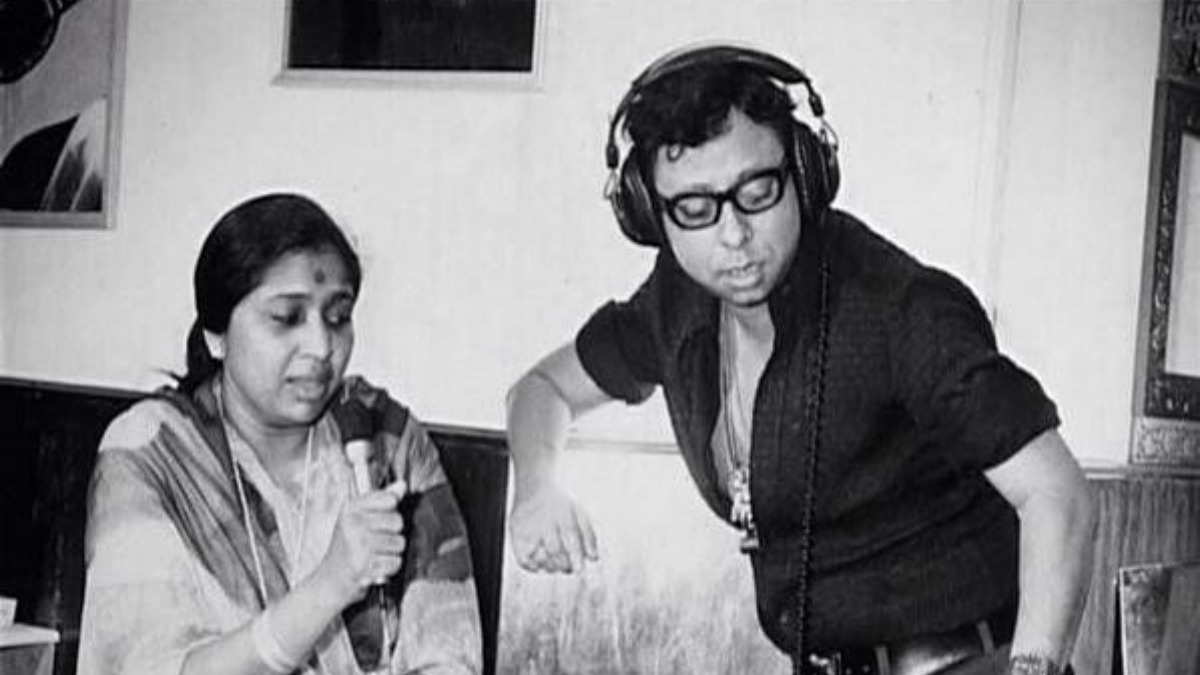 The Soundtrack
The song scenes are, of course, always key elements of Bollywood films. And that's definitely true in this instance. R.D. Burman (1939-94), the musical director on 'Haré Rama Haré Krishna', was India's answer to Ennio Morricone. An expert maestro who organized the music for countless classic Bollywood soundtracks between the 1960s and '90s, Burman had an uncanny knack for creating sounds that were the perfect fit for a given movie. And 'Haré Rama Haré Krishna' may have been his finest artistic moment. Asha Bhosle (1933-), a golden-throated vocalist who has provided the playback singing on zillions of Bollywood soundtracks in addition to a vast catalogue of other types of performances, does much of the work behind the mic on this one. Bhosle, who was married to Burman from 1980 until his death, is the icon referenced in the Cornershop song 'Brimful of Asha.' Other singers on the soundtrack include Bhosle's sister, Lata Mangeshkar (1929-), who has as fine a voice as her sibling's, and Bollywood soundtrack male mainstay Kishore Kumar (1929-87).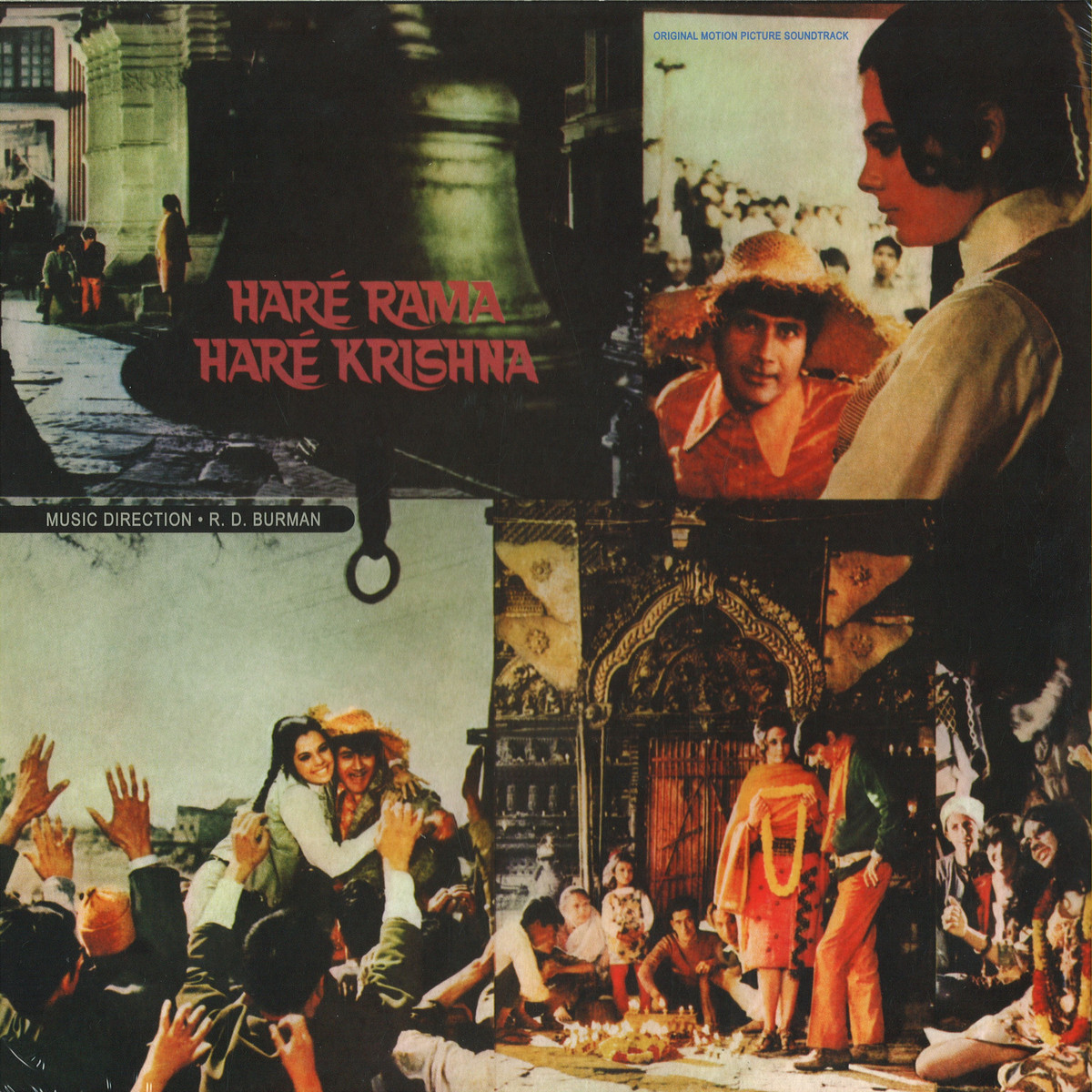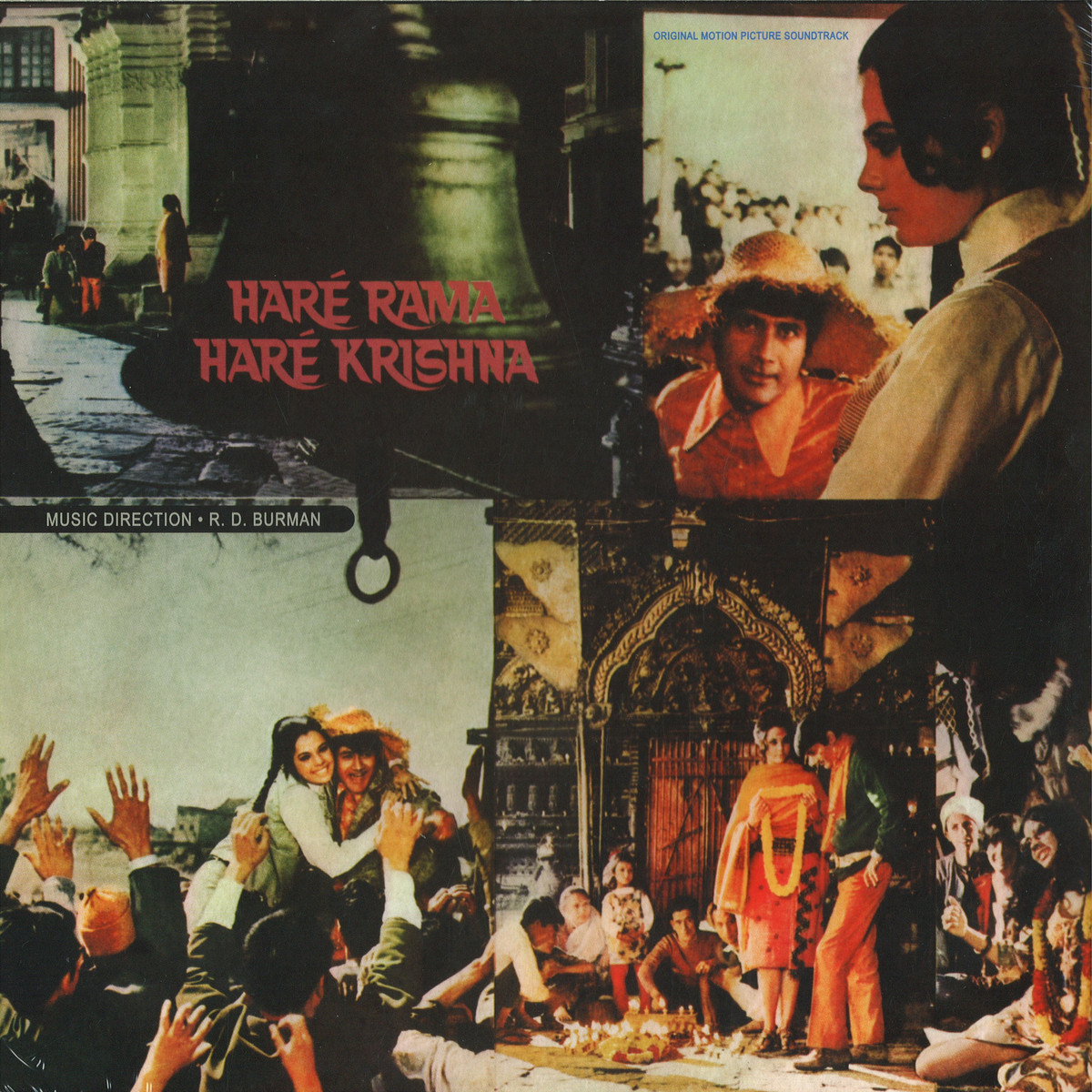 The 11 tracks on the album are varied in feels yet connected to each other organically. 'Dum Maro Dum' is an energetic hippie anthem that features a mesmerizing vocal performance by Bhosle that will stretch your brain while making you want to get up and do an exotic dance after taking a hit off a bong. The title track, which features a playful male-female back-and-forth vocal exchange, is another celebratory tune and it serves as the music during an outdoor bonfire dance party scene. 'Pholoon Ka Taron Ka, Pt. 1.,' meanwhile, is a tender ballad performed with nuanced emotion by Mangeshkar. There are also ragas, a version of 'Pholoon Ka Taron' sung by Kumar, a reprise of 'Dum Maro Dum,' etc. All told, it's an experimental soundtrack that's far out at the same time that it's beautiful. It's in the top tier of soundtracks from any era, any country, any genre.
Brian Greene
---
All photo materials are copyrighted by their respective copyright owners, and are subject to use for INFORMATIONAL PURPOSES ONLY!