Cool Fest TV
In December Blake Hargreaves organized the production of an online experimental TV show, to replace the annual Cool Fest, which has been happening in Montreal, New York City or Buenos Aires, since 2007. Over 50 artists and musicians from Canada, USA, South America and Europe participated.
---
At which point did you know: there's not going to be a physical festival?
Blake Hargreaves: It was very last minute. I had a couple of exciting months in the autumn, exchanging weekly emails with Art Quarter Budapest and Festival of Endless Gratitude Copenhagen about producing the event, as we watched the bulletins about travel restrictions and held our breath. Some great performers were standing by. By mid-November I'd started collecting video submissions, but even in early December I was still open to the idea of an in-person gathering. Ultimately we just ran out of time; luckily the alternative was already in development.
Why did you decide to make Cool Fest TV and present it as an almost 3 hour long YouTube video?
It didn't exactly take the form of a decision. Cool Fest is a tradition since 2007 and I knew in the bottom of my heart nothing would stop it from happening. I had flashes of doubt, sure; even the Olympics get cancelled sometimes, and that's the level of legacy we're going for with this. But Cool Fest is apparently stronger than that.
As the in-person event idea got shaky I realized I'd been dreaming about applying the Fluorescent Friends aesthetic to television for a long time, and was egged on recently by things I'd seen, like work by Alex Bag or Weird Al; and by conversations I'd had like one with Dennis Tyfus about this concept.
And then I found a video in my phone, (which ended up being the title shot for the whole project), and I found myself typing first Cool Fest XX over it, and then Cool Fest TV, and suddenly I knew something had arrived, and it was my job to help it manifest.
I attended the opening of the MINE MY MIND group show at Art Quarter Budapest in October, and spontaneously produced a video to document the show. It got a very positive response, so that crept into television idea too, incorporating a video game narrative style.
I didn't have any preconception about length, but I definitely did about density. As the submissions started to come in, I began to understand how much I needed to achieve the right consistency in sequencing the overall project. So the length is a reflection of that. I was committed to including everything I received. Past Cool Fests have lasted 1-3 days, with 4-36 performances; I sought to apply a television-like reflection of the ideal viscosity as experienced at past Cool Fests.
I enjoyed Plague Time Television and am still enjoying the QuaranTunes series. Were there other online festivals that inspired you into making something like his?
I think all online performance opportunities and festivals are great and support their creation so much. I really didn't know if I'd get many submissions, so I had no idea what this would actually be. It was only during the week of sequencing that I realized the Cool Fest Station ID type track which was given to me by Fleshtone Aura (Toronto) was perfect for setting the tone of the project as a television stream. Plus, Greydini (Toronto) and Outlier Communications (Toronto) gave me advertising (something I wanted to have in the video, without knowing why) and the ads they submitted were able to tell me exactly the vibe I was looking for but couldn't express, and helped so much in bringing it to life.
I've always loved Toronto's relationship with video/film/TV. Not just the famous film festival, or memories of pre-Drake Degrassi. After migrating to Toronto, a band I was in gradually stopped recording new material and gigging, and just started making movies, without knowing why… exploring the city I noticed it's a very visual place, wide streets and design-focused. I'd never lived somewhere with underground film culture, lots of independent video rental shops and small theatres. Later when the Montreal posse I played with started exchanging gigs with a Toronto crew, I learned so many of these musicians worked in video stores and were film junkies. I'm so happy Toronto showed up for Cool Fest TV, and showed me the way, and got it to the level it needed to be at. Toronto bands also feature heavily in the footage provided to me, mostly by Edwin White from Florida. The year the Toronto band Disguises headlined Cool Fest, their set was broadcast on an art installation of televisions at the gig, and Edwin filmed some of Disguises' set by filming the TVs, which you can see in Cool Fest TV. I guess there's a lot of serendipity there.
Do you believe this was the first and the last time you organized an online festival/experimental TV show?
As I said I experimented a bit with television in the early days in Toronto, and a few projects for music videos. As Cool Fest TV became complete, I was enjoying myself so much I felt I absolutely have to do this again, and would request anyone reading this interview to take a look at the first 25 mins or so of Cool Fest TV and if they like it and get what we're going for, to send us some material. We especially like seeing artist-produced advertising for their creations… it really helps make the experience authentic, and it's so nice to learn about what people are working on, too.
I also think advertising is an underused medium for artistic expression, it's such a big part of the culture we consume, and so few artists are doing it right now. I guess corny Adbusters ruined that for a generation or something. But these guys really succeeded with their ads and it's inspiring.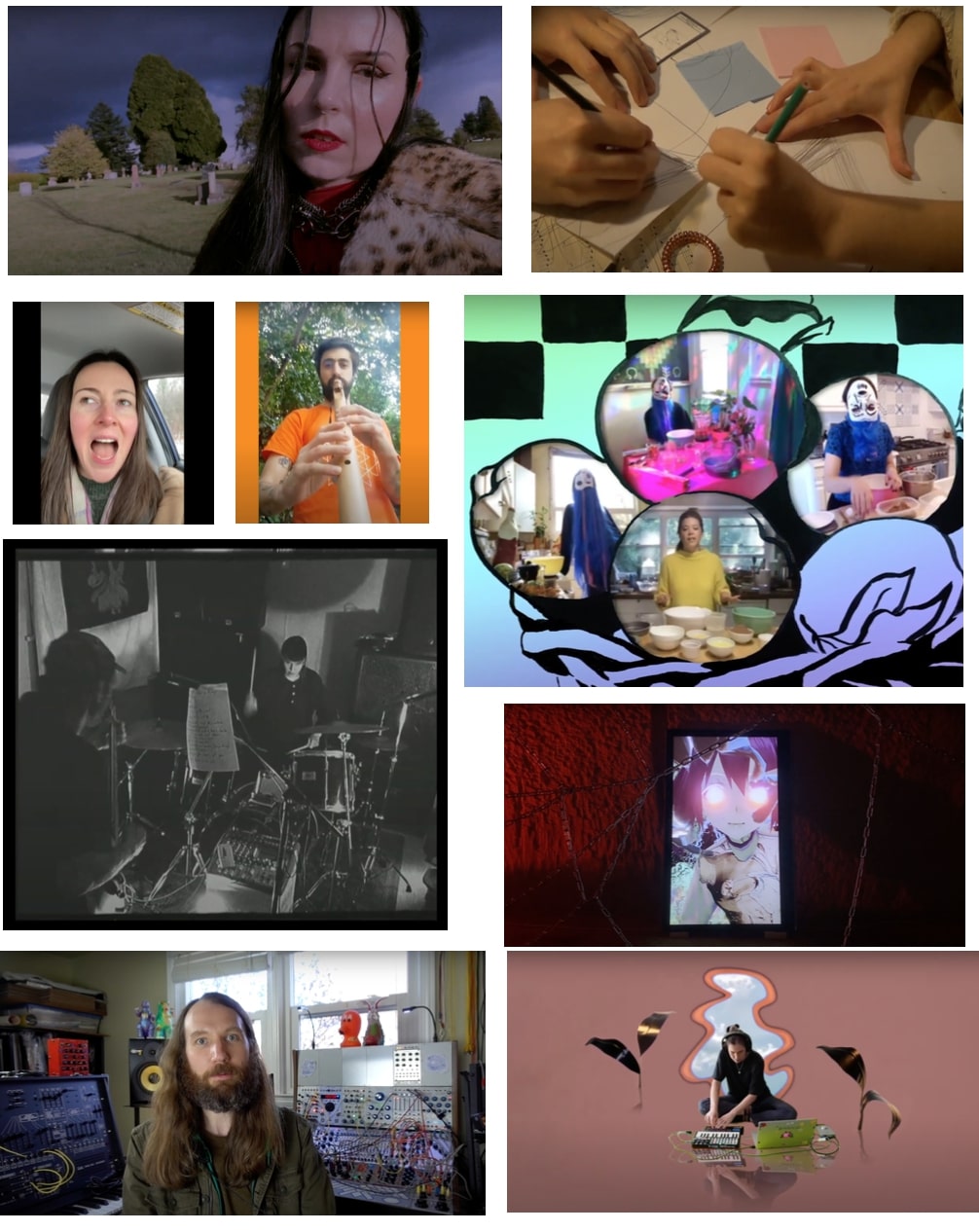 How did you select the artists who are part of this? Are most of those people friends or artists you see as colleagues?
I tried my best to contact every single person who ever contributed to Cool Fest, which proved challenging after 13 years. I reached out to over 125 people. Cool Fest has happened in Montreal, New York City, Buenos Aires, and features not just music but art installations, food, and other performing arts; the alumni database is getting more and more international and multidisciplinary.
I added some new people, like Reliquary V from New York City, I've known her work forever and watched her career and always suspected our projects would intersect at some point, and her video became a sort of centrepiece of the whole production in my mind. And Matt Robidoux from San Francisco, I felt from the beginning that if he was able to contribute it would be outstanding, refreshing and provocative, and that feeling was spot-on.
The people whose work you see are the ones among those I contacted who had something ready to go, or the energy to put something together. It was such a difficult year for people (duh), especially parents, and I kept my expectations reasonable and was really happy with the quality we got.
Which concert/session/contribution did you enjoy the most yourself?
It may sound mawkish but I had a moment with every single submission where I felt myself saying "this is the best one". It's like hitting the jackpot in Monte Carlo, getting all this new stuff in the mail, seeing people I miss and vibing with their creative work. But beyond that, a couple did begin to stand out over time.
For me personally, Fleshtone Aura's (Andrew Zukerman) submission was the gift that kept on giving. It was a six minute track of fast and dynamic tape collage featuring snippets of a lot of radio station IDs and ads, mixed with him saying "Cool Fest". It was easy to cut into six one-minute chunks, and superimpose photos and videos and memorabilia about Cool Fest. And the track was actually a live performance of him playing at Cool Fest at Brasserie Beaubien in 2014— supreme. I had no idea how I was going to incorporate old videos and photos, and suddenly this incredible opening was provided for dynamic and exciting television.
Every single time I do Cool Fest, I have moments where I'm nervous the whole thing will be brutally boring and everyone will leave. It's not a realistic fear, because in my mind somehow everyone leaves during the first act, and then everyone leaves during the second, but somehow they're all still standing there when the third starts and then they leave, etc. It's irrational but I had the same fear with Cool Fest TV. I think that's reflected in the way the energy is more feral and febrile at the start, and then mellows out gradually into a sort of long-haul acid-level buzz. Zukerman's submission made that pacing possible, made it possible for me to get past my tune-out fear, and gave me a heartwarming and fun project, setting those photos to his sounds and creating these memberberries of Cool Fest, memory-snacks of something real that so many people shared.
Shoutout to Greydini for his wonderful ad; I really liked Cotton Museum (Chris Pottinger)'s submission because it was such a reassuring, personal message to receive during harsh times, the person looking right at us and expressing that they are safe and healthy and still creating and having fun. It means so much right now. But really every submission was like this. For me to reach out to people after so long, and have something that's meaningful to them communicated back to me, something that I can then help to share, this is the biggest thrill. And every submission felt like it fulfilled an important role in the flow of the weird TV; it doesn't work as well with any of them missing.
Joeri Bruyninckx
---
Fluorescent Friends Official Website
Blake Hargreaves Official Website