Various Artists – 'Sumer Is Icumen In: The Pagan Sound of British & Irish Folk 1966-1975'
They do love their divinity lessons.
"We were into nasty things happening in nasty places, deep in the dark green forest," recalls David Costa of Trees, the cult acid-folk band behind two of the most beloved albums of the genre, 1970's hauntingly beautiful 'The Garden of Jane Delawney' and the essential 1971 follow-up, 'On The Shore'.
---
"Martin McCarthy always used to call it 'pagan', and that summed it up for me. It was dark and elemental."
The aforementioned quote, nestled within the annotated booklet accompanying Grapefruit Record's deservedly acclaimed 2015 3-disc survey of counterculture-era British underground folk, 'Dust on the Nettles: A Journey Through the British Underground Folk Scene 1967-1972,' firmly establishes the mantle assumed by the long-awaited sequel to 'Nettles', 'Sumer Is Icumen In: The Pagan Sound of British & Irish Folk 1966-1975.'
With both sets intended to act as companion pieces to each other, there is much for both the casual fan and serious archivist to enjoy. However, the tightened theme of 'Sumer is Icumen In' lends it a coherence occasionally lacking in its predecessor's endearingly scattershot runtime- and it ultimately contributes to a palpable tonal shift.
Where 'Nettles'- for which varied eclecticism was instrumental in its appeal- featured the wide-eyed, blissed out hippie mantra of Mother Nature's 'Orange Days and Purple Nights,', Steve Peregrin Took's 'Amanda' (nominally a tale of a fickle casino croupier that doubles as a rather obvious analogue for mandrax abuse), and the dreamy pop-mysticism of Frozen Tear's 'You Know What Has To Be', not to mention Fuschia's Syd Barrett-esque 'Me and My Kite', Wild Country's utopian 'Silent Village' and the Peel-friendly esotericism of the Occasional Word's 'The Evil Venus Tree,' 'Sumer Is Icumen In' makes little allowance for such far-out, Spirit-Of-The-Age fripperies.
Indeed, not surprisingly for a compilation drawing its name from the oldest-known song in the English language, the music herein manifests as less a product of the late-1960s psychedelic Aquarian zeitgeist and more a product of reinvented tradition spanning back centuries.
Therefore, for the most part, it sounds as ancient as Albion itself, and only occasionally does an incense-and-peppermints contemporary influence make itself known- the lapping sitar on Meic Steven's 9 minute epic 'Yorric,' the shifting time sequences launching into the faerie freak-outs on Synanthesia's 'Minerva,' the peeling organs on Chimera's 'Silver Man', to name a couple of instances- but never enough so as to come across as jarring or to shatter the lush evergreen illusion.
And, as is by now par-of-the-course for Grapefruit's archival trawls, 'Sumer Is Icumen In' features an impressive roster of names, a number of which are likely forgotten to all but the most gnarled old apple trees lurking deep within the twisting orchards of Avalon. It makes for a real Fabergé egg-incidentally, a turn of phrase that could have hypothetically lent itself excellently as a band name to coexist with the likes of the very real (and featured) Vulcan's Hammer, Green Man and Spriguns Of Tolgus.
"The result," to quote David Wells' excellent introductory essay, "is a fascinating window on something of a lost world: a shady, crepuscular glade in a darkly pagan woodland that's peppered with invocations of corn gods, wicker men, bright Phoebus and other non-Christian deities; magickal tales of daemons, sorcerers, false knights and faerie queens… alongside dread stories of purgatory, sacrifice, rape, bestiality and murder."
As early as 1966, with the dedicated followers of fashion of the Carnabetian army carrying London gaudily into mod mania, a broad band of outsiders across the length and breadth of the country were ushering in the first stirrings of the wyrd folk underworld.
That year, Robin Williamson returned from the hippie trail with a treasure trove of Moroccan instruments which would serve himself and fellow Incredible String Band-mate Mike Heron (third member Clive Palmer having left the group in the same timeframe) well as they carved out a highly influential niche in the folk scene. It was a path that would lead them all the way to number 5 in the UK albums charts in 1968 with their seminal LP 'The Hangman's Beautiful Daughter'- a track from which, the whimsical and idiosyncratic 'Witches Hat', features on disc three of 'Sumer Is Icumen In.'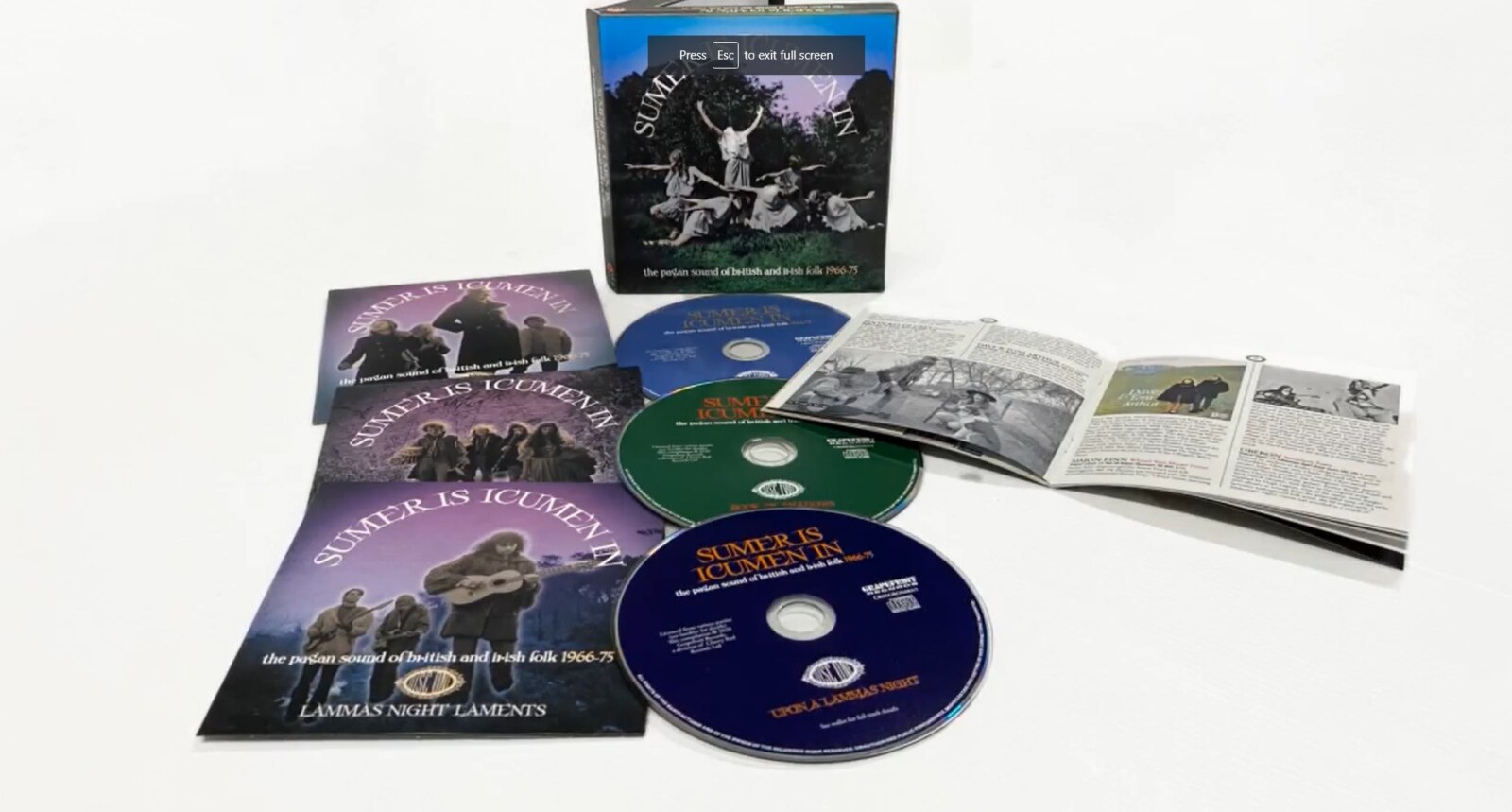 While the counterculture turned on and tuned in with the lysergic, current sound of albums like the Beatles' 'Revolver' and the Byrds' 'Fifth Dimension,' vocal group the Young Tradition busied themselves with exhuming songs like 'Lyke-Wake Dirge,' a "chilling tale of a departed soul about to pass through Purgatory," a song so aged that much of its imagery predates the advent of Christianity.
Meanwhile, Anne Briggs lived out a bucolic, pastoral lifestyle in the west of Ireland, far removed from the amphetamine-fuelled hedonism of Swinging London, which she would later immortalise with the at-the-time unreleased 1973 composition, 'Summer's In.' And a pre-fame Marc Bolan found his distinctive warbling voice in a series of unreleased freak-folk demos that included 'Eastern Spell', also included herein.
For many adherents of the 'pagan' subcategory of the underground folk scene, it should be observed, this was no gimmick- rather, it was a way of life, a fringe scene on the outer edge of another fringe scene within the wider counterculture. The resultant cross-fertilisation, captured both within 'Sumer's meticulously researched booklet and the very music it contains, makes for a fascinating document of the era's spirit of reinvention, rebirth and revivalism- in terms not only of making music, but also pertaining to religion and spirituality.
Notably, husband and wife Dave and Toni Arthur became involved with a network of witches' covens centred around Notting Hill-based Alex Sanders, who "had been pronounced 'King of the Witches' by his acolytes." Between recording songs like 1967's 'Green Grass,' they threw themselves enthusiastically into the realm of the occult.
"Yes, we stripped naked and danced around in a circle," recalled Toni of one particular ritual in which flour and beer were poured upon a naked virgin.
"Wicca seemed perfectly harmless. It's not to be confused with black magic… It's just a sweet, nature-revering religion."
Such reverence for unearthed custom is also notable in the work of Bob and Carole Pegg, another married pair who immersed themselves not only in the output of Bob Dylan, the Velvet Underground, the Doors and Moby Grape but also in the music, myths and legends of the Yorkshire Dales. Earning a reputation for themselves as learned folklorists, they formed the critically acclaimed Mr Fox (who close this collection with the proggish, atmospheric 'Mendle') in 1970.
And, when the Third Ear Band weren't hard at work opening for Pink Floyd on the hippie festival circuit or scoring Roman Polanski's graphic adaptation of 'Macbeth,' they were playing songs such as 'Sumer's convivial instrumental opener, 'Lark Rise,' for appreciative druids at dawn solstice ceremonies at Glastonbury Tor.
With the release of Fairport Convention's 1969 album 'Liege and Lief'- a key text in the idiom of British folk rock from which disc two opener, 'Tam Lin,' was sourced- the genre reached its short-lived apex of mainstream visibility as pilgrims from all around tossed their hat into the ring and gathered expectantly around the maypole. Ensembles such as Mighty Baby and Curved Air, then associated moreso with the long-haired, stoned progressive scene, contributed convincingly earthy folk recordings to the oeuvre atypical of the rest of their discographies. Efforts from both bands, 'Winter Passes' and 'Elfin Boy', respectively, are chronicled here.
One of the key improvements of 'Sumer' over its predecessor is the broadening of the geographical scope so as to also include key folk acts from Ireland. In particular, Dr Strangely Strange- a group deeply indebted to the Incredible String Band who crafted such enduring acid-folk classics as 'Strangely Strange but Oddly Normal' and 'Sign On My Mind'- were sorely missed on 'Nettles.' Their absence has here been rectified with the inclusion of the sublime 'Strings in the Earth and Air' from the 1969 album 'Kip of the Serenes.'
It should come as no surprise that although songs like Jan Dukes De Grey's gentle flute-led skip-along 'Sorcerers' might convey the image of a superficial but ultimately benign scene of flowers, March hares, stone circles and nubile fair maidens prancing in flowing white robes- a Be-In on a camping holiday- there always existed a visceral darkness and looming menace deep within the living heart of the genre.
Perhaps nowhere else is this so evident as within Comus' startling debut, 'First Utterance,' a cacophony of tormented, bleating Goat of Mendes incantations backed with deceptively waifish backing vocals and dense hedges of thorny bramble instrumentation. 'The Bite', the song showcased here, deals thematically with the lynching of a Christian, and represents but one tale amid Comus' nightmarish horror-folk canon of murder, rape and sacrifice.
And, even when one reaches the revelation that the titular 'John Barleycorn' in the age-old song covered proficiently by Traffic is but a personification of barley- and that his tribulations are evocative only of the process behind making beer and whiskey- it is difficult not to be disturbed by the song's tortuous depiction of the ritualistic slaying of a man pricked with pitchforks, flayed and dismembered.
Even when the advent and pre-eminence of glam rock between 1972-73 put paid to much of the mainstream success of such recordings, pagan-style folk maintained a hold on imaginations both near and far.
1973 saw the release of Robin Hardy's cult horror movie, 'The Wicker Man,' featuring an eerily authentic folk soundtrack arranged by American playwright Paul Giovanni and a heady, oppressive atmosphere bolstered by standout performances courtesy of Edward Woodward and Christopher Lee, respectively playing the devoutly Christian policeman Sgt Howie and the darkly charismatic pagan Lord Summerisle.
Opening with a hearty rendition of Robert Burns' 'Corn Riggs'- included in 'Sumer'- as performed by English band Hocket (credited as 'Magnet'), the film initially performed only modestly at the box office but eventually came to be rightly regarded as one of the finest British films of the decade.
Then, In Christmas 1975- with the summer of punk only around the corner- pastoral folk managed to weave it's way unexpectedly into a huge number of homes riding the Trojan horse of Mike Oldfield's festive hit, 'In Dulci Jubilo.' B-side 'On Horseback', penned in the countryside in the shadow of a large hill called Hergest Ridge during a period when he and folk musician Leslie Penning would regularly perform medieval-styled songs at a local restaurant in exchange for free wine, sounds far more akin to the music Oldfield played in the late 1960s with his sister in folk outfit the Sallyangie than the progressive sounds he explored in the post-Tubular Bells era.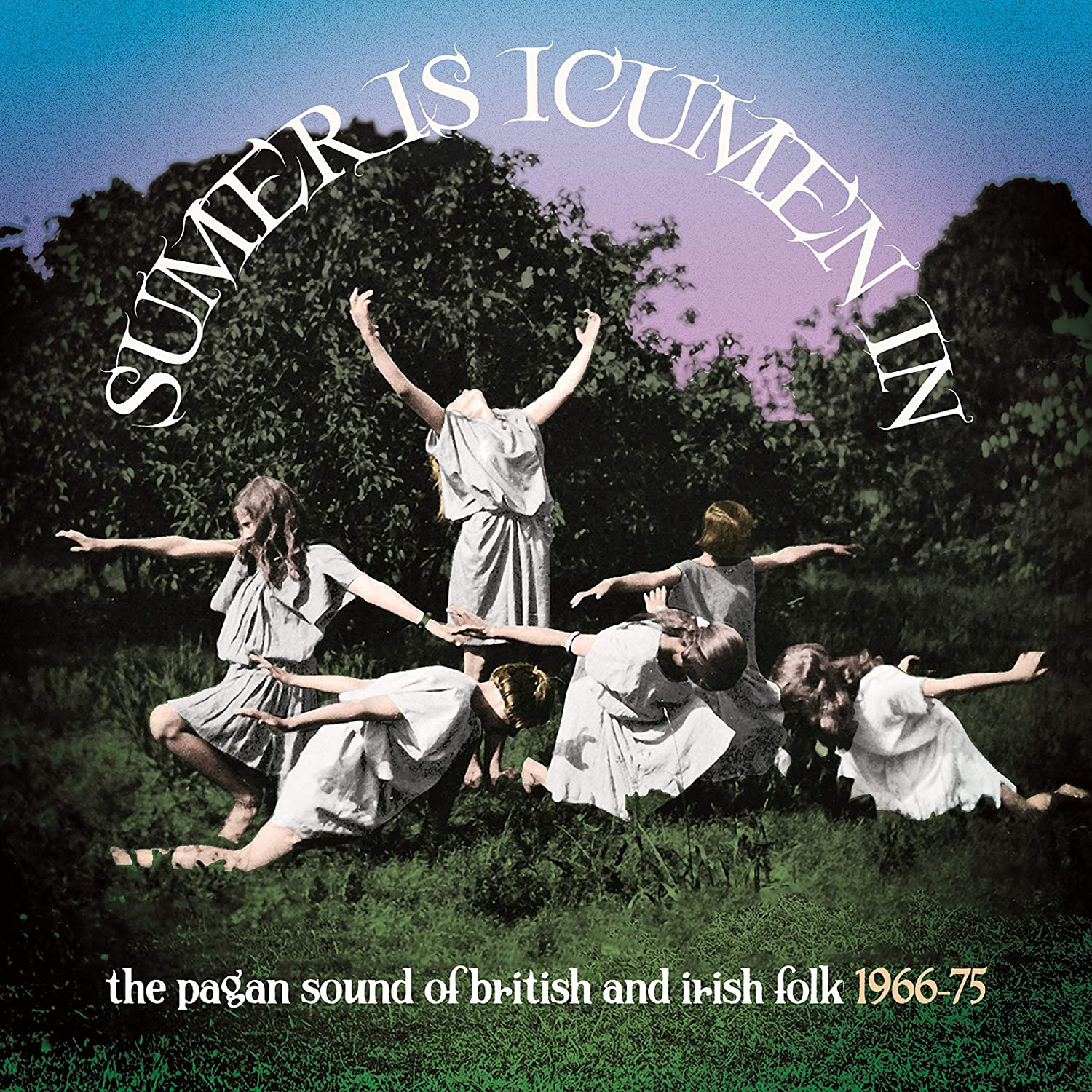 Even if punk's arrival pushed folk artists even further into the forests post-1975, a number of ensembles such as Caedmon limped gamely on. Their continued agrarian adventures fall outside the timescale of this particular box set- and, hopefully, will feature on a future compilation.
Fans of freak-folk will find much to love in this excellent 3-disc set. Reassuringly familiar in places (it is only natural that such a set will not fail to include much-loved pioneers and progenitors like Fairport Convention and the Incredible String Band, Pentangle and Steeleye Span, not to mention highly respected obscurities from Mellow Candle, Fresh Maggots, Midwinter and Simon Finn) and admirably fresh and alien in others, 'Sumer is Icumen In' is yet another fantastic and worthy effort from Grapefruit Records. It simultaneously brings two very different eras to life and breaths renewed vitality into time-tested tales of wicked werefoxes, fire leaps, sanctuary stones and treacherous pine nooks where lust bares its teeth and whines.
Like Rowan Morrison, they've done it beautifully.
Be sure to join the pageant and keep your appointment with 'Sumer is Icumen In'. I trust the sound of these young people will refresh you.
Jack Hopkin
---
Various Artists – 'Sumer Is Icumen In: The Pagan Sound of British & Irish Folk 1966-1975' (Grapefruit 2020)