Kathy Moore Super Power Trio – 'I Won't Let the End of the World Bring Me Down' (2020)
Guitarist and vocalist Kathy Moore, a Seattle native, has been an established Northwest session player since the mid-'90s. She has done studio work and performed live with Pearl Jam's Mike McCready and Stone Gossard, Guns N' Roses bassist Duff McKagan, Red Hot Chili Peppers drummer Chad Smith, LA A-list drummer Matt Chamberlain, Geoff Tate's Operation Mindcrime, Brandi Carlisle, Tower of Power's Tom Politzer, and Wayne Horvitz – for starters.
---
Like many of the great players in the Seattle scene who do it because it is what they believe in, Moore, bassist Alyssa Martini, and drummer Faith Stankevich have no fear of stepping into creative and progressive music. They bring that to the table here on this album in a nice blend of power rock, psychedelia, and quality songwriting.
On the first tune, 'Bad Day Is Coming,' spacey guitar feedback leads in and provides a backdrop to Moore's dark chords, her lyrics about seeing death creeping through the mist and living with the constant fear of the worst. She states that she can take it, the pain, and do it with a grin. The feedback builds the song up, leading into her virtuosic soloing that climaxes in a wave of cascading sound as Martini and Stankevich fade back into the ether.
The waves of feedback then lead into the second song, the slow, brooding 'Joan of Arc.'
Moore soloing against guitar loops, this tune then segues into the title track, 'I Won't Let the End of the World Bring Me Down.' Simply stated, its lyrics provide a reflection of how it feels to be making a stand against the heavy sense of foreboding that has come with this era in society all over the world, the era also known as the year 2020.
'Mother Mary' is a straight ahead rocker. It is also a plea for spiritual comfort and to help keep things together before Moore leads into a fiery guitar solo channeling her inner angst and rage. The tune begins to explode and come apart with Moore singing – rather wailing – over the top of the rhythm until the band pulls it to conclusion. In sharp contrast, there is quite literally no time played on the following tune 'Innocent.' Moore's raspy vocals are spacey and psychedelic, laden with delay and reverb. Known in Seattle music circles for her tendency toward the experimental without the claim of being avant-garde, it is on full display here. This a true experimental piece, with multiple layers of vocals pushed through a variety of effects loops to create mind bending sounds.
The vintage tones of reverb and vibrato tinged guitar chords open 'Love Isn't Over by a Long Shot' with Moore singing far out into the distance. Aslow ballad about hanging onto love in the face of sadness and the potential for complacency, Stankevich and Martini keep the music tight and focused, comping freely where it is absolutely needed.
On 'Shining Star' there is a clear influence from the likes of Stone Gossard and Mike McCready, particularly in Moore's guitar work and the solid, driving rhythm of Martini and Stankevich. With that in mind and given the mesmerizing, psychedelic quality of the music, this audaciously begs the question: Is she simply star gazing or is she looking deep into space at the stars and planets like her ancestors have done for thousands of years? Maybe the answer lies in her guitar playing, the cool sustain and incendiary feedback, as much as it does in her lyrics and her soulful singing and wailing.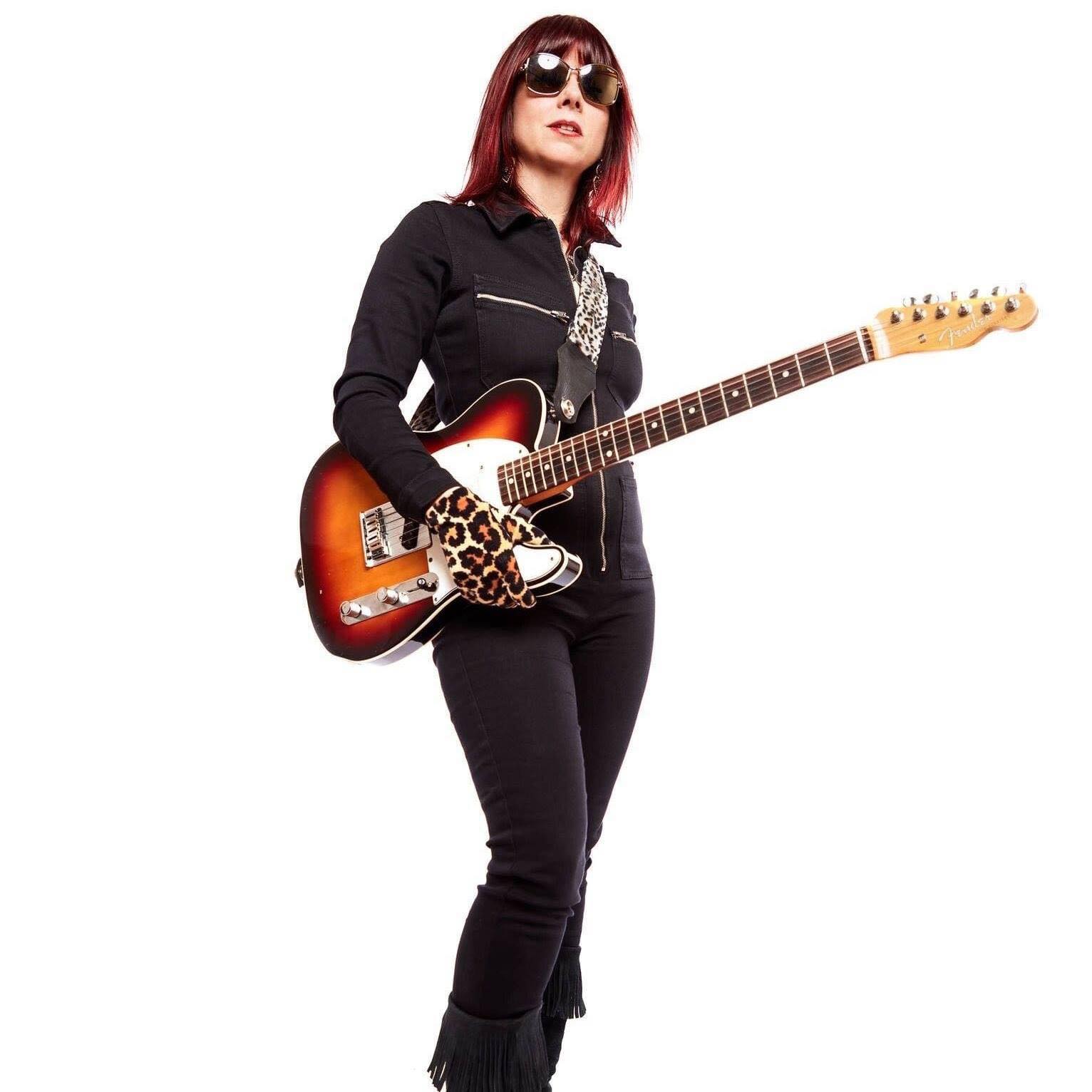 The intro to 'Someday We'll Fly' is melancholy, electric and acoustic guitar ebb and flow like a stream in a distant rainforest. A slow tempo ballad, piano and guitar come in and Moore's vocals are deep and gravelly. The music builds in intensity, reverb and delay provide for a profoundly psychedelic sound. Stankevich riffs actively with taste on the drums, Martini complementing to provide strong support to Moore as her singing escalates, leading into her tightly controlled but free-form guitar soloing. Her vocals echoing in the background, she guides her solo to a crescendo and sings with power and strength to direct the tune, and this highly innovative album, to a close.
Moore can sing a beautiful, meaningful ballad alongside raspy, intimidating rock tunes and musically dangerous experimentation pieces. This album has a certain timelessness. Moore, Stankevich and Martini, while known for their session and gig work, establish themselves here as the kind of rock and roll band that will push the art forward. Given how so many of the industry's most illustrious players have either shown signs of retirement or have, sadly, passed on, what the world needs is good music that dares to take the listener to those places unknown without committing to the sacrifice of pop sensibility. These women step up to the creative challenge with boldness and heart.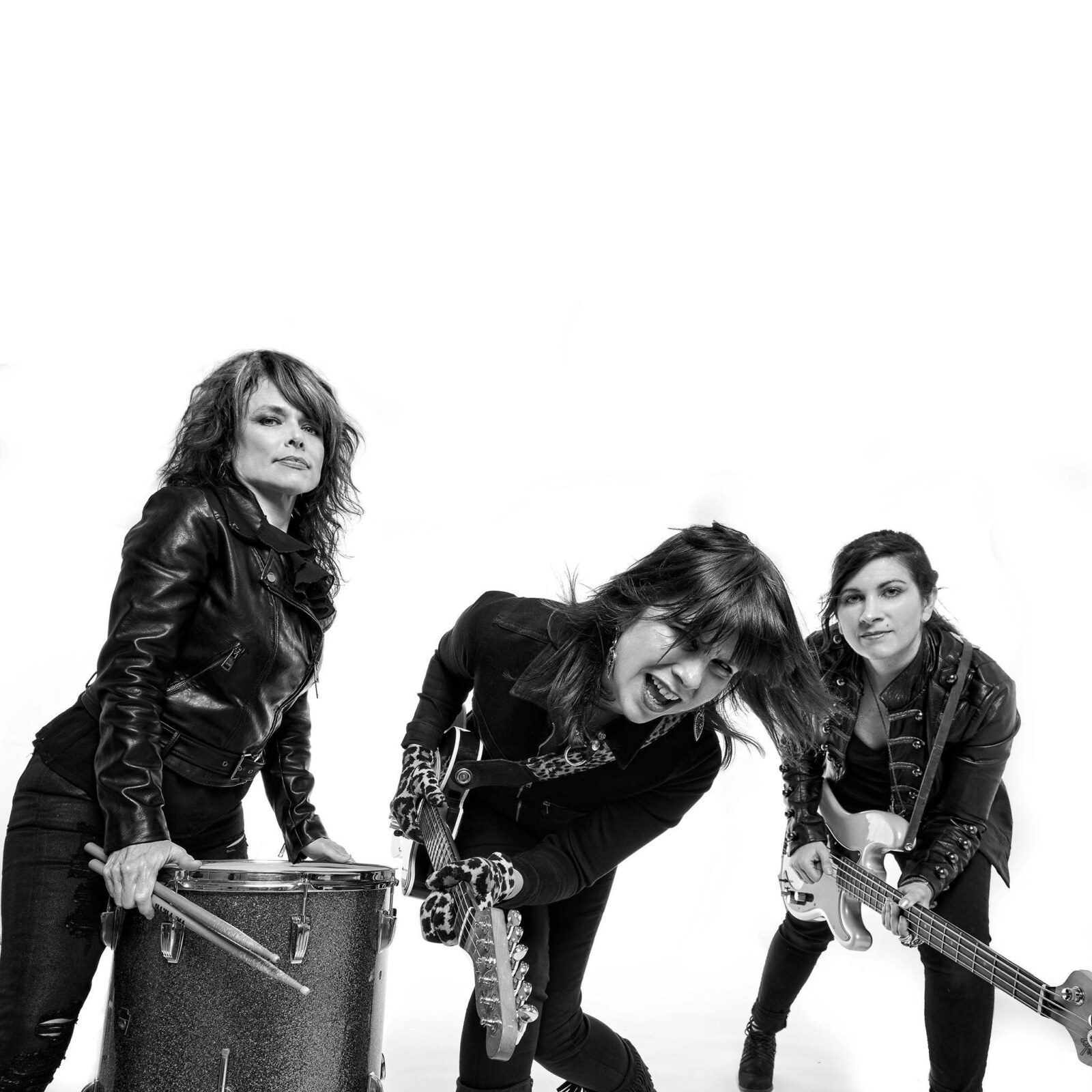 Kathy Moore Super Power Trio:
Kathy Moore – guitars, vocals
Alyssa Martini – bass
Faith Stankevich – drums
Jack Gold-Molina
---
Kathy Moore Super Power Trio Official Website / Facebook / Instagram / YouTube