An Aussie tribute to Roky Erickson & The 13th Floor Elevators | 'We're Gonna Miss You'
Two tracks exclusively revealed from an Aussie tribute to Roky Erickson & The 13th Floor Elevators, 'We're Gonna Miss You'. Enjoy covers of 'Rollercoaster' by Turtle Skull and 'Slip Inside This House' by Jak Housden.
---
Roger 'Roky' Erickson is often heralded as one of the most influential psychedelic musicians that ever lived. Despite leaving his earthly incarnation just last year, echoes of his creations, particularly his work with 60's Austin rockers The 13th Floor Elevators, are certainly alive and well today.
His story wasn't without its darker shades. Caught between a revolution, the correctional system and his own battles with mental health, Roky spent years subject to electrotherapy and the debilitating side effects of treatment drugs like thorazine, before his creative spirit (alongside help from the very musicians he influenced) summoned him back to the stage.
Paying homage to Roky, his resilience and his contribution to modern music, eleven artists from the Australian music community have united to produce an iconic tribute album, all in the name of raising much needed funds for mental health. Introducing… 'We're Gonna Miss You: An Aussie Tribute to Roky Erickson & The 13th Floor Elevators'.
The story of 'Slip Inside This House' by Mike Jensen (drummer in Roky Erickson's band in the 1980s)
My favorite is 'Slip Inside This House.' I want it on the record what Roky told me what the song is about. Roky and I were very close in 1984 and we discussed 'Psychedelic Sounds' and other recordings. I point blank asked Roky what 'Slip Inside This House' is about. It's one of my favorites. Roky said "It's really simple. We lived in an old Victorian house in Houston and it looked really bad from the outside. I'd watch people from the window rush by and I always thought if you'd slip inside this house as you passed by you'd see what was going on inside." So, the song is not about finding a higher plane in Mongolia or somewhere, it is about people rushing by his house. He said if people had slipped inside the house to see who lived there they'd really enjoy it. He said, "The line 'Slip inside this house as you pass by' stuck in my head. So, I just started writing the song around the idea." Roky also discussed the recording of 'Easter Everywhere.' He said that some people weren't able to get high, smoke pot and what have you, so "we recorded that album to try to help people get high who couldn't get high." Then I asked him about 'Slide Machine.' He said it was about "voter cheating, it's about fraud" and he wouldn't go on from there. Then I asked him about 'Levitation'. I had a bet with a classmate from high school. He was convinced Roky was singing "Makes me feel light as Air". I was convinced he was singing "Makes me feel God is Dead". So, I told Roky about the bet and asked him to settle it. He said, "Mike I'm singing 'makes me feel light as air' not 'God is dead'. Where are you hearing that?" He thought it was funny. We talked about 'Psychedelic Sounds' and he said he didn't like those recording sessions. He said it was rushed at a 4 track studio in Dallas and only 3 of the tracks were working and a microphone kept cutting out. He said it took about 9 hours to record. He said they kept telling him every song was "just a practice" and that all the recordings were supposed to be "practice runs. OK, play another… OK play another" Roky told me he thought all the takes were just practice, not final takes. The band was deceived by their label. I have some unreleased tracks from those sessions and sure enough there are microphones shorting out left and right.
Sydney-based producer Dan Frizza approached Rick Snowden and Josh White from Third Eye Stimuli Records during 2019 and together, they carefully curated a slew of exciting rock acts including Rosa Maria, Buried Feather, Turtle Skull, The Jim Mitchells, Jak Housden (The Whitlams), Misty Lanes, Luke Spook, Pseudo Mind Hive, Charlie Gradon, The Flamingo Jones and Joe Ghatt (NZ).
The non-for-profit compilation will be released exclusively by Third Eye Stimuli Records (digitally Dec 18th / physical Jan 25th, 2021), with all proceeds going to Support Act and Black Dog Institute. The proceeds will contribute to a range of initiatives, from Support Act's COVID-19 relief fund and mental health helpline, through to research in suicide prevention and developing education programs in mental health at Black Dog Institute.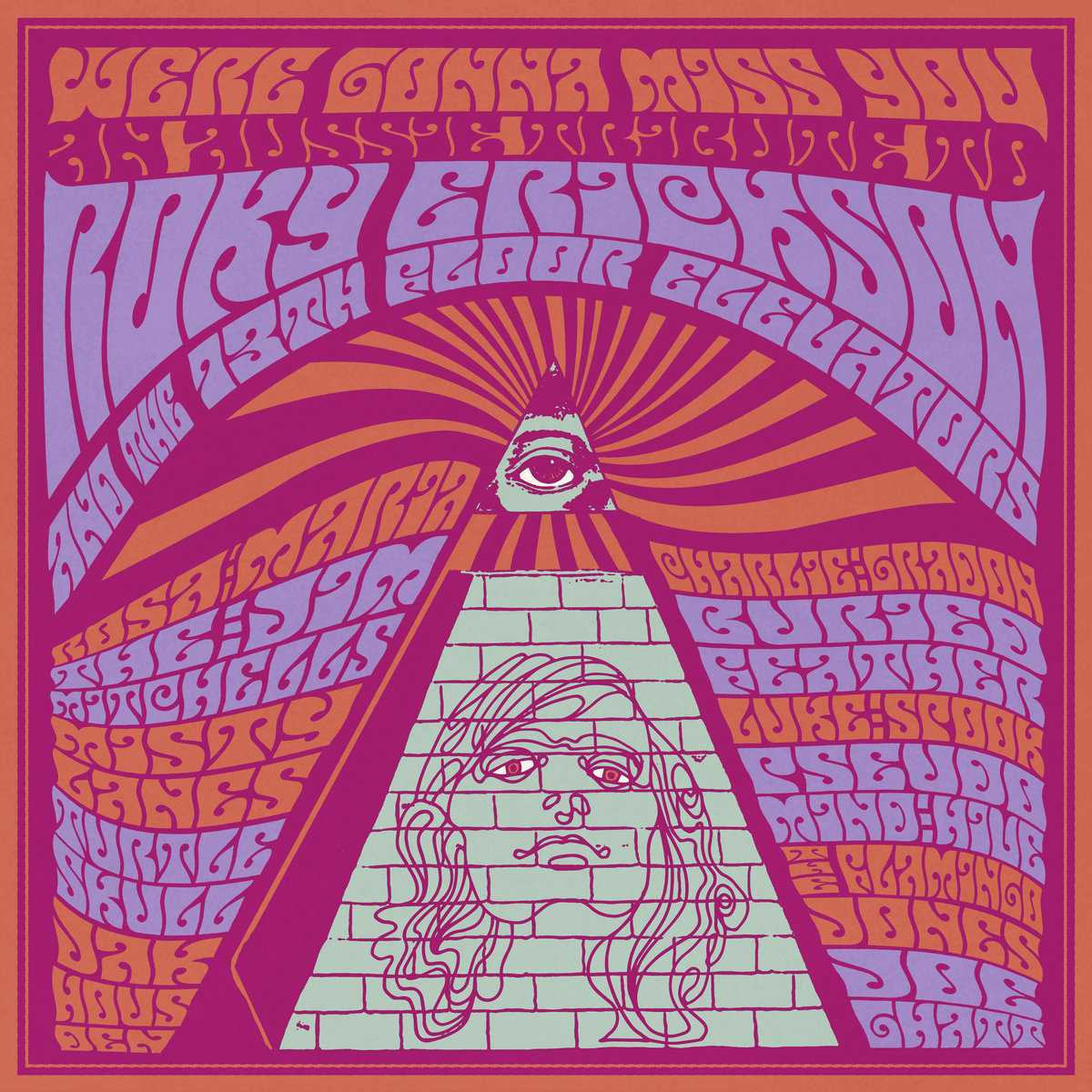 Melbourne's vinyl pressing enthusiasts Zenith Records have jumped on board in support of the release, offering up their record pressing services. 300 limited edition copies of the compilation will be pressed worldwide:
The first preorder release included 100 x 'Liquid Light' Deluxe LP (transparent split colours / blue splatter) / 100 x 'Electric Jug' Splatter LP (transparent orange / black splatter) / 100 x Classic Black LP. These are now all sold out except for the black LPs. Don't worry because Third Eye Stimuli are announcing a brand new colour, 'Mind's Eye' Splatter LP (transparent purple / white splatter), which you can preorder via their Bandcamp on Nov 18. All records come with a double sided insert, featuring all the bands involved and photos of Roky.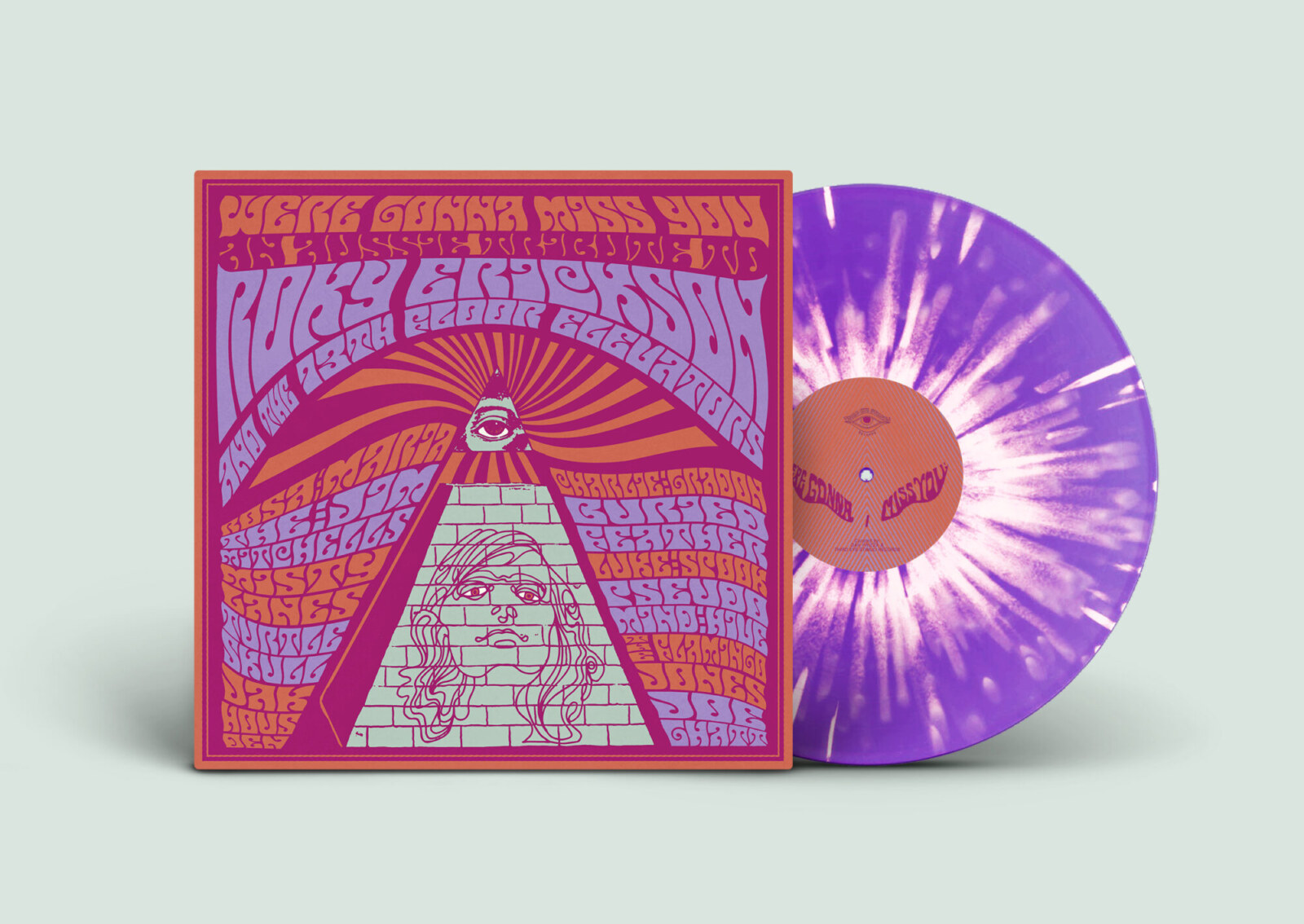 PRE-ORDER NOW: WE'RE GONNA MISS YOU An Aussie tribute to Roky Erickson & The 13th Floor Elevators and non-for-profit release, supporting mental health
---
Third Eye Stimuli Facebook / Instagram / Bandcamp / YouTube / Tumblr / Spotify
Mike Jensen shares his memories of Roky Erickson of the 13th Floor Elevators