Tyrnaround interview
Trippy '60s–styled psychedelia from Australia! Originally issued as a 12″ mini–album in 1986, Tyrnaround's 'Colour Your Mind' has become a touchstone of 1980s Neo–Psychedelia and almost certainly one of the best records of the second psychedelic era.
---
Interview with Gavin Gray | Melbourne 2020
Gavin Gray: I've got the new Tyrnaround 'Colour Your Mind' issue now, it's a fantastic document. I was inspired to look up the old diaries and give some more detail and further perspective. We gave it a good shot, all that time ago….
Early days, what was your music background, where and when?
I always related to my world through sound. We had a piano in the house which mum played, and my parents always encouraged us with our music. Banging on pots and pans as a child, my parents got me drum lessons from about age 8 and I never stopped, so I was usually the school drummer… I played in as many bands as I could when I was at school, you know, concert band, orchestra, jazz stuff, teenage rock bands, school productions, constantly involved. I had a lot of lessons, drums and piano, and studied classical percussion as well. So I was kind of steeped in lots of music and examined it thoroughly. I could sing, and I always enjoyed picking apart vocal harmonies, like 50s rock, doowop, anything vocal got my interest. There's so much great music based on vocals, the appeal of the Beach Boys, 10cc, ELO, The Pretty Things, Queen, The Who, Crosby Stills, Byrds, the Eagles, sums it all up- it's a huge part of the musical experience.
Being born in late 1964 meant having to be a teenager in the 80s. Trying to navigate the pop/radio scene during those years was a rudderless journey of discovery, you need friends and associates to help figure it out. I enjoyed the company of other musicians, music and humour were the driving forces, what else really motivates us anyway…?
So, growing up in Melbourne's northern suburbs, I discovered it was populated by interesting weird musicians, so I stuck with them. The creative world is a place I like to inhabit.
Toward the end of secondary school I met up with Ken Gardner, we were both members of a local Brass Band. He was on cornet, I was of course on percussion. This really was a defining time. The murder of John Lennon at the end of that year was a big shock, we were about 16 at the time and were getting further into the Beatles and Sgt Pepper related stuff in particular. It was a kind of catalyst for a few of us to explore 60s music further, and that event sharpened my focus on doing music for a career, there was no option really – life is too short.
Ken played in various school bands, and a rock band that played Doors and 60s covers, very untrendy at the time. We ended up hanging out a lot and had a hilarious number of years playing in bands and generally hanging out doing music stuff.
Anyway, a couple of years after finishing school and dropping out of music courses, I went on to study piano tuning, of all things. During those years I taught drums for pocket money and spent it on records. I ended up with a music career path which never stopped, piano tuning work allowed me the freedom to take all the gigs I could – it was all about playing live for me, a drummer is needed everywhere, Big bands, brass bands, stage shows…Melbourne has always been a city with plenty happening. So I just kept playing and exploring. Gigs gigs gigs…And I still work on pianos.
Early days, the meeting of the like-minded lads, Tyrnaround beginnings?
There was a band I was in, just out of high school, young weird arty musicians, which became The Unstrung Harp after I enlisted Ken to join on trumpet.
The Unstrung Harp was kind of a new wave/jazz thing with sax and trumpet and a female singer. I used to write tunes and horn lines, mainly with Tom the guitarist. We all contributed. We were pretty experimental and out there but in a pop format, and musical weirdness prevailed. I was given Leigh Underhill's address by a mutual friend, we went round to his place unannounced and enlisted him on his doorstep to join us on bass. That band lasted a couple of years. We rehearsed a lot, played around Melbourne a bit and we put out one single, 'Sticks and Stones', which was the first vinyl release ever for any of us. (There's one for the collectors out there… maybe a few hundred were pressed.) Highly exciting days, shortly afterwards that band disintegrated. So that period, 1982-84 was embryonic Tyrnaround era, Leigh, Ken and Myself jamming a lot and finding similar musical influences.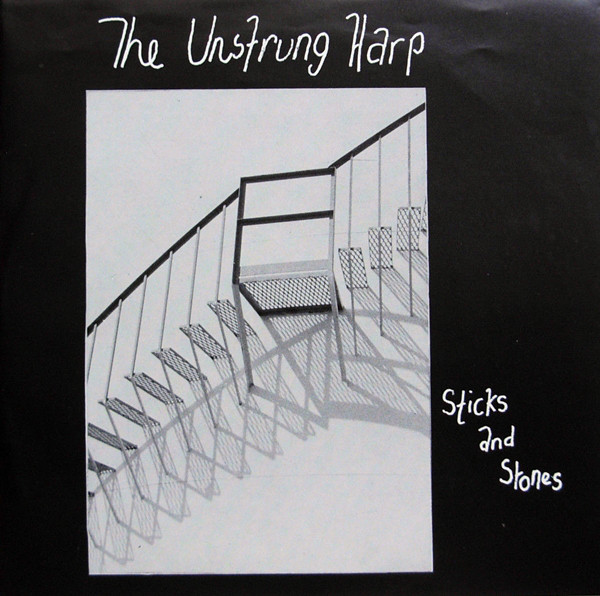 During this time Melbourne had a bit of a 60s club scene, which I stumbled into after meeting a couple of local 60s guys, Ian Marks, and Peter Tyrell. There was a small 60s club in Richmond a few of us used to go to. Other places we would go to, and later play at, were venues like the Seaview Ballroom and Prince of Wales in St Kilda, punters Club and the Evelyn in Fitzroy, Central Club in Richmond. A bunch of us went to see a lot of live bands around Melbourne over those years. This eventually led to me meeting Michael Phillips, the Psychedelic guy from Macleod, who lived on my side of town, about 1984. Michael was a hilarious, somewhat mysterious and very well informed music fanatic.
"It's an ongoing journey of figuring out what's popular, what's culture, what was just filler…"
Michael had a real appreciation of culture and a great memory for trivia, song lyrics and details. Coincidentally, our fathers had worked together years before. He was of Welsh descent, born early 1961 so was about 3 & 1/2 years older than me. We became good friends and I would go there often and just hang out for hours playing records and sharing latest music discoveries. Michael introduced me to other English music, Bowie, XTC, Costello and post punk stuff, I visited a lot and we just delved into further exploration of 60s psychedelic music. He spent a lot of his time studying popular culture and had a lot of stuff on video too, cartoons, music clips, back in the day… It's an ongoing journey of figuring out what's popular, what's culture, what was just filler…
He told me he could sing, he didn't play an instrument.
Leigh had introduced us to his guitarist mate Pete Fidler at some of the Unstrung Harp gigs. Pete was a blues enthusiast who played like Clapton meets Leadbelly meets Hendrix meets Harrison, especially when he had a Strat or Rickenbacker and turned up to eleven.
Then one day it dawned on us that we needed to get together and play some of this acid rock music live. Psychedelic suburban lounge room jamming, playing our favourites from off all the records.
Our first jams were mid 1985 – I was almost 21. Right from that beginning there was myself, Ken, Leigh and Pete. I sang lead from the drums at the time because someone had to.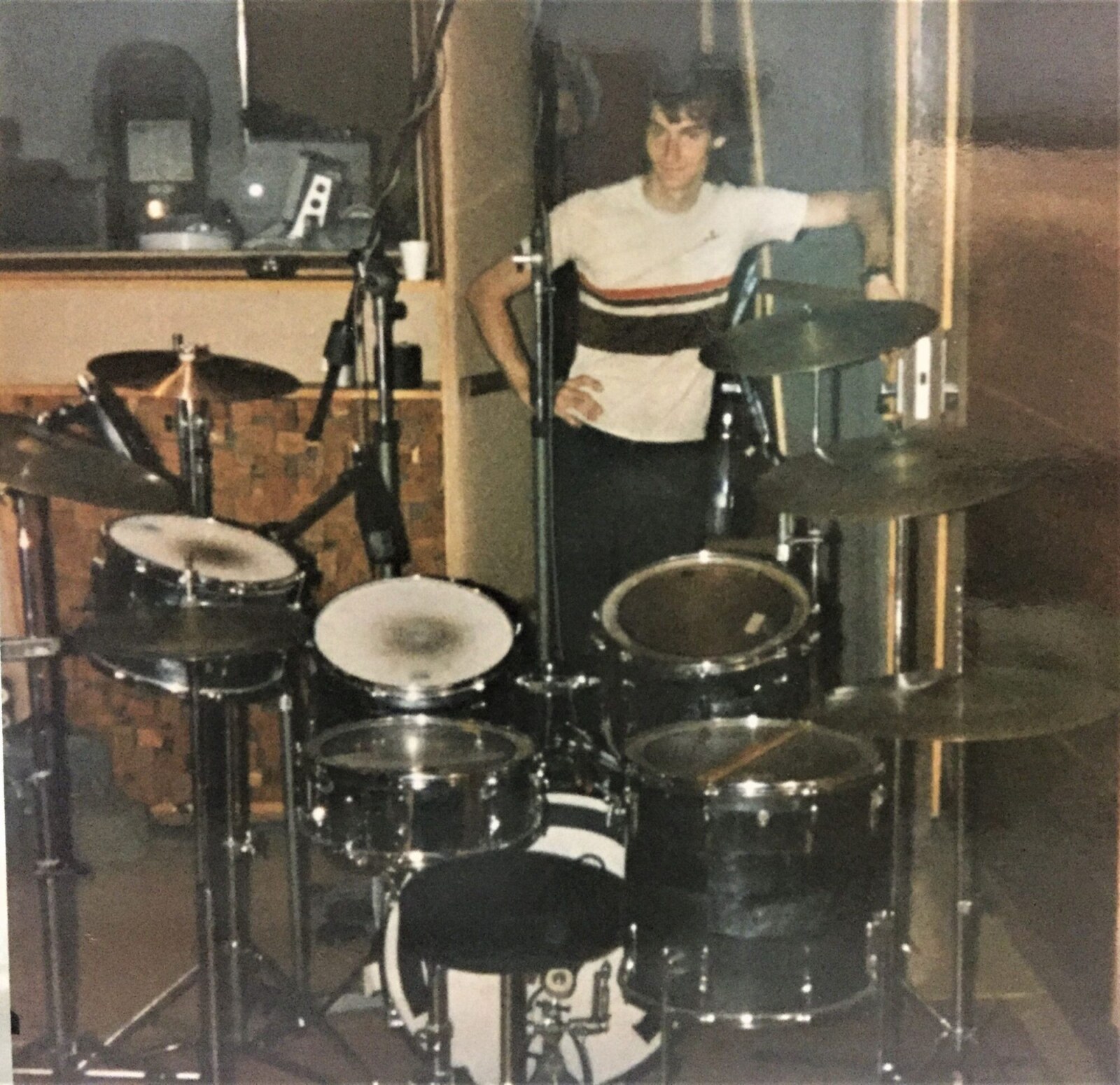 Ian Gardner came along to a jam as potential vocalist once, however I'd met Michael around that time and there was just no option really. Michael was definitely the guy for the job, but he hadn't sung in a band before, so we had to convince him he could do it. He was nervous at the start, but totally up for it in the long run.
What were you listening to? What influenced your sound?
The Beatles, Pink Floyd, The Who, The Beach Boys, Pretty Things, The Byrds, CSN & Y, King Crimson, The Doors, Bowie, Queen, Hendrix, Small Faces, Stooges, Gentle Giant, Godley & Creme, Stones, Zombies, The Easybeats, Zappa, Rush, ELO, Led Zep, Nazz, Steve Miller, to name a few, were all part of our misspent youth over these years. There was a bunch of those compilations coming out like Pebbles and Mindrocker, Nuggets and the Psycho label, released after about 1979 following the 70s punk movement. It was a real adventure and education, digging up all this stuff. And as you meet other people they introduce you to different stuff, there's so much music out there. Bands like The Jam, Elvis Costello, U.K. Squeeze and XTC were doing the 60s style in a contemporary way, which made it relevant and interesting to our generation who just missed it the first time round, because we were like 3 years old in 1967! Of course we all had our own personal favourites, but this was common ground for us all.
There was so much other stuff going on in post-Beatle pop culture during those years, music from the 1960s was almost old-fashioned at the end of the 70s into the 80s…so it was a bit ultra-retro long-haired anti-fashion to be into Beatles and and 60s stuff then. The Beatles psychedelic years ticked a lot of boxes. The interest expanded outwards from there.
"We basically took our inspiration from the incredible sounds generated in studios by US and U.K. rock musicians between 1966 and 1970."
Now…Ken's older brother Ian had a big record collection, and he was an avid collector of 60s and psychedelic music, you know all those one-hit wonder multi-coloured record covers that might contain a bunch of pop tunes and then have one totally tripped out production number….he had all that stuff in the 1980s, really obscure and bizarre original vinyl, he had a big influence on our musical education. We still keep in touch. Pebbles, Volume 2 was a memorable favourite and starting point. The Smile album was still an unsolved mystery then…I borrowed a bunch of Ian's records over time.
So we basically took our inspiration from the incredible sounds generated in studios by US and U.K. rock musicians between 1966 and 1970. As anyone who has read this far would know, the era was rich with experimental, groundbreaking creative music, a golden moment in the business where musicians and producers were given a heap of artistic license, and there's so much material to hear. I'm still discovering it today.
What equipment did you use?
We all set off with fairly original gear and equipment which was the basis of the sound, and as we were all fanatics of the genre by that time, it was not too hard to develop the sound we liked. Young musically educated punks making a racket I suppose. We played the songs on the appropriate original gear.
I had Premier drums. Great 60s rock drum sound. Zildjian cymbals of course…
Ken had the Vox and farfisa stage organs- for that early Floyd nasty reedy sounds, and for the Doors effect. He had a Hammond as well, way too heavy to lug to gigs. He got a Roland reverb amp later on which was phenomenally powerful.
Leigh had a fender jazz bass and an ancient bassking amp. Later on a much bigger amp appeared. Leigh and myself were fans of Progressive Rock, so that's a cornerstone of the style as much as anything else.
Pete had a whole succession of guitars, I recall a pink canora played with violin bow for a time, there was definitely a Rickenbacker, a Vox teardrop and a few others, they seemed to change periodically. Amps were Vox AC30, which would sometimes shoot purple flames from the valves, and a Goldentone amp with orange fabric and TV legs. All this helped create our tone and looked cool as well.
I bought a cheap old PA and had a van, so we were prepared and set to go.
The name. Why Tyrnaround?
Well you gotta call it something. I called us the Neon Raincoat (named after a fish) for the first gig. We were messing round with 60s style trippy spellings, Leigh suggested Neon Turnstyles and I came back with Tyrnaround, kind of a retro feeling name with the Byrds spelling. And that was the name, quite early in the piece, by about our third gig.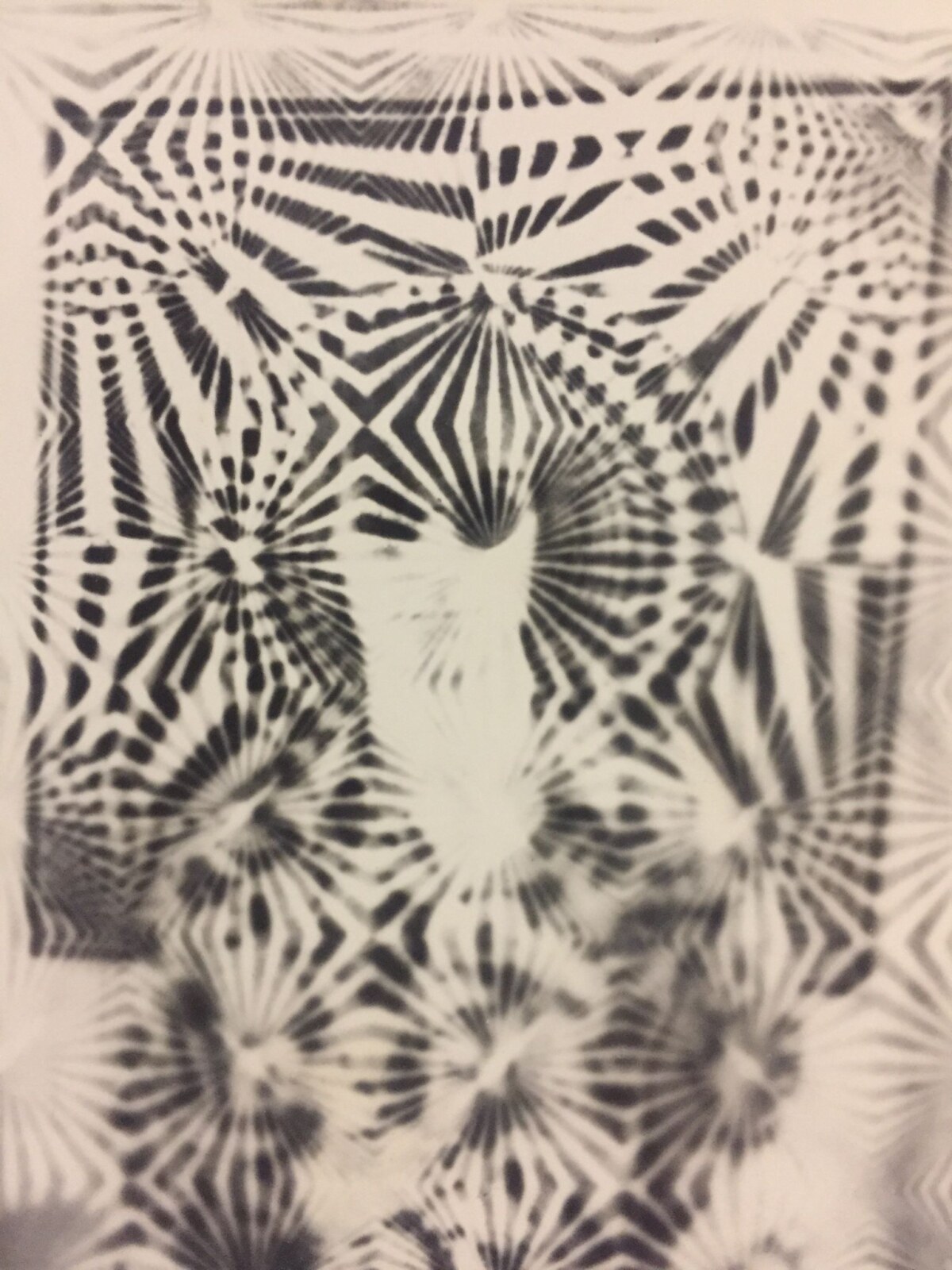 What were your song choices?
Early repertoire from our first jams included-
'Astronomy Domine', 'Voodoo Chile', 'Porpoise Song', 'Francis', 'Pictures of Matchstick Men', 'You Burn Me Up And Down', 'How Does It Feel', 'Sydney Gill', 'Strange Brew', 'World of Pain', 'Tin Soldier', 'Doctor Who' theme.
A few from pebbles and nuggets and some of those Psycho compilations.
Heaps of Beatles, including 'Rain', She Said, Eleanor Rigby – The Zoot version.
XTC released the The Dukes of Stratosphear and in 1986 we heard it. It influenced us a real lot, as a band and culturally as part of a growing reinterest in the 60s. We went even more definitely in that direction….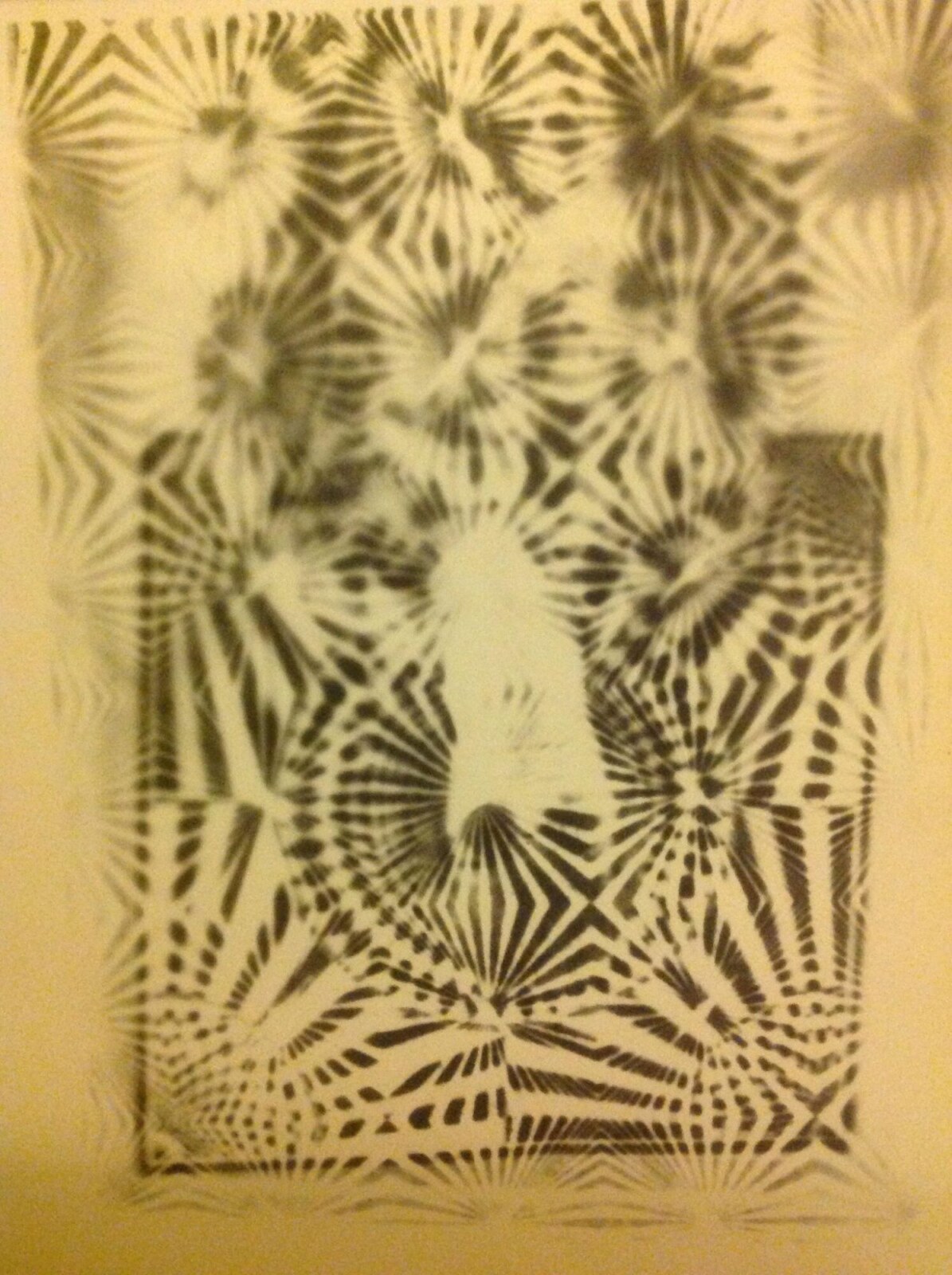 Vocal harmonies are a band's identity, they can glue a bunch of assorted individual musicians into their own unique zone. I tended to be insistent that we integrate vocal harmonies in our music. We had 3 and four part backing vocal stuff going whenever I could force it to happen, and down the track we were doing some great vocal efforts like- 'I Can See For Miles', 'Disguises', 'Eight Miles High', 'Open My Eyes', 'Sgt Peppers', 'Think For Yourself', 'It's All Too Much'
And some of our notable original vocal offerings included-
'This Time', 'Somewhere To Go', 'Look Inside', 'Nothing', 'Keys And Chains'…
The Northern suburbs band scene, the plot thickens, local history….
Early 1986 I moved into a place with Pete Pidler and his girlfriend, it became Tyrnaround HQ, so many late nights, parties and rehearsals on the weekends. We worked a lot on our music and on our partying.
A few months into all this we started writing our own stuff. Generally done as an individual pursuit, and Pete had a cassette 4 track so we could knock up a rudimentary demo recording and present it to the band. Pete wrote our first original, 'Colour Your Mind' around this point. I wrote 'Carroll By Candlelight' and Pete wrote 'Nothing' soon after. Some of our first studio recordings were done at this time.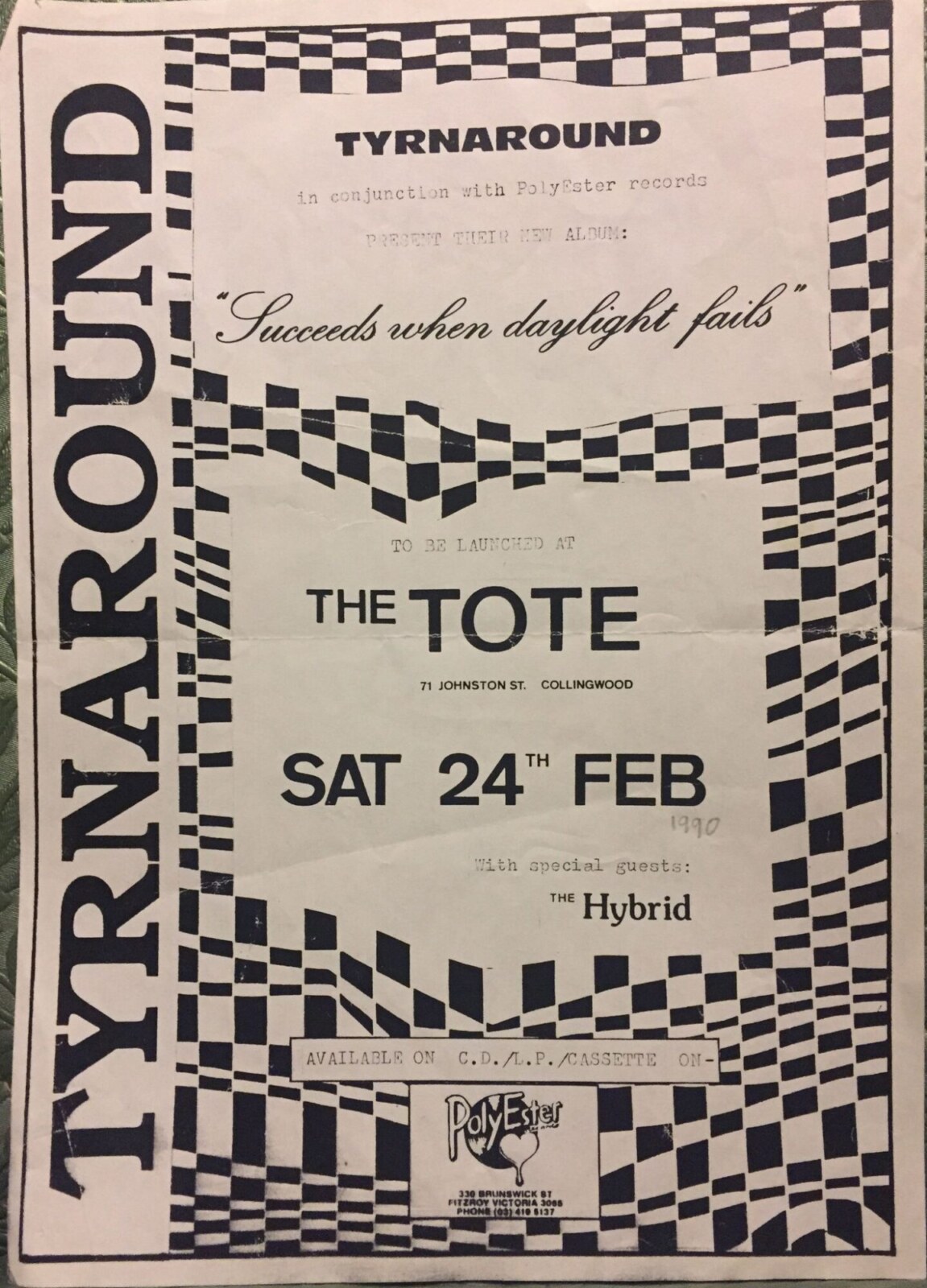 Dave Hannan, a friend I knew since we were kids, and another big Beatle fan…we lost touch for years but eventually reconnected around this time. Dave became our live sound and recording guy. We lived together in Preston 1987-89 and this was definitely the ongoing Tyrnaround years as far as lifestyle went…there were endless after-gig parties at our place, a couple of dozen folks in the lounge room. We were centrally located there, usually our place, Leigh's or Ken's was the destination after a gig, or we would all rock up to many an unsuspecting local afterparty and make a racket…so many parties in those days…. It was student rental territory in the 80s, round Northcote and Thornbury, there was always somewhere to go before and after the gig.
"Melbourne had a thriving underground live music scene covering so many different facets of rock music."
The Melbourne 60s Appreciation Society got involved and the instigator, a guy called Bo, another fan of psychedelia, took on the job of managing us for a while. This connected us up with Maria, Jackie, Richard Finlayson, Leonie and other talented artists, all of whom contributed to the general look and style of the publicity and artwork, highly evocative of the Lysergic style. Michael had a good eye and took photos as well, and later on he did a number of our handbills and flyers.
There was a bunch of different local 60s bands popping up at this point, each with a different angle, so Melbourne had a thriving underground live music scene covering so many different facets of rock music. Things moved fairly quickly for us over the next while, we became integral to this scene for a couple of busy years.
We were a great live band and the local 60s freaks really got into what we were doing. With this extra creative input and momentum, suddenly we were getting all these really relevant gigs as a psychedelic cover band, no one else was doing it quite like us . We got a regular spot at the Velvet Fogg club in St Kilda and the 60s Appreciation Society put us on at all their big '60s Happening' nights which were huge and gave us some local cult stardom. The Seaview, Prince of Wales and the Corner Hotels were some of our bigger regular gigs. We got pretty arrogant really 'cause we knew that we were doing great stuff – we could play our instruments properly and were blowing people's minds somewhat at some big shows. And we had good vocals going on as well. God we were loud; really loud on stage. 110 decibels was measured in a really small venue at least one time.
We played a lot of gigs and rehearsed a heap over those following years, writing songs along the way.
Touring and big shows
We did play a lot together, for years and years…rehearsal most weekends, then a gig or two as well. Tyrnaround's career was almost exclusively Melbourne. There were so many good venues here that we just kept gigging around town. Over the years we did three interstate tours. The 1988 trip to Sydney was based on a couple of gigs with The Moffs, and the 1989 trip to Adelaide was with The Philisteins. Another trip to Sydney to launch the album in June 1990. The gigs went well, we had great times for a few days, came back broke and exhausted and wondered which one of us might want to organise the next tour…we just were not that motivated by the efforts of making the Big Time.
One of our biggest single crowds was February 1995 when we played a full on stadium gig as the support for the original British Invasion roadshow, you know, Herman, Gerry, Jack Jones…the sound of a stadium crowd applauding is huge. But most of our time we were doing the pub scene, like all the other bands, it was a fantastic way to spend a weekend. There's a big list of small clubs that we regularly appeared at.
The local band scene-Bands we would go to see, or play on the bill with, included.
Shower scene from psycho, Bo Weevils, Breadmakers, Shindiggers, Arctic Circles, Moffs, LSD, the Earth Men, the Hybrid, Sunset Strip, Corpse Grinders, The Believers, Mathmos, Speedway, Too Much Hair for the BBC, The Squad, The Meanies, and any number of short-lived mod bands and pop bands. And the Laughing Clowns and The Saints were still gigging then too, we saw them quite a bit.
Special mention -The Gas Babies were a local supergroup playing proper 60s punk in Melbourne around 1984. We were big fans and were inspired by their stuff. I saw them a lot and Rodney the drummer was a wild man Keith Moon kind of drummer with a punk background. I hadn't seen live drumming in that untamed style and this affected my approach a lot.
Can you talk about the songwriting , what inspired you to write your own music…?
Looking over all the Tyrnaround songs, I had four of mine recorded, not a lot, but most of mine were more like two songs in one 'cos that's how I like to compose. I do it pretty slowly, most times. Everyone wrote and contributed their own uniqueness to the work as we rehearsed. I was adamant about the vocals, and all the backing vocals, I'm proud to say, I had a part in singing and arranging…that's always my voice there along with Michael's. We all had a big personal stake in the songs to make it sound like we did, we all contributed even though there was generally one writer per song.
Pete was pretty prolific and wrote the majority of our originals. He came up with 'Colour Your Mind' very suddenly after the Dukes album. I recall that he wrote 'Nothing', 'Want of a Rhyme', 'Somewhere To Go', 'Paragon-Smythe' within the first year or so while we lived together. Pete got a Vox teardrop guitar which had a really chunky rhythm sound, which immediately led to him writing the song 'Vox 1'.
There's usually a few loose musical ideas knocking about, bits and pieces of tunes influenced by whatever you are into at the time – it's a matter of putting them together and fitting them to a band. That's how I've done it anyway, tend to write stuff that suits the group I'm working with after being immersed in the style for a while.
I dunno exactly what provides the inspiration, but there's always some idea and I'll tend to labour it until it's ready. Mainly on piano or in my head. You know, songs are personal property and recordings last forever, so you want to get them done right. Over the years I have worked on a fair bit of music with different band. It gets a bit easier, you get clearer on your influences over time. My lyrics are usually a bunch of one-liners that I somehow jam together and get to rhyme, the actual meaning of it all sometimes only becomes apparent later on.
I wrote the basis of 'Carroll by Candlelight' sometime during 1986, it was originally a mix up of a heavy groove, Pete did the middle section. I sang some Lewis Carroll over it, then I rewrote the whole lyric one night while Michael was over- he saw me do it. 'Hello or Goodbye' was a burst of melodic inspiration sitting in the car one night in 1986. I interspersed the chorus with lots of key changes. I completed writing that song pretty quickly.
'As I Walk With You'… was all about those first 4 chords of the verse and a catchy vocal chorus, 'Look Inside' was written a bit later on in a darker moment. 'Look Inside' was our most epic song to date and took a fair bit of group work to assemble, then to record.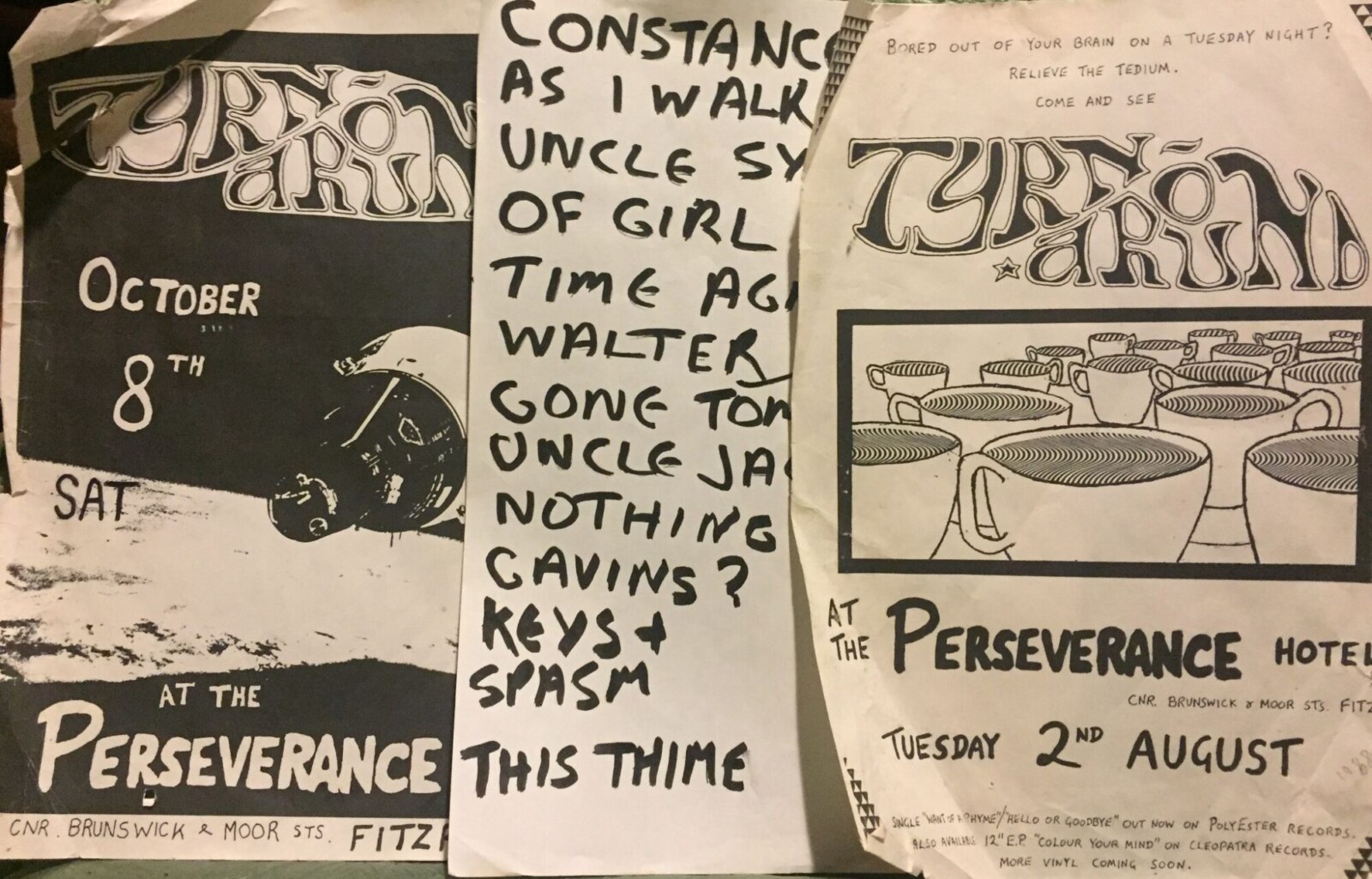 There were a lot of bits and we figured it out over a few weeks. I do like the spy jazz section in the middle.
Musically we went where we wanted to over the years, and the live gigs kind of shifted away from the psychedelic purist thing, due to all the other influences going on at the time. We never lost it, but our original songs definitely started to expand away from it….
Recordings
Pete had a 4 track cassette Fostex, which we made primitive demos on, we worked on the overall sound a lot in rehearsals. We all instinctively knew the sound we were going for, so the music did really evolve as a group thing. We were playing a lot of gigs then. Actual studio recordings were far between and basically limited to how much gig money we had scrounged up so that we could afford to do it.
The first EP Colour Your Mind was recorded over a few different sessions . It sounds remarkably cohesive given our general erratic nature at the time. I guess we got focused when it was required. I never wrote the dates down, but it was 1986-87 and I think the recording timeline went like this:
We did an out of town gig, then went on to a recording session further out of town where 'Carroll by Candlelight' and a first version of 'Colour Your Mind' were recorded. We stayed overnight, Ray Anderson studios was run by a retired star footy player.
A month or two later we recorded three of the Ep tracks at 'La Trobe Uni' where Leigh was studying sound engineering at the time. So he got to record the mayhem for posterity. Everything was done on 8 track two inch tape, standard in the 80s.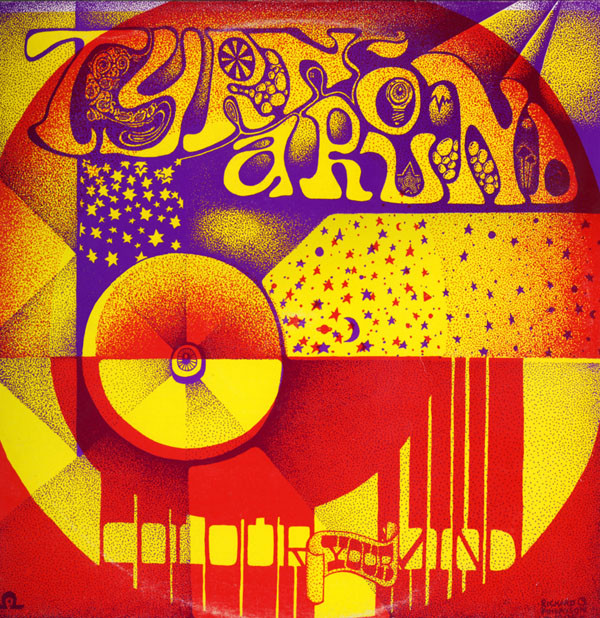 The 'Colour Your Mind' on the record was the version from Latrobe.
'Suicidal Flowers' and 'Francis' were two of our best covers. We only had our two original songs available at the time.
'Paragon-Smythe' was done at Latrobe, I don't remember exactly when but it was a bit of a one off somewhere in that timeline. I recall Pete writing it at the Thornbury house in 1986. It was recorded on 8 track, dubbed onto a cassette then the master was lost (student public access studio) so that one singular cassette mix was all we had. It's rough but sounds alright, and it's very lucky we had it at all. It was only ever issued on that Flexi disc until now. It makes me laugh to hear it now. It fully encapsulates the loopy humour of the band and the influences we had.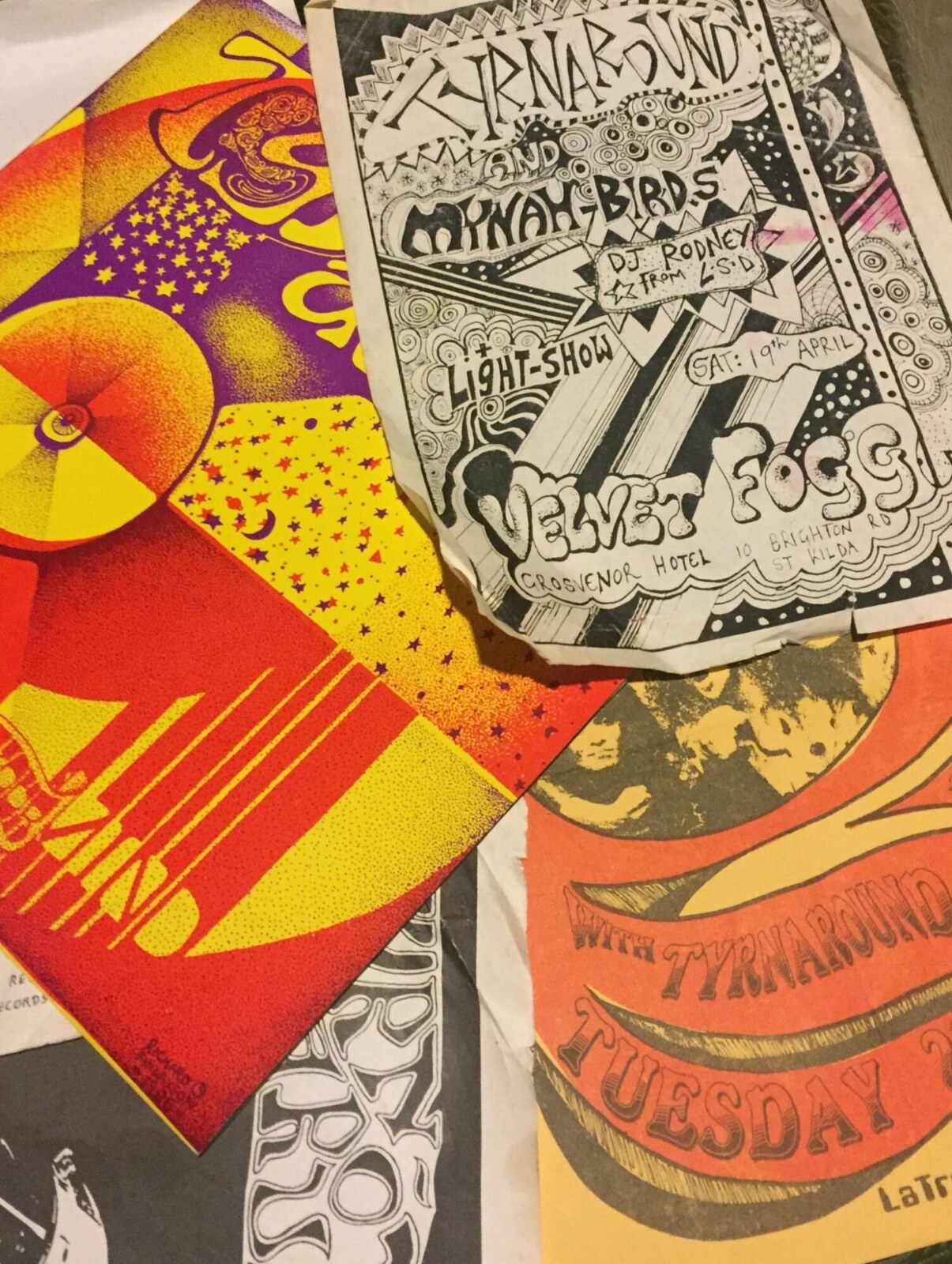 'Hello or Goodbye' I wrote in 1986 and Leigh recorded us at Latrobe in this period. That's me on piano.
The sound of that first EP is to be marvelled at, it's primitive, noisy and authentic, just what we wanted. This latest Guerssen release is remastered off the vinyl and does it full justice.
I reckon the first chord of Francis on the record pretty much sums up our general attitude… Pllllannnggggg!!!
"Heavy groove, heavy riffs, insane noise on top."
Michael always likened the 'Colour Your Mind' guitar sound to a sputtering electrical fuse shooting sparks out of control…that kind of vibe was our specialty. Heavy groove, heavy riffs, insane noise on top. The recording is fantastically noisy.
The Ep was issued twice. I believe there were two pressings of about 500 each. Many copies went overseas. The second lot mainly went straight to Europe and the UK. We had a bigger following overseas, and we enjoyed the notion of being a bit mysteriously obscure and influential. Who is this mystery band from across the planet?? We had a very high obscurity rating last time I looked.
We released the EP on Cleopatra Records, (who had previously put out the Unstrung Harp single). The main aim in those times was to get your record out. You didn't just stick it on the internet, it was a proper ordeal to record, get independent releases, distribution and so on. As young musicians you just wanna get it out there at all costs.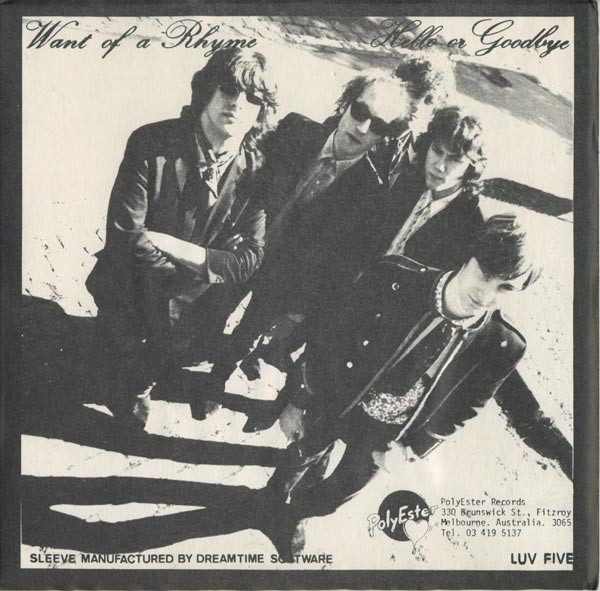 The two Singles;
'Rhyme'/'Hello or Goodbye' March 1988
A bit later on we recorded 'Want of a Rhyme' at Silkwood studio in Fitzroy. Rob Zucca, who was doing live sound for us at the time, engineered this one. 'Hello or Goodbye' was the other side. This single was released on Dreamtime, a tiny label, most of those 7″s went to England I think. We had to fold the printed covers ourselves.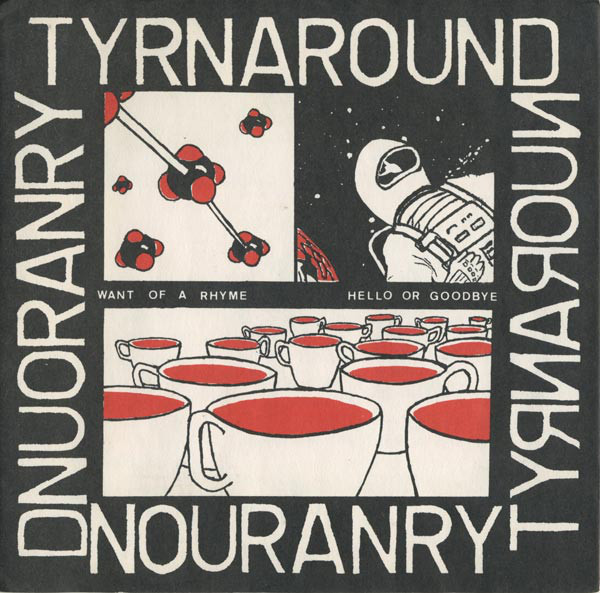 The 'Uncle Sydney' Single, two songs about weird uncles… Polyester release on purple vinyl in 1990 soon after the album came out.
The instrumental solo on 'Uncle Jack' was guitar and keyboard duet, that bendy synth sounds like a sawtooth guitar…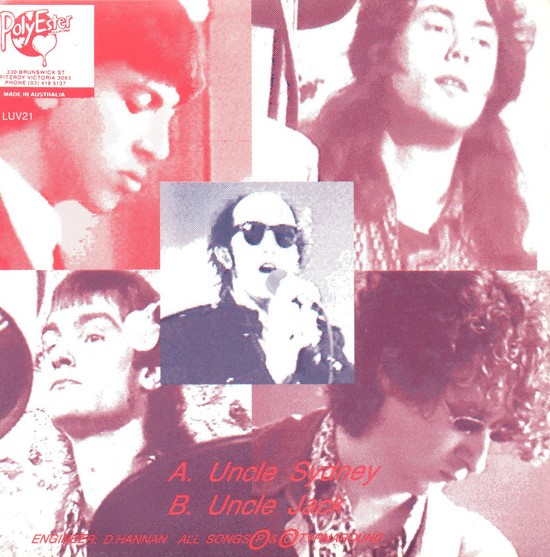 We borrowed a small harpsichord that Ken plays on 'Uncle Sydney'. And that's actual real Preston rain at the start of the track.
Succeeds When Daylight Fails album was released on Polyester Records. Launched in February 1990.
We went back at Silkwood Studio to record album tracks, now with Dave Hannan as engineer/producer. It was all completed over what felt like a long time, probably two years with gaps, I'm guessing between 1987-89.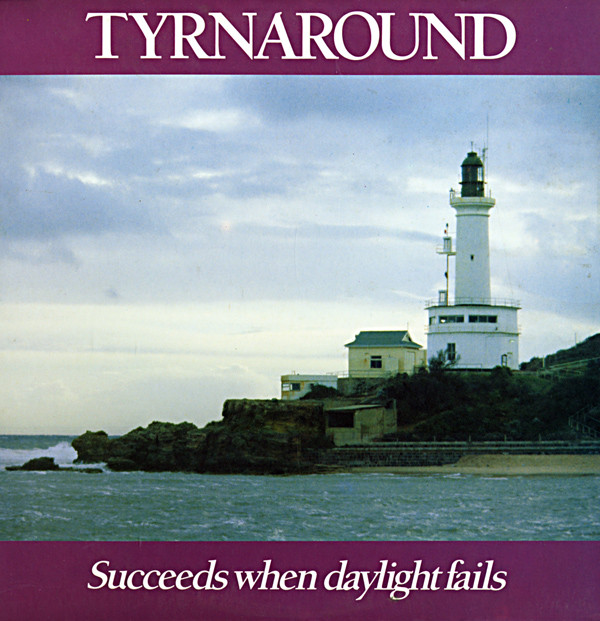 Studio recording can be arduous, we generally did bass and drums first then overdubbed everything else at later sessions. Guitar and keys, vocals on top of it all. This was just how it was done at that time. Sometimes it's harder to achieve a good feel when you put the rhythm section down first, but we ploughed on and it worked ok overall.
Ken got three songs on the album, all different with a 60s punk kind of mood. Leigh got one recorded. I got two. We played all these songs in the live set, so they were fully formed before we recorded them, the record documents our efforts pretty well.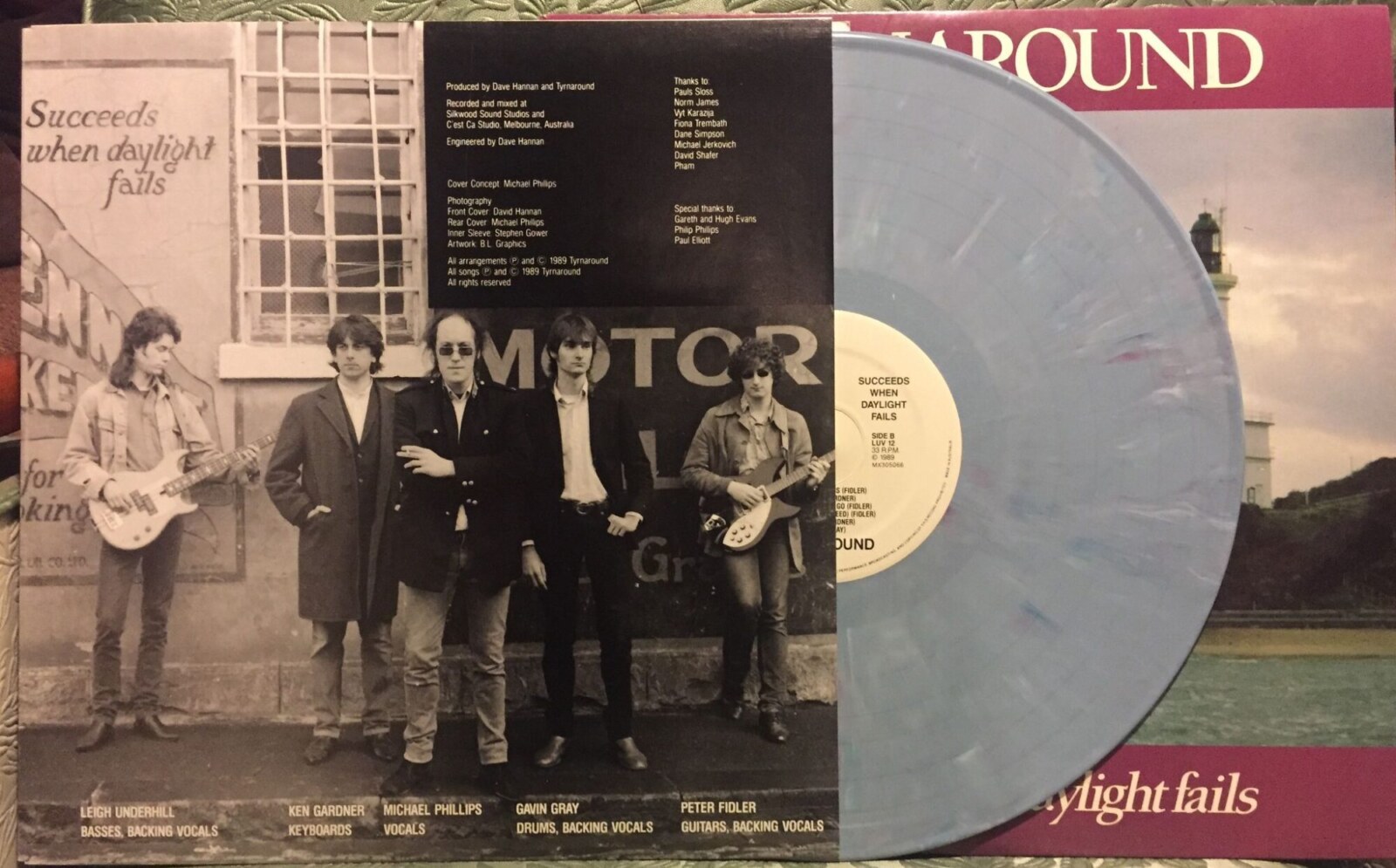 One of my songs is 'Look Inside' which I still like to listen to. An epic song for the alienated, with heavy King Crimson influences.
Pete wrote 'This Time', which was another big track, it goes in all directions. We pulled out our finest Pretty Things vocal styling for that one.
'Constance' was an older song of Ken's, written maybe 1982. I remember being really impressed by that song at the time and insisted that we take it on.
Later again we went to Cest Ca studio in Collingwood to finish off the album tracks, I remember Pete's 'Keys and Chains' was done there. That's a standout track, one of Michael's finest recorded vocals.
We did a lot of work on all those recordings, lots of overdubbing sessions when we could afford it. It's a bit of a blur, because it wasn't a definite bunch of sessions, we booked in when we could. A lot of effort went into production and mixing too. Overall I reckon all the songs sound great and the sounds stand up well today.
The album cover art was not what fans expected and in hindsight it didn't help sell the music. It was going to be released on coloured vinyl but due to some kind of pressing fault they were all scrapped before release and done on normal vinyl. Big anticlimax…one copy remains. The album insert photo is a good rock band shot of us all, in front of an old wall advert in Fitzroy. It's painted over now.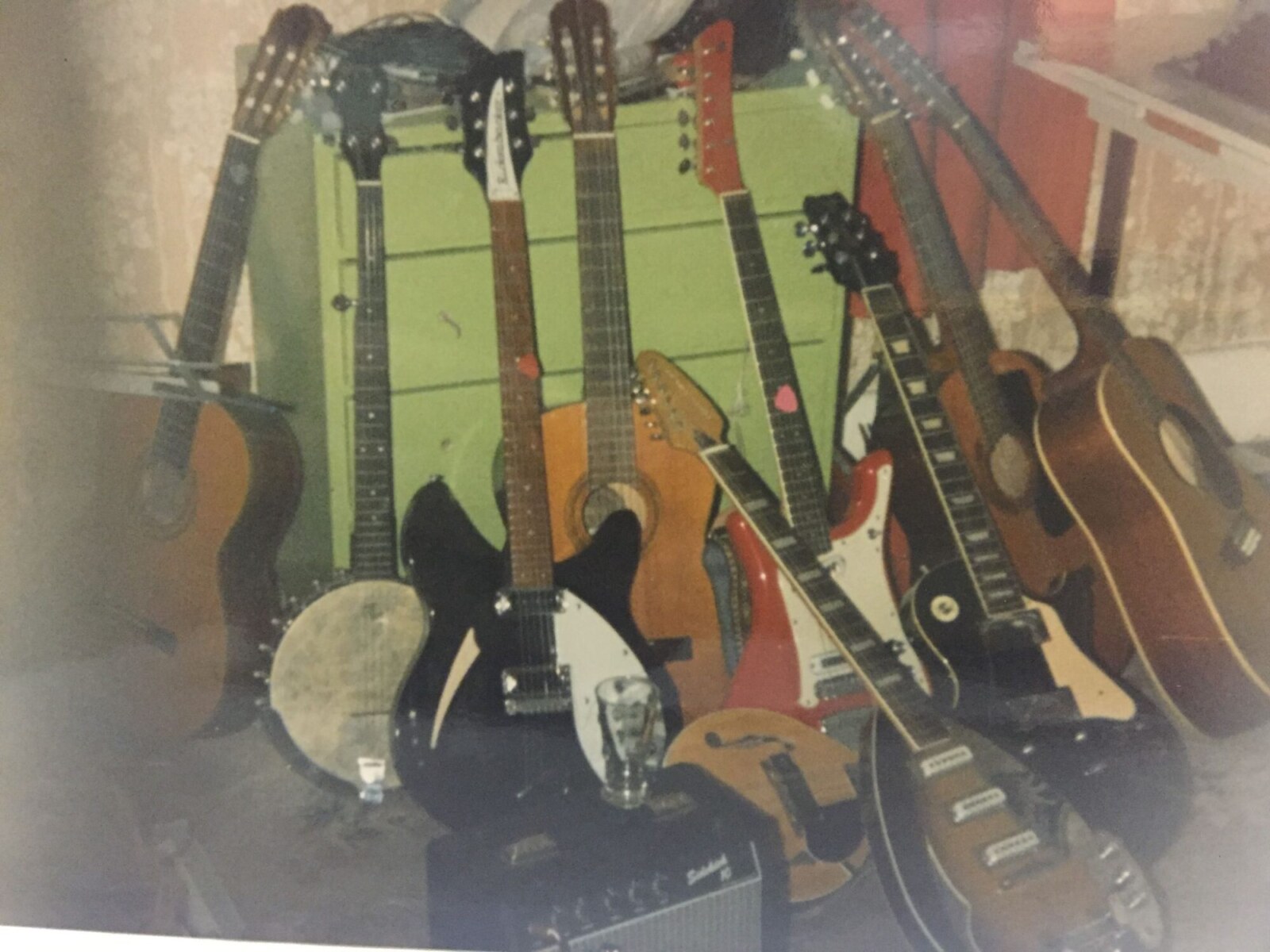 We did the official March 1990 launch at The Club in Collingwood, that was a big night.
We released pretty much everything we recorded, there's no leftover stuff from those sessions. There are a few songs we never quite recorded, from the live set later on. Two more of mine and a couple of Pete's appear on a pirate live video, but they're not good recordings, I would want to redo them from scratch before anyone hears them…I wrote a few other songs around the same time, some of which have resurfaced in other bands, you know, there's always ideas lying round in your head and it's a shame not to let them out somewhere. I recently finished writing and recording one which never got past the confines of my brain for like 30 years, jeepers it's that long ago…(Refers to the song 'Walkin in My Direction', recorded by The Pearly Shells on 'Went Down Swinging' released on Belmar Records.) It might almost have been a Tyrnaround song.
A couple of years later, Polyester Records later reissued most of our recordings on the CD -Tyrnaround, Go Back in 1992, which was a nice package and great swirly cover art, much more appropriate. It was a good retrospective issue, although we had pretty much stopped playing live by that time.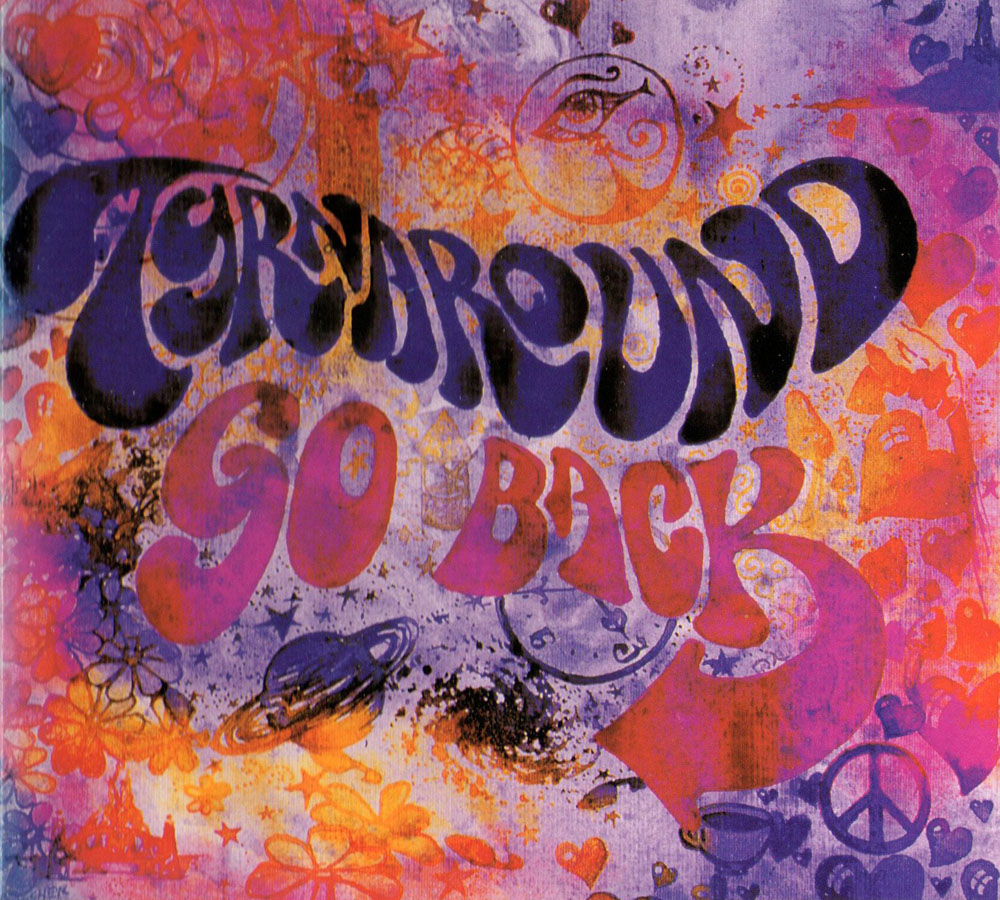 Film clips
We made films for four songs. Some are on YouTube.
'Colour Your Mind' was done around Thornbury on Super 8 film. There are a couple of copies on an obsolete video format. We gotta fix that up, you won't find it online. It's a great clip that Maria made, along with lots of stills, the same 1986 period as the cover shot for 'Hello or Goodbye' single.
Liam and Kylie made the other three film clips, they were fans and media students at the time, we really appreciate their efforts to get us documented.
'As I Walk with You' was filmed around Thornbury and in our stable/garage at Bell St Preston.
'Nothing' was filmed at the local tram workshops in Preston, I still live nearby.
The other clip was for 'Constance', done in a student studio at Melbourne Institute. Not too fancy, but there it is, and a good song.
To the end
Leigh and myself got ourselves employed with professional show work for a time, which limited our other availability, but Tyrnaround still did some ultra-late night gigs. Once we found ourselves having to self-manage, we discovered how under-organised we were…it's a hard and constant effort to keep a band going, and all that combined musical talent doesn't guarantee success in the long run….For various reasons we had lost management, and our ongoing business model turned out to be the usual rock and roll band chaos. The gigs became fewer and dwindled away as the 60s scene dissipated and shifted- we just kind of ran out of steam as an entity. I had other music career choices I didn't want to turn down, so other opportunities took over for me. Socially, as friends, we never really split up, the band just kind of slowly finished up as we got on with our individual lives. 28/10/94 at the Evelyn hotel is the last gig I could find in the old diaries. Sometime a bit later was one more singular pub gig which was unofficially our last performance as Tyrnaround.
Fortunately we basically kept ownership of the recordings, which are ultimately the legacy of any band. They stand up well, don't they?
In May of 1997 I assembled a large band to perform Sgt Pepper 30 years gig, live in full. The basis of this band was Tyrnaround, plus about 12 other musicians. We did this show three times over the next year. September of that year we appeared on the back of a truck in the Melbourne fringe festival, crowd of thousands. They were good, big shows, a fitting way to move on from it all, back to the roots, and the last gigs the five of us did together.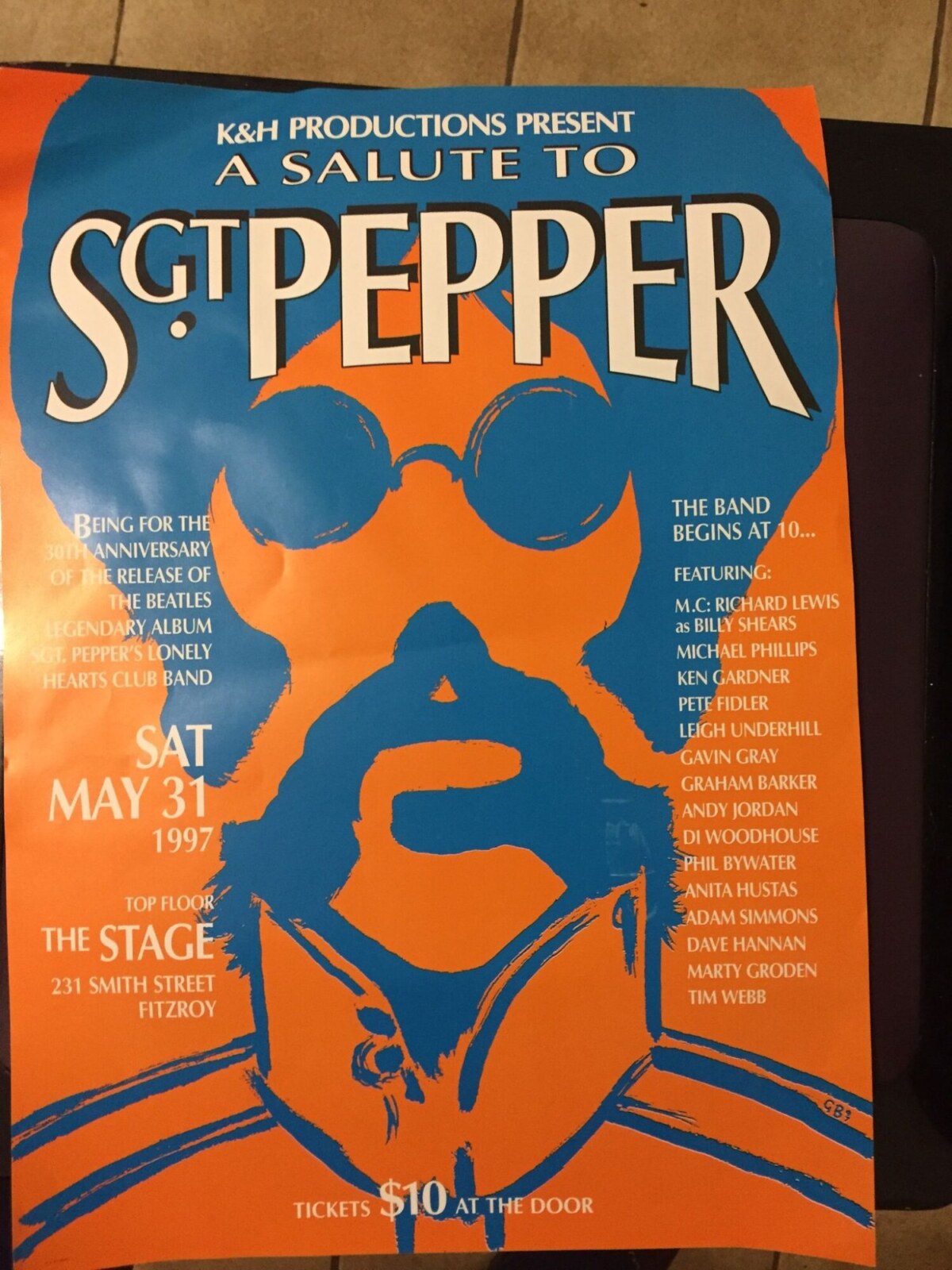 A further Beatles band, The Quarrelmen, was born out of this project. We formed for a White Album 30th anniversary gig Nov 1998, and this band has been gigging on and off since.
Michael Phillips passed on in May 1999, during the time we were rehearsing for another White Album gig. Depression is a hard thing to fathom, you never really know what's going on in other people's heads.
I'm so glad to have known Michael and to have got him onto the rock and roll stage, where he was so suited. He was integral to our style, our humour, image and onstage delivery.
What's everyone doing now?
There are so many bands we've all done since, stage shows, recordings, originals, covers, festivals, the collective list of band names would be very long. In between getting on with general life stuff we have each maintained a solid music career.
I think we're all hooked on playing live music any way we can.
We do catch up socially now and again, and occasionally a couple of us play together, but the local scene is big and has kept us all occupied in many different directions since Tyrnaround.
Briefly, and keeping it relevant.
Leigh Underhill married and moved over to Ireland in 2000, he has kept up a successful Bass and keyboard career. Most recently Leigh was an instigator of this latest reissue.
Pete Fidler has immersed himself in more acoustic music, mainly, and is a virtuosic slide dobro player in high demand around the festival and recording circuit. Much other stuff too.
Ken Gardner has played in all sorts of local acts, mainly in horn sections, including some living legends and survivors of the Melbourne scene who were playing in bands during our time.
I've kept up gigs, tours, writing and recordings with plenty of bands, original and other stuff, always on drums and vocals. Piano tuning also.
And now….The Guerssen EP reissue 2020
This latest release puts us in a wonderful historical perspective, these are great recordings, remastered from vinyl or best possible sources, with the usual Guerssen high quality pressing, packaging style and information. It's this release that's got me rethinking about our place in it all, thus this interview…
I'm really glad we made our mark on the acid rock world, our records got a cult following overseas even though we never toured far from home. It's really good to know they dug it on a wider scene, so to speak. Musically, I reckon we achieved more than we might have noticed at the time. We are all stoked that we have had this kind of attention. We left a good legacy, this proves it and they can't take that away!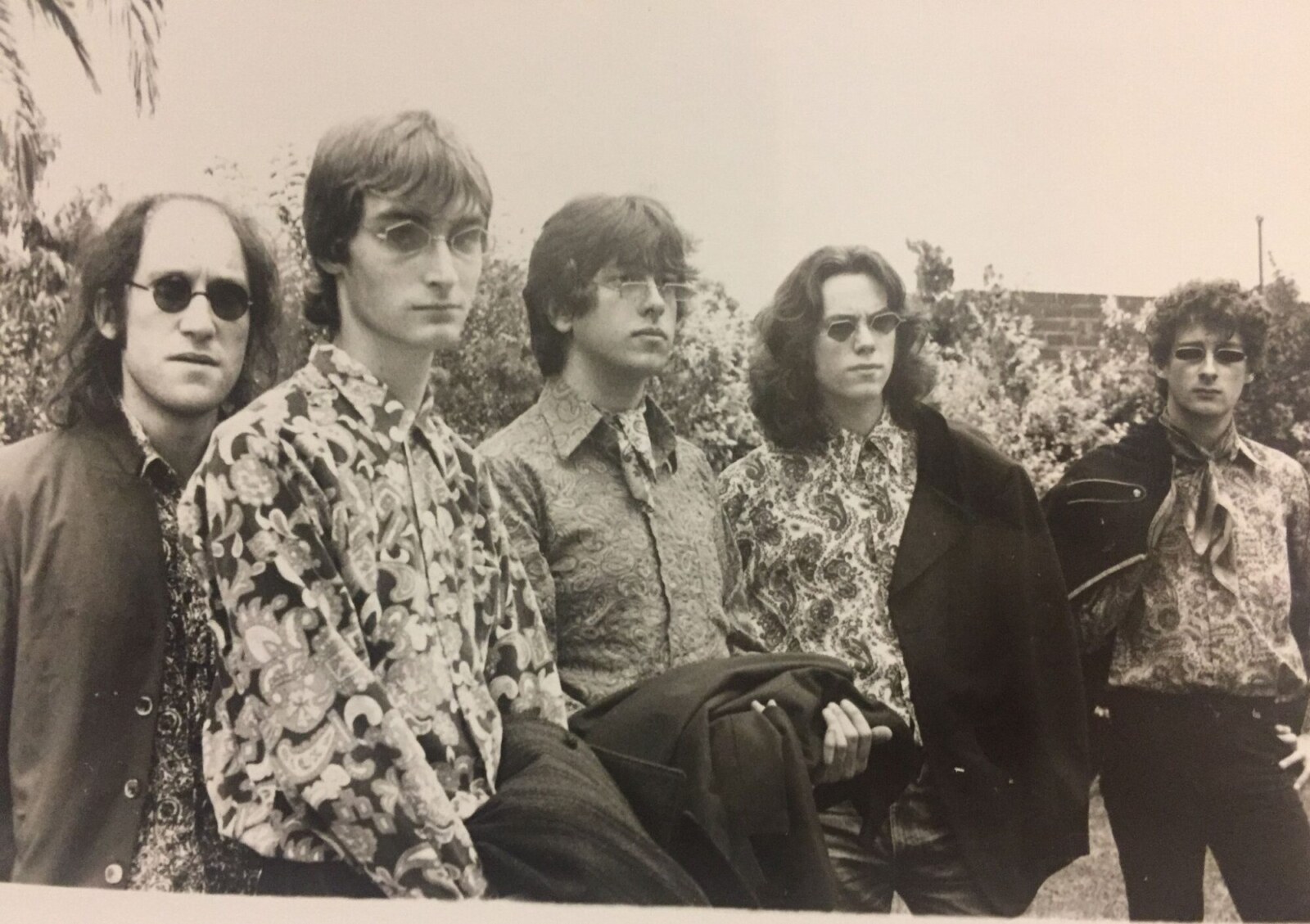 Last word.
It was the best of times…we were really committed to doing it well, it was heavy…. It's been some years now. Pete and Ken still live nearby and I catch up with them now and again. Sometimes there's a murmur of doing something with another singer. We could never do it the same without Michael of course, and it's almost impossible to envisage an attempt to reignite the whole thing…we're all separate people these days…. Sometimes you gotta just leave things alone. Having said that, there are still a few songs unrecorded from back then, and I have a brainfull of leftover song fragments from way back then…. There would be a 'leftover ideas' album there. Now and then a couple of us get grand ideas to do something, and it could be interesting to get in a studio again. Everybody has a sound studio in their office these days, and you don't even have to be in the same country to record anymore…who knows?
– Klemen Breznikar
---
Guerssen Records Official Website