The Tangerine Zoo interview
Psychedelic rock band The Tangerine Zoo formed in 1967 in Swansea, Massachusetts, near Boston. In February 1968 the long awaited LP and single are released. Seven of the nine songs are original songs written by the band. Six of these have 'psychedelic' arrangements. Another album, Outside Looking In followed before they disbanded. The band consisted of guitarist Robert 'Benny' Benevides, guitarist Wayne Gagnon, bassist Tony Taveira, organist Ron Medeiros and drummer Donald Smith.
---
How did you decide to use the name "The Tangerine Zoo"?
Tony Taveira: At first we were called The Flower Pot. We found out that another group had the name, so we decided that it was best to change our name. So on our way to a show we started throwing all kind of names… then our drummer yelled out "Tangerine Zoo!" We all started to laugh out load. Quickly then we all stopped laughing and soon all of us agreed to use the name The Tangerine Zoo.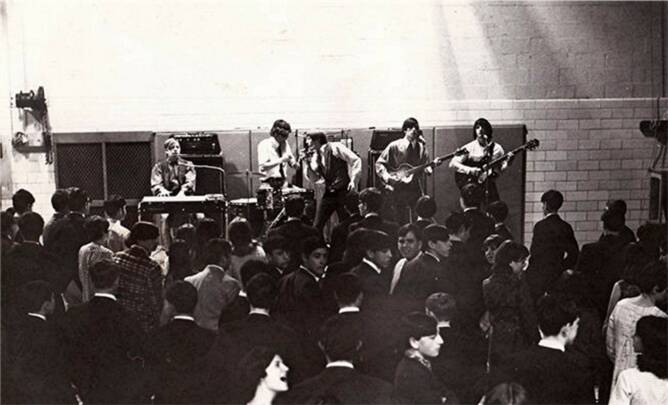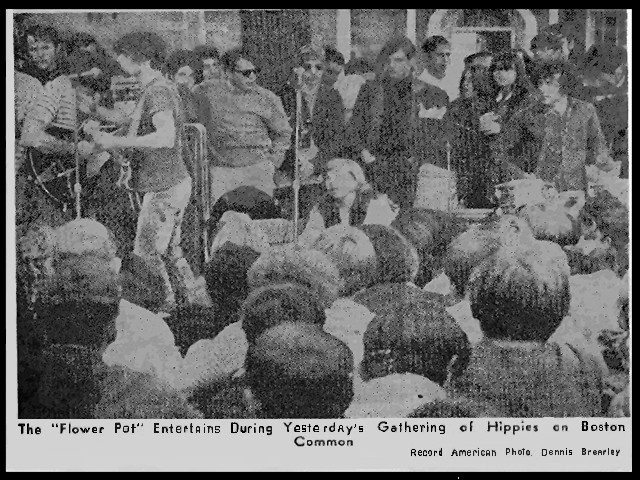 What influenced the band's sound?
We were in Newport, Rhode Island and The Vanilla Fudge were playing the same gig as us. We got to look up to them. They became sort of our big brothers. The arrangement on "One More Heartache" was actually their arrangement. We were cocky and none of the groups other than The Vanilla Fudge that we idolized.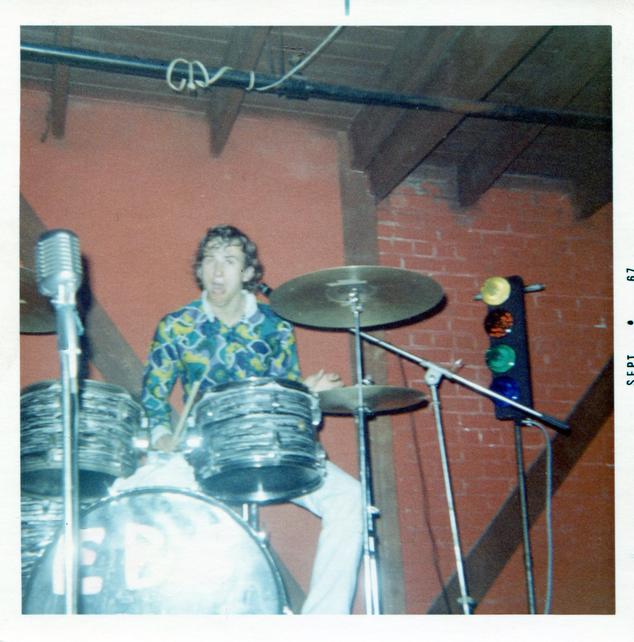 Did the size of audiences increase following the release of your debut?
Yes! The gigs became more frequent so did the audiences, but we weren't alone – the whole music scene was growing. I'm going to add something here! Out of all the gigs that we played I didn't see no violence, stabbings or gun violence. The worst thing that happen was some clown was throwing pennies at me, they hurt and the roadies took care of it.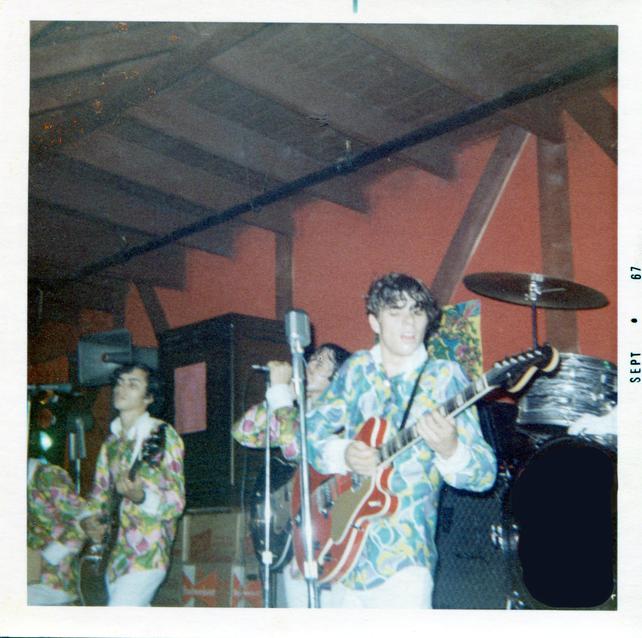 How did you get signed to Mainstream Records?
We auditioned for RCA, Atlantic Records and Mainstream Records in New York City. RCA and Atlantic wanted to record a song on one 45rpm and if the 45 was a hit then an LP would follow. Mainstream promised LP and a 45rpm. So the three 19 years old guys and two 21 years old guys decided to give it a go!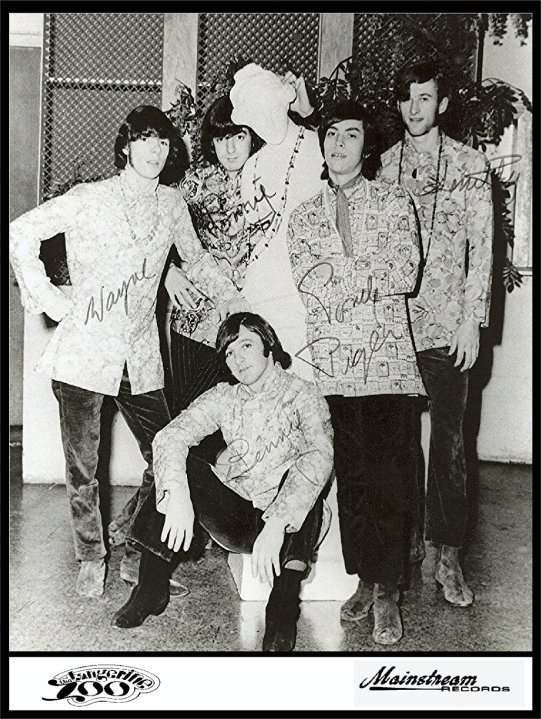 What's the story behind your debut album? Where did you record it? What kind of equipment did you use and who was the producer? How many hours did you spend in the studio?
We recorded it in New York City. Bob Shad was our producer. He also produced Janis Joplin and Ted Nugent. Our album took 13 hours for 9 songs. Let me tell you I never been so nervous to hit the wrong note while we were recording.
Please share your recollections of the sessions. What were the influences and inspirations for the songs recorded?
We recorded late at night. From midnight to 5 am. It was cheaper at those hours than prime time to record. The first album was driven by the hippies and sole music. As you look at the first album you see that we were all over the map! The second album was produced by a local DJ named Vic Armen, along with Bob Shad. Armen wrote "Confusion", "Wake Up Son", "You I Love" and "Farther Down The Road".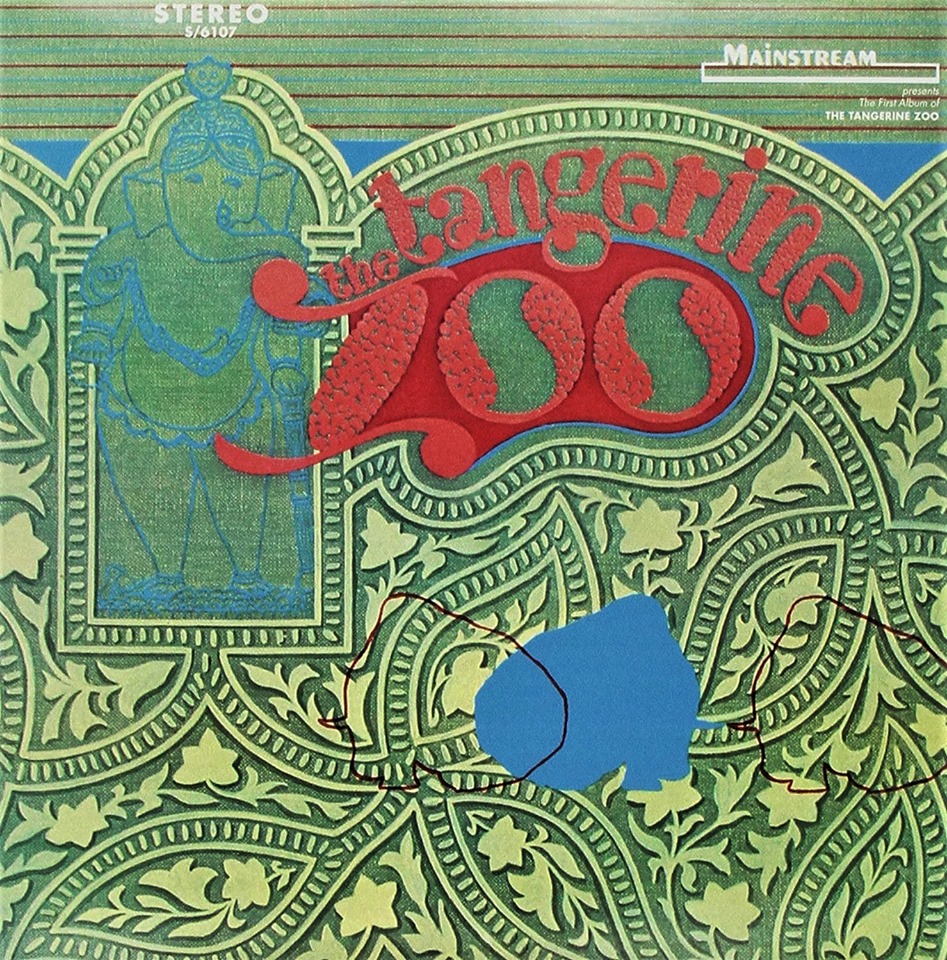 Would you share your insight on the albums' tracks?
All of the songs were very different from each other.
Were you inspired by psychoactive substances like LSD at the time of writing the album?
Yes and no. We used alcohol and very little pot. No LSD. Our music was difficult to play and getting high would have been a no-no.
How pleased was the band with the sound of the album? What, if anything, would you like to have been different from the finished product?
We were pleased with it because we had nothing to compare it to. We got together as a group only six month before the release. We thought we were the cat's ass.
Did the band tour to support the LP?
We played everyday. Sometimes we played two gigs in a day.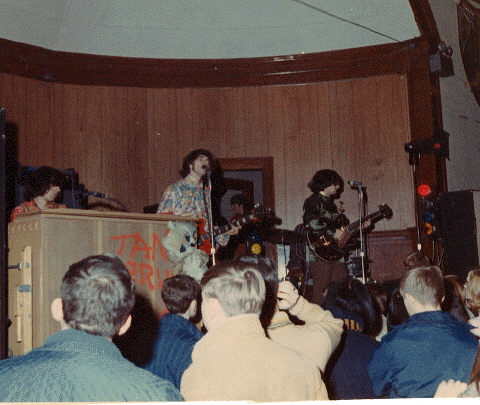 Was there a certain concept behind the album?
Not really. We were just happy for the success that we were having and nothing more than that.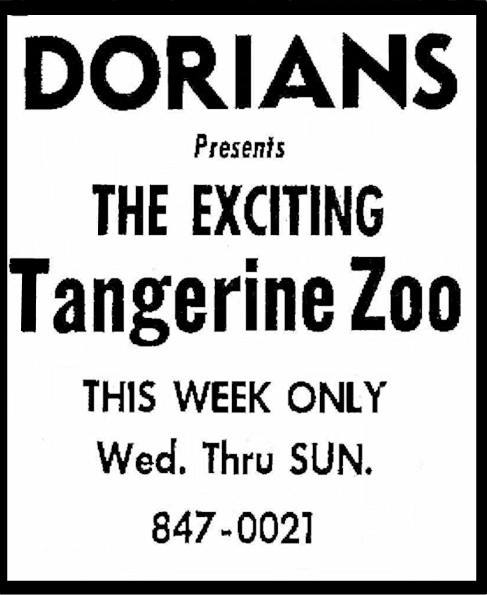 Do you consider yourself as part of the Bosstown Sound with bands like Ultimate Spinach, the Beacon Street Union, and Orpheus?
Yes and no. We got labeled as Bosstown Sound, but we identified with Rhode Island more than with the Bosstown Sound.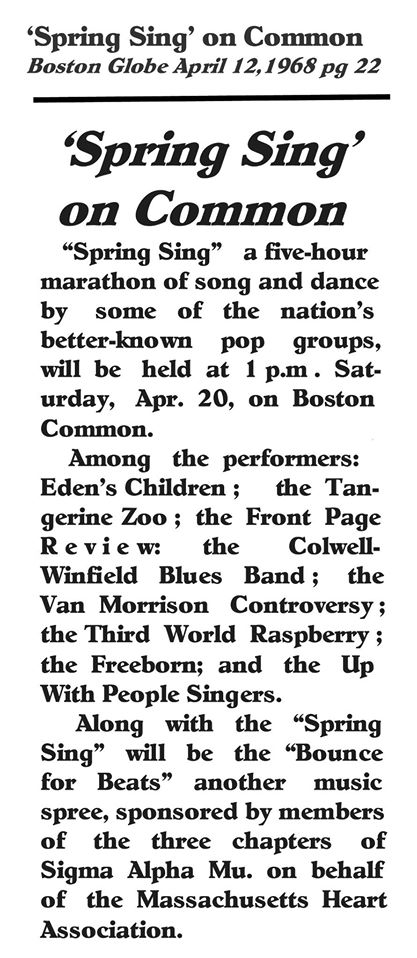 How about your second album Outside Looking In? What's the story behind it?
A lot of people got involved in creation of Outside Looking In. Mainly a local DJ by the name of Vic Armen. The album didn't sell as good as the first one.
What happened after the band stopped? Were you still in touch with other members? Is any member still involved with the music?
We all stayed in touch with each other. I married Benny's niece (still married 50 years this coming October). We played 1988, 1998 and 2008 for Wish Come True and virus fund raises. Benny and Ron have died. Smitty still plays drums in a christian band. Wayne and I are in contact.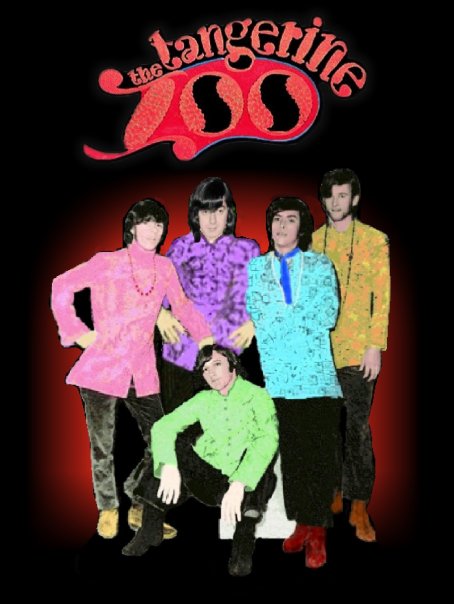 How about Wadsworth Mansion that released an album on Sussex label. What's the story behind it? 
Wayne was recruited by Steven Jabecky to be his guitar player. Steve wrote the song "Sweet Mary" which became a hit song. They toured the nation in 1971. Wayne was on the dating game but not selected. I joke with him saying that if it was me I would have been selected.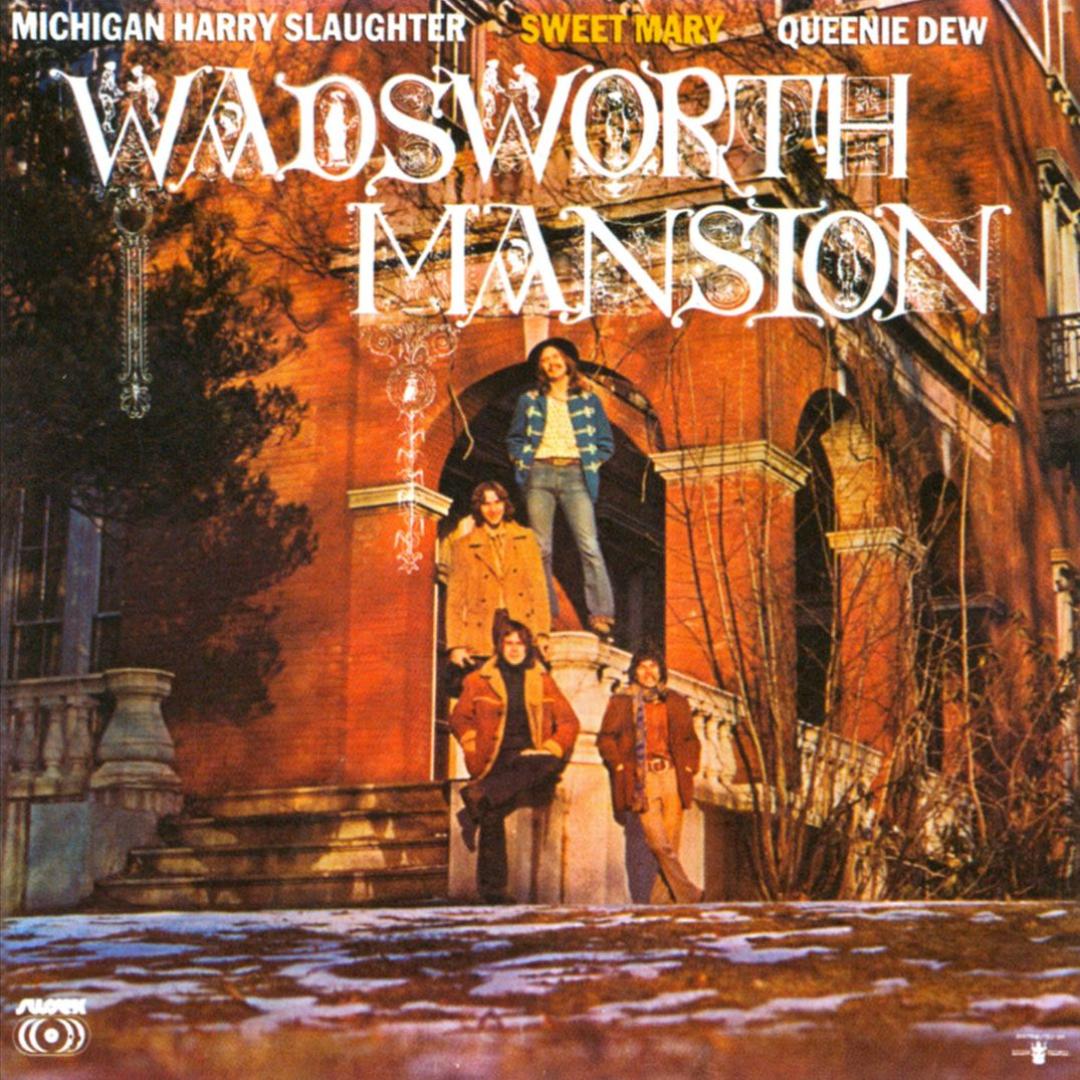 Which songs are you most proud of? 
"One More Heartache" and "Gloria" from the first album and "Can't You See" and "You I Love" from the second album.
What are some of your favorite memories from The Tangerine Zoo and the 60s in general?
Playing Rhode Island Civic Center, Boston Tea Party, Outdoor Boston Commons, The Clubs in Newport…
Is there any unreleased material?
There is a song recorded called "America". Benny and Smithy recorded it in the late eighties.
– Klemen Breznikar
---
The Tangerine Zoo Official Website
The Tangerine Zoo Facebook