The Only Ones – 'Live In Chicago 1979' (2019)
Here's one that's been kicking around now for a few months and it's fairly safe to say that I've been slowly and surely letting myself become utterly absorbed in it.
---
Caught on tape by Tim Powell of Metro Mobile Recording and broadcast on Terry Nelson's Sunday Morning Nightmare radio show at the time, the recording captures the Only Ones at what surely would've been a high watermark of the group's original lifespan, as their 1979 US tour stopped off in Chicago. Now issued on CD, download and (sadly now sold out) limited edition red vinyl LP with fan club-style inserts, poster etc, this is an epic document and purchasers are sure to be spellbound when they hear them pounding out this bountiful selection of material which, in time, would feature across all three of their albums. What's more the group executes their performance as if their very lives depended on it. After listening to this thrilling snapshot I dare anyone to croak out any of the lame excuses which used to be levelled against the group as a means of just trying to bring them down: y'know… they're too old to be punk; oh they're far too rock to be real punks… that kind of thing… and, of course, perhaps the one that held the most truth, the one about them being too close to the punk thing to be taken seriously by, or to be considered as, true hard rockers. The group certainly possessed strong elements and qualities which belonged to both the punk and the rock realms, but I'm guessing that some of those critics at the time never properly wrapped their ears around such numbers as 'The Big Sleep', 'Miles From Nowhere', 'Peter And the Pets', 'No Solution' … or indeed such as 'Live in Chicago 1979's terrifying set concluder 'The Beast'. It's worth noting too that all above-mentioned titles, and more, demonstrate a deep commitment and unwavering determination – a large part of the true spirit of punk. This spunkiness defines the Only Ones to their very soul, and also adequately shows that they could rock out with abandon, and just as hard as any of their peers.
The Only Ones had, and to this day still do have, a sound that's truly innovative and incisive, their songs brimming over with a mysterious and almost desperate edge. And they also produced certain songs that could bounce along with inherently melodic passages here and there; a bonus in almost any group; examples include the brilliant twists and turns which heralded their seven-inch debut 'Lovers Of Today'. And what of their genius second single stroke, 'Another Girl, Another Planet', which deserved a much greater success story to tell – if all of us were to come back in a thousand years time I feel sure that this would be one of those songs still blaring out of whichever device the earth's inhabitants of the future world would be utilising for the enjoyment of music; most likely it'll be beamed and streamed from directly out of their heads – and how apt would that be for a song such as this; for a group such as this! Their nonchalantly wasted image, and in particular the decimated features and debauched persona Perrett put forward only added to the intrigue, mystique and danger of it all.
So if you were swithering over whether or not to get "Live in Chicago 1979", I cannot recommend it enough. It's a highly engrossing affair that's both raw and alive, and shows them to not only have a truly kinetic grasp on their craft but also on the material.
To put all this into some sort of context, although the Only Ones are a highly individual and fiercely original group, their music does occasionally illuminate what had gone before., their backlight casting a glow upon such as the Velvet Underground & Lou Reed (obviously) and Bob Dylan (most likely), but there are also echoes of Syd Barrett too… while some of the dramatic scenes and arrangements recall early Mott the Hoople, Alice Cooper, the Sensational Alex Harvey Band … yet the sounds also act as a pointer towards such contemporaneous delicacies as Television, the Soft Boys and Magazine. However, all of this is conjecture, or at least more symbolic of them being like minded souls than having any real tactile influence, but as I was listening and soaking in it, I thought it was worth noting.
Throughout this thoroughly engaging live album spectacle, lead guitarist John Perry is magical, his fingers flashing up and down the fretboard in an electricifying display of quicksilver elegance. And in their role as non-passive anchor men, former Beatstalkers lynchpin Alan Mair's bass propulsions are as instinctive as they are deftly-placed, likewise the action-packed, supple kit manipulations of Mike Kellie – his finesse and expertise honed with mid-to-late sixties and early seventies grafters the VIPs, Art and Spooky Tooth; together the pair form a well-oiled, precision-led engine room. Meanwhile out front guitarist / vocalist Peter Perrett is nothing less than commanding, his spiky, rhythmic shards and drawling vocal exhortations complementing the dark-heart romance and danger-filled, oftentimes apocalyptic visions depicted in the lyrics, and beckoning everyone to enter into the dream, or the nightmare of his / their choosing. "I can't take it anymore", he weakly confesses… elsewhere triumphal lines celebrate: "you and me that's our destiny / we can conquer the world"… and later still a stark warning concerning the deep temptations that lurk outside "the modern vampire prowls … he's spreading disease / it's an epidemic, if you don't believe me you ought to take a look at the eyes of your friends…".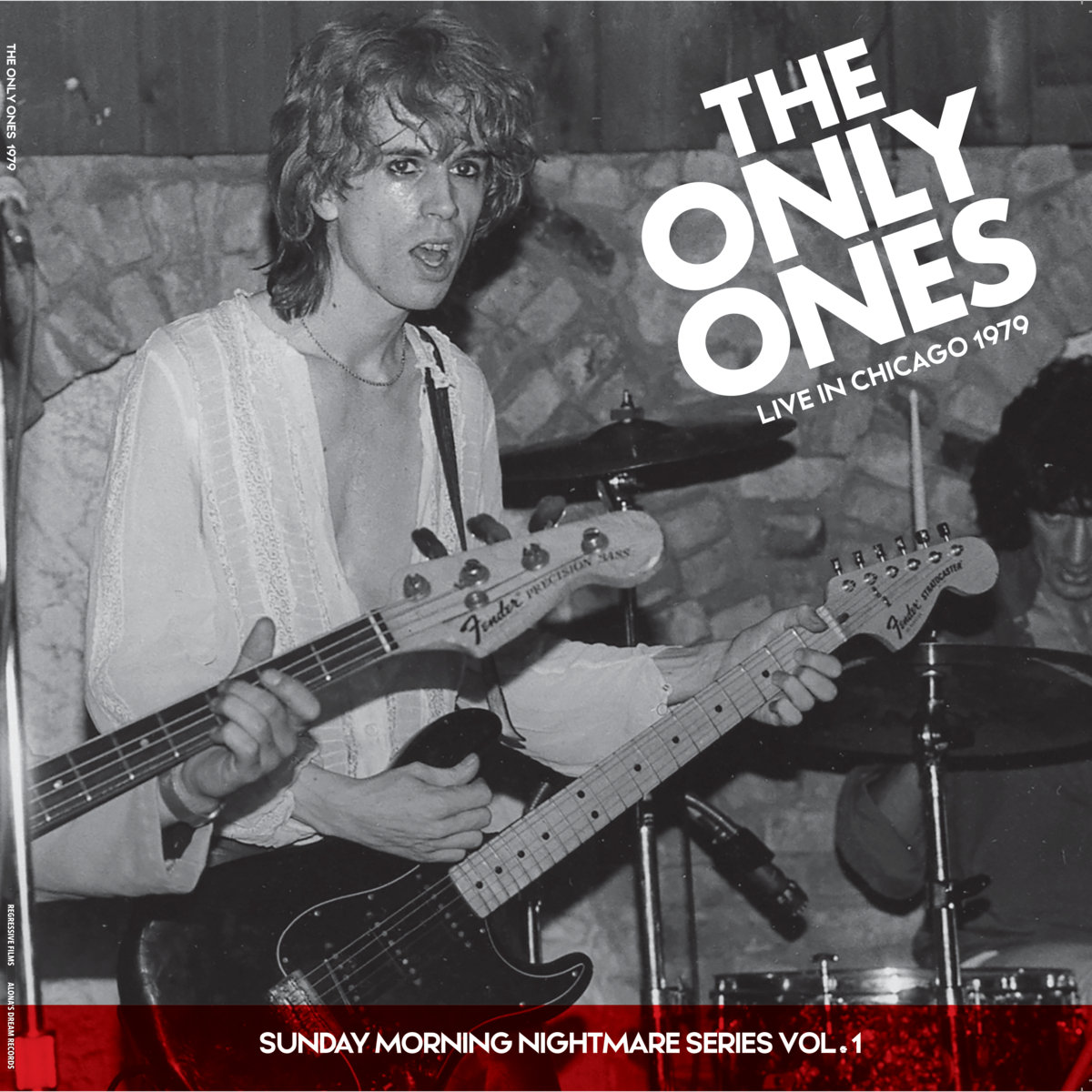 It's a frightening scenario and a perfect end to the excitement. Moreover, this and the whole picture that "Sunday Morning Nightmare Volume 1" paints is testament to their brilliance, that they were one of the most daring, dangerous live attractions on the scene; much more significant than what they are given credit for most of the time. And lest anyone forgets, the Only Ones remain a hugely important, and still relevant piece of the punk era puzzle.
– Lenny Helsing
---
The Only Ones – 'Live In Chicago 1979 Sunday Morning Nightmare Volume 1' (Alona's Dream | Regressive Films)