'Shared Particles' by AK/DK
'Shared Particles' by AK/DK.
---
AK/DK announce third album 'Shared Particles'! Released 28th August 2020 via Little Miss Echo Recordings. 'Shared Particles' propels itself relentlessly forwards, thrusting onwards in pursuit of a finish point that may never come. The two-piece have always loved the motorik of the 70's like Kraftwerk and Can, whilst describing themselves as "like a chunkier Devo" – bands that reveled in the journey as much as the destination.
AK/DK aren't re-imagining the past though; the title track, frenetic in its squalling feedback and breakneck pace, the duo setting it towards orbit with a hefty dollop of mind-melting psychedelia. As anyone who's seen their high-octane live show might suspect, the challenge for Chivers and Sowerby is squeezing all of that sweat-drenched energy of a packed club onto record.
"We really wanted to combine the two elements of the band on this record, both live improvisations and more studio based songwriting" they explain. "What we really miss in the studio is the live audience and we've definitely tried to capture the spirit of our stage shows and the ebb and flow of the energy in the room, whilst still putting together songs and ideas."
Thematically AK/DK are sprawling – writing the record was done amidst thoughts of how the internet and social media can unite and divide society, and how political forces have been able to manipulate these tools.
"Really, though, our message is one of togetherness and unity," they say. "It's quite a strong political message in itself when people come together for music."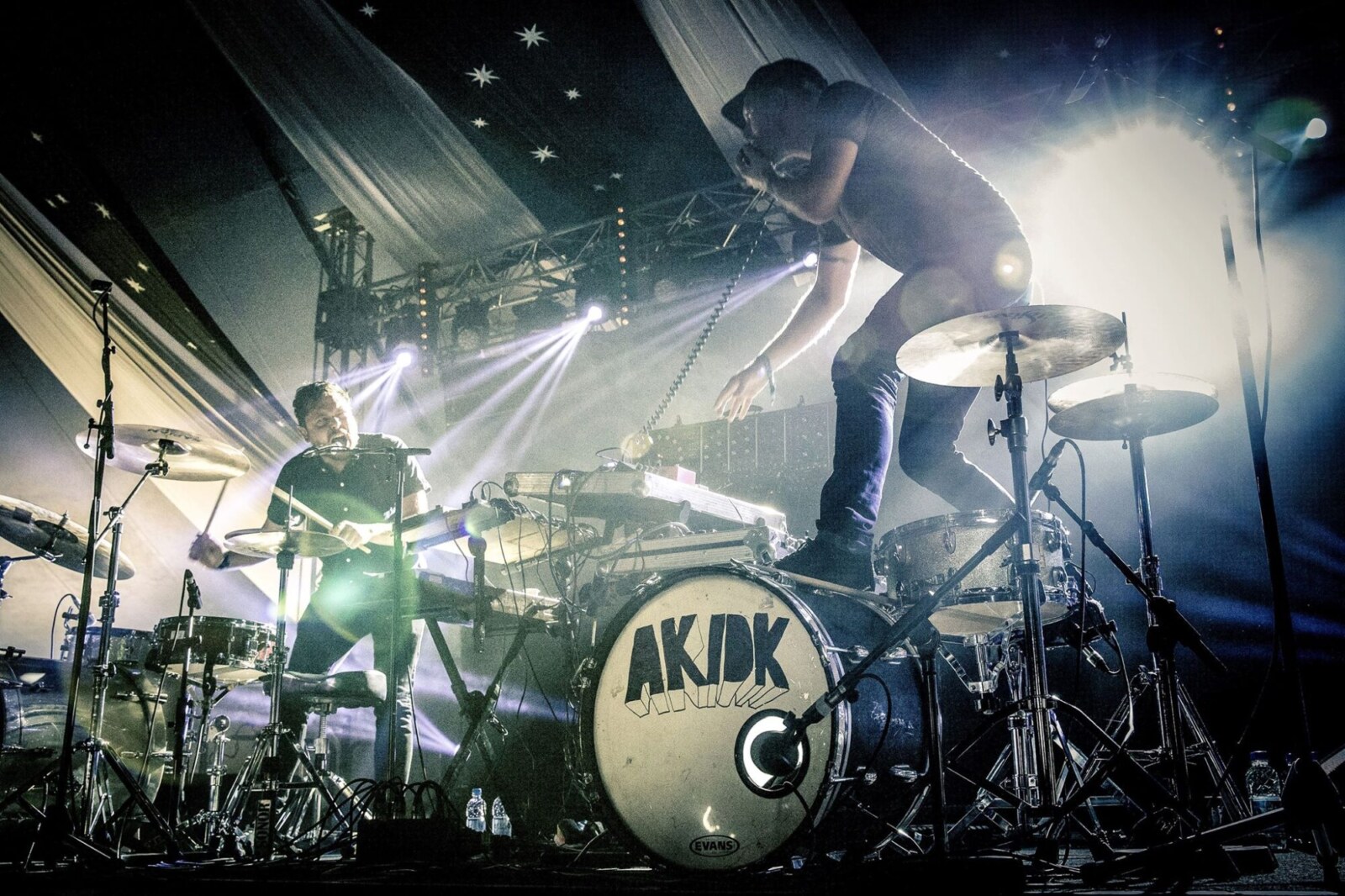 Ultimately it's that message that holds the band and their music together. As the name Shared Particles suggests, we are all as one living together, and this is music that could've found a home everywhere from rave and free party scene to the punk community. AK/DK's initial ethos was to break down the invisible screen between stage and audience. They've always tried to capture that on record, and this is the closest they've come… so far.
---
AK/DK Official Website
AK/DK Facebook
AK/DK Instagram
AK/DK Twitter
AK/DK Bandcamp
Little Miss Echo Recordings Bandcamp