Kursaal Flyers – 'Little Does She Know' (2020)
Within a 12 month period beginning in 1974 the Kursaal Flyers played a BBC session with John Peel, got a record deal and were set to tour Europe with the Flying Burrito Brothers. Amazing how quickly things moved for the band, originally a six piece, and the complete recorded history is told in RPM Records' new four disc box set "Little Does She Know" which takes its title from the group's one touch with stardom, a top 20 UK hit on their third LP from 1976.
---
On their journey, however, the Southend, Essex, band left a highly underrated catalog of three studio and one live album, as well as numerous underrated singles in their original lifespan and a generally ignored 1988 comeback album that is unquestionably the best, and most true to the group's original intentions, of all their releases.
The Kursaal Flyers began life as a sextet composed of bassist/vocalist Dave Hatfield, banjo and guitarist Richie Bull, steel guitarist Vic Collins, lead vocalist Paul Southworth, drummer Will Burch and lead guitarist/vocalist Graeme Douglas. Just before the band turned pro Hatfield left, however, with Bull moving to bass. It was this quintet, with Burch and Douglas as main songwriters, who recorded the band's two 1975 studio albums "Chocs Away!" and "The Great Artiste". The albums are country rock in nature, with Collins' pedal steel guitar dominating much of their sound, standing in stark contrast to the original vision of the departed Hatfield and lead guitarist Douglas, whose influence and role in the group would increase over time as the band's sound evolved, becoming heavier and more rock oriented.
The band's debut "Chocs Away!" was considered demo quality by the band, but released on the UK Records label anyway, followed by a six week tour with the Flying Burrito Brothers, and the LP did receive good reviews although sales were less than impressive. Country in nature, the album did contain pop influences and tasty guitar work by Douglas on tunes such as "Pocket Money" which remained part of the band's live repertoire throughout and the tongue in cheek titled "Hit Records" both tunes penned by the duo of Burch and Douglas as were six of the LP's eleven tracks. The album's two singles, "Speedway" penned by Burch and non-band member Dave Murdock, and the previously mentioned "Hit Records" a Burch/Douglas composition, both failed to click with record buyers, perhaps because they were more pop rock oriented than the rest of the band's tunes. The remainder of "Chocs Away!" is country rock, with Collins' pedal steel dominating the sound. The band quickly followed up with the "Great Artiste" another country rock long player with Birch and Douglas contributing eight of the ten tracks. Despite fine performances including a cover of Nick Lowe's "Television" the LP yielded only one single and sales were much like its predecessor. The album was co-produced by the band and certainly deserved a much better fate as the listener will discover inspired numbers such as the Bob Dylan influenced title track and the album's highlight, the rocked up "Cruisin' For Love"with Douglas' guitar and Bull's banjo to the fore. The song was re-recorded in 1976 for single release but failed to sell and the group's affiliation with UK Records came to an end, although they quickly signed with CBS Records who saw great potential in the Kursaal Flyers and afforded them much more freedom in the studio as the group's sound evolved.
While 1976's "Golden Mile" retained the band's country rock roots, it added the heavier rock influences desired by guitarist Douglas as evidenced on songs such as "Street Of The Music" a true rocker, and "One Arm Bandit" a country rocker dominated by Douglas' lead line and solo. Douglas' guitar also shines on numbers such as "Two Left Feet" and "When The Band's On The Stand" another excursion into the rock arena. This was followed up on with a non-LP single "The Sky's Falling In On Our Love" dominated by Douglas' lead guitar and soloing. However, it was an edited version of the album opener "Little Does She Know" a gorgeous melody of forlorn love with more inspired guitar from Douglas that gave the band their only hit, reaching the top 20 of the UK pop charts. Disappointed by the LP's performance and desiring an opportunity to exploit heavier music Graeme Douglas left the band, replaced by guitarist Barry Martin, truly a shame as the band was beginning to hit stride and was perhaps on the verge of a commercial breakthrough. "Golden Mile" is supplemented by the edited single version of "Little Does She Know" and its non-album b-side "Girl Side" as well as the non-LP b-side "Revolver" and an unreleased country rock ballad "The Questionnaire" intended for an unreleased studio album which unfortunately was not to be, at least not in the band's original lifetime.
"Five Live Kursaals" a live album from 1977, recorded at The Marquee, its title an obvious nod to the much earlier release by Eric Clapton and The Yardbirds finds the band heading in the direction desired by Douglas despite his absence. The album opening new tune "Original Model" written by drummer Birch spotlights guitarist Martin's hot lead line and solo. Much of the remainder of the album contains heavier takes on tunes from the band's previous releases with "Speedway", "Yellow Sox" and "Pocket Money" from "Chocs Away!" two prime examples. "Crusin' For Love" from "The Great Artiste" is presented in revved up form as are "Little Does She Know" and "Street Of The Music" off "Golden Mile". The non-LP side "Revolver" rocks and a cover of The Easybeats "Friday On My Mind" is a perfect show closer. Disc three supplements "Five Live Kursaals" with the 1977 a-side "Television Generation" a punk influenced rocker, further evidence of the direction the band was moving, as well as three hot, rocking tracks intended for the unreleased 1977 studio album tentatively titled "Mods And Rockers" featuring new guitarist John Wicks, who replaced Vic Collins, and giving more evidence of the new direction the band was headed for. Sadly, with all the promise of their new heavier sound, things began to further implode on the band. Gigs dried up, fees dropped and the second CBS studio album would never be finished let alone released as vocalist Paul Shuttleworth departed, disillusioned with the band's fate and the Kursaal Flyers decided to call it a day. Ah, the promise left in the lurch. One can only imagine what future recordings held in store.
That would have been the end of the story of the Kursaal Flyers, but in 1987 original bassist Hatfield convinced vocalist Shuttleworth, lead guitarist/vocalist Douglas, pedal steel player Collins and drummer Birch to join he and keyboardist Ian Gibbons in recording an album at a small studio in Westcliff with engineer Warwick Kemp for Hatfield's Waterfront Records label. The result, 1988's "A Former Tour de Force Is Forced To Tour" built on the "Golden Mile" and "Five Live Kursaals" in delivering the promise of the proposed "Mods And Rockers".
"A Former Tour de Force Is Forced To Tour" consists of rock tunes, dominated once again by Birch/Douglas compositions, seven jointly written with another by Douglas alone. From the opening "If You Would Only Talk" it is obvious this is what Hatfield had in mind when first forming the band and what Douglas had yearned for along the group's journey with uptempo guitars driving the sound and Douglas soloing to his heart's content. "Pre-Madonna" again spotlights Douglas' guitar work supplemented by gorgeous vocal harmonies. "Tonight Before Tonight" is a bit of a nod back to the band's country rock side with Collins' pedal steel prevalent. "Man In Mohair" is a rocker featuring beautiful vocals by Shuttleworth, while the album's title track is a mid-tempo number with tasty guitar work by Douglas giving the tune a Neil Young feel and Collins' pedal steel again adding a nod to the past. "Luxury Lane" is a snappy rocker, a tale of the band's lack of success and hope of yet attaining it. "My Sugar Turns To Alcohol" is a country influenced rocker again reminiscent of Neil Young, a tale of the excesses of alcohol and its impending toll. "Paranoid Weekend" features a feedback laden intro and lead line by Douglas with his solo soaring as the tune plays out. "Old Men Need Some Lovin' Too" is an uptempo rocker with a taste of country rock, Douglas offering a searing, screaming solo. "Monster-In-Law" first recorded for a 1985 Edsel "Best Of" album and released as a one-off single, is a tale of the baggage contained in relationships and is the perfect album closer with its roaring guitars, Collins' pedal steel as hot as Douglas' lead. The disc is completed by the re-recorded version of "Cruisin' For Love" and its 1976 b-side "Slimmin'(For The Women)" a mid-tempo tune led by Collins' pedal steel and featuring gorgeous harmony vocals. "Walking To School" is an unreleased 1976 track mixing guitar and synthesizer to give it commercial appeal. "Route 66" taken from a 1979 compilation album is an uptempo country rocker featuring scat style vocals and a tasty pedal steel solo building up to a close out lead guitar solo. The disc closes with four tracks taken from 1975 radio sessions to make the set truly complete.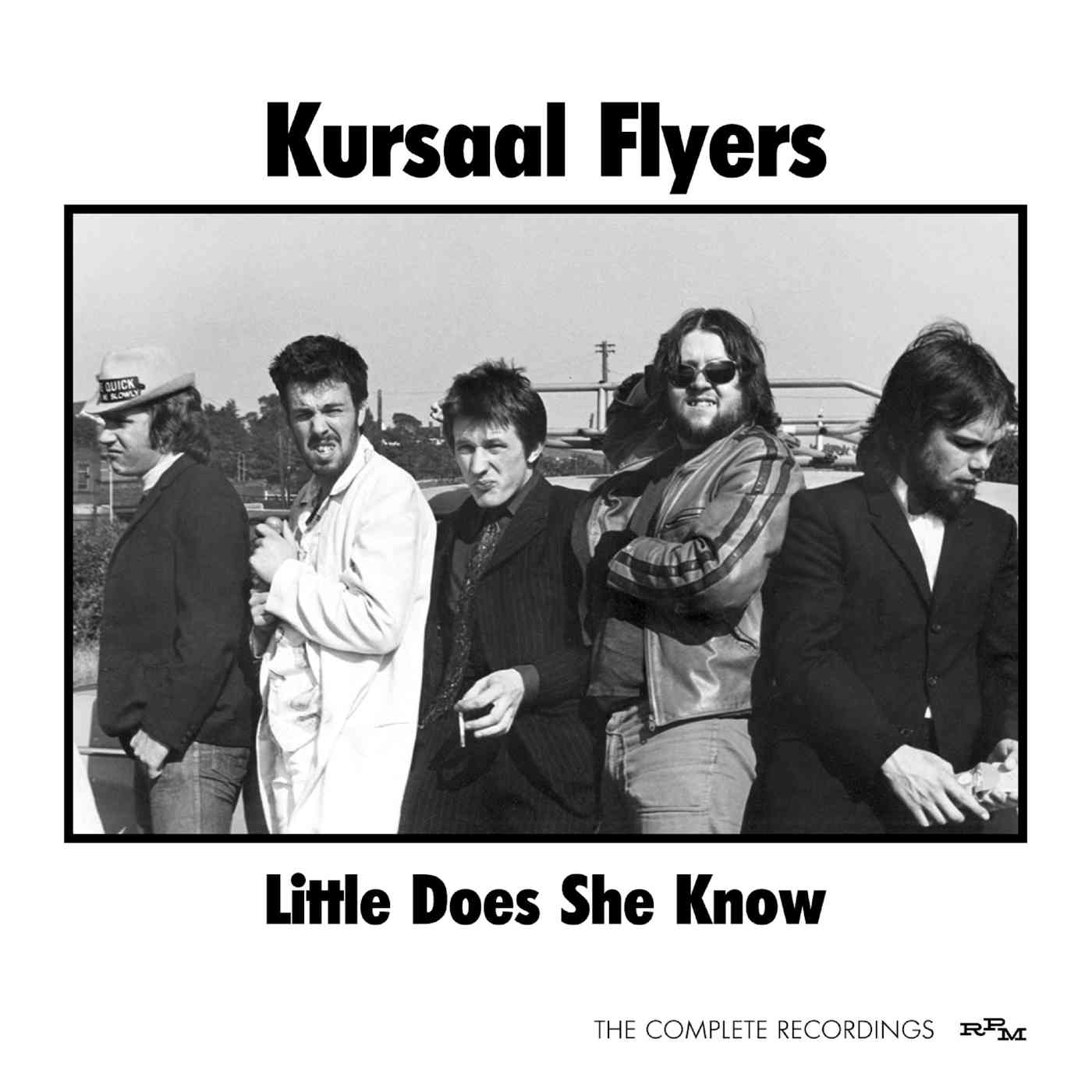 "Little Does She Know" comes with each of the four discs in their own mini replica-LP sleeves, "Chocs Away!" in gatefold form, which fit into a slipcase, along with a 24-page full color booklet. The booklet contains full track annotations, gorgeous photos and memorabilia of the band from the archives of Will Birch and Richie Bull, a Pete Frame "Family Tree", an essay by music writer and band member Will Birch, and the band sounding better than ever thanks to new remastering. This new box set is absolutely the last word on the Kursaal Flyers and comes very highly recommended.
– Kevin Rathert
---
Kursaal Flyers – 'Little Does She Know' (RPM Records, 2020)