Sweven interview
I was surprised when Quentin Aberne, guitarist of French doom band Carcolh, put in a package with Rising Sons Of Saturn an extra CD. It was another band where Quentin plays bass – Sweven.
---
Quentin Aberne (bass), Joël Riffard (guitar), Peio Cachenaut (vocals), Nicolas Armendaritz (keyboards) and Boris Senon (drums) formed the band in Bordeaux, Bayonne, Mauléon, Chateauneuf sur Charente not long ago and they've recorded and released fantastic album Red Giant To White Dwarf, combining good range of psycho, prog and retro hard rock influences. An interesting thing about Sweven is how masterfully they combine vintage sound, modern delivery and overall complexity of extended and tangled compositions… Despite good conversation with Sweven's vocalist Peio covering bunch of questions about the band I still don't have a clue how did they manage to create such an excellent work.
Hello Peio! How are you? What's going on in Sweven nowadays?
We're doing well, thank you very much, hope you do too! Indeed, there's a lot of things going on in the band right now. We are finishing the mix of our next release, an EP called Mercurials. It's a four songs EP, but there's about more than half an hour of music on it; it's longer than our average Slayer album… We're very proud of it. I think it's definitely an improvement over our first record. I guess we would be able to release it at the very beginning of this year.
Meanwhile, we've also started to work on our next long-playing album, and we're very excited about it. I think Joel, our guitar player and main composer, has never offered us such brilliant material.
It seems that you're really busy! How do you manage to work with such a pace? Your music is quite diverse and multilayered, so how do you plan to keep Sweven integrity?
Once again, I think that we're very lucky to work with Joel, because he works so fast and he's so inspired… He has a lot of material waiting to be crafted with the whole band. It's very exciting to have such a visibility on what lies before us. On the subject of the 'integrity', I guess it's just a matter of confidence and feeling. Without having to define it, we know how our music should sound. It's even easier now, because the first album was us learning to function as a band. I guess we are a real band now, with the kind of instinct you need to unfold to be confident in what you're doing.
Will people who heard Red Giant To White Dwarf easily recognize Sweven through Mercurials?
Oh, good question! Honestly, I don't know, but I guess so… There are some very easily recognizable elements in our music, like for instance the use of keyboards, or the way the bass sounds, or my voice, obviously. But for Mercurials, we have that strange combination of diversity, because each song belongs to its own territory and sounds quite unique in the context of the EP, and coherence; we definitely feel that this one is more cohesive than Red Giant To White Dwarf, strangely enough. I think that we are more 'Sweven' in this release than on the previous one, at the end of the day.
The band's debut album Red Giant To White Dwarf was released in February 2019, do you already have some feedback? What's people reaction in general?
Yes, we have some feedback, through the comment sections of Youtube or Bandcamp, but also through some very positive reviews on webzines and so. It's very encouraging, because it's often quite entirely positive. We don't play live that often, and certainly less than we would like to, but the feedback after the shows is also extremely encouraging.
The album contains amazing blend of different styles with noticeable emphasis towards vintage rock music. How do you see necessary elements of Sweven sound?
I don't know if there are really some necessary elements in our music. In fact, we came to realize that we're more free to incorporate some extra elements in our music than we thought possible at the very inception of the band. Maybe the most accurate definition of our sound lies in the instrumentarium that we use: instrument-wise, we're like a seventies rock band, like Deep Purple, for instance. But sonically, we're not necessarily looking for that vintage feeling. I would even say that one of our goals with that project is to sound quite 'modern', if it means anything. But your comment is nonetheless accurate, we're aware of that.
I know Quentin because of his participant in Marble Chariot and Carcolh. What's musical background of other members?
Many many different projects in our musical backgrounds: Boris, the drummer, amongst other projects, has played with Aguirre, a really good sludge band. Joel, the guitar player, has played (and still continues to play) with a lot of people in many different musical areas, like some blues or reggae bands (Alam, Low Man's River). Nico, the keyboard player, which is also a drummer and the designer of our artworks, plays with me in some very silly but funny cover-bands like Iron Eta Maider and Black Xalbbath (need I say more about the stuff we play in those bands…?). Most important, those four guys used to play with a different singer in a really great band called Sun Preachers. But they parted ways with that very talented singer, and decided to set up a new band from scratch. Then they asked me to join them, after some kind of audition : that band is Sweven.
You've released Red Giant To White Dwarf DIY way? Didn't you try to find a label?
To be honest, it wasn't really our decision, but more of a constraint. Our initial idea was to find a label, but I guess we haven't tried hard enough… Because of the financial support a label can bring to your band, it's very convenient when you want to release your album on vinyl, which is what we want to do soon or later. So I think that we're going to look after a label as soon as possible, for our next LP I guess. Nevertheless I must admit that the DIY way is very pleasant to follow too, with that absolute artistic control over each and every aspect of an album. And our DIY way is REALLY DIY, because our keyboard player conceives and realizes our artworks (using screen-printing method) himself. It's highly rewarding.
And artwork is complex and abstract! What did you aim to express through it?
Like I said, it's Nicolas, our keyboard player, who is the maker of that artwork. Both of us spent a long time talking about the lyrics, and he came with this idea of a man (a human face, in fact) whose mind is completely blown away, as if a whole universe was blossoming within it. Nico had that vision of windows opening inside one's mind, leading to some kind of pocket universe with its own stars, nebulas, and so on. Very trippy stuff indeed, and totally appropriate regarding the album's name!!!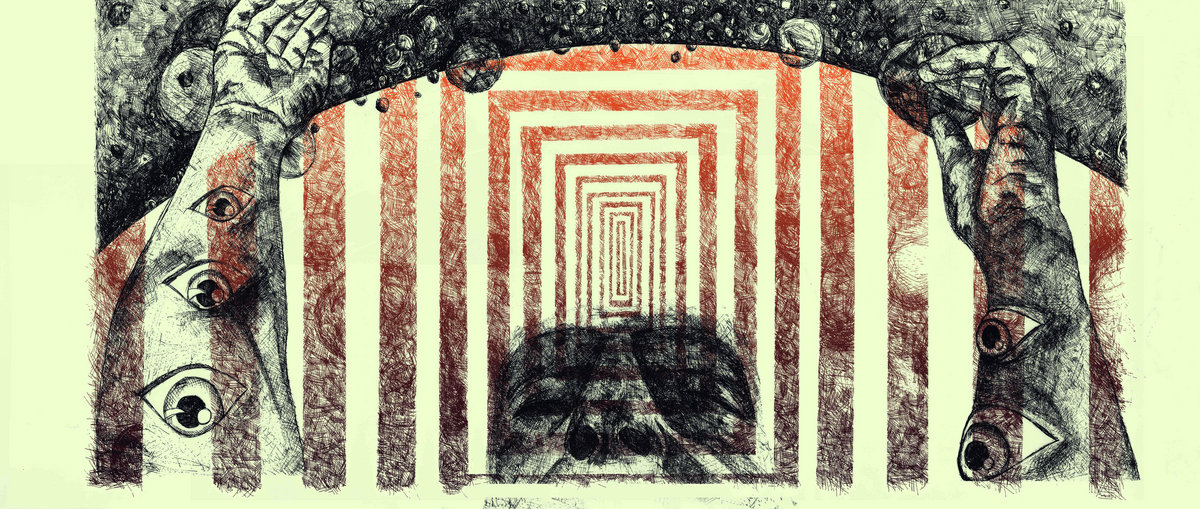 Your music has decent commercial potential in a good sense of word. Do you have ambitions to spread Sweven's message wider?
Hmmmm… Hey, I don't' know if a band composing 27 minutes long songs could be called 'commercial', but I see what you mean. Like every musician I guess, the more people get to know our music the more we're happy!!! So definitely, yes.
You have pretty thoughtful and detailed lyrics, do you care if people understand it right?
First, thank you very much for your appreciation. As the lyricist of the band, I take it as a great compliment. It's a very interesting question : our lyrics are often very referential (to comics, books or movies, for instance) and multi-layered, so they are opened to multiple interpretations. For me, it's not a problem at all if people don't get it right, as long as their own interpretation is beautiful or interesting. Beautiful mistakes happen all the time when you try to create music; I guess the same can occur when it comes to interpret the lyrics.
For instance, the first song from Red Giant To White Dwarf, called '(Shades Of) The Changing Man', is a really direct reference to a great comic book from the 90's, written by Peter Milligan, whom I'm a big fan of. Like the comic itself, the lyrics of the song deal with identity and its fluidity or non-existence. But thinking about those lyrics, it came to my mind that the lyrics were also dealing with my own slightly agoraphobic tendencies: it's really strange, because it wasn't planned. The last song of the album, 'Lift High The Veils Of Maya', is about gnostic themes, like anamnesis or cosmic awareness. But it's okay if you don't get it, and if you're just receptive to the 'poetry' of the text…
To be honest, I think that even anyone in the band could have his own interpretation of the lyrics. It's not a problem, and the same goes with the audience.
"Sweven is essentially a live experience."
Don't you want to focus on spiritual topics like with 'Lift High The Veils Of Maya'? I guess that may encourage thinking listeners to dig deeper in such themes and make the world a slightly better place.
I don't deliberately write about things like that, but I guess I have an affinity with that kind of topics. It's not surprising because I read a lot of books or articles related to all that stuff. I just think that those elements are perfect to amplify the feelings conveyed by our music, that trippy feeling, once again. And it would be a great satisfaction if any listener opened a book after that. You know, when I was a teenager, I was a big Iron Maiden fan, and after all those years I'm still amazed by the way they've opened the mind of their listeners. I've read 'The Rime Of The Ancient Mariner' by Samuel Taylor Coleridge when I was fourteen because of the song of the same name on the album Powerslave. And I've become obsessed with the TV series The Prisoner because of their song having the same name, too. I would be more than happy if we could bring that kind of discovery in someone's life, even on a lesser scale, of course.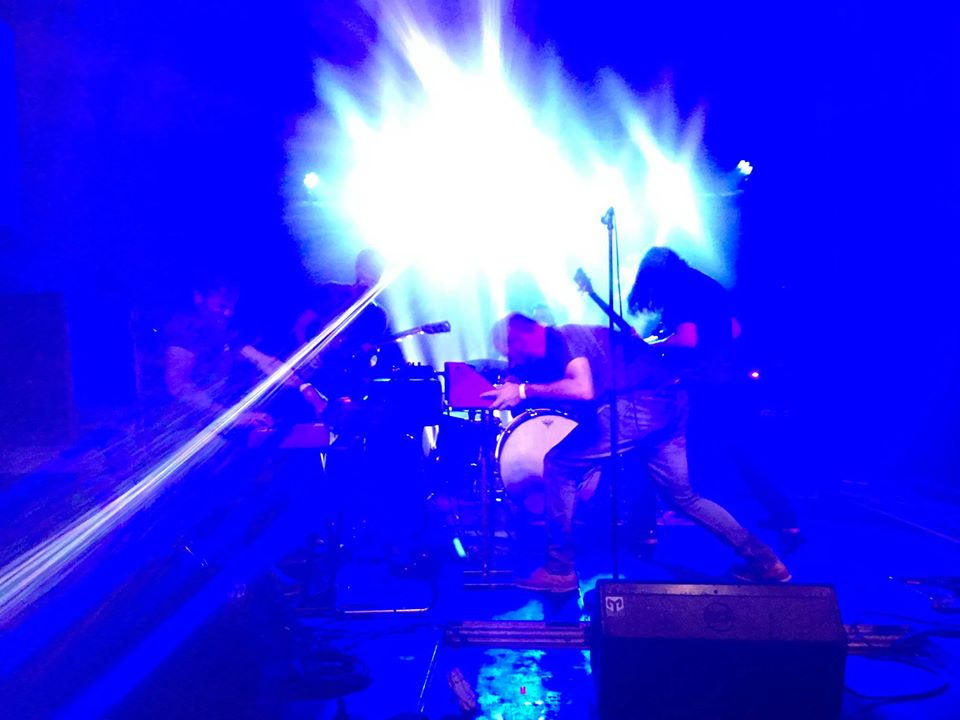 By the way, speaking about better places… how much of your city does reflect in Sweven?
Another very good question, but I guess it doesn't really apply to us: everybody in the band comes from a different place and lives in a different city… And, even if I wouldn't be able to explain it correctly, I don't think that we have that much of an urban vibe, shall we say… To be honest, on Mercurials, there is a song which is in a way the opposite of that, inspired by a walk above the sea of clouds that you can find among the mountains, in the morning light.
Red Giant To White Dwarf has few really long multilayered compositions, what was most difficult thing during the album's recording? How much time did it take to get final result?
The most difficult thing for that recording was the recording process itself: we chose to record it live, with every musician in the same room. It's a tricky thing to nail a record like that, but we felt confident, and it worked. It's a really exhausting process, but within four days, we got the album. Plus, of course, some overdubs, especially some extra guitar tracks. The mixing, for many reasons, took a lot of time, far more that we were expecting. But the way we recorded it was really satisfying, so we did the same for our next release, Mercurials.
You did record it live! Cool! Did you have any help from outside? Studio engineer or someone who's just competent in such things?
Yes, we had some help from outside, namely the help of Antoine and Benoît (who is our drummer's brother), two studio engineers who are also very good friends of the band's members. They were already there during the Sun Preachers days. Precious help, and a lot of fun.
Your music is quite specific. With what kind of bands do you play gigs? Do you have some groups with whom you can easily organize gig and gather some amount of people in venue?
To be honest, we don't know any band like us either, I guess it's a good thing…! Maybe we could be related to bands like Mars Red Sky, powerful bands using melodies, I don't know. For many different and uninteresting reasons (personal lives, schedule conflicts), we don't play live that often, and that's a shame, because we thoroughly enjoy doing it. But when we play gigs, I personally don't care about the kind of music other bands on the bill play; I'm a little bit fed up with those thematic evenings: it's often 100 % death metal, or 100 % dub or reggae, and so on. I'm more interested now in a little bit more of variety during the gigs…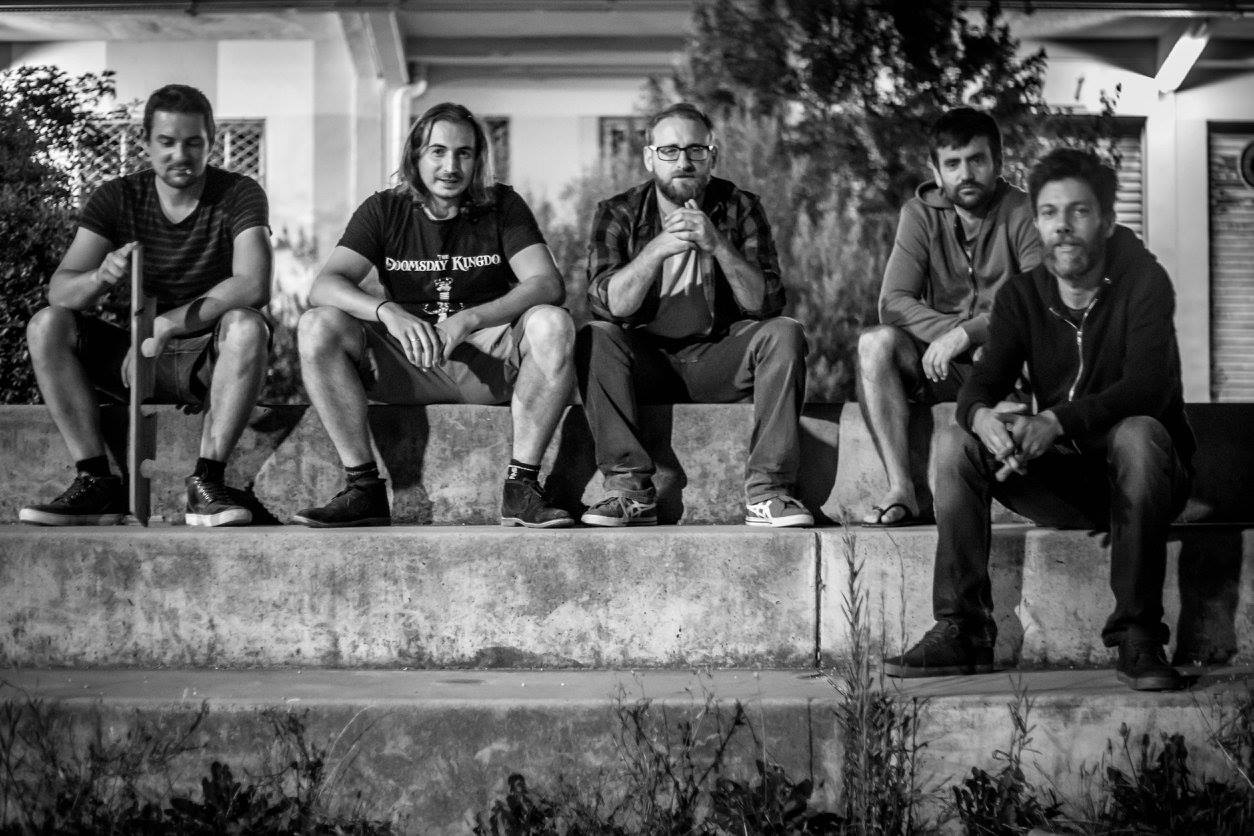 In what kind of venues do you play usually? 
Clubs, bars, little places like that… We haven't had the opportunity to play on a very big stage, like in festivals. One thing for sure: our shows are really intense, and we play very loud. So the size of the rooms doesn't matter that much! But we must play more often in the near future, because for me Sweven is essentially a live experience.
Okay, Peio, I guess we've done some job in order to introduce Sweven to our readers, haven't we missed something?
Yes, I guess the job is done, ha ha!!!! Obviously, I must have forgotten some things, but I'll be more than happy to chat with you again in the near future to correct that. For the release of Mercurials, for instance!
– Aleksey Evdokimov
---
Swevenband Facebook
Swevenband Bandcamp