Mick Ronson – 'Only After Dark: The Complete MainMan Recordings' (2019)
Following David Bowie's abrupt disbanding of The Spiders From Mars band, group members were left to scramble. Lead guitarist Mick Ronson, however, was the one band member who had no worries as he had numerous choices of directions to take.
---
As it turned out, Ronson signed with Bowie's manager and MainMan Records founder Tony Defries, formed his own band with fellow Spider, bassist Trevor Bolder, Bowie session keyboardist Mike Garson and legendary drummer Aynsley Dunbar, and set sail on a solo career. The only recordings Ronson released in his tragically short lifetime were on MainMan and are included on Cherry Red Records' new four disc box set 'Only After Dark' supplemented by live recordings, demos and 1976 sessions intended for Ronson's never to appear third solo album, a most impressive collection to say the least.
Disc one centers around Ronson's 1974 debut LP 'Slaughter On 10th Avenue.' Recorded in three weeks, the album is a diverse collection of tunes penned by writers ranging from Elvis Presley and Richard Rodgers to more predictable collaborations of Ronson with David Bowie and Scott Richardson of Ann Arbor, Michigan psychedelic rock legends SRC, as well as tunes contributed by Bowie and American singer/songwriter Annette Peacock, whose 1971 solo LP included keyboard contributions by Garson. While one may assume that the collection would suffer from such an unlikely track listing, in reality the LP was well received, topping out at #9 on the UK charts despite Ronson not touring to support it. As for the performances themselves, the album opener 'Love Me Tender' the well known Elvis hit is given a complete workover. A gentle piano intro with gorgeous vocals by Ronson give way mid-tune to a guitar solo awash with wah wah pedal, a quite original arrangement. Bowie's 'Growing Up And I'm Fine' features another Garson piano intro and tastefully restrained guitar from Ronson. By contrast the Ronson/Scott Richardson 'Only After Dark' is filled with fiery guitar and a driving beat courtesy of Dunbar. The Bowie penned 'Music Is Lethal' is another Ziggyesque number, upbeat thanks to Dunbar and Ronson. Annette Peacock's 'I'm The One' features a heavy groove, courtesy of Bolder and Dunbar, Ronson's lead guitar coming in feedback laden blasts, with Garson's piano swirling. A medley pairs the Ronson/Richardson tune 'Pleasure Man' with the Ronson/Bowie track 'Hey Ma Get Pa' The band's tightness is on display, giving way to a monster Ronson solo supplemented by horns before Mick lets it all hang out, guitar set to stun, feedback and backwards guitar filling the air, before the second half of the medley brings the band back to a Ziggyesque outro. The album closing title track features a relaxed rhythm with Ronson's lead line leading the way, until Mick cuts loose with Garson's piano and the rhythm section turning up the heat, and the race is on. Garson's piano and Ronson's lead are absolutely delicious, with more than a hint of Al Stewart, Ronson's solo outro with Garson's piano and strings added for flavor proves the perfect ending for the LP. The disc is filled out with seven live tracks and a 'Teen Magazine' interview. First up is the non-album track 'Leave My Heart Alone' another tasty Ziggyesque number with female backing vocals and Ronson's rocking solo accompanied by strings. Next up, is the first of two live takes on the album's title track, the first a more restrained version with relaxed guitar which turns upbeat when joined by Garson's piano, the latter's solo an absolute showstopper. The second, nearly twice in length take on 'Slaughter On 10th Avenue' opens with Ronson carefully controlling the feedback rendered by his guitar flowing smoothly into an extended solo with the crowd roaring in approval. Finally the band joins in but Mick's solo roars on before he finger picks the song to a false finish with the band joining in on the rocking outro. A cover of Pure Prairie League's 'Angel No. 9' is a harbinger of Ronson's next album with his solo soaring over the relaxed groove of the band. 'F.B.I.' is a shuffle,with Ronson's lead line pushing the beat joined by organ, until Mick turns up his solo mid-tune and plays the song and disc out in style.
Disc two is built around the 1975 LP, 'Play Don't Worry.' The album opens with Ronson's first proper single, 'Billy Porter' a relaxed Bowiesque tune with gorgeous vocals, Ronson's lead and female backing courtesy of The Thuderthighs who had worked on Lou Reed's 'Transformer' which Ronson co-produced. 'Angel No. 9' roars thanks to Ronson's guitar, his wah wah with piano accompaniment carrying the tune whose pace quickens but never rushes. Mick's wah wah solo is filled with controlled feedback, sounding ever so clean. 'This Is For You' has an acoustic intro reminiscent of 'Tommy' joined by gorgeous piano and vocal harmonies. 'White Light/White Heat' is a perfectly chosen cover, with piano joining revved up drums and a feedback laden solo that takes over mid-tune and plays the song out. The album's title track's acoustic guitar intro leads to a gorgeous guitar and bass driven melody, Ronson's solo outro filled with feedback. 'Hazy Days' is another gorgeous guitar and piano number. The hot R&B 'Girl Can't Help It' is true to its Little Richard roots with Ronson adding a scorcching solo. 'Empty Bed (IO MeNe Andrei)' is an acoustic track with gentle vocals and strings adding to the vibe. The album closer 'Woman' is another Pure Prairie League cover featuring gorgeous vocal harmonies and a Beatles feel, with its "Time's so short, woman please wear your hair down for me" chorus repeated several times. The album was a critical hit, but topped at #29 on the UK charts, a disappointment compared to his debut. The bonus tracks begin with 'Seven Days' another gentle piano aided song. '28 Days Jam' is filled with electric guitars and crashing drums, with Ronson soloing throughout. 'Stone Love (Soul Love)' is a Bowie cover featuring steel guitar and piano. 'I'd Rather Be Me' is a folk rocker, reminiscent of Donovan. '(Is There) Life On Mars' opens with feedback with Ronson in complete control. Mid-tune it revs up but remains relaxed. 'Pain In The City' is yet another gentle tune, with acoustic guitar and a sprite solo adding to its ambience. 'Dogs (French Girl)' brings Donovan to mind again with its acoustic guitar and lilting vocals. A demo of 'Woman' sounds very much like the finished product, while the demo of 'Seven Days' runs more than double the length of the version on the LP. The bluesy tune relies heavily on piano and organ interludes accented by pounding drums, thus bringing the disc to an end.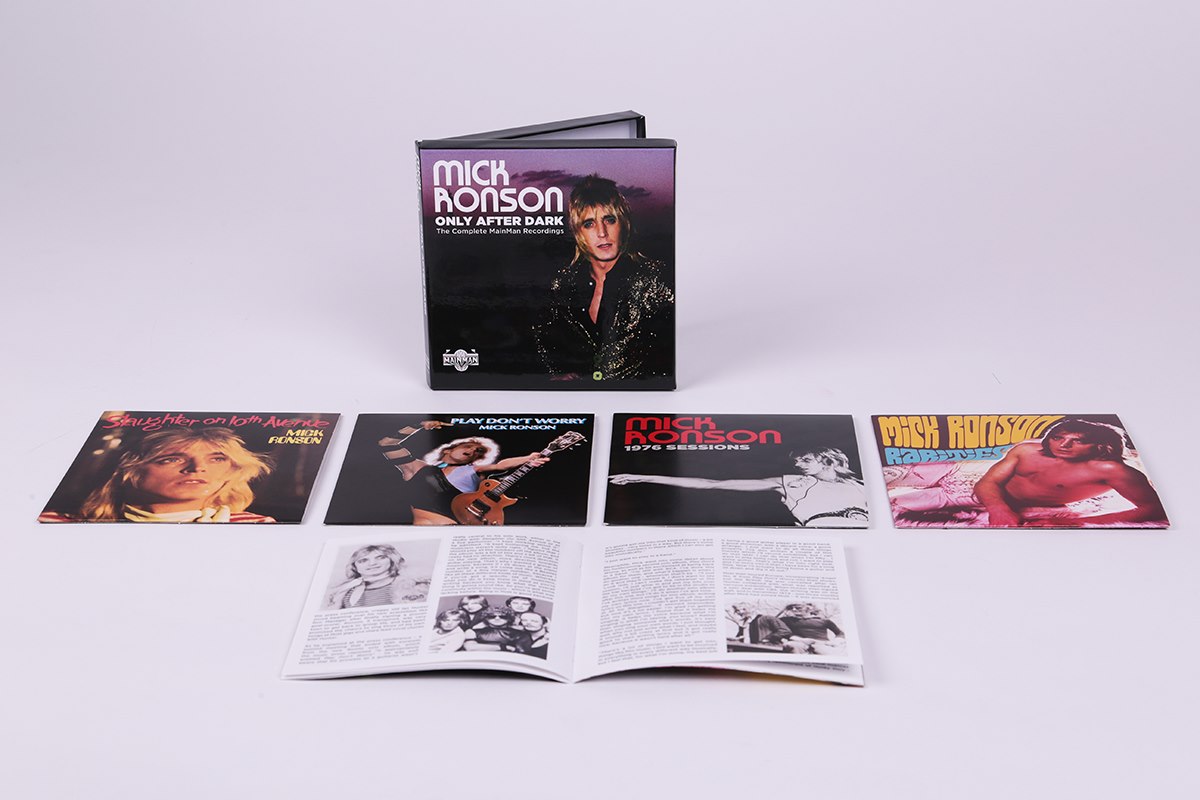 Disc three contains the 1976 sessions for a proposed third studio album that sadly never materialized. 'Just Like This' is an upbeat, hard rocker with a tasty slide solo, giving the song a James Gang feel. 'I'd Give Anything To See You' is a relaxed rocker with a killer lead line. Another Bowiesque tune, it is a showcase for Ronson's solo and vocals. 'Takin' A Train' is a chugging bluesy number which leads into another hot solo. 'Hard Life' contains the spirit of Ronson's work, his melodic electric intro leading into a solo that flows and flows. '(I'm Just A Junkie) For Your Love' is a relaxed slide number with Ronson's guitar and vocals ever so relaxed. 'Crazy Love' is a showcase for Mick's guitar work, from its crashing intro to its soaring solo, with tasty wah wah added for flavor. 'Hey Grandma' is a great cover of Moby Grape with guitars everywhere, wah wah and distortion rule the day and Ronson adds yet another incredible solo with piano chiming in. 'Is That Any Way' is a chugging, electric blues tune with a memorable solo. 'I've Got No Secrets' features Ronson and his guitar with drums. Mid-tune he is off to the races. 'Hard Headed Woman' is a straight on rocker from its rumbling intro through its zesty solo belying his Chuck Berry influence. 'Roll Like The River' is bluesy with a solo that chugs and swirls throughout. 'Angel No.9' features a Ziggyesque electric intro that moves seamlessly into a soaring solo. 'Junkie' with its revved up intro is a demo for '(I'm Just A Junkie) For Your Love.' 'Just Like This' in its second version, stretches out to seven minutes, from five and a half. Its heavy intro is filled with feedback. Mick adds a poignant solo and gorgeous slide to this take. 'Ronno's Bar And Grill' is a gentle acoustic number with studio banter which includes a bit of 'Memphis' for good measure to play out the disc.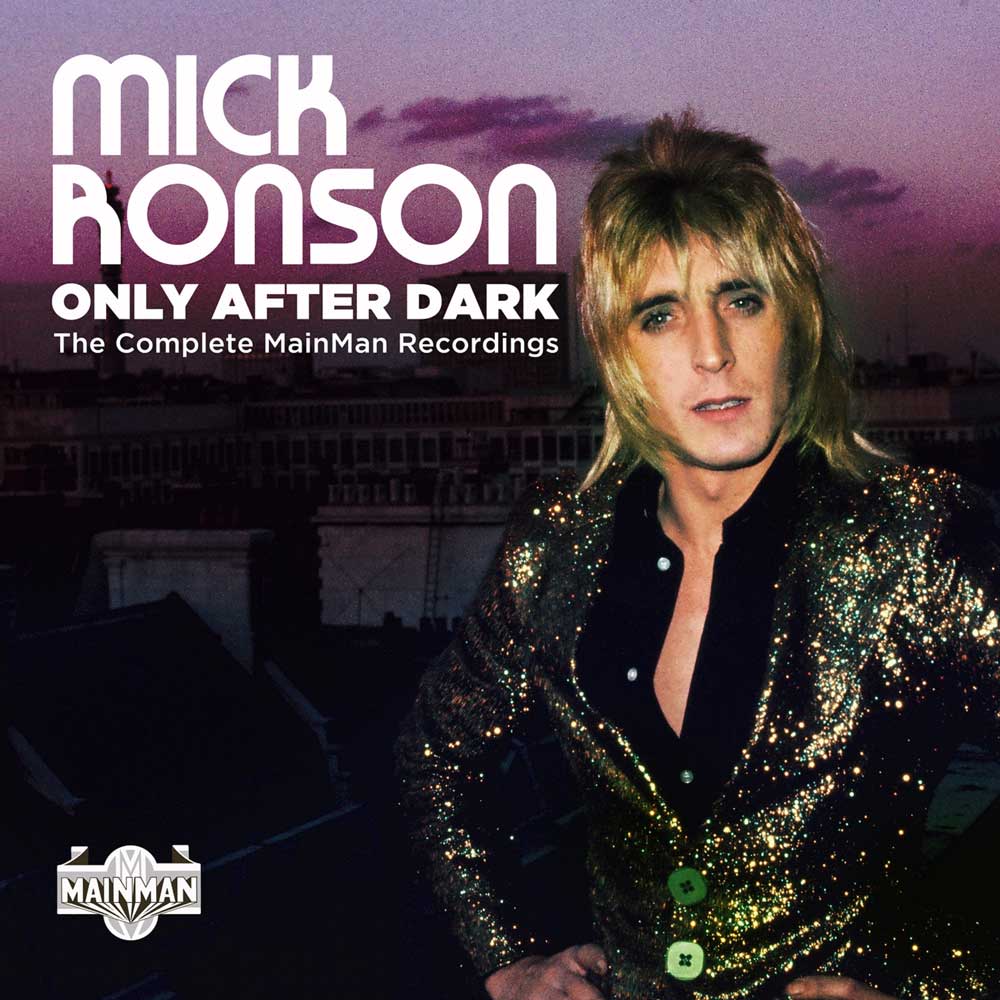 Disc four is devoted to rarities, beginning with demos of 'Hey Grandma' and 'Crazy Love.' Ronson does a ballad version of 'Hard Life' that has twinges of country rock, while he delivers a restrained solo and delicate vocals. 'I'd Give Anything To See You' is a delicate,clean rocker, his clear lead line leading to a hot solo. 'Takin' The Next Train' features a revved up intro before settling into a melodic rocker with feedback and phasing. The disc closes with seven live tracks, beginning with a melodic take on 'Crazy Love.' Ronson's guitar delivers delicate tones leading to a reverbed lead line. In another return to the Ziggy vibe, Mick delivers yet another beautiful solo. An extended live take on 'Hey Grandma' moves from a hot guitar opening to an extended solo, while Ronson contributes gorgeous vocals. 'Takin'A Train' moves from its chugging intro to a swirling solo, the tune heating up as it goes. 'Junkie' is another melodic song with revved up guitar and an extended solo. 'I'd Give Anything) To See You' flows effortlessly from its mid-tempo intro, building steam as it goes, leading to one of Ronson's hottest extended solos. 'Hard Life' is another Ronson staple, the melodic mid-tempo autobiographical tune containing a tastefully restrained solo, again bringing Ziggy to mind. The disc and box set close with a seven minute take on 'Just Like This' a hard driving rocker and great show closer with its extended solo, the band settling into a heavy groove as Ronson solos away, his guitar driving the tune from beginning to end, a most fitting closer for 'Only After Dark.'
'Only After Dark: The Complete MainMan Recordings' comes in a clamshell box, with each of its four discs housed in its own cardboard mini-LP sleeve. The set contains a twenty four page full color booklet with complete track annotations, an informative essay by David Wells and lots of wonderful photos of Ronson, bandmates and memorabilia. Ronson sounds better than ever as we have come to expect from the good people at Cherry Red Records, UK. This box set is without question the definitive collection of Mick Ronson's solo career from 1974-1976 and will appeal to fans of 1970's rock, guitar rock, and especially those who know and love the work of Mick Ronson. Most highly recommended, pick up your copy while the set remains in print.
– Kevin Rathert
Mick Ronson – Only After Dark: The Complete MainMan Recordings (Cherry Red, 2019)