The Olivers – 'Lost Dove Session' (2012)
Originally known as the Serfmen, The Olivers had been around since 1963, hailed from Fort Wayne, Indiana and were best known for their highly sought after 1967 45 rpm picture sleeve on Phalanx Records titled "I Saw What You Did" and "Beeker Street". Quickly the single was picked up by RCA Records for nationwide release and distribution where today it's one of the best and most exciting double sided major label garage psych 45's from the psychedelic 60's.
---
There was second single planned, along with a formal album also to be released on RCA though that never materialized.
There've been continuous rumours over the years regarding a lost album, though for all this time, rumors only led to more rumors. So you can image the excitement surrounding the discovery of an acetate of that unreleased album. The collection of songs was recorded after several lineup changes early on in 1969 at Dove Studios in Minneapolis, with those who initially heard the release claiming it was nothing short of a psychedelic gem, though not before more rumors circulated questioning the quality of the recording and the state of acetate after all these years. As it turns out, the recording was fantastic, featuring the rich and significant vocals of lead singer Billy Franze, where the record was on a par with most legendary psych albums from those days.
"lost treasure that has finally surfaced"
The Lost Dove Sessions features a nine minute opus "Jessica Ryder," the wasted song "Spooky Mushroom," along with the majestic brooding organ driven song "The End." Why this recording was shelved and forgotten nearly fifty years ago is anyone's guess. The release captures the incredible talent and versatility of the Olivers and adds an essential piece of vinyl to their discography. Along with the vinyl record is a four page LP sized insert that documents the band's career as told by the original members, along with a cache of unseen photographs from the years 1963 through 1971.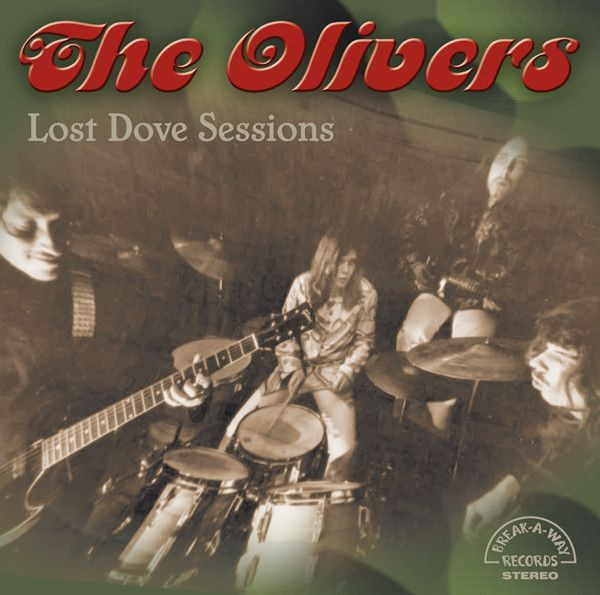 As to the sonic quality of the record, I for one would have wished for more. While the sound quality is not sincerely lacking, it's simply that it's not all it could be, and that's a real shame. Nevertheless, this truly is a lost treasure that has finally surfaced.
The Olivers – 'Lost Dove Session' (Break-a-Way, 2012)