Poco – 'The Epic Years 1972-1976' (2019)
One of the most influential country rock bands of the late 1960's, the 1970's and beyond, Poco were born when ex-Buffalo Springfield guitarist/vocalist/songwriter Richie Furay joined forces with lead guitarist Jim Messina, steel guitarist Rusty Young, bassist Randy Meisner and drummer George Grantham.
---
The band signed to Epic Records and released their debut album 'Pickin' Up The Pieces' in 1969. The group went through personnel changes with Meisner leaving after their first LP to help form The Eagles, replaced by Timothy B. Schmidt, and Messina, who produced the band's early albums, exiting following the recording of the band's third album, the live 'Deliverin', with Paul Cotton taking over on lead guitar. This lineup of Poco released the 1971 studio album 'From The Inside' produced by Steve Cropper, but the end result not pleasing the band's members. Its at this point that this box set picks up the Poco story, beginning with the group's first album produced by Jack Richardson, best known for his work with the Guess Who, and considered by many to be the group's best LP, 1972's 'A Good Feelin' To Know' whose classic title track, written by Furay, was actually produced by Bob Ezrin and Furay, not Richardson. The album's release became a turning point in the band's history as the members were certain they had recorded a hit album and a hit single in the title track. Sadly, this was not to be the case, but the period 1972-1976, covered in this five disc box set contains what many consider the group's finest recordings and bridges a major change in membership with the departure of Richie Furay. Enough back story, time to get to the albums contained in this new release on Cherry Red Records' HNE Recordings label.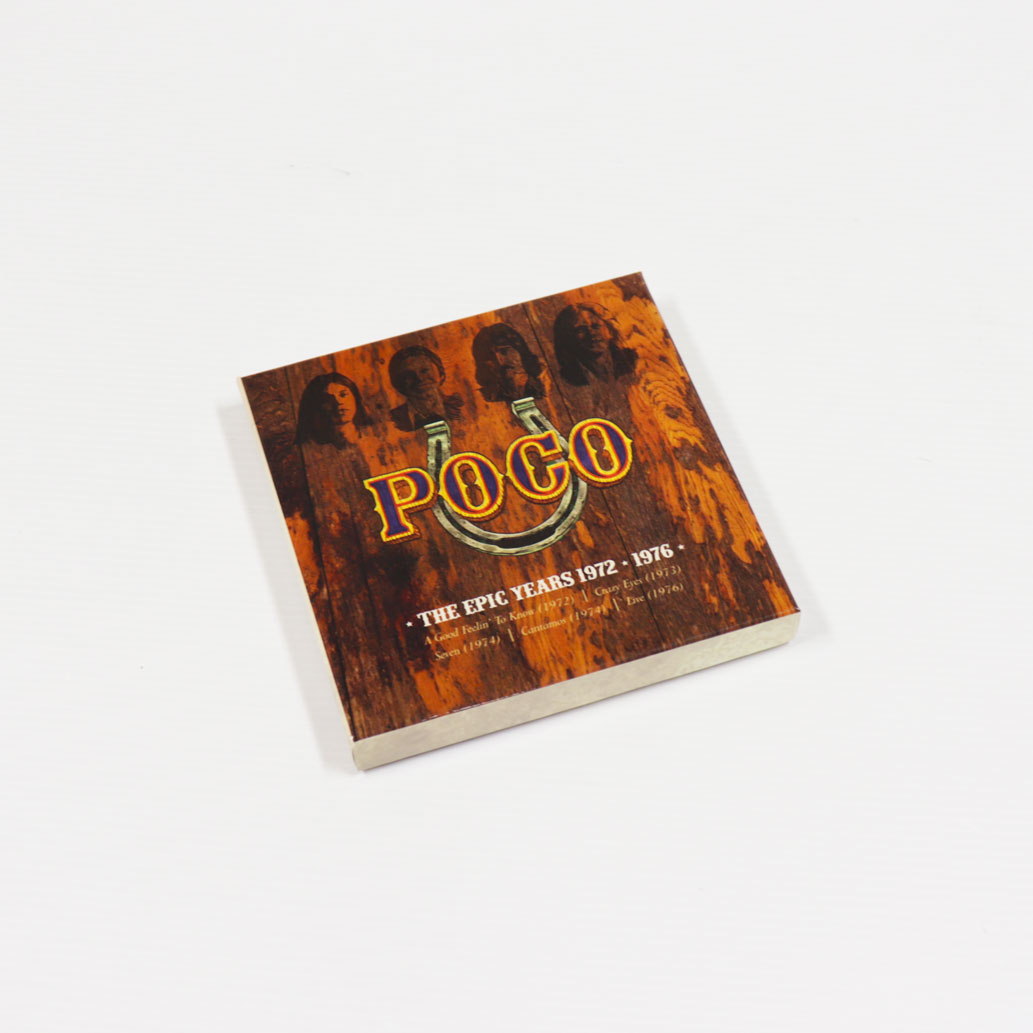 Disc one opens with the nine tracks composing 'A Good Feelin' To Know' widely recognized as Poco's best album to date. The LP is a wonderful mixture of tunes written by Furay, Cotton and Schmidt, as well as a cover of the Stephen Stills penned, Buffalo Springfield track 'Go And Say Goodbye.' LP opener 'And Settlin' Down' is a fine Furay tune with Paul Cotton's lead guitar carrying the tune, accompanied by Young's steel guitar and gorgeous vocals by Furay. Paul Cotton's 'Ride The Country' is a mid-tempo number with gorgeous vocals. Young's steel guitar shines as does Cotton's restrained lead guitar. Timothy Schmidt's 'I Can See Everything' shows the group's songwriting versatility, the tune being dominated by its gorgeous vocals and delicate acoustic guitars. Poco's cover of 'Go And Say Goodbye' features Rusty Young's steel guitar and Cotton's lead acoustic guitar in addition to the group's vocal harmonies. Cotton's 'Keeper Of The Fire' showcases Poco's heavier side, with Cotton's electric guitar and Young's steel guitar dominating the sound, without abandoning the beautiful vocal abilities of the members. Cotton's 'Early Times' maintains the band's heavier sound with his electric lead and Young's steel guitar rendering another tune reminiscent of Buffalo Springfield at their best. The album's highlight, however, is the Furay penned title track. With its driving beat thanks to Grantham's drums and Cotton and Young's guitars, the wonderful lead vocals of Richie Furay, and its amazing commercial hook it is truly baffling how the song failed to reach the top of the charts. In fact, the band was so sure that they had a hit on their hands, that the failure in sales of the album and single release of its title track brought about such disappointment in the band's ranks that this, the classic Poco lineup, would never bounce back. What a loss for music lovers and the music industry. The album is rounded out by Schmidt's fine five minute classic country rocker 'Restrain' which contains one of Cotton's finest solos and the album's longest track, Furay's six and a half minute 'Sweet Lovin' with its regal intro, more gorgeous vocal harmonies and another restrained solo courtesy of Cotton. A fine ending to an incredible album that certainly deserved a much better fate. If it had gotten its due, there is no way of knowing what heights Poco could have reached. Sadly, that is a question that will never be answered. The disc closes out with a remix of Schmidt's 'I Can See Everything' and the single edit of 'A Good Feelin' To Know' the latter which drives home the unpredictability of music buyers and the number of shoulda/woulda/coulda been hit records that have been recorded over the years, and the drastic effect the failure of these records to hit had on the band involved.
The same quintet recorded 1973's 'Crazy Eyes' although Furay appeared only for legal reasons as he owed Epic another album with Poco. This fact is made even more ironic by the fact that its magnum opus, the nine and a half minute plus title track ode to Gram Parsons was penned by Furay and is considered by many to be of 'A Good Feelin' To Know' quality, an incredible compliment for any tune to say the least. The album, and disc, open with Cotton's 'Blue Water' the band's sound tilting toward the country side of country rock with Cotton's acoustic guitar and Young's steel guitar to the fore. The country side of Poco continues with Young's 'Fools Gold' which became a constant in the band's live set and features banjo prominently in its sound. Schmidt's 'Here We Go Again' spotlights the group's vocals and Cotton's lead guitar. In following with the album's theme, the band covers Gram Parsons' 'Brass Buttons' with Young's steel guitar and the band's vocal harmonies giving the tune its feel. 'A Right Along' is a Cotton composition with a nod to the group's heavier side, with Cotton's lead line and solo on display, the song itself having a Joe Walsh vibe. Produced by Furay and Bob Ezrin, the album's title track pays homage to the soon to be deceased Gram Parsons. The track is filled with acoustic guitars, banjo, wonderous vocals and strings added for emotion. The moody track also contains memorable electric lead guitar by Cotton and fine steel work by Young, with Cotton's solo being only one of the song's many highlights. Cotton's solo plays the song out, but is accompanied by vocal harmonies and banjo, making this one of the most memorable tracks in the Poco repertoire. A cover of J.J. Cale's 'Magnolia' is a perfect follow up to the title track, continuing the melancholy mood with gorgeous vocals, guitar work by Cotton and Young, and horns added as an extra treat. The song was released as a single, but, almost predictably, failed to hit . The album closes with Furay's 'Let's Dance Tonight' the band returning to its 'A Good Feelin' To Know' style sound with Cotton and Young's efforts again showcased, along with the band's vocal harmonies. The disc closes with three non-LP bonus tracks. The first, Furay's 'Nothin's Still The Same' takes the band back to its early sound. Cotton's 'Get In The Wind' is much heavier with his lead guitar the song's focus. Furay's 'Believe Me' is an extended number, nearly eight minutes in length, with Cotton's electric guitar and the song's overall sound making it a perfect fit for 'A Good Feelin' To Know' had the band chosen to include the song on the LP.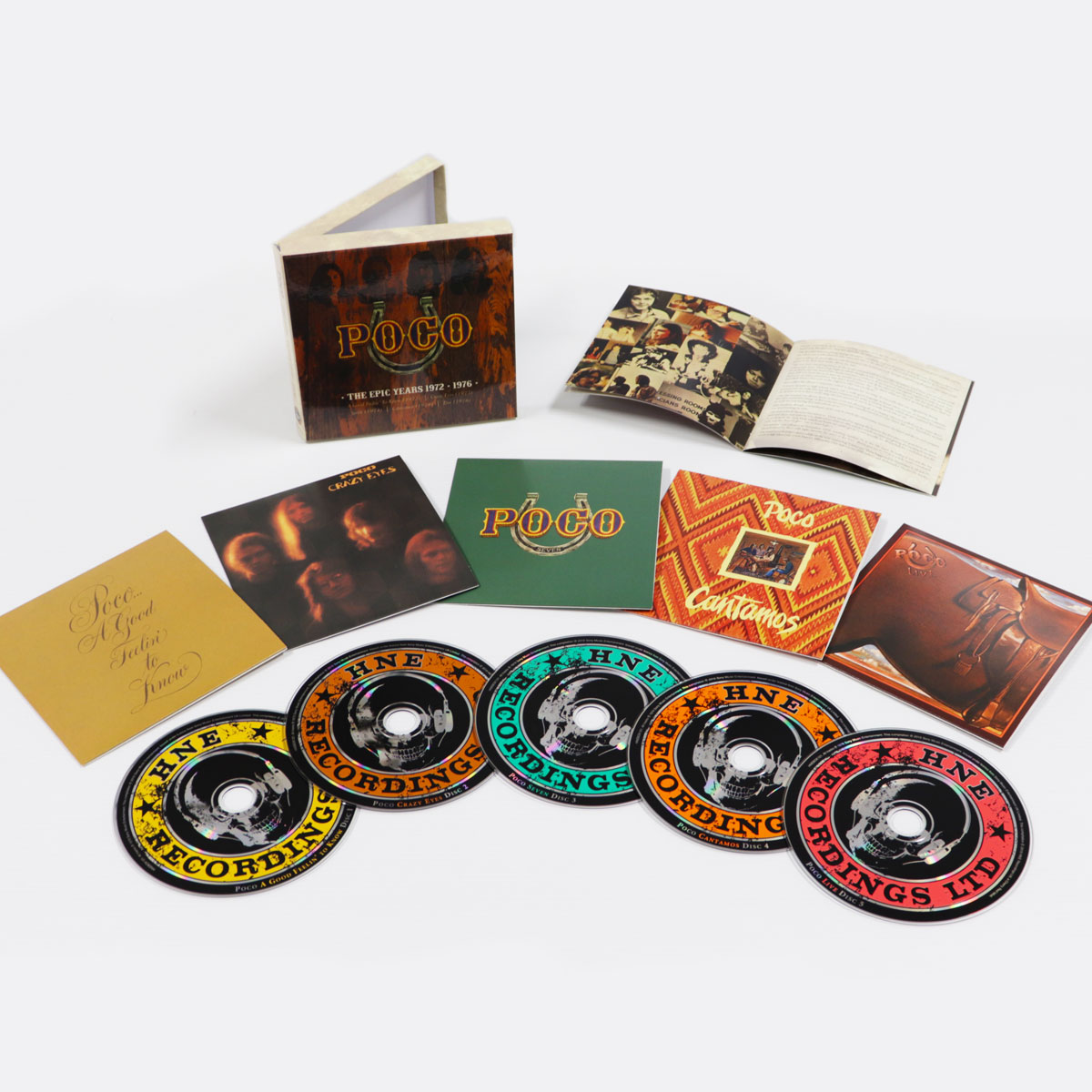 Disc three contains 1974' 'Seven' the first Poco album recorded without Richie Furay. The LP relied on the songwriting abilities of Paul Cotton, who contributed four tunes, and Timothy B. Schmidt who penned three, along with Rusty Young's one composition. To the group's credit the LP doesn't suffer at all from Furay's absence, with the high quality of material reflecting the abilities of the remaining quartet, supported by the keyboards work of Burton Cummings. 'Drivin' Wheel' is a great start for the new Poco, with Cotton's guitar pushing the song along with Grantham's drums, the tune leaning toward the rock side of country rock. Young's 'Rocky Mountain Breakdown' has a Charlie Daniels feel with Jim Messina contributing mandolin and Al Garth fiddle. Schmidt's 'Just Call My Name' written with his wife, is a showcase for Cotton's guitar which rocks with feedback. Schmidt's 'Skatin'' again features Cotton's guitar with Cummings' organ adding a new element to the band's sound and contains more of the group's melodic vocals. Cotton's 'Faith In The Families' opens with piano by Cummings, Cotton's restrained guitar and the group's vocal harmonies yielding a C,S&N sound. Schmidt's 'Krikkit's Song (Passing Through)' is a mid-tempo ballad with Cotton's guitar and accompanying strings giving the tune a wonderfully mellow sound. Cotton's 'Angel' features a banjo intro, Young's steel guitar and acoustic work by the composer. The album closes with another Cotton tune, 'You've Got Your Reasons' which opens with gentle acoustic guitar and beautiful vocals, before the tempo picks up mid-tune as Cotton's lead guitar takes over and Poco rocks the song out.
Disc four contains 'Cantamos' released later in 1974. The songwriting balance changes, along with the album's mood, as Rusty Young contributes three tunes, with Cotton penning four and Schmidt two. Young's 'Sagebrush Serenade' is a delicate melodic tune, featuring the writer on banjo and Cotton on acoustic guitar with Grantham's cowbell also prominent. Cotton's 'Susannah' reflects the mellow side of Poco with its delicate acoustic guitar and vocals. Young's 'High And Dry' is heavier with a nod to the 'Good Feelin' period due in large part to Cotton's lead line and solo and a nice, commercial hook. Cotton's 'Western Waterloo' opens with strings before Cotton enters with electric guitar reminiscent of 'Cinnamon Girl' and a tasteful solo. Cotton's 'One Horse Blue' is melodic and it is his electric guitar featured throughout. Schmidt's 'Bitter Blue' is a mellow number with gentle sound and vocals, although it is Young's steel guitar on display and Cotton solos the song out. Cotton's 'Another Time Around' is heavier, filled with feedback, yet blending nicely with Young's steel guitar. Schmidt's 'Whatever Happened To Your Smile' is a gentle acoustic tune about love gone wrong with Young's steel guitar giving the tune its forlorn feel. Young's 'All The Ways' is another acoustic tune and continues the albums mood of sadness and love gone wrong, bringing the album to a close.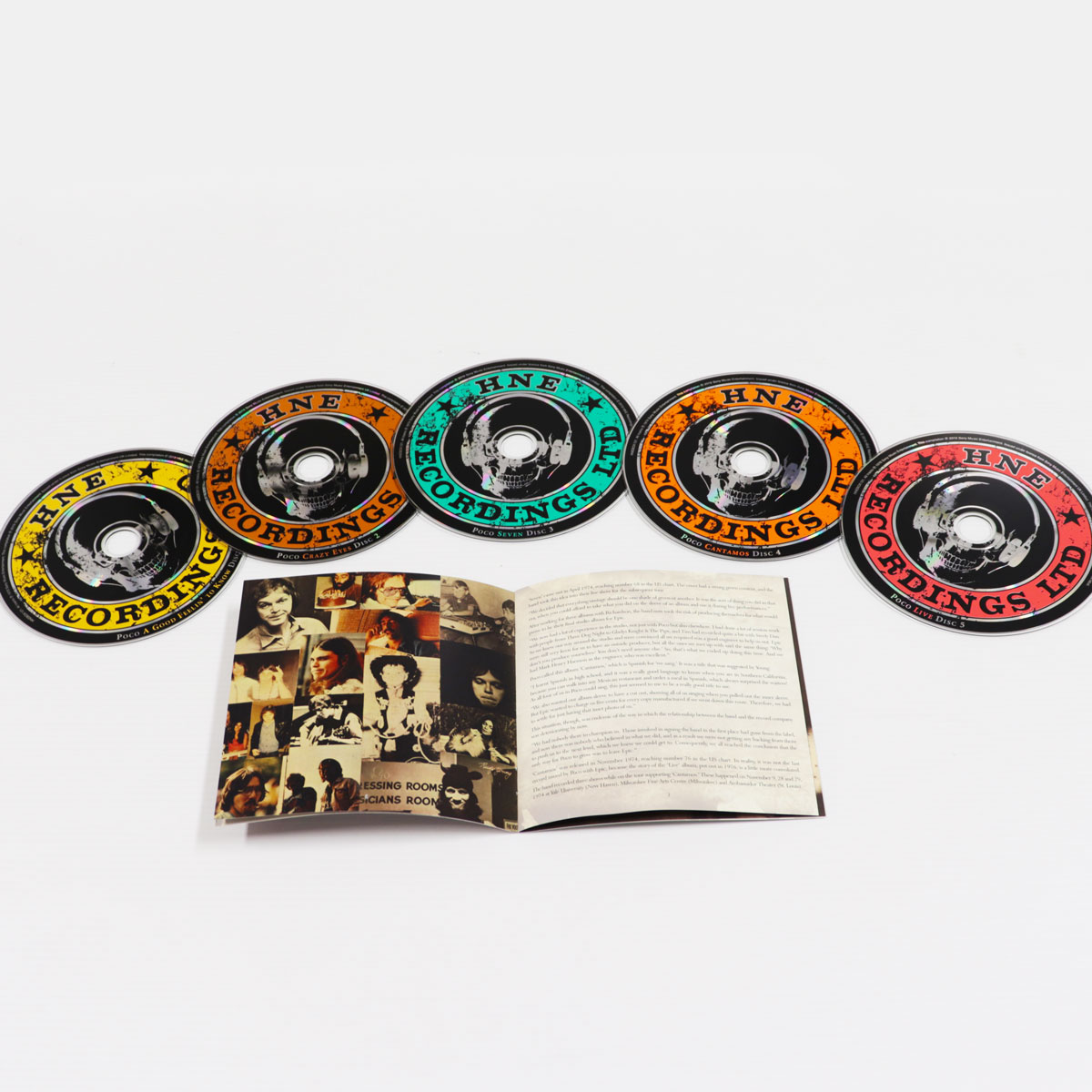 Disc five contains 1976's 'Live' and nicely wraps up this period in the life of Poco. The album opens with a medley consisting of Cotton's 'Blue Water' a track from 'Crazy Eyes' segueing into Young's 'Fools Gold' from the same album and Young's 'Rocky Mountain Breakdown' taken from 'Seven' as the band has a chance to exhibit its diverse sounds and serves as a wonderful opener. Cotton's 'Bad Weather' features Rusty Young's steel guitar as well as Cotton's acoustic work, as the band mellows things out. Cotton's 'Ride The Country' is a heavier number, originating from 'A Good Feelin' To Know.' The tempo is slower, but the sound is heavier than the studio take, rendering a Joe Walsh feel, as Cotton rocks the song out mixed with the ever present vocal harmonies. Cotton's guitar on 'Angel' is heavier than the studio version on 'Seven' and would fit nicely on a Neil Young album. Rusty Young's steel guitar shines as do the vocal harmonies. Young's 'High And Dry' focuses on the band's melodic side, with Cotton's guitar standing out as does his solo. Schmidt's 'Restrain' also from 'A Good Feelin'' shifts back to Poco's heavier side but retains the gorgeous vocals. The spotlight here is on Cotton's guitar which brings a heavy Eagles tune to mind. As on the studio version Cotton solos twice, and he certainly does not disappoint. The album, and show closer, is a five minute take on 'A Good Feelin' To Know' with the vocals sounding as fresh without Furay, and the band is definitely on its game. As with the studio version Cotton and Young's guitars stand out, while Grantham's drums pound out the beat. Cotton solos a second time driving this rocking live version home and leaving no wonder in the listener's mind how beleaguered the band must have felt as the audience roars their appreciation for the band's performance despite Furay's absence. Cotton's solos roar as does the audience as the song and the disc come to an end, 'The Epic Years 1972-1976' coming absolutely full circle and leaving the listener to wonder how different things could have been for Poco, IF ONLY……..
'The Epic Years 1972-1976's five discs, each in their own cardboard mini-LP sleeves come in a clamshell box with a sixteen page full color booklet with complete track listings and musician credits, an informative essay by Malcolm Dome, and sound mastered by Andy Pearce and Matt Wortham at Wired Masters. The box set will be of interest to fans of 1970's rock and country rock music, and comes highly recommended.
– Kevin Rathert
Poco – 'The Epic Years 1972-1976' (HNE Recordings, 2019)