PoiL interview
PoiL flow, dance and dash between the energy of punk, the beauty of chamber music and the chaos of a factory on the brink of explosion. The trio combines raw madness and virtuosity evoking thoughts of Frank Zappa, Frederic Chopin and Charlie Chaplin. In the audience, the heads bang, the cries burst forth. Jubilant and stock!
---
PoiL was formed by keyboardist and composer Antoine Arnera with bassist and guitarist Boris Cassone and drummer Guilhem Meier. Is this the original lineup?
Yes, and we are all composers. The trio was first put together as an acoustic band, with piano, double bass and drums, and then changed to electric.
Were you in any other bands before forming PoiL?
Yes, and we are still playing in other bands. Herr geisha and the boobs, Icsis, Le Grand Sbam, Pili Coït…
"To play music freely"
What's the original concept behind formation of PoiL?
To play music freely, without any style borders; maximum energy, humor, challenge.
How would you describe your sound?
Punchy-acid-weird-tribal-spacy-romantic
Are you directly influenced by other Avant-prog and Zeuhl acts? What's your opinion about the current Avant-prog scene?
No, not directly, and we have no interesting opinion about this scene. But we can find there some good bands and a very warm audience. We are not fanatics of Magma and Zappa… But for a part of our public we are considered like a member of this big prog family. Why not… but we don't want to be trapped in any category or genre.
What does the name "PoiL" refer to in the context of the band name?
Nothing more than our trio connexion. We are united by the sacred bound of PoiL.
Can you share some further details how your latest album Sus (Dur et Doux, 2019) was recorded? Maybe a few words about production too.
We recorded during one week with Adrian Bourget at studio l'Art scène, in Bourgoin Jallieux. It was a really nice experience and Adrian made a wonderful job. We tried to capture our raw live feeling on this album. We played together in a room, with no adds on, unlike the previous record Brossaklitt on which we did a lot of overdubs and production effects …
You've been active for several years now. How would you compare your latest release to previous albums? What's the main difference?
Each album that we produced is very different. First, as said in the previous answer, Sus is a raw live album. Sus is more serious than the previous ones, it leaves much less space to jokes and fun in music… and we sing in Occitan (south France language). We took some inspiration in polyphonic songs from south of France and in contrapuntal music from Renaissance.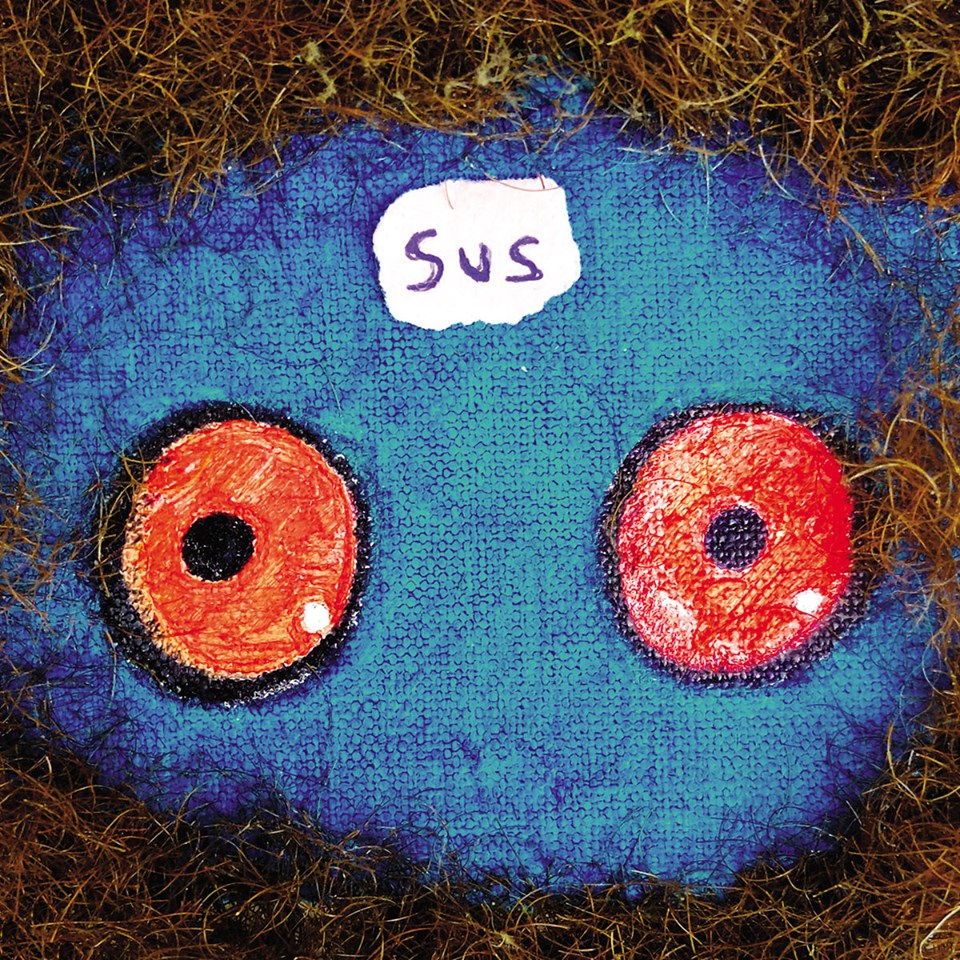 Would you say there's a certain concept attached to your albums?
We decided with Sus to compose a two tracks album, one per side, so we had to compose for the vinyl 2 songs which not exceed 18 min. And also, this album focuses on Occitan romantic lyrics, first time for us to sing in only one language.
You have a few other projects. PinioL consist of PoiL trio and some other musicians. Would you like to introduce them?
PinioL is a band made of two bands; PoiL and our label friends Ni. We were really often together on tour, and once we said (not really seriously) it could be fun to make a huge band all together. When our manager found for us a place large enough to rehearse and some money; which was not easy (we are seven, 2 drums, 2 bass, 2 guitars, 1 key); each one of us started composing music. We played the first shows in 2016 after one year of creation. After one year, Ni's drummer decided to quit, so we changed drummer, Jean Joly a friend of us crazy enough to spend hours working on the parts took the second drums and recorded the debut album Bran Coucou with us in 2017. He's now part of the band, and PinioL exist separately from PoiL and Ni.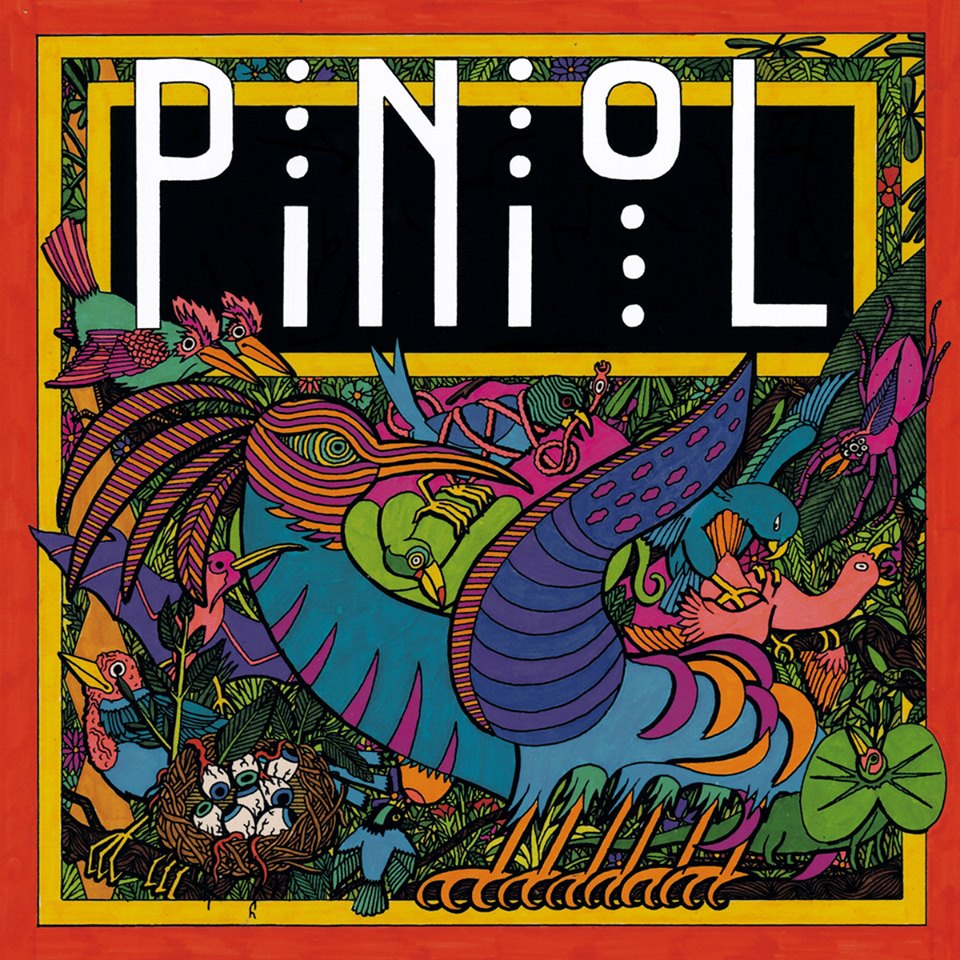 How would you compare it to PoiL and what are some of the ideas and memories from recording and producing your Bran Coucou (Dur et Doux, 2018)?
Many similarities, many differences. In PoiL, we are three, and we play together since 2006, so we're used to make arrangements, and we've always taken fun in going in many artistic directions. With PinioL, we're seven people, so a bit more compromises is necessary, it probably leads us closer than ever to a more obvious music.
The lineup of the band gives another way to build music. When there's only one drummer in a band, generally he's the master of the beat, everybody must follow him even if he's wrong. When there are 2 drummers, the beat responsibility is shared by everybody. Also, with 2 bass players, you must share the frequencies more hardly. So, it means to be more disciplined than we are!
Something special about PinioL, compared to PoiL, is the force of number. When you are seven on stage, the sound and the feeling is very powerful. You get something like a crew spirit, and it tends to make you feel invincible.
Regarding the recording of Bran Coucou, we tried to make it sound as close to the band's live as possible. Same idea as Sus.
You're currently touring.
We play very often in Germany; we have a very nice and passionate audience there. We often play in France, Italy, and mostly everywhere in Europe. We played last December in Colombia, which was a very unique experience. We met the Colombian band Mula, who helped us to manage the tour, and we released a split together called MulaPoil.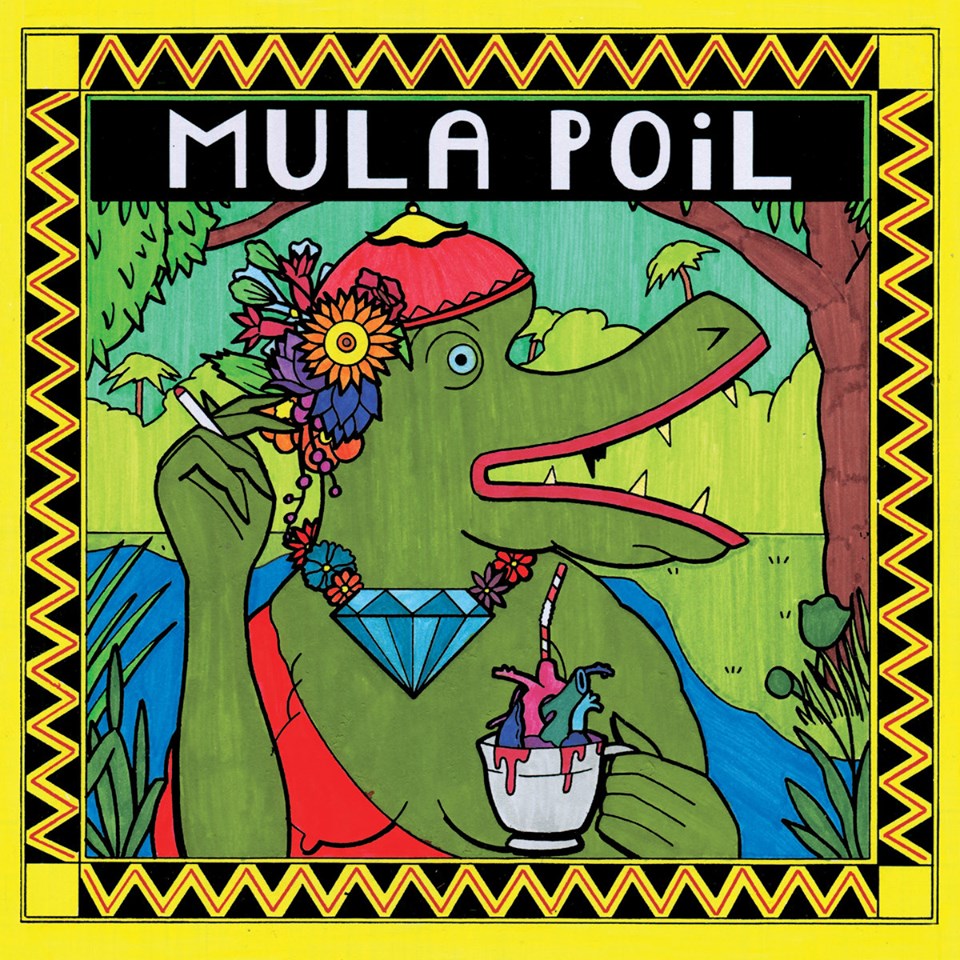 We just recorded two new tracks in Italy that will be released on another split vinyl with and by the Italian band NoHayBanda. We'll play in Japan in February 2020, we have artistic connections with Japanese music for a long time especially in the tracks "Fionosphère" (from Brossaklitt, Dur et Doux 2014) and "Gagaku" (from MulaPoiL, Dur et Doux 2018) so we're very excited to go there for the very first time!
Have influences changed during the years?
There are many recurrent influences which will stay until the end (Ligeti, Nirvana, Coltrane…). But of course, in our way we meet many people, many music, and we're getting older! So, we are always reaching a moving goal. We began the band in an acoustic line up (piano, double bass, drums), 4 years after we electrized our lineup. Now we're using less and less absurd and humor. What's next…
What's the songwriting process like?
The songs are composed on scores, pretty precisely, by one of us. Each part of each instrument or voice is written. After we try to play the parts, when it's almost ok, we try to make music with it.
How about new album? Do you have any material you're working on?
Since a long time, we want to play with a Japanese singer, and we've just met an incredible one. She's also playing Satsuma Biwa, a traditional Japanese luth. She's ok and glad to work with us, and we'll begin to write music soon, using a famous traditional Japanese tale (Yoshitsune).
Who are some of your personal favorite bands that you've had a chance to play with over the past few years?
Ni, Enablers, Mange Ferraille, San Salvador, Sulphat' Ketamine, Vile Imbeciles, Yowie, Schnellertollermeier, Megamotto, Vitas Guerulaïtis…
In your dreams, who are you on tour with? You're playing with Faust at Sajeta!
Hm, if we talk about dreams, let's say Jimi Hendrix! Or Yuja Wang, The Doors.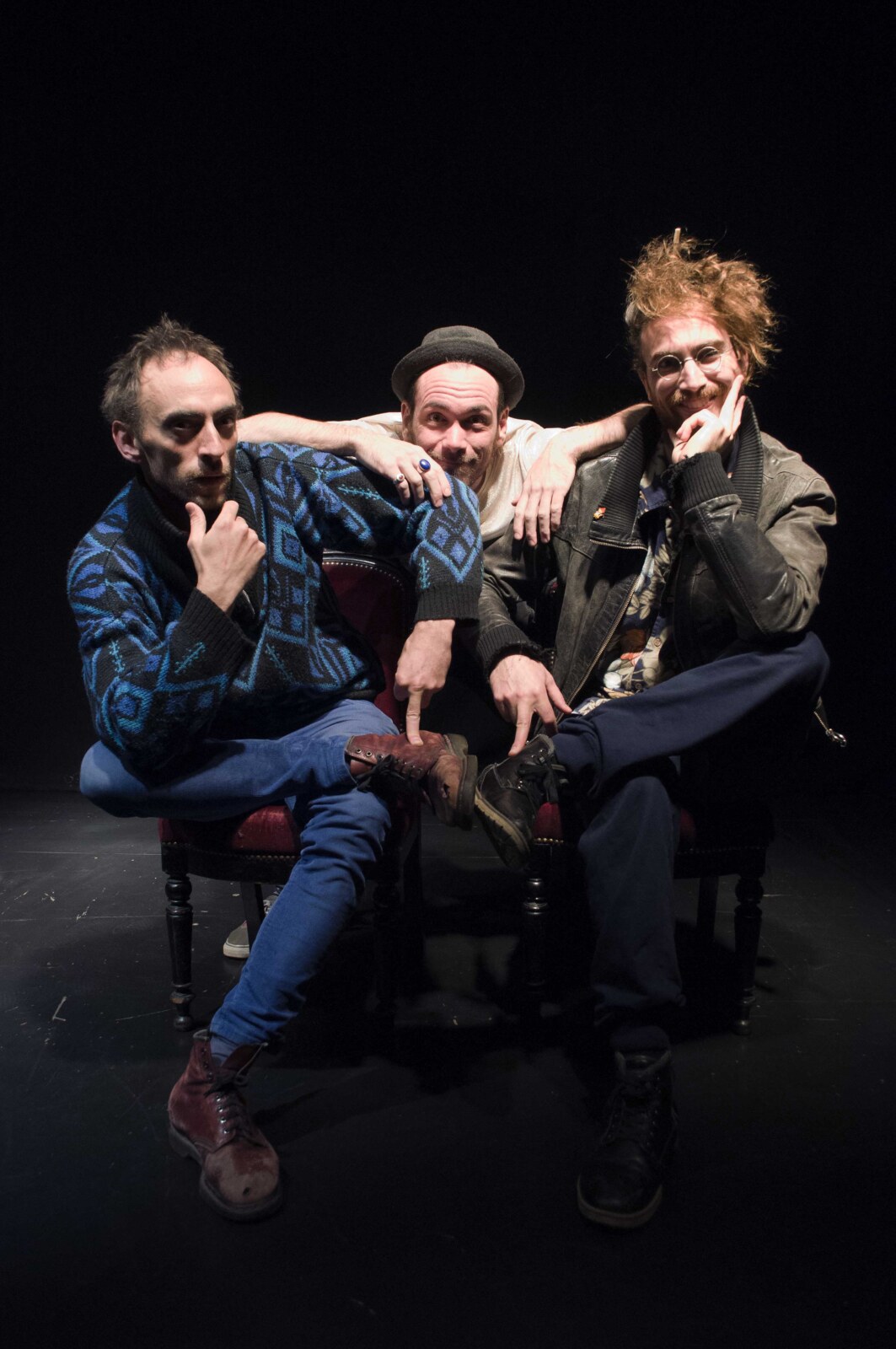 Dur et Doux released majority of your recordings. While checking other releases from this highly active and impressive label I got a feeling that this is kind of a family thing. Do musicians from Dur et Doux often collaborate on projects?
Most of us are playing in several bands of Dur et Doux (Boris plays in Herr Geisha, Sheezahee… Guilhem plays in Pili Coït, Icsis, Lfant… Antoine plays in Gwyn Wurst…) and all the bands are friends, we know each other since a long time, we organize concerts, festivals. It's started ten years ago, no one of us had the opportunity to work with a booking agency nor a label so we had to go DIY and learn to do the things ourselves. Dur et Doux released the second album of PoiL in 2011, it was one of the first release, now it count something about 40 records, the collective is very active and set no border to music, if you like to go adventurous you should definitely check it!
What are some future plans?
All three are all playing in Le Grand Sbam, we have a first record coming out soon called Vaisseau Monde, and a new project called Furvent that we'll record in February 2020. We also have to start composing music for a Japanese vocalist and a satsuma Biwa.
Is there any project that I missed, and you would like to share with us?
Just check Dur et Doux, and Le grand Sbam.
Let's end this interview with some of your favorite albums. Have you found something new lately you would like to recommend to our readers?
Charlie Looker (from Extra Life), his album with an orchestra, Powerdove, ARLT.
Thank you. Last word is yours.
Kisses
il y a des champs qui brûlent
et des camions qui hurlent
le soleil là-dessuscogne sans répit
tandis que nous avalons la route
laissant derrière nous la poussière de notre musique
– Klemen Breznikar
Headline photo by Judith Saurel