Krokodil interview with Düde Dürst
Birth to Swiss Progressive Rock! Krokodil formed in the late 1960s and recorded progressive psychedelic underground rock music in the style of bands like Amon Düül II. Here's an in-depth story told by their drummer Düde Dürst – a legend of Swiss counterculture.
---
What bands were you a member of prior to the formation of 'Krokodil'?
The first real band was 'The Starlights' in 1963, 'The Counts' a year later and the Swiss Beatles 'Les Sauterelles' active from 1965 to 1968.
Where and when did you grow up? When did you begin playing music? What was your first instrument? Who were your major influences?
I was born and raised in Zurich and still live in this city today. Here I attended the School of Applied Arts to learn the graphic profession. I finished my education after three years to become a professional musician with 'Les Sauterelles'. My early youth (40s / 50s) was influenced by my older siblings who were interested in jazz music. It was the time of the existentialists in which my brother and my sister (12 and 8 years older) lived. Since my brother played trombone in a jazz band, he was my role model. That's why I wanted to become a jazz musician. One day he gave me his old trombone and I tried to form a jazz band with three teenage friends. But it came differently than planned.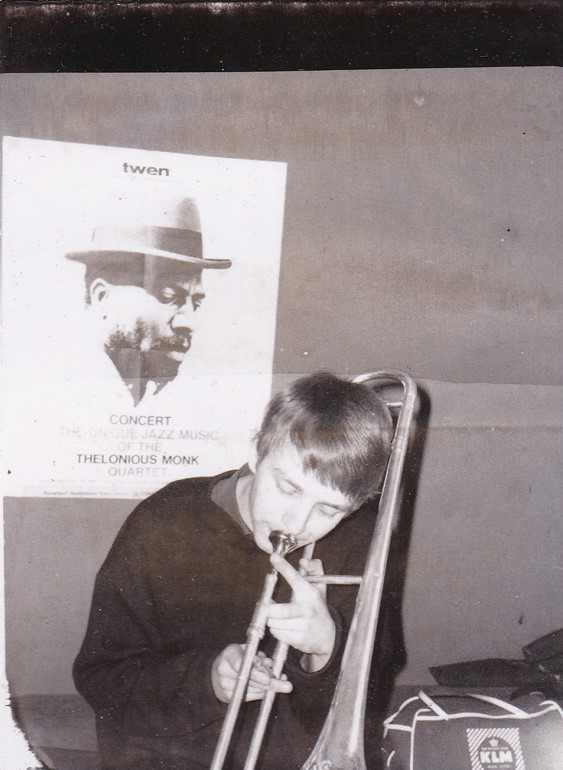 The beat music became popular in the early sixties and many cover bands were formed in Switzerland. In 1963 I was gifted by a school friend with a somewhat outdated, simple drum set, with the intention that I would join his guitar band 'The Starlights', because they lacked a drummer.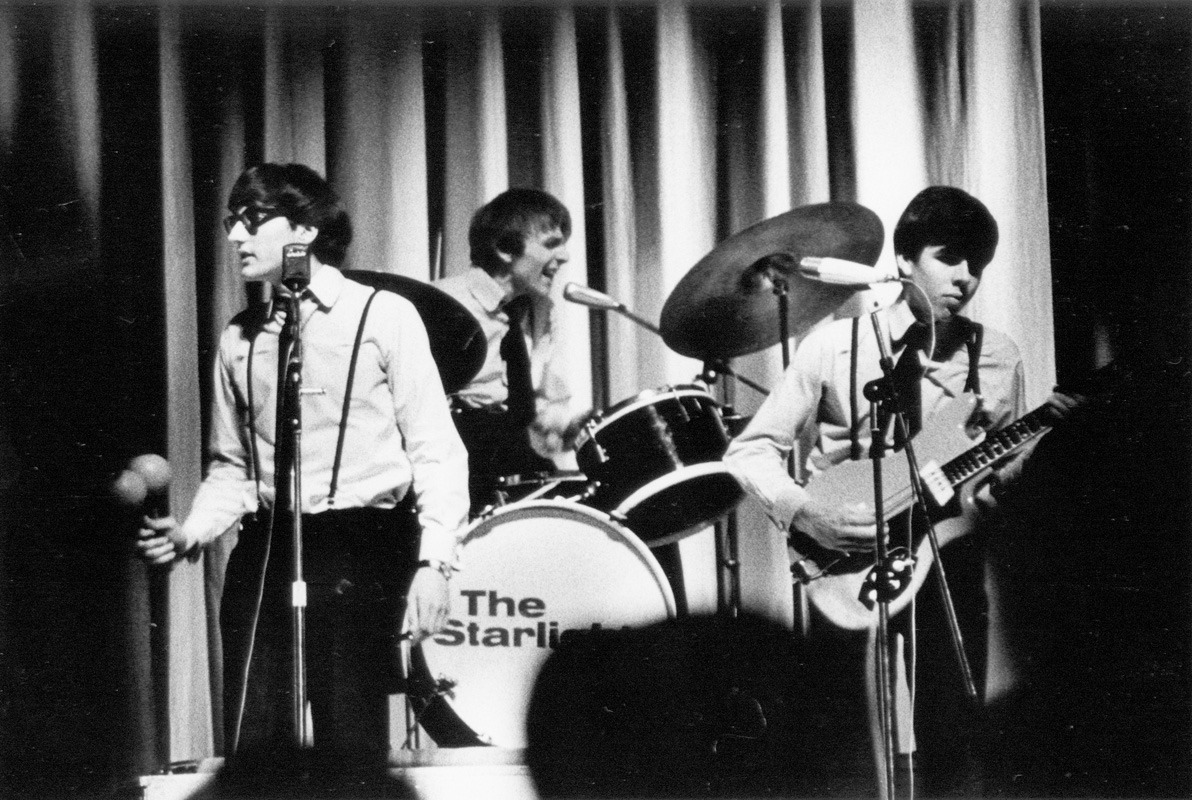 Actually, I wanted to play jazz trombone, but let myself persuade me to try out the drums and make friends with the guitar music  ('The Shadows'). Since simple beat music was in the beginning, I quickly managed to find my way with the drum set and the music. One month later, I started rehearsing with the band. Quickly we were 'local heroes' in Zurich and surroundings. In 1964, the band was reformed. A new name was needed: 'The Counts' – harder sound and a singer.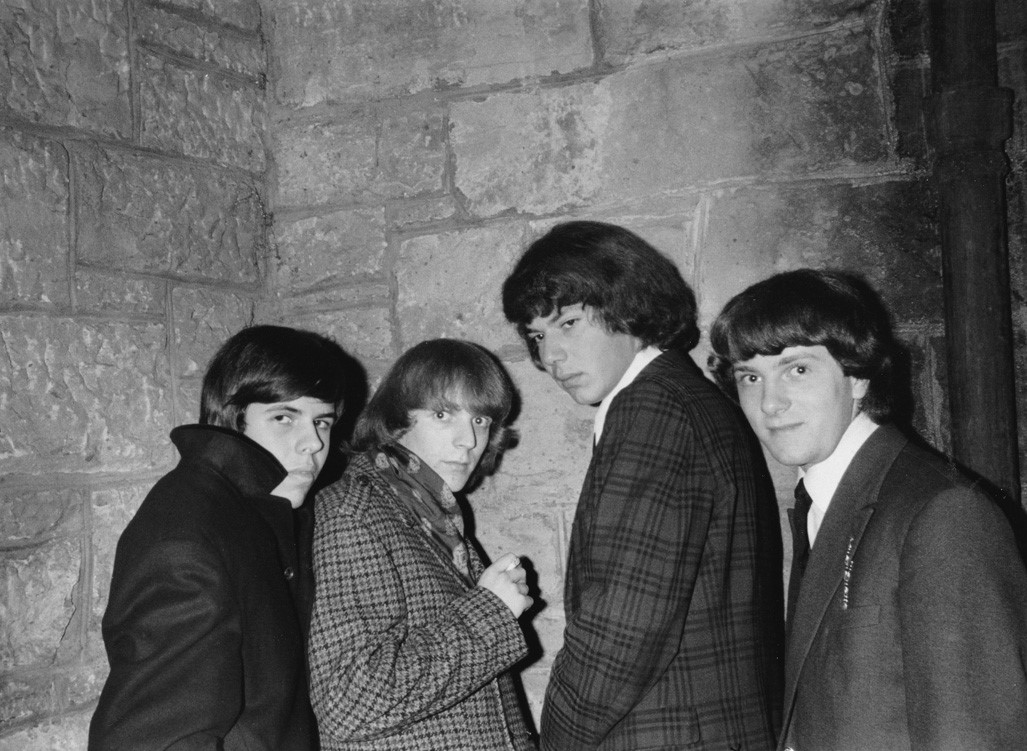 In early 1965, Switzerland's first Beat LP (Swiss Beat Live!) was released with 'The Counts', 'Les Sauterelles' and 'The Dynamites'. At this live recording session, Toni Vescoli persuaded me to become a professional musician with 'Les Sauterelles'. I could not refuse this offer, as 'Les Sauterelles' was the most popular Swiss band of that time. Thus, I was from 1965 to 1968 drummer and background singer with the 'Swiss Beatles'.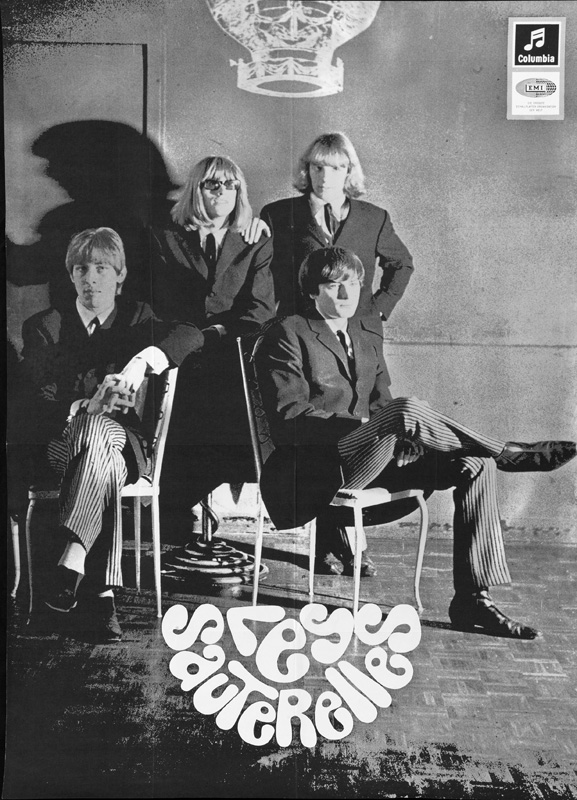 Can you elaborate on the formation of 'Krokodil'?
Already during the time with 'Les Sauterelles' I got in touch with other musicians from the jazz and rock scene in the city of Zurich. They met in clubs, bars and – after the curfew – in the WG No. 1 at the Hechtplatz to discuss, smoke joints, and listening to music etc. In this shared flat lived the musician and friend Hardy Hepp. We had a lot of musical ideas and often talked about forming a band together. At the end of the 1968 the time had come.
"I was thrilled with these new styles"
'Les Sauterelles' had the second No.1 hit called "Heavenly Club". Nevertheless, there were internal musical problems and discussions. How should we continue with the band? The Flower Power era came to an end and the other fellow musicians could not make friends with the new progressive, psychedelic and underground music. I was thrilled with these new styles and saw no future for me in this band. After a gig in mid-68, I gave up and left the band.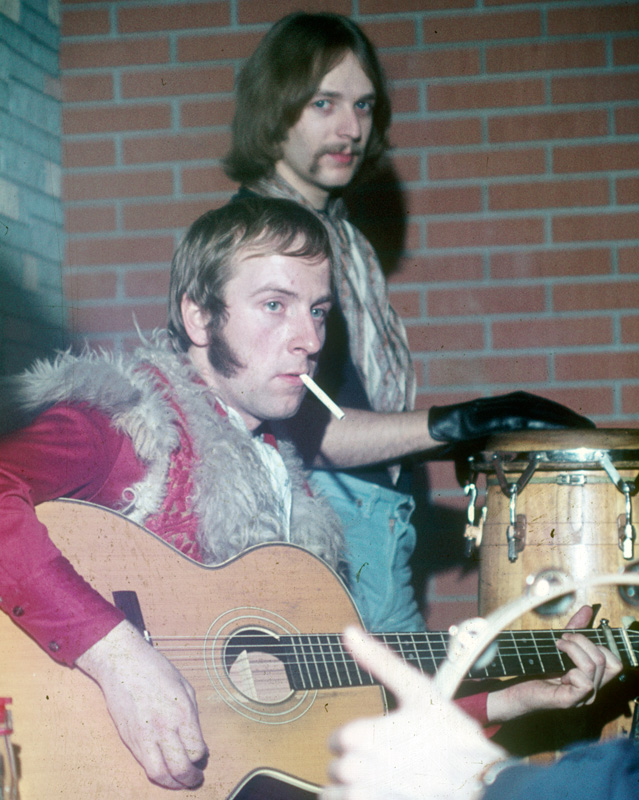 Back in Zurich, I immediately visited Hardy to tell him: "Now we're starting a band!". He was excited about it. It was immediately clear: no commercial band, creative with many original compositions, if covers, then with their own arrangements, no English name, it should be different, but internationally readable. That was the birth of 'Krokodil'.
When and where did Krokodil play their first gig?
Our premiere was on April 19, 1969 in Zurich, in the Blow-Up Club. I designed a poster and an invitation flyer, which we distributed on the street and to friends. We were surprised and delighted how the audience in the over-crowded restaurant reacted enthusiastically to our (then) non-commercial songs.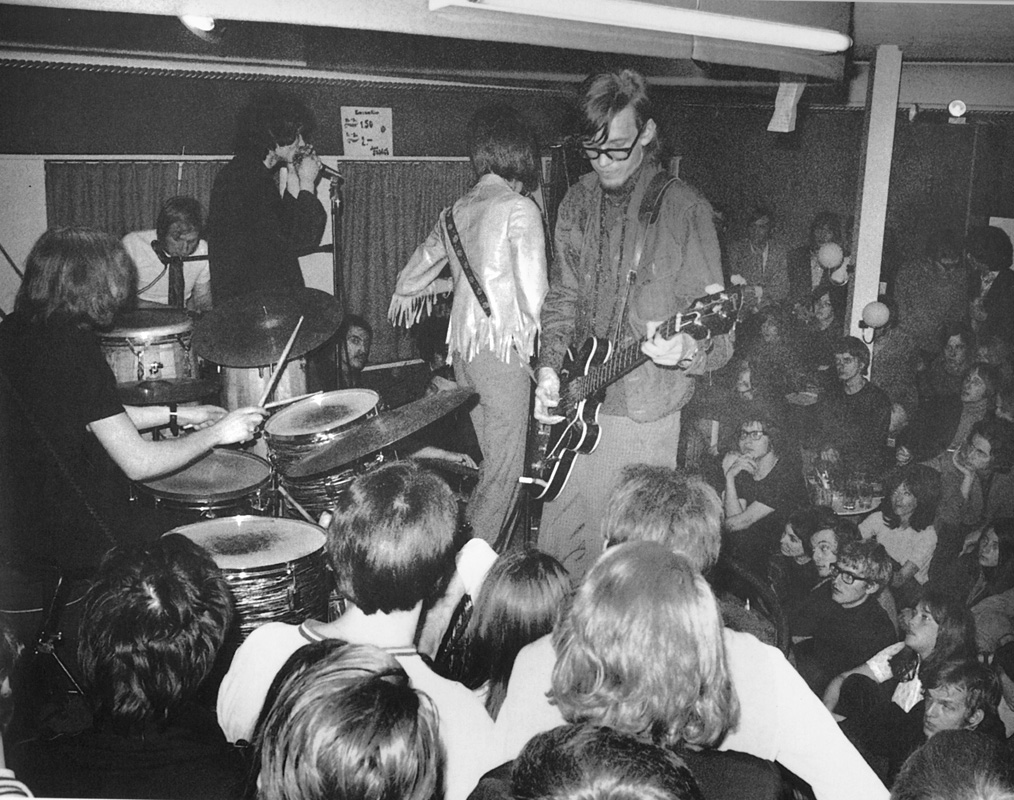 How did you decide to use the name 'Krokodil'?
That was before our first gig. We were looking for something that sounds good and sets itself apart from the common names of the time such as 'The Who', 'The Kinks' and so on. As a Swiss band, we wanted something in German. At that time, our guitarist Walty Anselmo briefly kept a real young crocodile from a friend at his home. After much back and forth, his exotic pet won the race. We found the name 'Krokodil' just right for our band.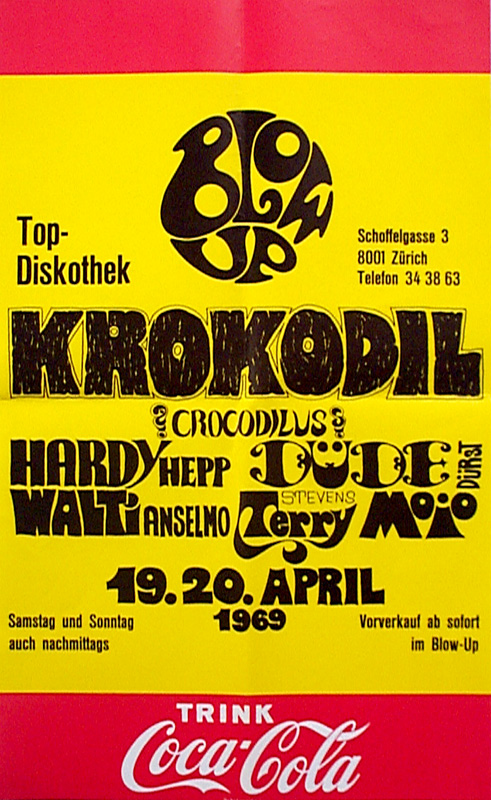 "The music became freer, wilder and more diverse"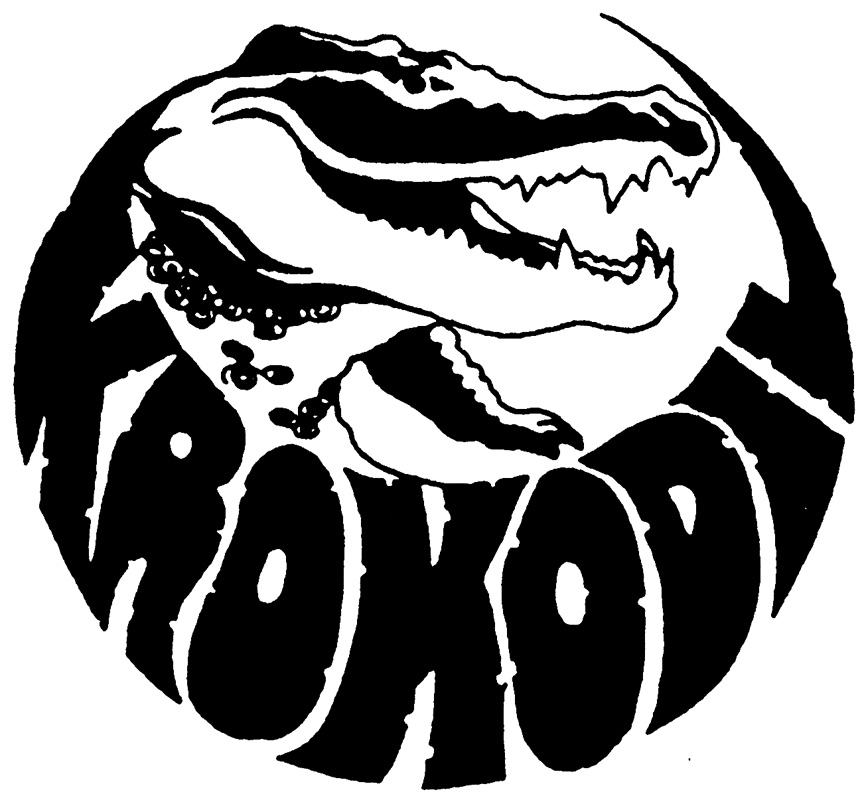 What influenced the band's sound?
All of us had dealt mainly with covers in previous bands and projects. In 1967/68 the music was changing and a lot of bands like 'Traffic', 'Iron Butterfly', 'King Crimson', 'Jimi Hendrix Experience', 'East of Eden', 'Grateful Dead' etc. were born away from the 2-minute songs. The music became freer, wilder and more diverse in dealing with the composition and the instruments. This inspired us and led us to experiment with non-popular instruments, arrangements and songs.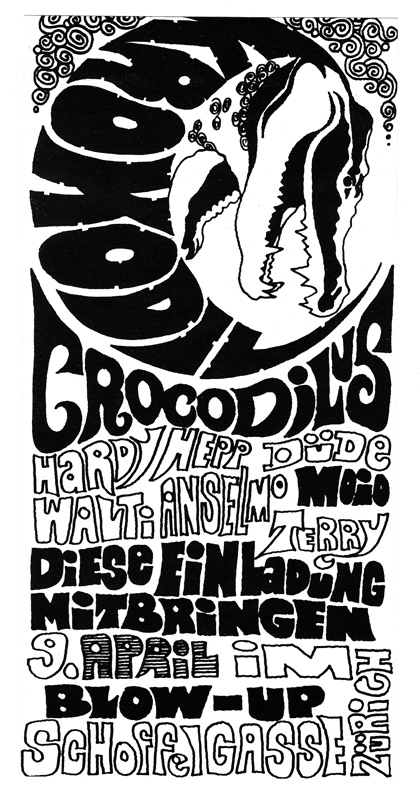 You were signed to record a promo for Camel cigarettes in late 1968. How did that come about? 
We had a good friend and fan who worked at Reynolds Cigarettes. One day he asked us if we would be interested to compose and record a commercial for the introduction of the Camel Filter Cigarettes in Switzerland. Actually, we did not want to be used for commercial purposes, but as it was then when you started a band, there was a lot missing except for the music. We needed amplifiers, a band car and much more to be professionally equipped. Therefore, after long discussions, we decided to take the step. However, with the condition that we are absolutely free in terms of music and text. On top of that came a pretty big fee that allowed us to make the needed purchases. In addition there was a Swiss-wide promo tour, which provided a great reputation.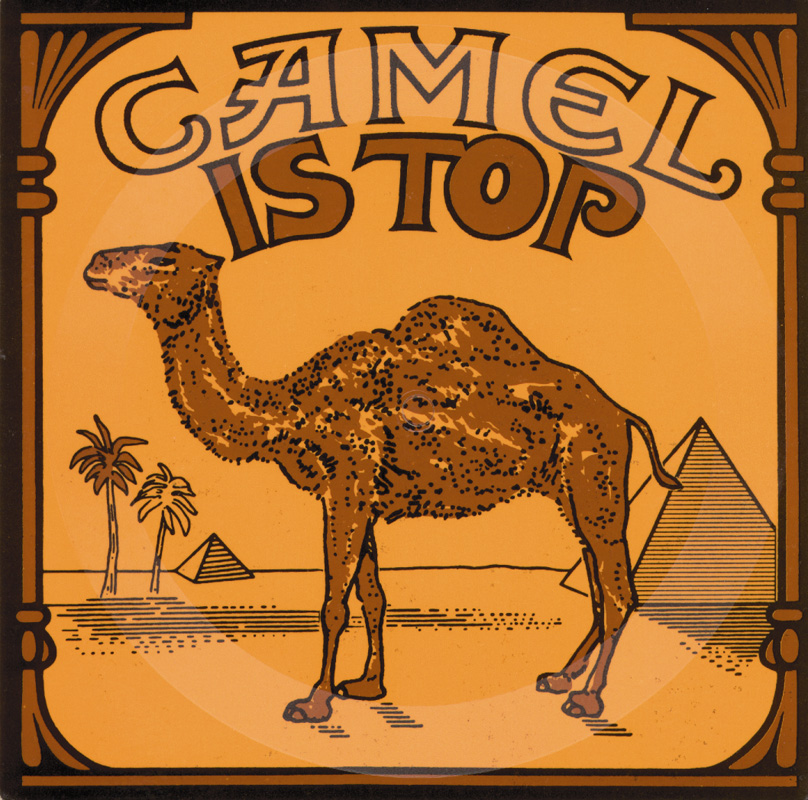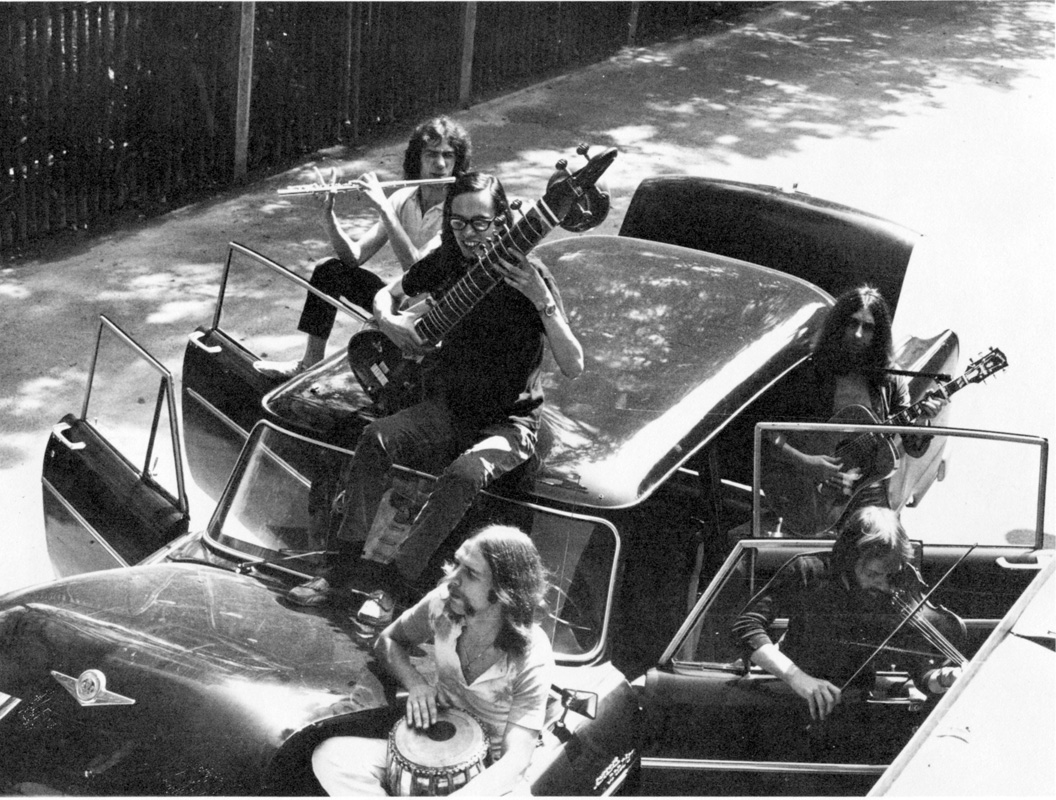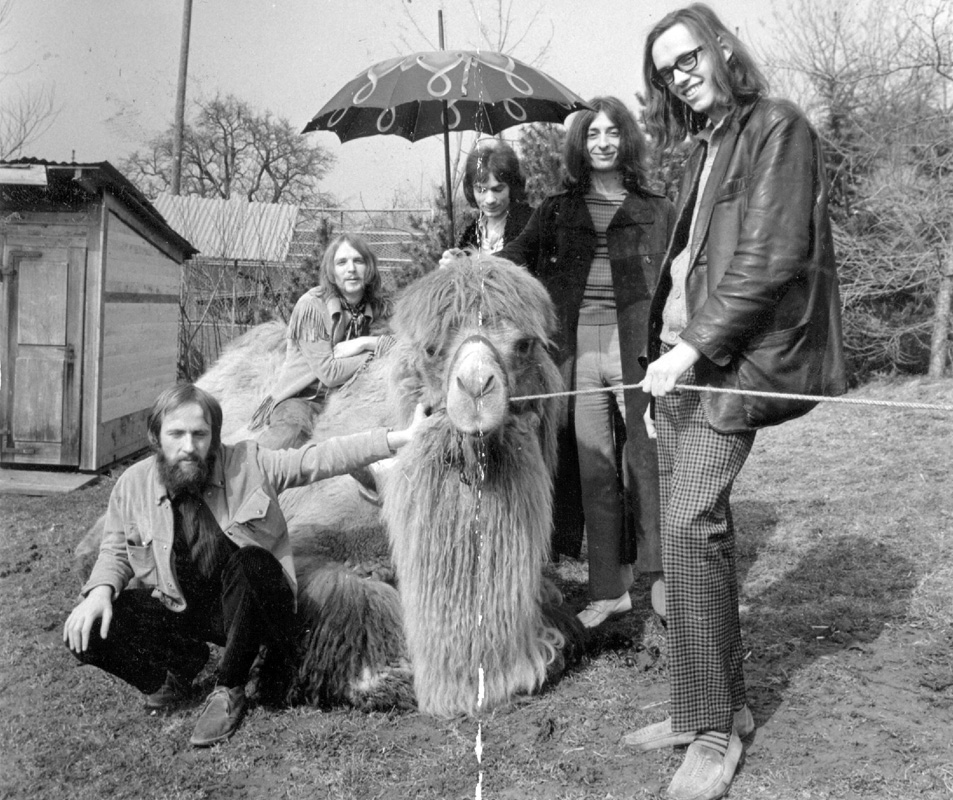 How did you get signed to Liberty?
Hardy Hepp had previously been a solo singer with Liberty under contract. He still had contact with Sigi E. Loch, the then CEO and producer of Liberty. At the recording session for the "Camel Is Top" we had recorded several other tracks which a Swiss label wanted to release as LP. Hardy brought these songs to Sigi E. Loch, who loved it. He offered us a contract, with the requirement to record all titles in Munich in the Trixie Studio. To do again demo and then to decide what to use for the album release. We knew that was our chance to gain a foothold in foreign countries as well. We signed!!! Since we had previously done many gigs and recordings in Switzerland, it was easy for us to record a demo in Munich within two days. When Sigi E. Loch heard the demo, he decided to keep the recorded material unchanged for the debut album Krokodil.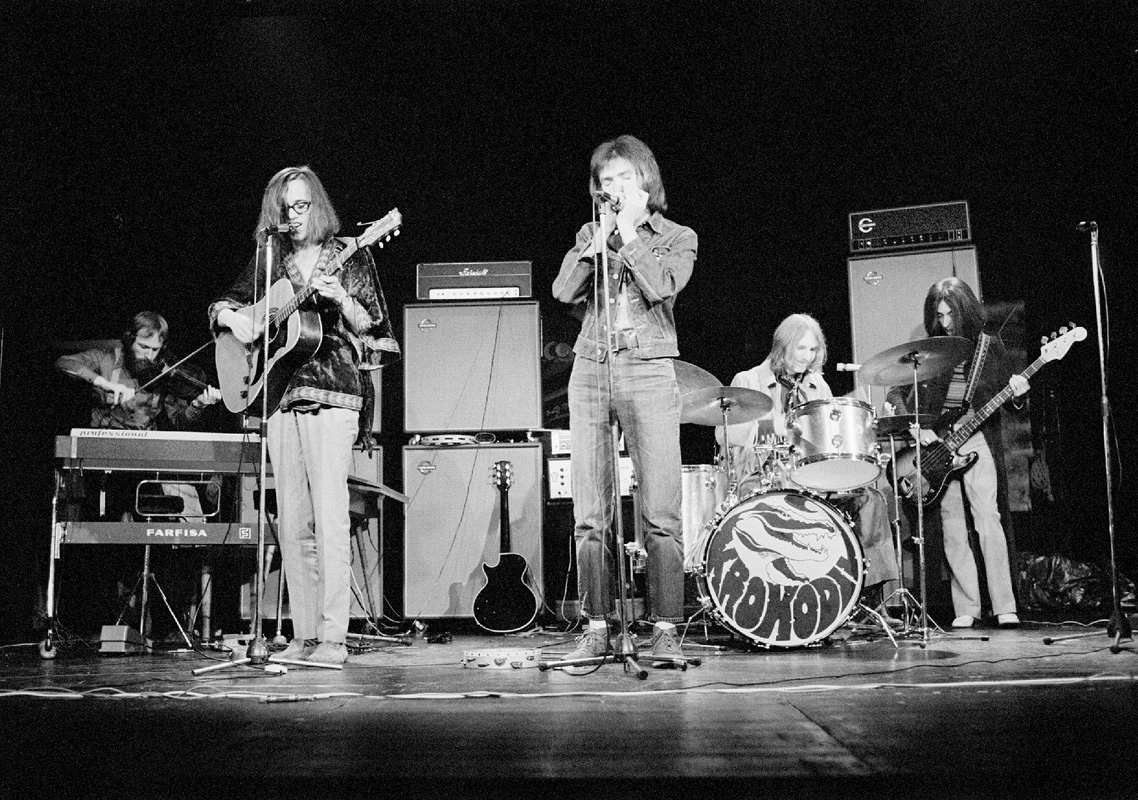 "In Switzerland we were celebrated as a supergroup!"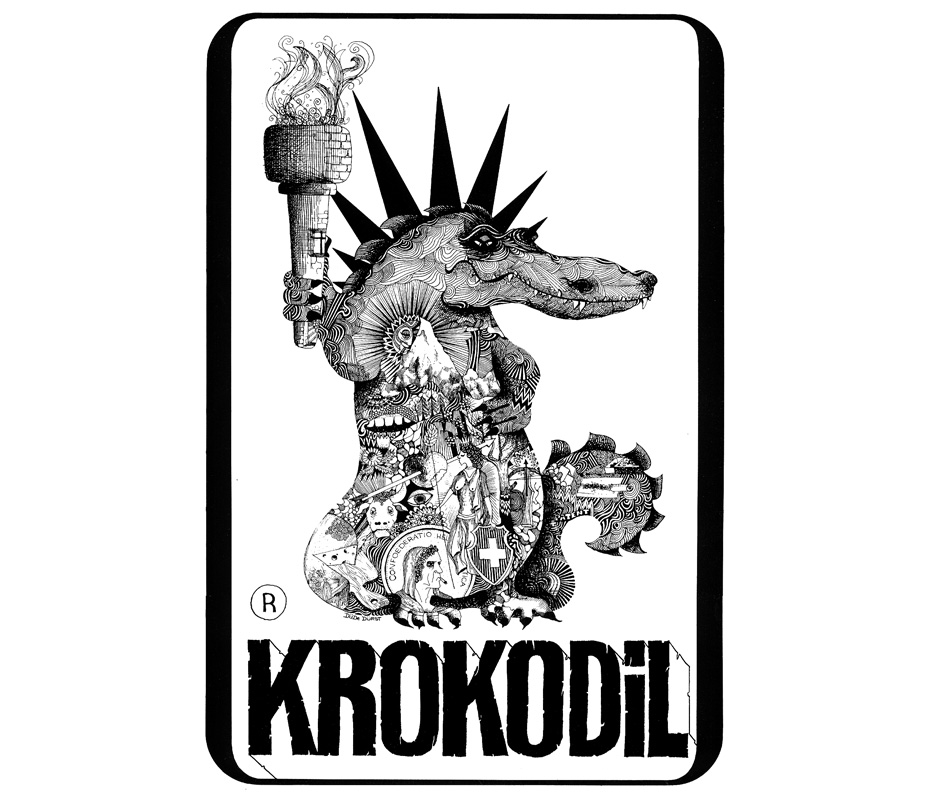 What's the story behind your debut album? What can you say about the songs, compositions and who did the cover artwork? Did you play any gigs to support the release of the album?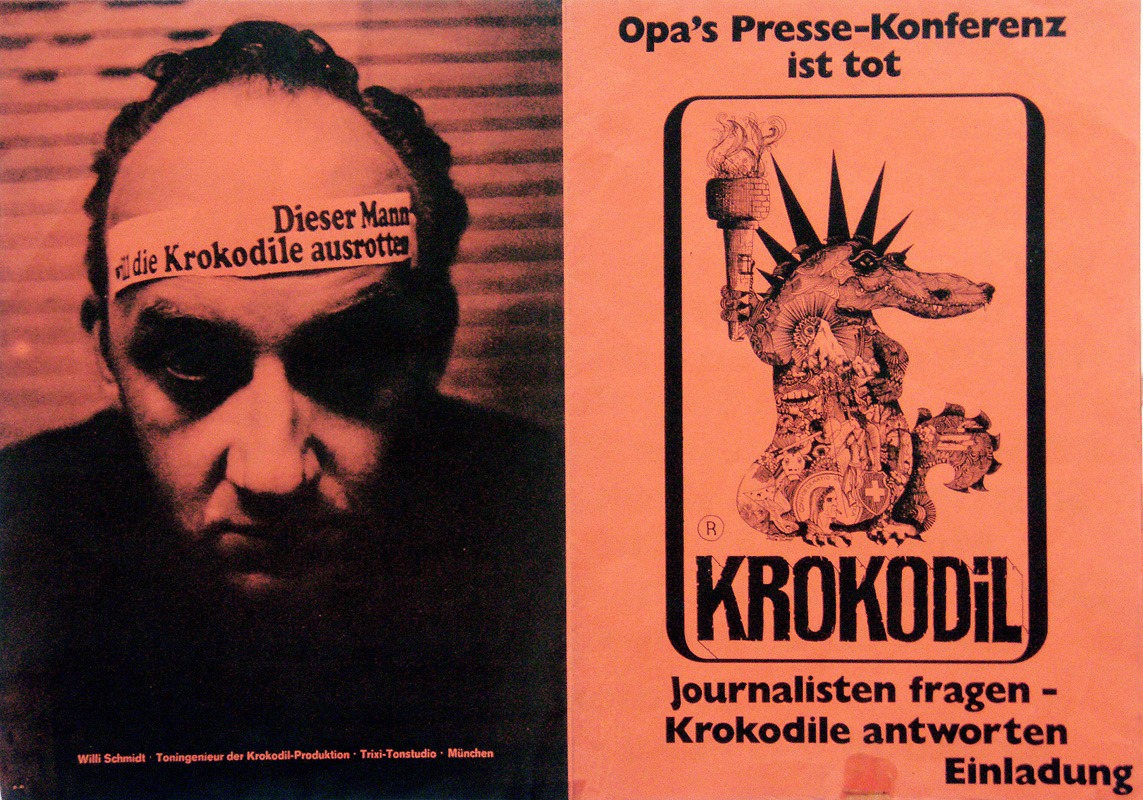 Sigi E. Loch knew that I had already designed many LP covers and posters for various bands. He ordered me to draw something. My idea was to make the Liberty logo as a crocodile. My illustration was enthusiastically accepted and printed by the record label. The US record company did not want this cover, on the grounds that their logo should not be defaced. We insisted on our version, which then led to the rejection of production. Various US stores have then simply imported the LP.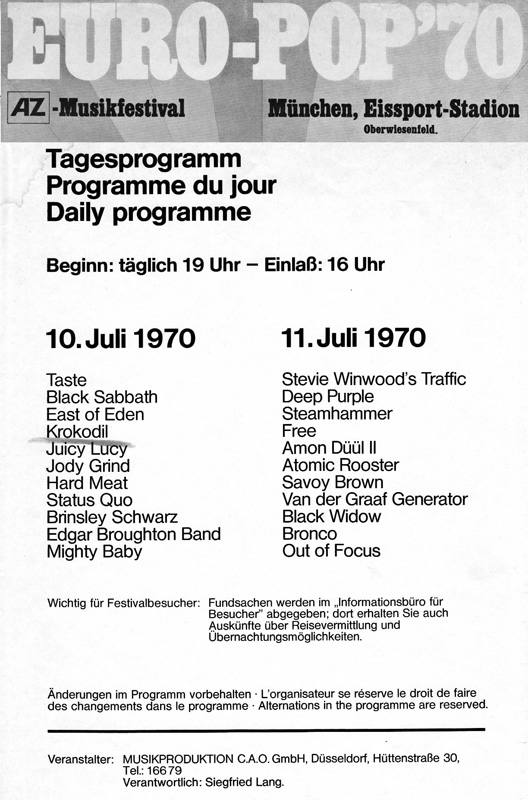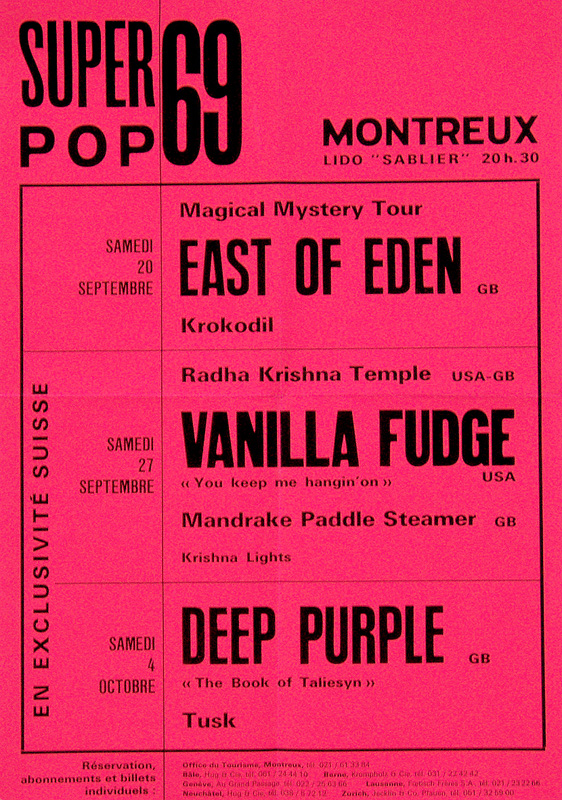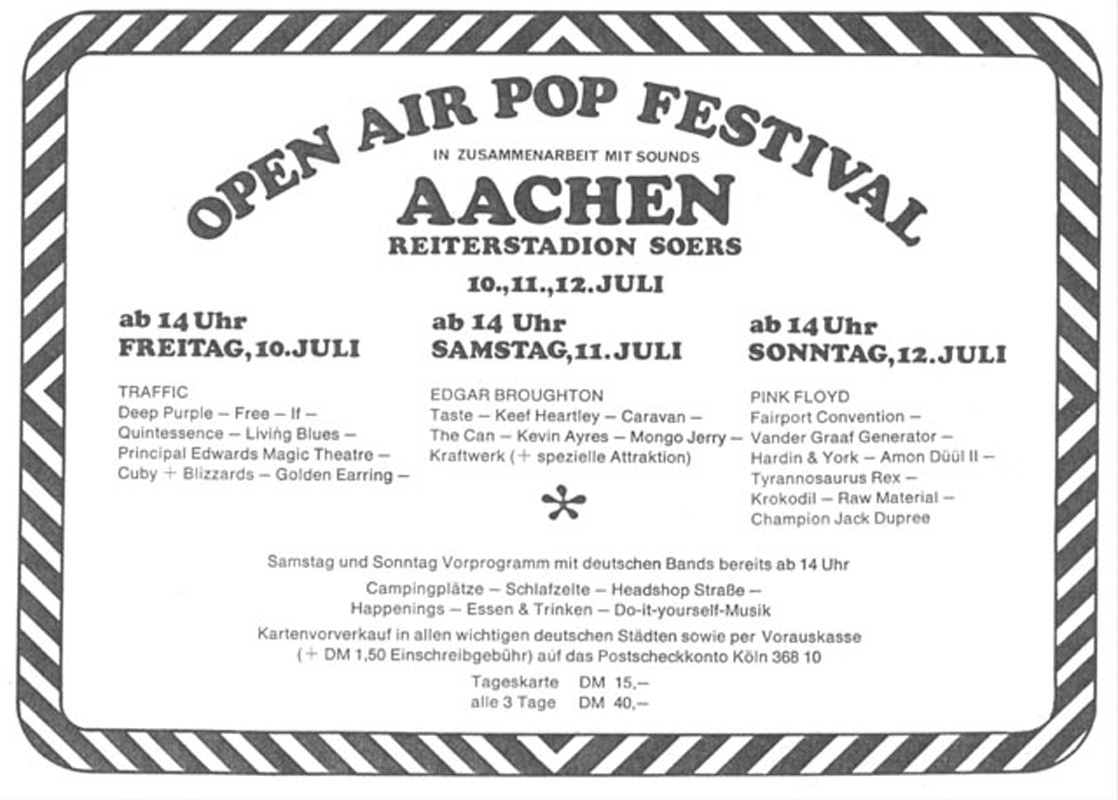 Harmonica was not very up to date in progressive rock bands in Europe at the time. Mojo Weideli, our harp player, often played his instrument via a booster / distortion pedal, which totally irritated the sound engineer at Trixie Studio. He refused to record this on the grounds that "such a distorted harmonica would not work!". Sigi as a producer then said: "But it will be recorded!"
With the first album we were sent on tour by Liberty, together with 'Can' and 'Amon Düül II'. We played at several open-airs with top acts like 'Pink Floyd', 'Uriah Heep', 'Guru Guru', 'Kraftwerk', 'East of Eden', 'Brian Auger' and many others. The record sales started to appear. There were TV and radio appearances and studio jobs. In Switzerland we were celebrated as a supergroup! We completed two major schoolhouse tours throughout Switzerland. We discussed our music at those schoolhouses. We were successful and we were in the best Krokodil form.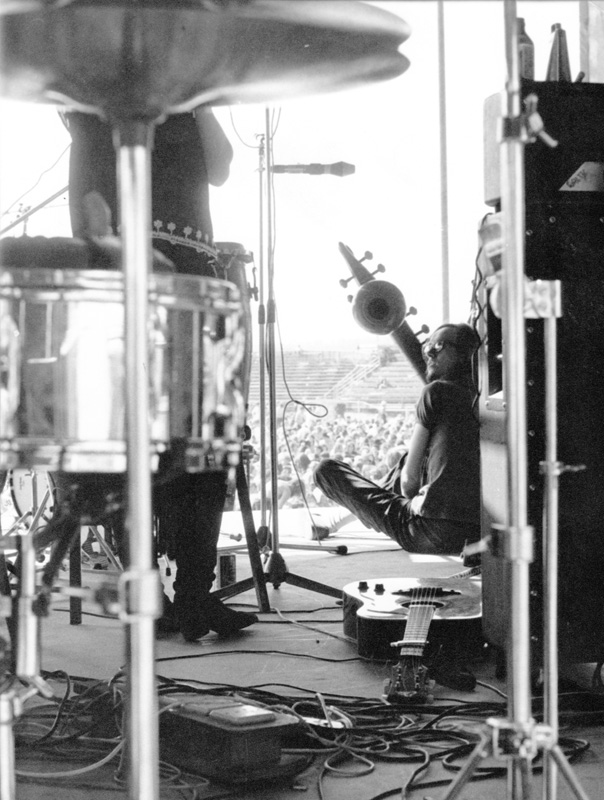 How about your second album? Swamp was released a year later on the same label. What are some of the strongest memories from recording it? It's more blues oriented album.
The second album Swamp should be musically a further development. We knew we had one week of studio time, so we wanted to get the most out of it. We rented a house in the Alps that could only be reached by cable car. With this we transported PA, instruments, food etc. and installed ourselves with the idea to work undisturbed. It went well, we were trying a lot.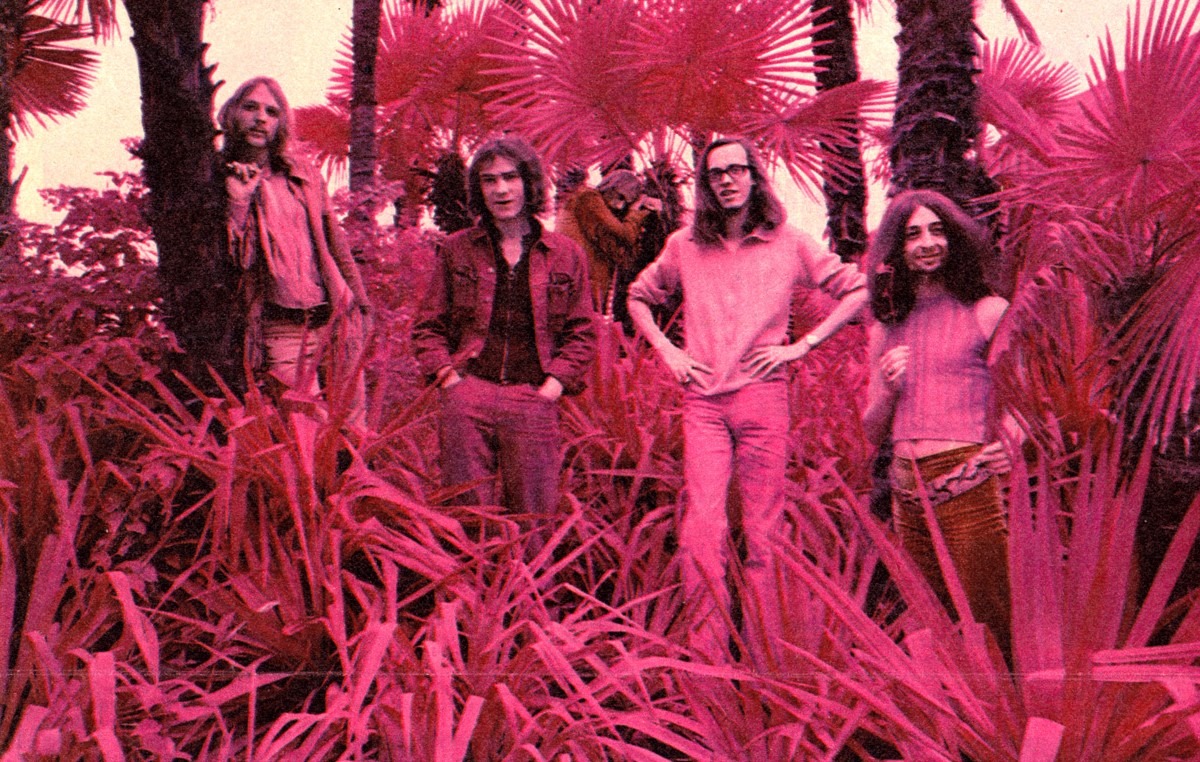 But then you already felt how Hardy held back composing. Without our knowledge, his departure from the band became apparent. We later learned that the many gigs, our musical escapades and travels were too much for him, he was again looking for a solo career.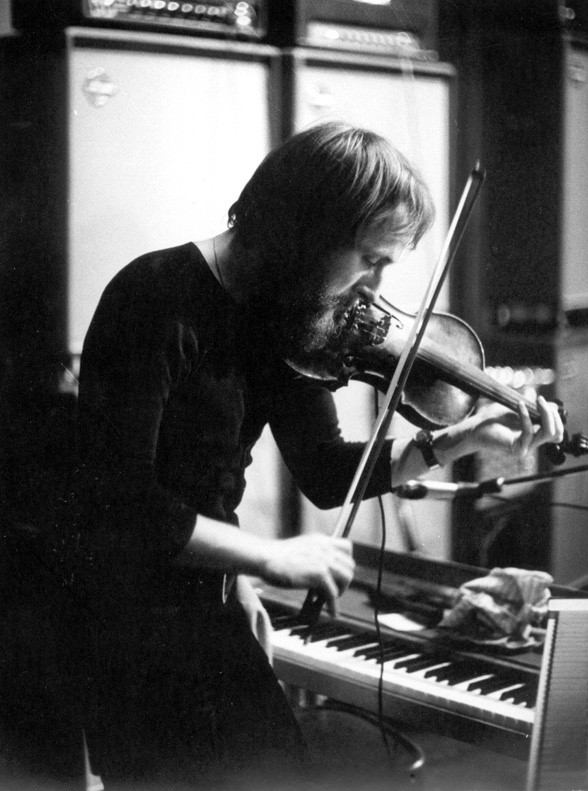 I think it has become a good album anyway. The songs of Hardy and the bluesy part of Walty sound like Krokodil. At the end of the rehearsals in the Alps, the material had to be flown down to the valley in a helicopter due to a cable car defect.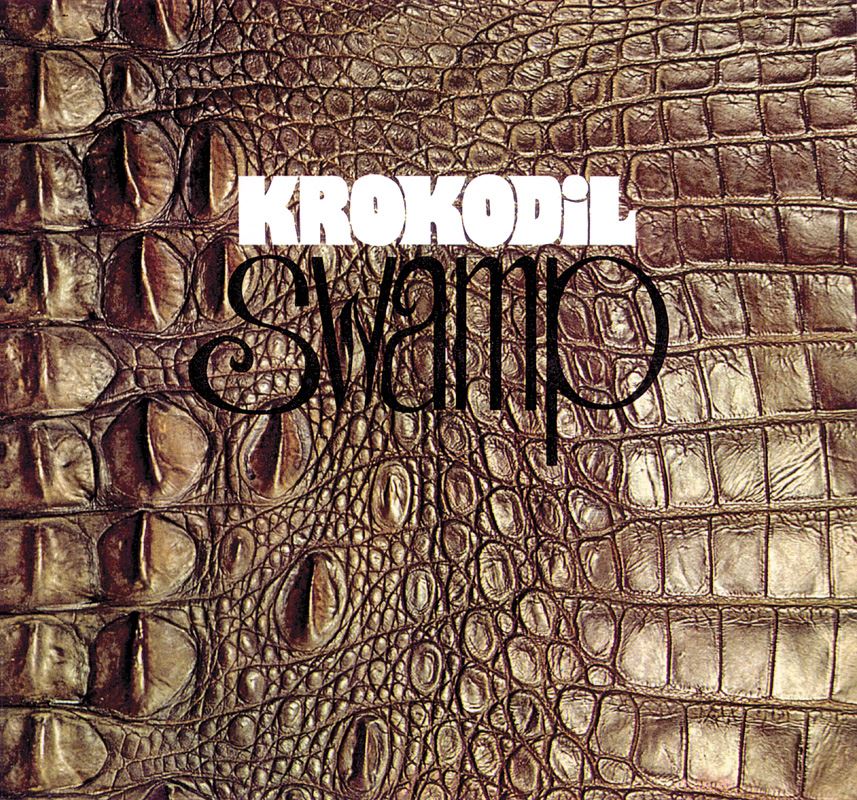 At the end of April 1971, we parted company with Hardy on the best of terms. We are still friends today.
"We were looking for a new concept and sound."
An Invisible World Revealed, your third album, is the most adventures studio recording. Where was it recorded it and did the influences change?
Hardy was gone and we were now a quartet without a violin, keys and without one solo voice. At the same time CEO Sigi E. Loch joined Warner Brothers and the Liberty Label was bought by United Artists. So we were new on the United Artists label.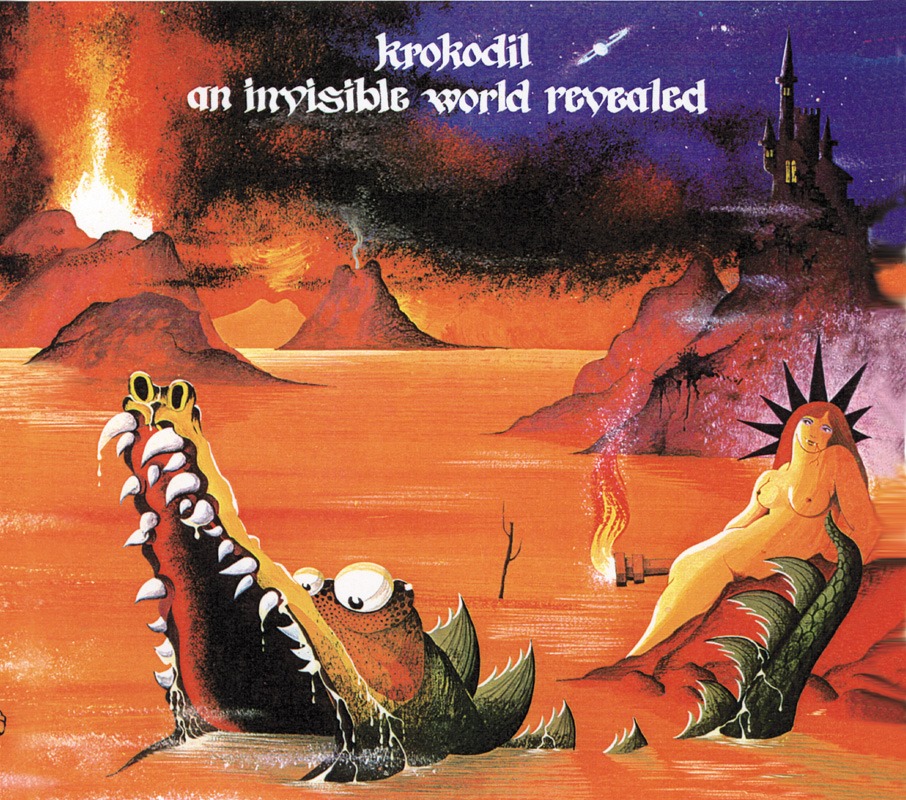 Also a new album was due. We were offered a new studio in Stommeln / Cologne. Since we heard that Dierks Studio is currently the most modern and best in Germany, that was only right. It was a stroke of luck. Dieter Dierks was building his studio and wanted to try out a lot of new things and experiment, which suited us very well. Also we were looking for a new concept and sound. It was a great and fruitful collaboration with Dieter.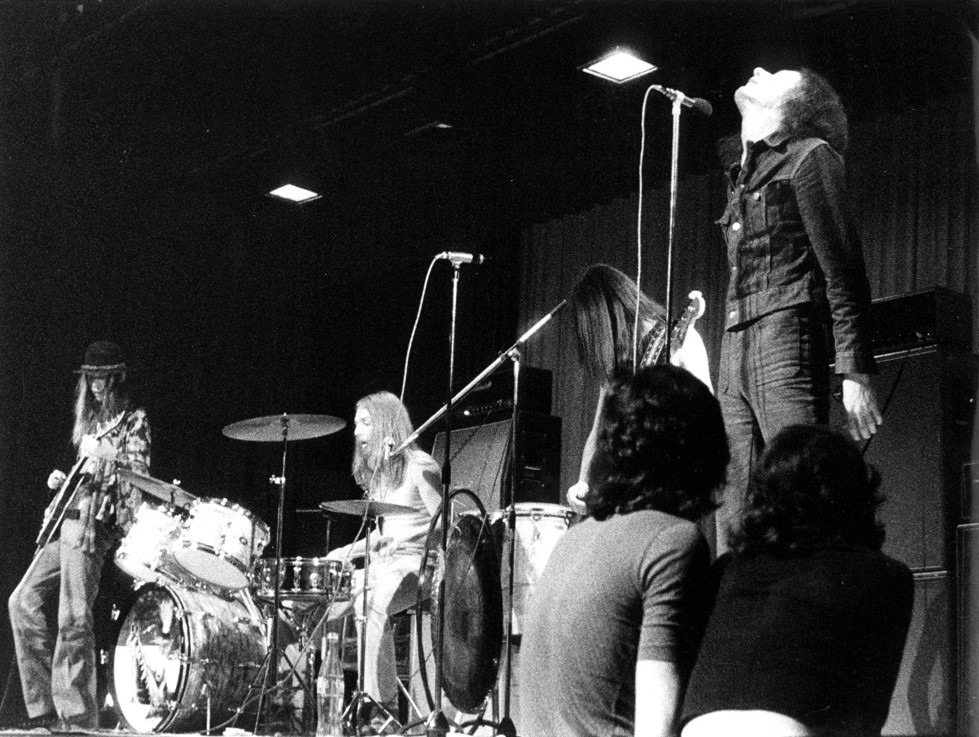 That's how the most popular Krokodil album An Invisible World Revealed was made. With plenty of midnight sessions, long experimentation, Mellotron and sleepless nights. With this album we were on a big tour with 'Can' and 'Amon Düül II'.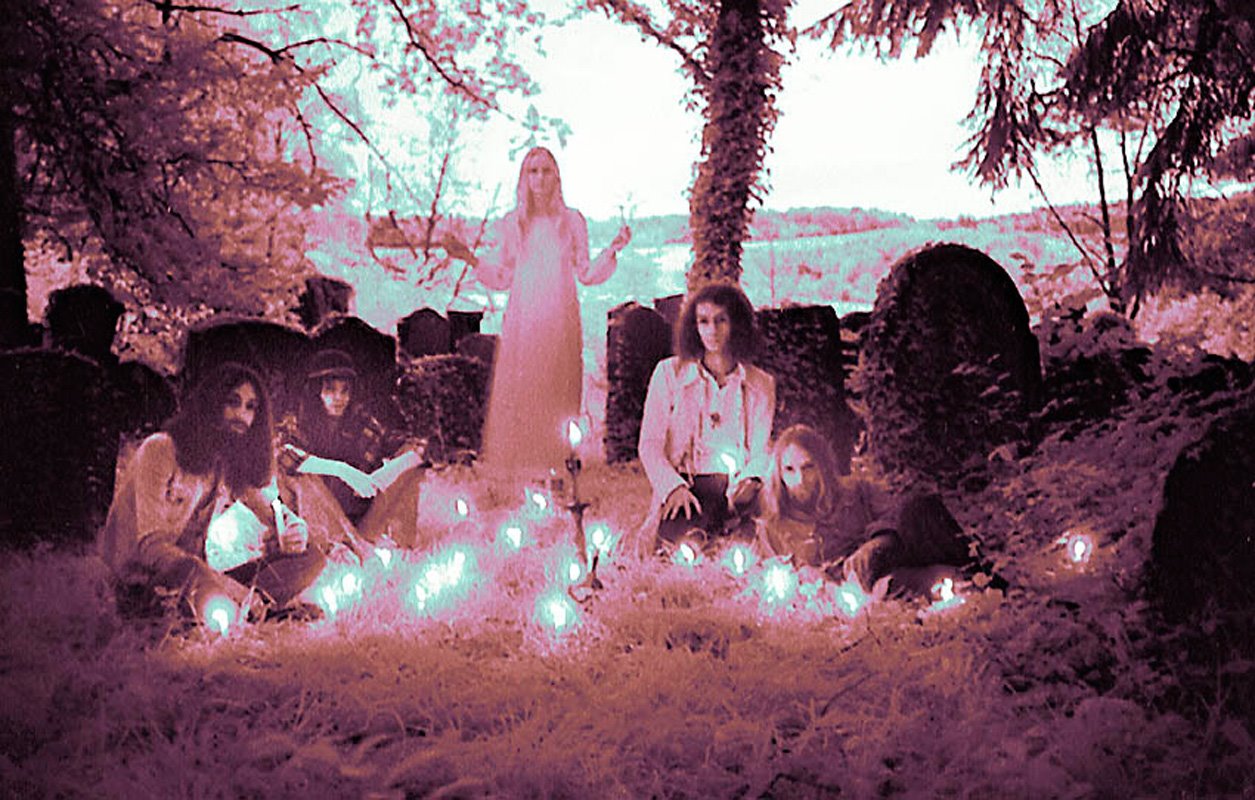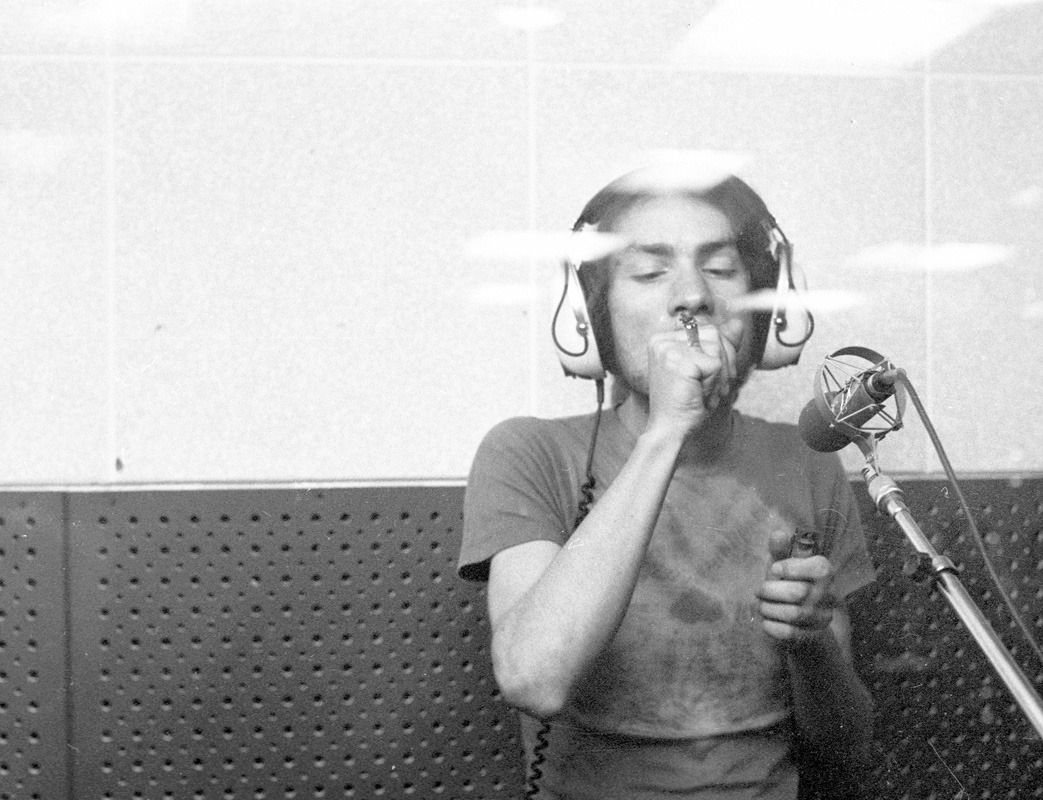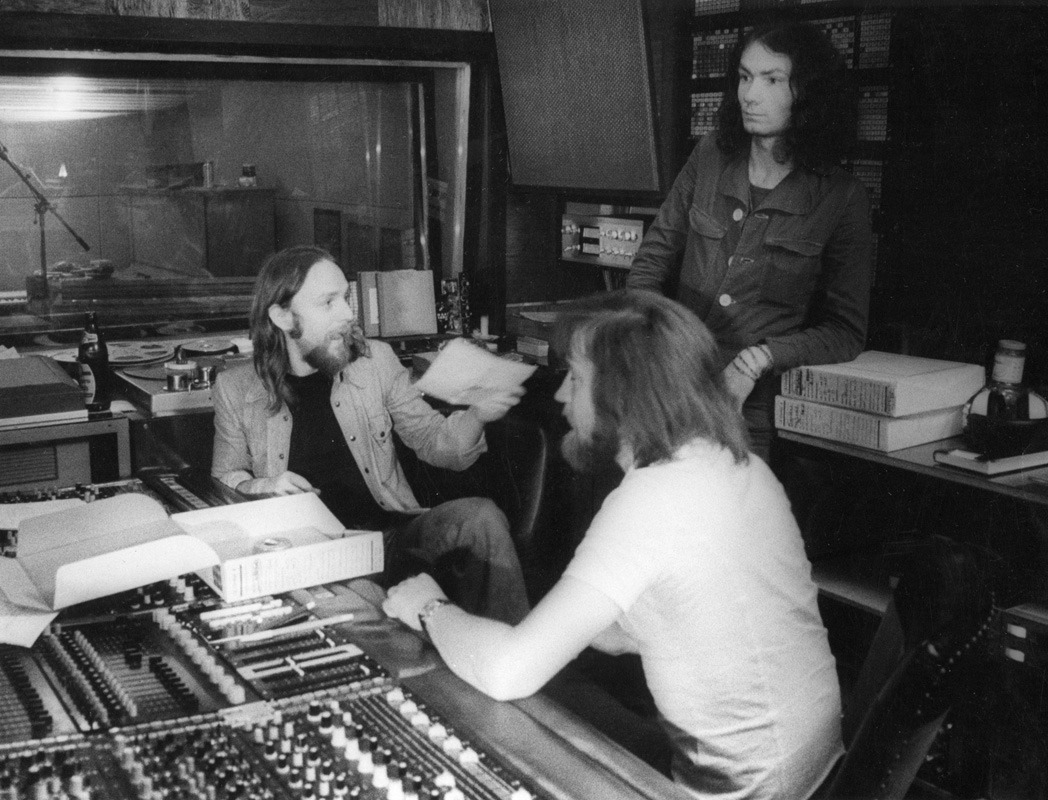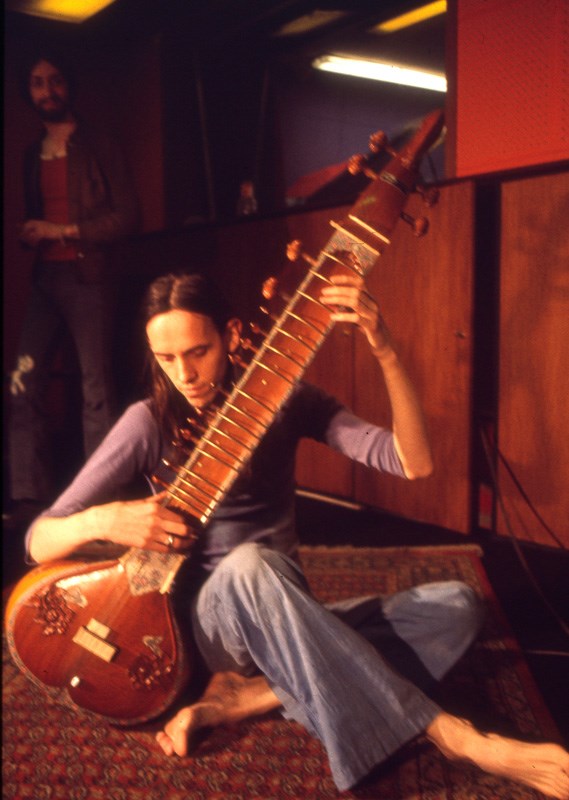 Were you inspired by psychoactive substances like LSD at the time of writing the albums?
LSD and joints were already up-to-date with 'Krokodil'. But during the recordings in the studio for an album, hard drugs were never an issue, with live performances it happened occasionally.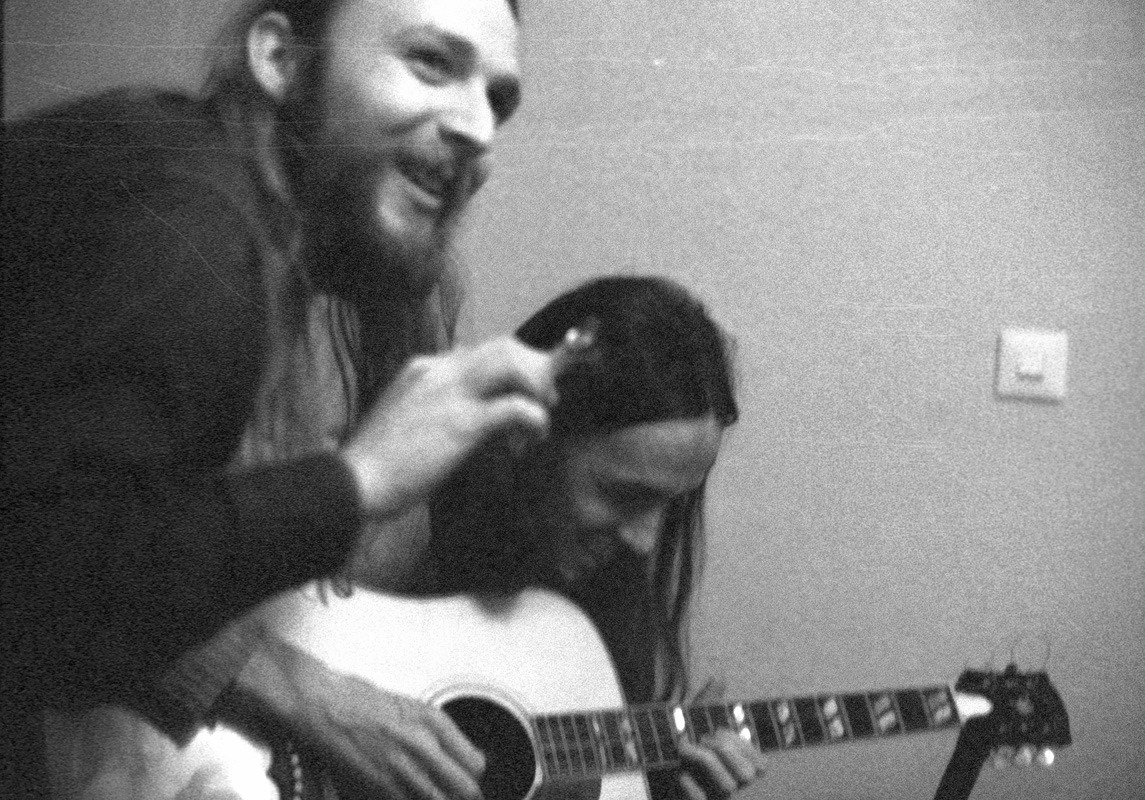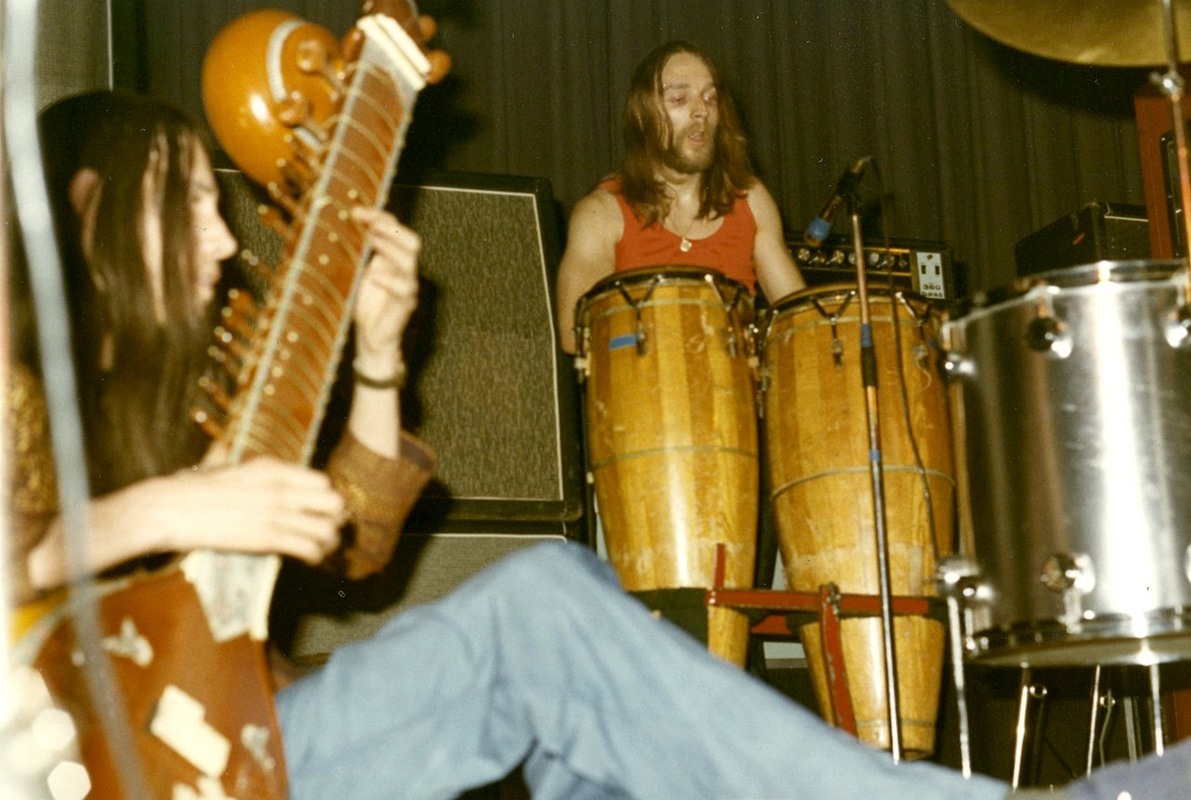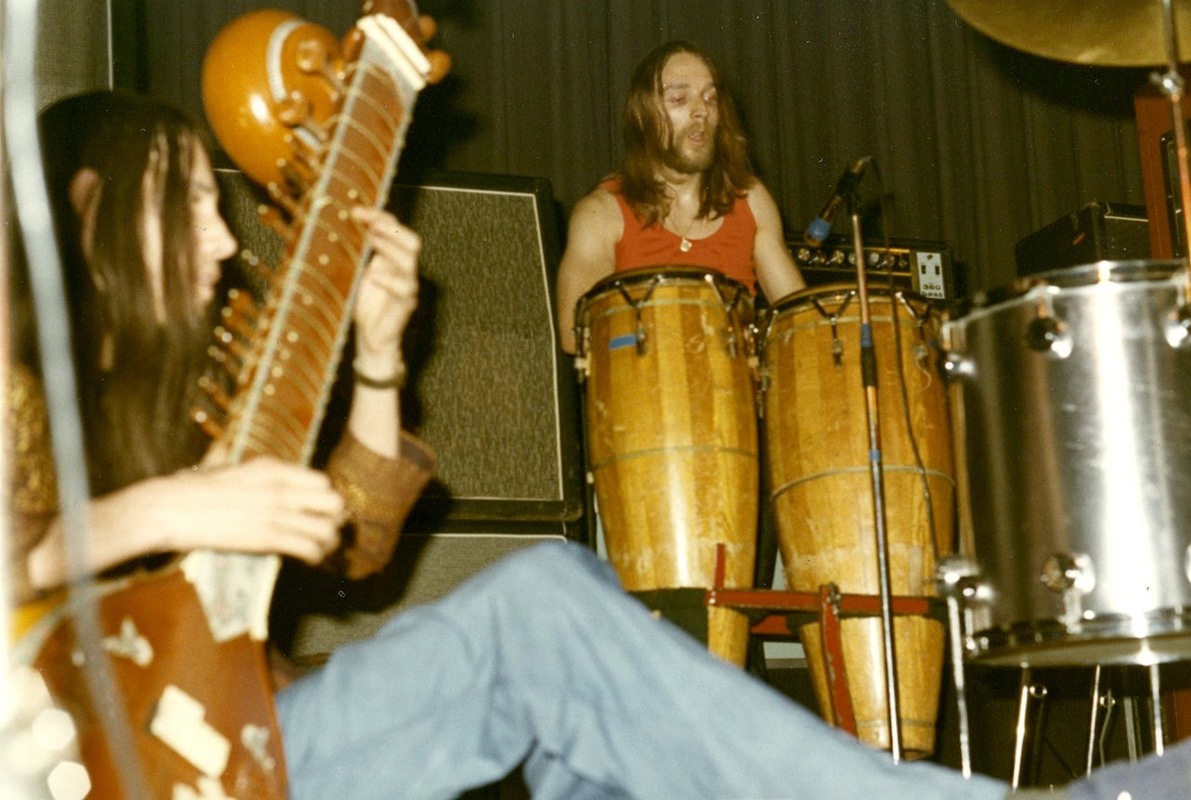 Getting Up for the Morning was your following release on a new label – Bacillus.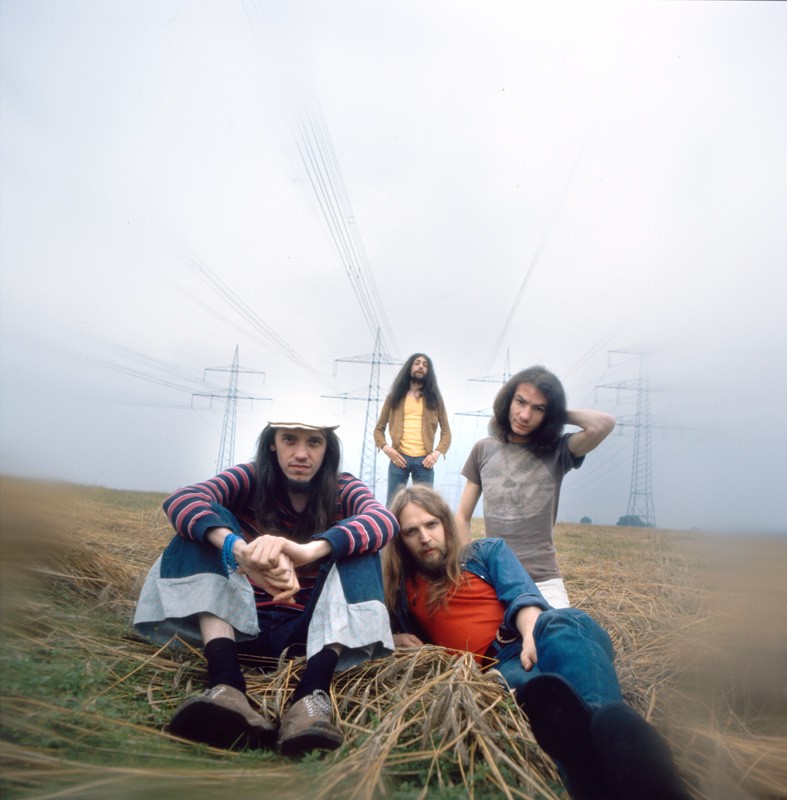 It went well. The album An Invisible World Revealed brought us many gigs and jobs as studio musicians for foreign projects, one of them was 'Demon Thor' by Thomy Fortmann.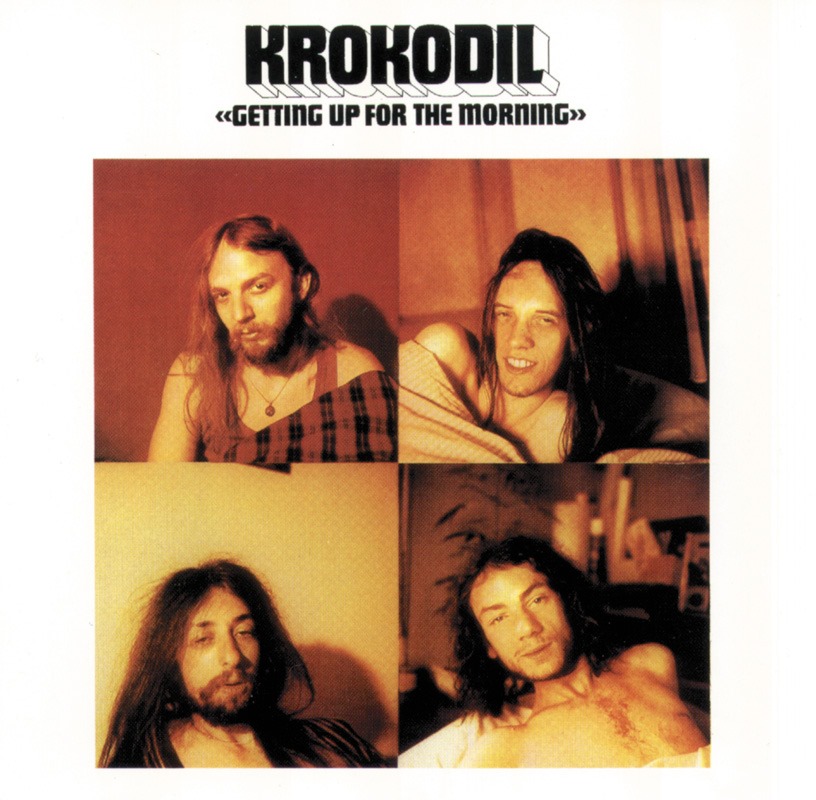 Then came the big shock! United Artists went bankrupt and was liquidated. What now? I've been Bandleader, Manager and much more for the band since Hardy's departure. So it was my job to make a new deal. I started to get information from friends and acquaintances about record companies. Luckily there were many labels interested in 'Krokodil' during this time. I wanted an advance and Bellaphone made me the best offer.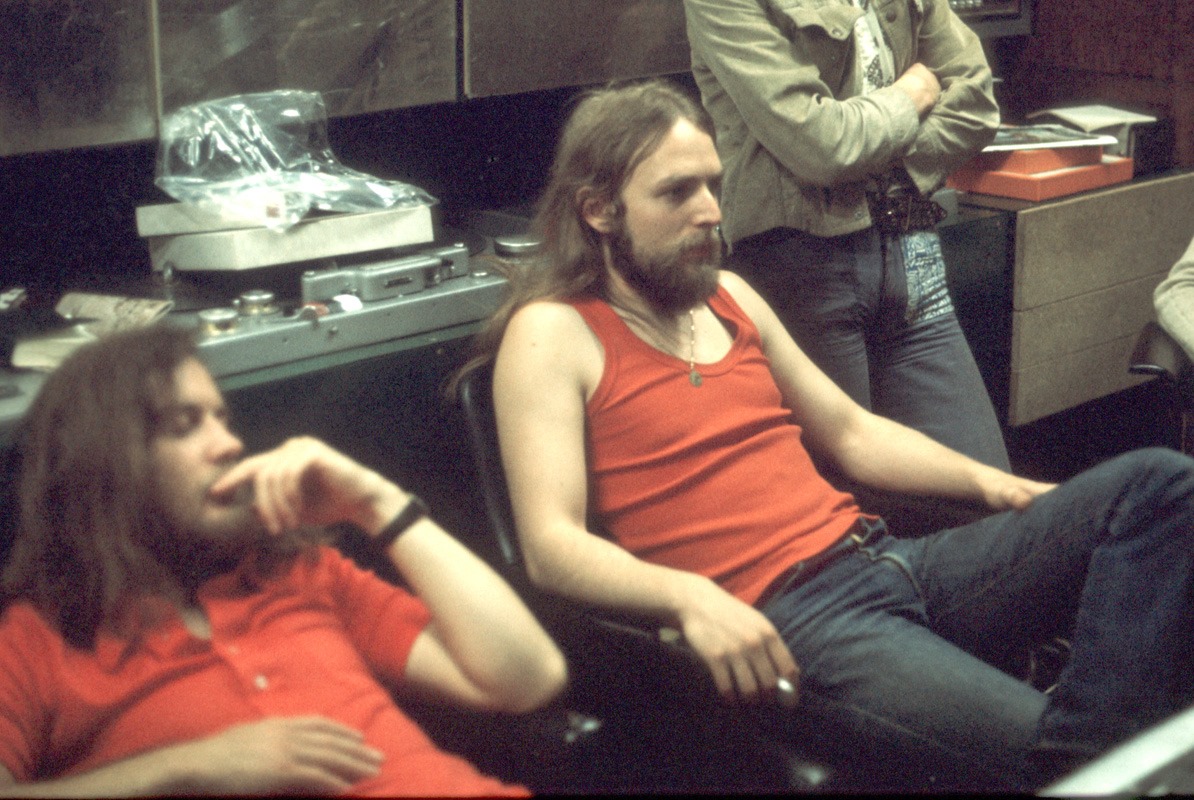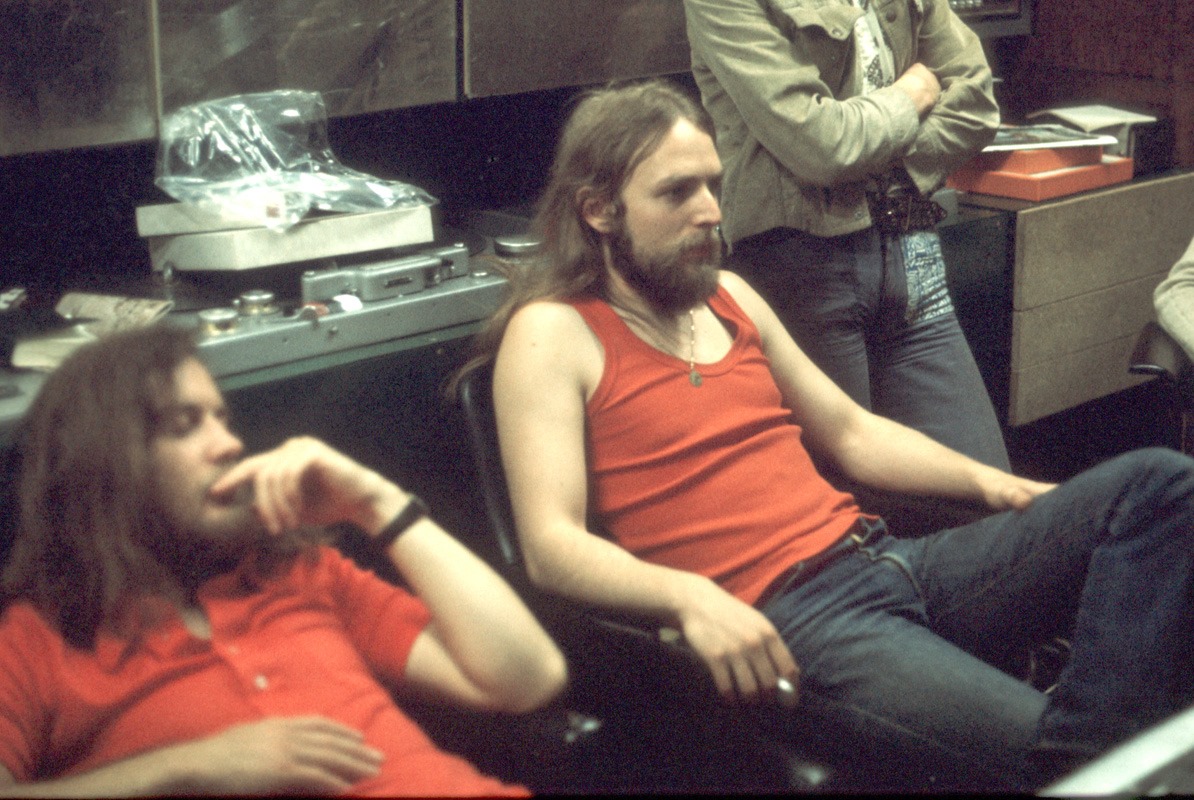 To conclude the contract, I traveled to Frankfurt. It was a long and exhausting negotiation, which I only managed to overcome with the help of speed. I went home with a check and the order for a new album plus a single. A short time later we were back in the studio with Dieter Dierks for the album Getting up for the Morning and the single 'Krock'n Roll' / 'A Mighty Long Way To Go'.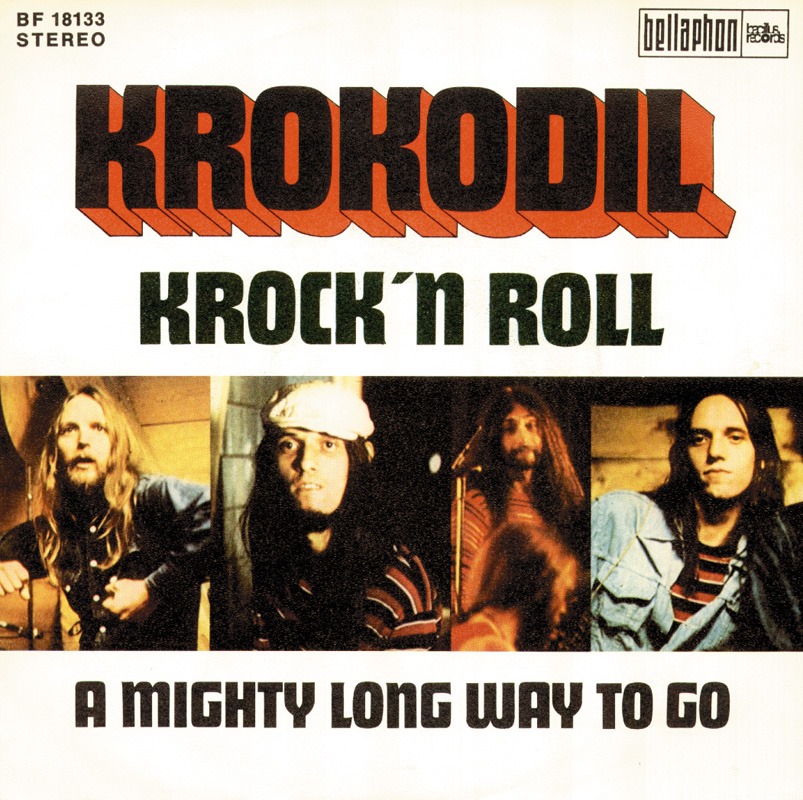 You also recorded a solo album in 1971. Krokodil Solo was released on Sunset Records. I really love the atmosphere on the album. What are your thoughts on that?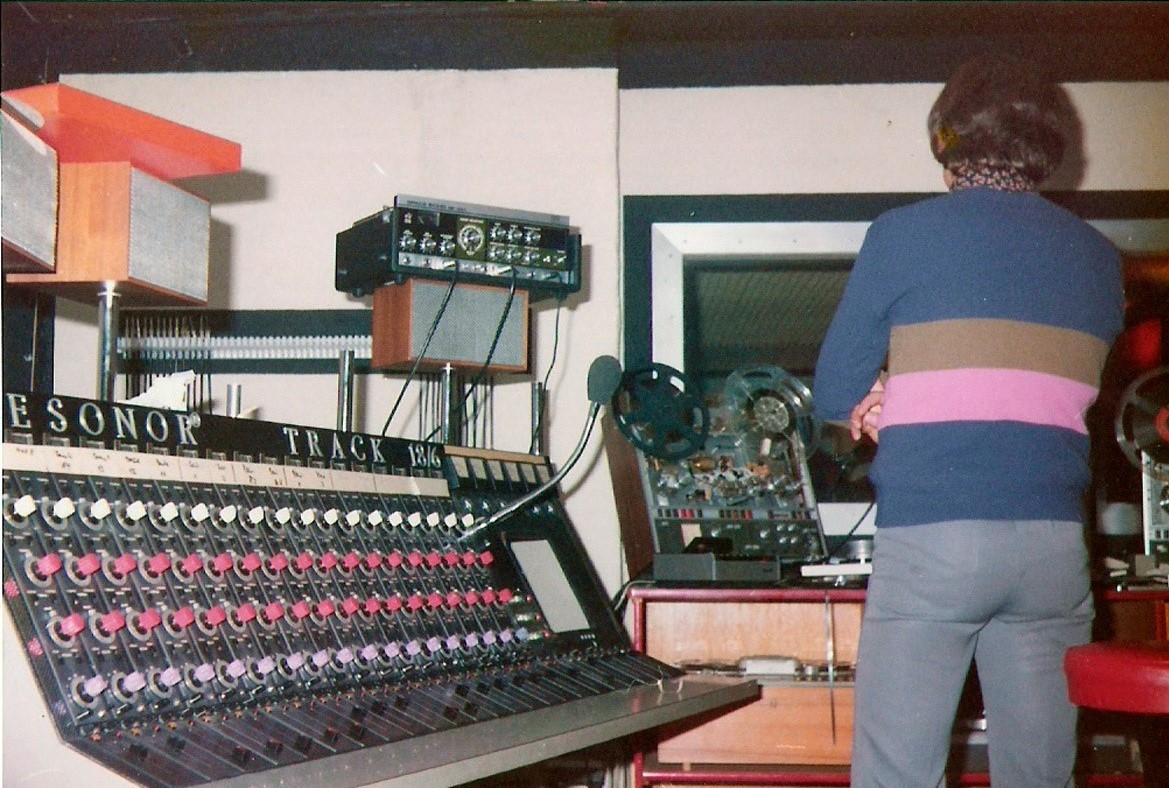 After recording our first studio recordings in Switzerland (The First Recordings), I was alone in the studio for one day with the idea of ​​recording a drum solo album. I smoked a few joints and drummed on it. The sound engineer Serge Meier was enthusiastic and said, I should play in the playback process (2-track) again. After a lot of tape dubbing, a tape full of drums and percussion sounds was created.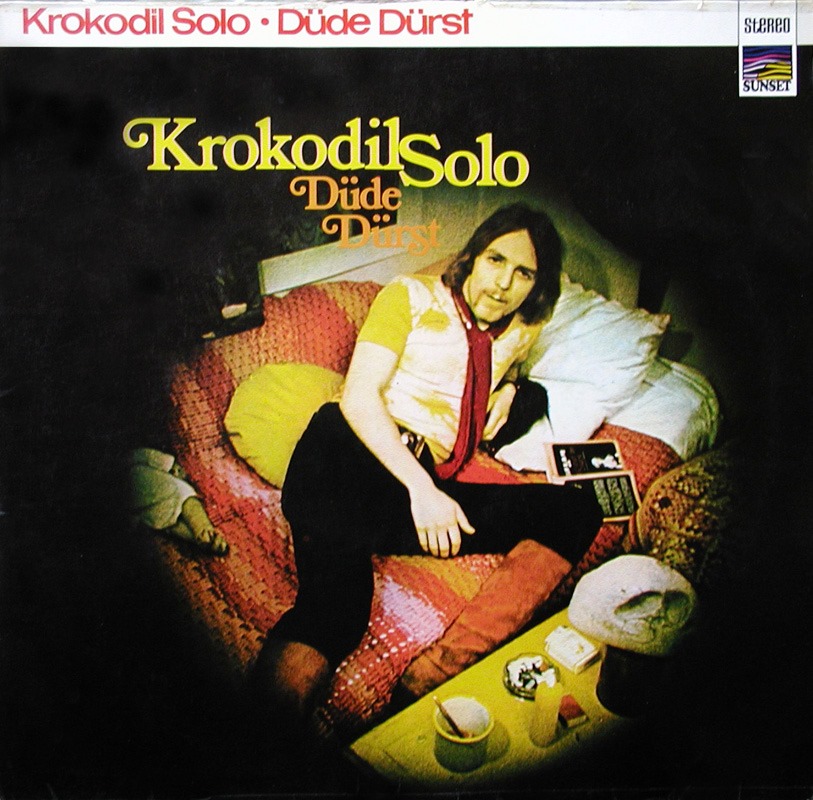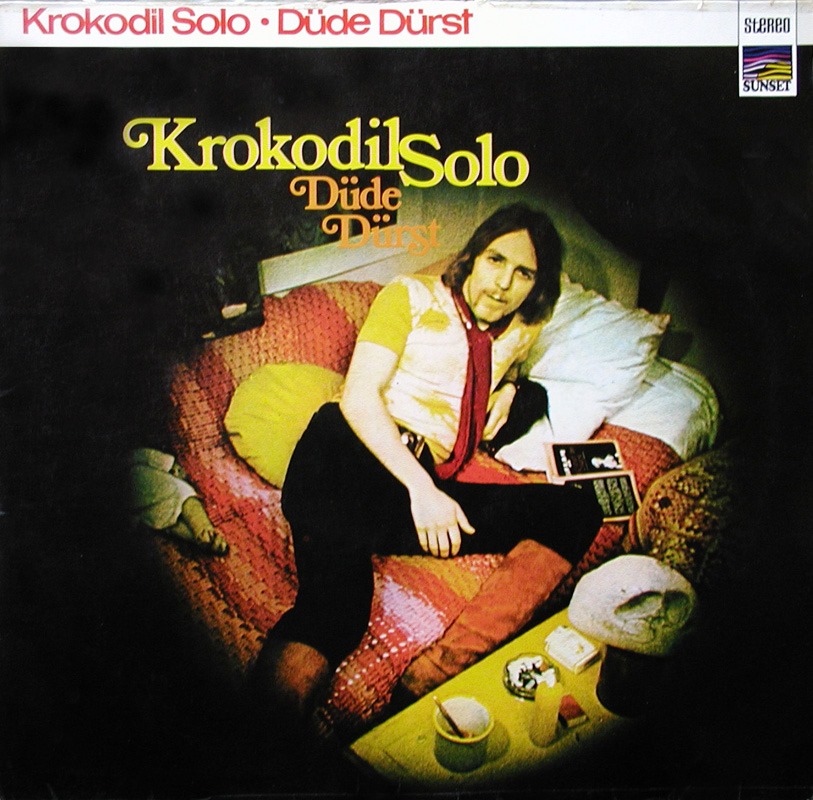 Later I played this tape to Sigi E. Loch and he said: "Good idea, but go back to the studio for two days and listen to a bass and a guitar for a change". So I got Terry Stevens, the Krokodil bassist, Jonas, a WG partner on the sax and Brew, a guitarist who also had a go at a stoned session in the studio. It was two fun days with a lot of improvisation and 2-track-tapes and a non-commercial, but nevertheless good selling album, which was praised by the press.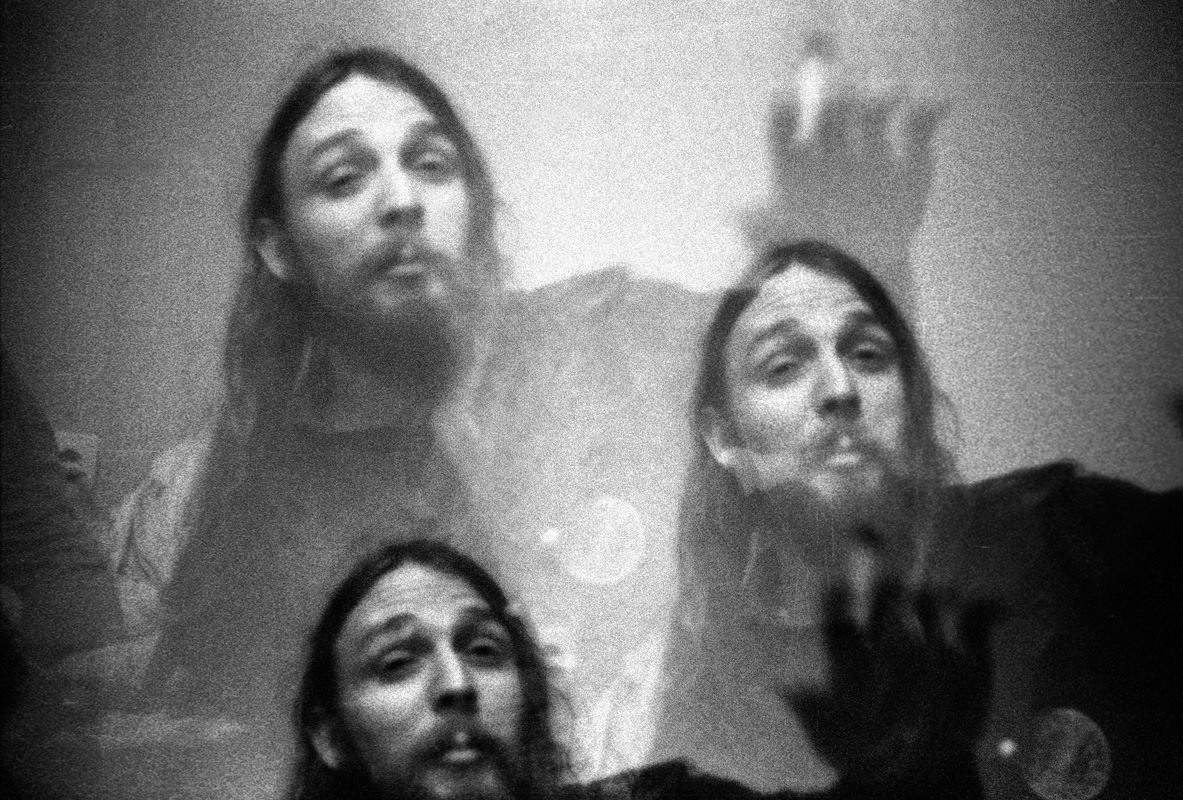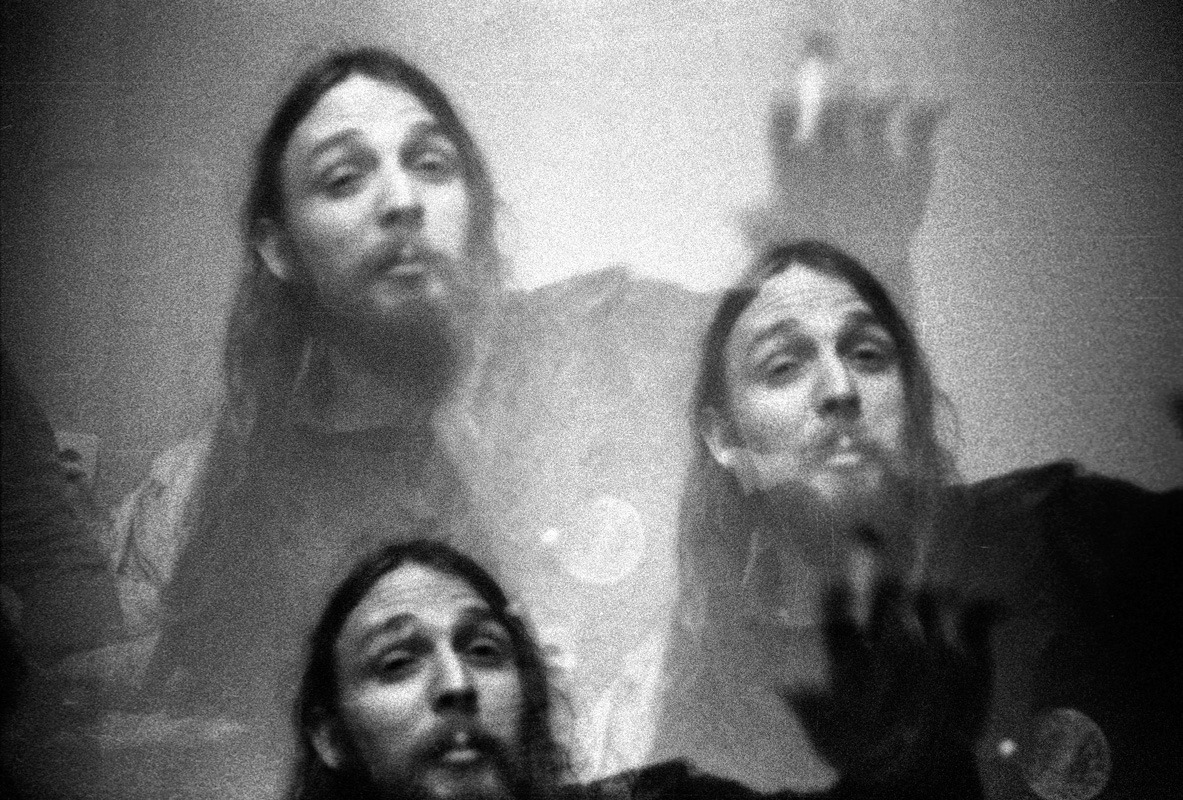 Sweat and Swim was a very diverse album, covering lot's of influences from different styles.
The deal with Bellaphon was resinous. They made little promo for us and we felt they were not really interested in 'Krokodil'. Nevertheless, we were obliged under the contract to record a new album. In the meantime, we had many ideas, had composed songs and tried out, but nothing worked out.
"We were the quadro guinea pig"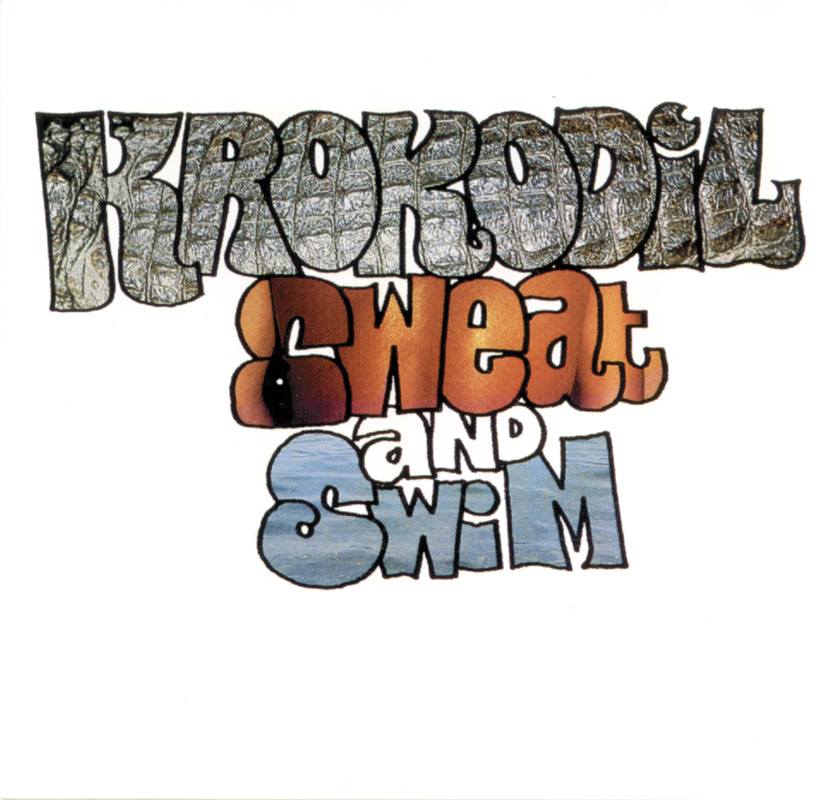 This is the third time we have been to Dierks Studio, with Dieter as engineer. Almost all tracks were developed and arranged in the studio as in An Invisible World Revealed. We created a variety of tracks, including those with guests such as Hardy Hepp, Rainer Marz, Feit Feiten and Rainer Brüninghaus. Since we recorded a lot of songs, Bellaphon decided to release a double album in quadraphonic. From today's perspective, I think we were the quadro guinea pig at the time to find out how this new technology is selling. It was a flop. Quadro players and amplifiers were costly and expensive and quickly returned from the market. Unfortunately also the album Sweat and Swim, which did not sound that good on the usual stereo turntable. To my knowledge, it was never mixed in stereo.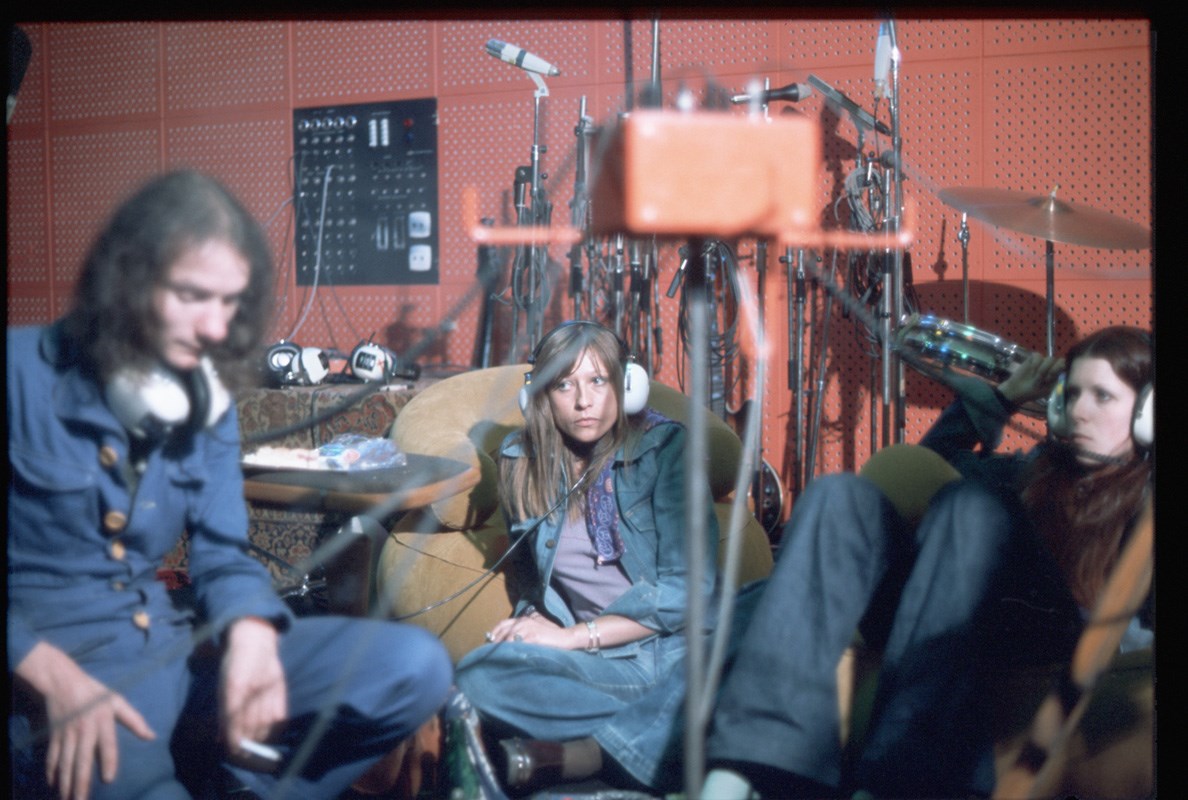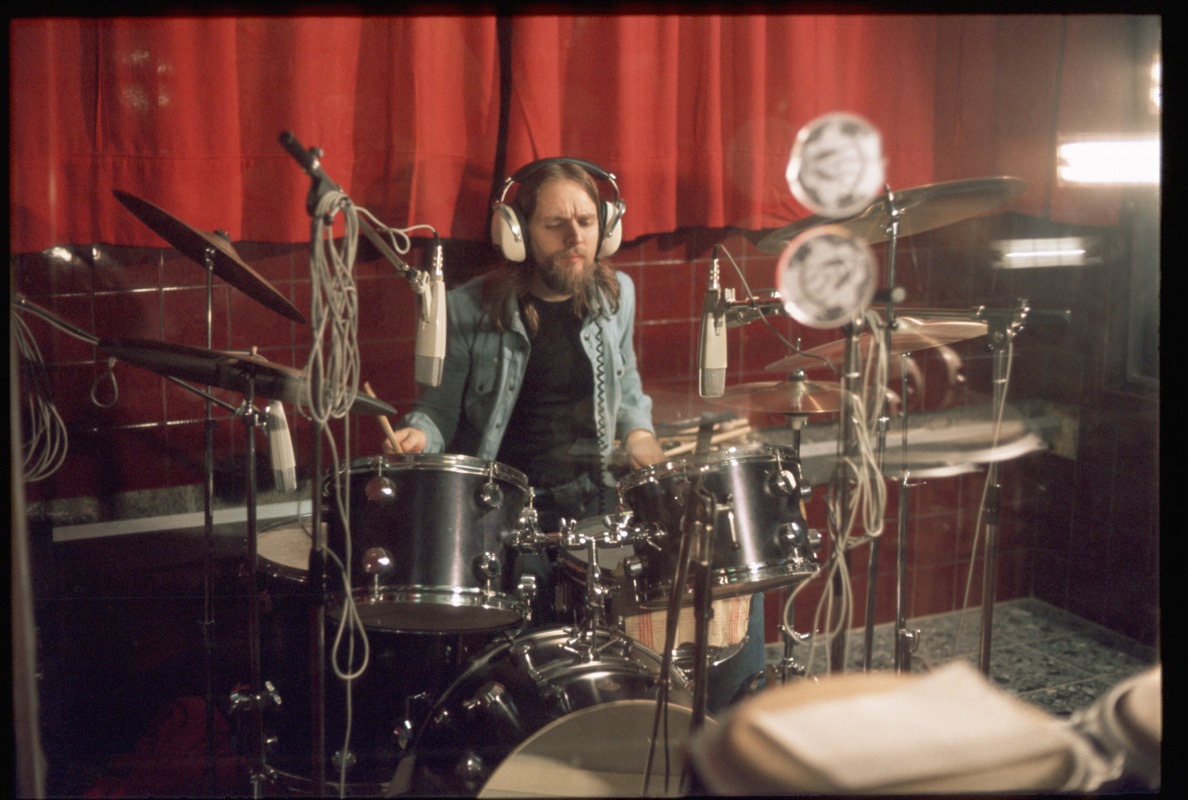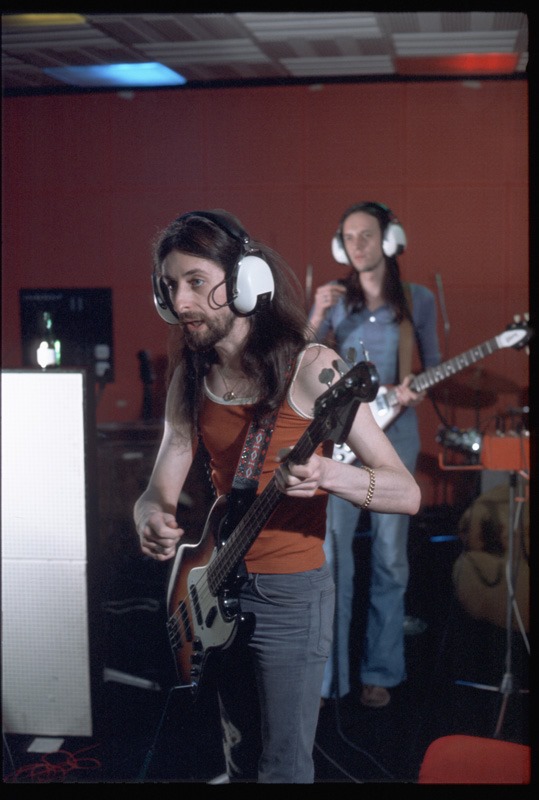 How about self-titled album from 1976? What happened after the band stopped?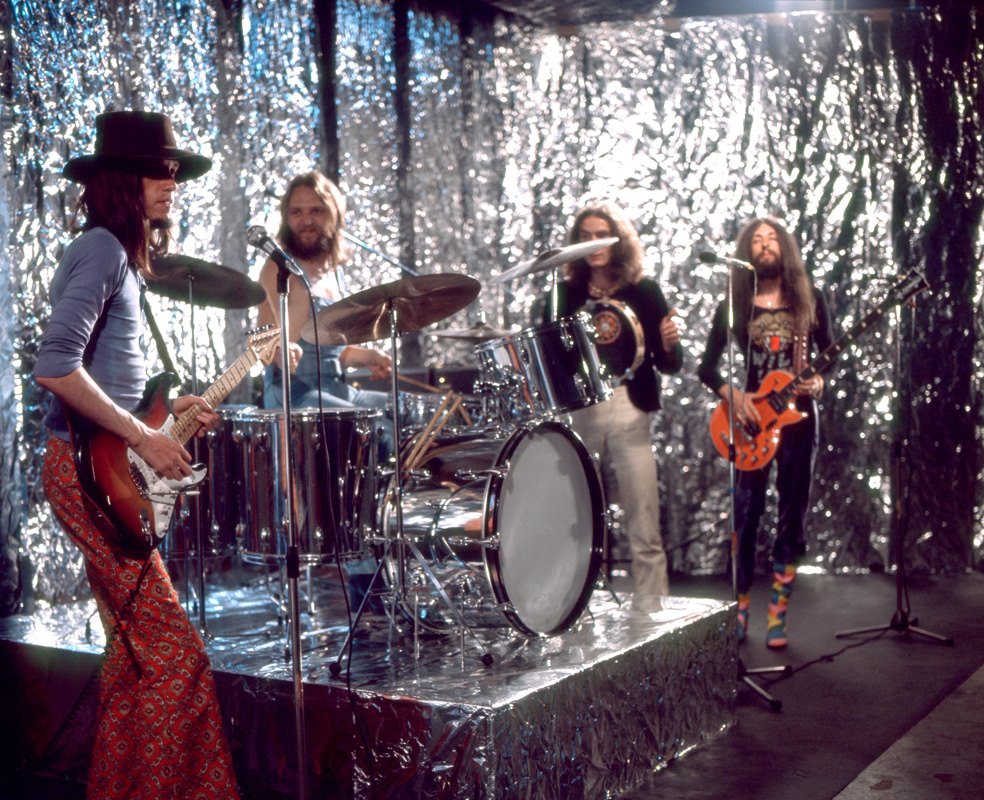 The album Sweat and Swim sold badly, disco era was coming. Finding gigs for our music became more and more difficult. The club owners said that a DJ is cheaper than a band and fill the hall too. Within the band there were also problems with money and drugs. The effort was too big, the revenue too small. I was exhausted and decided to get out. Walty Anselmo, Terry Stevens and Mojo Weideli also did not want to continue. 'Krokodil' dissolved in February 1974.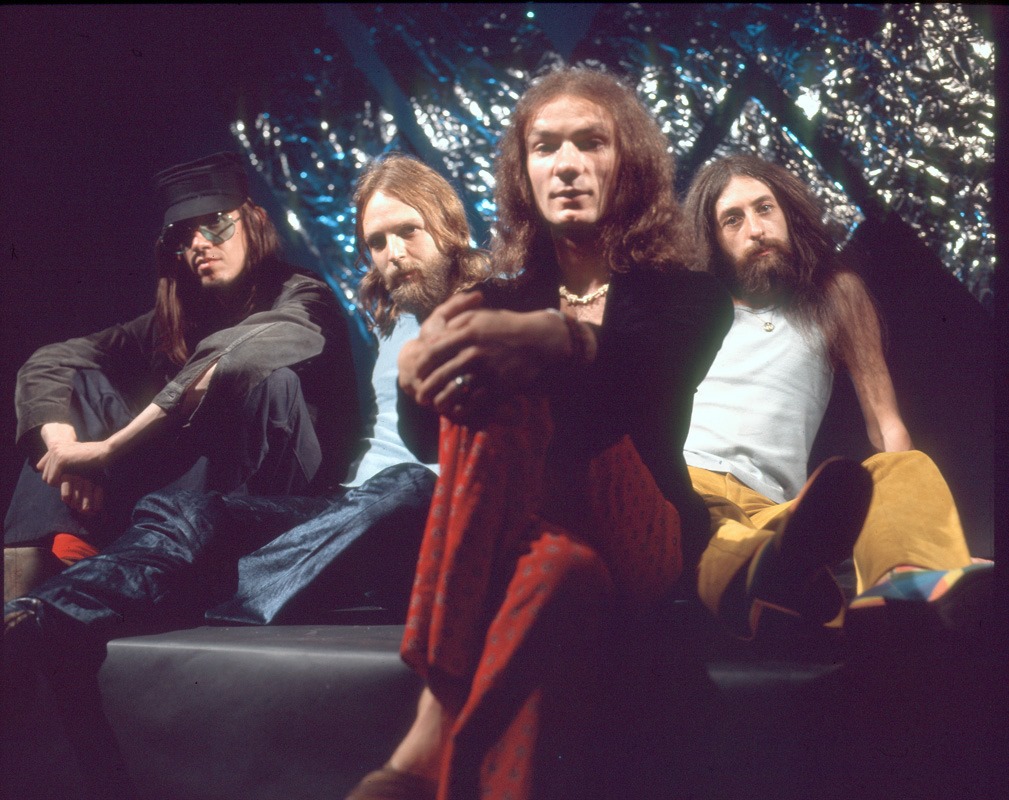 What can you say about two archival releases available: The Psychedelic Tapes and The First Recordings, both releases a must for fans of Krokodil!
Without any plan, I started to collect posters, press articles, photos, films and tapes from the bands saw at concerts. This was long before 'Krokodil'. I have always been interested in studio technology, which led me to demand or organize copies of the recordings. I also started to worry about the rights and was able to save the master tapes of Liberty and United Artists from disappearing. So my archive is filled up with 'Krokodil' shots, from which the two albums The Psychedelic Tapes and The First Recordings were created.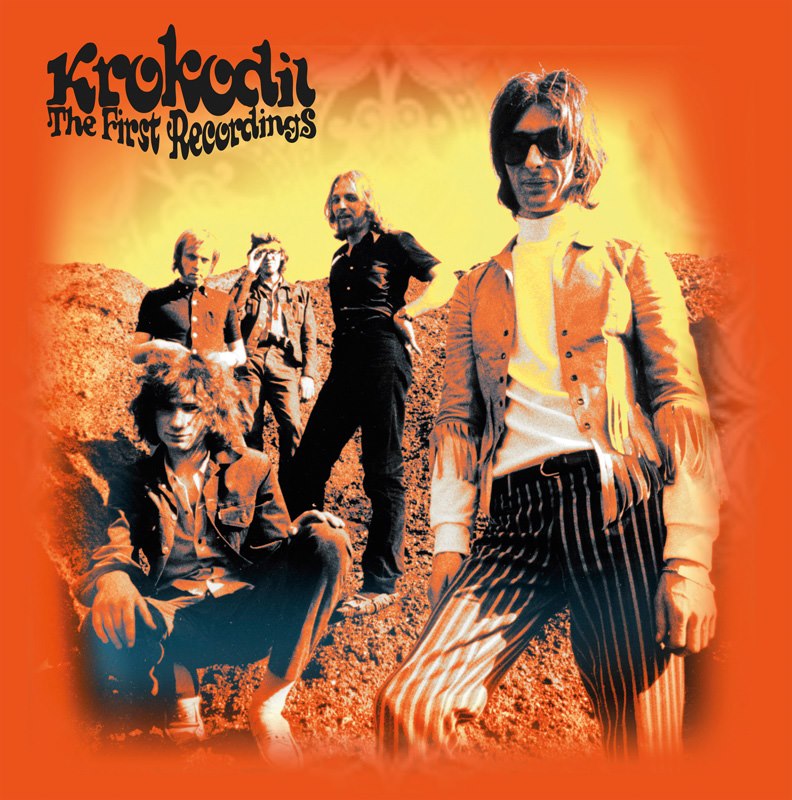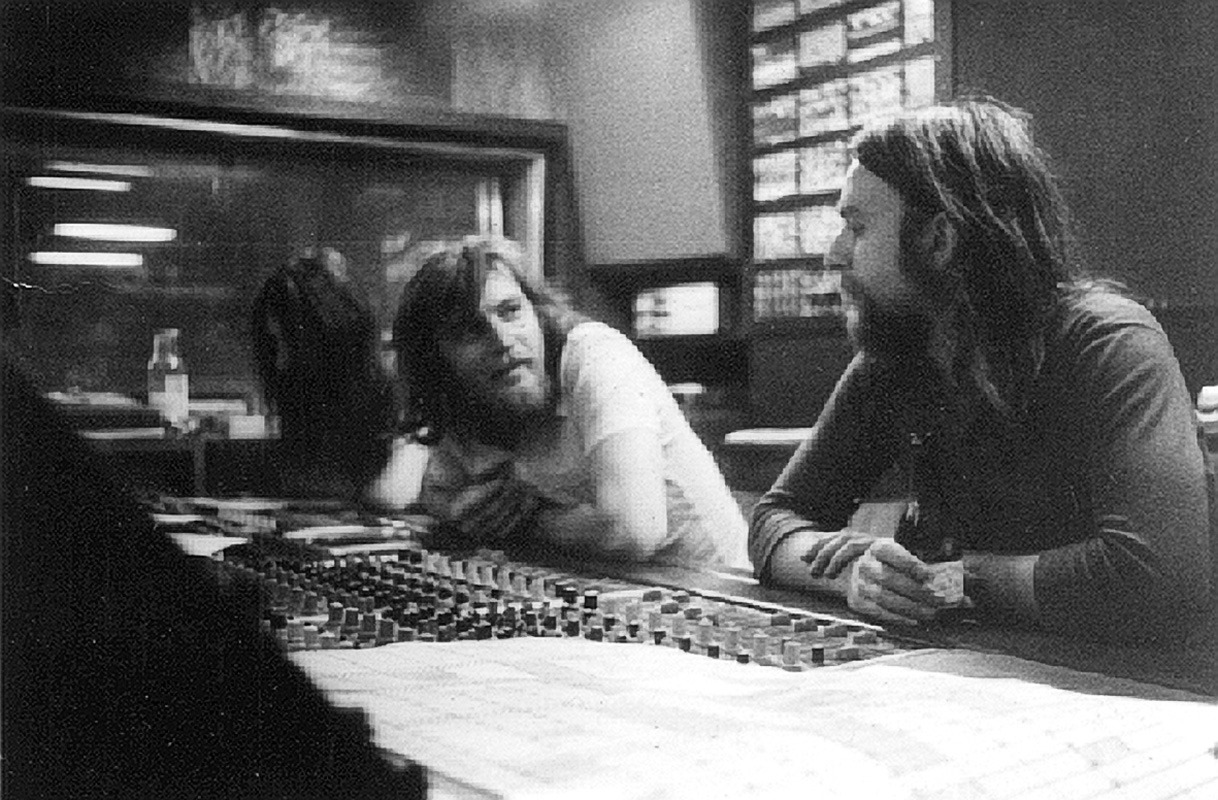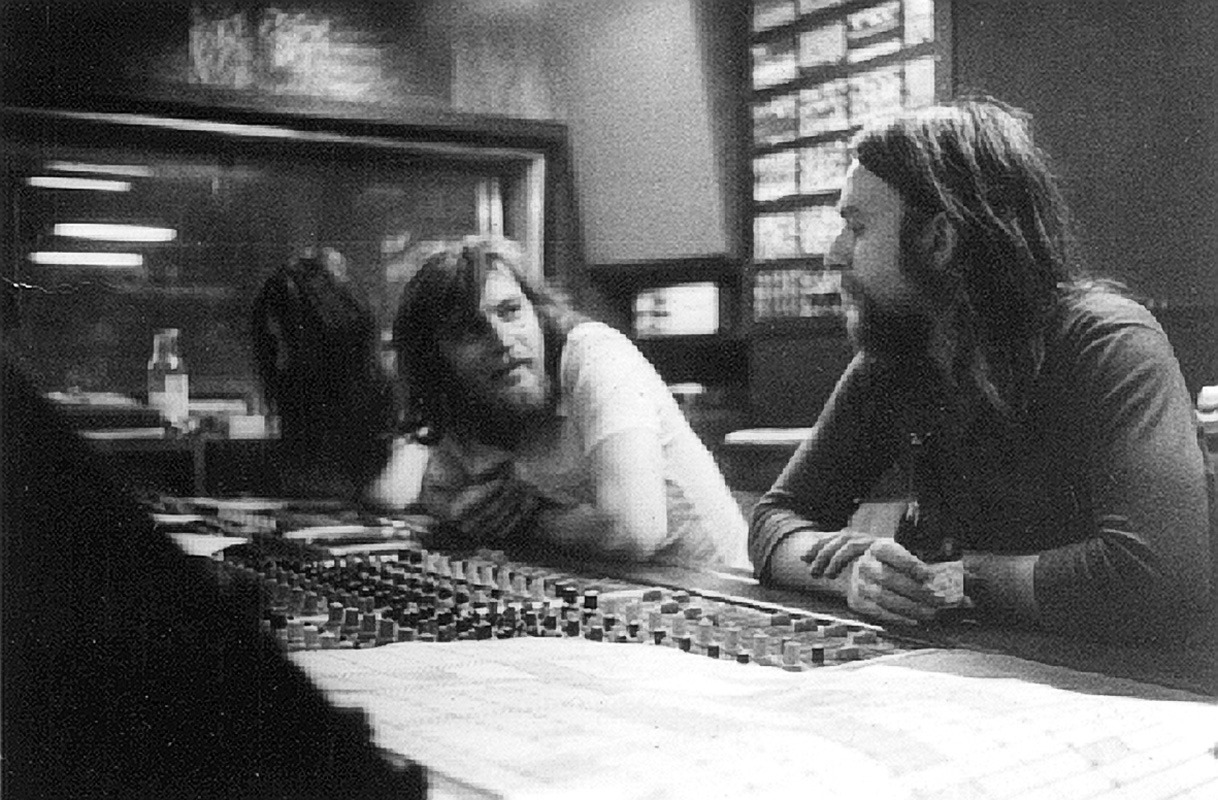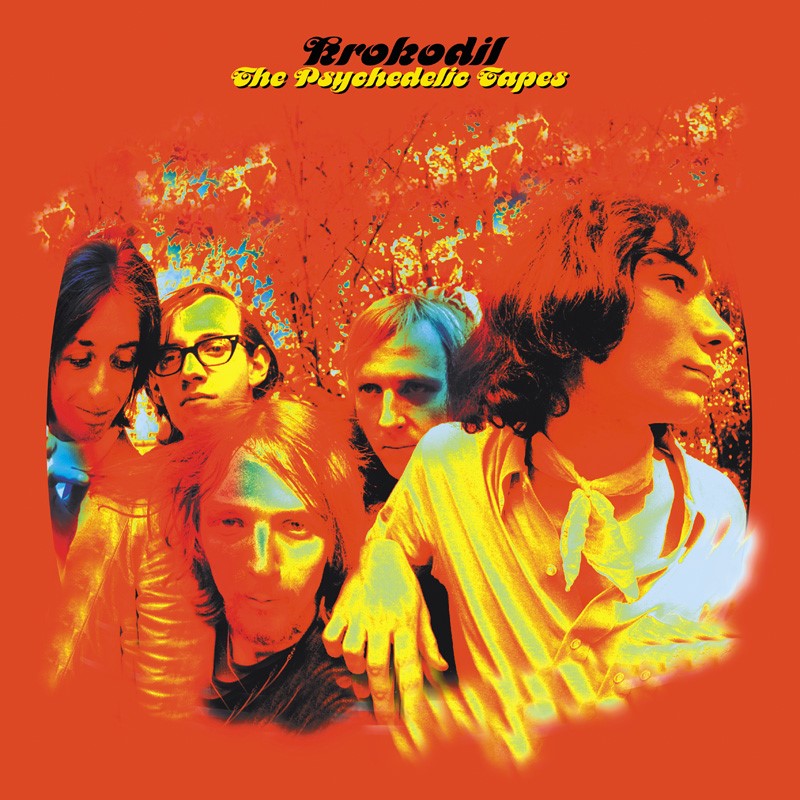 Hardy Hepp and Max Lässer also released some solo albums.
Both have released several great and interesting albums. For some, I was a drummer, producer or cover designer. Hardy Hepp is now a painter and Max Lässer a successful Swiss musician. I am still close friends with both of them today and we have lively contact.
Looking back, what was the highlight of your time in the band?
There were many highlights as we were involved in many different projects. At the very beginning was the record contract with Liberty, then the two schoolhouse tours through Switzerland. The rehearsals for the film music of Willi Bogners first feature film in his chalet in St. Moritz. Outstanding also all the festivals and tours with bands like 'Pink Floyd', 'Free', 'Uriah Heep' etc. Unforgettable! Also the super time with Dieter Dierks in his studio.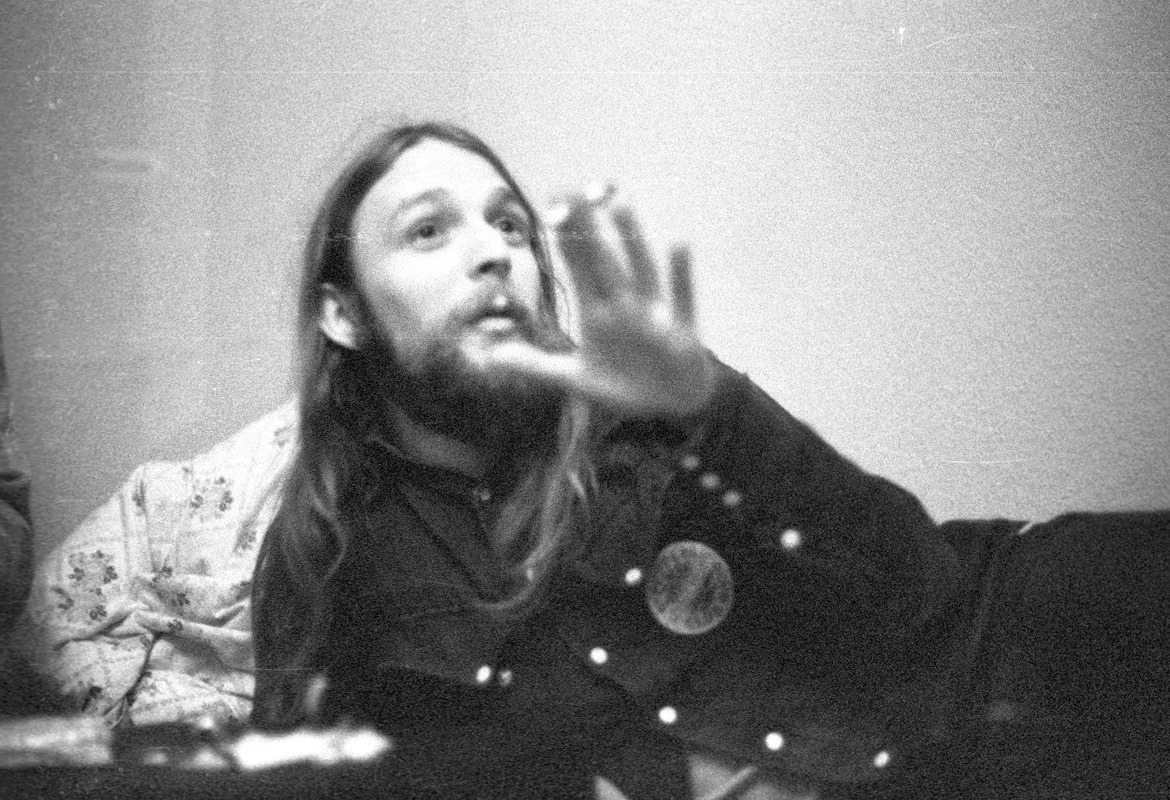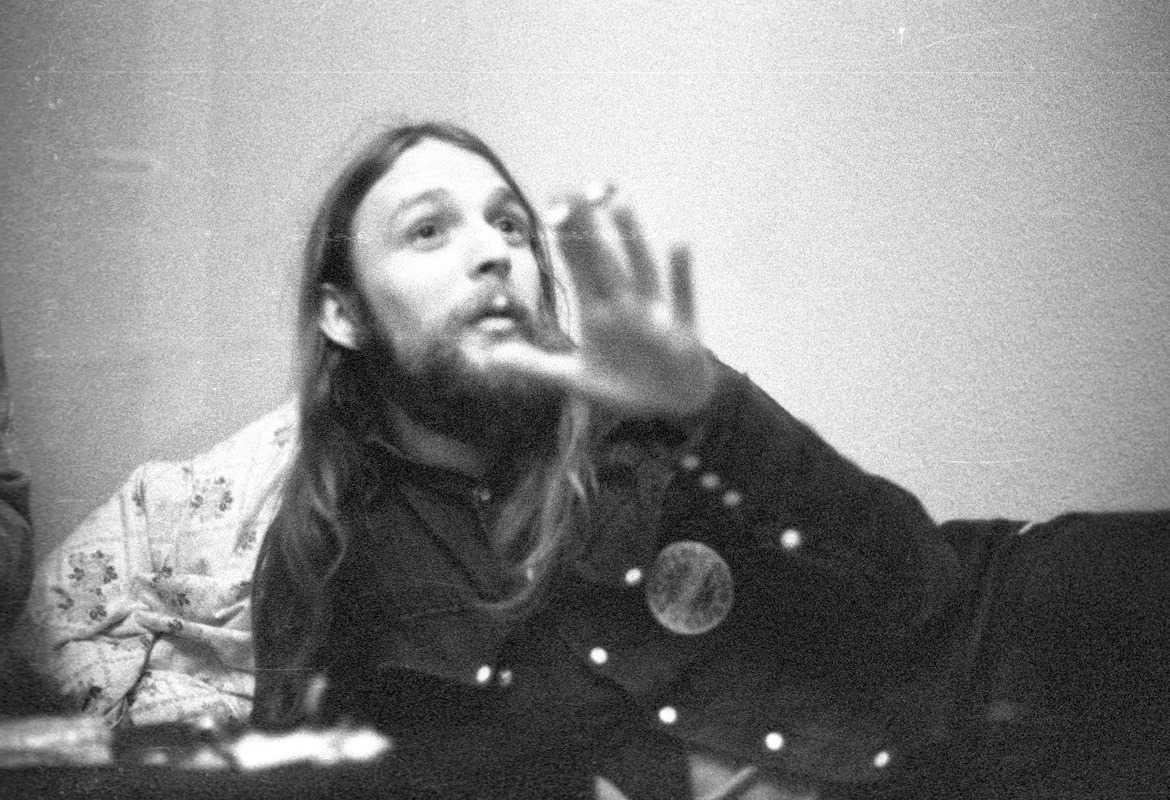 Is there any unreleased material?
I collect and still own picture and sound material from 'Krokodil'. There are still several interesting material on tape, which would be suitable for a publication.
Are you still in touch with members of the band?
We have been in contact with each other at irregular intervals for all these years. At the moment more often, because I plan a new 'Krokodil' project.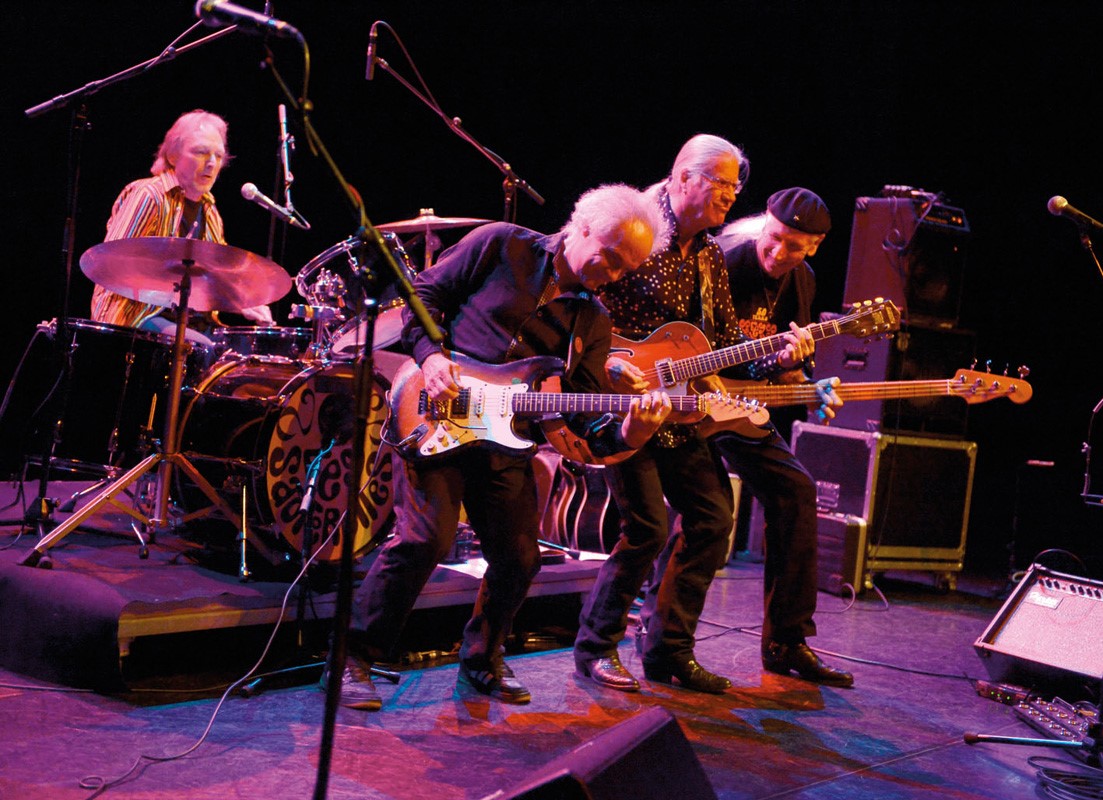 What other musical activities have you undertaken? Your latest project Back To The Groove is still active.
For 27 years I have been touring more often as a drummer with 'Les Sauterelles'. In addition, I play in a guitar trio covering 'Cream' and 'Hendrix' songs. For Back to the Groove I'm working on composing and I'm also working on a new solo project. Sometimes I also do a studio job for a third-party production.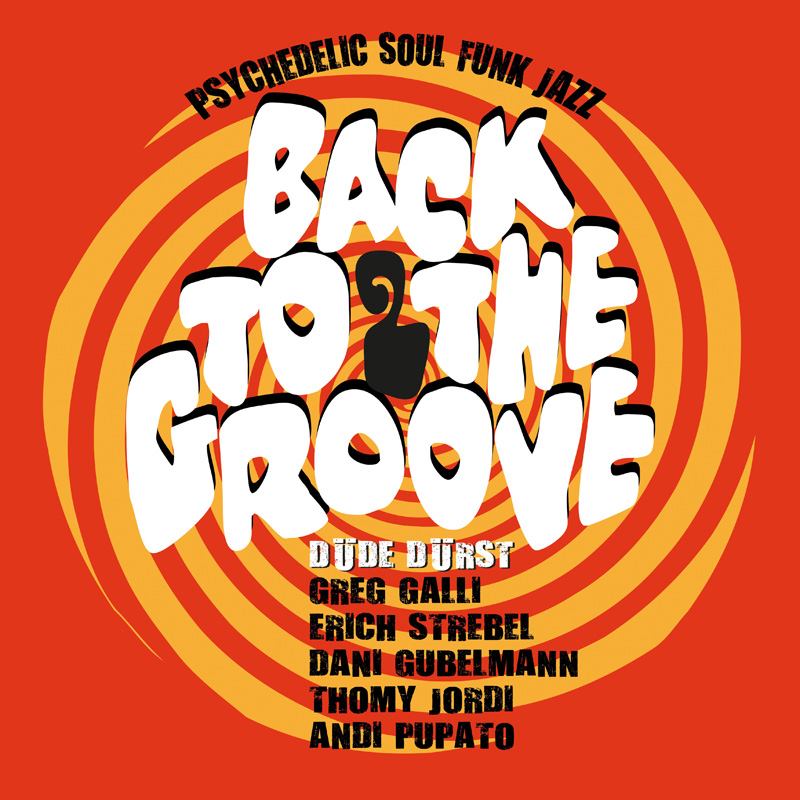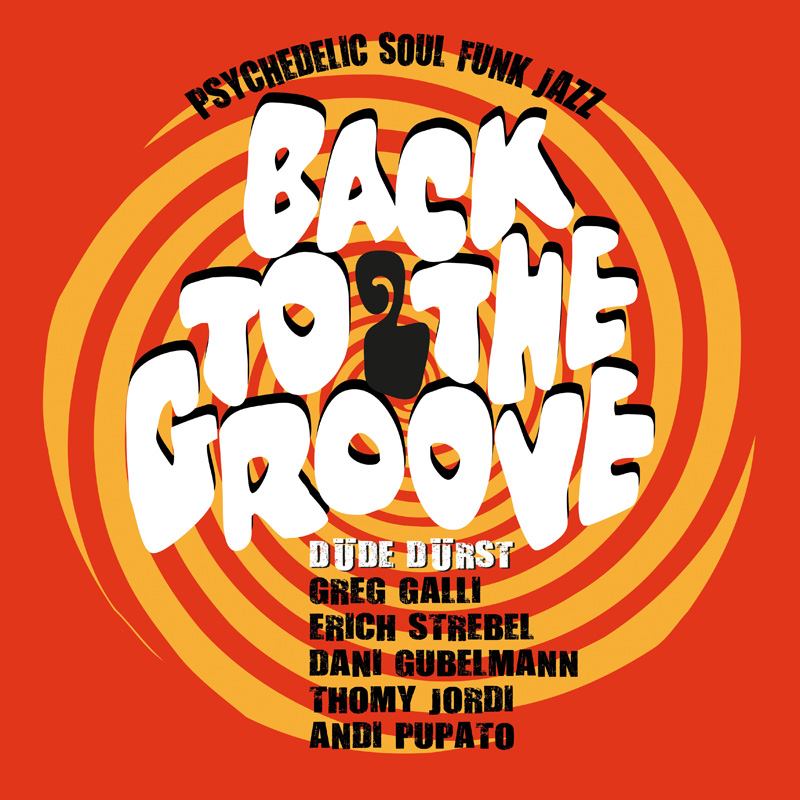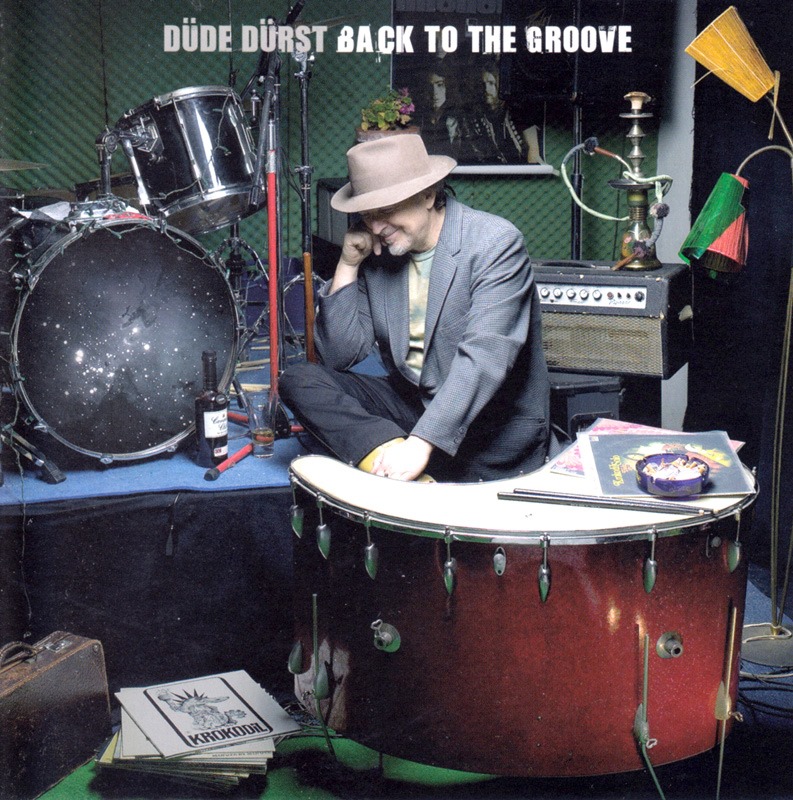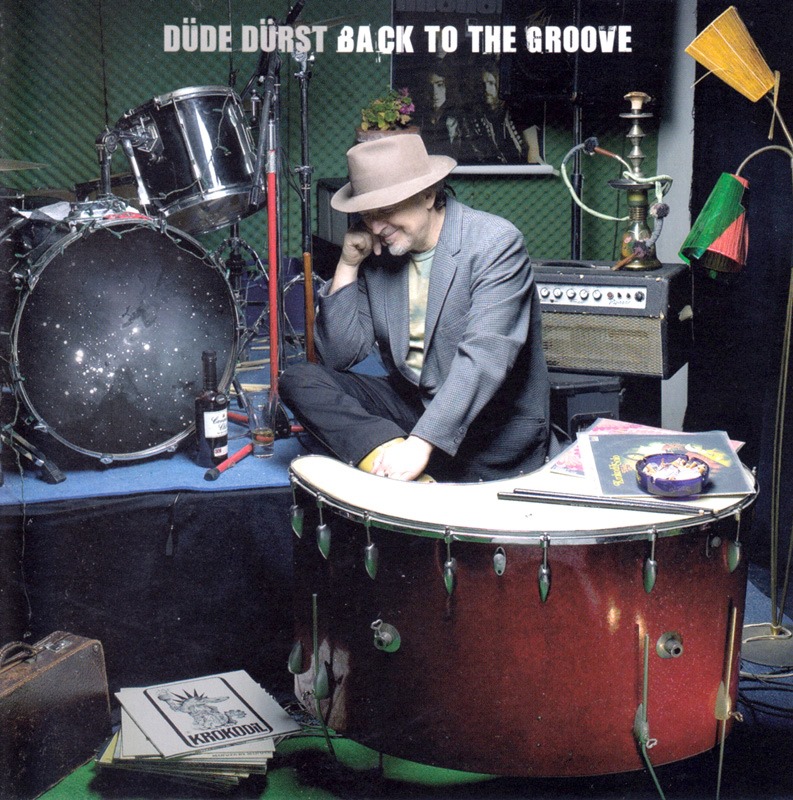 What were some of the artists or bands you enjoyed in the 1960s and 1970s?
I was musically as well as graphically interested in many styles. It started with jazz and 'Coltrane', 'Cannonball Adderley', 'Lee Morgan' etc. Then came the Beat era with 'Shadows', 'Beatles', 'Rolling Stones', 'Kinks' etc. The Soul with 'Otis Redding', 'Aretha Franklin', 'Joe Tex' etc. The 70s with Progressive Rock, Underground and Funk, 'The Meters', 'War', 'Grateful Dead', 'Grand Funk', 'Traffic' etc. All these and other styles are with many other great musicians to this day an important part of my CD and record collection.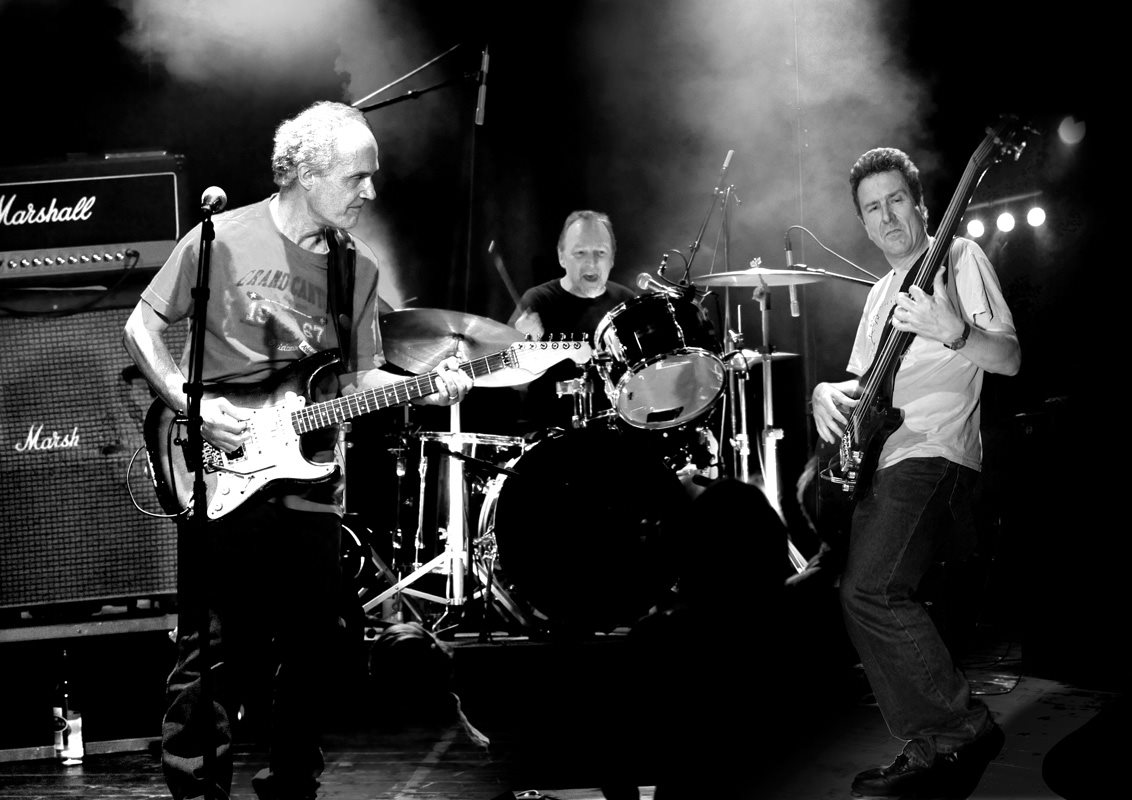 Did you enjoy or even play with other bands from your country? I know quite a few, like for instance: Ertlif, Island, McChurch Soundroom, Pacific Sound, Electric Funeral, The Shiver, Tea, etc.
With my own bands I was traveling so much that there was little time and opportunity to play live as a drummer with other groups. Sure, you knew each other, you were interested in the successes of others, in what they might have done better and there was also some competition among Swiss bands. Switzerland is small and there were few opportunities to perform compared to other countries. With the 'Les Sauterelles' and 'Krokodil' we had the advantage to enjoy international fame, which brought gigs and tours abroad.
My personal contacts to fellow musicians and bands often took place as a graphic artist. I designed many album covers and posters for international artists.
All in all, in my music career there were many big and small moments, also hard and bad times. But I do not want to miss a moment and I'm glad that I can still stand on stage as a drummer with a band and enjoy it to the fullest.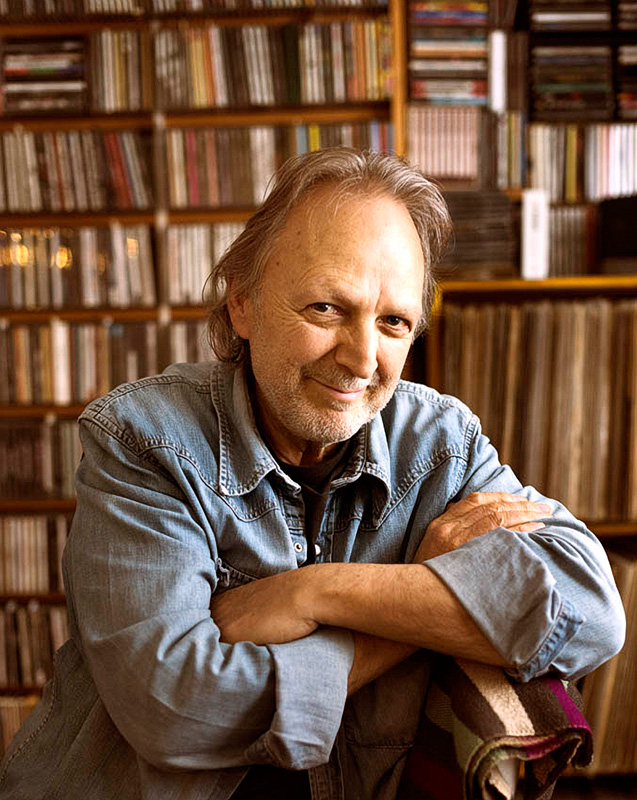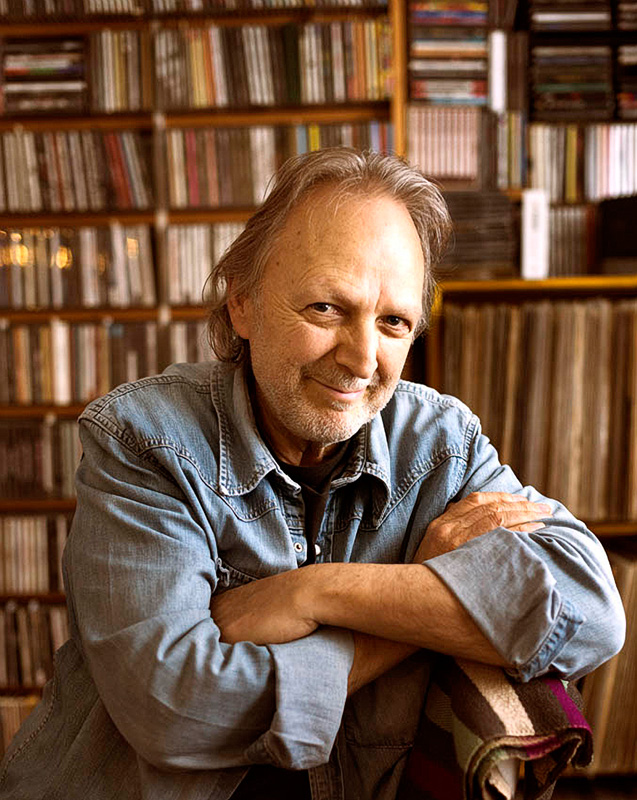 Thank you for taking your time. Last word is yours.
It's great and I'm glad that there are still young people today who are rediscovering the music of 'Krokodil' and are interested in this time. One more reason to plan a new 'Krokodil' project in 2020.
A big thank you Klemen and all our old and new fans!
Düde Dürst
www.duededuerst.ch
www.krokodil.li
All Pictures © Archive Düde Dürst, Switzerland
– Klemen Breznikar