Imagine Reissue from John Lennon
The Imagine album by John Lennon may arguably be the most well-known and popular solo album from any of the Beatles. While critics and fans may give the honor of best solo Beatles album to his debut solo album Plastic Ono Band, or to George Harrison's All Things Must Pass, the Imagine album, Lennon's second official solo album, released in 1971, contains his most iconic solo song, from which the album gets its name.
Imagine was produced by Phil Spector with John and Yoko Ono. It has been issued and reissued over and over again in many formats and configurations through the years. This new six-disc box set reissue from Capitol includes four CD's and two Blu-ray discs, along with a hardcover book. There are other U.K. configurations, several editions of a companion book and two new film reissues released in different formats.
For hardcore Lennon fans this is one of the best reissue packages to ever be released. They key feature is brand new 5.1 and stereo mixes of the album available on CD and Blu-ray and engineered by Paul Hicks at Abbey Road Studios and supervised by Yoko Ono. There are also various singles and related releases from the period and outtakes newly remixed in stereo and 5.1 on CD and Blu-ray. Also available on Blu-ray is the original Quadrosonic mix of the album. Quadrosonic (or Quadrophonic) was a high-end, audiophile format that had a brief heyday during the early 70s. All of the above material is referred to as the "ultimate mixes". From here the box includes what the producers call "in the studio" and "deeper listening".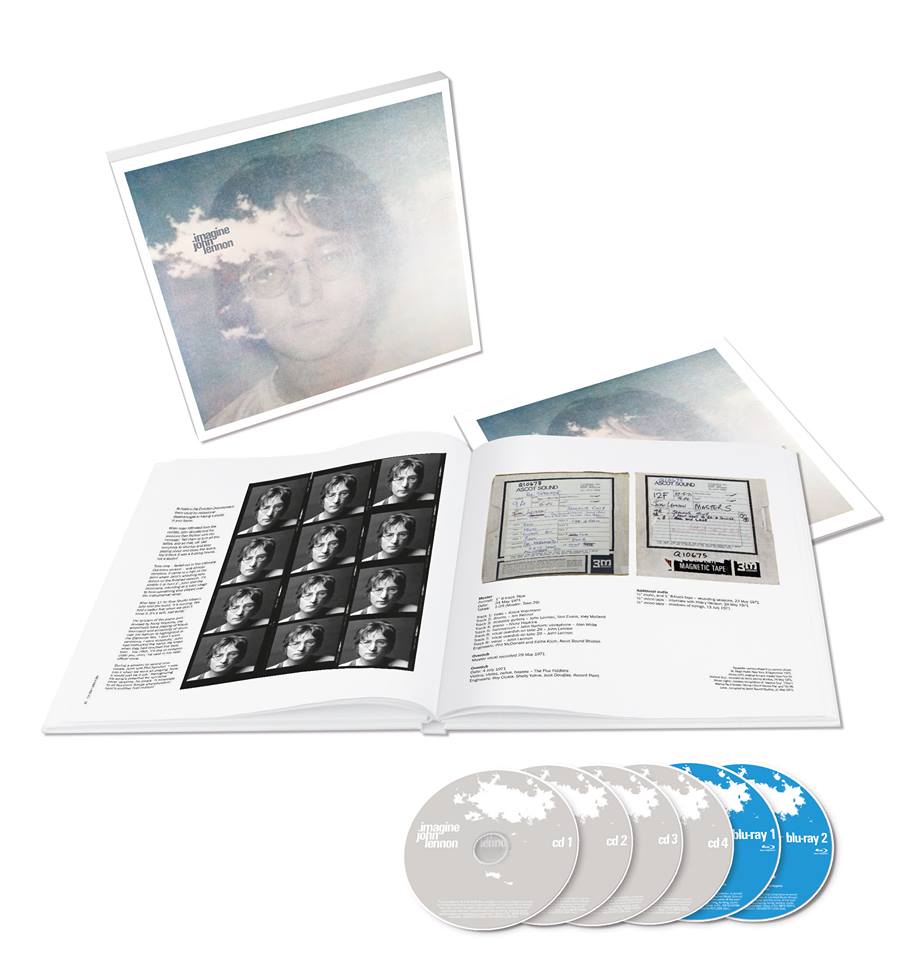 When Phil Spector produced the album, at the urging of John and Yoko, he recorded the tracks using none of the kind of equalization that he would normally apply during the recording process and that most producers would add later during mixing. This was the opposite approach Spector took when recording, for example, George Harrison's All Things Must Pass. The material here on Blu-ray, featuring new mixes in 5.1 and stereo, includes raw studio mixes, extended album versions and raw studio mixes of outtakes. There are also element mixes from the multi-track masters. These elements include various isolated instruments such as the strings used on various tracks as well as overdubbed vocals. Also, on one of the Blu-rays is what's called the Evolution Documentary, mixed in mono using narration, studio chatter and rehearsals. Fleshing out listeners' understanding of the album-recording process are the interviews Elliot Mintz conducted with John and Yoko about the album.
"For budding songwriters or those that want to learn more about the recording process, this box set is a master's class that offers insights into one of the most important albums ever released."
Aside from the Mintz interviews, the Quadrosonic mix and some other tracks, most of the rest from the Blu-ray is included on four CD's. Twenty-eight tracks in total do not appear on the CD's.
Lennon would only record two more official solo albums of original music before his mid-70's self-imposed lost-weekend exile, Mind Games and Wall and Bridges. Some Time in New York City with Ono came out after Imagine. Lennon would return with Ono in 1980 with Double Fantasy and there would be lots of posthumous music, but Imagine for many represents the apex of his post-Beatles career, and the song "Imagine" in many respects still remains the musical expression of the hopes and dreams of the 1960's. This reissue dives deep into this watershed musical period and sheds further light on two other tracks on the album, such as "Jealous Guy" and "Gimmie Some Truth." The latter of those tracks has more resonance now than when it was first released.
For budding songwriters or those that want to learn more about the recording process, this box set is a master's class that offers insights into one of the most important albums ever released.
From Eagle Vision is a reissue of two films from Lennon and Ono of that period: Imagine and Gimmie Some Truth. These restored and remastered films, remixed for 5.1, are released in various configurations and formats and contain previously unreleased material, including a photo shoot with David Bailey. The films take the viewer deep into the world of Lennon's Ascot estate called Tittenhurstin England and his life there with Ono in the early 70's as well as the hothouse recording studio atmosphere of one of the most important albums ever made. This is the first time that both films have been available commercially since their original releases.
– Steve Matteo