Colin Hay interview
The legendary Colin Hay was initially known for his 80s hits with the Grammy Award winning band from "down under," Australia's own Men at Work. Since then, Hay, who has become a U.S. citizen, has gone on to an eclectic career which has included thirteen solo albums, acting for television and films (including the cult classic Cosi), contributing music to the television show Scrubs and the film Garden State, a 2015 documentary about his life so far: Colin Hay–Waiting For My Real Life, and, most recently, narrating an  audio book of Aesop's Fables. When it comes to an appreciation of the talented Colin Hay's music, artists as diverse as Mastodon's Troy Sanders, The Lumineers' Jeremiah Fraites, and Metallica's James Hetfield  have all sung his praises. Hay has been a busy man, performing in support of his outstanding new album Fierce Mercy. I caught up with the touring troubadour and posed several questions to him, before his  Libbey Bowl concert in Ojai, CA, last year.
I'm curious to know who your influences were when you were first starting out in the business in the late '70s. I've always felt there was some similarity between you and Ray Davies as observers of everyday  life and wry commentators on the human condition. Also, did any of the Australian rock groups from the '60s through '70s– bands like The Easybeats, The Masters Apprentices, or Skyhooks – influence you at all when you were a young, burgeoning musician?
I absolutely love Ray Davies, and the Kinks. My parents had a music shop in Scotland in the 60s. I remember putting on "You Really Got Me", when it first came out, before we opened the shop for the day. That guitar sound scared me. I was hooked. So many great songs, "A Well Respected Man", "Waterloo Sunset", "Dedicated Follower Of Fashion", "Sunny Afternoon", to name a few. There were wonderful bands in the 60s and 70s in Australia. Max Merritt and the Meteors was a favorite band of mine. I loved the Easybeats, "Friday On My Mind" is one of the greatest ever pop songs. Skyhooks were unique in many ways, especially because they sang about Melbourne specifically.
Some of the '60s – '70s bands who influenced/inspired the young Colin Hay:
The Kinks: "You Really Got Me" – the classic 1964 British power chord single that jump-started the mid-'60s – and Ray Davies' songwriting prowess-into high gear!
Max Merritt and the Meteors – Australia's Soul, R & B, and Rock legends best known for the 1975 Australian hit single "Slipping Away."
The Easybeats – Australia's Beatlesesque breakout '60s rock stars, best known internationally for the 1966 hit song "Friday On My Mind."
Skyhooks- Melbourne's '70s powerhouse glam rock party band!
The Seekers – Australia's monumental Pop-Folk group that made it big in the U.K and U.S.A. – best known for the melodic '60s hits "I'll Never Find Another You," "A World of Our Own," and "Georgy Girl."
Split Enz – New Zealand's brilliant New Wave/Art Rock stars from the late '70s – early '80s.
Split Enz were also a great band, though technically from New Zealand. They made wonderful records, and played inspired shows. They proved you could be irreverent, creative, very different, yet successful at the same time. And let's not forget The Seekers, they were monumental.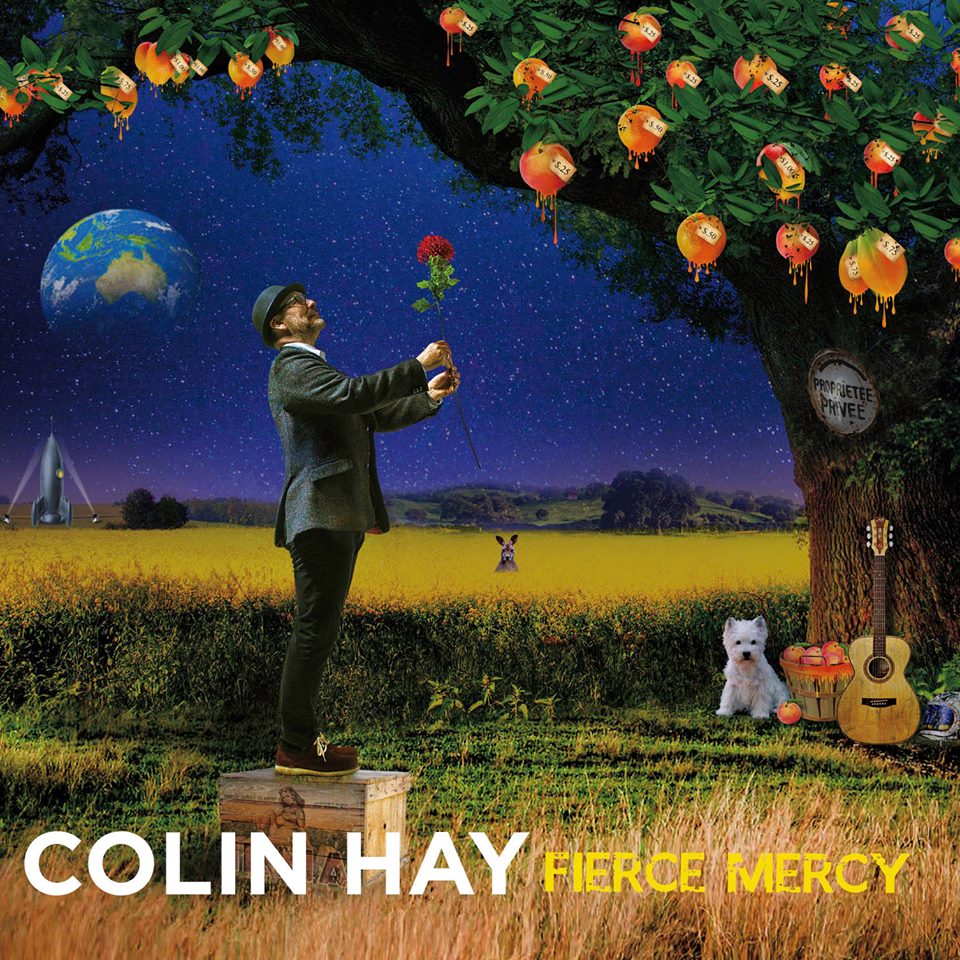 I've really been enjoying the rich variety of strong songs on Fierce Mercy, which is one of the finest albums of your solo career. Can you tell me a bit about your collaborative writing process with Michael Georgiades? I read that he worked with you on ten of the album's thirteen songs and he had also worked with you on several of your previous records.
Firstly, Michael is my friend, I don't have many. He is a great guitarist/singer/songwriter in his own right. He would visit, and pick up whatever guitar was lying around. He would often have ideas that moved me to suggest we actually craft the ideas into songs.
That's how we started, and we do it more often now. He's the truest collaborator I have ever had.
Did you set out in mind with the magnificent song "Secret Love" to be arranged as a Roy Orbison-type torch song or did it just organically evolve that way?
Yes. That song started off on the sofa one night, watching David Letterman. It immediately reminded me of the operatic quality of some of Roy Orbison's vocals melodically. So, it was designed that way from the start, and evolved accordingly.
"She Was the Love of Mine," written and recorded in memory of your late mother, is quite moving – and comes across as a very heartfelt homage to the mother-and-offspring bond. To what extent did your mother nurture your creative spirit when you were young?
My mother (and father) were more pragmatic than nurturing necessarily. They got me singing lessons when I expressed interest in that area. Both my mother and father were exceptional people, and it's still very strange to me, that they're gone.
"Come Tumblin' Down" is another one of the standout tracks on Fierce Mercy. In terms of songcraft, I rate it as being as good as the top tunes on Dylan's Blood on the Tracks or Desire albums. Can you elaborate on the evolution of the song?
I recorded the music of that idea on my phone, after a soundcheck in Atlanta. I played my ideas for Michael G, and he stopped me at that one. He said it was a strong idea. So we finished it.
I've read that your wife, Cecilia Noël, plays a very important part in contributing to your creative process – can you speak to that?
Cecilia always encourages me to work with different musicians, and helps me enormously in the studio. She is a great producer herself and has great musical instincts.
The album was principally recorded in Topanga and partially recorded in Nashville. How was your experience recording at Compass Sound Studios – a space which was once occupied by Hillbilly Central where many classic "outlaw country" records by Waylon Jennings, Willie Nelson, and others were produced?
It's a great place to work, and yes, there is history in the walls. I love being in Nashville. I still don't know it well,  so it remains a novelty. It was wonderful recording the strings there for "Fierce Mercy".
You've done some acting over the years, most recently on the Australian crime drama TV series Jack Irish. How do you find acting compared to making music?
Better catering.
Is there anything else you'd like to add?
Soundchecks are important, but not crucial for a great show.
– Sean Mageean
Upcoming Colin Hay tour dates in Europe in June/July. He will be playing the old Men at Work songs and also songs from his solo career.