JAZZ CORNER Presents: 1000 Kings – Raw Cause (2018)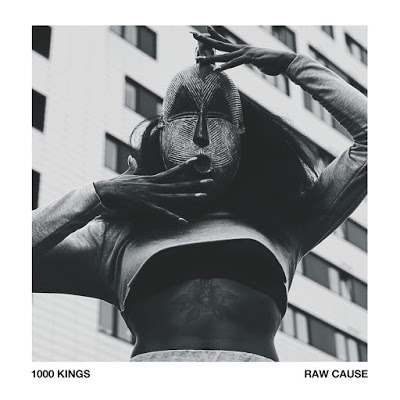 Ahhhh … finally some new jazz fusion that I can sink my teeth into, music sounding as futuristic as it does timeless, feeling both of this world and entirely from outside of it in the same breath, a tempest full of whirling intoxication that blends ebbs flows flowers and nearly explodes with a haunting passion somewhere in the air between you and your speakers, refusing to be tamed, refusing to sit quietly, where sonic layerings by unknown celestial beings unfold their magic as I've only dared dream of.
Yes, the band, or parts of it seem to be a mystery, yet for what reason, I'm unsure … though I can tell you that the band's bassist is Karl Rasheed Abel, who with drummer Kwake Bass, and that undefined saxophonist (perhaps Shabaka Hutchings?) infuse tribal drumming matched by a warm sax, where both are connected and held in check by a fluid bass-line of orchestrated bluesy riffs that nearly bounce around the room in a joyous nature are balanced by syncopated visions that for me, depict a stumbling that leads to a headlong fall down a flight of stairs, where like the Beatles suggested, "When I get to the bottom I go back to the top of the slide …" 1000 Kings are an over the top trio, effortlessly combining and blending a concoction of jazz meanderings with rock influenced rhythms, along with mildly, though exciting experimental avant garde textures.
The atmosphere created here is very physical, where it's impossible to ignore these free-thinkers who delight in showing off their organic presence and ruminative grooves.
– Jenell Kesler