Goose Corp. interview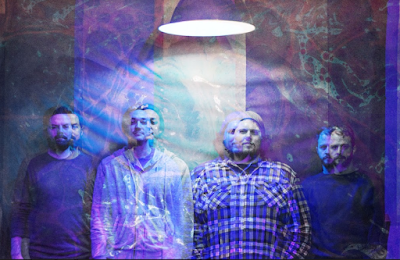 Chicago's Goose Corp. drops their single "Out of Time" February 1st followed by their Jumbled Thoughts record release February 8th. The album is a culmination of the past 5 years since their inception as a trio in 2014. With Phil Sciurba on guitar and lead vocals, Matt Schirk on bass and backing vocals, and Andrew Giese "Goose", on drums. Their most recent addition is the "4th dimension" also known as Ryan Flynn who accompanies on keys to complete the Corp.
I was fortunate enough to see the original trio live at the Tonic Room back in September of 2018. The windows were open and people came from all directions, lining every square inch of the venue inside and outside. Everyone tuned into soundscapes formed by undulating rhythms and funky riffs. The atmosphere was electric. The album is a bit more mysterious and will likely have a few surprises. Listen for "Calypso", inspired by a Caribbean nymph whose sole desire is for those who dare to dance.
I caught the band to ask them a few questions about hacking the system, the odds of a rattlesnake winning a fight against a roadrunner, and other details about channeling the beast within. Tune in!
Emily: Goose, define your role in the genesis of the band as the drummer.
Goose: I was working a bit at Music Garage in Chicago in 2014 and I had met Phil and Matt previously but we started jamming together during the fall and it kinda just became a thing. We used to jam for hours overnight at Music Garage, really trying to develop a sound. One night we were sitting out back at MG, drinking some beers, Phil and I were joking around about me starting a company and calling it Goose Corp. What the company did, who really knows, but I went home and made a late night purchase of business cards. The front said "Goose Corp. – It's A Thing", whatever that meant. Our coworker, Judi wanted to book us for one of the Music Garage Presents shows at Door No. 3 and when she asked for a name, Phil told her "Goose Corp." We didn't know where it would lead but 4 years later we're releasing our first album. It's been a long road to get here but I think we had to evolve in that way to get the sound we have now. It's A Thing.
Emily: What made you decide to add the 4th dimension? And how has your sound developed with the addition?
Goose: We always wanted a keys player, but they are a bit of a rarity. We had known Ryan for many years from playing shows with his old band Marmaletta. Originally, we just had him lay down keys for the record. Then we got to talking about it and he was such a great addition to the sound that we asked him to join, and the rest is history. Ryan was like our missing puzzle piece. He pulled nuances out of each song and helped all the subtleties flourish. Ryan is now a key piece of the Goose Corp. sound.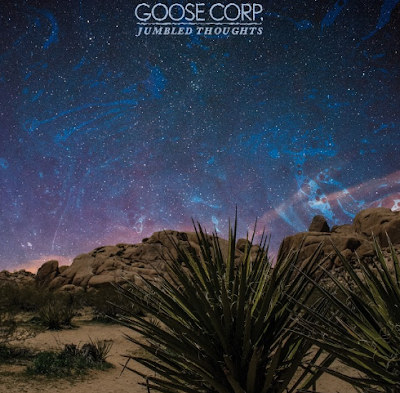 Emily: What are 3 songs that have shaped the album? 
Goose: This album is the culmination of years of hard work. Developing a sound and reaching for new ones. Figuring out what it means to be this band and where we can go from here. "Hot Air Balloon" is the first song we ever played together and is on the record. That song has always been a big part of our live show as a closer and the audience gets into it. It's always been a lot of fun to play. Then we have songs that we wrote years later like the song "From the Beginning" that we wrote one night at Music Garage and then kind of forgot about for a while. Even the version that we used to play is much different than what we came up with for the album. We were tweaking the bridge on it the week of recording to make sure it sounded right. Then we have songs that no one has heard before like the single we are going to release called "Out of Time". This song has a vibe. We wrote the main riff and it just stuck out to us, so we had to explore it a little further. It's always risky to put a song no one has heard before on a record let alone as the first single, but we are all confident of what we created. I'm very excited.
Phil: I think that every song shapes the album! I honestly believe it is a perfect representation of all of our influences coming out into one "thing". It's not one genre of music to me. Every one of these songs came to us with little thought process and are so many genres wrapped into one. We just play and whatever comes, comes.
Emily: Who are some influences that have inspired the album? 
Goose: Personally I was obsessed with Led Zeppelin, Pink Floyd, and Bob Dylan. I think each one of them kind of fills out my sound. Dylan has such an appreciation and respect for the song that he always taught me to play what is needed. Pink Floyd were masters of creating an atmosphere. They really taught me to look at the bigger picture, how it serves everything as a whole. And Led Zeppelin just did it better than anyone else. When I first heard Zeppelin I it changed my life. I had no idea music could sound like that. Such force and mystery behind it.
Ryan: Radiohead, My Morning Jacket, Vangelis
Matt: My Morning Jacket, White Denim, Vulfpeck (Joe Dart)
Phil: More like 3 eras… It spans a lot of years and a lot of genres but It starts with Metallica. Then meets somewhere in the middle of Umphrey's McGee and John Mayer, and currently places myself at John Prine and Gene Clark.
Emily: Can you tell me about the conception of your album cover to create a multi-layered harmoniously fluid reflection?
Goose – Well I took the main photo out in Joshua Tree a couple years ago. And we always loved the image. Never really considered it for the cover but when the time came Phil suggested I maybe try utilizing it in some way. I just played around with it for a few hours and that's what I came up with. I wish I had a more artistic statement about it but I think it captures what we are all about.
Emily: Do you have any plans to release a video for any of the songs on the record?
Goose: Actually yeah. While working at MG, we met so many incredibly talented people. As we set out on this path as Goose Corp. we were all very adamant on including our friends in the process and promoting their talent in a collaborative way. One of our good friends, Nolan J. Downs, is an insanely talented animator and is one of the most creative people I have ever met. We went to him with our instrumental song "Calypso" and basically told him to do whatever he wanted. He came up with this amazing concept and storyline and developed a whole animated video for us. Since our time at MG we watched his talent develop and always hoped we would have an opportunity to have him animate for us!
Emily: It sounds like MG is a haven for all sorts of Artists who support each other! What do you believe the Chicago music scene is keeping alive in the proliferation of 
independent music? 
Goose: Chicago's music scene is amazing. There are so many talented bands and artists. There is an audience of people that are interested in listening. And there are venues that are stoked about putting on amazing shows. What more could you ask for? I'm grateful I get to be a part of it.
Emily: How do you support the scene and help promote independent Arts?
Goose: Well there was this one time Nolan, our music video animator, entered an animation contest. It was one of those voting contests where 1 click equaled 1 vote. And it was quite obviously that the top entries were cheating because they had millions of votes. Nolan was our friend and we wanted to help him win, and frankly his animation was the best. Matt found this app on the computer called "Auto-Click" and we downloaded it on pretty much every work computer at MG, and linked it up to the contest website to vote for Nolan's animation.
Emily: Well, I guess rigging the system for the sake of Art counts. What happened?
Goose: Well we left the computers on all night, clicking away, gaining him millions of votes, and when the morning staff came into work with no knowledge of what we did to the computers, they freaked out. They thought we had been hacked. The boss was definitely not happy with us…..and Nolan (and pretty much everyone else's entries) got disqualified from the contest. Needless to say our plan didn't work. Sorry Nolan, we are super stoked to be working with you now though.
Emily: I understand that there are quite a few projects happening simultaneously that Goose Corp. members are also affiliated with, can you tell me more about what they are and how you find the time to manage and organize all the chaos? Especially, what is your method to remembering all the different songs/ set combinations? 
Goose: Yeah it's definitely a good way to keep the creative energy recharged. I play in a couple bands,
Strange Foliage
and Rong Name. They are two very different bands from Goose Corp. and it allows me to explore other styles of music. I also do a lot of substitute work for other bands such as
Blue Dream
and
Elk Walking
. Getting to sit in with a group of friends for a few shows is a blast. Ryan plays in
The Evening Attraction
and Matt is also playing with a group called Contronyms. They're both amazing bands you should check out if you haven't already. For me, remembering songs is just a game of repetition. The songs I help create are no trouble to remember, because I watch the development of a song from its infancy to the final product. The challenge starts with substitute gigs where I may or may not have heard these songs before or at least have never played them so I practice them over and over and over to get them down. Then hopefully I don't forget.
Matt: Playing in Contronyms affords me the opportunity to hone my skills in an entirely different way, playing a style of music I hadn't been exposed to much previously.
Phil: Yeah I'm always working on a "solo" project to which I'm not quite sure what or when that will come to fruition completely but it's more acoustic..
Emily: Where is the last place you have ever expected to play a show? 
Goose: It could be the time we played in the middle of Lake Shore Drive for 3 hours in the early AM for a marathon.
Emily: What is the significance of a Squid? It's tentacles have surfaced more than once in your illustrations.
Goose: When I thought of the word Schubas, I also think of Scuba. So I just came up with a squid.
Emily: Can a rattlesnake defend itself adequately in the face of a hungry roadrunner?
Goose: HA! It wishes it could.
Emily: What should people keep in mind when listening to the album?
Ryan: Being the newest member of the group, it's been really satisfying to watch this project that was conceived by the original members grow from a little tiny sweet music baby into a take-no-prisoners behemoth. I would just remind listeners that this is the culmination of years of hard work, hauling gear, recording, and (I dare speak on behalf of the band) it feels great to finally have this released — even more so for the original members. Listen to it loudly.
Catch Goose Corp. at Schuba's February 8th with Zoofunkyou and Elk Walking in Chicago, Illinois. The album will be available on all streaming platforms February 8th!
Listen
to their Single "Out of Time".
Peace, Love and Music
Expression Petal
Edits by Emily Steinhauer and Liam Shanley
© Copyright http://www.psychedelicbabymag.com/2019