Kikagaku Moyo – 'Masana Temples' (2018)
Well, you had me as soon as I popped this on and felt Kurosawa Ryu's headswirling sitar wash over me, but 'Entrance' is just one of the reasons why Kikagaku Moyo are one of my favourite psychedelic bands in the world right now.
---
Their fourth album builds on the magnificence that dripped luxuriously from last year's Stone Garden mini-LP. Ryu's drummer brother Go's 8-minute centerpiece 'Dripping Sun' opens with a funky wah-wah workout that could just as easily have sprung from an Morricone soundtrack for one of Leone's spaghetti western epics, but big muff fuzz pedals parade through the studio around Go's percussive taps and tender vocals to leave us in a lazy, laidback dreamy groove. Ryu's keyboard additions add a jazzy element I haven't heard too much before and it's a fine addition to their musical trip bag. By song's end, dueling guitarists Katsurada Tomo and Popal Daoud are ripping off some might fine solos to catch us before we drift off into Never Never Land!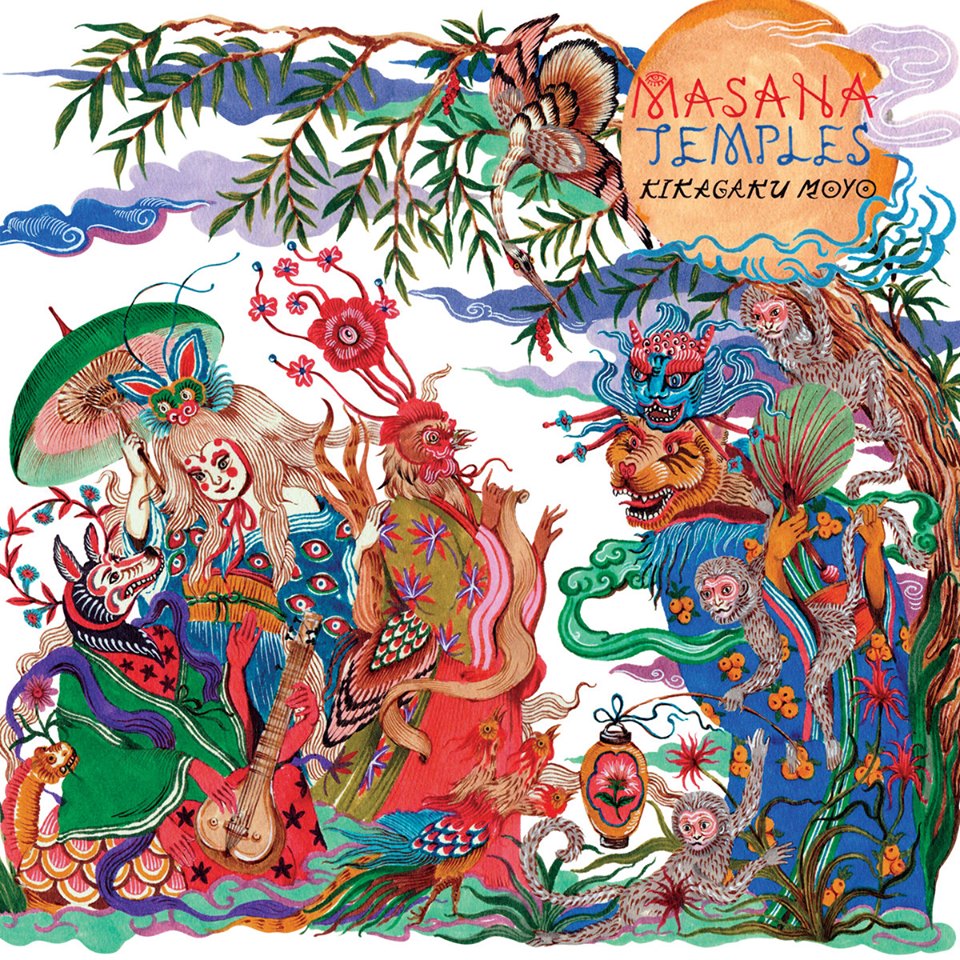 'Nazo Nazo' delivers a soothing, eastern vibe, while 'Majupose' has a bit of a Sergio Mendes & Brazil '66 vibe. The sitar returns to add another dimension to the predominantly rockier sound of 'Nana', and the songs throughout have more punch that earlier outings that dazzled us with deadhead delirium and Acid Mothers Temple weirdness.
The too-brief 'Amayadori' is a lovely rainy day dreamaway (complete with rain sounds!), but its rather rudely interrupted by the sonic blast of the album's lone group composition 'Gatherings', with Ryu's fuzz-boards trading licks with bro Go's snappy drumming. There's a sonic krautrockin' assault of the senses that grows on the listener as the lengthy (7-minute) track progresses, but keep an ear out for those guitar blasts that snap into you like a bucket of ice water on a beachy, Summer day! And it all "wraps" up with the floating sunshine smile of 'Blanket Song', a warm acoustic sonic marshmallow overcoat to leave you with a warm hazy afterglow! Oh, and did I mention Thai artist Phannapast Taychamaythakool's mesmerizing cover art, easily a prime candidate for cover of the year! But it's the sounds inside that will really keep you coming back to Masana Temples for many months to come.
– Jeff Penczak
Kikagaku Moyo – 'Masana Temples' (Guruguru Brain, 2018)