The Steppenwolf Story – Chapter Eight
It was a full year between studio album releases by Steppenwolf, with "For Ladies Only," their sixth and final studio effort on ABC/Dunhill Records, appearing in record stores in November 1971. In an effort to fill the gap the label had released the compilation LP "Gold" in March 1971, peaking at #24 on the Billboard charts, incredibly their eighth top 30 album in three years, and attaining gold record status.
---
"Gold" included a non-LP single "Screaming Night Hog" which, backed with "Spiritual Fantasy"(a John Kay penned track culled from 1968's "Steppenwolf The Second"), faltered at #62 on the charts, the poorest performing 45 from the band since 1968 when two singles "Sookie Sookie" and "The Pusher" both failed to crack the Hot 100. "For Ladies Only" itself, fared rather poorly, making it to only #54 on the Hot 200 Albums charts. By the time of the albums release the band had incurred a change in personnel with Kent Henry, ex-Blues Image and Genesis (US) taking over on lead guitar from Larry Byrom. Byrom's reason for exiting the band, which had for some time been a problem within the band's ranks, was that his wife had left him to live with keyboard player, Goldy McJohn. Thus, the result was that the band not only changed lead guitarists but also lost one of its major songwriters, as Byrom had contributed to six of the nine tracks on "7" the band's top 20 LP released in November 1970. The bottom line was that "For Ladies Only" was truly a group effort, with John Kay, Jerry Edmonton, Goldy McJohn, and Mars Bonfire (Dennis Edmonton), all receiving writing credit on three tracks, and guitarist Henry on two. Bonfire, a member of the pre-Steppenwolf band, Sparrow, who penned the group's signature song "Born To Be Wild" the band's biggest hit, peaking at #2 in 1968, and plays lead guitar on Steppenwolf's fourth LP, "Early Steppenwolf", the subject of Chapter Four of The Steppenwolf Story, although it was actually a live recording from 1967 when the band was still performing as Sparrow, had never contributed so many songs to a Steppenwolf album. "For Ladies Only" was the first Steppenwolf studio album not to reach the top 20, and only the second to not achieve gold record status. Furthermore, neither of the singles released in connection with the album sold well. The first, with the Bonfire tune "Ride With Me" was released with two different b-sides, the Henry/McJohn title "Black Pit" and the non-LP Edmonton/McJohn/Biondo composition, the eight minute plus number, "For Madmen Only," both flip sides being instrumentals, stalled at #52. A three minute, twenty second edit of the album's title track, credited to all band members besides Biondo, the second 45, with the Biondo/Kay track "Sparkle Eyes" on the b-side, suffered an even worse fate, dying at #64. The reason for the relative commercial failure of the album and singles is up for debate, but burnout is most often blamed, with the band's rapid succession of recordings and relentless touring most definitely playing big parts. Regardless, the quality of material on "For Ladies Only" is unquestionably good, and the title track, running more than nine minutes on the LP, dealt with the topic of feminism, far far ahead of its time, as it would be 2017 before America as a nation would truly tackle the issue and its related problems. Furthermore, the issue of firearms, and their part of violence in American society, is integral to "I'm Asking" a tune written, and sung by drummer Jerry Edmonton, another case of the band's social commentary being incredibly far ahead of its time. These two tracks in particular make the album unique and most worthy of careful examination, as well as being incredible examples of the timelessness of Steppenwolf's ABC/Dunhill recordings, which, with the exception of two compilation releases, ended with "For Ladies Only." One cannot help but wonder what the possibilities were had the band somehow been able to overcome internal strife, and not be worn out by the combination of rapid recording and almost endless touring. That became moot, however, with the band's dissolution in 1972, so now on to an examination of the album at hand.
"For Ladies Only" opens with the nine minute plus title track, credited to their entire band except bassist George Biondo. The tune opens gently as the beat slowly builds. Henry's guitar, McJohn's organ and Edmonton's drums drive the tune. The track's topic, feminism, is one that was virtually unheard of in rock music in 1971, but from the beginning Kay's lyrics make his feelings apparent, "how many times did you say to yourself that woman is the devil's tool? somehow you knew that you blew it again and didn't want to look like a ravin' fool, but when you need affection, you go to her with a smilin' face, but now she's got a strange reaction, for ladies only, tired of talkin' till somebody hears, for ladies only, half the world has been built upon their tears." Kay addresses the injustice and lack of power held by women. Henry's guitar and McJohn's organ give the tune its riff, while Edmonton's drums beat the rhythm. Following an inspired solo by Henry, McJohn adds a piano solo which last nearly two minutes before Edmonton joins in keeping time, the two carry the tune for nearly two more minutes before the rest of the band rejoins, the beat becoming increasingly heavy until Kay's vocals come back in near the eight minute mark, repeating the "for ladies only" verse repeatedly to the song's conclusion. The tune was released as the album's second single, the band's final on ABC/Dunhill, reaching only #64 on the charts, a sad ending note considering the band's earlier successes. Jerry Edmonton's "I'm Asking" addresses violence, especially gun violence, a topic which, like feminism, is as timely in 2018 as it was in 1971. Edmonton's prophetic lyrics, which he sing, include, "I'm asking all you mothers, do you tell your children lies? how do you think they'll grow up, if they weened upon a gun?" Edmonton continues with words of warning, "and about you, your new start, a tear in the darkness, as a wellness fills their eyes, when the truth is discovered, if they leave you-don't, don't you be surprised, I'm asking, I'm asking all you mothers, I'm asking all you mothers to be, I'm asking for the sake of our children, don't take away the right, the right to be free." Hard to believe Edmonton penned those lyrics all those years ago. "I'm Asking" is a rocker, with McJohn's organ and Henry's guitar once again to the fore. Kay's "Shackles And Chains" is a bluesy tune, with Henry's slide guitar and overdubbed electric lead driving the tune. The song is further commentary on the interaction of people in America, "don't hold your knife so close to my head, I'll hide all my shackles and chain on my bed, I know I'm a round, it's hard to forget, after all the playful things I've done, now if you believe me, then let us be kind, we'll sit down together and talk over wine, if you'll show me your game, then I'll show you mine, 'til our shadows fade beneath the rising sun." McJohn's electric piano adds great texture to this tune, but it is Henry's slide guitar that dominates throughout. Side one closes with Mars Bonfire's "Tenderness," and follows up on the album's title track, addressing how men can learn from women, and the violence between the sexes must be overcome. As Bonfire posits, "she tried to show me how to love, I bit her lips and bruised her arms, no I hadn't learned tenderness, she asked "what does love mean to you?" Bonfire continues, "I grabbed her hair and pulled her down, I looked her in her eyes and laughed, the love I feel is hard and fast, it's for a face and for one night, I don't need to own anyone." The tune opens with gentle guitar by Henry, before a little more than one minute in, he is joined by bass, drums and piano. The tune is definitely not the typical hard rocking sort written by Bonfire.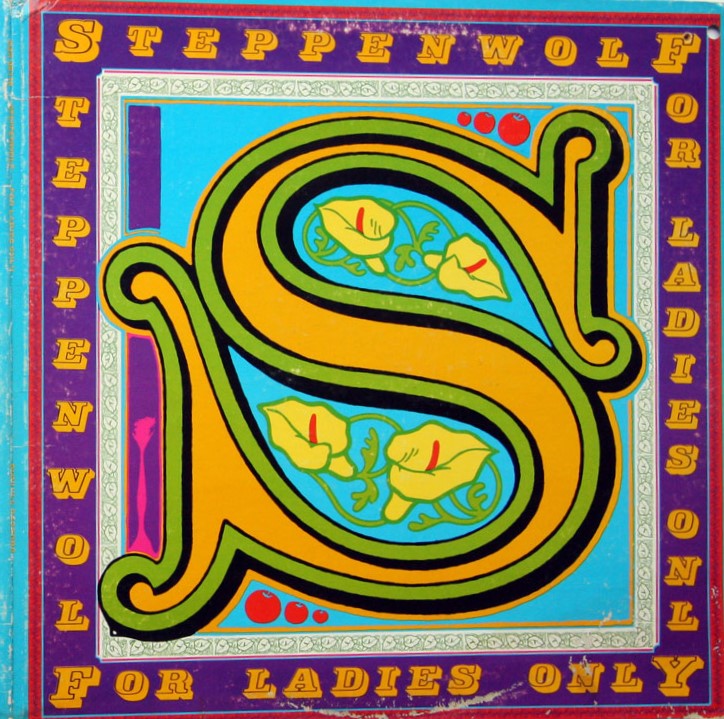 Side two of the album opens with the Mars Bonfire's "The Night Time's For You" a snappy, three minute rocker, dominated by Henry's lead guitar and McJohn's organ. Henry's solo is especially impressive. "Jaded Strumpet" is Edmonton's ode to women's empowerment . McJohn's organ is joined by Henry's slide guitar and he contributes another impressive solo. Edmonton sings his own lyrics, the highlight being, "I got a high struttin' floosy, she's clean, and always choosy, she got her way to the head of her class, and they call her Jaded Strumpet, you know that girl sure blows trumpet, got a hootchie cootchie thrill be, you treat her right, she might show you that." Most definitely, role reversal, as the woman being referred to is definitely dominant in her relationships, exactly the opposite of most references of the day. "Sparkle Eyes" is an uptempo rocker, in which Kay reminisces about a past relationship and the sadness of watching someone near and dear, self destruct. Another hard rocker with Henry and McJohn leading the band, Henry's slide guitar solo a definite highlight. The band settles into a relaxed groove until the 3:30 mark when the tempo quickens and rocks to a close with Henry's lead line soaring. As for Kay's lyrics, the tale begins with him recalling times past and wondering, "oh woman, don't you know me? has it be so long that you forgot, I thought of you just yesterday, my time it has been dragging, and I've changed girl but so have you, please don't turn your face away, it's in your eyes I know, where did the sparkle go?" Kay continues, showing a sensitivity rare to rock music of the day in its intimacy, "sparkle eyes used to shine ev'ry day, God I wish I had never had seen you looking this way, can't recall just who was wrong, guess it doesn't matter now, to dredge the past I have no desire, but it hurts to feel your sadness, and to see the life you've led, faceless fountains cooled your fire, it was mine not long ago, where did the sparkle flow?" The tune ends with Kay's sad and poignant lament, "now if I only knew where to begin, girl, I'd try to break your fall and stop your spin, but time has changed us both too many ways, and I'm looking at a strange and empty face." "Black Pit" written by Henry and McJohn also appeared as the b-side of the album's first single "Ride With Me." A nice rocker in itself, the tune opens with gentle guitar from Henry and swirling organ from McJohn, restrained feedback from Henry's guitar adding a nice touch to the tune. "Ride With Me" had been written by Dennis Edmonton (Mars Bonfire) some time earlier, and upon release as a single peaked at a disappointing #52 on the charts. However, Bonfire's lyrics add great depth to this tune, making it an examination of the balance within a relationship, while hinting at the band's signature song "Born To Be Wild," another Bonfire tune, and the band's biggest hit, reaching #2 on the charts upon its release in 1968. Bonfire introduces the tune with his introspective thoughts, "how ya gonna make it baby?, that's the question to be asked, life goes on around you in so many ways, I know my share of history, how hard it is to be free, from wearing masks that turn to skin, hiding what could have been." Bonfire continues with his self examination, "and I, I'm so confused, which way, which way to choose?, ride with me baby 'til the end of the day." Bonfire's introspection really hits home with, "mama's home philosophy, makes everyone a freak but me, though I'm starvin' in the streets and can't predict the future, mirror, mirror on the wall, who's the sanest of us all?' The song ends with Bonfire repeating the chorus admitting his confusion with life's choices. "For Ladies Only" closes with the delicate, George Biondo written and sung, "In Hopes Of A Garden." Henry's gentle guitar introduces the song joined by a restrained organ from McJohn. The song's simple melody is accompanied by Biondo's observation, "in hopes of a garden, the scent of a smile, a long summer's day of love, we'll use our hopes as a place, come with me." A most delicate yet somehow fitting to the end of the album, and in turn the end of Steppenwolf's time on the ABC/Dunhill label.
A wonderful mixture of tunes, "For Ladies Only" includes Kay addressing feminism in the title track, the sadness of relationships past in "Sparkle Eyes" and society's problems in just getting along in "Shackles and Chains." Edmonton examines the role of violence, especially firearm related, in "I'm Asking" and his own take on the power of women in relationships in "Jaded Strumpet." Bonfire adds his cynical, reminiscent look at relationships in "Ride With Me" and Biondo offers his most hopeful closer "In Hopes Of A Garden." An incredibly diverse collection of songs, why the album didn't strike a chord with record buyers is baffling, as it contains some of the group's best industrial performances and prescient topics and lyrics. How the albums two singles failed to click with music buyers is equally baffling.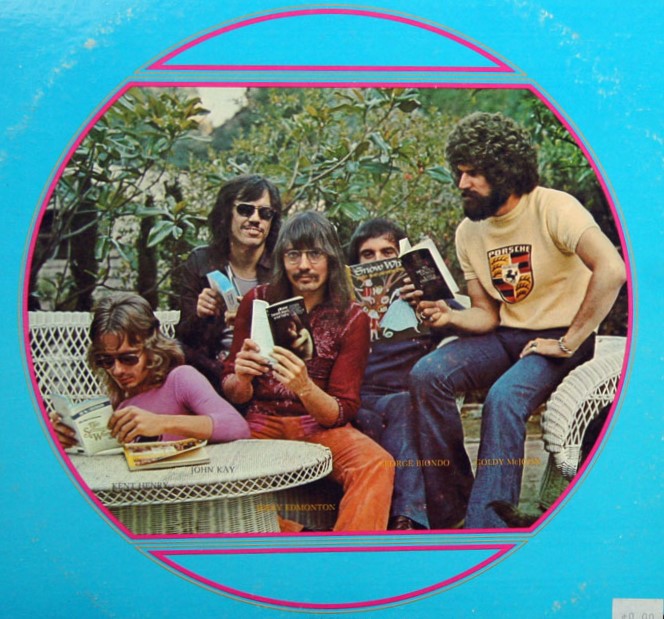 All that would remain would be the February 1972 release "Rest In Peace," a compilation issued at the time of Kay's announcement that the band was dissolving and which limped to #62 on the charts. One year later, in February 1973, "16 Greatest Hits" hit record stores and although it stalled at #152 on the Hot 200 Albums charts at the time, consistent sales over the years made it Steppenwolf's sole LP to achieve platinum sales status from its ABC/Dunhill years, a period of less than four years, which had yielded four Top 10, six Top 20, in total eight Top 30 albums, five original studio LPs, two live, and the compilation "Gold." In addition, there were two Top 5, three Top 10, and a total of six Top 40 singles. An amazing achievement by any measure, and a most fitting note on which to close The Steppenwolf Story.
Steppenwolf "For Ladies Only" (1971)
– Kevin Rathert
---
All photo materials are copyrighted by their respective copyright owners, and are subject to use for INFORMATIONAL PURPOSES ONLY!