Interview With Psychedelic Artist John Hurford
John Hurford was born on a farm in Devon in 1948 and began painting soon after he left school in 1964. Self-taught and with no formal training, he quickly became one of the real forces behind the British psychedelic art movement. He contribute to all three of the most influential and important underground publications of the 1960s; OZ Magazine, International Times and Gandalf's Garden.
---
"I'm influenced by music – it takes me to a place I need to be when I'm painting."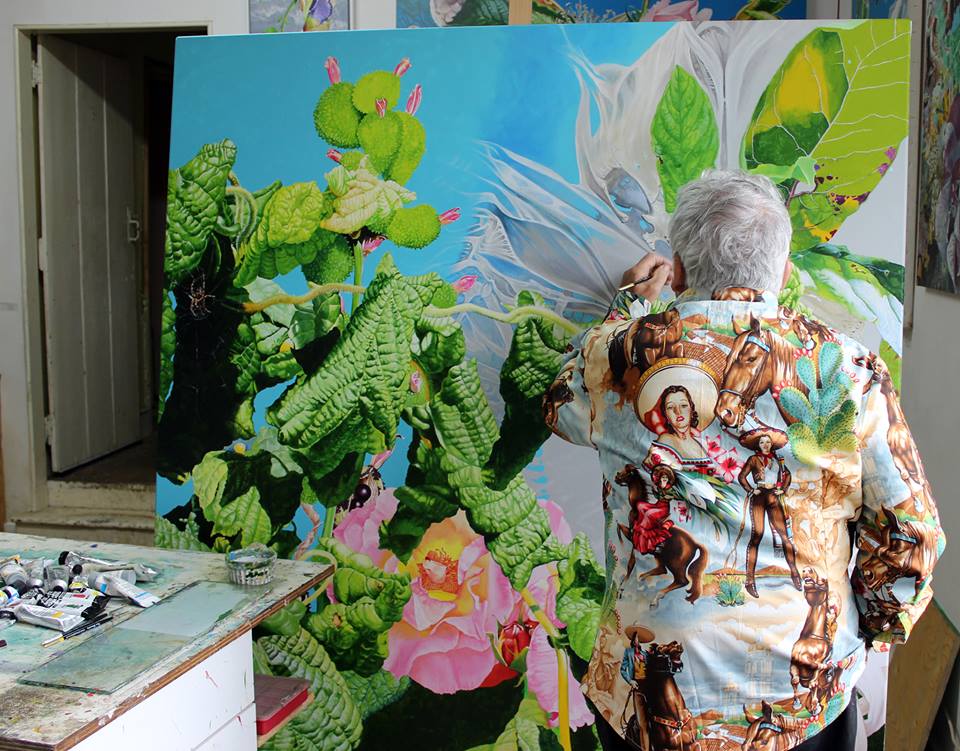 What was your home like when you were growing up? Was there a lot of art or music around your house? Were either of your parents or any of your close relatives musicians or artists? Or maybe just extremely interested/involved in the arts?
I grew up on a farm in the South-West of England which was fairly primitive. No electric, no indoor water, and 4 km from the nearest village but with no car. There was no art, music or books around but I do remember my Grandmother painting a picture, but she died when I was five. I drew at school until I was ten but when I went to the secondary school I didn't attend art classes, but I still drew. I drew on my school books. I drew birds, guitars and clothes.
I was a really keen music fan and at boarding school we secretly listened to radio Luxembourg which played pop music every evening. One of the kids in the class was two years older than the rest of us. He was interested in Beat culture and introduced us to Leadbelly, Woody Guthrie, the Kingston Trio and others he had records of. On the radio we listened to Elvis and Cliff Richard, but by the time I left school in 1964 we were listening to the Stones, Beatles, Searchers, Mojos, Chuck Berry and the Big Three. Music was hard to find on the BBC (the only official station). There was nothing interesting except a chart show once a week.
One of them, "Radio Caroline", broadcast from a ship off the coast of the North West of England, but they had to move from there to the English Channel out of British waters as near to London as they could get. They sailed round the coast of the South West. We were in range for the couple of weeks of their journey and we listened all the time. It not only played chart music it played American R&B and I heard and loved the original songs sung by the Beatles, the Stones and others. I would spend hours turning the dial on the transistor radio trying to find music. Some stations you could only hear in the evening and I remember one R&B show with a signal that crackled in and out that played Tommy Tucker and Sam and Dave and other American stuff.
TV at the time was also fairly good – we had a show in the South-West called "Discs-a-go-go" which had live music from the likes of Nina Simone and Mose Allison as well as British chart groups. Friday nights was "Ready Steady Go" a couple of hours of great live music from the Miracles to the Pretty Things.
My mother came from Liverpool and when I left school to work on the farm I went to visit my Grandparents and bought the kind of clothes that the Searchers and the Stones wore. The music scene was also great. In Liverpool at the time everyone knew somebody that had a hit record. Also the Juke-Boxes in the coffee bars had the greatest music.
I worked full-time on the farm for three years. I grew my hair long and when I went out at the weekend I stood out a bit from everyone else with my long hair and fancy clothes. This was now 1967. I started to hitch up to London to see bands.
What was the local music scene like where you grew up? Did you get involved in that scene? Do you feel like it played a large role in shaping your musical or artistic development?
When I was a kid, the local music was horrible old folks dance music – fox-trot – quick-step and the like. A local group of "squares" played at the local dancehall.
In Exeter (the nearest city), I could buy underground magazines there was a shop that sold weird books and another that sold IT and OZ secretly from under the counter. One local group that lived in Devon were the "Empty Vessels", they played American R&B, Otis, Wilson Pickett, Tommy Tucker. They played all over Devon. I tried to get them interested in West Coast psychedelia which was my music of choice at the time but they weren't interested. I did do a poster for them to promote the band. Other local bands I did stuff for included "Hard Meat" and "The Spirit of John Morgan". I painted their drums in day-glo colours.
Then one day I went to a gig in the art school in Exeter and the Empty Vessels were playing but they had a transformation. Gone were the covers of American R&B, they had changed their style for the better. Their had become fabulous and original – heavy drums, drawn out guitars. Everyone at the gig was blown away by their performance. They eventually became Wishbone Ash.
Mostly to see music I hitchhiked to London – to visit import record shops and hippy clubs. There was a "love-in" in Devon for the summer of love (67), I left my motorbike and hitched to the event. I got a lift from a car full of hippies who became friends. I was so happy to meet like minded people in Devon. There was also a scene in Cornwall down around St Ives and I used to go and stay down there. A lot of the hippies were from the beatnik scene and already knew about drugs. LSD turned them into hippies.
Exeter University put on gigs which I used to blag my way into – they usually believed I was with the band. I saw Arthur Brown, Sam Gopal (a favourite), Chicken Shack, Ten Years After, and loads of others. Also I did a happening at St. Georges Hall, Exeter with Peter Green's Fleetwood Mac.
Around this time I'd met John Peel who seemed to be everywhere I went, in London Import Record shops, MCing at gigs and staying at the house of some of the band "Principal Edwards Magic Theatre" in Exeter. He invited me to see Pink Floyd record for the BBC in a theatre in London. Invited me to meet Marc Bolan in his flat in Upper Harley street and made me the official artist of his new record company Dandelion. Unfortunately I wasn't together enough to work for a record company, I was often uncontactable (no phone) and grooving round the clubs and living in the west country and staying in London sleeping on floors.
I also met Tony Visconti (Regal Zonaphone) who was very keen on me doing a cover for Tyrannosaurus Rex but Marc didn't like my work – he already had a friend who was a painter. In the end he got me some work for Essex Music, but the music industry at the time was very straight – I didn't fit in.
On the other hand Oz magazine was a different thing altogether. I'd sent them some early work which they had put in the magazine and it just continued from there. Jim Andersen was a brilliant artistic director and used my stuff a lot, also I became friends with Felix Dennis whose business acumen became the driving force behind Oz. Even when completely stoned Felix had an eye for a deal. Then he did "nasty tales" and I did a bit of work for him on that.
International Times (IT) was a bit more difficult to get into. I got some of my work in it but it wasn't until Mick Farren and Edward Barker were running it that I felt at home there. They gave me a cover and some nice stuff inside.
The first issue of Gandalf's Garden had already come out before I had a chance to do some work on it. I went round to see them and ended up doing a cover and then working on the whole of another issue. I liked them all – they were love and peace meditating hippies but I think they got fed up with me, a little dope smoking hippy sleeping on the floor ruining their peaceful vibes. Also the only music they had was stuff they got free. David Bowie was a fan of the magazine and wrote letters to them and sent them a record. This was all they played. I was into loud guitar music at the time.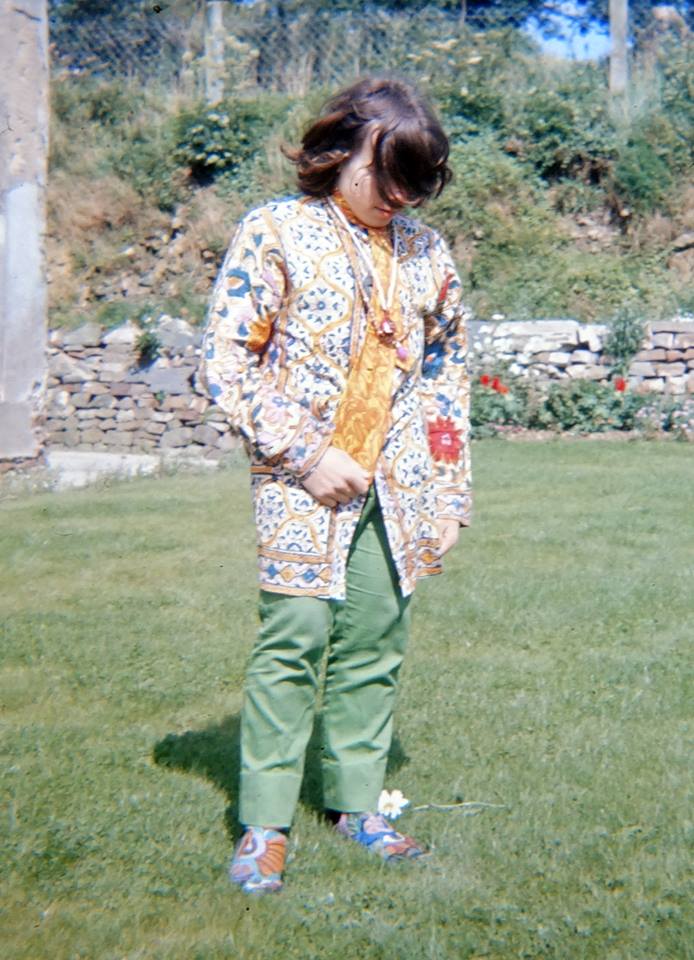 What do you consider to be your first real exposure to music and art?
The first music I listened to was the pop music of the sixties (once a week the hit parade on the radio) and I built my own stereo record player from a kit so I could listen to "Pet Sounds" and "Revolver" in stereo when pop music got more complicated. I also had a tape recorder and recorded music from the radio – I even took it to Liverpool so I could record from radio Caroline when I visited my Grandmother. Love of pop/r&b turned into a love of psychedelia which was more obscure and difficult to find.
Then I made friends in South East London and I used to visit and stay with them. They would get stoned and sit around and listen to Appletree Theatre, Strawberry Alarm Clock, Jefferson, Vanilla Fudge etc and if we were really out of it, out would come the Stockhausen or Silver Apples.
Then in the early seventies it was prog. This we found on obscure radio stations that often faded in and out. I remember tuning into a Spanish station and all the music they played was great.
John Peel had gone to the BBC and first of all shared Night Ride and then he had a 10 to midnight slot most nights on the BBC. I liked a lot of the music he played and I was always obsessive about music following every fad that came out – Punk, New Romantic, Reggae, Hip Hop, Acid House, Trance, and now even modern producer led music (Flume) – anything that sounds great loud on my Sound System.
As for Art, I didn't come across other peoples stuff when I was young except the illustrations to Alice in Wonderland, but as a teenager I remember looking through other peoples art books and then going to art galleries in London, but that was also because I was trying to get them interested in my work. I never had any luck. I was already branded a "Psychedelic artist" and that was the kiss of death in the Fine Art market in the sixties, seventies and eighties. I did however do children's books, girly mags (Club International) and sell hand printed posters to University students and members of the public – even did a comic book for six issues (It's All Lies).
Are you a self-taught artist or do you have any formal background/education in art?
I had no training – I'm self taught. I discover stuff by trial and error. My early works are in ink and fade quickly. They are in the Victoria and Albert Museum in London and they are looking after them. They have used some for the "Art of the Revolution" and the "Their Mortal Remains" exhibitions over the last couple of years.
Who are some of the major influences?
In the sixties I liked Haphash and the Coloured Coat and Marijke, I started by copying them but after taking a "tab" my life view changed; I realised I didn't want to copy anybody else but decided I wanted to draw the stuff I saw around me in the countryside.
Now I love looking at other people's work but I don't think I'm influenced by it. I'm influenced by music – it takes me to a place I need to be when I'm painting. Nowadays that is everyday. I am no longer a farmer or a builder I just paint all day in my studio.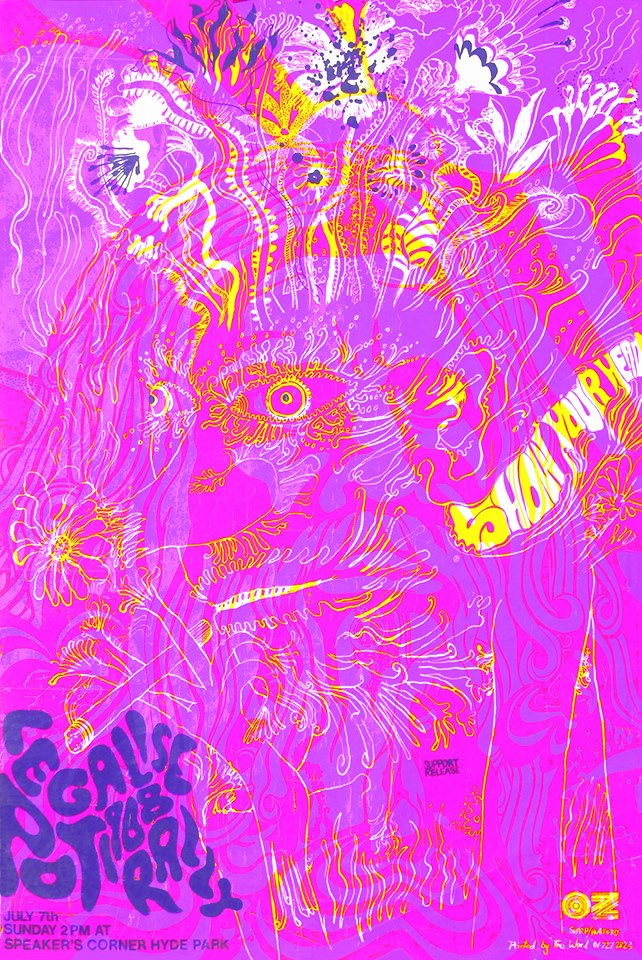 How would you describe your style?
I describe it now as Psychedelic. That used to be a big turn-off to the art world, but now the younger generation are more interested. They look back at the sixties as a time of freedom when everything was simple and beautiful. They of course weren't there and so don't remember how we were hassled by the police or being chased or beaten up just for being a hippy!
You became one of the real forces behind the British psychedelic art movement, and was contributing to all three of the most influential and important underground publications of the 1960s – OZ Magazine, International Times and Gandalf's Garden.
I loved the magazines of the sixties. Unlike the record companies they weren't run for commercial reasons – they just wanted to survive and to have a good time while they were doing it. I sent my first stuff to them and they used anything they liked, that they thought was hip.
There were no meetings about direction, branding or image there were just a lot of people out there writing and drawing that were willing to contribute to the underground press. It was of course helped by some great innovators and hard workers without whom it wouldn't have worked. Jim Haynes and Jack who ran the "Arts Lab" and where lots of people dossed. Richard Neville, Jim Andersen and Martin Sharp who ran OZ. Hoppy and Miles – IT, and Muz Murray for Gandalf's Garden. Some of these had help from the musicians with money. Paul McCartney and John Lennon supported stuff and John Peel wrote for free in various things. John Lennon and Yoko once turned up at the Arts Lab to take everyone to lunch. He wanted everyone to get in his Rolls Royce, but a friend of mine (a working class guy from Glasgow) said he was a member of the proletariat and wasn't going in a car like that, so they all walked together through London to the Savoy (I think) for lunch.
I did in fact get paid by Oz, and IT. And Jon Goodchild, who was a designer on Oz went to work for what was to become Rolling Stone and wanted me to do a lot of stuff for it, but I was too busy having a great time, then having a family and working back on the farm for many years.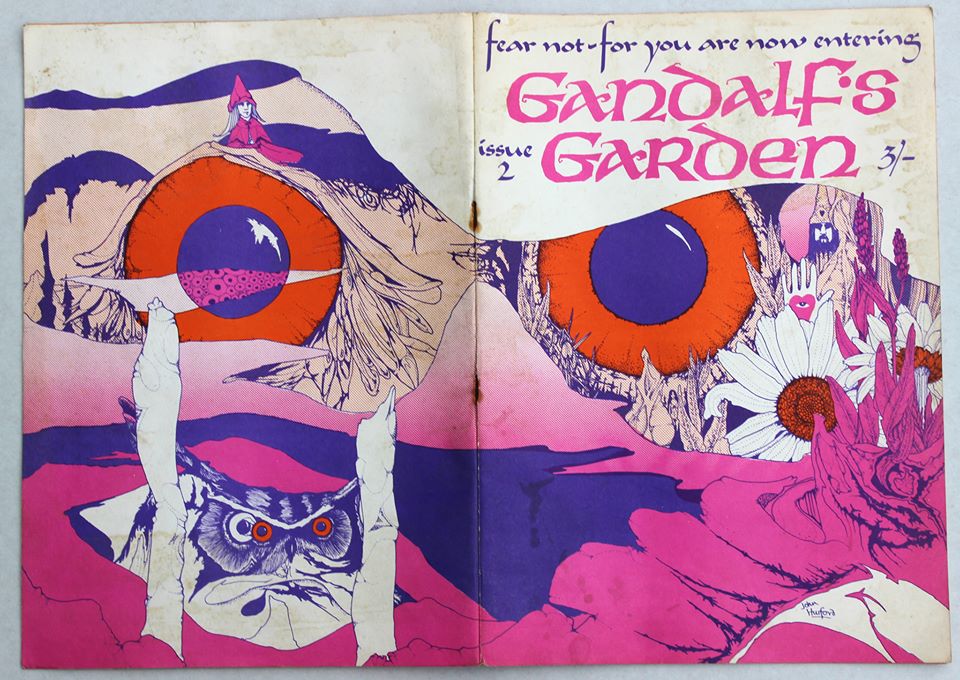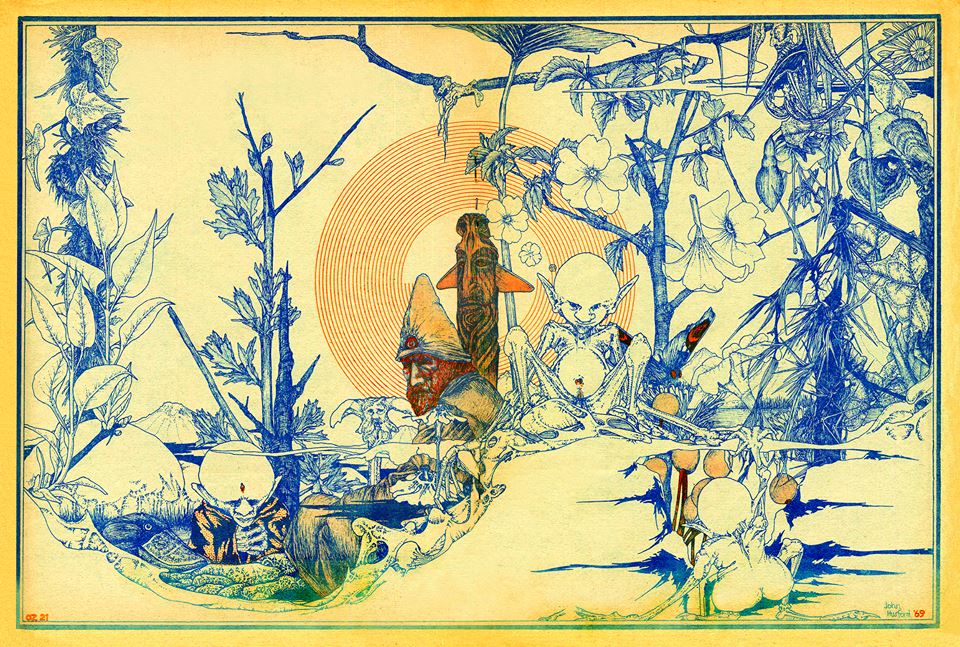 What would be your favourite memory from the days?
Too many, but I think seeing Pink Floyd and Sam Gopal at Kensington Olympia for "Christmas on Earth". A friend drove to London from the end of Cornwall in a battered old van. I was one of many sitting on the floor in the back. It took hours in the days before motorways and we picked up a couple of hitchhiking sailors on the way who berated us for our long hair and lifestyle but still took the lift. Then we got there, walked in, Tomorrow were playing, then the Move, Traffic, Floyd, Hendrix, Sam Gopal, and others. There was a fairground at one end, films, light shows, even an area where you could get naked and dance in the rain. Then we went back next morning.
What's the typical creation process like? Do you work on various of stuff or do you focus on just one particular project?
I tend to start a project and see it through to the end before I start a new painting.
With painting I feel it should be improvised, I like to do it differently everytime, I follow where it leads me. I just paint what I feel like and if nobody likes it I don't care.
If I'm doing a record cover or a poster for a gig then that's different. I get input from all the people involved and try to please them. This can be quite difficult and often the work I like best doesn't get used.
Book illustration I don't do any more but I did do a lot for a childrens book publishers in New Zealand in the nineties and they were great to work for because I loved working fast and for strict deadlines. I just did my best and they published it. Sometime it worked really well and I was pleased with the result. It was also a time of faxes – I could fax a rough to them in my evening and the time difference meant that when I got up in the morning I had a fax back from them telling me if it was okay. This worked well but there was no time to do really detailed work.
Do you have any preferred mediums?
I started painting in inks. They were beautiful colours, easy to use but I didn't realise at the time they faded very badly. Black ink was fine, it stood the test of time. So I started using oils and when I used watercolour instead of inks I bought light resistant colours. When I needed to work to deadlines I needed a quick drying medium so I turned to acrylics. I've stuck to them, I find I can do anything with them, they are lightfast and are also good on paper.
I also love drawing in pencil on paper, and sometimes in coloured pencil. I use the lightfast ones.
Do you accept commission work?
I don't do commissioned portraits anymore but sometimes do ones of friends for fun.
I do covers and gig posters for SHAGRAT. I like Nigel Cross's way of working. I have also done recent covers for "It's a Beautiful Day" HOOKAH records, and for FRUITS DE MER. These small enthusiast run vinyl record labels and are a dream to work for.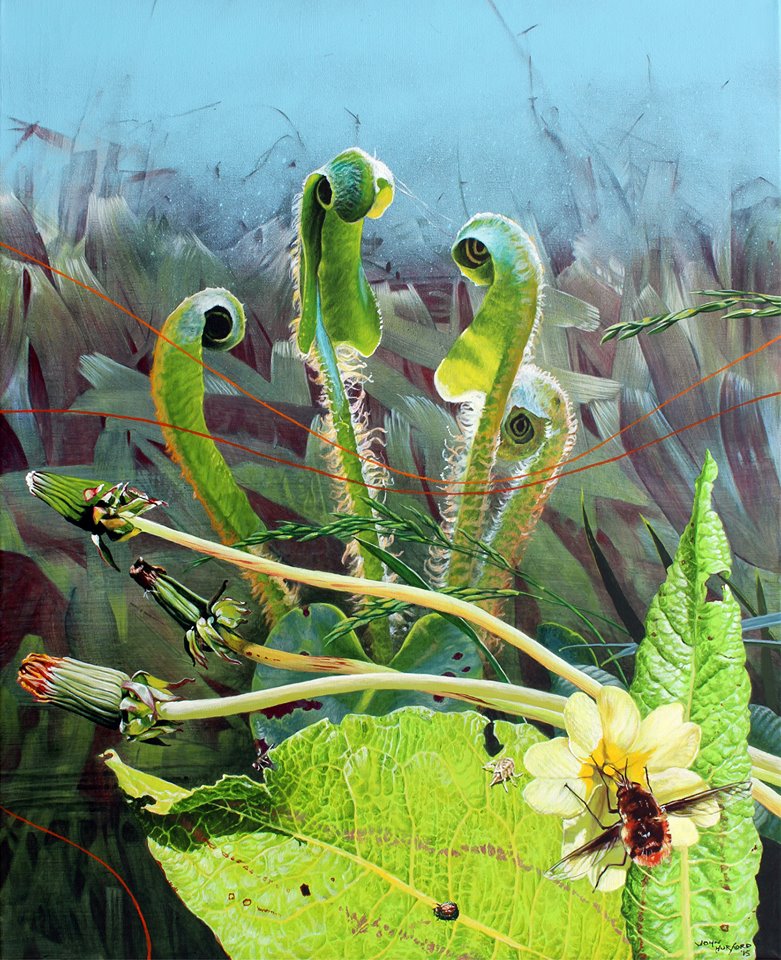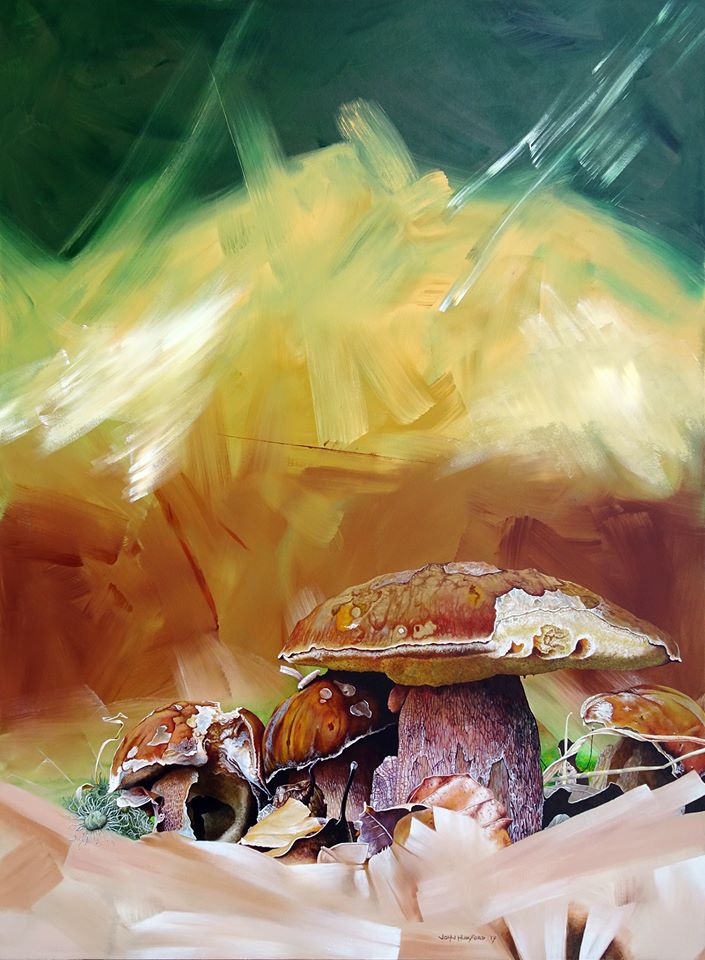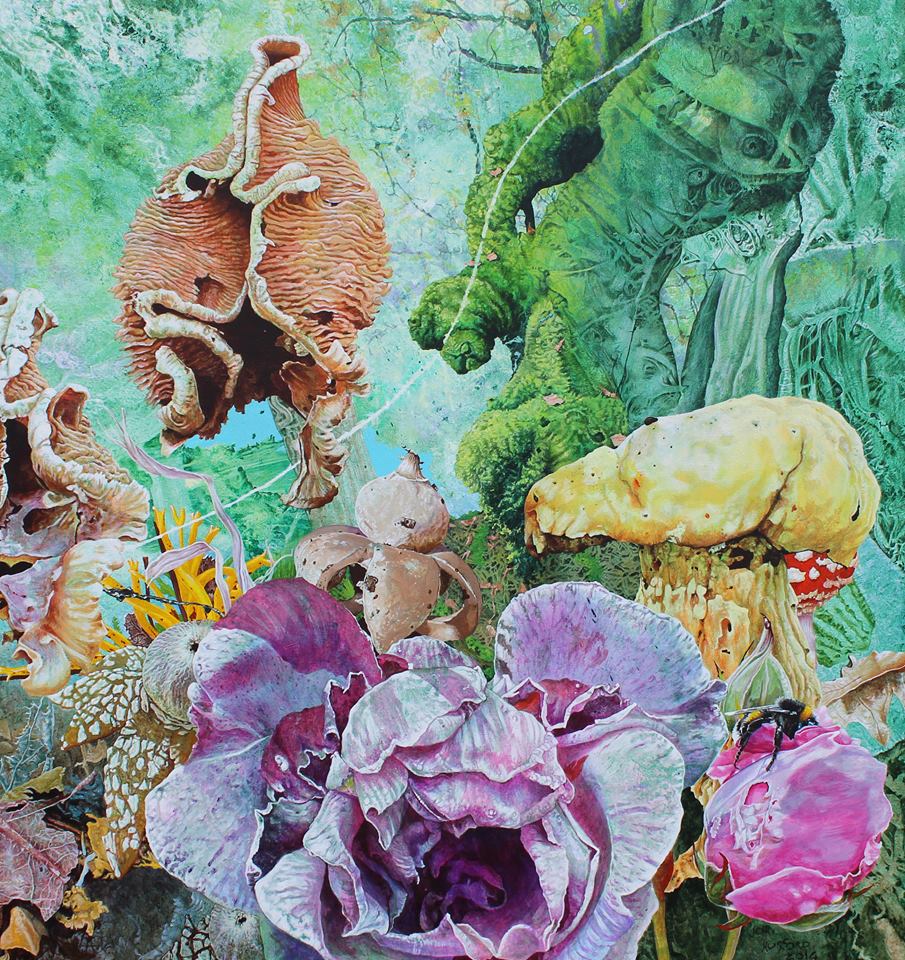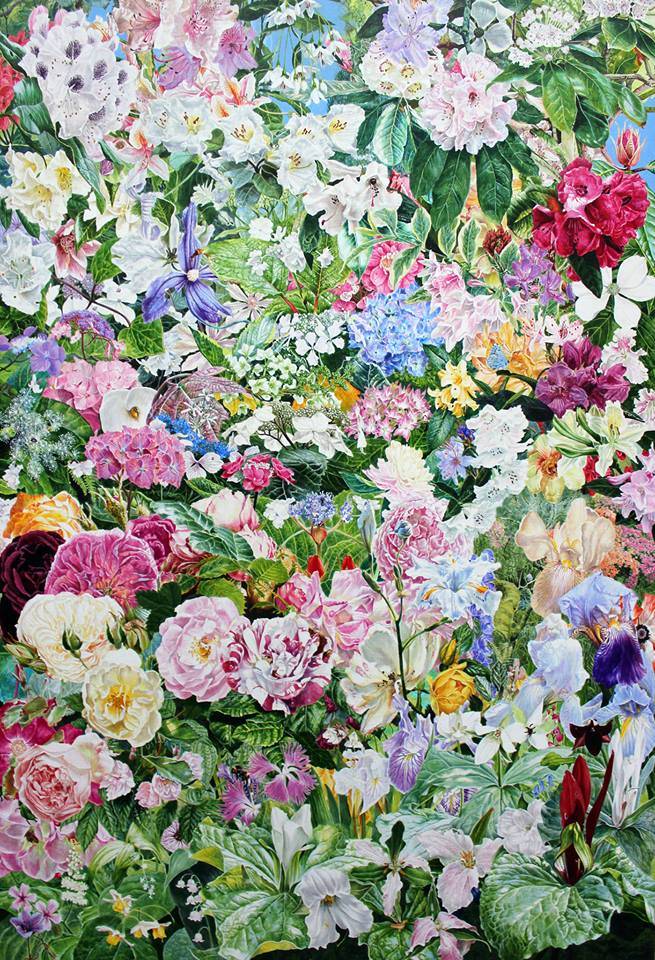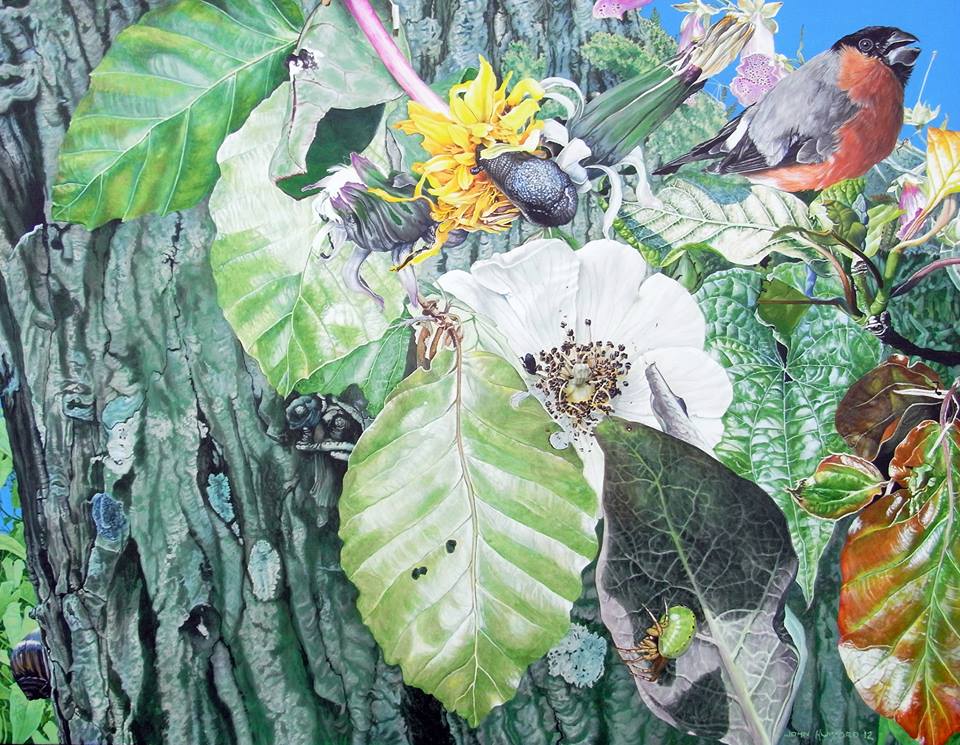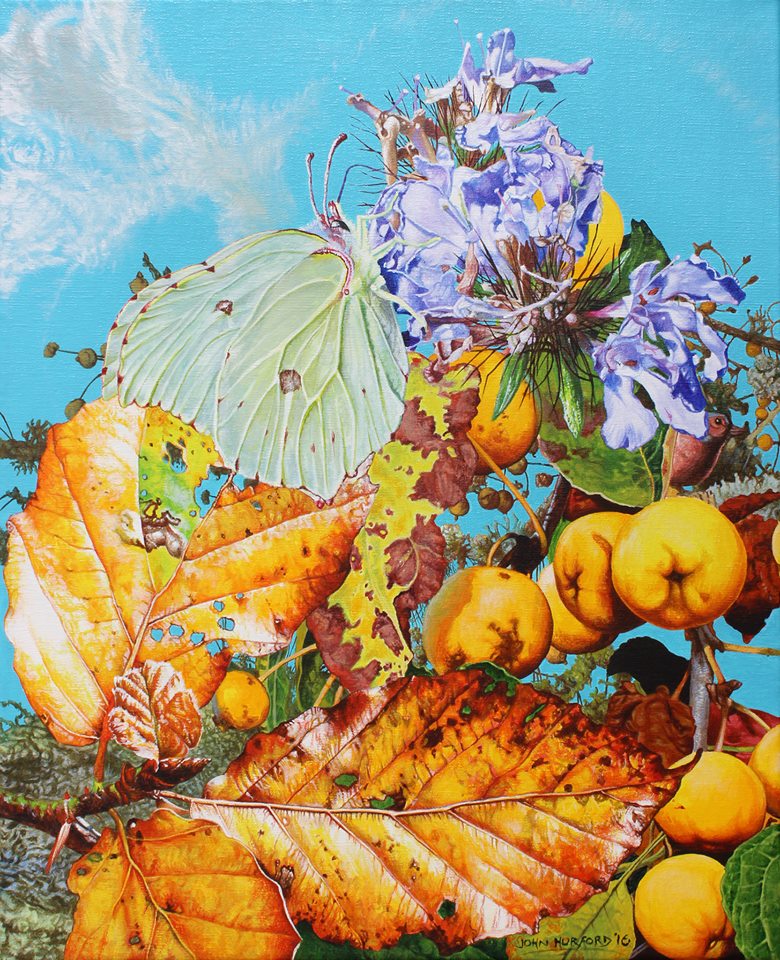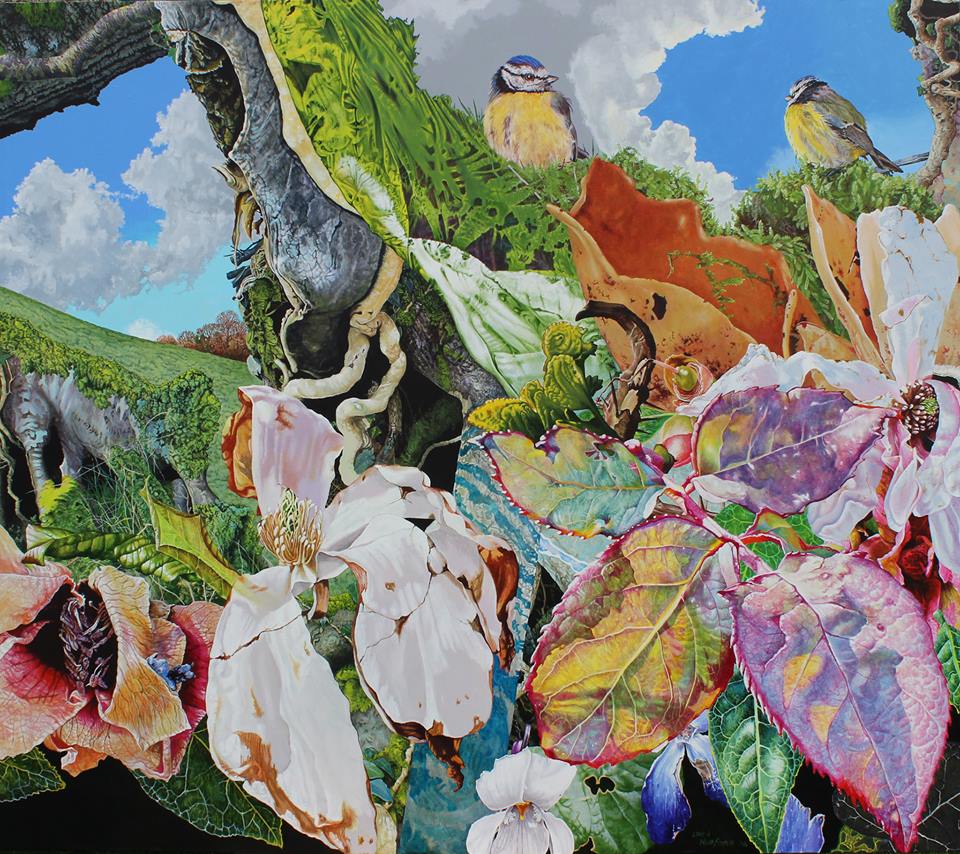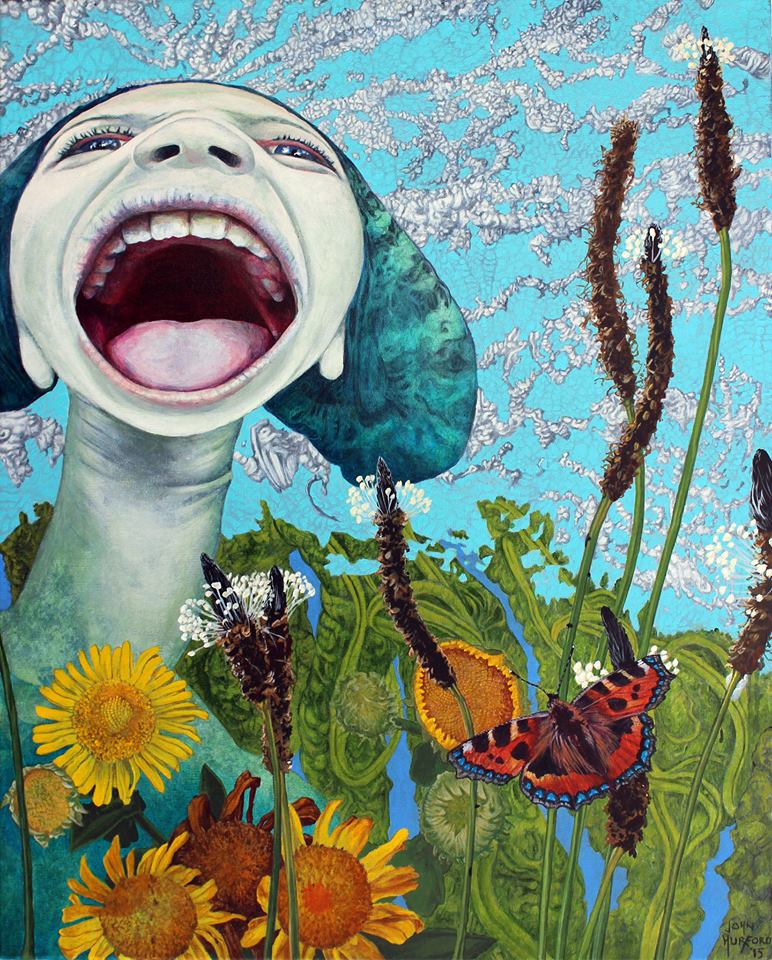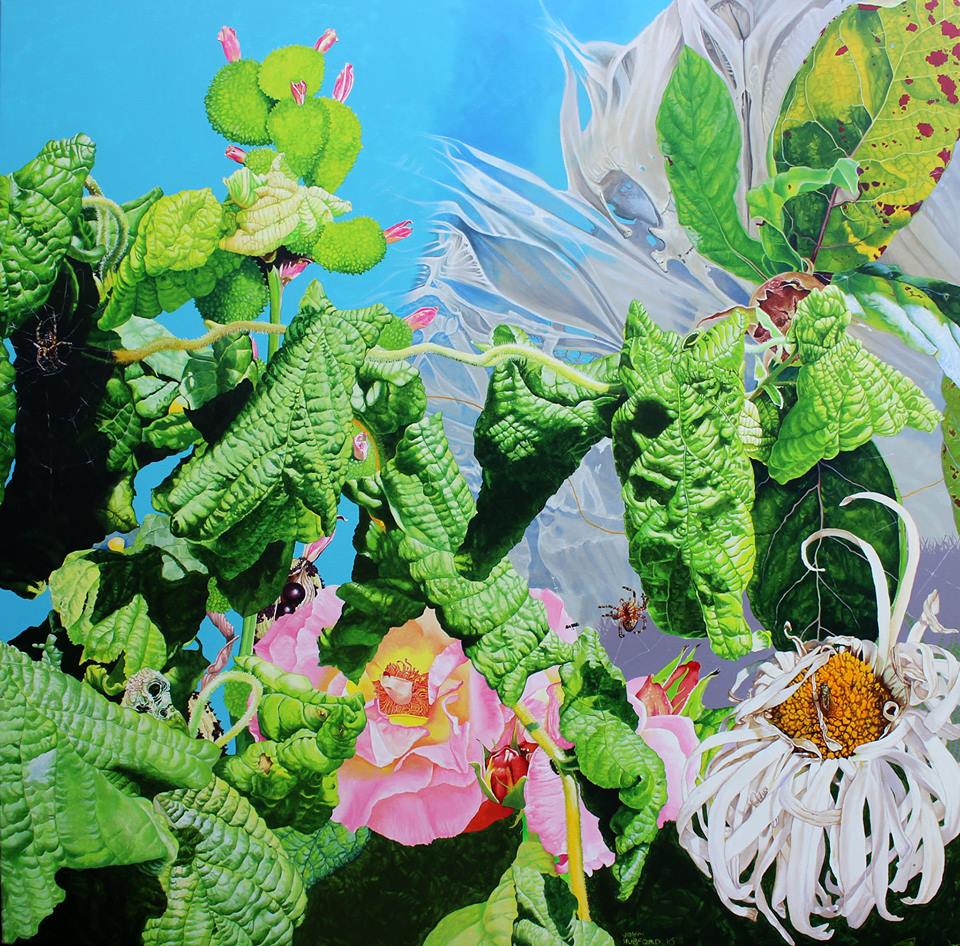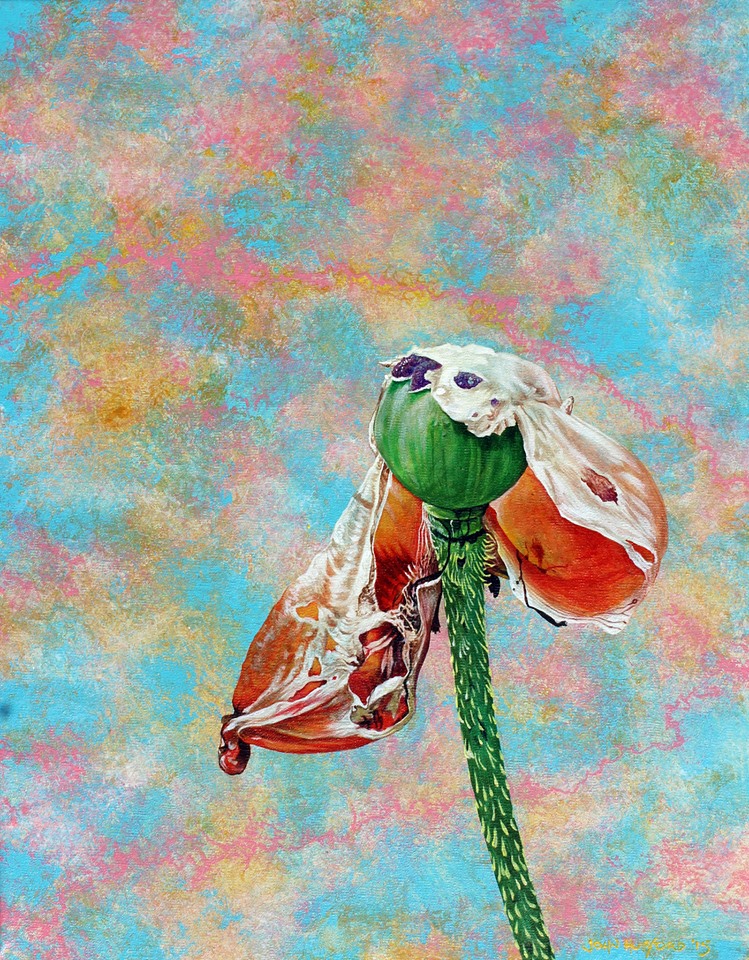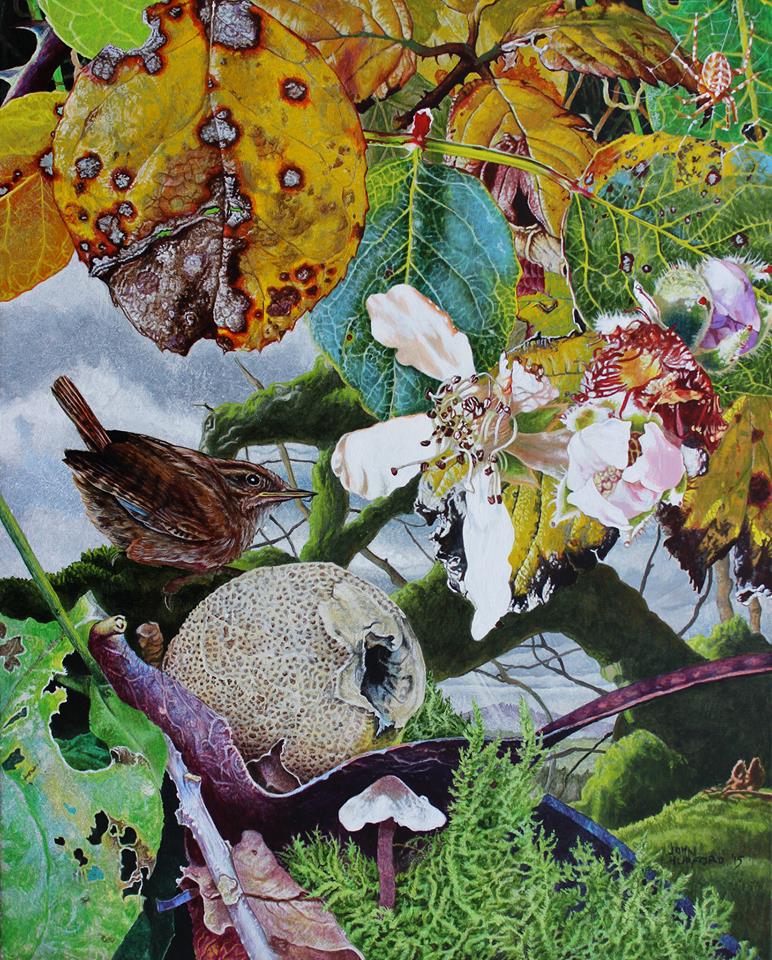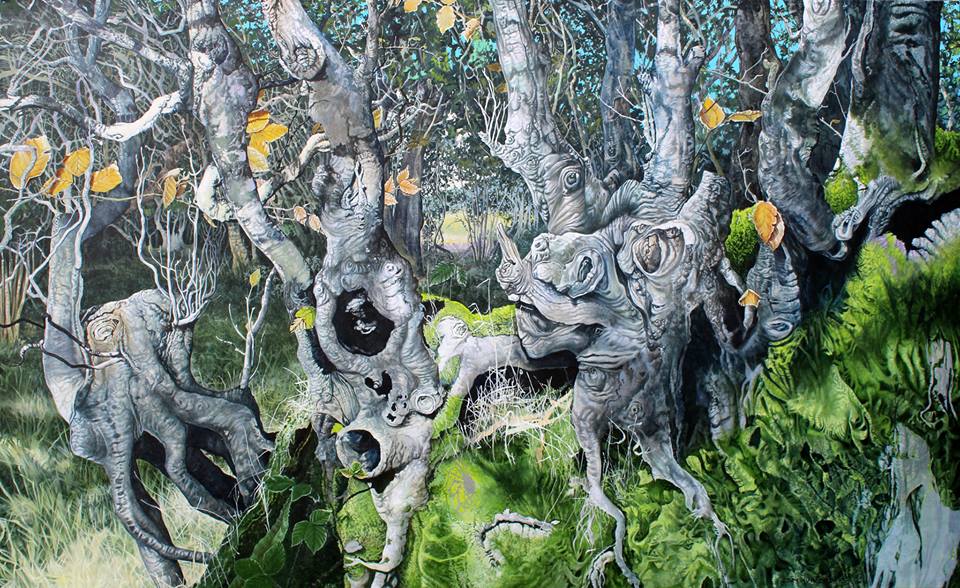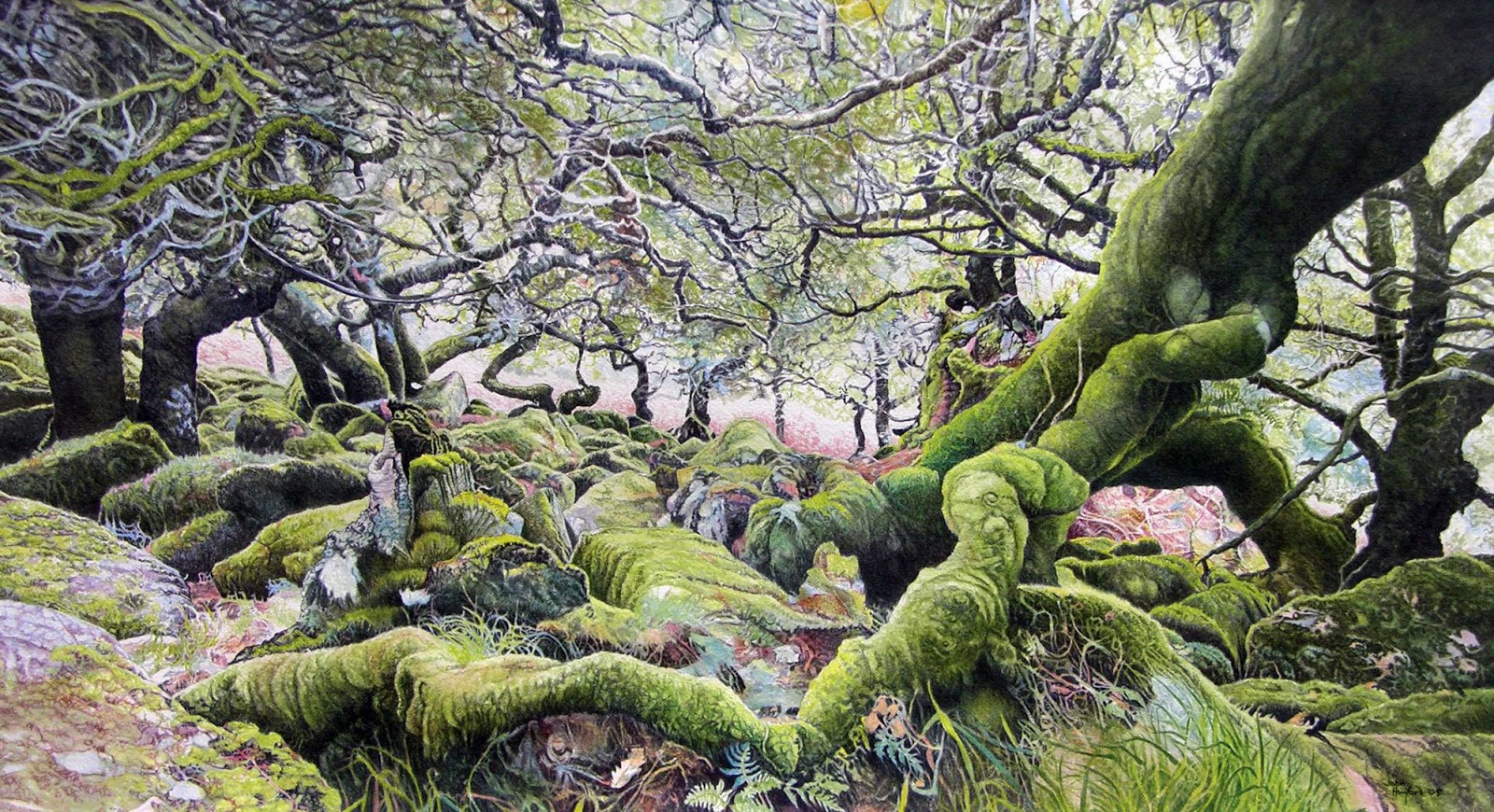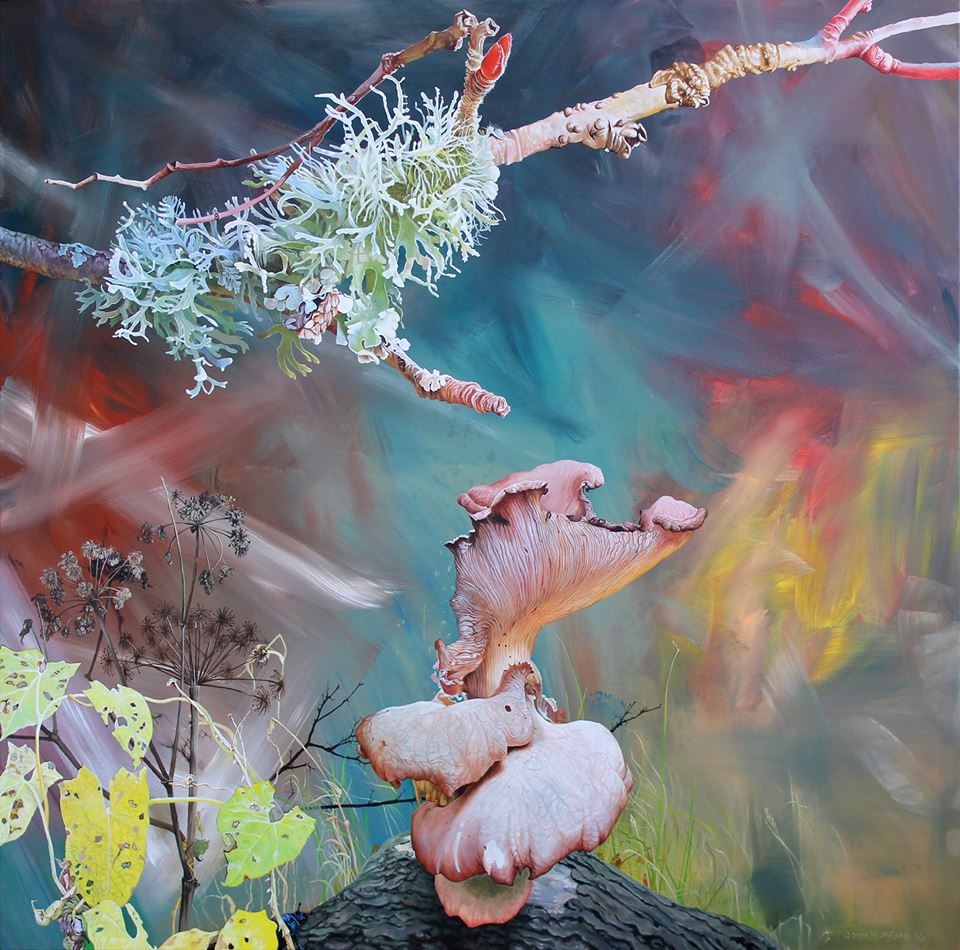 What are some projects you're most proud of?
A double page spread for the "Incredible String Band", in OZ. I was asked by Jon Goodchild to do it and it was to illustrate their song "Half Remarkeable Question". The String Band didn't know I was doing it but when the mag came out Jo Boyd rang up to say how much he liked it.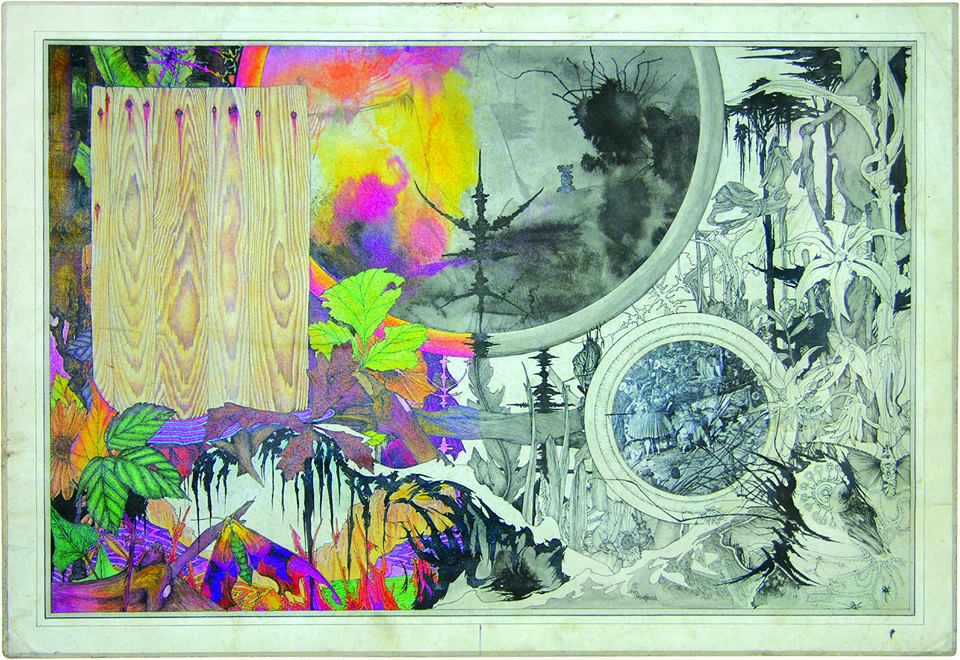 I was particularly pleased with a recent release by Fruits de Mer, "Honey Pot – Ascending Scales" where they used one of my paintings and did a great job on the sleeve, the vinyl and the layout.
I loved the "Mad River" vinyl and booklet that Shagrat released. Lots of lovely design work on it and even the paintings the band weren't too sure about I managed to squeeze in.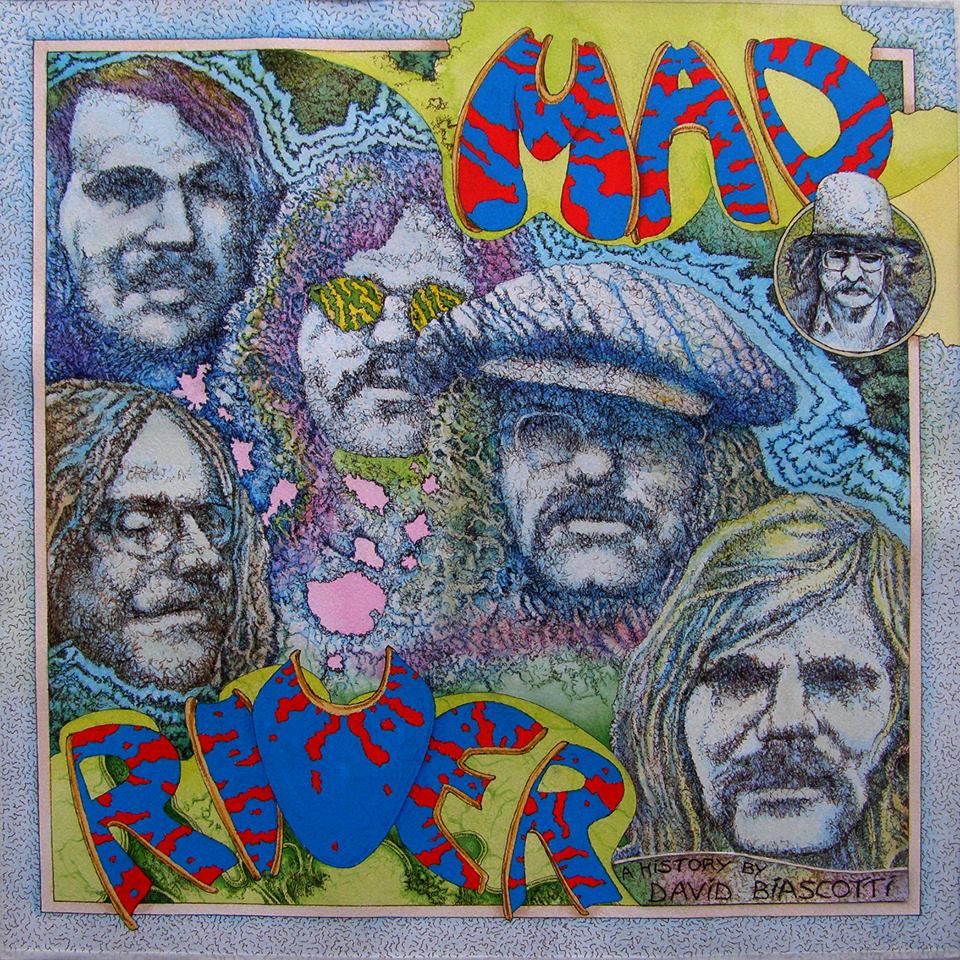 I of course loved the cover I did for OZ 45 and the "show your head" poster with Martin Sharp, which a lot of people didn't understand unless they saw it in UV light.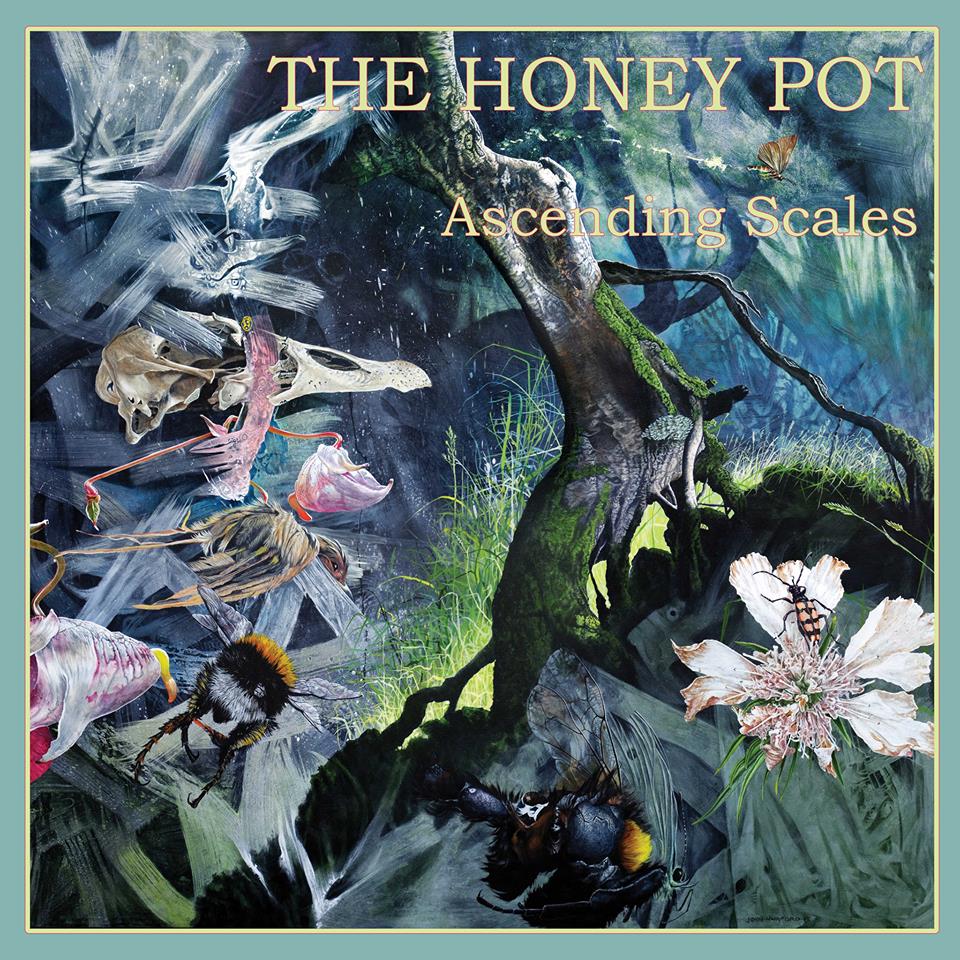 I still have drawers full of paintings that are just a bit too weird for the general public but which I'm really pleased with.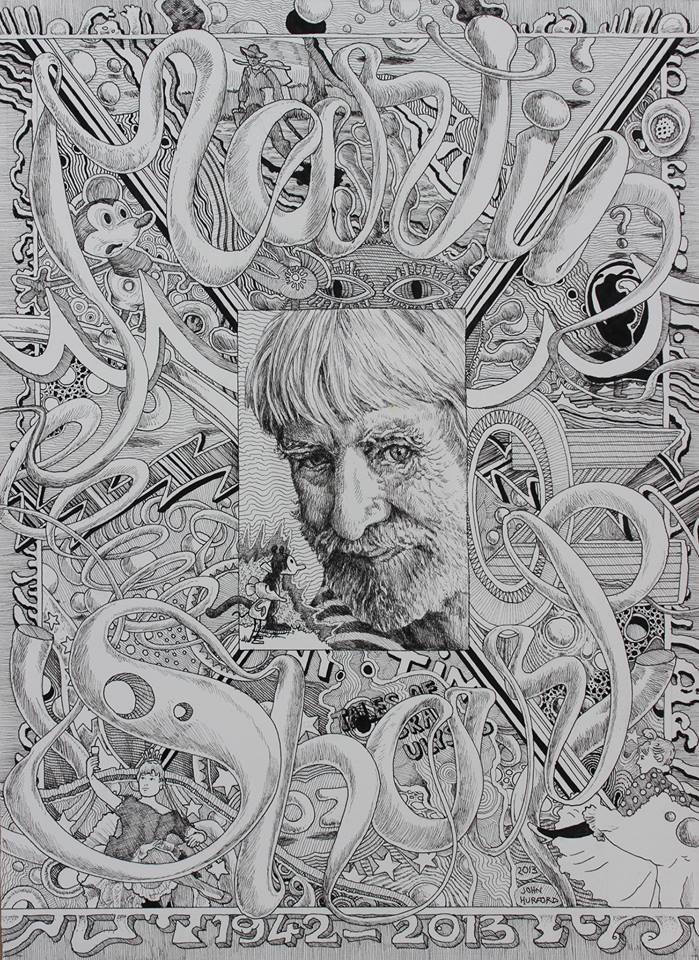 I'm also really pleased with the book of my work – Johnny, the Work of Psychedelic Artist John Hurford which was edited, put together and published by Jonathan Hill.
I am proud of my new work, large paintings on canvas or linen. I have had several successful solo exhibitions.
Last word is yours.
I'm still painting every day, listening to music and go to gigs when I have time. I still love to listen to loud psychedelic guitars.
I am in various art societies in the South-West that put on exhibitions of their members and I often have solo exhibitions of my work.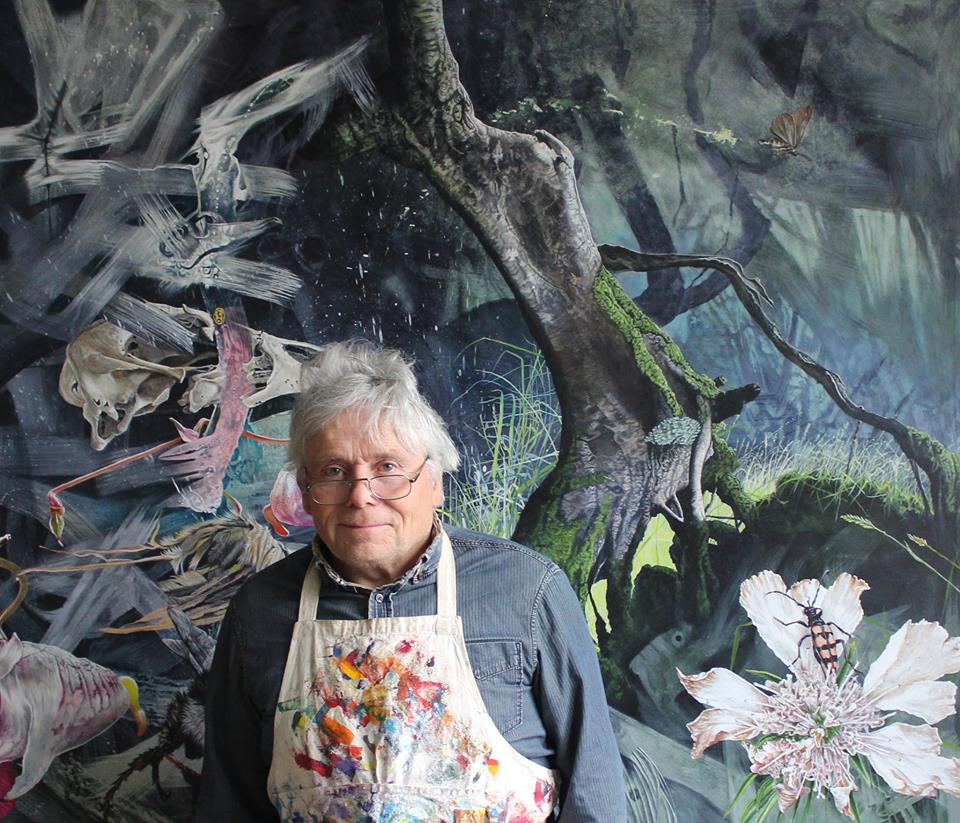 Next year I have an exhibition planned for some of my early sixties work. I want a liquid light show, a sixties style pad complete with posters on the walls the sounds of Country Joe and the Fish on the record player, the smell of incense and any other smells that the gallery will allow. This I hope will premier in Barnstaple in North Devon but it would be nice if it was put on somewhere else.
There are lots of books being published about the art of the sixties, (one just out about cover art of the underground press by James Birch and Barry Miles) also some great websites where you can read every issue of Oz and IT. Muz Murray did a CD of all the issues of Gandalf's Garden with lots of additional material. He got me to do the cover and the design for the disc. John Hurford
Klemen Breznikar
---
John Hurford Official Website
All photos © Copyright John Hurford