Pika*Makoto at The Islington in London Saturday August 12
The initiated know that Pikacyu is the drummer for the well-known Japanese psychedelic duo Afrirampo, a band that she formed at the age of 19 with guitar player Oni. During their heyday from 2002-2010, they toured the world, worked with Yoko Ono, and collaborated with Acid Mothers Temple.
---
It was this collaboration that led to her highly experimental work with AMT's prolific guitarist Makoto Kawabata. Touring Europe and the UK in support of their most recent release on limited edition LP, Galaxilympics, they performed as a duet with a different improvisational approach for each show of the tour – Pikacyu on drums and vocals; Makoto playing guitar, electronics, and also singing.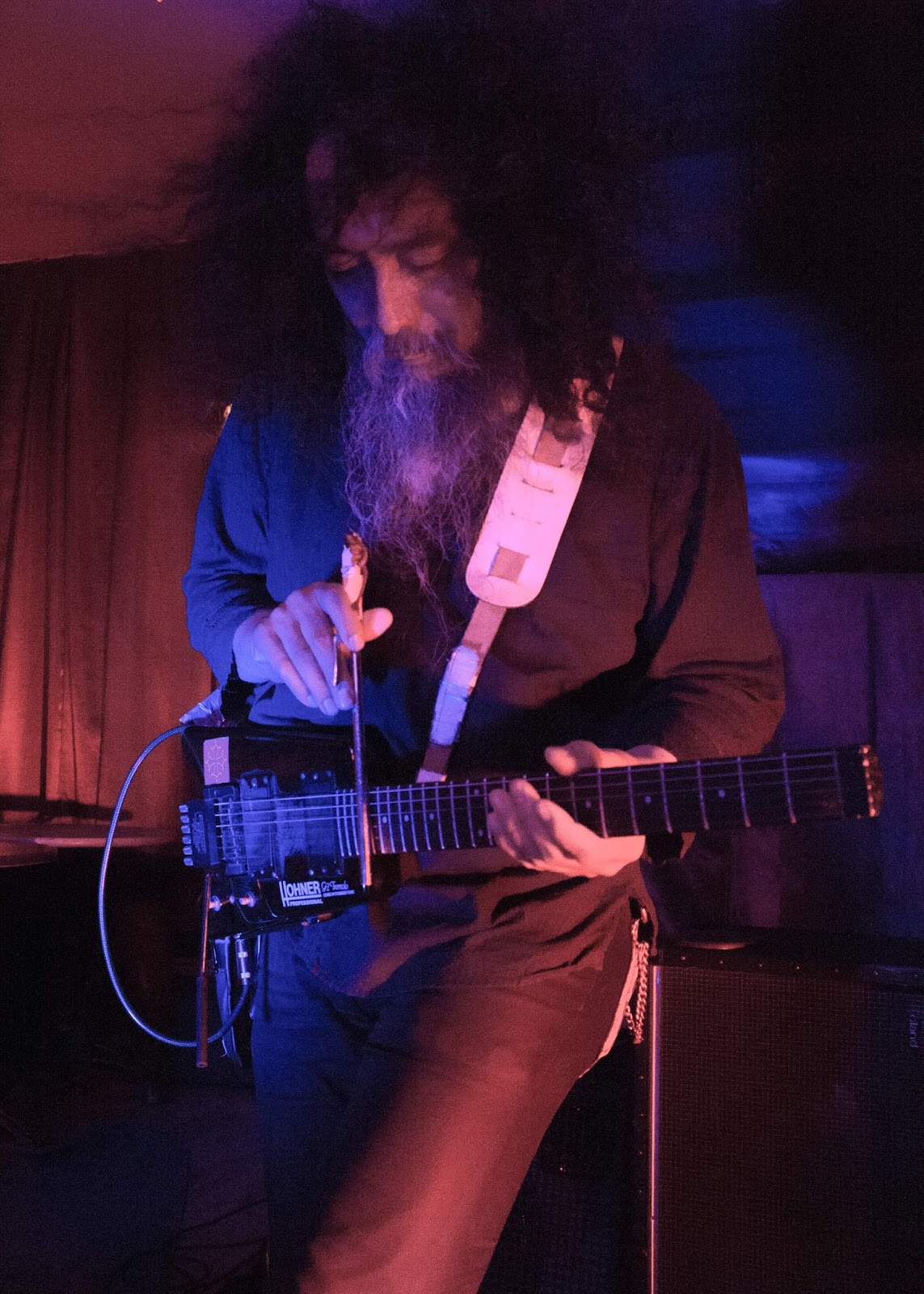 When they took the small stage at The Islington, the room was buzzing with anticipation. It was a sticky evening in Central London, and the duo exploded into a fast rhythm, Pika vocalizing and working accents with Makoto's heavy distortion. This was the beginning of a single improvisation that moved like a lava flow for the entire 70-plus minute set.
There was a lull in the pulse, then the intensity grew. Makoto stomped on the floor with fast, distorted strumming, then dropped into darker chords in straight ahead rock. Makoto strumming the lower then upper registers, the rhythm broke up and Pika stepped out of time. Playing an alternative percussion instrument against her vocal mic, she brought out a picture canvas and quickly painted a portrait of Makoto while laughing and interacting with the audience.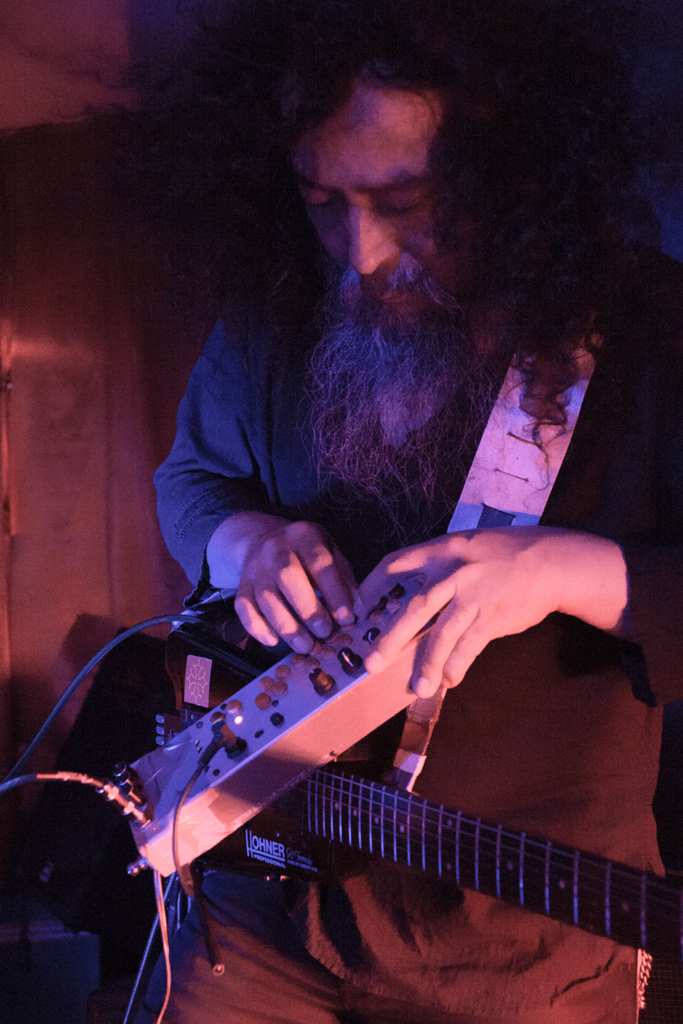 Makoto began using a bell on his fretboard, then a flat electronic device as he moved to glissando. Pika freely moved back to drums, first with sticks and then mallets. Chords and drum riffs started to take form, gradually building up and exploding, then the intensity declined. As it built up again slowly, breaking apart in places, the time was separated fiercely by intuition and feel. It climaxed and then declined, coming to a stop. Makoto then plugged a small synth into his guitar to control and manipulate distortion and feedback, creating tones that he played with the synth's keys.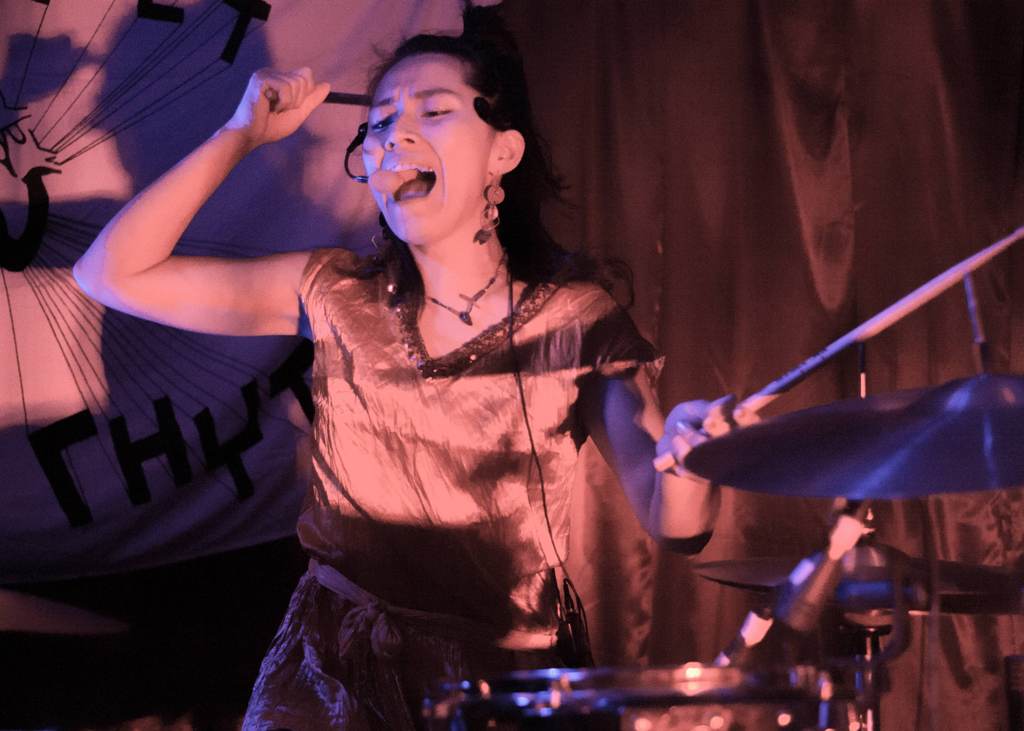 Pika's undercurrent on her toms stopped, then she played a small flute with cymbal wash, accenting the toms with her mallets. Rhythm again took form, shifting and dropping out, Makoto looping patterns then taking a full-distortion solo. Pika's time was completely broken while she vocalized – up, then down to nothing. An upbeat rock rhythm began to build then break apart, yet it still remained cohesive. Pika picked up with sixteenths on the snare, laying into her cymbals and increasing speed to crescendo, then stopped.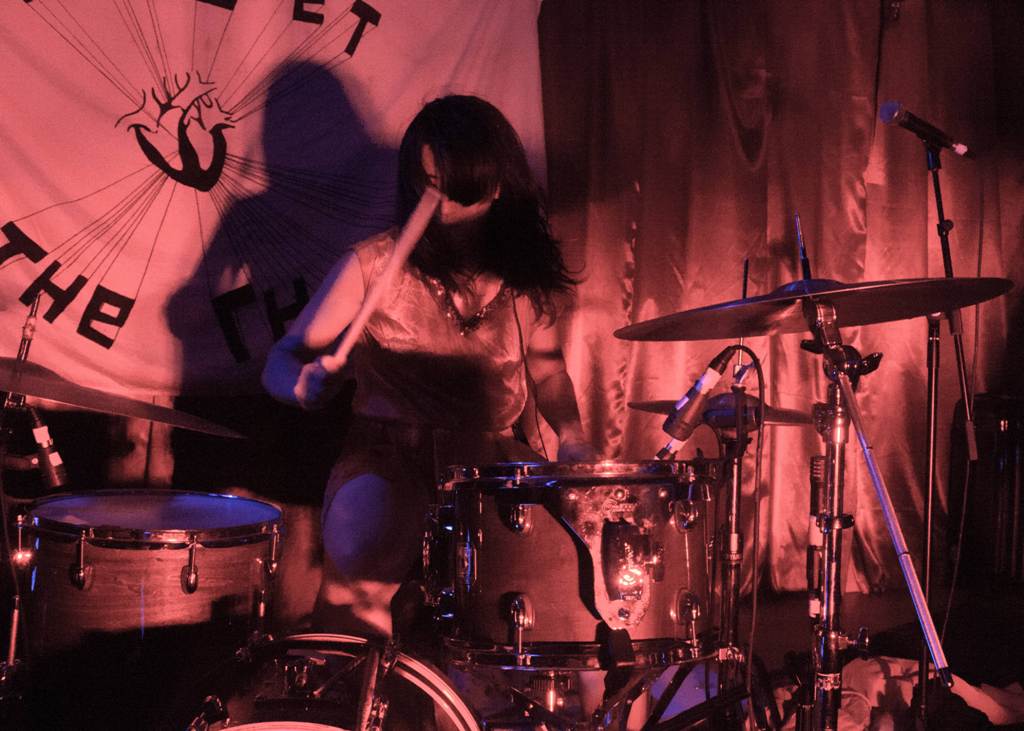 Makoto lightly picked a melody with Pika singing, then a slow rock rhythm started. As tension was building, the intensity spiked and it gained in speed with Pika riffing and Makoto singing with his lead work. Distortion overflowed with the music, and then flowed outside as time stopped.
Makoto singing a chorus, a slow rhythm began to increase in its cadence. Fragmenting into guitar lead work, he pulled and dove with his tremolo bar, bending his strings with distortion and reverb. The tempo finally cut to a manic pace and built to crescendo, bringing an exhaustive and exhilarating end to a hot London evening.
All photos by Jack Gold-Molina
– Jack Gold-Molina
---