"We Hear You're Leaving, That's OK…"
"We Hear You're Leaving, That's OK…"
Walter Carl Becker 1950-2017
---
Steely Dan. Frank Zappa once famously referred to them as "downer surrealism". I never got that. They weren't depressing at all, nor were they "surreal" in any sense of the word. Rather, they crafted their tunes around a series of characters, usually New York/Urban in origin, whose foibles exemplified the human condition in the modern world. Cynical, yes. But surreal? More like hyperreal. Maybe Frank felt some professional jealousy toward a pair who beat him at his own game of "conquering from the fringes", as Donald Fagen put it, subversively and repeatedly landing their poisoned darts at the top of the charts.
Indeed, their very name was subversive. By hijacking William S. Burroughs' fictional dildo for their band name, they left thousands of confused girlfriends of musicians in their wake ("which one is Dan, the singer?", "No babe, that's Don", "So why does he call himself Dan?", "Babe, never mind…"). Becker and Fagen probably giggled like schoolboys when Dick Clark announced them on Bandstand…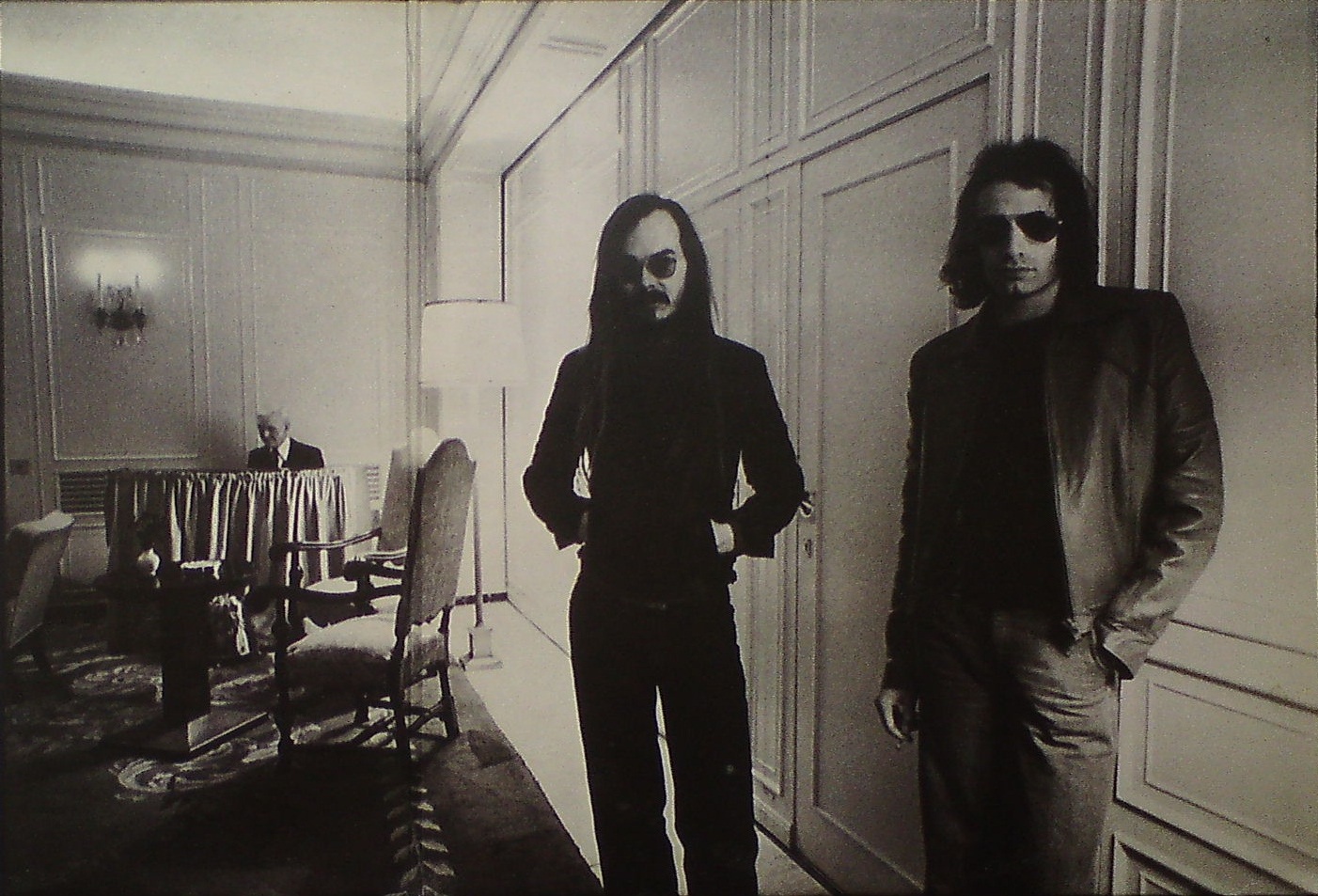 As a 70s kid in New Jersey, they were my Beatles. I had a personal connection to each album (though I only discovered The Dan when "Rikki Don't Lose That Number" was all over the radio). Each album has a personal memory of friends, frenemies, girls, drinking in cars, etc. Jamming on "King Of The World" with college buddies, trying to play "Peg" with the high school jazz band, trying to analyze the lyrics to "Only A Fool Would Say That" and "Your Gold Teeth". I first tried a pina colada because Fagen sang about one in "Bad Sneakers" (Rupert Holmes left no impression back in 1980). And I'm still waiting to try a "smooth retsina".
They expanded your vocabulary, and not just musically. Who knew what a "Bodhisattva" or a "katydid" was before SD? I sure as hell didn't. Their sour valentines to New York City and environs were chock full of nuts' views on hipster landmarks like Rudy's Bar on 9th Avenue, Avenue D (where Daddy stowed his piece before driving out to Hackensack), Radio City, and that Wolverine up to Annandale. They name-checked Cathy Berberian and Charlie Parker tunes when creating their pure confections. They wrote wistful paeans on topics such as drugs as the love of one's life ("Dr. Wu"), and a misfit's dreams of finding community ("Any World That I'm Welcome To"), as well as charting with cold-blooded pragmatism in the face of a Wall Street crash ("Black Friday").. Urban angst ("Fire In The Hole" and "Deacon Blues") coexisted with cults ("Barrytown"), post-apocalyptic suicide notes ("King Of The World"), and bluesy shuffles about time-travel ("Pretzel Logic"). Who ever produced more pointed jabs at midlife crisis than "Hey Nineteen", "Here At The Western World", or "Cousin Dupree"?. Was "Kings" actually about Nixon ("We seen the last/Of good King Richard")? And all of it was dressed in catchy, hooky, radio-friendly arrangements that slipped the lyrics in unobtrusively. And those lyrics were mostly written by Becker.
I think the first seven Steely Dan albums stand with anything the Beatles ever did. "Aja" was their "Sergeant Pepper's". An album so bizarrely original yet completely accessible that it almost single-handedly created the smooth jazz genre, while setting the bar so damn high that no one who came after has ever equaled it. The title song is a strange mix of jazz piano and sax, time changes, avant-garde harmonies ("a rock song that cannot be played on guitar", according to Denny Diaz), rock-fusion drumming and lyrics that are reminiscent of "Bodhisattva". This is their "Giant Steps", the tune that mere mortals can't play.
So there will be no more. Becker's gone. I feel the way everyone else did when John Lennon died. The voice of my lifetime, my generation is gone. And as with Lennon, we always sort of knew that Becker's cynicism was really the disillusionment of a sensitive soul. Things should be better and people should be better, so here's a mirror in song by which I will show you yourselves. But unlike Lennon, Becker never slipped into sentimentality or kitschy idealism. He was too clear-eyed. Walter Becker could never have written "Imagine". But he did write "The Royal Scam". And that's enough.
– K.F. Wozniak, Sept 04, 2017