Luna – 'A Sentimental Education' (2017)
With Luna's splendid final release Rendezvous coming out in 2004, the band subsequently went on a world tour and then disappeared into a haze of blinding snow after their final show at the Bowery, breaking the hearts of fans for whom Luna's music has meant so much … and that was all over a decade ago.
---
Within the last two years Luna have slowly slipped back together, feeling their way toward each other with a new sense of connection as the years and their solo work have lessened those internal rivalries, making the disfunction less important, and if you've been lucky enough to see them live, where they've often been preforming entire albums, then you know that the kinship, friendship, deeper understanding and respect for what each member brings to this band has blossomed again, with their ability to work together effortlessly is bringing mile wide smiles to the faces of fans across the world, and I'm sure a sense of satisfaction for the group as a whole.
Luna has always been known for their original take on cover material, and to that end, on A Sentimental Education, they're now handing us a grouping of songs that ride close to their hearts, an entire album of covers, songs that have inspired them, sweetened their lives, and allowed them to seemingly own material that wholly belongs to others. Several of the tracks such as the cover of Mercury Rev's "Car Wash Hair" have showed up before as singles or B-Sides, and Dylan material was part of Dean & Britta's 13 Most Beautiful tributes to Andy Warhol's films, though here Luna covers perhaps my all time favorite Bob Dylan song "Most of the Time," and then there's Britta's infatuation with Fleetwood Mac, where she covered their material on her solo project Luck or Magic as well.
Not one of these songs, and the variety crisscrosses the spectrum of rock 'n' roll, from The Velvet Underground to Yes to Bowie, the Cure, The Rolling Stones, and Mink DeVille, is taken lightly, all sound fresh and have been developed for the sheer pleasure these songs inspire. All of the numbers have those enchanting jingle jangle guitar chords where Dean Wareham and Sean Eden play off of and nearly to each other, and it's all spurred on by Britta's bouncy bass-line, and the sheer drumming perfection of Lee Walls. And as if this were not enough, the release is accompanied by A Greater Place of Safety, an EP composed of six instrumentals that comes out at the same time, designed to accompany this release and draw you deeper into the intoxicating world of Luna.
And with that, all I can say is "Welcome Home, my world has just gotten a bit brighter."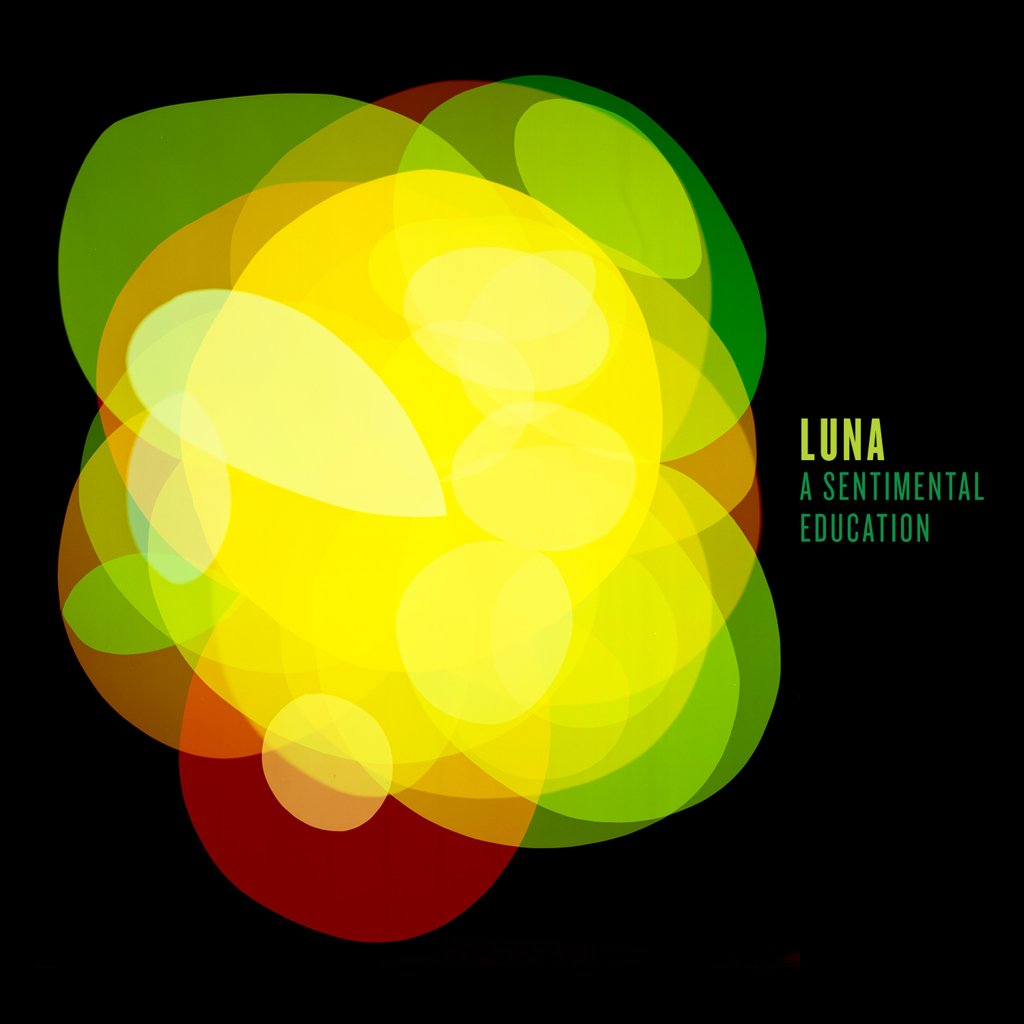 *** The Fun Facts: All of this, including a poster and other choice items are part of the big package, though all can be purchase separately, on 150 vinyl or CD.
The album title has a double meaning. Of course the first regards that the album is composed of entirely cover songs that were important to the band and its members, hence the sentiment for beloved music, and educating younger fans who may not have been around during those times. The second regards the book "Sentimental Education", a novel by Gustave Flaubert, that is considered one of the most influential novels of the 19th century, being praised by contemporaries George Sand and Émile Zola, but criticised by Henry James. The story focuses on the romantic life of a young man at the time of the French Revolution of 1848, and his love for an older woman based on the wife of the music publisher Maurice Schlesinger, who is portrayed in the book as Jacques Arnoux. Flaubert based many of the protagonist's experiences, including the romantic passion on his own life. When I asked Dean about the title he said, "Well yeah, I stole his title, since it's an album of old songs that I like, it seemed to fit."
– Jenell Kesler
---
Luna – 'A Sentimental Education' (Double Feature, 2017)