Gong are releasing a new album – 'Rejoice! I'm Dead!'. Interview with Kavus Torabi (vocals/guitar)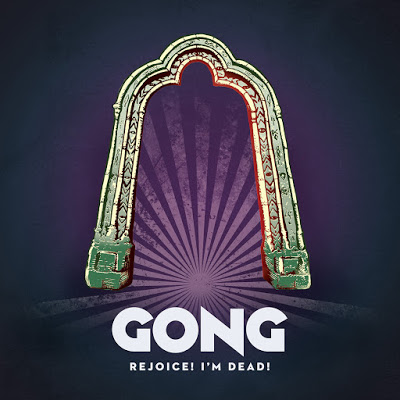 Madfish Records are releasing a brand new GONG album (16th September). Rejoice! I'm Dead! is their upcoming album released by members of the latest version of GONG. Due to Daevid Allen's illness and passing in 2015, the band continued to record and will be touring in the near future. Rejoice! I'm Dead! is not only a wonderful tribute to Daevid Allen, but is, at the same time, the start of a new phase in the long and rich history of the band. Gong has a connection with cosmic synchronicity and their message will keep on living. Two songs feature the voice of Daevid Allen and there is also a guest appearance from previous Gong members – Steve Hillage, Didier Malherbe and Graham Clark.
What is the concept behind Rejoice! I'm Dead!?
The title, Rejoice! I'm Dead!, is a line from one of Daevid's poems. Initially we thought it might be a nice idea to use his poetry as a basis for the words. In Knifeworld, my own band, I tend to write fairly autobiographical lyrics. While I didn't feel this would be appropriate for Gong, I didn't want to write about the Octave Doctors or Pot Head Pixies which were very much Daevid's concepts and, while they are a big part of the Gong mythology, it felt bogus for us to be writing about that stuff.
Actually, with the exception of one song, there was nothing about that on the previous album I See You, and I think Daevid felt he was done with that narrative anyway.
I was originally singing a few of the lines from 'All I Ask' over the tune of what is now Rejoice! and when that line popped out, pretty quickly we decided that it should be the title of the album. I think once we had that, for me at least, the general concept revealed itself. I wanted to try and write about Daevid, his passing and death in general. I had previously written fairly extensively about the impact of losing loved ones on the living who are left behind so with Rejoice! I'm Dead! I wanted to explore the great mystery, the transition, the journey.
None of us know what happens when we leave this vale of tears but Daevid's acceptance of his illness and how he approached this final few weeks were so inspiring. Had he been dragged kicking and screaming to the grave I think it would have been in contradiction to everything he believed, sang about and practiced. He remains the most enlightened guy I've ever met, nonetheless I am sceptical about everything so I wanted to sing about the final journey in a way that was both informed by my friendship with Daevid and my own psychedelic experiences which very much helped me come to terms with mortality.
Gong's existence is continuing to expand the wide corridors of space that was once discovered, formed and directed by Daevid Allen. Now sadly with Gilli Smyth deceased as well as Allen (2015), Gong still exists and I believe that Allen wanted to keep it going posthumously. Gong has entered a brand new phase, without Divided Alien.
Your last album with Daevid Allen was I See You. How do you see Gong without Allen? Was it hard to make an album under the name of Gong without him, or is the idea of his presence and thoughts an ongoing process for musicians of Gong?
What happened was Daevid became very ill in 2014 and unable to perform while he was undergoing treatment. We had a 40 date tour booked to promote the album I See You which had just been released. Upon hearing about his health, many of the gigs got pulled but there were a few remaining. We had a new album to promote and had to honour these gigs and Daevid, despite our reluctance to do it without him, was very keen we continue.
We were all initially sceptical as to how this could work. Personally speaking, it wasn't as if I was twiddling my thumbs waiting for something to come along. If anything, I was especially reluctant about taking the role of singer and so-called 'frontman', given that I was already doing that in my own band.
Once we started playing together as a five piece, with new drummer Cheb Nettles, it felt completely right. In fact it felt fucking amazing. Gong has a history of cosmic synchronicity or whatever you want to call it. It felt magical and it felt like Gong. We had Steve Hillage and Mike Howlett on stage with us a couple of years ago and they felt that this truly was Gong. If you're going to take on a mantle such as this, you can't approach it gingerly so once we decided or perhaps it was decided for us to continue.
Basically it all comes down to whether you buy into the idea or not. There has always been a 'No Daevid-No Gong' contingent and it's certainly not the first time the band has operated without him. Whatever happens, we can't please those guys and don't particularly want to. Gong is not like any other band I can think of, despite the fact that Daevid was an incredibly charismatic and gifted trailblazer, he didn't see himself as a leader so much as a facilitator. There is a central ethos to Gong, the music, the way it operates, the positivity and politics. In that respect I don't see the current line up as being different to any of the others.
As for making a new album, well, it was the only way to go. I had no interest in playing in a band that was just playing old material to appease old fans. Daevid approved or otherwise it was always the aim, once we realised we had to continue, to carryon writing and recording.
Kavus Torabi (vocals/guitar), Dave Sturt (bass/vocals), Ian East (sax/flute), Fabio Golfetti (guitar/vocals) and Cheb Nettles (drums/vocals) is the current lineup. You are all well established musicians, working on various projects. How did Allen get you together? (most of the lineup, with the exception of Cheb Nettles)?
Dave Sturt has been in the band the longest. He had played in Steve Hillage's band first and was brought into Gong after Mike Howlett stopped doing it. Ian was brought in by Theo Travis. There's always been this thing with Gong that it's like a vehicle you can get on or off at any time but if you get off you have to bring your replacement into it, so to speak. Fabio has a very long history with Gong and Daevid in particular. Those two had been friends for years and played together in the South American wing of The Invisible Opera Company Of Tibet.
I had briefly met Daevid a couple of times with Tim Smith, of Cardiacs with whom I was playing, but didn't get to know him properly until he was a guest on a radio show I do with Steve Davis. We hit it off straight away and kept in touch over the next year or so. I'd always go and see him whenever he played in London in various bands or improvising and we'd hang out. It was when he was performing with Marshall Allen at Cafe Oto that he came out and asked me if I'd like to play guitar in Gong. He'd never heard me play at this point although that seemed to be no obstacle, he told me he had felt the same way about Mike Howlett in the 70's and been right about him too! He explained what was happening in Gong and what his vision for it was, described Fabio's playing as 'like a beautiful stained glass window' and felt the band needed 'someone who would bring fire'. I told him that I can't play like Steve Hillage and he said he wasn't interested in what I couldn't do, he was interested in what I could do. Of course I said yes without really thinking of the logistics. If you get asked to join Gong by Daevid Allen you say yes straight away, or at least you do if you're me. Daevid, Ian, Dave and I got together to play in South London shortly afterwards and it felt fabulous. We've put out a couple of recordings of us improvising together from that day on the bonus disc in the special edition of the new album.
As for Cheb…it became impractical for Orlando to continue in Gong, I had played with Cheb previously a few times when he had stood in for a few gigs with Knifeworld when our drummer, Ben, was unable to do it. I knew how good he was and I knew he's be perfect in Gong. I think he's proved even better than that. The right drummer is essential to any band and with Cheb there it makes us all play better because he is such a phenomenal musician. I think there's almost nothing we couldn't do with this line up. There's an extraordinary chemistry that, from experience, I know is incredibly rare.
Two songs feature the voice of Daevid Allen and there are also guest appearances from previous Gong members – Steve Hillage, Didier Malherbe and Graham Clark. What is the songwriting process within the band? Did all members participate in writing songs?
Yes, we all did. We weren't sure how it was going to work but generally all the songs started with an original idea by someone. It wasn't as if we 'jammed' and picked the best bits. All five members are writers so once we were presented with that idea…be it a verse, a riff or a completed tune, we all got to work on it, bending it, stretching, chopping out, adding on, mutating etc. Because we all love what each other does, there were very few disagreements. The thing is not to be too precious about your initial idea, I think, you have to trust that everybody wants the best for the song and let it go where it wants to. Outside of Gong, I've written in this way before in Guapo but in Knifeworld it's a completely different approach where I pretty much write all the parts so this is a wonderful band to be in because of the unpredictability. We knew, more than anything else, that this record had to be amazing. I mean, every record you make has to be, but this seemed to have so much expectation riding on it, given that it was our first Daevid-less outing. I hope we've created something that continues the Gong canon, that both explores new territory and fits in with the overall concept. It would be arrogant and misplaced for us to try and suggest how this album ranks against the classics but, personally, speaking about my own body of work, this one really stands up. I'm so pleased with how it turned out and hope it is a fitting tribute to Daevid and the wonderful band he started.
Will Gong continue to exist? Are you planning to go on tour?
Yes and yes. Absolutely. We just want to get out there, play this music and we are looking forward to taking the sound further.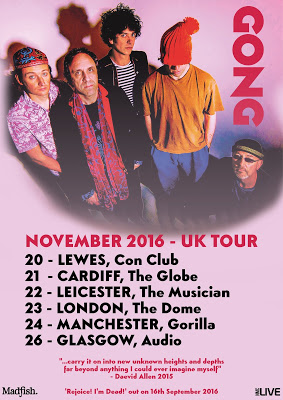 What's your message to It's Psychedelic Baby readers and Gong fans across the globe?
All the best music is psychedelic music and psychedelic music is not just limited to one style. Psychedelic music is a state of mind or a state out of mind. It's an honour to be interviewed. Thank you!
Please visit Gong here / here or Madfish Records.
Here you can read my interview with Daevid Allen.
In memory of
Daevid Allen (13 January 1938 – 13 March 2015)
Gilli Smyth (1 June 1933 – 22 August 2016)
– Klemen Breznikar