Country Joe and the Fish interview with Joe McDonald
Country Joe McDonald is one of the most important names in history of rock music. From beginning as a folk artist to psychedelic rock icon. He's most well known for his appearance in festivals like Monterey Pop Festival (1967) and Woodstock (1969). His band, Country Joe & The Fish, made truly one of the very first, and by many opinions, the very best psychedelic rock album.
Let's start at the very beginning. How are you, Joe?
I am feeling fine.
You were born in Washington, D.C., but spent your childhood in El Monte, California.
Yes, I lived in California from the age of three years old until now with the exception of two years I spent in Japan with the United States Navy Air Force.
Was there a lot of music around you when you were growing up?
There were no musicians in my family except for my grandmother who played piano in church. My parents were part of the left wing so we had Woody Guthrie 78 rpm records and other left wing union and popular records. In southern California there was all kinds of music on the radio: Country & Western, Dixieland, Jazz; R&B, and gospel.
What do you consider as your first real exposure to music?
I started playing trombone in the grade school orchestra at about age 12 years and taking music lessons on piano and trombone.
You were already active in your high school years and were a conductor and president of high school marching band. Then after high school you decided to join the Navy and went for three years to Japan. Did those events have any impact on your life?
Both events had impact on my life. In school I learned how to read music. I also had my first rock band in high school called The Nomads and wrote my first songs. In the navy I got to see and live in another country and formed a bond with other military people that lasted my whole life.
You came back and went to college. What college did you attend?
Mount San Antonio Junior College in Pomona, California. And Los Angeles State College in Los Angeles Calif.
At the time you were already influenced by folk musicians such as Woody Guthrie and you started hanging out and playing on the street of Telegraph Avenue in Berkeley. With who did you hang out and what influenced you?
The guitarist John Fahey had influence on me in writing instrumentals, but mostly it was just finding a place where there was an audience for my songs and being able to go electric when Bob Dylan went electric and become a rock band.
Can you pick a special moment where everything changed…
Well the mid '60s when electric music was invented as we know it today changed everything. But my interests were always eclectic and I always enjoyed listening to all kinds of music and playing it.
How did you start to write your own material?
In high school I just became aware that I could write my own songs. It was simple for me to do.
Were you politically active?
I always wrote all kinds of songs, but since I grew up with topical songs and political songs it was natural for me to write some of that kind of song.
In November 1964 you began to work as the Jabberwock house band.
I came to Berkeley in the summer of 1965, not 1964. The Jabberwocky was a small coffee house that held about 100 people. It was one of the only places to play in Berkeley and featured acoustic music so that is how we started acoustic. Then we took to playing electric and that was the reason the place had to fold because of complaints about the volume.
You were playing as the Instant Action Jug Band.
There was an Instant Action Jug Band that I participated in sometimes, but I was not a regular. Some folk were part of it, but not all. It did not have drums, you know.
You once supported The Fugs and Allen Ginsberg… 
There was a concert on University of California campus held in a biology lecture room. We were on top of the counter where experiments and lectures took place. It was more of an equal billing event. The guitar player for The Fugs took LSD and did not even know he was unplugged into his amplifier the whole show.
The Instant Action Jug band split up into various of solo acts (Alice Stuart), including The Cleanliness & Godliness Skiffle Band, and Blue Bear (Pete Frame).
That sound right.
Who would you say is the most influential musician in folk revival?
That is too complicated for me to answer. But there were lots and lots of people involved.
What can you tell us about your own magazine – 'Rag Baby'?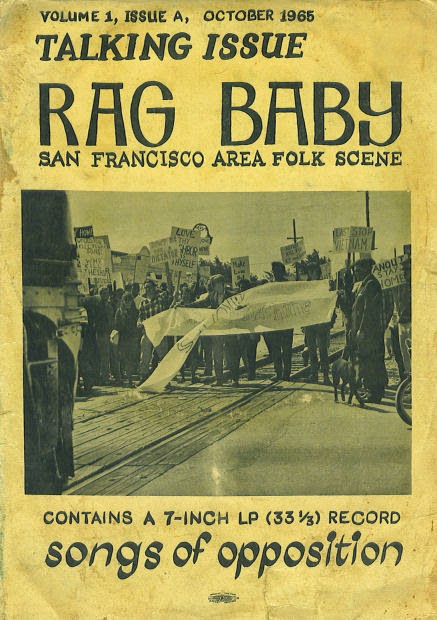 There were four print issues and one talking issue. They are not available, but I have a few copies of each.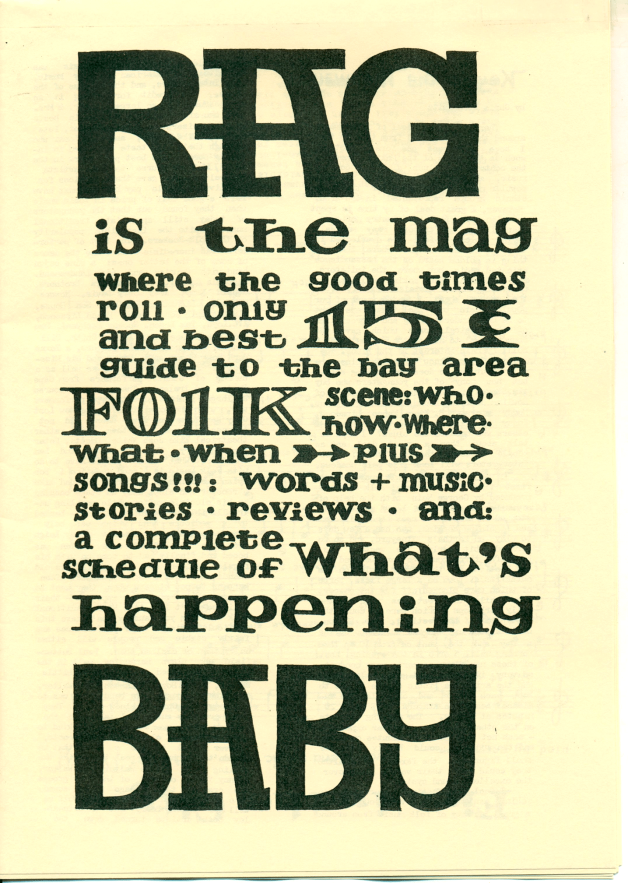 You decided to press an EP under the name of your magazine – 'Rag Baby Records'. Four songs were featured; two by a group which included you, guitarist Barry Melton, singer Mike Beardslee, washboard player Carl Schrager and bassist Richard Saunders. And two songs by folk singer, Peter Krug.
Yes we did not have "copy" for the print issue of the magazine so I got the idea to make a talking issue with songs on it in an EP format, seven inch (33 and third rpm). We recorded it in living room of local record company. Owner was Chris Strawcwitz.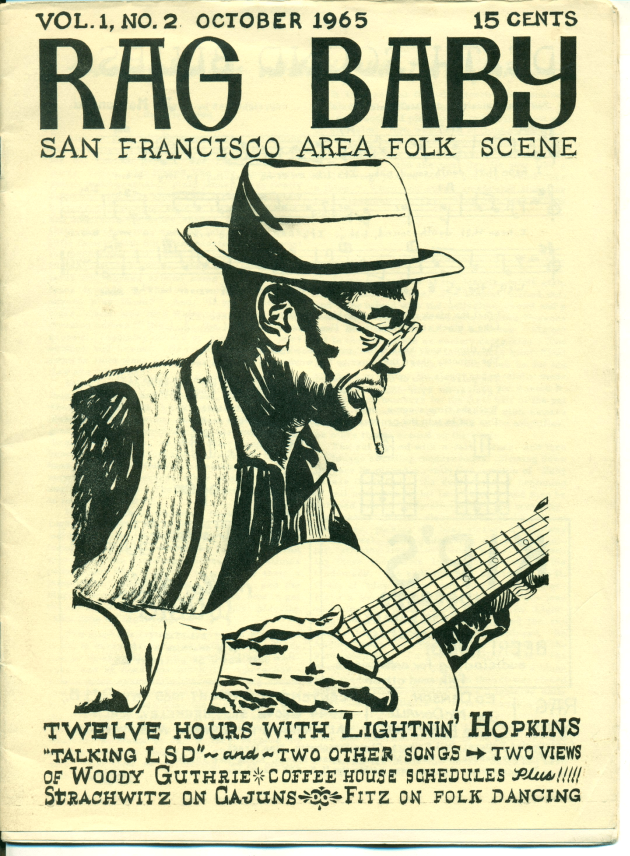 In late 1965 you released first EP, that also featured Paul Armstrong (bass) and John Francis Gunning (drums). It was actually released on the label that you founded ('Rag Baby')?
That is correct. We recorded it in local Berkeley studio. It was four track studio.
If I'm not wrong, you released your first DIY EP on October, 1965 with "I-Feel-Like-I'm-Fixin'-to-Die-Rag", and "Superbird".
Yes!
In June, 1966 you released another EP with "Bass Strings", "Thing Called Love" and "Section 43". Material was way ahead of its time. Paul Armstrong and John Francis Gunning were still part of the band.
Well since we had only four tracks, we had to keep it simple. I do not remember much from the sessions.
But before forming a band you and Barry Melton played as a duo. What kind of songs did you play?
We met on the steps of the local University Of California Student Union Building during one of the folk festivals. I was playing folk songs and some of my own stuff and Barry started playing guitar along with me. We got along and enjoyed doing it.
How did get in contact with Paul Armstrong and Joe Francis Gunning? And where did you met David Bennett Cohen and Bruce Barthol, who later became band members?
It was Barry Melton who found all the other players.
You went to NYC with Barry Melton and there you met Ed Denson, who agreed to be your manager. After the second EP, you received a lot of airplay and Denson made a nice job letting the audience know what was happening with the band. He wrote for Berkeley Barb…
Actually Ed Denson lived in Berkeley and we knew him because he was a partner in the Rag Baby Magazine and the Rag Baby EP.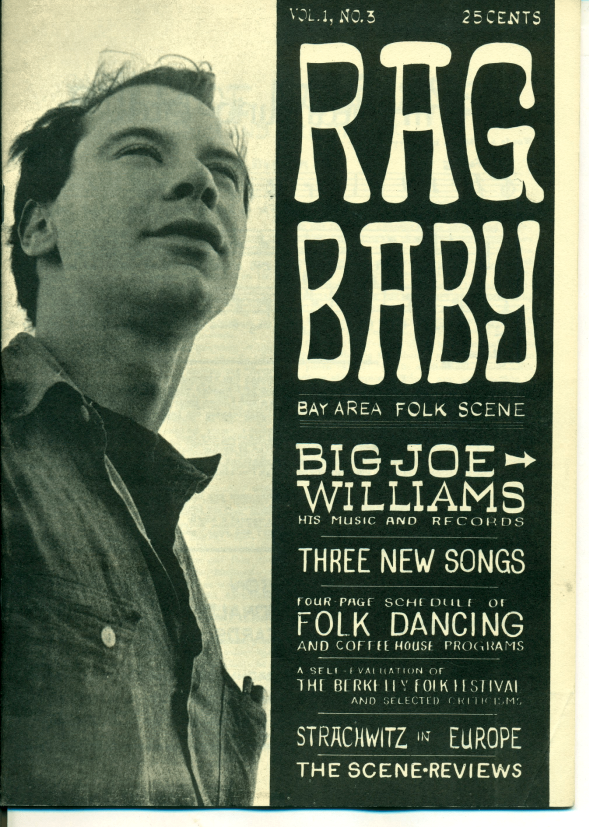 At the end of 1966 you got a contract with Vanguard Records. There were some lineup changes. Paul Armstrong left the group, John Francis Gunning was replaced on drums by Chicken Hirsh.
Chicken was playing live with another rock group in Berkeley and Barry Melton asked him to drum with us and he accepted.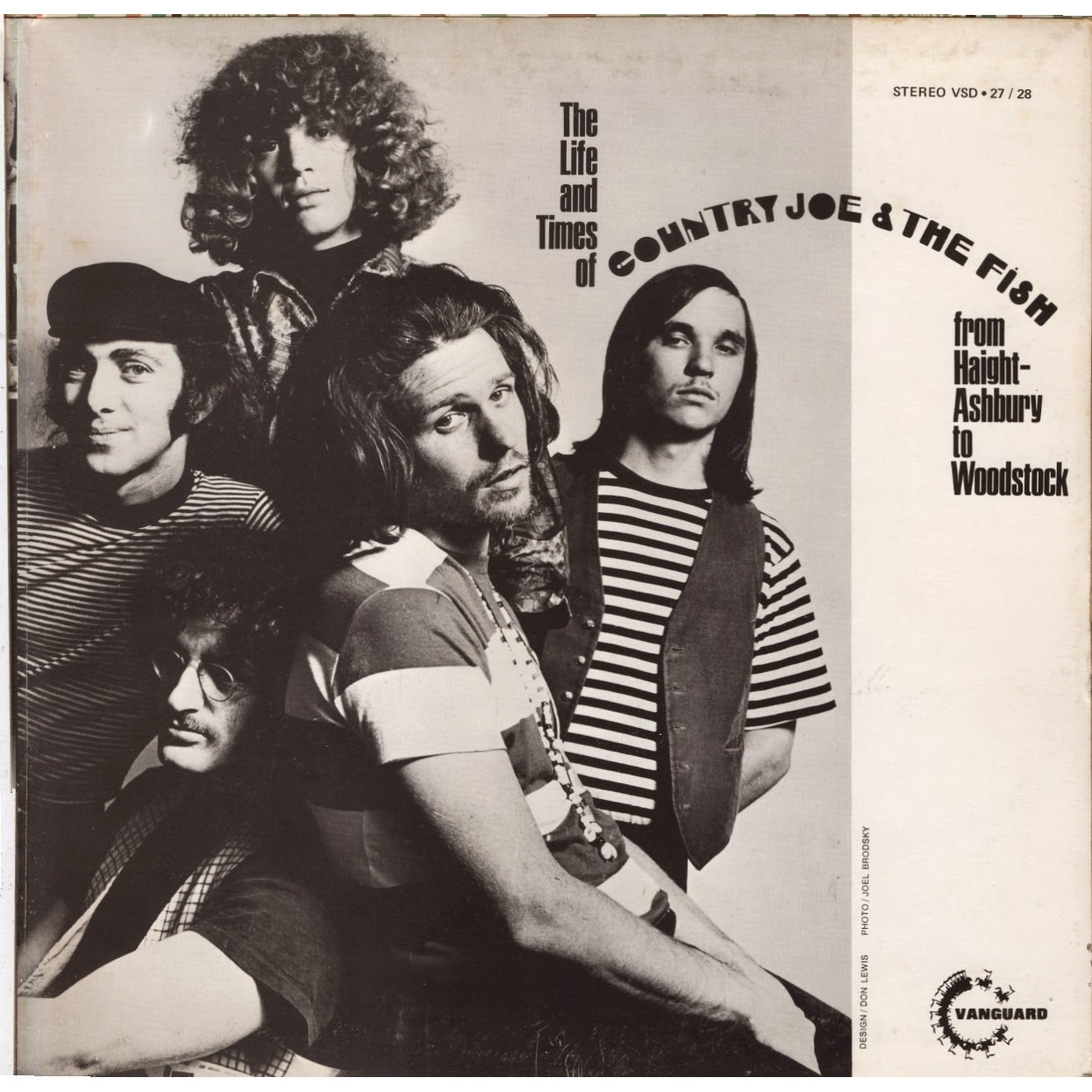 Soon you started to record what is in my opinion the very best psychedelic rock album out there – 'Electric Music For The Mind and Body'. Your producer was Sam Charters, who was also a well respected blues writer, poet and of course a producer. Album was recorded at Sierra Sound Recording.
Yes!
What are some of the strongest memories from recording it?
It was a four track studio so we had to bounce tracks around to overdub. We had of course not recorded as a group. I had made an album with a friend of mine in Los Angeles, but this was more complicated.
What gear did you use?
We just played the small amps we had.
I would love if we can talk about the material featured on album. Was there a certain concept to it?
Sam Charters picked the songs and we just recorded them. He picked the order for the album. I did ask him to run all the songs together to make it a real concept like opera thing but he did not do that.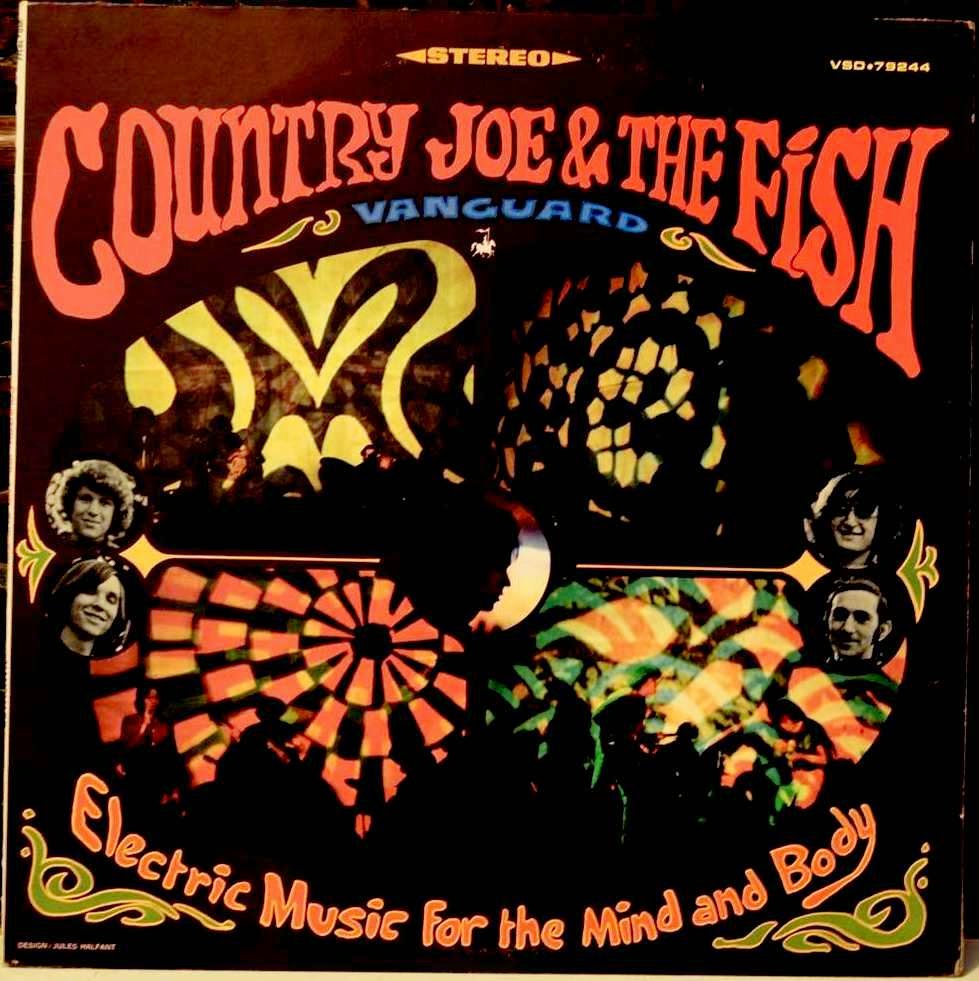 Would you share your insight on the albums' tracks?
A1 Flying High
A true story of hitchhiking LA to San Francisco.
A2 Not So Sweet Martha Lorraine
Strange blues song about women in my life
A3 Death Sound Blues
Hmmmm don't know, just a blues. I guess I felt depressed.
A4 Porpoise Mouth
About my first LSD experience.
A5 Section 43
Composed after listening to John Fahey in drop D modal tuning with a G major harmonica.
B1 Super Bird
Just a funny song about the president.
B2 Sad And Lonely Times
Left over from folk song days in Los Angeles.
B3 Love
They say it was a song John Francis used to sing.
B4 Bass Strings
Just popped into my head one day.
B5 The Masked Marauder
Invented while we were at The Barn rehearsing for the recording sessions. Very odd piece. Composed like the rest on the guitar.
B6 Grace
After seeing Grace Slick sing with her old group. I wanted to write something more complicated for her to sing. I never told her that we will play it.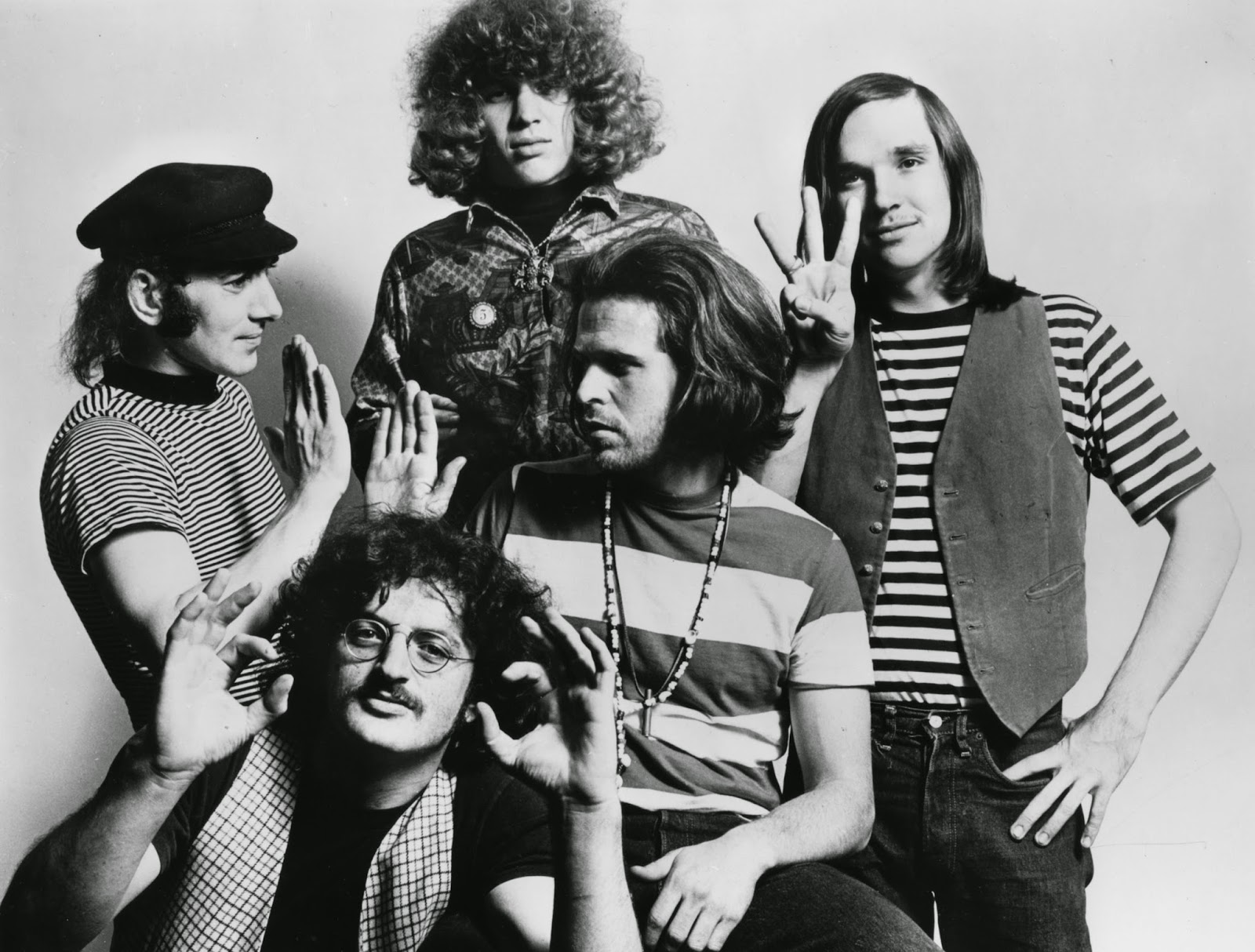 Did hallucinogenic substances play a large role in your songwriting, performance or even maybe recording processes?
Hallucinogenic substances did not play a role in my writing, but did give me subject matter. Like the song "Porpoise Mouth" is about my first LSD trip.
It's amazing, that your LP was recorded live in the studio with exception of vocals, which were dubbed on afterward. Did you rehearse a lot? Cohen told me, that you were playing in a place called Barn in Santa Cruz, where you used to rehearse and play at night…
It was a venue that had shows and it was called The Barn. John Francis was not the drummer and our new drummer Chicken Hirsh needed to be taught the material and we needed to get it all together for the upcoming recording of our first album so that is why we went to The Barn to rehearse.
Debut was quite successful and you managed to get concerts everywhere, even in Europe.
Well we did enjoy going new places and found the audiences receptive to our new kind of rock and roll.
How do you feel about the fact that you recorded one of the most original psychedelic rock albums?
Well, thank you for the compliment and I agree with you. But it just turned out that way. Our music and my songs were not really mainstream, so our success was somewhat limited compared to the other groups who had a sound that was more like pop music and way more accessible for the public.
What psychedelic bands did you personally enjoy back then?
I liked to watch Jerry Garcia play. But I thought really that our psych music was the best and that was all I needed.
'I-Feel-Like-I'm-Fixin'-to-Die' followed. Around this time you had some crossfire in the band and you decided to quit the band for awhile. But later you came back and you started recording 'Together', and Bruce was replaced by Mary Ryan on bass. 
It was Mark Ryan on bass. Of course the invention of the fish cheer led to the fuck cheer which was the first time people heard fuck being used on stage. It was hard to continue because we had a contract of 12 albums one every six months so the second album was using up all my material and with travel and recording we all started to get very tired and unhappy.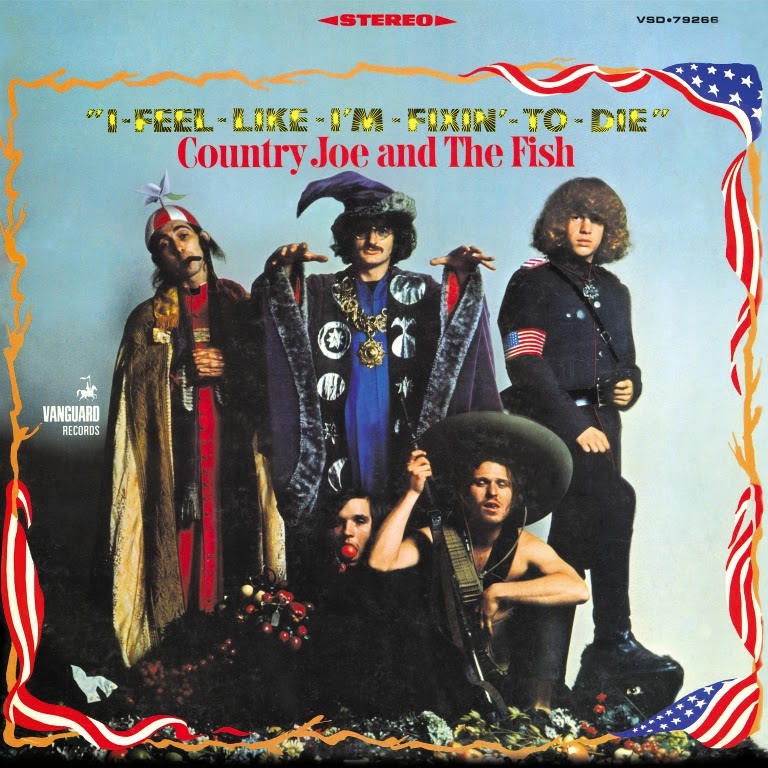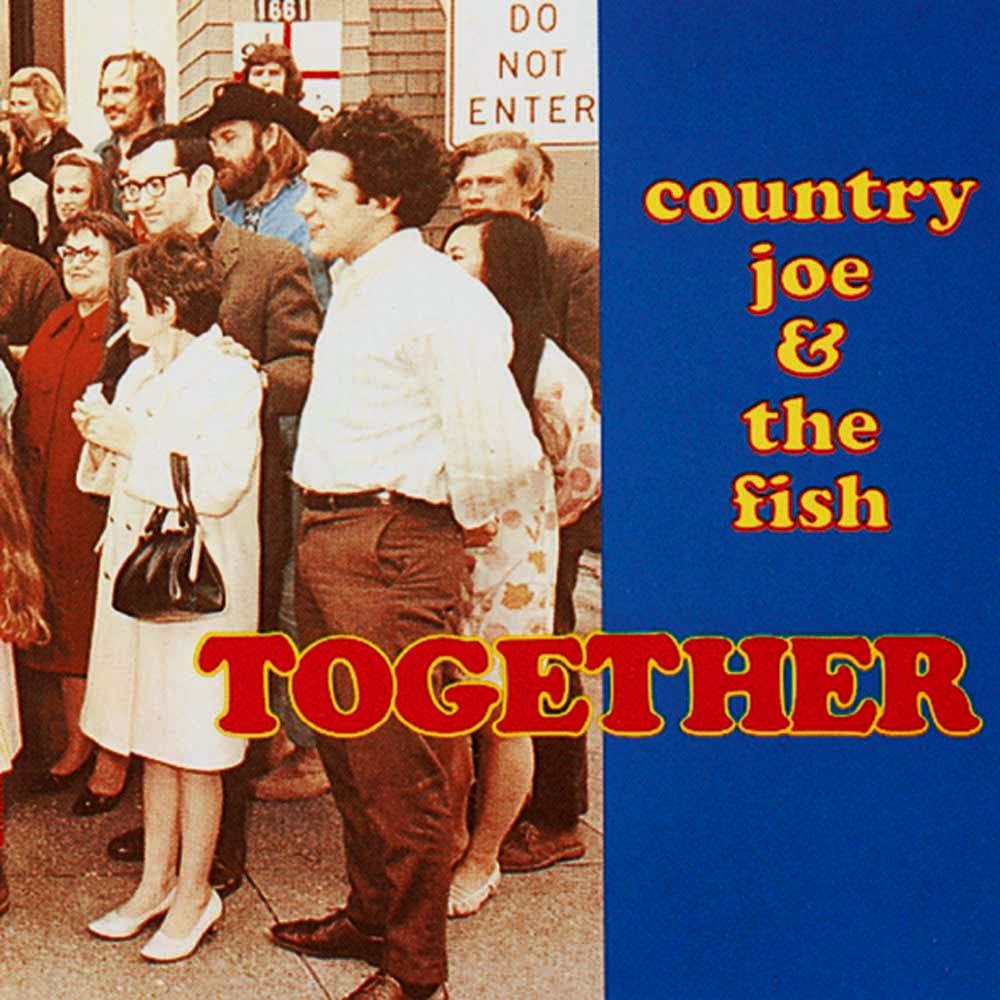 After you came back from Europe, you recorded 'Here We Are Again' with another lineup. What was happening?
We were more successful, but tired and crabby and not having fun any more.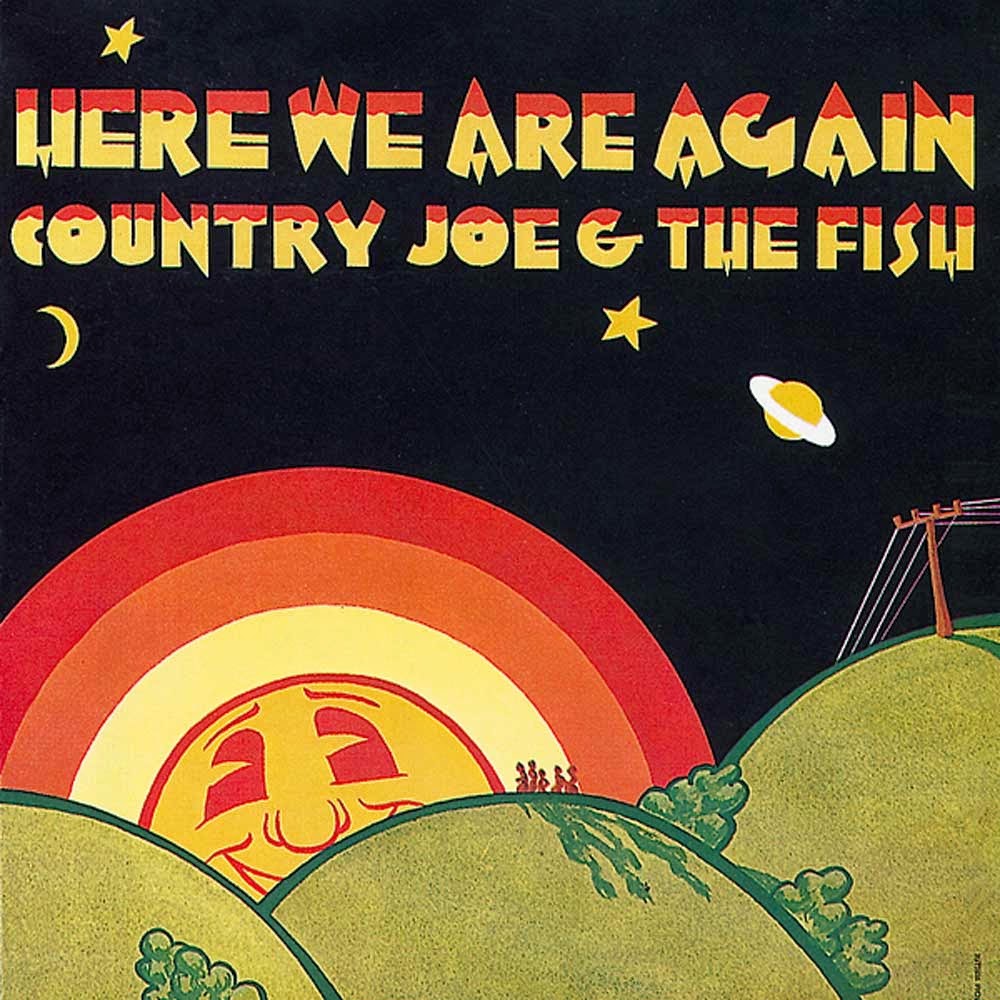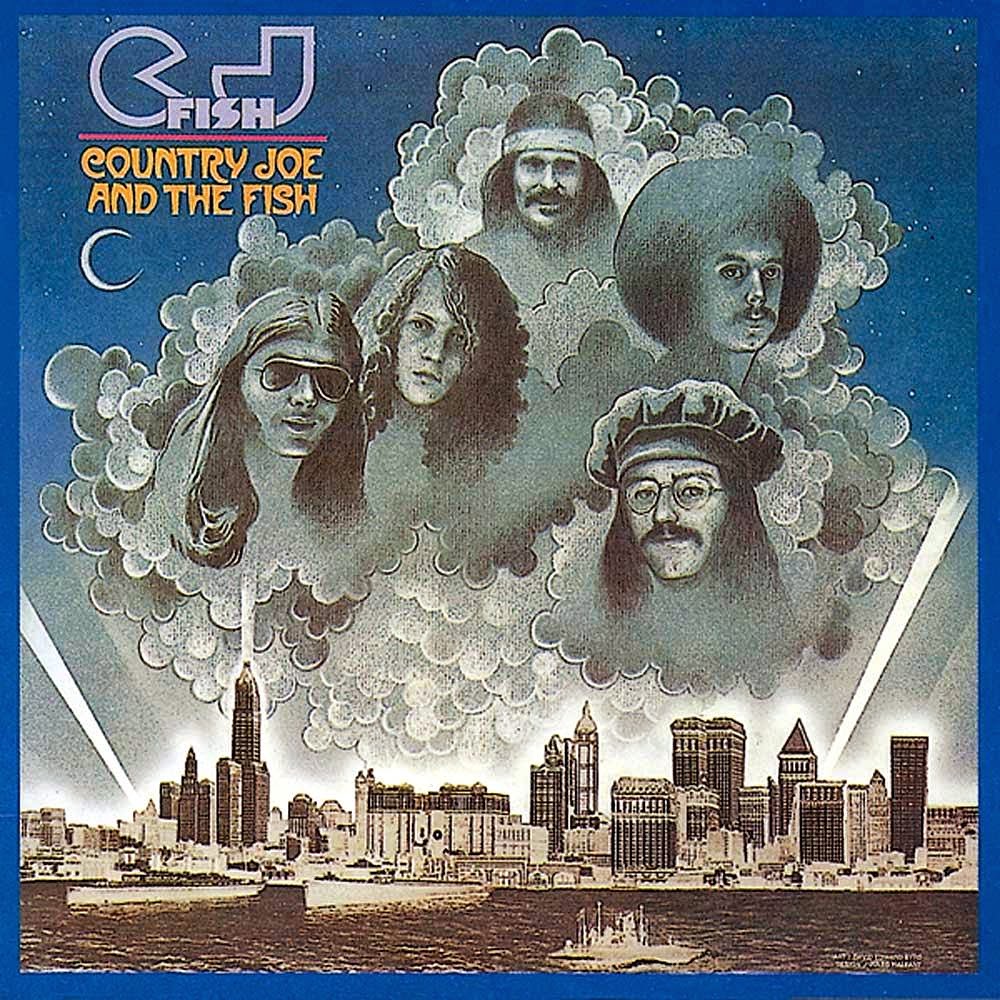 You dedicated a lot of time to record your solo albums. 'Thinking of Woody Guthrie' was released in 1969, followed by 'Tonight I'm Singing Just for You' and many others, including your work on soundtrack for 'Quiet Days in Clichy'. What would you say is the main difference between working on solo albums and being in a band?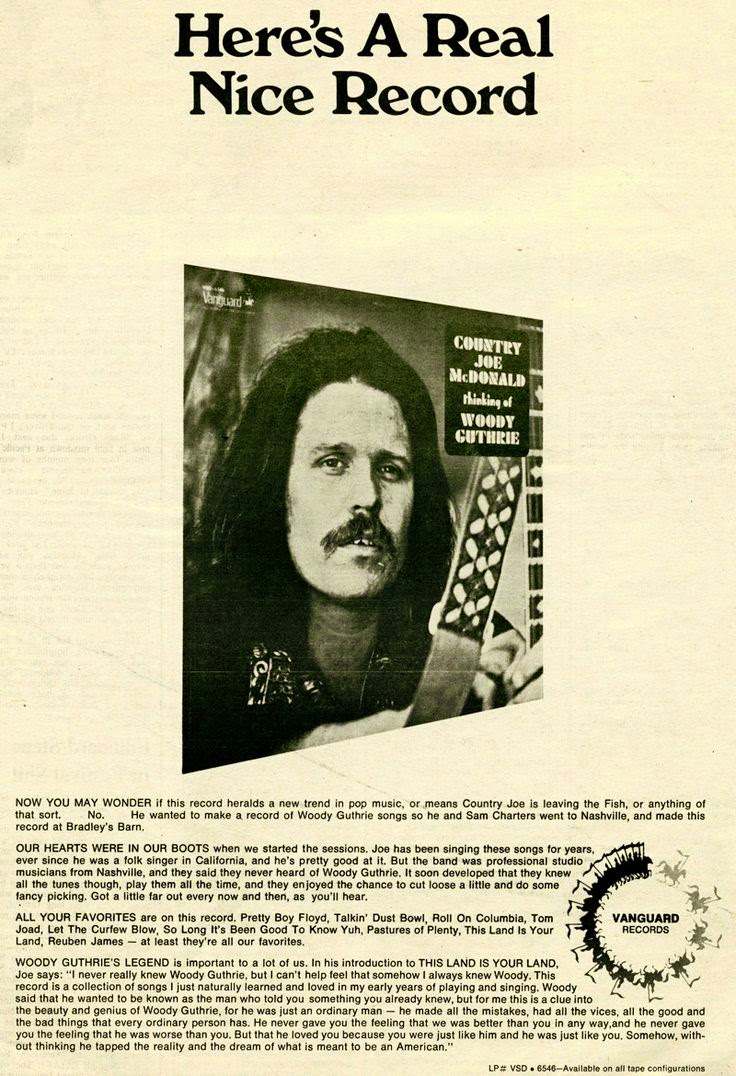 Well I did not have to fight with other people about what I wanted to do. But they never would have joined me with my ideas so it was impossible. There is a special chemistry in working as a band but by that time the original members were gone and the chemistry was gone, I had to pay the bills and the only way to do that was to continue to make records and tour. I do enjoy doing that and think that quite a few of the solo albums were very good.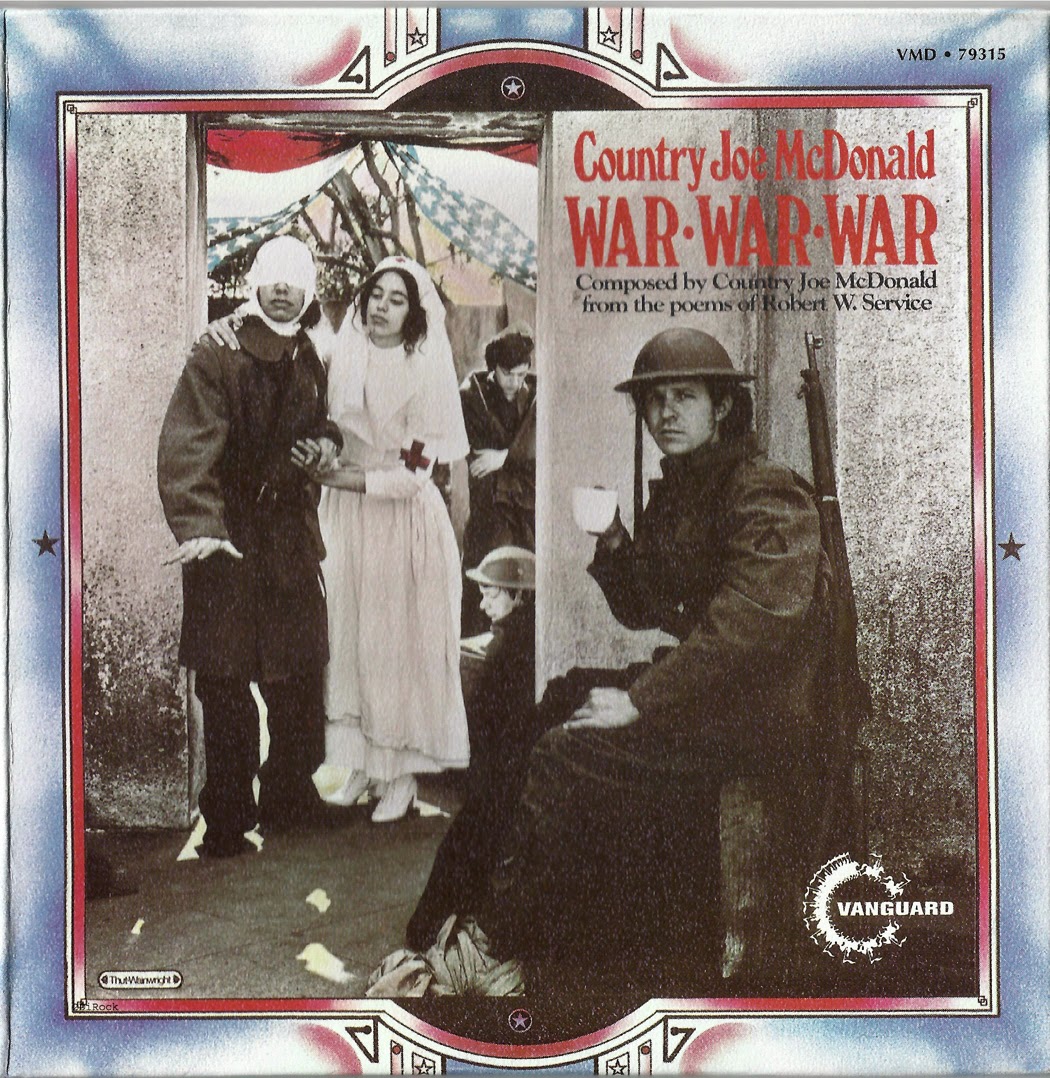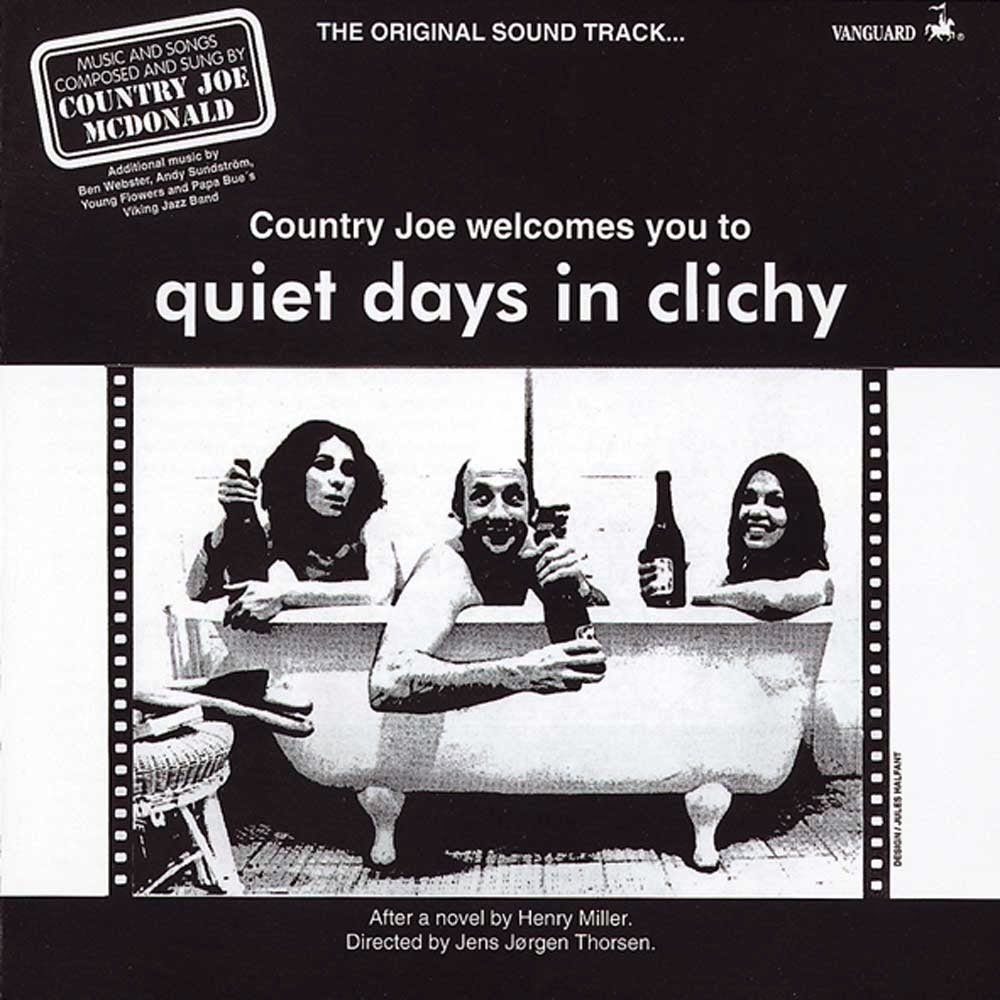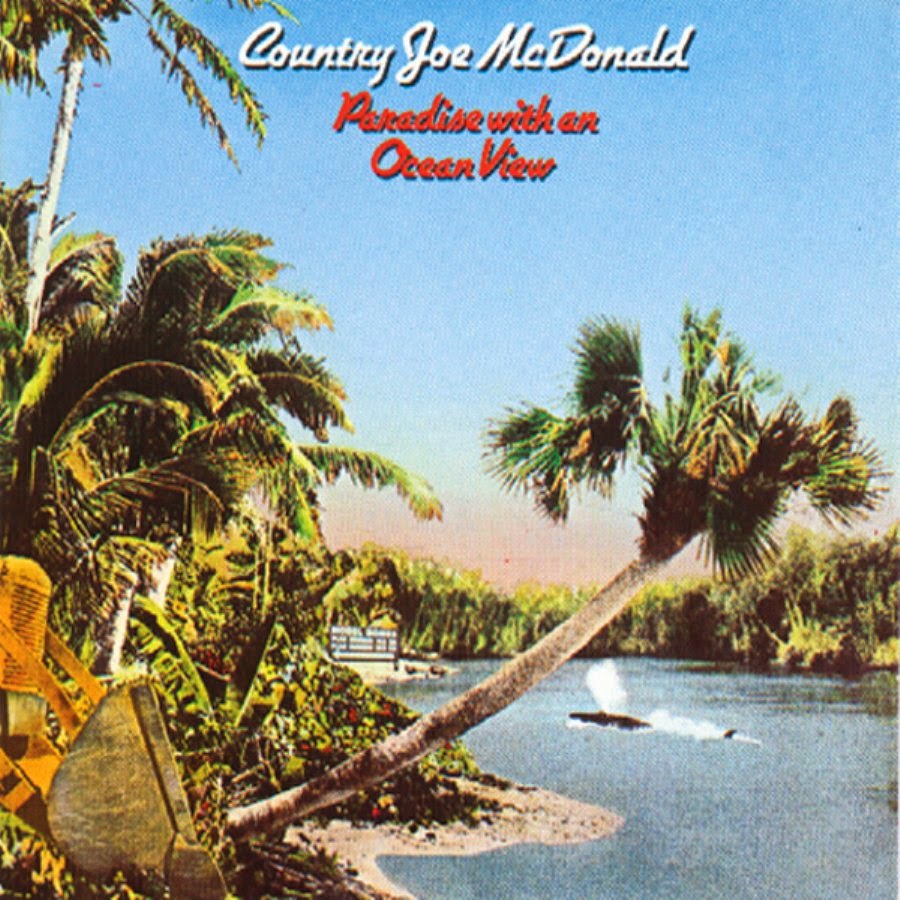 Any comments on Monterey Pop Festival or Woodstock Festival?
Well I enjoy playing performing in open air events. I always like to hear the other bands playing as I learn new things from them. I saw lots of the acts at Monterey and Woodstock and enjoyed myself very much.
You played with so many bands and experienced many things, but is there any crazy story you would like to share with our readers?
Well there have been several times when the audience controlled my performance. Like blowing pot smoke in my face so I got stoned and could not remember the words. Or clapping in three quarter time forcing me to play a waltz three times in a row. Or insisting that I sing "Fixing To Die Rag" as an encore after closing with it and then singing it again…
What currently occupies your life?
Cooking for my family and writing songs about nurses.
You recently released 2 CD set 'Time Flies By'.
It was fun to do it and I tried to make a back to roots folk jug band album.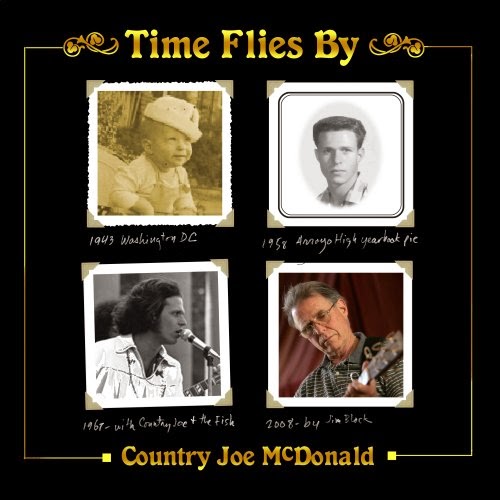 Thank you so much for taking your time and effort.
Thank you.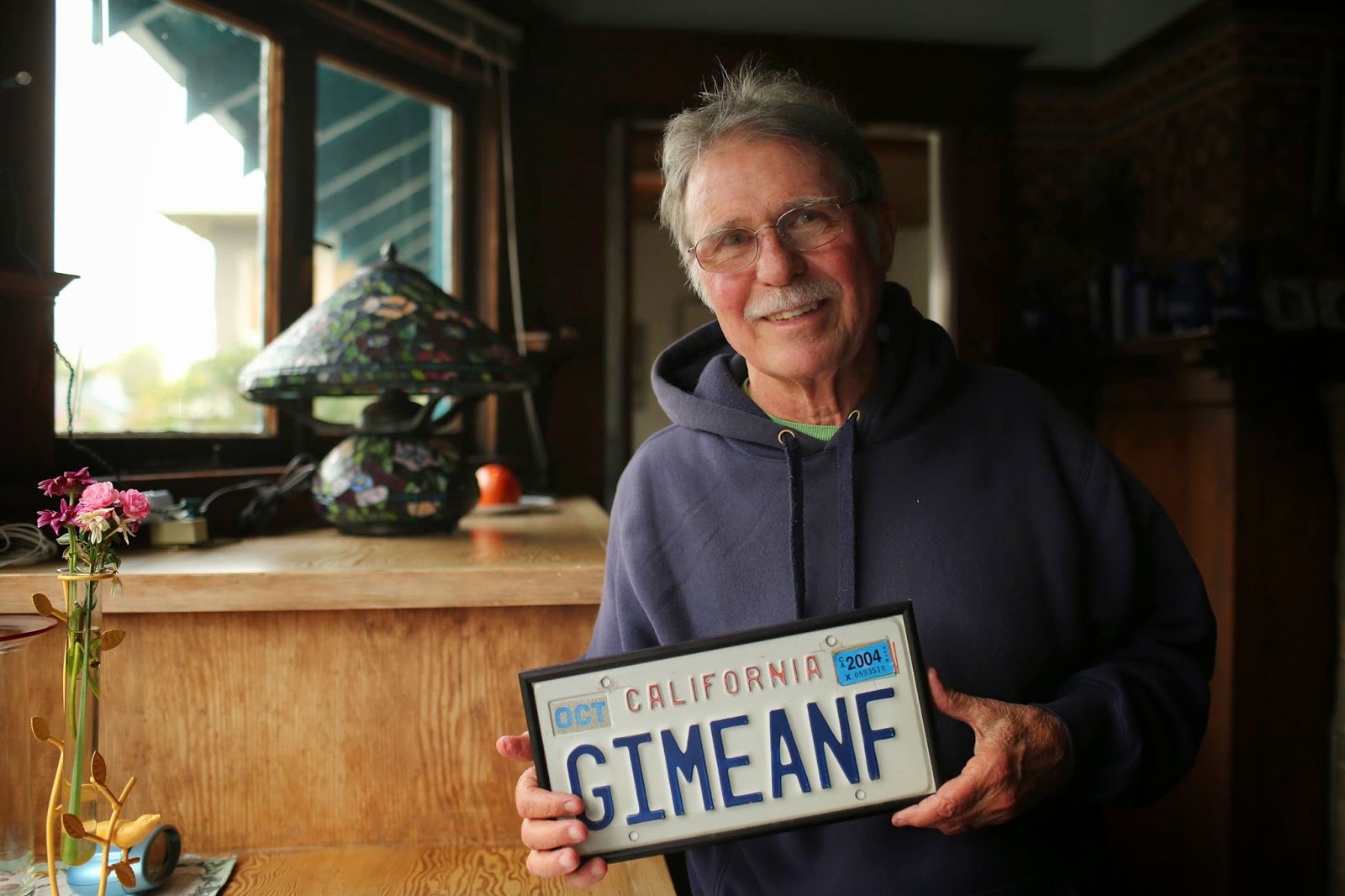 Here's our interview with David Bennett Cohen
– Klemen Breznikar