The Blank Tapes interview with Matt Adams
Matt Adams formed The Blank Tapes in 2003. This groovy west coast outfit performs what they call 'beach party' music.
---
How did you get signed to Antenna Farm Records and what's the story behind making Vacation album?
I met the folks from Antenna Farm Records when I was living in Oakland a few years ago where they're based. I think my friend TV Mike introduced my music to them and I'd see them at my shows here and there. We had been talking about releasing an album for a couple years, then when Vacation was recorded, it seemed like that'd be a good fit for what they were doing. As for the story behind Vacation, I wrote the song and came up with the concept up for the album around my first tour in Brazil a few years ago. I had a few other songs that I had sitting around and a few new ones that seemed to fit the theme. I'm fascinated with the craft of songwriting and I'm always trying to come up with interesting chord changes and catchy melodies. Lately, a lot of my lyrics have been about day to day personal small stuff. The trick is to make whatever your singing about bigger than the subject matter and universal in emotional depth. I love when a song "speaks" to the listener and seems personal to them. Sometimes I have a hard time finding a real point to a song so I do the ol' John Lennon and Beck trick where you just sing words that sound good together. The trippier the better.
Where was the album recorded and what are some influences for making this particular album?
Around 2010 or so, I moved out of my Oakland house and into the studio (New, Improved Recording in Oakland) for a few days and recorded most of the album with my buddy Will Halsey on drums and a few other friends overdubbing on it over the next few months. The first song on the album "Uh-Oh" was the only one partially recorded somewhere else. That being in LA at the Committee to Keep Music Evil HQ where they record most of the Brian Jonestown Massacre stuff. As for my influences on the album, a few songs are inspired by Brazil although the song "Brazilia" had been written years before I ever dreamed of going to Brazil and was actually partially written in Mexico.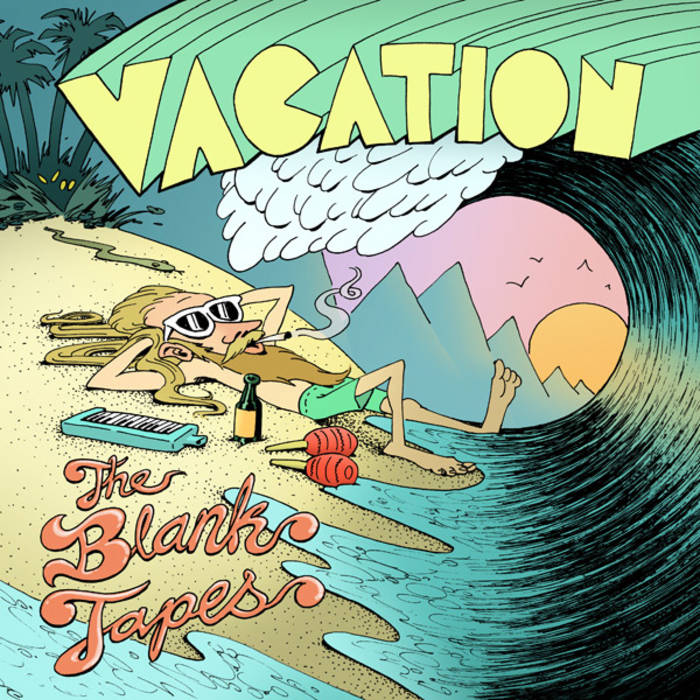 What was the line-up on Vacation LP? 
The line-up has been changing since I came up with the band name back in 2003. I've gone through about 30 members not to mention all the one-offs. For Vacation, it was mostly me and Will, who's been drumming with me on and off for about 7 years. DA from Southern California (who didn't play on the album) has been playing bass with me on and off for a little longer. Joel Williams who played drums on "Uh-Oh" has been in the band on and off for about 10 years, which might be the record for longest band member. DA & Joel are the ones touring Europe with me this time, but this will be there first time doing so with me. My band changes all the time depending on where I'm living, where the show is, and who's available to tour. It's hard keeping a band together, especially since I play and tour as much as I do and most of my band members have jobs.
Who made the Vacation cover artwork?
Thanks! I drew the album artwork for Vacation and all of the album covers and posters associated with my band which can be viewed on my website. Before I became obsessed with music, I was obsessed with drawing and even had a job working for a comic artist for a few years. I still have big ideas for comics and cartoons but don't really have the time and focus for that now, maybe when I'm too old to rock I'll pick up the pencil again full time.
"I'm always changing my sound"
You have a brand new album out on Vow Records, HWY 9.
HWY 9 (another album cover I drew), is basically an 80-minute collection of old, mostly short songs that didn't fit any other albums I've been releasing. Every album I've released except for Vacation, the two 7″ singles and some of the Holy Roller EP was recorded by me in various garages, bedrooms, sheds, and basements through out Southern California and the Bar Area. Some of the songs are the soundtrack to cartoon characters I have and some of them are just little random song idea ditties. A few were made for a video game that never came out and some others are outtakes from previous albums. This album is like nothing I've ever released although you can hear familiar sounds and songwriting styles from my other albums. I write such varied music that lately I've been trying to lump similar sounding songs together to make my albums seem more conceptual and cohesive. My first few CD's were like long mix tapes from different bands which was cool but a little random and overwhelming. I'm always changing my sound and it usually takes a few years for the albums to reflect that to the public. When I play live, I tend to play what I'm currently into which is psychedelic pop rock with long crazy guitar solos. That being said, I won't be playing any songs off of HWY 9 at our shows.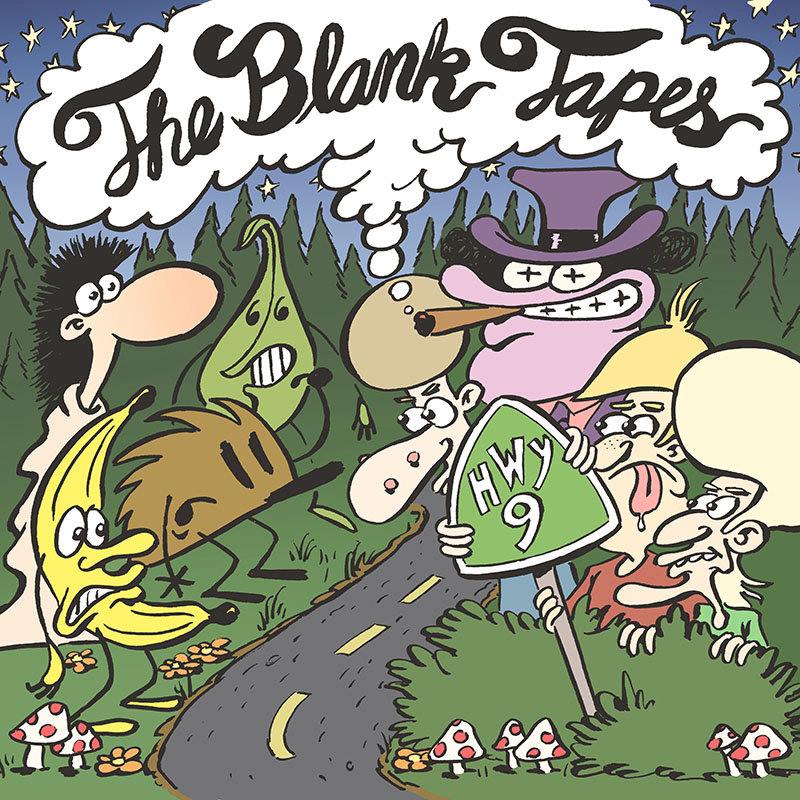 You're a big fan of analog recording. 
I recorded most of my early albums on an old 8 track cassette tape recorder. Before I worked with that I'd record on a computer program with millions of options of tracks and endless editing possibilities. The 8 track allowed me to focus and hone my songwriting and production skills down to the necessities. The past few years, I've been recording on 16 and 24 track machines as well as recording digitally which is a nice change of pace from the sometimes limiting 8 tracks. Although, in the end, it doesn't really matter to me anymore as long as it sounds cool. Although I find if I'm recording myself, I get the best sounds when I record on tape. It also helps me record a better live take because I can't fix it or punch it in the computer later.
Some time ago you also released Holy Roller EP.
Holy Roller EP was simply a compilation of bonus tracks and B-Sides from the Vacation album. The record label asked me for as many extra tracks as possible to make the most out of the Vacation vinyl, CD, iTunes, & singles releases. It was always available as a download if you purchased the vinyl of Vacation but now it's available on its own.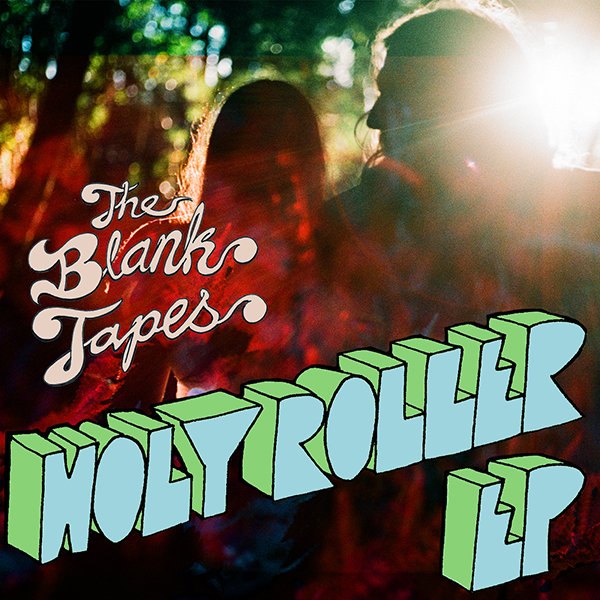 Do you think your sound, musicianship and songwriting progressed?
Vacation gets the most attention because it was our first HI-FI release and we had a good team behind it; the label Antenna Farm Records, Riot Act Media PR, Danny Rose booking agency, and even Silverside Co. our licensing and publishing people. Not to mention, for the first time in a while, I had a solid 3 piece line up for a couple years and we had been touring constantly to promote the album. We did a 2nd tour in Brazil and Europe, Japan, and almost 6 cross country USA tours. As far as the previous albums go, the first one was an intentional acoustic album and every album since has become more and more electric, psychedelic, and a little darker. I also recorded a few more albums that you forgot to mention. The 20 minute The One EP (White Noise) and Invisible Colors (Curly Cassettes), the 40 minute Sun's Too Bright (Burger Records) & Sleepy EP (Dome of Doom), the recent 60 minute Slow Easy Death (Dome of Doom) and the older self released cover album Friends & Favorites, and two 7″ singles (20-Sided & Volcom). That's not to mention all the random songs I've contributed to various compilations. I think the main things that's gotten better is my voice. I didn't really start off a singer and it took me quite a while to find my voice. I've also gotten better at engineering and performing with less tempo mess ups.
What is the story behind Slow Easy Death and a soundtrack?
Slow Easy Death was initially supposed to be released after Daydreams in 2007 but I abandoned it for the rocking Home Away From Home. Last year I dusted off the recordings, re-recorded some parts and added some new songs and finally released it. A few songs off SED were specifically written for Korduroy TV's surf movie Compassing which featured 10 of my songs. That soundtrack is actually one of my most downloaded albums which is more of a collection than a proper album. You can also check out the early Korduroy TV movie Stoked & Broke which features over a dozen of my songs. There's also tons of short videos they made with my music.
Were you in any other bands before The Blank Tapes? Do you have any side projects?
I've been the side man to many, many bands, before and during The Blank Tapes. The 2 main ones I'll mention is Part the Clouds which was a 4 piece formed a little after I started The Blank Tapes consisting of members that eventually went on to play in my band including Joel who will be touring Europe with us this Fall. I named a song of mine after that band. Another band that still kinda exists today is a 2 piece band called Dirdy Birdy which started back in 2001 or something. That's mostly my friend Alan Siegel's music which I produce and usually play all the instruments on. When I was living in SF and Oakland I was playing in 5-10 bands at a time. Some of the main ones were fpodbpod, Magic Leaves, Indianna Hale, Michael Musika, honey.moon.tree. & Os Beaches. You can get a sample of the music scene I was involved in on the Universal Western Attractions compilation CD I released in 2008. Some of the albums I've produced are on my Hi-Fi-Lo-Fi Recordings Bandcamp. Check out: Dirdy Birdy's "Headful of Sunshine" "Imaginary Friend" "Sweet Potato EP" "Down the Road" "Bamboo Meditations", Collin Ludlow-Mattson's 2 albums (the 2nd one is coming soon), Sleep Todd "Songs", Vera Gogh "Blue Pearl of Happiness", Indianna Hale's "She's a Revolution" as well as tons of singles & EP's by Obo Martin, Keegan Goodman, Quinn Deveux, Kath Bloom, Levi Strom, TransVan Santos, Veronica Bianqui, Pearl Charles, Matt McCluer and more.
Where can our readers purchase your albums? In what format are they available?
You can purchase my albums through my Bandcamp which you can find on my website. All albums are available digitally, and select ones are available on vinyl, CD, & cassette tape. Some are selling out fast so hurry! You can also download them on iTunes and stream them on Spotify.
What's your opinion about vinyl and cassette?
I agree with you that tapes and records seem a little more real and tangible. I've always loved the sound of the crackles, pops, and tape hiss while staring at the artwork and reading the liner notes over and over again. It just isn't the same as staring at a computer or iPhone/iPod screen. Everything is becoming more and more disposable so it's nice to have an item that you care about and that means something to you because you paid a little more than the digital version of the music. Tapes never went away for me but I'm glad they're making a come back with music fans. Also, it always seems more legit and real to me when I see my music on the grooves of a vinyl.
Do you have a vinyl collection?
I have about 150 or more records, currently in boxes in my parents garage until I get my record player set up again. I love records but I'm so nomadic it's too much of a hassle for me to transport them with me. I can see the advantage to digital music when it comes time to move from house to house. As much as I love my vinyls, tapes, and CD's, I've got way too many that I've been lugging with me for too long. I care but I don't care at the same time. I don't like the sound of mp3s but I still "feel" the music that's coming out of the speakers, even if it's coming out of a phone and sounds like shit.
You spoke about analogue recordings. What kind of machine do you use to record?
My main machine is the 8 track cassette tape Tascam Portastudio 488MKII. I have the smaller and larger version of this machine too but the 488MKII is the best. Lately I've been recording newer music on the slightly more pro 8 track Tascam 388 1/8″ reel to reel tape recorder. I also have a cassette tape 4 track Tascam PortaOne a friend in Iowa gave me that I've been recording demos on. I owned some HUGE tape machines at some point but they were a pain in the ass to work on and move, so I sold them.
"I consider myself psychedelic the same way people would consider the Beatles psychedelic."
Do you consider yourselves as a psychedelic band?
I consider myself psychedelic the same way people would consider the Beatles psychedelic. I mostly write rock and pop songs with catchy hooks and melodies, but there are elements of psychedelia either in the guitar solos, the songwriting, or the effects I'm using. My style is a mix of 60's psych/pop rock, surf, country, folk, and the occasional 70's synth with a very laid back California, beach vibe. On the other hand, my Hwy. 9 is a combination of everything I've ever listened to, even classical and klezmer!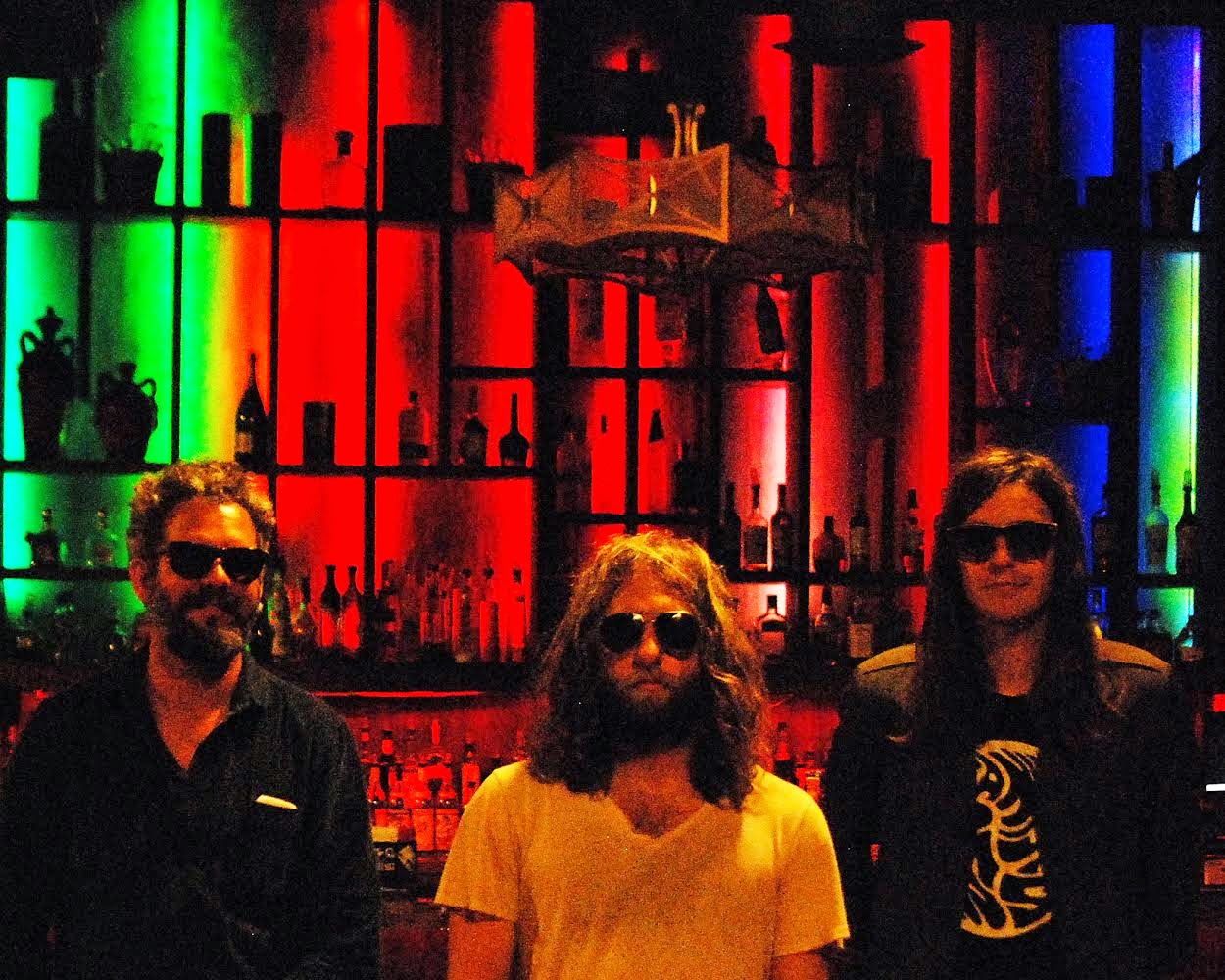 What would you say influenced you the most since you were young and what are some of your influences these days?
I've always been influenced by cartoons, comics, and illustrators. Artists like Dr. Seuss, Shel Silverstein, Bill Watterson, and all the Loony Toons and early Disney stuff. As far as music goes, I started playing classical music on the piano then listened to what my older brothers were listening to. Mostly Guns n' Roses, Nirvana, the Doors, Led Zeppelin, and stuff like that. My friends dad listened to old country which I'm still really into. Everything changed for me when I started listening to the Beatles when I was 13 or 14. It was like drugs for me and still kinda is. These days, I'm not the "band fan" I was when I was a teenager but I still love hearing "new" music, mostly obscure stuff from the 60's. The last band I REALLY got into was Big Star. Other than art and music, my surroundings have always really influenced me, whether I'm at home somewhere in California or travelling the world. A couple of my favorite places in the world are Big Sur & Joshua Tree in California.
How do you see the local scene?
The local music scene in LA is blowing up with psych/garage/surf bands. It's amazing but like any music scenes revolving around a genre or an era, there's a lot of bands doing the same thing. I don't really feel like I'm part of the LA scene to be honest. I'm my own scene.
Any bands you would like to recommend from your local scene?
I like the Mystic Braves (LA), Allah Las (LA), Mr. Elevator & the Brain Hotel (SF), Joel Jerome/Babies on Acid (LA), The Electric Magpie (SF), Sugar Candy Mountain (my drummer Will's band in Oakland), Sonny & the Sunsets (SF), The Range of Light Wilderness (Big Sur), Little Wings (Calif). My side project Dirdy Birdy is fun but we rarely play shows.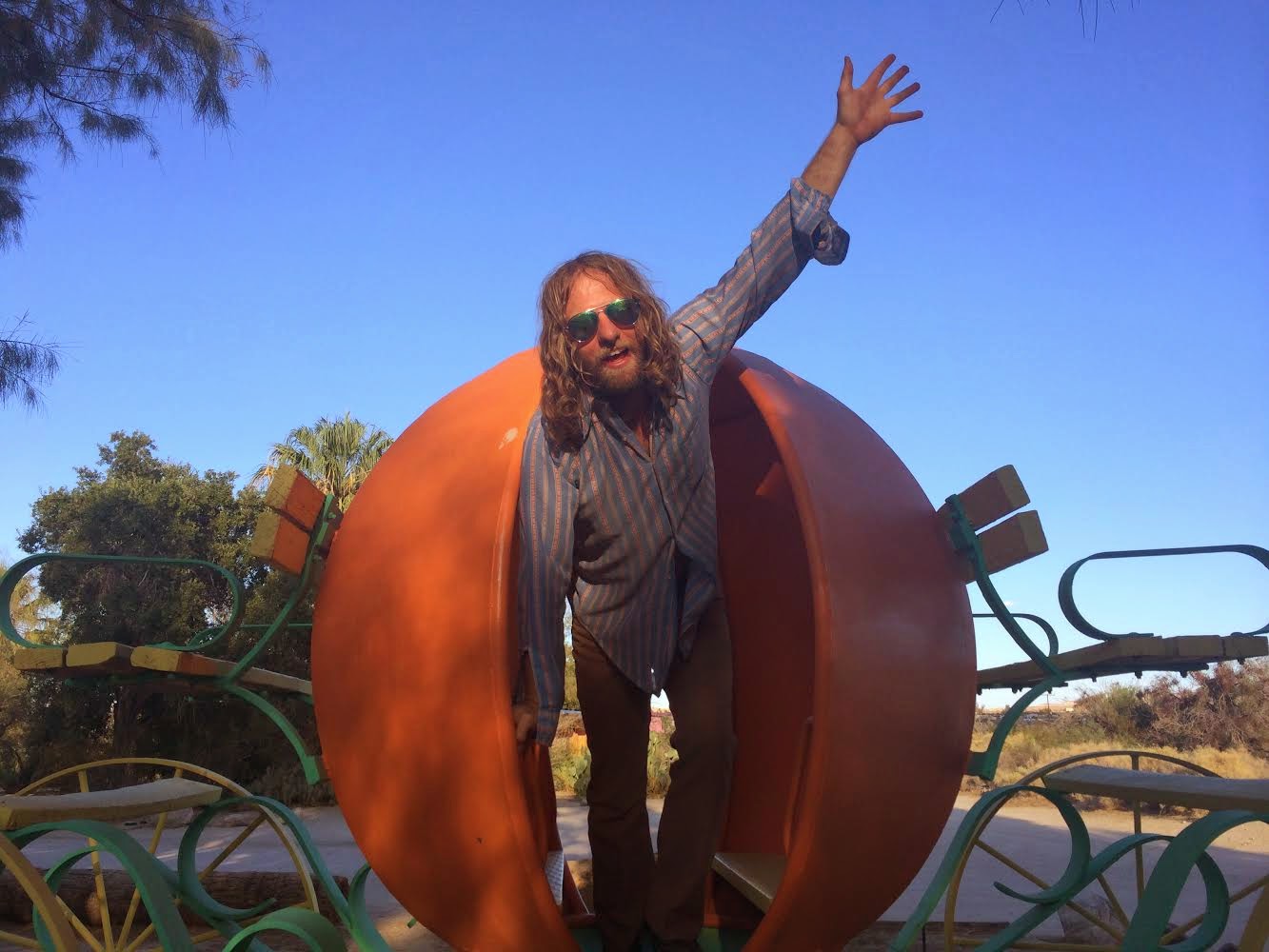 How about national and international?
Ummmm. Floating Action out of Asheville, North Carolina is great. Graves/Au Dunes from Portland, OR too. Ramiro from the Rotten Mangos in McAllen, TX. Other bands are escaping my memory. To be honest, I don't get impressed easily and have an awful memory.
I think we covered pretty much everything. Thanks for stopping by.
Thank you! One last thing, I have another new "proper" album coming out this December on vinyl and tape called Geodesic Dome Piece which is all about smoking weed, hence the name of our upcoming European tour "Way Too Stoned in Europe 2014". We also have an EP that is being released in Greece for the tour. Other than that, We have 3 more albums set to be released in 2015 along with many more tours!
– Klemen Breznikar