The Morning Dew interview
The Morning Dew was an American garage rock band formed in Topeka, Kansas, and active between 1966 and 1971. In the group's existence, they became a popular attraction, spearheading the growth of psychedelic music in the region.
---
Where and when did you grow up? Who were your major influences?
Mal Robinson: Don Sligar (drummer) and I (Mal Robinson -lead singer/guitar) met and got acquainted at Holiday Junior High School in Topeka, Kansas during the period of 1961-1963. In the summer of 1963, we formed our first band "The Impax". This was primarily an instrumental group, playing Ventures and surf songs of various groups like the Chantays, Surfari's, etc. Vocals were limited but did perform a few vocal songs. We did a mean version of "Rocky Road" by Gene Vincent.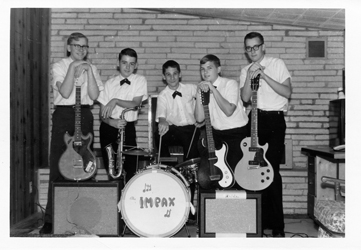 In early 1964, we changed the name for brief time to "The Runaways" doing similar material but more vocals. At this time we had added Don Shuford on bass guitar and back-up vocals. Then, in the summer of 1964, we became "The Durations" upon the addition and influence of Steve Dahl (trumpet and vocals) and Ray Lisher (saxophone) doing mostly R&B tunes… Kingsmen, James Brown, among others. It was a period when Don and I were listening and trying various music styles. We became dissatisfied with the musical direction of the Durations so we broke away from the band later that year. Steve Dahl later joined "The Red Dogs", a local R&B band out of Lawrence, Kansas (which was about 20 miles away).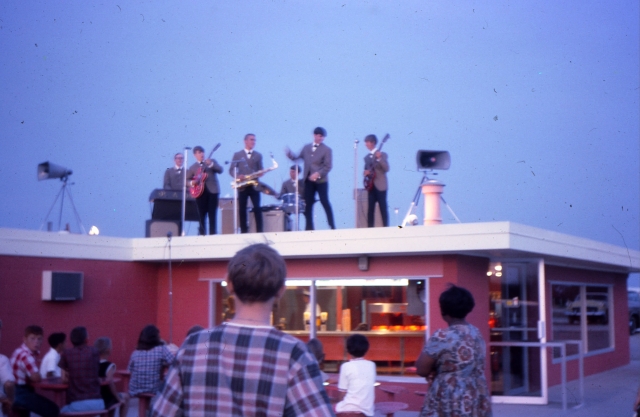 In 1965, we decided to rebuild the band with Don Sligar on drums, Don Shuford on bass, and myself on lead guitar and lead vocals. By this time, we were listening to a lot of Bob Dylan, the Byrds…folk and folk rock. We stayed three piece for a while: drums, bass, and guitar (I bought my first 12 string electric guitar!) and we named ourselves "The Toads" (similar to names like The Byrds, The Turtles, The Critters, The Beatles,etc.). We performed a lot of Dylan, also The Byrds, some of the folksy Beatles stuff like "You've Got to Hide Your Love Away". We fell in love with the music of the Lovin'Spoonful and started performing their material, but realized our instrumentation was limited and decided to add another member. By this time, Don Sligar was attending the local college… Washburn University and I was a senior in high school (winter of 1965-66). Don Sligar had a fraternity brother at Washburn who happen to play guitar. His name was Don Anderson so we added "Andy" (his nickname) to the band. We now had three guys in the band named "Don" so we used nicknames…Don Anderson was "Andy"; Don Shuford was "Shuf"; and Don Sligar was "Tommy" (there is a story behind that nickname I won't go into here). Any way,the folk and folk-rock sounds were not getting us many gigs…the kids couldn't dance to it and not much of it was Top 40 radio material. So, we decided to play more variety of material and with it came the change in name to "The Morning Dew" in June 1966. Because we were one M (Mal) and three Don's(D) we wanted to find a band name that had the initials M and D. We came up with The Morning Dew as a possibility and we had heard the song by the same name written by Tim Rose and recorded by The Grateful Dead so we went with it. We actually played the song for awhile at our gigs but eventually dropped the song from our playlist. We were not influenced by either of these artists musically, but simply liked the Morning Dew as a band name. At this same time, I was starting to write original material for the band. We did not record or release any material in the early bands until we became The Morning Dew.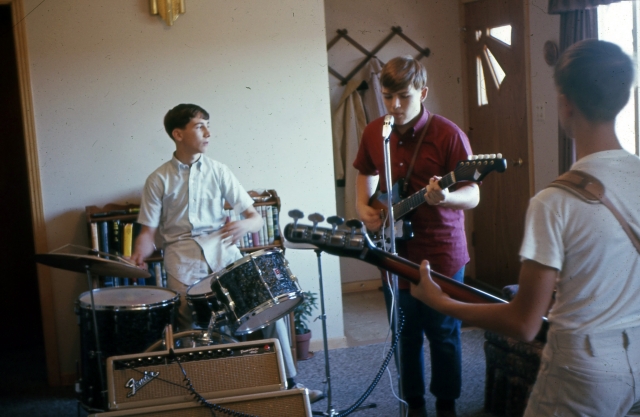 What was the music scene in Topeka?
The music scene in Topeka (a town of about 100,000 people) during the period of 1963-1966 was busting out. Many bands were being formed by teenage kids, not only inspired by the Beatles and the British Invasion but also The Beach Boys and many other U.S. groups. You could classify the bands in two categories: R&B (with horns) and the guitar bands playing British sounds and garage rock. Some of the R&B groups from Topeka that were popular at the time were The Argons and The Rising Suns. The popular British/Garage Rock groups were The Jerms, The Burlington Express, The Thingies, and The Morning Dew. The Jerms were strictly a cover band that did British bands, mostly Beatles. They even talked with a British accent on stage. Back then, I think all the local bands tended to influence each other because we were all competing for same jobs in town. There was a kid about two years younger than us who was in a band called "The Gimlets" that was starting to make a name for himself and that was Kerry Livgren who later in 1970-71 became one of the founding members of the band "Kansas".
What was Morning Dew's first recording?
In the summer of 1966, after I had written a few original songs, we decided to go to a recording studio in Lawrence, Kansas called Audio House to record some music. We got booked on a TV show in St. Joseph, Missouri called Let's Dance and we needed a recording to lip sync to. We also thought we could use a demo tape to get bookings and perhaps get a record deal. We selected two originals: "Touch of Magic" and "Winter Dreams" . We also added a traditional blues song "Sportin Life" recorded on the first album of the Lovin' Spoonful and a rock song "I'm not Your Steppin' Stone recorded by Paul Revere and the Raiders. Our main idea was to show off some original tunes and show some versatility. None of these songs were released commercially. In 1966, our musical influences included The Lovin' Spoonful, Paul Revere and the Raiders, The Outsiders, The McCoys, Spencer Davis Group, Young Rascals just to name a few. Don Sligar and I bought dozens of albums together, listening to a lot of different styles. We were especially fond of the groups who had a "stage act"…dancing with their guitars, standing on their amps, engaging the crowd. The main influence of this recording experience was the fact we liked the sound of the original songs and was inspired to create more of that.
You were signed by Fairyland Records?
Our local booking agent in Topeka was a fellow named Larry Knouft who eventually became affiliated with a booking agency in Columbia, Missouri called "Fairyland Productions". One of their primary artists and founding member of the agency was Lou Rennau of Goldilocks and the Three Bears…a Missouri R&B band that was very popular in the Midwest USA. In 1967, they built a small recording studio in Columbia, Missouri (about 180 miles from Topeka, Ks.) called Fairyland Recording Studio which had an affiliated publishing and record company…Fairyland Publishing and Fairyland Records. We took our recording interests to their studio as it was ran by someone " in the band business" and we thought they would add more value to what we were trying to do. By this time, I had written several more songs.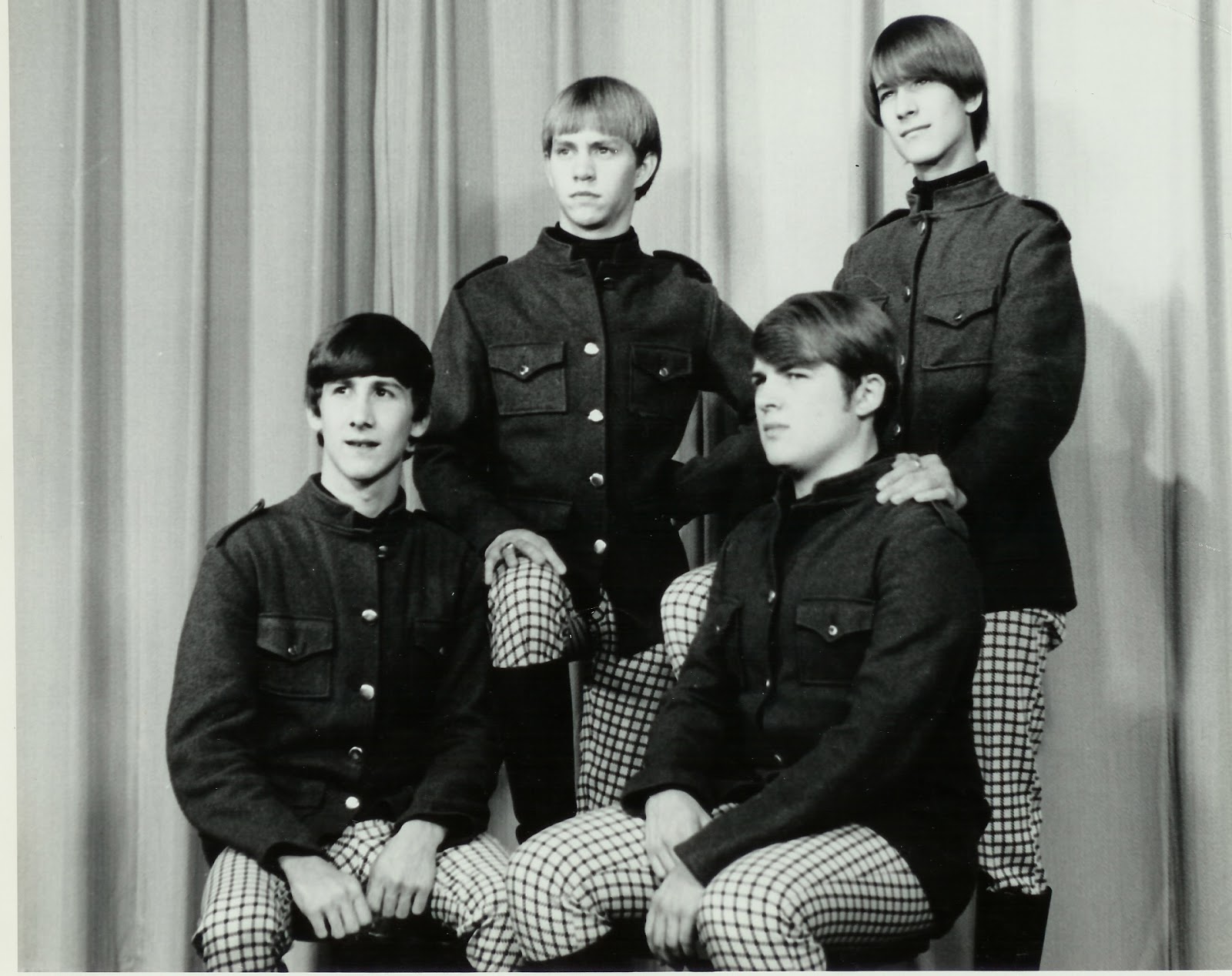 In 1967, we completed two recording sessions at their studio. The first session was "No More" and the B side: "Look At Me Now" both written by me. We originally pressed 1,000 copies on Fairyland Records and distributed it ourselves in local record stores. It sold out fast, so we printed another 1,000 copies and it sold out over time. "No More" reached the top ten on local radio stations and spent about 12 weeks in the top 40 survey. We went back to Fairyland for the second session and recorded two more original songs- "Be A Friend" and the other side"Go Away". There was much debate as to which side to release as our second single and we ended up going with "Be A Friend" so we could show our versatility (versus "Go Away" which was more similar to "No More" in style). We printed 1,000 copies and it didn't quite sell out so it was not nearly as successful. On hindsight, releasing "Go Away" may have been a safer and better choice.
The two single releases did boost our popularity in the Midwest Region during the 1967-1968 period. Our bookings increased and we were represented by three booking agencies in the area. We played in the states of Kansas, Missouri, Nebraska, and some in Oklahoma and Arkansas. We also were picked up as the opening act by several more well known bands who came to perform in the area including The Drifters, The Turtles, Gary Puckett and the Union Gap, and Strawberry Alarm Clock. We also did a concert with another local band that opened for us called "Saratoga". This group later became the band "Kansas". In the summer of 1967 and the summer of 1968 we played month long gigs (five nights a week) at Ron's Townhouse at the Lake of the Ozarks in Missouri. This was where the band really honed their skills and really developed a tight sound.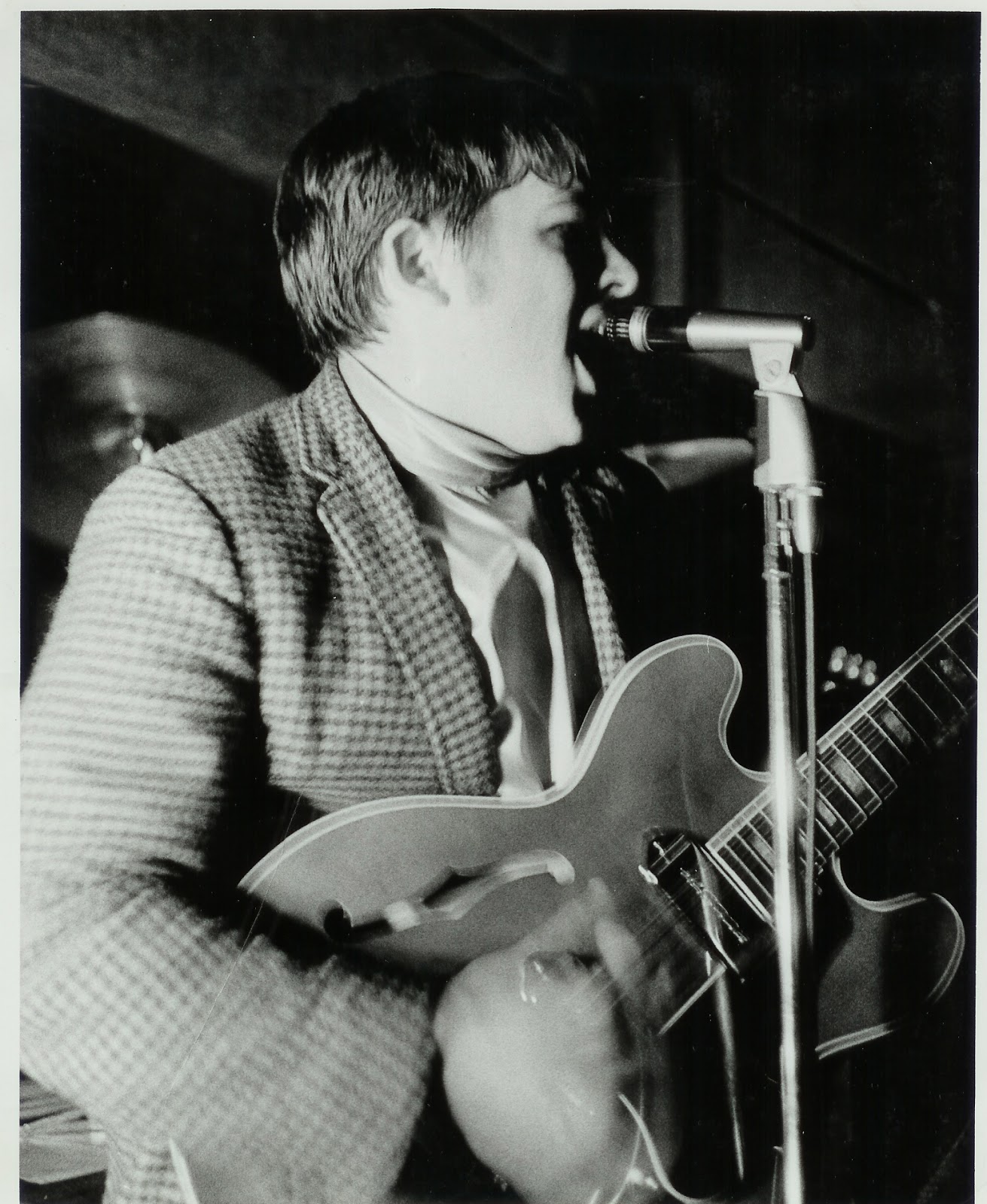 "Our music influences moved closer to the Yardbirds, Buffalo Springfield, Cream, and Hendrix"
What do you recall from Fairyland Sessions in Summer of 1968?
We had pretty much did all we could do with the two singles we released with Fairyland ("No More" and "Be A Friend") and had not contracted with any national record labels. We felt we needed to record more songs and create a larger portfolio of songs to take to get a contract with a major label.
So we returned to Fairyland Studios and recorded several of my original songs over that summer. The songs were: "Lady Soul", "Then Came the Light", "Rainbow Woman", "Sycamore Dreamer", "Something You Say", "Cherry Street", "Our Last Song", and "Money Honey Blues", plus we did a song that was written by a local writer in Columbia named Phil Jackson called "Sing Out". We also recorded "Sportin Life" during this session. Our music influences moved closer to the Yardbirds, Buffalo Springfield, Cream, and Hendrix, to name a few…a "harder" sound.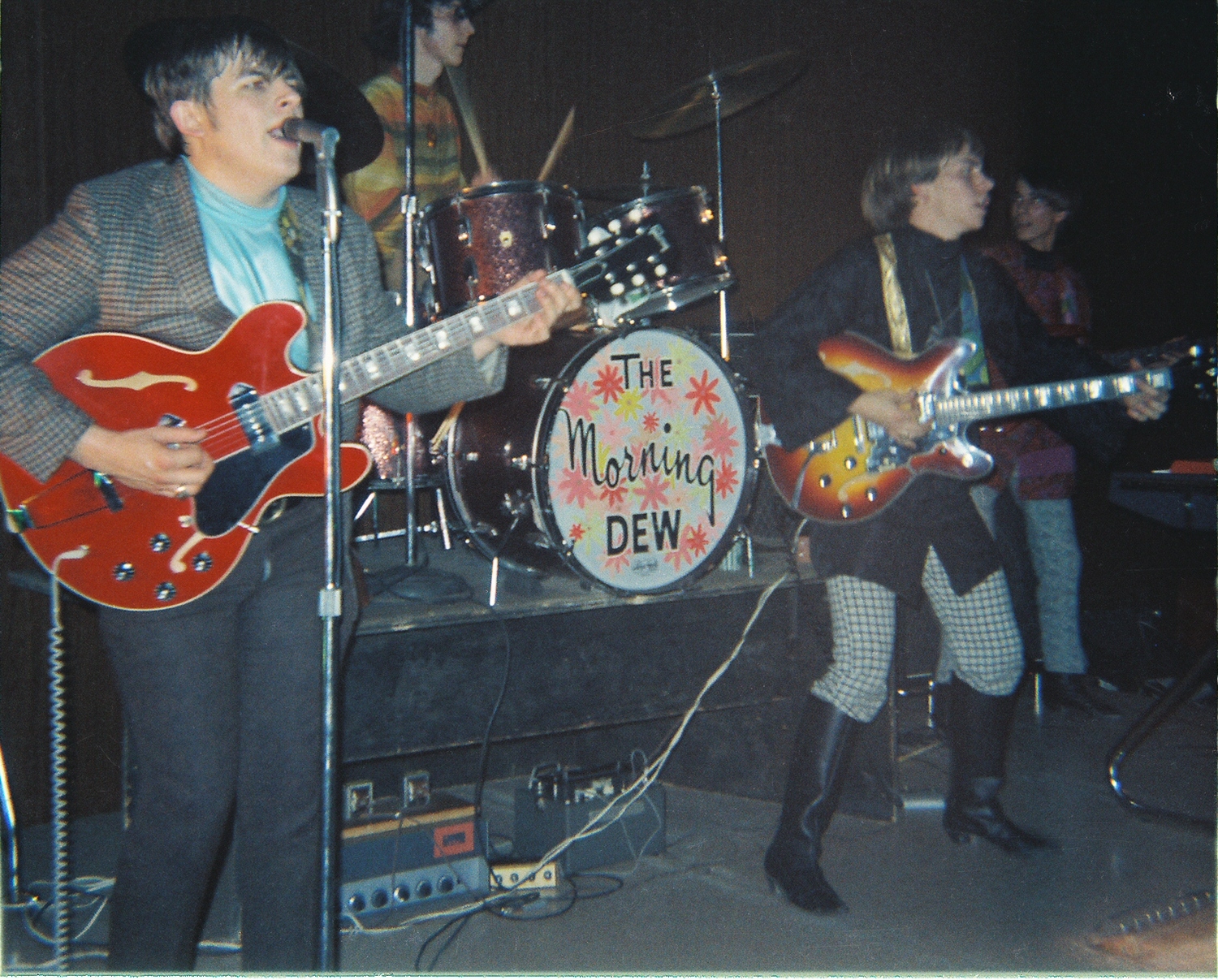 We soon took an acetate of these songs to New York to meet with several record labels to see if we could get signed. Meetings took place with ABC/Dunhill, Laurie Records, Bell Records, and others. We had an appointment with Roulette but they didn't show up. There was no interest, as the labels didn't feel there were any songs that could be released as singles. None of these recordings were released on Fairyland Records as we wanted to go with a national label. We thought about producing our own album from these recordings but we couldn't afford it. Later, a local producer/agent from the Columbia, Missouri named Pete Shanaberg (who was affiliated with Fairyland) took the acetate to New York and met with several record companies (one of which was Roulette Records) and he successfully got us a verbal commitment from Roulette Records in January, 1969.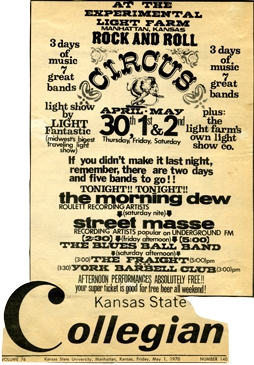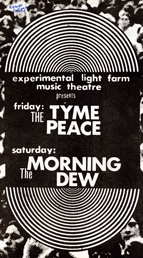 "The band though fell in love with the fuzz tone"
Were you inspired by psychoactive substances like LSD at the time of writing the album?
In 1967, I started college at Washburn University in Topeka, Ks. So, by the 67-68 timeframe all of the band members were attending Washburn. Pot smoking was fairly common with the students at that time, so many were doing it socially at parties, etc. We did pot and a little hashish too but nothing more…never dropped acid. But, the drug experience definitely influenced our perspectives and attitudes. At the same time, the music trends with predominantly guitar rock bands were moving to the sounds of the "advanced" Beatles, Yardbirds, Cream, Hendrix, Stones, Buffalo Springfield, Iron Butterfly, Jefferson Airplane, Moby Grape, etc. So, more than anything The Morning Dew , was influenced by the broader changes taking place in music. Topeka, Kansas in the Midwest USA was not really a leader in any change, but more a follower of what was happening on the east and west coast of the US. Myself and the band though fell in love with the "fuzz tone" as you can tell on several of our recordings. My first fuzz was the Gibson Maestro which I used on "No More". By the summer of 1968, and those sessions with Fairyland Recording Studio, I used the Mosrite fuzz…as it had a fuller/smoother sound. I continued to use it until the band broke up in May, 1971.
"Looking back, we became pioneers of the Topeka music scene as we were the first rock n roll band in the city to get a national recording contract."
What's the story behind Roulette Album?
As mentioned earlier, a producer/agent by the name of Pete Shanaberg (located in Columbia, Missouri and affiliated with Fairyland) got us a recording contract with Roulette Records. He also represented some Columbia, Missouri based acts: Morganmasondowns (folk); Don Cooper (folk): and, Trish Vandervere (an actress). In January of 1969, we received a "verbal" agreement to sign. Before proceeding with a final contract signing, representatives from Roulette wanted us to record a couple more songs and hear us play live (as it had been several months since the Fairyland recordings and we had a new bass player-Blair Honeyman who had replaced Don Shuford as Don was drafted into the Army.) So, in the Spring of 1969, we went back to Fairyland Recording Studios and recorded another original "Young Man" and a cover version of "Get Together" by the Youngbloods. Then in June of 1969, Fred Munao of Roulette Records came to Topeka to hear us play live at a local Club called "The Touch of Gold". It was at that audition, we officially signed our recording contract with Roulette calling for the release of two albums over the next two years. Looking back, we became pioneers of the Topeka music scene as we were the first rock n roll band in the city to get a national recording contract.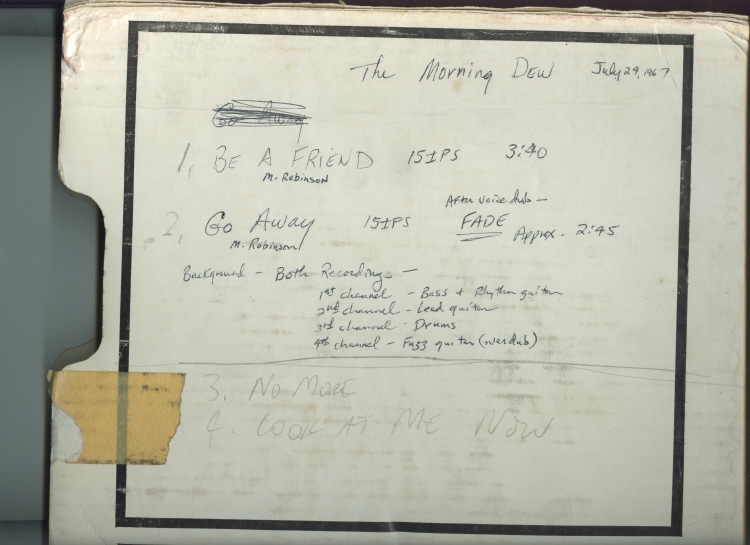 In August, 1969 we loaded up our Chevy van and drove to New York to record the album. We recorded at Bob Gallo Studios on 42nd street, about two doors down the street from Broadway and Times Square. The whole album was recorded in 32 hours over a three day period with very little retakes. After the sessions, they later dubbed over the harmonica part on "Country Boy Blue" and the strings on "Something You Say". I was later told they wanted to release one or both of those songs as a single. Ironically, they seemed to like our softer sounds more than the harder sounds, as they really never had any hard rock/psychedelic artists under contract. So, on hindsight, I'm not sure we were a good match for that label.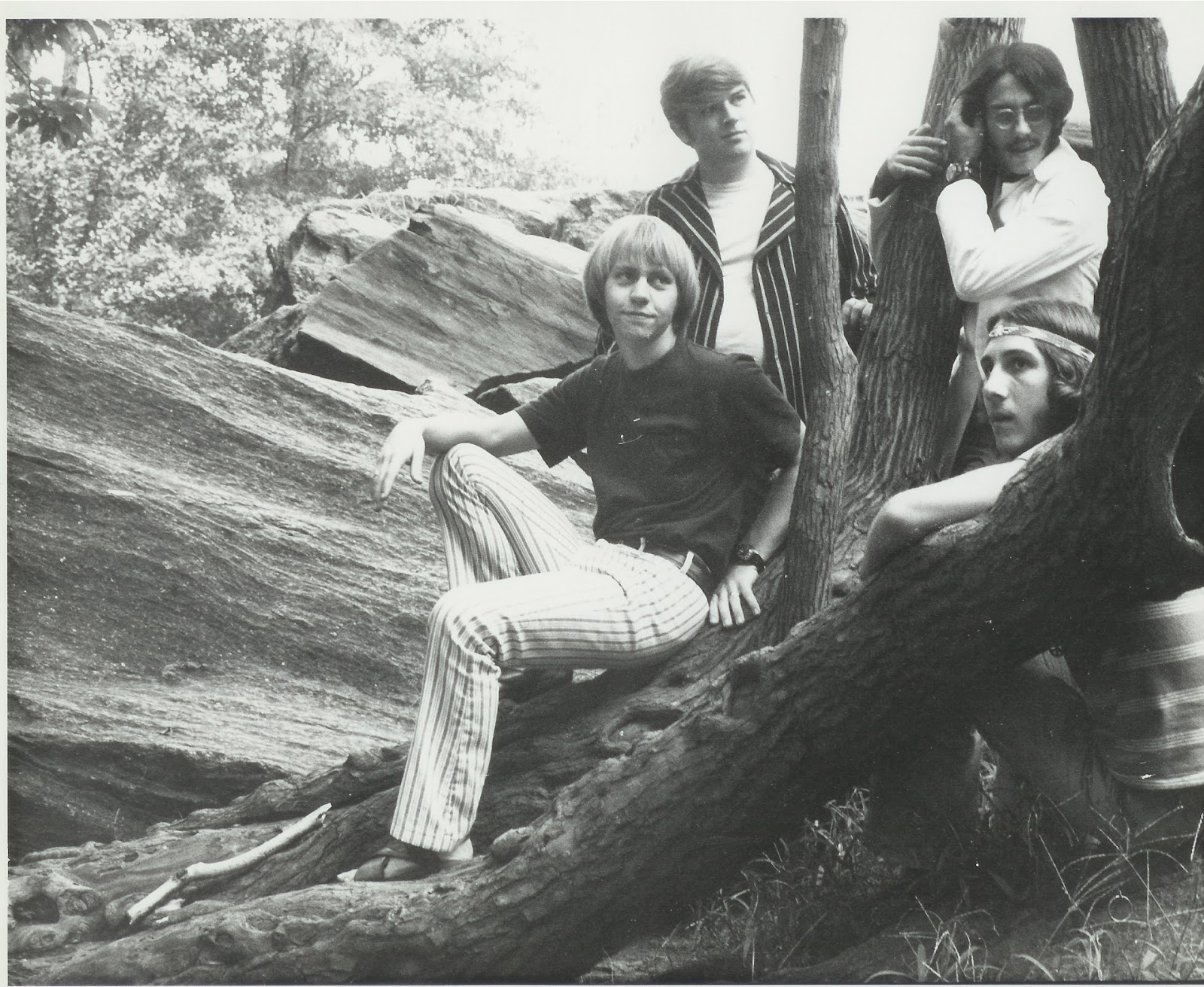 As for equipment, I used a Vox Royal Guardsman amp, Gibson ES335 and Mosrite fuzz tone. I used a Fender acoustic guitar for the softer sounds. We used a Vox organ on Gypsy. The bass player used Fender gear. Our rhythm guitarist used a Guild electric guitar with Vox amp. Our drummer liked Ludwig Drums.
What are some of the strongest memories from recording it?
It was a whirlwind experience, a 30 hour drive to New York and a one week long stay at the Hotel Albert in Greenwich Village (Led Zeppelin were staying there at the same time). Three days at the recording studio mixed in with a photo shoot in Central Park. I spent my 21st birthday in NYC. We met with Morris Levy, President of Roulette to "beg" for a cash advance so the band would have some spending money while in the city. He bitched and moaned, but ended up cutting us a check for $1,000. The only money we ever saw from Roulette. Oh, I recall he also gave us a Kustom bass amp that he later repossessed and had someone come to Topeka to get it (now, that sent us a message).
The album was not released until 1970. We later found out that Roulette was mired in legal troubles at the time, owing back taxes, falsifying financial records, etc…Levy was accused of tax evasion and was reputed to be linked to the mob. He later went to prison and died there in the 1980's. The second album never came about. I received a brief three sentence paragraph letter from them in 1974 saying they had cancelled our contract. To this day, I never received an official accounting for the album. I was told there were 10,000 copies printed but most of them were "destroyed in a warehouse fire". I have no idea how many were distributed on a retail basis. (You should read the book by Tommy James-"Me, the Mob, and My Music" to get some further insight to the dealings of Roulette Records).
You asked about the album cover: it was taken from a collection of photos done by a professional photographer who happened to live downstairs from the apartment in NYC Pete Shanaberg was staying at the time. When we met with Morris Levy that day, he boasted it was the most money that they had ever spent on an album cover…I just wish they would have invested in a little more in studio time for us. This same photograph later showed up in the 60's movie "Joe".
How about the potential second album?
Our contract called for a second album with Roulette. In late 1970, at the request of Fred Munao of Roulette, we went into the studio to record some more original material for Fred to listen to. This time we decided to go to Audio House Recording in Lawrence, Ks. (as it was closer and cheaper). We basically set up and played live on a four track recorder then mixed it down and overdubbed my vocals.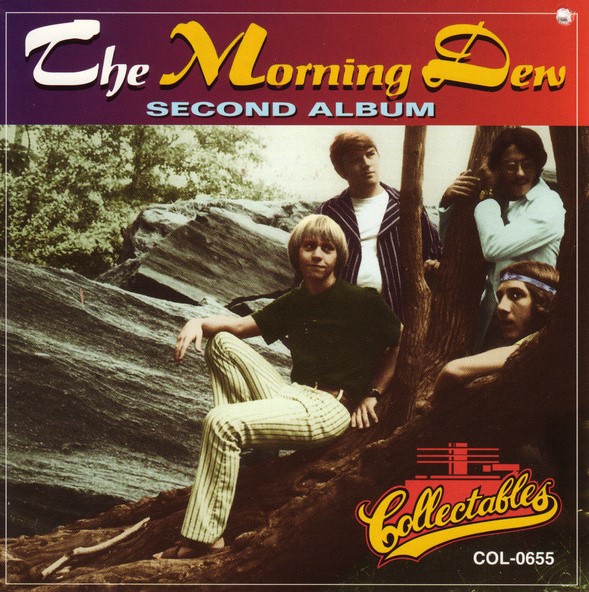 By this time we had a couple more changes to the band. Don Anderson had left the group and was replaced by Ferdy Baumgart who played Hammond Organ and some Lead Guitar. We also added Dave Howell who played guitar and piano. This was a true experimental time for our band. Our sound became much more progressive and complex, influenced a lot by Ferdy's skill as an arranger. I would take the basic song to practice and Ferdy as well as Don Sligar and the other guys would put in certain intros, endings, breaks, and fills to round out the song. At this session (which was done in four hours one afternoon) we recorded originals: "Satin's Got A Hold On Thee", "Someday", "My Kind of Music", "Flying Above Myself", "Lion/Away from It All", and "1849". The quality of the recording is not that great, the songs are raw and somewhat unfinished, as we basically considered this a practice tape to send off to Roulette and to use for our own sound development. None of these recordings were released commercially at the time. Roulette pretty much stonewalled us regarding a second album release. Their feedback was generally positive but they wouldn't definitely commit or schedule a second New York recording session for us. It was very frustrating. Of course, we later learned that Roulette was totally distracted with their legal issues. The recording was picked up by Cicadelic/Collectables in the 1990's and released on CD as "The Second Album".
Would you share your insight on the albums' tracks?
A1-"Crusader's Smile": It is simply about traveling in a band, playing guitar to entertain others, often getting requests to bring out the acoustic at the band parties. I met my "wife to be" at about this time, but "she didn't know that my mind could float away, cause I play my guitar to make people happy". And we're still married after 42 years. I feel the highlight of this song is Don's percussion work…it really turns an ordinary song into something you want to listen to over and over. He worked his ass off on this song when we played it live….he was inspirational.
A2-"Upon Leaving:" We wanted another slow song for the Roulette album so I penned this. Another travel song…about a guy leaving his lover and not knowing if he'll make it back or see her again. It is a common feeling/fear we all have every time we separate from someone we love for any period of time.
A3-"Young Man": There is a Bo Diddley inspiration in there somewhere. Again, great percussion by Don. He is actually playing the drums with a pair of maracas. (Not sure that had been done before). We were a high energy band when we played live and I think this song fits that high energy category. It's simply about how fearless and sometimes stupid we are when we're young. And I wrote this when I was 20 yrs. old. And now, you look back, and it's so true but we'd all do it again if we had the chance. I guess I had some foresight on this one.
A4-"Then Came the Light": I actually liked the Fairyland version ( with my Vox wah -wah pedal) better than the Roulette version. For some reason, we nixed the wah-wah when we got to New York. It's about a guy who thinks he can see the future(at age 20) but when he gets to the "future"(at age 40) he doesn't know it. Make sense? OK, so this was a little drug induced. Oh, you know I went out on 42nd street in NYC to sing with the traffic in the background at the end of the song("I saw the light, I saw the light"). A microphone from the Control Room in the studio was dropped out the window down to the street and I sang into it.
A5-"Cherry Street": When we recorded at Fairyland, we were there for several days and stayed at a guys house on Cherry Street and there seemed to be a lot of frustrated people living on that street. That is basically the theme. Frustrated people looking for something better. I must admit, there is definite Cream influence on this one (I'd like to hear Jack Bruce sing it with Eric Clapton taking the lead parts). Roulette didn't like the toilet flush at the end ( on the Fairyland version) so we didn't do it in New York. The Mosrite fuzz has one of its better tones here….I liked the fuzz guitar trying to mimic my singing "fire, fire, everything's on fire" in the last phrases of the song.
B1-"Gypsy": I was always fascinated by gypsies…the way they lived, moved around. The intro to this song was actually inspired by the movie "Exodus". It is probably a poor resemblance of the theme song to that movie, but any way that is what inspired some of the vocal and back up guitar licks to the vocal in the intro. Given, the theme of the song (Gypsies)….I felt it had to move fast once the intro was over.
B2-"Something You Say": I was in one of my mushy, Bee Gee moods on this one, but inspired by the love of my life of course! My daughter wanted this song played at her wedding 40 years later so that really made it all worthwhile. I think the band liked this song because it showed some versatility. I like the song very much, I just wish someone else would have recorded and sang it. My vocal falls short on this one, I think. There is someone out there that could really do this song justice…maybe a Van Morrison type.
B3-"Country Boy Blue": This is the band's theme song for traveling all across the great state of Kansas ,playing our music, and having some fun at the same time. We had to give it a country sound. Many of my friends today, like this one the best …they've outgrown the psych stuff.
B4-"Save Me": I had the lyrics written and few chords but wasn't sure how I wanted to put the song together. At the time, Don Sligar was living with Kerry Livgren at a house here in Topeka. I went over there one night and played what I had to Kerry and he finished it for me in about thirty seconds. The song was written for a "bigger orchestral sound" but we settled for the four of us instead. Of course, about a year later Kerry Livgren was taking his band " Kansas" to record after they signed with Don Kirshner and the rest is history as they say.
B5-"The Epic: The Mann/Death is A Dream": These are two songs with separate but related themes that we decided to put together on the Roulette album. The Mann (with two "n's") is simply about a guy who has everything, but kills himself at the end of the song (the gunshot and slowing of the record speed to a stop). Death is A Dream is just about what it is about….death. What we prefer to not talk about, so my thought here is what if death is like just being asleep and then you awake just like always. OK, another drug influenced song. I think after I thought of this lyric and wrote it down…I went to get the Cheetos! The little flamingo guitar riff at the start was done on the Fender acoustic. A little leftover I wanted to put in Gypsy but couldn't fit it in there.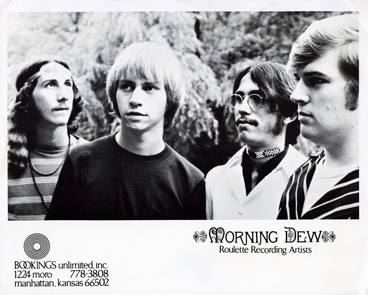 How about your second?
This represents a big change in our sound as we feature Ferdy Baumgart playing the Hammond. I'm now using a Gibson Les Paul with my Mosrite fuzz occasionally, but not as much. We had also added Dave Howell on keyboards and guitar. Eventually, Bill Stahlin from St.Joe, Missouri replaced Blair Honeyman on bass…Bill was a friend of Steve Walsh, lead singer for "Kansas". We were in a more experimental phase of our music.)
1-"Someday": An ecology message. Ferdy was a "power" player on the Hammond. And , it shows on several of these tunes. I do like the Les Paul fuzz lead at the end of the song.
2-"Flying Above Myself": I think this is my favorite song of the session. Great, high energy Hammond lead in the middle of the song with some great percussion back up by Don. It sounds like something Santana might do with his keyboard player…of course there is no guitar lead in this song. Now the lyrics in this song are totally about being stoned…pure and simple. However, we never performed under the influence. We could derive inspiration from being under the influence, but we always put the songs out sober.
3-"My Kind of Music": This is a break from the Hammond sound in the other songs. Ferdy plays guitar lead on a Gibson ES335. Country music has always been very popular in Kansas and this is a song written about those fans or audiences.
4-"Lion/Away From It All": This was to be our second "Epic" for the second album, again putting two songs together. "Lion" is the representation of the cruel world out there and "Away From It All" is about getting with the love of your life, forgetting your troubles, and getting away from all your troubles. The music centers around Ferdy's Hammond and my guitar parts playing off one another.
5-"1849": Again, nice break from the "front and center" Hammond sound. Dave Howell is on Hammond with Ferdy on one lead guitar and me on the other. We saw a documentary about the California gold rush in the late 1840's and that inspired the song.
6-"Satin's Gotta Hold On Thee": I like the body of the song and the lyric, but it just doesn't seem to reach its potential as a song. I think we may have taken off in too many different directions on this one. It is interesting though. It is about people in general not being satisfied, being hypocritical, and pretty much losing their way. Maybe this is why the music drifts in different directions.
7-"Money Honey Blues": This was actually recorded in our Fairyland Sessions as a filler song. We pretty much wrote and arranged it in the studio….it is the early Dew sound. Lou Rennau plays the piano on this. It so happened that Cicadelic/Collectables put this on the Second Album release as a filler to the other ones.
8-"Then Came the Light": This is the version done at Fairyland Recording Studio. Later, re-recorded on the Roulette album in New York.
9-"Something you Say": Again, this is the Fairyland Recording Studio version. Later, re-recorded on the Roulette album in New York.
10-"Our Last Song": Again, this was done at Fairyland Recording Studio only.
Some of the Fairyland recordings were put on the "Second 'Album" by Cicadelic/Collectables as filler to the songs we recorded at Audio House for Roulette to consider for a second album on their label.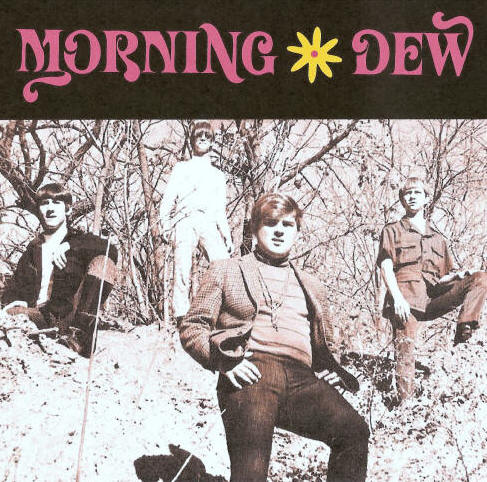 Was there a certain concept behind the album?
There really were no concepts to the albums per se. The Roulette album was titled "At Last" because it took them so long to release it. There were no singles released from the album ( we would have voted for Crusader's Smile if one had been done). Most of our radio play came on FM Rock Radio stations at the time, which were just really starting to take off. The so called second album really never came about but probably the underlying theme of the songs is how difficult it can be to live on this earth at times and how man has tended to "screw it up".
What else inspired you?
I had a poetry professor in college that inspired me to write. I always liked the large production movies like Exodus. No particular other books or movies come to mind. All the guys in the band grew up in a lower- middle class neighborhood and I think music inspired us to try to improve our life situations to some extent.
What happened next?
In the Spring of 1971 it became difficult to hold the band together. It was obvious the second album was not going to happen, hell they didn't even adequately promote the first album. A national tour never materialized and we were back playing the Midwest USA circuit…playing a lot of colleges and psych theme clubs. We had pretty much priced ourselves out of the regional market and couldn't make enough money to keep it going. We just got discouraged. We all had college degrees by this time and several of us were married and it just felt like we needed to move on to the "real world". Our last gig was in May, 1971 in Garden City, Kansas.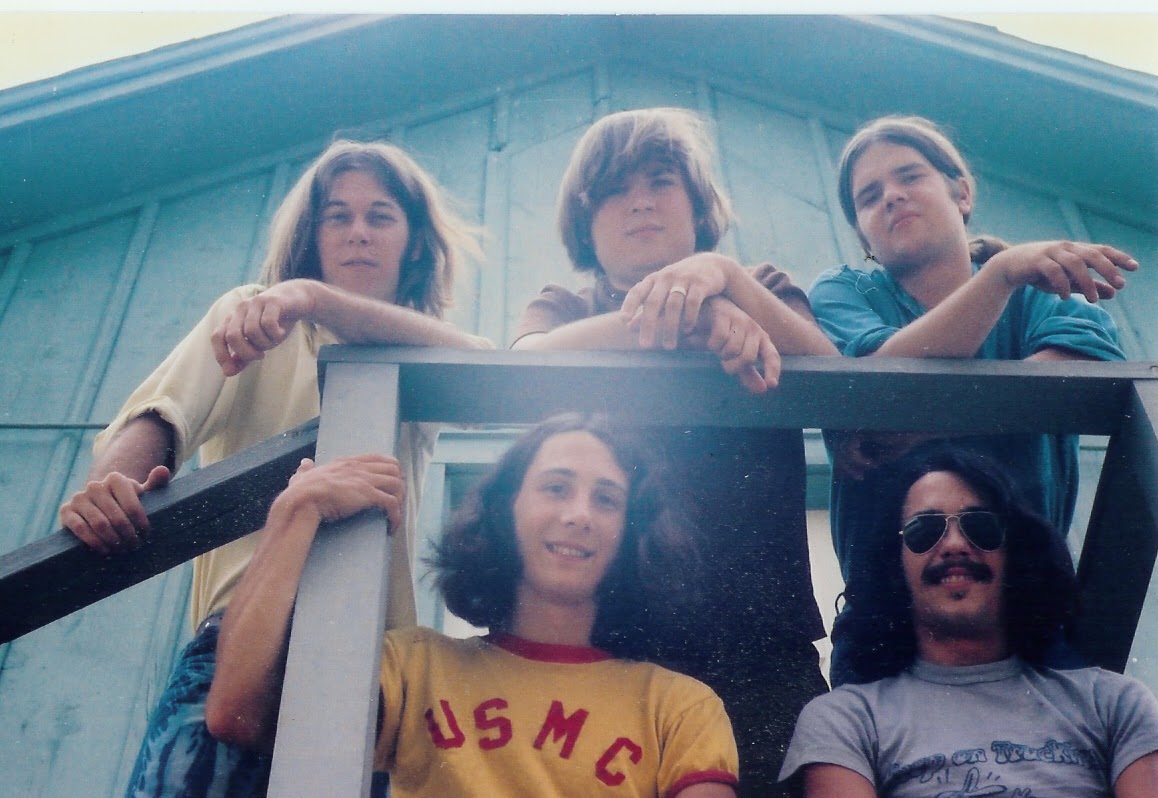 What currently occupies your life?
Mal Robinson: I went to work at an insurance company in Topeka and retired after 35 years of service. I continue to live in Topeka,Ks. but travel a lot with my wife. I have two daughters in S.California. I did not play professionally again until 1993. I joined a classic rock n roll cover band called "The Bop Daddies" and we're still playing today, performing music from 1955-1975 era. We play clubs and private parties.
Don Sligar (drummer): Don moved with his wife to the Northwest, living in Northern California, Eastern Washington and settling in Portland, Oregon. Taught school for a while, but then became an Education Specialist for the State of Oregon. He played in the early 70's in a band called "Cimmaron" but after that never really played professionally again. Don and his wife are now retired in Florida. His big love now is Zydeco music and has learned to play the Dobro and jams with some of the ol' farts down there.
Don Anderson (rhythm guitar): Married and went to work for the State of Kansas as an accountant and is retired living in Topeka, Ks. For several years he has played the upright bass in a popular local bluegrass band called "Past Tense". They have recorded a couple of CDs.
Don Shuford (bass/vocals): Got married and went to work for an energy company and is now retired after working there for over 30 years. He never played professionally again.
Blair Honeyman (bass/vocals) : Married with family and is getting close to retirement but has worked many years for a paint company on the retail side of the business. Blair never played professionally again. Back in the day, Blair was the bass player for the Burlington Express before he joined the Dew.
Ferdy Baumgart (organ/guitar): Ferdy moved away for awhile and played in several regional rock bands but eventually moved back to Topeka were he settled with his wife. Ferdy joined my cover band "The Bop Daddies" in the mid 90's and unfortunately passed away in 2006. He was still performing with me at that time.
Dave Howell (keyboards/guitar): Dave is married and lives in Virginia and is now retired after a successful career in Human Resource management with the Federal government. Dave never played professionally again.
Bill Stahlin (bass player in last version of the band): Bill lives in Portland, Oregon. Most of his career has been spent as a Quality Tester of bass guitars and amps for Fender Music Co.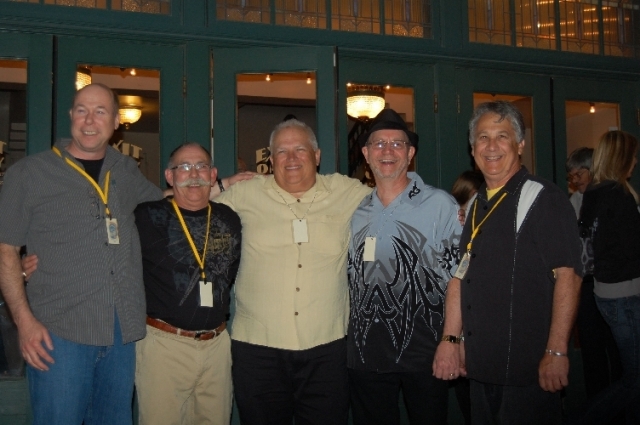 Thank you for taking your time. Last word is yours.
It is surreal to me that after so many years, music collectors from all over the world continue to express interest in the music and maturation of the Morning Dew from 1966-1971. The whole "Dew" experience culminated in March, 2010 when we were inducted to the Kansas Music Hall of Fame and I was able to reassemble Don Sligar, Don Anderson, Dave Howell, and Blair Honeyman and perform "No More", "Money Honey Blues", "Sportin' Life", "Country Boy Blue"," Young Man", and "Crusader's Smile" at the induction ceremonies to a crowd of about 700 at Liberty Hall in Lawrence, Ks. (40 years since we had last played together). You know, 40 years between gigs is a long time!
– Klemen Breznikar
Morning Dew Official Website
Cicadelic Records Official Website