The Monks Interview with Thomas Shaw
The Monks are a garage rock band formed by American GIs, based in Germany in the mid to late sixties.
---
"I Hate You"
The Monks are one of the most influential bands in rock history. I would like to ask you first about your childhood. What were some of your first influences?
Thomas (Eddie) Shaw: I was raised in a musical family. My great-uncles were well known gospel musicians in the 1930s and early 1940s (The Stamps Quartet). They wrote religious songs that are still played and sung in some churches today. Elvis Presley talked about them being a great influence on his music. My mother was a boogie-woogie styled piano player. When I was a boy the famous Bob Wills western swing band, The Texas Playboys, used to come to my house when they were finished playing at a club Bob Wills owned in Sacramento, California (Wills Point). One of them was my aunt's boyfriends. I began playing music (drums) when I was 10 years old. I knew then that I would be a musician.
You started in a band called The Torquays. Were you in any other bands before forming The Torquays?
My first professional job was at the Nugget Casino, playing trumpet in a dixieland band. I was 15 years old. Wayne Newton played in the same club, at the same time on a different stage. He was 12 years old. As a teenager, I played a lot of clubs and school dances, including university events, and made my first recording in 1955. It was Dixieland (New Orleans style) music. When I had to do my military service, I was assigned to stay in San Francisco to play trumpet in the 6th Army Band. It sounded boring, so I asked to go to Germany. Of course, the army was happy to give me another assignment. For awhile, I played drums with a couple of different jazz quartets in the officer's clubs. Later, I met the other future monks. Because they played rock and roll, I put away the drums and my trumpet to play the bass.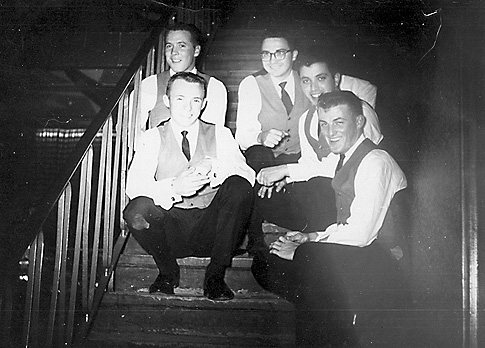 Any releases from then perhaps?
As I stated above, I did one record playing dixieland music when I was fifteen. I do have some of those soundtracks, I copied from someone else's record. Otherwise – nothing else.
How did you first come together to form The Torquays? Why the name, The Torquays?
Dave and Gary played their guitars at a GI bar in Gelnhausen. It was the normal easy three chord, Elvis/ Jerry Lewis rock and roll stuff. I saw them practicing one day and told them they needed a bass player. They agreed. The name of the group was the "Rhythm Rockers" named by Dave, I think. After awhile, because the song, "Torquay" was our theme song onstage, it was agreed to change the name to "The Torquays". These were normal names for those times.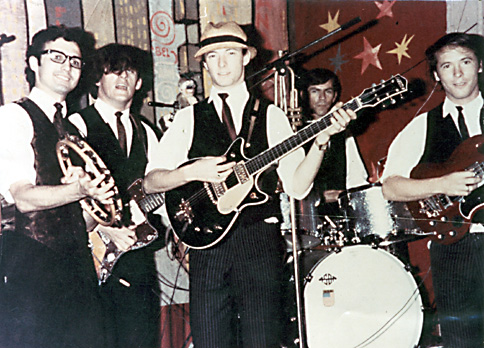 How do you remember the first session you had as The Torquays?
I bought a bass guitar from a music store in Gelnhausen, Germany and began to practice with Dave, Gary, Larry, and Hans (a German drummer). My first gigs with them were for an American/German cultural program, known as "Operation Jingle Bells" where the army kaserne commander had us play for German events, promoting good will between the Americans and Germans. I don't remember who the drummer was for that. After that, we began to play every Saturday night at a GI hangout in Gelnhausen, known as the "Maxim Bar". We called it the Saturday night fights because after the GIs would drink too much, there would be fights over the few girls who came there. Larry always brought his gas mask because the military police would come in and throw tear gas grenades to break up the fights. It was quite an experience.
You released many 45's as The Torquays. Can you tell me a few words about recording and making them? I am also interested on what label were they released, mostly on Bellman Records, or?
We were asked to stay in Germany by Han Reich an agent in Frankfurt. We played a different club every month – seven days a week. In Heidelberg, where the H&M Store is on the Hauptstrasse, we played in what was then known as the "Odeon Keller." There we put out money together, found a local person with a small recording studio, where we made the only Torquays record, that we sold from the stage. It was our recording and label and still is, since we all shared the costs. Dave and Gary wrote the songs, "Boy's are Boys" and "There She Walks". We tried to get a recording company interested in them, but had no success. Today they illustrate the change of style that we underwent. As we experimented and began to find a new sound, "Boys Are Boys" became a totally different song, but it was a place to start from. The Torquays made only this one recording – our own recording.
When happened the transformation to The Monks and why?
As a group, the most important factor we had, among us, was our differences in experience, musical education, and tastes in music. In that first year and one half playing clubs, we had only three nights off and this offered a lot of experience. When we got bored, we began to experiment with feedback, because we were playing so loud. In Stuttgart, two men, Walther Niemann and Karl Remy came into the club, one night, and heard us creating havoc with the feedback. We were playing pranks. They saw something in us and asked if they could become our managers. With them, helping us, we intentionally began to experiment and look for a new sound.
To create a song that has no prior existence or form, each person had to change old habits. Burger had to resist his inclinations to play country style. Dave, the Elvis imitator, was encouraged to forget Elvis. Larry had to quit playing soft music, like "Green Onions." Johnston had to resist the urge to play swing songs, and I could not play jazz riffs. We had to find a common ground in order to create something new.
To develop something new we developed a process known as deconstructing and reconstructing, laying down bass and drum patterns to be added to, by the other instruments. We made best use of each individual's tendencies and abilities. In fact we made it very minimalist – single loud/distorted bass notes on the beat – drums with no cymbals except for accents – banjo rock and roll chords because it was a hard trashy sound – guitar, using the feedback – and organ playing beats and wild solos. All instruments were played as rhythm instruments.
We worked day and night – every day and every night. In time you get a feel for the room, just as if you are driving on snow and knowing how fast you can go without losing control. You test the limits of the audience's comfort zone. If people in the crowd are conversing with each other as you play, you know the action or music onstage is not keeping their interest. You have to make them stop talking, while not absolutely trying to make them be your friends. If everyone loves you, you're a failure. When you get to the point of where they might like you, but there is resistance, then you know you're close to succeeding. There is an art to creating tension. We were learning it as we played night after night. For me, this was the best part of the job – the part that satisfied the experimental instincts of a jazz musician. The music became interesting and felt like something new. No one else was doing it.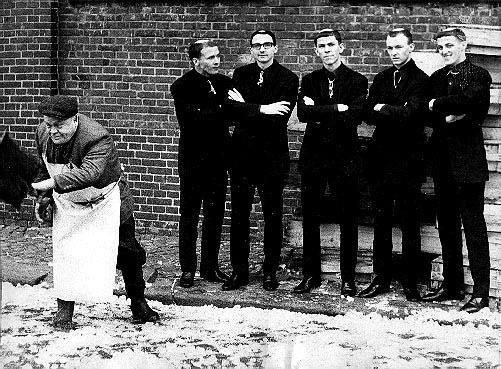 You were so different at that time, how did people look at you?
The day we cut our hair – we walked into the barber shop as a normal bunch of guys. When we walked out of the salon, we suddenly knew that we were not the same people anymore. People stared at us, thinking we were monks, but then we talked and acted so rough. Young people would not look us in the eye. They would look away when we talked to them. Old women loved us, until they realized that – wait a minute, these guys are not nice monks!" Some people hated us.
Would you like to share some interesting stories that happened during some concerts?
During concerts people would stand in front of the stage and look down, afraid to look at us. In one concert a man became bezerk and attacked the stage. Yelling "I hate you" and Gary was singing, "I hate you but call me." They kept the auditorium lights on, so the event would not get dangerous.
Let's go to the period when you were recording your legendary Black Monk Time. This was one of the most iconoclastic, innovative and transgressive albums from the sixties.
As I mentioned, we would take a normal progression, deconstruct it and then reconstruct it, to make it different – just like an artist deconstructs and reconstructs to paint a canvas. After we finished playing four hours at the club known as "Storyville", we went to the recording studio in Köln. We would go to bed at about seven in the morning, sleep all day, then begin playing at nine at night, finishing there, and going to the studio again. It took three sessions, to complete it.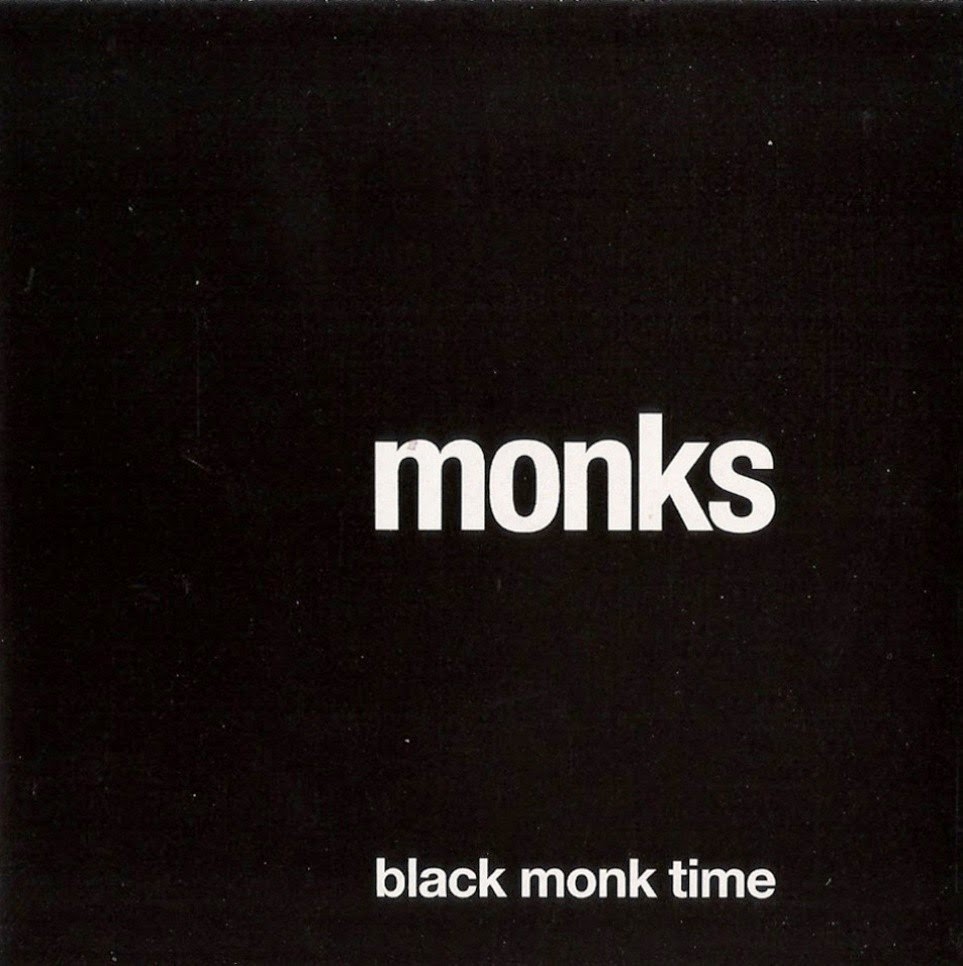 This was the second time we had recorded some of these songs. Our first recording of this music was a demo that was recorded outside Stuttgart a couple of months before, but Polydor Records wanted us to make them less radical, which we did – and still they were radical. That first session, is known as our "demo tapes". We own that music, (our own "Monktime Publishing" and our own label "Retribution Records") and have licensed it to a couple of different small labels.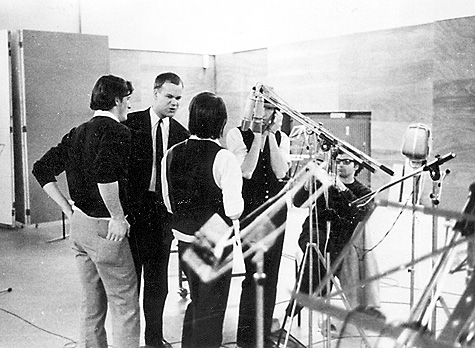 Would you share your insight on the albums' tracks?
"Monk Time"
We argued about this song. When it comes to politics, I am not always comfortable being a musician, who sings about politics. I don't like politics. For me, it's usually "if you're a singer, shut up and sing!" As everything was a collaborative effort and we discussed what the lyrics should be – When Gary sang, "Why do you kill all those kids in Vietnam?" As an ex-soldier,I felt like I was betraying my comrades, until we found the words to add, "Mad Vietcong!" Then I agreed I would do it.
"Shut Up"
"World is so worried – be a liar everywhere – shut up! Don't cry!" It's my favorite – so true then, and still true now. Damned politicians! Yeah, be a liar everywhere. Shut up! Don't cry!
"Boys Are Boys and Girls Are Choice"
This was originally a weak song, but with the deconstruction, taking most of it out, we did manage to save it. It's the only monks song, I sing the lead on. Wait a minute. I also did the count down on "Blast Off."
"Higgle-Dy-Piggle-Dy"
Originally means "arses and elbows on the way down to hell". Being sarcastic it became on the "way down to heaven". I liked it too, because it was funky. You could put horn parts on this, like a Motown sound, and it would make sense.
"I Hate You"
This is really our theme song, I believe. It's my other favorite. It's a modern love story – still as valid today as it was then. How many people say this, one way or another?
"Oh, How to Do Now"
This rhythm is more funky. I re-recorded this song a couple of years ago, using trumpets and brass – doing an experimental mix, just to see what it would sound like. It was naturally funky and the horn parts sounded like they had always been there.
"Complication"
Every person in the monks will give you a different answer to these questions, based upon each individual's own perception of what he saw and experienced. "Complication" was us. And it's still us – and it's still those people who stand by, while others fight wars. Changing a couple of words, this song could have been called "Money" or "Verstoppung!" Yeah, we're still verstopft.
"We Do Wie Du"
It's word play between German and English. "We do as you . . . we, you. We, you! Our German managers were happy with this one. For sure, one of them gave us the idea.
"Drunken Maria"
This song illustrates the nasty monks – not the nice monks. There were a couple of times that a nice old lady might see a drunken monk staggering back to his room, after a gig in Hamburg.
"Love Came Tumblin' Down"
For me, this was a filler song – not that interesting – to me.
"Blast Off!"
A sax player, I worked with many years, and I recorded this song, in the 1980s, using electronic instruments – and while it was the same song, it was more of a description of the Apollo moon landing. I had fun doing the count down and just recently, I heard someone on the radio, do this count down, the same way.
"That's My Girl"
Part Rap – part "Whoa dude! You don't even recognize your own girlfriend whenever you see her? Of course we laughed a lot when we did this. A lot of our stuff is actually making fun of something. Monks are not always stern, stiff people. "Cuckoo" is an example of being stupid. "Who's got the cuckoo. It's you!"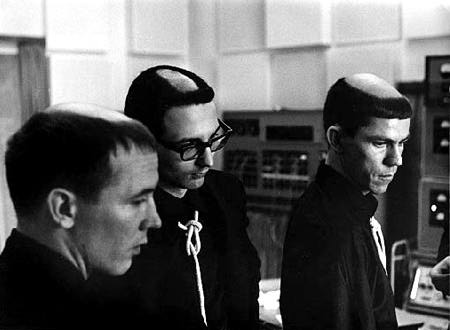 The album was released on Polydor Records in 1966. Do you perhaps know how many copies were made and how did it sell?
I didn't pay much attention. I have heard the number, which was not all that impressive. What I have noticed, lately, is that people like it better now, than they did then. More copies are being sold today than back then.
How did you decide for the cover artwork?
We had four managers who specialized in different subjects. Remy was the one who did the marketing, writing the copy and telling us that "in order for others to know who you are, you must know, first, who you are." This was what some people call his "list". He also took many of our photos. Every group had or still has one of these people. Walther Niemann was the overall, overseer. He was the brains who found balance in what we did. Gunther Aülich did the graphic work and his wife Kiki did the legal work. We didn't have anything to do with the graphics. We did the music.
What did you do after the release?
I wrote about it in my book, "Black Monk Time". After being on the road as monks, and under pressure to soften up the music – trying to beatle-ize the "anti-beatles" – we finally wore out – feeling like it was a failure. For years I would not talk about it, until I wrote the book and then all kinds of people came forward to talk about it.
What happened next for you?
I felt alienated, like a painted bird in my own country, because I was not longer the same person. I found myself having trouble understanding the country I had left and returned to. It had changed a lot. I went to school for awhile, and quit right before I graduated. Then I went back to music, playing trumpet in a group known as "Copperhead" – then "Minnesoda" on Capitol Records. I toured and recorded music in Minneapolis, Chicago, Boston, and Nashville – all too "experimental" – and still not as radical as the monks. It played funk/jazz and had many more invitations to bigger things, which I managed to not do. Too many years on the road! During this time I lived in Minneapolis and worked the local music scene too. For awhile I was too strange for my old hometown. I played music for about twenty years – on the road and recording.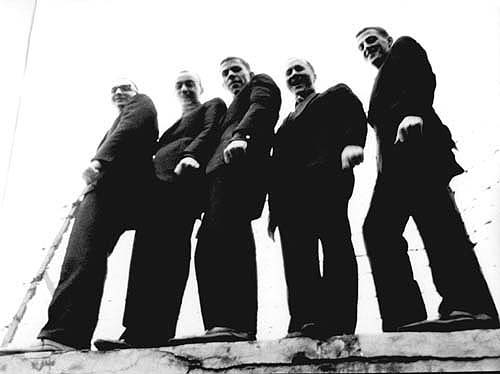 Well in 1999 you had a reunion and you also released some great demos in an album called Five Upstart Americans…
That was the demo I talked about that we recorded in Ludwigsberg, when we worked in Stuttgart. We sell these songs and get paid for it, because it is our recording. It's on the soundtrack of a movie called, "And Some Call It Art". Black Monk Time is on the soundtrack of the movie "Big Lebowski".
What are you doing these days?
I have three published books out – "A Cowboy Like Me" 1992, book of short stories – "Black Monk Time" 1993 – a memoir about the monks – "Beltrami's River" 1995 a historical novel – and now I'm finishing my fourth book "Passing Through Minnesoda and Other Altered States" hopefully published this year – about a trumpet player who thinks he's a pigeon. It does have a couple of chapters in it about the monks.
And I'm finishing up a bunch of recordings – some jazz – some dada rock – some monk influenced minimalism – some funk – and some "pissed off pop songs". We talking about distribution of this, now. Some of this music will go with the new book.
What are some of your future plans?
I was told that the world was ending on May 21st. Therefore I'm still looking around to figure out if I'm here or not – The world is pumping gas and passing methane, and I take my showers in the acid rain. My head is glowing as bright as plutonium while the future weighs heavy on my brain – if the world has not ended, then I want to get everything done before I find myself looking around and seeing nothing.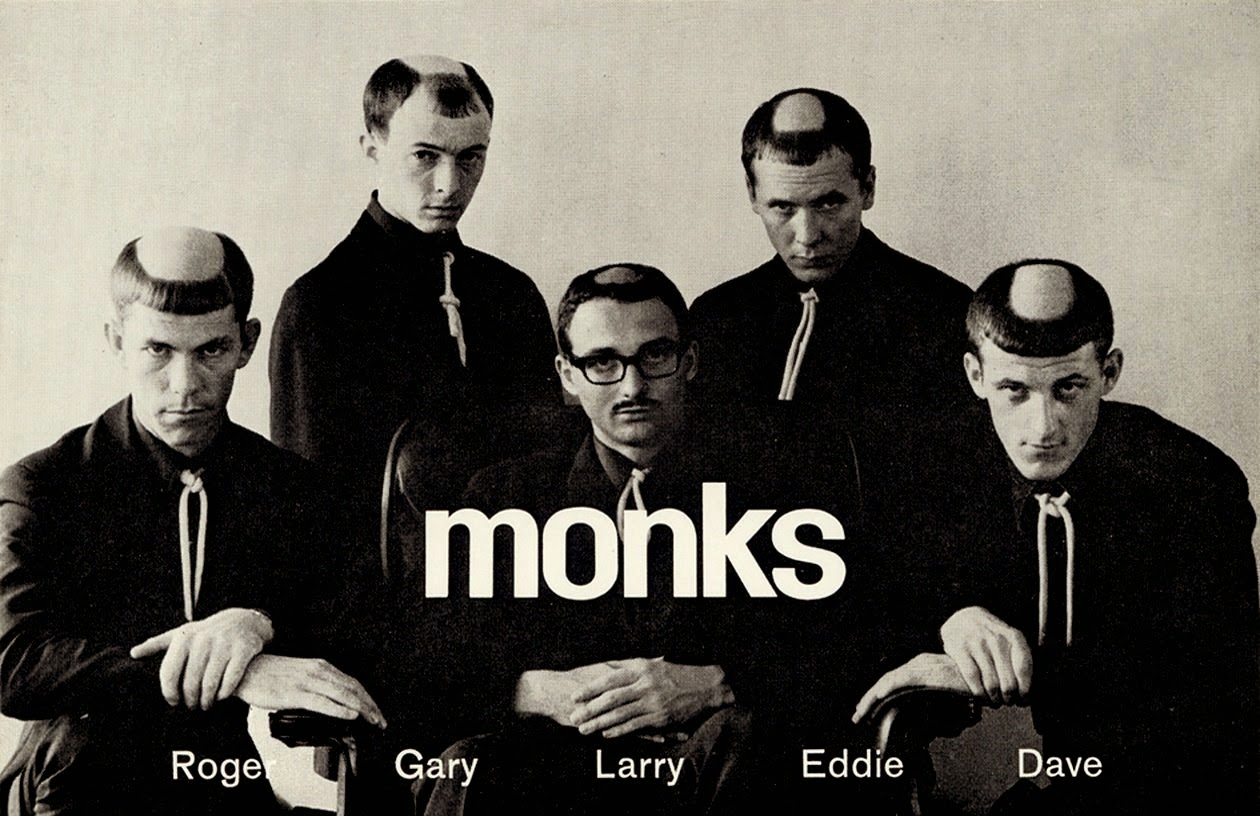 Thank you so much for answering questions for my Magazine. I really appreciate it a lot. Would you like to add something else?
It really is true that "we're all monks". Everyone has desires and ideas. Everyone wants to give something and take something. Personally, I'm very lucky. I got to live the life of the alienated hero – the punk-rock bass guitar player, the Miles Davis influenced jazz trumpeter, and the soaring rock and roll pigeon; flying from one statue to the next, taking a dump on the head of each dead hero.
I'm still in the great thought and I'm still flying.
– Klemen Breznikar
---