Astro Al Interview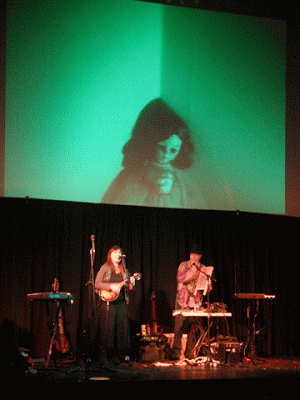 When and where was Astro Al born?
Deb: You are very welcome, it is a pleasure. Thank you so much for helping us with publicity. Hmmm, the birth of Astro Al, I would say Astro Al is the illegitimate love child of an asteroid called Guido and a starship called Chaos. No, actually it evolved from our earlier incarnation of Paul Angelosanto and the Melting Poetry Collective. Paul had created this character he wrote stories about called Astro Al and that name just stuck. Most people think Astro Al is just Paul. So not sure it was a wise move.
Paul: Thanks for talking to us. The government doesn't allow many people to talk to us so I'm glad you got a permit. You did get a permit and you have all your shots right? Well Astro Al was born in the bottom of a bottle of beer in a cheap bar on Mars in the future past that existed sometime between 1960 and 3112.
Tell us about the begging of the band?
Deb: Paul would usually ask one of his musician friends to accompany him with his poetry readings. So one night one of the guys had to back out last minute. I thought I could give him a little accompaniment, since I play guitar. So that is how we started, mainly with poetry readings and it evolved from there.
Paul: We began as an experiment that escaped from a lab. They laughed at the mad scientist who created us but who's laughing now?
Why the name Astro Al?
Deb: Paul can answer that better, as I said earlier it was based on a character he created.
Paul: A guy we used to know Taz actually kind of named us. Taz passed on a few years back. Taz, this is for you dude.
What are some of your influences?
Deb: B-Horror movies and satire. Got to love comedy and music, like the Bonzo Dog Doo Dah Band, The Rutles and 60's Psychedelic, Steve Martin, so many influences. I have background in theatre and one of the things I used to do a lot before Astro Al was presenting "Hamlet" or Romeo and Juliet" as interactive skits and/or songs. Paul and I met acting in murder mysteries so we were both very used to be very silly.
Paul: William Shatner, Ed Wood movies, Hawkwind, Syd Barrett era Pink Floyd, Monty Python, Robyn Hitchcock, and 50/60's sci-fi movie soundtracks are all big influences on what we do.
Were you in other bands before forming Astro Al?
Deb: I sang lead in college in a rock band called "Legacy," them I spent many years just doing theatre. Currently, I am also in a theatrical folk band called Katfish 4.
Paul: I was in a really stupid band called Generator that never played out. We used to just make horrible jams and record them. In some ways things haven't changed….
You must be a Zappa fan. 
Deb: Paul you are the one who mixes the mojo. You can explain that better.
Paul: Zappa is way cool. Love his Live in NY CD.
4:20 is our first Astro Al cd. It was recorded very privately running through a mixing board straight into a pc and mixing there. That cd was mostly spoken word but has a lot of people's favorite on it, I Wish I Had a Goat.

4:21 is a cd of outtakes and alternate takes from all the sessions we did for 4:20. We recorded a lot of stuff at that time.

Exploding Plastic Inedible is a cd made of live tracks from a show we did and that was really well recorded by our friend Al Finn on a great digital system he has. There are also studio tracks on this cd. The studio tracks are all very political. We were very frustrated with politics at the time. Now we're just used to the stupidity.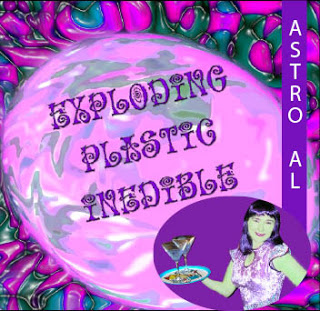 Pet Noizes was a split cd we did with the Indiana band Harts Horn. Harts Horn rocks! The tracks we did are very B movie influenced on this one. A standout for me is Dollhouse of the Damned.

Psychedelic Drive In Music came next. This is our first and so far only concept album. All the tracks tell the story of a haunted drive in movie theater or maybe the drive in theater isn't even real…

Naughty Kitty is our ode to the 60's. We recorded this one digitally and it came out sounding pretty good. Liquidating Lemonade Stand was a blast to record. We did most of it live.

The Neighbor's Giraffe is our best produced cd I think. We recorded it all digitally and mixed it on a Mac. I'm well pleased with it. It's mostly songs and I was pleased that we did a cd like that as opposed to spoken word stuff.

Random Assorted Strangeness is our new cd. It's made up of live songs from our show at the Landing Pad Festival in Philadelphia and unreleased studio tracks.

Would you mind telling us about the songs?
Deb: I get a lot of inspiration from dreams believe it or not. Rodney, the Rodent Roadster" was a dream. Also different experiences. I lost my hearing at one point, the song " Where do the Shadows Go when they don't belong?" comes from that. I noticed all my other senses got so much stronger. I'm pretty sure "You're Dead so Shut Up" comes from a B-Movie but Paul can answer that better. The music aspect of it was inspired by early Pink Floyd.
Paul: The idea behind the words came from my love of horror punk bands like the Misfits. I wanted to write some fun ghoulish words so I did. Thanks! Glad you like it. The music was definitely inspired by old Pink Floyd.
Any upcoming gigs?
Deb. We would like to go on a tour, just have had a few out of state gigs which were a lot of fun. We would love to tour Europe some day.
Paul: We play gigs here and there but have never toured. Would love to do so. If any promoters want to book us please do so! Yes we would love to play in Europe! At a show we did in Alabama we got to hang out with Nik Turner from Hawkwind. He is a real nice guy and it was fun to do a cover of Quark, Strangeness & Charm in front of him even though we screwed up the beginning. Also we did a fun show at a haunted attraction where everyone was dancing and singing along to You're Dead, So Shut Up. It was fun!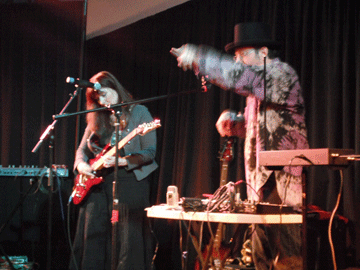 What are some future plans for you?
Deb: We are currently working three CDs. I will let Paul tell you about those.
Paul: We're working on a Christmas cd, a horror style cd, and a 70's themed cd. We're talking to a director who might help us make some more videos.
What is your opinion about psychedelic scene these days?
Deb: It's great! There's so much out there. Very talented folks.
Paul: It seems to be making a nice come back. The Flaming Lips are doing quite well and Steven Wilson makes a lot of psychedelic styled stuff and he's doing good as well. I hope we can catch some of their karma success.
Thank you very much for your time and effort. Do you have anything else to say about the band or yourself, that I didn't ask?
Deb: Have you seen any strange Martians lately?
Paul: If anyone wants to book us to play shows in Europe please let us know! Thanks so much!
– Klemen Breznikar