The Fraternity of Man interview with Lawrence 'Stash' Wagner
The Fraternity of Man was an American psychedelic blues rock group from the sixties, most famous for their 1968 song 'Don't Bogart Me', featured in the legendary 'Easy Rider'.
---
"Hey man, don't bogart that thing."
Was music a big part of your family life?
Lawrence 'Stash' Wagner: I would like to thank you for your gracious compliments. As for my influences, my biggest influence was my uncle, the French legend, Eddie Constantine. Knowing that somebody in my family could make it in 'show business' inspired me to study a variety of different styles of music. I had a love for music for as long as I can remember. Elvis Presley was my first major influence, then the California surf bands and then of course, The Beatles had a huge impact upon me. I started playing drums when I was 8 years old and switched to guitar at around 14, because I wanted to start writing music and it is much easier to write songs on a guitar than it is on the drums.
"Elliot Ingber was a true guitar god"
What bands were you a member of prior to the formation of The Fraternity of Man?
Let me start by saying that I met Elliot Ingber when I was 17. He was a true guitar god and I would do anything to sit at the feet of that master. Before than, I was in quite a few bands, but besides winning local L.A. battle of the bands, we weren't anything that I would classify as professional.
Can you elaborate the formation of The Fraternity of Man?
I was in San Francisco, playing on the streets of the Haight-Ashbury district, when I saw a group of freaks walking on the street towards me. In the midst of the freaks was Mark Rugio. He was the drummer in a band we had in high school. After our embrace, he introduced me to Vito and Carl and some of the other freaks. He then told me that the guitarist in his new band had just left Mothers of Invention and was the greatest guitarist in the world. He then invited me to see them play. At the gig, I was blown away and stuck around helping them pack up their equipment. When they asked me if I would be interested in being their roady, I quickly accepted the offer to be able to sit at the feet of a real guitar god. Elliot and I hit it off immediately because we shared the same sick sense of humor. We began writing songs together and since the band didn't have a singer, I would come on stage during the gigs and sing with the band. This was the first generation of the Fraternity of Man.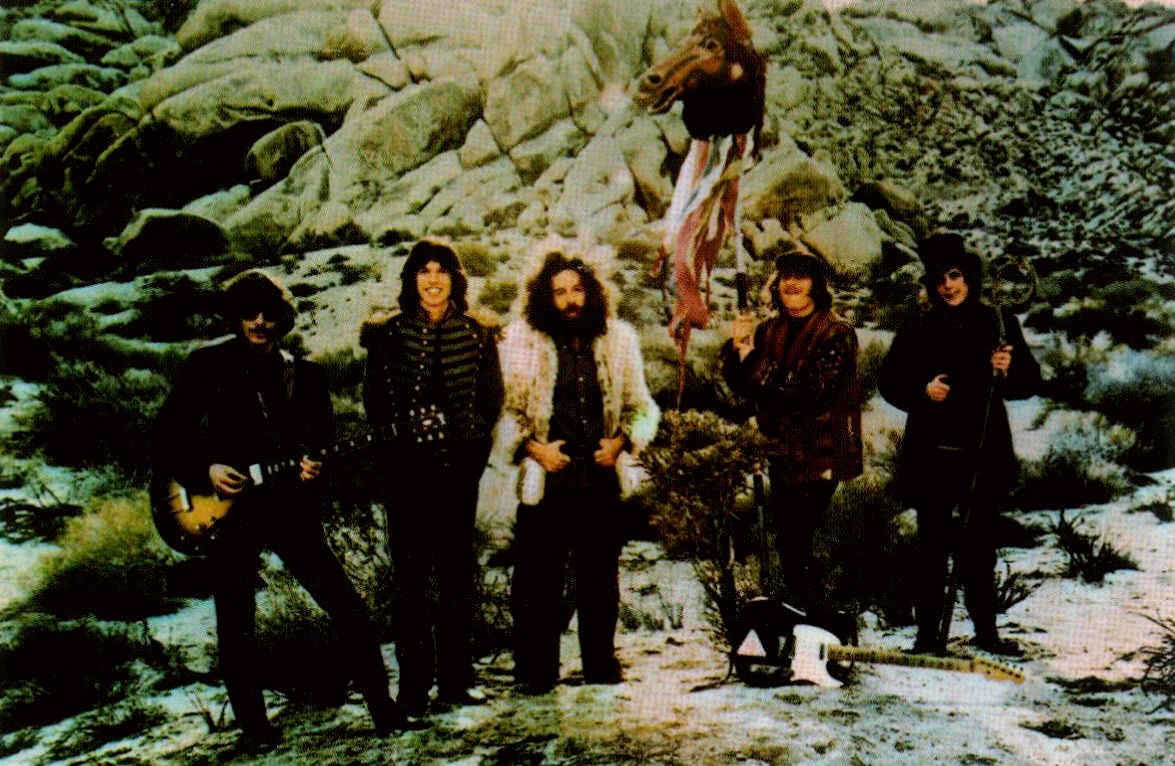 When Lowell George was asked to join the Ventures, Elliot wanted to pick up The Factory's rhythm section. So Ritchie, Warren and Martin joined the Fraternity of Man. They wanted Rick Lancelot to sing in the band with them, but after he auditioned, Elliot decided to keep me on vocals. Rick was a great singer and very professional, but Elliot didn't want to lose the chemistry he and I had. Thus was the beginning of Fraternity of Man.
What happened next?
Elliot learned his leadership techniques from Frank Zappa, which is to say, he was a heavy taskmaster. We would practice a riff over and over until we had it down perfectly. Elliot forced me to learn things on the guitar and harmonica that I never thought that I could do. At the time, I would hate Elliot. Telling him that I can't do what he wanted, but he would insist until I did learn everything he forced me to learn. Outside of our rehearsals, Elliot would sit me down with Muddy Waters, Howlin' Wolf and other Chicago Blues greats records and teach me how to get 'inside' the music. He wouldn't let me just copy the riffs, he wanted me to own every note I would play. Today, I love Elliot for forcing me to become a musician.
What's the story behind your debut album?
My strongest memories are of the parade of the rock stars that would pop their heads into the studio to see what Elliot Ingber was up to. I didn't feel like I deserved to be on the same planet with them, but they all were very gracious and complimentary of what we were doing. I was so privileged to get to know these demi-gods and even more privileged to have the opportunity to jam with and later become friends with people like Jimi Hendrix, Janis Joplin, Frank Zappa, Jim Morrison, The Byrds, Canned Heat, etc.
"After 'Bogart' started getting radio play, Peter Fonda called us up and asked if he could put the song in this little movie he was doing."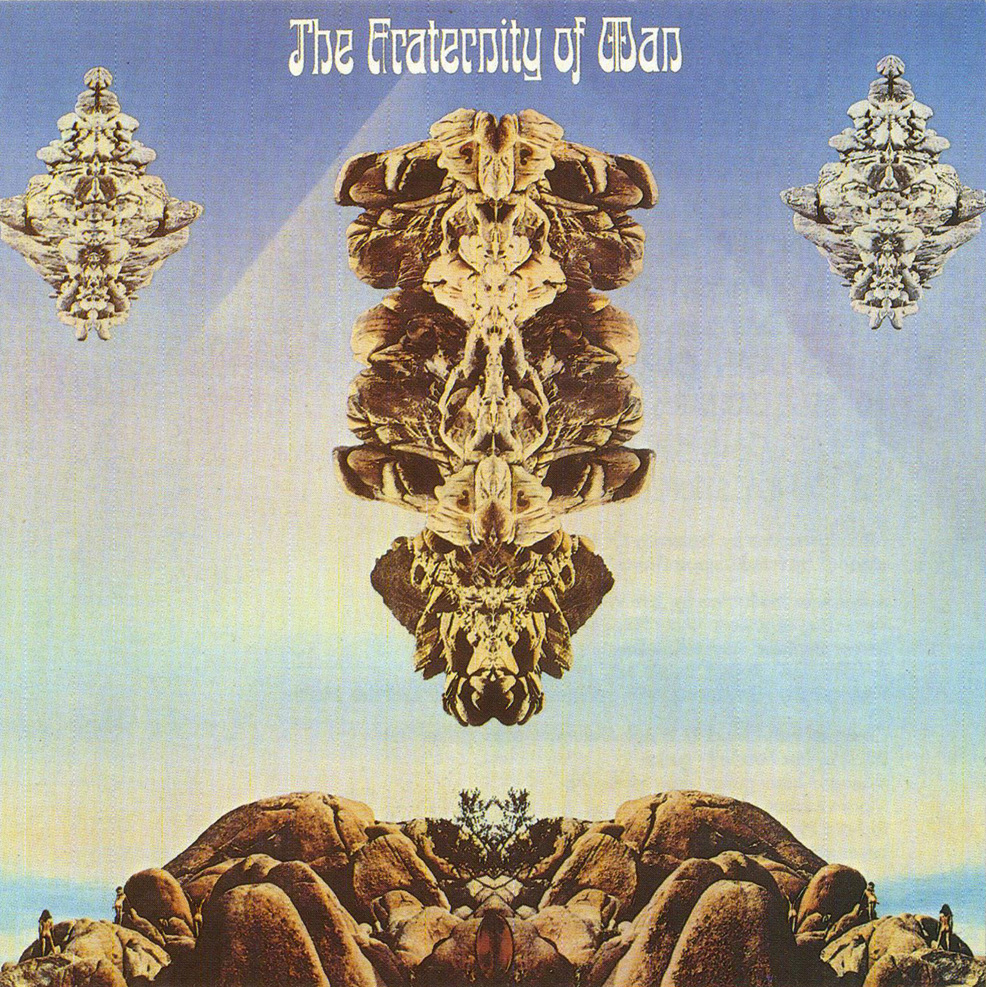 After the LP was released you also recorded a single 'Don't Bogart Me' / 'Wispy Paisley Skies' on ABC label.
I need to straighten out some history here. We recorded The Fraternity of Man album, and I actually got down on my knees and begged the label to put 'Don't Bogart that Joint' on the single. We compromised by changing the name to 'Don't Bogart Me' (so it didn't sound like a drug song) and they put it on the 'B' side of the single. After 'Bogart' started getting radio play, Peter Fonda called us up and asked if he could put the song in this little movie he was doing. Easy Rider became a huge hit and 'Bogart' became a classic because of its exposure in the film.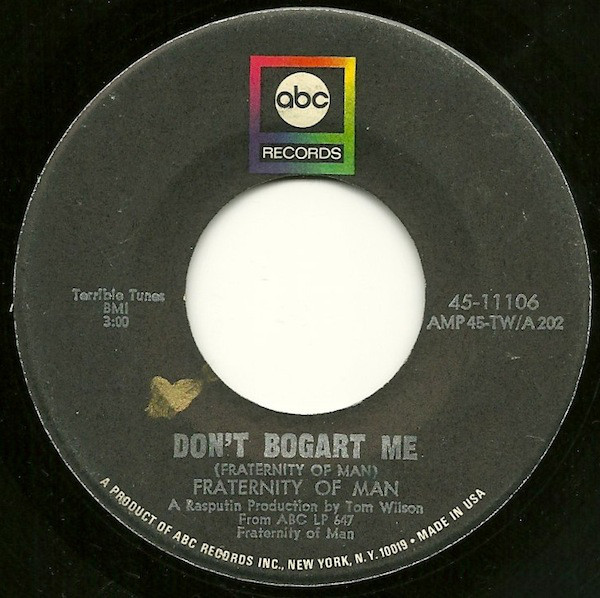 What were the influences and inspirations for the songs recorded?
Elliot and the music that he exposed me to were my biggest influences. Elliot was an incredible blues player, but he had a great appreciation for almost all kinds of music. He showed me how ALL kinds of music can get 'there' and you can find soul in all kinds of music. With us, the thread that tied it all together was the tongue in cheek fashion in which we would perform the songs.
"We were fed LSD and watched the rocks melt into various forms."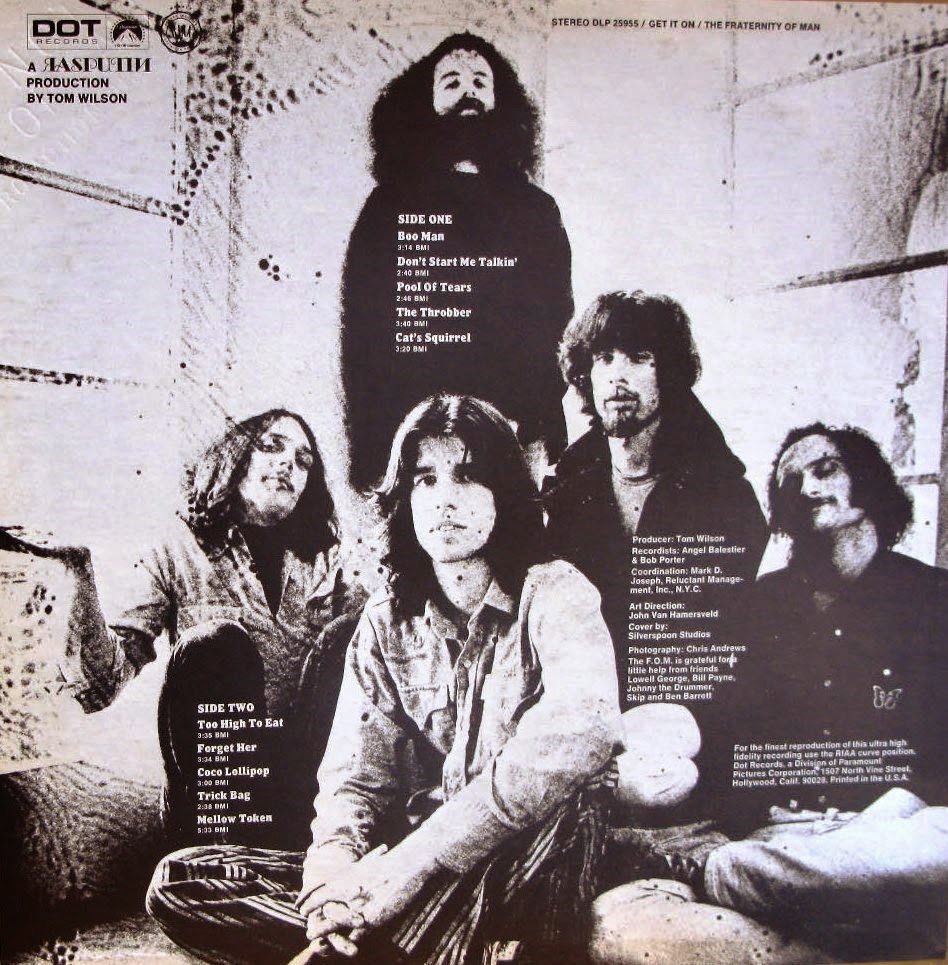 How about the cover artwork for the LP?
A very talented photographer by the name of Ray Leong took us out to 21 Palms, deep in the California desert. There we were fed LSD and watched the rocks melt into various forms. The album cover was simply the rocks in the desert melting into a giant phallic symbol.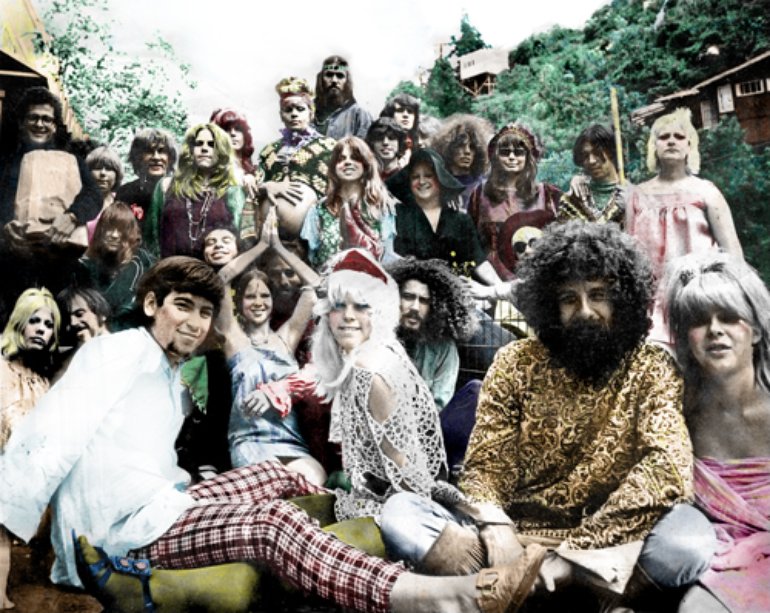 How did the album sell?
Our fist album was released at least 4 different times in the USA that I can remember. Every time the record company would think that the album was dead, 'Bogart' would become a hit again in another region and so they would have to go back into pressing. Although it only made it to 86 on the charts, it had a very very long life.
Rumor has it that Frank Zappa played on the LP? How about Lowell George connection?
Let me remind you that Elliot Ingber was the lead guitarist on Franks 'Mothers of Invention' album. Frank learned his licks from Elliot, not the other way around. As for the Lowell George influence, that didn't come until the second album.
Did the band tour to support the LP?
When a band is on tour, it is hard to remember what city you are in. We would fly into town, go for a sound check, then to the hotel, then back to the stadium, then back to the hotel. After I retired from performing, I decided to travel the world to see all that I had missed during those years of touring.
Did you ever appear on TV?
We had appeared on TV a few times, but I can't for the life of me remember the shows we were on and when I googled Fraternity of Man, I didn't come up with any of the shows we did. I do remember that Elliot refused to perform on any show where we could not play live.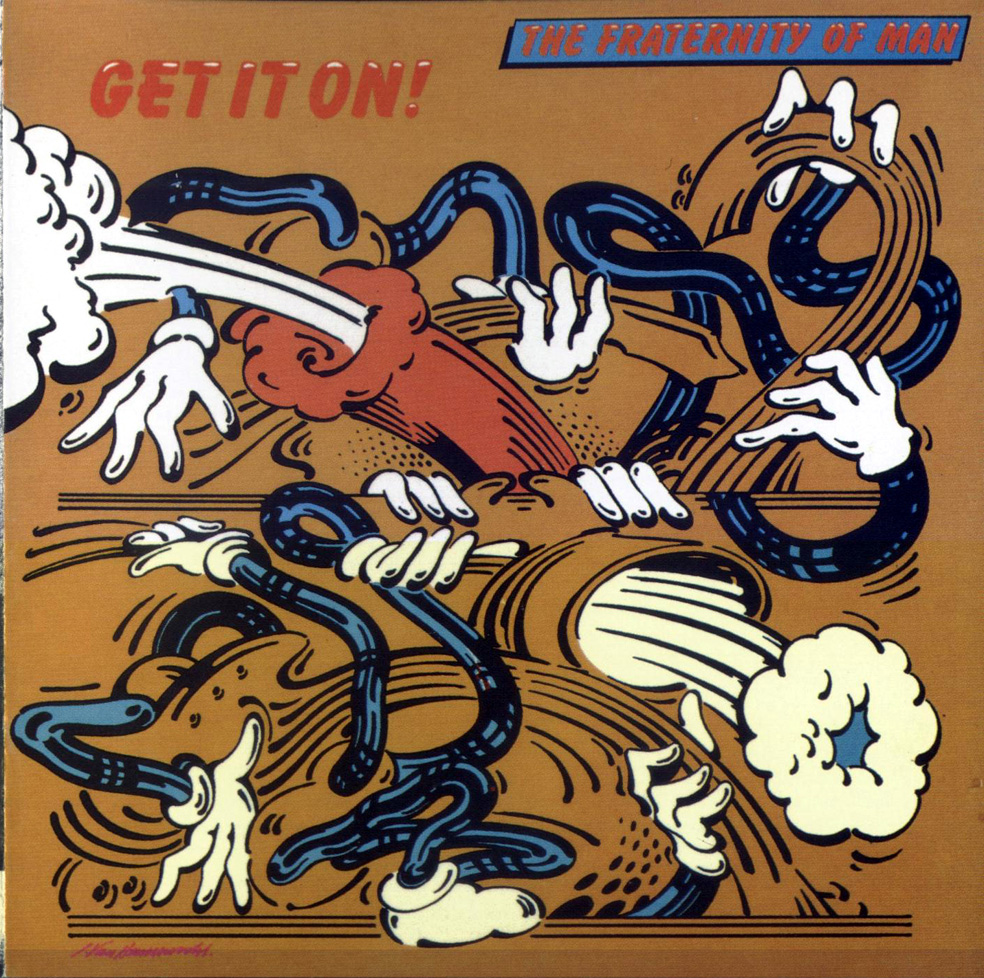 Dot label released your second album.
I recently had a long conversation with Elliot and that subject came up. I was reminded that most of the Ingber/Wagner song were written before the Factory rhythm section joined up with us. Ritchie, Warren and Martin wanted us to be taken seriously as musicians. Elliot and I simply wanted to entertain. Elliot left the group in the middle of recording that album and Lowell George came in with Billy Payne and finished off the record. After the record was completed, I too quit the band and Lowell took over on vocals. This was the birth of Little Feat.
What was the songwriting process with The Fraternity of Man like?
The band was smoking some pot in our rehearsal house up in Laurel Canyon, when Elliot turned to me and said, "Hey man, don't bogart that thing." Elliot was always coming up with hypsterisms from the 1950's and I loved adopting them. I asked him, what does 'bogart' mean? He said, "You know, like Humphrey Bogart always had a cigarette in his hand or hanging from his lips when talking. Well, you were hanging onto that joint while your lips were flapping." I said, "Cool, we should write a song using Bogart." Elliot replied, "Well, make it a country song." "Why country?" I asked. "Because they'll never see it coming." And with that, Elliot picked up a guitar and started playing some country chords and I started singing. Three minutes later, we had completed writing the song, 'Don't Bogart Me.' 'Oh No I Don't Believe It', was another interesting story. Frank Zappa was quite proud of his guitar work on a cut he was working on and gave Elliot a tape. After Frank left, Elliot complained that it was too placid and he took the tape and turned it over. Elliot told Warren to work out the backwards guitar part, note for note and the result was "Oh No I Don't Believe It".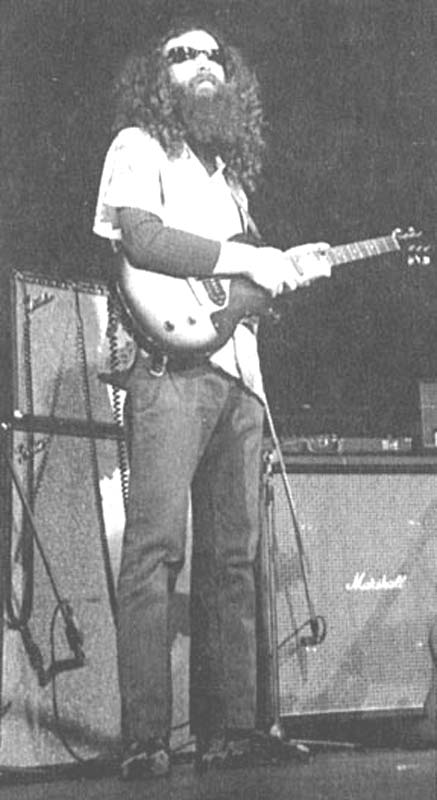 What does the name "The Fraternity of Man" refer to in the context of the band name?
A local L.A. artist, Vito was the leader of a group of freaks who had danced with Frank Zappa's Mothers and then became a fixture for Fraternity of Man. He had a sculpture of 4 hands, (white, black, yellow and red) all united by holding the wrist of the next. The sculpture was a great political statement and since we were a politically active band, the name seemed to fit.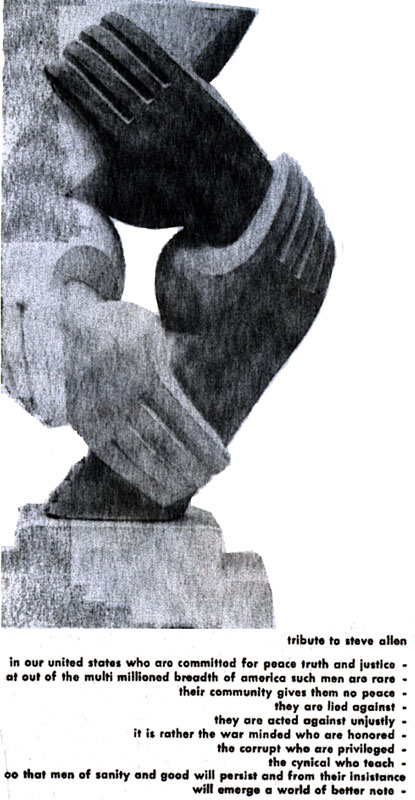 What happened next?
The band developed creative differences and Elliot was the first to leave. I followed him shortly after and with Lowell back and Billy on keyboards, the band just seemed to evolve into Little Feat. In some ways, that was a blessing in disguise. Little Feat was a great band. I continued studio work and writing with artists like Chicago, until I was asked to star in a couple of TV movies; 'Rock-A-Die Baby' and 'Song of the Succubus'. I also took other acting parts until I realized that it was interfering with my first love 'music'. So I went back to studio work and writing and also began coaching new artists to help them grow into their personal greatness. Old rockers don't die, they move to Nashville! So I packed up and moved to Nashville, Tennessee. I really didn't care for the Nashville scene, so I decided to pack up and start traveling the world. I had an extended vacation in Europe, then headed to Asia. That is when I fell in love with the Philippines. It's been years and I haven't found a reason to leave here.
Are you still in touch with other members?
Through the years, I kept in touch with Elliot and Ritchie. I am still in contact with the family Ritchie left behind and Elliot and I talk on the phone all the time. Unfortunately, Elliot refuses to evolve into the computer age, so because he is still computerless, I need to call him on the phone and thanks to Magic box and my mac book, we can afford the luxury of long phone conversations.
What currently occupies your life?
I still lend my talents as a performance coach and from time to time give 'free' performances here in the Philippines.
How do you feel about the fact that young people from other parts of the world listen to your music?
I love it, love it, love it!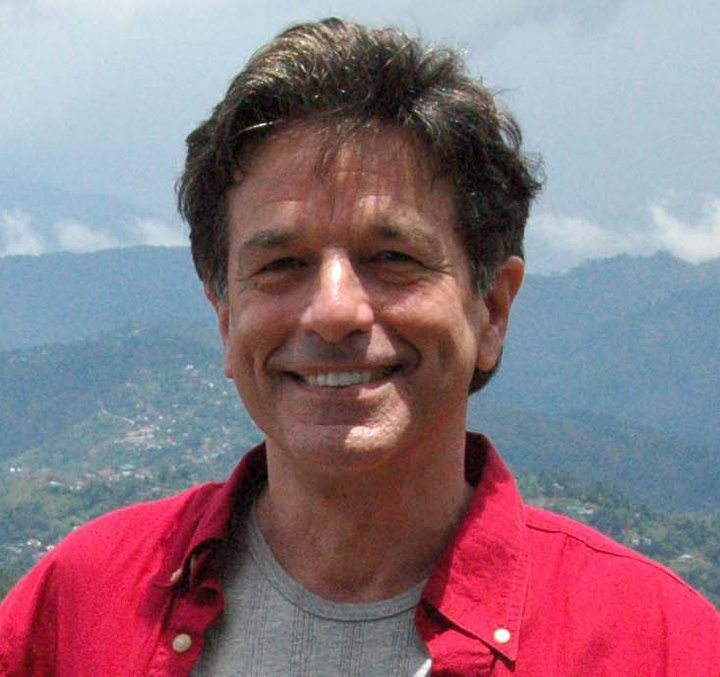 Thank you for taking your time. Last word is yours.
Life is an adventure. From the beginning I had no idea where life would lead me, but I continued to follow my passion and life has been very good to me. If I was to die today, I would die a happy man. Lawrence 'Stash' Wagner
Klemen Breznikar