Hard Road interview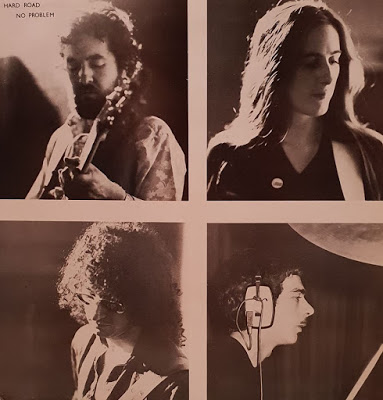 Completely forgotten band from the late 1970s with big love towards British blues artists such as John Mayall, Keef Hartley, and Peter Green's Fleetwood Mac. They self-released No Problem LP in 1979.
Where and when did you grow up? Was music a big part of your family life? 
Kris Gray: I was born in 1952 in East London but grew up in Romford, Essex. The only music in my family was my father who would strum George Formby songs on a Ukulele Banjo now and then. They never encouraged me when I wanted to learn to play the guitar which I first picked up at the age of 11, I can remember my mother saying that anyone who could play would have learnt by that age so I probably couldn't, had to prove her wrong.
My early influences were The Beatles, I remember seeing them on TV, I looked at John Lennon and said 'I want to be like that'. Then one day I heard John Mayall on I think one of the pirate stations, it was a track from the John Mayall Plays John Mayall album 'Crawling up a Hill' I just had to get a copy, after that I was hooked to British Blues. I consider the Mayall albums with Clapton and Greenie to be the best of the genre. At the time I also discovered a guitarist by the name of Miller Anderson who was playing with Mayall's ex drummer Keef Hartley, strange I would one day end up playing bass for him as well have producing a couple of his albums.
John Spencer: I was born and grew up in Peckham, South East London. Music was a massive part of my life from a very early age, I used to listen to my mum's Rock n Roll 78" singles. Bill Haley, Johnny Ray etc. I was then lucky enough to listen to all the early 60s bands whilst I was at school like the Stones, Beatles. Small Faces, Yardbirds, Kinks, Animals, Searchers etc. Then came 1967 with the Psychedelic influenced bands which I loved too.
About 1968/1969 I got into the new type or Rock that was coming out. It was called 'Progressive Rock' not to be confused with the 'Prog Rock' that came out years later, a lot of the bands were Blues influenced like Ten Years After (interview
here
), The Aynsley Dunbar Retaliation, Killing Floor (interview
here
), and that's when I first heard John Mayall & the Bluebreakers. The album with Eric Clapton was my favorite. Tracks like 'All Your Love' and 'Steppin' Out' just blew me away, the sound Clapton had was superb, not many guitarists could capture a 'live' sound on record but he really nailed it on that album. After that was when I really got into Blues with the John Mayall's/Peter Green's album
Hard Road
. To this day I think Peter Green was an awesome guitarist, no one had his touch or guitar sound, it was just impeccable, not only that, he was a brilliant songwriter and singer too. Anyone who needs proof of this guys talent and guitar sound listen to the track 'Before The Beginning', 
Live at The Chalk Farm Roundhouse
in 1970, the vocals and guitar sound are just awesome, spine tingling!
What bands were you a member of prior to the formation of Hard Road? 
Kris Gray: I had a couple of bands when I was at school that had a variety of names and a couple of different line ups. The last one was called 'D Series Truk' and we played mainly stuff by Cream and John Mayall. I had wanted to continue after school but Ben Couple, the drummer who had been with me through all the line ups, died aged 17 in a road accident. So I left home and joined a band in Earl's Court called 'Swanslife' after the keyboard player Dave Swan.
I got myself into a bit of trouble with the police when I was 18 and ended up in Borstal (a jail for young offenders) in 1971, you can read about my experiences in my book 'Two's Up'. In 1972 I formed a band, 'Grobbert and Duff' with Cecil Roberts the other guitar player from 'Swanslife' we recorded one single 'I Am, I Think' which according to 'Record Collector' Magazine is a psych classic and copies change hands for £150 which is more than I ever made out of it.
Prior to Hard Road I was with Elastic Cat who only recorded a handful of demos, came close to signing a deal but punk got in the way and I wasn't prepared to change the style of EC. We played the usual places, Rock Garden, Marquee, Upstairs at Ronnie's (Ronnie Scott's rock venue) and other mostly London venues.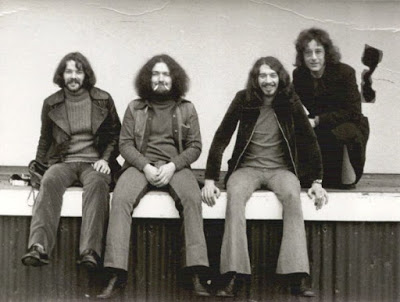 Elastic Cat 1973, Kris Gray second from left
John Spencer: I hadn't played in any bands of note, just amateur bands.
Elastic Cat promo 1977
Any recordings from those bands?
Kris Gray: G&D single – 'I Am I Think' – Demos from EC.
John Spencer: No recordings.
Can you elaborate the formation of Hard Road? 
Kris Gray: I met John when we both worked at Zenith Carburettors in Deptford South London. I'd become a single parent at the ripe old age of 23 and had been forced to get a real job, not one of my best remembered times. John and I immediately clicked when we realised our shared taste in music, specifically Led Zeppelin, Cream, John Mayall and especially Peter Green. I'm not sure when we first discussed forming a band but it was after we both left Zenith. At first there was just the two of us rehearsing in my living room until we found Squeak, who wanted to be called Heanor Hucknell after two towns near to where she lived. Her real name was Linda Tempest, I've no idea where she is now. When it came to recording No Problem she brought in Rory O'Carrol who played drums and was tour manager for 'Secret Affair' – I never saw him again.
We eventually found Bill Collis via the reliable Melody Maker. He now runs a drum clinic in west London.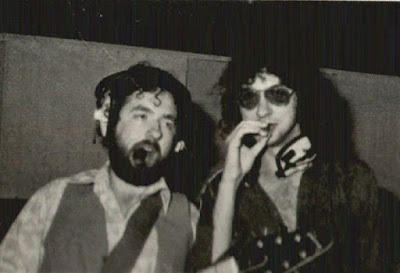 John Spencer: Kris and I were friends before we even thought about forming a band but used to spend all our time talking about music, we shared pretty much the same taste and both had a very wide taste in music, we liked most genres. One day we decided to get something together and wanted to play Blues, this type of music had really died a death at the time and we wanted to get it heard again. This was probably around 1977. We started going through some numbers mainly Blues standards in Kris's living room in his house in Elmers End, Beckenham. One of the first things we wrote together was the 'world famous' 'No. 11 Boogie'… they don't write them like that anymore!! We advertised for other musos with varying degrees of success, I remember one drummer we had for a while looked like Mick Fleetwood and was a mini cab driver called Dave, never talked much though! We went through a few other musicians like most bands do, but Kris and I were always the nucleus of the band. 'Proper' Hard Road came about in early 1979 we then had the line up that recorded the album in October 1979 at Freerange studios in Covent Garden. We used to rehearse regularly in various studios… Alaska in Waterloo and there was one above an antiques shop in Sydenham, South London.. we had to lug bloody great amps and drumkits up a narrow staircase that could barely fit one person on it!
When and where did Hard Road play their first gig? How was the band accepted by the audience?
Kris Gray: We only played a few gigs with John, a pub in Deptford I think was the first, can't remember the name but I think it was where Squeeze first played. We did a few more as a three piece again mostly in the London area. As for the audience, well no one threw tomatoes.
John Spencer: As far as I remember Hard Road didn't play that many gigs, we concentrated on the album, but any gigs would have been around The South London area, there was a really good live scene back then, lots of live music venues.
What influenced the band's sound? Peter Green obviously…
Kris Gray: Definitely Peter Green and the blues bands of the 60's. I still say Peter was the best, it was the notes he didn't play, the spaces between them, his timing, brilliant. If he hadn't given it up I think he would have left Clapton way behind. He came to live with me in the early 80's, I remember I didn't tell John, I just invited him round and when he came in I just said John meet Pete, the look on his face was priceless.
Kris Gray with Peter Green
John Spencer: All the 60's British Blues boom bands, Kris and I both loved John Mayall & the Bluebreakers, Fleetwood Mac, Chicken Shack, Keef Hartley, Miller Anderson, all superb bands. We really liked The Paul Butterfield Blues band a lot, we used to play 'Walking Blues' from the East-West album…there's a story about that number later! But obviously Peter Green was a massive influence on us, he certainly was for me, he totally influenced my playing and guitar sound.
No Problem was your only release. It was released in 1979. Was it a self release? How many copies did you make? 
John Spencer: It was a self release and we financed everything ourselves, Kris and myself put in the majority of money as Hard Road was always 'our baby' so to speak. I can't remember how may copies were made, Kris would know about that side of it more, but we had a lot of problems throughout with it, it was ironic the album was called No Problem it was far from it!!
Kris Gray: John and I financed the recording at Freerange Studios in Covent Garden, I think it's long gone now. It was released via Tyrone Patterson, our then manager's label Goodstuff, I would imagine a thousand were pressed but I can't say for sure. The name came from Tyrone constantly answering every question with No Problem, the irony was totally lost on him.
What are some of the strongest memories from recording it? What was the song writing process like?
Kris Gray: We had a lot of fun in the studio, what looks like John and I smoking large cigars on the back cover are in fact sausages provided by Squeak's mother who had a sausage and bacon making business just outside of Leeds. We survived on a diet of beer and sausages. I had written most of the songs over a period of time and we covered Peter Green's song from the John Mayall's Hard Road album 'The Same Way' plus the old standard 'Walking Blues' we lifted the arrangement from Paul Butterfield's East-West album. John and I shared all the lead guitar parts but the better solos are definitely John's.
John Spencer: We always tried to have a laugh even though it was quite pressurised to get it completed as we had limited time and funds, but lots of alcohol and certain substances kept us all going, the atmosphere was always good. Songwriting-wise it was Blues standards and some of Kris's songs he had written, I hadn't started writing back then I was happy just playing guitar, Kris did all the songwriting.
Where and when was your most memorable gig? 
Kris Gray: Sadly I don't really remember any of them being memorable, no roadies, no money and a lot of stress.
John Spencer: I would say it was an impromptu one round about the time we had just completed the album. Kris, Tyrone Paterson who was our manager/producer and myself had gone up to central London to a students gig at some College one Friday, they had a few bands on and it was quite a big venue. All the bands finished their set and Kris and I got upon stage and performed 'Walking Blues' and some other song using the instruments from the other bands, it went down a treat considering no one know who the hell we were, they just let us get on with!!
Is there any unreleased material?
Kris Gray: As a three piece after John left we recorded an album for Calendar Records but they went bust before it could be released. We did some photo shoots and I did a few interviews. I wasn't happy with it as after we finished unbeknown to us some session players were brought in to overdub some parts and another singer replaced some of my vocals so I was quite pleased it didn't see the light of day. I have a cassette copy somewhere but I don't know what happened to the masters.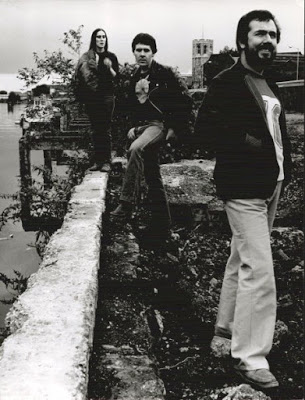 Hard Road MK2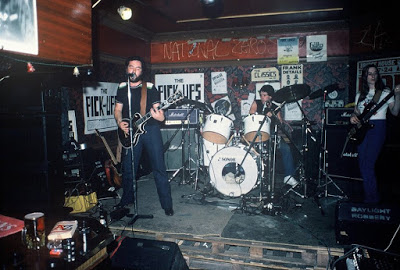 Hard Road MK2
John Spencer: Not that I know of.
What currently occupies your life?
Kris Gray: Since the demise of Hard Road I've played with a number of bands switching to bass for, amongst others Miller Anderson, Edgar Broughton, Brian Knight and Chris Farlowe. I also went into management and record production for those four and a number of others including The Sweet, Cliff Bennett, Chicken Shack and Jay Tamkin.
In recent years I teamed up with an old friend Tim Wyatt who had been on the sessions for 'I Am I Think' singing backup vocals. We made one album Naming the Darkness but Tim couldn't handle live work so we split. Last I wrote and recorded the music for a film 'Borstal' loosely based on my book 'Two's Up'. I am now writing and recording with a German guitar player Jerry Spitzer, I've lived in Germany for 15 years now having toured here so much it seemed like a good idea, plus my wife is German.
Maybe we will do some shows around Europe. Keep an eye on my website for any updates
www.krisgray.co.uk
John Spencer: Staying alive and breathing!! I just play at home and polish my vintage guitars!
Thank you for taking your time. Last word is yours.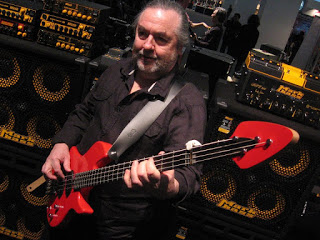 Kris Gray
Kris Gray: I have fond memories of Hard Road, I was very sad when John left, I understood why he did at the time. There wasn't any problem between us, we have remained good friends and met up last year on my birthday. He was and is a far better lead guitarist than I am, that's why I switched to bass.
John Spencer
John Spencer: I always wanted to be involved in music and play in bands etc. from a very early age and I feel very lucky to have done it at the level I did. Most people only dream about doing it. I would like to say thanks to Kris Gray, he always encouraged me and my guitar playing back in the early days and I always appreciated it. Also a thanks to all those guitarists and bands that I listened to that inspired my playing and songwriting and to always try and achieve a really good standard of guitar playing, most of all U.F.O, my all time favourite band, I love 'em !
– Klemen Breznikar
© Copyright http://www.psychedelicbabymag.com/2019