Frozen Planet…. 1969 interview with Frank Attard
Amazing fuzzed out and completely improvisational band from Australia, Frozen Planet…. 1969 already released several albums, but their latest was also issued on vinyl by HeadSpin Records. It was sold out pretty quickly and HeadSpin Records announced another run on white vinyl. Band is part of Pepper Shaker Records, run by its band members and their releases include lot's of other projects including Mother Mars, The Travelling Museum…
---
Paul and Frank Attard had been previously playing in the stoner-doom band, Mother Mars and Lachlan Paine was playing in the Canberra heavy rock trio, Looking Glass. When did you decide that you wanted to start writing and performing your own music as a trio?
Back in 2012 we organised to jam with Lachlan who plays bass in The Looking Glass. It all started as just something we wanted to do to see what happens and we were all curious to hear how we would sound together. Our very first jam we recorded and it was eventually released as our first Self Titled album in late 2013. That jam and our music still is completely improvised so there's never any need to write any of our music.
Pepper Shaker Records is a small independent label from Sydney releasing your material. Who is behind the label and what can you tell us about those releases which besides Mother Mars, Little Big Wolf, The Travelling Museum, Ina Maka also includes Frozen Planet…. 1969?
Pepper Shaker Records was set up by my brother Paul (who plays guitar in FP69) and myself. We basically release most of the music that Paul and myself are involved in.
It's a good way of keeping all of our music under one umbrella and introduce fans of one particular band to some of our other projects.
"I guess the film could be about time freezing in 1969?"
What does the name "Frozen Planet…. 1969" mean or refer to in the context of the band name?
Frozen Planet…. 1969 was a title Paul came up with for the first album.
We came up with the idea of releasing the first record as a Soundtrack to a fictitious film. "Frozen Planet…. 1969" was the title Paul came up with for the fictitious film soundtrack. There's that Spaced-Out element in the music and in the name and 1969 was a great year for music.
I guess the film could be about time freezing in 1969?
What's the songwriting process with your bands? Is it different for each band?
The song writing process is definitely different for each band. Frozen Planet…. 1969 and The Travelling Museum is completely improvised music so other than maybe me kicking off a beat or one of the guys starting a riff, there's no real planned structure. In Mother Mars me and my brother Paul cover all the production and instrumentation except vocals. Paul usually has complete instrumental songs ready to go and we may tweak things a little before recording them but usually we put them straight down and start building the track up from drums and bass. When we get a singer in to do vocals they work with what's already recorded. With Ina Maka someone may come in with an idea and we work on a track as a band so it's much more collaborative.
You recently released Electric Smokehouse. Can you share some details how it was recorded?
Electric Smokehouse was recorded the same way as all FP69 records. Lachlan our bass player lives in Canberra which is 2.5 hours from Sydney, so he drives up to our studio in Sydney. We have the studio all set up ready to record by the time he gets there. We have some beers and a little catch up and once I've got some nice recording levels I hit record and we jam out usually for an hour and a half. We usually have a break and something to eat and then record another jam session which will run as long as we are feeling the music usually another two hours.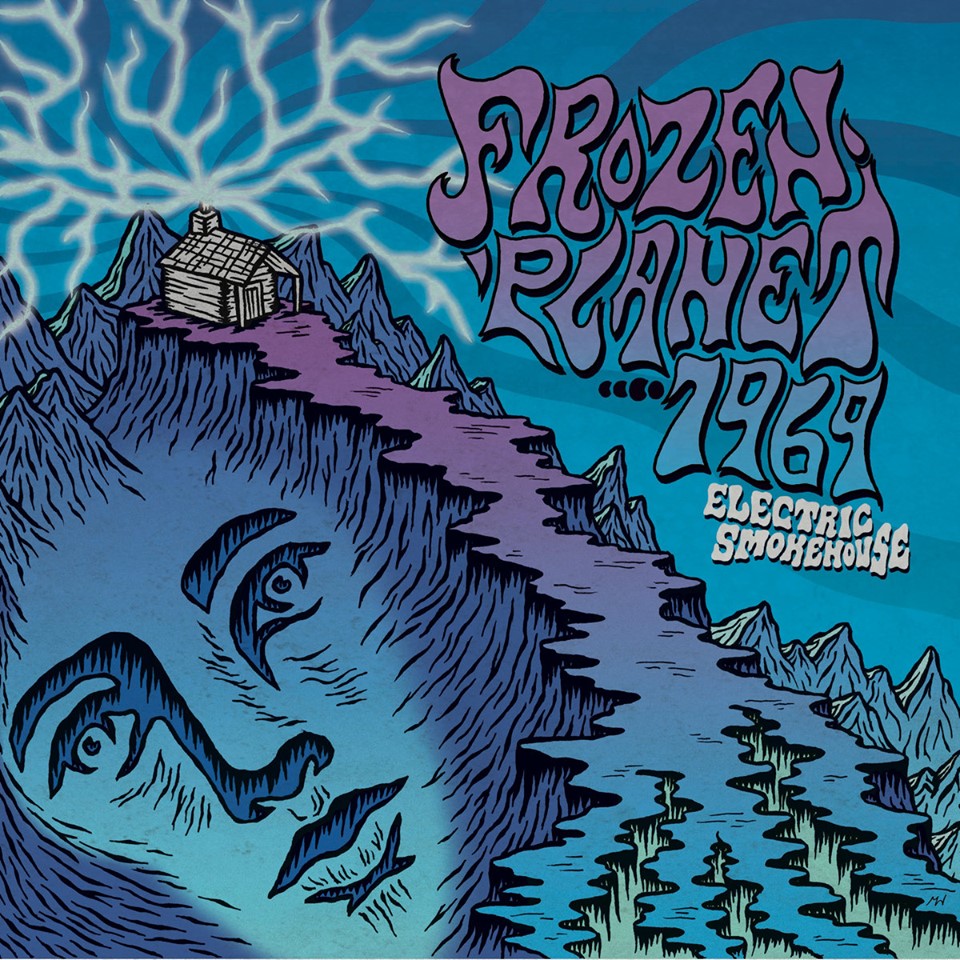 I then leave the recording for a week or so and then start mixing, once I have a rough mix I'll send a copy of the jam to the guys and we'll start to decide which parts to keep and we start to construct songs out of the jam. That's how Electric Smokehouse was put together!
What's the difference between the two bands regarding its concept?
The difference in concept between Mother Mars and Frozen Planet….1969 is that FP69 is just jams out and taps into some spaced-out psychedelic stuff. Mother Mars the idea is to have more constructed thought out parts.
HeadSpin Records issued a very nice vinyl gatefold sleeve. The vinyl edition was sold out pretty quickly. In the past few years we've seen a vinyl revival and lately there is an interest in releasing music on tapes, which was a few years back pretty much dead. What's you opinion about old music formats coming back to live?
I love the idea of old formats coming back and some more than others. Firstly I strongly believe Electric Smokehouse sounds its best on vinyl. Also vinyl gives artists a bigger canvas to work with for the album artwork especially with a gatefold sleeve. Cassette tapes sonically don't sound great to me but I did grow up in the cassette tape generation so I can see their appeal. We're very grateful to have had the opportunity to work with HeadSpin Records for the vinyl release of Electric Smokehouse! And the fact that it sold out in around 5 weeks is absolutely amazing!
Do you all spend a lot of time out on the road touring? Do you enjoy being out on the road?
Lately we haven't been playing out of town too much. Australia is a big place with a small population so touring is quite hard financially. We do enjoy an interstate trip for some shows when we can but we do focus more on recording and releasing albums at this point and trying to reach a wider fan base universally and keep building on that. Some US and European festivals would probably make the most sense for us at this point as that's where the majority of our fanbase is.
Lately I'm interviewing more and more bands from Australia. What would you say is the scene there currently? I think it had a very unique scene already in the 1970s and now it's blooming again.
There's some great stuff coming out of Australia at the moment in all styles of music and there probably always has, it's just now with the internet and all, these underground bands and artists can reach a worldwide audience. I also think Australia being so far from the rest of the world that we would put a unique spin on things.
What are some other local bands you would like to recommend to our readers?
We have our Sydney (HeadSpin Records) label mates Comacozer (interview here) doing some great things. FP69 bassist Lachlan also plays in Looking Glass from Canberra who are an incredible stoner psych band. Arrowhead are another Sydney heavy stoner rock band to look out for.
What are some future plans?
After the success of Electric Smokehouse, we have a new Frozen Planet….1969 album ready to go when the time is right. Seeing as though our first vinyl release on HeadSpin Records sold so well it would be great to release another 12 inch album before the end of the year while our psychedelic jams are in demand!
Let's end this interview with some of your favourite albums. Have you found something new lately that you would like to recommend to our readers?
Mmm? Lately there hasn't been anything too mind blowing although I'm sure there's something out there if I go searching for it! I'm more into discovering older music mostly from 1968-1972. I like to keep an open mind with music and will listen to any style of music from any period and invest time in finding the real shit in each genre. Some of the albums that I like that probably influence more of the FP69 sound would be Captain Beyond's self titled album from 1972. Spirits self titled album from 1968. Jimi Hendrix, Electric Ladyland. Funkadelic self titled and Death Walks Behind You by Atomic Rooster.
Thank you. Last word is yours.
Thanks Klemen!
– Klemen Breznikar